These fluffy vegan pancakes are light, cakey and perfect every time. Stack them up and drench them in maple syrup for the perfect Sunday brunch.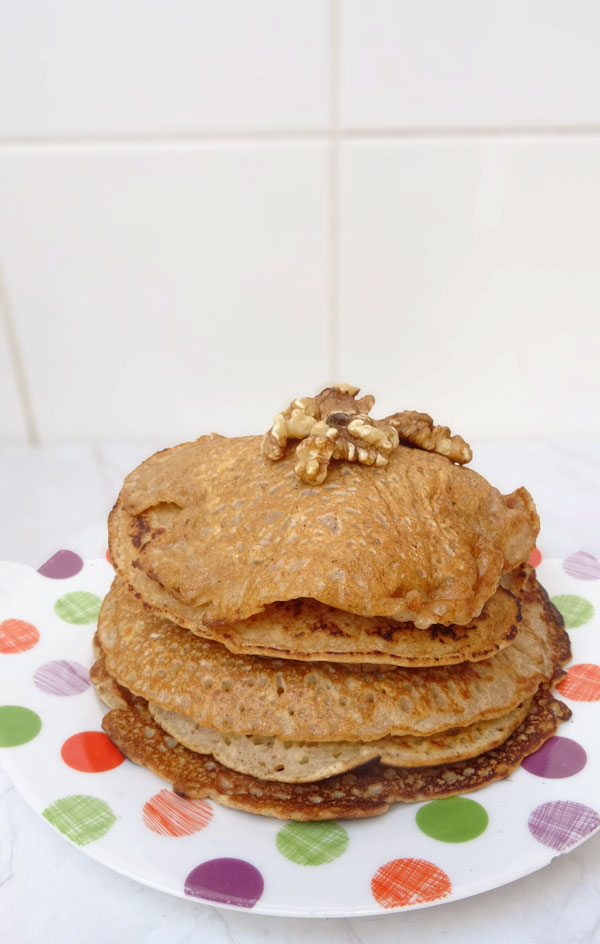 My great gran was best known for two things: having a heart of gold… and making wonderful pancakes. She was the ultimate pancake queen.
Growing up, my cousins and I would go to her house every Sunday after church for a big stack of pancakes. She served them with cinnamon, jam and cream, lemon curd or honey. Sometimes even ice cream! Because the pancakes were so perfect, they tasted delicious no matter what she put on top. They were light, fluffy and had just the right amount of sugar.
Sadly, my great gran is no longer with us. But she is still vividly remembered for her incredible baking skills. My gran always jokes that "the baking gene skipped a generation" because she thinks she's rubbish at baking. But I'm not forgetting those mean Cornflake cakes you used to make for my birthday, Margaret!
Although she doesn't like baking herself, my gran has a massive sweet-tooth so I trust her the most when asking people to review my recipes. She loved these pancakes. And she grew up eating some of the best home-baked goods on Earth so she knows what she's talking about!
Easy Fluffy Vegan Pancakes
I'd made many an attempt to make my great gran's fluffy pancakes in the past, as did many members of my family, but we always ended up with a plate full of mush. Her original pancakes included milk, butter and eggs but replacing those ingredients wasn't my problem. My mistake was that I kept trying to make them healthier by using oat flour, almond flour, buckwheat flour and coconut flour.
As great as those ingredients may be, they have no place in this recipe. The truth is, you NEED the plain wheat flour for that light and airy texture. Turns out, making fluffy vegan pancakes was actually way easier than I thought. The first time I used plain flour, I immediately got the result I had been after for so long.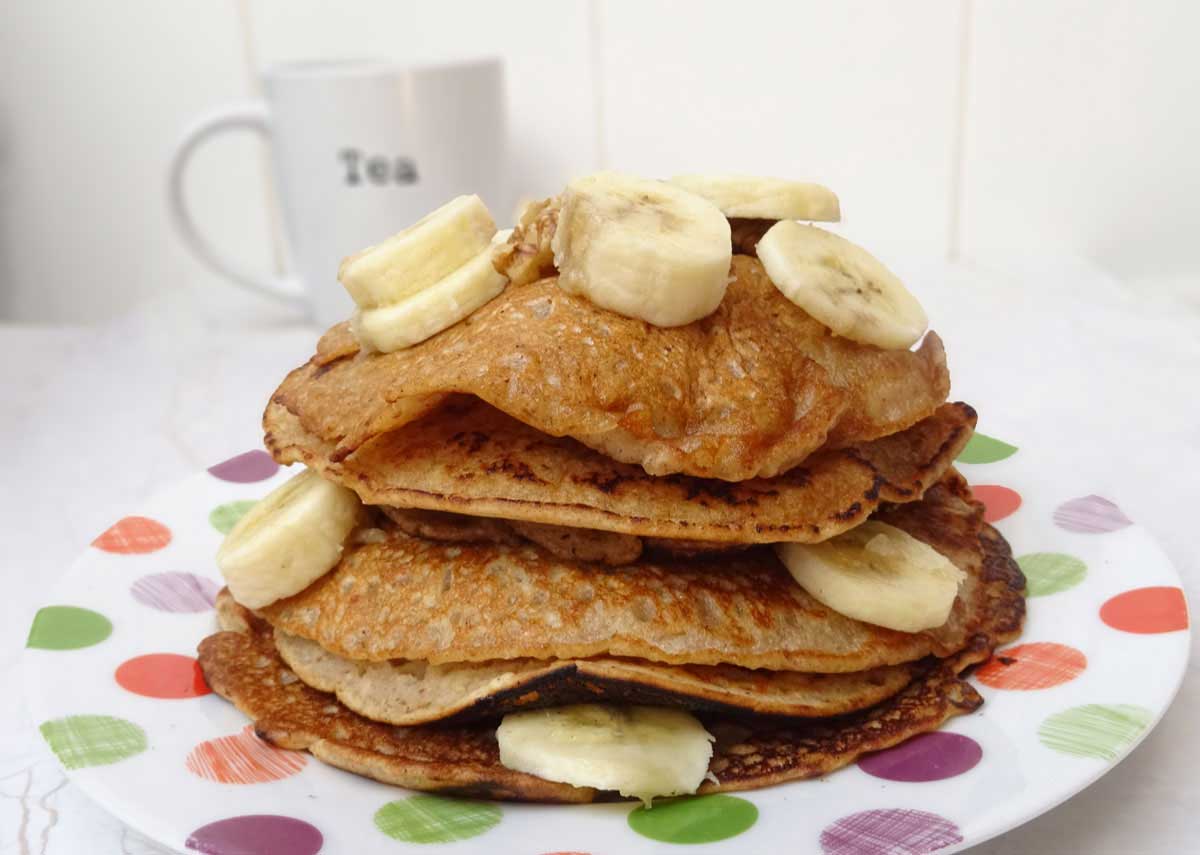 An easy, classic recipe
These fluffy vegan pancakes require only 6 basic ingredients and there's no fancy method involved here. Just mix all ingredients together and fry over a low-medium heat. There's no guessing when they need to be flipped either- the air bubbles in the centre of the pancake will let you know.
I decided to flavour mine with cinnamon, banana and walnuts but like I say, these fluffy pancakes go with anything! You can get as creative as you want with your toppings. Go crazy!
Happy baking.
xo

FLUFFY VEGAN PANCAKES RECIPE
Light, fluffy vegan pancakes that make a perfect lazy-day brunch.
Course:
Breakfast, Dessert
Ingredients
150

g

Plain flour

25

g

Brown sugar

1

Teaspoon

cinnamon

1

Teaspoon

baking powder

300

ml

Almond milk

1

Tablespoon

melted coconut oil

or other plant oil

Squeeze of maple syrup
Instructions
Mix the flour, sugar, cinnamon and baking powder together in a bowl.

Add the almond milk and melted coconut oil. Stir with a spatula until just combined to form a lumpy batter.

Fry the batter, a little at a time, over a medium-low heat. Flip the pancakes when air bubbles start to form in the centre.

Add any desired toppings and serve with maple syrup.
Nutrition Facts
FLUFFY VEGAN PANCAKES RECIPE
Amount Per Serving
Calories 90
* All values are an estimate only and will vary depending on the food brands used.