These vegan blueberry muffins are packed full of healthy ingredients. They're gluten-free, refined-sugar free, oil-free and low glycemic!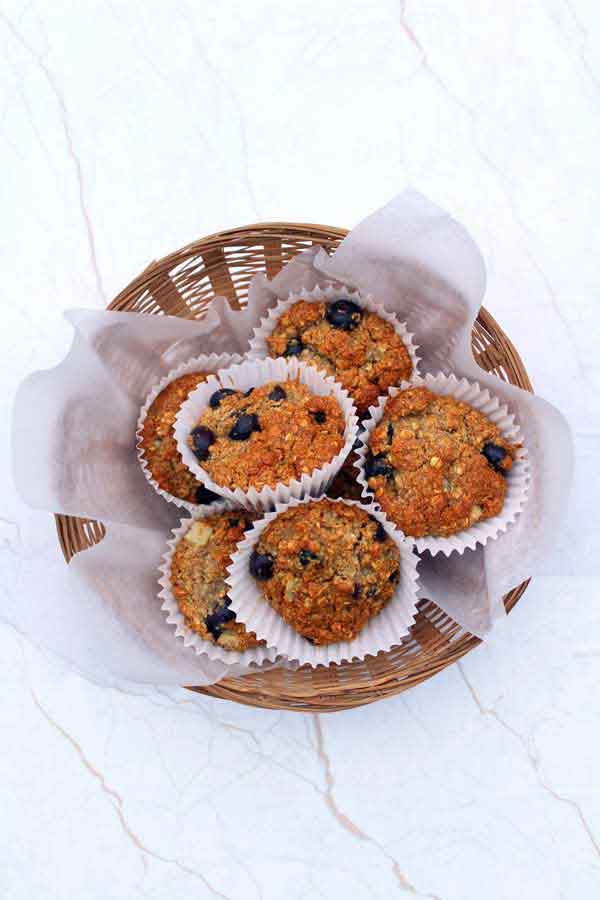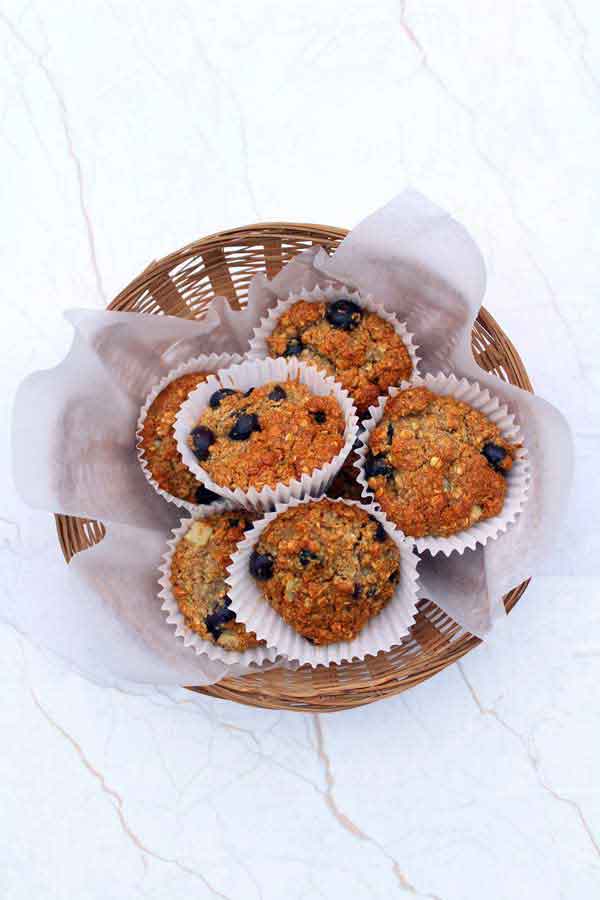 Blueberry muffins… They've been a popular breakfast food for decades. But did you know they're actually not as healthy as you might think?
People tend to assume that just because something is a "breakfast food", it automatically must be healthy.
I definitely thought that.
And if we're being completely honest here, I sometimes used to eat 2 or 3 in one morning! All the while thinking I was the ultimate health queen.
But the truth is, traditional muffins contain loads of white sugar, processed flour, and animal fats. It's no wonder that my old breakfast treat would leave me feeling weak, shaky and tired after a few hours.
I've learned a lot since then and over the years, I've grown more and more knowledgeable about veganism and healthy food in general.
Yes, I do love to create and eat junk food vegan desserts but I only eat these things occasionally. And I still stick by my long-held belief that a healthy breakfast is so important! Have the right food for breakfast, and it can help you concentrate better, make you feel more energized and stop you from snacking on junk later in the day!
Healthy blueberry muffins, vegan style!
As it's Veganuary and the beginning of a new year, most people are trying to be a bit healthier and some are trying out veganism for the first time (good job, by the way).
With that in mind, I wanted to create a vegan-friendly blueberry muffin you can eat for breakfast AND feel good after eating…
A vegan blueberry muffin that contains only natural sugars and is free from all nasties.
These simple vegan blueberry muffins are just the thing! I know you're going to love them because they are:
100% healthy
Dairy-free
Egg-free
Refined sugar-free
Low glycemic
Gluten-free
Oil-free
Chemical free
But the best part is, they taste amazing! They are light and fluffy, and super easy to make!
They're also sweetened with agave or maple syrup (your choice) which has a more gentle effect on your blood sugar. That means they'll leave you with tonnes of energy because there's no sugar crash afterward.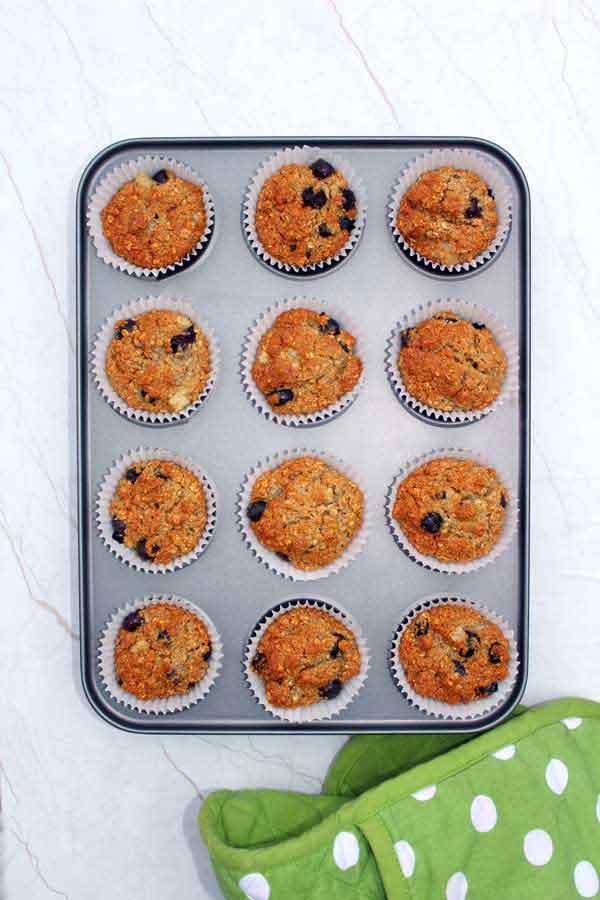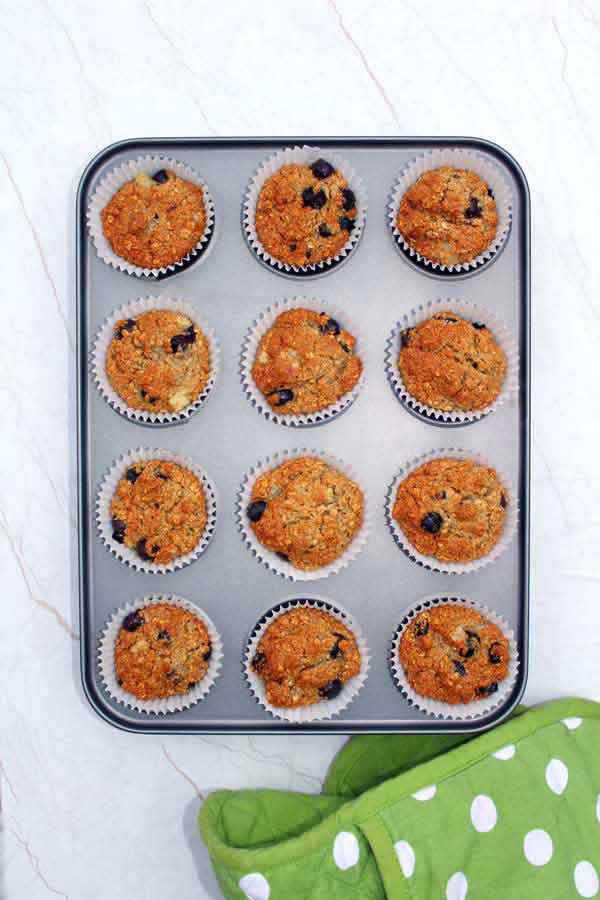 Another bonus of these muffins is the convenience factor. You know those mornings when you quickly rush out the door, stressed, late for work, and starving because you didn't have time for breakfast?
These easy vegan muffins eliminate that problem right away. Just make a batch ahead of time then grab and go in the mornings!
Healthy muffins for breakfast that you can eat on the go… Doesn't get better than that. I am I right?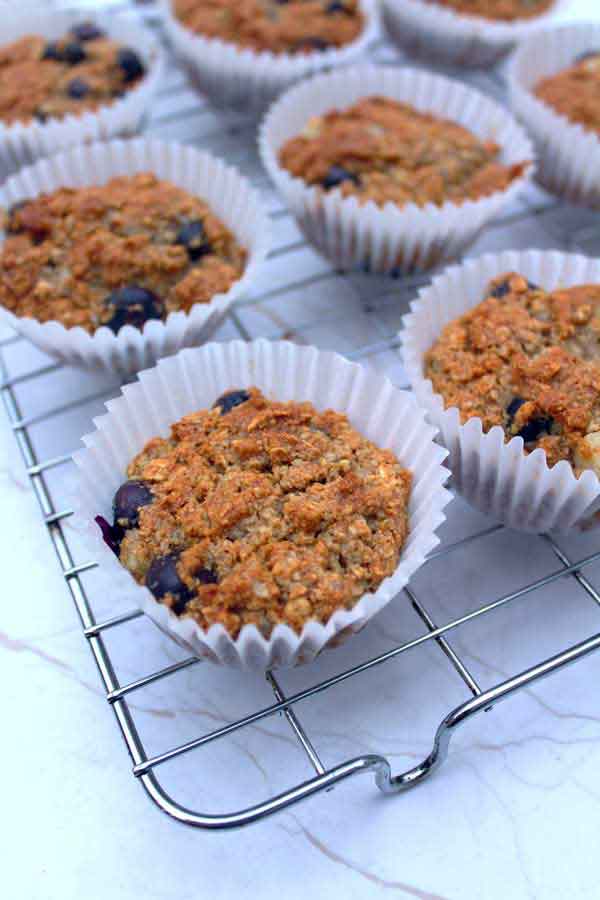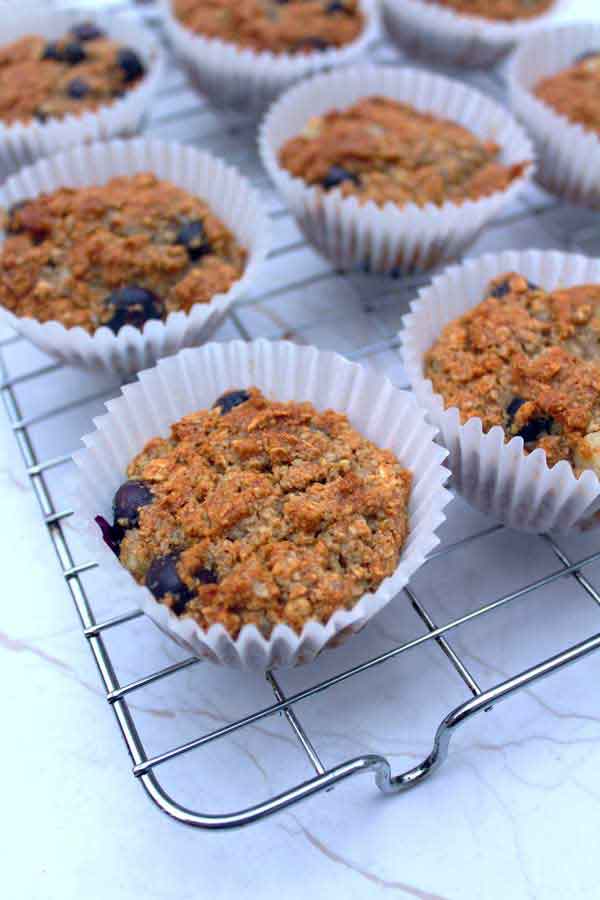 Vegan blueberry muffins (UK measures)
Before I started Baked by Clo (and after learning about the importance of a healthy breakfast) I was always on the lookout for breakfast muffin recipes to make for myself.
But whenever I Googled "vegan blueberry muffins recipe", I was often left feeling stressed. At that time, trying to convert cup measurements from US blogs was so confusing for me.
That is the very reason that I decided to create my own recipe to share with you all! Because I always create and record my recipes in grams.
But if you're in the US, don't worry. I've also converted the recipe to US cup measurements for you below, so you don't have to.
US measurements for vegan blueberry muffins:
Oven temp = 350°F
2/3 Cup ground almonds
3/4 Cup oat flour (ground oats)
1/2 Cup + 1 Tablespoon Regular oats
1 Teaspoon baking powder
1 Teaspoon vanilla extract (optional)
6 Tablespoons plant-based milk
1/3 Cup applesauce
1/2 Cup agave nectar or maple syrup
1 + ¼ Cup fresh blueberries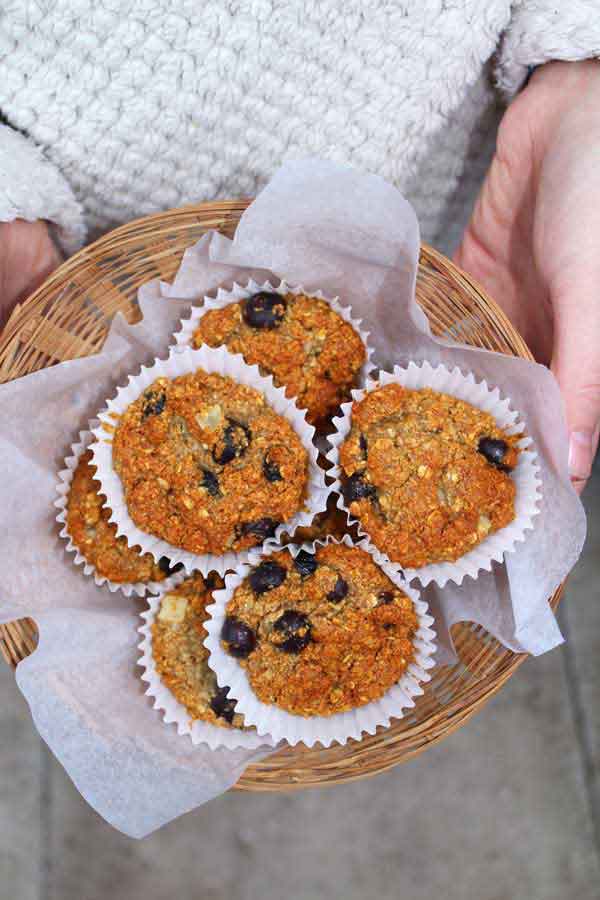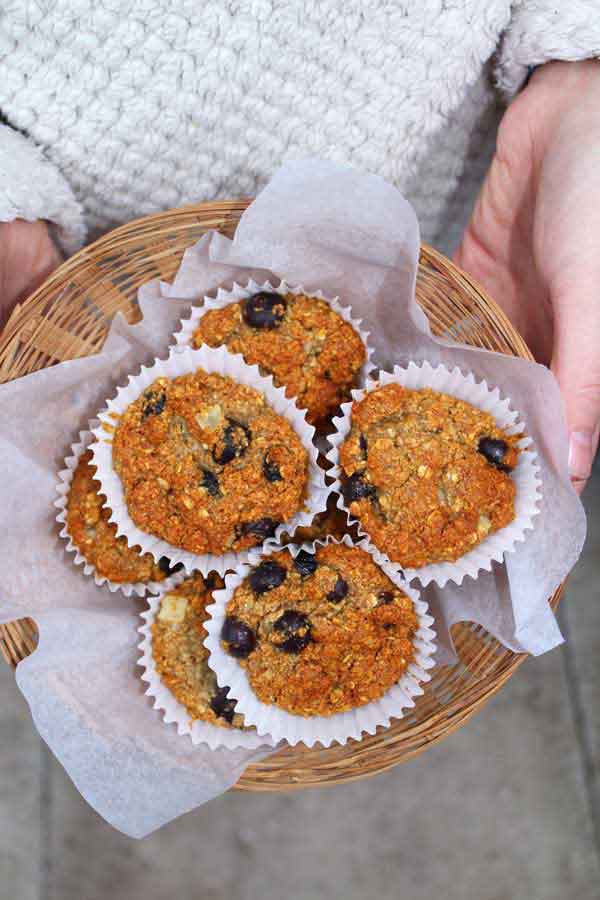 I hope this simple vegan blueberry muffin recipe will help make your Veganuary breakfasts a little bit easier! If you give them a go, tag me on Instagram to let me see!
Happy baking.
xo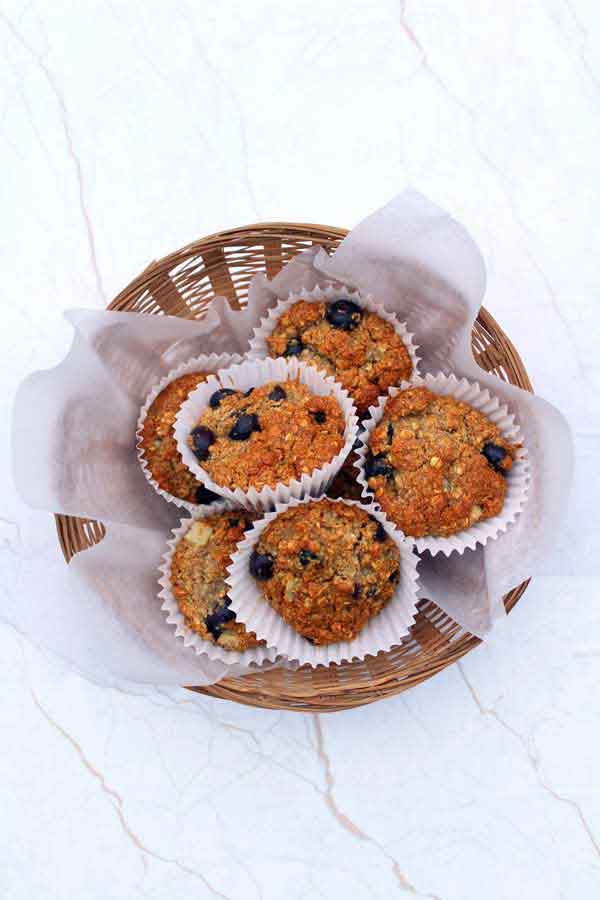 Vegan Blueberry Muffins (Healthy Breakfast Option)
Healthy vegan blueberry muffins that are simple and delicious. These light and fluffy blueberry muffins and oil-free, refined sugar free and gluten-free.
Ingredients
80

g

Ground almonds

60

g

Oats (or Gluten Free Oats)

100

g

Ground oats/ oat flour

Ground up your regular oats

1

tsp

Baking Powder

1

tsp

Vanilla Extract

6

Tbsp

Plant-based Milk

(I used unsweetened almond milk)

70

g

Apple Sauce

140

g

Agave or Maple Syrup

125

g

Fresh Blueberries
Instructions
Preheat oven to 180°C / Gas Mark 4

Line a muffin tray with 12 cupcake cases.

In a large bowl, mix together the ground almonds, oats, ground oats and baking powder.

In a separate bowl, mix together the vanilla extract, plant-based milk, applesauce and agave (or maple) syrup.

Pour in the dry mixture and combine to make a thick batter.

Add the blueberries and gently fold in.


Spoon the mixture into the cases and bake for 15-18 minutes until a skewer comes out dry.

Leave to cool then enjoy immediately or store in an airtight container for up to 6 days.
Recipe Notes
Work quickly to avoid the oats soaking up too much moisture and becoming gloopy. If the mixture becomes too thick, add more milk as required.
Want more healthy recipes? Check these out!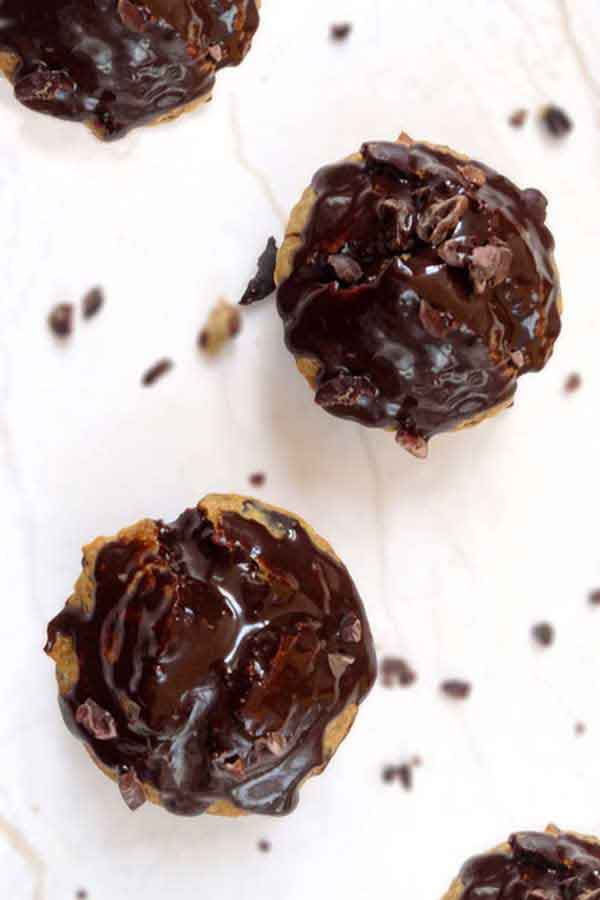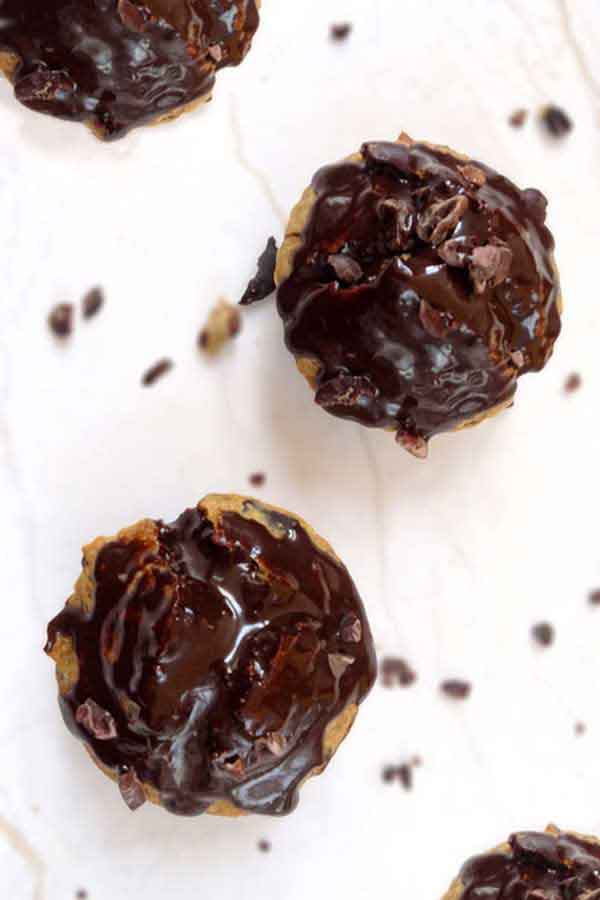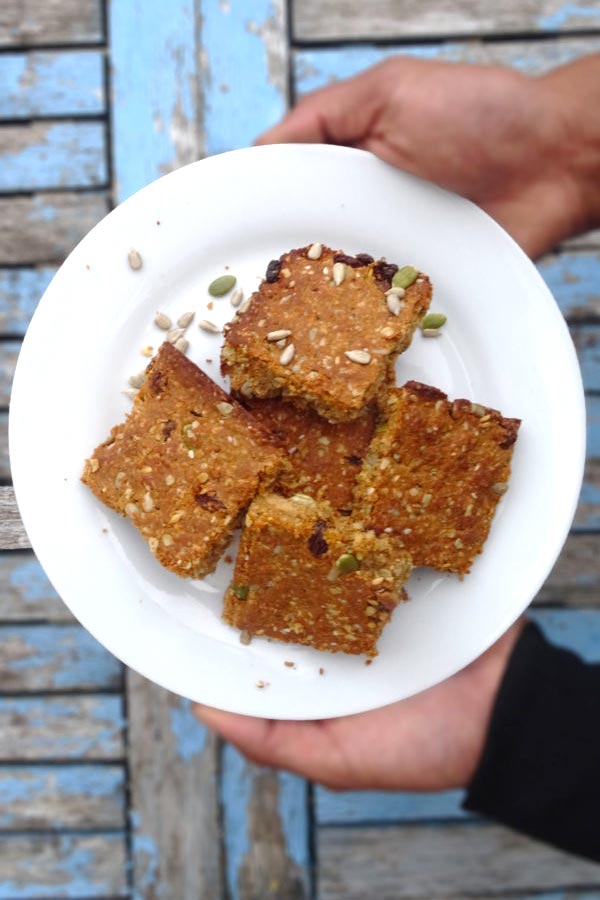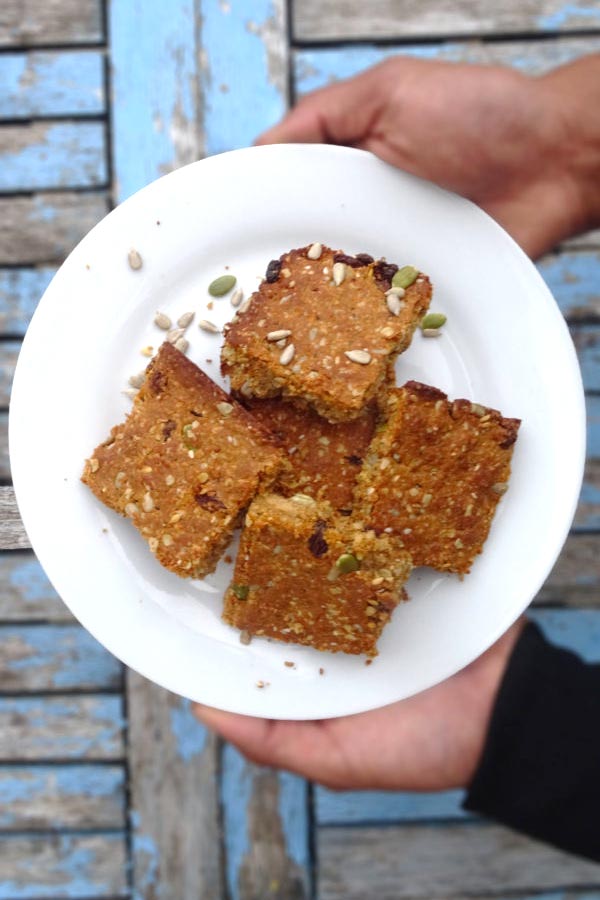 Almond cookies