This lemon elderflower cake is zingy, moist and super easy to make! The sourness from the lemon and the sweetness from elderflower syrup pair up so perfectly together.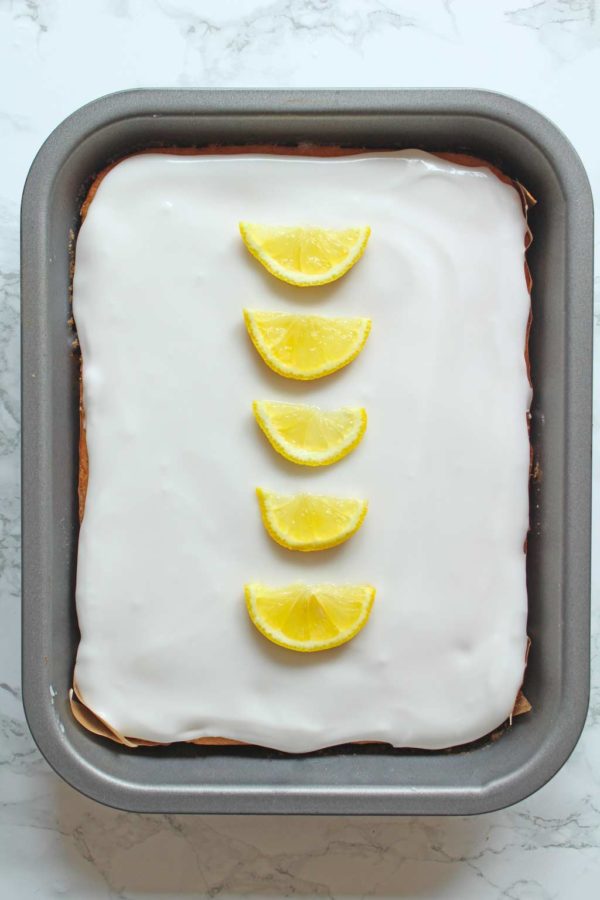 It hasn't been too long since I made my vegan lemon drizzle cake. But I've been craving it pretty much 24/7 since.
Because I spend so much time (and money) working on this blog, it's very rare that I go out and buy ingredients to bake something just for the sake of it nowadays.
So I thought that instead of making another lemon cake purely for my own pleasure, I could add a little twist and still be able to share the recipe with you all.
And so, this lemon elderflower cake was born.
The zingy sourness of the lemon flavor perfectly complements the sweet and subtle addition of elderflower. It tastes absolutely amazing.
Does Lemon Elderflower Cake Need An Egg Replacer?
Like all of my desserts, this lemon elderflower cake is eggless and dairy-free, making it completely suitable for vegans. (I promise that you won't be able to tell the difference, though!)
But unlike a lot of the other cakes I've made, this one doesn't have any of the usual wacky vegan egg replacements such as flax seeds, chia seeds or apple sauce.
For some reason, probably due to the large volume of liquid, it just holds together really well without the need for any of those additional ingredients. Which makes it really simple and easy for anyone to make!
It contains just 9 ingredients that you'll easily be able to buy at most supermarkets:
Vegan butter
Caster sugar
All-purpose flour
Baking powder
Soy milk (or any other plant-based milk that you like)
Lemon juice + lemon zest
Elderflower syrup or cordial
Powdered sugar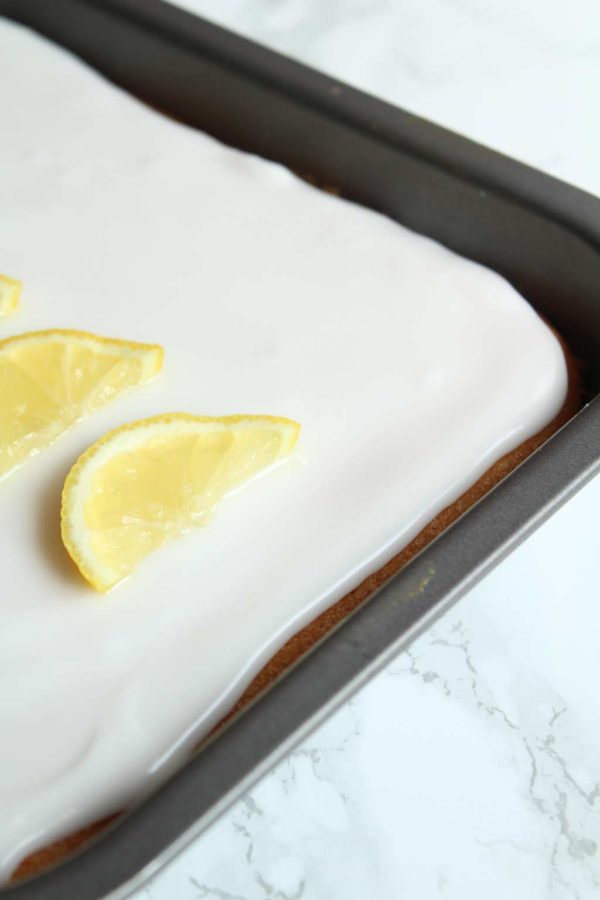 I chose to make it in a rectangular "sheet" style pan because I find it super quick and convenient. You can just do everything in the tin then cut it up and eat it. No messy decorating or layering involved!
Of course, you can use this recipe and bake it in a loaf tin or in round cake pans if you'd prefer. But I haven't tested it either of these ways myself so you'll have to experiment with the baking times.
It'll involve a little trial and error but if do decide that you want to try it, please let me know how it goes so I can add it to the recipe notes for future readers!
Why Lemon Elderflower Cake?
I first tasted elderflower when I was around 7 years of age, at a barbecue with my dad. The barbecue was held at a winery, and all of the kids there got to drink some of the fizzy, non-alcoholic elderflower wine.
Oh my gosh, did I feel cool being allowed to drink WINE! I even convinced myself I was a little bit drunk…
Kids.
But ever since that one time, elderflower has been stuck in my mind as a super sophisticated and classy type of flavor. Which is why I thought it would be the perfect addition to this cake recipe.
Lemon elderflower cake just sounds like a fancy dessert, don't you think?
It reminds me of all of the cute afternoon teas I've had in the past, the ones where they give you those super posh china cups.
But the best part about this dessert is that although it looks, tastes and sounds sophisticated, it's really easy to make!
Want More Vegan Cake Recipes?
How To Make Lemon Elderflower Cake
This video I made of the vegan lemon drizzle cake will give you an idea of how it's done!
Step 1:
First off, you'll want to prepare your tin and preheat your oven.
Heat your oven to 180C/ 160C fan/ 350F/ Gas mark 4. Line a 9-inch rectangular pan with parchment paper.
Step 2:
Like any good cake recipe, we need to start by creaming the butter and the sugar together.
Place 200g (see recipe card below for cup measurements) of vegan butter into a large bowl along with 165g of caster sugar. Mix it really well until the sugar has dissolved and the mixture becomes light and fluffy.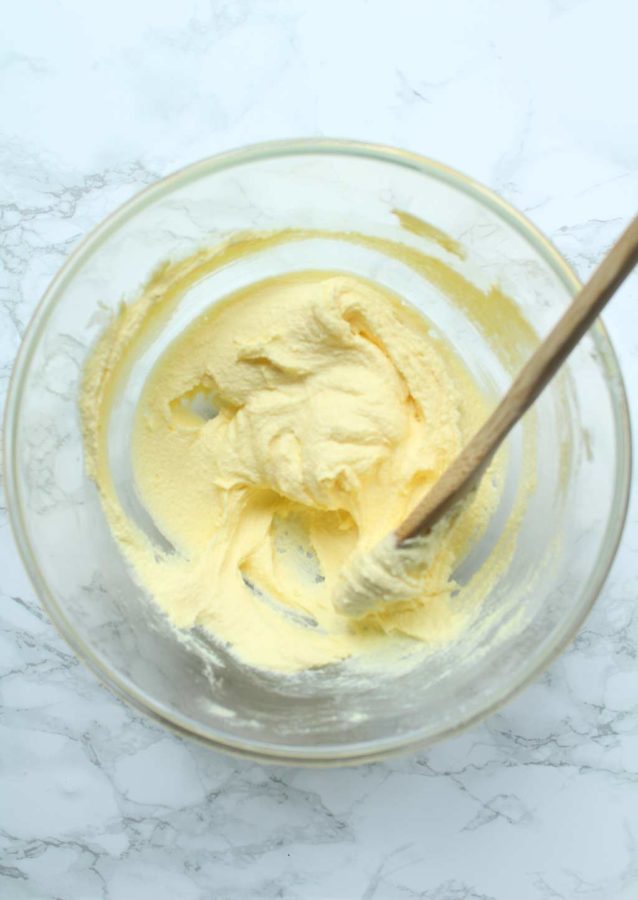 Step 3:
To the same bowl, add in 225g of all-purpose flour, 2 teaspoons of baking powder, 60ml of elderflower syrup or cordial (I used Bottlegreen cordial), and 180ml of soy milk (or any other plant-based milk of your choice).
Fold everything together gently until well combined.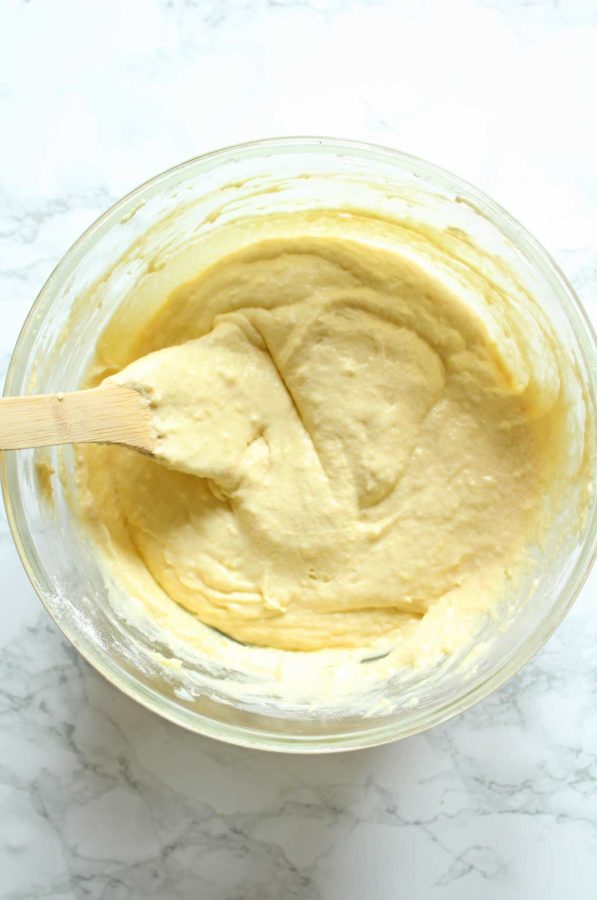 Step 4:
Next, add in the zest of 1 lemon and 1 teaspoon of lemon juice. Not only will the lemon juice add a lovely flavor but its acidic nature will also cause it to react with the baking powder. This will help the mixture to rise and give it that "fluffy" texture that cakes are known for.
Mix the zest and juice in well.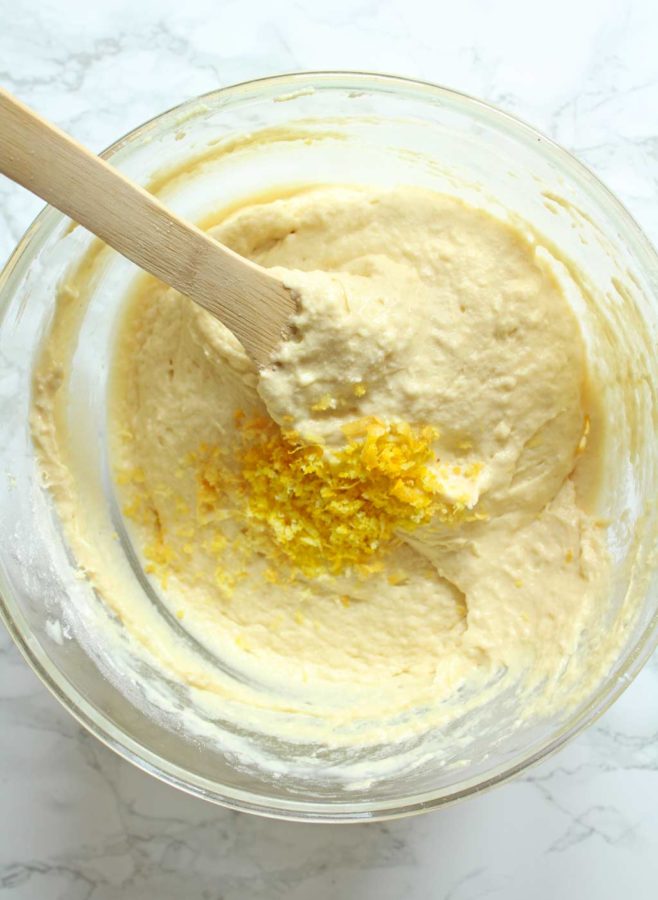 Step 5:
Pour the cake batter into the tin that you prepared earlier and use a spoon or spatula to spread it out evenly. Note that the mixture will be slightly thicker than a regular cake batter.
Bake the cake for 40-45 minutes until it's golden brown on the top.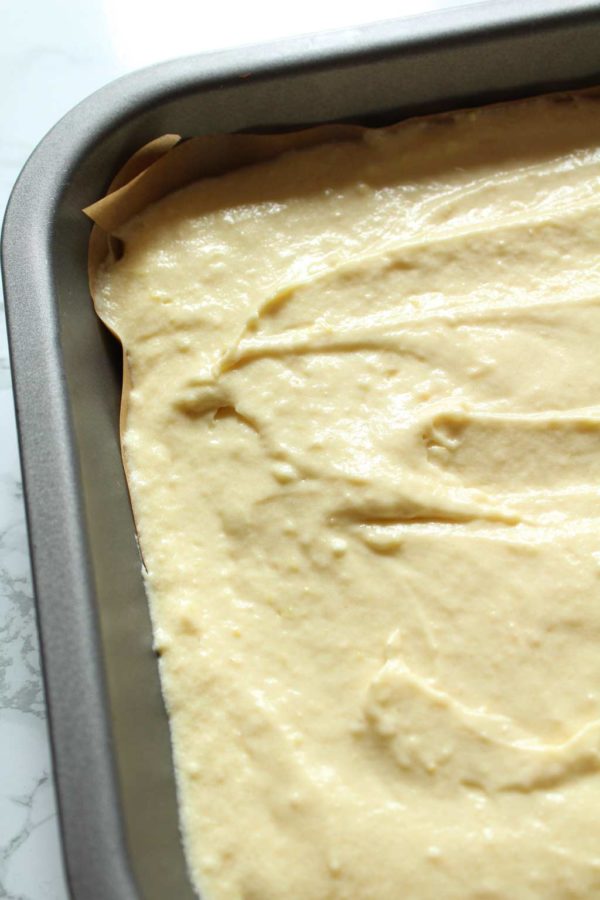 Step 6:
While it's baking, prepare your lemon elderflower cake drizzle. This will be poured over the cake as soon as it comes out of the oven.
Mix together 2 teaspoons of caster sugar, 2 teaspoons of lemon juice and 4 tablespoons of elderflower syrup or cordial.
Step 7:
First, check that the cake has fully baked all the way through. You can do this by inserting a skewer in the middle- it will come out dry when the cake is ready.
When you're sure that the cake is done, pour over the lemon elderflower drizzle while the sponge is still hot. Use the back of a spoon to make sure the drizzle mixture spreads out evenly over the cake. This will help the flavors absorb into the sponge and also keep it nice and moist!
Leave the drizzled cake in the tin until it's completely cool.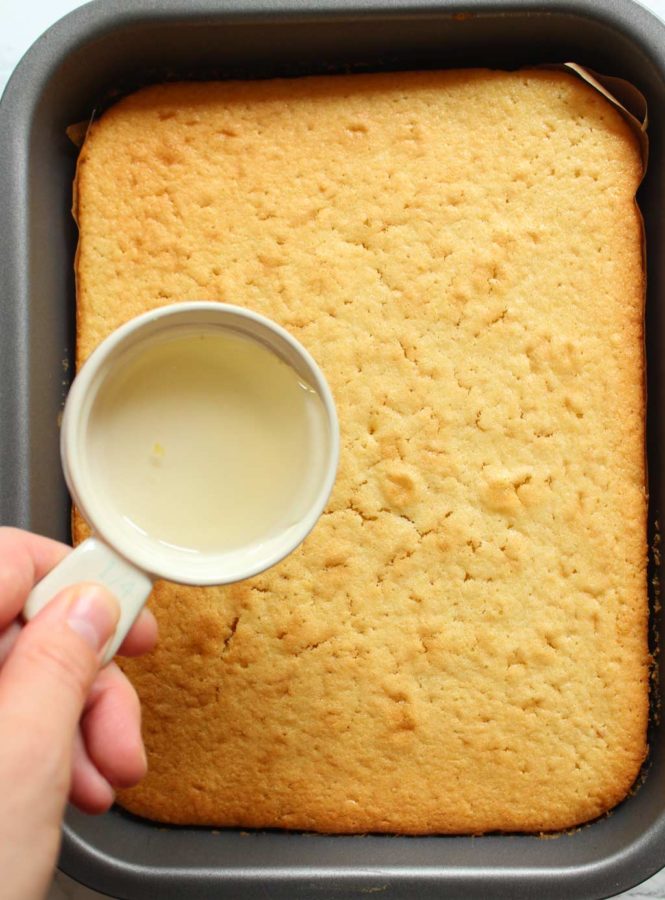 Step 8:
When the cake is completely cold, prepare the icing.
In a large bowl, add 250g of sifted icing sugar, 2 and a half tablespoons of elderflower cordial or syrup, and 1 tablespoon of lemon juice.
Mix everything together until smooth. The icing should be slightly runny but still thick and easy to spread.
Taste a small amount of the icing so that you can add a little more lemon juice or elderflower as required to fit your own personal preference.
Step 9:
Pour the icing over the cooled cake and gently spread it all the way to the edges. Sprinkle some additional lemon zest on top if desired.
You could also decorate the cake with some lemon slices. I think it looks really pretty but I would highly recommend taking them off before serving- nobody wants a sour piece of lemon with their cake!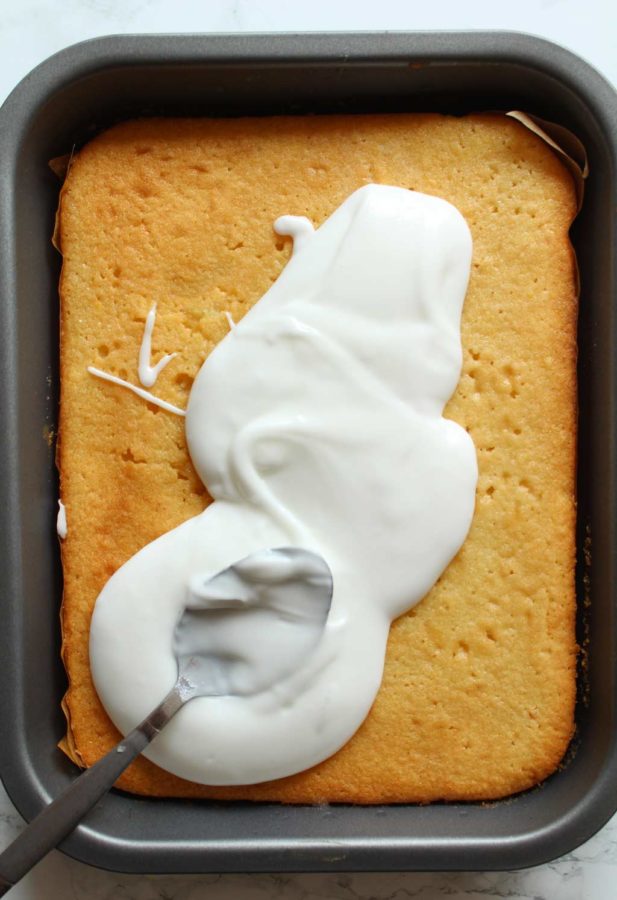 Leave the icing to stiffen up a little (around 30 minutes or so) then cut into squares or small slices.
Then enjoy, and just try not to eat the whole thing at once!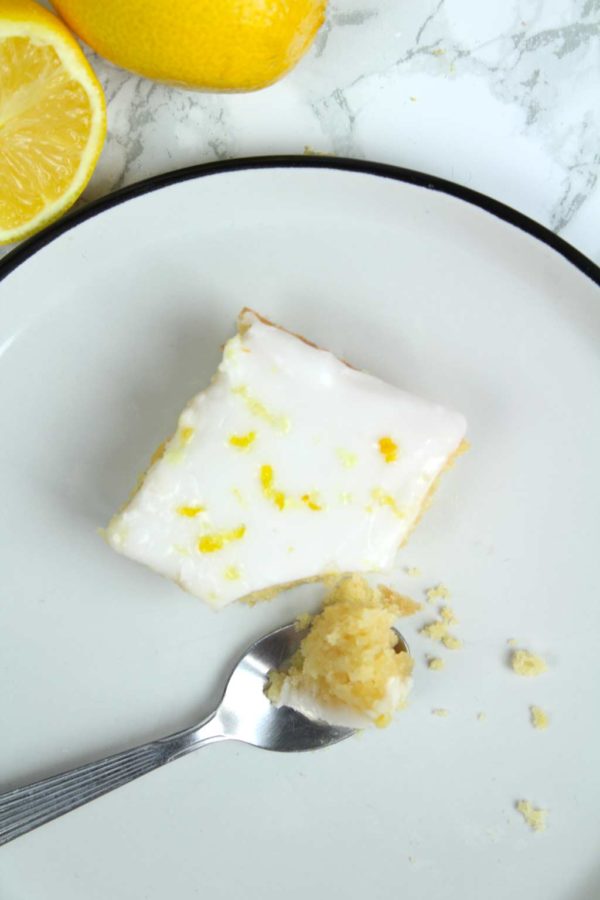 I hope you get a chance to try this fabulous lemon elderflower cake recipe! If you give it a go yourself, please let me know how it went by leaving a rating or comment below.
Happy baking! xo

Lemon Elderflower Cake
Eggless lemon elderflower cake that's sweet, moist and fluffy.
Keyword:
lemon elderflower cake
Ingredients
For the lemon elderflower sponge:
¾

Cup + 2 tablespoons

Vegan butter

(200g)

¾

Cup

Caster sugar

(165g)

1¾

Cups

Plain flour

(225g)

2

Teaspoons

Baking powder

¾

Cup

Soy milk

(180ml)

¼

Cup

Elderflower syrup or cordial

(60ml)

1

Teaspoon

Lemon juice

Zest

of 1 lemon
For the drizzle:
4

Tablespoons

Elderflower syrup or cordial

2

Teaspoons

Caster sugar

2

Teaspoons

Lemon juice
For the icing:
2

Cups

Powdered sugar

(250g)

2.5

Tablespoons

Elderflower syrup or cordial

1

Tablespoon

Lemon juice
To decorate (optional):
2

Tablespoons

Lemon zest or a few lemon slices
Instructions
For the lemon elderflower cake:
Preheat your oven to 350°F/ 180°C / 160°C fan/ Gas mark 4. Line a 9-inch rectangular baking tin with parchment paper.

In a large bowl, cream together the vegan butter and the caster sugar. Mix well until it becomes light and fluffy, and the sugar is properly dissolved into the butter.

Add in the flour, baking powder, soy milk and the elderflower syrup. Fold everything together gently until you have a smooth cake batter. Note that it will be slightly thicker than a typical cake batter.

Gently stir in the lemon juice and the lemon zest.

Transfer the cake batter into your pre-prepared baking tin and use a spoon or the back of a spatula to spread it out evenly.
For the drizzle:
While the cake is baking, mix together the elderflower syrup, the caster sugar and the lemon juice in a small bowl.

Take your cake out of the oven after the time is up. It should be golden brown on top and a skewer through the middle should come out clean.

Pour the drizzle mixture over the cake while it's still warm and use the back of a spoon to make sure it's evenly spread out. Leave it to cool completely.
For the icing:
Mix together the powdered sugar, elderflower syrup and lemon juice. You should end up with a slightly runny icing that is still thick and spreadable.

Spread the icing over the cooled cake, and top with lemon zest or slices if desired. If topping with lemon slices, note that these are only for decoration and should be removed before eating.

Leave the cake for around 30-60 minutes to allow the icing to harden, then cut into squares or slices.
Recipe Notes
*Store in a cool, dry place and in an airtight container for up to 5 days.
Nutrition Facts
Lemon Elderflower Cake
Amount Per Serving
Calories 240
Calories from Fat 72
% Daily Value*
Fat 8g12%
Sodium 150mg7%
Carbohydrates 40g13%
Protein 2g4%
* All values are an estimate only and will vary depending on the food brands used.