This Christmas vegan pavlova recipe is sweet, light and crunchy. Topped with vegan whipped cream and fresh berries, it makes an excellent Christmas day dessert. It tastes exactly like traditional pavlova, just without the eggs and dairy!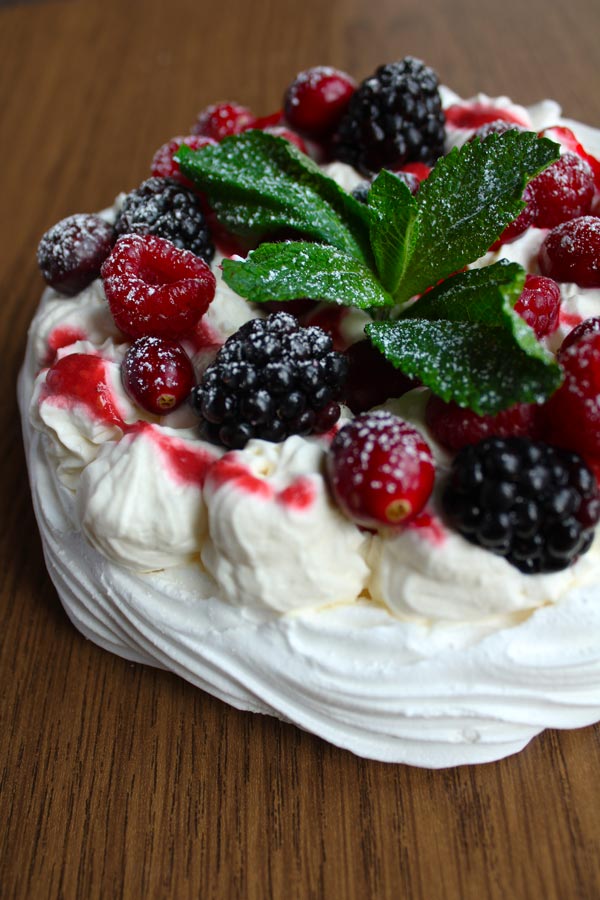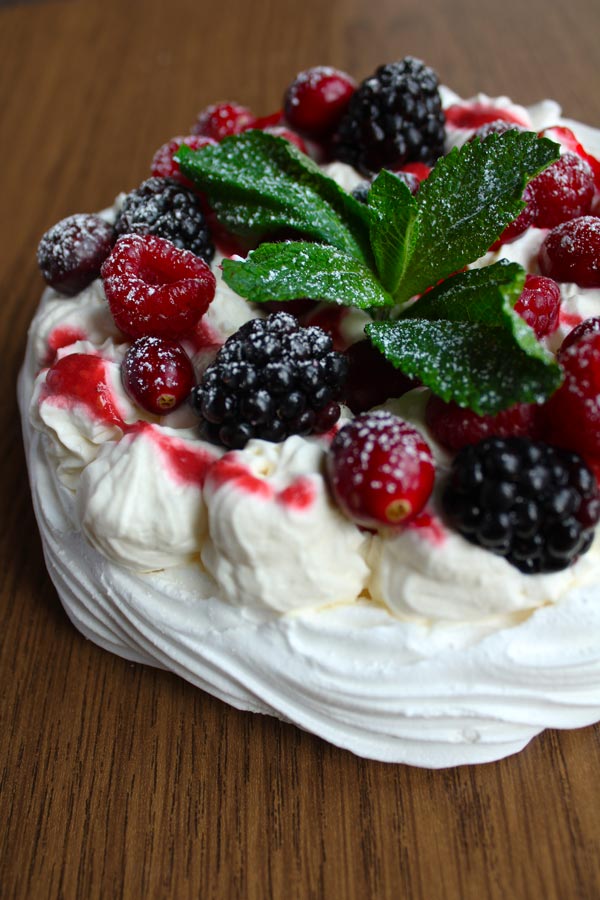 Pavlova has always been a Christmas hit in our house. We used to have it every year, piled high with whipped cream and strawberries. But as I'm the designated Christmas dessert maker, that stopped once I went vegan, and I made my vegan sticky toffee pudding instead. That was until I discovered you can make pavlova using aqua faba!
To be honest, I always thought putting chickpea water in a pavlova sounded sketchy. I imagined a bean-tasting disaster with a soggy consistency. But after one initial fail (my vegan pavlova fell apart into a liquid mess because I didn't whisk long enough), I realised aqua faba was magical. My pavlova tasted exactly the same as the ones I used to make with eggs!
The perfect vegan pavlova recipe
The trick to this vegan pavlova recipe is to whisk the aqua faba mixture until it forms STIFF peaks. By that, I mean whisk until you can tip the bowl upside down without the mixture moving. This takes a lot longer than it would with eggs, but have some patience, my friends. The result is worth it!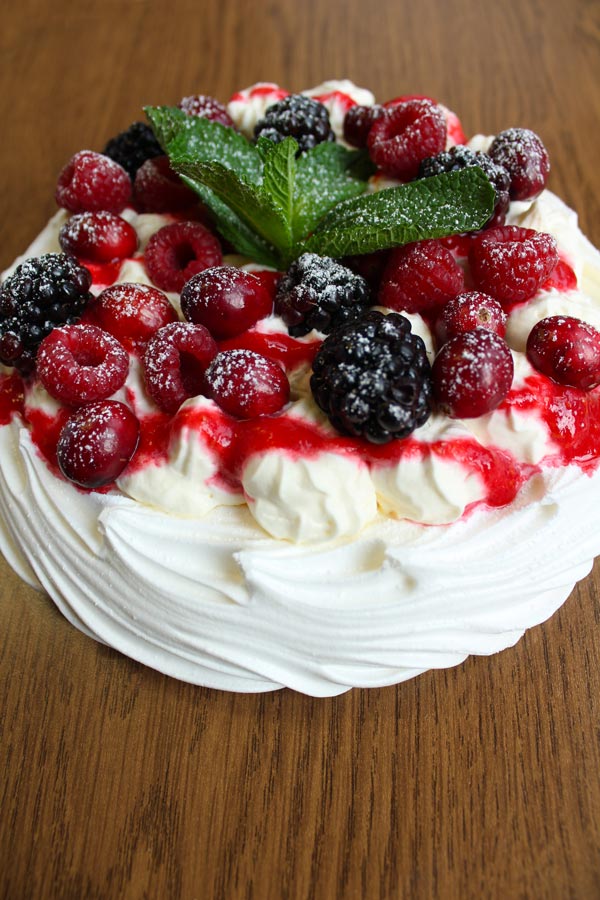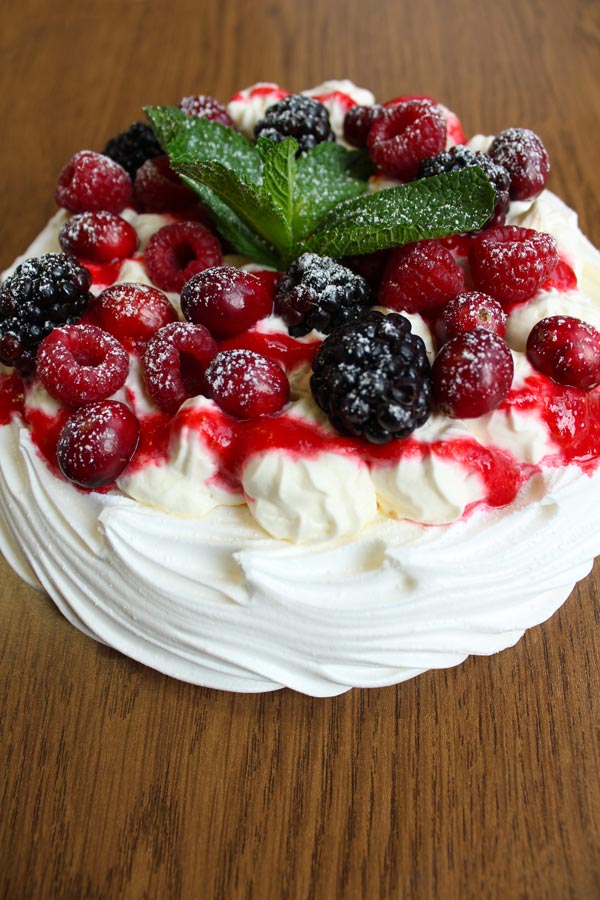 To ensure a perfect vegan Christmas pavlova, turn off the oven once it's finished cooking and don't open the door until it has completely cooled. This will prevent it from cracking or crumbling, giving you a smooth base for your toppings.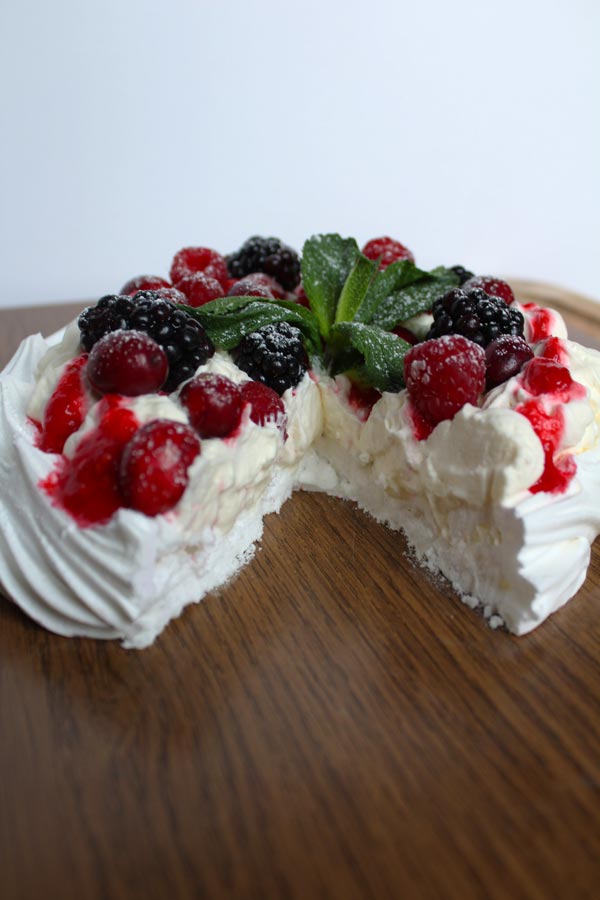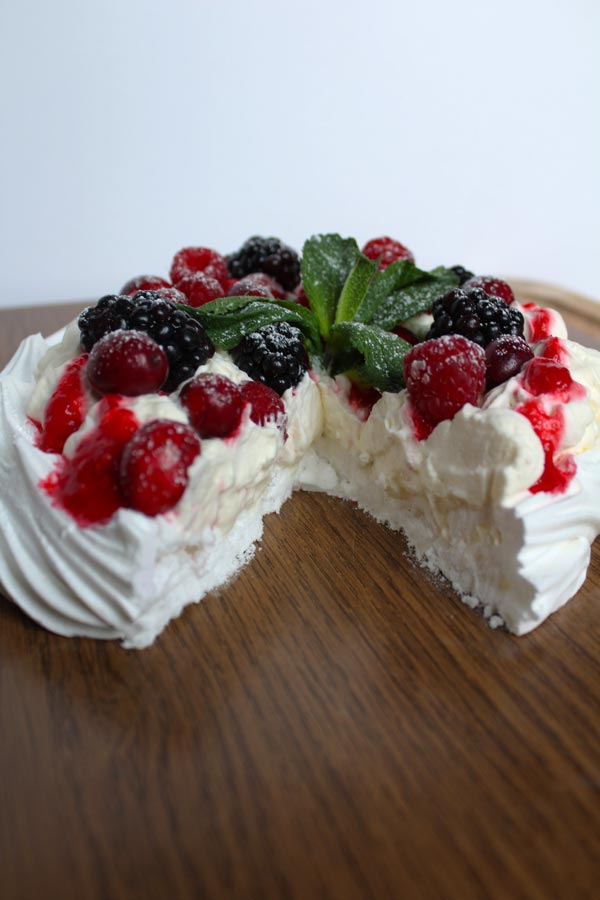 I topped my vegan Christmas pavlova with coconut cream, raspberry sauce and a mixture of winter berries including raspberries, cranberries and blackberries. I think the bright colours look lovely on top of the white pavlova. If you want the recipe for a good whipped coconut cream that's thick enough to pipe, check out the recipe below, which is an adapted version of the one I used for my vegan coconut scones. Otherwise, you can purchase any other vegan cream you like. For those in the UK, Asda now sells a great whipped cream alternative!

BERRY VEGAN CHRISTMAS PAVLOVA RECIPE
A light and crunchy pavlova topped with vegan cream and winter berries. A great Christmas dessert!
Ingredients
Pavlova
180

ml

Reduced aqua faba

1/2

Teaspoon

lemon juice

½

Teaspoon

cream of tartar

1

Teaspoon

vanilla

200

g

White sugar

2

Cans full-fat coconut milk

refrigerated for a few hours

140

g

Icing sugar

3-4

Teaspoons

Coconut flour
For the sauce
50

g

Raspberries or strawberries

1

Tablespoon

water

1

Tablespoon

icing sugar
Instructions
Preheat oven to 90C or 1/4 Gas mark

Line a baking tray with baking paper and draw an 8" circle on the paper

In a very clean glass bowl, use an electric whisk to beat the aqua faba for 1 minute until frothy.

Add the lemon juice, cream of tartar and vanilla. Whisk for a further 1 minute.

Keep whisking and start adding the sugar very slowly, 1 tablespoon at a time.

Continue whisking until all the sugar is incorporated and the mixture forms stiff peaks. You should be able to tip the bowl above your head without the mixture moving. This will take longer than it does when using eggs, so be patient!

Pipe or spoon the pavlova mixture into the circle you drew on your baking paper, creating a little dip in the middle for your toppings.

Bake for 2 hours then turn the oven off, keeping the pavlova inside. Do not open the oven door until it is completely cold (about 1-2 more hours).

To make the cream, scoop the solid part from the top of the coconut milk and place in a bowl. Add the icing sugar and coconut flour. Whisk together to form a thick cream.

Pipe or spoon the cream into the centre of the pavlova.

To make the sauce, blend or mash the 3 ingredients together. Drizzle sauce over the whipped cream.

Top with berries and sprinkle with icing sugar.
Recipe Notes
*Use store-bought vegan whipped cream if you're pinched for time *The pavlova can be made in advance and stored in an airtight container for up to 1 week. Add the cream and toppings just before serving and store leftovers in the fridge for up to 2 days.
Nutrition Facts
BERRY VEGAN CHRISTMAS PAVLOVA RECIPE
Amount Per Serving
Calories 210
* All values are an estimate only and will vary depending on the food brands used.
I hope this vegan pavlova recipe puts a smile on your face this Christmas. If you like this, be sure to also check out Renana's Kitchen, who I've collaborated with on this post. She's been busy making these amazing vegan Christmas bliss balls, which I know you're going to love!