This vegan cinnamon raisin granola is naturally sweetened, beautifully crunchy and will add a little cosiness to your winter mornings.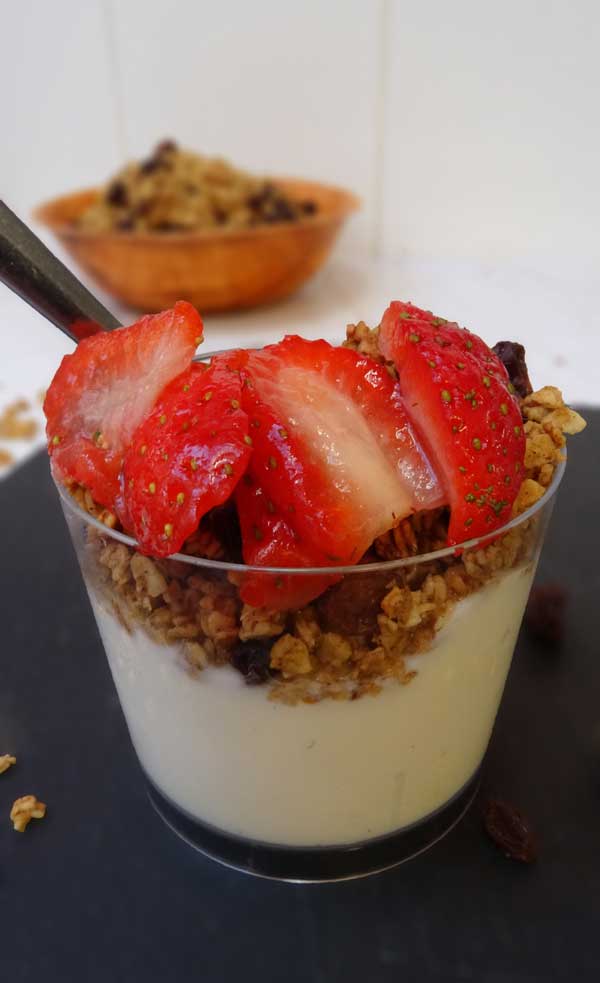 Is anyone else living in the Northern hemisphere struggling with the time change? I certainly am! Last weekend, the clocks went back one hour meaning we are officially heading into winter! Sigh. Here we go again, Scotland… I swear I was supposed to be born in Australia. Every year I feel like it gets more and more difficult to get out of bed when it's still pitch black outside. Not to mention -100°C (okay…maybe that's a slight exaggeration but it's pretty cold!). I really must get myself a new electric blanket soon…
What's really been helping me to get out of bed lately is having an easy and delicious breakfast (and a HUGE pot of tea) that I can prepare quickly. Just knowing that I have something tasty that I can grab as soon as i get out of bed is really motivating for me. That, and flashing my giant LED light straight into my eyes as soon as I open them.
This week, I've been thinking of some new breakfast recipes that I can make using oats: apple cinnamon oatmeal, pumpkin spice oatmeal, berry and cinnamon granola, and a whole lot of other sweet and spicy combinations. I've tried making a few of these creations and so far, my favourite is this vegan cinnamon raisin granola recipe that I'm sharing today. I find that the cinnamon gives a nice cosy, wintery feel but it's still very light on the stomach, just the right amount of sweet and very easy to eat.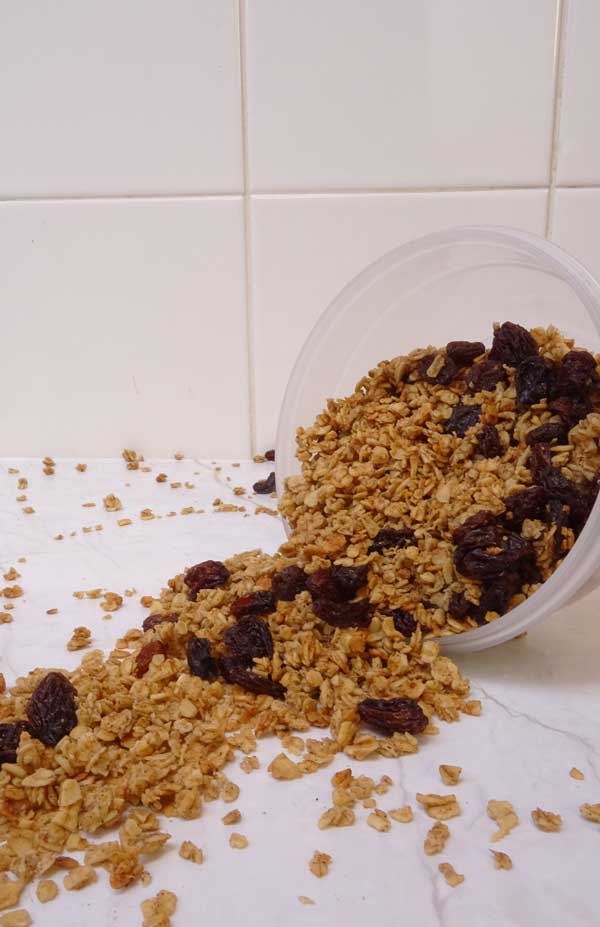 This vegan cinnamon raisin granola is free from refined sugar…
…And all the other nasties that you sometimes find in store bought packages (like whey powder- yuck). It's sweetened only with maple syrup and raisins. I've been loving it with coconut yoghurt and fruit but it also tastes AMAZING on top of warm oatmeal.
You're going to love this vegan cinnamon granola because it is:
Good for your digestion
High in fibre
Crunchy
Naturally sweetened
Easy to make
Portable
A great snack!
I hope this recipe will help add a little cosiness to the many dreary winter mornings we have ahead of us! Enjoy.
xo

VEGAN CINNAMON RAISIN GRANOLA
A crunchy, sweet and spicy vegan granola recipe.
Ingredients
200

g

Oats

1

Teaspoon

Cinnamon

3

Tablespoons

Coconut oil

or vegan butter, melted

3

Tablespoons

Maple syrup or agave nectar

130

g

Raisins
Instructions
Preheat oven to 160°C/Gas mark 3 and line a baking tray with parchment paper.

In a large bowl, mix together the oats and cinnamon.

Melt the coconut oil and add it to the bowl along with the maple syrup. Mix well.

Stir in the raisins and pour the mixture onto the baking tray.

Bake for 20 minutes, making sure to stir 2-3 times in between. Don't skip this step or your granola will burn!

Leave to cool completely, then transfer to an airtight jar or container to store. It will keep well for around 3-4 weeks.