Vegan Lemon Drizzle Cake
You're going to love this vegan lemon drizzle cake! A moist, dairy-free sponge cake flavoured topped with lemon sugar drizzle and water icing.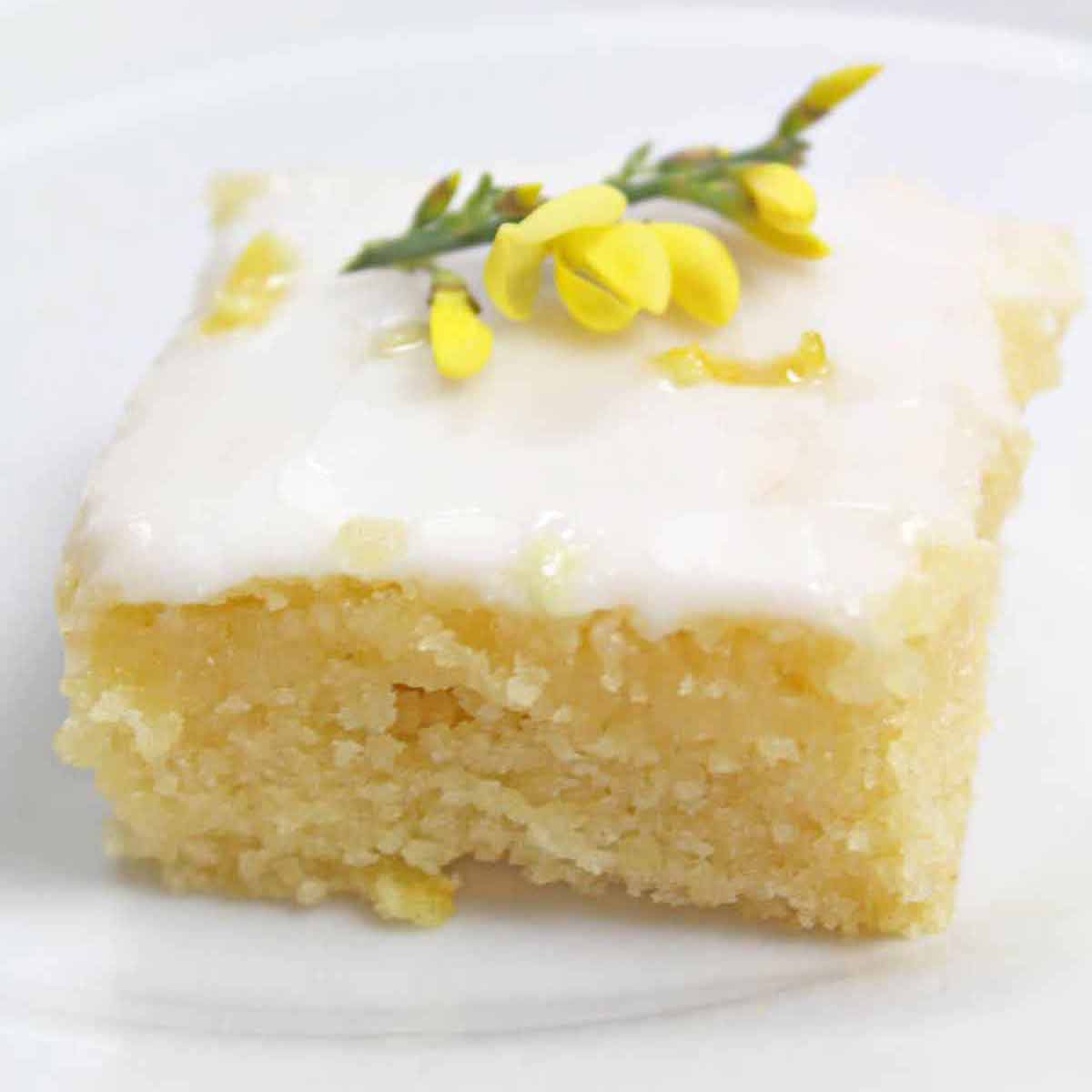 I first created this recipe on a whim last summer. I had recently baked a lemon drizzle box cake mix and felt inspired to create my own.
I was pottering around the kitchen and threw some ingredients in a bowl, hoping it would make a delicious dairy-free lemon drizzle cake. And to my surprise, it did.
I actually shocked myself that it was that easy! Usually, when I'm experimenting with new recipes for the blog, it results in at least 1 or 2 failures first. And a lot of wasted time and ingredients.
But this recipe was so easy and foolproof that I believe anyone can make it! (Yes, even those of you who say you can't bake!)
And the taste is absolutely perfect! It's super moist inside but still has that airy, crumbly texture that you'd expect from a cake.
I amended my original recipe slightly to include some thicker icing on top. As much as I love it with just the drizzle, the texture of the icing and the sponge together tastes incredible!
Want more lemon drizzle recipes?
If you're new to baking vegan desserts, you might be wondering how to bake lemon cake without eggs or dairy. But I promise you, it's SO easy!
For this recipe, I simply used margarine butter instead of dairy margarine, and dairy-free milk instead of cow's milk.
Making the cake fluffy without eggs
I had originally made this recipe using chia seeds as an egg replacer but I wasn't completely happy with how the seeds affected the texture of the finished cake.
It was more chewy and less fluffy than I would like. So instead, I used some baking powder to help it rise more.
The baking powder gave the cake the leavening effect that eggs have, and coupled with the dairy-free milk, it added a lot of moisture without making the cake heavy or dense. This perfect pair is also great for helping the rest of the ingredients bind together so it's not crumbly or dry.
How To Make Vegan Lemon Drizzle Cake
Step 1:
The first step is to "cream" 200g (3/4 cup + 2 tablespoons) of dairy-free margarine and 200g (1 cup) of caster/superfine sugar together.
The term "cream" in baking basically means just to create lots of air between the butter and sugar.
All you need to do is smear the butter along the sides of the bowl with your spoon until the sugar is completely combined. It will be a pale yellow colour with a light and fluffy texture when done properly.
Because this is an eggless lemon drizzle cake recipe, I used a bit more fat (margarine) than usual. My go to brand is Vitalite. The consistency and flavour is exactly the same and none of my non-vegan family can tell the difference!
Step 2:
Next, fold in 225g (1 + 3/4 cups) of all-purpose flour and 2 teaspoons of baking powder. The easiest way to fold dry ingredients into a cake mix is by doing a figure of 8 with your spoon until everything is combined.
Folding the flour allows us to keep as much air in the cake as possible so it doesn't come out dense once it's baked.
It may be a little dry at this point so don't worry if you can't fully mix it all in.
Step 3:
Now add 1 teaspoon of lemon juice and 250ml (1 cup) of dairy-free milk. I recommend unsweetened soy milk for best results.
Mix until everything is well combined. You should end up with a smooth and creamy cake batter.
Add in the zest of 1 lemon and gently fold it into the cake batter.
Step 4:
Pour the mixture into a tin.
For this recipe, I used an 8×10-inch pan. If you use a different sized tin, you will need to adjust the ingredient quantities accordingly or the cake will come out under/overcooked.
Step 5:
Bake your cake for around 40 minutes.
It should come out a light golden brown colour. You can test if it's ready by putting a toothpick or small knife into the centre of the cake. If it comes out clean, it's ready.
If there's still some cake mix on the toothpick/knife, pop the cake back in for a few minutes longer and repeat as necessary.
Step 6:
While the cake is baking, you can prepare your lemon drizzle mixture, which will be poured over the cake as soon as it comes out of the oven.
To do this, you just need to mix the juice of 1/2 a lemon with 2 tablespoons of caster sugar.
Step 7:
Once your cake is finished baking, while it's still in the tin and still hot, pour over the lemon drizzle mixture.
Once the cake has cooled completely, you can remove it from the tin and either place it on a wire rack or on a plate.
For the icing
You can totally miss this step out (the cake still will taste amazing) but I love the extra dimension the icing brings.
To make your icing, mix together 130g icing sugar (1 cup) and 2 tablespoons of cold water. It should be quite thick but still spreadable. If you like it extra lemony, use lemon juice instead of water.
Spread the icing over your cooled cake, top with some extra lemon zest if you like, and you're done. The best lemon drizzle cake ever!
Want more vegan cake recipes? Try these!
FAQ:
How long does eggless lemon drizzle cake last?
Up to 5 days if stored in an airtight container in a cool, dry place.
Can I freeze it?
Yes, this recipe can be frozen with or without the icing. Either way, it'll still taste great! If you freeze it without, you can just whip the icing up on the day, an hour or two before you want to serve it.

To freeze the cake, either place slices into an airtight container or freeze the whole cake on a lined baking tray. Once frozen, you can wrap it tightly in cling film or tin foil and return to the freezer.

To thaw the cake, transfer it to a plate and leave it at room temperature for 1-2 hours, until it's soft and fluffy again.
I hope you enjoy this dairy-free lemon drizzle cake. Let me know if you try it at home by leaving a review below or tagging me on Instagram @bakedbyclo!
Happy baking! xo

Vegan lemon drizzle cake
A deliciously moist eggless lemon drizzle cake that tastes just like the classic!
Ingredients
For the cake
200

g

Caster sugar

(1 cup)

200

g

Vegan butter

(3/4 cup + 2 tablespoons)

225

g

Plain flour

(1 + 3/4 cups)

2

Teaspoons

Baking powder

1

Teaspoon

Lemon juice

250

ml

Soy milk

(1 cup)

Zest of 1 lemon

(save a little to top the cake with)
For the drizzle
Juice of 1/2 a lemon

2

Tablespoons

Caster sugar
For the icing
130

g

Icing sugar

(1 cup)

2

Tablespoons

Water

(or lemon juice if you like it extra lemony!)

Lemon zest, to garnish

(optional)
Instructions
Preheat oven to 180°C/350°F (160°C/325°F if using fan or convection oven). Line an 8×10-inch tin with baking paper.

Cream together the sugar and butter. Fold in the flour, baking powder, lemon juice and milk.

Add the lemon zest and fold it in gently.

Spoon the cake mix into the tin and bake for around 40 minutes until golden brown. A toothpick through the centre will come out clean when it's done.

While the cake is baking, make the drizzle by mixing together the lemon juice and sugar. Pour this over the cake as soon as it comes out of the oven, while it's still hot.

When the cake is completely cool, carefully remove it from the tin.

Prepare your icing by mixing the icing sugar and water together. Spoon it over the cooled cake and top with some lemon zest.

Leave the icing to harden for around 30 minutes or so, then cut into squares and enjoy!
Recipe Notes
Soy milk works best but other plant-based milks will work too.
The cake can be stored in an airtight container for up to 5 days.
You can make this cake in a 1lb loaf tin- just bake for an extra 5-10 minutes.
Nutrition Facts
Vegan lemon drizzle cake
Amount Per Serving (1 slice)
Calories 215
Calories from Fat 72
% Daily Value*
Fat 8g12%
Sodium 160mg7%
Carbohydrates 35g12%
Protein 2g4%
* All values are an estimate only and will vary depending on the food brands used.
BakedByClo is a participant in the Amazon Services LLC Associates Program, an affiliate advertising program designed to provide a means for sites to earn advertising fees by advertising and linking to Amazon.com. This site may contain some of these links to Amazon.com & other affiliate programs. If you make a purchase through one of those links, BakedByClo will receive a small commission from the purchase at no additional cost to you.