These gluten-free vegan oatmeal raisin cookies are quick easy and require just 7 ingredients to make. They're soft, sweet and melt in your mouth. They are sure to satisfy all of your cookie cravings!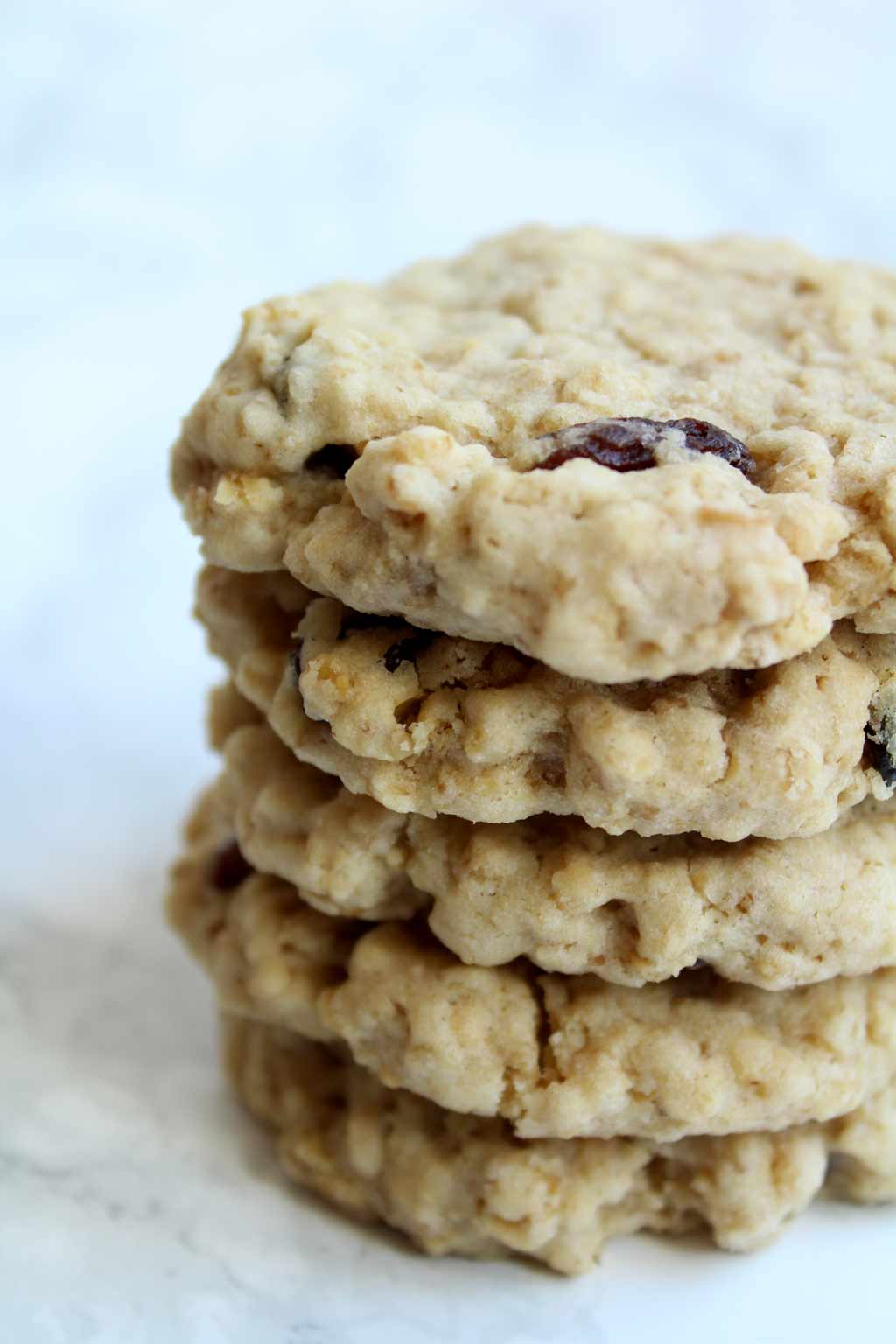 I don't know what it is, maybe I'm just a sugar monster, but I've been majorly craving all kinds of cookies lately.
I usually try my best to avoid eating sweet treats for the most part, allowing myself to indulge at the weekends. But I just HAD to have a cookie today.
I didn't want to make another batch of chocolate chip cookies, seeing as I already have quite a few of those types of recipes on the blog:
So I decided I'd switch things up a little and do vegan oatmeal raisin cookies instead.
Gluten-Free Vegan Oatmeal Raisin Cookies
I know raisins aren't on everybody's most loved food list but oh my gosh do they taste amazing in cookies.
I first tasted oatmeal raisin cookies when I visited my friend in Canada. And after my first one, I was hooked. Every time we went to the grocery store, I'd stock up on a box of those freshly-baked cookies from the bakery.
Oatmeal raisin cookies aren't really as common here in the UK so I wanted to do my own take on it. Except, of course, these are vegan oatmeal raisin cookies. No eggs or dairy here.
I was really pleased with how they turned out, especially seeing as I used gluten-free flour which isn't something I'm too used to baking with just yet. Granted, it did take 3 batches of failed cookies (and coming close to tears) before I got it just right… but it was worth the wait.
The final batch gave me super soft, buttery and perfectly sweet cookies. And I love how they become super delicate as they start to cool, in a melt-in-your-mouth sort of way. Yum.
Soft cookies are the best type of cookies, don't you agree?
How to Make Vegan Oatmeal Raisin Cookies
The process for this cookie recipe is relatively simple. Let me show you how it's done!
Before you start baking, line a large baking tray with some grease-proof paper, and set your oven to 180C, or 160C if you use a fan oven.
Step 1:
The first step is to mix together 120g of butter (see recipe card below for cup measurements), 55g of brown sugar, 55g of caster sugar and two teaspoons of vanilla essence. It will become a creamy, smooth paste once mixed.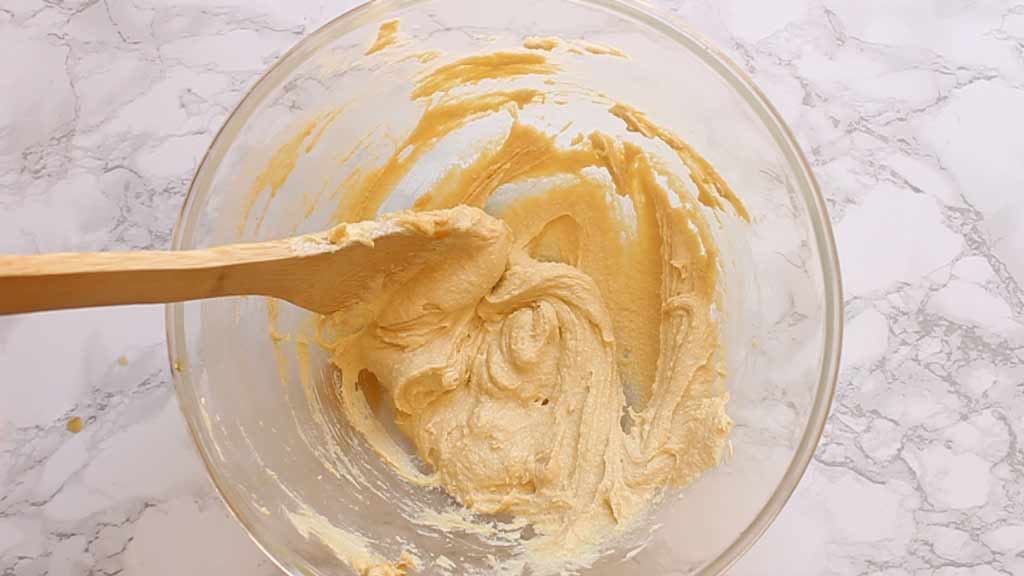 Step 2:
Next, add your dry ingredients. You'll need 130g of gluten-free flour (or regular if you're not worried about the cookies being gluten-free) and 100g of rolled oats. Stir the dry ingredients into the wet until they start to come together.
I tried making these cookies with just oats and oat flour but I found the texture to be far too gummy. Switching the oat flour for plain gluten-free flour helped a lot.
I used Doves Farm plain free-from flour but you can use any gluten-free flour blend that's available near you. I know Bob's Red Mill is a popular one in the USA.
Also, it's worth noting that if you're celiac and want to make sure these cookies are 100% gluten-free, you'll need to ensure you get certified gluten-free oats as some can be cross-contaminated.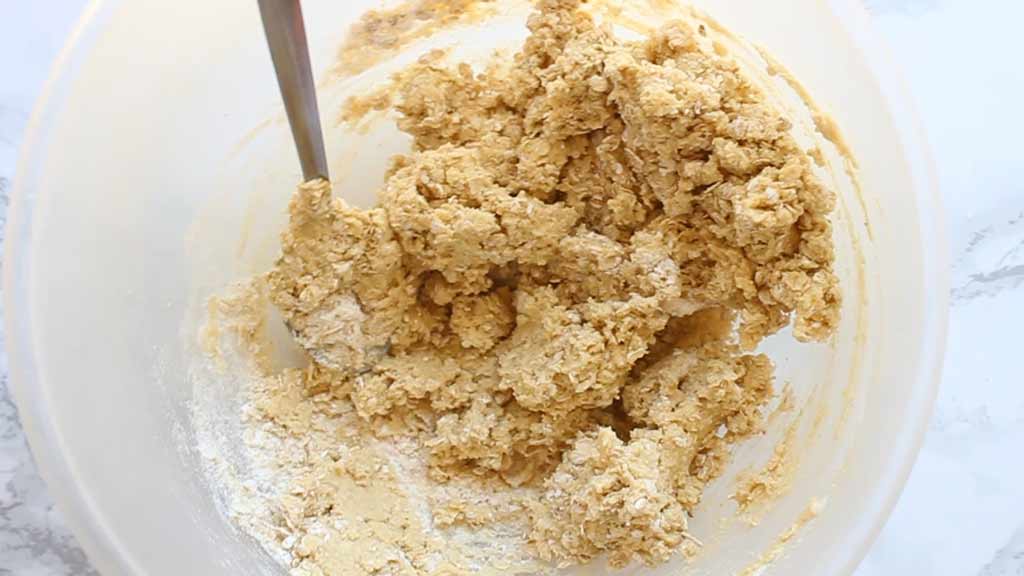 Step 3:
Let the dough stand at room temperature for around 20 minutes or so. This will allow enough time for the ingredients to bind and come together properly.
Step 4:
Add 60g of raisins or sultanas into your cookie dough. Lightly mix the dough with a spoon until the raisins are incorporated.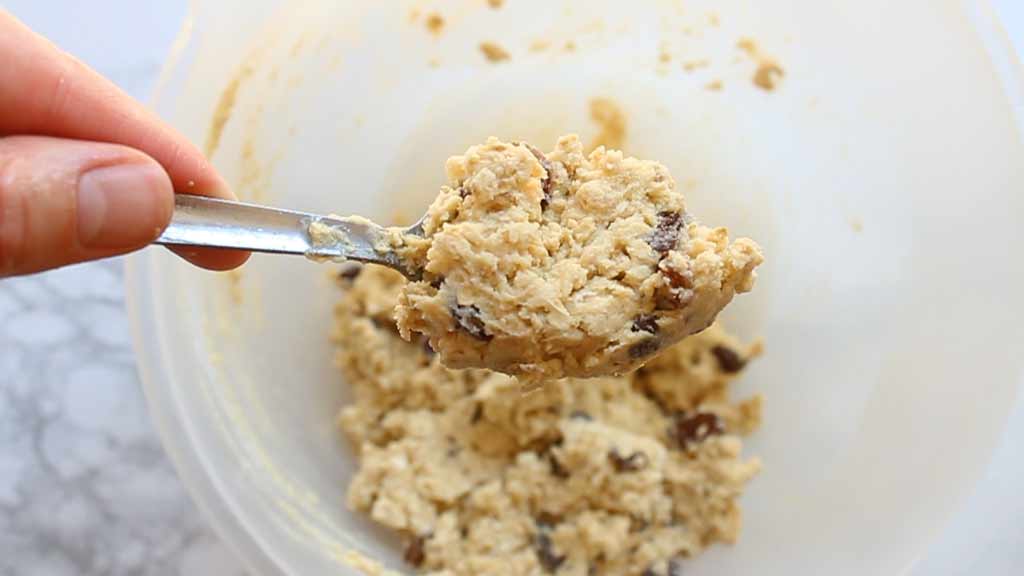 Step 5:
1 tablespoon at a time, separate the cookie dough into equal-sized small balls and roll them tightly. Place each ball onto a lined baking sheet and use clean fingers to press the balls into flat cookie shapes.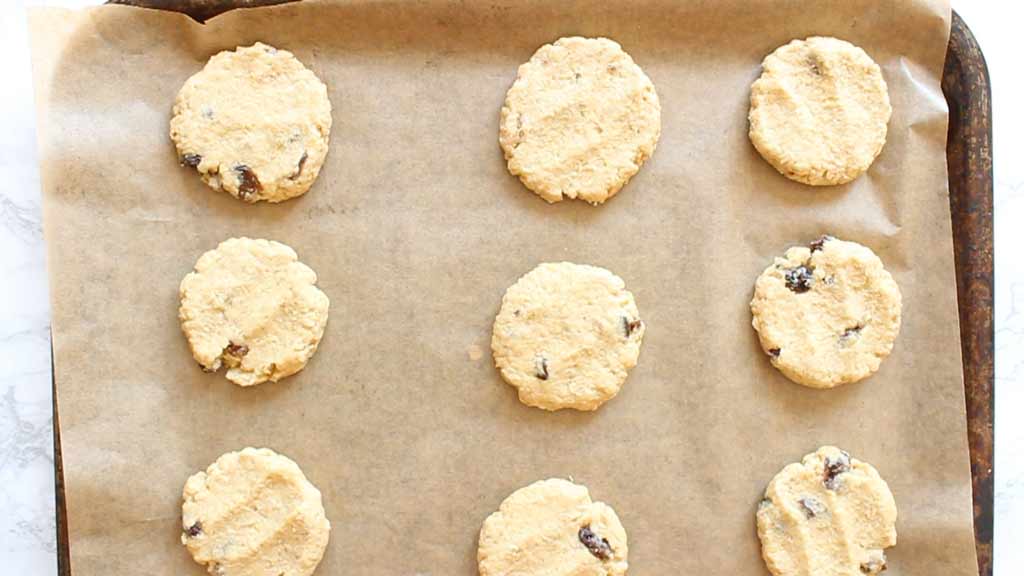 Bake them for around 12 minutes until they are slightly firm at the edges.
They will still be quite wobbly in the middle when they come out of the oven but they will firm up as they cool. This is what gives them that delicious soft, chewy texture!
Step 6:
Leave the cookies for at least an hour until they are completely cold. Then, enjoy!
Tips For Making Vegan Oatmeal Raisin Cookies
Use old-fashioned rolled oats for best results. These will help bring the "soft" element to the cookies!
Don't overbake! I repeat! Do not overbake the cookies! (Unless you like crunchy cookies!) They won't look fully cooked when you take them out of the oven but they will become a bit firmer after they've been cooling for a while.
Not a fan of raisins? That's OK! Not everybody likes them. If you want a delicious oatmeal cookie without raisins, you can simply omit them or try one of these alternative add-ins:

Dark chocolate chips
Vegan white chocolate chunks
Chopped almonds
Spices such as cinnamon or ginger

You can store vegan raisin oatmeal cookies in an airtight container at room temperature for up 3-4 days.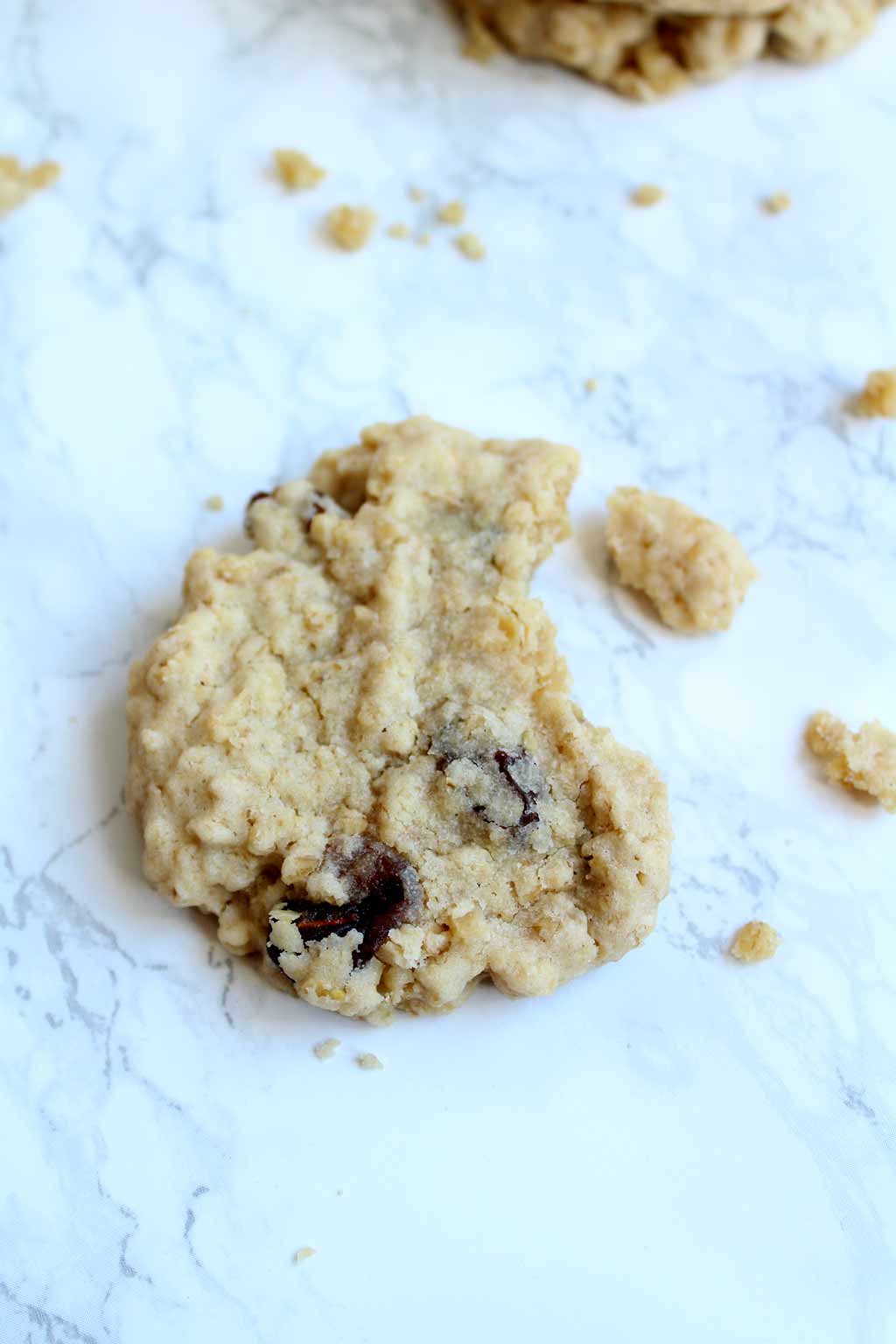 I hope you enjoy this recipe. Let me know if you make it and what you think by leaving a rating and/or comment below.
Happy baking!
xo

Vegan Oatmeal Raisin Cookies
Soft and chewy gluten-free vegan oatmeal cookies with juicy raisins.
Keyword:
vegan oatmeal raisin cookies
Ingredients
½

Cup

Vegan butter

(120g)

½

Cup

Soft brown sugar

(55g)

½

Cup

Caster sugar

(55g)

2

Teaspoons

Vanilla essence

¾

Cup

Gluten-free plain flour

130g

1

Cup

Rolled oats

100g

½

Cup

Raisins or sultanas

(60g)
Instructions
Preheat your oven to 350°F/ 180°C/ 160°C fan and line a large baking tray with grease proof paper.

In a medium-sized bowl, add the vegan butter, brown sugar, caster sugar and vanilla essence. Mix everything together until smooth.

Add in your gluten-free plain flour and rolled oats. Stir until everything starts to come together, then add your raisins. Gently mix again until they're incorporated well.

Leave the dough to stand at room temperature for 20 minutes, to allow the ingredients and flavours to come together properly.

Divide the dough into 12 equal sized pieces (using a tablespoon) and roll each piece into a small ball. Place the balls onto the baking tray and use your fingers (or a fork) to press them into flat cookie shapes, around 3 inches in size.

Bake the cookies for 12 minutes. They will be slightly wobbly in the middle when you first take them out but they will firm up and become chewier once they are cold. Resist the urge to keep baking at this point, unless you want super crunchy cookies.

Leave the cookies on the tray for at least 1 hour until they are completely cold before enjoying.
Recipe Video
Recipe Notes
*Store at room temperature in an airtight container for 3-4 days.
Nutrition Facts
Vegan Oatmeal Raisin Cookies
Amount Per Serving
Calories 150
Calories from Fat 54
% Daily Value*
Fat 6g9%
Carbohydrates 25g8%
Protein 1g2%
* All values are an estimate only and will vary depending on the food brands used.