There are certain foods that take me back to my childhood every time I see them. Party Ring biscuits are definitely one of those foods. If you don't know, Party Rings are ring-shaped biscuits (or cookies for those in the USA) with colorful icing. And they are suitable for vegans.
Growing up in the '90s, my cousins and I would have sleepovers at my gran's house every Saturday. We would always insist on stashing some Party Ring biscuits, Happy Faces (anyone else remember those?!) and mini cheese triangles for our wild "midnight feast". A midnight feast that was almost always at 9pm because our tired little selves couldn't stay awake any longer.
One of my cousins in particular loved Party Rings so much that she stuffed a whole pack up her jumper and secretly whipped them out for us to share, out of adults' sight, on our walk to church. At 10 am. Those were the days.
When I saw these beautiful Party Ring cupcakes on Instagram, I knew I had to make them. Nobody else has shared a vegan recipe for them yet, at least to my knowledge, so I'm here to save the day!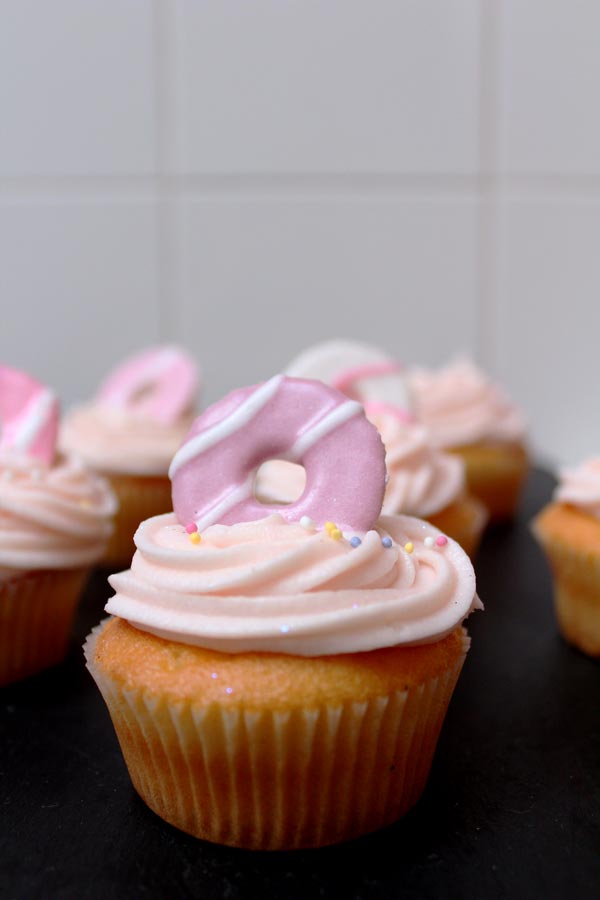 If you really want to wow your friends and family, these cupcakes are the way to go. They definitely look the part and taste even better. I promise they'll be a crowd-pleaser!
How to make vegan Party Ring cupcakes
I started by first making a basic vanilla sponge mix which turned out to be pretty easy. This was actually my first time baking cupcakes since going fully vegan. Which is weird, because cupcakes were always my forte pre-vegan. I think my many days of bake sales and making cakes for my colleagues helped me out a lot here.
Once I mastered an evenly-cooked, light and fluffy vegan cupcake, it was time to ice. And after all these months of going without iced desserts because buttercream icing contained milk (and I hate that watery-type icing), it finally dawned on me that I can make delicious, thick frosting by just using vegan butter and plant milk. Doh!
These vegan Party Rings cupcakes will even impress the anti-vegans
After the cakes were iced, I popped the Party Rings on top, added some sparkle and some shine, and they were good to go! My brother told me they were delicious. And coming from someone who has made fun of my veganism from the beginning, that's quite the compliment, trust me! Two others also told me that the cakes don't look or taste vegan, which I think is considered a good thing, right?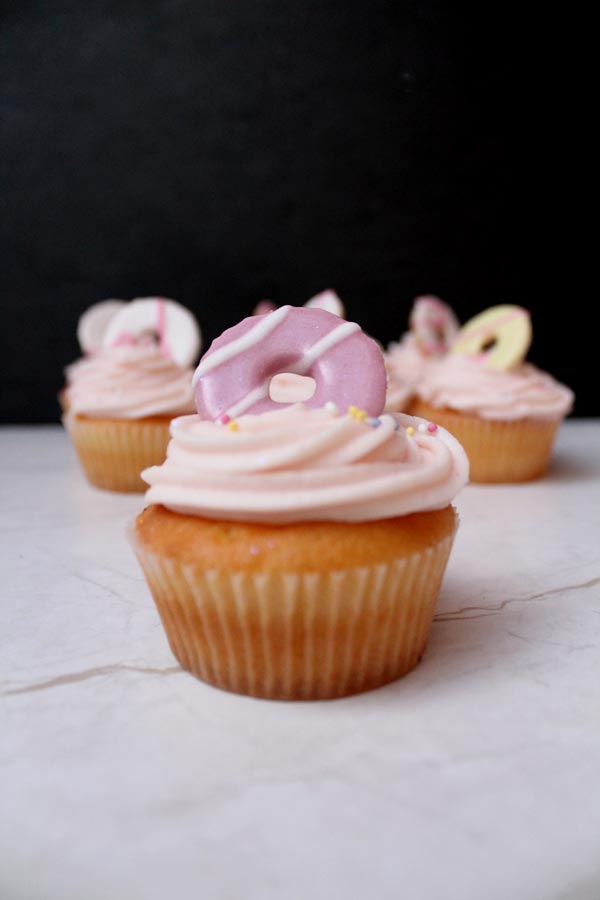 If you're looking for a blast from the past, be sure that your next bake is these vegan Party Ring cupcakes. I hope they bring back as much nostalgia for you as it did for me. I'm off to make some more for a cracking midnight feast!
xo

VEGAN PARTY RING CUPCAKES
A light and fluffy cupcake topped with a layer of vegan frosting and a classic Party Ring biscuit.
Keyword:
Vegan Party Ring cupcakes
Ingredients
For the cupcakes:
150

ml

Plant-based milk

(½ cup + 2 tablespoons)

1

Tablespoon

Apple cider vinegar

(or lemon juice)

160

g

All purpose flour

(1 + ¼ cup)

2

Teaspoons

Baking powder

100

g

Caster sugar

(½ cup)

150

ml

Rapeseed oil

(½ cup + 2 tablespoons)

2

Teaspoons

Vanilla extract
For the topping:
240

g

Vegan butter

(1 cup)

600

g

Powdered sugar

(5 cups)

1

Teaspoon

Vanilla extract

Few drops vegan pink or purple food colouring

(I use PME food gel)

12

Mini Party Ring biscuits
Instructions
Preheat oven to 200°C/ 400°F and prepare 12 cupcake cases on a tray.

Mix together the plant-based milk and vinegar and set it aside for 5 minutes.

In a large bowl, mix together the flour, baking powder and sugar.

Add the milk mixture, the oil and the vanilla extract. Mix well until you have a smooth cake batter.

Divide the batter between the cases and bake for around 15-20 minutes until golden brown on top.

While the cakes are baking, prepare the topping by mixing together the vegan butter and powdered sugar with a wooden spoon. Add the vanilla extract and mix again. If it's too thick, you can add a splash of plant-based milk and if it's too thin, you can add more powdered sugar.

Stir in the food coloring then spoon the frosting into a piping bag.

Once the cakes are completely cooled, pipe some of the icing onto each one.

Top each cupcake with a Party Ring biscuit.
Recipe Notes
Store in an airtight container for up to 3 days.
Nutrition Facts
VEGAN PARTY RING CUPCAKES
Amount Per Serving
Calories 330
* All values are an estimate only and will vary depending on the food brands used.