These low carb vegan peanut butter cookies are soft, sweet and nutty. If you're looking for oil-free or gluten-free cookies, this recipe ticks all those boxes!
They're:
dairy-free
egg-free
milk-free
healthy
gluten-free
oil-free
grain-free and low carb.
And for those who allergic to nuts, I've even included adaptions so you can make them allergy-free cookies!
What more could you want?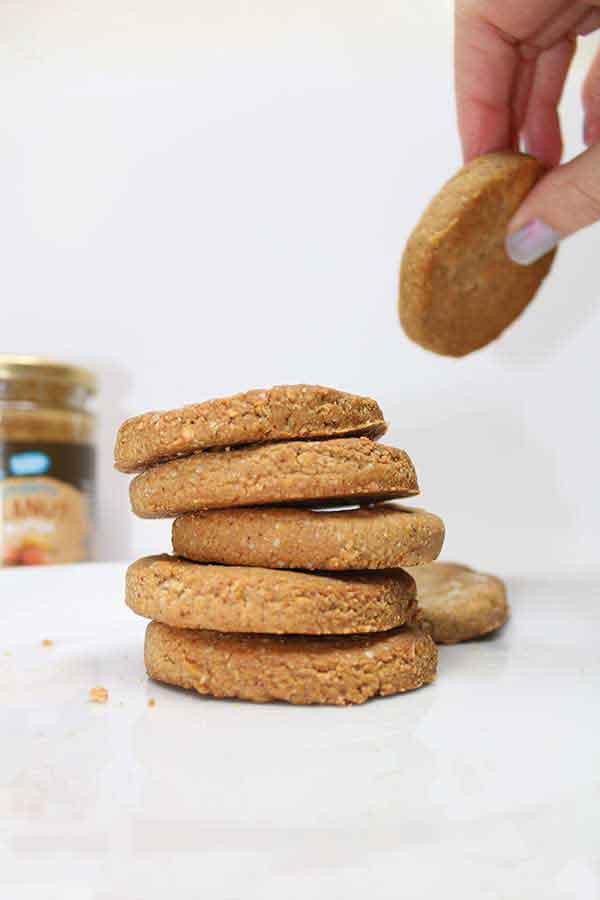 The Best Vegan Peanut Butter Cookies
Usually, when I'm testing out a recipe for the first time there are almost always a few tweaks that I need to make.
Most of the time I make the recipe at least 2 or 3 times until I get it just right.
But this recipe turned out perfectly the very first time!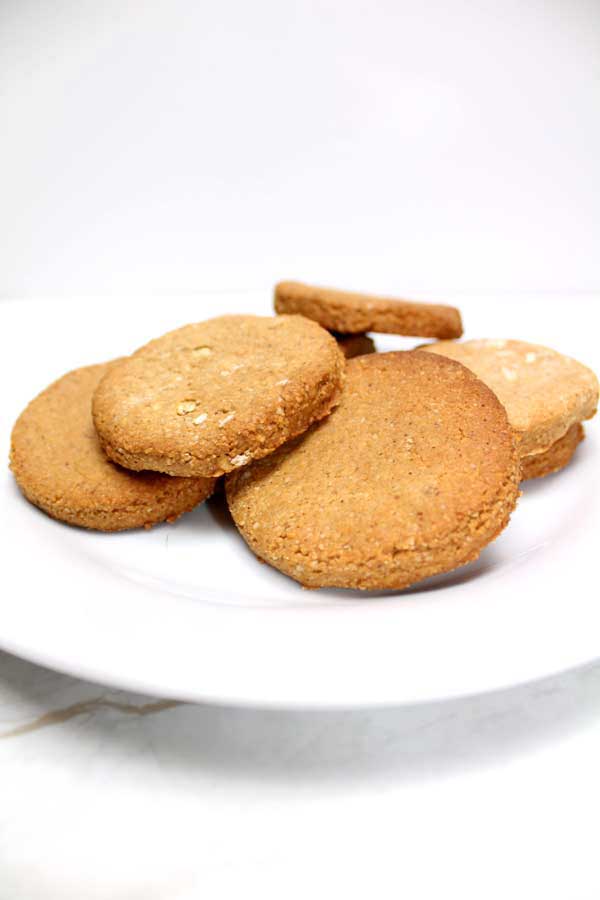 I was originally planning to make a peanut butter and banana sundae this week. But when it came around to actually making it, I realised I hadn't frozen my bananas. Fail.
So, I had a full jar of peanut butter sitting there in my cupboard. I wanted to make good use of it in a recipe before I lost control and started eating it straight from the jar. (relatable, no?)
Aside from my almond flour cookies and Christmas cookies, I haven't really played around much when it comes to cookie recipes without eggs or milk.
How do you make cookies without eggs or milk?
There are actually many options for an egg replacement in cookies, such as flax "eggs", chia eggs, bananas, apple sauce, and vegetable oils.
But these vegan peanut butter cookies require no dairy or egg substitute for baking. The ingredients are naturally vegan and form a dough very easily when combined.
Which makes them one of many super quick and easy vegan desserts!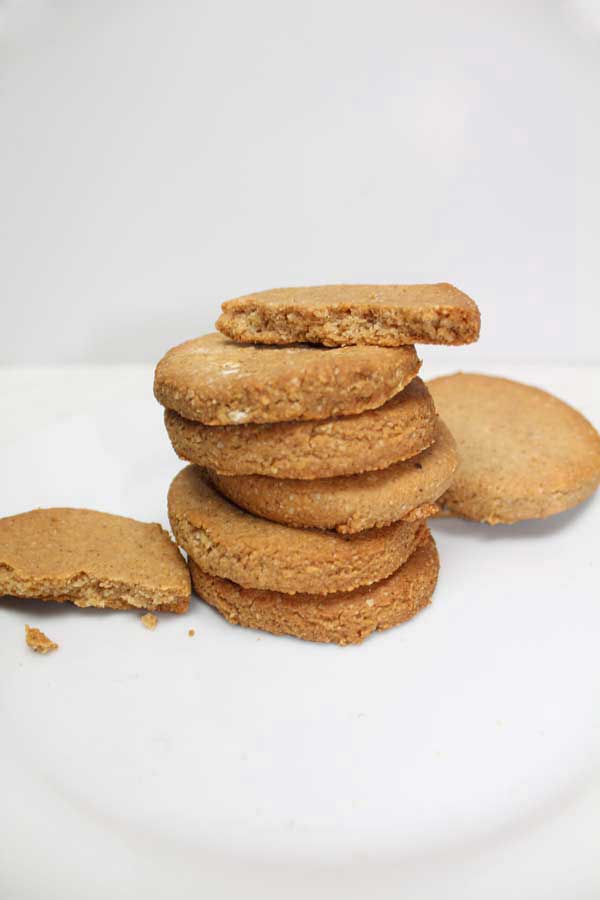 Looking for more easy vegan dessert recipes? Try these:
So, How Do You Make Vegan Peanut Butter Cookies?
Are you ready? The 3 ingredients are peanut butter, maple syrup, and ground almonds.
That's it! Cool, right?
All you have to do is mix it up, roll it out and bake until golden!
Together, these ingredients make the most perfect combination. They are soft and chewy and contain tonnes of benefits. These vegan peanut butter cookies are:
Healthy
Naturally sweetened
Full of healthy fats
Low carb
Gluten-free
Oil-free
Dairy-free
Eggless
Easy
Quick
And if you have allergies to nuts, check out the substitutions below to make 3 ingredient allergy-friendly vegan cookies!
The Allergy-friendly Option
Here's how to make nut-free cookies:
Sub peanut butter for sunflower seed butter in equal amounts
Sub ground almonds for ground oatmeal (gluten-free if necessary) in equal amounts
Feel free to experiment with other flours too and let me know your results!
The oatmeal flour makes the cookies a little crunchier too, so if you prefer crunchy cookies then definitely use oats instead of almonds.
And that's it! Let me know how you enjoy these simple vegan peanut butter cookies.
Happy baking!
xo

Vegan Peanut Butter Cookie Recipe (Allergy-Friendly)
A 3 ingredient soft cookie recipe that's vegan-friendly and naturally sweetened. Whether it's oil free vegan cookies or low carb this recipe is one of my favourite gluten free vegan cookie recipes of all time!
Ingredients
UK Measures (Grams)
120

g

Peanut Butter

The runny kind that's made from 100% nuts (or sunflower seed butter)

120

g

Maple Syrup (or Agave Nectar)

200

g

Ground Almonds (or Oats)
US Measures
8

Tbsp

Peanut Butter

The runny kind that's made from 100% nuts (or sunflower seed butter)

8

Tbsp

Maple Syrup (or Agave Nectar)

2

cups

Ground Almonds (or Oats)
Instructions
Preheat oven to 180°C/ (160°C fan / 350°F/ Gas mark 4)

Line a tray with baking paper.

Mix all ingredients together in a bowl to form a dough.

Lightly flour a surface with almond/oat flour and roll the dough to around 3cm thick.

Cut out your cookie shapes, place on the tray and bake for 12 minutes until golden brown.

Leave to cool completely before enjoying.
Recipe Notes
These cookies can be stored in an airtight container for up to 1 week.
**For a soft cookie use ground almonds. If you like your cookies crunchy, use oat flour.
Nutrition Facts
Vegan Peanut Butter Cookie Recipe (Allergy-Friendly)
Amount Per Serving
Calories 190
* All values are an estimate only and will vary depending on the food brands used.
Want more cookie recipes? Try these!
Dark chocolate and ginger cookies