This vegan royal icing is quick, easy and requires just 3 ingredients! It makes a delicious addition to all types of cakes and cookies.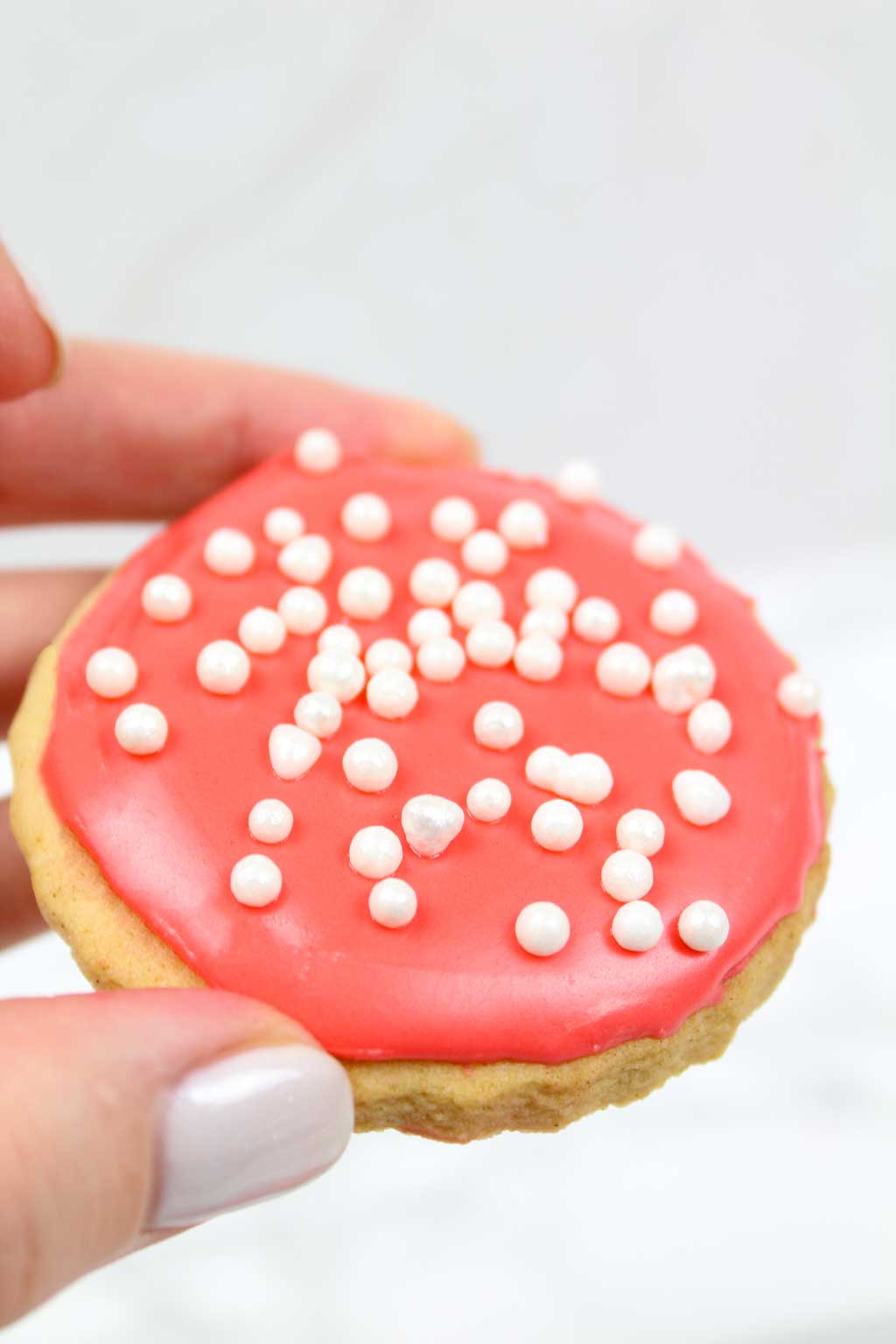 Remember my vegan pavlova recipe from last year?
Well, I recently remade (and improved) it and it got me back into experimenting with aqua faba again.
Just in case you don't know, aqua faba is essentially "chickpea water". Or, the water that's leftover from tinned/cooked chickpeas.
It can be whisked up and used as a pretty much identical substitute for egg whites- that includes making meringues, macarons and lots of other tasty vegan treats!
So anyway, like I said, remaking the pavlova got me thinking. What else could I make with the weird and wonderful liquid that is aqua faba?
And since it's coming up to Christmas, the first thing that came to my mind was vegan royal icing!
I've seen countless sugar cookies all over my social media feeds in the last few weeks. And, oh my gosh, some of these people are so talented! I've seen literal Christmas SCENES painted onto cookies with royal icing.
I have to admit that I'm not quite so artistically inclined. I just about managed a few swirls and dots.
But since it was my first time ever using eggless royal icing, I'm happy with how my cookies turned out! I'm sure there will be plenty more time for experimenting with designs in the future.
Vegan Royal Icing That Hardens
I love this recipe so much because you'll literally never be able to tell the difference between eggless royal icing and the traditional version.
This vegan one pipes the same, spreads the same and dries hard the same too!
Since I first perfected my vegan royal icing, I've made countless batches of cookies to go with it. Everyone who's tried it has been impressed!
My absolute favorite cookie to have with the icing right now is shortbread. I use the shortbread recipe from my empire biscuits because the dough is so easy to roll out and cut lots of different shapes out of.
Because the icing gets hard too, it's super easy to layer different designs and colours. That is, if you're better at art than I am, LOL.
If you're adding sprinkles of any kind, make sure to add them before the icing sets. Otherwise, they'll just roll straight off the sides.
Food Coloring For Vegan Royal Icing
I would strongly recommend using gel colors to brighten up your icing!
I find that the liquid ones just aren't as vibrant. And you end up needing to use WAY more to get the desired result which sort of ruins the consistency of the icing.
When browsing through my local Hobbycraft store, I came across a great pack of colored food gels. I immediately knew they'd be a perfect replacement for the liquids I'd been using and, much to my surprise, they were actually vegan friendly!
The gels are called "PME concentrated food paste", and they are also available on Amazon, both in the US and the UK.
I know there are a few other vegan-friendly brands out there, so just keep your eyes peeled. But definitely gel over liquid!
How To Make Vegan Royal Icing
Anyway, let's get to it!
How do you make eggless royal icing out of chickpea liquid, I hear you ask? Let me show you!
Step 1:
The first step is to get your aqua faba. I'd highly recommend using tinned chickpeas for ease (unless you cook a lot of chickpeas anyway).
For this recipe, you'll need 6 tablespoons of aqua faba.
Place it in a bowl along with 1/4 of a teaspoon of cream of tartar. If you don't have that to hand, you can replace it with 1/2 a teaspoon of lemon juice instead.
I also like to add 1 tablespoon of vanilla extract at this point too to enhance the flavor. But this isn't totally necessary- it'll be just fine without it too.
Step 2:
Using an electric whisk or stand mixer, whisk up the ingredients for a few minutes, until the mixture becomes super pale and frothy.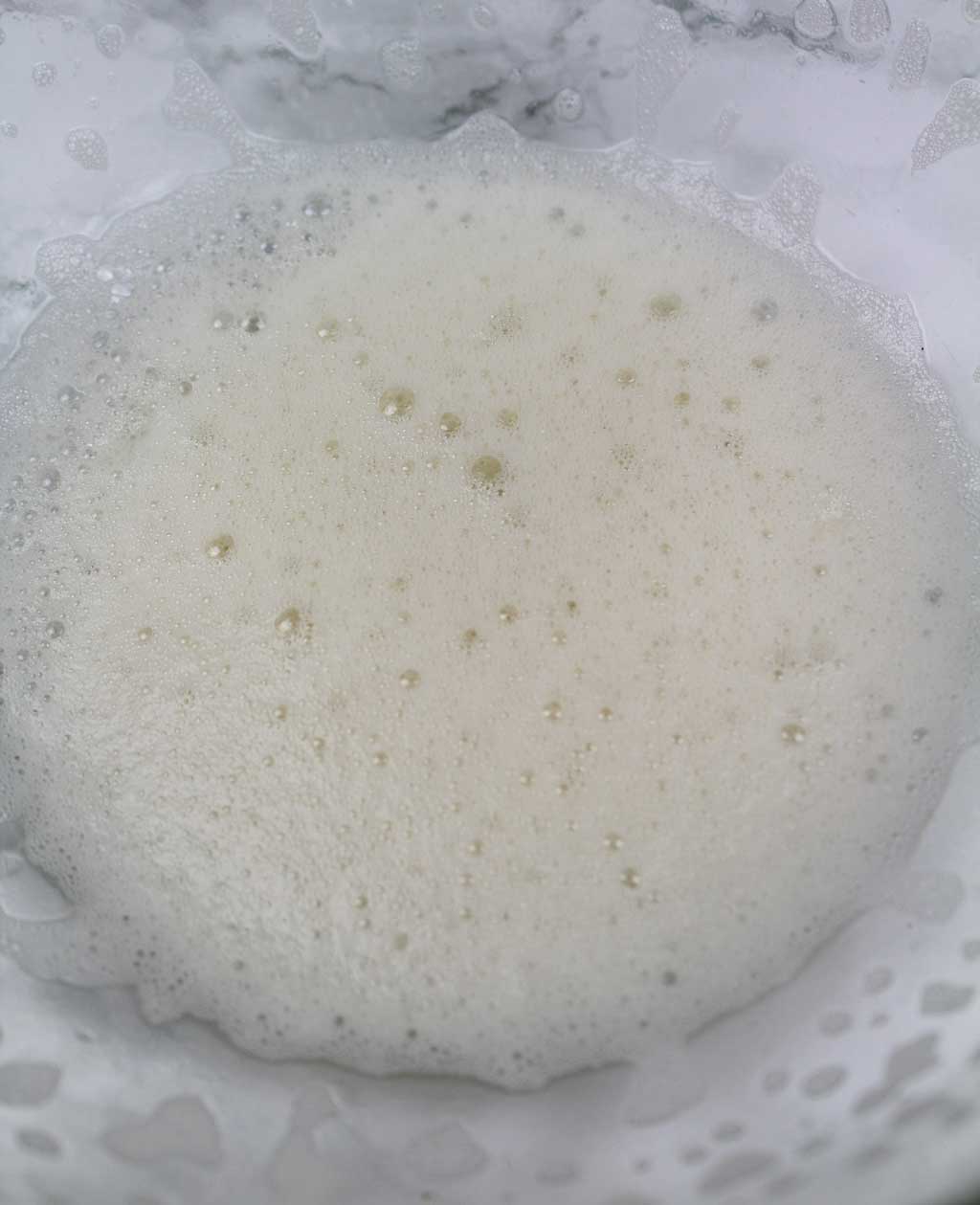 Slowly add in half of your powdered sugar (450 grams or 3 + 1/2 cups) and gently mix it in using a wooden spoon.
If using a hand mixer, don't go straight in with it before mixing unless you want to end up looking like a snowman because the sugar will go everywhere!
Add the remaining half of the powdered sugar and gently mix it in again. Once it's all mixed in, I like to give it a final whisk with my electric mixer to make sure it's perfectly combined.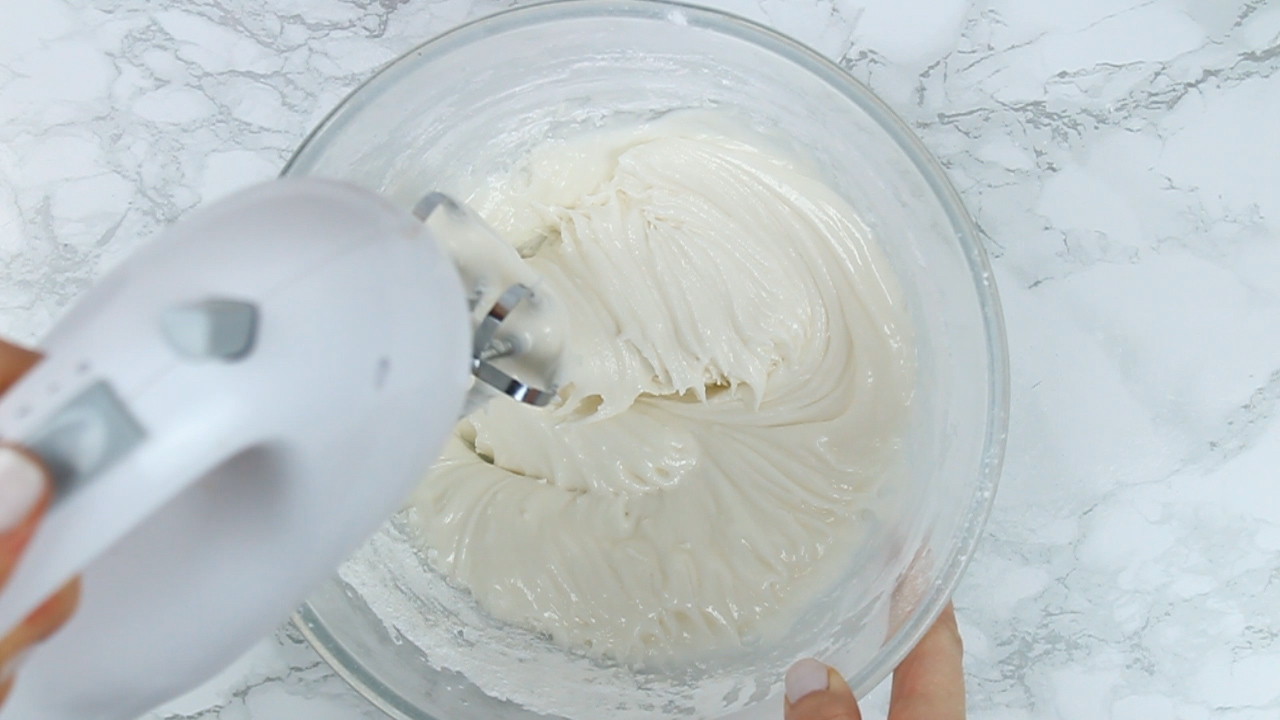 Step 3:
For colored vegan royal icing, add in your gels now. Use a toothpick to add a little bit, mix it in with a spoon then add more if required.
For multiple colors, divide the icing up into several small bowls before adding a different gel to each bowl.
Note that gel colors are super strong so it's best to add a little at a time. You can always add more but it's a bit harder to undo if you add too much.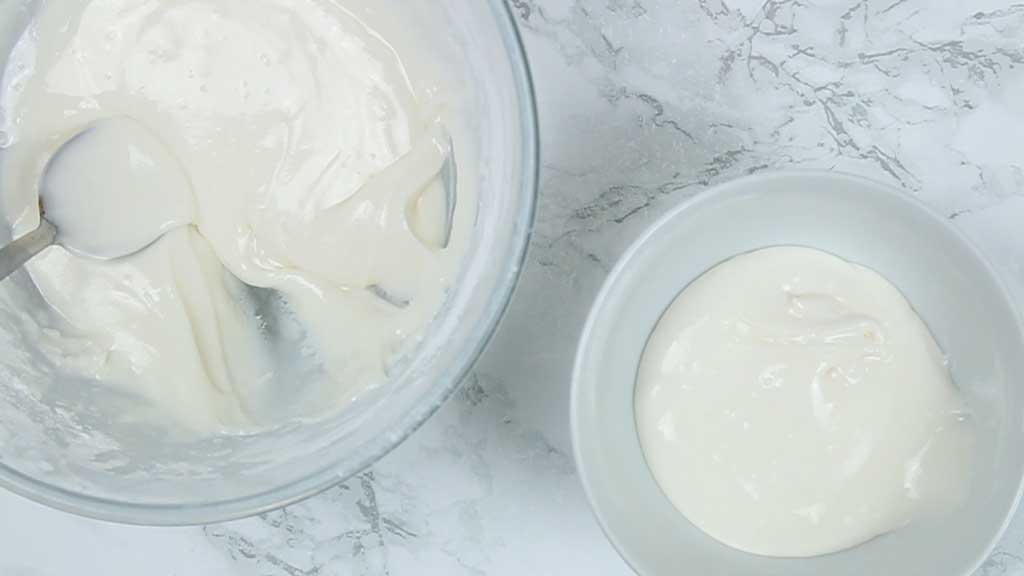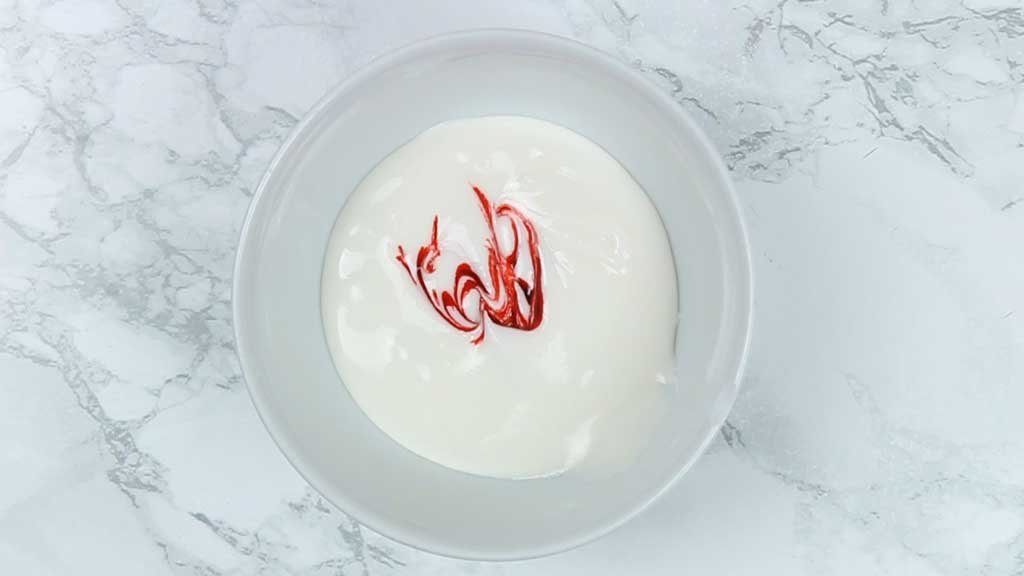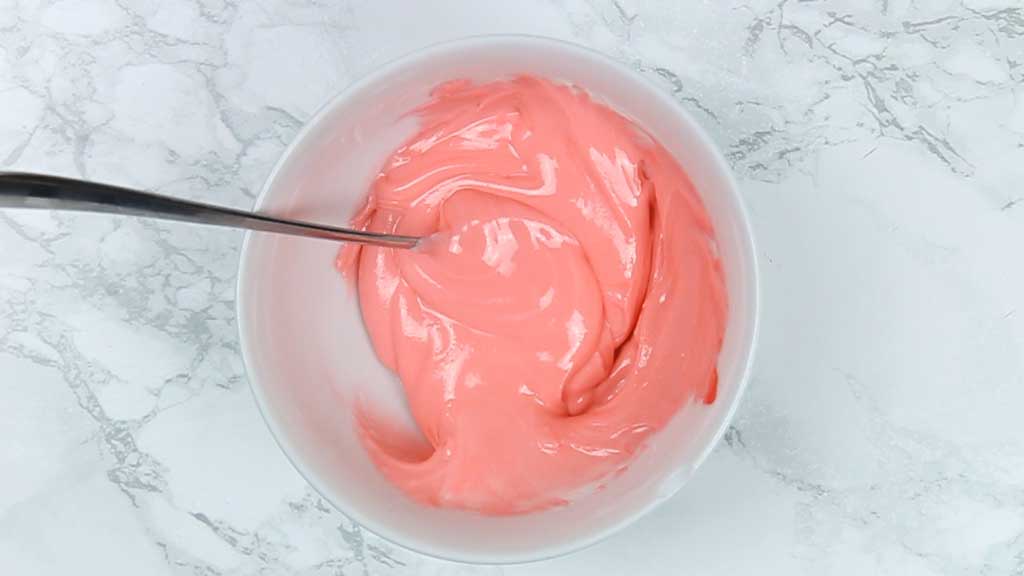 You can of course just keep your royal icing plain white, which I think looks great too.
Step 4:
Once you've added your colors, transfer the icing into a piping bag (or bags) with a small nozzle.
To help the icing set in place better, I recommend first outlining the cookie and leaving that to harden first. Then, go back and fill it in. You'll need a slightly thinner icing to do the filling in so that it spreads easier.
By making an outline first, you are creating a barrier of sorts and this will stop the royal icing from bleeding into the other colors.
If you're not doing any fancy decorating, you can also just spread the icing on using the back of a spoon. Just make sure you leave a little bit of space around the edges to stop the icing from dripping down the side of your cookies.
To thin the icing out, add a little aqua faba (or water, or lemon juice) at a time until you get your desired consistency. To thicken it up, just add more powdered sugar!
What Goes Well With Eggless Royal Icing?
Here are some of my favorite cookie and cake recipes which will go down a treat with some royal icing spread on top: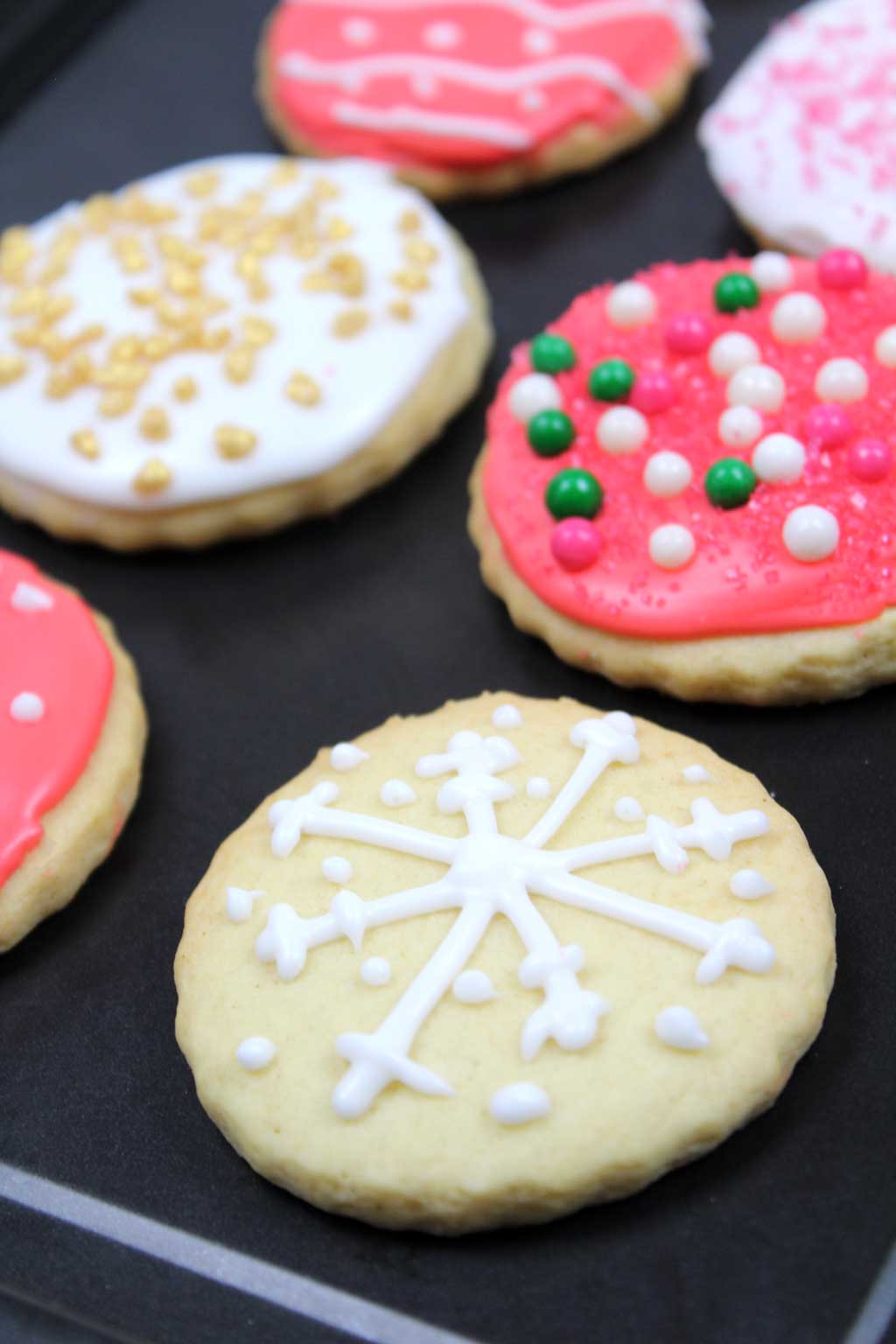 How Do I Store Vegan Royal Icing?
The great thing about this icing is that it lasts for quite a long time! So if you have any leftover, you don't need to throw it away.
You can store it at room temperature or in the fridge in ziplock bags, an airtight container or a bowl with some cling film over the top. It will last at least a week at room temperature and up to 3 weeks in the fridge this way.
You'll need to give it a good mix before using it again as the liquid tends to separate from the sugar. But other than that, it's good to go!
Vegan royal icing freezes very well for a long time. So that's always an option too if you don't know when you'll need it next.
When you're ready to use your frozen royal icing, leave it to sit at room temperature for a few hours until it's completely thawed. Again, it's likely that the liquid will separate so just make sure to give it a good mix.
You might also need to add a little more powdered sugar as defrosting can make it more runny.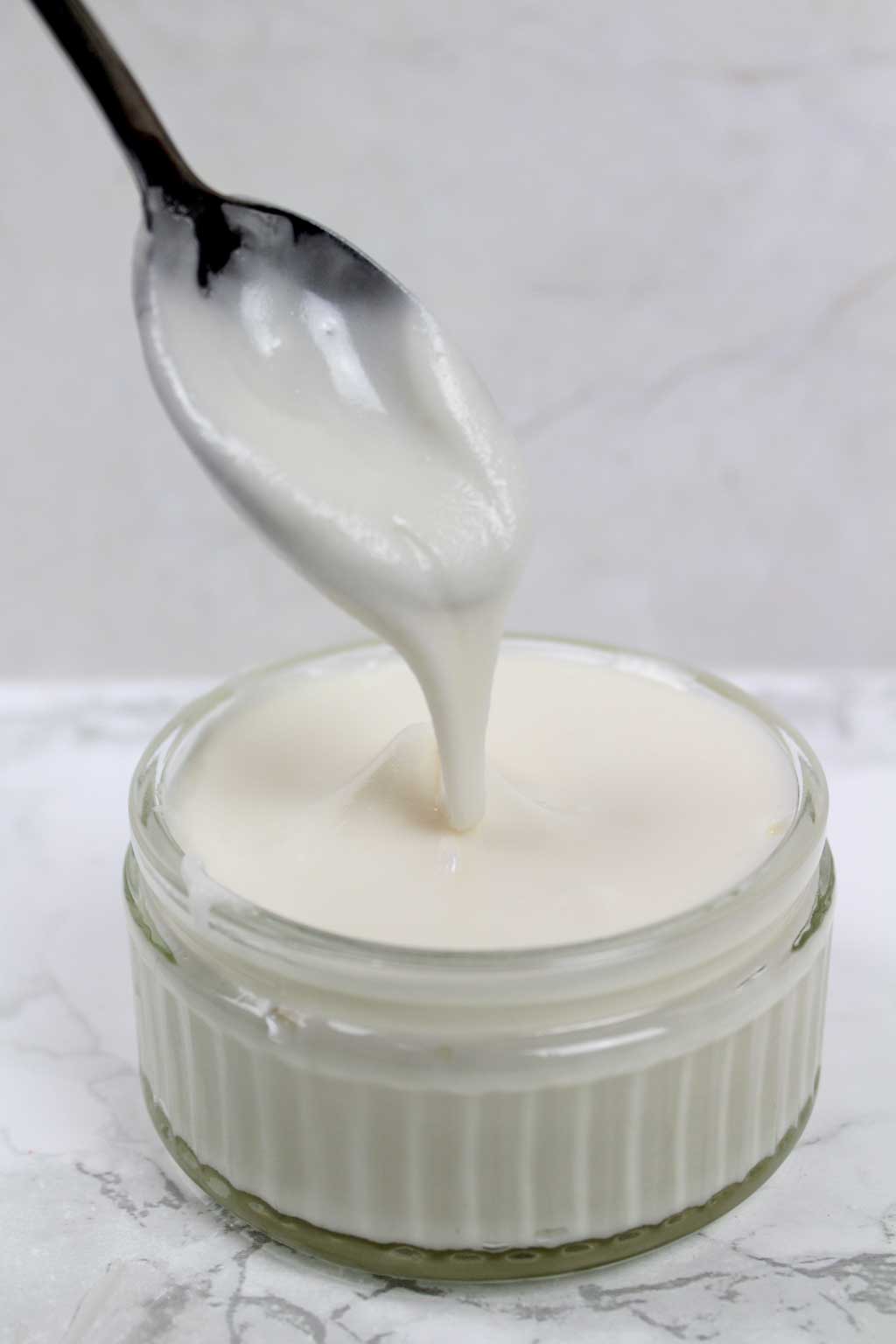 That's it for this recipe! I hope you enjoy it and have lots of fun experimenting with different colors.
Please share any of your creations with me on Facebook or Instagram, or let me know how you got on by leaving a comment and/or rating below.
xo

Eggless Royal Icing
Royal icing without eggs that pipes and hardens just the same.
Keyword:
vegan royal icing
Ingredients
3½

Cups

Powdered sugar

(450 grams)

5

Tablespoons

Aqua faba

¼

Teaspoon

Cream of tartar

(or ½ teaspoon lemon juice)

½

Teaspoon

Vanilla extract

(optional)

Vegan gel coloring

(optional)
Instructions
Place the aqua faba, cream of tartar and vanilla into a large bowl. Use an electric whisk or stand mixer to mix it up until frothy.

Add in half of the powdered sugar and gently stir it in using a wooden spoon. Repeat with the rest of the powdered sugar.

Whisk it up again to make sure everything's well combined.

If adding color to the icing, separate it into small bowls (1 for each color). Use a toothpick to add the coloring a little bit at a time until you reach your desired color.

Pipe or spoon the icing onto your cookies (or other baked goods).

Store at room temperature or in the fridge in zip lock bags, an airtight container or a bowl with some cling film over the top. It will last at least a week at room temperature and up to 3 weeks in the fridge.
Recipe Notes
*To make the icing thinner, add more aqua faba, water or lemon juice. To make it thicker, add more powdered sugar.
Nutrition Facts
Eggless Royal Icing
Amount Per Serving (1 g)
Calories 60
% Daily Value*
Carbohydrates 15g5%
* All values are an estimate only and will vary depending on the food brands used.