30+ Vegan Sandwich Filling Ideas
Wondering what to put on your vegan sandwiches? Fret not! This post contains 30 vegan sandwich filling ideas for work, school or picnics. With everything from meat alternatives to veggie-packed goodness, you're sure to find a sandwich filler idea you'll love.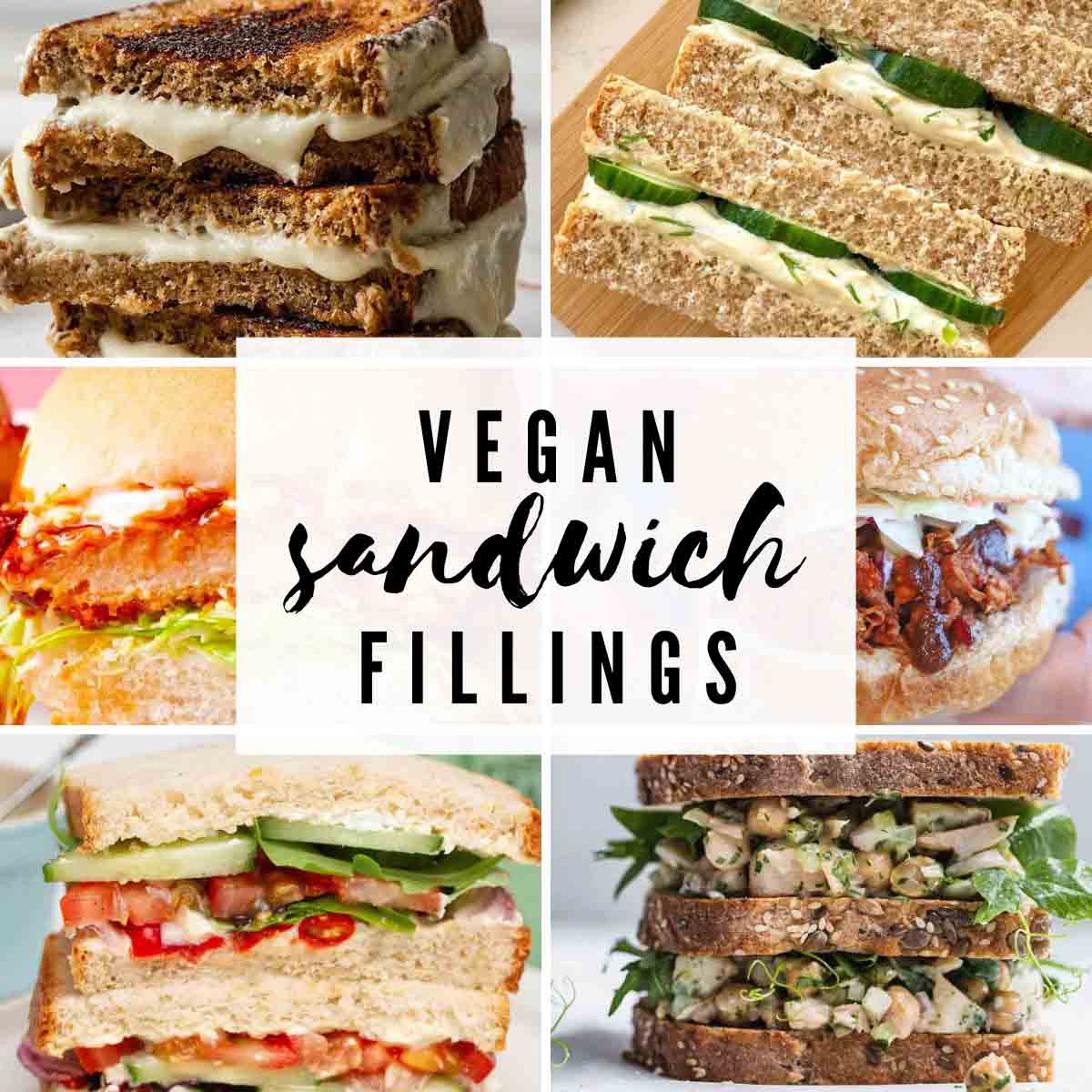 If you're anything like me, you'll have spend a lot of time wondering what to put on a vegan sandwich! When I first went vegan 5 years ago, anything beyond falafel and hummus or salad on a sandwich was just too wild to imagine, LOL.
Vegan sandwich fillings have come a long way since then thankfully. Nowadays, there are clever ways to replicate tuna and eggs and there are tonnes of meat alternatives like vegan ham, bacon and chicken. So whether you're looking for vegan sandwich filling ideas for bread, subs or pittas, I hope this post will be helpful to you.
You can make one of these tasty vegan sandwich ideas for work, a school packed-lunch or a picnic. Some of the sandwich fillings would even work nicely for an afternoon tea. There are plenty of recipes to choose from (all vegan, despite their titles) plus I've included some other ideas further down in the post. Enjoy!
Vegan sandwich recipes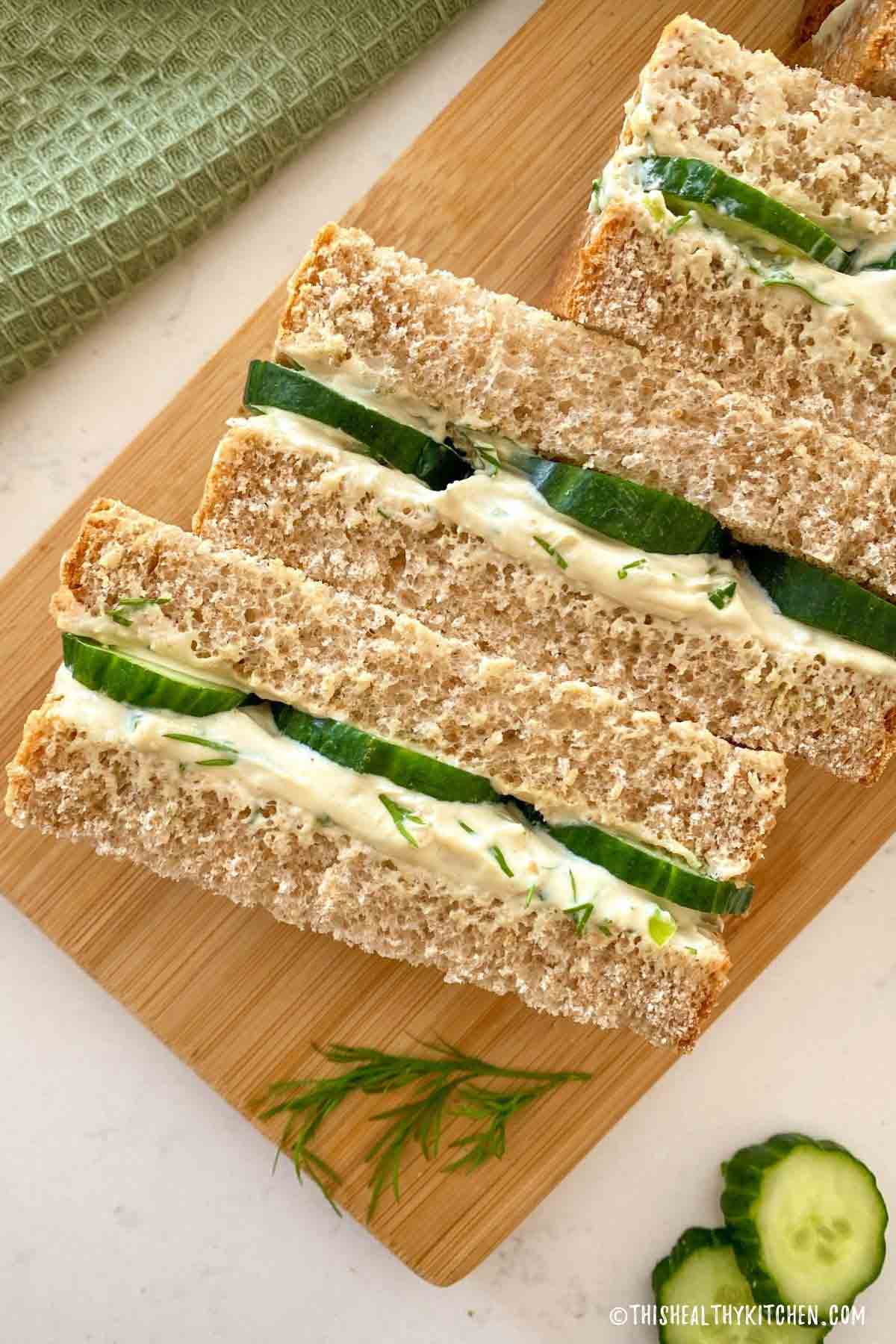 You can't beat a classic cucumber sandwich. This recipe adds dill for an extra flavour boost.
Tofu and a few other ingredients make this easy vegan tuna sandwich filling. Pair it with some sweetcorn or your favourite leafy greens for a tasty lunchtime treat.
Creamy hummus, vegan fetta and veggies is all you need for this Mediterranean-inspired sandwich.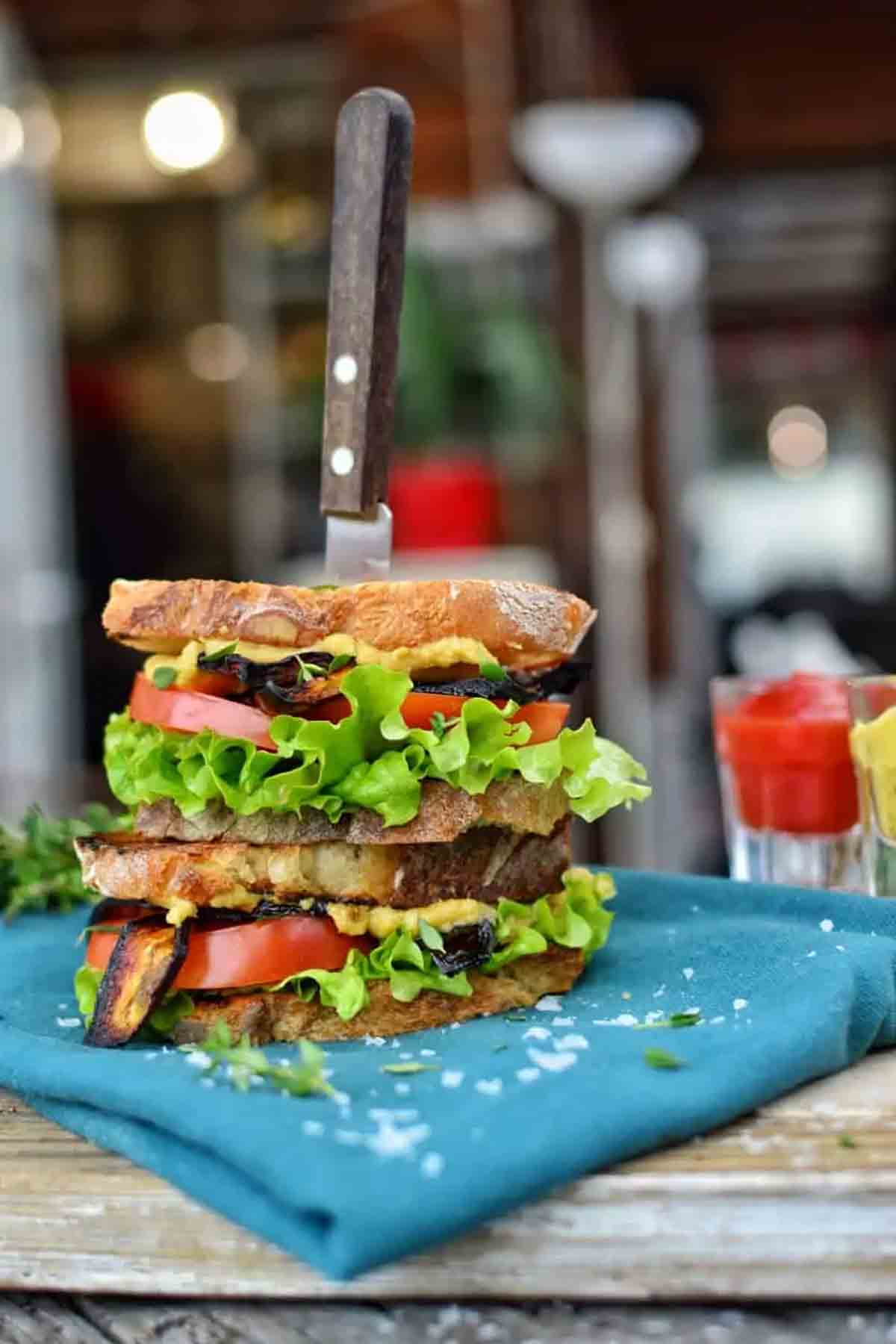 Homemade vegan bacon, tomato slices and fresh lettuce make a delicious, vegan-friendly BLT sandwich.
Crispy vegan katsu chicken with shredded cabbage and tonkotsu sauce. This is one of my favourite vegan sandwich filling ideas on the list!
Tempeh Reuben with vegan cheese, sauerkraut, pickles and a scrumptious sandwich sauce.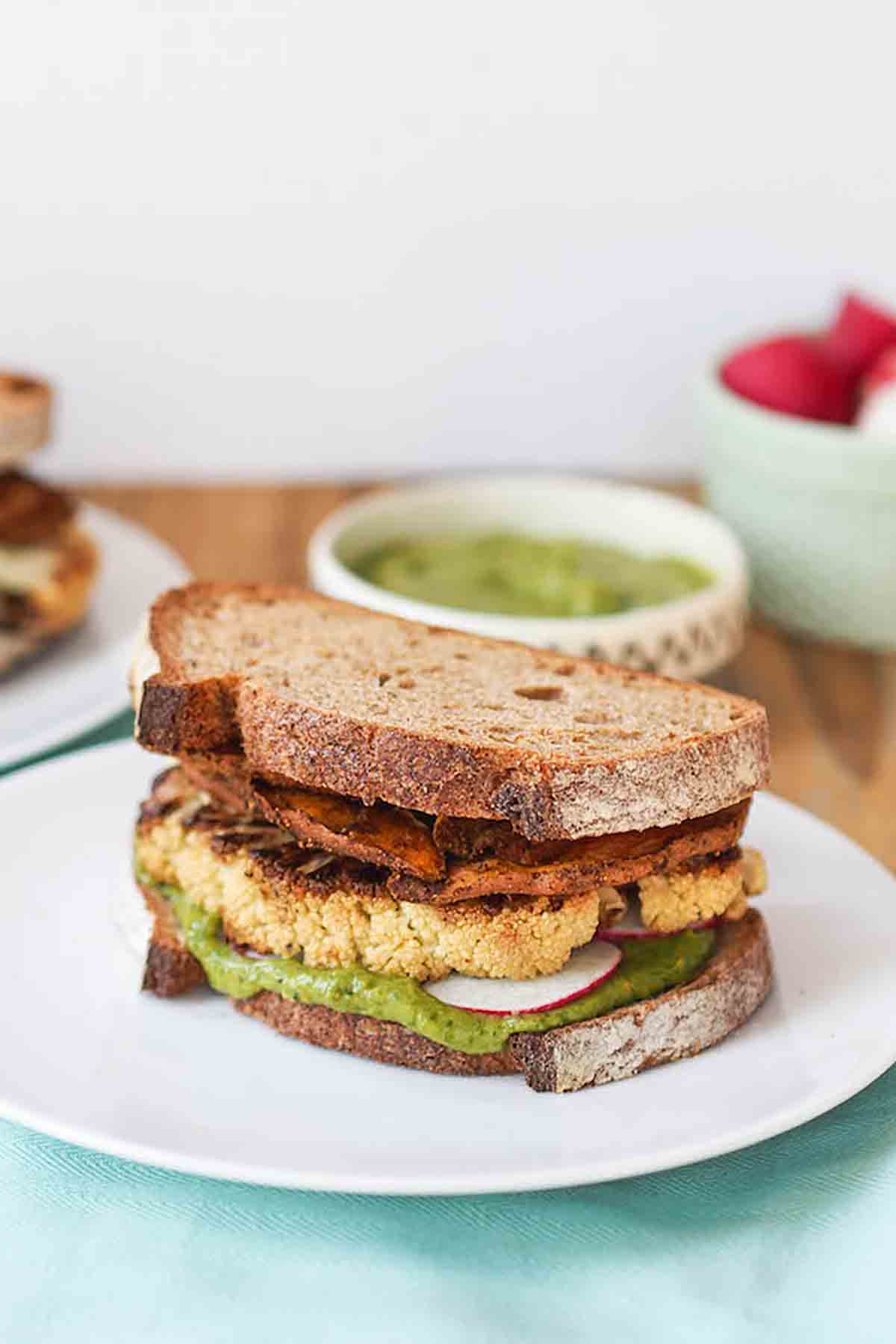 Roasted cauliflower, spicy sweet potato chips and creamy sauce make the perfect healthy filling for your sandwiches.
You don't need to miss eggs any longer with this vegan egg salad recipe. Pair it with your favourite veggies or spices for an extra special treat.
This savoury BBQ jackfruit is similar to pulled pork- hearty, savoury and super filling.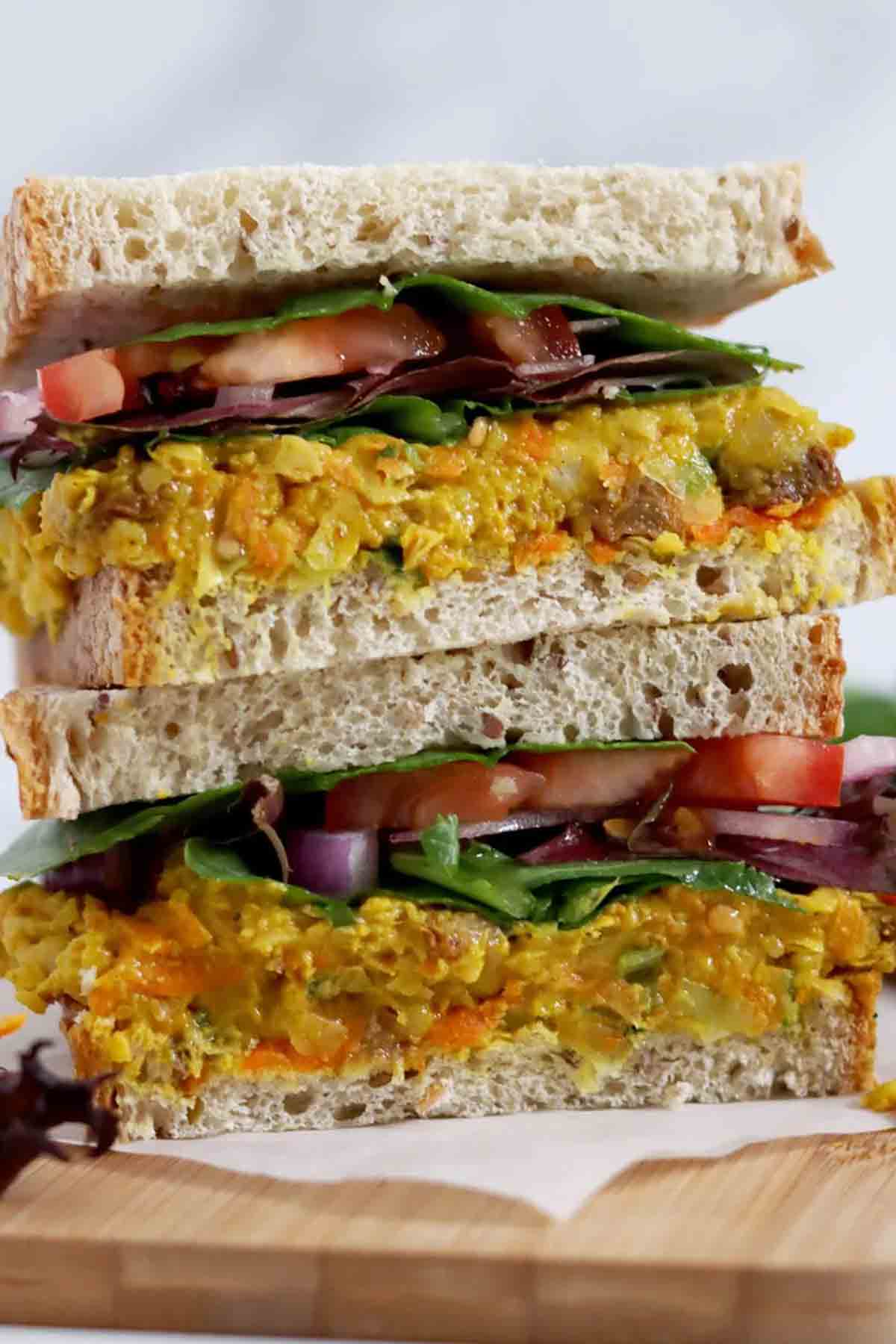 Curried chickpea salad makes a nutritious alternative to coronation chicken.
Vegan meatballs paired with homemade marinara sauce and dairy-free cheese. Super easy and simple but full of flavour!
An indulgent sandwich filling idea, with savoury seitan beef, cheese sauce and sauteed peppers and onions.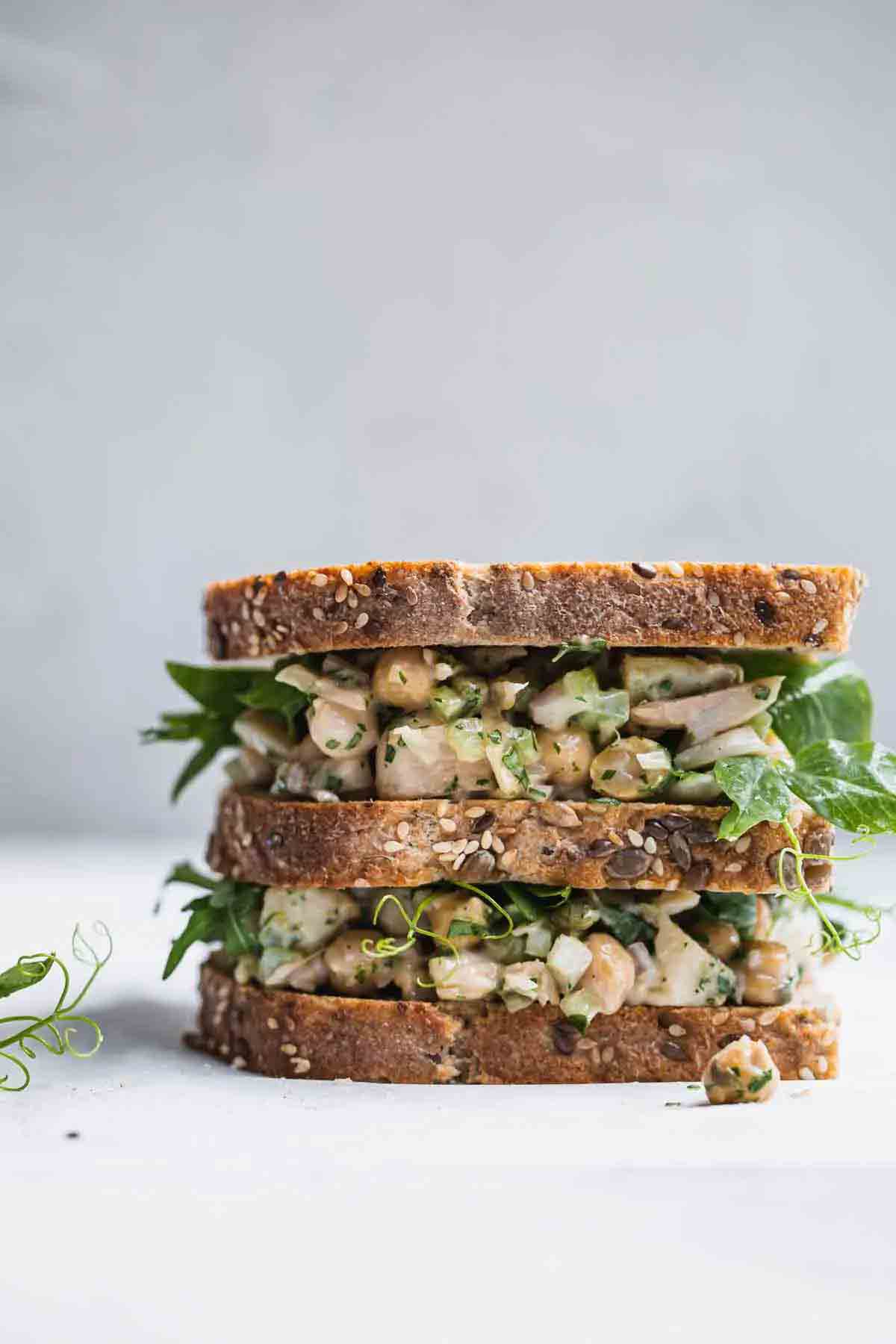 This vegan chicken is made with young jackfruit, chickpeas and a tasty dressing. A fresh and easy filling option.
These BBQ mushrooms provide a meaty texture and a sweet, smoky flavour for your sandwich.
A traditional Vietnamese sandwich made vegan. Packed with pickled veggies, tempeh and spicy mayo.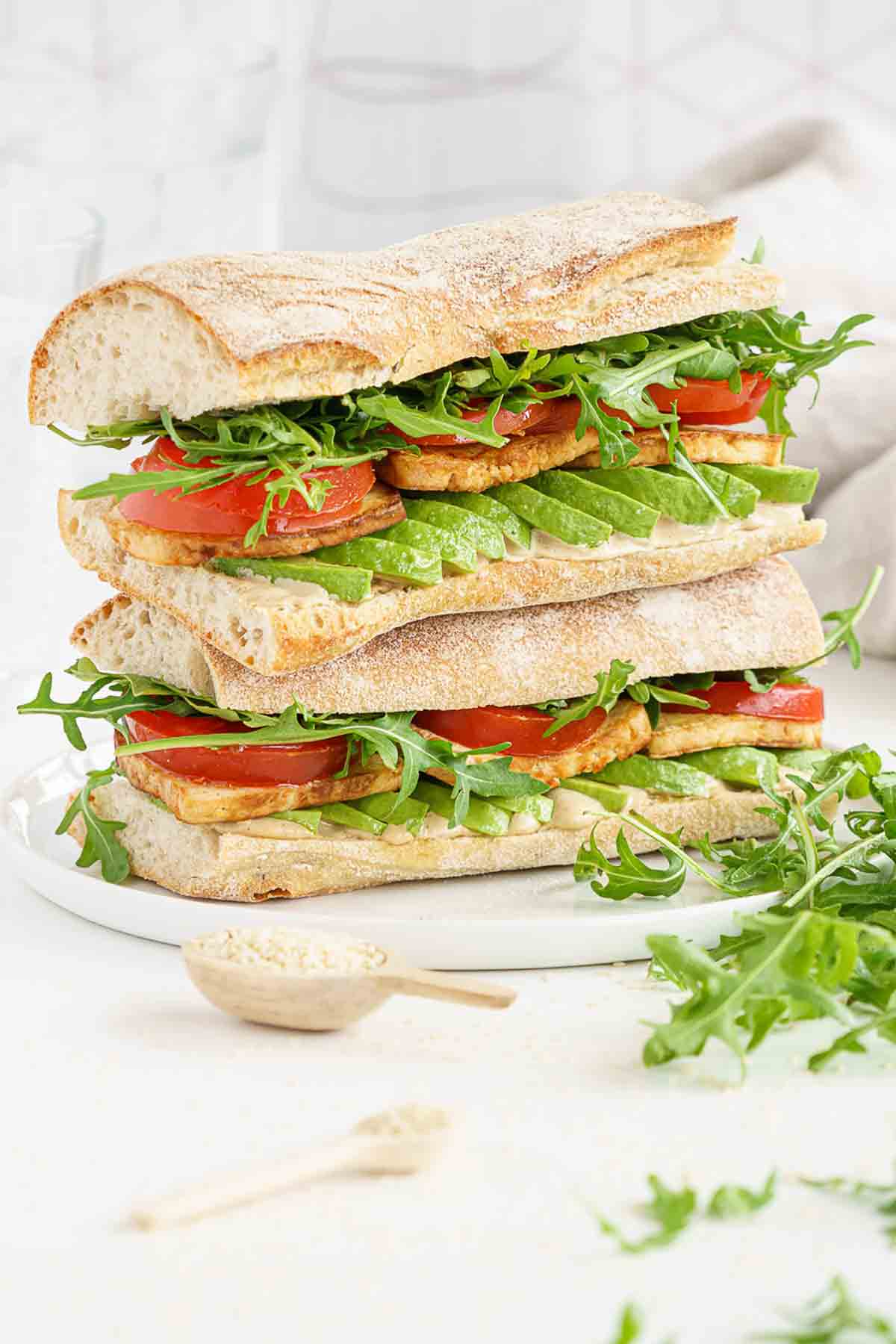 Smoked crispy tofu, tangy tahini sauce, avocado and veggies make the perfect filling for any sandwich, pitta or sub.
Pair homemade falafels with hummus, veggies and olives for a fresh, Middle-Eastern inspired sandwich.
A traditional Ploughman's lunch made vegan. Cheese, fruit, salad and pickles can be used as a sandwich filler or served on a platter.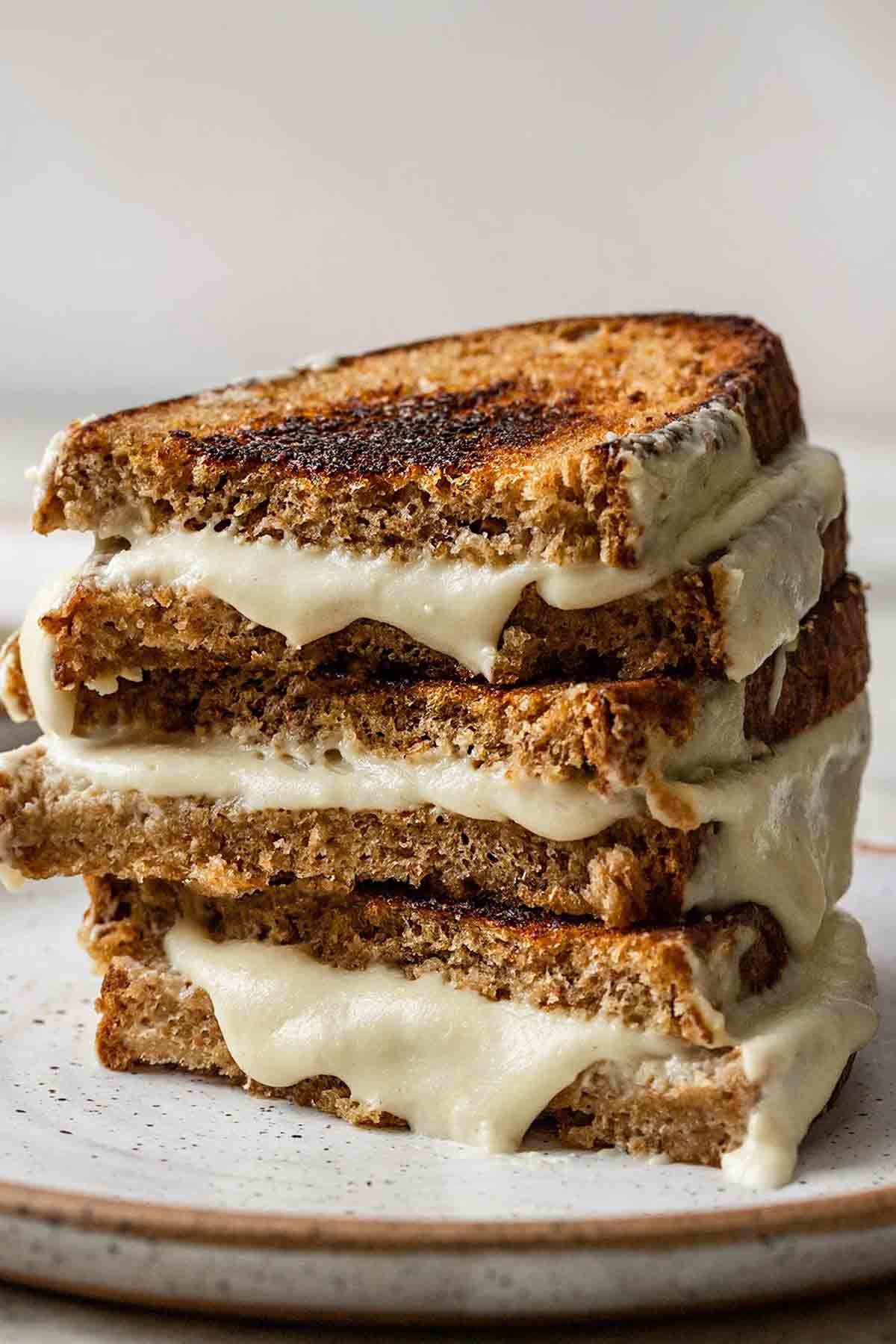 Homemade mozzarella made with cashews. It's stretchy, melty and gooey, making it perfect for putting on sandwiches.
Mushroom pate with a rich umami flavour. It's an great, easy homemade sandwich filler if you fancy something a little different.
A 5-minute, homemade vegan cream cheese that's both nutritious and delicious.
More vegan sandwich filling ideas
These are not recipes as such, just filling ideas that you can buy if you prefer something quick and easy.
22. Sausages and ketchup
This is a British classic and one of my go-to vegan sandwich fillers. I love Linda McCartney sausages with ketchup and buttered bread. Delish!
23. Hummus and veg
Of course, we can't miss out this ever popular vegan sandwich filling idea. Spice it up by using different types of hummus and switch out your usual salad for something more interesting like roasted peppers. This beetroot hummus and this oil-free hummus are both great for sandwiches.
24. Egg and cress
Obviously, eggs are not vegan but there are ways to replicate the texture and flavour. Mix up some vegan scrambled eggs with vegan mayo and pop it on a sandwich with some cress.
25. Vegan cheese and pickle
I know this sounds like an odd combo but don't knock it until you try it! This was a super popular sandwich filling when I was a kid in the 90's. Vegan cheese doesn't have the best reputation but the Violife slices and Applewood cheese slices are really good in a sandwich. Pair it with some Branston pickle which is totally vegan and you're good to go!
26. Cheese and pesto and tomato
Use one of the cheeses mentioned above, along with some vegan pesto and tomato slices. This one is delicious anyway but it tastes even better if you toast it!
27. Ham salad
Quorn smoky ham slices, cucumber, tomatoes and vegan salad cream make the perfect vegan sandwich filling.
28. Peanut butter and jam
Or peanut butter and jelly, whatever you want to call it. Sweet sandwiches make a great snack or dessert. Any peanut butter is fine to use and jam is vegan most of the time too. Just double check the label if you're unsure. Hartley's jam is vegan and strawberry is my favourite flavour.
29. Vegan Nutella and banana
If you've never tried chocolate hazelnut spread and banana in between bread then you HAVE to try this. If you can, use Vego spread as your Nutella alternative, for the best texture and flavour.
30. Lemon curd
Another classic sandwich filling from back in the day, this one doesn't get as much love as it should! Traditional lemon curd is made with eggs but you can easily make your own eggless lemon curd in just 15 minutes.

30 BEST Vegan Sandwich Filling Ideas
The best filling ideas for vegan sandwiches. Perfect for school, work or picnics.
I hope you enjoyed these vegan sandwich filling ideas. Let me know which one is your favourite by leaving a comment below! xo
BakedByClo is a participant in the Amazon Services LLC Associates Program, an affiliate advertising program designed to provide a means for sites to earn advertising fees by advertising and linking to Amazon.com. This site may contain some of these links to Amazon.com & other affiliate programs. If you make a purchase through one of those links, BakedByClo will receive a small commission from the purchase at no additional cost to you.