10 Vegan Crepe Recipes
Looking for some new vegan crepe recipes? This roundup post will help you out! It contains 10 of the best vegan crepes for breakfast, brunch or dessert. There's something for everyone, including savoury crepes, classic crepes and crepe cakes!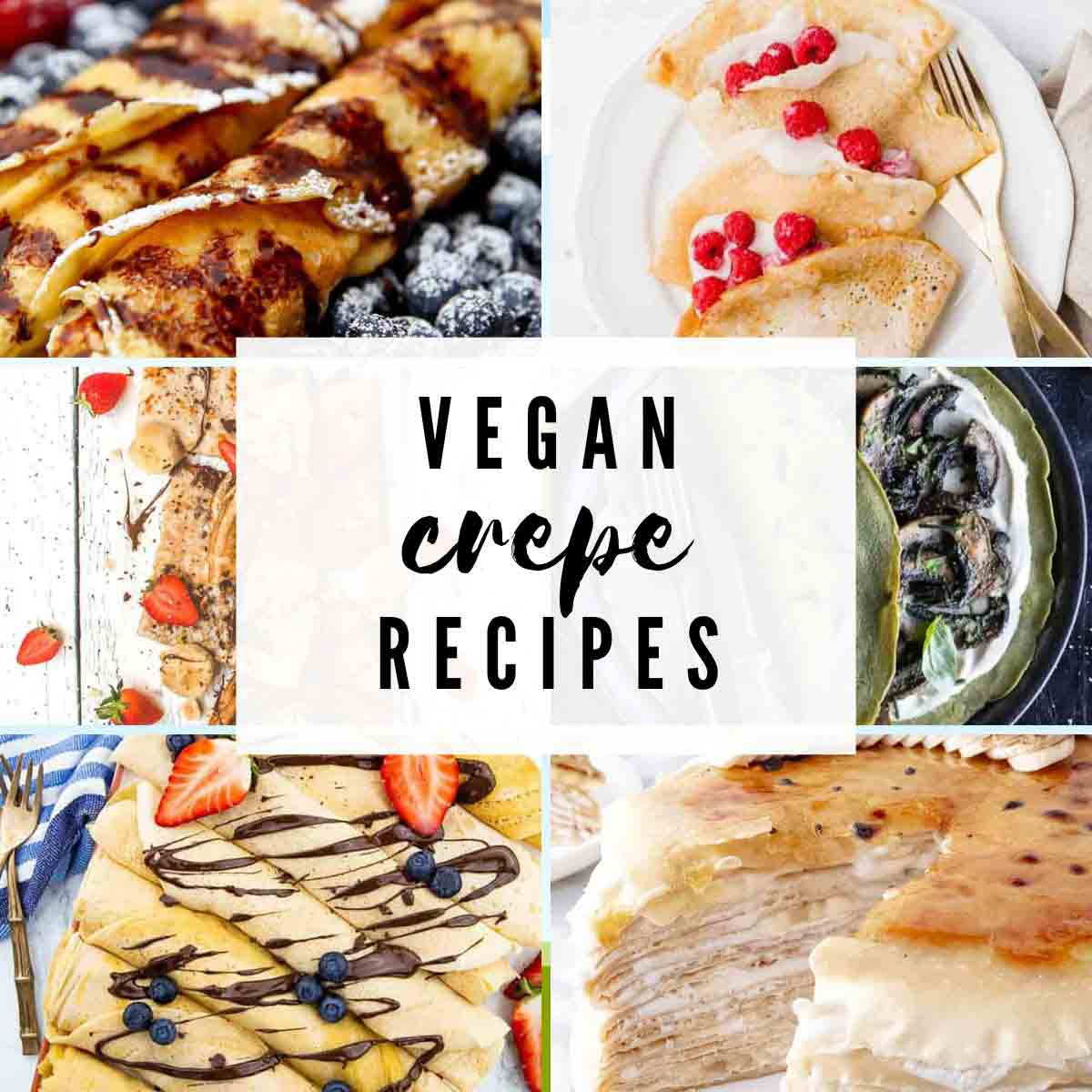 I've recently created roundup posts for vegan pancakes and vegan waffles, and I felt bad that poor old vegan crepes were being left out!
Crepes make a tasty brunch or breakfast food and you can pair them with so many different toppings and fillings. My personal favourite crepe fillings are dairy-free ice cream (especially with warm crepes, YUM) and a classic strawberry and (vegan) Nutella. What's your favourite? Leave a comment to let me know!
I've teamed up with 10 other bloggers to bring you this small collection of crepe recipes. Make sure to check out their blogs and go show their recipes some love. And do let us know if you try any of the recipes! Enjoy!
The best vegan crepe recipes
Without further ado, let's take a look at the recipes!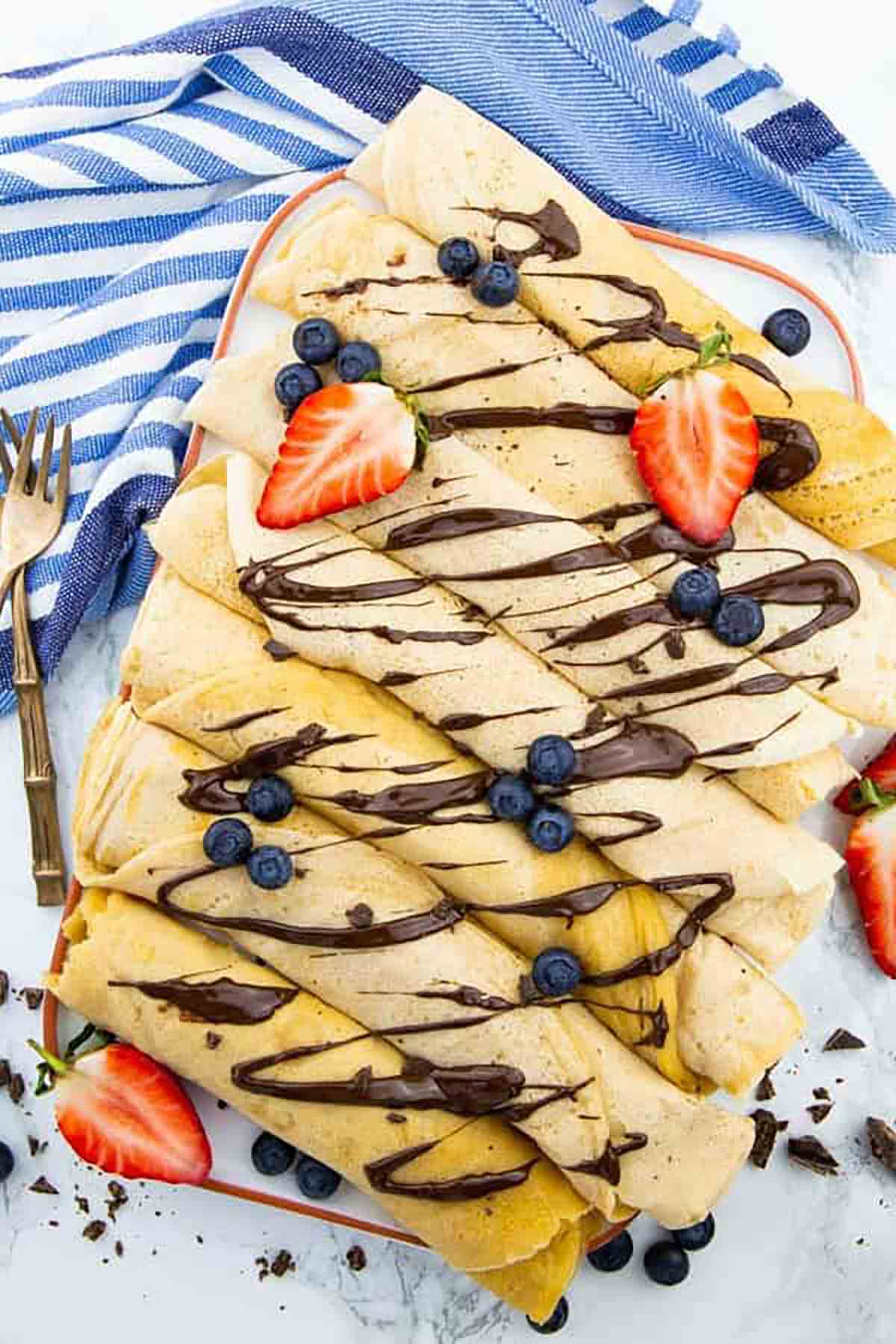 These may be simple but don't underestimate how delicious they are! They're ready to eat in just 20 minutes and can be paired with any fillings or toppings you desire.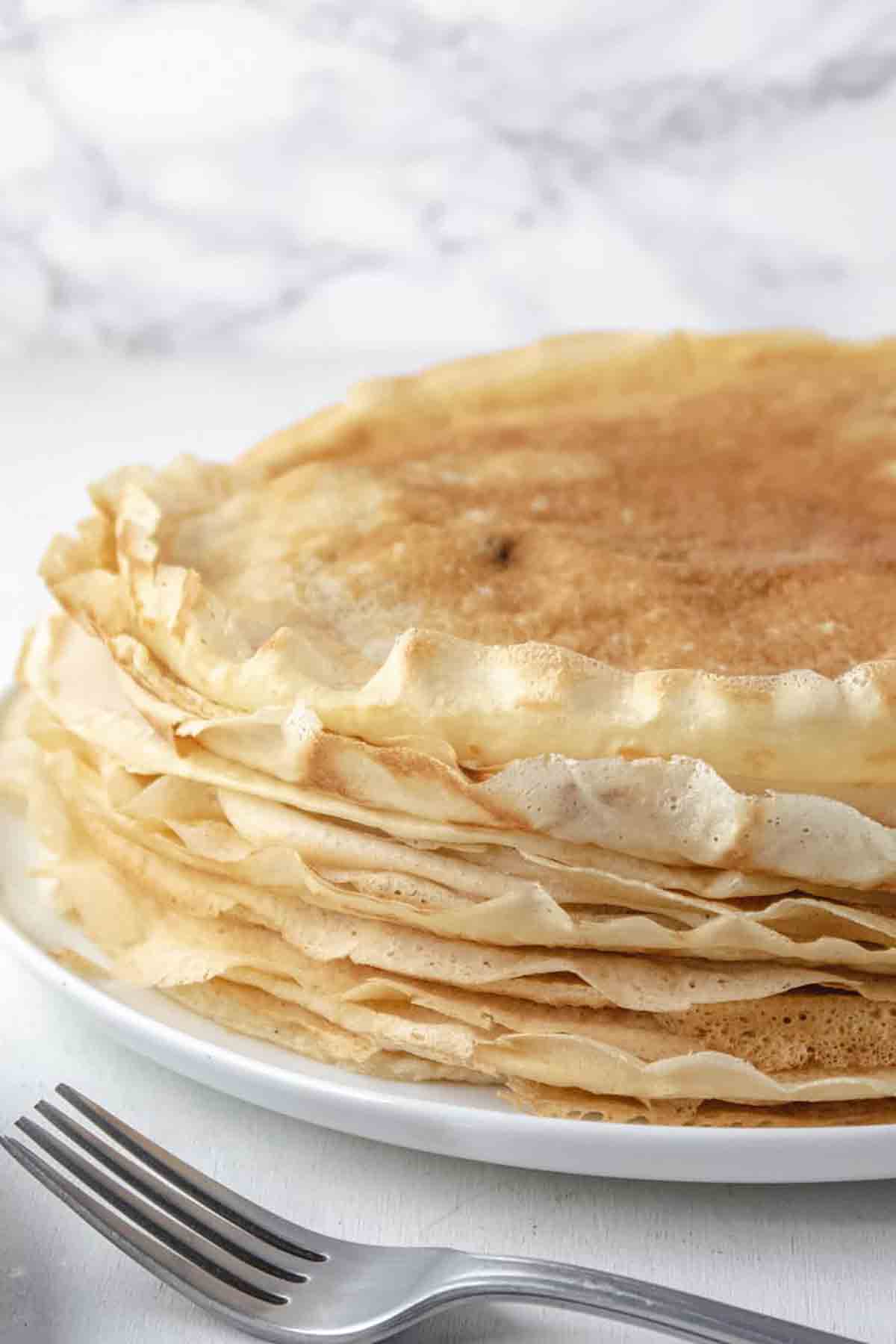 You'll only need 4 ingredients to make these classic French crepes, and it only takes 5 minutes to make the batter! The perfect brunch or breakfast recipe.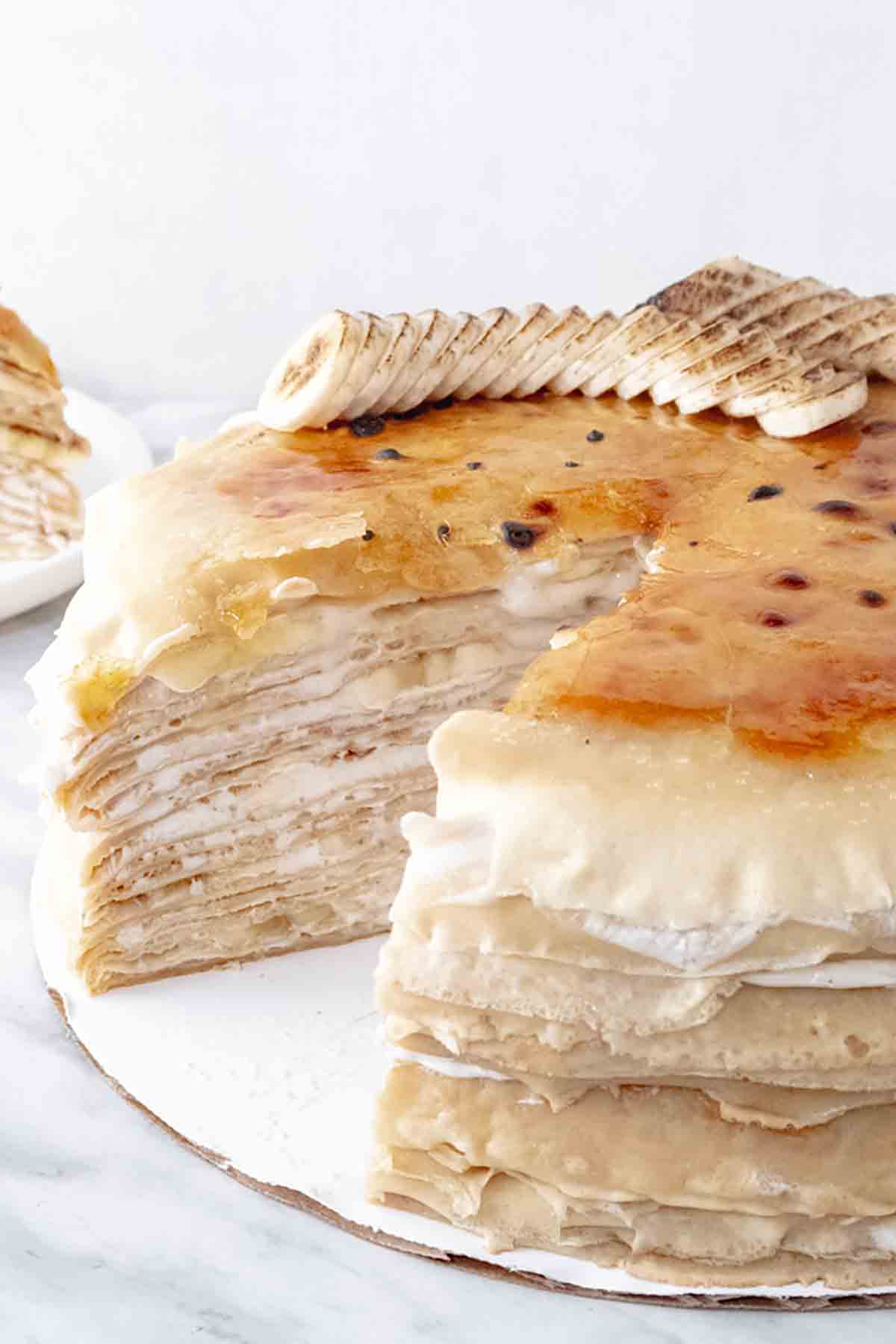 If you love crepes then you'll love this vegan crepe cake! Layers of crepes filled with bananas and vegan cream, all with a crunchy caramel topping.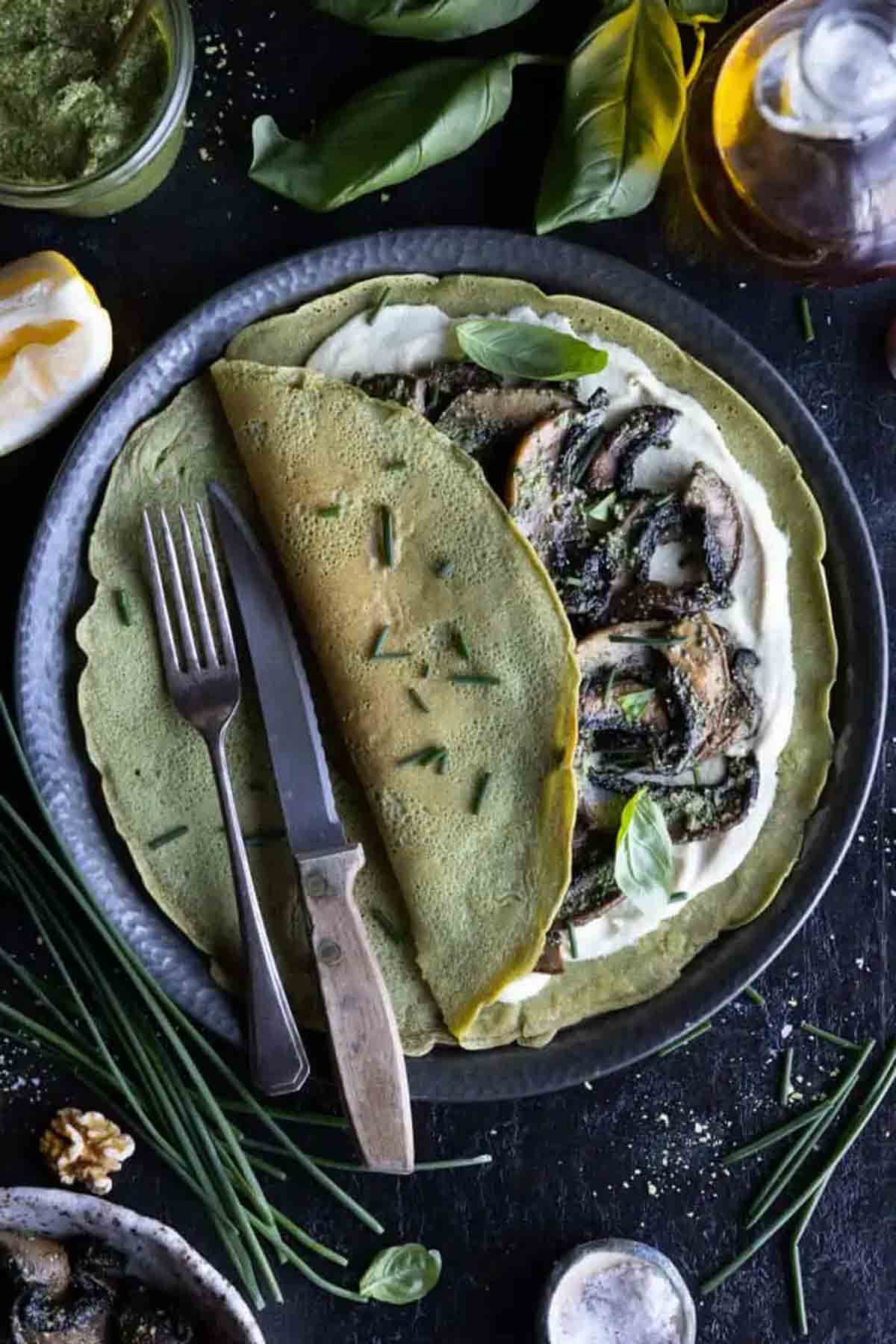 Most people think of sweetness when they think of crepes but there are savoury options too! Why not give these savoury ones a go? These gluten-free spinach crepes are filled with cashew cream and pesto mushrooms, making the perfect breakfast, brunch, lunch or even dinner.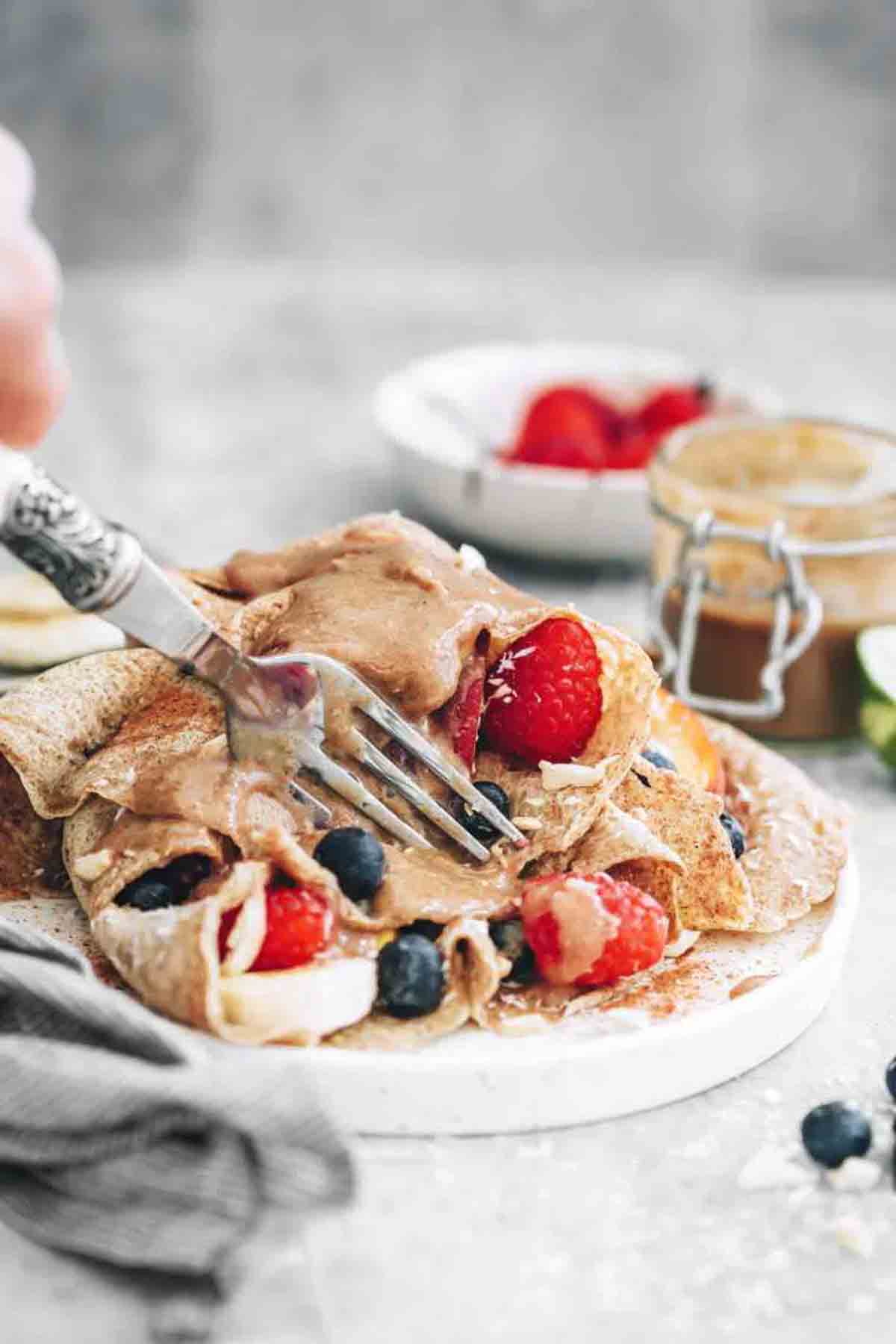 This vegan crepe recipe is made with almond milk instead of dairy milk and uses applesauce instead of eggs. They can be made in a blender for a super quick and easy treat.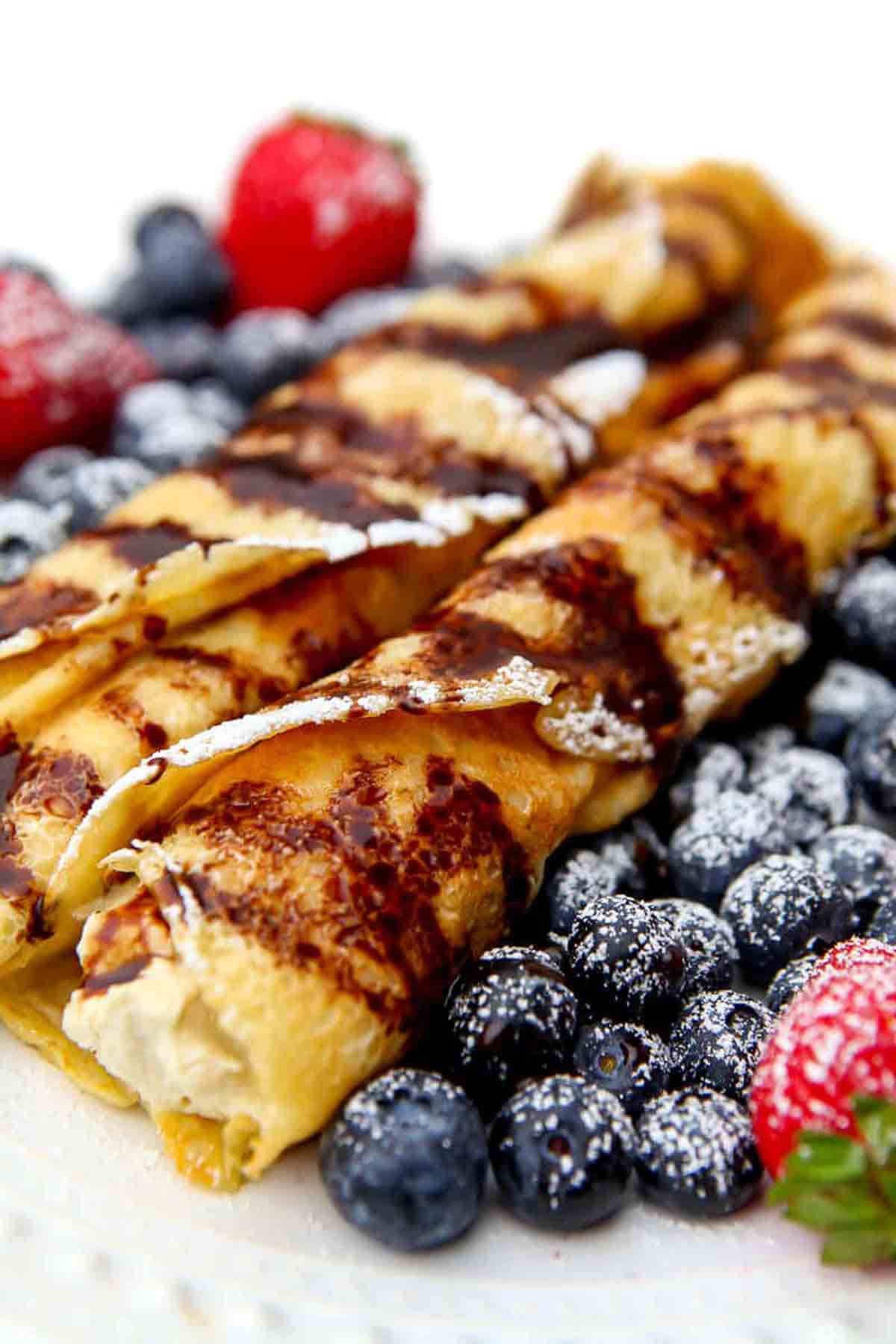 Use chickpea flour to make protein-packed, fibre-filled crepes. These can be paired with sweet or savoury toppings- the choice is yours!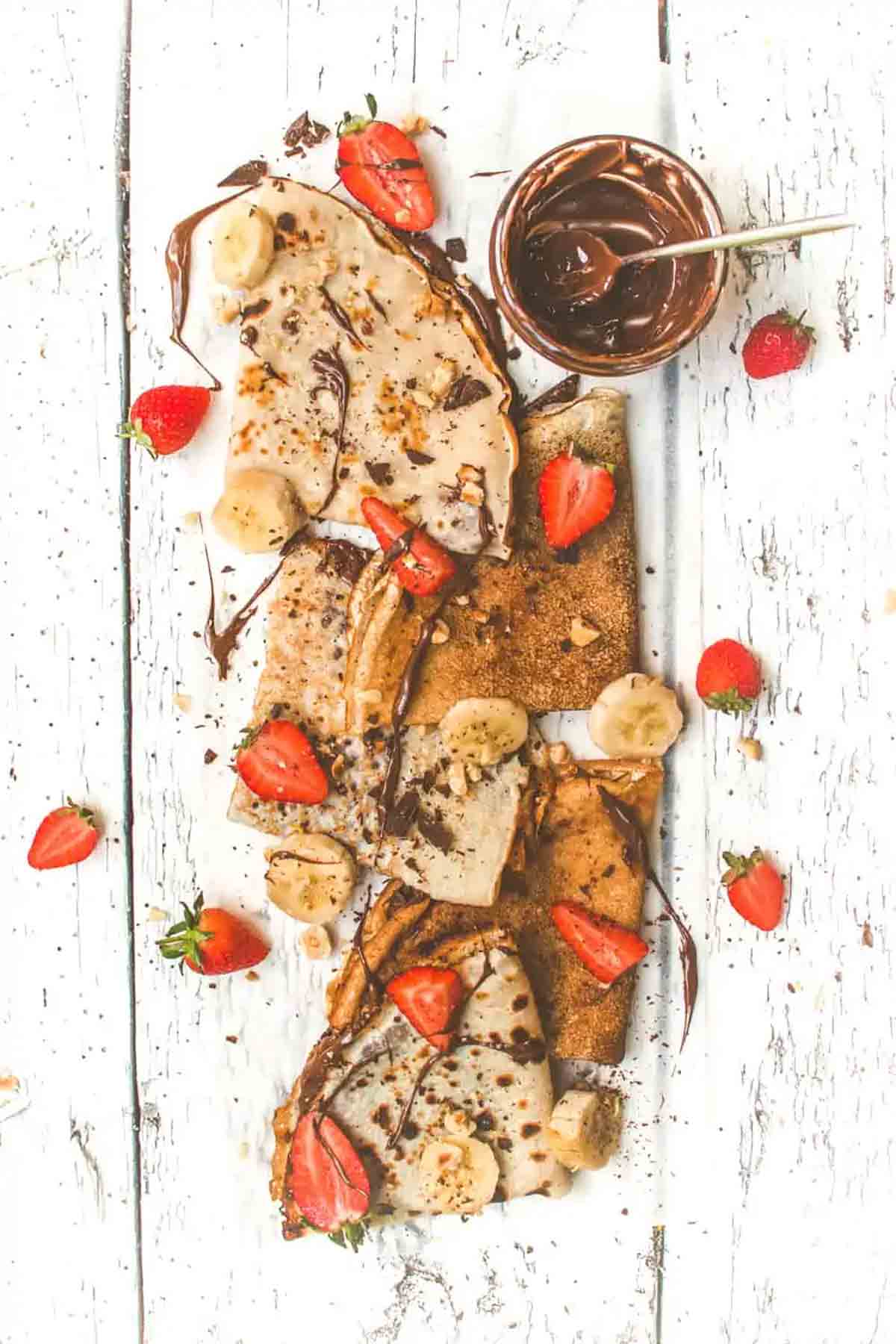 These are the perfect vegan chocolate hazelnut crepes. Filled with homemade 'Nutella' and fresh fruit, they will transport you straight to Paris!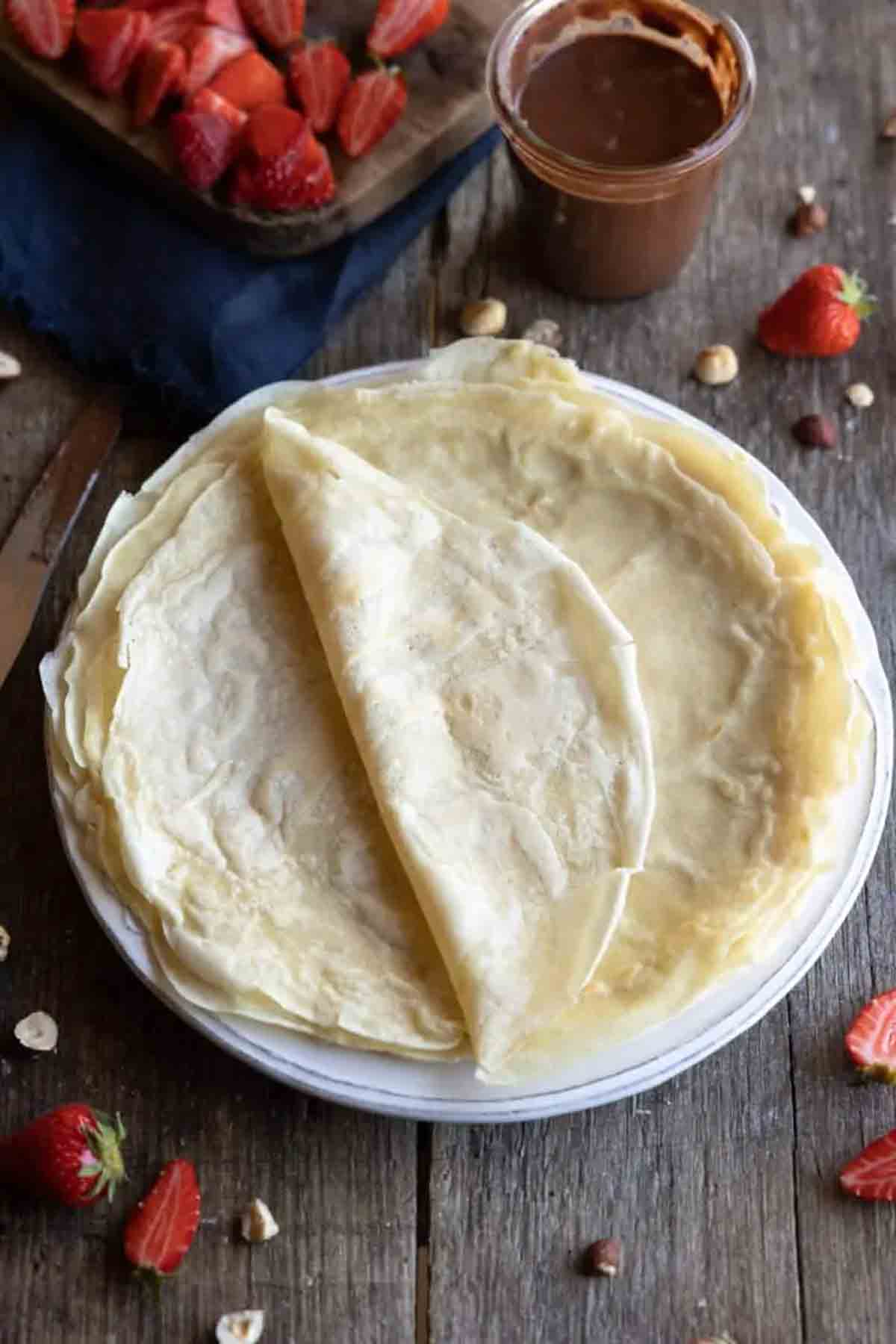 These classic crepes are the ultimate weekend breakfast recipe for everyone to enjoy. They're so easy to make and can be served in various ways!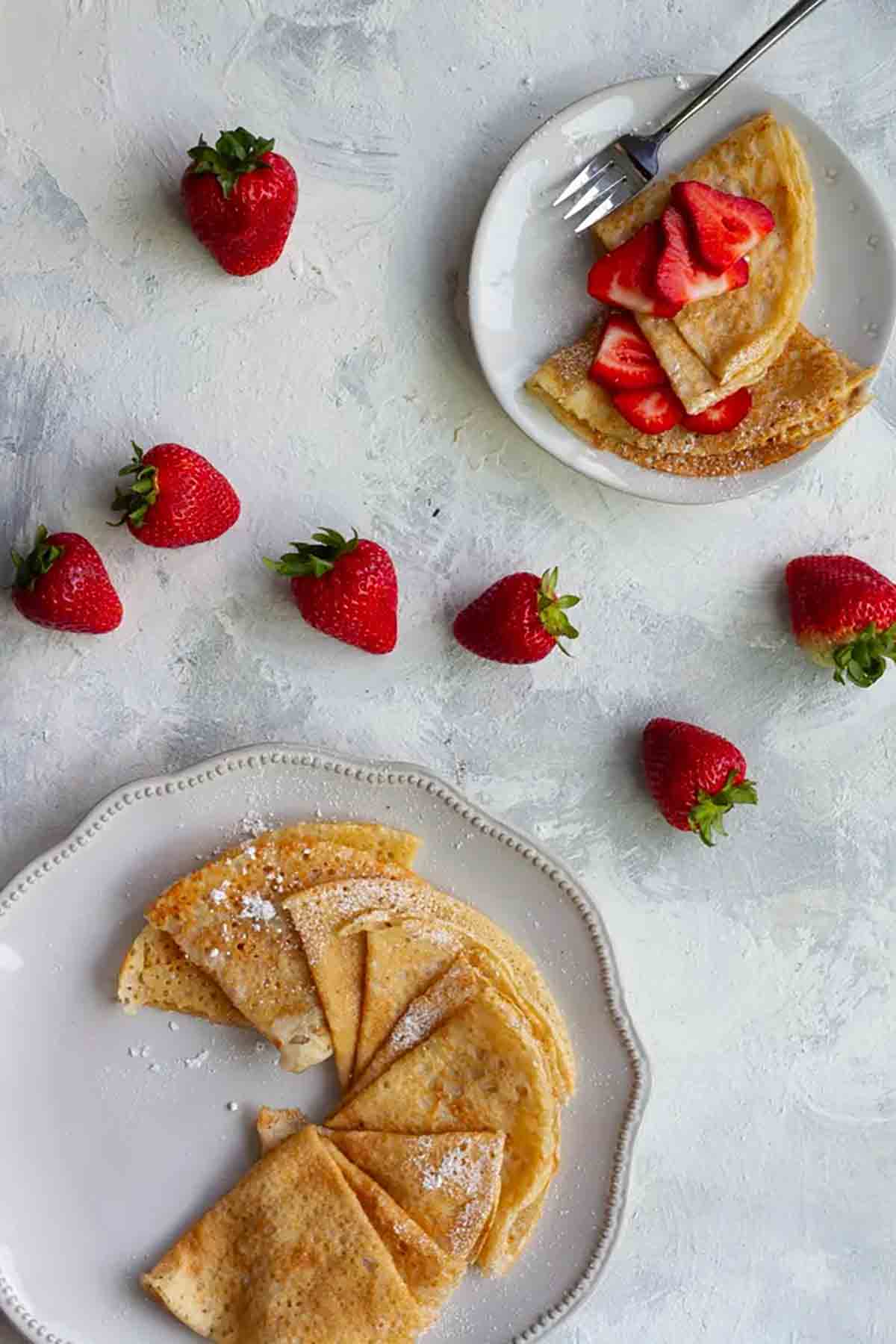 An easy recipe based on Julia Child's French crepes. Instead of eggs, this recipe uses aquafaba to create a light, delicate texture. Fold them up with some fresh fruit and a sprinkling of icing sugar.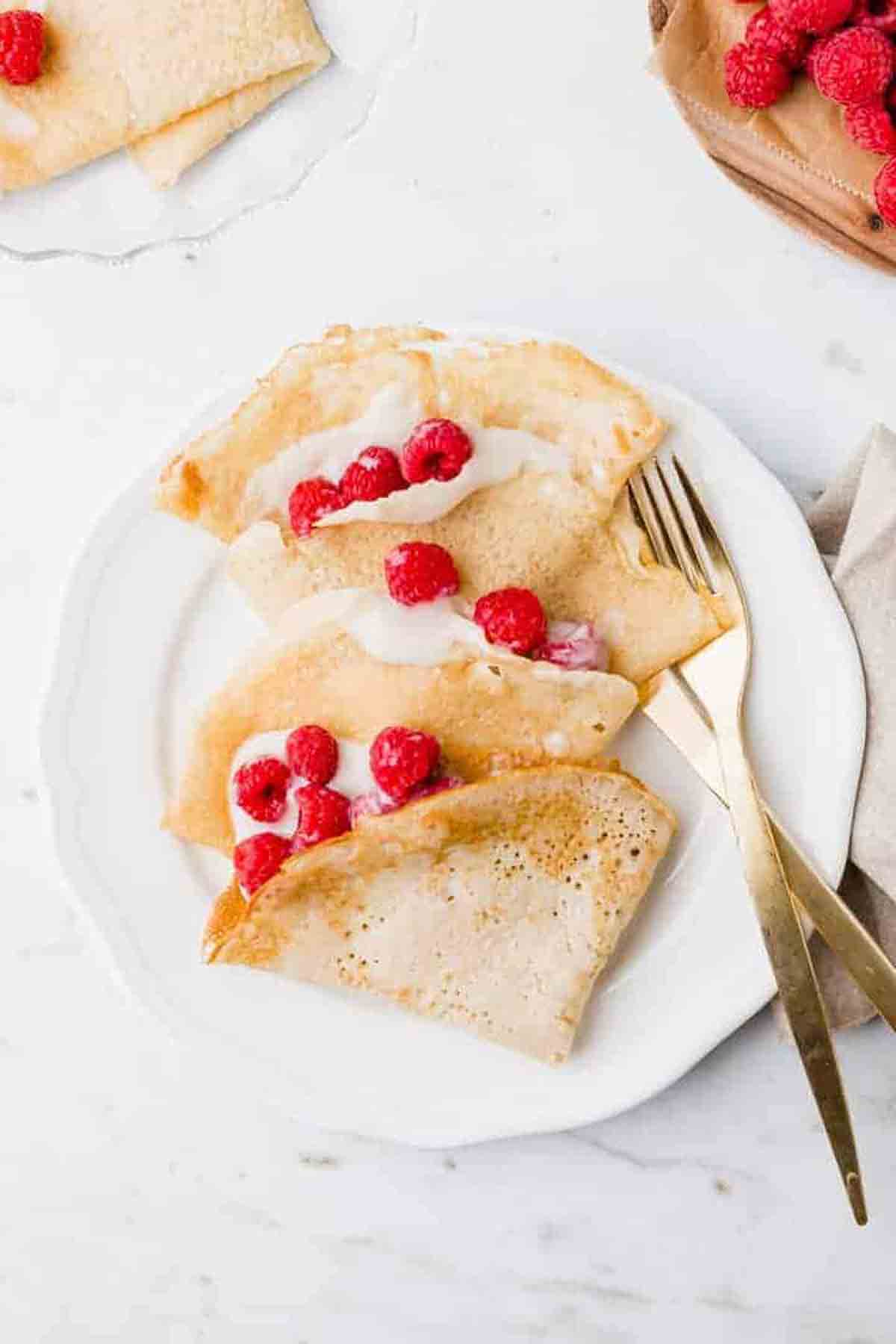 All you'll need to make these crepes are 7 super simple ingredients that you probably already have in your kitchen! Easy to make and delicious served warm with your toppings of choice.

10 Best Vegan Crepe Recipes
Easy vegan crepe recipes including sweet and savoury options.
I hope you like these vegan crepe recipes! If you make any of the recipes at home please let me know how it goes by leaving a comment below. Enjoy!xo
BakedByClo is a participant in the Amazon Services LLC Associates Program, an affiliate advertising program designed to provide a means for sites to earn advertising fees by advertising and linking to Amazon.com. This site may contain some of these links to Amazon.com & other affiliate programs. If you make a purchase through one of those links, BakedByClo will receive a small commission from the purchase at no additional cost to you.