40 Delicious Vegan Pumpkin Desserts
It's officially Autumn and that means it's time for all things pumpkin! Here you'll find 40 tasty vegan pumpkin desserts that can be enjoyed by all. Whether it's muffins, cupcakes, cheesecakes or cookies, you are sure to find something that suits your taste buds.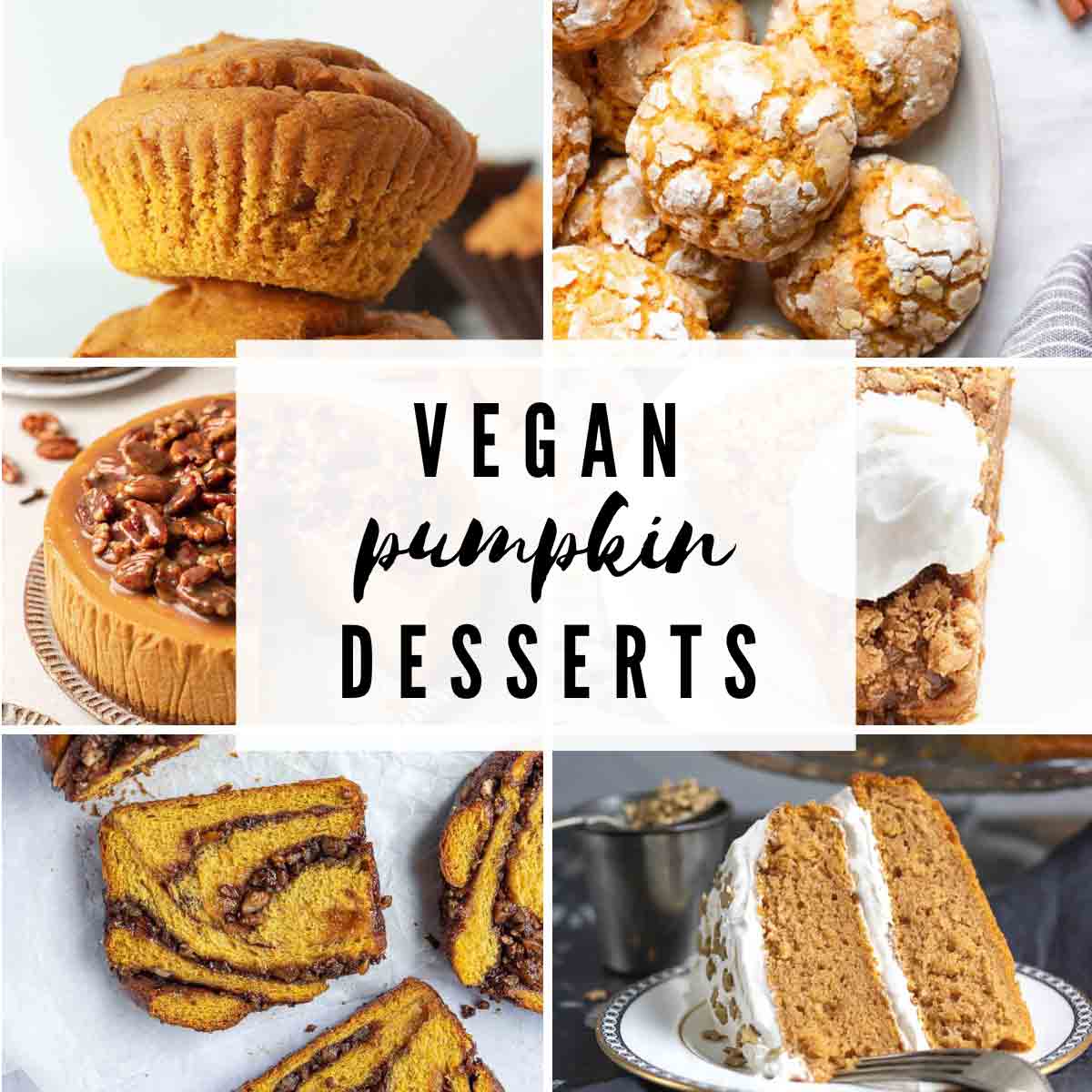 The leaves are turning brown and the nights are starting to get chilly and I can't lie, I am loving it! Autumn is probably my favourite season… cosy layers, hot chocolates, beautiful nature, candles, and most importantly, the food! Especially the food. And I can't think of anything more Autumnal to eat than pumpkins, can you?
I know lots of you will be enjoying some seasonal baking in the coming months so I thought I'd put together this list of tasty vegan pumpkin desserts. I've tried to include as much variety as I can so there should be something to suit everyone. There are also plenty of healthier and allergy-friendly options too.
The best vegan pumpkin desserts
Here are 40 of my favourite pumpkin desserts without eggs or dairy. Enjoy!
Love your muffins moist? Then you will love these pumpkin spice muffins! They can be whipped up in under an hour with just a few simple ingredients.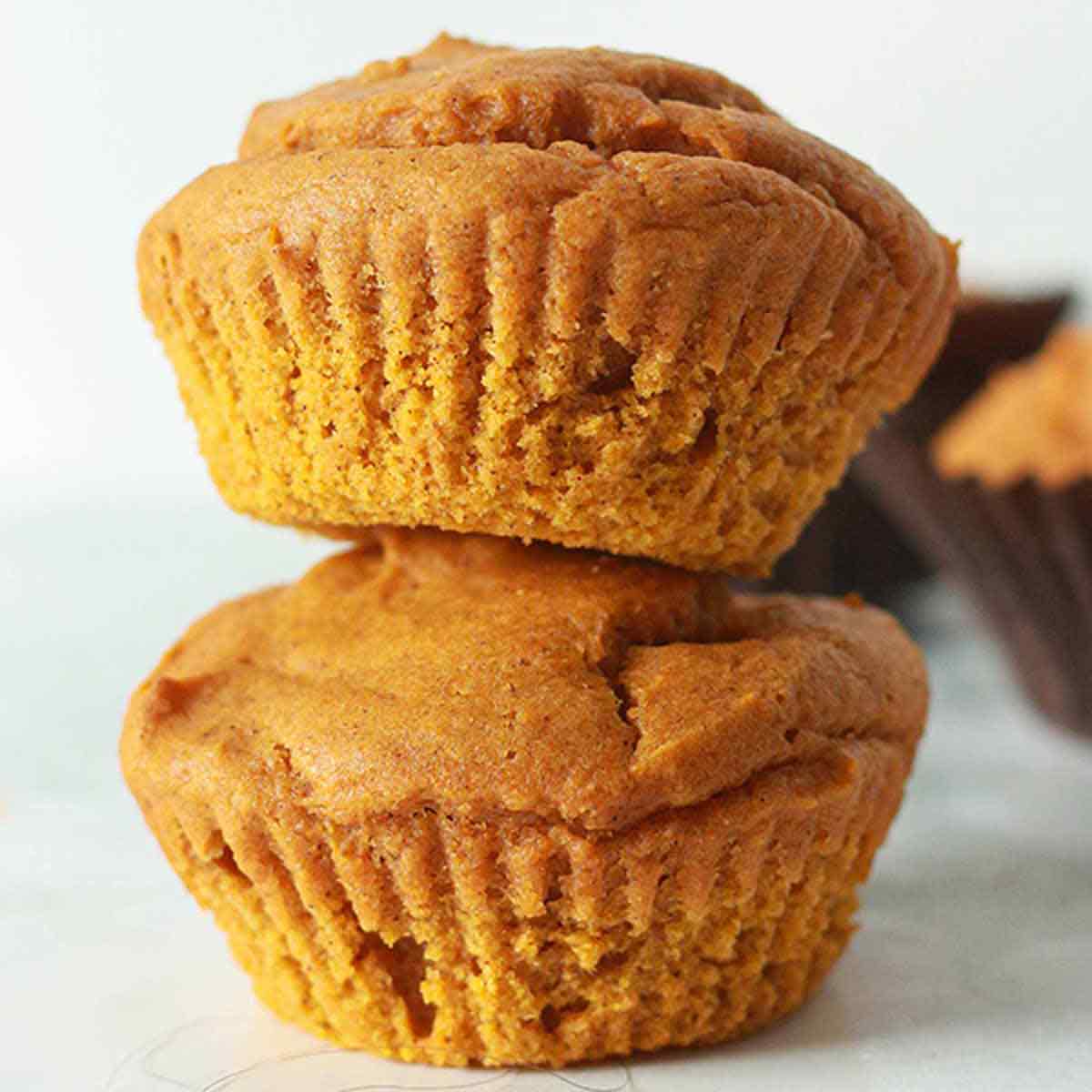 These muffins are light, moist and super flavourful. They take 10 minutes to make in just a few simple steps. Toddlers, kids and adults alike will love them!
These sweet and generously spiced pumpkin muffins are delicious enough for dessert and healthy enough for breakfast!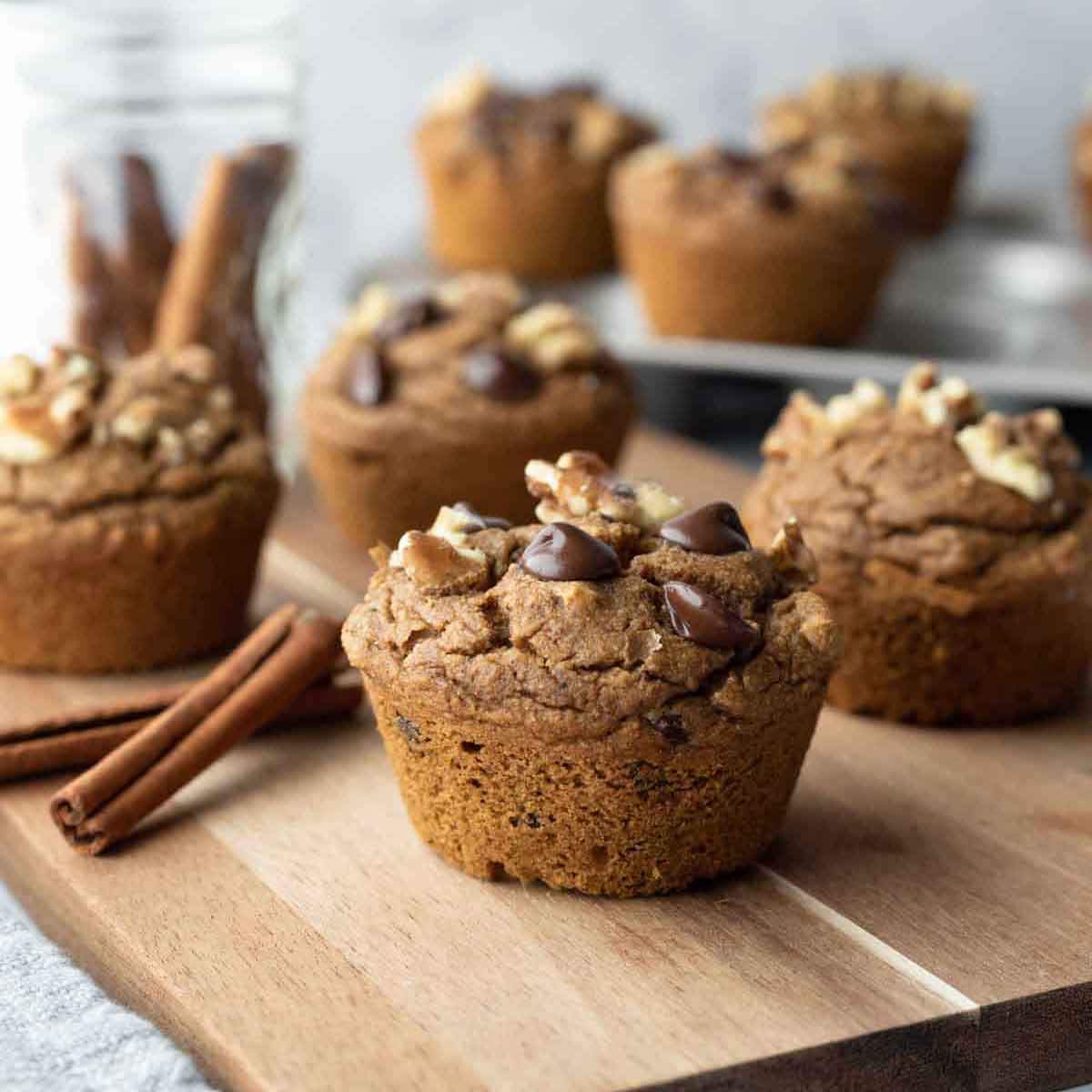 Try these muffins for an incredible combination of two classic desserts- pumpkin muffins and banana bread. Each bite is soft, tender, and full of warming spices. Made from scratch, this vegan treat is guaranteed to impress!
Featuring a blend of pumpkin puree, applesauce, and warm seasonal spices, these muffins are packed with flavour. They're easy to make and perfect for dessert, snack, or breakfast.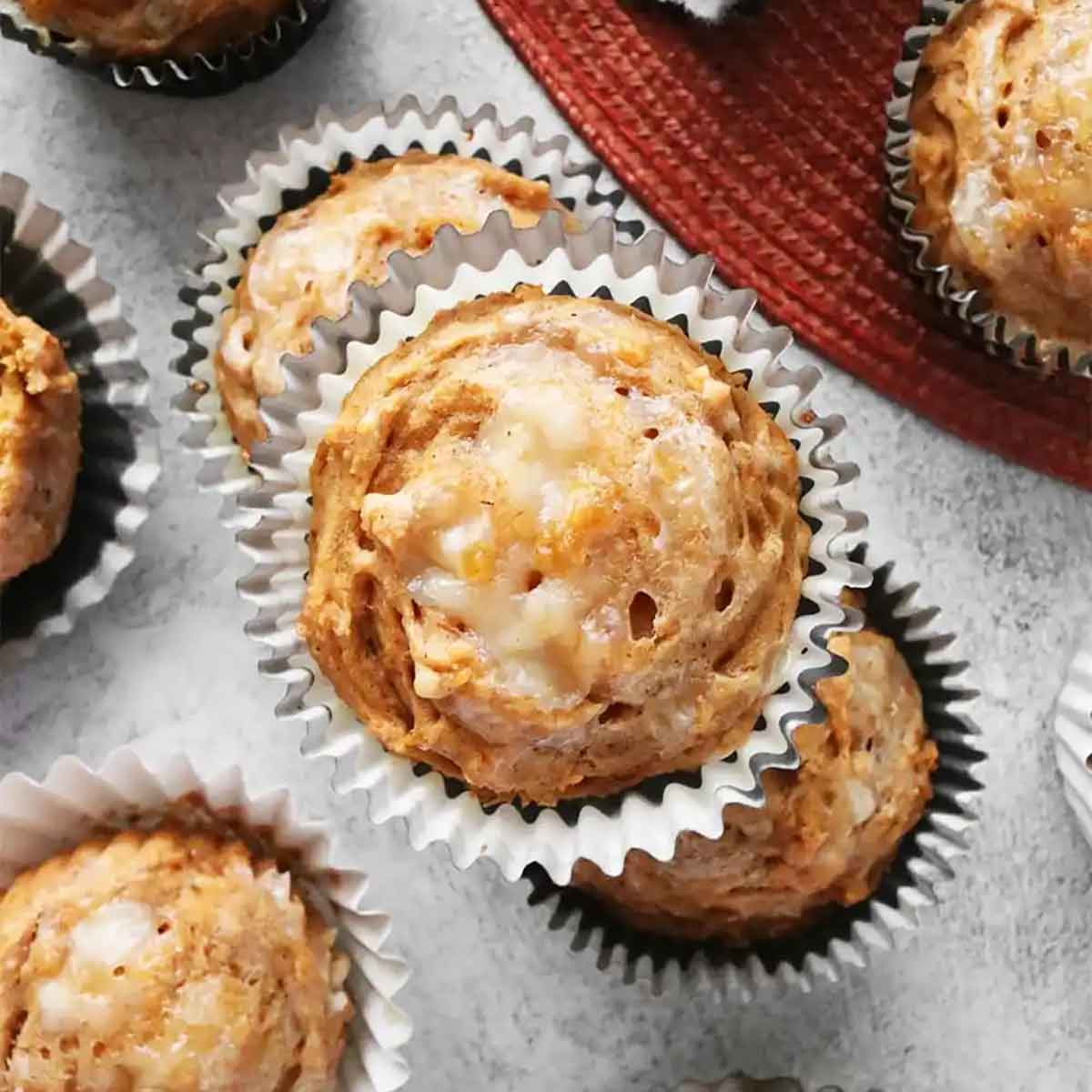 This really is the BEST vegan pumpkin cake. It's a tasty, easy, 1-bowl recipe with no unusual ingredients. You'll love how moist, flavourful and delicious this vegan cake topped with ginger frosting is!
Easy and so delicious, this gluten-free pumpkin cake with vegan cream cheese frosting is a must-make seasonal treat! Fluffy, moist, and tender, this one-bowl single-layer cake required just 10 ingredients and bakes in 30 minutes! An allergy-free and kid-friendly dessert that's loaded with pumpkin, spice, and cosy Autumn vibes!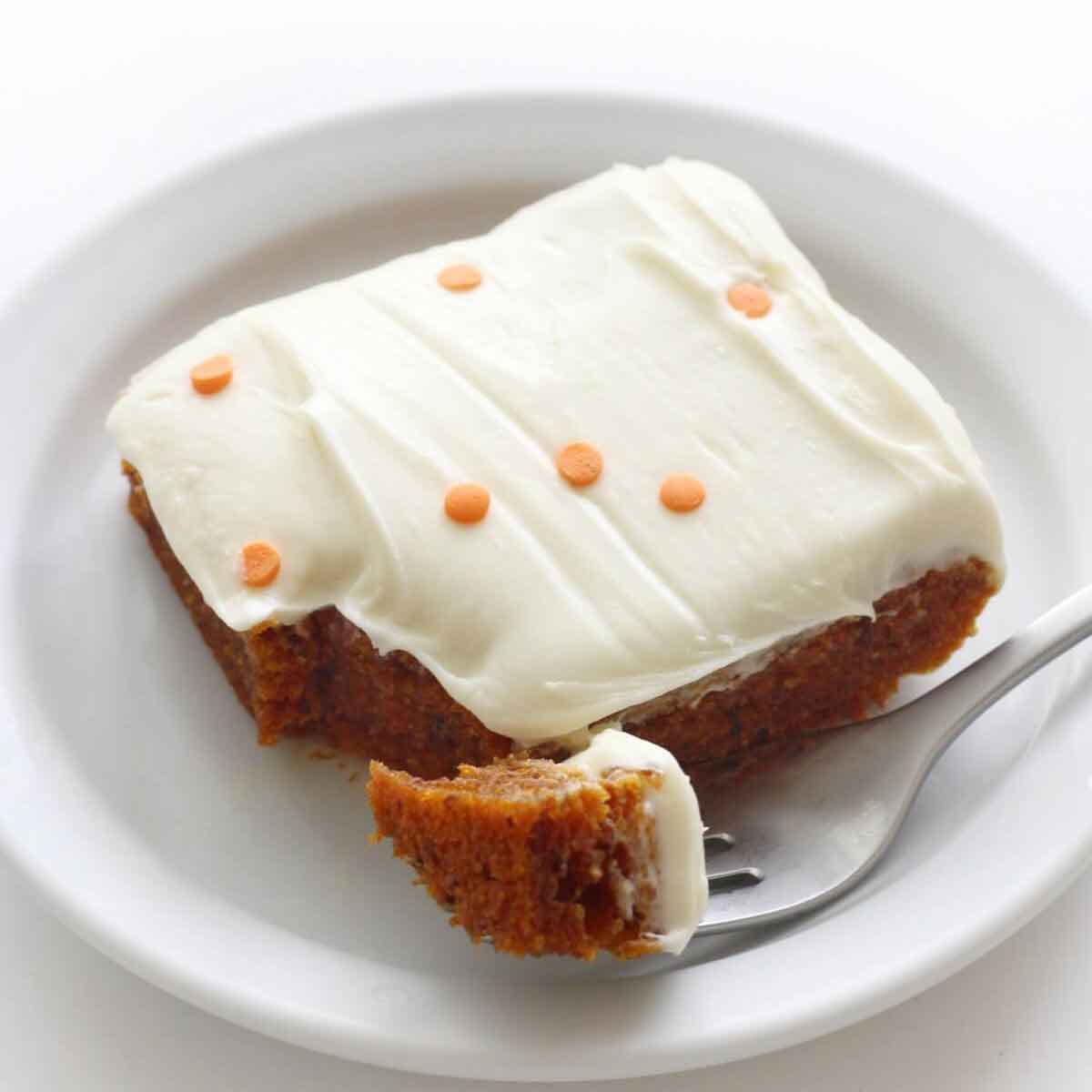 These cupcakes are moist, fluffy, perfectly spiced and topped with a creamy pumpkin spice frosting. Perfect for enjoying with a hot drink.
Topped with a silky cream cheese frosting, these pumpkin cupcakes are a perfect Autumnal or vegan Halloween treat.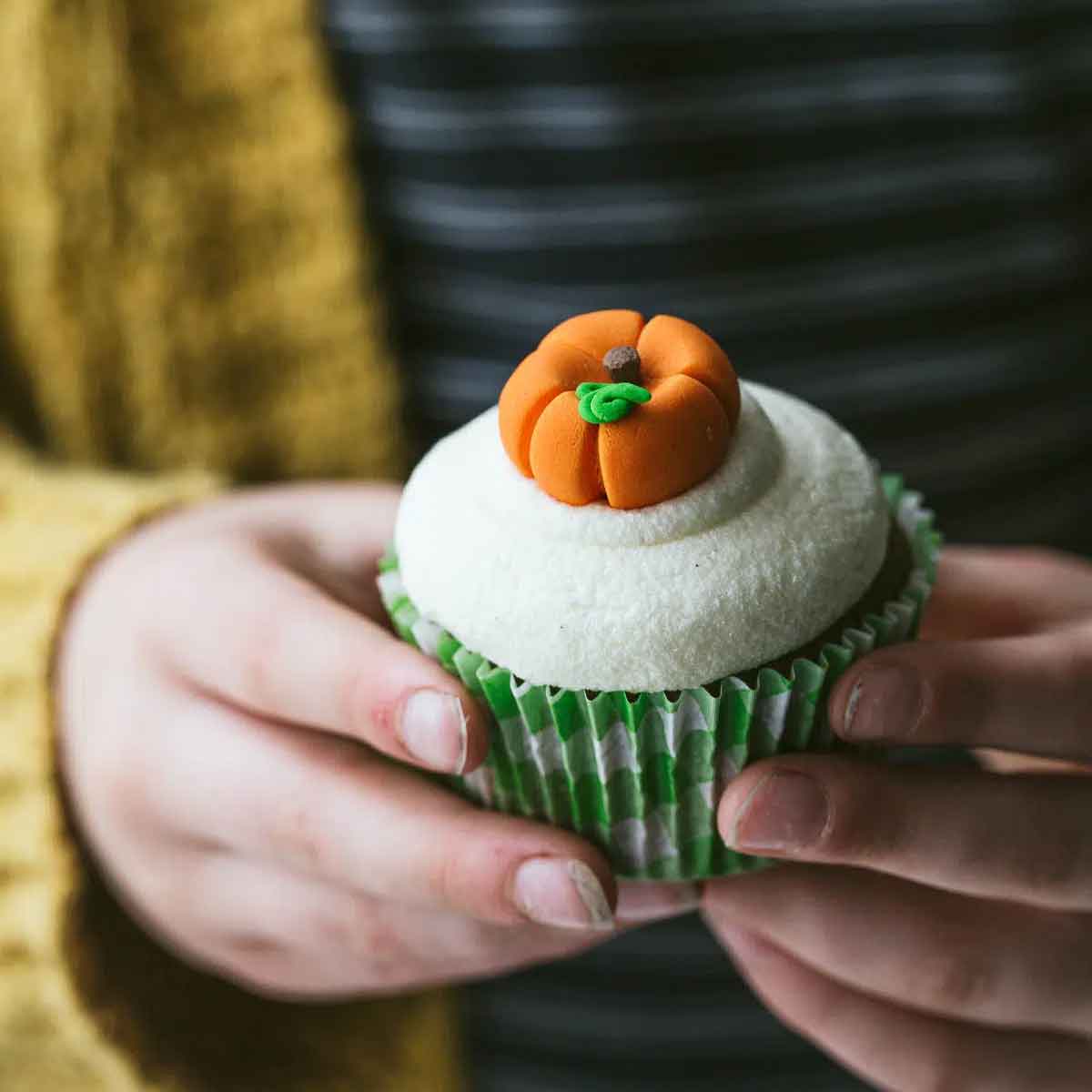 This sweet, sticky loaf is full of the flavours of Autumn and is addictively good! A soft, brioche-like pumpkin bread dough that's filled with a spiced, buttery brown sugar pecan filling and doused in syrup. The ultimate Fall treat!
This vegan pumpkin banana bread makes a delicious and nutritious breakfast or snack that will keep you satisfied throughout your morning.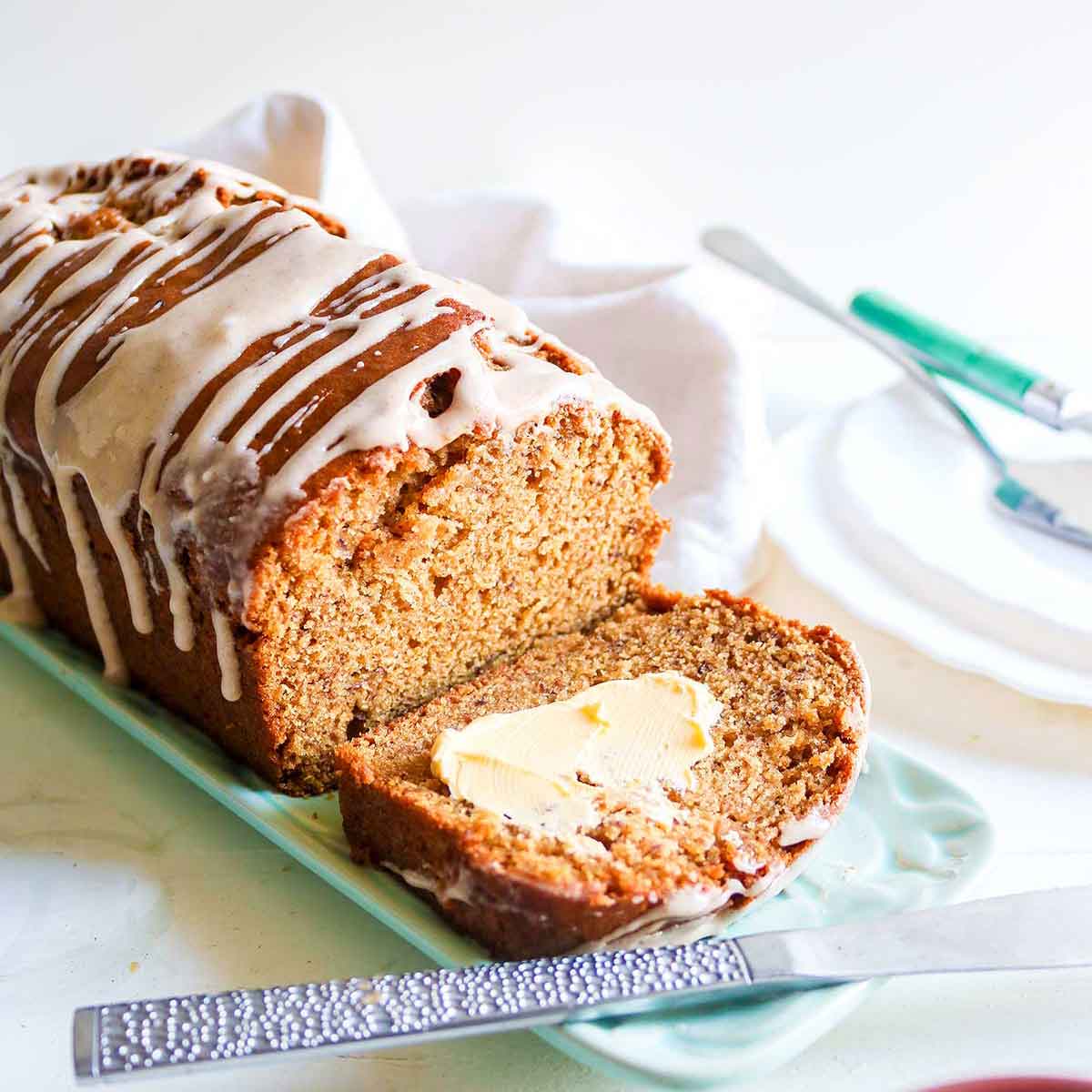 This fluffy pumpkin chocolate chip bread is filled with warming spices and delicious pumpkin flavour! As an added bonus, it's gluten-free too! One of the best vegan pumpkin desserts for a tasty snack.
This pull-apart bread starts with a basic yeast bread that is spiced up with pumpkin and cinnamon. Then it gets all pulled apart with a lemon sugar glaze that is so delicious you will find yourself eating it on its own! The perfect dessert recipe for Autumn baking.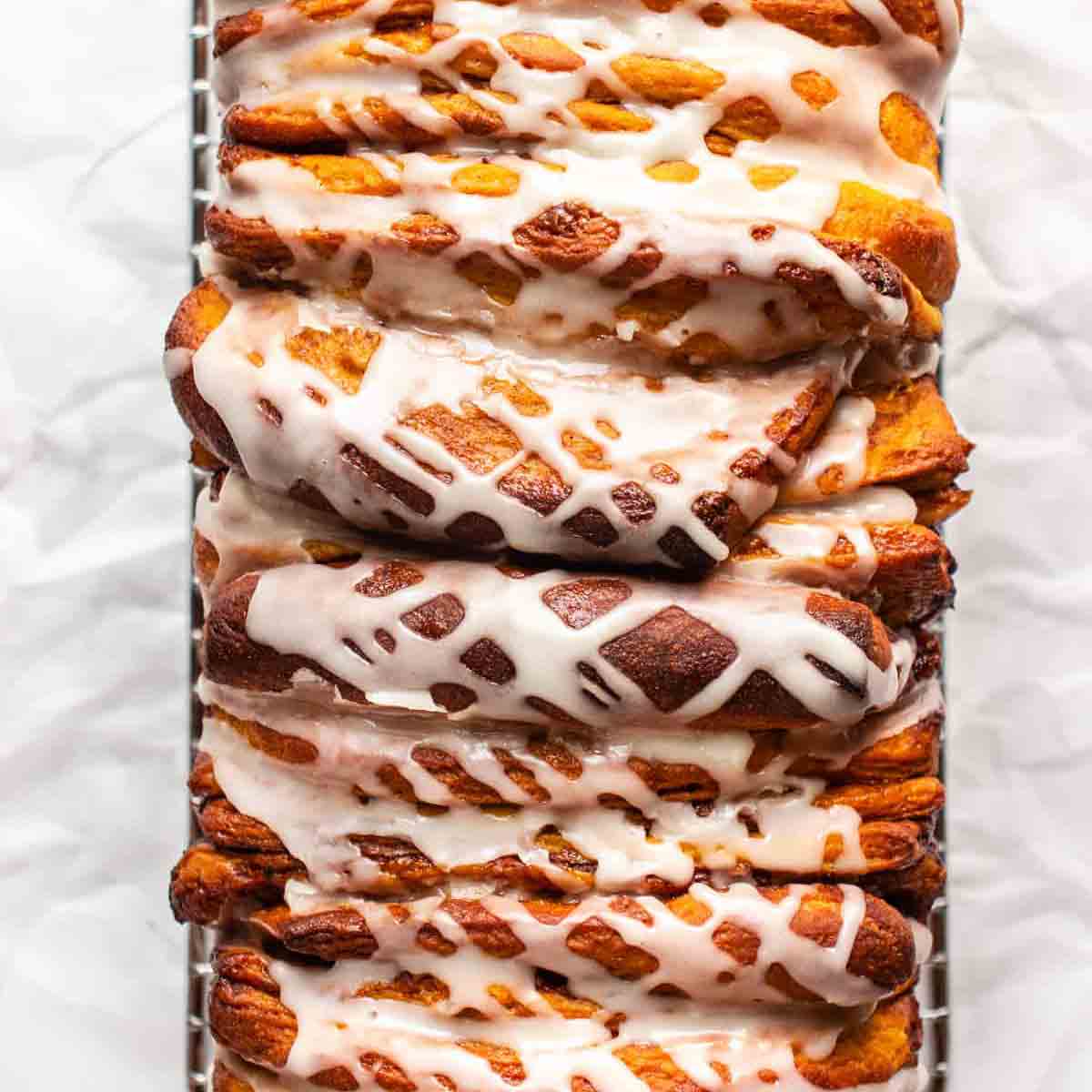 These soft and pillowy cookies are healthier (and better) than a drinkable pumpkin spice latte! They're free from the top 8 allergens, gluten-free, vegan, and paleo.
Perfectly spiced, soft and chewy cookies with a delicious drizzle. They are free from wheat, gluten, dairy, egg, soy, peanut and tree nuts.
Easy pumpkin chocolate chip cookies that are chewy and soft rather than cakey! These cookies are made with only 7 ingredients, come together in one bowl and don't need to be chilled before baking!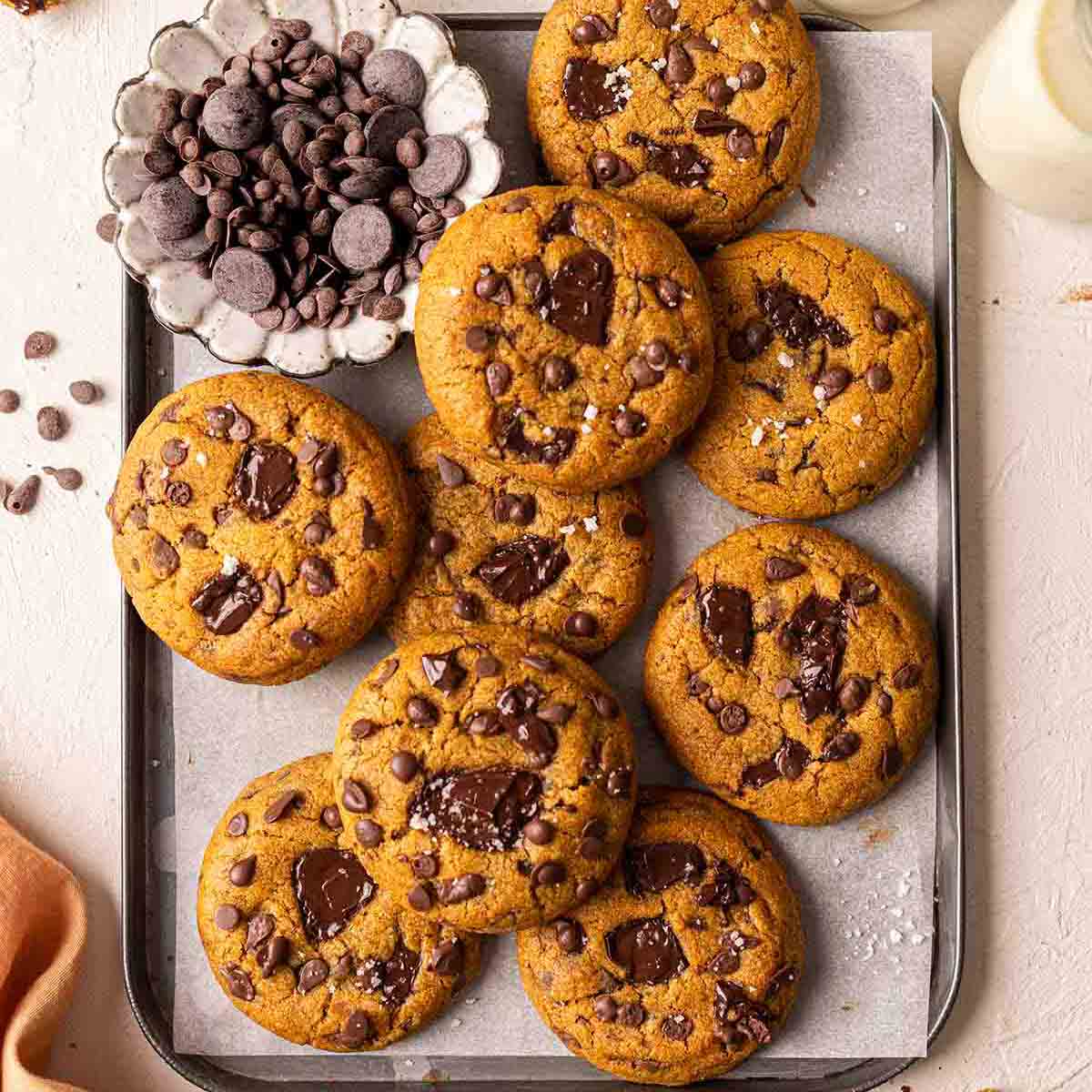 These pumpkin spice cookies are light and oil-free but full of amazing flavours. You just need 1 bowl and 30 minutes to whip up this healthy dessert.
These pumpkin spice oatmeal cookies are a fun sweet treat, and full of flavour from delicious fall spices. Quick and easy to make, they come together in around 30 minutes.
You'll fall in love with these easy pumpkin crinkle cookies! Made with canned pumpkin puree and warming spices, they're perfect for seasonal baking!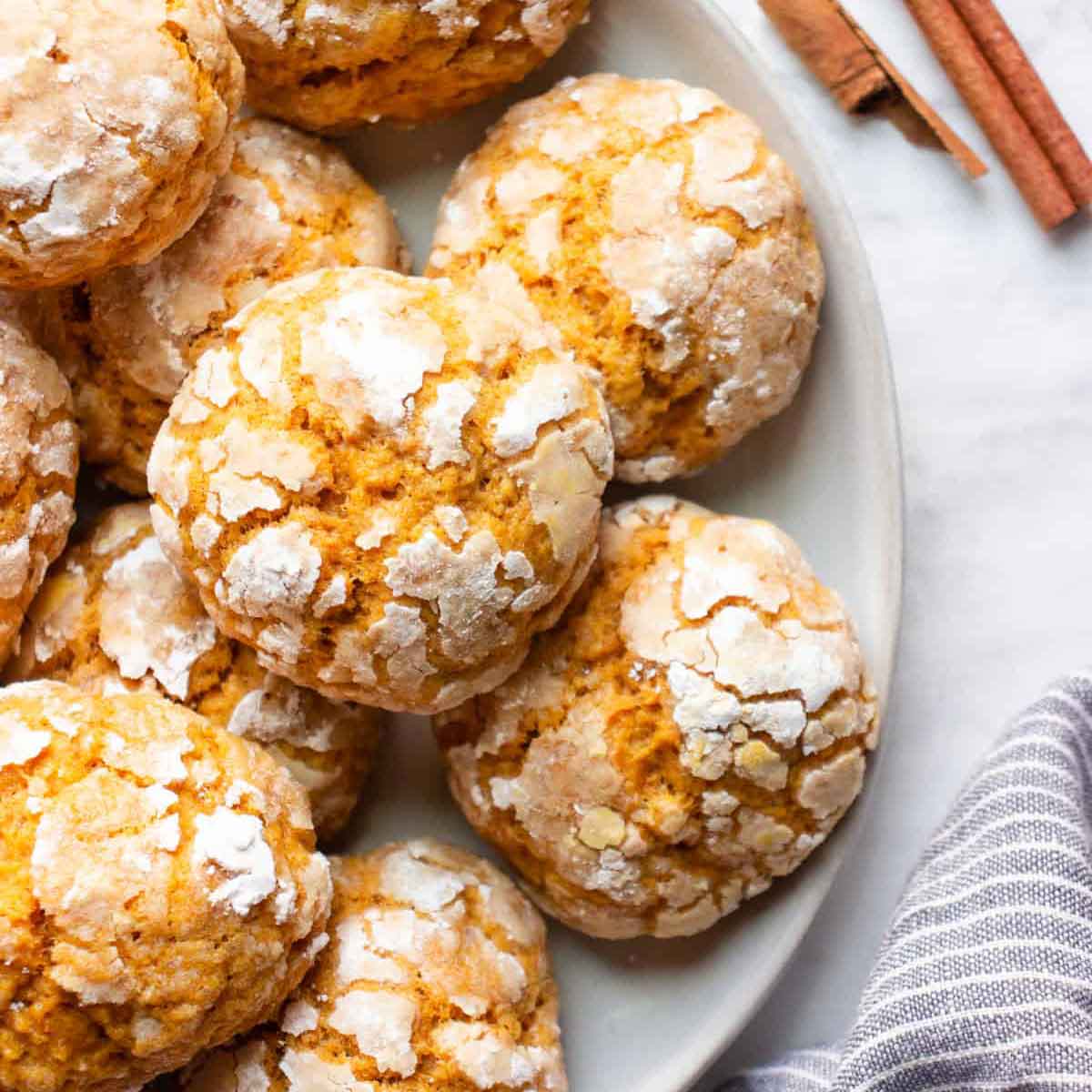 These soft vegan pumpkin cookies are an easy treat, perfect for breakfast, dessert or afternoon snack. Your family will love them!
This easy, baked pumpkin doughnuts recipe is filled with warm spices and maple and vanilla flavour. Topped with a maple cinnamon glaze!
These vegan pumpkin doughnuts are bursting with pumpkin flavour, spiced with cinnamon and so perfectly moist and delicious. Super easy to whip up with just 7 ingredients, 1 bowl and ready in 30 minutes!
These pumpkin cinnamon rolls are the ultimate vegan pumpkin dessert and just the thing for a weekend project as the weather starts to cool down. Total comfort food made healthy(ish).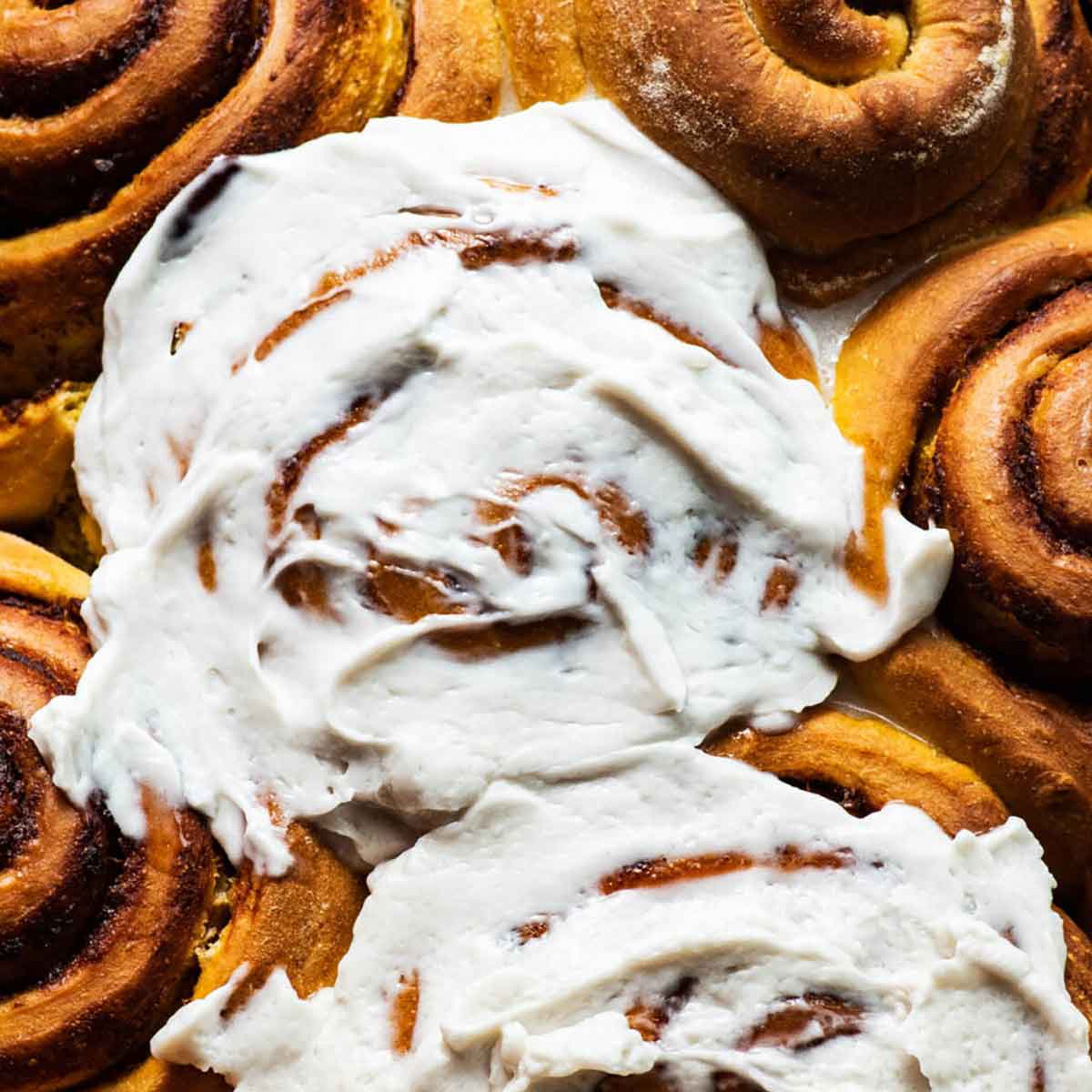 These mini cheesecakes are as delicious as they are cute! Made with a creamy cashew-pumpkin base and gingersnap crust, these two-bite treats are perfect for dessert and snacking.
These no-bake mini pumpkin cheesecakes are rich enough to mimic the actual texture of cheesecake. An easy, no-bake dessert!
Baked vegan pumpkin cheesecake recipe with a gingerbread crust, creamy pumpkin filling and maple pecan pie topping! Easy, indulgent and beyond delicious!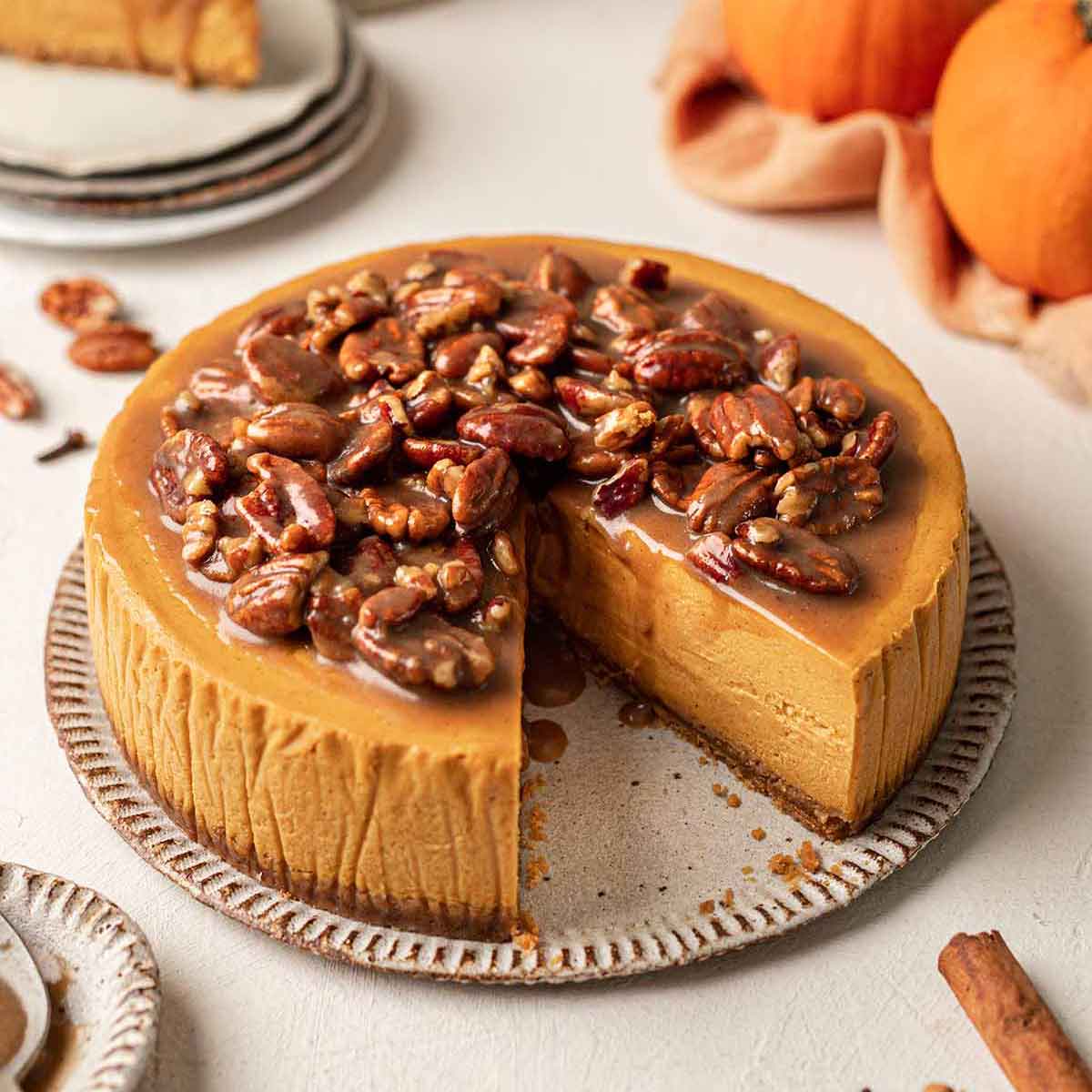 This incredibly creamy pumpkin cheesecake is paleo, no-bake and really tastes similar to a traditional pumpkin cheesecake!
You won't believe how creamy and smooth this plant-based pumpkin mousse is! It uses canned pumpkin and all the right spices and is sweetened with maple syrup and Medjool dates.
Smooth, creamy, and sweet, this low-fat pumpkin pie custard is a ridiculously easy alternative to pumpkin pie. Make it in under 10 minutes and chill it for an easy and quick dessert or snack!
This easy pumpkin pie parfait is perfect for entertaining! Top a layer of crumbled pie crust with a sweet and creamy pumpkin layer, vanilla coconut yoghurt and toasted pecans.
These vegan pumpkin brownies are gooey, fudgy and delicious. Made with real pumpkin and pumpkin spices, they're the ultimate vegan Autumn dessert!
These flourless brownies are moist, chocolatey, and scrumptious, especially when it comes to the peanut butter icing on top!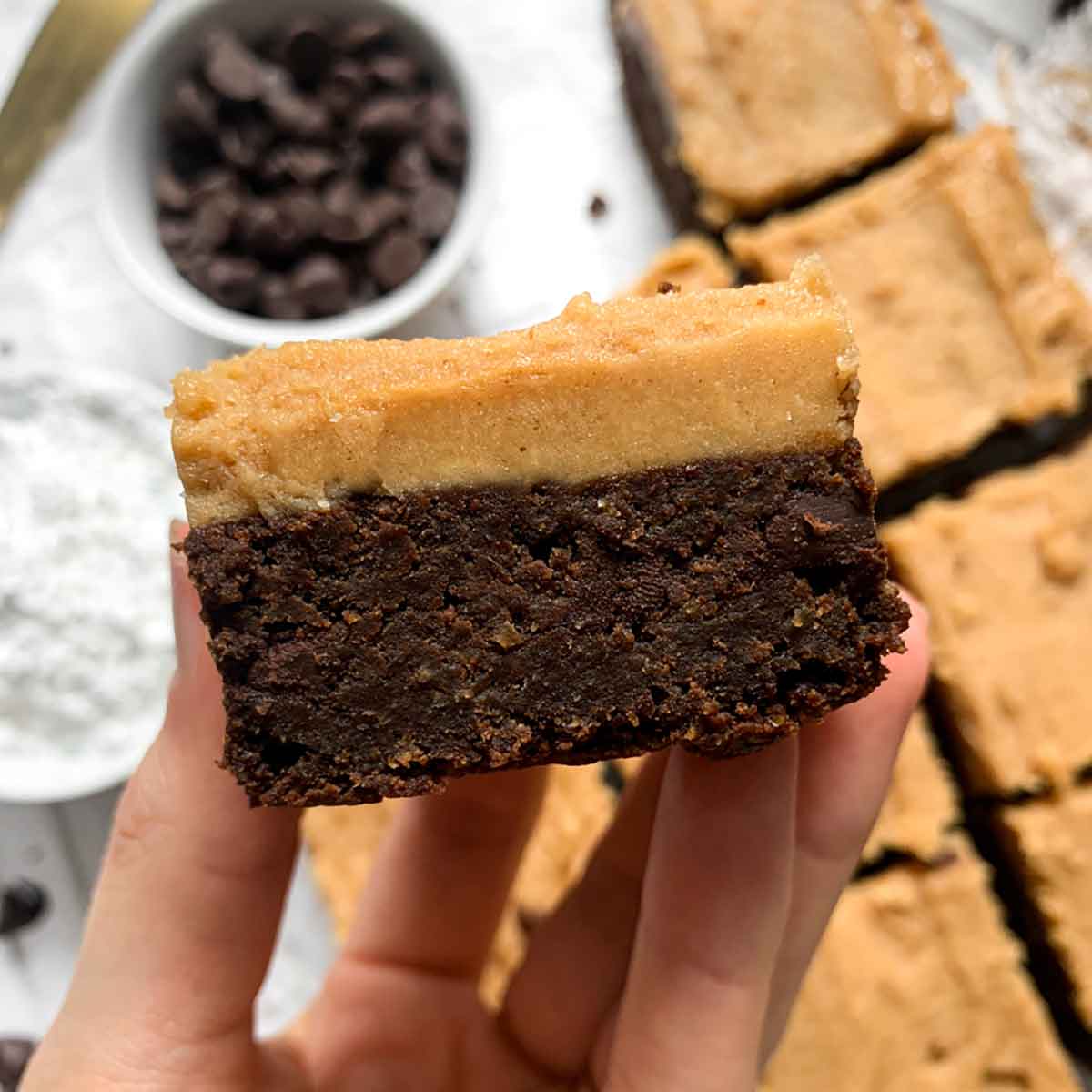 Pumpkin brownies that are healthier than the traditional kind! An irresistible treat that will be loved by all.
You'll love these beautiful vegan pumpkin brownies with their simple Autumn leaves swirl! They are moist, fudgy, completely grain-free and made with everyday ingredients.
Vegan pumpkin desserts don't get much easier than this recipe! These 4-ingredient peanut butter cups are a great sweet treat! Keep them in the freezer to enjoy all pumpkin season long!
No-bake coconut flour pumpkin truffles taste like pumpkin pie but are so much better for you. Made with coconut butter and dark chocolate.
This decadent chocolate pumpkin pie will surprise everyone with its creamy texture and Autumnal flavour. It's truly a winner, perfect for any level cook and bakes up perfectly delightful!
Deliciously smooth and creamy vegan coconut pumpkin pie recipe. Created with a crunchy biscuit base made from vegan-friendly biscuits and softened dates.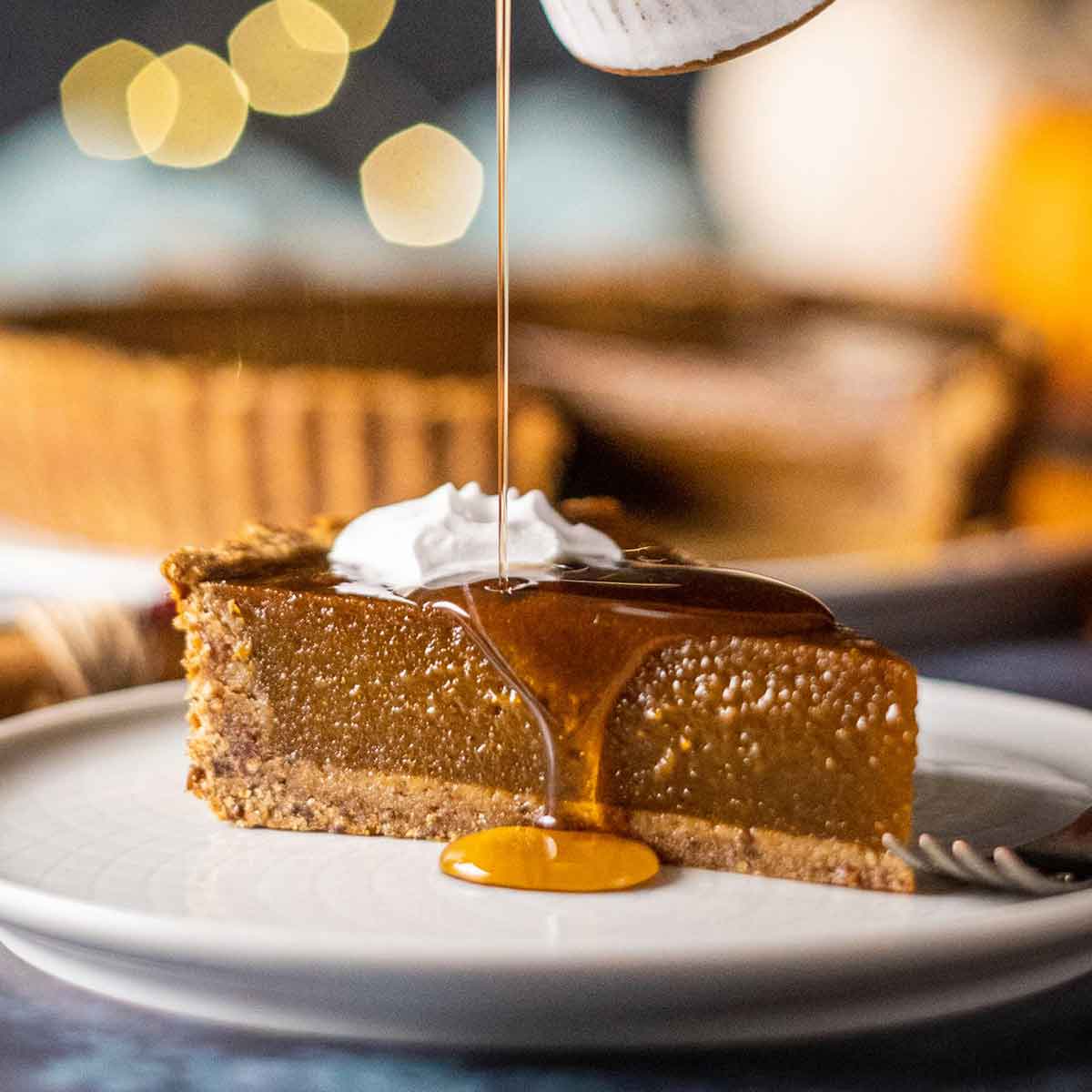 Creamy, firm and not overly sweet, these mini vegan pumpkin pies are easy to make, delicious and adorable!
Crust made from gingersnap cookies; a soft, custardy pumpkin filling and a crisp crumble topping make three layers of Autumn heaven. This triple threat is allergy-friendly and made without wheat, gluten, dairy, egg, peanut or tree nuts. There's even a soy-free option too!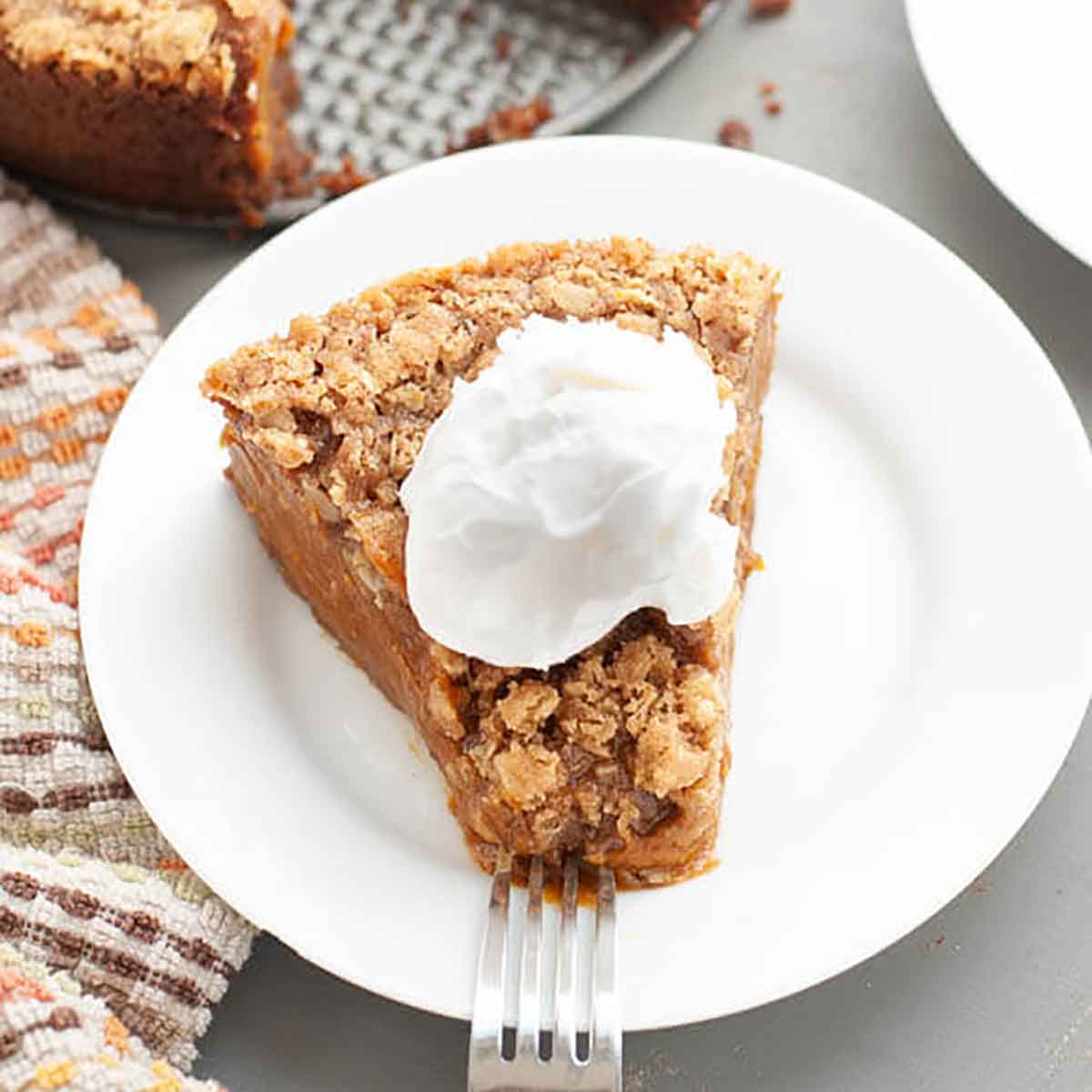 I hope you enjoy these vegan pumpkin desserts! If you make any of them at home, please let me know how you get on by leaving a comment and/or rating below. Happy baking! xo

40 Tasty Vegan Pumpkin Desserts
The best vegan desserts with pumpkin in them- perfect for Autumn.
BakedByClo is a participant in the Amazon Services LLC Associates Program, an affiliate advertising program designed to provide a means for sites to earn advertising fees by advertising and linking to Amazon.com. This site may contain some of these links to Amazon.com & other affiliate programs. If you make a purchase through one of those links, BakedByClo will receive a small commission from the purchase at no additional cost to you.