Vegan Pumpkin Spice Muffins
These vegan pumpkin spice muffins are soft, fluffy and full of flavour. They are super easy to make, using only basic ingredients, and make the perfect Autumn/Winter sweet snack.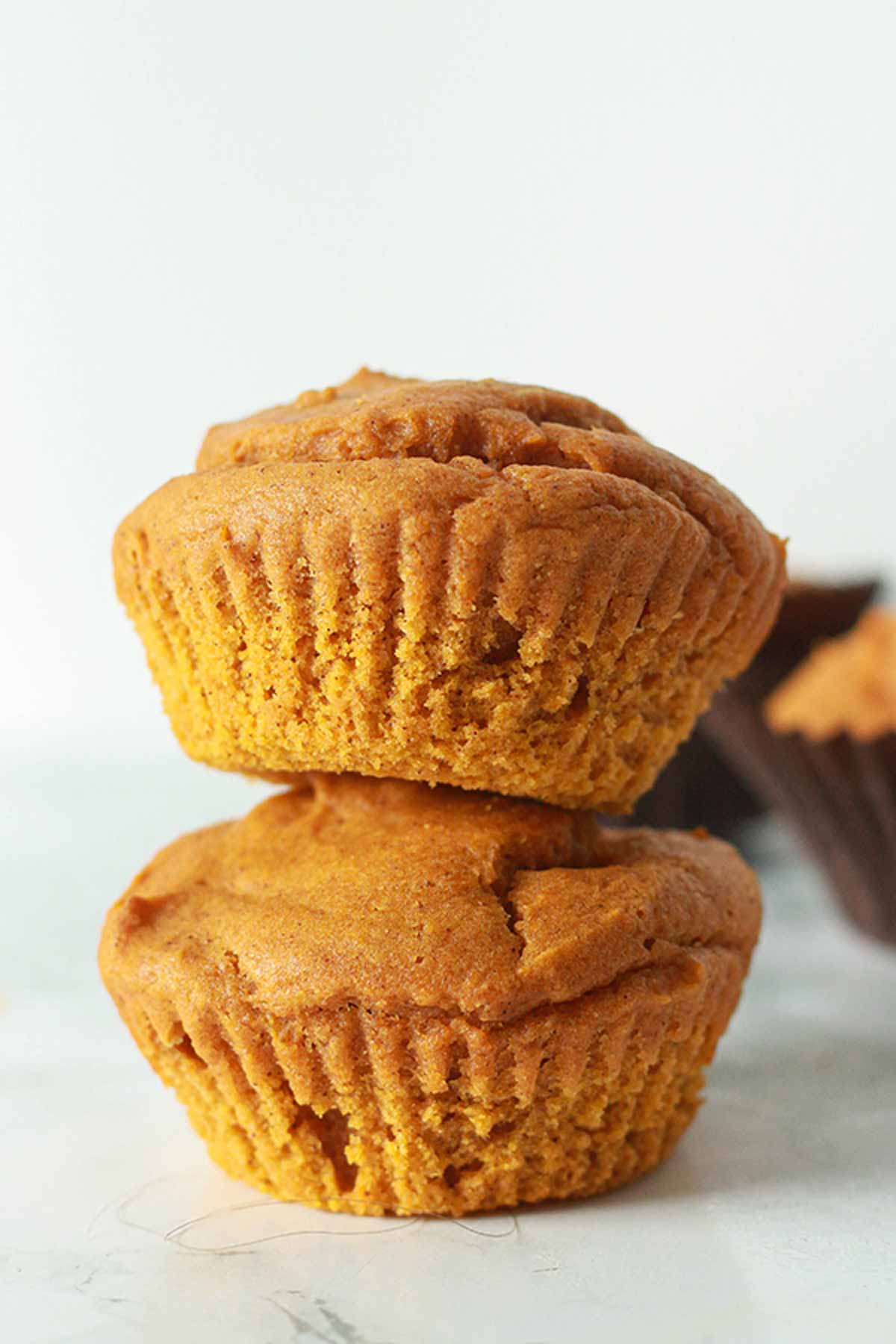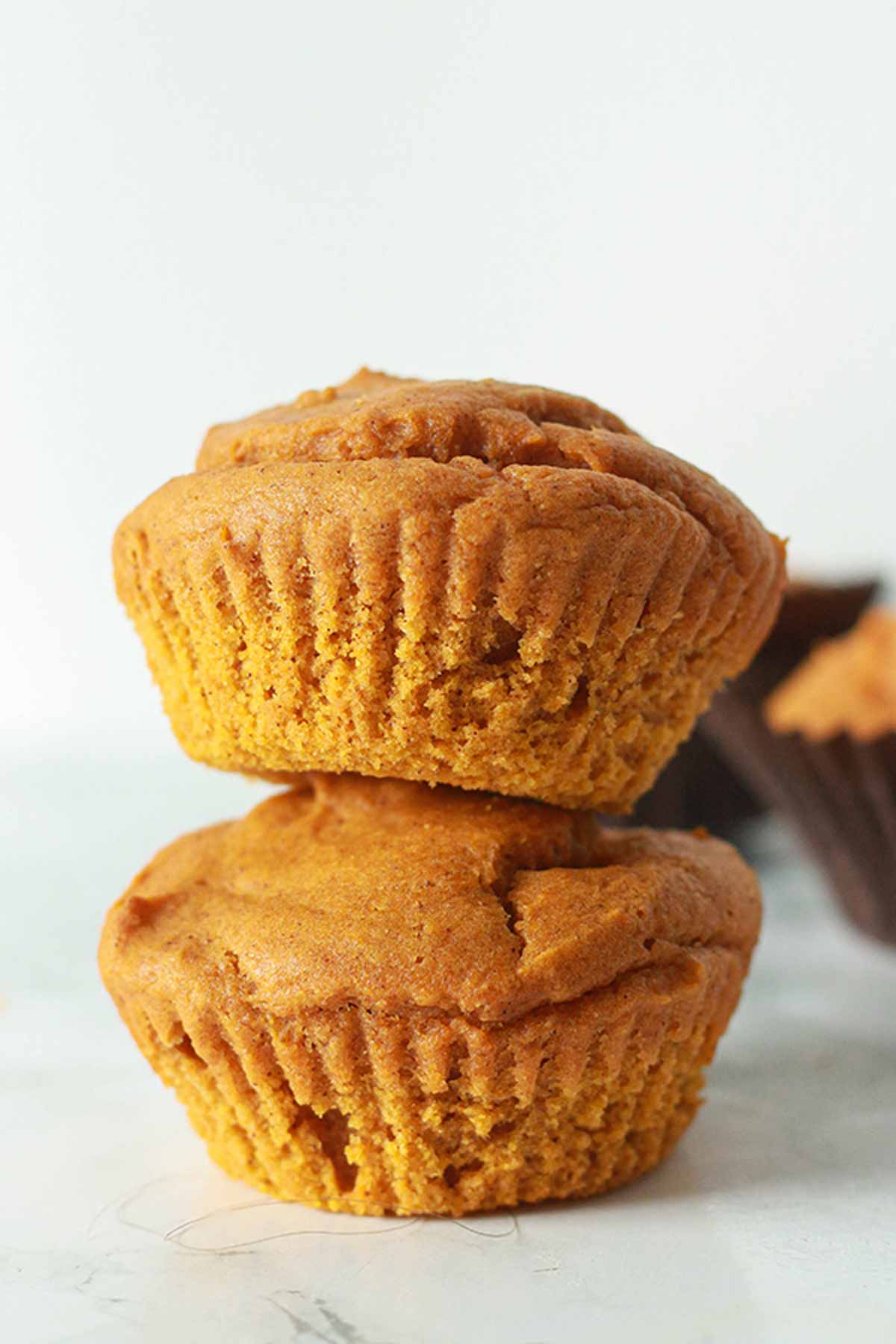 Happy October!
It's been a while since I posted my last recipe but I've been busy in the kitchen again and have some tasty treats to share with you in the coming weeks.
I said recently in my newsletter that I'd love to do some experimenting with pumpkin spice before and that's exactly what I've been doing!
I did have a pumpkin cookie recipe up but ended up taking it down because I wasn't totally happy with the cookies after tasting them again at a later date. It was a little rushed and I still have a bit more testing to do for that one I think!
But these muffins have passed the (multiple) taste tests! They are suuuper soft and moist, which is exactly what I want from a muffin. And unlike the cookies, the pumpkin flavour really comes through. It's paired with warming spices which balance out the pumpkin flavour perfectly.
I know that pumpkin spiced desserts are not as common in the UK as they are in the US, but fellow Brits, you have to try it! The pumpkin really does add a lovely flavour to the classic Winter spices. I must stock up on some more pumpkin puree so I can keep experimenting!
More vegan Autumn desserts:
These muffins have the texture of a moist banana muffin but are still super light and fluffy. They are really easy to make and are perfect for little helpers in the kitchen.
While they do taste delicious warm and fresh out of the oven, I find they are best enjoyed the day after baking. The texture and flavour is even better in my opinion!
If you enjoy these, make sure to check out my double chocolate muffins, strawberry muffins and white chocolate raspberry muffins too!
Where to find pumpkin puree?
As I said above, vegan pumpkin spice desserts are not very common in the UK. And that's probably because pumpkin puree is hard to find!
Around October time, you'll see pumpkins in the supermarkets and occasionally you'll be able to grab some pumpkin puree from the international section if you're lucky. But you'll probably never seen them again throughout the rest of the year.
Because texture and consistency can vary from pumpkin to pumpkin, I don't recommend making your own pumpkin puree. For best results, I'd say to use canned pumpkin puree as it will be the same every time. (Plus, have you ever tried to cut up a pumpkin? That takes A LOT of time!)
It's also important that you do not confuse pumpkin puree with canned pumpkin pie filling, which is already spiced and sweetened. It will not work well in this recipe.
I purchased my pumpkin puree from Amazon which was a little more pricey than Sainsbury's have listed it for but I wasn't able to find any in my local store. There are tonnes of other options online but remember that this is an imported product so it will be a little expensive. I do recommend checking out your local supermarkets to see if they're stocking any just now.
How to make vegan pumpkin spice muffins
Step 1:
Preheat your oven to 180°C/350°F (or 160°C/325°F if you're using a fan or convection oven). Line a muffin tray with 10 muffin liners.
Step 2:
To a large bowl, add 400g of pumpkin puree, 120ml of vegetable oil, 60ml of soy milk and 2 teaspoons of vanilla extract. Mix everything together well. It will look a bit odd and maybe a little curdled but don't worry.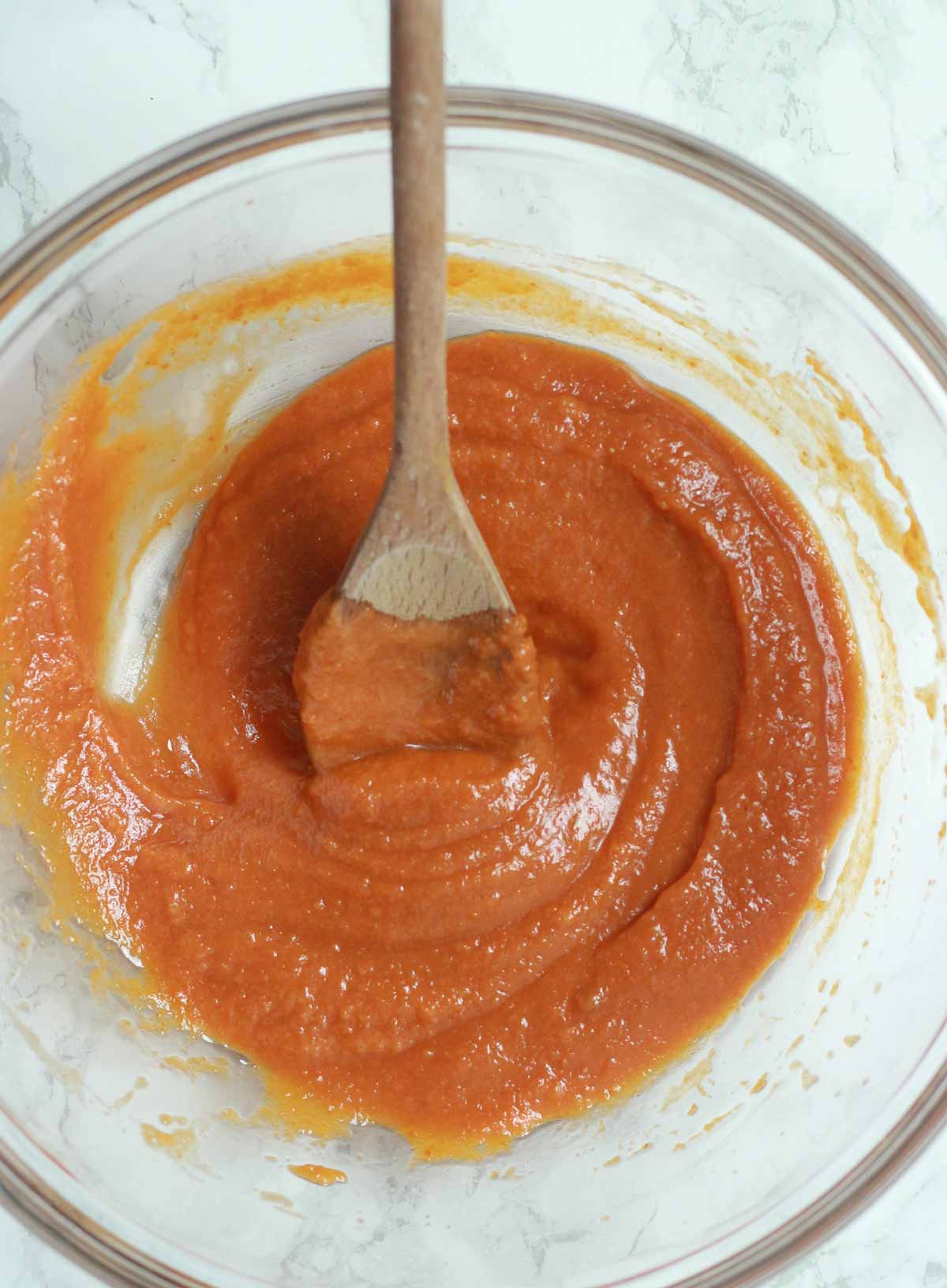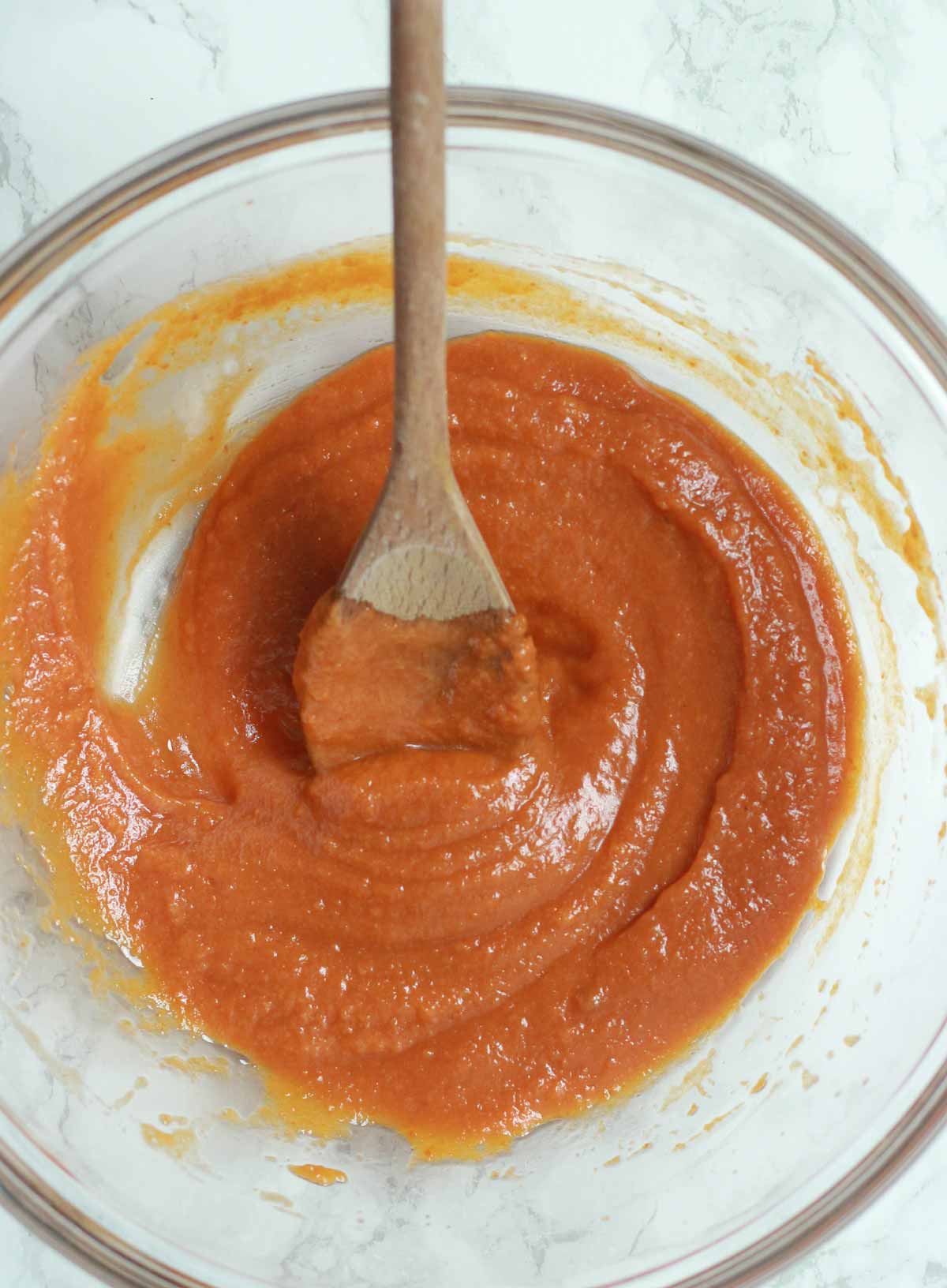 It's important to make sure that you use canned pumpkin puree here, not pumpkin pie filling. The latter is already sweetened and spiced so will throw the balance of this recipe out of whack.
Step 3:
To the same bowl, add 150g of caster sugar and 100g of soft light brown sugar. Mix well.
Step 4:
Next, add 260g of self-raising flour, 1/2 teaspoon of baking soda, 1-2 teaspoons of cinnamon (depending on preference), 1 teaspoon of ground ginger, 1/4 teaspoon ground cloves and 1/4 teaspoon of ground nutmeg.
Mix everything together well until you have a smooth, thick batter. Make sure that there's no dry mixture stuck to the bottom of the bowl.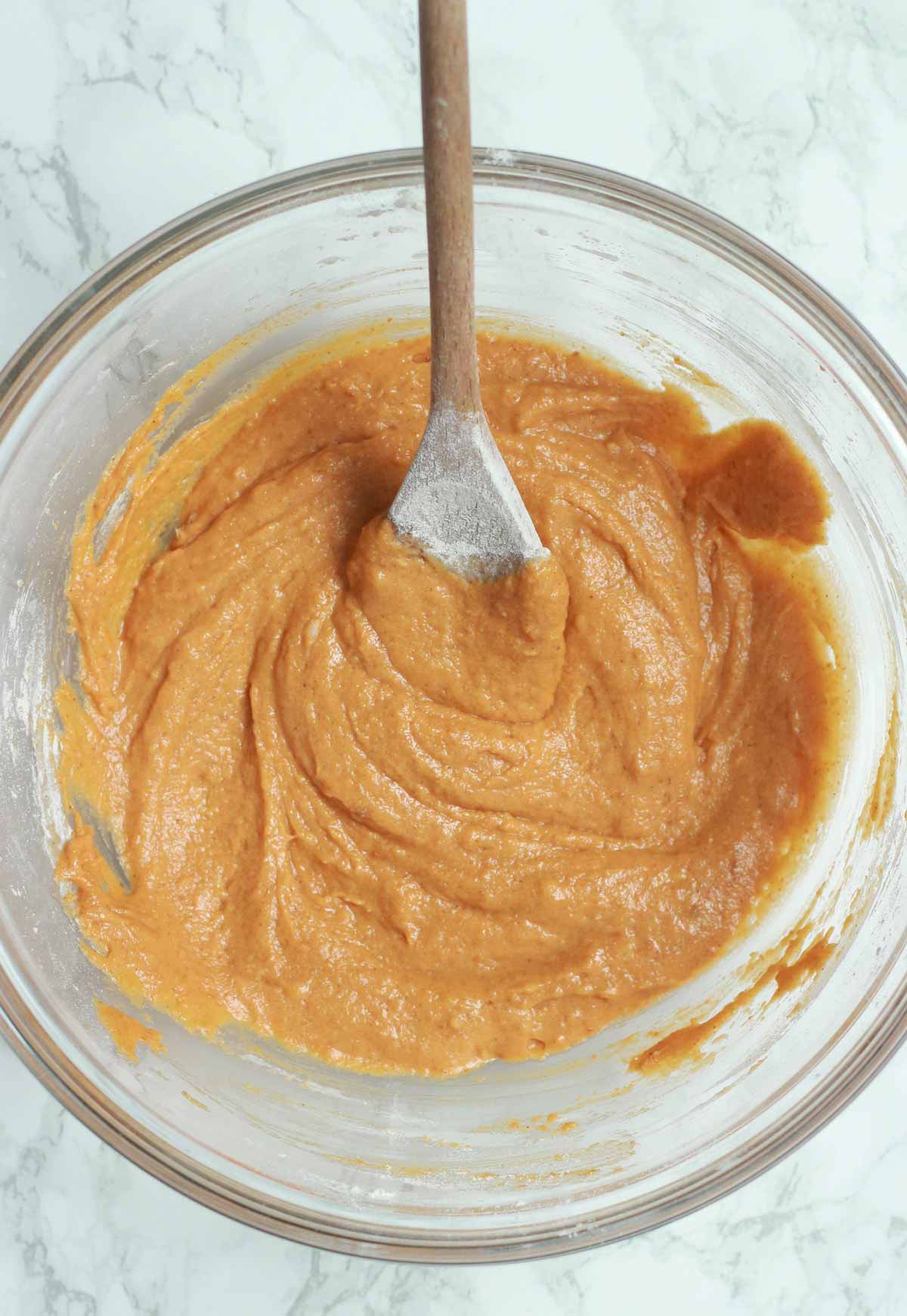 Step 5:
Divide the batter equally between your 10 muffin liners.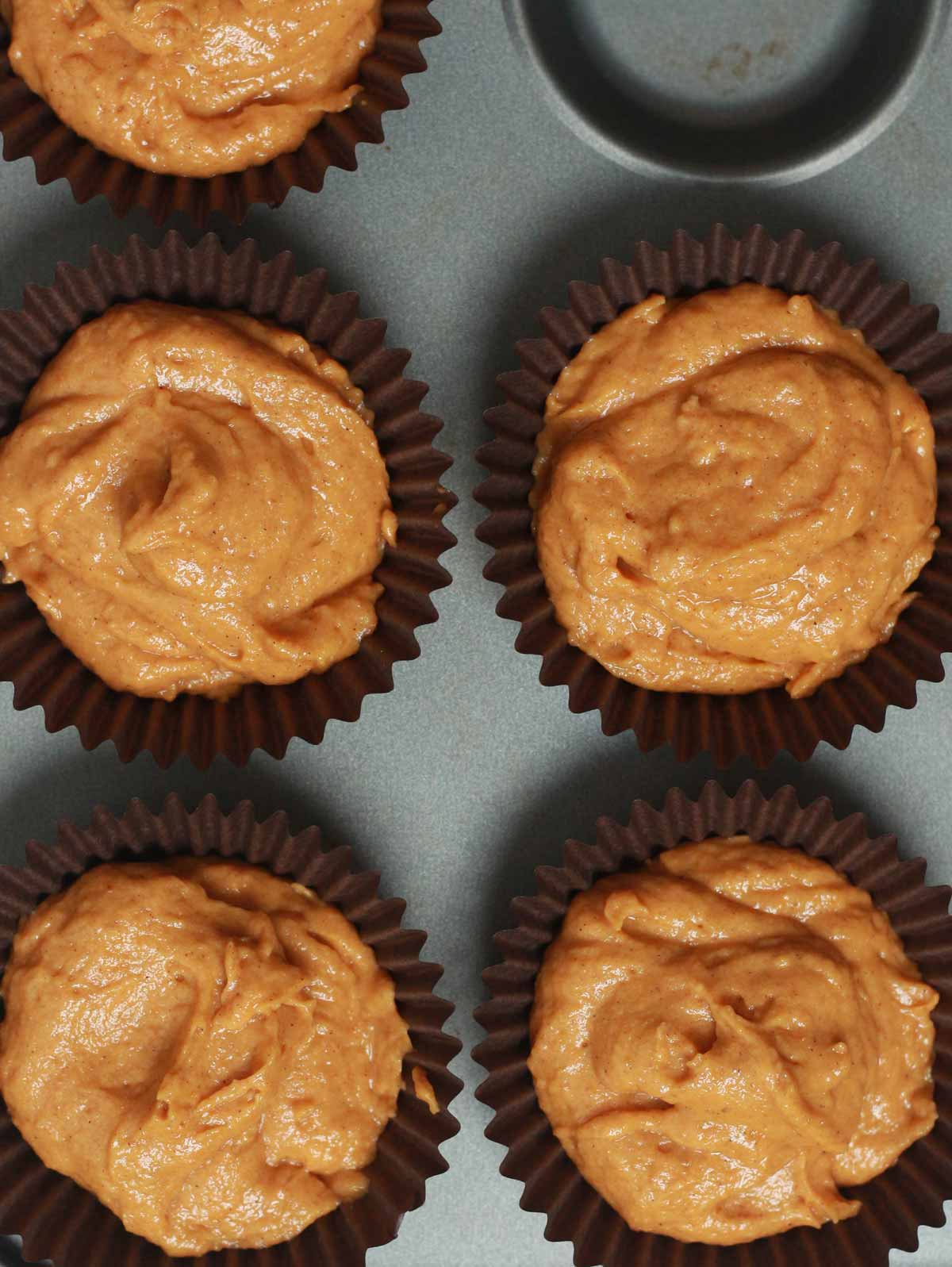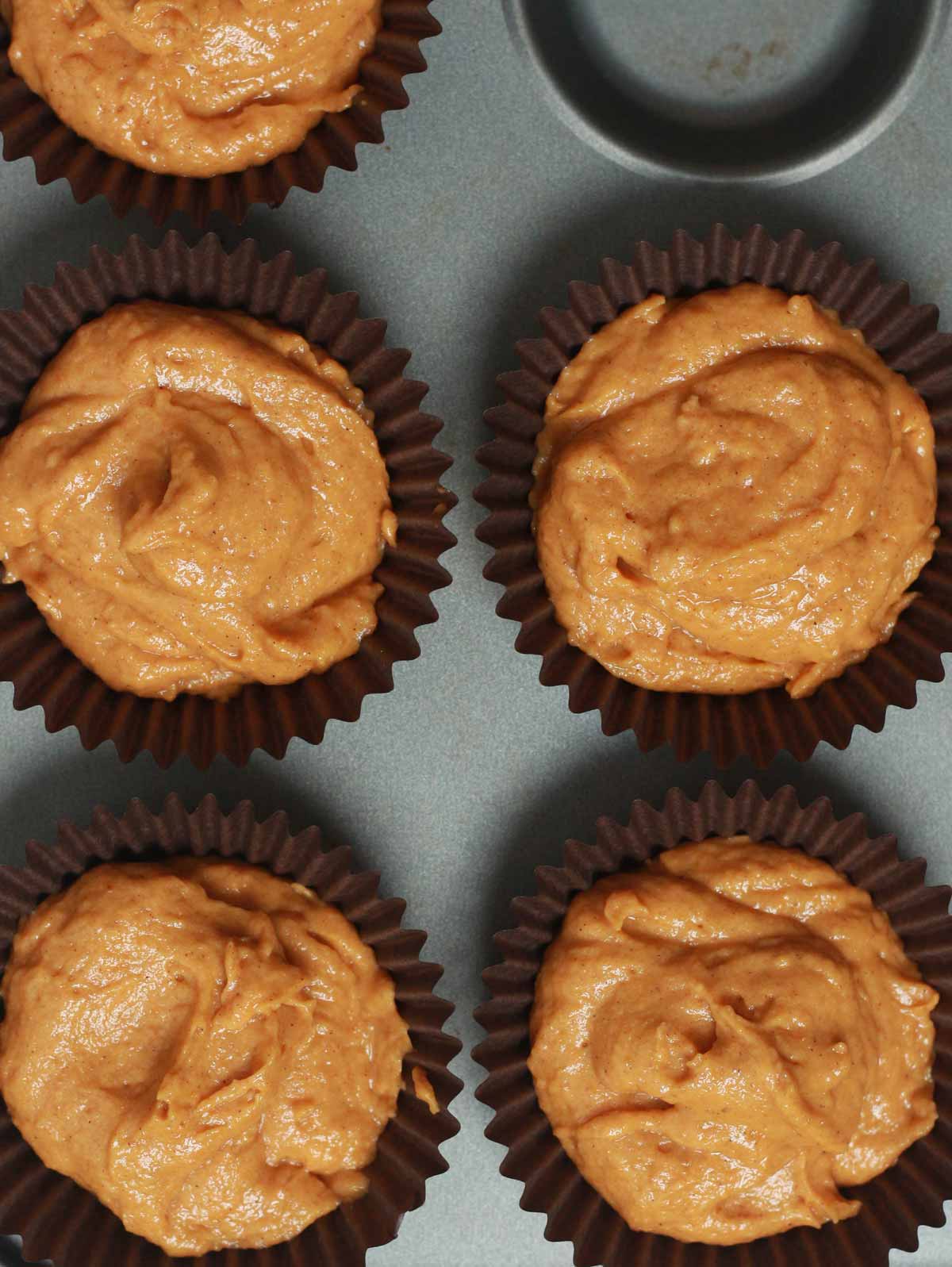 Bake for around 20-30 minutes, until a toothpick through the centre comes out clean.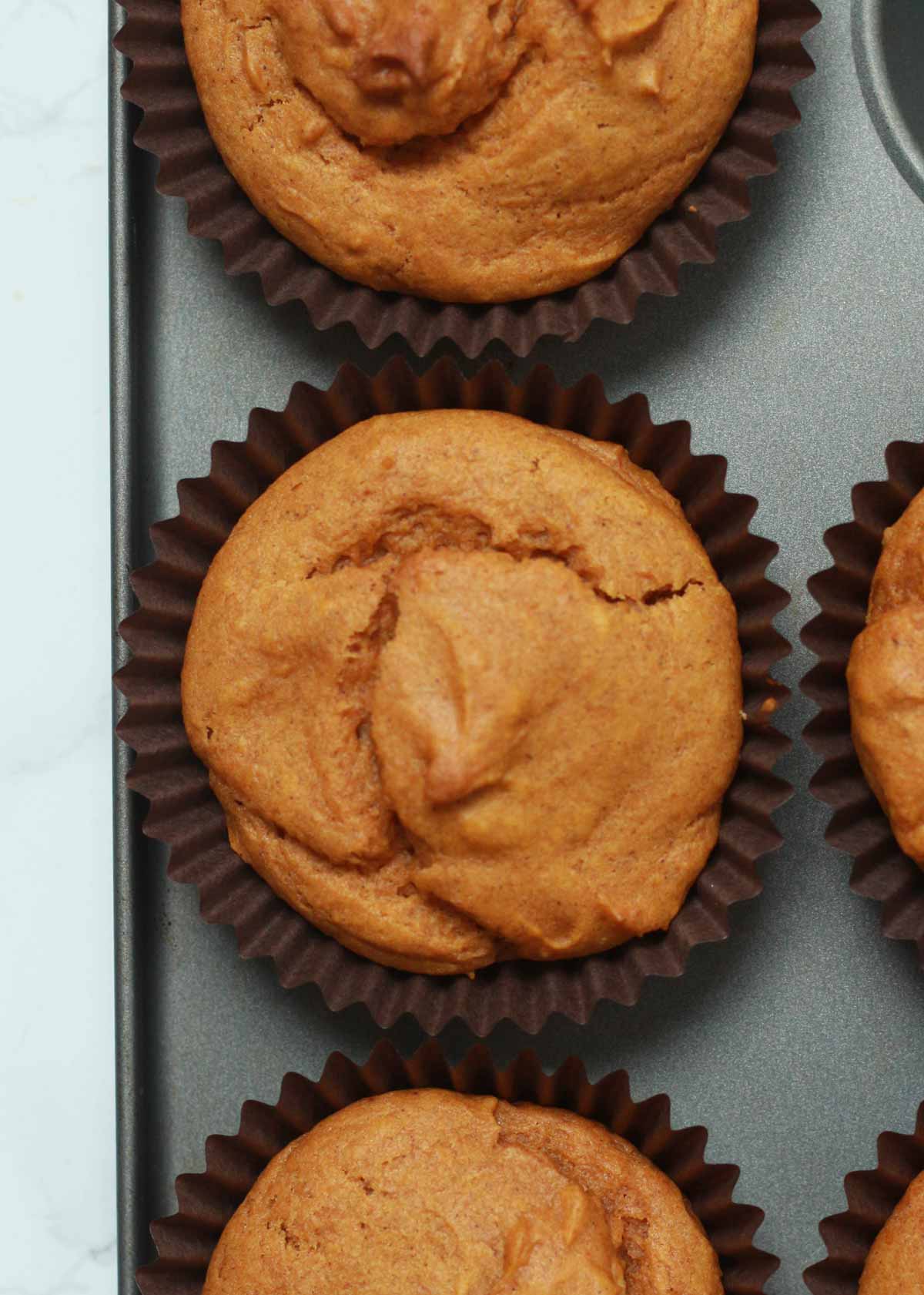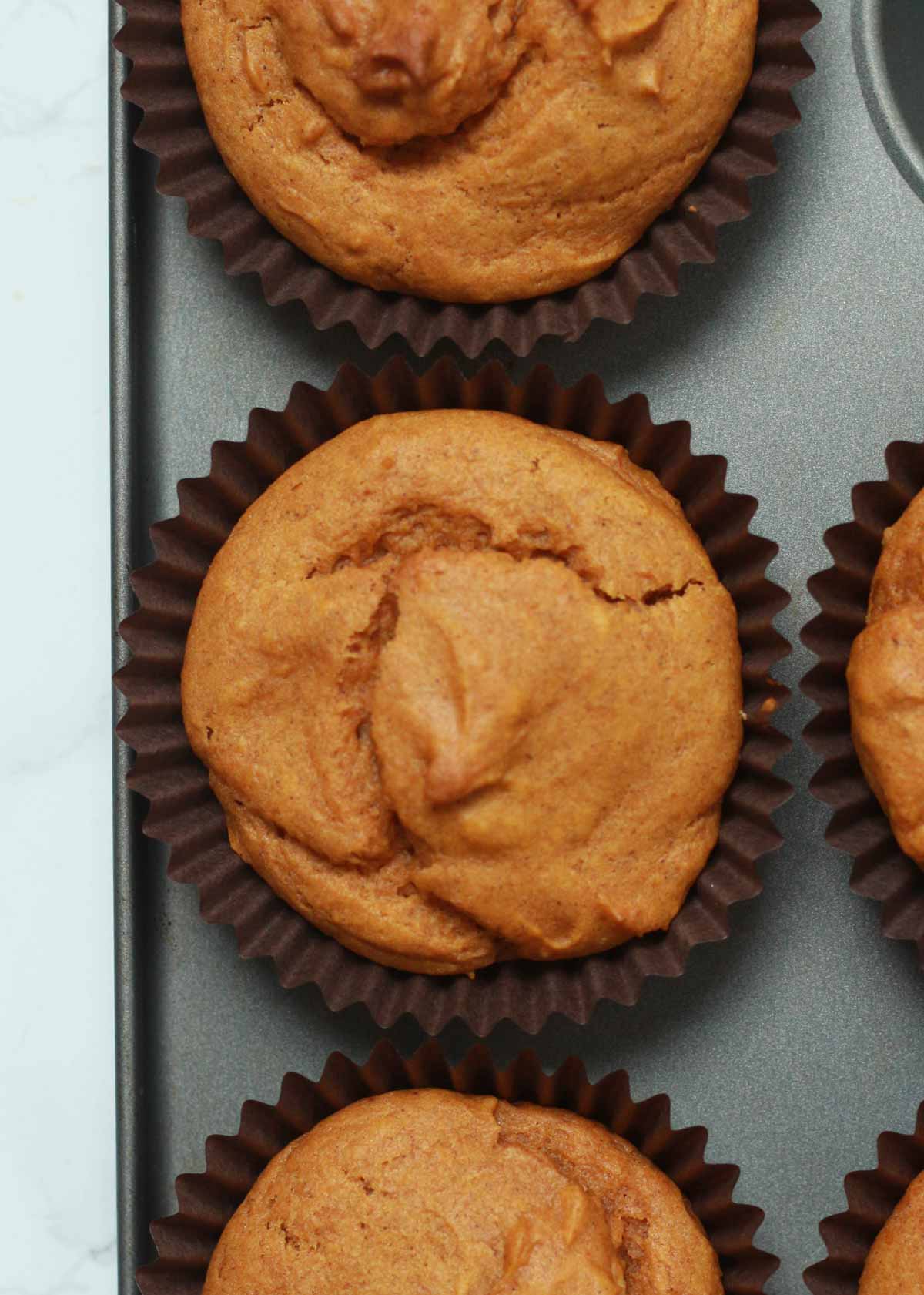 Let the muffins cool in the tin for around 5-10 minutes, then transfer them to a wire rack and leave them to cool completely. The muffins do taste lovely warm but I think they taste best once cold, and even better the next day!
FAQ:
How should vegan pumpkin muffins be stored?
Keep them in an airtight container in a cool, dry place such as a kitchen cupboard. I also recommend putting a piece of kitchen/paper towel underneath the muffins to keep them fluffy and moist.
How long will they last?
If stored appropriately, as above, they will last for 2-3 days. I think they personally taste their best the day after baking!
Can I freeze them?
Yes. To freeze the muffins, pop them into an airtight container and freeze for up to 1 month. You can place sheets of baking paper in between them if you want to stack them, to prevent them from sticking together. When you're ready to defrost them, just transfer them from the container to a wire rack and let them sit out at room temperature for an hour or two until completely thawed. Do not refreeze.
Can I add any mix-ins?
Yes! Pumpkin muffins are delicious on their own but you can make them extra special by adding a mix-in. Here are some ideas:
-Chocolate chips (white, dark or "milk")
-Apple pieces
-Walnuts
-Orange or lemon zest
More muffin recipes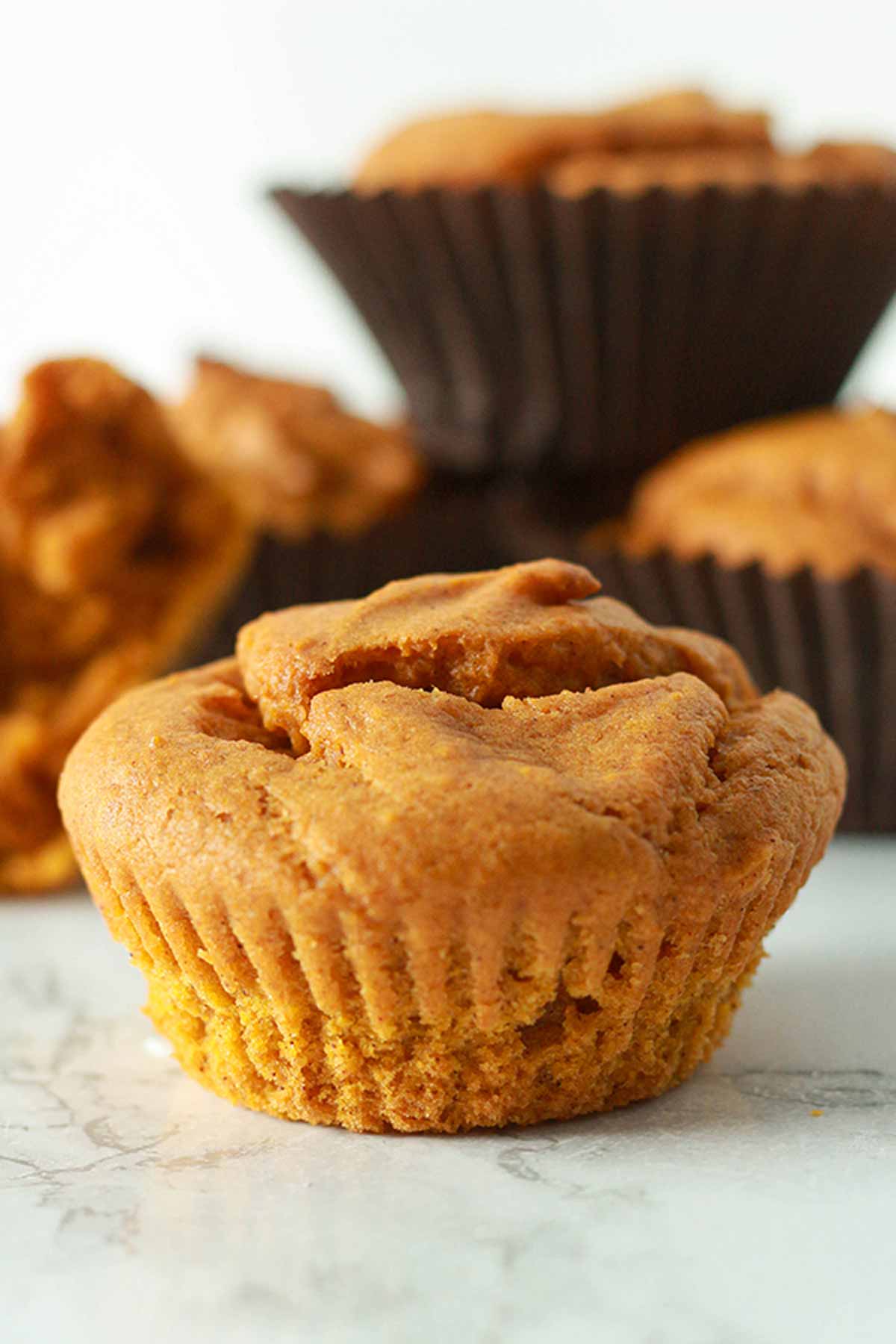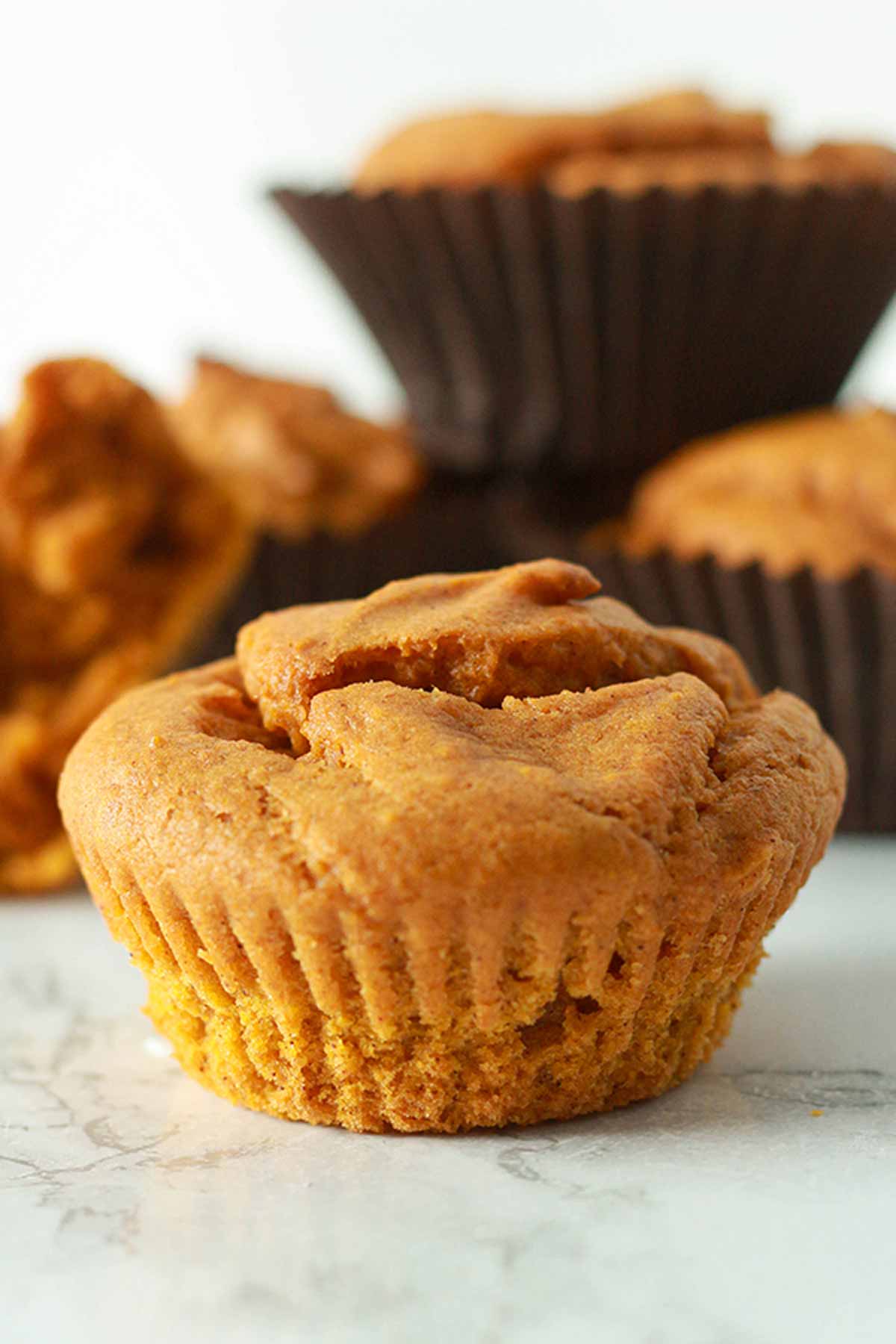 That's all for now. I hope you enjoy the recipe. If you make vegan pumpkin spice muffins yourself at home, please let me know how it goes by leaving a rating and/or comment below. Happy baking! xo

Vegan Pumpkin Spice Muffins
Moist, fluffy pumpkin muffins with warming Winter spices. Dairy and egg free.
Ingredients
400

g

Pumpkin puree

(14oz)

120

ml

Vegetable oil

(½ cup)

4

Tablespoons

Soy milk

(unsweetened is best)

2

Teaspoons

Vanilla extract

150

g

Caster sugar

(¾ cup)

100

g

Soft light brown sugar

(½ cup)

260

g

Self-raising flour

(2 cups)

½

Teaspoon

Baking soda

2

Teaspoons

Cinnamon

(ground, dried)

1

Teaspoon

Ginger

(ground, dried)

¼

Teaspoon

Cloves

(ground, dried)

¼

Teaspoon

Nutmeg

(ground, dried)
Instructions
Preheat your oven to 180°C/350°F (or 160°C/325°F if you're using a fan or convection oven). Line a tray with 10 muffin liners.

In a large bowl, mix together the pumpkin puree, oil, soy milk and vanilla extract. Then mix in the caster sugar and brown sugar.

Next, add the flour, baking soda, cinnamon, ginger, cloves and nutmeg. Mix well until you have a smooth, slightly thick batter.

Divide the batter equally between your 10 muffin cases.

Bake for around 20-30 minutes (this will vary depending how deep your tray is), until a toothpick through the centre comes out clean.

Transfer the muffins to a wire rack and leave them to cool completely before enjoying.
Recipe Notes
Store in an airtight container at room temperature for up to 3 days.
Nutrition Facts
Vegan Pumpkin Spice Muffins
Amount Per Serving (1 muffin)
Calories 302
Calories from Fat 99
% Daily Value*
Fat 11g17%
Sodium 48mg2%
Carbohydrates 46g15%
Protein 3g6%
* All values are an estimate only and will vary depending on the food brands used.
BakedByClo is a participant in the Amazon Services LLC Associates Program, an affiliate advertising program designed to provide a means for sites to earn advertising fees by advertising and linking to Amazon.com. This site may contain some of these links to Amazon.com & other affiliate programs. If you make a purchase through one of those links, BakedByClo will receive a small commission from the purchase at no additional cost to you.