Vegan Halloween Cake (Black Velvet)
This vegan Halloween cake is a striking, eggless black velvet cake. It's just like the red version but black! It's made up of 3 layers of black sponge cake and filled and covered with contrasting cream cheese frosting.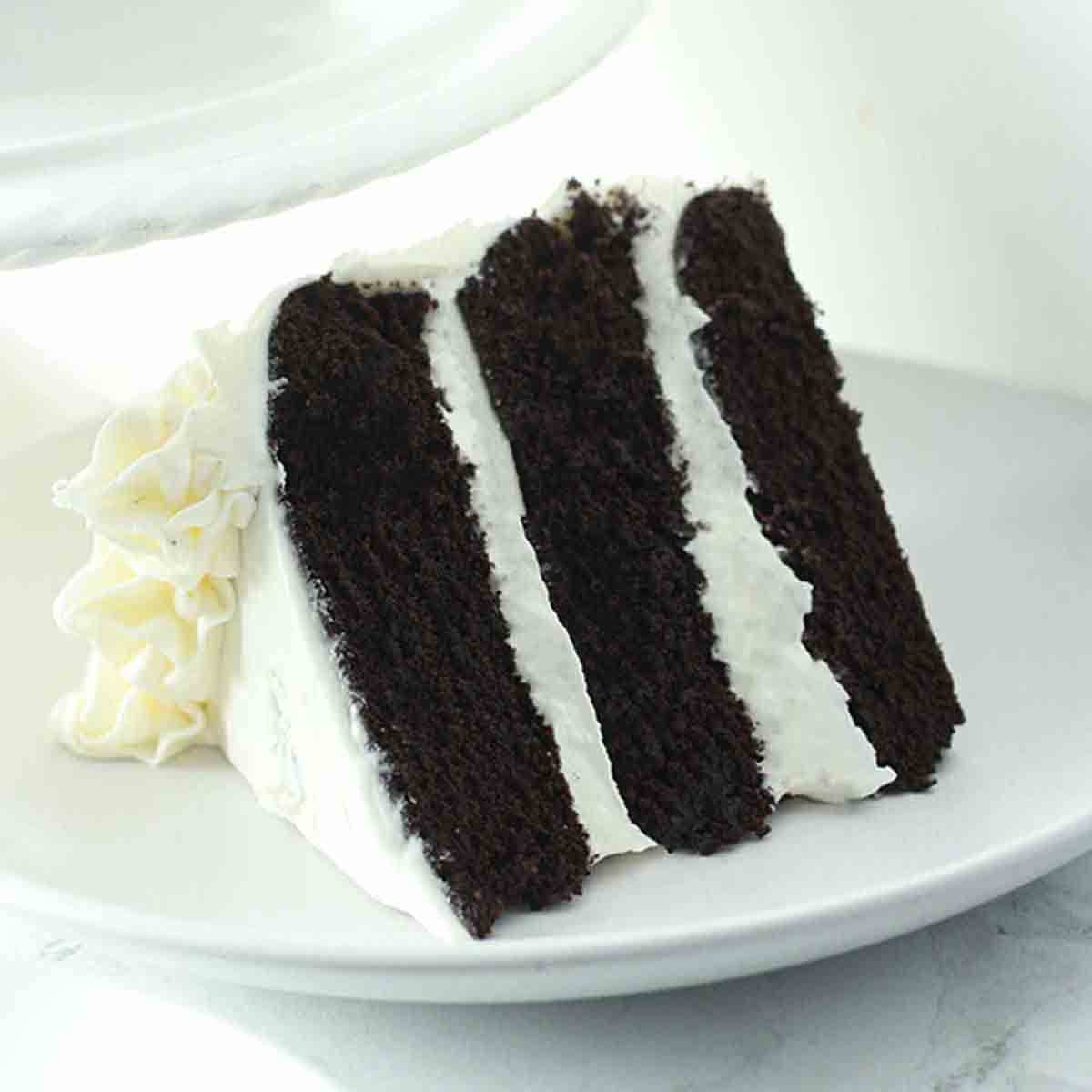 How cool is this cake?! I have been meaning to make it every Halloween since I started my blog but have finally done it! I love it because it's so fitting for this spooky time of year yet it's still classy and elegant enough that it's suitable for other occasions too!
If you don't know what velvet cake is, let me tell you… It's basically a combination of vanilla and chocolate flavours and is usually a red colour, which comes from the chemical reaction between the cocoa powder and buttermilk. Instead of making it red velvet, this time I used some black food colouring to make it more suitable for a vegan Halloween cake, seeing as it's October!
I had hoped to use black cocoa powder for this recipe instead of food colouring but unfortunately I couldn't find any in my local stores. I didn't fancy paying out of the eyeballs for some online when I had perfectly good brown cocoa powder and black food colouring already sitting at home.
So if you prefer, you could definitely use black cocoa powder in place of the regular kind. It will help to give that black hue without the use of artificial colouring. This one from Amazon was one of the very few options I could find. If you know of any more places that stock black cocoa, please let me know so I can add it to this post!
Best vegan food colouring for vegan Halloween cake
As I said, black cocoa powder was quite hard to come by for me as someone living in the UK. If you're also in the UK, I'm going to assume that you'll be using black food colouring too.
For the strongest colour, I'd recommend using a gel or paste. I find that with liquids, you sometimes need to use quite a lot and it can totally change the texture and flavour of your cake batter.
I always use PME food gels- I got them in a pack of 8 from Hobbycraft a while ago. They don't have the pack listed on their website but it's always available in stores when I go. If you want to purchase it online, you can do so via Nisbets.
Alternatively, you can buy just the black gel from Amazon which is a bit cheaper.
Dairy-free frosting
I have to admit, for cakes like this I typically always use a ready-made cream cheese icing. I do this because it works out cheaper and it also dries much quicker than homemade vegan cream cheese icing, which is runnier and a little more tricky to work with than the traditional kind.
If you prefer, you can definitely make your own cream cheese frosting, but you will need to refrigerate the cake before adding each extra layer, to prevent it from spilling out the edges or sliding around while the frosting is still "wet".
I used 2 tubs of Betty Crocker's cream cheese style icing. The ingredients are vegan but it does have a warning label saying it's not suitable for milk allergy due to cross contamination risks. Dr. Oetker cream cheese frosting is another good vegan-friendly option.
These black and orange Halloween icings by Tesco would be a really good contrast to this black velvet cake too! You could also use Tesco Finest vanilla buttercream which is prepared to a vegan recipe, or you can make your own.
For homemade vanilla buttercream, mix together the following:
240 g Vegan butter (1 cup)
600 g Icing / powdered sugar (5 cups)
1 Teaspoon Vanilla extract
1-2 Tablespoons Plant-based milk
More vegan Halloween desserts:
How to make vegan black velvet cake
Step 1:
Preheat your oven to 180°C/350°F (or 160°C/325°F if you're using a fan or convection oven).
Line, grease and flour 3 7-inch cake tins. It's important that you use 7-inch tins otherwise, the cake will be thinner than expected. I got mine from Asda for £2 each and Dunelm sell them in-store too!
I have not tried this recipe using 8 or 9-inch tins but would advise only using 1 or 2 if you do so, as the layers will be tiny otherwise. Baking time will also vary.
Step 2:
In a small bowl or mug, mix together 315ml of unsweetened soy milk and 1 tablespoon of apple cider vinegar, then set it aside for 5 minutes. This will act as your vegan buttermilk. It makes a great egg replacement for eggless black velvet cake.
I prefer to use organic soy milk as it gives the creamiest buttermilk. If you don't have apple cider vinegar, you can use white vinegar or lemon juice instead.
Step 3:
In a large bowl, mix together 300g of self-raising flour, 1/2 a teaspoon of baking soda, 50g of cocoa powder, and 200g of caster sugar (superfine sugar).
Now add in the dairy-free buttermilk you made earlier, along with 2 teaspoons of vanilla extract, and 180g of melted vegan butter or margarine. You can use oil instead of the butter if you prefer but I personally don't think it tastes as nice.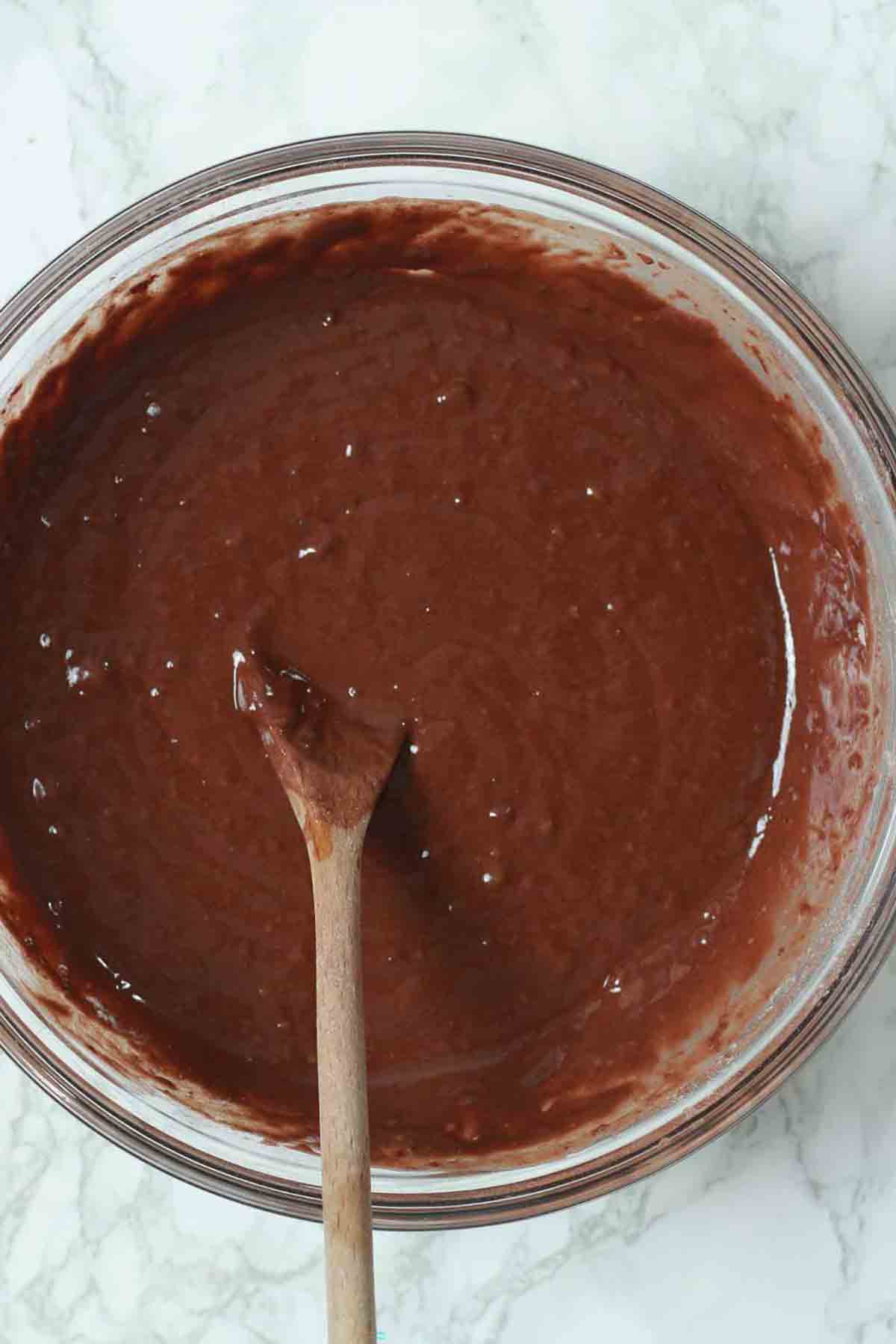 Step 4:
Next, it's time to mix in the food colouring! As I said earlier in this post, I used PME black food gel. I ended up using around 1-2 teaspoons in the end, which is a lot more food gel than I'd usually use, but I wanted the cake to be really dark.
Again, I would advise against using liquid colouring for this recipe because the amount you'll need to use to achieve the deep colour will change the consistency of the cake batter.
Step 5:
Divide the cake batter equally between your 3 cake tins and spread it out evenly.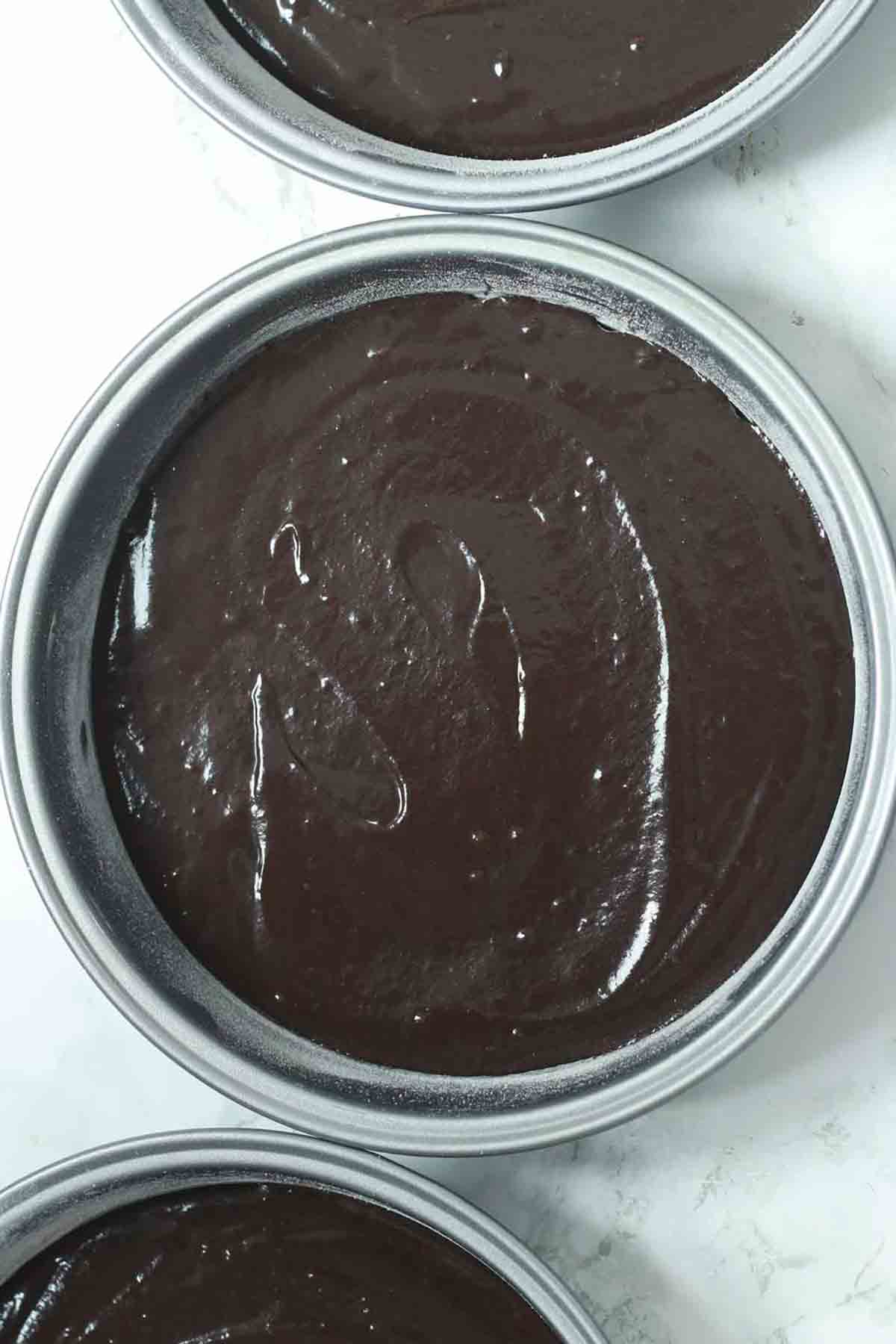 Bake for 15-18 minutes, or until a toothpick through the centre comes out clean. Once baked, let the cakes sit in the tins for around 10 minutes, then carefully flip them out onto a wire rack. Peel the baking paper off the bottom and let them cool completely.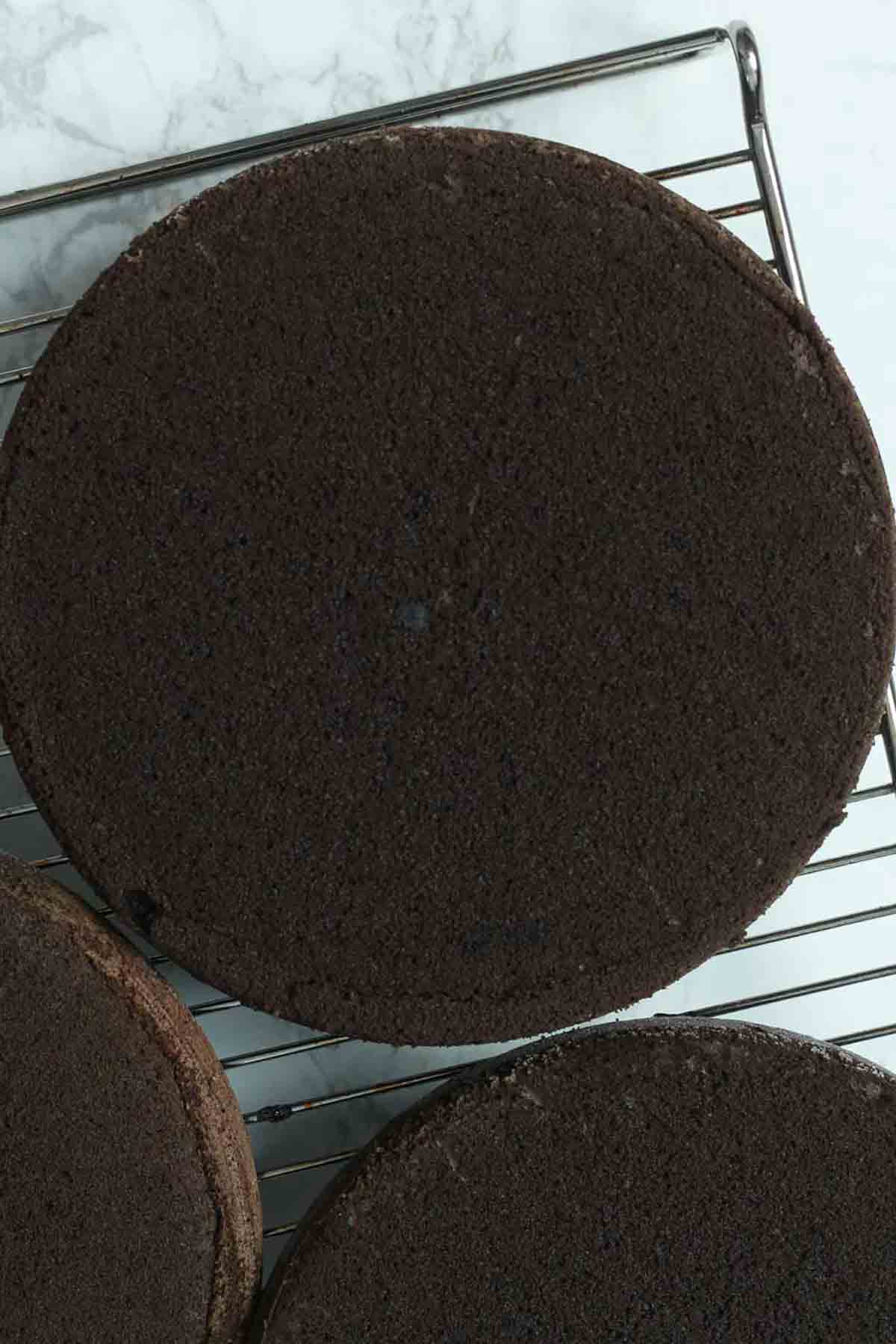 Step 6:
Once the cakes are cool, you can decorate with your chosen frosting. If you're using ready-made icing from a supermarket, try whipping it up with an electric whisk in a large bowl. I find that this increases the volume of frosting and makes it easier to spread.
I used 800g (2 tubs) of Betty Crocker's ready-made cream cheese icing, which was enough for a thick layer between the cakes, a crumb coat and a final coat!
Now all that's left to do is enjoy! This cake will serve 8-16 people, depending on how big you like your slices.
FAQ:
How should vegan Halloween cake be stored?
Keep this eggless black velvet cake in an airtight container in a cool, dry place such as a kitchen cupboard. If you are using homemade cream cheese frosting, you'll need to store it in the fridge. It will taste best if eaten within 3-4 days.
Can I freeze it?
Yes! You can freeze the cake or individual slices in an airtight container, or wrapped tightly in tinfoil. Alternatively, you can freeze cake slices on a baking tray for an hour or two, then pop them into a ziplock bag once frozen. Freeze for up to 2 months and do not refreeze once defrosted.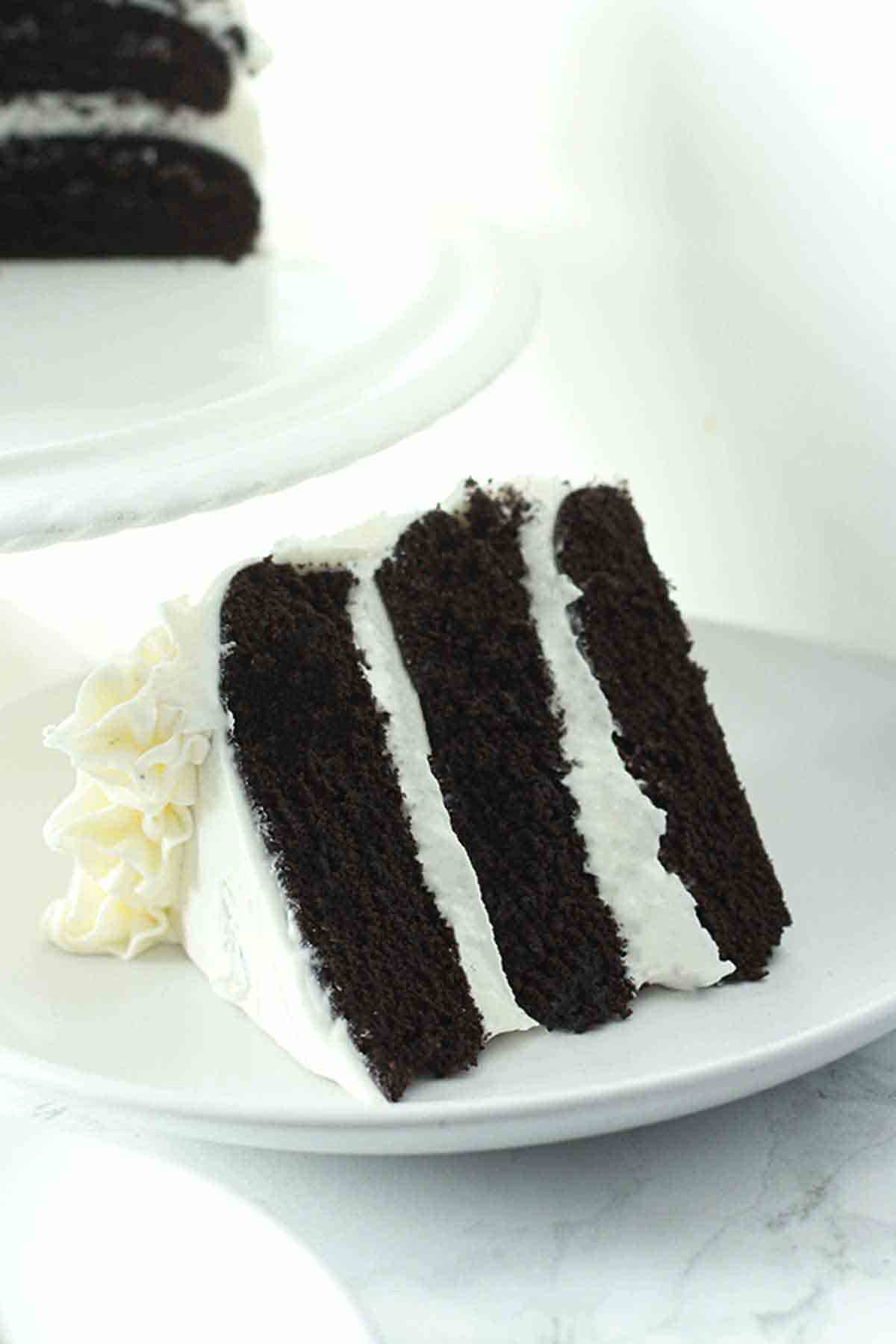 That's all for now. I hope you enjoy this black velvet vegan Halloween cake. If you make it yourself at home, please let me know how it goes by leaving a rating and/or comment below. Happy baking! xo

Vegan Halloween Cake (Black Velvet)
Eggless black velvet cake paired with dairy-free cream cheese frosting.
Ingredients
315

ml

Soy milk

(1+¼ cups)

1

Tablespoon

Apple cider vinegar

(sub lemon juice or white vinegar)

300

g

Self-raising flour

(2+⅓ cups)

½

Teaspoon

Baking soda

(bicarbonate of soda)

50

g

Cocoa powder

(7 tablespoons)

200

g

Caster sugar

(1 cup)

180

g

Vegan butter, melted

(¾ cup)

2

Teaspoons

Vanilla extract

1-2

Teaspoons

Black gel food colouring

(I used PME)

Frosting of choice*

(I used 2 x 400g tubs of Betty Crocker cream cheese icing)
Instructions
Preheat your oven to 180°C/350°F (or 160°C/325°F if you're using a fan or convection oven). Grease, flour and line 3 x 7-inch cake tins.

Mix together the soy milk and vinegar in a small bowl or mug. Set aside for now. This will be your "buttermilk".

In a large bowl, mix together the flour, baking soda, cocoa powder and caster sugar.

Add the buttermilk to the bowl, along with the melted vegan butter and vanilla extract. Mix until you have a smooth cake batter.

Add the black food gel, mixing it in a little at a time, until you reach your desired colour.

Divide the cake batter equally between the cake tins and spready it out evenly. Bake for 15-18 minutes, until a toothpick through the centre comes out clean.

Let the cakes cool for around 10 minutes in the tins, then carefully flip them out onto a wire rack. Peel off the baking paper and leave the cakes to cool completely.
Frosting:
If using ready-made frosting, place it all into a large bowl and whisk for a minute or two using an electric whisk. This will help to increase the volume and make it easier to spread around.

Place your first cake layer onto a cake stand and spoon or pipe a thick layer of frosting onto it. Repeat with the next layer.

When you have your 3 layers stacked on top of one another, cover the whole cake in a thin layer of frosting, using an icing scraper to get rid of any excess. Place the cake in the fridge for 30-60 minutes to let the icing set.

Once chilled, use the remaining frosting to coat the cake in a second layer, smoothing it out as you go. Place it back in the fridge to set before cutting into slices and enjoying!
Recipe Notes
*I recommend using vanilla buttercream or cream cheese frosting for this cake. It can be homemade or ready-made, whatever you prefer!
Try using orange or purple food colouring in your frosting for a true vegan Halloween cake!
Nutrition Facts
Vegan Halloween Cake (Black Velvet)
Amount Per Serving (1 slice (1/16th))
Calories 357
Calories from Fat 144
% Daily Value*
Fat 16g25%
Sodium 171mg7%
Carbohydrates 51g17%
Protein 3g6%
* All values are an estimate only and will vary depending on the food brands used.
BakedByClo is a participant in the Amazon Services LLC Associates Program, an affiliate advertising program designed to provide a means for sites to earn advertising fees by advertising and linking to Amazon.com. This site may contain some of these links to Amazon.com & other affiliate programs. If you make a purchase through one of those links, BakedByClo will receive a small commission from the purchase at no additional cost to you.