Vegan Vanilla Cupcakes
These vegan vanilla cupcakes are light, fluffy and topped with creamy, dairy-free vanilla buttercream frosting. Basic cupcakes are a staple that everyone should know how to make, and I want to show you how to do it without eggs or dairy!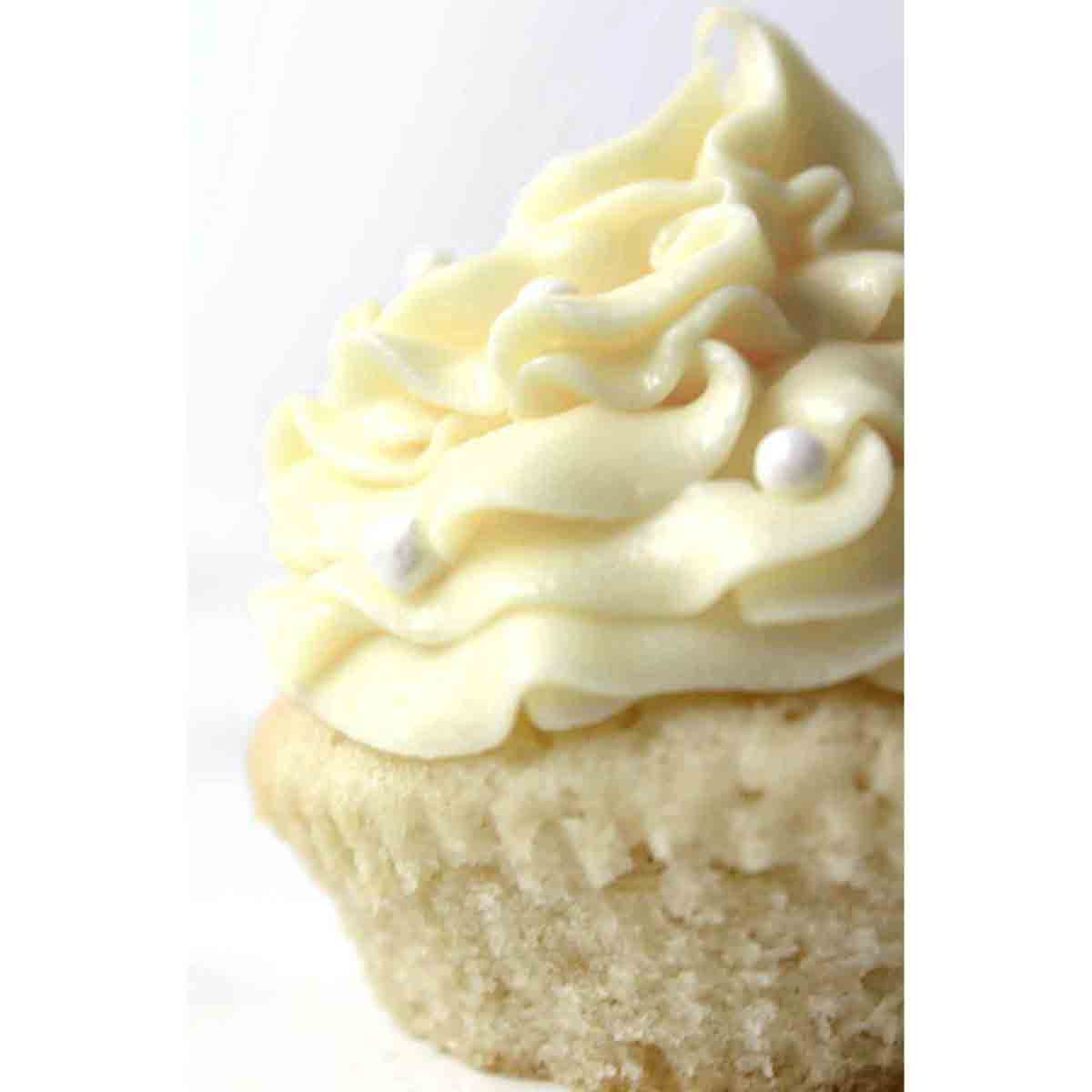 In honour of my dear ol' mum getting married this week, I wanted to create a wedding-inspired dessert. Nothing too fancy, but something plain, white and beautiful. Just like these dairy-free vanilla cupcakes!
I have a few other cupcake recipes on the blog but I wanted to bring it back to basics! No fancy flavourings or decorations.
I think every baker should know how to bake simple eggless vanilla cupcakes. It's one of the first things I learned to bake when I went vegan.
Of course, making eggless vanilla cupcakes vegan can be a bit of a challenge if you've never played around with vegan baking.
First, you need to find a way to make your cupcakes fluffy without eggs. But not too fluffy- because you don't want them to collapse in on themselves as they bake. And then there's the other problem of how to keep the cupcakes moist. But don't worry, this recipe tastes just as good as any other cupcake I've made before!
How To Make Vegan Vanilla Cupcakes
Step 1:
The first step is to preheat your oven to 180°C/350°F and line a cupcake tray with 12 cases.
Step 2:
Mix together 1 teaspoon of apple cider vinegar and 280ml (1 cup + 2 tablespoons) of soy milk. Set it aside for now. I almost always bake with soy milk because it is closest in consistency to dairy milk and will give you the best results.
If you don't have apple cider vinegar, you can use white vinegar instead.
Step 3:
In a large bowl, mix together 230g of self-raising flour (1 + 3/4 cups), 1/2 teaspoon of baking soda and 180g of caster/superfine sugar (3/4 cup + 2 tablespoons).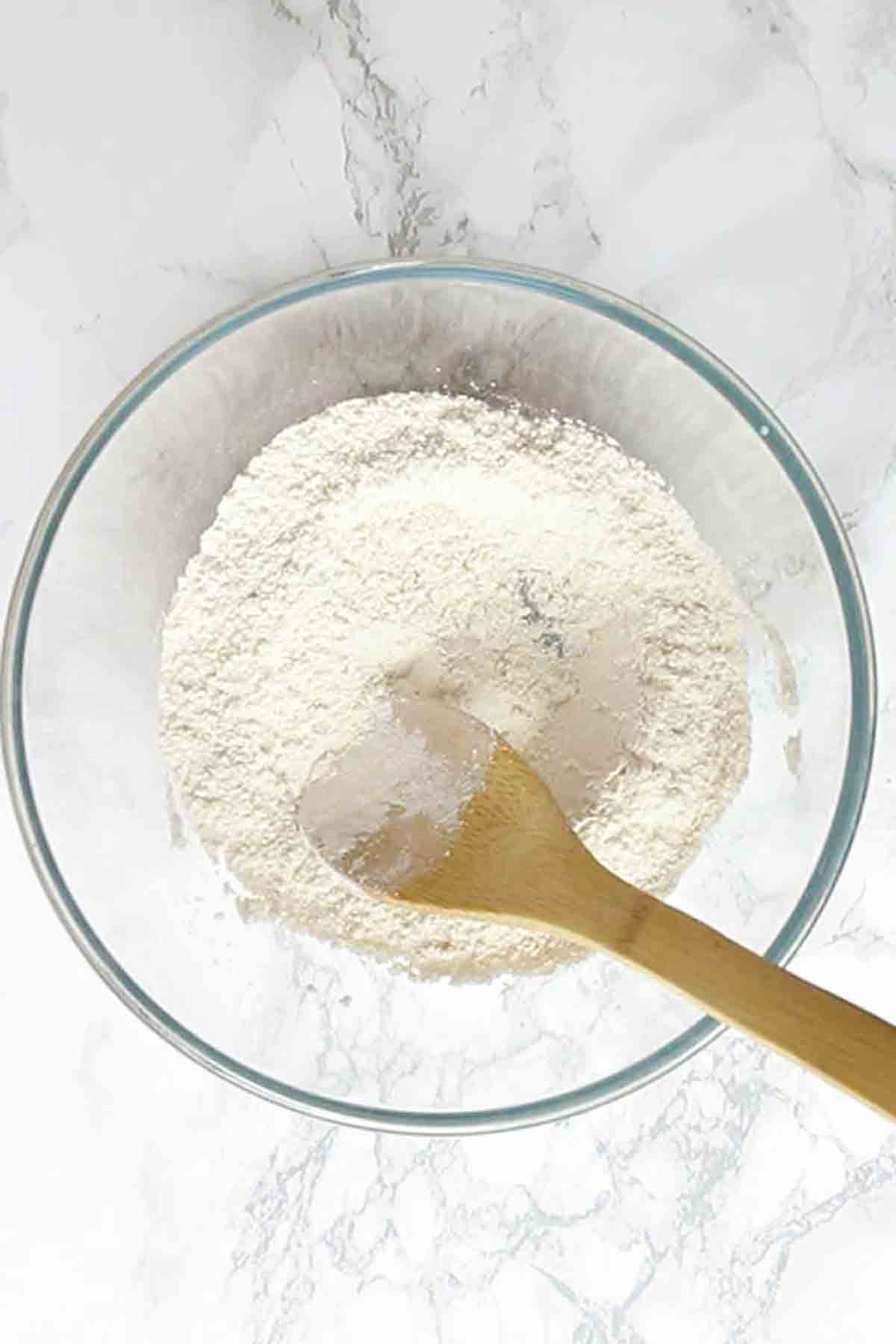 If you're unable to find self-raising flour where you live, you can use plain flour instead and add 2 teaspoons of baking powder to the recipe.
Using a combination of plain flour and baking powder seems to work well. The cupcakes will rise nicely and give a delicious, crumby texture.
Step 4:
Now add the milk mixture into the dry mixture along with 6 tablespoons of sunflower oil (or melted vegan margarine) and 3 teaspoons of vanilla extract. Mix well until you have a smooth cake batter.
Your cake batter should be "dropping consistency". This means that when you put some on a spoon and tip the spoon upside down, the batter should "drop" off. It shouldn't be too runny nor too thick- just somewhere in between.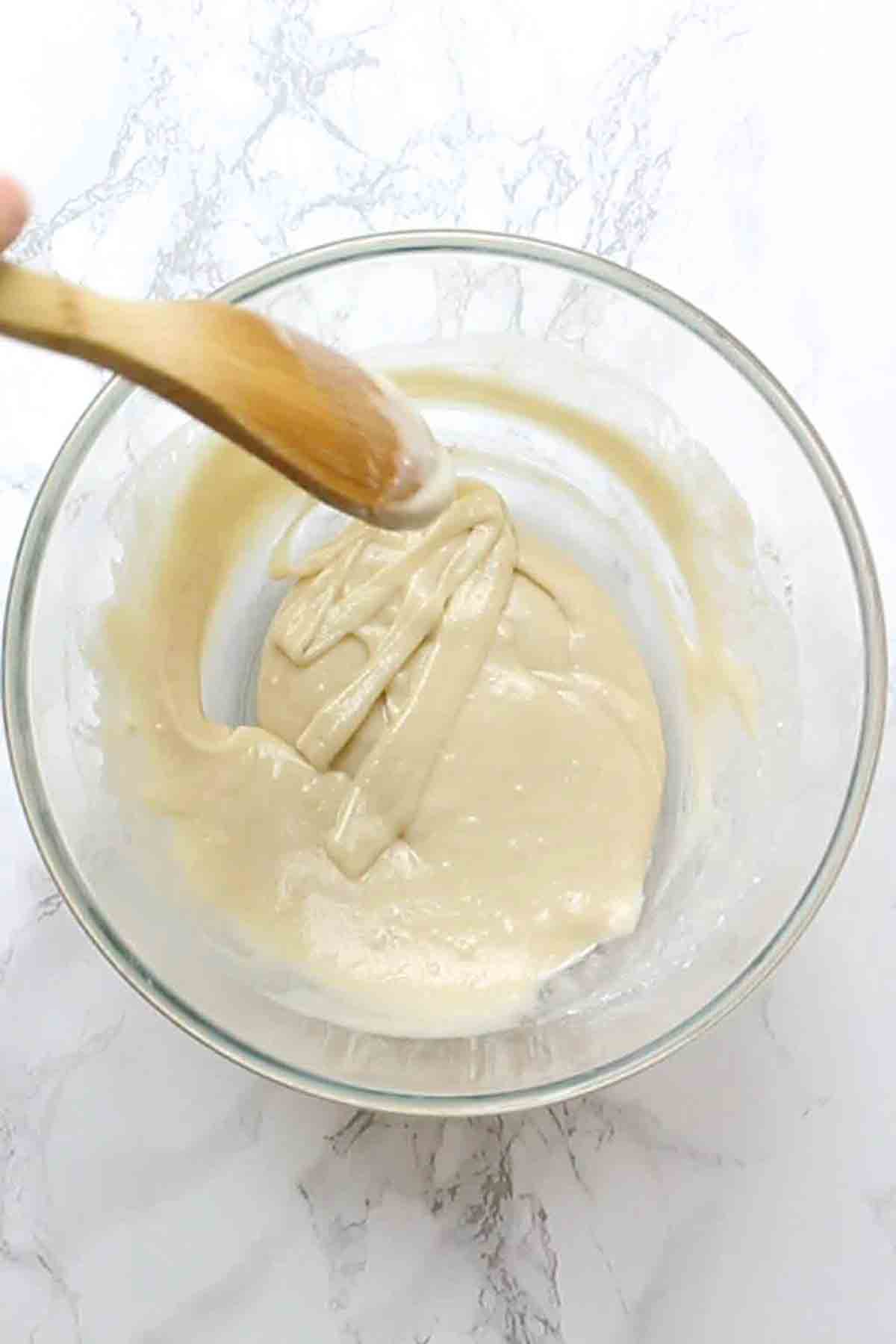 Step 5
Divide your eggless vanilla cupcake mix between 12 cupcake cases and bake them for 18-20 minutes. A toothpick through the middle should come out clean.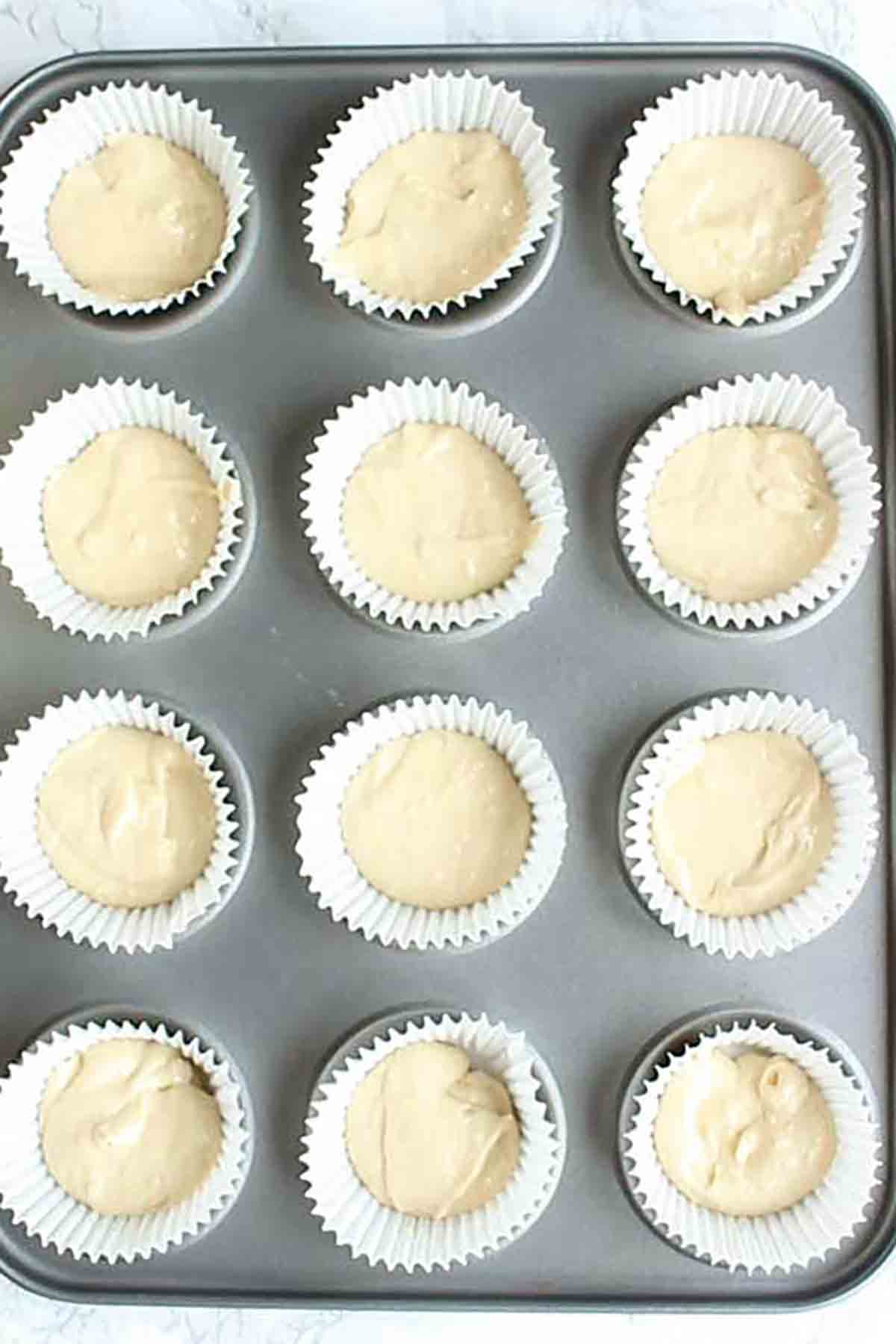 When they're done baking, transfer them onto a wire rack until they are completely cool.
Dairy-free vanilla buttercream
No dairy-free vanilla cupcakes would be complete without some vanilla buttercream!
You can totally use a store-bought version if there's one available where you live. Just be sure to check the ingredients for things like milk, eggs or gelatine.
But I always think that homemade buttercream is the best kind. It only takes 5 minutes to make, pipes really well and will hold tall when the cupcake is left at room temperature. No more puddles of dairy-free buttercream… yay!
All you need to do is put 150g (1/2 cup + 2 tbsp) of vegan margarine into a bowl along with 500g (4 cups) of icing sugar. Gently mix it together using a wooden spoon until well combined.
Add 1 teaspoon of vanilla extract and mix it in well. The result should be a smooth and creamy vegan buttercream!
If it's too thick, you can add a splash of soy milk until you get your desired consistency. Or if it's too thin, just add more icing sugar.
You can spoon the buttercream onto the cupcakes if you like but this recipe will give you enough to pipe beautiful swirls onto each cupcake.
Of course, this step is totally optional but if you don't currently own a piping bag and nozzle, I urge to you to check your local pound shop! There's something about piped buttercream that adds an extra special touch to cupcakes.
FAQ:
How should I store vegan vanilla cupcakes?
Dairy-free vanilla cupcakes taste best stored in an airtight container at room temperature. Make sure the room isn't too hot or they'll become soggy quite quickly.

These cupcakes also freeze really well, with or without buttercream. Make sure the cupcakes are completely cool before placing them in an airtight container for up to 2 months.

To defrost, allow them to sit on a plate at room temperature for a few hours until they become soft again.
How long will they last?
These dairy-free vanilla cupcakes will keep well for around 4 days. After this, they'll start to lose their fluffy texture and the vanilla flavour won't be as strong.
Where can I get vegan cake sprinkles?
Once your cupcakes are all frosted, you can leave them just as they are or you can add some decorations like I did.

I personally used white edible pearls from Baking Time Club, and I'd highly recommend their site for all of their vegan-friendly sprinkles. They have lots to choose from.

There are also lots of options available in supermarkets but watch out for animal-derived ingredients. The most common non-vegan ingredients in sprinkles tend to be milk, whey powder, egg or egg powder, gelatine, shellac, carmine, and beeswax.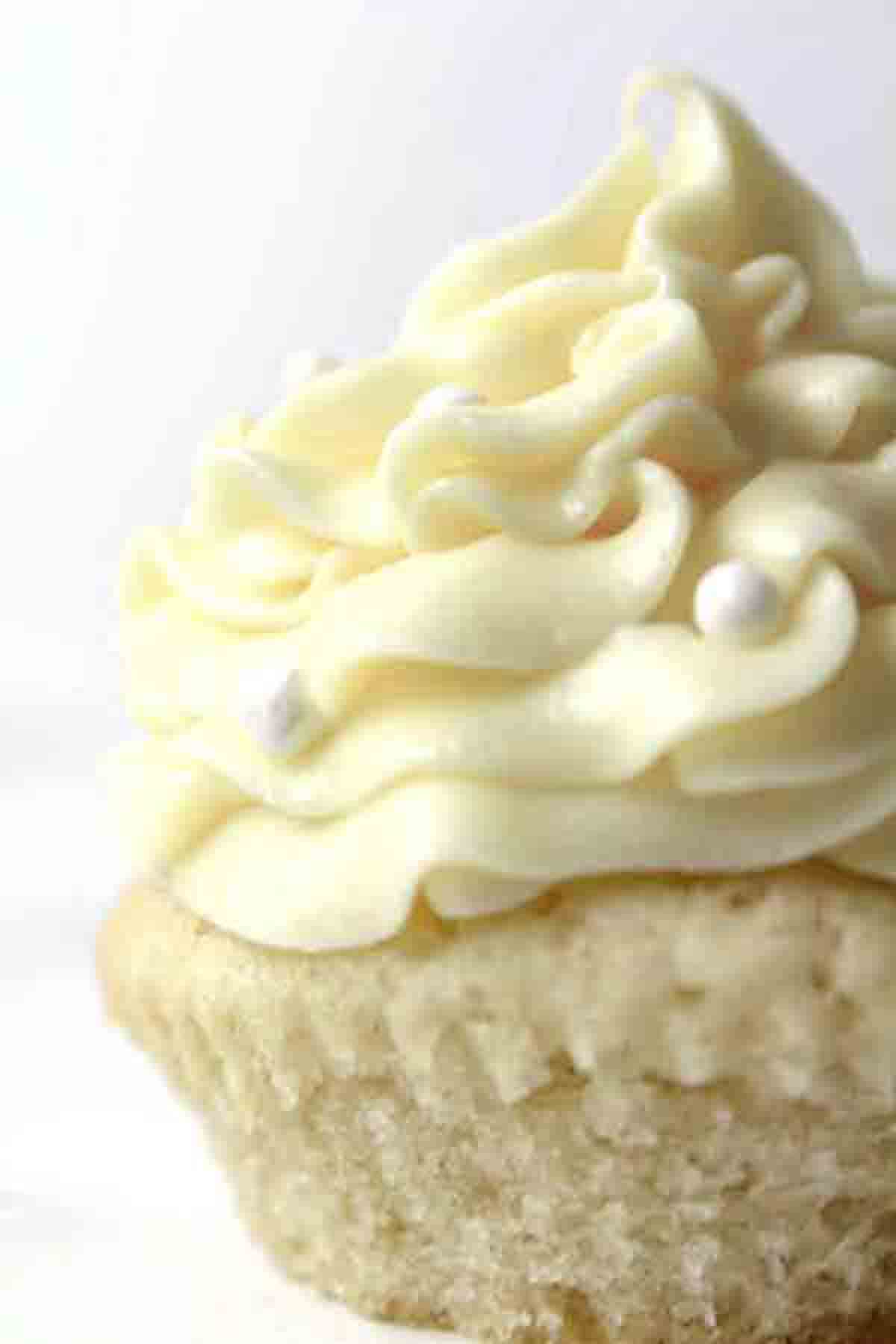 More vegan cupcakes:
I hope you enjoy these dairy-free vanilla cupcakes! If you make them yourself, I'd love to know what you think. Please leave a comment or rating below and share your thoughts! Happy baking! xo

Vegan Vanilla Cupcakes
Simple, elegant eggless vanilla cupcakes with dairy-free buttercream.
Ingredients
280

ml

Soy milk

(1 cup + 2 Tablespoons)

1

Teaspoon

Apple cider vinegar

(or white vinegar)

230

g

Self-raising flour

(1 + ¾ cups)

½

Teaspoon

Baking soda

180

g

Caster sugar

(¾ cup + 2 tablespoons)

6

Tablespoons

Sunflower oil

(or melted vegan margarine)

3

Teaspoons

Vanilla extract
For the vanilla buttercream:
150

g

Vegan margarine

(½ cup + 2 tbsp)

500

g

Icing sugar

(4 cups)

1

Teaspoon

Vanilla extract

1-2

Tablespoons

Soy milk

(depending on desired consistency)
Instructions
Preheat your oven to 180°C/350°F (160°C/325°F fan or convection oven) and line a 12-hole cupcake pan with paper cases.

Mix the apple cider vinegar and soy milk together. Set aside for 5 minutes.

In a large bowl, mix together the flour, baking soda and sugar.

Add in the milk mixture, the oil and the vanilla extract. Mix well until you have a smooth cake batter.

Divide the mix between the cupcake liners and bake for 18-20 minutes. Check the cakes are baked all the way through by inserting a toothpick through the middle.

Transfer the cupcakes to a wire rack and allow them to cool completely.
For the vanilla buttercream:
Gently mix the vegan margarine and icing sugar together with a wooden spoon until smooth.

Add the vanilla and mix again. If your buttercream is too thick, add a splash of soy milk until you get your desired consistency. If it's too runny, add more icing sugar.

Transfer the buttercream to a piping bag and pipe a swirl onto the middle of each cupcake.

Decorate with vegan sprinkles if desired, and enjoy!
Recipe Notes
Store in an airtight container for up to 4 days
Nutrition Facts
Vegan Vanilla Cupcakes
Amount Per Serving (1 cupcake with buttercream)
Calories 393
Calories from Fat 117
% Daily Value*
Fat 13g20%
Sodium 94mg4%
Carbohydrates 66g22%
Protein 3g6%
* All values are an estimate only and will vary depending on the food brands used.
BakedByClo is a participant in the Amazon Services LLC Associates Program, an affiliate advertising program designed to provide a means for sites to earn advertising fees by advertising and linking to Amazon.com. This site may contain some of these links to Amazon.com & other affiliate programs. If you make a purchase through one of those links, BakedByClo will receive a small commission from the purchase at no additional cost to you.