These vegan vanilla cupcakes are light, fluffy and topped with creamy vanilla buttercream frosting. Basic cupcakes are a staple that everyone should know how to make, and I want to show you how to do it without eggs or dairy!
In honour of my dear ole' mum getting married this week, I wanted to create a wedding-inspired dessert.
Nothing too fancy, but something plain, white and beautiful. Just like these vegan vanilla cupcakes!
I have a few other cupcake recipes on the blog but I wanted to bring it back to basics! No fancy flavourings or decorations.
I think every baker should know how to bake simple vanilla cupcakes. It's one of the first things I learned to bake as a child.
Of course, making vanilla cupcakes vegan can be a bit of a challenge if you've never played around with dairy-free or egg-free baking.
First, you need to find a way to make them fluffy without using eggs. But not too fluffy- because you don't want them to collapse in on themselves as they bake. And then there's the other problem of how to keep the cupcakes moist.
But don't worry, this recipe tastes just as good as any non-vegan cupcake I've made before!
How To Make Vegan Vanilla Cupcakes
Step 1
The first step, like most of my other cake recipes, is to cream the butter and sugar together in a medium-sized bowl.
Make sure to keep mixing until it's super smooth and creamy and all the sugar granules have dissolved. This will help prevent your cupcakes from becoming crunchy on top.
Once you've creamed the butter and sugar, add in two teaspoons of vanilla extract. I've found two teaspoons to be the perfect amount because it gives a delicious vanilla flavour without completely overpowering the cupcake.
Mix it in well with the butter and sugar.
Step 2
Now, add in your plant-based milk of choice.
I almost always bake with soy milk because it is closest in consistency to dairy milk in my opinion. But feel free to use whichever kind of plant-based milk you like. The vanilla extract should help disguise any of the stronger flavours such as almond.
The only milk I don't recommend baking cupcakes with is coconut milk because it changes the texture.
Using plant-based milk in this vegan vanilla cupcakes recipe helps to bind the rest of the ingredients together, as well as keep the sponge nice and moist. It works really well as a vegan egg replacement for cakes.
Want more vegan cake recipes?
Step 3
Add the flour and baking powder to the bowl.
It's important that you use plain flour for this recipe, not self-raising. When I baked traditional cupcakes, I always used self-raising but in vegan baking, I find that without the eggs and dairy, self-raising flour has too much raising agent in it and results in a "gummy" texture.
Using a combination of plain flour and baking powder seems to work better for me. The cupcakes will rise nicely but not too much that they'll become mini mountains in the oven.
Fold the flour and baking powder into the wet mixture very gently until you have a smooth cake batter.
Step 4
Next, add in a teaspoon of apple cider vinegar.
Wait- don't freak out! I promise that you won't be able to taste it after the cakes are baked. But if you're really against putting vinegar into your cupcakes, you can always use 1 teaspoon of lemon juice instead.
The acidic nature of the vinegar (or lemon juice) will react with the baking powder and activate its raising powers, creating a light and fluffy cupcake.
Gently fold in the vinegar, being careful not to over mix. You want to mix the batter until the ingredients are JUST combined and no more.
Your cake batter should be "dropping consistency". This means that when you put some on a spoon and tip the spoon upside down, the batter should "drop" off. It shouldn't be too runny nor too firm- just somewhere in between.
Step 5
Divide the cake mix between 12 cupcake cases and bake them at 180C/350F for 20-25 minutes. They should come out slightly firm on top.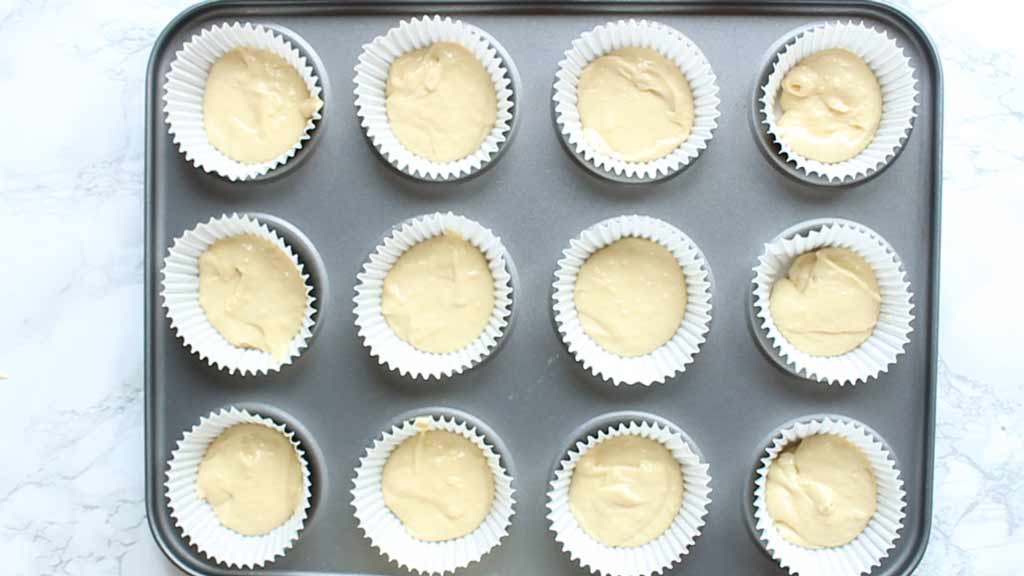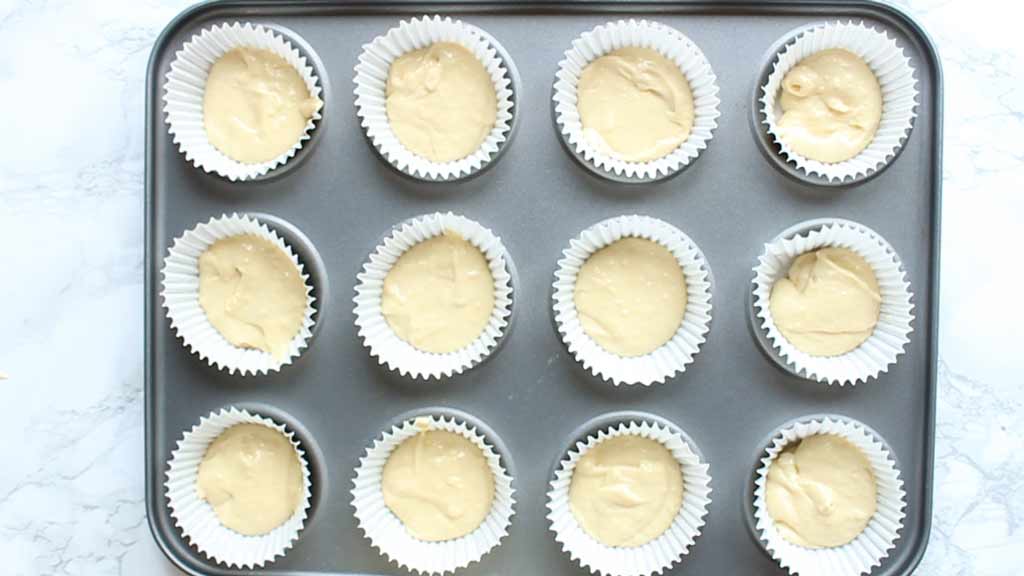 Make sure they're baked all the way through by sticking a toothpick through the centre. If there's liquid on the toothpick when you remove it, pop the cupcakes back in the oven for 5 minutes at a time, until the toothpick comes out dry.
When they're done baking, transfer them onto a wire rack until they are completely cool.
Buttercream Frosting For Vegan Vanilla Cupcakes
No vegan vanilla cupcakes would be complete without a creamy vanilla buttercream frosting!
You can totally use a store bought version if there's one available where you live. Just be sure to check the ingredients for things like milk, eggs or gelatine.
But I always think that homemade frosting is the best kind of frosting. It only takes 5 minutes to make, pipes really well and will hold tall when the cupcake is left at room temperature. No more puddles of vegan frosting… yay!
All you need to do is put some vegan butter into a bowl and mix it using a whisk until it's soft and smooth.
Then, add your powdered sugar, vanilla extract and plant-based milk of choice into the bowl and mix it all together until well combined. The result should be a smooth and creamy vegan frosting!
You can spoon it onto the cupcakes if you like but this recipe will give you enough to pipe beautiful swirls onto each cupcake. Of course, this step is totally optional but if you don't currently own a piping bag and nozzle, I urge to you to check your local pound or dollar store. There's something about piped frosting that adds an extra special touch to cupcakes.
Vegan Sprinkles For Vanilla Cupcakes
Once your cupcakes are all frosted, you can leave them just like that or you can add some decorations.
I used personally used white edible pearls from Baking Time Club, and I'd highly recommend their site for all of their vegan-friendly sprinkles. They have lots to choose from.
There are also lots of options available in supermarkets but again watch out for animal-derived ingredients. The most common non-vegan ingredients in sprinkles tend to be milk, whey powder, egg or egg powder, gelatine, shellac, carmine, and beeswax.
If you make these vegan vanilla cupcakes yourself, I'd love to know what you think. Please leave a comment or rating below and share your thoughts!
Happy baking.
xo
Vegan Vanilla Cupcakes
A simple, elegant cupcake made without eggs or dairy!
Keyword:
vegan vanilla cupcakes
Ingredients
1/4

Cup

Vegan butter

(60g)

1/2

Cup

Caster sugar

(100g)

2

Teaspoons

Vanilla extract

3/4 

Cup + 1 Tablespoon

Plant-based milk of choice

(200ml)

1+ 1/2

Cups

Plain flour

(180g)

2

Teaspoons

Baking powder

1

Teaspoon

Apple cider vinegar

(or lemon juice)
For the vanilla frosting:
2

Cups

Powdered sugar

(240g)

½

Cup

Vegan butter

(120g)

1

Teaspoon

Vanilla extract

1-2

Tablespoons

Plant-based milk

(depending on desired consistency)

Vegan sprinkles

(optional)
Instructions
Preheat your oven to 180°C/350°F and line a 12-hole cupcake pan with paper cases.

In a medium-sized bowl, cream together your butter and sugar. Make sure to keep mixing until the sugar is completely dissolved, otherwise you'll end up with tough cupcakes.

Add the vanilla extract and stir in.

Add the plant-based milk, the flour and the baking powder. Gently fold the mixture until everything is smooth and well combined.

Add the vinegar (or lemon juice) and fold in.

Divide the mix between the cupcake liners and bake for 20-25 minutes. Check the cakes are baked all the way through by inserting a skewer through the middle.

Transfer the cupcakes to a wire rack and allow them to cool completely.
For the vanilla frosting:
Gently mix the vegan butter until soft, then add the powdered sugar and whisk until combined.

Add the vanilla and 1 tablespoon of plant-based milk. Mix well until combined. If your frosting is too thick, add 1 more tablespoon of milk. If too runny, add more powdered sugar.

Transfer the frosting to a piping bag and pipe a swirl onto the middle of each cupcake.

Decorate with vegan sprinkles if desired, and enjoy!
Recipe Video
Recipe Notes
*Store in an airtight container for up to 5 days
Nutrition Facts
Vegan Vanilla Cupcakes
Amount Per Serving
Calories 185
Calories from Fat 54
% Daily Value*
Fat 6g9%
Sodium 80mg3%
Carbohydrates 20g7%
Protein 2g4%
* All values are an estimate only and will vary depending on the food brands used.