Vegan Oreo Cupcakes
These vegan Oreo cupcakes are both easy and delicious! A basic chocolate sponge cake with Oreo chunks sprinkled throughout, topped with creamy vanilla frosting.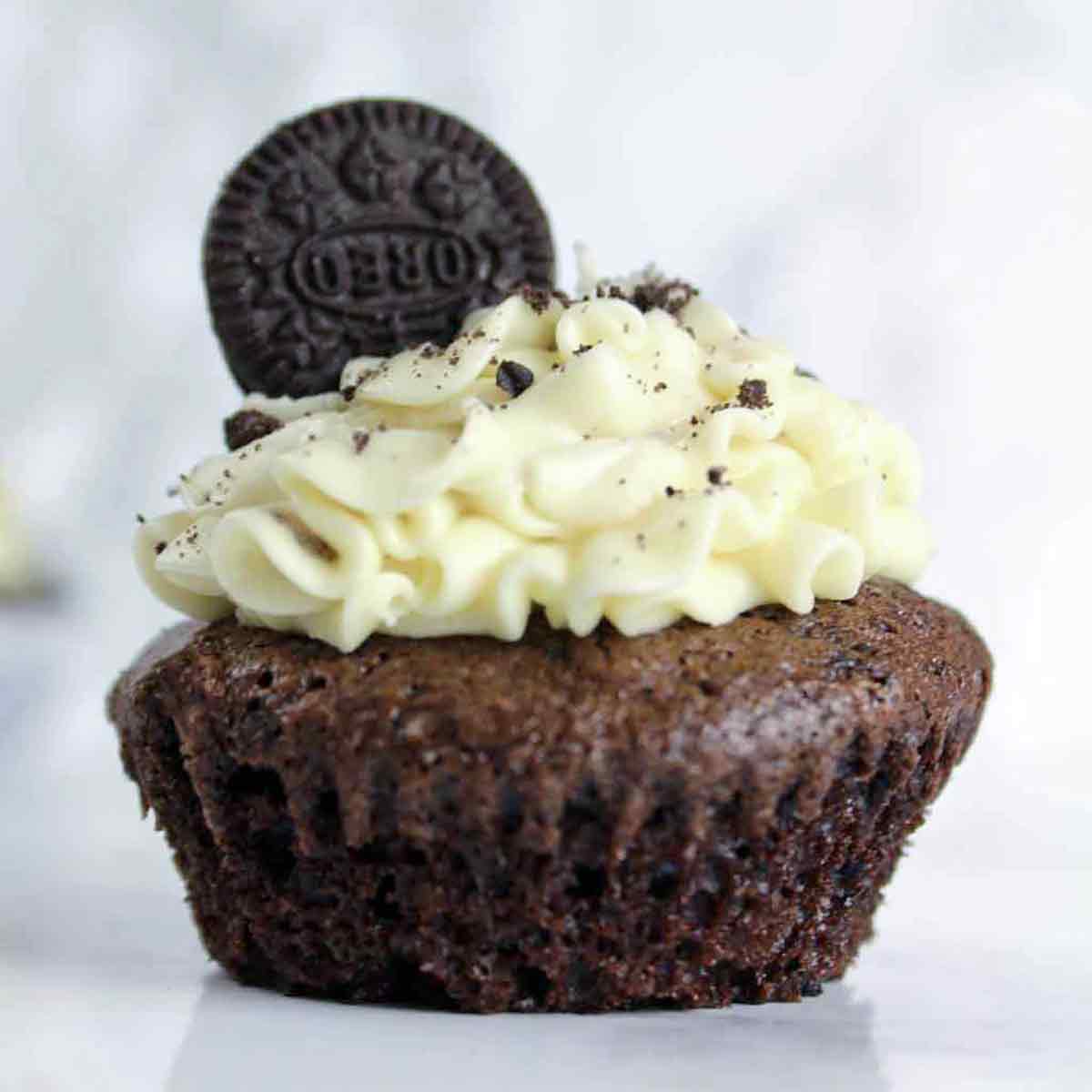 One of my favourite flavour combos has to be cookies and cream. The bitter richness of the chocolate flavour from the cookie paired with the creamy vanilla filling is a match made in heaven. Don't you agree?!
I've done a lot of experimenting and made some tasty cookies and cream treats over the months, including a no-bake Oreo cheesecake, a cookies 'n' cream milkshake and an Oreo fridge cake.
But these eggless Oreo cupcakes have to be my favourite so far because not only are they just as tasty, they are SUPER easy to make.
I actually decided to make these at the very last minute a few days ago. And because this recipe is so quick, I had enough time to make the cakes plus another recipe all in the space of two hours.
More vegan cupcakes:
I had initially planned to put a whole Oreo cookie at the bottom of each case as all of the eggless Oreo cupcakes I'd tried in the past were made that way. But I always remember the cookie at the bottom tasting a little soggy.
So for that reason, I decided to chop the Oreos up and just mix the little chunks into the cupcake batter. That way, you get the crunchy texture and a hint of cookie flavour but you don't get the soggy cookie bottom.
It makes the recipe a little easier too because there's no need to worry about keeping things neat- just whack them in a give the batter a good mix.
The first time I made this recipe, I mixed Oreo chunks through the frosting to make it a little more "cookie" like, and although it tasted divine, it didn't look too appealing! I opted for plain vanilla frosting this time but if you want to add cookie crumbs to yours, you go for it!
In my opinion, they'd also taste (and look) great paired with some sweet chocolate buttercream or dark chocolate ganache. I haven't tried those options yet but do let me know if you get around to it before I do!
How To Make Vegan Oreo Cupcakes
The most important part of these cupcakes is, of course, the sponge cakes. Let's start with those! (Jump to the bottom of the post if you'd like a quicker, more to-the-point recipe card.)
Step 1:
First off, preheat your oven so that it's hot enough when the cakes are ready to go in. Set your oven to 180°/350°F.
You'll also want to line a cupcake pan with paper cake liners- the recipe will make 12 cupcakes.
Step 2:
Now, it's time to make some dairy-free buttermilk! To make this, all you need to do is mix 280ml (1 cup + 2 tablespoons) of plant-based milk with 1 teaspoon of apple cider vinegar using a fork.
I used soy milk because it's my favourite type of plant-based milk for baking but feel free to use whichever type of milk you like best.
As for the vinegar, you can use white vinegar in place of the apple cider vinegar- both will do the trick! And if you don't have any vinegar to hand, you can use lemon juice instead. All we need is for the acid to react in the milk to give it a creamier texture.
Once you've mixed the milk with the vinegar/lemon juice, set it aside for 5 minutes. It might look a bit thick and even curdled but give it another mix and it'll be just fine!
Step 3:
In a large bowl, mix together 200g of self-raising flour (1+1/2 cups), 4 tablespoons of unsweetened cocoa powder, 1/2 teaspoon of baking soda (NOT baking powder) and 200g of caster sugar (1 cup).
Step 4:
Once the dry ingredients are mixed together, add the milk mixture from earlier to the bowl, along with 6 tablespoons of vegetable oil and 2 teaspoons of vanilla extract.
Fold everything together until you have a smooth cake batter with no dry mixture left at the bottom of the bowl.
Step 5:
Use a wooden spoon or food processor to crush some Oreos (I used 15 cookies) into small chunks. Pour them into the cupcake batter and fold in.
Step 6:
Divide the batter between your 12 cupcake cases and bake for 18-20 minutes. A toothpick through the centre of the cupcakes will come out clean when they are ready.
Transfer the cakes onto a wire rack and allow them to cool completely.
Step 7:
As the cakes are cooling, prepare your vanilla buttercream frosting.
To do this, mix together 500g of icing/powdered sugar (4 cups), 150g of dairy-free margarine (1/2 cup + 2tbsp) and 1 teaspoon of vanilla extract. Use a wooden spoon and start slow to avoid icing sugar flying everywhere.
If you find your buttercream is a bit stiff, add a splash of plant-based milk to loosen it. If it's too runny, you can add more icing sugar until you reach your desired consistency.
Step 8:
When the cakes are cool, pipe your frosting on top.
Pop a mini Oreo onto each frosted cupcake. If you don't have mini Oreos, you can just cut the regular-sized ones in half and use those instead.
I like to sprinkle on some Oreo crumbs over too, because it adds a nice finishing touch but this is totally optional.
FAQ:
How long will eggless Oreo cupcakes last?
If you're anything like me, not long! Haha… *dad jokes*

For reals though, if you pop them into an airtight container and keep them in a cool, dry place (such as a kitchen cupboard), they'll last for up to 4 days before they start to lose their soft texture.

I would recommend placing the mini Oreos on top of the frosting just before you serve as they will get soggy a lot quicker.

Can I freeze them?
I have yet to try freezing these cupcakes but would not recommend it as I have a feeling that it might make the cookies inside the sponge go soggy.
I've recently updated this recipe to make it even easier and tastier for you! If you bake these vegan Oreo cupcakes at home, please let me know how it goes by leaving a comment below. Happy baking! xo

Vegan Oreo Cupcakes
Fluffy chocolate Oreo sponge cupcakes topped with creamy vanilla flavoured frosting.
Ingredients
For the cupcakes:
280

ml

Soy milk

(1 cup + 2 tablespoons)

1

Teaspoon

Apple cider vinegar

(sub for white vinegar or lemon juice)

200

g

Self-raising flour

(1+½ cups)

½

Teaspoon

Baking soda

4

Tablespoons

Unsweetened cocoa powder

200

g

Caster sugar

(1 cup)

6

Tablespoons

Vegetable oil

2

Teaspoons

Vanilla extract

15

Standard-sized Oreo cookies, crushed into small chunks
For the frosting:
500

g

Icing sugar

(5 cups)

150

g

Dairy-free margarine

(½ cup + 2 tbsp)

1

Teaspoon

Vanilla extract
To top (optional):
12

Mini Oreos

(sub for standard sized cookies cut in half)
Instructions
For the cupcakes:
Preheat your oven to 180°C (or 160°C if using a fan or convection oven) and line a cupcake pan with 12 cake liners.

Prepare your dairy-free buttermilk by mixing the soy milk and vinegar together with a fork. Set aside for 5 minutes.

In a separate bowl, mix together the flour, baking soda, cocoa powder and caster sugar.

Now add in the dairy-free buttermilk from earlier, along with the vegetable oil and vanilla extract. Mix well until you have a smooth cake batter, making sure no dry ingredients are stuck to the bottom of the bowl.

Add in your Oreo chunks and fold again.

Divide the cake batter among the 12 cake cases and bake for 18-20 minutes. If you want to double check that they are ready, put a toothpick put through the centre of one of the cakes. It will come out dry if the cakes are done.

Transfer the baked cupcakes onto a wire rack to cool completely.
For the vanilla frosting:
In a large bowl, mix together the icing sugar, dairy-free margarine and vanilla extract. Mix slowly with a wooden spoon to avoid getting icing sugar everywhere.

Pipe the frosting onto the cupcakes and top each one with a mini Oreo.
Recipe Notes
These cupcakes will last for up to 4 days in an airtight container at room temperature.
Nutrition Facts
Vegan Oreo Cupcakes
Amount Per Serving (1 cupcake with frosting)
Calories 516
Calories from Fat 153
% Daily Value*
Fat 17g26%
Sodium 95mg4%
Carbohydrates 89g30%
Protein 2g4%
* All values are an estimate only and will vary depending on the food brands used.
BakedByClo is a participant in the Amazon Services LLC Associates Program, an affiliate advertising program designed to provide a means for sites to earn advertising fees by advertising and linking to Amazon.com. This site may contain some of these links to Amazon.com & other affiliate programs. If you make a purchase through one of those links, BakedByClo will receive a small commission from the purchase at no additional cost to you.