Vegan White Chocolate Cookies
These vegan white chocolate chip cookies are soft, chewy and crinkly, just like the bakery kind! They have a slight hint of vanilla and go perfectly with a cup of tea or hot chocolate.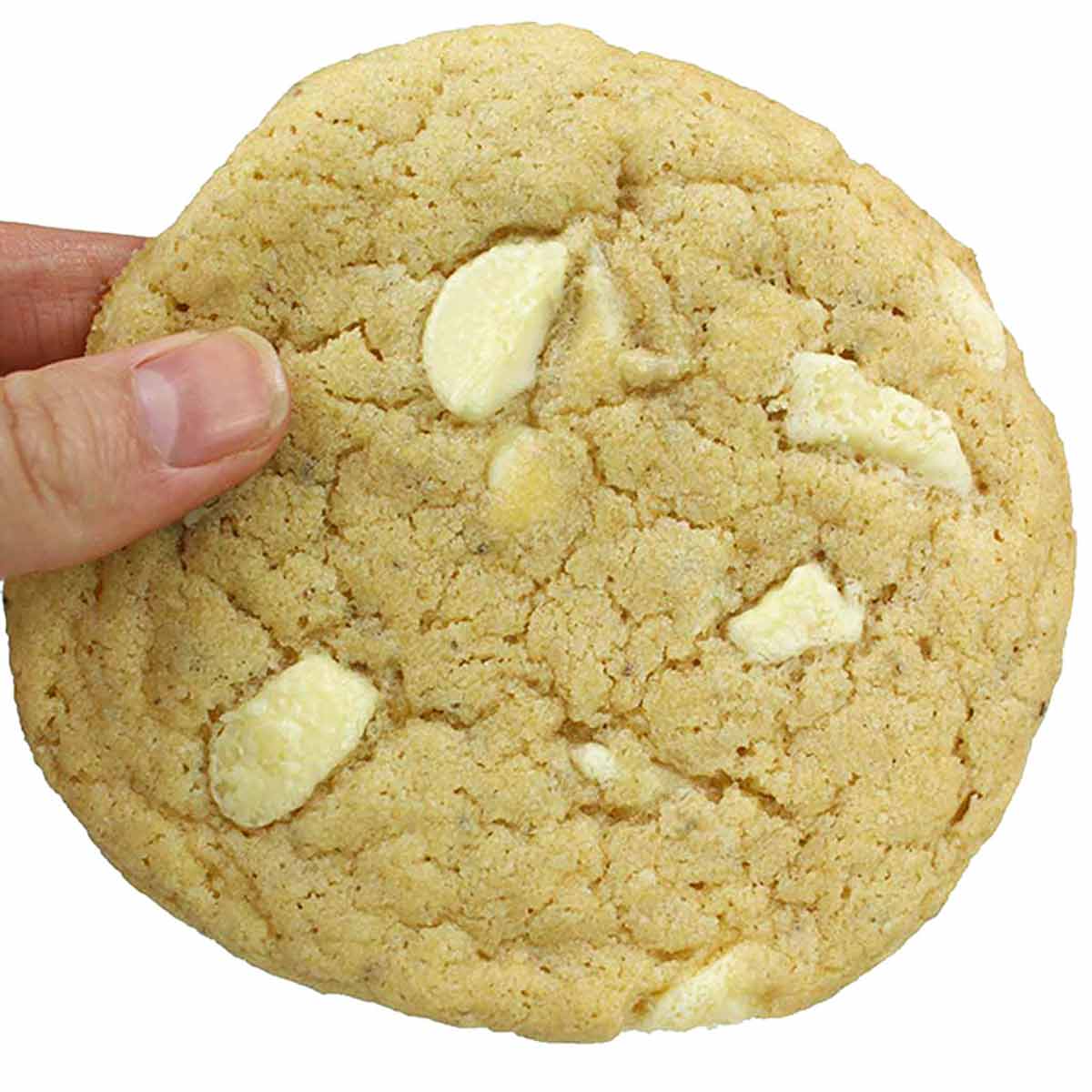 After making my double chocolate chip cookies earlier this year, I promised myself I'd also make a batch of eggless white chocolate chip cookies.
Because who can say no to some bakery-style white chocolate cookies? I don't know about you but the crinkly, super soft and chewy type of cookies have always been my favourite.
Especially the ones with white chocolate chips in them. Subway white chocolate macadamia nut cookies, anyone? OMG.
Want More Vegan White Chocolate Recipes?
Sadly, I've yet to find a good chewy cookie that's ready-made and free from animal products.
With all of the delicious vegan options that are emerging in the supermarkets and restaurants these days, nobody has thought to make some lil' old white chocolate chip cookies. At least, I haven't ever seen them anyway.
So, no one asked, but I'm here to save the day.
Use brown sugar for ultra chewy cookies
This recipe is quite similar to my recipe for double chocolate cookies recipe but I made a few slight changes to make sure they tasted perfect.
First, I switched out the cocoa powder for more self-raising flour. I use self-raising flour in my cookies to help them spread out when they bake. As they rise in the oven and fall when removed from the heat, your cookies become soft in the middle, and slightly crispy and chewy on the outsides.
Next, I added some vanilla extract. This was simply to add back a little of the flavour that gets taken away when you remove the cocoa powder.
I also slightly altered the ratio of caster sugar to soft brown sugar. You do need both types of sugar for the crispy-to-chewy balance, but this time I used slightly less caster sugar and a bit more brown sugar.
This helped to make them super chewy and flavourful while still keeping the ever-so-slightly crispy edge. Personally, I think I nailed it!
And of course, I removed the dark chocolate chunks. You can obviously add dark chocolate chunks to this recipe if you want to (I'm sure it would taste absolutely fabulous) but I decided to just stick to white for now.
More Vegan Cookie Recipes:
How To Make Vegan White Chocolate Cookies
Step 1:
The first step, as always, is to preheat your oven and prepare some baking trays to bake your cookies on.
Set your oven to 200°C/400°F (180°C/350°F if using a fan or convection oven). You'll also need to line or lightly grease 1 or 2 baking trays.
The recipe makes 12 cookies but they will spread quite a bit as they bake. So you'll only manage to fit 4-6 cookies on each tray, depending on how large or small the trays are.
Step 2:
Next, prepare your flax "egg", by mixing 1 tablespoon of ground flax seeds with 1 tablespoon of water.
Set it aside for 5 minutes or so- it should become thick and gloopy. This will act as your binder and prevent the cookies from becoming crumbly.
Step 3:
Cream together 200g of vegan margarine (3/4 cup + 1 tablespoon), 150g of caster sugar (3/4 cup) and 100g of soft brown sugar (1/2 cup).
Mix it all together until the sugar is fully dissolved into the margarine.
Step 4:
Add in 1 teaspoon of vanilla extract and the flax "egg" that you made earlier, and stir until smooth.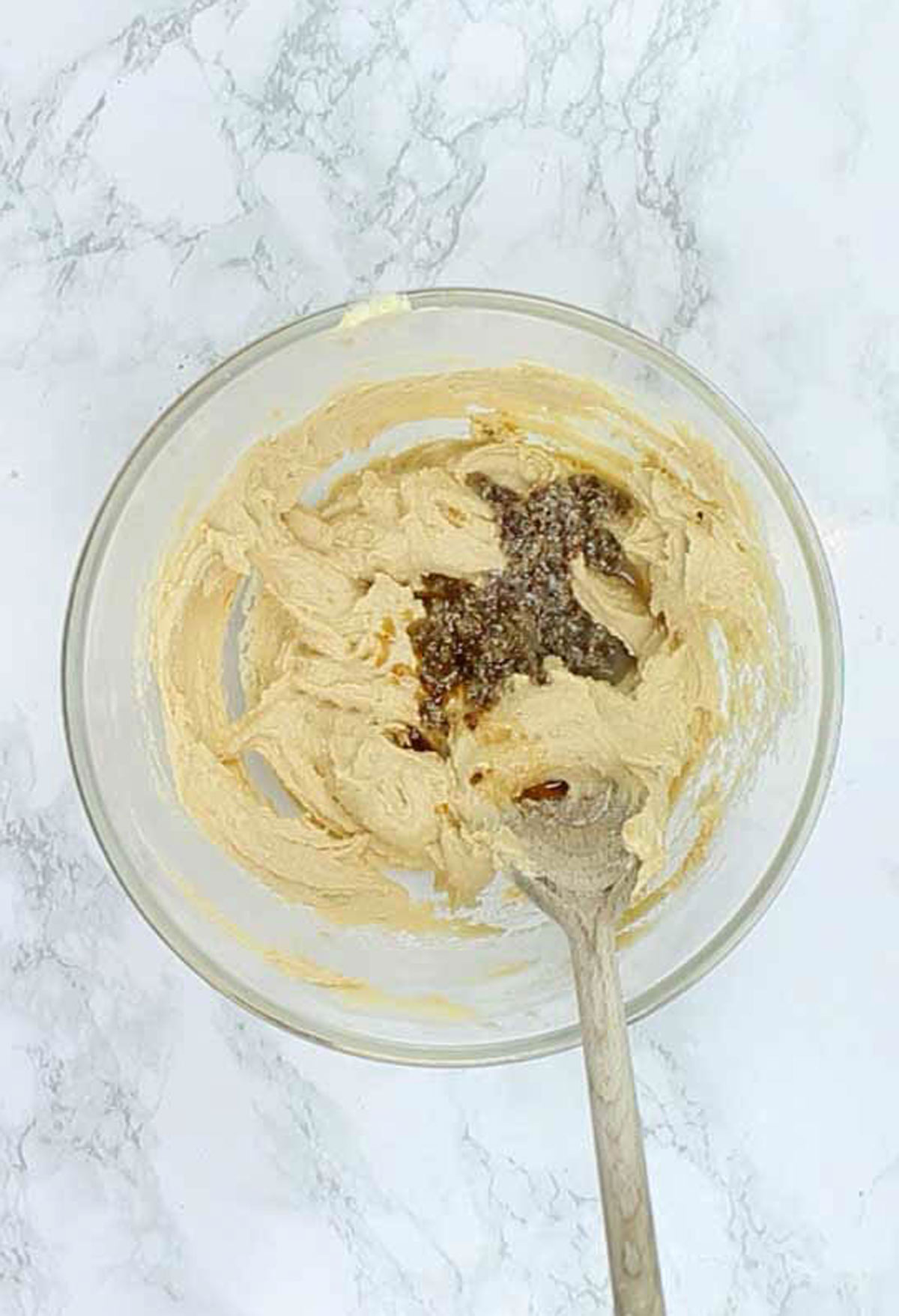 Step 5:
Next, add in 320g of self-raising flour (2+1/2 cups).
Stir it in using your spoon then when it starts to stick together, use your hands to form a dough.
The texture of the dough may vary depending on which brand of vegan margarine you use. If it's too wet, add some more flour, and if it's too dry, add a splash of plant-based milk.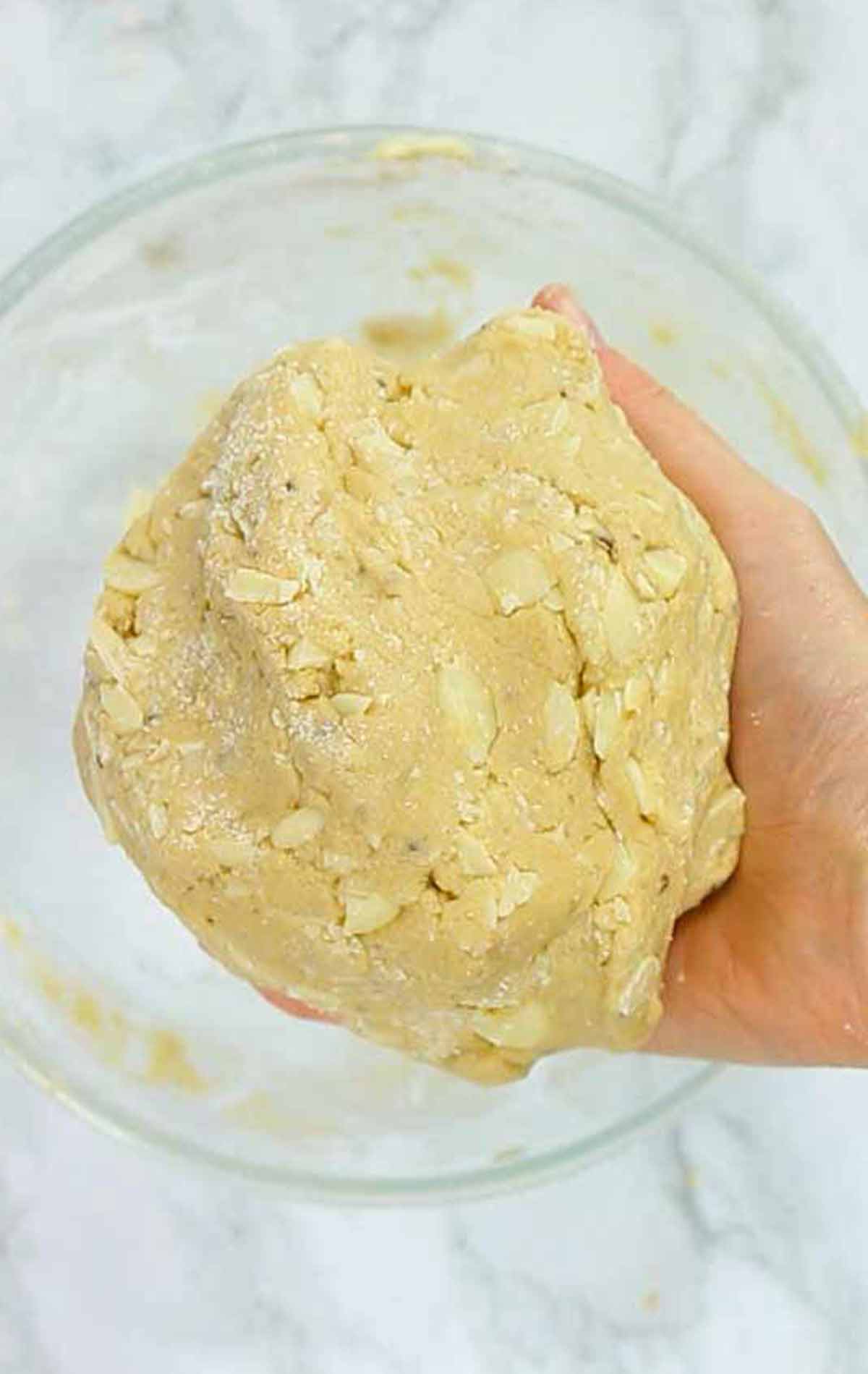 Step 6:
Now add in 150g of white chocolate chips or chunks (around 1 cup) and use your hands to gently knead them into the dough.
Step 7:
Divide your dough into 12 equal pieces and roll each piece into a ball. Place the balls onto your baking trays, leaving around 3-4 inches of space between them, and ever-so-slightly flatten the balls using your fingers.
Bake for 12 minutes and leave them on the tray until they are completely cold.
They might seem a little wobbly or appear under-cooked when you remove them from the oven but they will firm up as they cool. Resist the urge to keep baking them because you'll end up with hard and crunchy cookies instead.
FAQ
What else can I use as a cookie mix-in?
If you're not satisfied with just white chocolate chips in your cookies, try pairing them with one of the following to take things to the next level:

-Dark chocolate chips or chunks (or vegan milk chocolate)
-Macadamia nuts
-Chopped pretzels
-Lemon or orange zest
-Dried cranberries
-Freeze-dried raspberries
-Almond flakes or chunks
How should the cookies be stored?
Store in an airtight container at room temperature or in the fridge for up to 5 days.
Can I freeze them?
Yes! Just wrap them up tightly in plastic wrap and freeze for up to 2 months. When you're ready to eat them, leave at room temperature on a plate until thawed.

The dough can also be frozen and thawed before baking.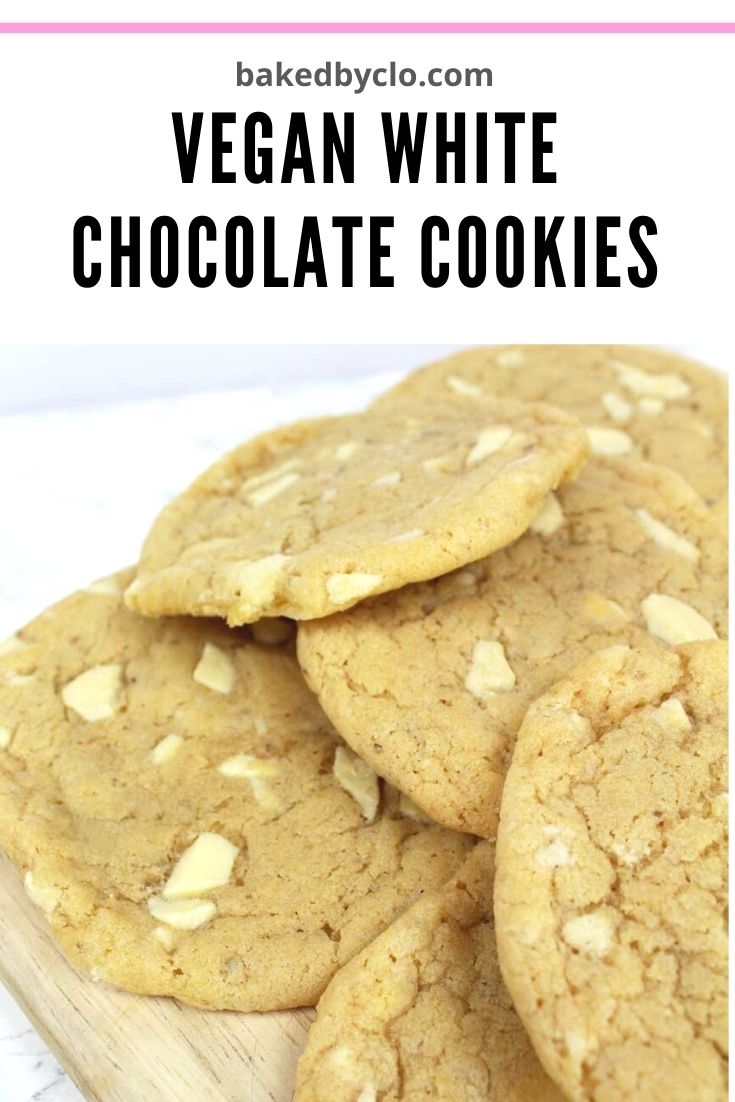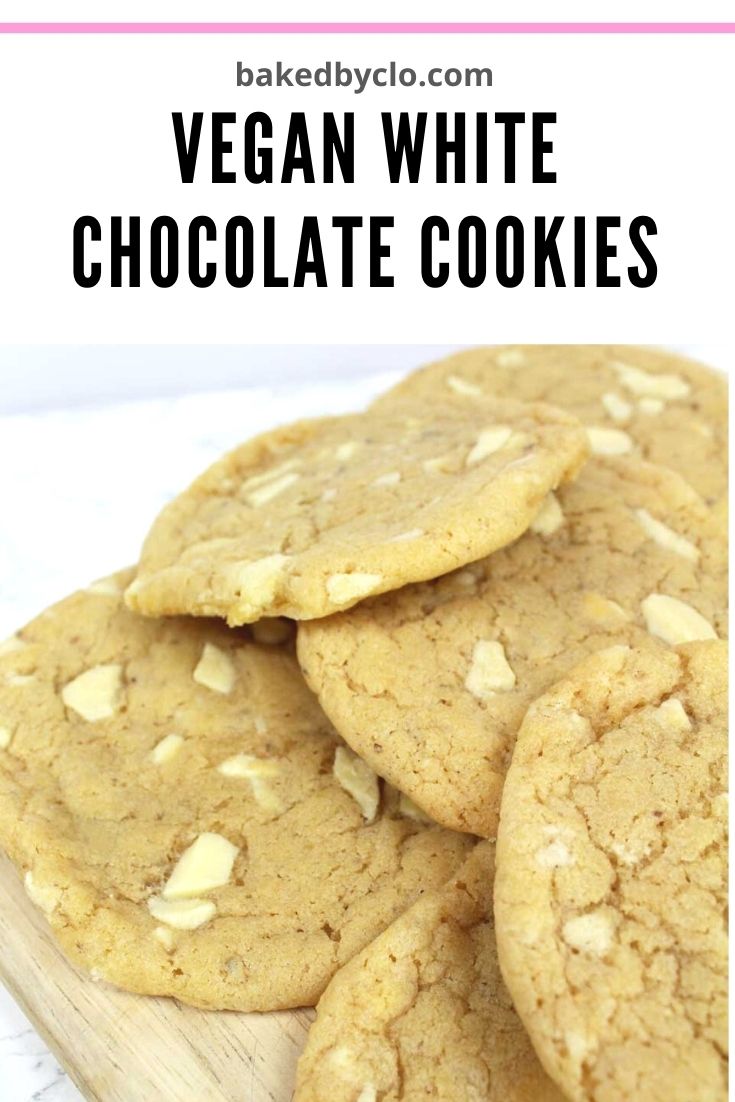 I hope you enjoy these eggless white chocolate cookies. If you try them yourself, please let me know how it goes by leaving a comment or rating below.
Happy baking! xo

Vegan White Chocolate Cookies
Soft and chewy bakery style cookies with white chocolate chips throughout.
Servings
12
Very large cookies
Ingredients
1

Tablespoon

Ground flax seeds + 1 tablespoon of water

200

g

Vegan margarine

(¾ cup + 1 tablespoon)

150

g

Caster sugar

(¾ cup)

100

g

Soft brown sugar

(½ packed cup)

1

Teaspoon

Vanilla extract

320

g

Self-raising flour

(2 + ½ cups)

150

g

Vegan white chocolate chips or chunks

(1 cup)
Instructions
Preheat your oven to 200°C/400°F (180°C/ 350°F if using fan or convection oven) and line or lightly grease 1-2 large baking trays.

Mix the flax seeds with the water and set it aside for a few minutes to thicken.

In a large bowl, cream together the vegan margarine, caster sugar and brown sugar. Add the vanilla and the flax seed mixture and stir again.

Add in the self-raising flour and stir until everything starts to come together. Then use your hands to form a dough.*

Add the chocolate chips and fold them into the dough.

Divide the dough into 12 equal pieces and roll them into balls. Place the dough balls onto your baking tray and ever-so-slightly flatten them using your fingers, making sure there is at least 3-4 inches between them. The cookies will spread out in the oven so you don't want them to stick together!

Bake the cookies for 12 minutes then leave them on the tray until they are completely cool. They might look a bit wobbly when they first come out but they will become chewy and firm when they cool down. Don't bake them for any longer otherwise the cookies will become hard and crispy.
Recipe Notes
* If the dough is too dry, add a splash of plant-based milk. If it's too wet, add a little more self-raising flour.
*Can be stored at room temperature in an airtight container for up to 5 days.
Nutrition Facts
Vegan White Chocolate Cookies
Amount Per Serving (1 cookie)
Calories 330
Calories from Fat 135
% Daily Value*
Fat 15g23%
Sodium 170mg7%
Carbohydrates 45g15%
Protein 3g6%
* All values are an estimate only and will vary depending on the food brands used.
BakedByClo is a participant in the Amazon Services LLC Associates Program, an affiliate advertising program designed to provide a means for sites to earn advertising fees by advertising and linking to Amazon.com. This site may contain some of these links to Amazon.com & other affiliate programs. If you make a purchase through one of those links, BakedByClo will receive a small commission from the purchase at no additional cost to you.