3-Ingredient Vegan Peanut Butter Cookies
Posted on - Last updated: This post may contain affiliate links
These 3-ingredient vegan peanut butter cookies are soft, sweet and nutty. They're free from nasties, easy to make and can be adapted for those with allergies!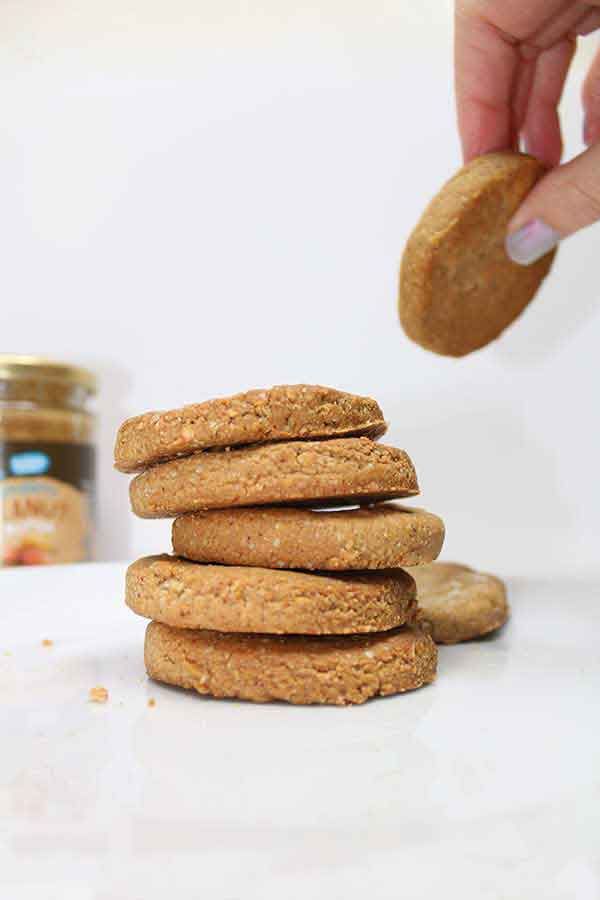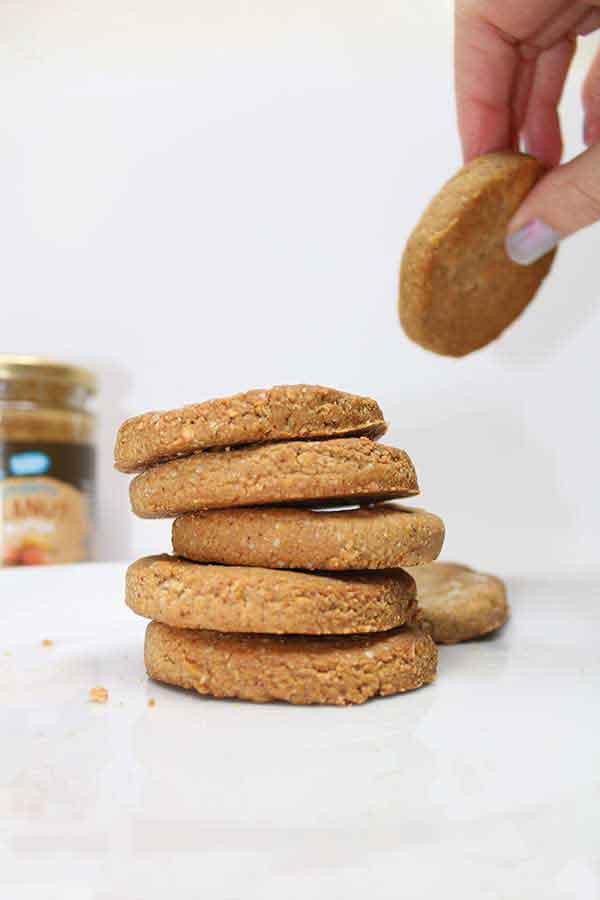 I don't know about you, but I have a HUGE sweet tooth. But as we all know, eating too much sugar isn't that great for your health.
So I decided to create a recipe that could be enjoyed every day instead of only "now and again", because who has time for that? Sweet treats every day, I say.
These cookies are gluten-free, oil-free, grain-free and low carb. Isn't that amazing?
And for the people who are allergic to nuts, I've included adaptions so you can make them too.
Want more vegan peanut butter recipes?
Usually, when I'm testing out a recipe for the first time there are almost always a few tweaks that I need to make.
Most of the time I make the recipe at least 2 or 3 times until I get it just right. But this recipe turned out perfectly the very first time!
The cookies were perfectly crunchy with just the right amount of peanut butter. And I felt better about eating lots of them because they are healthy after all…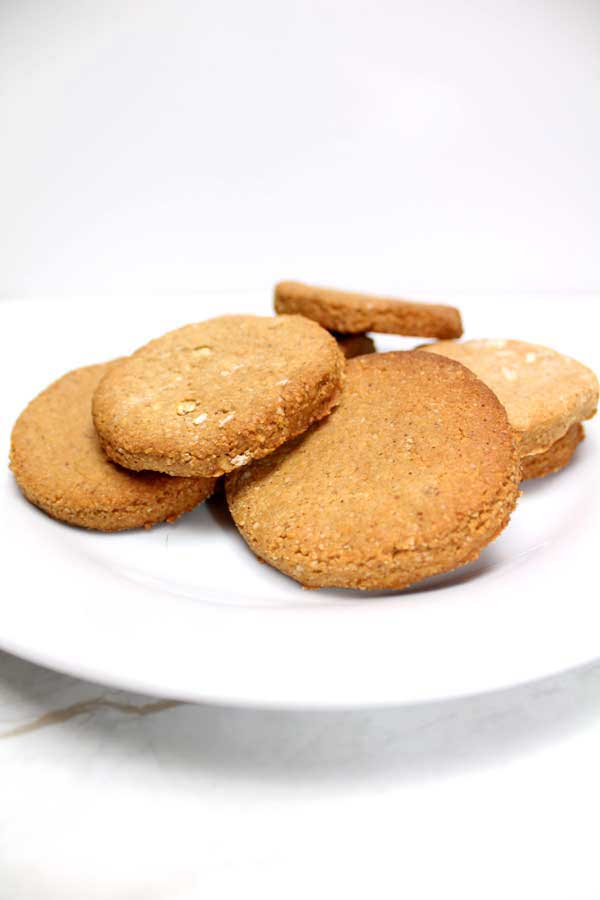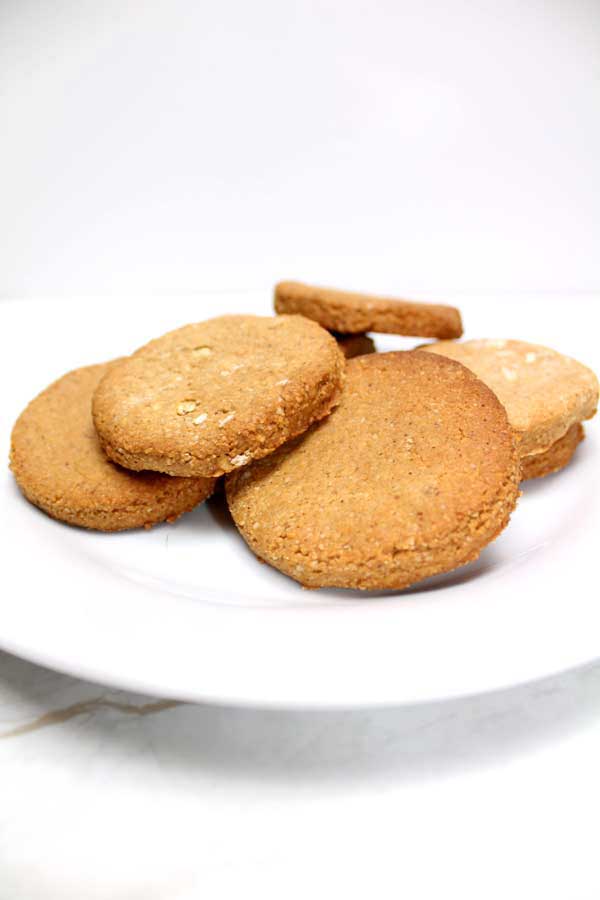 I was originally planning to make a peanut butter and banana sundae instead of these cookies. But when it came around to actually making it, I realised I hadn't frozen my bananas. What a fail.
So I looked around my kitchen to see which ingredients I had, trying to figure out if I could make anything else without yet another trip to the supermarket.
Since I had a full jar of peanut butter sitting there in my cupboard, I thought it'd be best to make good use of it in a recipe since I have a really bad habit of eating it straight from the jar. (relatable, no?)
Aside from my almond flour cookies and Christmas cookies, I hadn't really played around much with vegan cookie recipes up until that point.
I considered using one of the many options for egg replacements in cookies, such as flax eggs, chia eggs, bananas, apple sauce, and vegetable oils.
But these 3-ingredient peanut butter cookies stuck together quite well without the need for any added extras. The ingredients are naturally vegan and form a dough very easily when combined.
How to Make 3-Ingredient Vegan Peanut Butter Cookies
Are you ready? The 3 ingredients are peanut butter, maple syrup, and ground almonds. And that's it!
Cool, right?
There are just a few easy steps to making these cookies.
Step 1:
The first step is to preheat your oven to 180°C/ 350°F (or 160°C/325°F if you're using a fan or convection oven).
Then line a tray with baking paper.
Step 2:
Next, measure out your ingredients. You'll need 120g of runny peanut butter (1/2 cup), 8 tablespoons of agave nectar or maple syrup, and 200g of ground almonds (2 cups).
Step 3:
Mix the 3 ingredients together in a bowl until they start to stick together. Then use your hands to press everything into a dough.
Step 4:
Now divide the cookie dough up into 15 equal-sized pieces and roll each piece into a ball.
Flatten the balls into cookie shapes then place them onto your pre-lined baking tray.
Step 5:
The final step is to bake them for around 10-12 minutes until they become golden brown around the edges.
Leave them on the tray to cool completely, then they're ready to eat!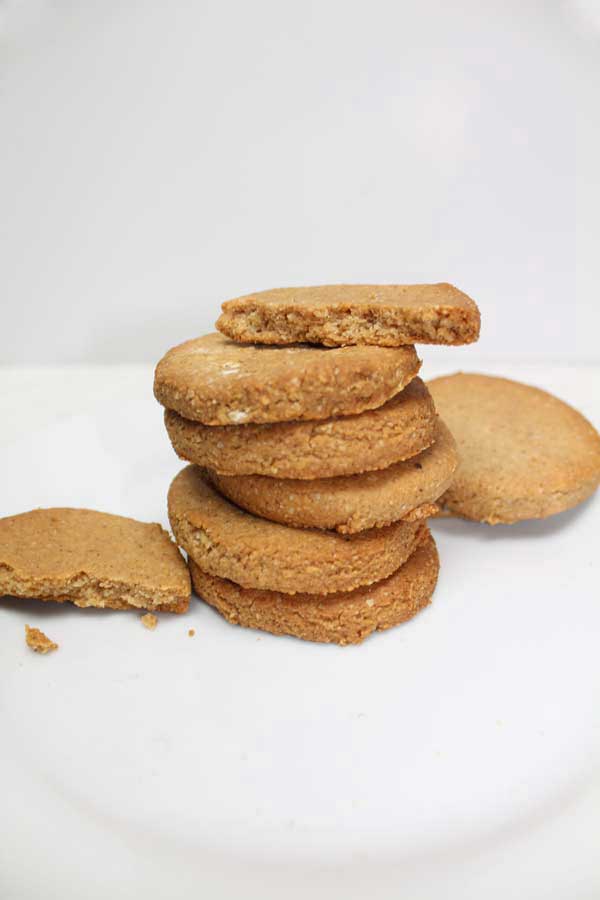 I love these cookies because that they're not just a "treat". They also contain tonnes of benefits. These 3-ingredient peanut butter cookies are:
Healthy
Naturally sweetened
Full of healthy fats
Low-carb
Gluten-free
Oil-free
And of course, vegan!
And if you have allergies to nuts, let me help you make 3 ingredient allergy-friendly vegan cookies…
An Allergy-Friendly Alternative
Allergies SUCK and I would hate for anyone allergic to nuts to miss out on making these cookies. Because everyone deserves cookies!
If you're allergic to nuts, you can substitute the peanut butter for sunflower seed butter or any other similar nut-free alternative. You can substitute it in equal amounts, at a ratio of 1:1.
The ground almonds/ almond flour can be substituted with oat flour, again in equal amounts. To keep the cookies gluten-free, just make sure that the oats you buy are certified gluten-free. Baking time will vary using oat flour instead of almonds.
And please don't be scared of the words "oat flour". I used to think it was some really expensive, hard-to-find ingredient, so I avoided using it. That is until I realised it was simply ground oats.
Doh.
I buy the cheapest oats at the supermarket and blend them up at home using my Ninja blender. Feel free to experiment with other flours too and let me know your results!
The oat flour makes the cookies a little crunchier, so even if you don't have allergies, I'd recommend using the oat flour instead of almonds if you prefer crunchy cookies.
I hope you enjoy this recipe! Please let me know how you get on by leave a rating and/or comment below. And be sure to check out my other vegan cookie recipes.
Happy baking! xo

3-Ingredient Vegan Peanut Butter Cookies
Soft vegan cookies that are naturally sweetened, oil-free and gluten-free.
Keyword
3 ingredient vegan peanut butter cookies
Ingredients
120

g

Runny peanut butter, made from 100% nuts

(½ cup)

8

Tablespoons

Maple Syrup or agave nectar

200

g

Ground Almonds/almond flour

(2 cups)
Instructions
Preheat oven to 180°C/ 350°F (or 160°C /325°F if you're using a fan or convection oven).

Line a large tray with baking paper.

Mix all of the ingredients together in a bowl to form a dough. You can add more maple syrup if the dough is too dry, or add more ground almonds if it's too wet.

Divide the cookie dough up into 15 equal-sized pieces and roll into balls.

Flatten the balls into cookie shapes and place them onto your lined tray. Bake for 10-12 minutes until the cookies are golden brown at the edges.

Leave to cool completely before enjoying.
Recipe Notes
These cookies can be stored in an airtight container at room temperature for up to 5 days.
For a soft cookie use ground almonds. If you like your cookies crunchy, substitute equal amounts of oat flour.

If you're using oat flour, you can roll the dough on an oat-floured surface and cut out shapes. Baking time will vary.
Nutrition Facts
3-Ingredient Vegan Peanut Butter Cookies
Amount Per Serving (1 g)
Calories 138
Calories from Fat 99
% Daily Value*
Fat 11g17%
Sodium 5mg0%
Carbohydrates 3g1%
Protein 6g12%
* All values are an estimate only and will vary depending on the food brands used.
BakedByClo is a participant in the Amazon Services LLC Associates Program, an affiliate advertising program designed to provide a means for sites to earn advertising fees by advertising and linking to Amazon.com. This site may contain some of these links to Amazon.com & other affiliate programs. If you make a purchase through one of those links, BakedByClo will receive a small commission from the purchase at no additional cost to you.