3 Ingredient Peanut Butter Fudge
This 3 ingredient peanut butter fudge is sweet, indulgent and creamy, and it literally melts in your mouth! It's dairy-free, gluten-free and can be made WITHOUT condensed milk of any kind! Top it with chocolate and crushed peanuts for a delicious crunch.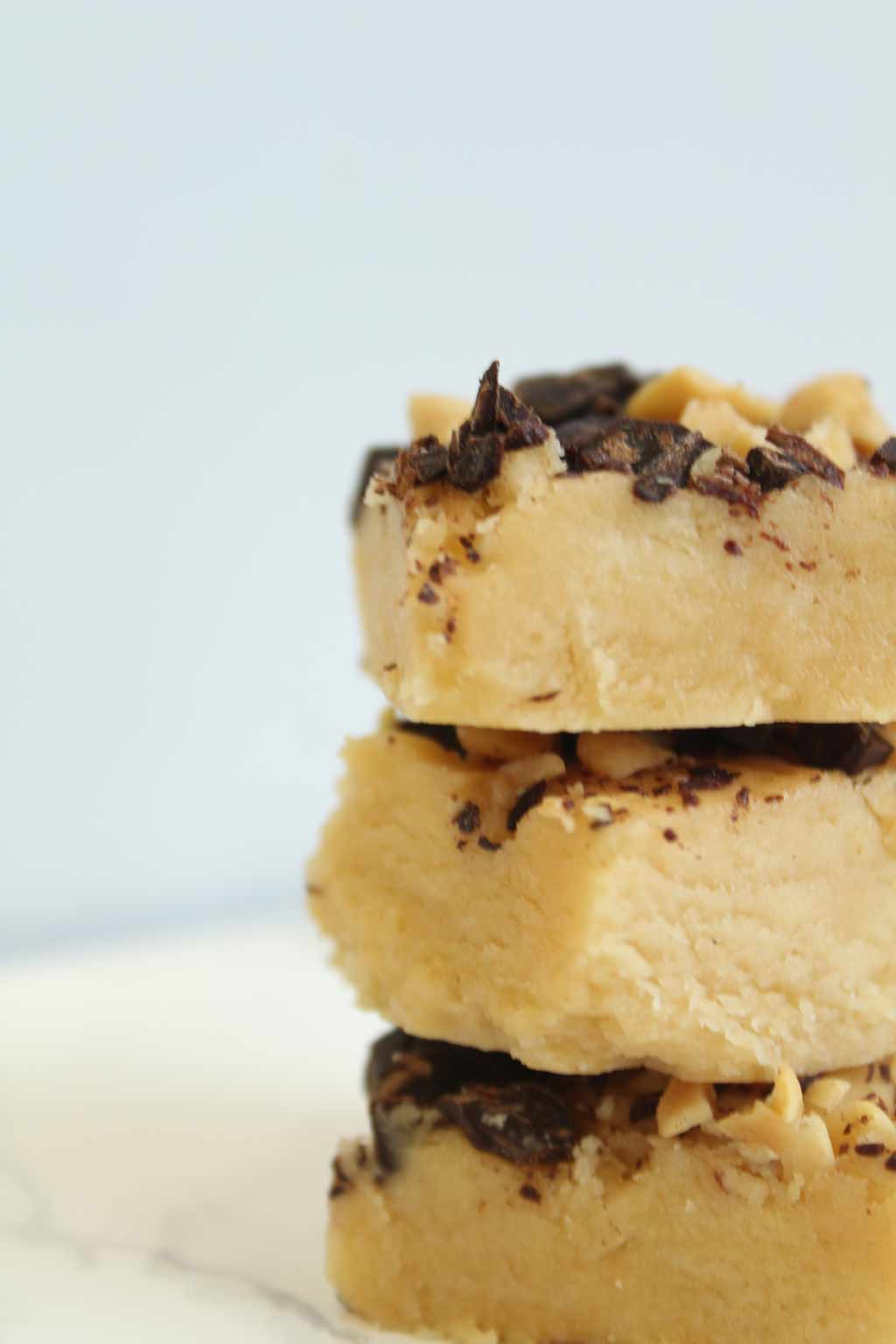 Ohhhh my gosh. This 3 ingredient peanut butter fudge is one of the best things I've made in a long time!
Yes, you read that right… peanut butter fudge, with 3 ingredients!
Okay, technically it contains 4 or 5 ingredients but the extra few ingredients are completely optional and are only necessary if you want to make the fudge a little fancier.
These 3 simple ingredients will give you a basic, delicious peanut butter fudge:
dairy-free spread
creamy peanut butter
icing sugar
That's it. Cool, right?
I'm not kidding… It dissolves in your mouth in the most heavenly way. It is AMAZING.
If you've ever tasted Scottish tablet before, it tastes like something halfway between that and traditional dairy toffee. It's not super creamy nor too hard/grainy, but somewhere perfectly in between.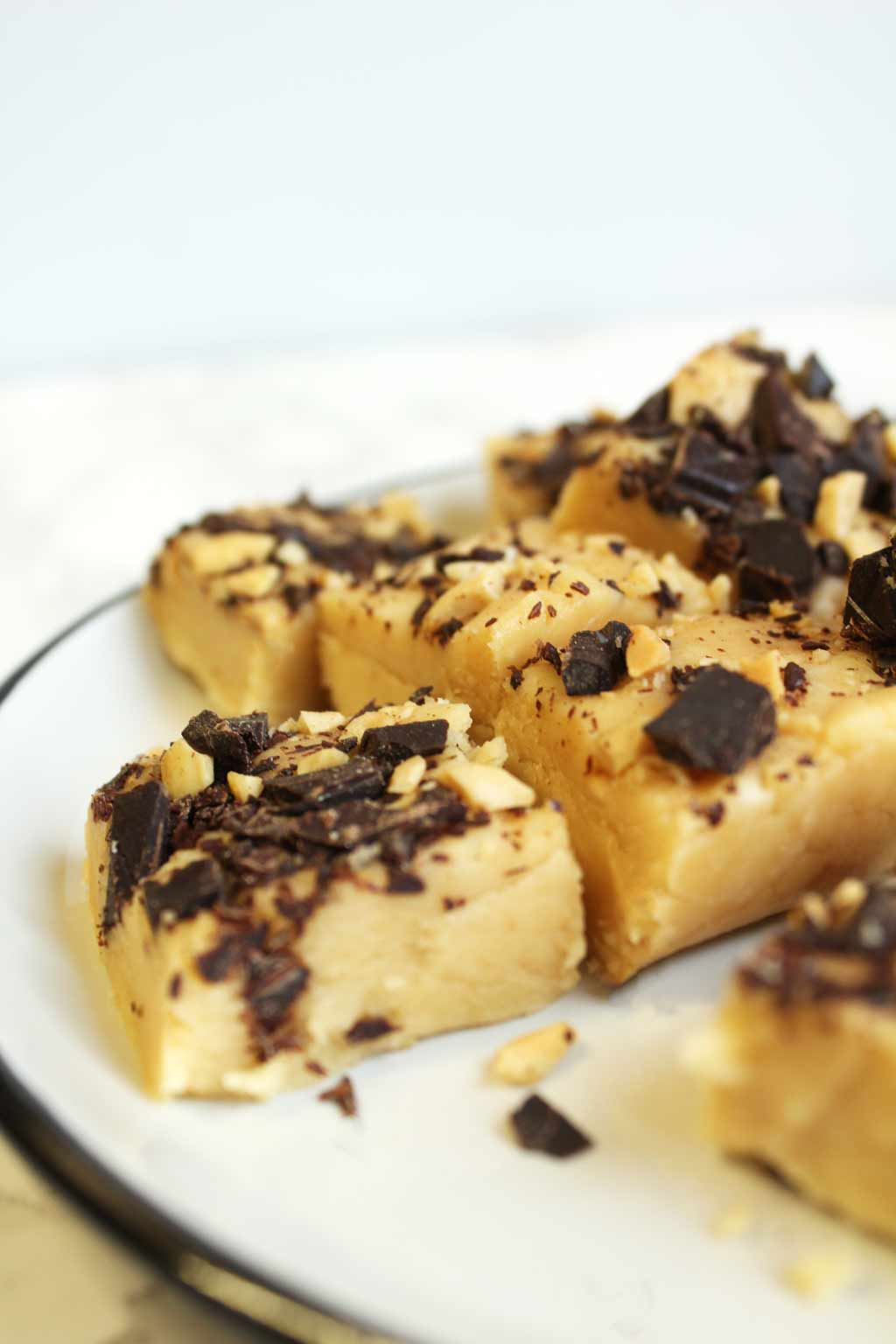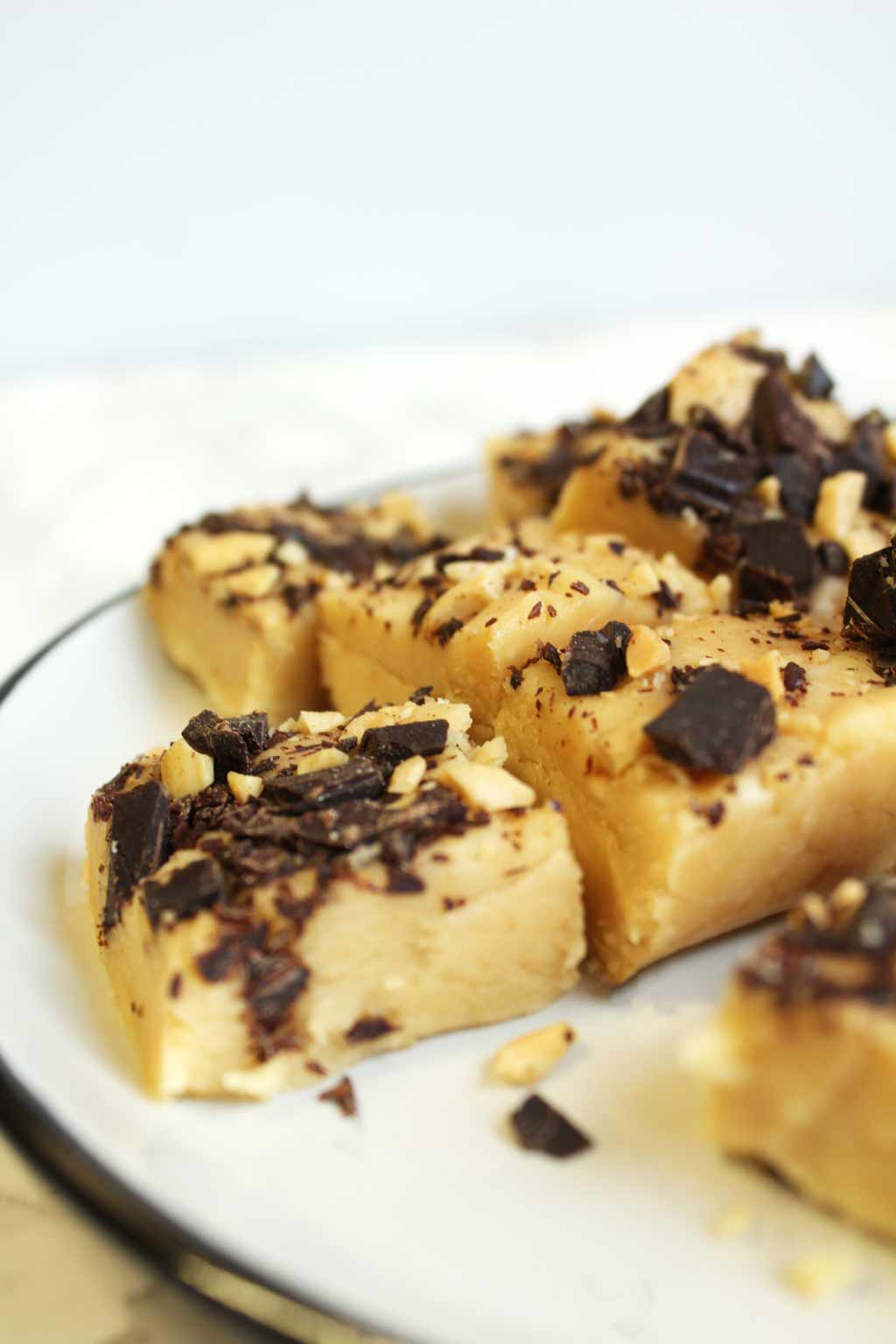 Vegan 3 Ingredient Peanut Butter Fudge Without Condensed Milk
Obviously, because this is a vegan blog I couldn't use dairy condensed milk, which is what most fudge recipes call for.
I did consider using coconut condensed milk but I'm still kind of holding a grudge towards it because it failed me in a cheesecake I recently tried to make.
Also, it's kind of expensive and I want to try to keep my recipes as simple as possible. So I thought keeping it cheap and cheerful was a better idea!
Instead of condensed milk, I used a dairy-free spread and icing sugar for a similar effect. It works perfectly!
How To Make 3 Ingredient Peanut Butter Fudge
I promise you, this will be one of the easiest and most delicious vegan snacks you'll ever make. Let me show you how.
Step 1:
The first step to making the perfect vegan peanut butter fudge is making sure you have the correct peanut butter.
In general day to day life, I like to use natural peanut butter. The runny kind with no other ingredients added. This works great for things like sandwich filling or oatmeal topping. It's healthy, simple and it does the job.
But for this recipe, it's important that you use the creamy kind- the one with added oil. To be frank, you want the "nasty" kind. That texture will really help to create the fudgy texture that we're after here. If you use the natural style, it won't set as firm.
For reference, I used Sunpat smooth peanut butter.
Step 2:
Once you've got your peanut butter ready, put it into a pot over a low heat. Add in your butter, and vanilla essence if you're using it.
Allow it to melt, stirring periodically (gently). Make sure to remove it from the heat AS SOON AS everything comes together, to become smooth and creamy.
You can also do this step in the microwave if you'd like to save washing up lots of dishes! 60 to 90 seconds in the microwave should do the trick here, stopping halfway to give it a good stir. If you still have lumps of unmelted spread, pop it back in the microwave for 20-second increments until completely smooth.
Step 3:
When your peanut butter mixture is nice and smooth, you can now add in your icing sugar. If necessary, sift it first to get rid of any big sugar lumps.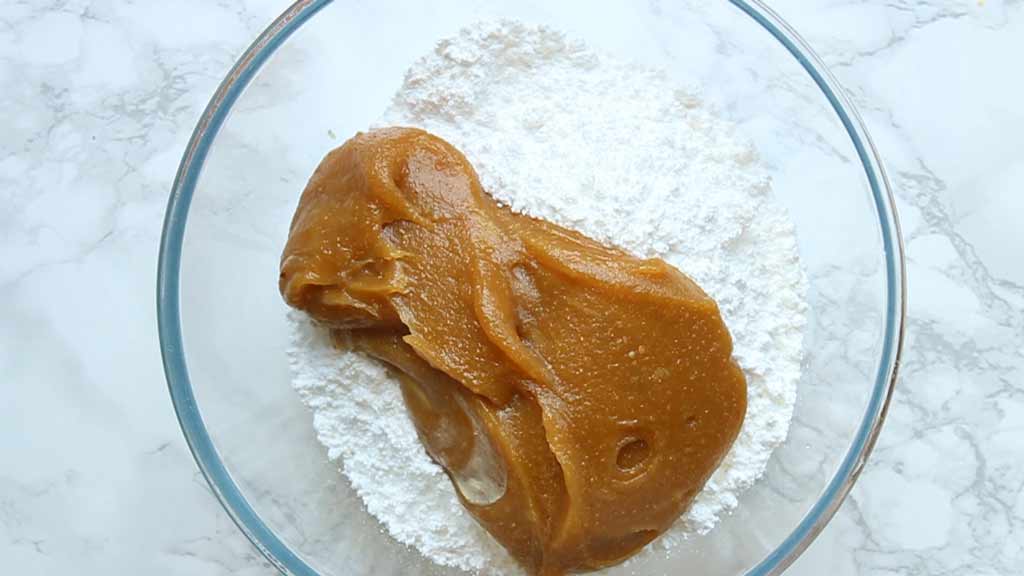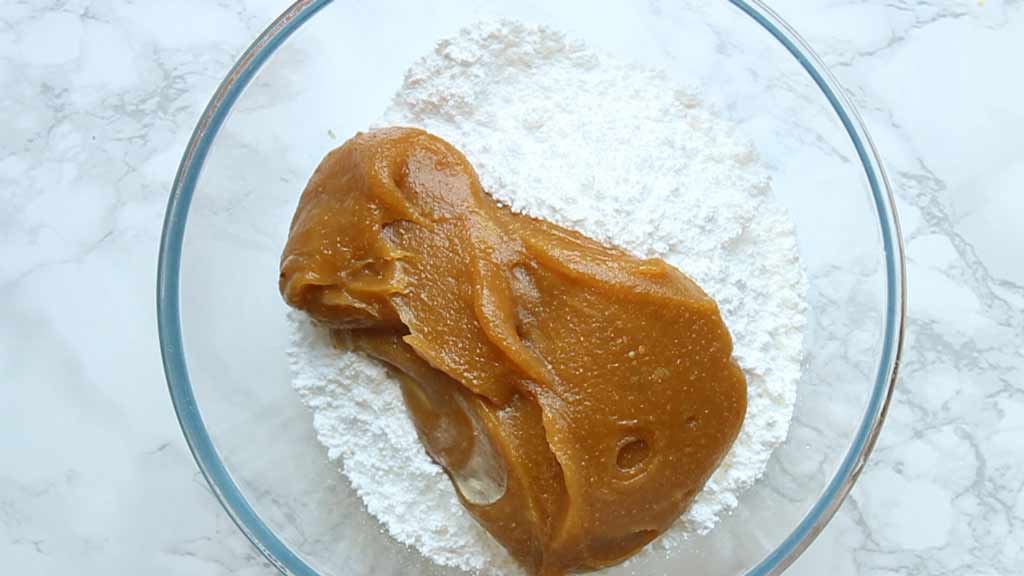 Stir your sugar into the peanut butter mix. I've found that using a small metal spoon works best as it can get quite stiff.
When it starts to come together, get your hands in there and start pressing it together, sort of in the same way that you would knead cookie dough. You'll need to work quite quickly here to avoid the wet mixture from hardening before everything's combined.
It will look a little crumbly at this point but don't worry- it will hold together!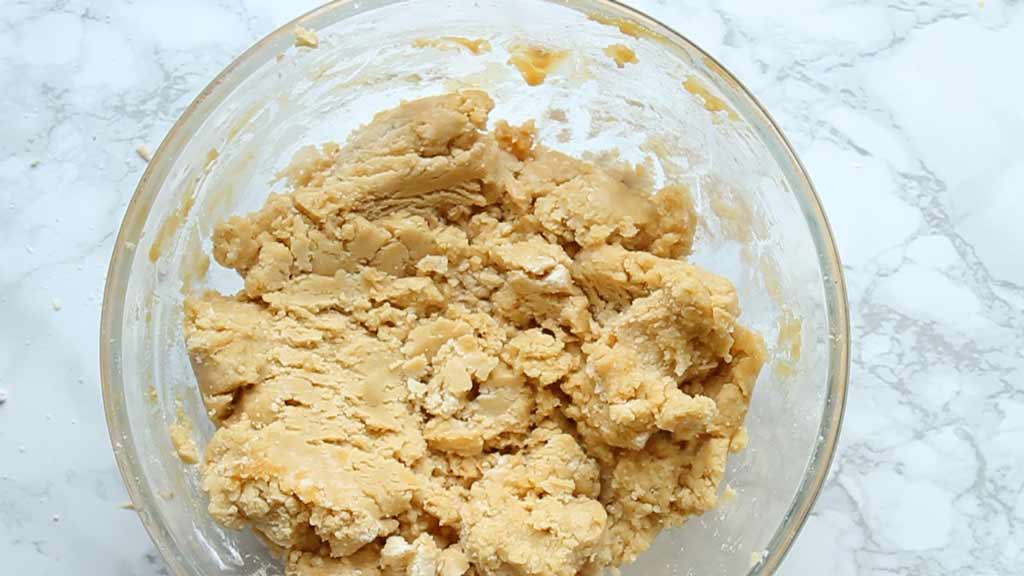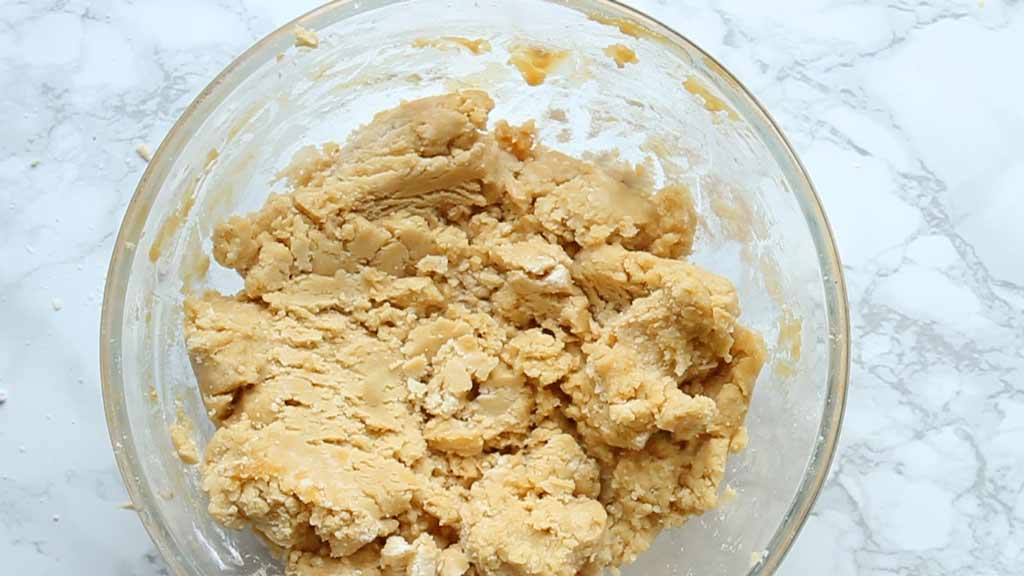 Step 4:
Once you've formed a dough that all of the icing sugar has dissolved into, your fudge is ready!
Yes, really… I told you it was easy!
You can finish here if you like. Just roll small pieces of dough at a time into balls or other shapes (using a cookie cutter) and eat as is.
Alternatively, you can press the dough into a pan lined with parchment paper which, when cut, will give you the classic fudge "cube" shape.
Using clean fingers or the back of a spoon, press the dough into the pan until flat and even. Top with crushed peanuts and chopped dark chocolate (if desired) and gently press them into the mixture using your fingers.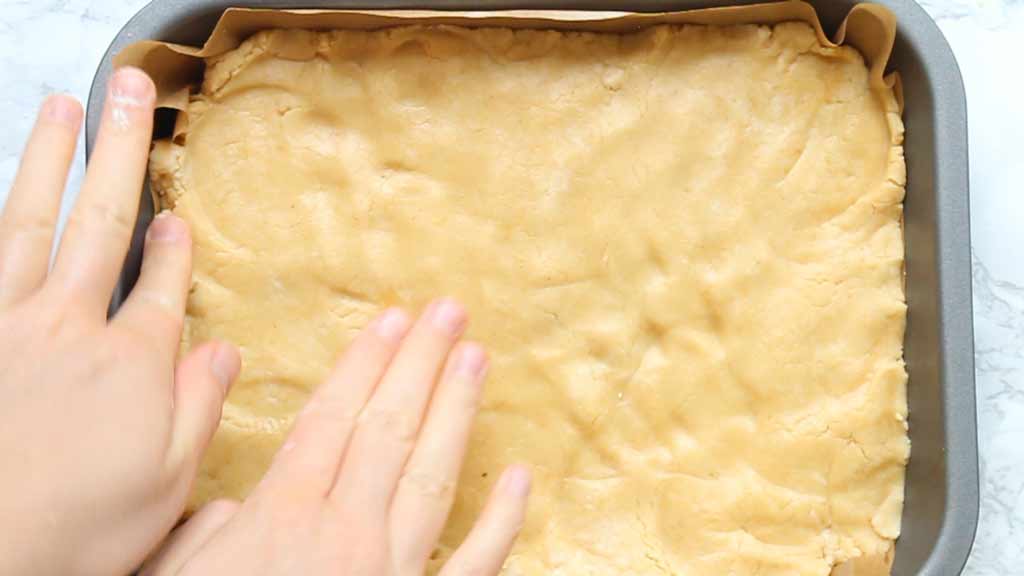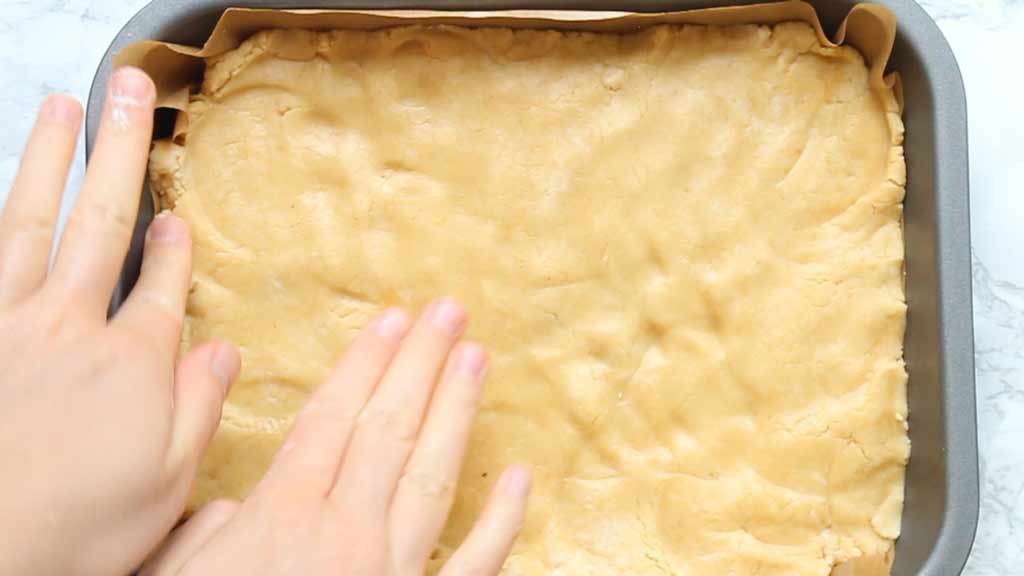 Refrigerate it for an hour or so, to help it hold its shape, then cut into squares. This mixture will make around 40 cubes of fudge if pressed and cut from an 8-inch pan.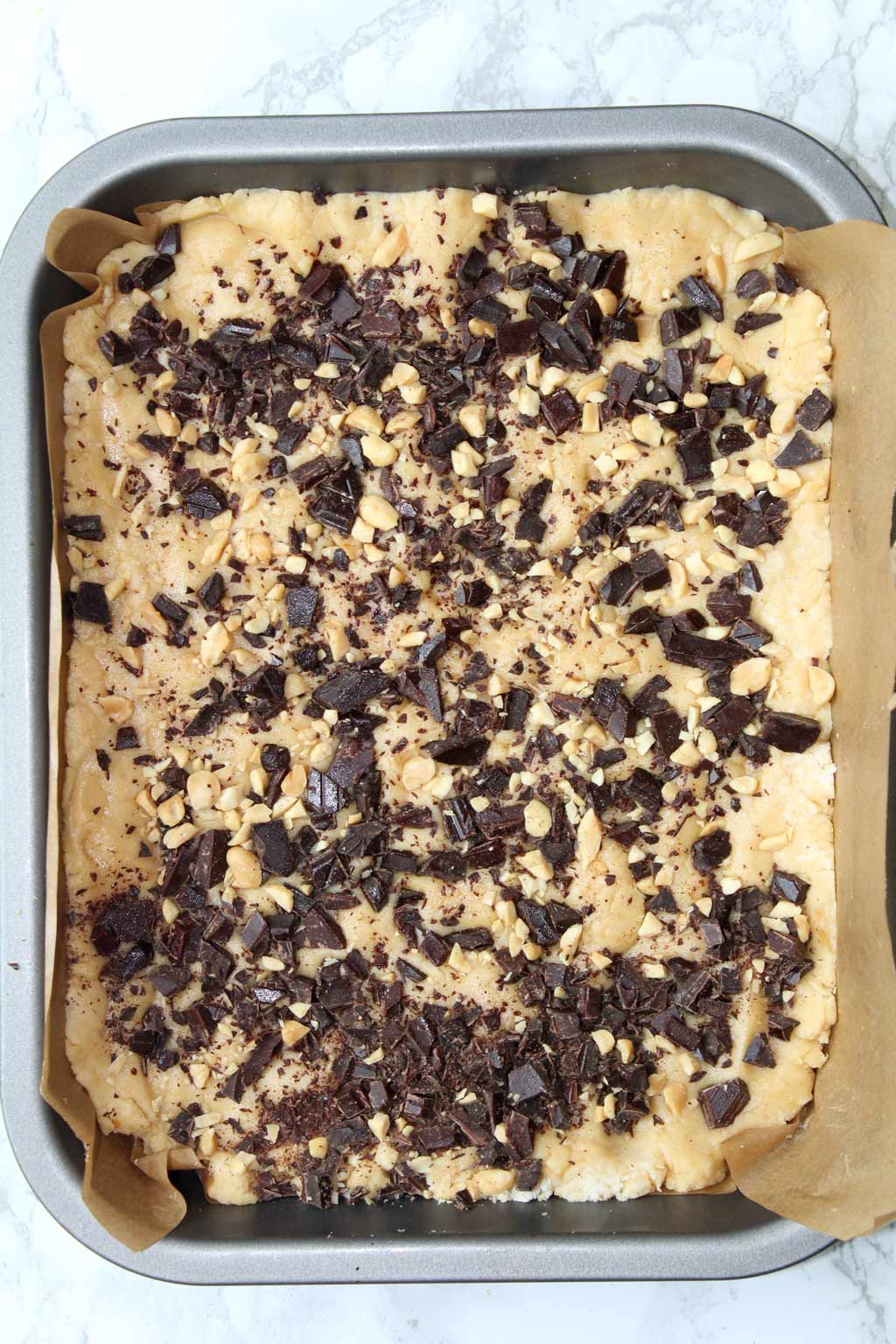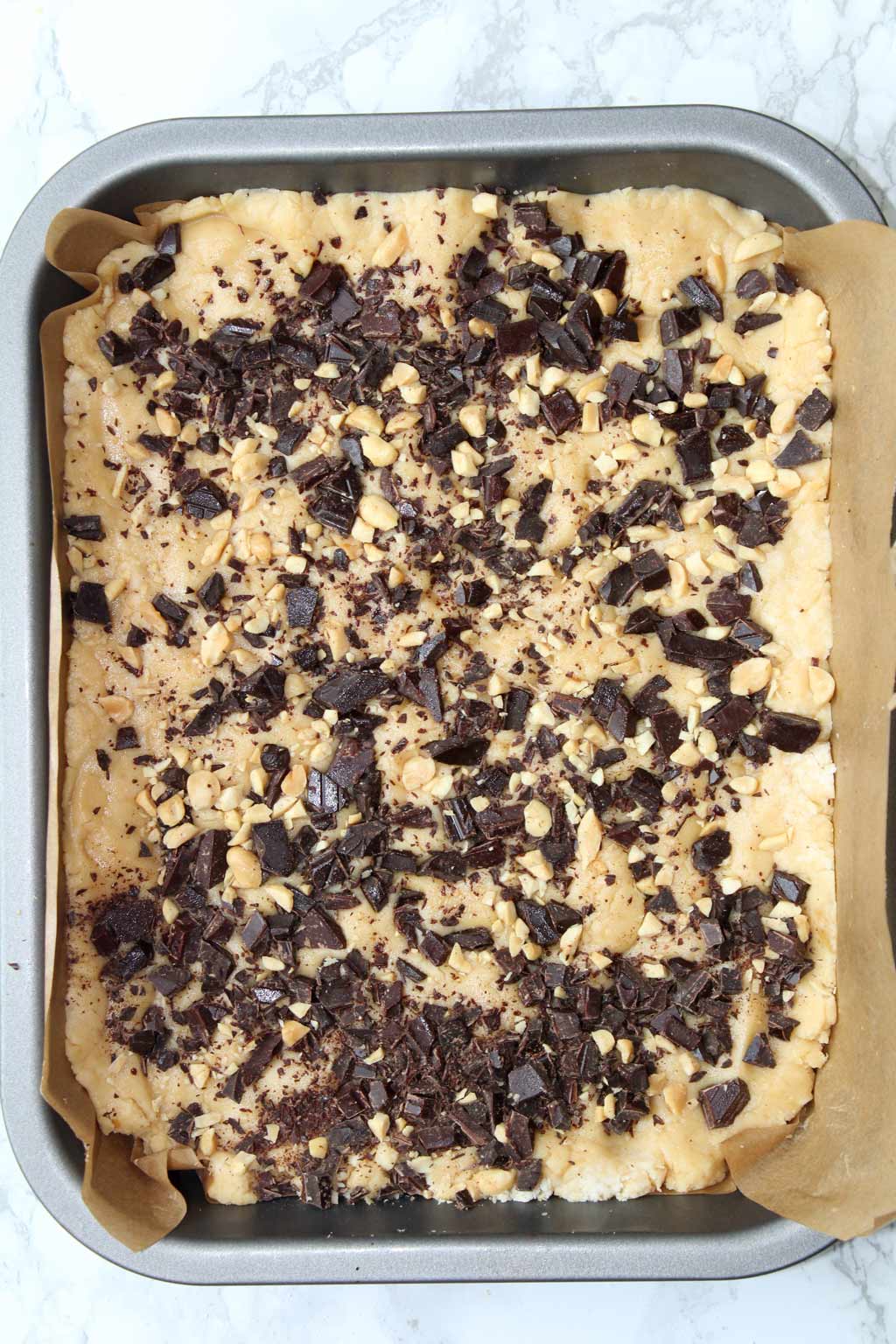 Want more easy vegan dessert recipes?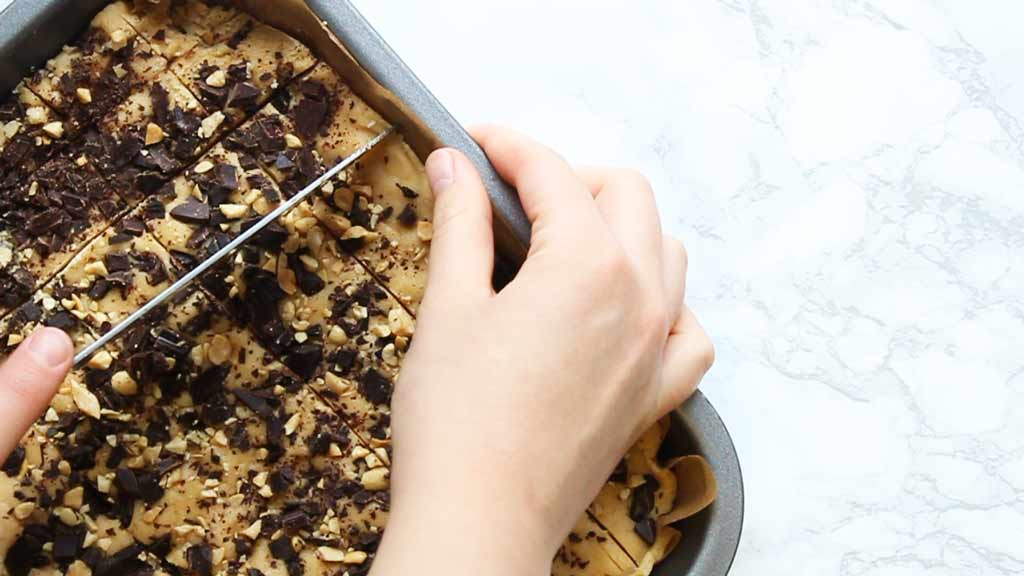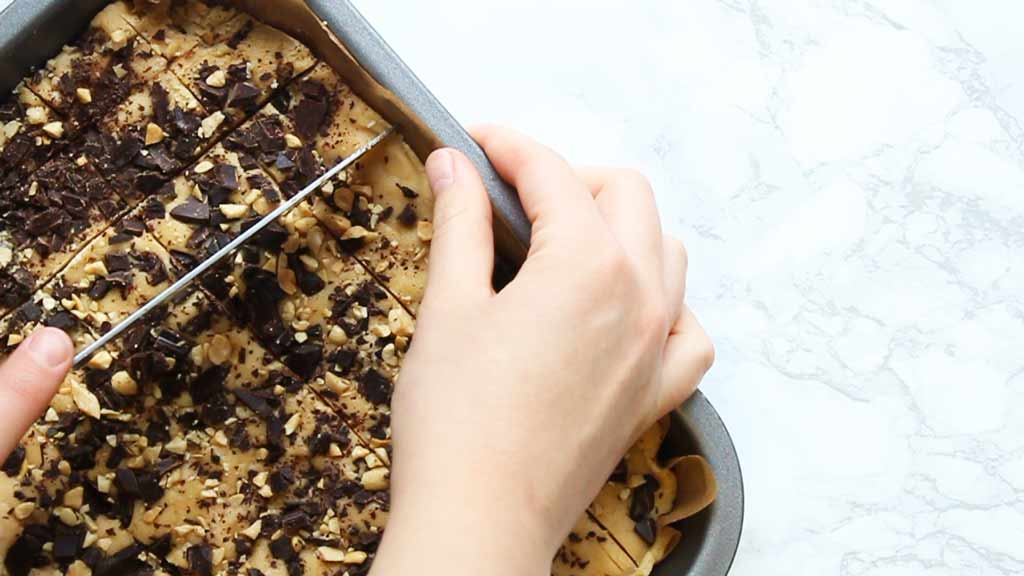 Tips For Making 3 Ingredient Peanut Butter Fudge
Melt your ingredients in the microwave for speed and less washing up!
Make sure to use the creamy kind of peanut butter, not natural style.
Use an 8-inch pan for 40 perfectly thick squares of fudge.
Leave a little parchment paper hanging out of each side of the pan. This makes lifting it out a lot easier.
Want To Change It Up? Here Are Some Ideas:
If you don't fancy adding chopped chocolate and nuts on top, you can try drizzling some chocolate over the fudge or dipping and coating the pieces completely. White and/or dark chocolate both taste really nice paired with peanut butter.
Try adding mix-ins such as raisins or chocolate chips to the fudge mixture before pressing it into the pan.
For chocolate peanut butter fudge, swap out 1 tablespoon of icing sugar and replace with 1 tablespoon of cocoa powder.
Instead of pressing the fudge into a pan, roll it into balls or cut shapes out using cookie cutters for an eye-catching twist.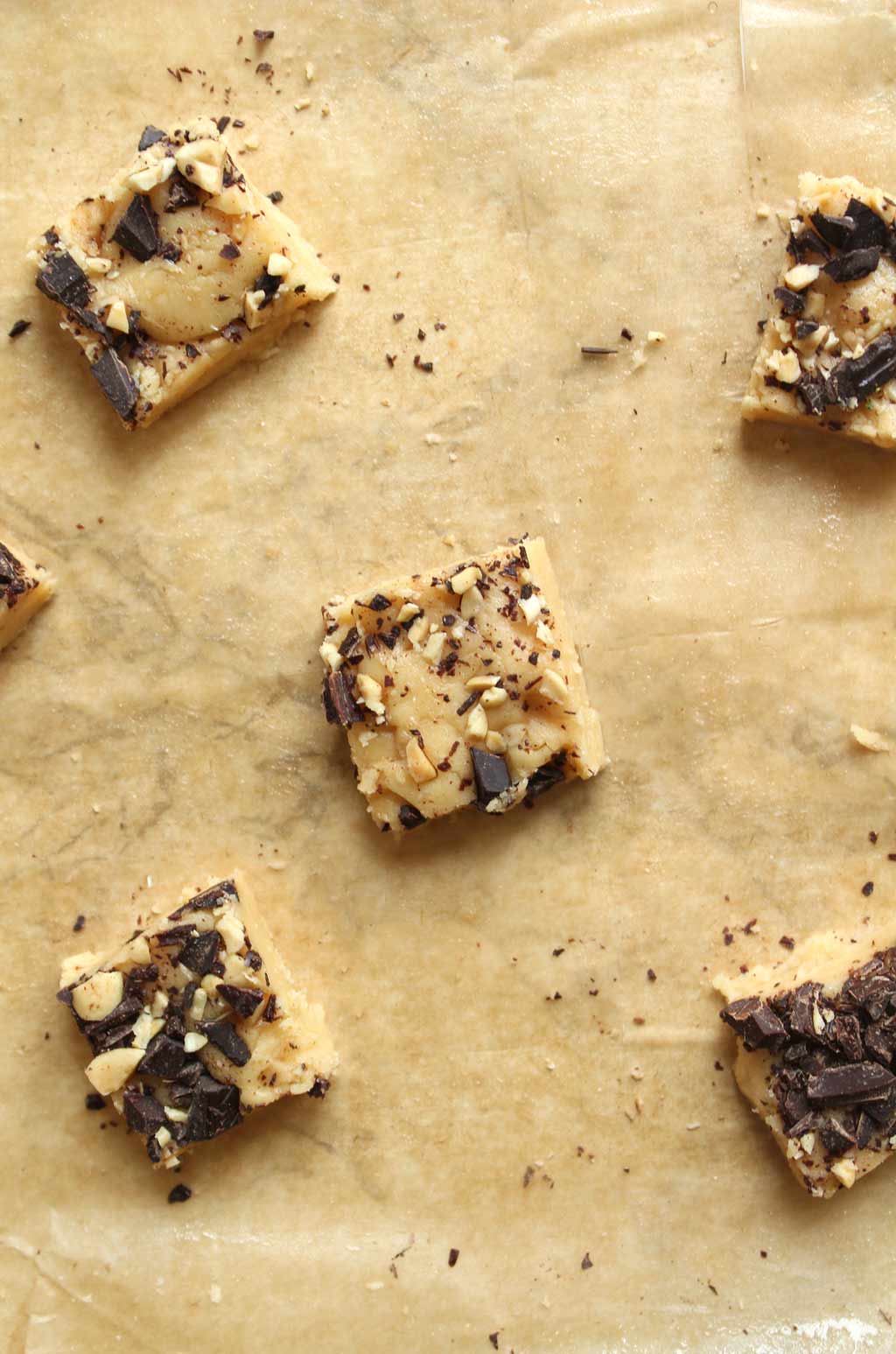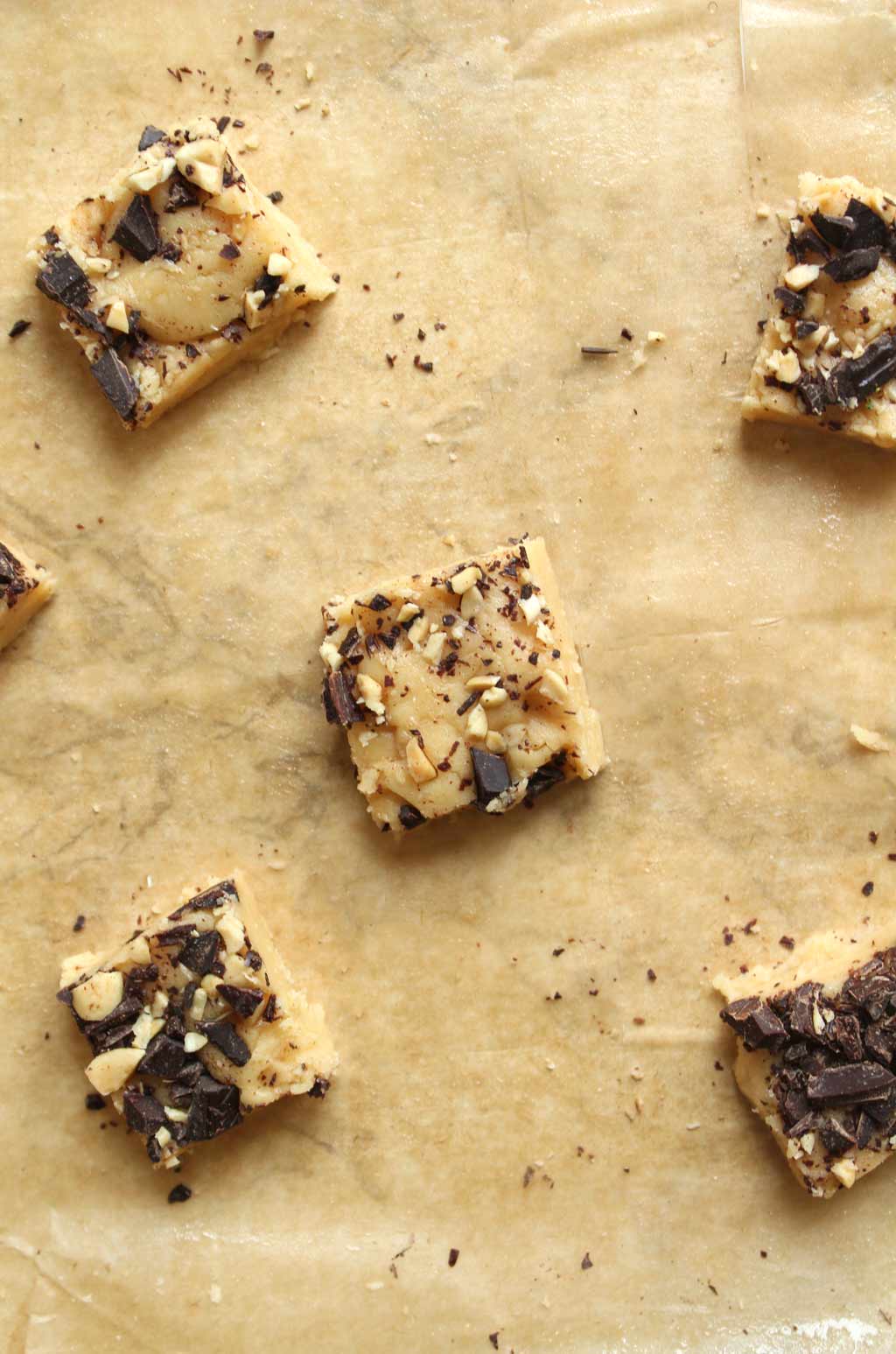 How To Store It
Because it contains dairy-free spread, which softens in heat the same way as butter does, this fudge is best kept in the fridge.
A handy ole' airtight container will do the trick and you can store it this way for up to 5 days. I mean, that's if it lasts that long…it's seriously addictive!
If you wish to freeze the fudge, pop the pieces into a freezer bag and freeze for up to 3 months. To defrost, just place it back in the fridge and allow it to thaw for an hour or two.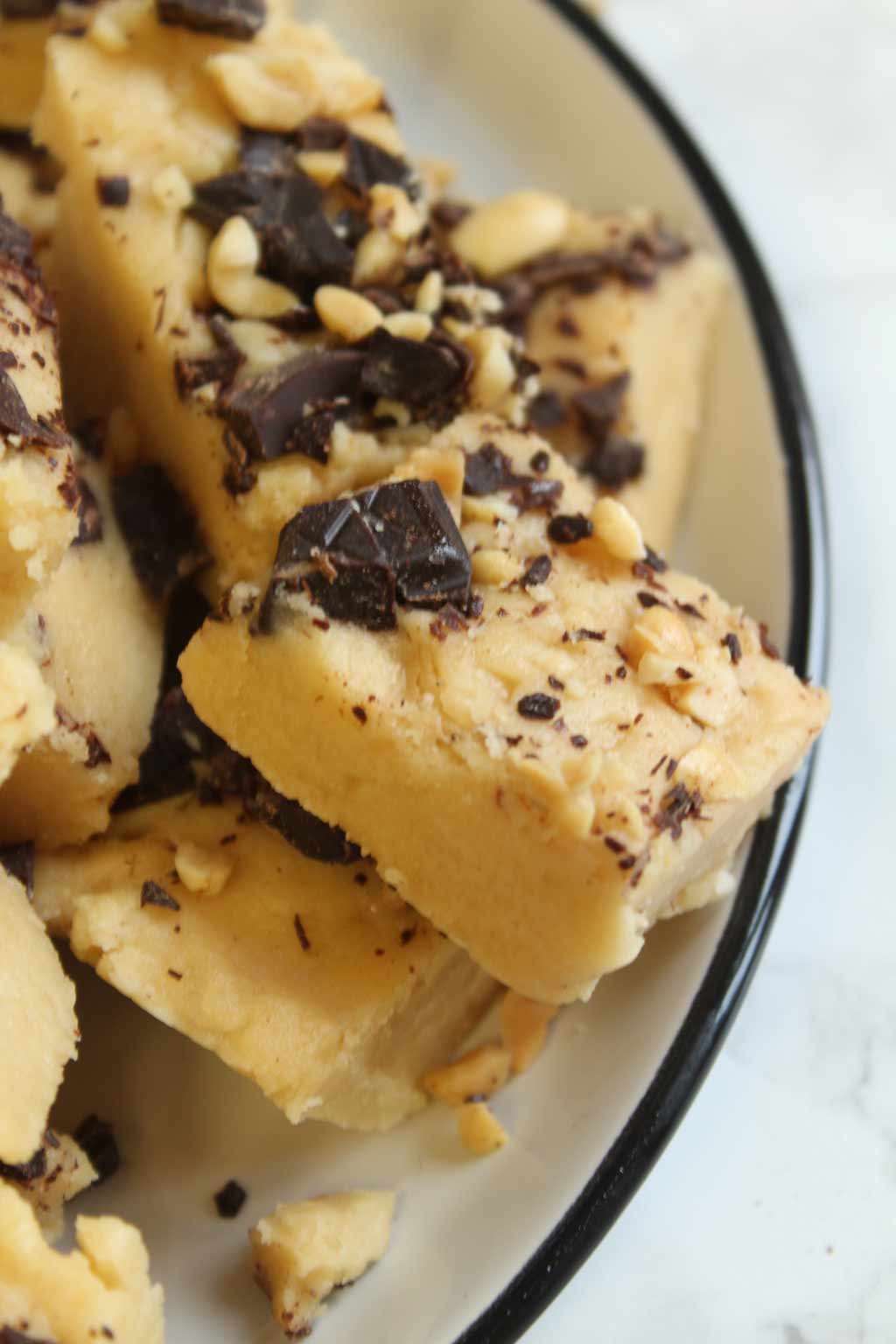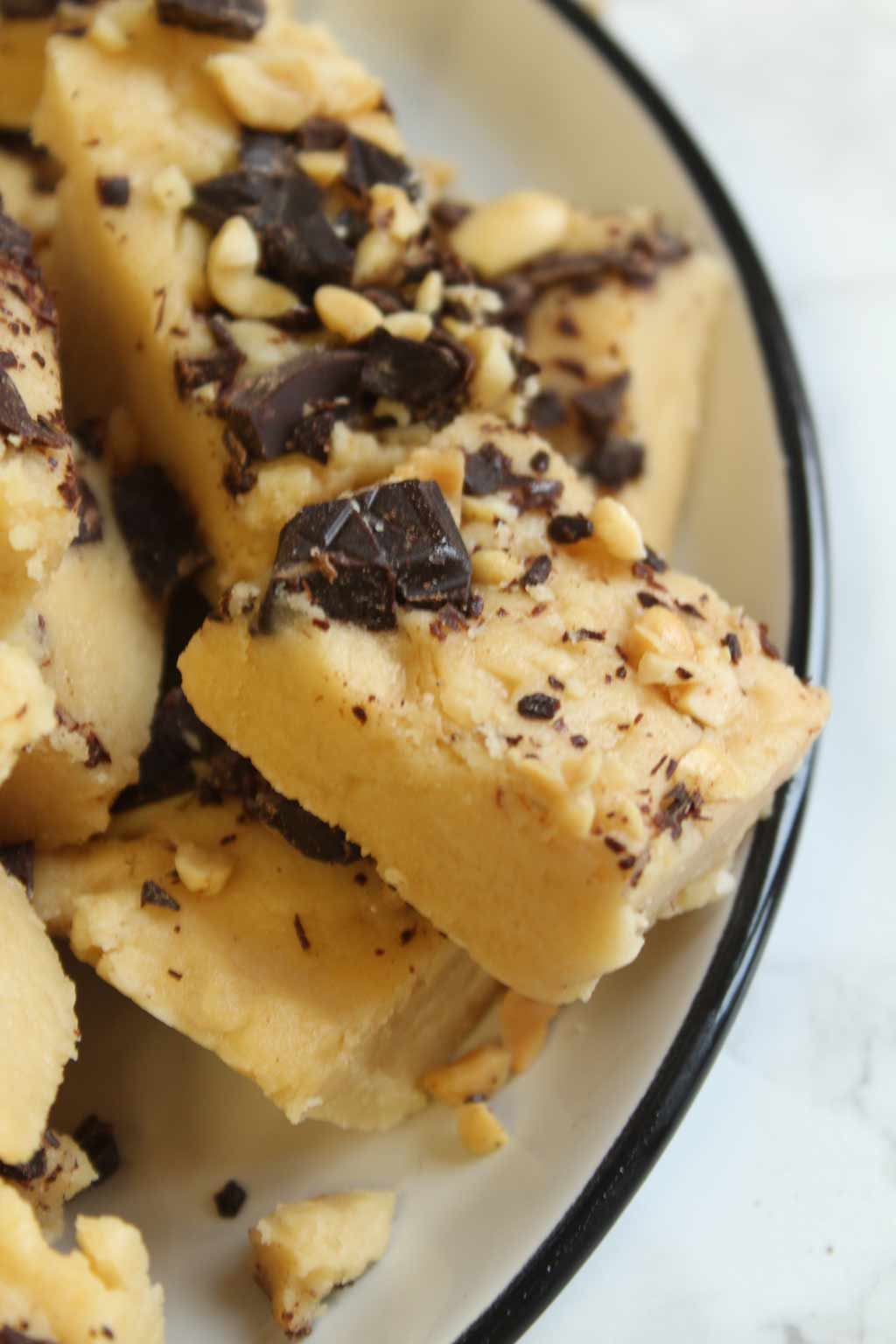 I hope you love this fudge as much as I do. If you enjoy this recipe, please be sure to leave a rating or comment below to let me know your thoughts.
Happy baking!
xo

3 Ingredient Peanut Butter Fudge
Easy vegan peanut butter fudge that melts in your mouth.
Ingredients
120

g

Dairy-free spread

(½ cup)

250

g

Creamy peanut butter

(1 cup)

2

Teaspoons

Vanilla extract

(optional)

450g

g

Icing sugar

(3+¼ cups)
To top (optional):
60

g

Chopped dark chocolate

(½ cup)

2

Tablespoons

Chopped Peanuts
Instructions
Line an 8" baking tray with parchment paper, leaving a little extra hanging over each side. This will make it easier to lift the fudge out once set.

Melt the dairy-free spread, peanut butter and vanilla in a pot over a low heat until it JUST begins to become smooth. Alternatively, microwave and check every 10-20 seconds until everything is completely smooth.

Remove from the heat and add the icing sugar. Use a spoon to stir the sugar in, then use your hands to form a dough. This will be a lot like making cookie dough.

Press the dough into your baking tray using clean fingers or the back of a spoon.

Sprinkle over the chopped chocolate and peanuts if using, then gently press them into the fudge.

Refrigerate the fudge for 1 hour, cut into small squares and enjoy!
Recipe Notes
Can be stored in the fridge in an airtight container for up to 5 days.
Nutrition Facts
3 Ingredient Peanut Butter Fudge
Amount Per Serving (1 piece of fudge)
Calories 98
Calories from Fat 45
% Daily Value*
Fat 5g8%
Sodium 35mg2%
Carbohydrates 12g4%
Protein 2g4%
* All values are an estimate only and will vary depending on the food brands used.
BakedByClo is a participant in the Amazon Services LLC Associates Program, an affiliate advertising program designed to provide a means for sites to earn advertising fees by advertising and linking to Amazon.com. This site may contain some of these links to Amazon.com & other affiliate programs. If you make a purchase through one of those links, BakedByClo will receive a small commission from the purchase at no additional cost to you.