Vegan Peanut Butter Flapjacks
These vegan peanut butter flapjacks are soft, chewy and great for an on-the-go snack. They are a tasty alternative to traditional flapjacks and are super easy to make, with only 5 ingredients.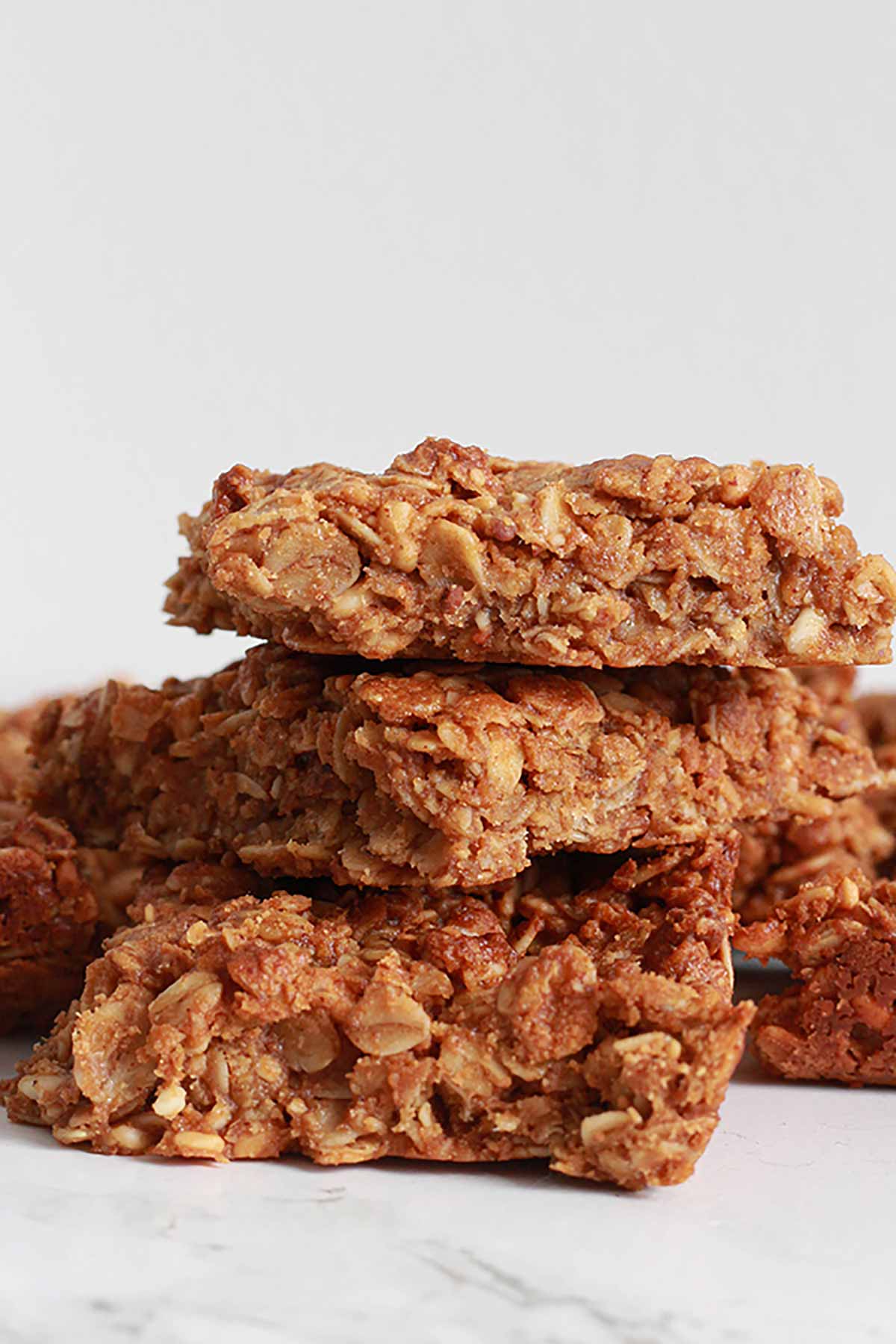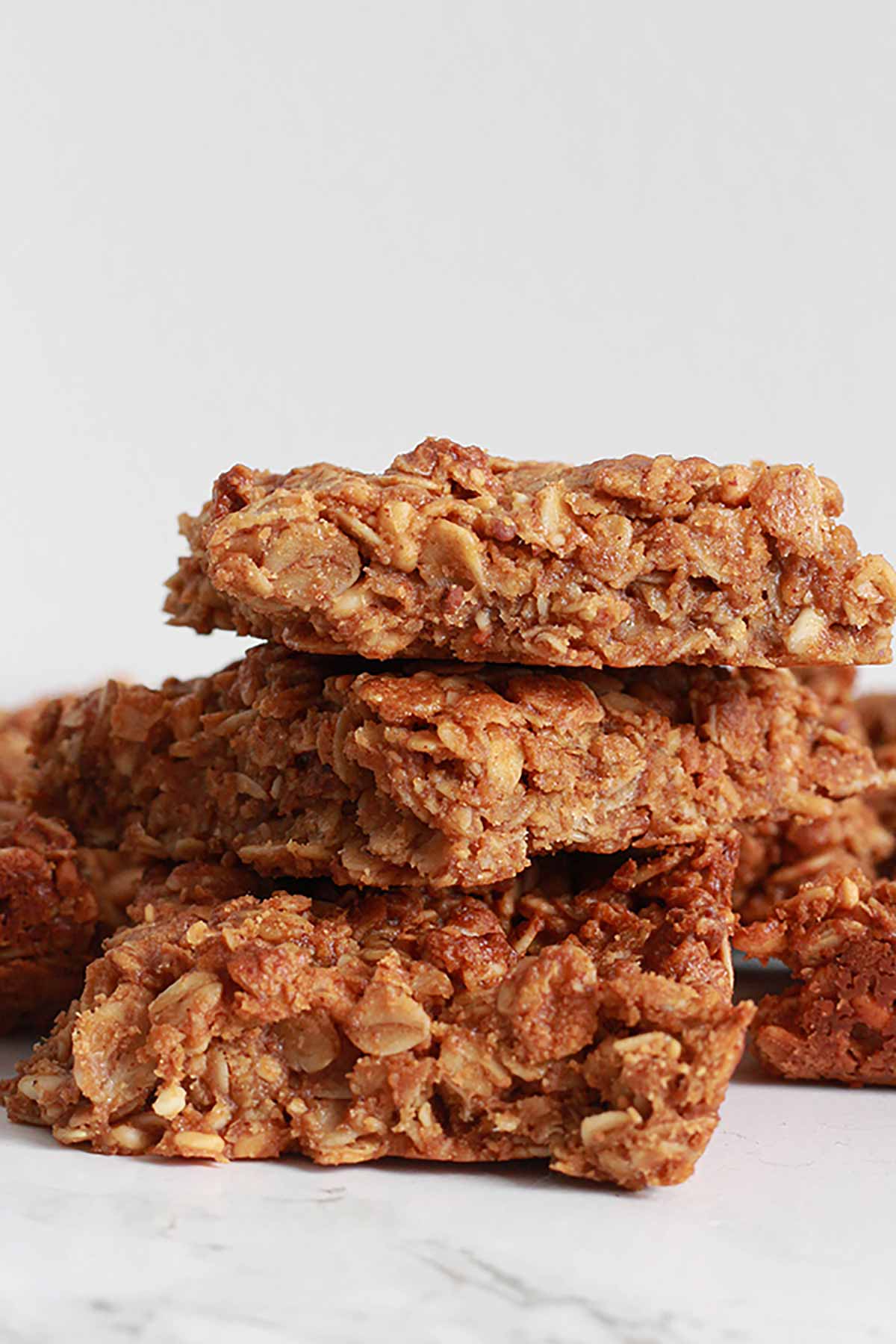 Following the popularity of my golden syrup flapjacks recipe, I'm back with another one. This time, with added peanut butter!
Flapjacks are one of those classic British bakes that are super simple and very popular. I've never seen a vegan peanut butter flapjack in the shops though- they typically have milk powder added (what is it with the milk powder?!) or are paired with milk chocolate. So I took matters into my own hands and decided to make some myself.
More peanut butter desserts:
If you love all things peanuty, check out these other peanut butter desserts and peanut butter recipes.
These are the perfect mix of chewy and gooey but if you like them crunchy, you can easily adjust the baking time according to your preference. I'm more of a soft flapjack kinda gal myself.
Flapjacks are also great for prepping as snacks for the week and they freeze really well too. I still have some of my chocolate flapjacks in the freezer that I take out to snack on every so often.
Ingredients that you'll need for this recipe:
As I said, these flapjacks are pretty simple with just 5 ingedients. Here's what you'll need to make them:
Peanut butter. The most important ingredient! The peanut butter adds flavour and if you use crunchy peanut butter, it adds a little more texture too. Crunchy or smooth will work fine.
Golden syrup. Adds more sweetness and provides gooeyness. I used Lyle's golden syrup.
Vegan margarine. Provides the familiar buttery flavour, extra chewiness and prevents the peanut butter from totally overpowering the flavour and drying out the flapjacks. Make sure to use the spreadable vegan 'butter', not the block. I used Vitalite.
Oats. Gives the flapjacks structure and provides the classic oat-y flavour. Most types of oats will work just fine in this recipe. I used rolled porridge oats.
Brown sugar. Provides sweetness and keeps them nice and soft. I recommend using soft light brown sugar for these flapjacks.
What kind of peanut butter is best to use?
I recommend using a natural style peanut butter that has nothing else added to it (salt is OK but try to get one without oil, sugar or flavourings). You can either use crunchy or smooth peanut butter, whichever one you prefer, but try to get the natural style if you can! I used Meridian crunchy peanut butter when I made these but here are some more options:
How to make vegan peanut butter flapjacks
Step 1:
Preheat your oven to 180°C/350°F (or 160°C/325°F for fan or convection ovens). Line an 8×10-inch tin with baking paper.
Leave a little bit of baking paper hanging over each edge. This will make for easier removal later on.
Step 2:
Melt 50g of vegan margarine (the spreadable kind) in a saucepan with 180g of peanut butter and 100g of golden syrup.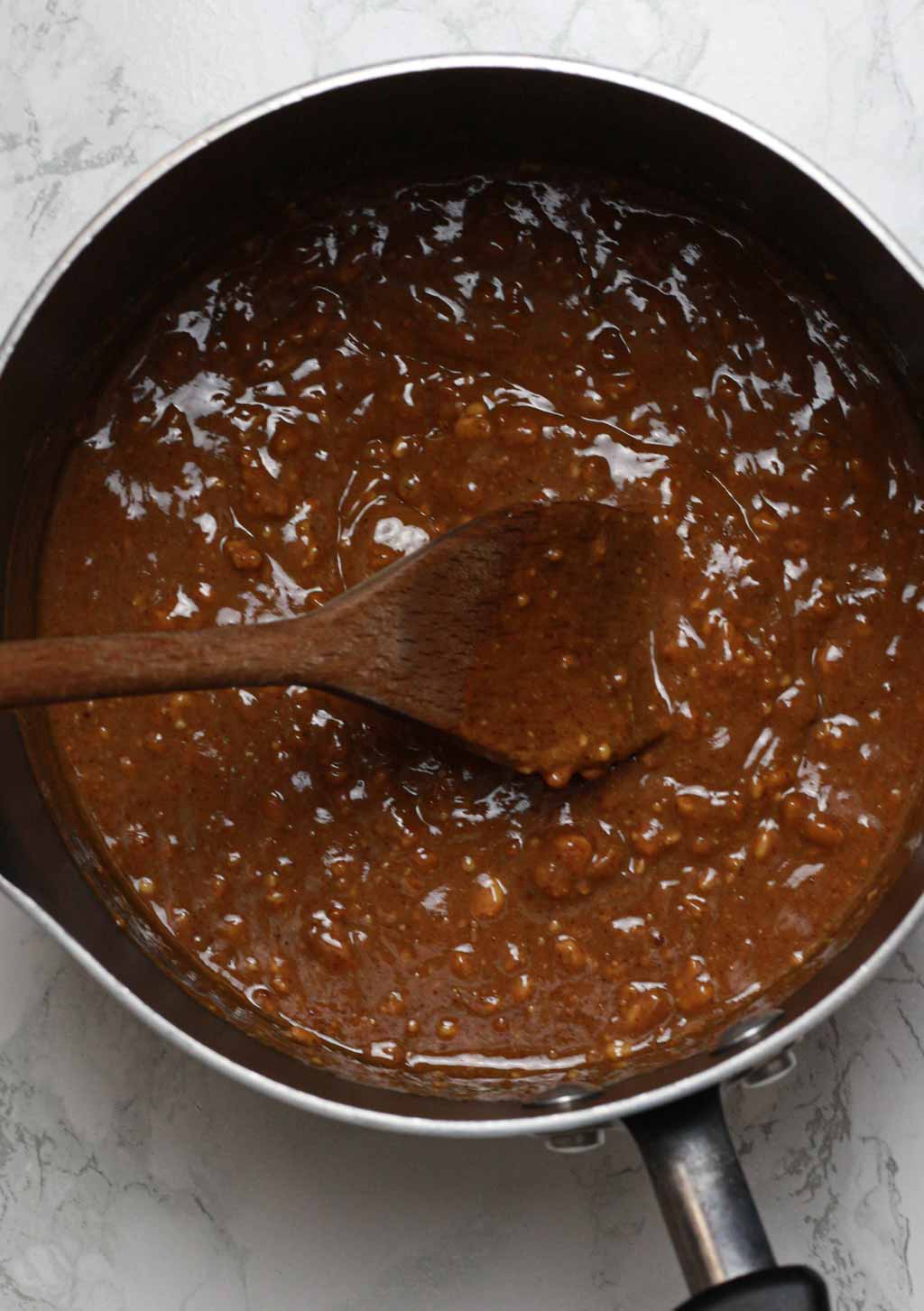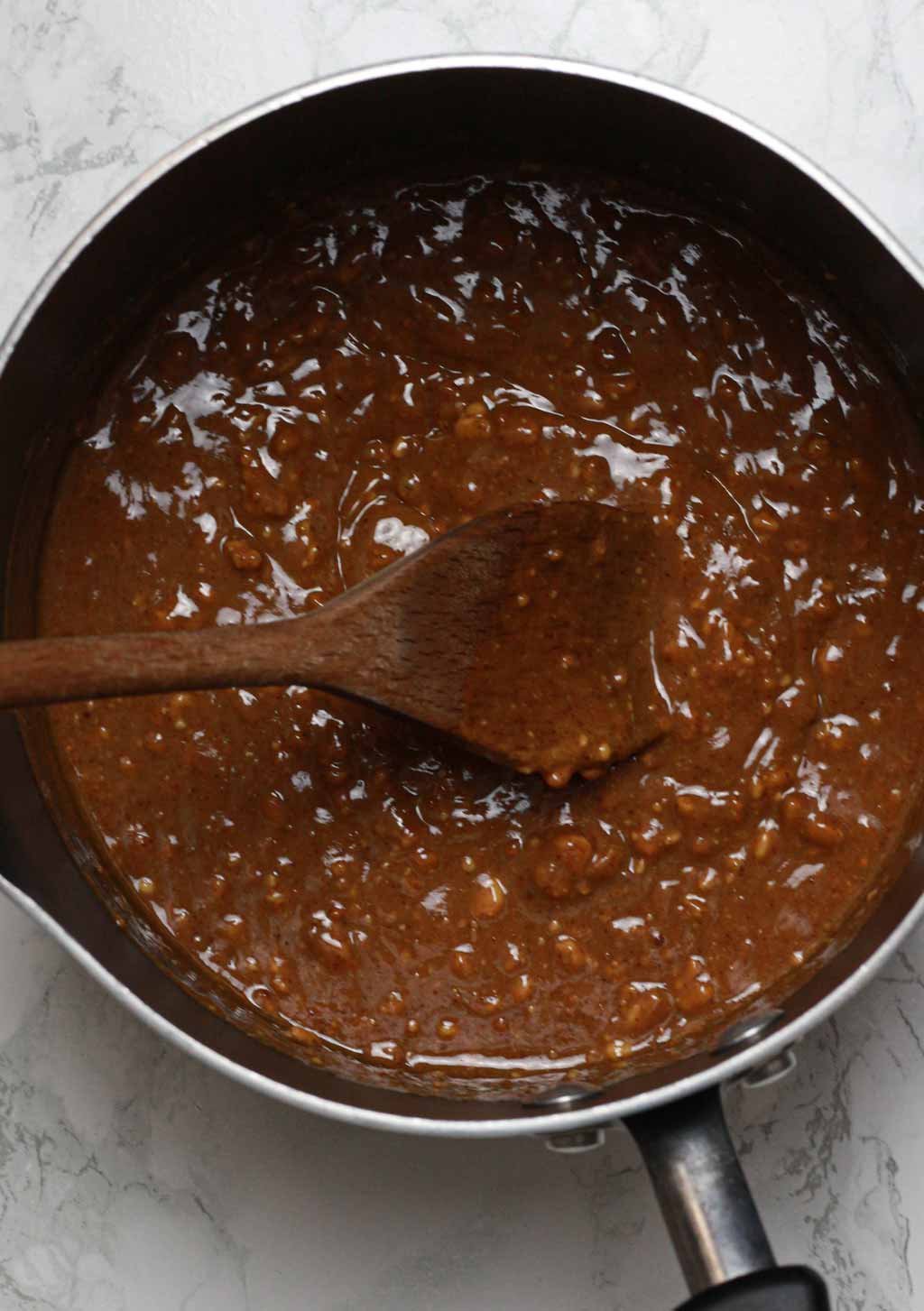 Step 3:
Add the wet mixture to a large bowl then add 200g of rolled oats and 70g of soft brown sugar. Mix everything together until the oats are evenly coated in the wet mixture.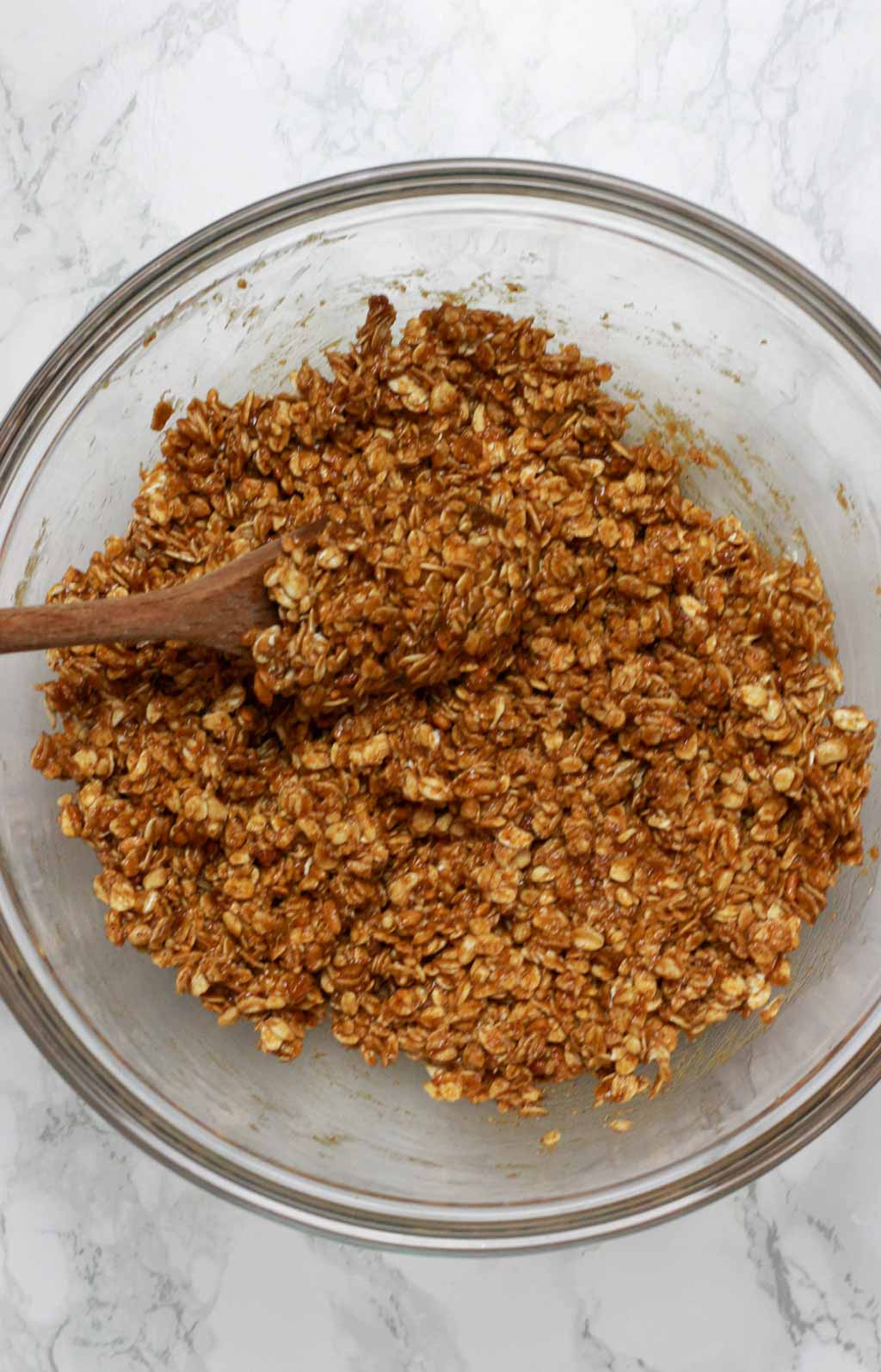 Step 4:
Transfer the flapjack mixture into your lined tray and press it down tightly. Pressing tightly will prevent the flapjacks from becoming crumbly when you remove them from the tray after baking.
I typically use the bottom of a measuring cup to press it in but clean fingers will do the trick too.
Step 5:
Bake for 20-25 minutes. If you like your flapjacks chewy and gooey, take them out after 20 minutes. If you want them to be a little crunchier, leave them in the oven for an extra 5 (or 10!) minutes, until they're brown all over on top.
Step 6:
While the flapjacks are still warm, use a knife to score lines where you plan to cut them later. Leave them in the tin to cool completely.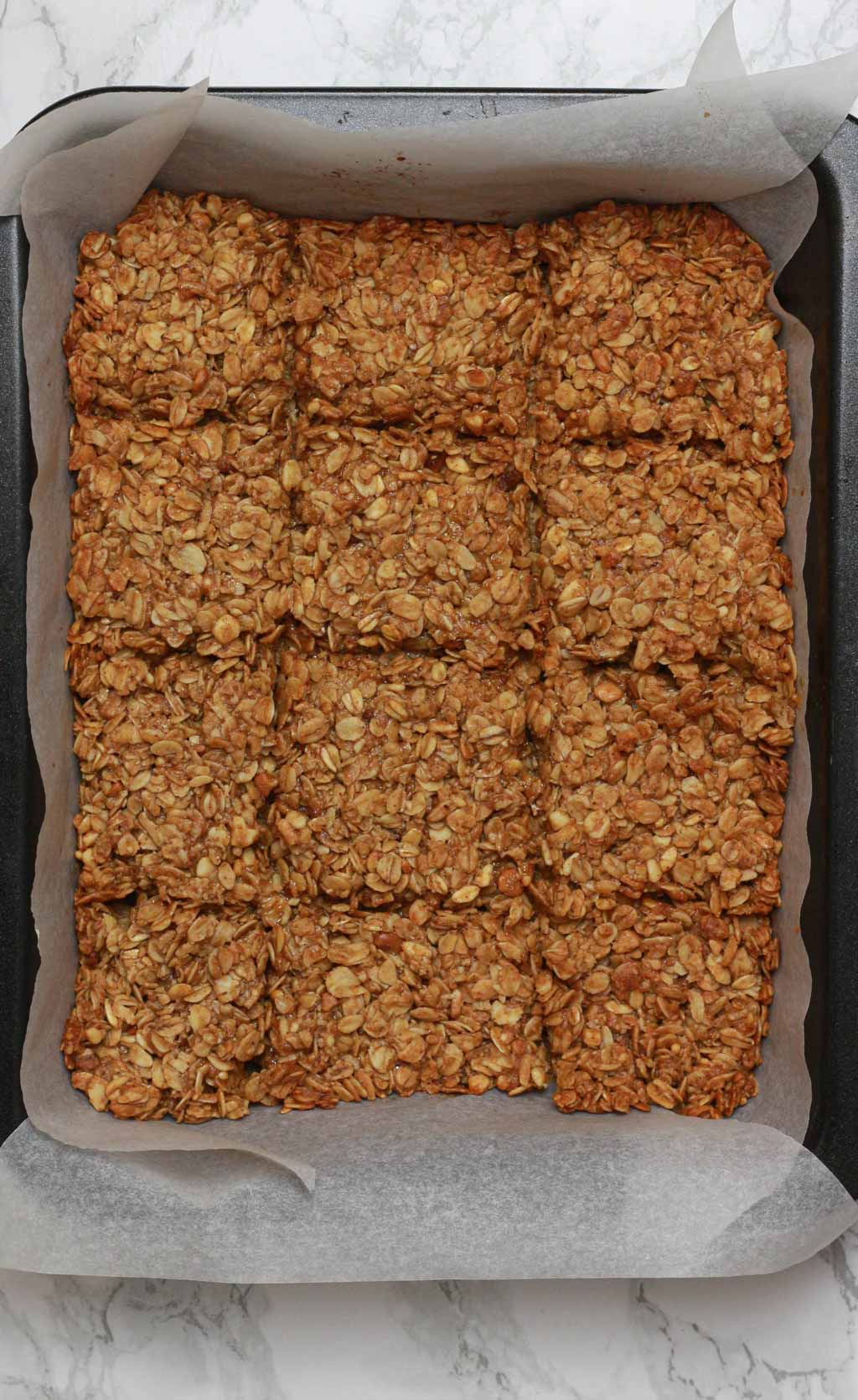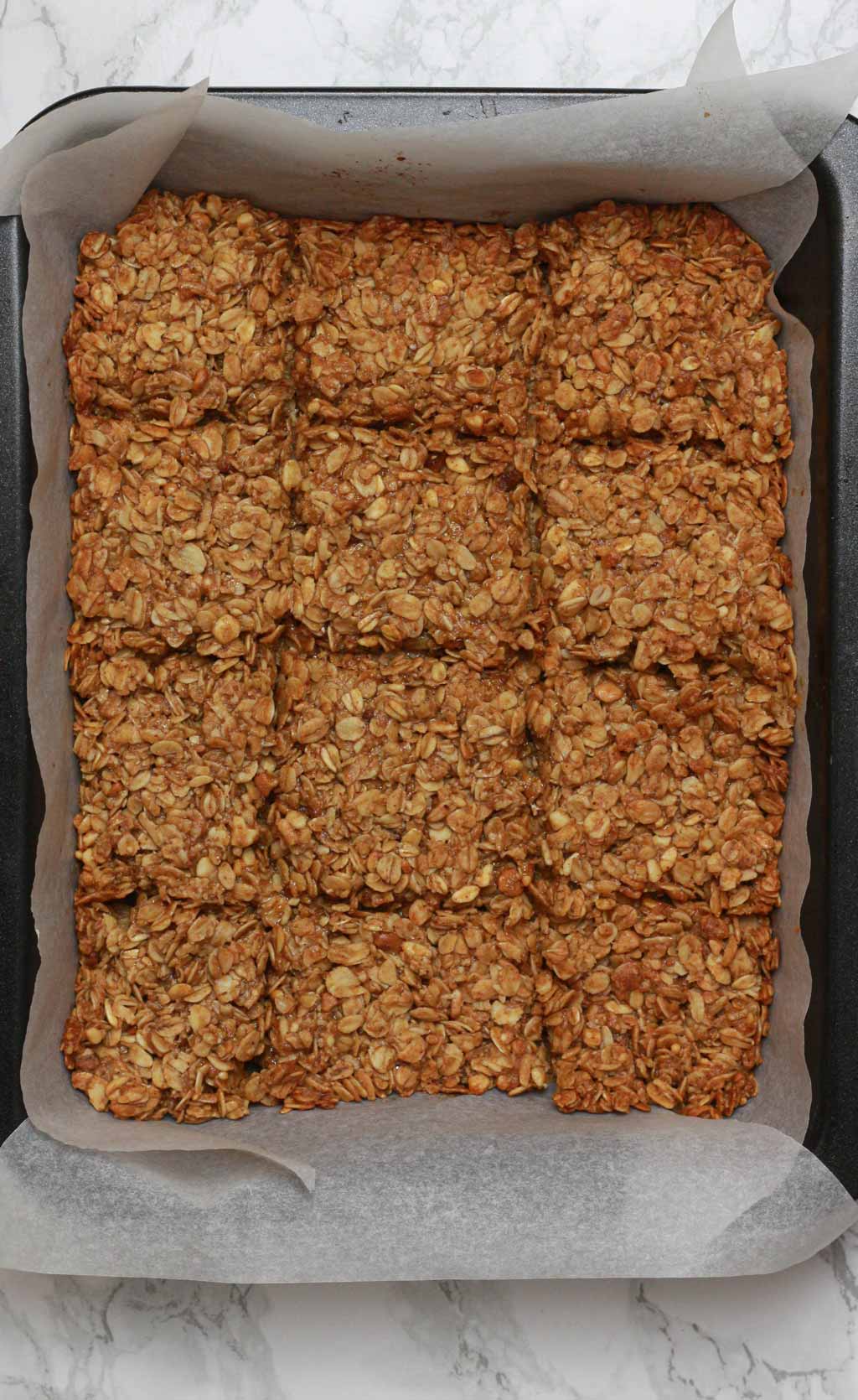 Once they've cooled, you can remove them from the tin and cut into slices using your score marks as a guide.
Top tips
Use crunchy peanut butter for extra texture. Where possible, try to go for peanut butter that is 100% nuts, without any oil, sugar or flavourings added to it.
If you want soft and gooey flapjacks, don't overbake them! When they first come out of the oven, they'll still feel a little soft but don't panic- they will firm up as they cool down. If you leave them in for too long, you risk burning them and they will end up hard and crunchy.
Add a drizzle of dairy-free chocolate on top for an extra special touch.
FAQ:
How can I make the flapjacks crunchier?
This recipe calls for the flapjacks to be baked for 20-25 minutes. 20 minutes will produce a soft, gooey flapjack. To make them crunchier, just leave them in the oven a bit longer.

The longer you bake them, the crunchier they will be. I don't recommend baking for any longer than 30 minutes as they will start to burn after this time.
What other mix-ins can I add to them?
Using crunchy peanut butter will add a nice little extra to the flapjacks but if you want something to contrast the flavour, there are plenty of options. You could add chocolate chips, strawberry jam, dried fruit such as raisins, or a pinch of dried ginger (check out my ginger flapjacks recipe).
How should I store them?
Keep them in an airtight container. They'll be OK stored either in the fridge or at room temperature but I like to keep them cold for extra chewiness.
Can peanut butter flapjacks be frozen?
Yes. These are one of my favourite snacks to freeze! You can put them in an airtight container, ziplock bag or wrap them tightly in tinfoil, and freeze for up to 2 months. When you're ready to defrost them, transfer them to a plate or wire rack and let them sit at room temperature for an hour or so until fully thawed. Do not refreeze.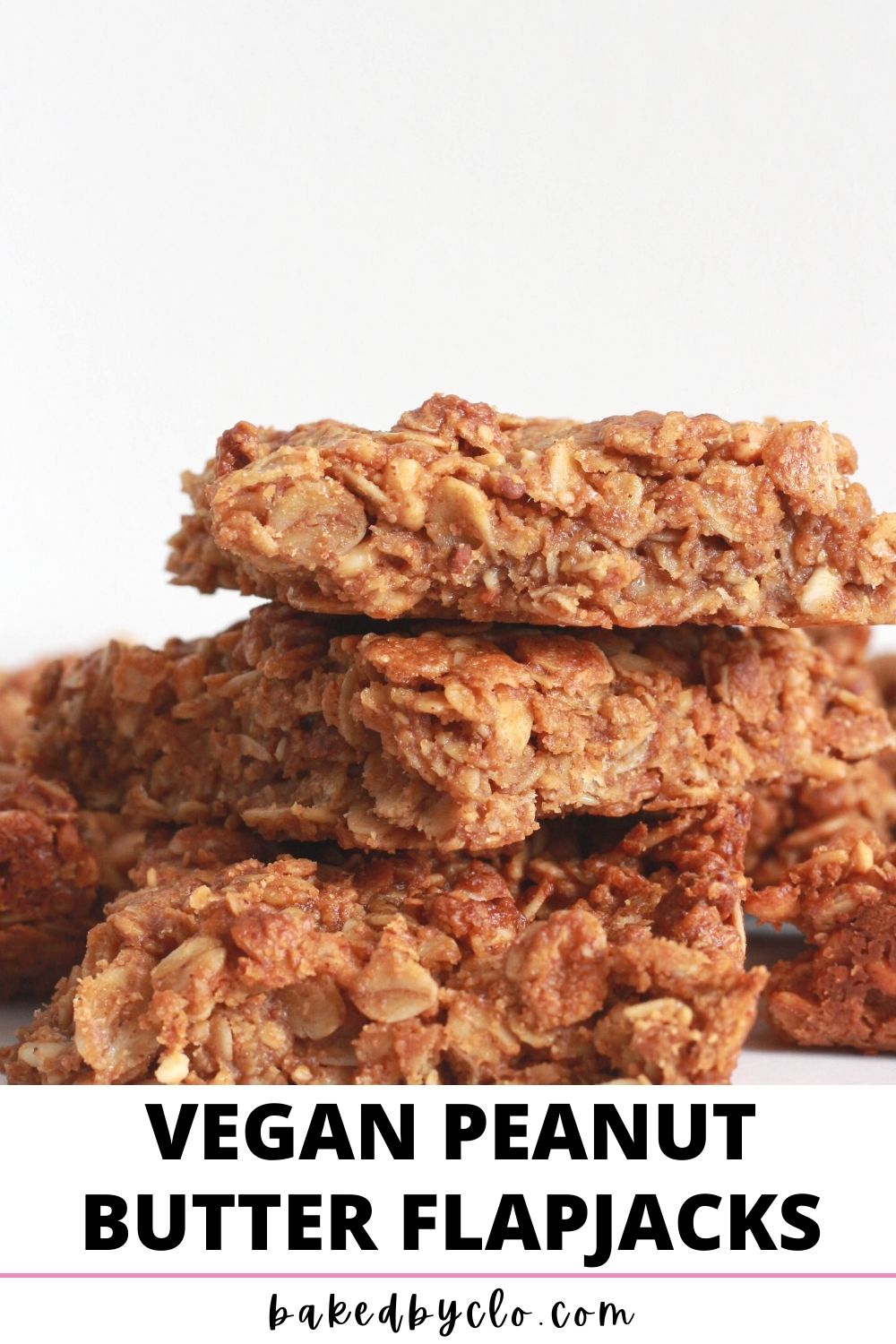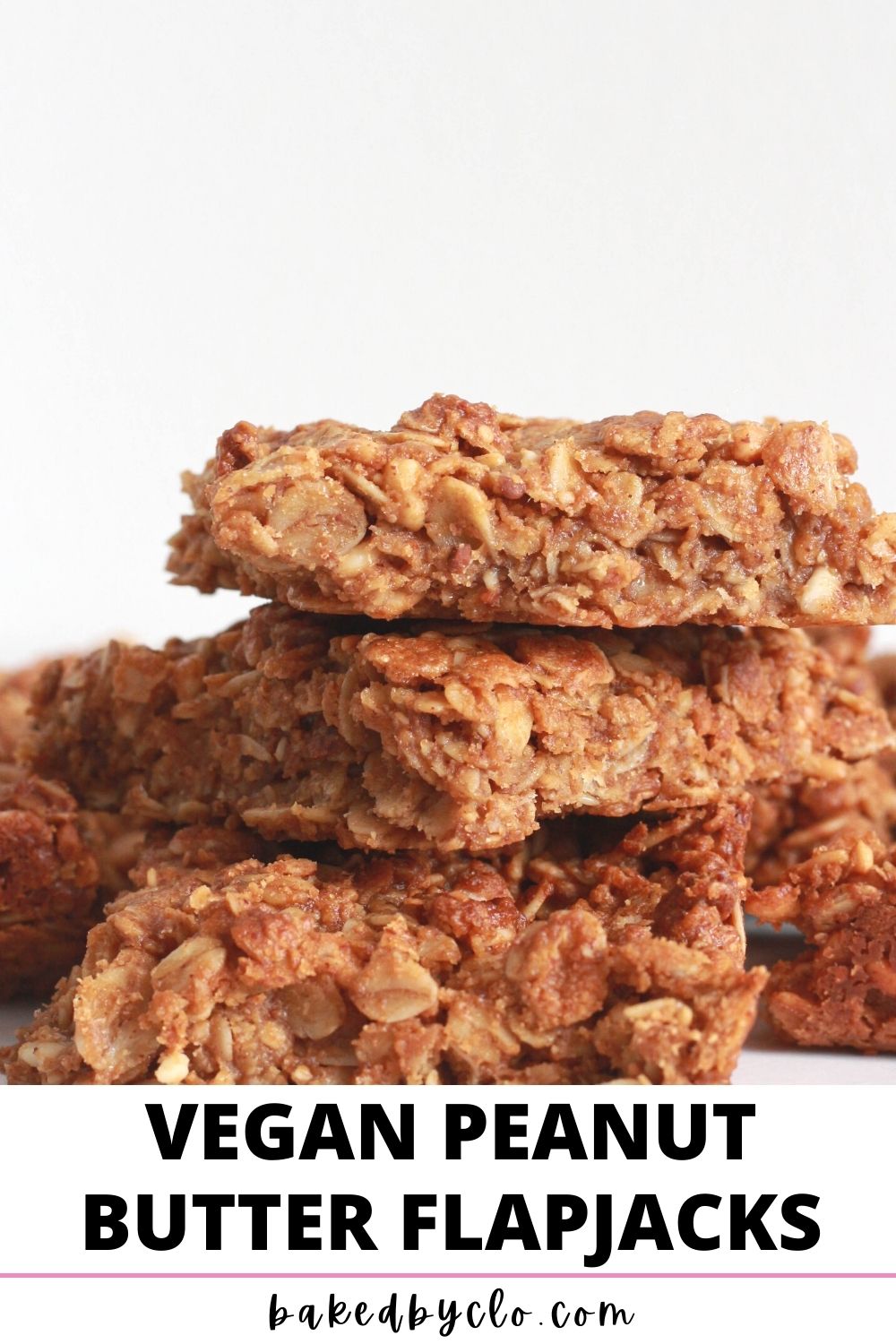 I hope you enjoy the recipe! If you make these flapjacks yourself, please let me know how you get on by leaving a rating and/or comment below. Happy baking! xo

Vegan Peanut Butter Flapjacks
Dairy-free peanut butter flavoured oat bars with brown sugar and golden syrup.
Ingredients
50

g

Vegan margarine

180

g

Peanut butter

(I used crunchy)

100

g

Golden syrup

200

g

Rolled oats

70

g

Soft brown sugar
Instructions
Preheat your oven to 180°C/350°F (or 160°C/325°F if you're using a fan or convection oven).

Line an 8×10-inch tin with baking paper, leaving a little hanging over the edges to make removal easier later on.

Melt the margarine, peanut butter and golden syrup together in a saucepan, then add it to a large bowl.

Add the rest of the ingredients to the bowl and mix until the oats are evenly coated.

Transfer the mixture into your lined tin and press down into place very firmly. Bake for 20 minutes. If you like them crunchy rather than gooey, bake for 25-30 minutes instead.

While they're still warm, gently score lines into them using a knife, which will make it easier to cut them later. Leave them in the tin until completely cool.

Once they're cool, remove them from the tin using the baking paper and cut into slices where using the lines you scored earlier.
Recipe Notes
Store in an airtight container in the fridge or kitchen cupboard for up to 5 days.
Nutrition Facts
Vegan Peanut Butter Flapjacks
Amount Per Serving (1 flapjack)
Calories 191
Calories from Fat 90
% Daily Value*
Fat 10g15%
Carbohydrates 19g6%
Protein 5g10%
* All values are an estimate only and will vary depending on the food brands used.
BakedByClo is a participant in the Amazon Services LLC Associates Program, an affiliate advertising program designed to provide a means for sites to earn advertising fees by advertising and linking to Amazon.com. This site may contain some of these links to Amazon.com & other affiliate programs. If you make a purchase through one of those links, BakedByClo will receive a small commission from the purchase at no additional cost to you.