Vegan Rice Krispie Treats
These vegan and vegetarian Rice Krispie treats are a delicious nostalgic treat! Because they are made with gelatine-free marshmallows and puffed rice cereal, you can now enjoy your old favourite sweet snack. They're great for sharing and meal-prepping, and they make a handy, on-the-go, dairy-free dessert.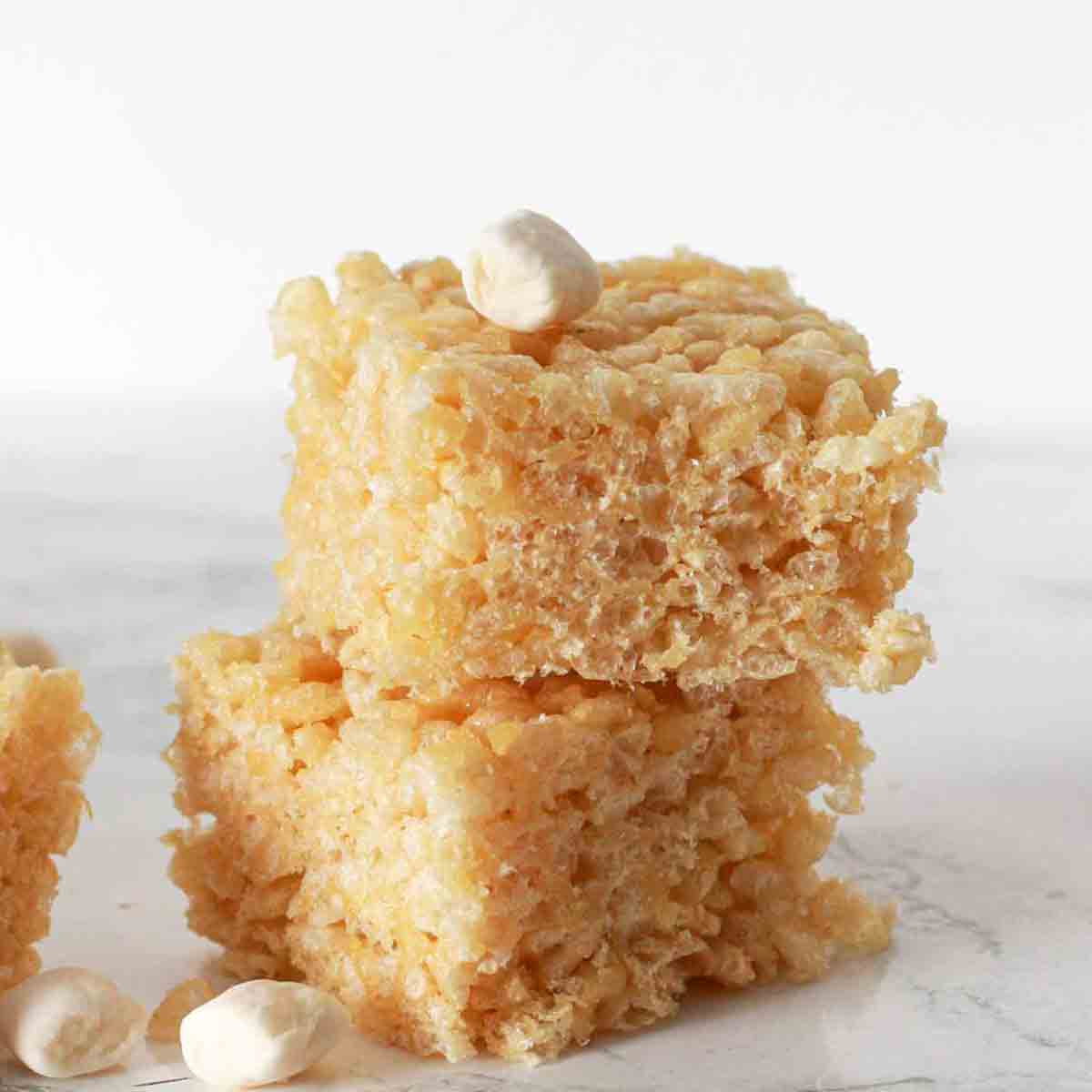 Has anyone else been patiently waiting for someone to release ready-made vegetarian Rice Krispie treats for YEARS?
They were one of my absolute favourite sweet snacks before I went vegan, especially the chocolate caramel version. OMG, they were heavenly. I used to eat one pretty much every day when I worked at my old job and lowkey had a small addiction to them. If this recipe is well-received, I think I'll try my hand at making the chocolate caramel ones too.
Since Kellogg's have yet to release even vegan-friendly Rice Krispies, I don't expect vegan Rice Krispie treats to be in stores any time soon. But thanks to the gelatine-free marshmallow Gods and crispy rice cereal, we can now make our own!
This is a super easy recipe that's perfect for little helpers in the kitchen, with just 3 ingredients. Not only are they low-fat but these Rice Krispie treats are dairy-free, gelatine-free and gluten-free, meaning people with allergies can enjoy them too!
Are Rice Krispies vegan?
At the time of writing this, no, they're not, but they are vegetarian. Sadly, they contain vitamin D3 which is derived from sheep. This is obviously not vegan-friendly, so instead I used a generic crispy puffed rice cereal to make these.
So… technically these are not vegan Rice Krispie squares. But I didn't think that "generic crispy rice cereal marshmallow bars" had quite the same ring to it.
When looking for a Rice Krispie alternative, please remember that many of the non-branded, cheaper versions still contain the vitamin D so do keep an eye out. The ones listed below are vegan-friendly:
It's also important to note that while they are similar, puffed rice and crispy rice cereal are not the same thing. You want to make sure you have one that's labelled as "crispy" and they'll usally have sugar added.
Gelatine-free marshmallow options
Aside from your crispy rice cereal, vegetarian marshmallows are another ingredient that's essential for this recipe. In case you're a new vegan or vegetarian, most marshmallows are made using gelatine from animals and are therefore not suitable for such a diet.
I personally used the large version of Freedom marshmallows for this recipe and I purchased them from Holland and Barrett. I was drawn to these because they were all white and vanilla flavoured, cutting out the need to use vanilla extract.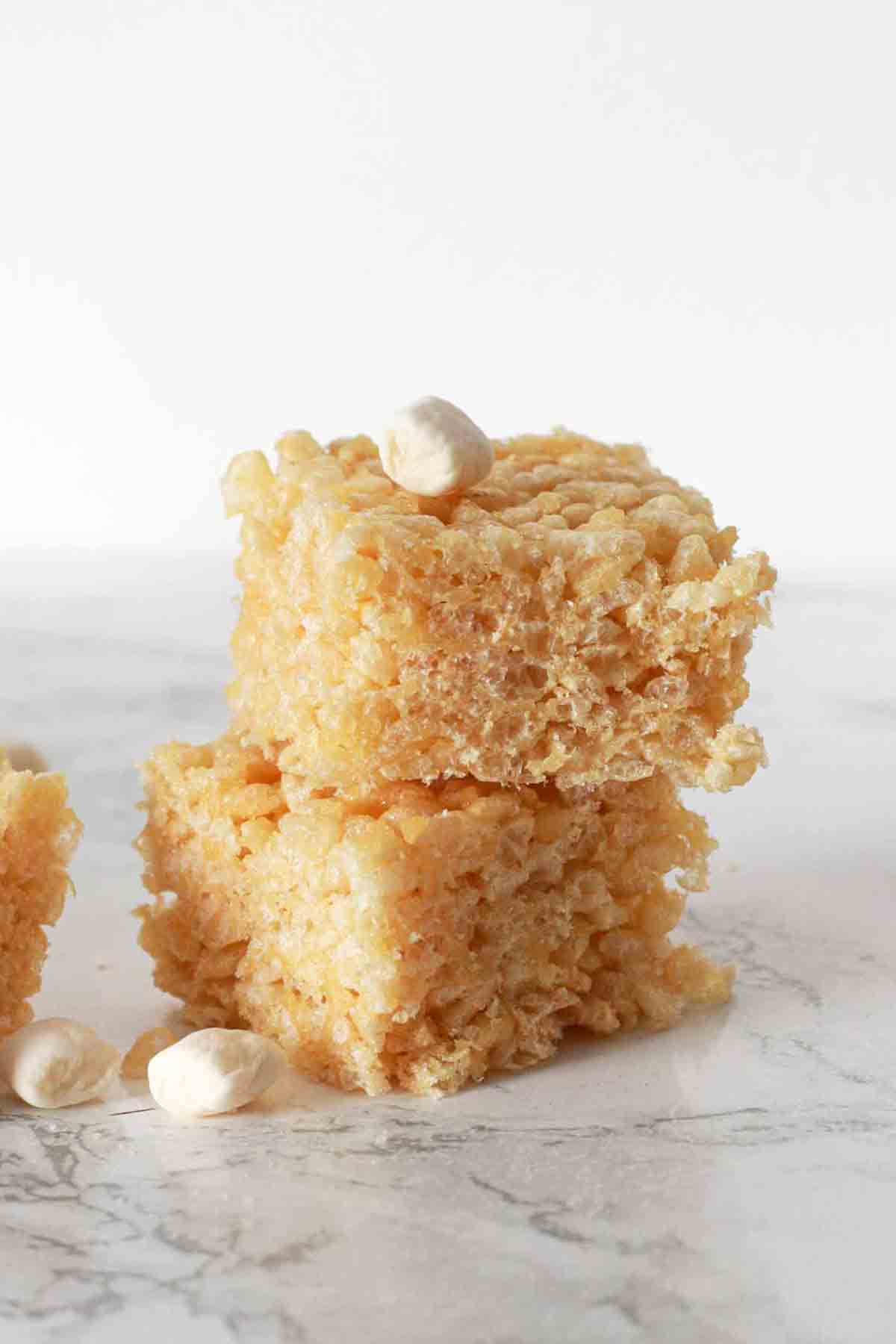 They do also have a pink and white pack of mini mallows, and while I do love pink marshmallows, I wanted my treats to look similar to the original, without a pink tinge!
Some other tasty vegan marshmallow are Dandies marshmallows, available from Holland & Barrett and the Vegan Kind Supermarket, and Vidal veggie mallows which are available on Amazon.
I do realise that vegetarian marshmallows can get quite pricey (I spent SO much money testing this recipe) so if you prefer, you can adjust the amount of servings using the recipe card at the bottom of the page.
Click on the highlighted number where it says "servings", then use the slider to adjust it so that it shows the weight of marshmallows that you have. It'll then show you the correct quantities for the other ingredients too! Note that if you use less ingredients, you'll also need to use a smaller tin or dish, otherwise your vegetarian Rice Krispie treats will be quite flat.
More vegan dessert recipes:
How to make vegan Rice Krispie treats
Step 1:
Line an 8×10-inch tin with baking paper. I recommend leaving a little bit of baking paper hanging over the edges to make it easier to remove them once set.
Step 2:
In a large non-stick pot, melt 3 tablespoons (around 45g) of dairy-free margarine over medium heat. I used the spreadable kind (Vitalite) so I'd recommend using that for best results. I haven't tested it using the block kind yet, which has a different water content.
Step 3:
Once the margarine has melted, add in 225g of gelatine-free vanilla marshmallows and stir gently until they have melted. Depending on the kind of marshmallows you use, they may not melt fully. The mixture will look a little lumpier than if you made them with traditional marshmallows.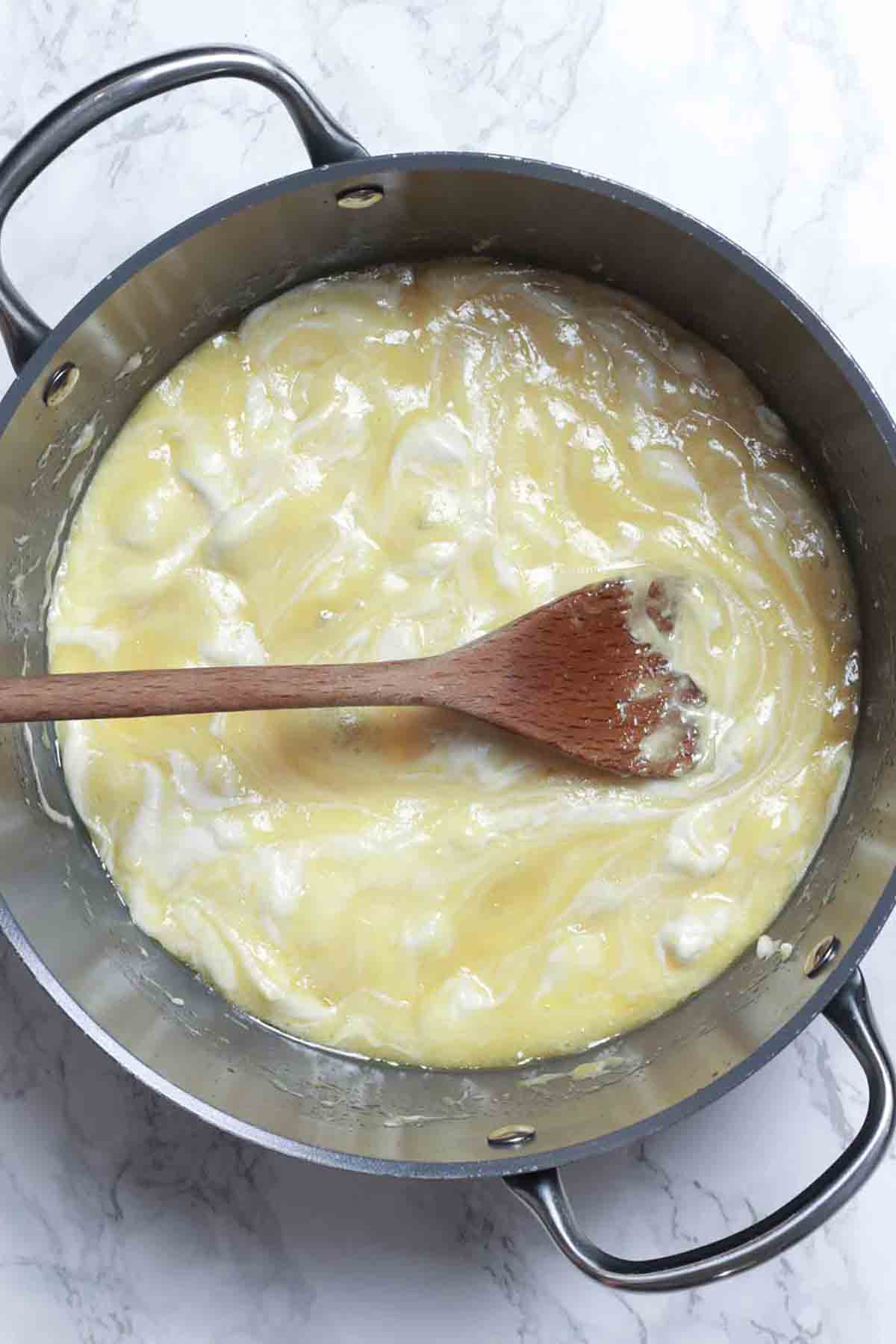 Step 4:
Once you've melted them as much as you can, remove the pot from the heat. Add 150g of crispy rice cereal to the pot and mix well. It will look a bit dry at first but keep mixing until they're all well coated.
Note that you'll need to work quite quickly when you're doing this as the vegetarian marshmallows can begin to set quite quickly.
Step 5:
Press the mixture firmly into your lined tin. You can use clean fingers or the bottom of a cup to do this.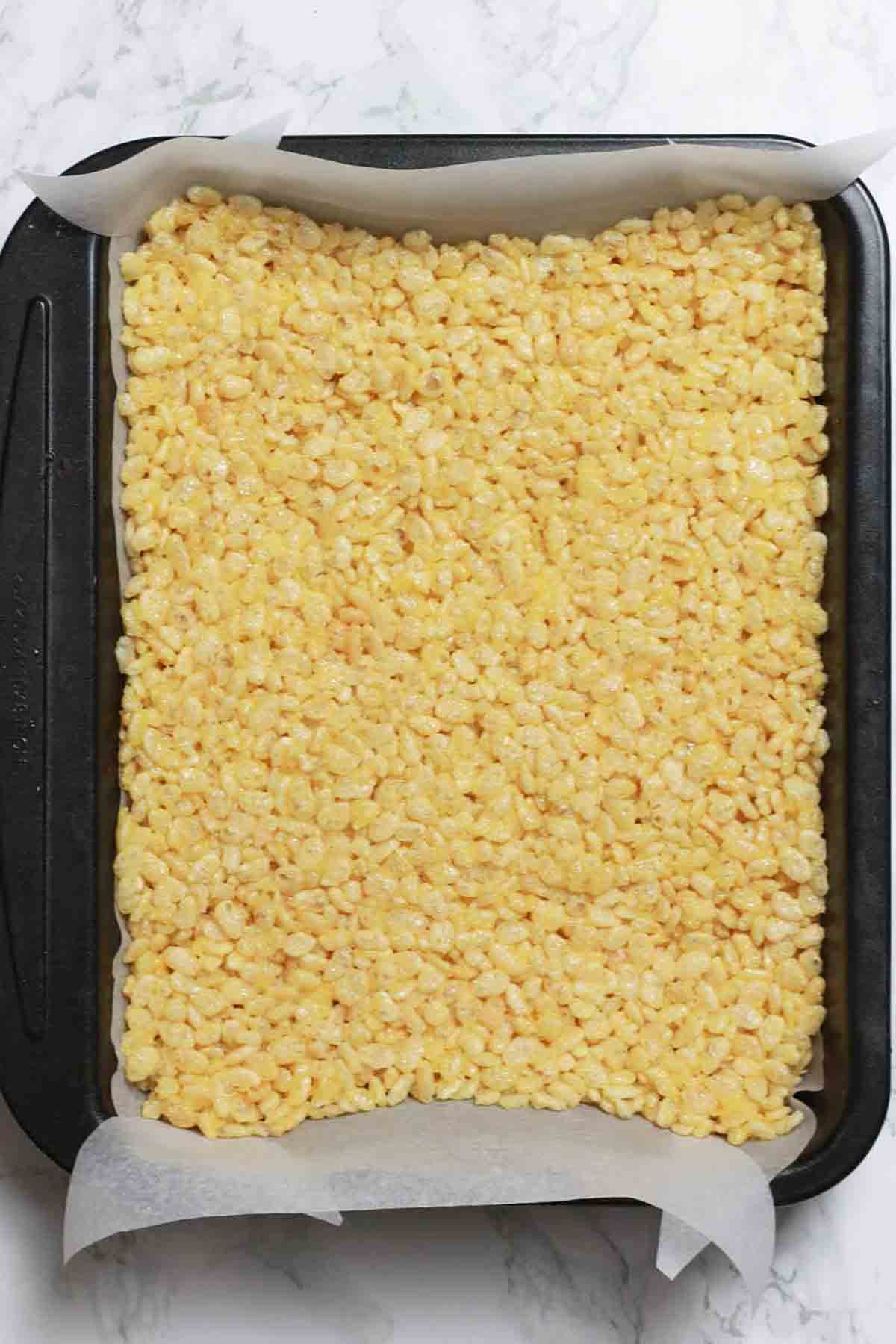 Let your gelatine-free Rice Krispie treats sit at room temperature for around 20-30 minutes until set. Remove them from the tin using the baking paper and cut into 12 equal-sized squares.
FAQ:
How should I store vegetarian Rice Krispie treats?
These are best stored in an airtight container in a cool, dry place such as a kitchen cupboard. They can also be kept in the fridge if you prefer.
How long will they last?
If stored appropriately as above, dairy-free rice Krispie treats will taste their best if eaten within the first 2 days.
Can I freeze them?
I haven't tried freezing them myself yet so I can't particularly recommend doing so. However, Kellogg's notes on their non-vegan recipe that theirs can be frozen in an airtight container for up to 6 weeks. I would imagine that vegan ones would be quite similar but do proceed with caution.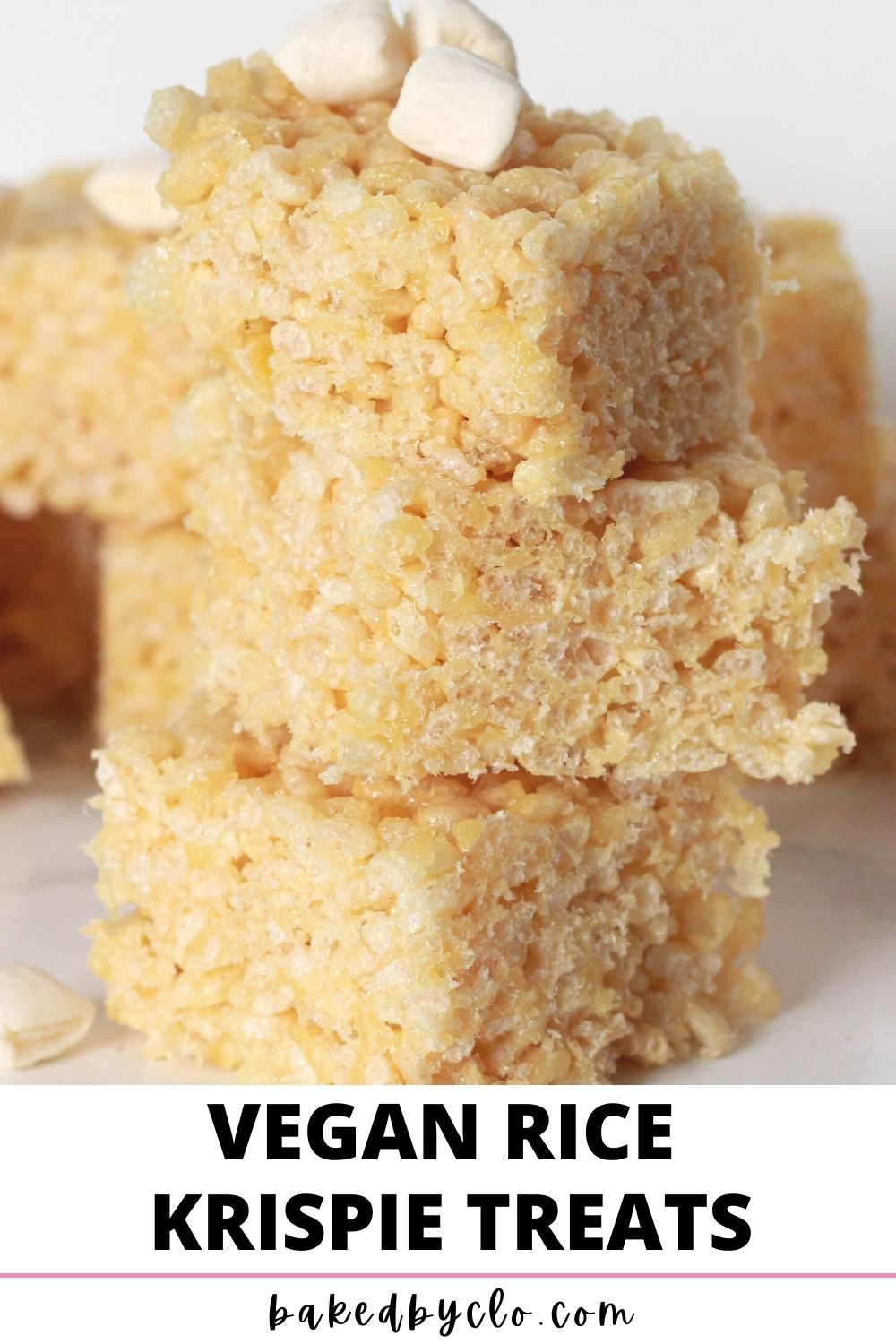 I hope you enjoy these vegan and vegetarian Rice Krispie treats! If you make these at home or if you'd like to see another flavour of dairy-free Rice Krispie treats on the blog, please let me know by leaving a comment below! xo

Vegan Rice Krispie Treats (Gelatine-Free)
3-ingredient, dairy-free, gluten-free, vegetarian Rice Krispie squares.
Instructions
Line an 8×10-inch tin with baking paper, leaving a little hanging over the edge to make removal easier later on.

In a non-stick pot, melt the margarine over medium heat.

Once the margarine is melted, add the marshmallows. Stir until the marshmallows have melted. Depending on the brand you use, they may not melt into "liquid" form and may be lumpier than if you used traditional marshmallows. This is OK!

When you've melted the marshmallows as much as you can, remove the pot from the heat. Add in the crispy rice cereal and mix well. It may seem a little dry at first but keep mixing until the cereal is evenly coated.

Transfer the mixture into your lined tin and press down firmly into place.

Let it sit at room temperature for 20-30 minutes until set then remove from the tin using the baking paper.

Cut into 12 square bars and enjoy!
Recipe Notes
Store in an airtight container at room temperature for up to 2 days.
Nutrition Facts
Vegan Rice Krispie Treats (Gelatine-Free)
Amount Per Serving (1 bar)
Calories 129
Calories from Fat 18
% Daily Value*
Fat 2g3%
Sodium 20mg1%
Carbohydrates 26g9%
Protein 1g2%
* All values are an estimate only and will vary depending on the food brands used.
BakedByClo is a participant in the Amazon Services LLC Associates Program, an affiliate advertising program designed to provide a means for sites to earn advertising fees by advertising and linking to Amazon.com. This site may contain some of these links to Amazon.com & other affiliate programs. If you make a purchase through one of those links, BakedByClo will receive a small commission from the purchase at no additional cost to you.