Vegan Fairy Cakes
These vegan fairy cakes are cute, dainty, and perfect for children's birthday parties. They're super easy to make and decorate and they're sure to be popular with all of your guests.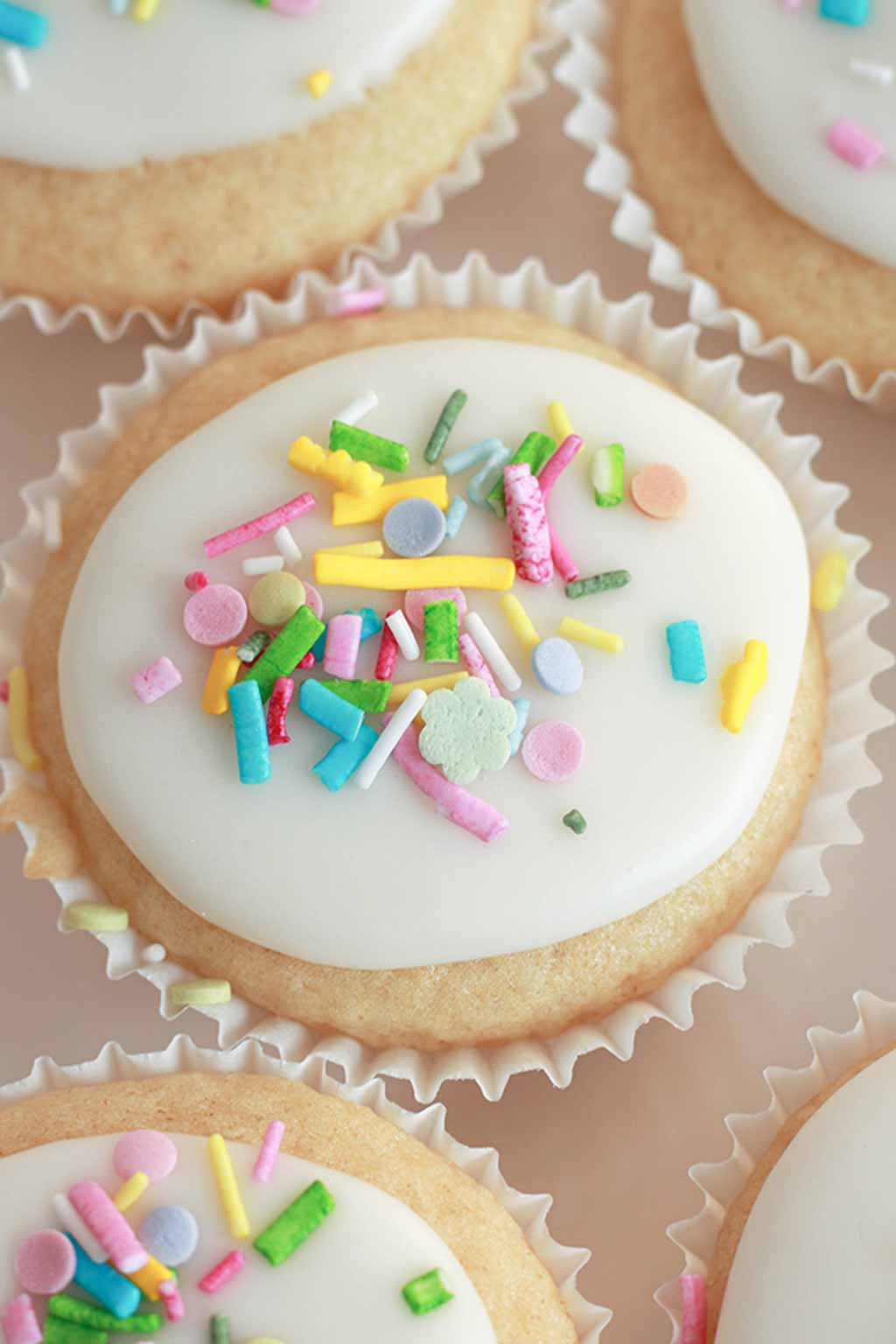 This recipe is such a nostalgic one for me.
My granny, who is a self-proclaimed "bad baker" always made some simple but tasty treats every time one of her 9 grandchildren had a birthday.
Along with chocolate-dipped marshmallow top hats and Rice Krispie cakes, these sprinkle-covered fairy cakes always made the cut.
And because I had such a sweet tooth as a child (still do), I LIVED for birthdays so I could eat more "sprinkle cakes", as we liked to call them.
As we got a little older, my BFF cousin and I started helping my gran to make them for the younger cousins' birthdays. I can only imagine the level of patience my gran must have had to let us help, haha.
We honestly thought we were such advanced bakers at the time when actually all we were doing was stirring milk into a boxed cake mix and messily throwing some sprinkles on top. Licking our fingers every 5 seconds too…
But they tasted really good, and that was all that mattered!
Even though this recipe doesn't come from a box, it's honestly just as simple. There are no eggs, no flax-seeds or other messy ingredients. Just a few simple things that you probably already have in your cupboard.
It's a great recipe that children of all ages can help with and I hope it can create magical baking memories for them, similar to the ones that I have with my gran around birthdays. And if chocolate is more your thing, check out my chocolate fairy cake recipe!
Cakes for… fairies?
When I first created my cupcake recipe, I was so proud of it that I made LOADS of different variations. I must have made at least 20 batches of cupcakes in a very short space of time.
They worked out perfectly each time so I was very confused when I started to receive comments from people trying my recipes saying their cupcakes were tiny.
Well, unbeknownst to me, I was actually using fairy cake cases the whole time. Fairy cake cases are a smaller version of regular-sized cupcake cases. Doh!
I can't believe it took me so long to figure that one out!
So, to sum it up, fairy cakes are just smaller versions of cupcakes. Cakes that would be suitable for a fairy I guess…LOL.
They're also known as butterfly cakes. Traditionally, you're supposed to cut a small piece off the top, add cream and jam, and stick the pieces back on top in a "wing" shape. If you've never seen them before, you'll totally need to Google that to understand what I mean when I say that.
However, this version that I'm sharing with you today is a simple vanilla cake covered with water icing and sprinkles. It's the kind that I remember making and eating as a child so I will save the butterfly cake recipe for another day!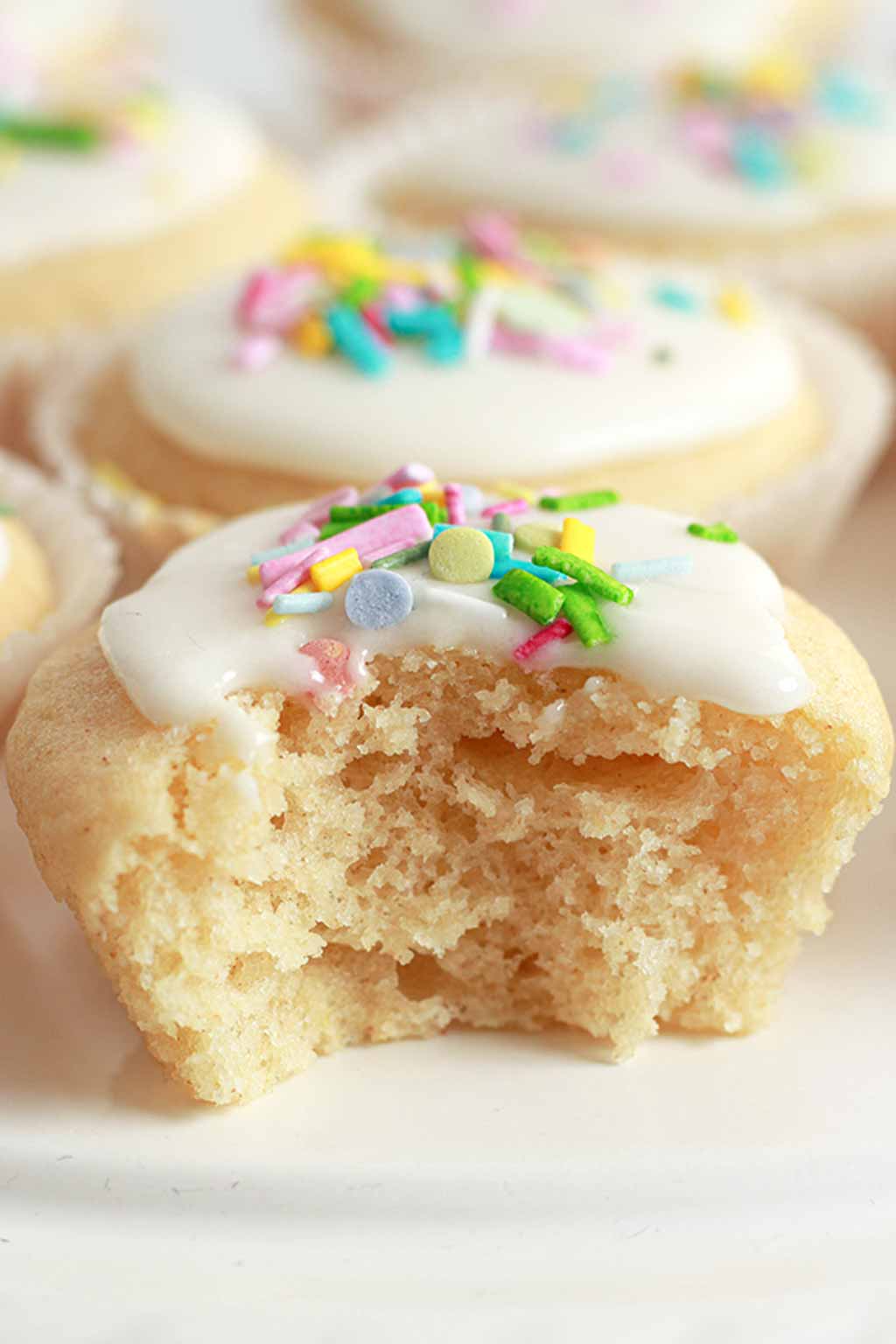 Want more vegan British desserts?
How to make vegan fairy cakes
This recipe is super easy. First you make the small cupcakes with just a few simple ingredients, then you decorate with simple icing and sprinkles!
Step 1:
Preheat your oven to 180°C/350°F and line a cupcake tray with 12 fairy cake liners. If you have a fan or convection oven, set the temperature to 160°C/325°F instead.
Step 2:
In a small bowl or mug, mix 140ml of unsweetened soy milk with 1/2 a teaspoon of apple cider vinegar. Set it aside for 5 minutes.
If you don't have apple cider vinegar, you can use white vinegar or fresh lemon juice instead.
Step 3:
In a medium-sized bowl, mix together 115g of self-raising flour, 1/4 teaspoon of baking soda and 90g of caster sugar.
Step 4:
Add the milk/vinegar mixture to the bowl along with 3 tablespoons of vegetable oil and 2 teaspoons of vanilla extract. Mix it all together until you have a smooth cake batter.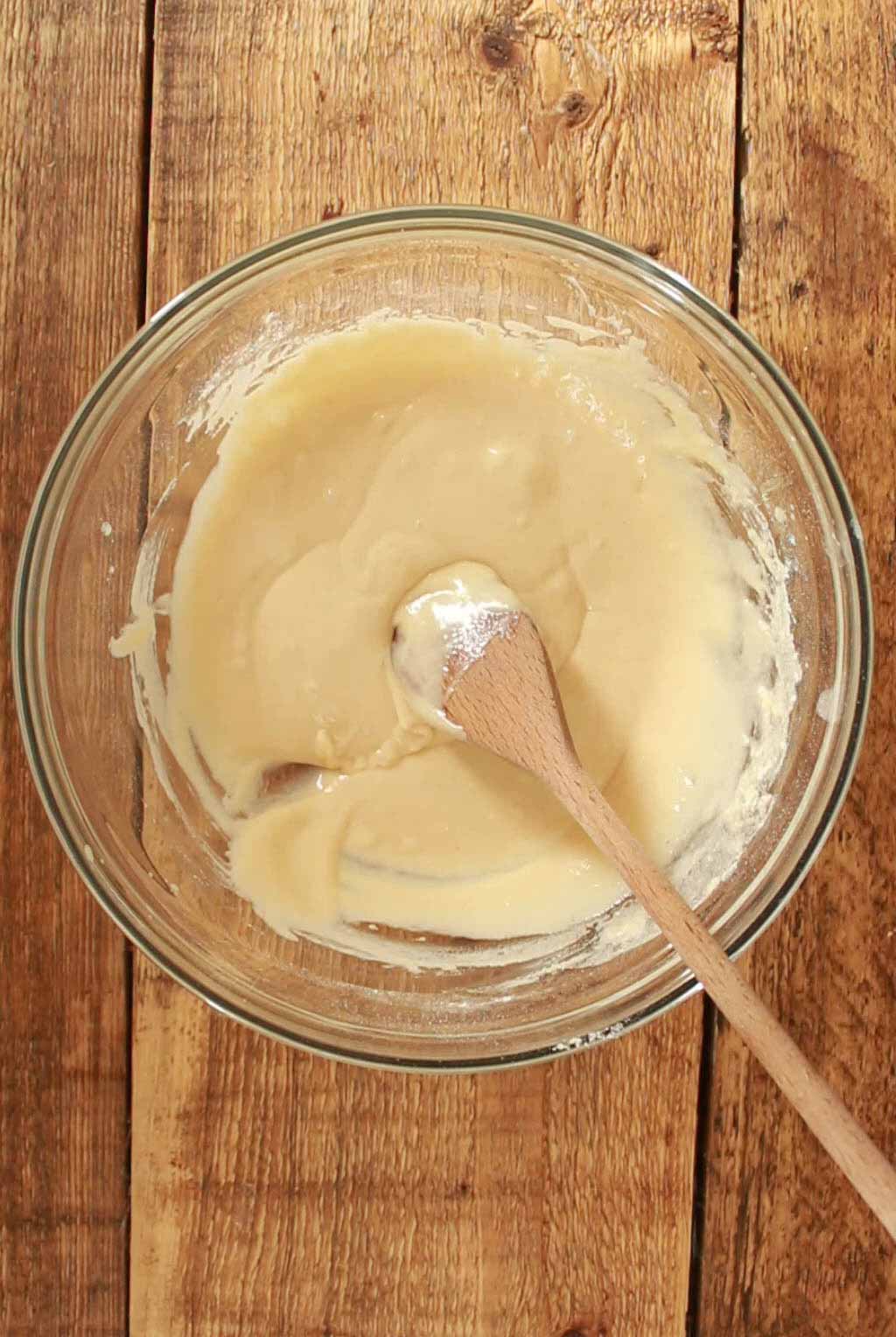 Step 5:
Divide the mixture equally between the cake liners and bake for 12-15 minutes, or until a toothpick through the centre comes out clean. Do not wait for them to turn golden brown as they will be overdone.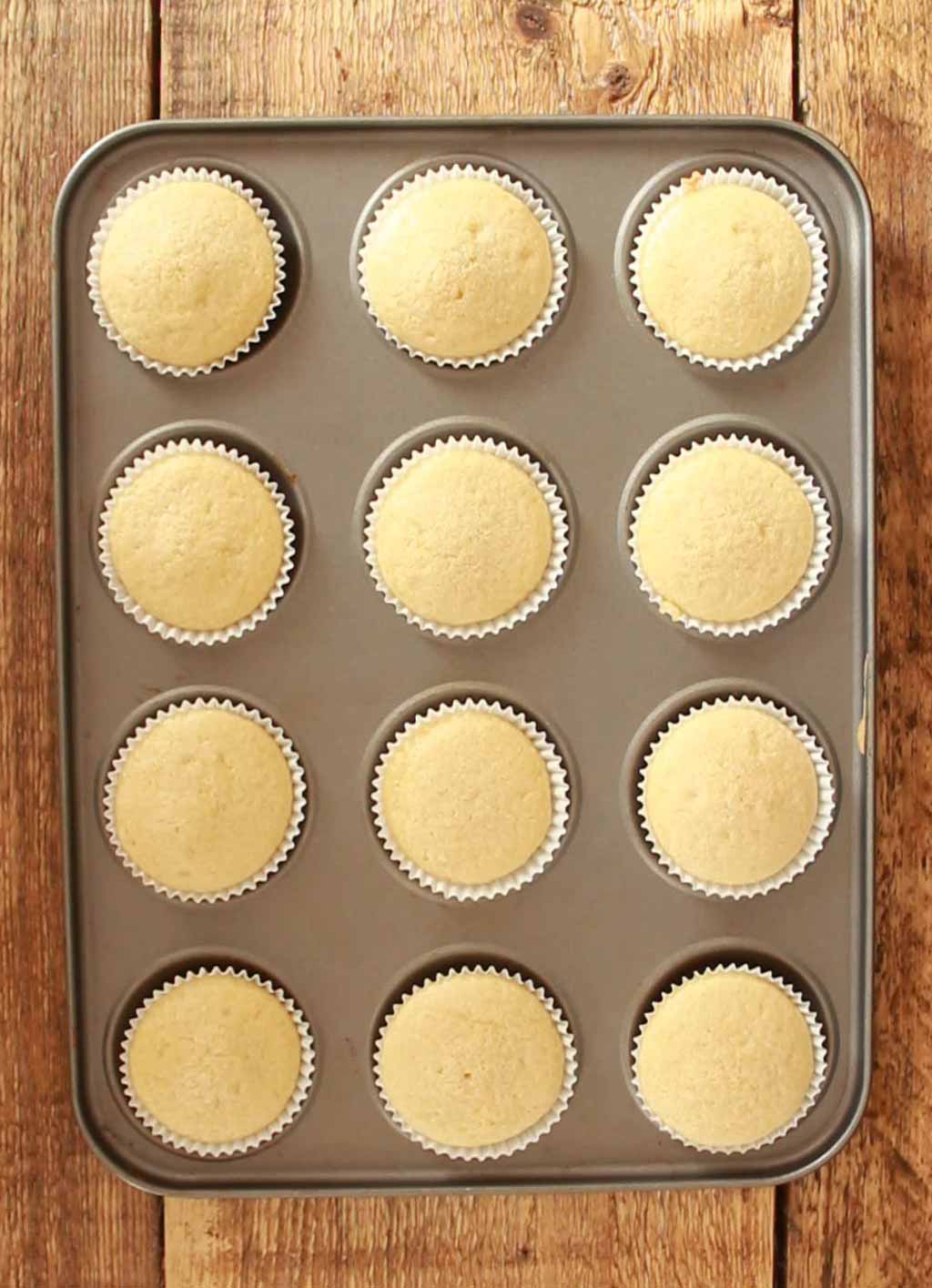 Leave the cakes to cool completely.
Step 6:
Once the cakes are completely cool, you can prepare the icing to go on top.
Mix 130g of icing sugar with 2 tablespoons of water or vegan milk. Add a little onto each cake and top with your favourite vegan sprinkles.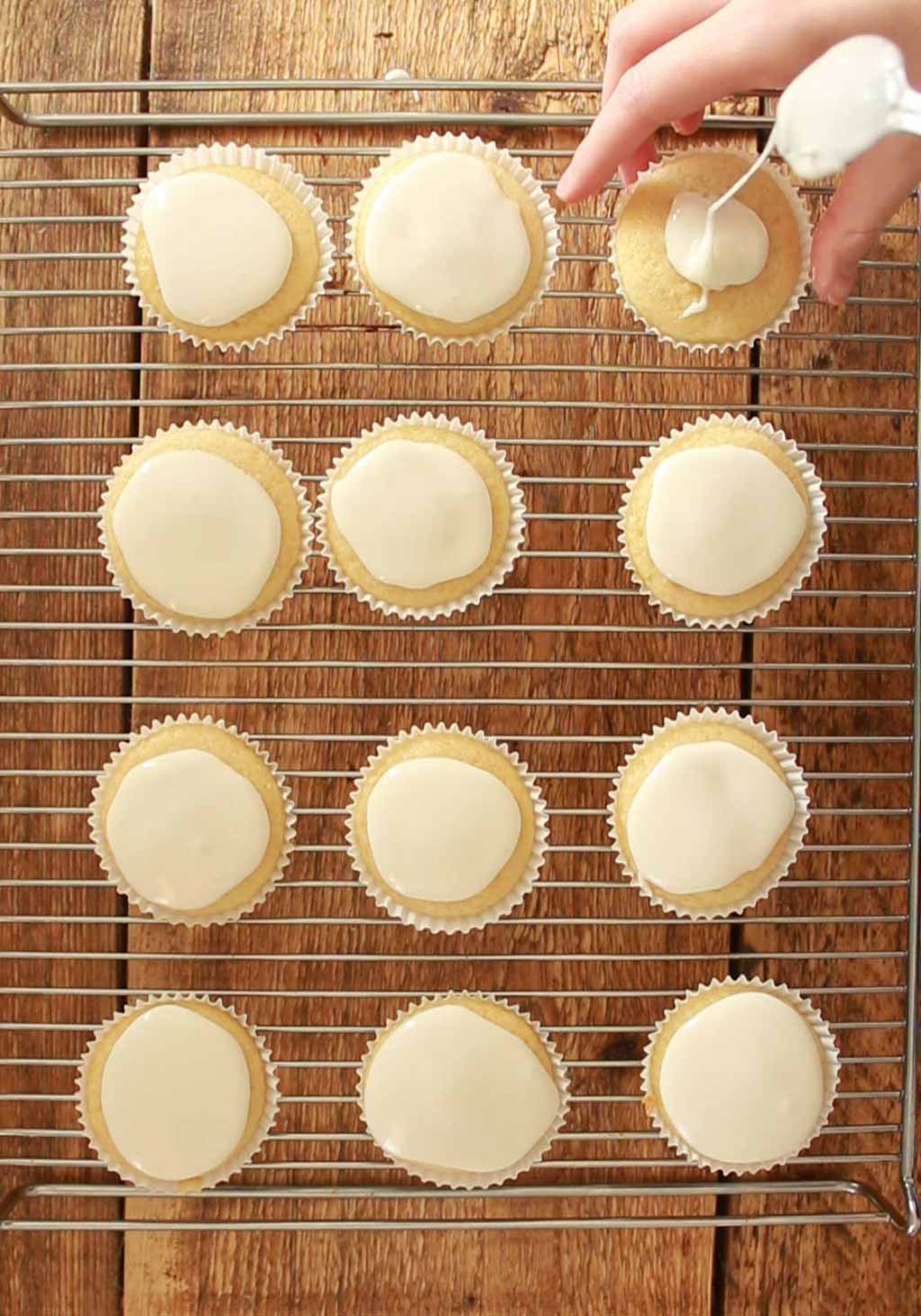 Let the fairy cakes sit at room temperature until the icing has hardened then enjoy!
FAQ:
Where can I buy fairy cake cases?
I used these white paper cases from Asda which are £1 for a pack of 100. Tesco also sells something similar and I'm sure most of the other major supermarkets will too.
Which sprinkles are vegan-friendly?
Whichever sprinkles you decide to use, just watch out for ingredients like beeswax, shellac and carmine.

The sprinkles I used for my fairy cakes are Dr. Oetker unicorn confetti sprinkles. They're one of the most easily available sprinkles without animal products in them and they're clearly marked as vegan-friendly.

Let Them Eat Cakes on Etsy also have lots of gorgeous options if you prefer to order online and their customer service is brilliant too.
How should the cakes be stored?
Store these in an airtight container and keep them at room temperature. They will last 4-5 days this way.
Can they be frozen?
Yes, I recommend freezing them without icing. The icing and sprinkles are best added on the day that you plan to eat them.

They can be frozen for up to 2 months in airtight containers. When you're ready to defrost them, just pop them onto a plate at room temperature. Let them sit for an hour or so until they've completely thawed then enjoy!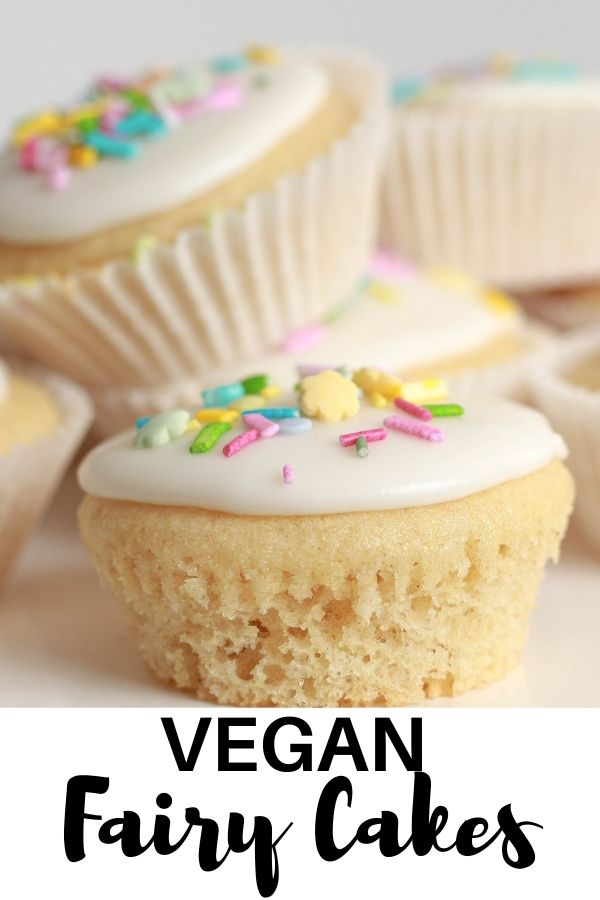 That's all for now! I hope you enjoy the recipe. If you make these cakes at home, please leave a comment and/or rating to let me know how it went.
Happy baking! xo

Vegan Fairy Cakes
Bite-sized vegan cupcakes with icing and sprinkles. Perfect for kid's birthday parties.
Ingredients
140

ml

Unsweetened soy milk

(1/2 cup + 1 tablespoon)

½

Teaspoon

Apple cider vinegar

(or white vinegar)

115

g

Self-raising flour

(¾ cup + 1 tablespoon)

¼

Teaspoon

Baking soda

90

g

Caster sugar

(½ cup)

3

Tablespoons

Vegetable oil

2

Teaspoons

Vanilla extract
For the icing:
130

g

Icing sugar

(1 cup)

2

Tablespoons

Water or vegan milk
To top:
Vegan sprinkles of choice
Instructions
Preheat your oven to 180°C/350°F (160°C/325°F if you're using a fan or convection oven). Line a cupcake tray with 12 fairy cake liners.

In a small bowl or mug, mix the soy milk and the vinegar together. Set aside for 5 minutes. This will act as vegan "butter" milk.

In a medium-sized bowl, mix together the flour, baking soda and sugar.

Add the buttermilk to the bowl along with the vegetable oil and vanilla extract. Mix well until you have a smooth cake batter.

Divide the batter equally between your cases and bake for 12-15 minutes, or until a toothpick through the centre comes out clean. Don't wait for them to turn golden brown as they will be overdone.

Transfer the cakes to a wire rack to cool completely.
For the icing:
Mix the icing sugar and water or vegan milk together in a bowl. If you want the icing to be runnier, add more water. For thicker icing, add more icing sugar.

Using the back of a teaspoon, carefully spread a small amount of icing onto each fairy cake. Top with sprinkles.

Let the cakes sit at room temperature until the icing has hardened then enjoy!
Recipe Notes
Store in an airtight container at room temperature for up to 5 days.
Nutrition Facts
Vegan Fairy Cakes
Amount Per Serving (1 cake)
Calories 146
Calories from Fat 36
% Daily Value*
Fat 4g6%
Sodium 18mg1%
Carbohydrates 27g9%
Protein 1g2%
* All values are an estimate only and will vary depending on the food brands used.
BakedByClo is a participant in the Amazon Services LLC Associates Program, an affiliate advertising program designed to provide a means for sites to earn advertising fees by advertising and linking to Amazon.com. This site may contain some of these links to Amazon.com & other affiliate programs. If you make a purchase through one of those links, BakedByClo will receive a small commission from the purchase at no additional cost to you.