Vegan Creme Eggs
With just 5 ingredients, these no-bake vegan Creme Eggs make the perfect Easter treat. They taste just like Cadbury's and are great for making with kids.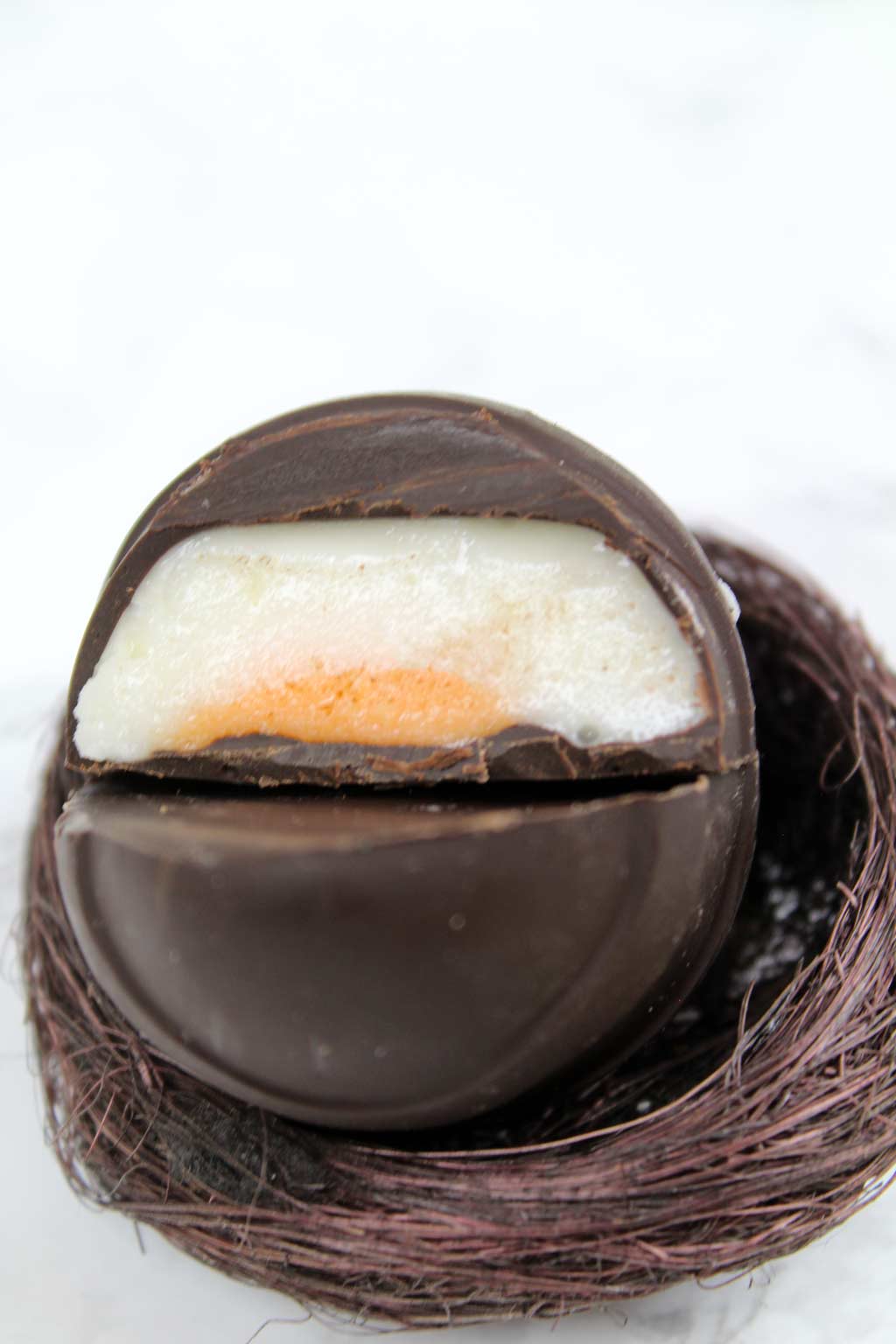 This week I got myself a cute little egg mould and made some homemade Creme Eggs!
In case you don't know, Creme Eggs are a super popular Easter treat in the UK. A small chocolate egg filled with creamy white and yellow fondant.
Deeee-licious…
Sadly, they contain dairy and egg so they're not suitable for us vegans. *sigh*
I've missed them so much for the last 2 years and, with Easter just around the corner, I thought now would be the perfect time to make a vegan-friendly version.
I'm really happy with how they turned out- I think they look quite authentic!
I used the filling from my Scottish macaroon bars which (don't be alarmed) contains mashed potato! This made it super easy to obtain all of the ingredients and it kept the recipe quite simple.
What type of chocolate should I use?
Since Cadbury Creme Eggs use milk chocolate, I would recommend using a vegan "milk" chocolate for the most authentic taste. One of my favourites is NOMO creamy choc.
If you don't like super sweet things, then I'd recommend using dark chocolate as it contrasts so well with the sugary filling! Personally, dark chocolate is my favourite type to use for this recipe.
Check out my vegan chocolate guide for all the best options in the UK.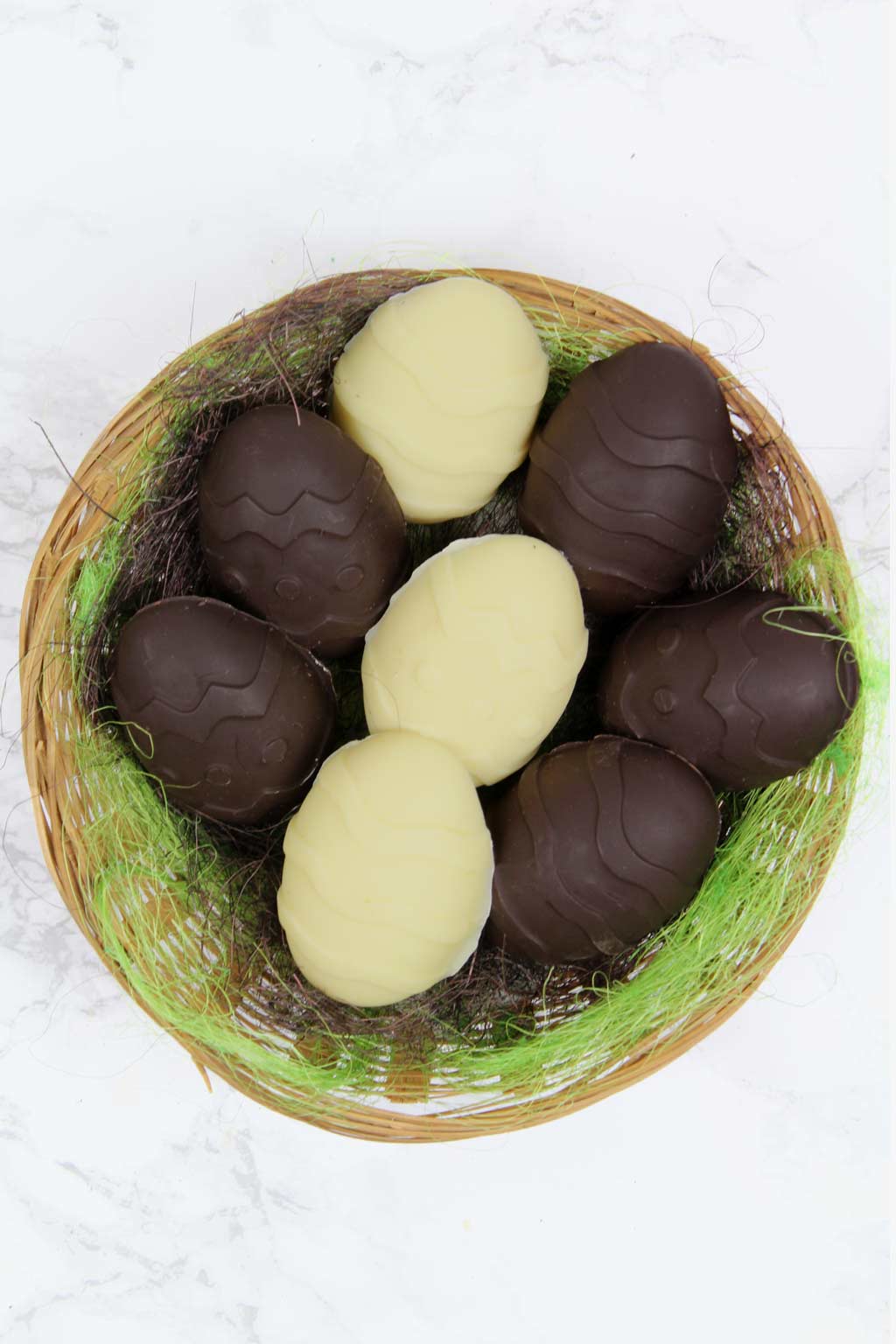 I also experimented with white chocolate Creme Eggs and think they looked really cute! I have to be honest though, they were a little too sweet for me as my eggs were pretty large. But I think they'd be great in bite-sized form if you're making smaller eggs.
Some recommendations for vegan white chocolate:
How to Make Vegan Creme Eggs
Step 1:
Before you begin, you'll need to have an egg mould of some sort to shape your Creme Eggs. In my opinion, it's best to use a silicone one instead of a plastic one, to make popping the eggs out easier.
I used the Selecto Bake moulds from Amazon UK, and you can find identical ones on Amazon US by IHomecooker.
Step 2:
Melt 200g (7oz) of chocolate in a large bowl.
I did mine in the microwave for quickness, stirring it every 20 seconds until it was fully melted. But if you prefer, you can also melt it on the stove.
Step 3:
Take your egg moulds and place around 1 tablespoon of melted chocolate into each hole.
I got 12 egg halves out of this recipe, using large moulds (pictured below). If you're using smaller egg shapes, you'll need to use a bit less chocolate in each one but just make sure it's enough to cover the bottom and sides completely.
Use a pastry brush or the back of a teaspoon to spread the chocolate evenly up the sides of the moulds. Make sure you get the chocolate all the way to the top edges of the moulds to prevent it from cracking when you remove them.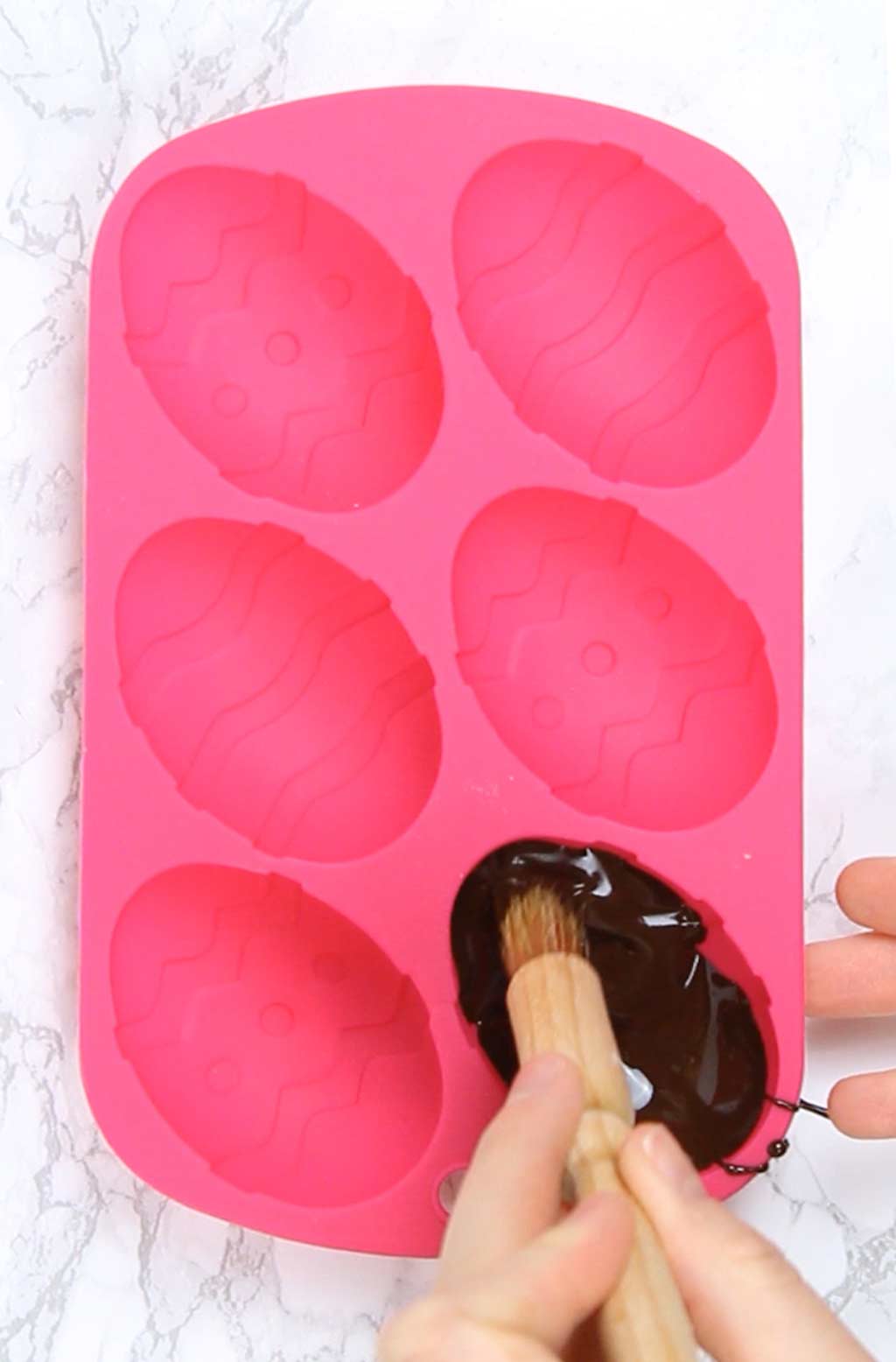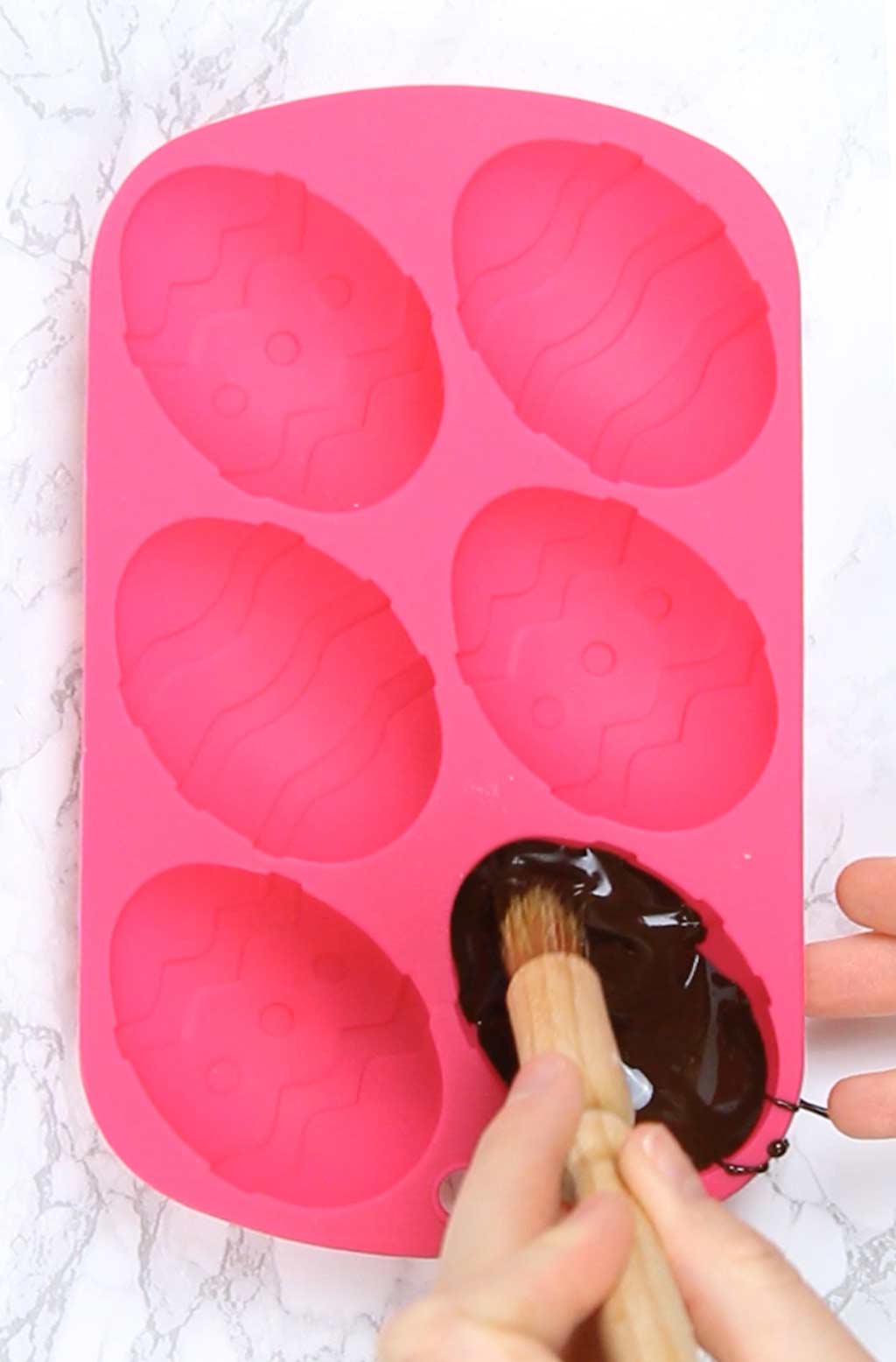 Place the moulds on a baking tray to keep them sturdy and freeze for around 15-20 minutes.
Step 4:
While the eggs are in the freezer, prepare your fondant creme filling.
To do this, take 1 medium-sized white potato (around 140g) and boil it in unsalted water with the peel on.
(Don't worry, your Creme Eggs will taste nothing like potatoes. I PINKY PROMISE.)
Once the potato is soft enough to cut through with a fork (after boiling for ~20 minutes), drain the water and set it aside until it's cool enough to handle.
Once it has cooled a little, discard the peel and mash the potato in a bowl. Try to get rid of any small lumps and make it as smooth as you possibly can.
Step 5:
To the same bowl, add 240g (2 cups) of icing/powdered sugar and stir it in. The mixture should become runny at this point.
Add another 240g / 2 cups of icing sugar and stir again. The mixture should go from runny to a slightly stiff fondant.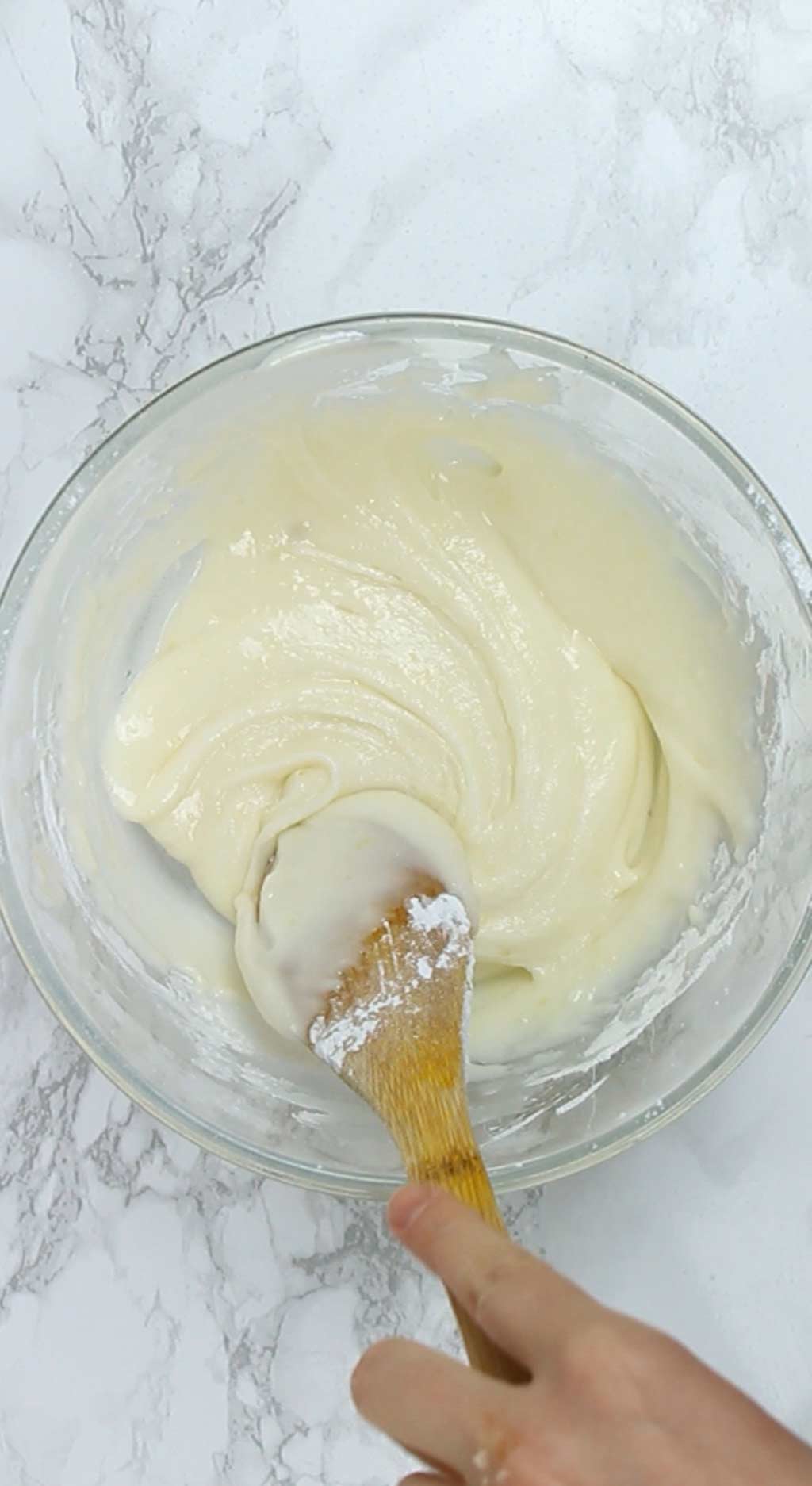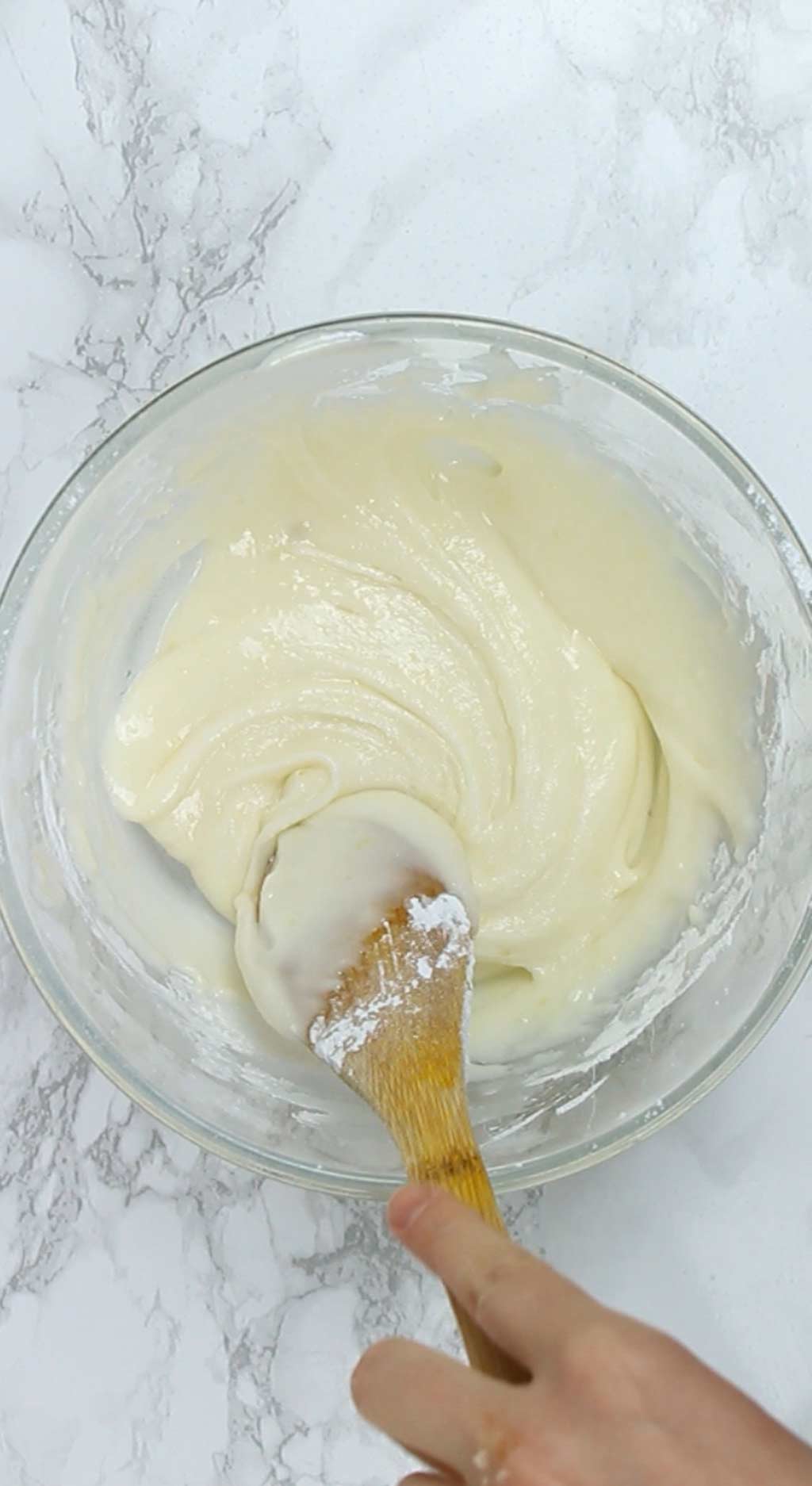 Step 6:
Add 1 teaspoon of vanilla extract to the fondant and mix well.
Step 7:
Transfer 2 tablespoons of the fondant to a separate bowl and add a small amount of orange or yellow food colouring (PME is my go-to).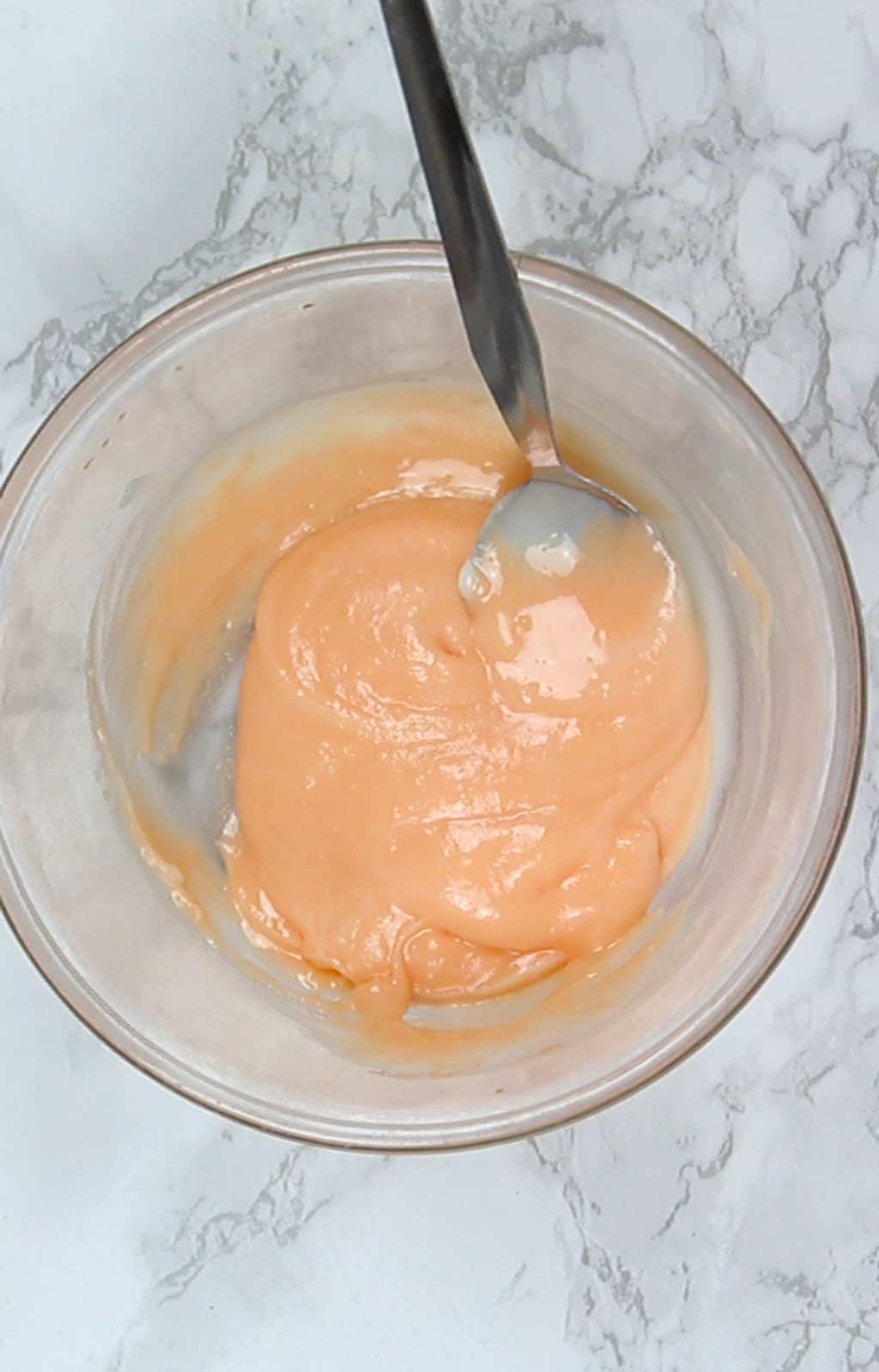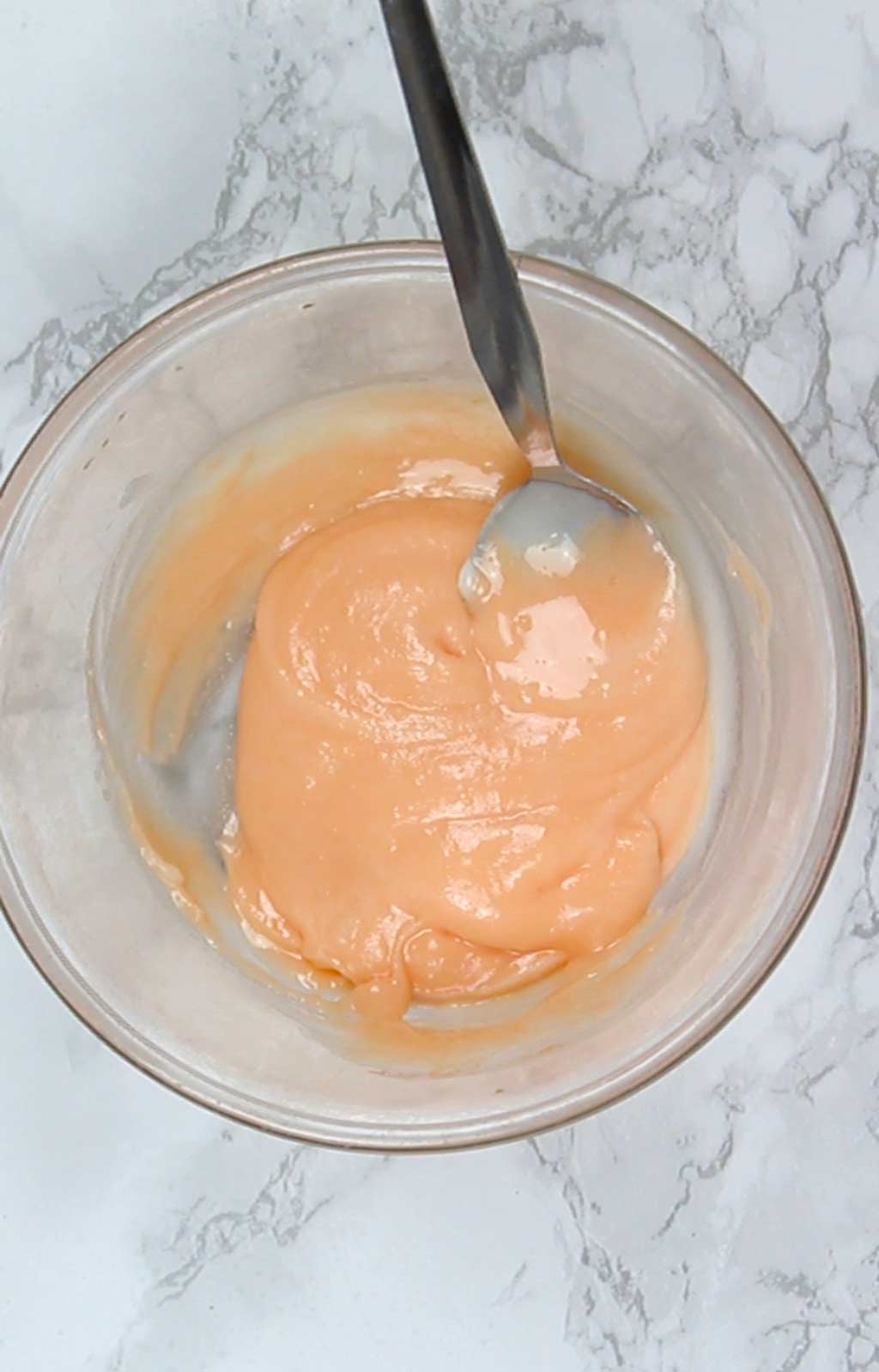 If you don't want to add artificial colours, you can add a tiny pinch of turmeric instead. Bear in mind if you do this though, it will alter the taste ever-so-slightly.
And of course, you can totally just skip this step all together if you so wish. The orange/yellow colour is purely for aesthetics and the Creme Eggs won't taste any different if you don't add it.
Step 8:
Remove the moulds from the freezer and add some white fondant inside. Make sure to leave a small gap at the top for adding some more chocolate.
Add a small blob of the orange/yellow fondant on top of the white, right in the centre. After a minute or so, it will settle in and spread itself out.
It doesn't matter if this is neat or not, just make sure the orange fondant is somewhere in the middle.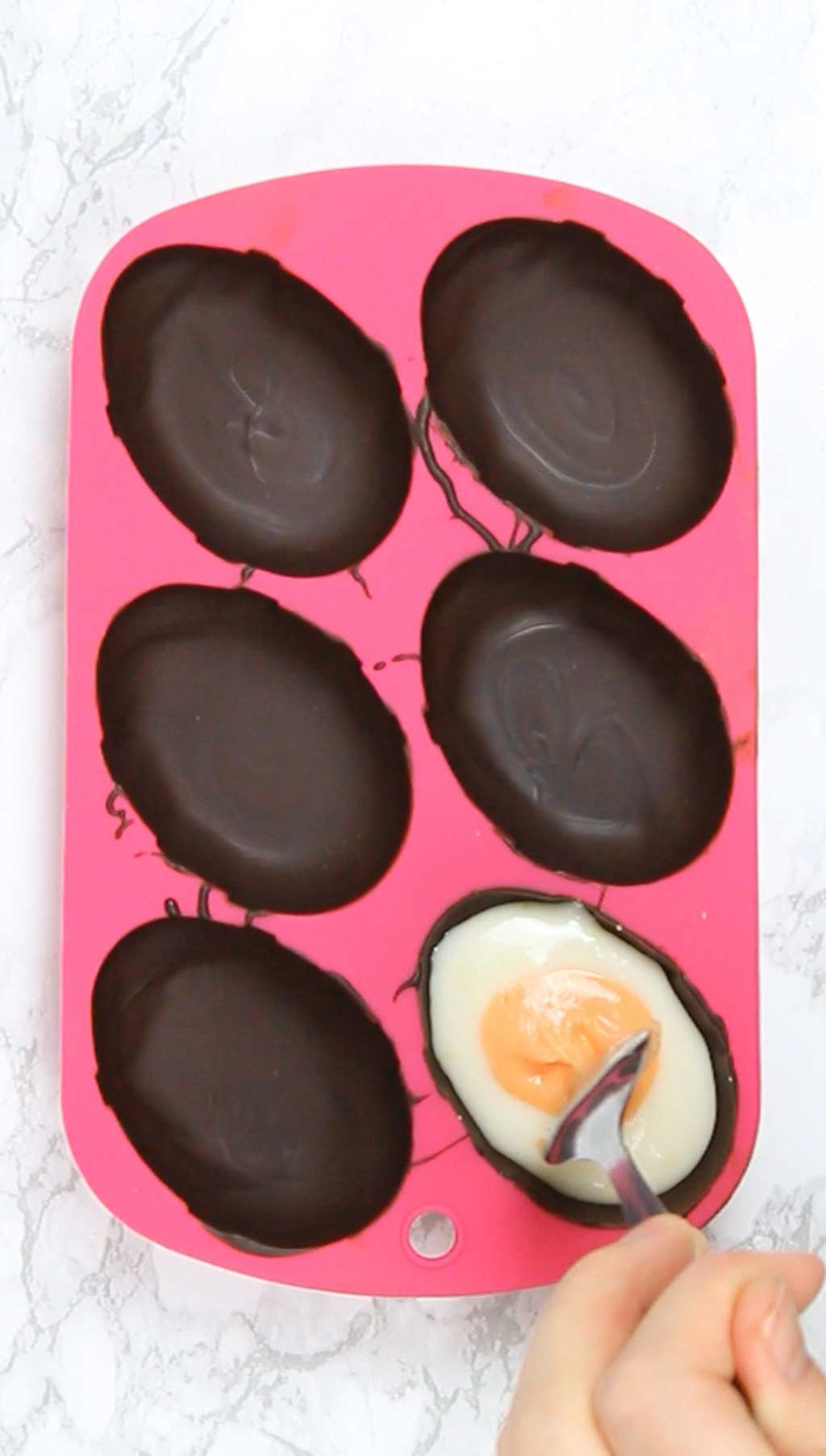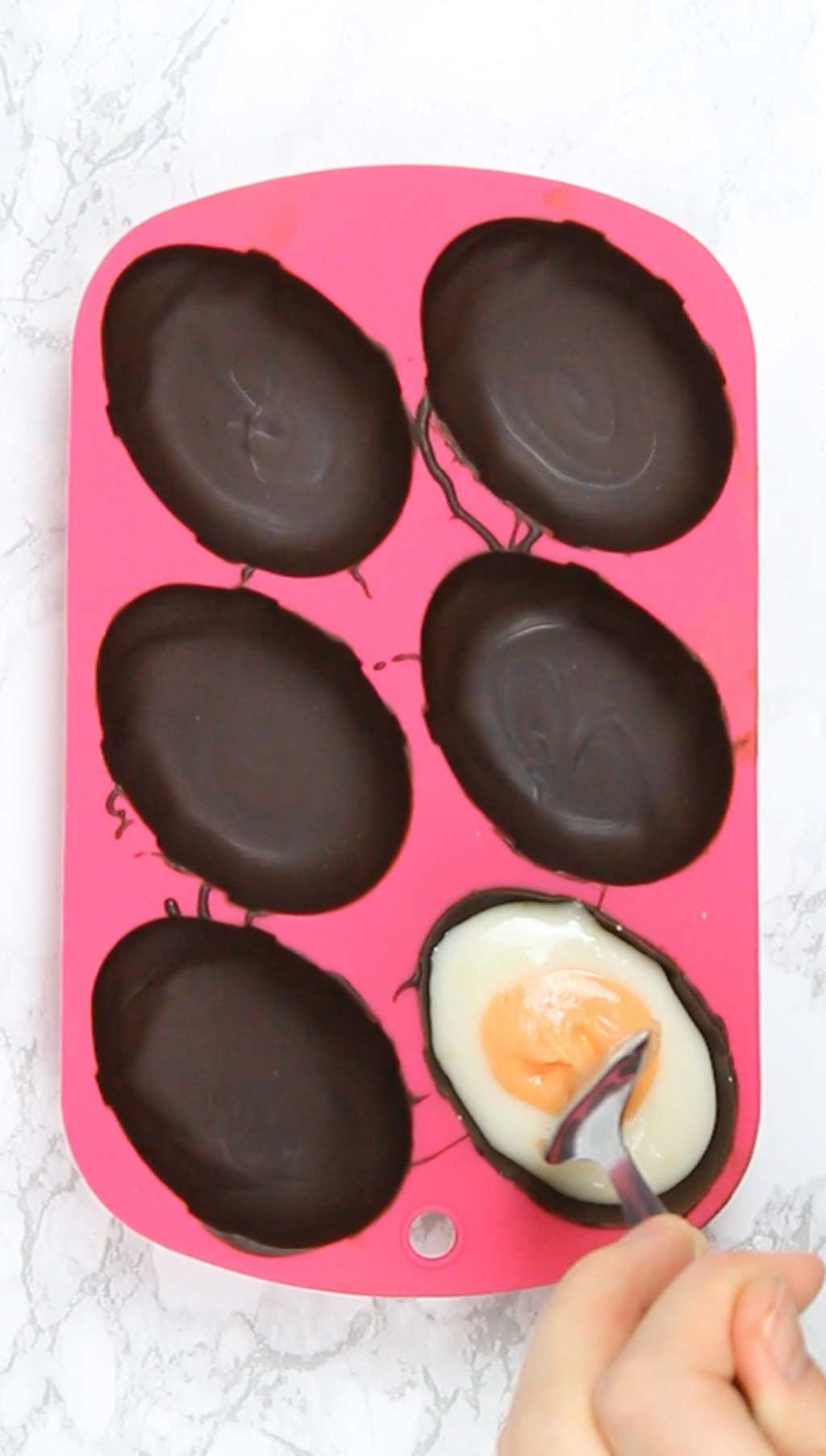 Step 9:
Melt 200g (7oz) more chocolate and spread a little over the top of each egg to cover the fondant. Be very gentle as you spread the chocolate out so that it doesn't bleed into the fondant.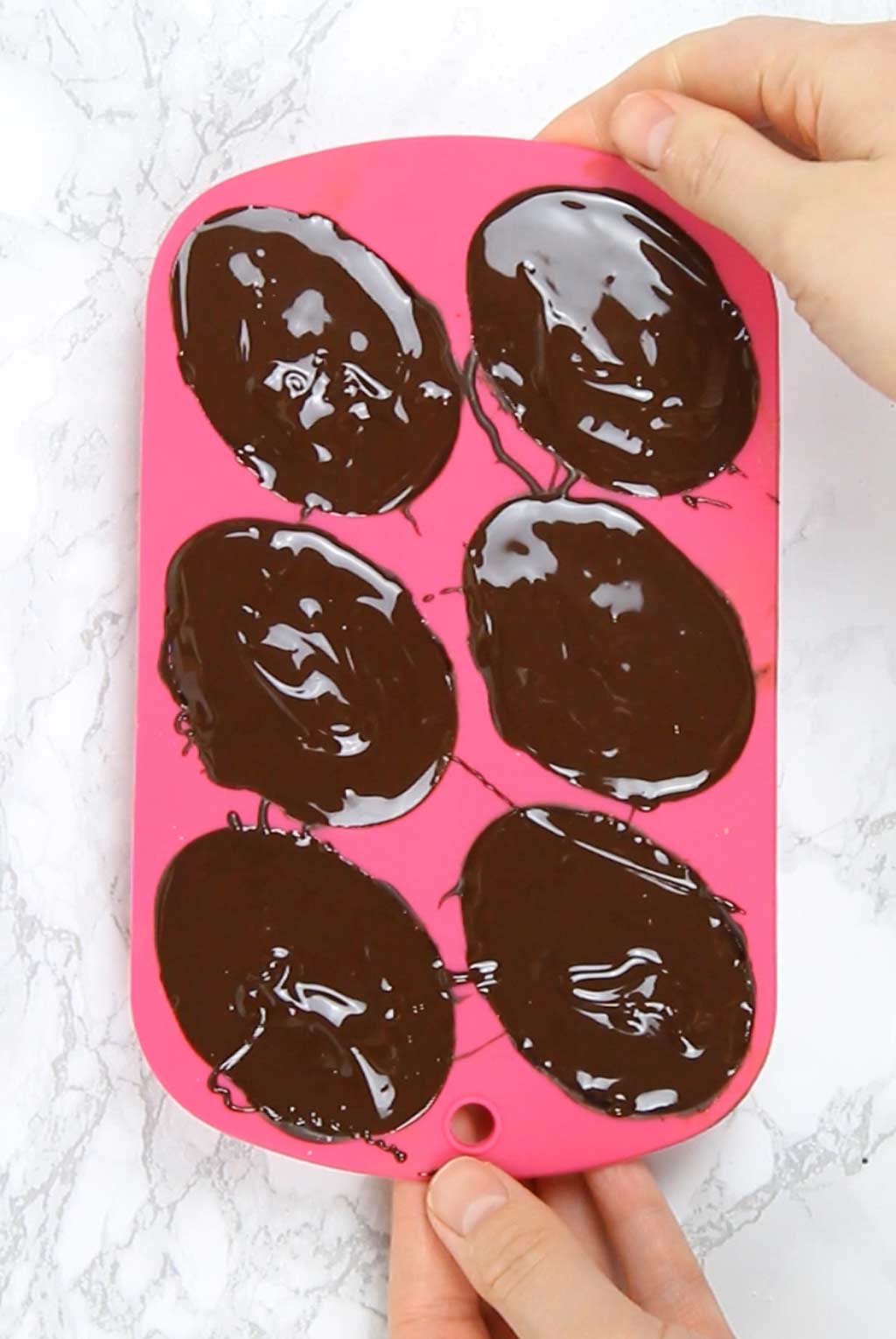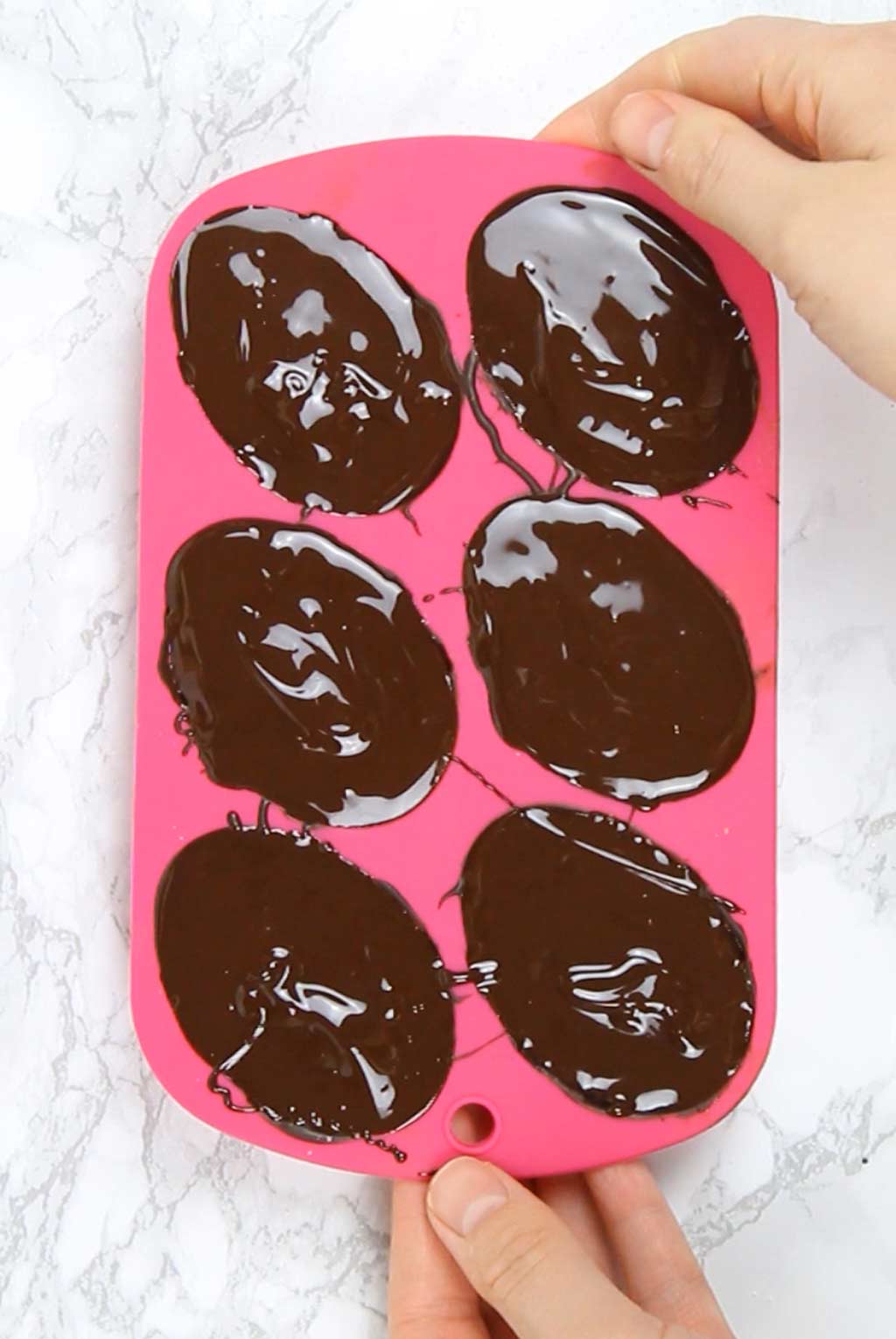 Return the moulds to the freezer for a further 30 minutes.
Step 10:
When the 30 minutes is up, pop the vegan Creme Eggs out of the moulds and enjoy!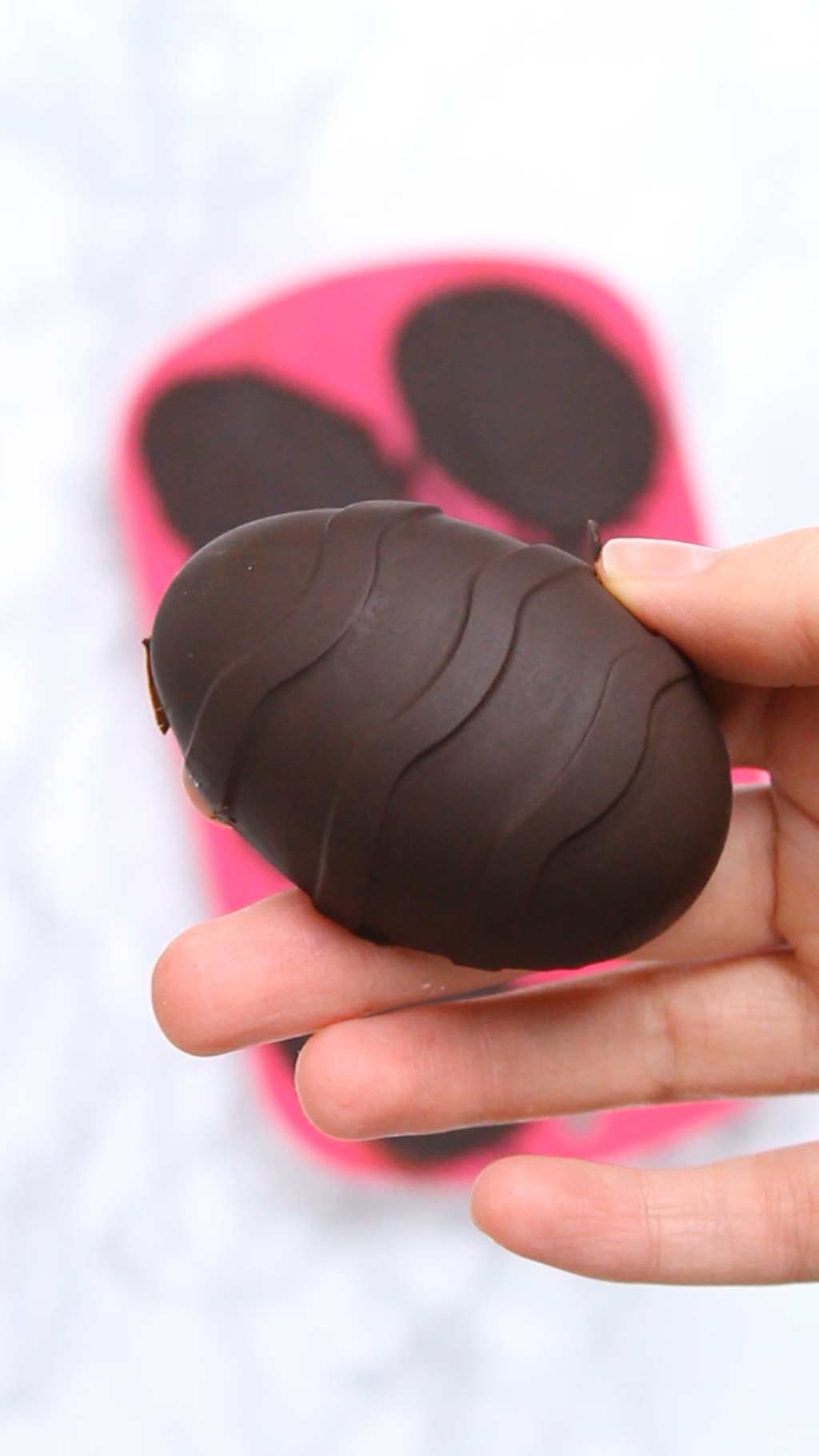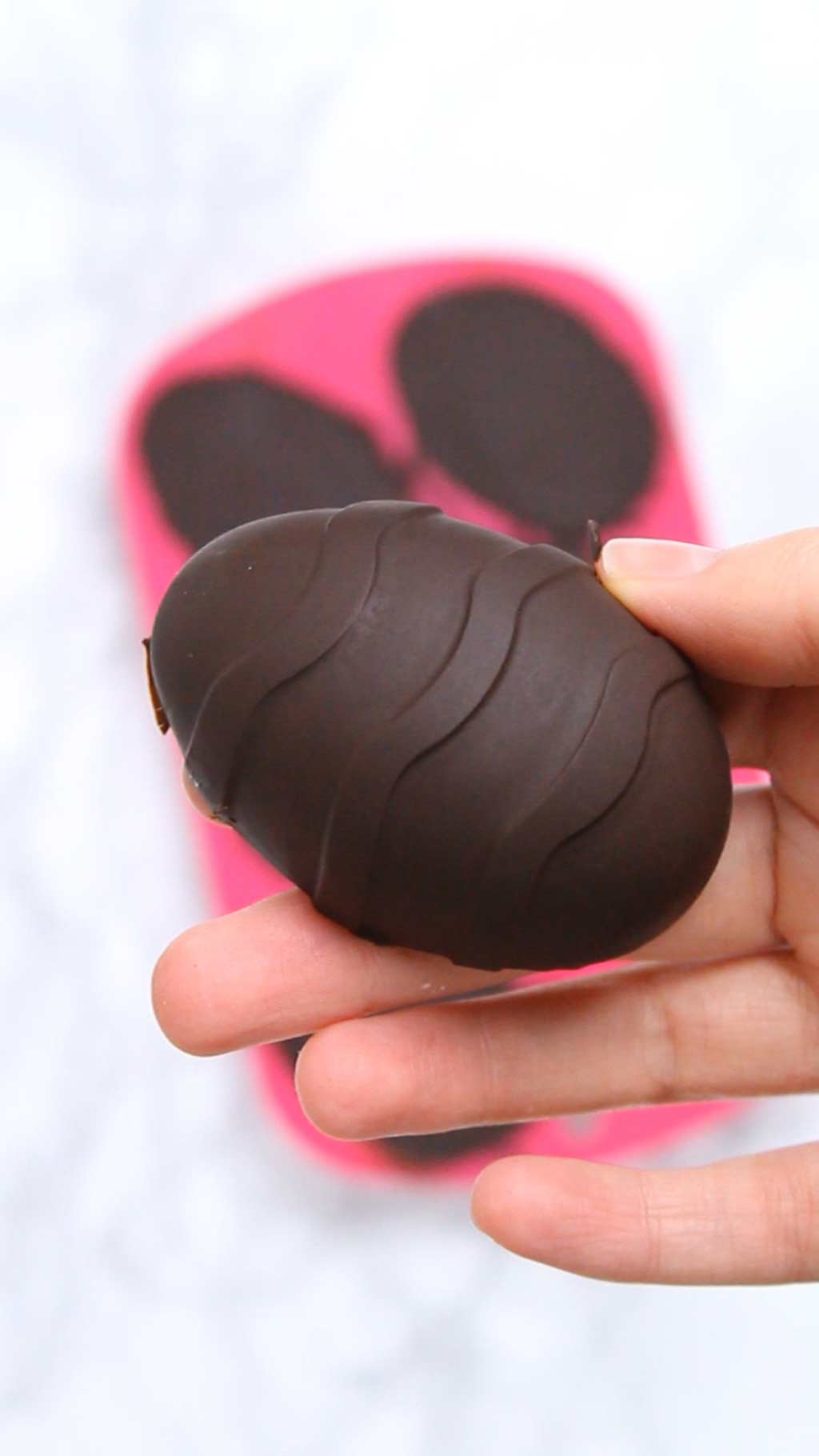 Want more vegan dessert recipes? Check these out!
How to store Vegan Creme Eggs
I like to store my Creme Eggs in the fridge because I think chocolate tastes best when it's cold and super firm. I just place them in an airtight container and they will keep well in the fridge for around 1 week.
The eggs will also hold up outside of the fridge, providing they are kept in a cool, dry place such as a cupboard.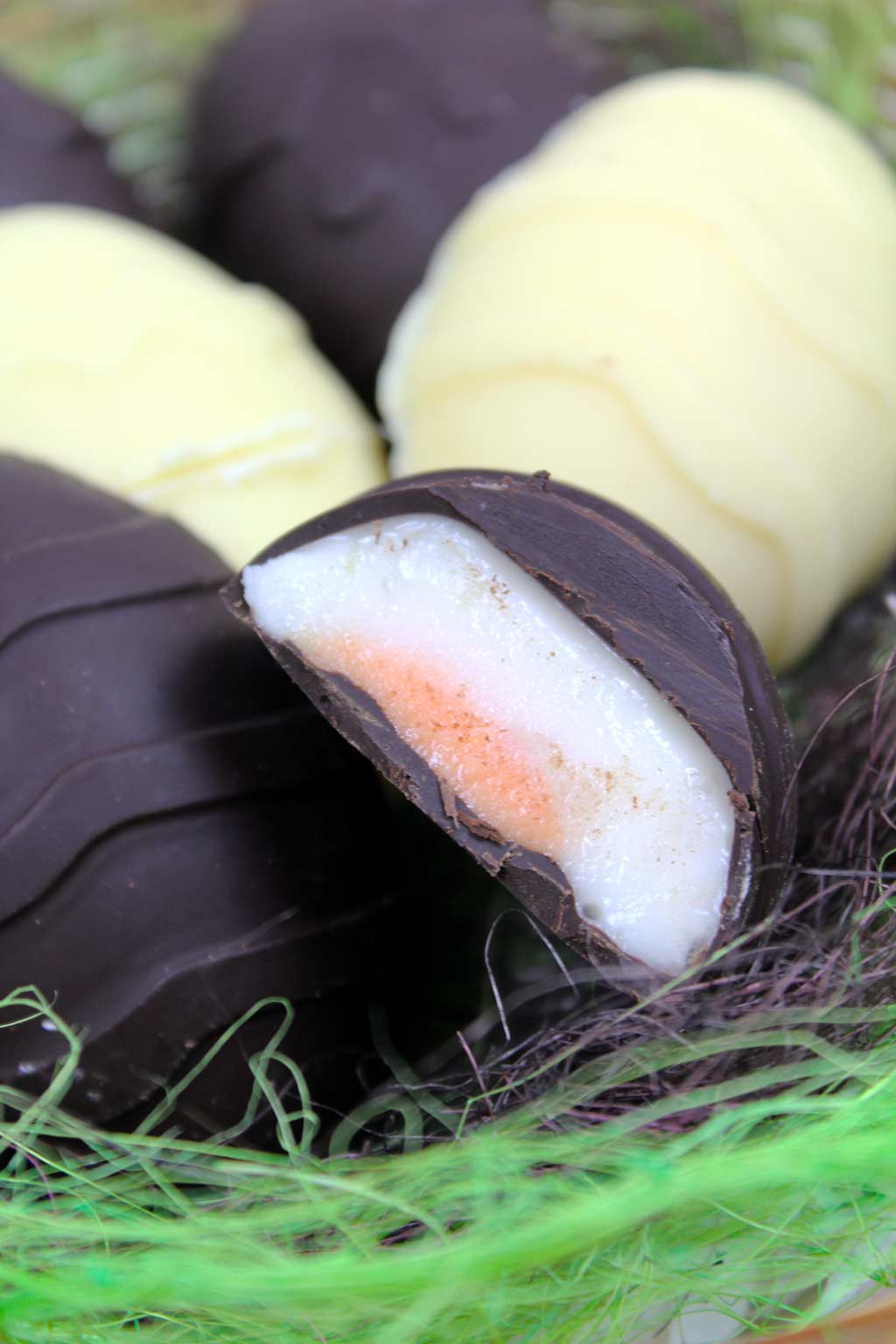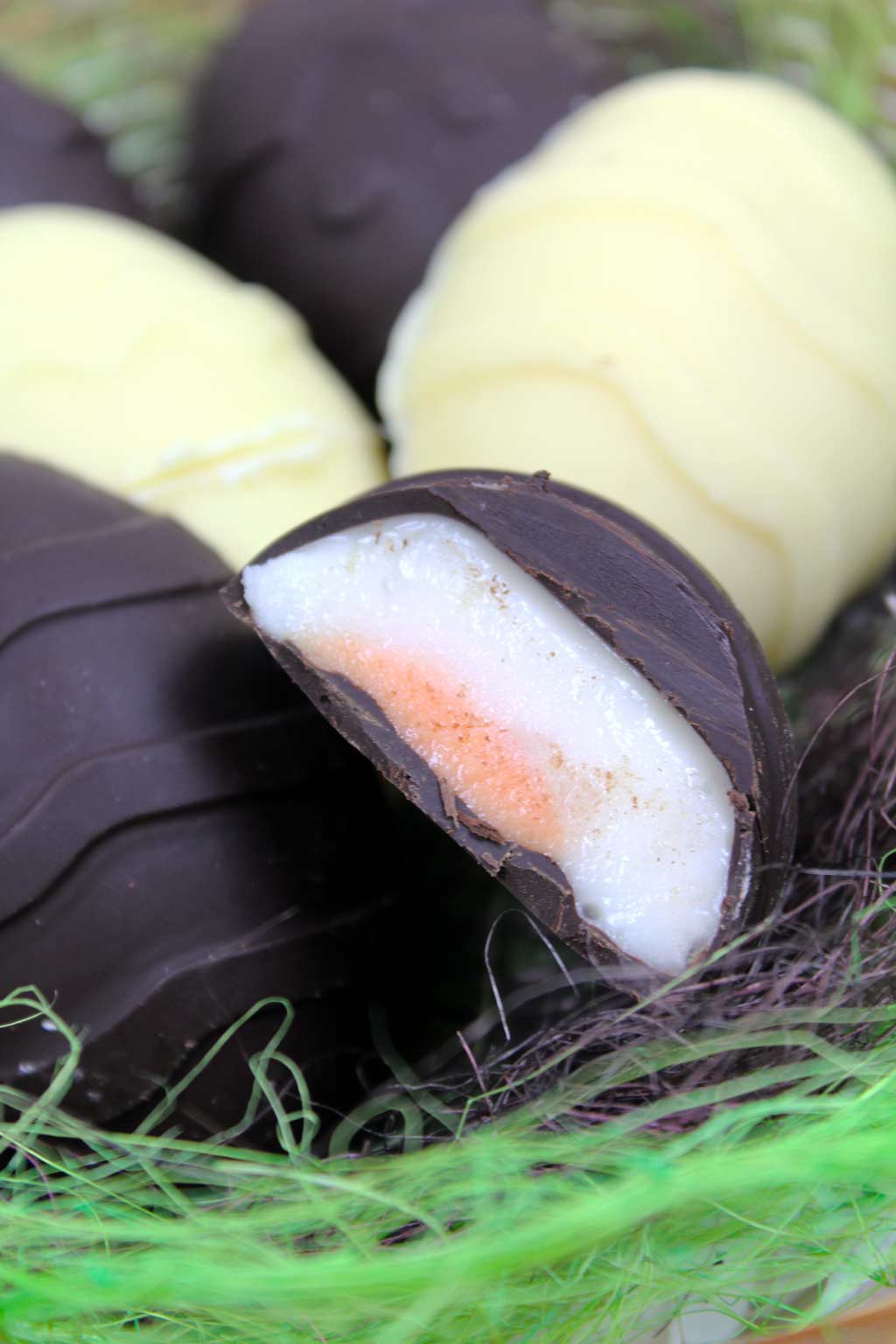 I hope you enjoy this simple little Easter treat. If you make some yourself, please let me know by leaving a comment below! xo

Vegan Creme Eggs
A dairy-free twist on the classic Cadbury chocolate Creme Egg!
Prep Time
1
hour
30
minutes
Ingredients
400

g

Vegan chocolate of choice

(14oz)

140

g

White potato

(around 5oz or 1 medium potato)

480

g

Icing sugar

(4 cups)

1

Teaspoon

Vanilla

Few drops

Orange or yellow food colouring

(can omit or sub for a pinch of turmeric)
Instructions
Melt half of the chocolate and use a pastry brush or a teaspoon to spread it evenly into 2 silicone egg moulds. Make sure you go all the way to the top edges to prevent them from crumbling later.

Place the moulds onto a baking tray to keep them sturdy and put them in the freezer for 15 minutes.

Boil the potato with the skin on, in unsalted water, until it's soft enough to put a fork through. Drain the water and let the potato cool.

Once the potato is cool enough to handle, peel the skin off and mash it. Try to get rid of all the little lumps- you want it to be as smooth as possible.

Add half of the icing sugar to a large bowl along with the mashed potato and mix. It will become runny and look a little lumpy.

Add the other half of the icing sugar and mix again. You should now have a slightly stiff and glossy fondant.

Add the vanilla and stir it in.

Transfer 2 tablespoons of fondant into a separate bowl, add the food colouring or turmeric and mix well.

Remove the chocolate eggs from the freezer. Scoop some white fondant into each egg, leaving a little space at the top to add more chocolate.

Add a small blob of the yellow/orange fondant into the centre of each egg.

Melt the other half of the chocolate and gently spread a little over the top of each egg. Make sure you spread it all the way to the edges.

Return the eggs to the freezer for 30 minutes.

Pop the eggs out of the moulds and enjoy!
Recipe Notes
Store in an airtight container for up to 1 week.
Nutrition Facts
Vegan Creme Eggs
Amount Per Serving (1 Egg half)
Calories 336
Calories from Fat 108
% Daily Value*
Fat 12g18%
Sodium 1mg0%
Potassium 48mg1%
Carbohydrates 48g16%
Protein 4g8%
* All values are an estimate only and will vary depending on the food brands used.
BakedByClo is a participant in the Amazon Services LLC Associates Program, an affiliate advertising program designed to provide a means for sites to earn advertising fees by advertising and linking to Amazon.com. This site may contain some of these links to Amazon.com & other affiliate programs. If you make a purchase through one of those links, BakedByClo will receive a small commission from the purchase at no additional cost to you.