Is Chocolate Vegan? Everything You Need to Know
It's here! After a VERY long time of thinking about writing it, I've finally got round to creating my ultimate guide to vegan chocolate in the UK. Ever wondered, is chocolate vegan? Keep reading to find out all the world of dairy-free chocolate has to offer!
I created this guide because as a vegan dessert blogger, I make a lot of recipes with dairy-free chocolate. And I always get asked lots of questions, such as is chocolate vegan, is Lindt chocolate vegan, where do you get your vegan white chocolate from, and where can you buy vegan chocolate chips?
In this guide, I will do my best to answer all of your chocolate-related questions and queries. That includes recipes, my favourite brands of vegan chocolate, sauces, ganaches and more.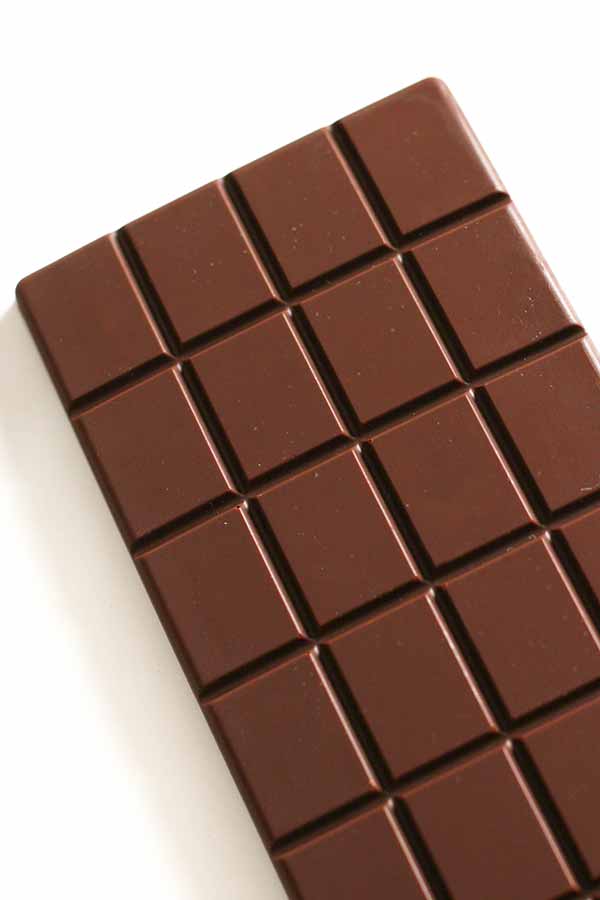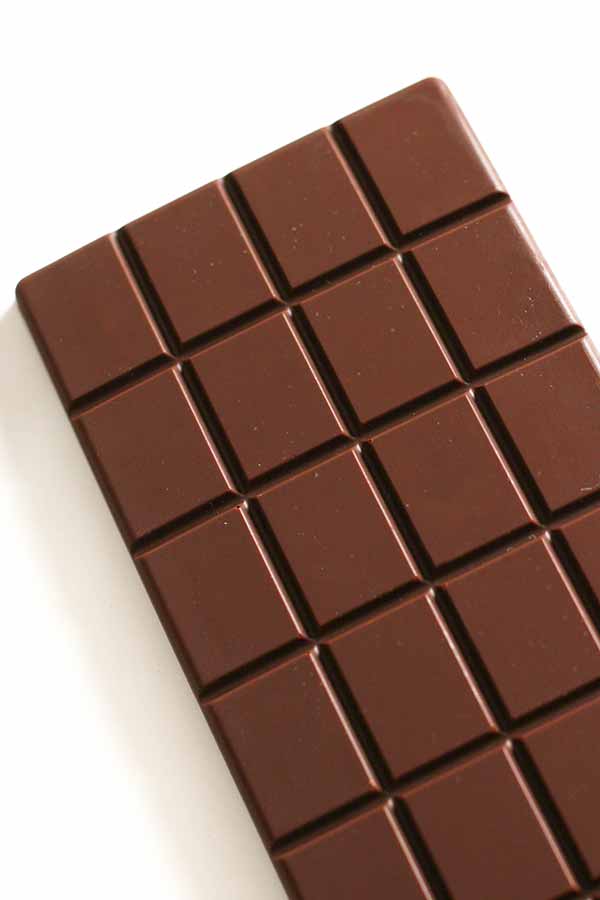 Is dark chocolate vegan?
I get asked ALL the time is Lindt dark chocolate vegan? It is one of the most popular dark chocolate brands so this makes sense that it's a popular question! In general, yes dark chocolate is vegan and Lindt dark chocolate is vegan most of the time! Let's take a closer look.
In case you didn't know, a lot of dark chocolate bars and chips are "accidentally" vegan. That means they are vegan-friendly without specifically stating so. You'll be surprised to find that many of your old favourite dark chocolate treats are actually vegan!
Make sure to check that your dark chocolate of choice doesn't have any milk added because some do. If it says "may contain milk", that probably means it's been made in the same factory as dairy chocolate. The chocolate itself isn't made with milk but there may be a risk of cross-contamination. This labelling is there to warn people with milk allergies.
Dark chocolate is my favourite to bake with. Despite having a sweet tooth (obviously), I really like to contrast my super sweet desserts with the slightly bitter flavour of dark chocolate.
Dark chocolate also melts the best. Because of its high cocoa content, it's easy to melt without burning, it stays wet and glossy for a long time and it doesn't seize up like other types of chocolate can sometimes do.
This type of chocolate is perfect for things that require high-quality chocolate or desserts that have a rich, chocolatey flavour. Think treats such as brownies, truffles, and chocolate fondue.
Vegan dark chocolate bars
Is dark chocolate vegan? It sure is! Here's a quick list of the vegan dark chocolate bars available in the UK at the time of writing this:
Tesco 74% and 85%
The 74% one is my absolute favourite for vegan baking! It's super rich and dark with a high cocoa content but is slightly sweeter than the 85% version. I do use some of the brands mentioned below sometimes too but this one is my go-to, especially for brownies and truffles, which rely on high-quality chocolate.
Is Lindt dark chocolate vegan?
Is Lindt dark chocolate vegan? The plain dark chocolate is and some of the other flavours are too! Lindt's dark chocolate is another personal favourite when I'm looking for a super-rich chocolate flavour. Just be careful that you pick up the dark version and not the milk version. It comes in a few variations. First is the 70% one, which I use most often. It also comes in 85%, 90% and even 99% cacao!
I personally found the 85% version a little bit too bitter but I did only use it as a chocolate topping for a healthier millionaire shortbread I made once. I'm sure it would do well in brownies or other recipes that you add extra sugar to.
Marks & Spencer's dark chocolate
M&S have a decent selection of own-brand dark chocolate. They have a few flavour variations as well as 70%, 72%, 75%, 78%, 85% and 100% cocoa bars, and a Belgian dark chocolate bar. These are all available online via Ocado but you can also find most of them in your local store.
Waitrose dark chocolate bars
Waitrose have their own-brand 72% intense chocolate bar which costs £1.80 for 180g. They also have a 54% bar that's free from dairy.
Green & Blacks
Green & Blacks is a great option because they're available in most UK supermarkets. The two I see on shelves the most often are the 70% and the 85% bars.
Galaxy Fusions
I haven't tried baking with this one yet but I just discovered it exists and was excited to share! It's a 70% cocoa bar made by Galaxy and is available to buy from Sainsbury's.
Cadbury Bournville
Sadly, Cadbury Bournville is no longer vegan.
Semi sweet dark chocolate bars
Semi-sweet chocolate is somewhere between milk and dark chocolate. It typically has a lower cocoa content (but not quite as low as milk chocolate) and more added sugar, although this isn't the case with all brands.
More vegan Lindt chocolate
As well as the dark chocolates I've mentioned above, there is also a vegan Lindt dark chocolate cooking bar. I haven't actually seen it in any supermarkets near me but it can be purchased from their website or on Amazon.
Nomo dark chocolate
I am a HUGE fan of NOMO and all of their different chocolate flavours. Their customer service is outstanding too! If you prefer something a little sweeter than typical dark chocolate that still melts nicely, Nomo dark chocolate is the one for you!
Lovvet's
If you're looking for a budget option, Sainsbury's sell Lovvet's dark chocolate that's vegan-friendly and costs just 30p! Most other cheap dark chocolate bars tend to have milk in them so this is a great find!
Flavoured dark chocolate bars
Is flavoured chocolate vegan? Some flavours are. If you're making a chocolate treat that's combined with another flavour, such as chocolate orange brownies or mint chocolate frosting, using a dark chocolate bar that's already been flavoured is a great option.
Of course, you can add a drop of your desired flavour extract once the chocolate has melted. But I find using the already flavoured bars works out cheaper and easier if you don't already have a bunch of flavour extracts sitting around.
Here are just some of the flavoured chocolate bars that are available in the UK:
M&S
Marks and Spencer has a few vegan-friendly dark chocolate available which include clementine and mint.
Asda
The great thing about Asda's flavoured chocolate bars is that they're approved by the Vegan Society! They have coconut and rum, mint, orange and raspberry flavours available.
Green and blacks
As I said above, Green and Blacks' chocolate is available in most supermarkets here in the UK. They have a few flavoured bars available including raspberry and hazelnut, mint, and ginger.
Seed and Bean
It's been a very long time since I had Seed and Bean chocolate but the last one I tried was their coconut and raspberry one. I can confirm it is very delicious. They have tonnes of other flavours available on their website including coffee, lemon and cardamom, and lavender. It's also really easy to filter your search results on their website so you only see the vegan ones!
Other flavours:
Are dark chocolate chips vegan?
They do exist but as far as I'm aware, there aren't too many options in the UK when it comes to vegan dark chocolate chips. Some are accidentally vegan but there are quite a few brands that add milk to their chips, even though it's "dark" chocolate. I've listed the vegan-friendly brands that I know of below, but please leave a comment if you know of any other ones.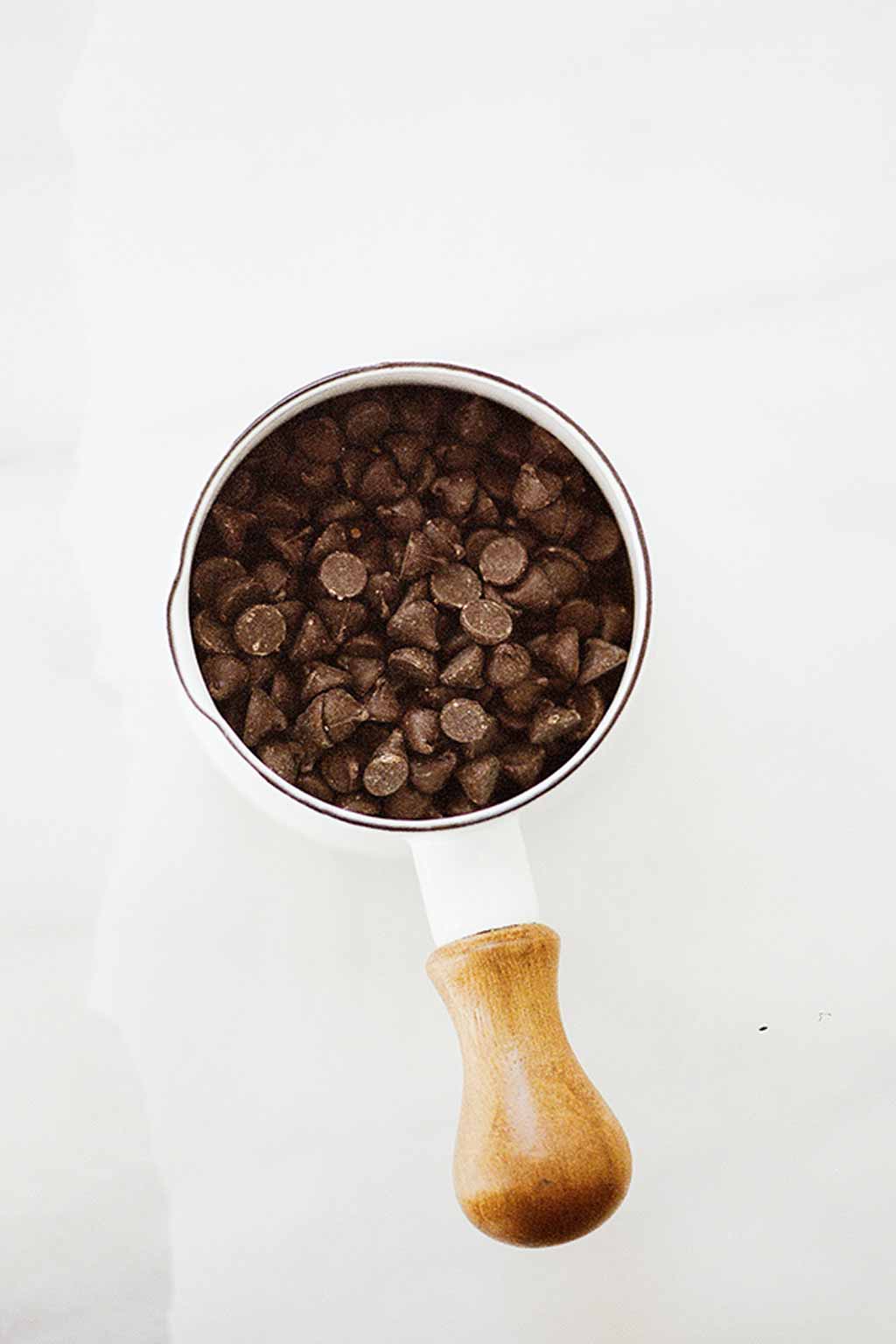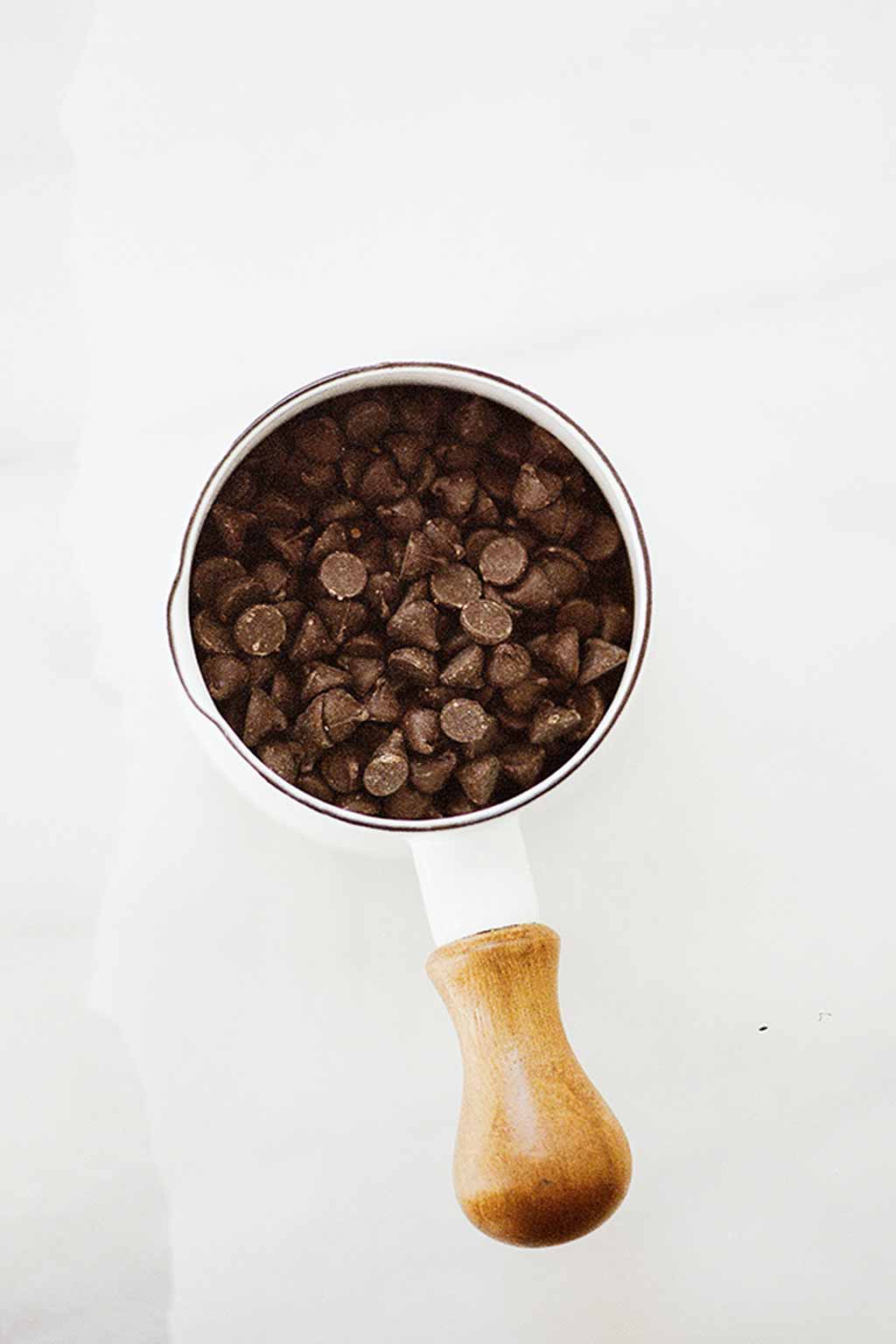 Dr. Oetker jumbo dark chocolate chips
These jumbo chocolate chips are a little more on the pricey side compared to some of the others I've mentioned but they're a good option if you want something a little more chunky! Do note that their regular-sized dark chocolate chips contain milk so make sure to pick up the correct ones.
Morrisons dark chocolate chips
Morrisons own brand chocolate chips were the first ones I discovered that didn't have milk in them. They're 85p for 100g and taste really nice in chocolate chip cookies.
Asda dark chocolate chips
Like Morrisons', Asda's own-brand chocolate chips are suitable for vegans. Asda's are a little bit cheaper though, at just 50p per 100g.
Waitrose dark chocolate chips
If you live near a Waitrose, it's worth checking for their own brand chocolate chips. There isn't one in my city so I'm not sure if they're still available in stores but they are listed on their website and don't contain any dairy.
Noble Choice dark chocolate chips
I haven't tried Noble Choice chips myself but I think they're a handy option if you don't live near a large supermarket. You can just get them delivered to your door via The Vegan Kind Supermarket!
Hides plain chocolate chips
This is another online brand and you can purchase their chocolate chips from Amazon. They come in large 500g or 1kg bags so these would last a very long time. They'd be a good option if you bake with vegan chocolate chips a lot.
Real Food Source sugar-free chocolate chips
These chocolate chips also come in 1kg bags. They're made with sweeteners instead of sugar so are good for those who are watching their sugar intake.
Enjoy Life semi-sweet chocolate chips
Enjoy Life chocolate chips are very popular with vegans in the USA but they are available to purchase from iHerb UK. They're pretty expensive but if you fancy something from the US, these are your best bet!
How to make homemade vegan dark chocolate chips
If you'd prefer to make vegan chocolate chips rather than purchase them, that's always an option.
The easiest way to do this would be to melt your favourite bar of vegan chocolate and put it into a chocolate chip mould such as this one to set. Then just pop them out once the chocolate has completely set and store them in an airtight container.
Another method would be to make your own vegan chocolate from scratch and put that in the mould as above. You'll find a homemade vegan chocolate bar recipe in the recipe card at the bottom of this page.
Montezuma's
I haven't tried Montezuma's buttons myself yet but the reviews look very promising. You'll find them in Waitrose and Sainsbury's but you can also purchase directly from Montezuma's if you can't get to a store.
Enjoy
I first discovered Enjoy! in Holland & Barrett, when I tried their salted caramel chocolate bar. I was hooked! They have 70% cocoa buttons available from Holland & Barrett, The Vegan Kind Supermarket, Asda, and directly from their own site. They're a little pricey compared to some of the other brands I've listed here but they are made with minimal and organic ingredients, and they're refined sugar-free. Enjoy! also offer a few other flavours of vegan chocolate buttons which include mint, salted caramel and orange.
Cocoa Loco
These organic chocolate buttons can be purchased directly from Cocoa Loco's website, from the Vegan Kind Supermarket or from Abel and Cole. They also have vegan couverture chocolate buttons which would be great for baking! Make sure to get the dark chocolate version for them to be vegan-friendly.
Best desserts to make with vegan dark chocolate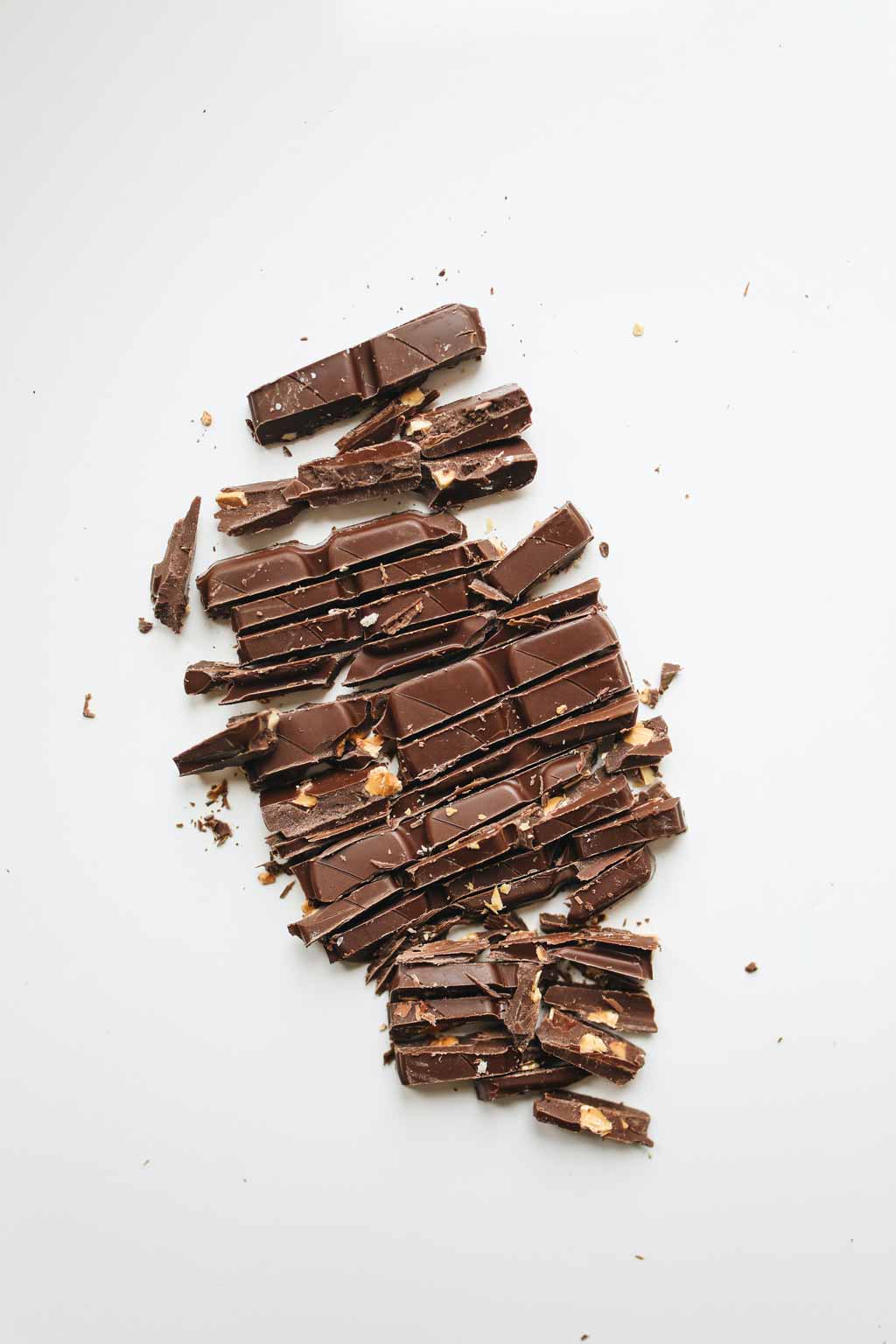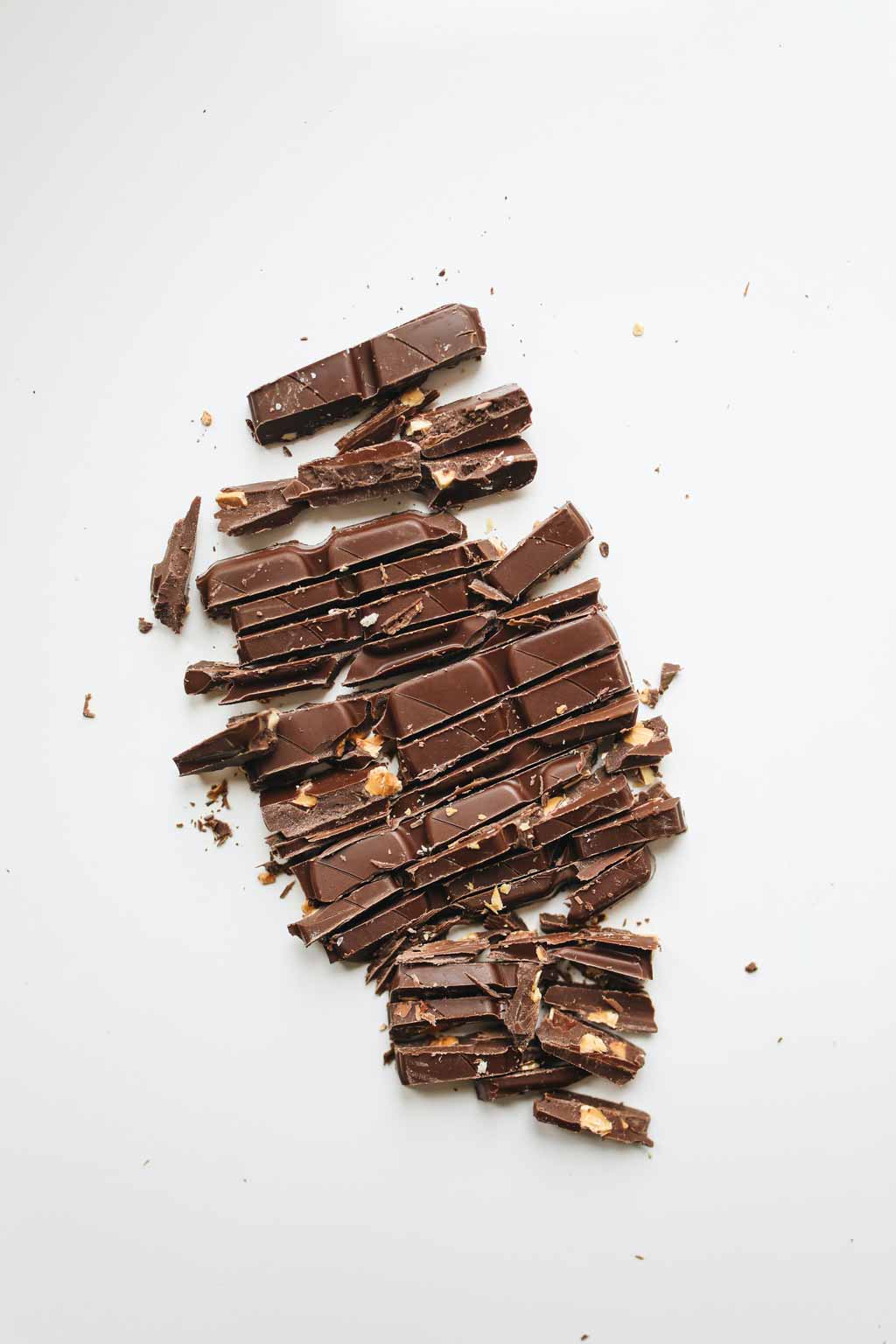 Is Milk Chocolate Vegan?
I know, I know..
Vegan milk chocolate is a bit of an oxymoron, isn't it? But it's basically just another way of describing sweet vegan chocolate, one that isn't dark or white chocolate…
And good news! Vegan milk chocolate does exist. For those of you who prefer your chocolate a little sweeter and are still missing your favourite milk chocolate bars after going vegan, this list should help.
Milk chocolate bars
Nomo
I listed Nomo in the vegan dark chocolate list too but their milk chocolate is seriously on a whole new level. They have a bigger creamy chocolate bar that would be good for baking with, or drizzling on top of something like cupcakes or flapjacks. But they also have smaller bars which are honestly the best replacement for milk chocolate that I've tried so far! They have a caramel & sea-salt flavoured bar, a chocolate caramel bar that has actual caramel inside, a fruit crunch bar, which tastes similar to Cadbury's fruit and nut chocolate, and a "hazelnot" bar. They're great for just snacking on or decorating desserts with.
These are all available to purchase directly from Nomo or from Asda, Tesco, Sainsbury's, Waitrose and Holland & Barrett.
Supermarket own brand milk chocolate
A few of the big name UK supermarkets have their own brand of vegan chocolate available. I have to admit, they are more sickly-sweet than a typical milk chocolate bar would be but they are decent replacements if you're in a pinch.
From what I could see, Waitrose and M&S don't carry their own brand of free-from milk chocolate. I also couldn't find much from Aldi and Lidl because their websites aren't very shoppable and I don't often get a chance to get down there in person.
Moo Free
Moo Free have lots of smaller, snack-sized chocolate bars and a few larger ones. I've seen that a few of the smaller bar flavours are available in most supermarkets. For the other flavours and larger bars, it's probably easiest to go directly to their website. Flavours include orange, mint, salted caramel, honeycomb ("bunnycomb"), fruit and nut, and orange caramel crunch.
iChoc
iChoc have a delicious milk chocolate bar which is available directly from their website, or from Holland and Barrett or The Vegan Kind Supermarket. It's an 80g bar that costs £2.20-£2.30.
Vego
Vego was the first brand of vegan chocolate I ever tried, way back in 2017! It's a "milk" type of chocolate with chunks of hazelnuts inside. It's got a Nutella vibe to it, and it's up there with the Nomo chocolate in my list of favourites.
Mars
Is Galaxy vegan? If you didn't know, Mars brought out a range of vegan-friendly Galaxy bars in 2019, and added a few more flavours to the range last year. They have an orange Galaxy bar, caramel and sea salt, caramelised hazelnut, crumbled cookie, and mint. They can be purchased from Morrisons, Waitrose, Tesco, Asda, Boots and Amazon.
Mars also recently launched their vegan Topic and vegan Bounty chocolate bars, which can be purchased from Morrisons or Asda.
The Free from kitchen Co.
This is another trusty brand that I use often and it's available from Tesco. It's super creamy and delicious and reasonably priced.
Montezuma's
Montezuma's "Like No Udder" milk chocolate alternative is available to purchase at Tesco, Sainsbury's and The Vegan Kind supermarket.
Is Lindt milk chocolate vegan?
With the exception of some of Lindt's vegan dark chocolate bars, Lindt chocolate is made with dairy. So unfortunately, Lindt milk chocolate is not-vegan friendly but you can enjoy their dark bars instead.
Vegan Milk Chocolate Chips
I couldn't find too many options when it came to sweeter chocolate chips but I've listed everything I know of. Try adding one of these milk chocolate chip alternatives next time you're baking up a batch of cookies!
Of course you can cut up your favourite vegan milk chocolate bar into small chunks instead of using chocolate chips, if you can't get your hands on any of the brands below. Or, as I mentioned above, you can always make homemade vegan chocolate chips using a chocolate chip mould.
Sainsbury's Free From
Sainsbury's have their own brand dairy-free alternative to milk chocolate chips. They're £1.50 per 100g and they taste a lot sweeter and creamier than the dark chocolate version.
Moo Free baking drops
Moo-Free baking drops are available to purchase in Tesco stores and you'll find them in the free-from section. You can also purchase them from Moo-Free directly, The Vegan Kind supermarket and Amazon.
Holland and Barrett
Holland & Barrett have named these chocolate buttons but they are so small that I'd class them as chocolate chips. They're smooth and creamy, and some reviews say they even taste a bit like Dairy Milk chocolate!
Vegan Milk Chocolate Buttons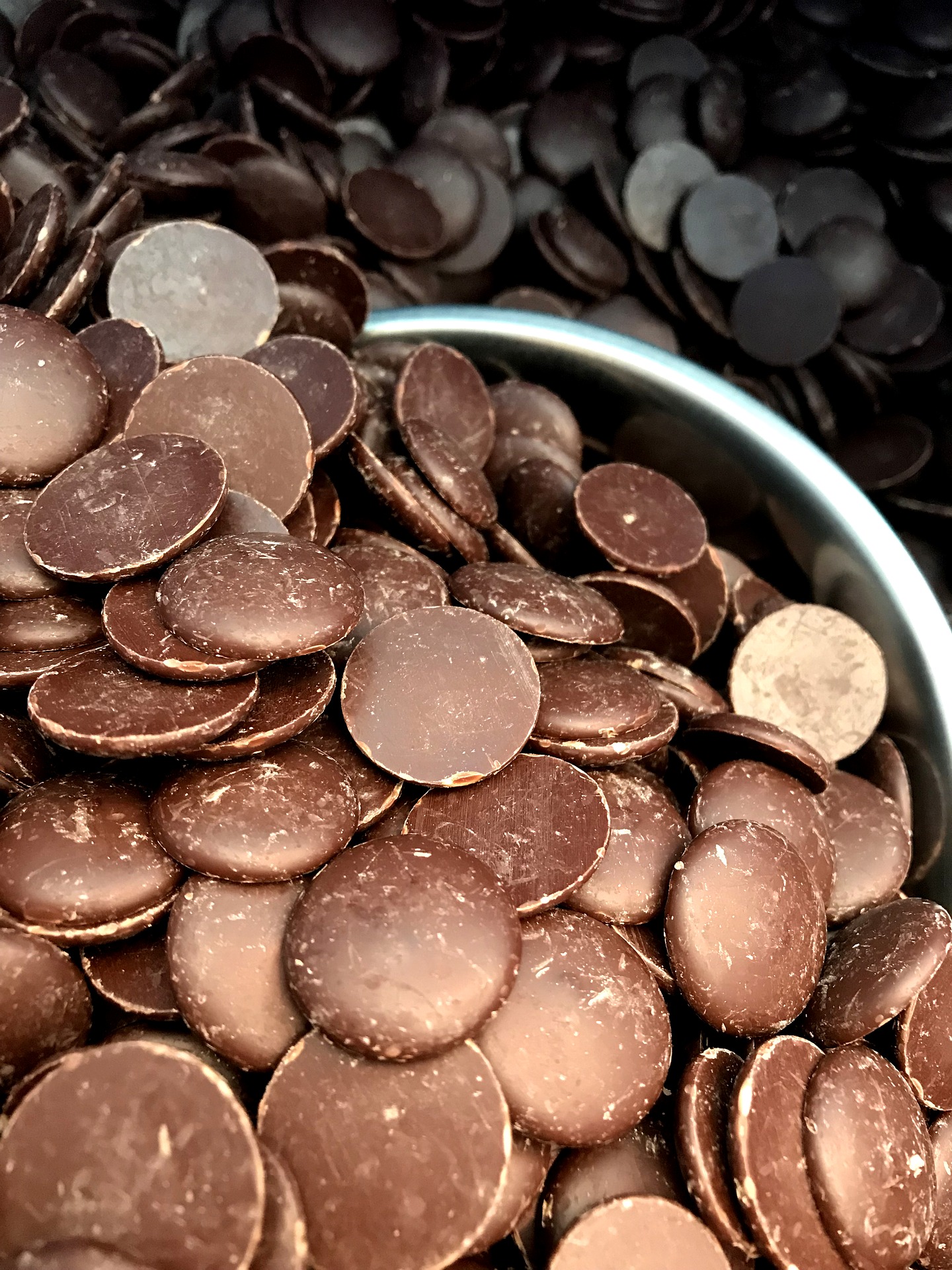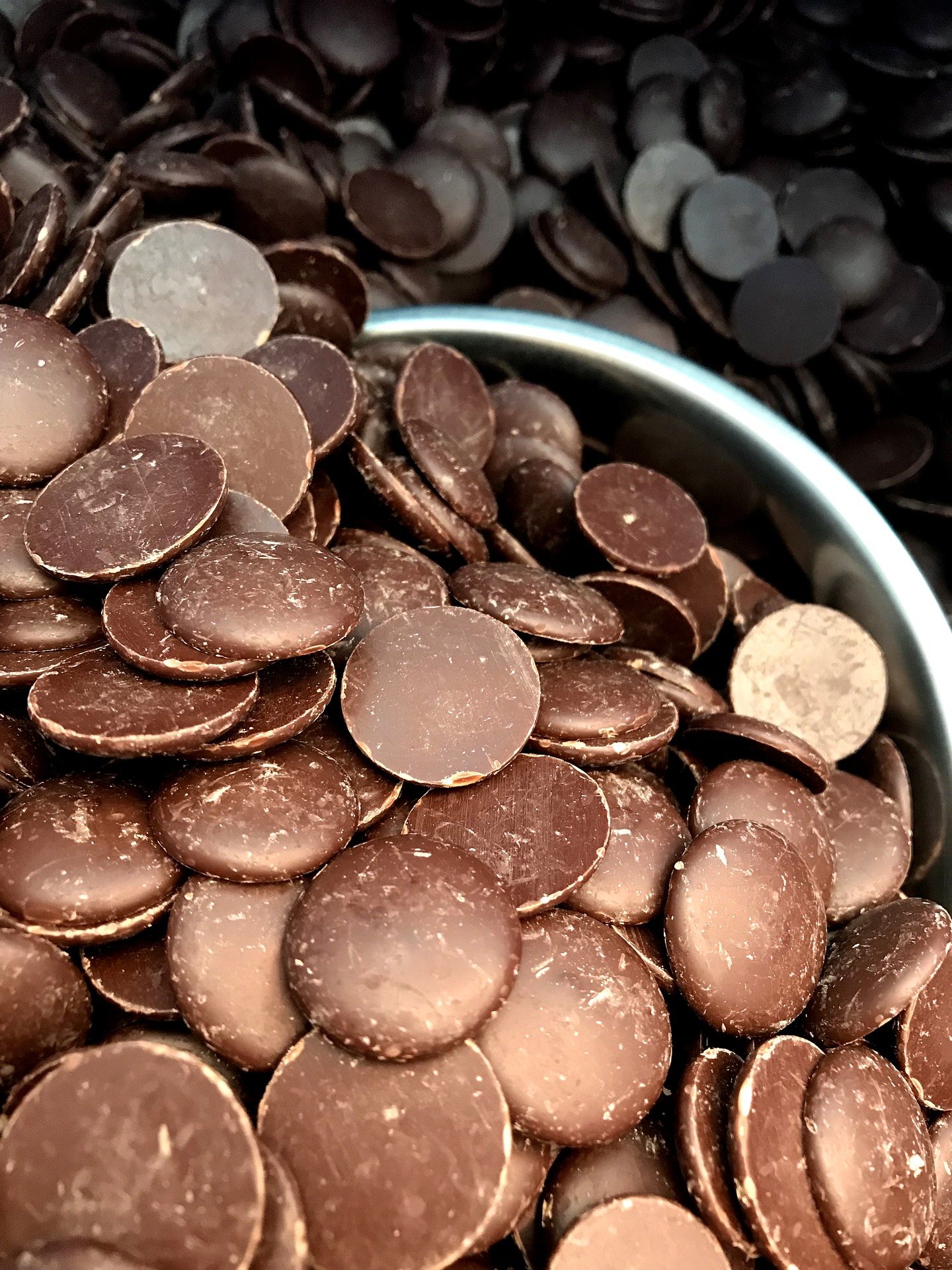 Whether you want them for snacking on or decorating your vegan bakes, vegan chocolate buttons are super handy to have around. Here are the UK brands I've found.
Supermarket own-brand
Moo free
Moo-Free chocolate buttons are probably my favourite of the bunch because they taste most similar to the traditional kind (in my opinion). They are available to purchase in Tesco, Asda, Sainsbury's, Waitrose and Morrisons.
Vego
If you fancy a dairy-free Nutella hit, try Vego's chocolate melts. They're suitable for baking, snacking on and making hot chocolate with. You can purchase them from The Vegan Kind supermarket, Planet Organic and Healthy Supplies.
Holland & Barrett
Holland & Barrett have created their own vegan milk chocolate chips and these are free from added sugar too. If you want to cut back on sugar, these could be a good option for you.
Choice
Choice free-from chocolate buttons are a great alternative to milk chocolate buttons and they come in an orange flavour too!
Best vegan milk chocolate desserts
Is White Chocolate Vegan?
Typically, no. White chocolate is traditionally made with milk so it is not suitable for vegans. However, there are some options for dairy-free white chocolate.
Vegan white chocolate is the kind that I get asked about ALL the time! It's a lot harder to come by in some places, but there are quite a decent amount of options in the UK.
Some are more suited to snacking but there are great options for melting and making desserts with too. Let me share some of my favourites for both…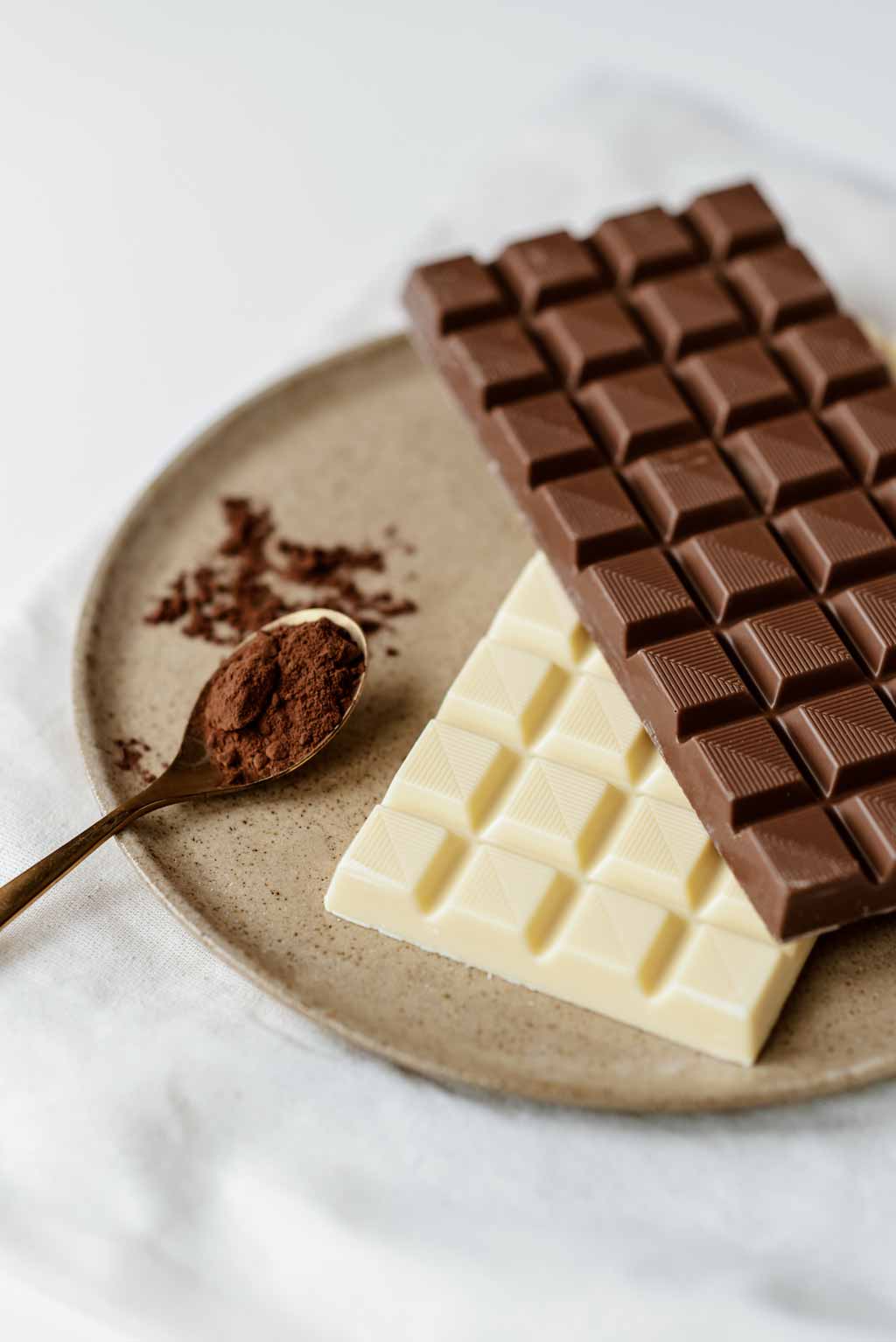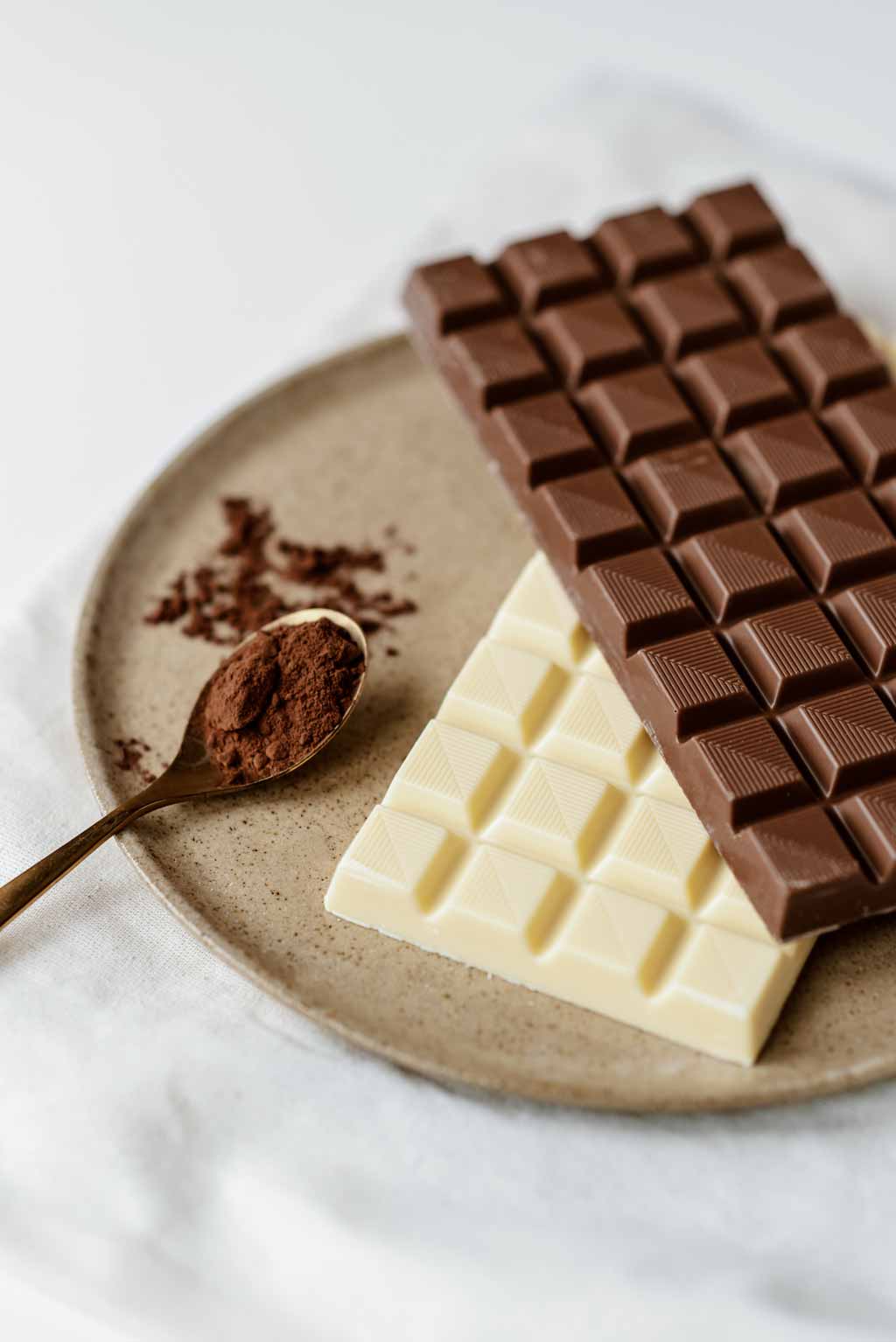 Vegan White Chocolate Bars
Let's find out which white chocolate is vegan!
Free from kitchen
The Free From Kitchen Co. is my go-to when it comes to white chocolate that's vegan. It's one of the biggest bars I can find in the supermarkets and it's not crazy expensive either. It costs £1.50 for 100g which is just slightly more than you'd pay for a non-vegan one.
Sainsbury's
This is another large white chocolate bar that I've come across but this one is a little bit cheaper than The Free From Kitchen Co., at just £1.10 per 100g. I really love this chocolate but the only reason I don't use it as often as the other one is because I don't live close to a Sainsbury's. If you do, I'd highly recommend this one for baking!
Moo free
Moo Free have a "Mini Moo" white chocolate bar which is, as the name suggests, a mini bar.
Tesco
These bars are a little smaller but work out roughly the same cost per 100g as the larger bars I mentioned. The non-vegans I know say that Tesco's vegan white chocolate tastes the most similar to the real deal and I think this one melts a little bit better for baking too.
Asda
Just like Tesco, Asda have a smaller white chocolate bar which is ideal for snacking on. But again, if you need a larger quantity for baking with, it works out only a little more expensive than buying the larger bars elsewhere.
Vego
Vego's white chocolate bar is filled with little almond pieces which give a nice crunchy element. This chocolate is super creamy and although it may not be the best choice for melting in baking recipes, it makes a great snack. You can purchase it from The Vegan Kind supermarket, Holland & Barrett, Amazon and Asda.
iChoc
iChoc is one of my favourites flavour wise when it comes to just straight up eating the chocolate (rather than baking with it). It's flavoured with vanilla and tastes really creamy and rich. It's available to purchase from Amazon, The Vegan Kind supermarket, and Holland & Barrett.
Organica
At £2.30 per 100g, this chocolate is a bit more pricey than some of the others I've mentioned but I thought I'd add it in just to give you more options! Buy it from Amazon or The Vegan Kind supermarket.
Morrisons
Is Morrison's white chocolate vegan? Not typically, but they do have a white chocolate and strawberry free-from bar. I haven't tried it for baking so I can't comment on how well it melts but the taste is delicious if you want something a little different to snack on. It costs £1.30 for 100g.
Vegan white chocolate chips
Are white chocolate chips vegan? Surprisingly, dairy-free white chocolate chips were very hard to find! I found Moo-Free white chocolate baking drops but apart from those, there wasn't much availability in the UK.
There are a few brands from overseas that are available on Amazon and Ebay but because they have to be shipped from the USA, they end up being extremely pricey. In case you're still interested though, the options are King David white chocolate chips and CG Gourmet.
If you're not able to get the Moo-Free white chocolate baking drops, I think your best bet would be to make your own using a melted vegan white chocolate bar and a chocolate chip mould.
Alternatively, you could just cut up your favourite vegan white chocolate bar and have white chocolate chunks like I do most of the time! It tastes just the same but of course, it depends whether or not you're going for a particular look with your desserts.
Moo Free
Yes, Moo-Free again! At this point, I feel like they are pretty much carrying the whole vegan white chocolate industry, LOL. I've seen these buttons in Tesco, but if you'd prefer to order online then you can also purchase them directly from Moo-Free, from The Vegan Kind and Vegan Town.
Asda free-from
These white chocolate buttons are pretty much identical to Asda's free-from white chocolate bars but in button form. They're reasonably priced at just 39p for 25g!
Tesco free-from
Tesco also have their own-brand white chocolate buttons which you'll be able to find in most stores. They taste pretty much the same as their own-brand chocolate bar, which is great, and they come in 25g bags.
Conscious candy
I only just recently discovered the Conscious Candy store and they have so many nice vegan treats on their site! They have white chocolate buttons on there (just click the drop-down menu above the quantity) priced at £1.99.
Humdinger
These white chocolate buttons are available from the Healthy Supplies website. I saw these a couple of times in Holland & Barrett (a very long time ago) but they're not listed on the H&B website anymore so I'm not sure if they still sell them. It's definitely worth a look though if you're ever passing!
Best vegan white chocolate dessert recipes
Is Chocolate Ganache Vegan?
Again, this is another thing that is typically made with dairy but it can easily be made vegan if you make your own.
Making vegan ganache
Now that you know all of your vegan chocolate options, I wanted to share all I know about using them in dessert recipes! First up is vegan chocolate ganache.
Typically, you'd use a ratio of 1:1 with non-vegan ganache. That is, 1 part chocolate and 1 part whipping/double cream.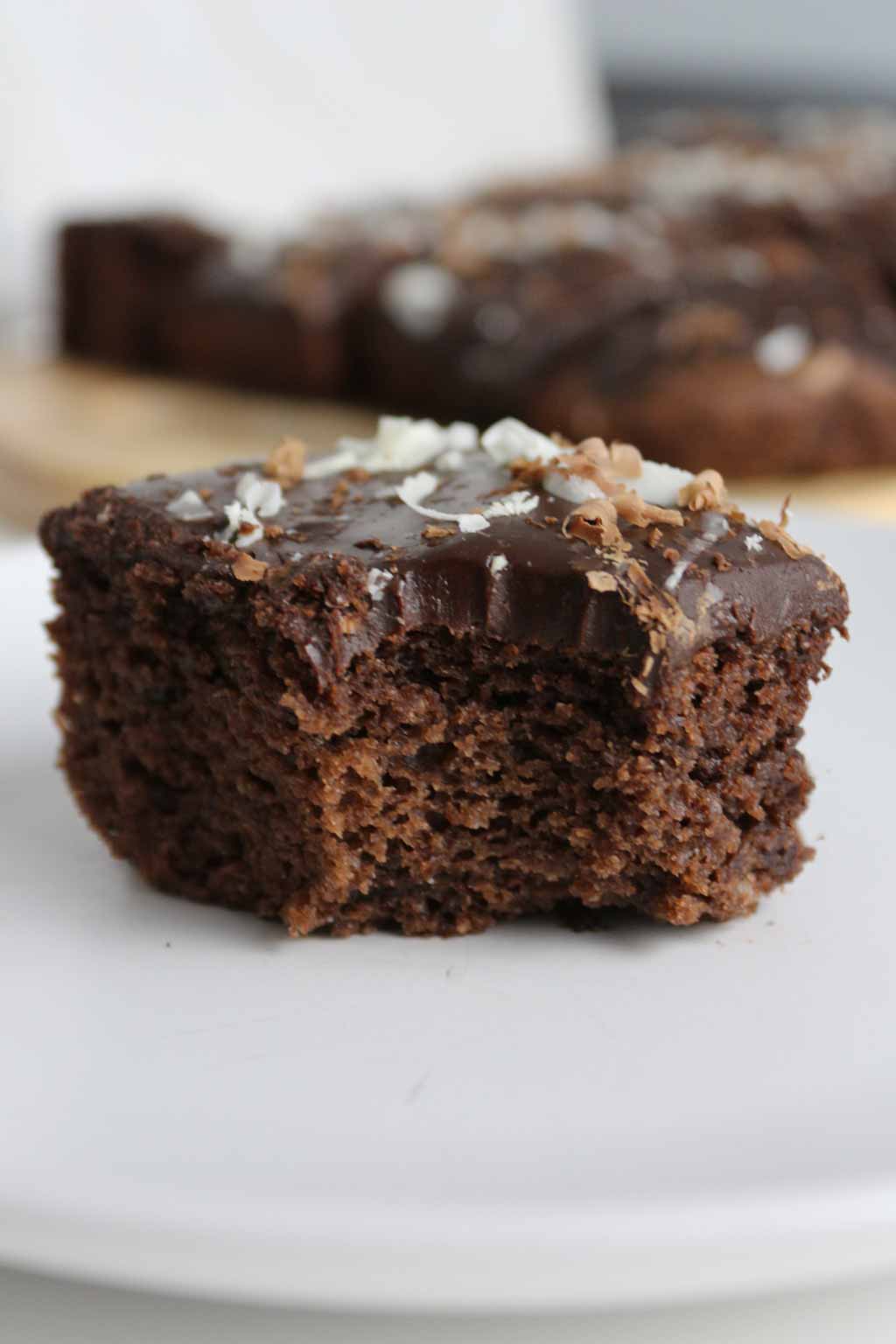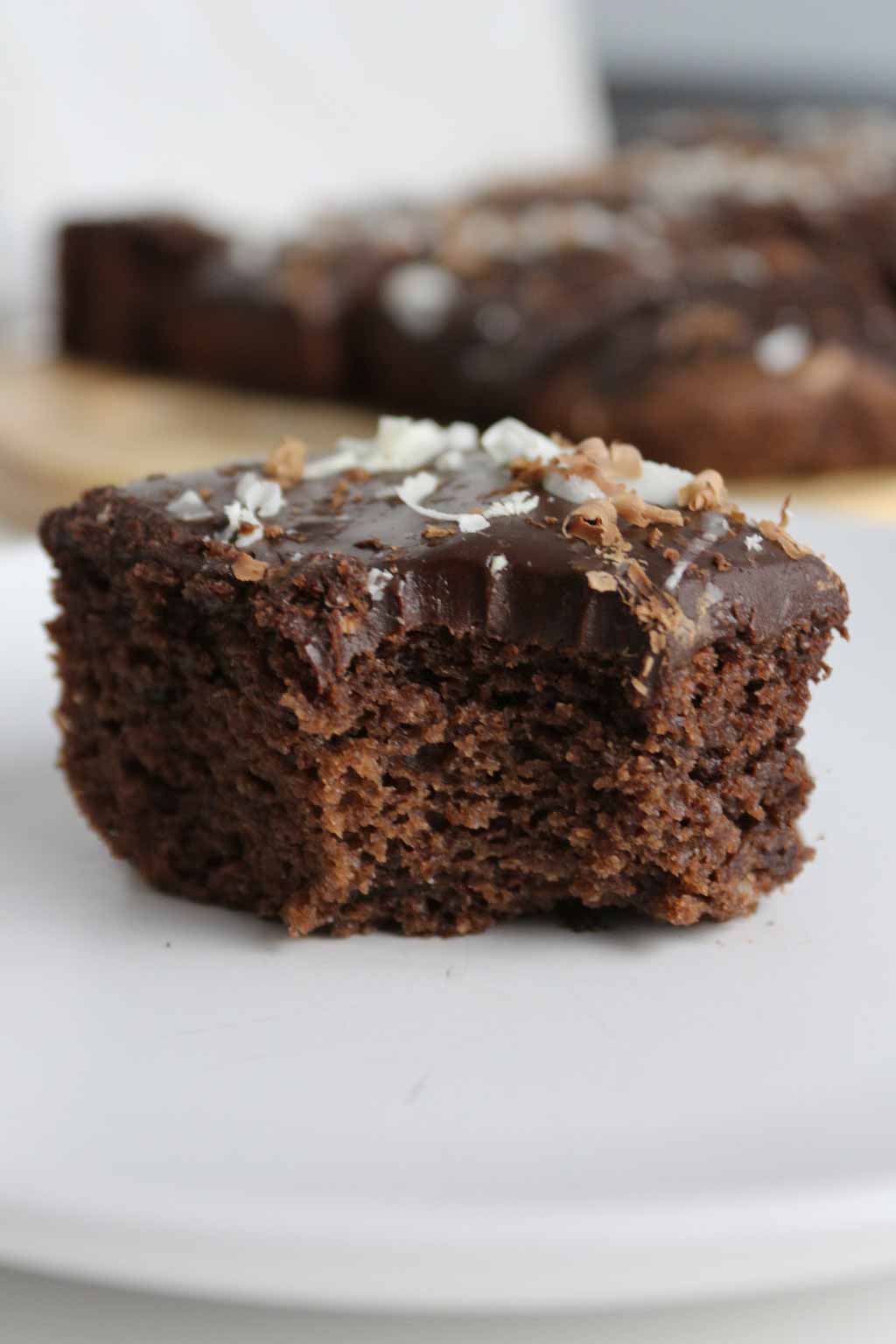 Coconut cream chocolate ganache recipe
The most commonly used cream alternative in vegan chocolate ganache is coconut cream. That's also known as the thick creamy part from the top of canned coconut milk.
This can be used pretty much exactly the same as double cream. The texture turns out the same and there are no extra steps you need to take.
To make coconut chocolate ganache, very finely chop 300g of vegan chocolate and place it in a heat proof bowl.
Next, gently heat 300ml of coconut cream in a pot. When bubbles start to form at the sides of the pot, pour the hot coconut milk over the chopped chocolate and stir until the chocolate has fully melted.
Place the bowl of ganache in the fridge until it's thick enough to spread/pipe. This will take around 2-3 hours, depending on the brands (ingredients) you use.
If you're mixing the coconut cream with vegan dark chocolate, the coconut taste will be completely unnoticeable. But if you're using vegan milk chocolate, it does alter the taste and in my opinion, it's not the most pleasant. In this case, you can use soy milk instead.
Soy milk chocolate ganache recipe
The most important thing you should know is that the traditional ganache ratios I mentioned above do not apply when it comes to making vegan ganache with soy milk. You will need a lot less soy milk as it contains more water and less fat.
For any ganache, but especially soy milk ganache, I recommend using semi-sweet chocolate such as Lovett's over bitter dark chocolate. The reason being, you don't add any extra sugar to the ganache so the end result will be just as sweet or bitter as your chocolate is.
Finely chop 300g of vegan chocolate and add it to a heat proof bowl with 120ml of unsweetened soy milk. I use organic soy milk as it doesn't contain any additives.
Place a saucepan on the stove with a small amount of water in it. Place the bowl over the saucepan so that it sits just above the water without touching it. This is also known as a Bain Marie.
Turn the heat to medium and gently stir until the chocolate has completely melted and there are no lumps left.
Using oven gloves, remove the bowl from the saucepan and turn the heat off.
Let the chocolate ganache sit at room temperature for 1 hour. After this time, you can spread it onto cakes. If you want it to be firmer for piping onto cupcakes, you can either pop it in the fridge until it reaches your desired consistency, or you can mix it with an electric whisk for 10 seconds to make it light and fluffy. Be careful not to do this for too long or it will cause the ganache to become hard.
What's the best chocolate to use for vegan ganache?
Any semi-sweet vegan chocolate will work well. Don't go too dark or the ganache will end up bitter.
As I mentioned above, my recommended vegan chocolate for ganache is Lovett's because it's just the right level of sweetness. Basically, however sweet the chocolate is, that's how sweet your finished ganache will be.
Ways to use vegan chocolate ganache
Vegan Chocolate Sauces
No vegan chocolate guide would be complete without vegan chocolate sauces! Chocolate sauce is great for using as a topping on dairy-free ice cream, brownies, cakes and in milkshakes (try it with my Oreo milkshake!).
Homemade vegan chocolate sauce
If you're in a pinch and want a quick and easy vegan chocolate sauce recipe, try this out.
Mix 1 part cocoa powder with 2 parts agave nectar or maple syrup. So if you have 1 tablespoon of cocoa powder, mix it with 2 tablespoons of agave/maple syrup.
It will take a while and look a little bit dry at first but keep mixing and you'll end up with a nice, smooth chocolate sauce!
I recommend making this sauce in small batches as and when you need to serve it. I've never tried making a large batch and storing it so I'm not sure how long it would last.
Ready-made chocolate sauces
There are quite a lot of chocolate sauces that are available to purchase in the UK, which came as quite a surprise to me when I first realised.
I used to always make my own as I never really considered that there would be many dairy-free options out there. But similar to the chocolate bars, many of the chocolate sauces available are accidentally vegan. So here's a list of all the ones I know about:
Sweet Freedom
This is one is great because it comes in a few different flavours: regular chocolate, mint chocolate, orange spice and coconut. The regular flavour is available from Waitrose, Morrisons, Asda, Tesco, Sainsbury's, Holland & Barrett, and more. All of the other flavours I mentioned can be purchased from the Vegan Kind Supermarket.
Askey's Treat! Chocolate Dessert Sauce
Askey's chocolate sauce is one that most of us Brits will remember from childhood! I used to eat it all the time on ice cream as a child but I had no idea it was vegan until I actually became a vegan and checked!
Their chocolate chunk crackin' sauce is also dairy-free too! Yes, that is the one that hardens into chocolate on ice cream, and it was my absolute weird obsession as a child!
Both are available to purchase in most of the large supermarkets.
Hershey's chocolate syrup
Technically a product of the USA but you can purchase it here too! You can buy it from Tesco, Asda, Sainsbury's and Amazon. It's a little more expensive than some of the others but that's to be expected.
Groovy Food agave chocolate sauce
Groovy Food is my go-to brand when I'm purchasing agave nectar but I recently noticed they have a chocolate sauce too! They have plain, raspberry and chocolate orange flavours.
Nature's Charm coconut chocolate fudge sauce
I haven't tried this one yet but trust me when I say it's HIGH on my priority list! I've seen so many people baking with it on Instagram and it looks delicious. You can purchase it from Amazon, The Vegan Kind Supermarket, and Holland & Barrett.
Skinny Food Co.
This is a chocolate flavoured syrup and is quite popular with people who are trying to lose weight because it's free from sugar and even calories. They have a vegan white chocolate syrup too! You can purchase them directly from The Skinny Food Co. or from Amazon.
Vegan chocolate truffles
If you've been missing chocolate truffles since going vegan, fret not. Whether you want to buy truffles as a gift or make them yourself as a treat, the next few links will help with that! I've listed the best shop-bought ones that I know of as well as some of my own vegan truffle recipes.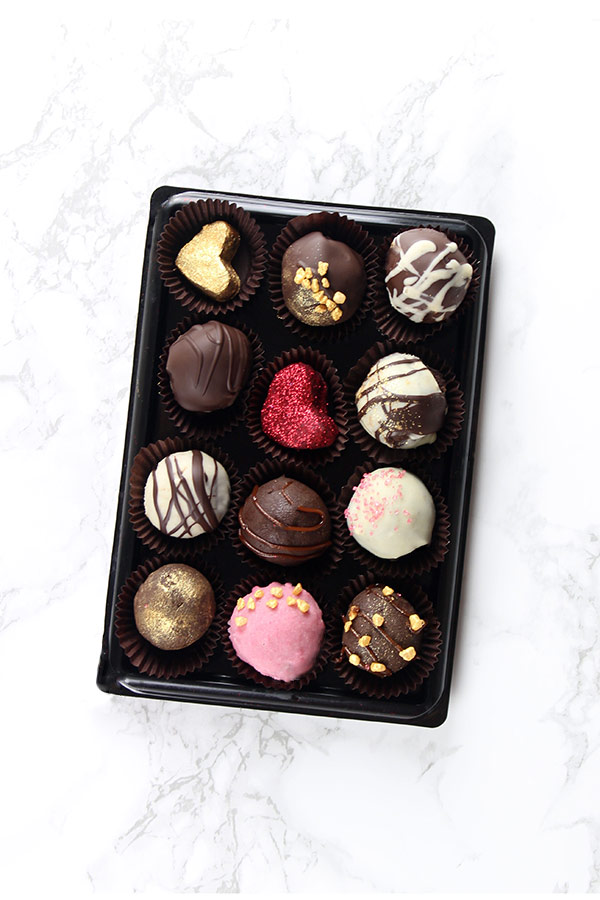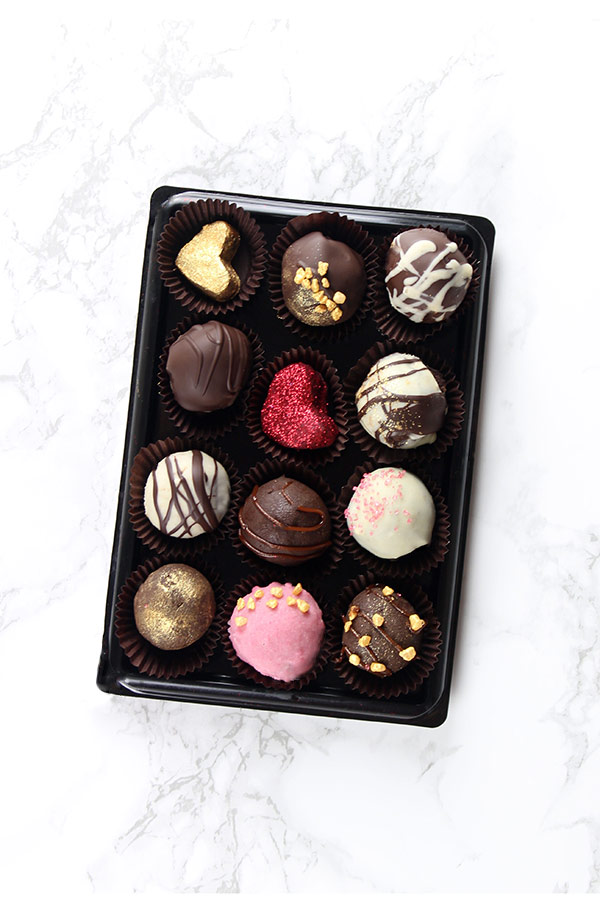 Booja Booja
These are the first vegan truffles I ever tried and although they were a little expensive to me at the time, I'd say they are totally worth the price! They're made with organic ingredients and are gluten-free and soy-free. They're available from Booja Booja's website, Amazon, Planet Organic and Asda.
M&S vegan truffle and caramel selection
As far as I know, these are a relatively new thing for M&S and I absolutely love them! They are vegan dark chocolate truffles and they definitely taste "dark" with a hint of sweetness but they are reasonably priced considering it's M&S we're talking about here! There are a few different flavours in the box including orange and salted caramel. They also have a cocoa dusted selection which are a bit cheaper. Get them from M&S stores or from Ocado.
Sainsbury's free-from
I haven't tried these truffles myself yet but the description of "milk alternative to truffles" sounds really promising!
Hotel Chocolat
Hotel Chocolat have a few vegan truffle options available and they are great if you're looking for something more luxury. Their vegan truffles are made with creamy, "milk" chocolate and the boxes include a few different flavours. They also come with vegan chocolate batons. Get your vegan h-box or sleekster box from their website.
Kakoa
Kakoa have the best variety of flavours that I've seen so far in vegan truffles. They have flavours such as gin, peanut butter, white chocolate and cherry. You can browse all of their truffle varieties on the Friars website.
Monty Bojangles
These cocoa dusted truffles are available to purchase from The Vegan Kind or in Waitrose stores.
Buttermilk
Buttermilk has dairy-free chocolate truffles that are smooth and creamy inside. You can buy them from Sainsbury's or The Vegan Kind Supermarket.
Asda and Tesco have free-from truffle boxes that are available around Christmas time too, so keep an eye out when you're in stores during the festive period.
Homemade vegan chocolate truffles
Basic vegan chocolate truffle recipe
To make your own vegan truffles from scratch, all you'll need is coconut milk and dark chocolate. Don't worry, the strong flavour from the dark chocolate completely covers up any coconut taste, so your truffles won't even remotely taste like coconut.
Gently melt 200g of vegan dark chocolate in a small pot. Once melted, remove it from the heat. I would really recommend using a high-quality dark chocolate for this recipe, something with 70% cocoa or more.
In a separate pot, heat 100ml of full-fat coconut milk (the tinned kind). When you see bubbles starting to form at the sides of the pot, remove it from the heat and pour it into the pot of melted chocolate.
Let it sit for a few minutes, then stir to create a thick mixture. Transfer the mixture into a bowl and place it in the fridge for 30-45 minutes, or until you can roll it into balls without it sticking to your hands.
Coat the truffles in cocoa powder, desiccated coconut or your favourite melted vegan chocolate. Decorate with another drizzle of chocolate, edible glitter or cake decorations of choice and enjoy!
Alternatively, you can use soy milk, by following my vegan dark chocolate ganache recipe and letting it set long enough so that you can roll it into balls.
White chocolate orange truffles
These white chocolate orange truffles are simply my basic vegan truffle recipe, coated in dairy-free white chocolate with a small amount of orange extract added. The flavour really reminds me of Terry's chocolate orange!
Oreo truffles
A simple mix of dairy-free cream cheese and crushed up Oreo cookies makes a delicious truffle filling. They can be enjoyed just like that or coated in a layer of chocolate for a treat that would make a beautiful edible gift. Get the recipe here.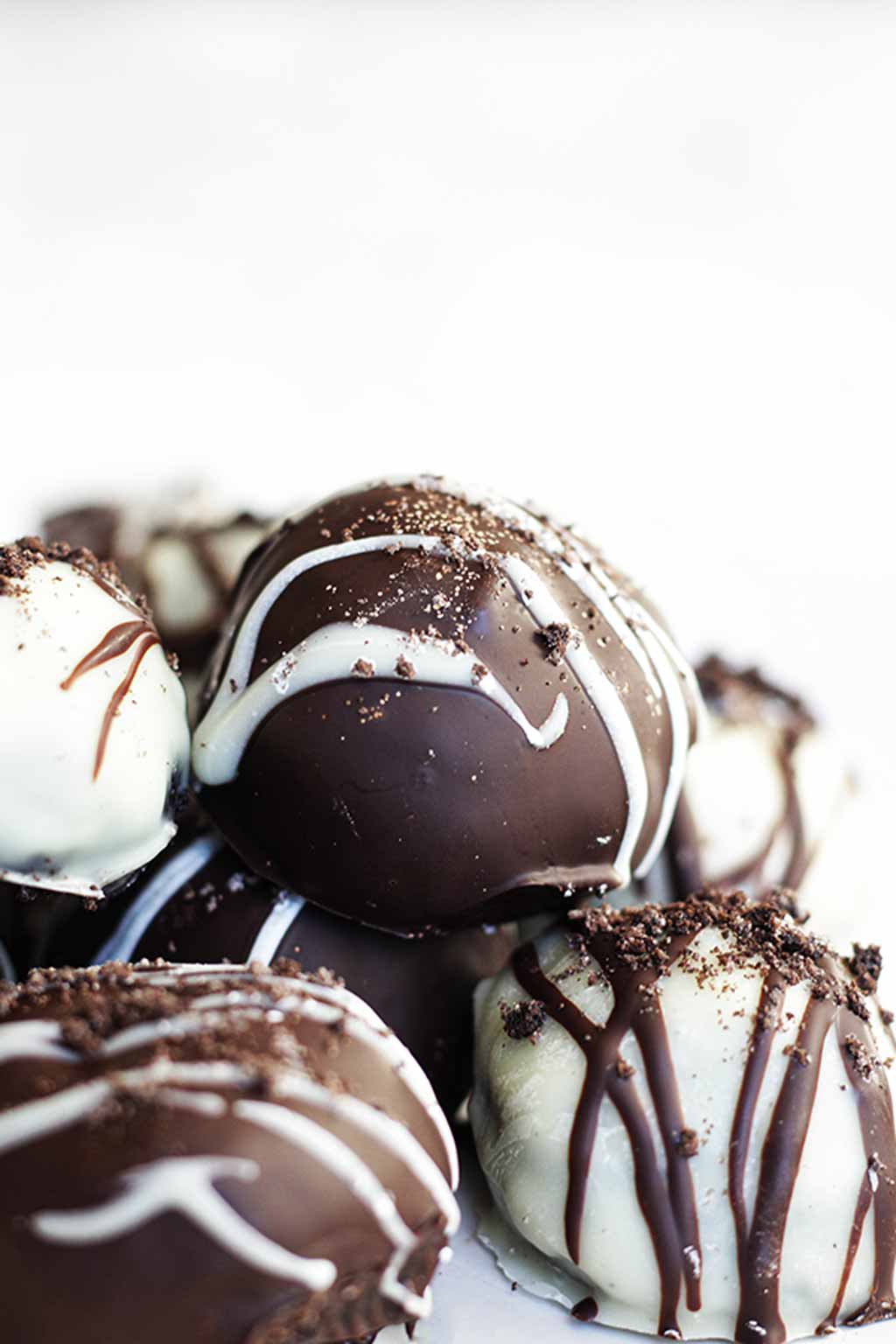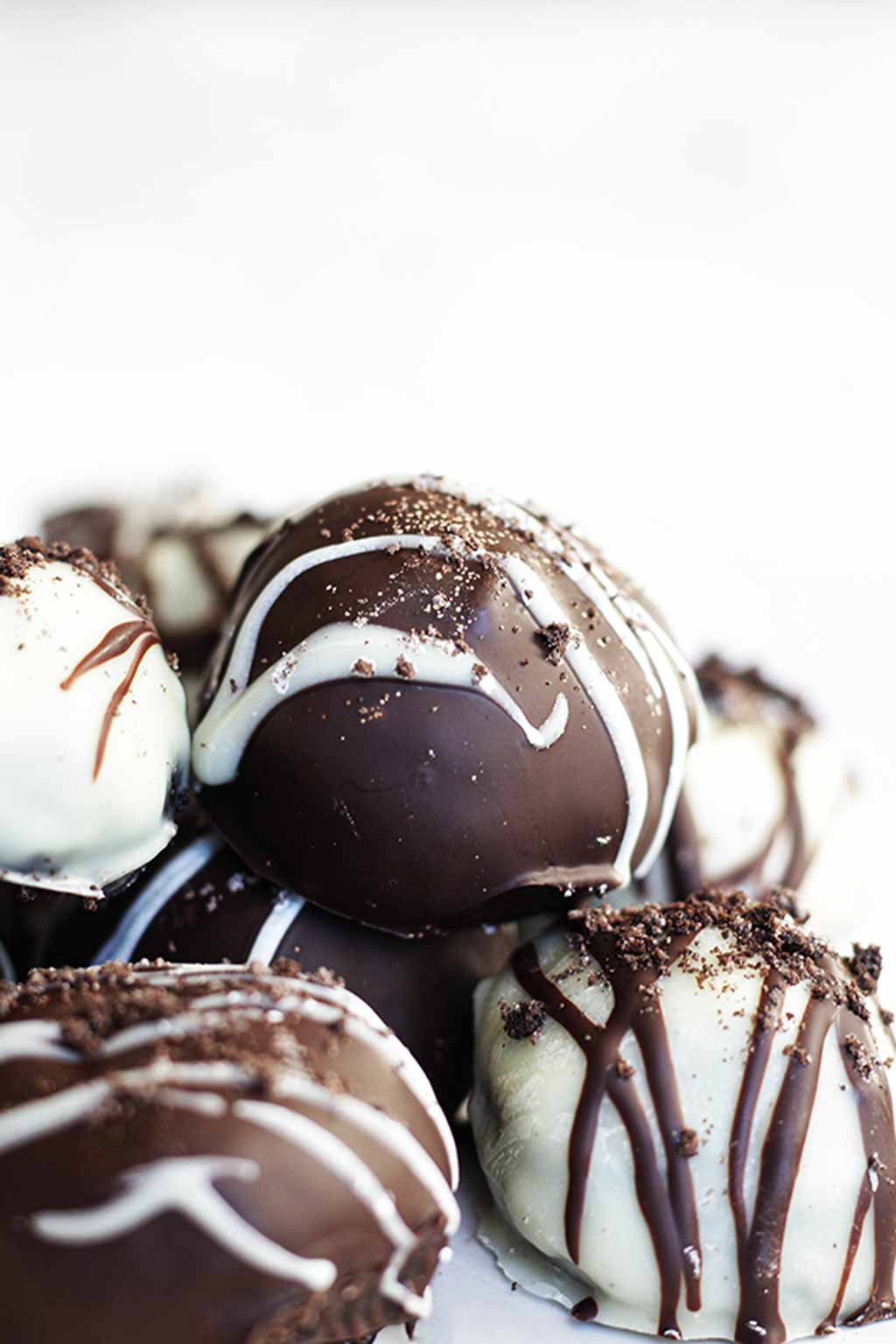 Biscoff truffles
Similar to the Oreo truffles, vegan Biscoff truffles are made in a cheesecake style too. I love the combination of Biscoff and white chocolate so I usually choose to coat them with white chocolate, although dark is great too.
Is chocolate vegan? I hope this vegan chocolate guide has answered your question and has been useful to you. If you enjoyed this post, please share it with a friend or Pin for later! xo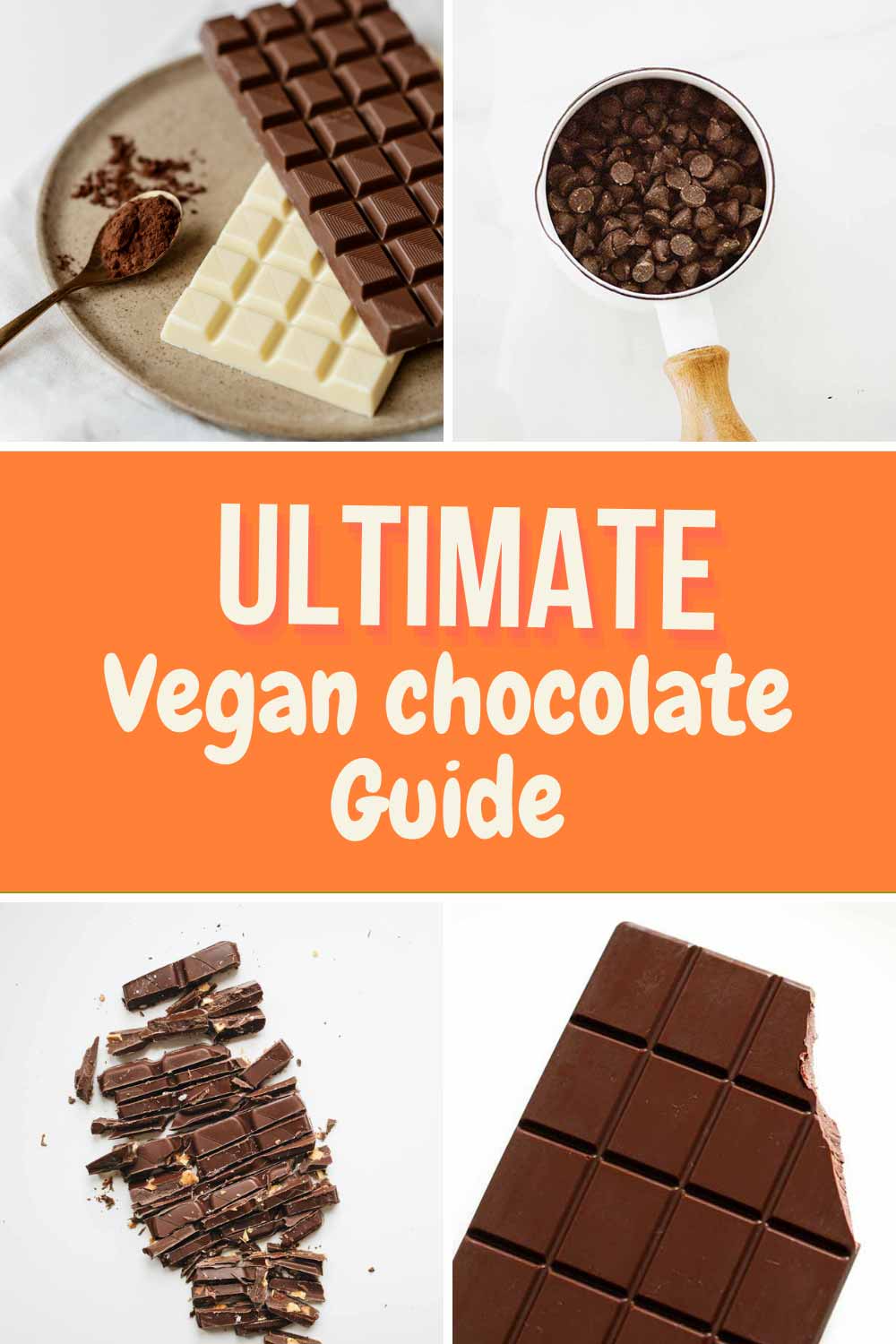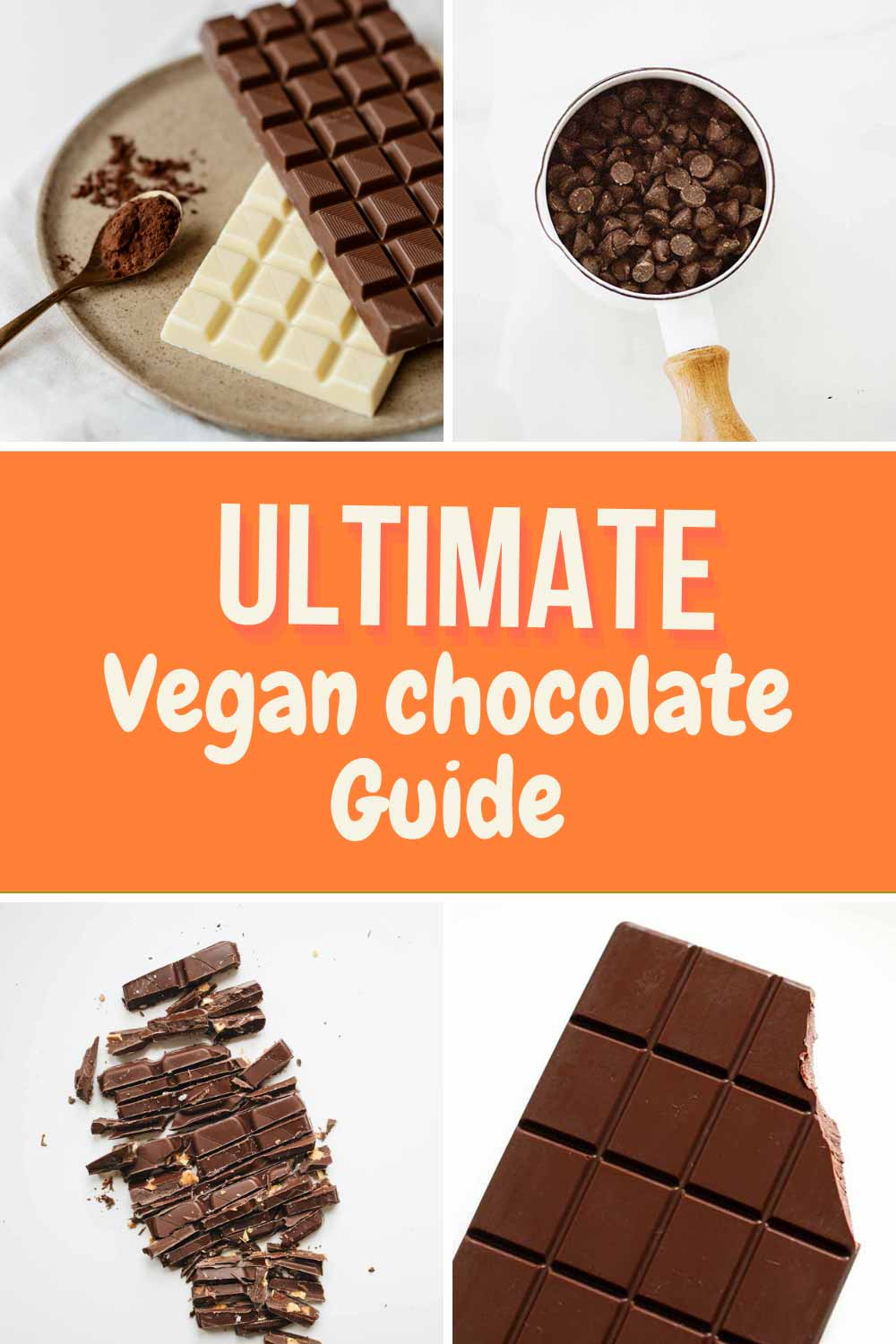 Homemade Dairy-Free Chocolate – Is Chocolate Vegan?
Homemade vegan chocolate recipe with just 3 ingredients.
Ingredients
40

g

Cocoa butter, finely chopped

20

g

Cocoa powder

(unsweetened)

40

g

Icing sugar*
Instructions
On a double boiler, gently melt the cocoa butter until it is completely liquified.

Once melted, remove it from the heat.

Sift the cocoa powder and icing sugar into the bowl with the cocoa butter and stir until you have a smooth mixture.

Pour the mixture into your chocolate mould and place it in the freezer for 20 minutes until completely firm.

Carefully remove it from the mould and enjoy!
Recipe Notes
Store homemade chocolate in an airtight container in the fridge for up to 1 month.
*Icing sugar produces chocolate that is ever-so-slightly grainier than shop-bought chocolate. It can be subbed for 1 tablespoon agave nectar or maple syrup for a smoother texture, though the chocolate will be more bitter. It will not set as firm if you use any more than this amount.
I used these silicone chocolate bar moulds from Amazon.
Nutrition Facts
Homemade Dairy-Free Chocolate – Is Chocolate Vegan?
Amount Per Serving (1 Half of a bar)
Calories 297
Calories from Fat 198
% Daily Value*
Fat 22g34%
Carbohydrates 21g7%
Protein 2g4%
* All values are an estimate only and will vary depending on the food brands used.
BakedByClo is a participant in the Amazon Services LLC Associates Program, an affiliate advertising program designed to provide a means for sites to earn advertising fees by advertising and linking to Amazon.com. This site may contain some of these links to Amazon.com & other affiliate programs. If you make a purchase through one of those links, BakedByClo will receive a small commission from the purchase at no additional cost to you.