Vegan Biscoff Fudge (Dairy-Free)
This vegan Biscoff fudge is quick and easy to make with just 2 ingredients! It's sweet and creamy, flavoured with speculoos and a hint of dairy-free white chocolate.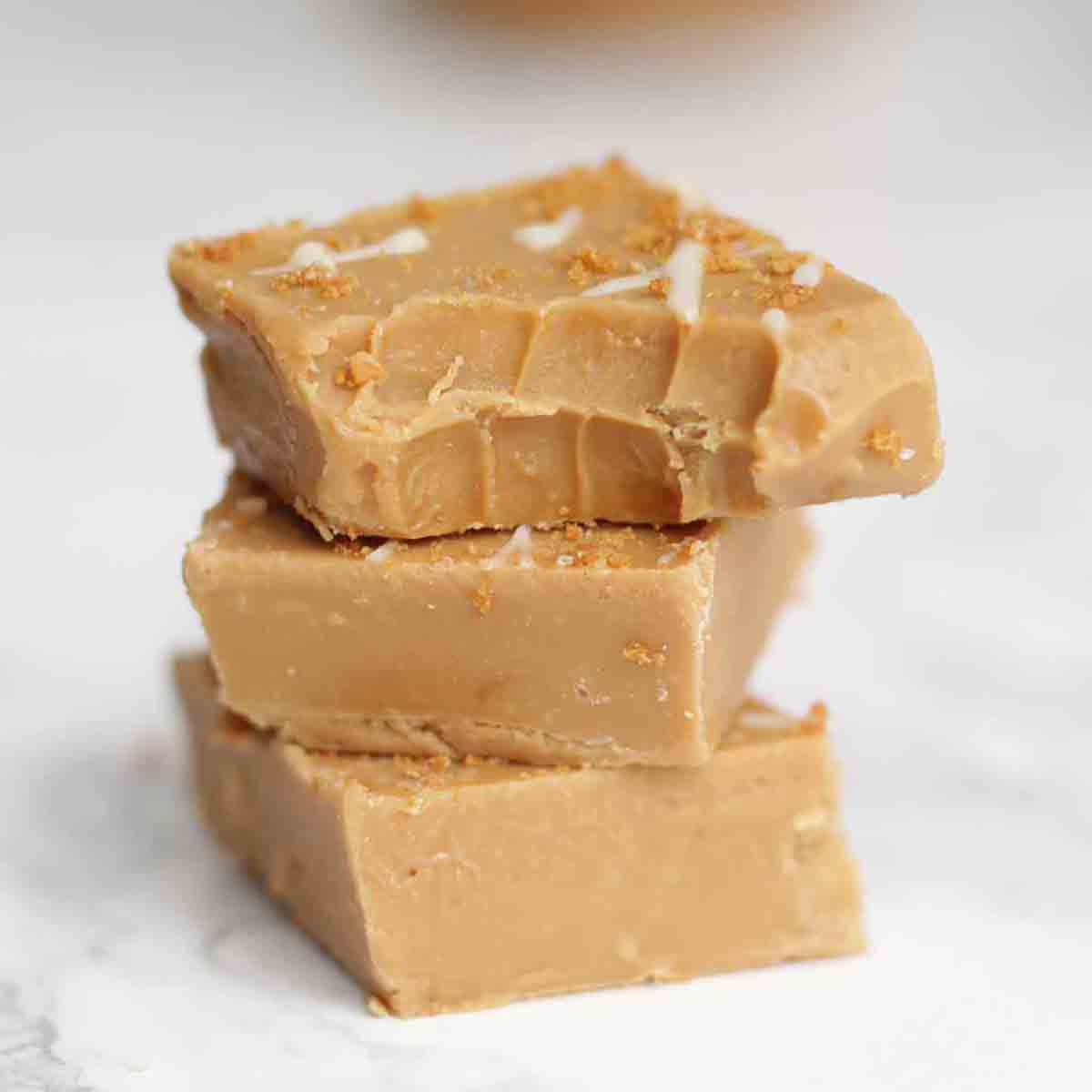 Dairy-free Biscoff fudge? Sign me up!
This recipe actually came to me on a whim the other day after daydreaming about Christmas sweets.
Unlike some of my other recipes, the first test turned out perfect! It usually takes a good few tries to get a recipe spot on, so this was nothing short of a Christmas miracle.
I wrote a chocolate and peanut butter fudge recipe for my newsletter earlier this year and it was quite similar to this one.
I figured if I switched the dark chocolate for dairy-free white chocolate and the peanut butter for vegan-friendly Biscoff spread, it should work out. And it did! Which I'm SO happy about!
This is one of the easiest dairy-free Biscoff fudge recipes you'll find! There's no need for coconut cream or other cream alternatives and it can be made easily WITHOUT condensed milk.
Just 2 simple ingredients and you're good to go!
This makes a really nice edible gift and the perfect chocolate fondue dipper. It is a creative alternative to shop-bought chocolates and is quite unique as you can't buy anything like it in supermarkets or mainstream stores yet (to my knowledge, at least).
Want more vegan dessert recipes? Try these: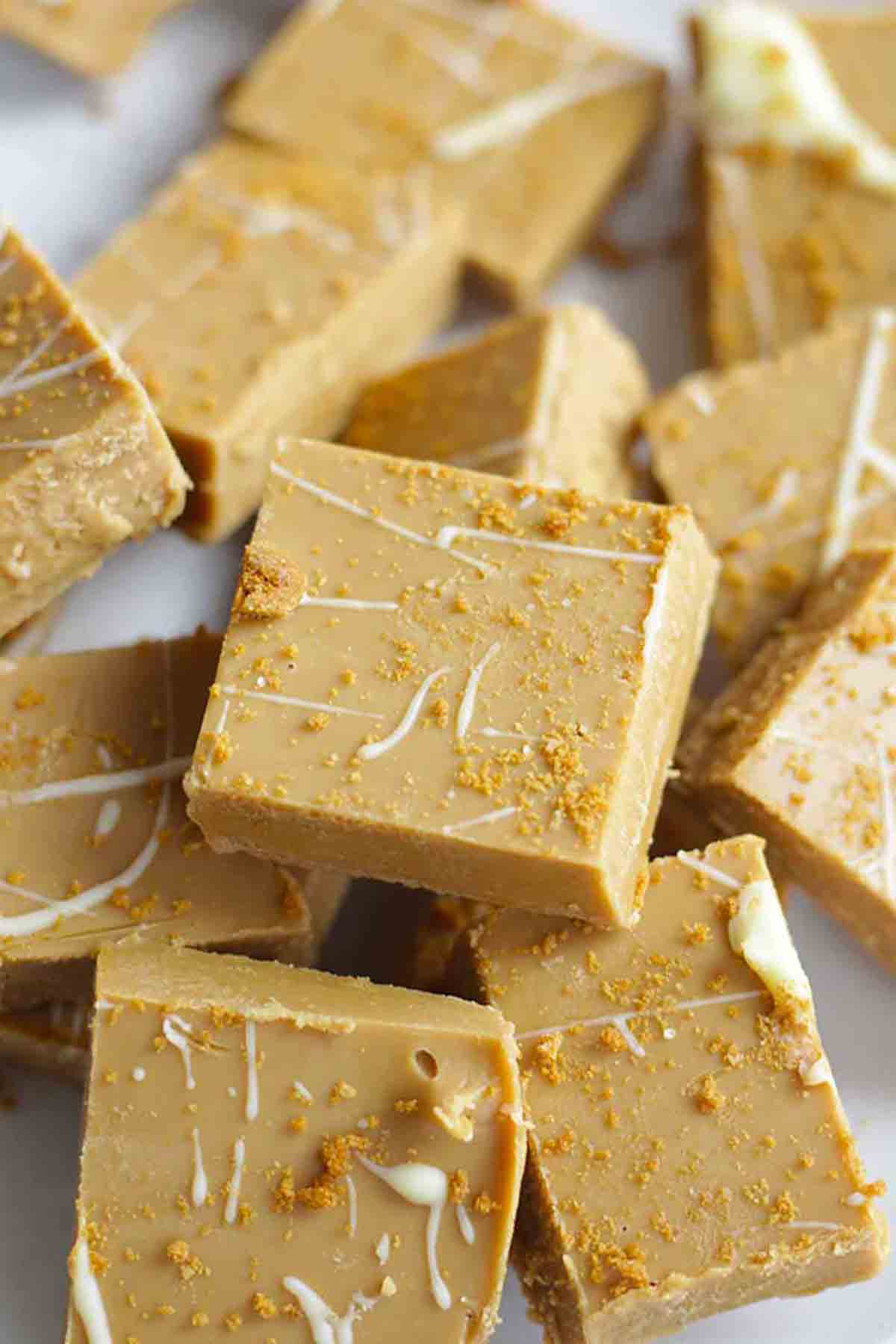 How to make vegan Biscoff fudge
The things you'll need for this recipe are:
250g of dairy-free white chocolate (plus a few more squares for drizzling on top if you like)
A saucepan and wooden spoon
An 8 x 8-inch square dish or baking tin (I used a glass Pyrex roasting dish)
Baking paper
1 Biscoff biscuit, crushed into crumbs (this is for decoration and is totally optional)
Step 1:
Roughly chop or break up the dairy-free white chocolate and place it into your saucepan. Turn the heat to low and gently stir every-so-often until it is completely melted.
Note that white chocolate burns and seizes much easier than other types of chocolate so be very careful!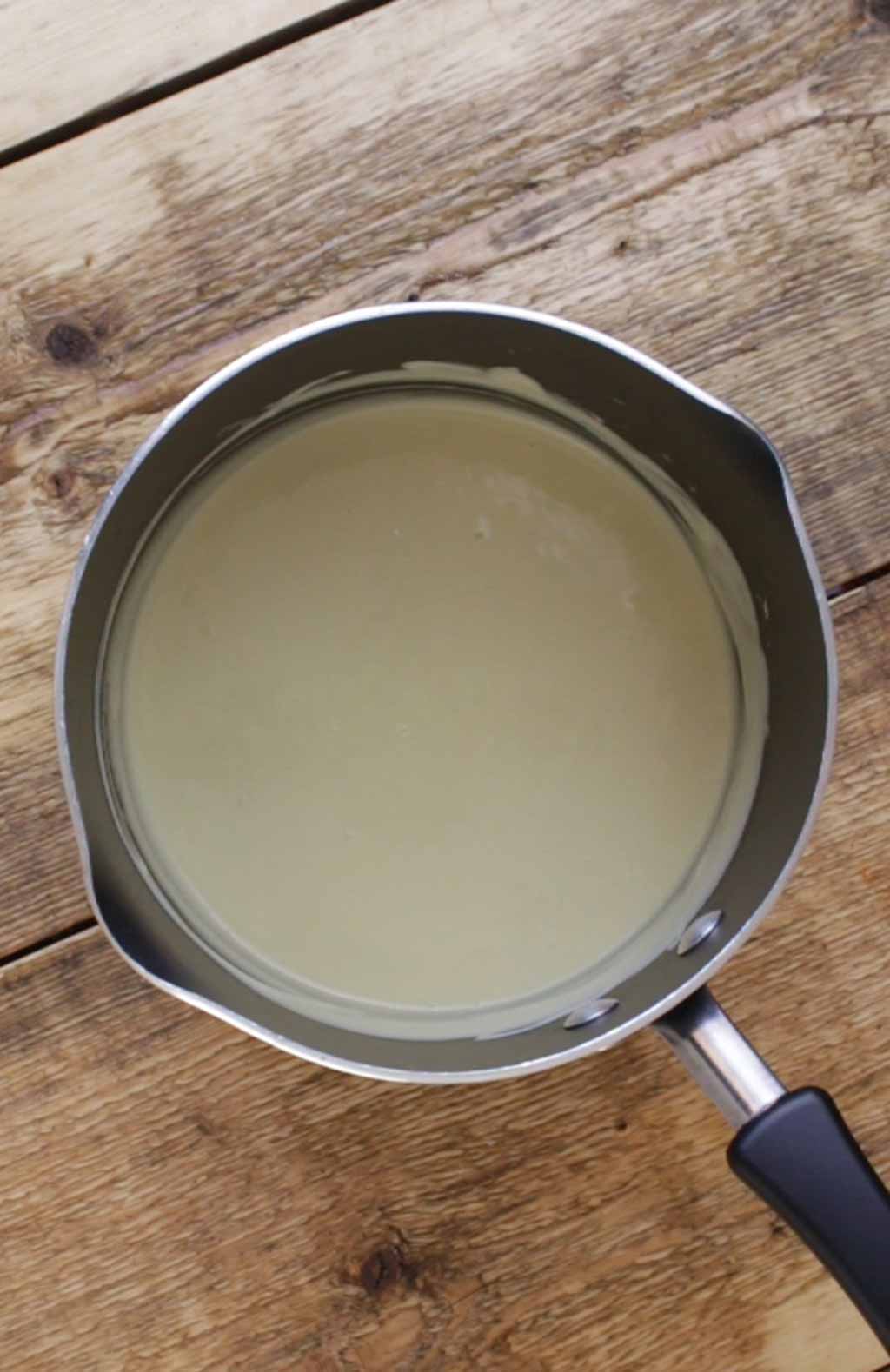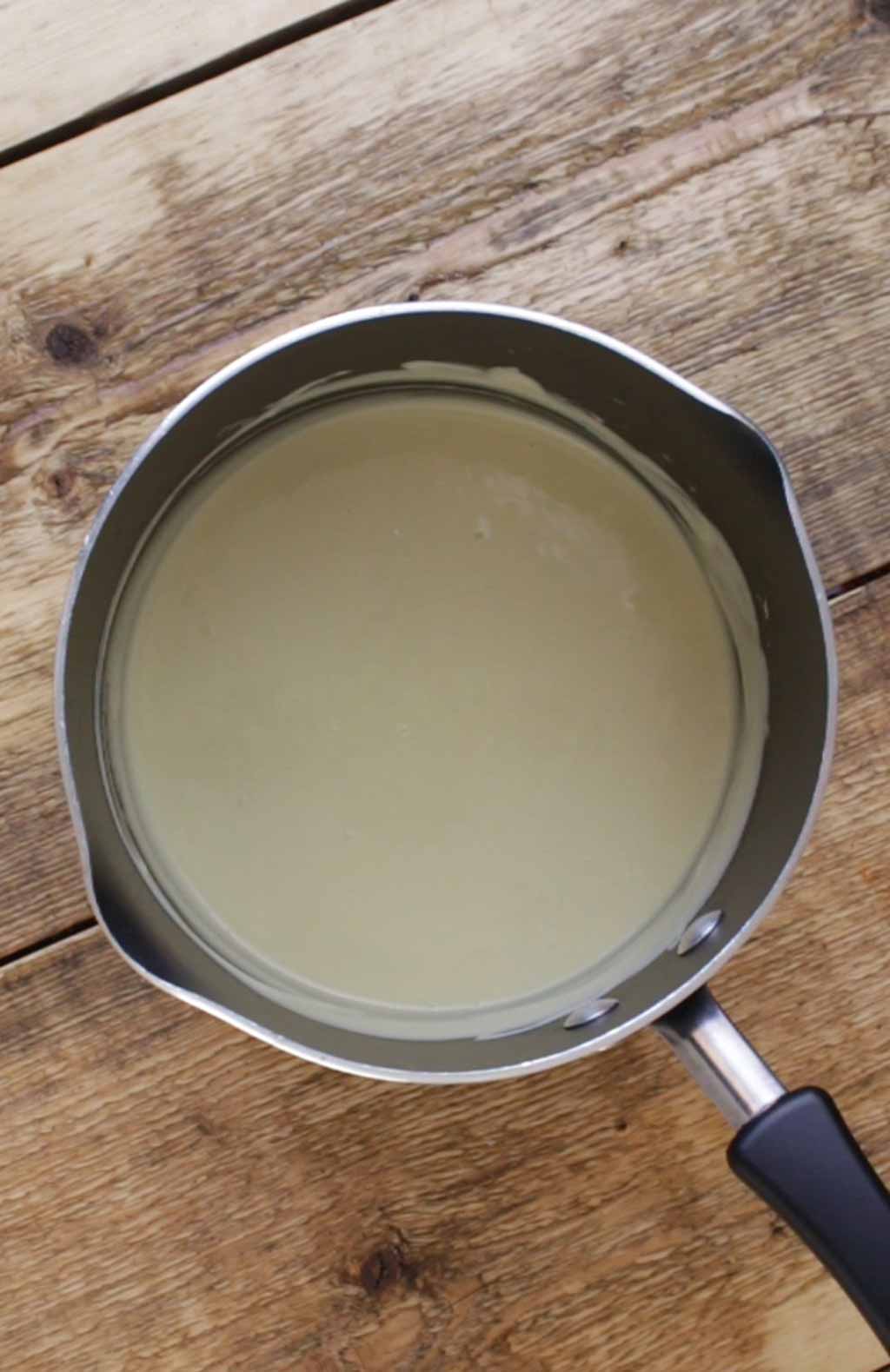 Step 2:
Once the chocolate has melted, remove the pan from the heat.
Add in the Biscoff spread and use your wooden spoon to stir it in. The heat from the chocolate will melt the spread and you'll end up with a smooth, runny mixture.
Make sure it's mixed together really well and that there are no streaks of chocolate left in there.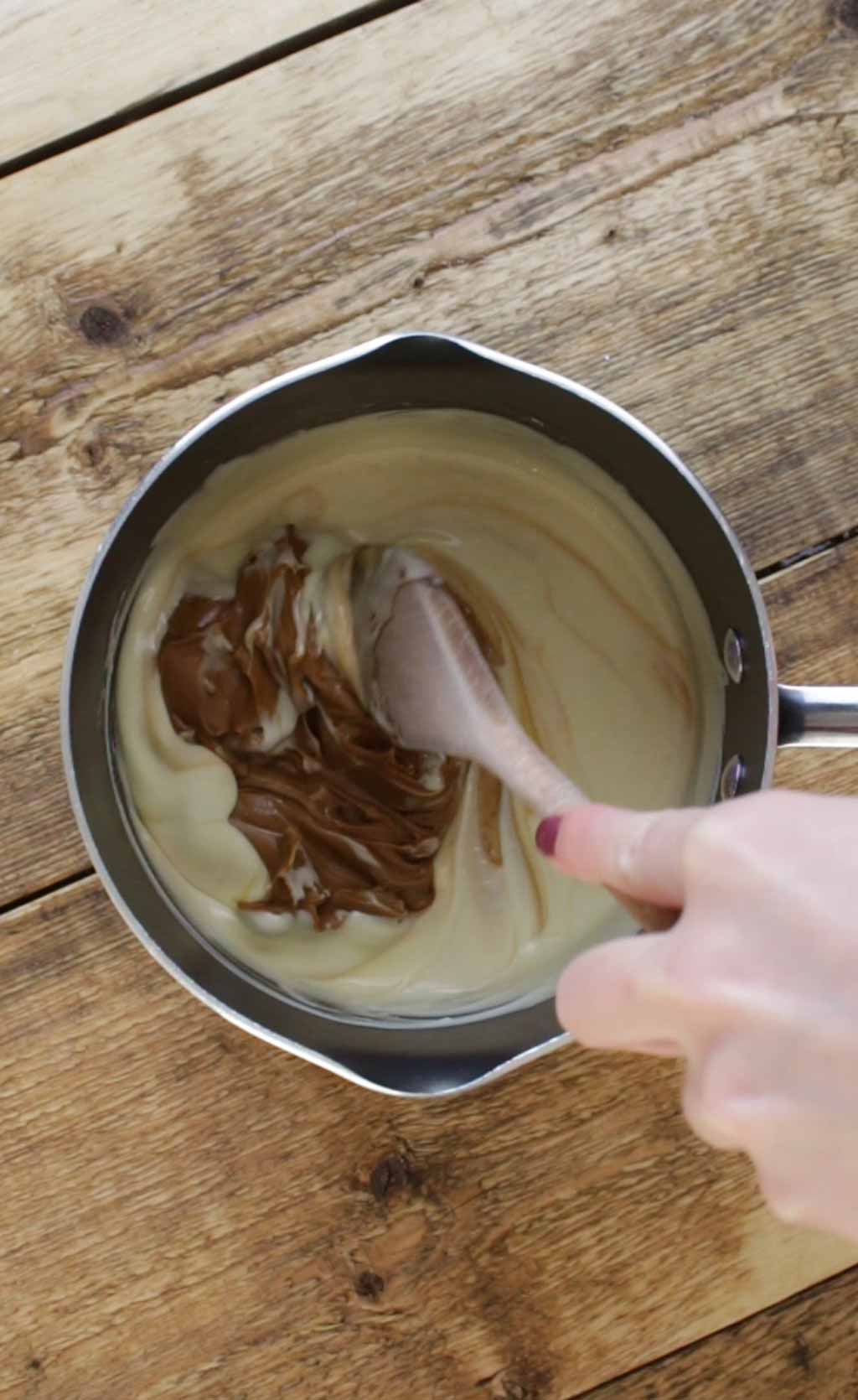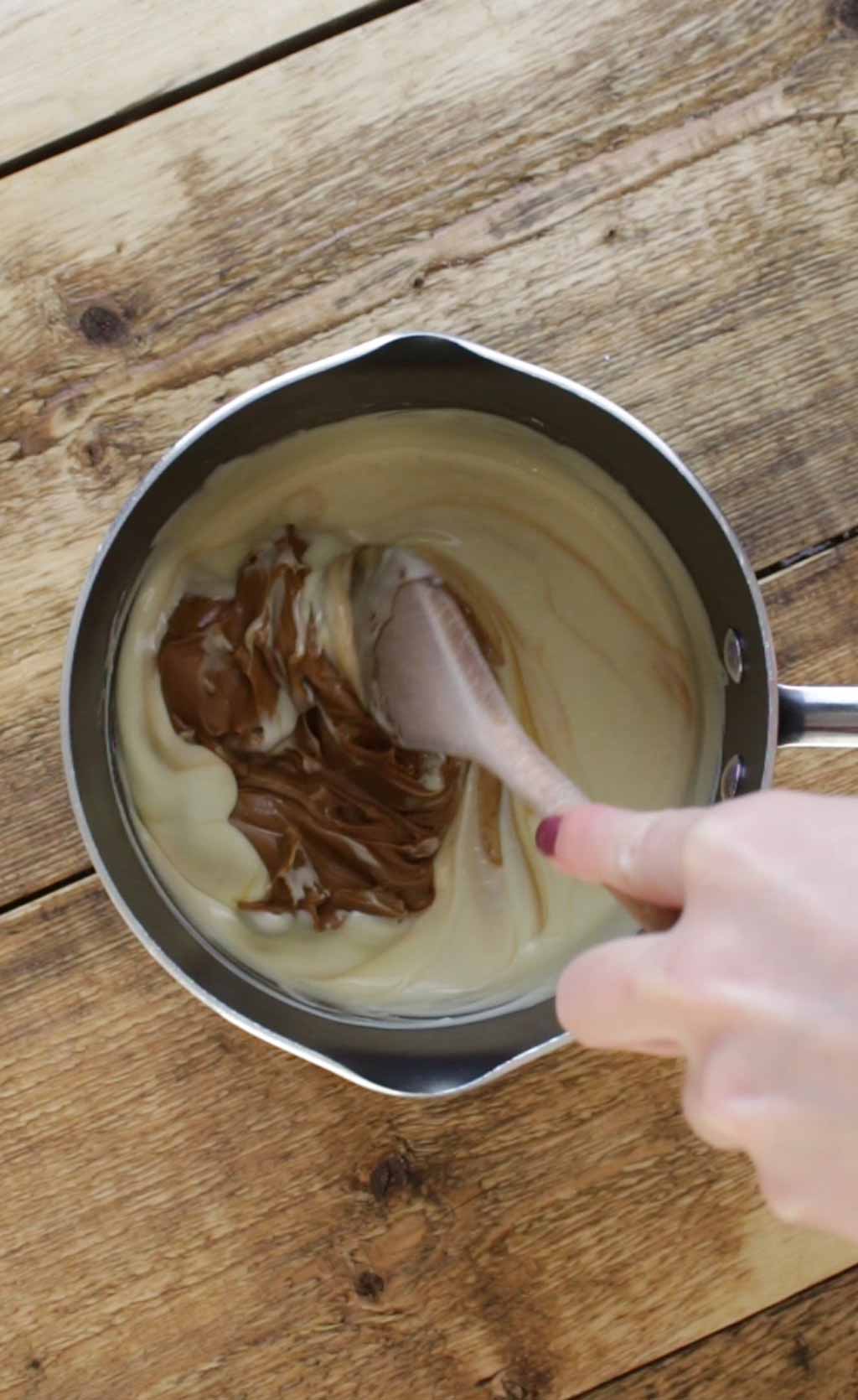 Step 3:
Line your tin with baking paper and pour all of the mixture in. Spread your vegan Biscoff fudge mixture out evenly to the corners and leave it at room temperature for 5-10 minutes to cool down.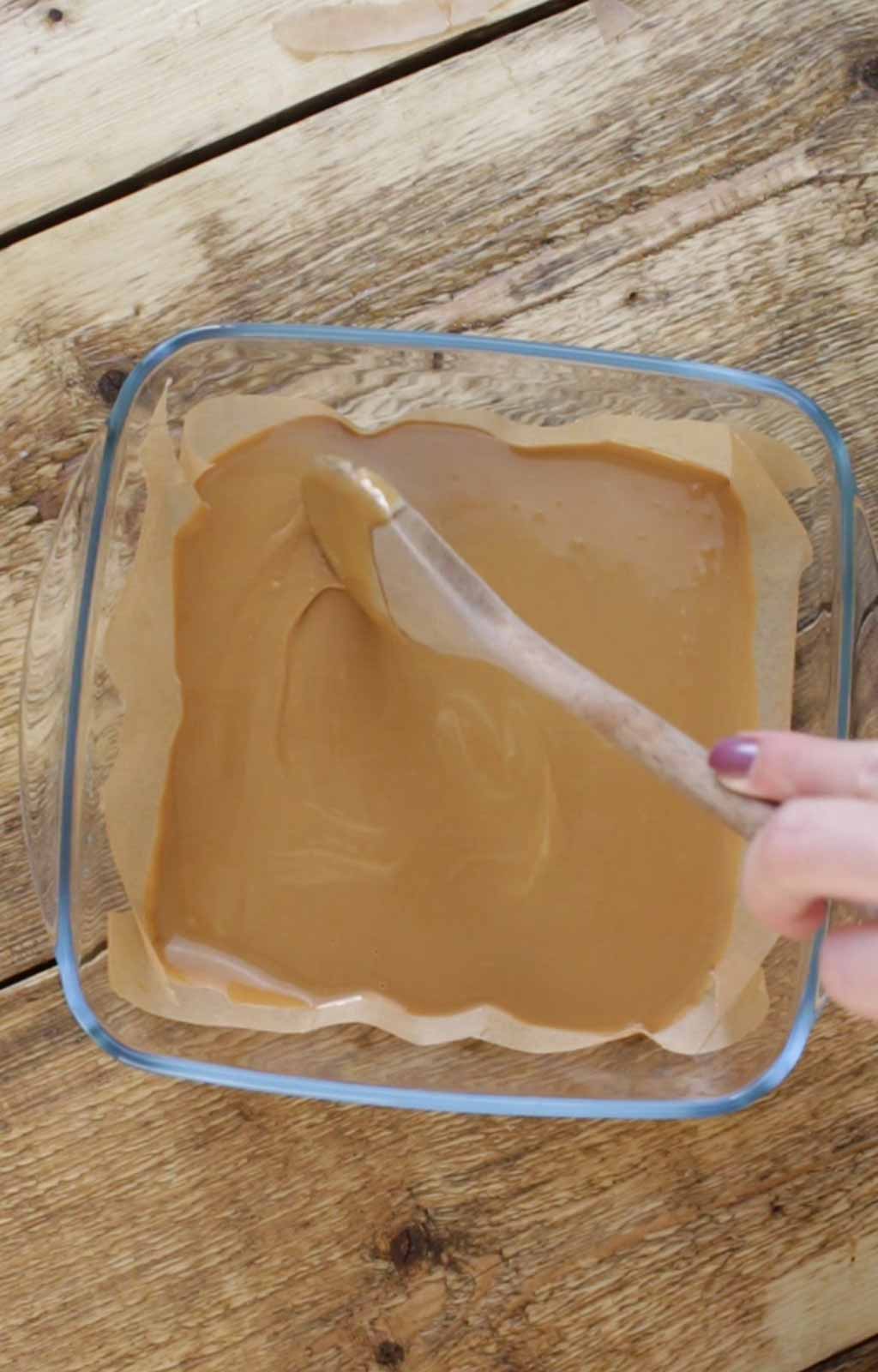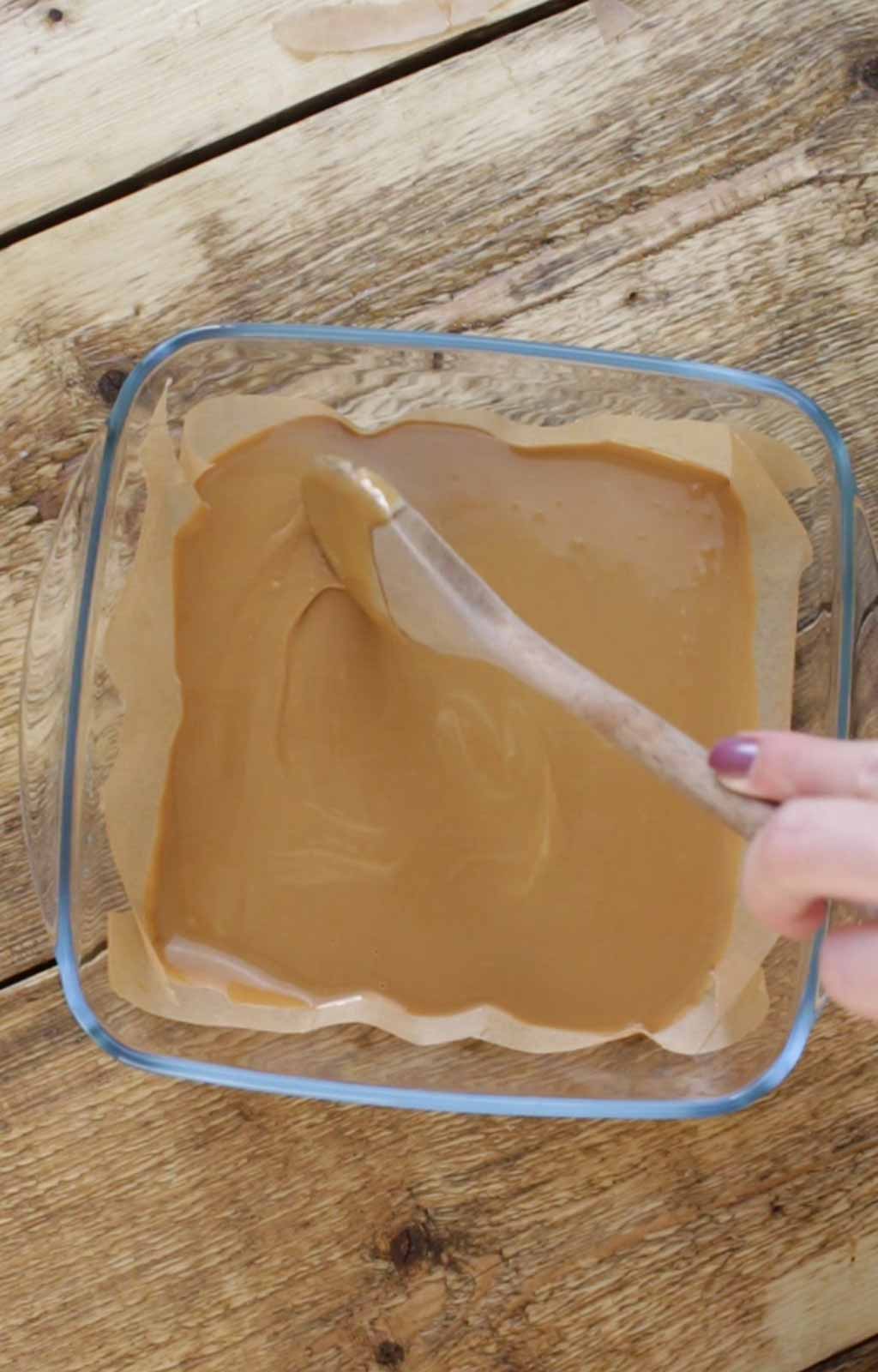 Step 4:
Transfer it to the fridge for 2 hours to let it set completely.
Step 5:
After the fudge has set, use the baking paper to remove it from the tin.
If you have kept some extra white chocolate aside, you can melt it now and drizzle it over the fudge. Then crush the Biscoff biscuit crumbs over, using the chocolate to stick them on.
Step 6:
Let the chocolate drizzle set, then cut any rough edges off of the block of fudge.
Cut your dairy-free Biscoff fudge into small squares. I got about 18 pieces plus some cut-offs but you can get a lot more or less depending on how big or small you want your fudge to be!
FAQ:
How should vegan Biscoff fudge be stored?
This dairy-free Biscoff fudge is best stored in the fridge in an airtight container but it can be stored at room temperature too.
How long will it last?
It will last at least a week if stored in the fridge but I imagine it will last a lot longer!
Can it be frozen?
Yes! This type of fudge is actually perfect for freezing.

Pop it in an airtight container, with a piece of baking paper in between each layer if you're stacking it. This will stop it from sticking together in the freezer. You can freeze it for up to 3 months.

To defrost, transfer it to the fridge and give it a few hours to thaw completely.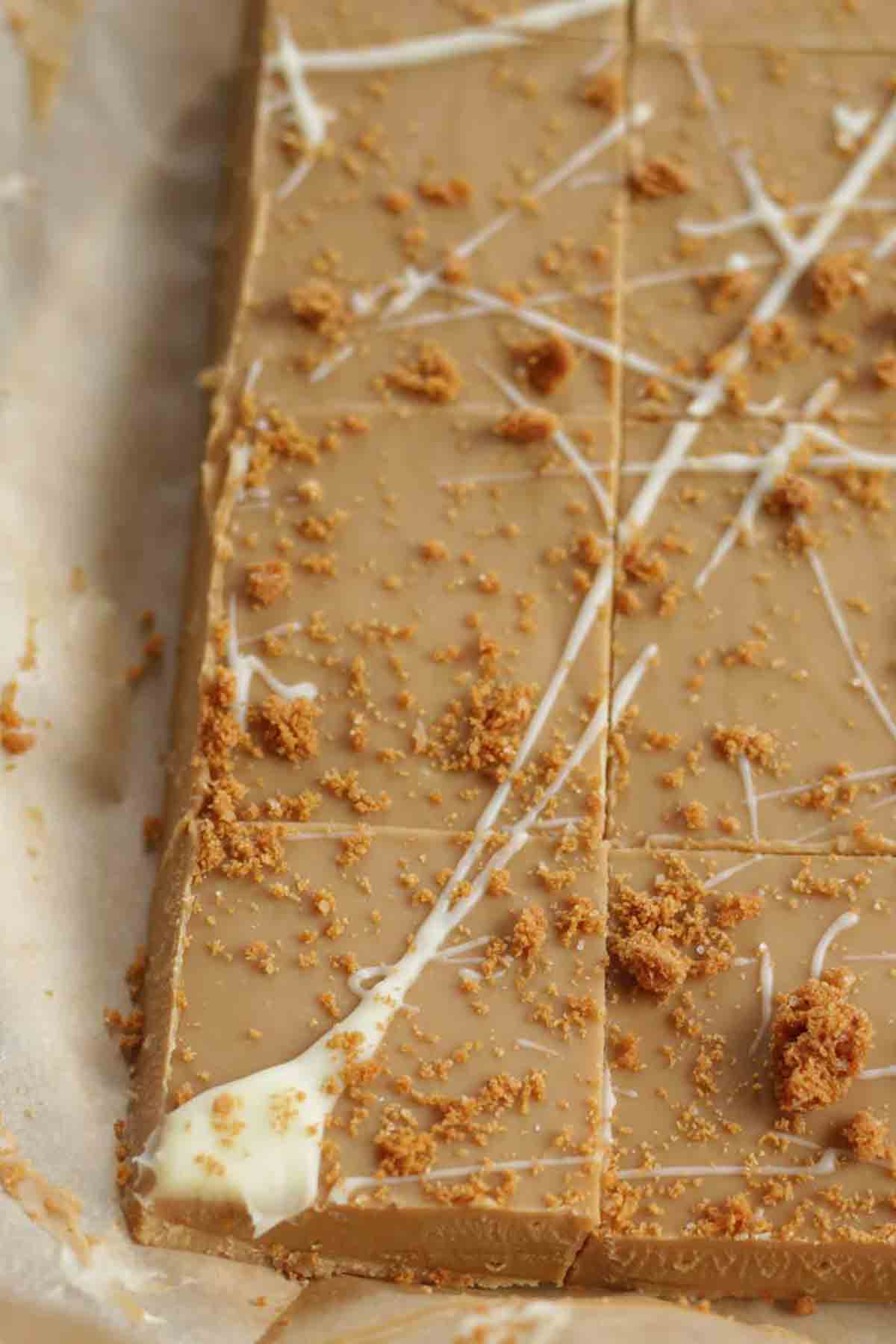 I hope you like this vegan Biscoff fudge! Let me know what you think by leaving a rating and/or comment below! xo

Vegan Biscoff Fudge (Dairy-Free)
2 ingredient, dairy-free Biscoff fudge without condensed milk of any kind!
Ingredients
250

g

Dairy-free white chocolate

(1 + ½ cups of chocolate chips)

250

g

Smooth Lotus Biscoff spread

(1 cup)
To decorate (optional):
Few

squares

Dairy-free white chocolate

1

Biscoff biscuit, crushed into crumbs
Instructions
Line an 8×8-inch dish with baking paper.

Gently melt the chocolate in a saucepan over a low heat until there are no lumps left.

Remove the pan from the heat and add the Biscoff spread. Stir gently until it all melts together and becomes smooth.

Transfer the mixture into your lined dish and spread it out evenly to the edges. Let it cool for 5-10 minutes then put it in the fridge to set for 2 hours.

Once set, use the baking paper to remove the fudge from the dish.

Drizzle over the extra white chocolate if using and sprinkle over the biscuit crumbs. Let the chocolate set.

Cut any rough edges off of the block of fudge, then cut it into small squares. You should be able to get around 20 pieces of fudge, but this depends on your preferred size.
Recipe Notes
Store your dairy-free fudge in an airtight container for 1 week.
Nutrition Facts
Vegan Biscoff Fudge (Dairy-Free)
Amount Per Serving (1 piece)
Calories 144
Calories from Fat 81
% Daily Value*
Fat 9g14%
Carbohydrates 15g5%
* All values are an estimate only and will vary depending on the food brands used.
BakedByClo is a participant in the Amazon Services LLC Associates Program, an affiliate advertising program designed to provide a means for sites to earn advertising fees by advertising and linking to Amazon.com. This site may contain some of these links to Amazon.com & other affiliate programs. If you make a purchase through one of those links, BakedByClo will receive a small commission from the purchase at no additional cost to you.