Vegan Biscoff Truffles
These vegan Biscoff cheesecake truffles are made from dairy-free cream cheese and cookie crumbs, with a chocolate coating. So easy and fun to make and there's no heat required, making them perfect for little hands helping out in the kitchen!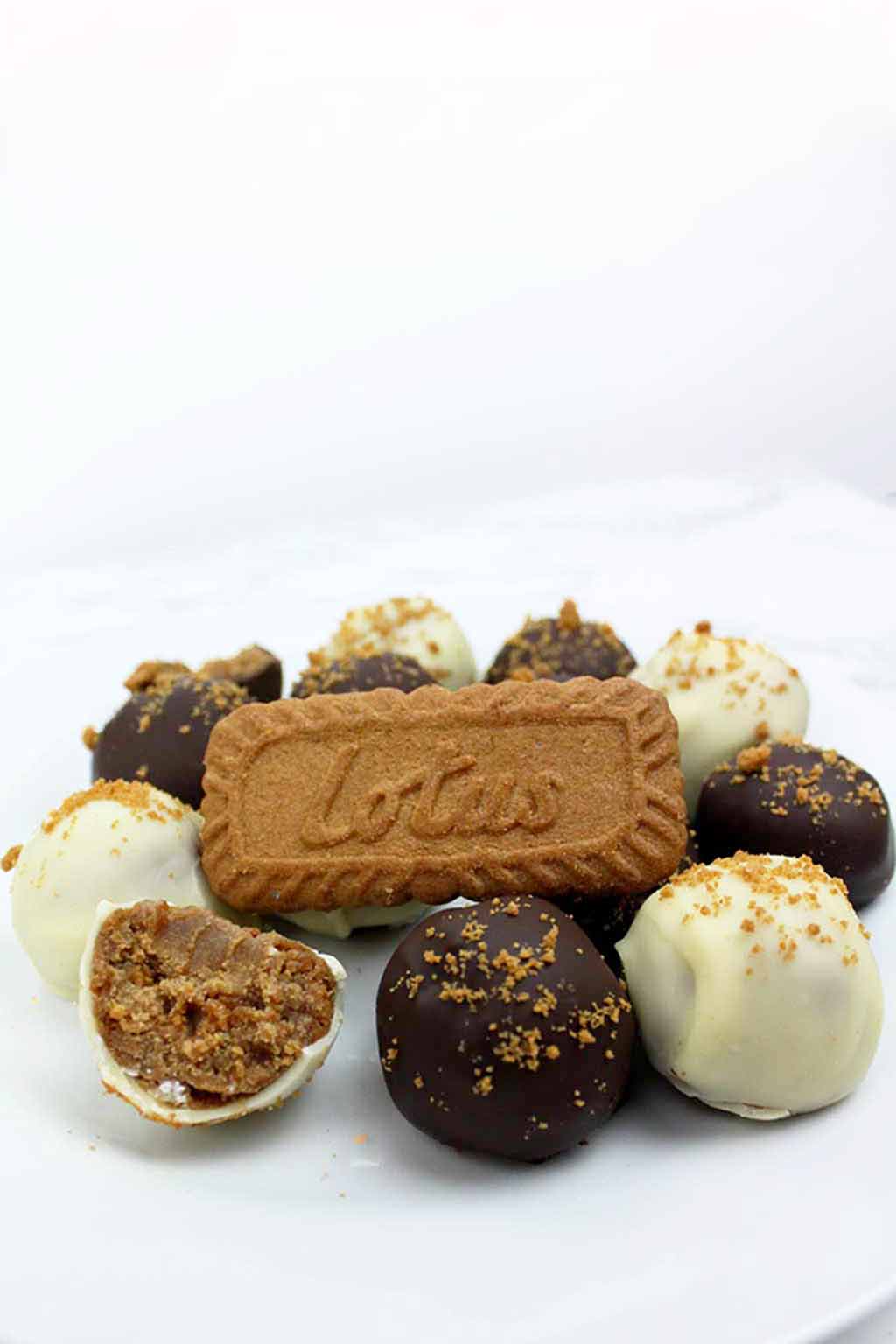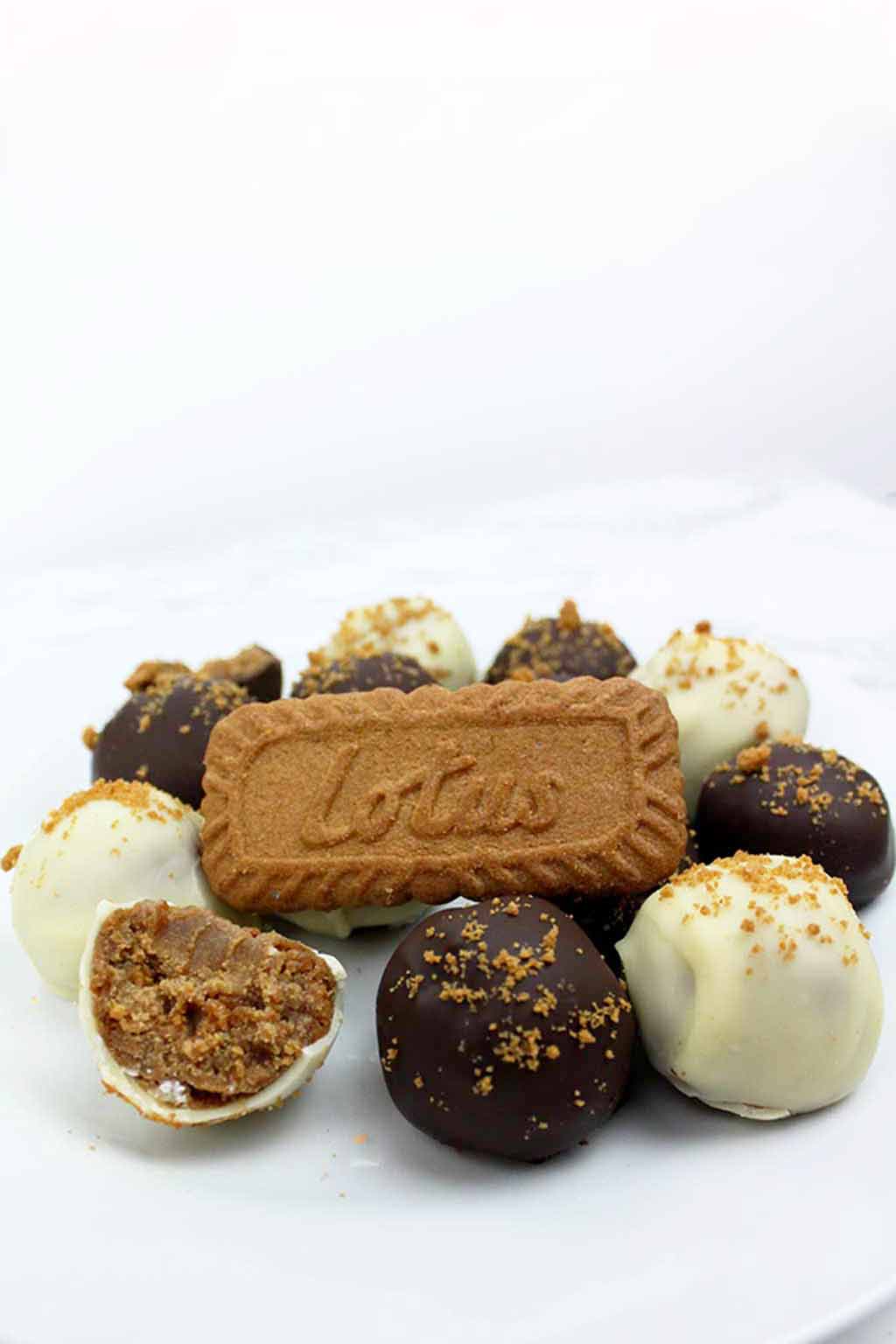 No-bake desserts are just amazing, don't you think?
They're simple, convenient and don't involve a whole lot of effort. They're also perfect for people with no or very little baking experience.
After making a no-bake cheesecake the other day, I got thinking about the other kinds of delicious no-bake vegan desserts I could make.
And what did I come up with, you ask? These delicious Biscoff cheesecake truffles. Is Biscoff vegan, I hear you ask? It sure is!
Try more no-bake vegan desserts: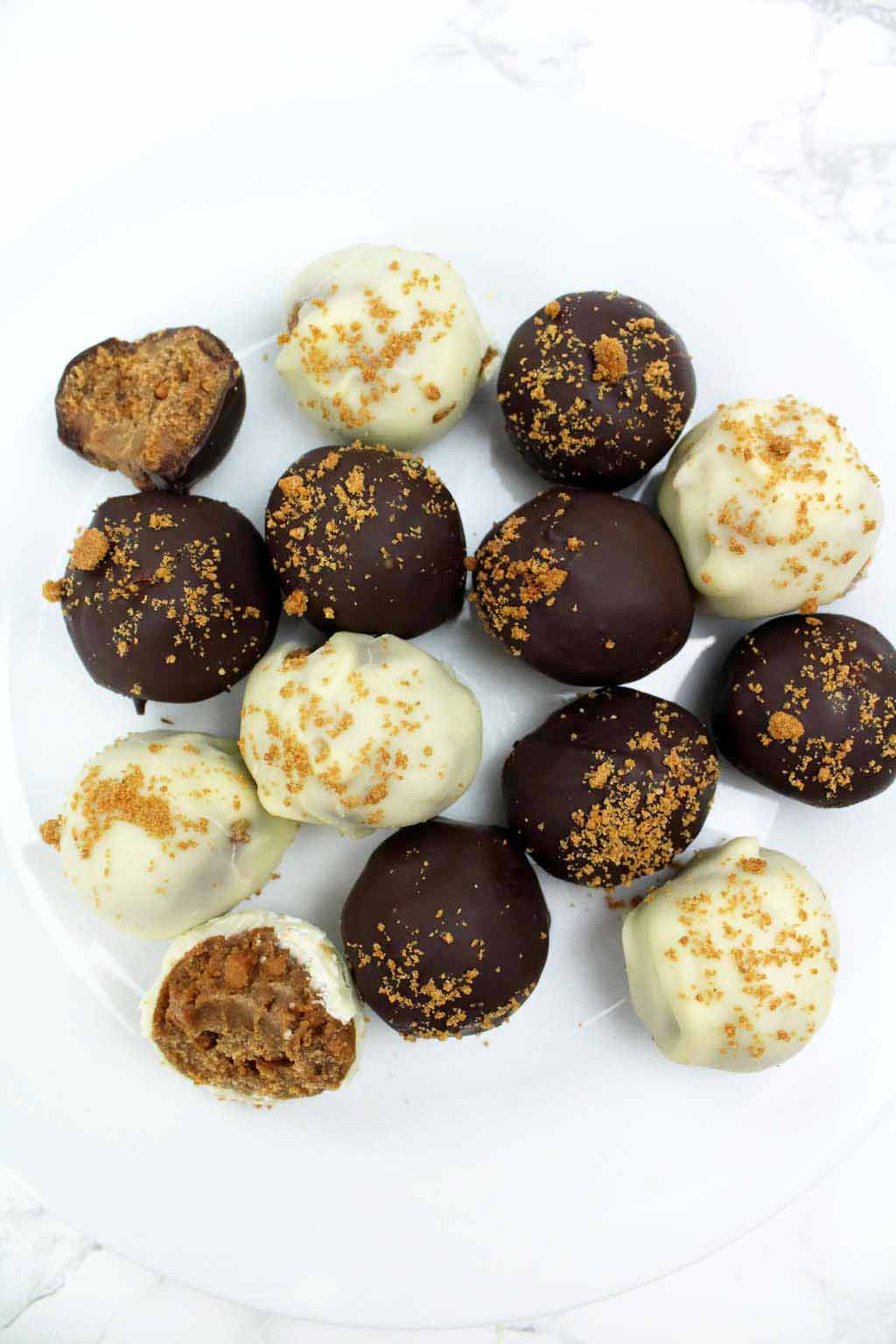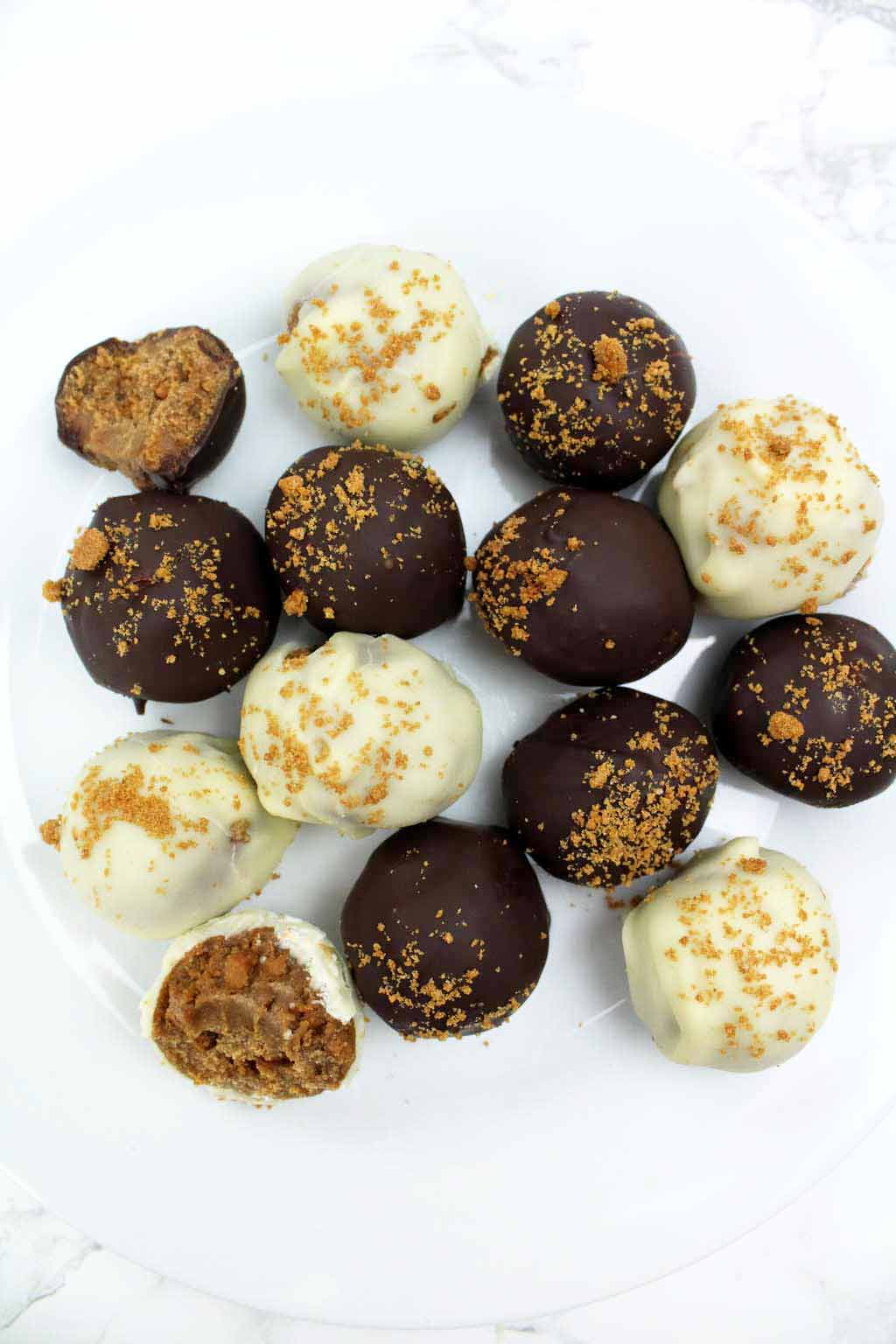 They are inspired by the no-bake cheesecake bites I used to make with the kids I once volunteered with a few years ago. I'd bake and make desserts with them every few weeks but this was by far one of their favourites.
Because the concept is so simple, they were able to make them almost completely by themselves- all I had to do was melt the chocolate! Seeing their faces beaming with pride afterward was so lovely.
Not a fan of Biscoff? Use any other cookie you like!
For this recipe, you'll only need 3 ingredients, but you can get as creative as you like.
Cream Cheese
I use Tesco free-from soft cheese purely because it's the cheapest.
I'm not gonna lie, I can't STAND the taste of it alone. But when it's mixed in with the Biscoff and chocolate, you can barely taste it. (And when I say that, I mean it! My taste buds are sensitive little things.)
I've also tried Violife which is great too and there are lots more vegan cream cheese options, I'm sure.
Biscuits/cookies of your choice
I used Lotus Biscoff cookies for this recipe but almost any kind of biscuits or cookies will work. I've had great success using Oreos, Digestives (sub Graham crackers), ginger snaps and chocolate bourbons.
Just double check that whichever kind you use are vegan as different brands may vary.
Any sweet cookie will taste really nice paired with the tartness of the cream cheese. It all depends on what kind of flavour you want to go for, so feel free to experiment!
Some chocolate to dip them in
You can use dark, white, milk or a mix of both. Here are some of my favourite vegan chocolates:
Aside from all the different cookie and chocolate combinations you can use, if you want to take it one step further you can even add some flavour extracts.
I once used mint Oreos with the cream cheese for the filling, then added ¼ tsp peppermint extract to melted white chocolate coating for the coating. They were sooo good!
But this time I felt the cinnamon flavour from the Biscoff was strong enough on its own. It goes so nicely with white or dark chocolate so I decided to do a mix of both.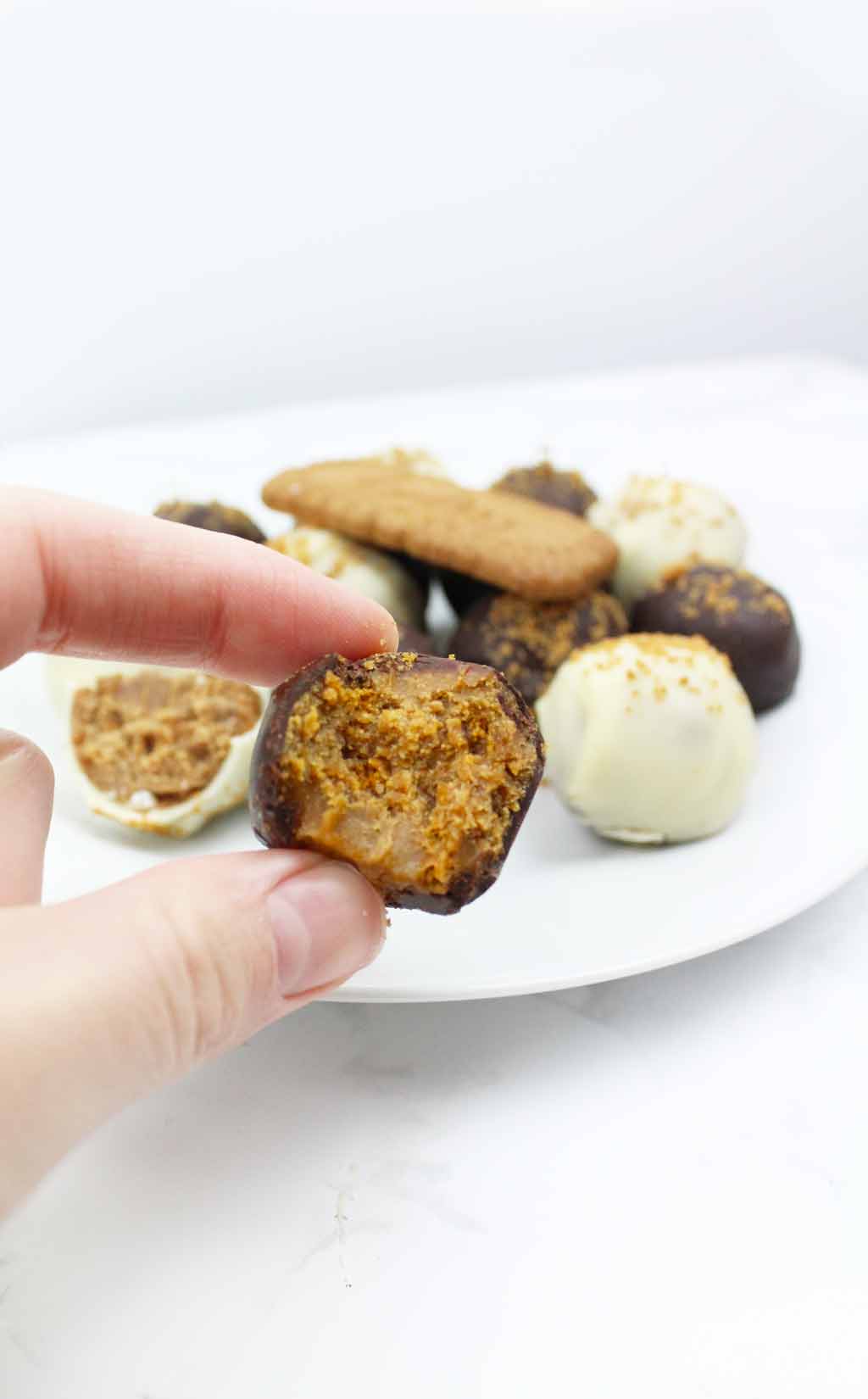 How to Make Vegan Biscoff Truffles
Step 1
First off, you need to crush 250g (8.8oz) of Biscoff cookies into tiny crumbs. Make sure to save a small handful of cookie crumbs to decorate the tops of the truffles if you wish to do so.
To crush the cookies, you can use the end of a rolling pin or simply pop them in a food processor or high-power blender. Both will do the job, so it doesn't matter which method you decide to choose.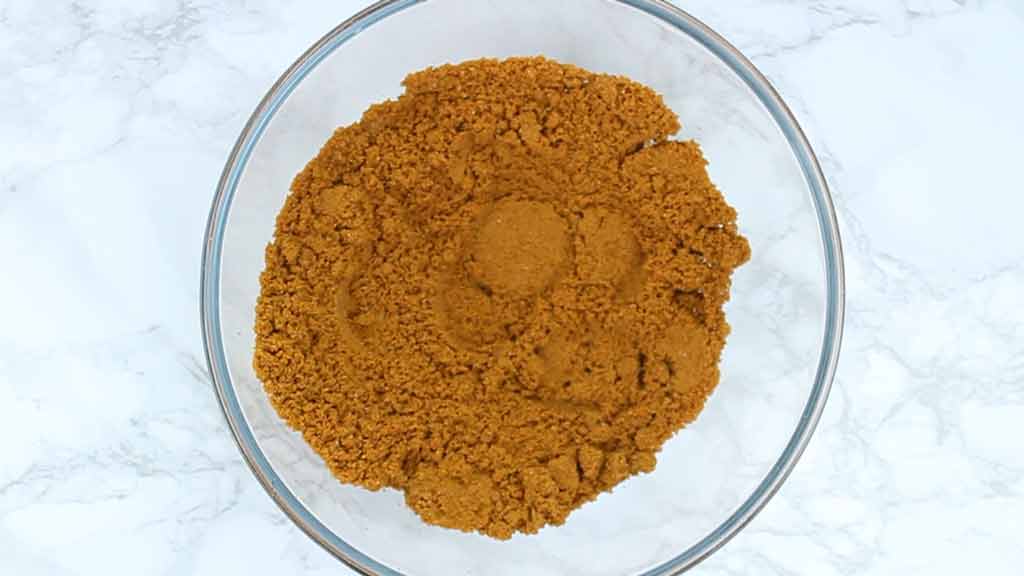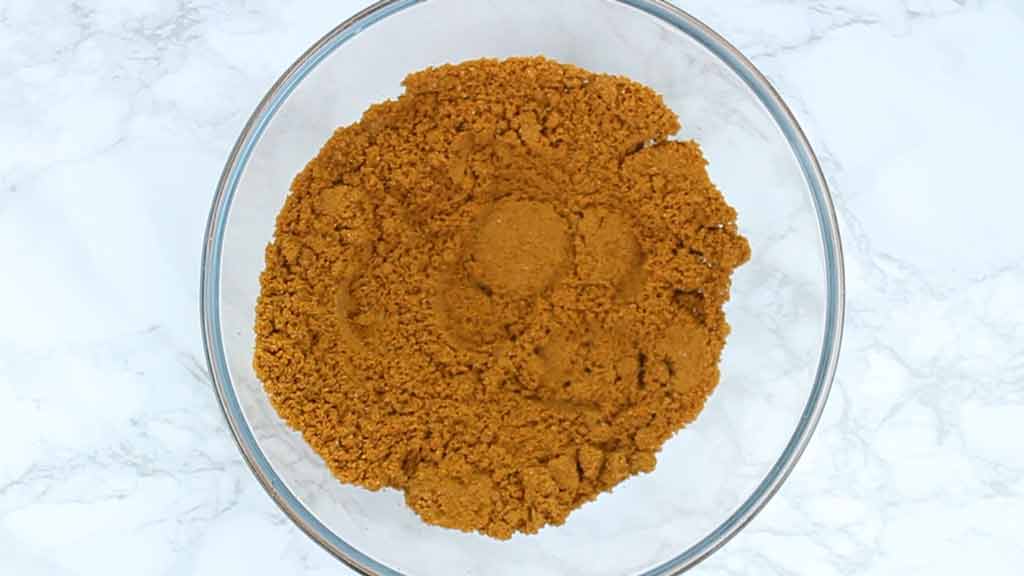 Step 2
Next, add 120g of vegan cream cheese (1/2 cup). Gently mix it into the cookie crumbs using a large spoon.
When it's starting to come together, stick your hands in the bowl and press it together to form a ball- this will be your truffle filling.
And already- that's the hardest part done! (I told you this was an easy recipe.)
Step 3
Refrigerate the ball of truffle filling for around 30 mins before you begin to coat them. This will help it to firm up and hold shape a little better when you roll them into balls, and will also prevent them from melting into the chocolate when you dip them in.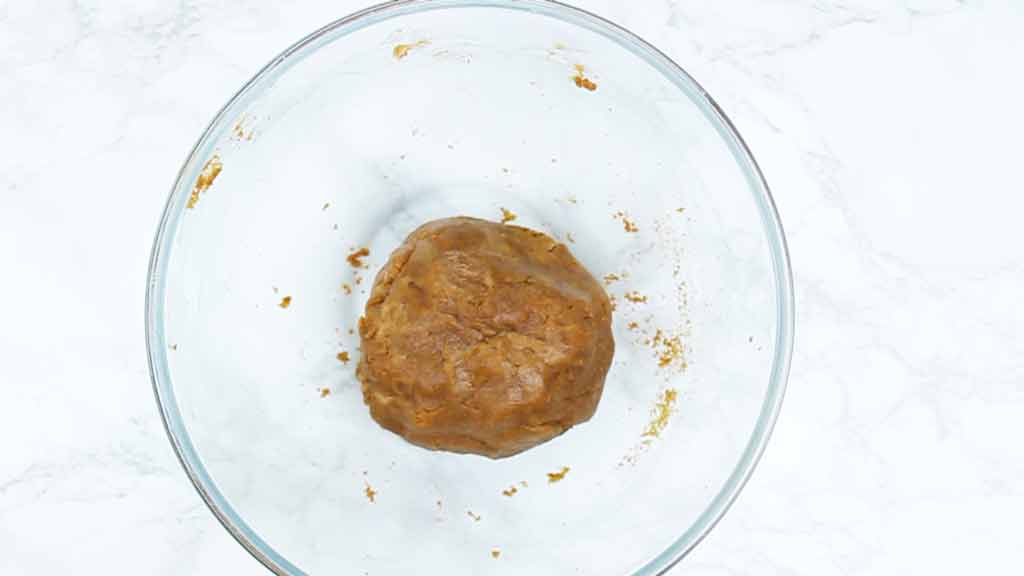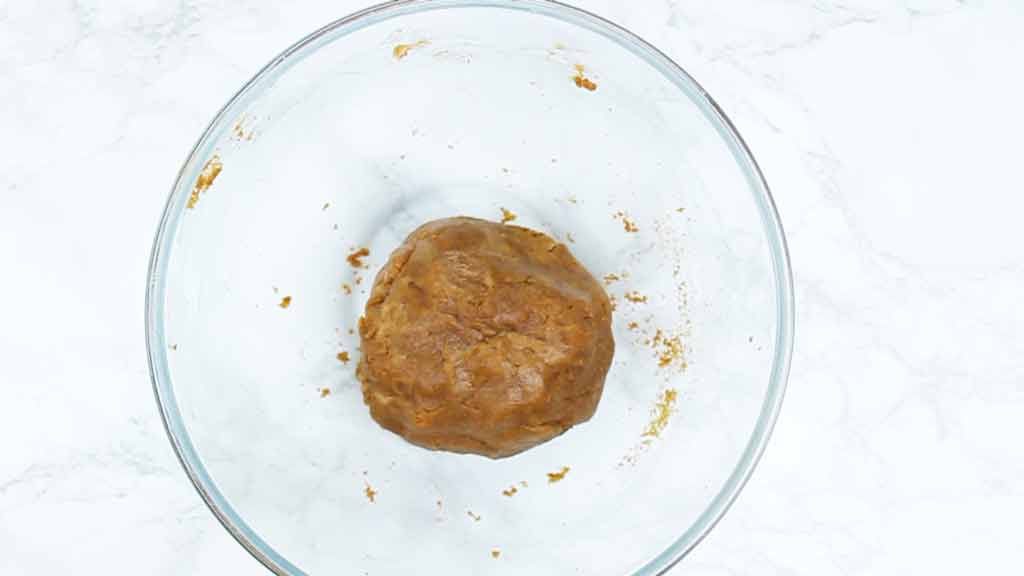 Step 4:
Once your filling has been in the fridge for 30 minutes, divide it into portions. Take one tablespoon of filling at a time and roll it into a small ball.
You can make them as large or as small as you like, but this recipe should make 15 balls if you use a tablespoon.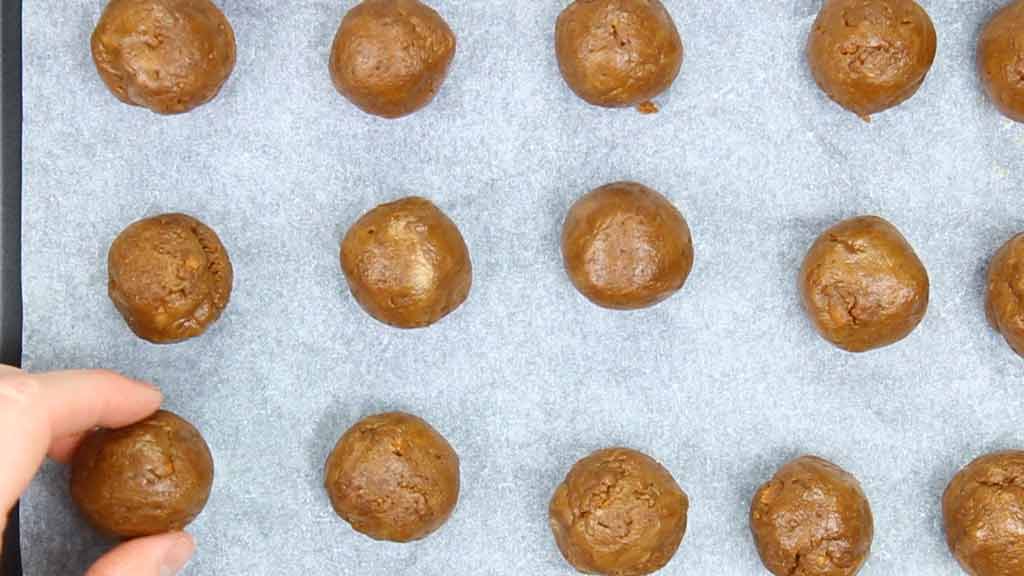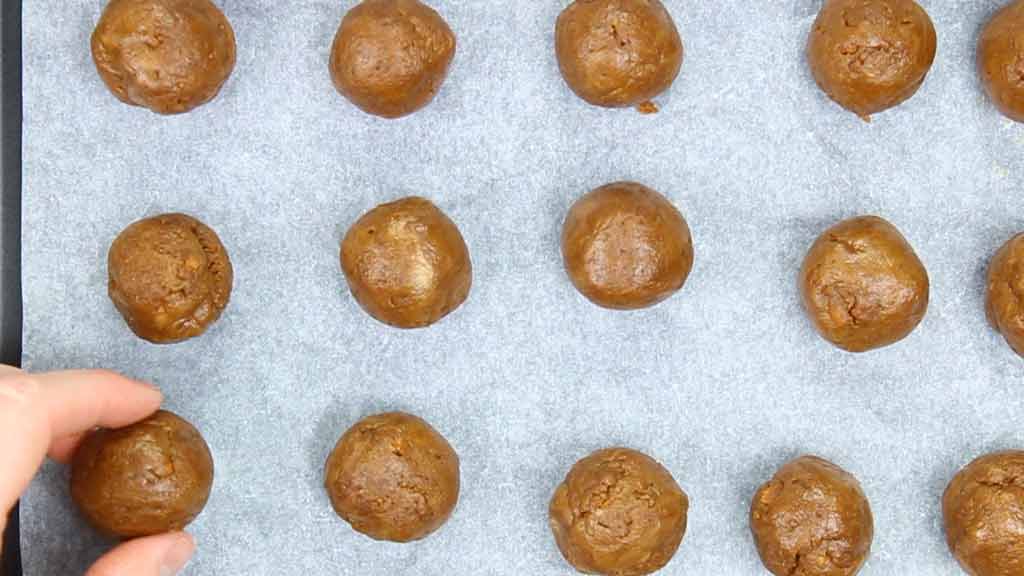 Step 5:
Melt your chocolate in a small bowl and allow it to cool for a minute or two. Submerge one truffle ball into the melted chocolate and use a spoon to roll it around, making sure it's evenly coated.
Transfer each truffle to a wire rack with parchment paper underneath, which will catch any drips and prevent the chocolate from "pooling" at bottom of the truffle. Use a spoon to cover any gaps or holes with more chocolate.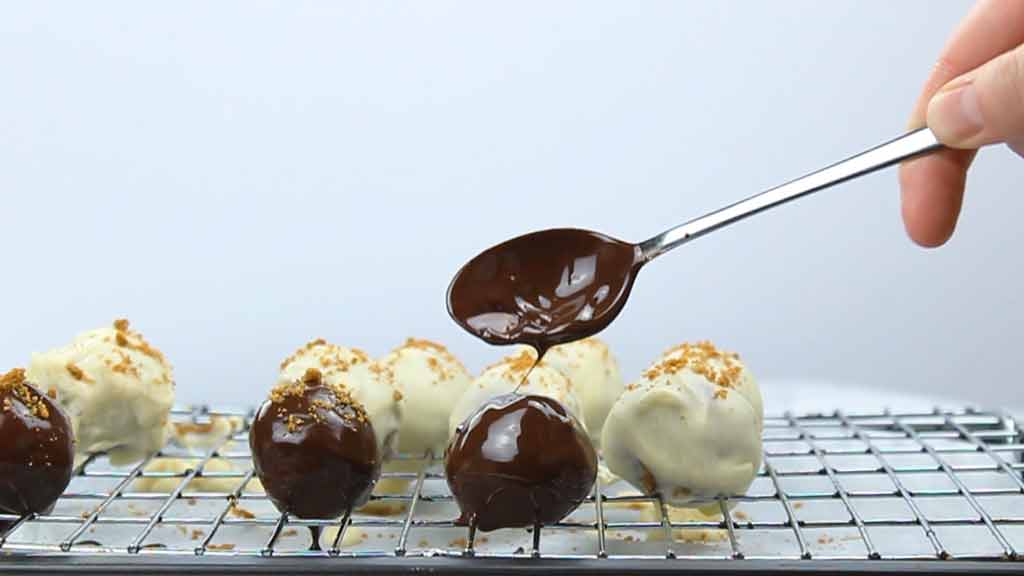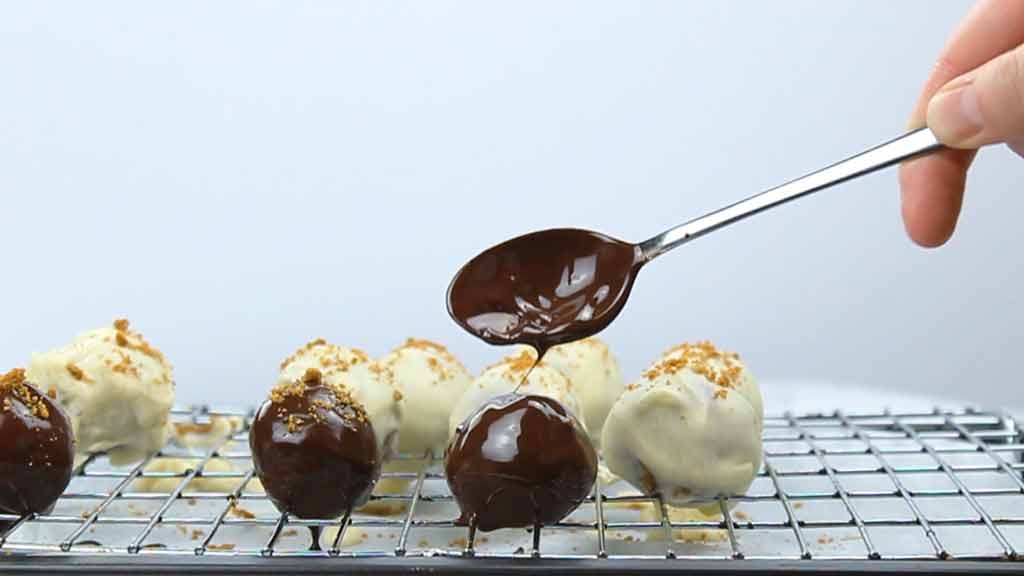 Before the chocolate sets, sprinkle some crushed cookie on top if you wish, then repeat until all of the bites are coated.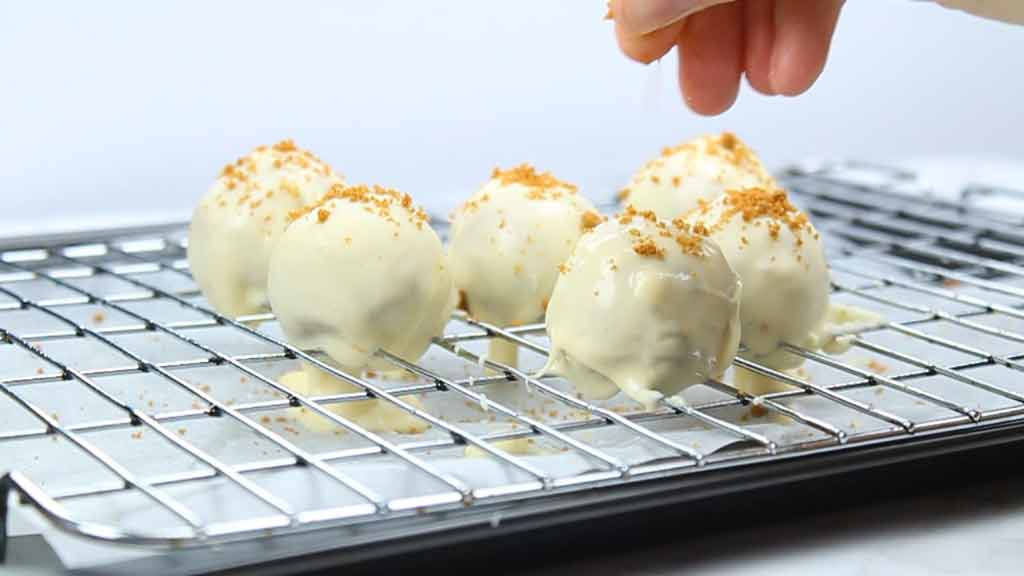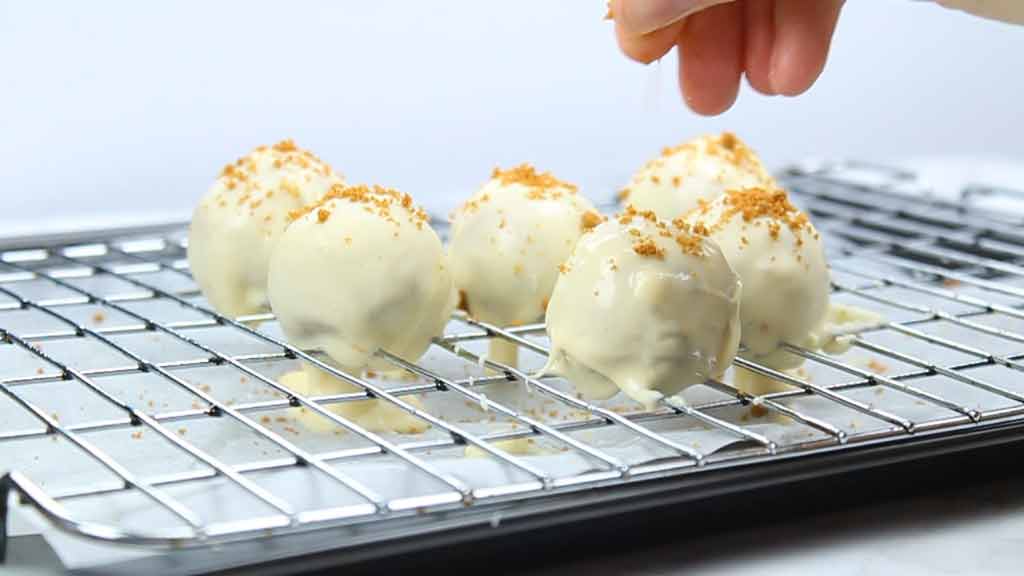 If you're using a few different types of chocolate to coat the cheesecake truffles in, I'd recommend melting them one at a time. You don't want the other chocolate to stiffen while you're coating them.
Place the coated truffles in the fridge for around 1 hour or so, until the chocolate coating is hard. If you're short on time though, you can speed this process up by putting them in the freezer for ~20 minutes instead.
FAQ:
How should I store them?
Store the truffles in an airtight container in the fridge for up to 1 week.
Can vegan Biscoff truffles be frozen?
Absolutely! Store them in the freezer in an airtight container, as you would in the fridge. When you're ready to eat them, just transfer them from the freezer to the fridge and allow them to thaw for around 1 hour first.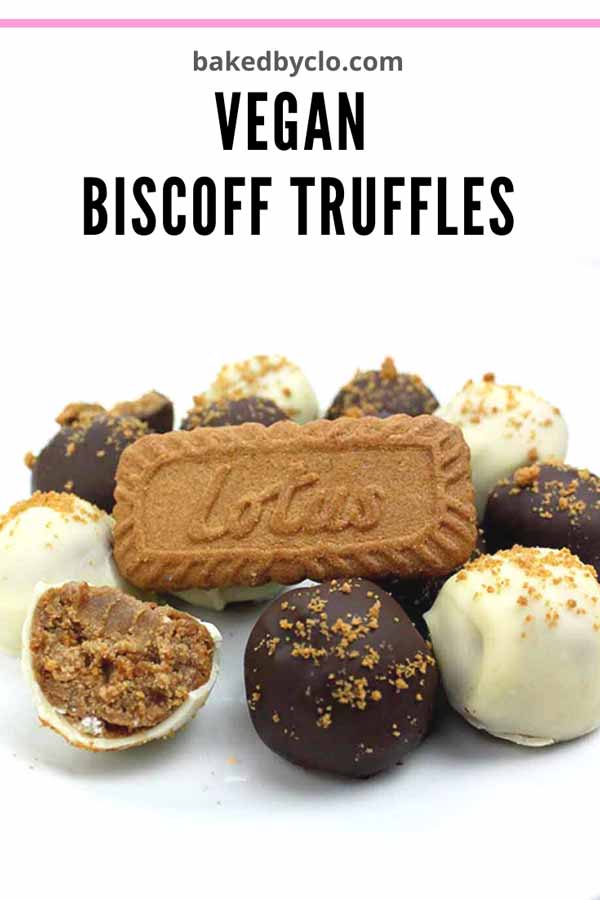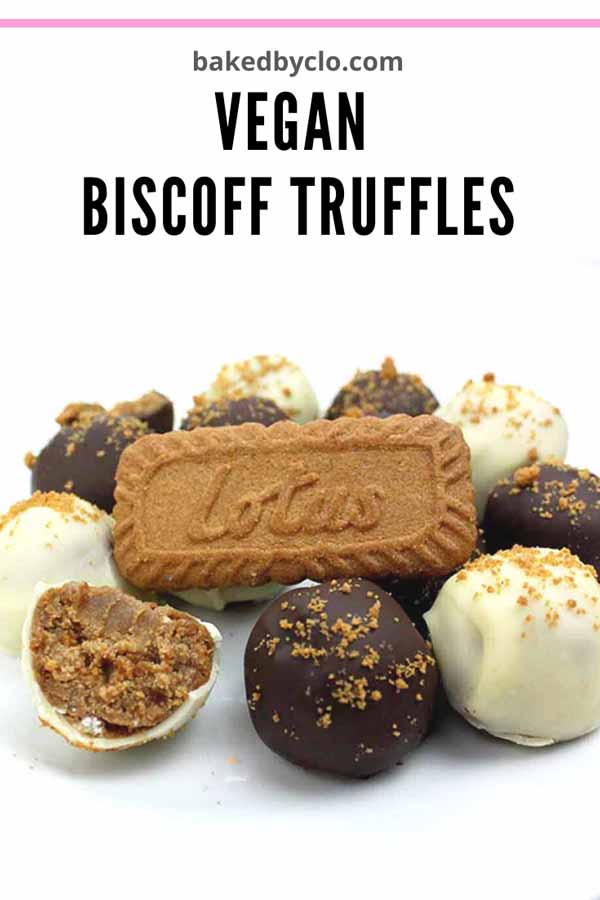 I hope you enjoy this recipe! Let me know if you make them by leaving a rating or a comment below! xo

Vegan Biscoff Truffles
Cheesecake-inspired bites with a cookie-cream filling and coated in vegan chocolate!
Chilling time
1
hour
30
minutes
Ingredients
1

250g (8.8oz)

Pack of Biscoff cookies

120

g

Vegan cream cheese

(½ cup)

200

g

Vegan chocolate, dark and/or white

(7oz)
Instructions
Set 1 or 2 cookies aside to crush on top of the truffles if desired. Crush the remaining cookies in a bowl with a rolling pin to make fine crumbs. Alternatively, you can do this in a food processor.

Add the cream cheese and mix with the cookie crumbs. When it starts to stick together, press it with your hands to get a dough-like consistency.

Refrigerate the dough for 30 minutes.

Once chilled, take one tablespoon of dough at a time and roll into balls. You should end up with roughly 15 balls.

Melt the chocolate then use it to coat each ball. Set the balls on a plate or wire rack and top with crushed cookies from earlier if desired.

Place them into the fridge for 1 hour, or until the chocolate has hardened, before enjoying.
Recipe Notes
Store in an airtight container in the fridge for up to 1 week.
Nutrition Facts
Vegan Biscoff Truffles
Amount Per Serving (1 Biscoff bite)
Calories 180
Calories from Fat 108
% Daily Value*
Fat 12g18%
Sodium 70mg3%
Carbohydrates 17g6%
Protein 3g6%
* All values are an estimate only and will vary depending on the food brands used.
BakedByClo is a participant in the Amazon Services LLC Associates Program, an affiliate advertising program designed to provide a means for sites to earn advertising fees by advertising and linking to Amazon.com. This site may contain some of these links to Amazon.com & other affiliate programs. If you make a purchase through one of those links, BakedByClo will receive a small commission from the purchase at no additional cost to you.