Oreo Tiffin (Vegan)
A vegan twist on a traditional Scottish dessert, this Oreo tiffin is super rich and chocolatey! It's easy to make, requires just a few ingredients and can be made without an oven. A slice of this sweet stuff makes for the perfect after-dinner treat!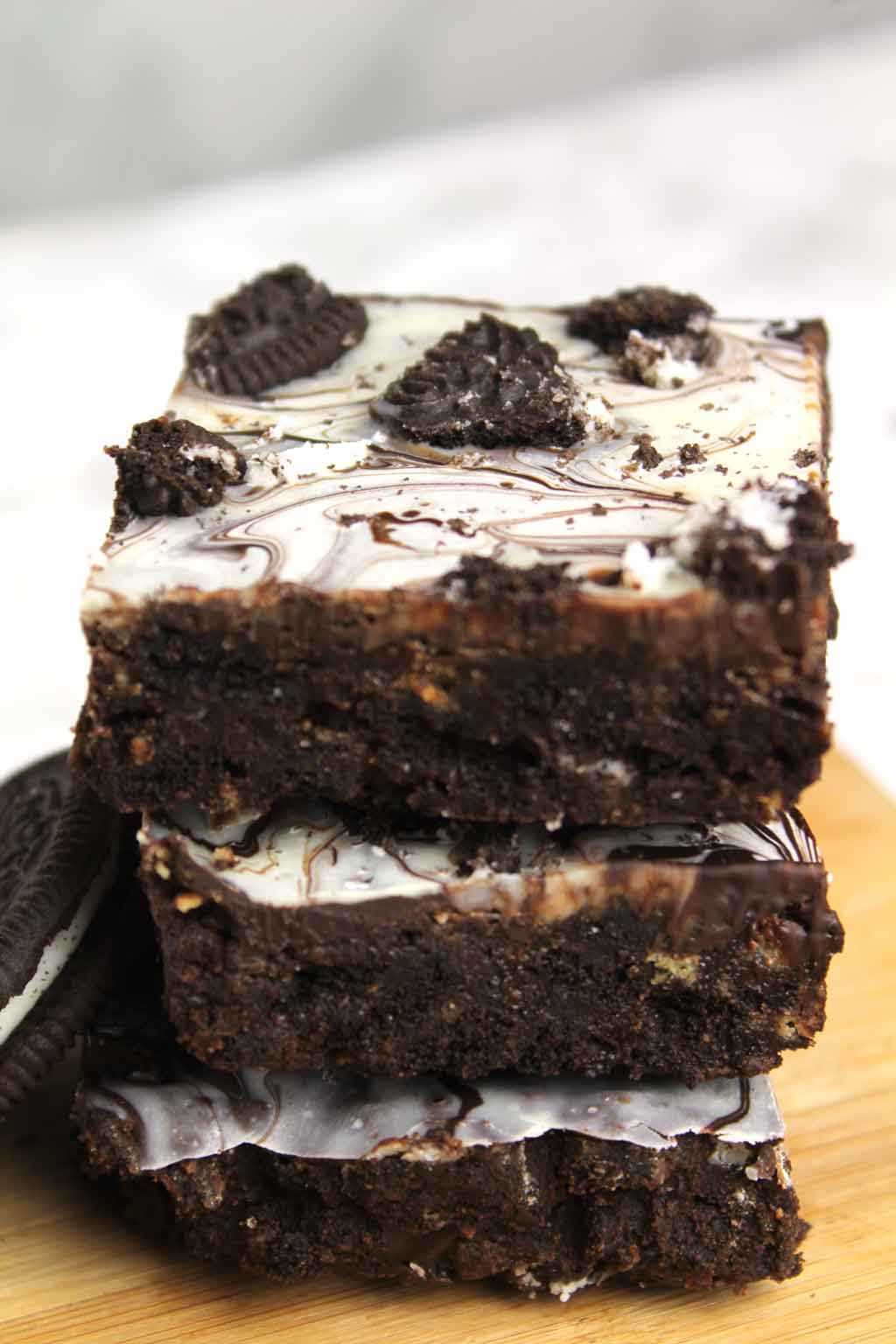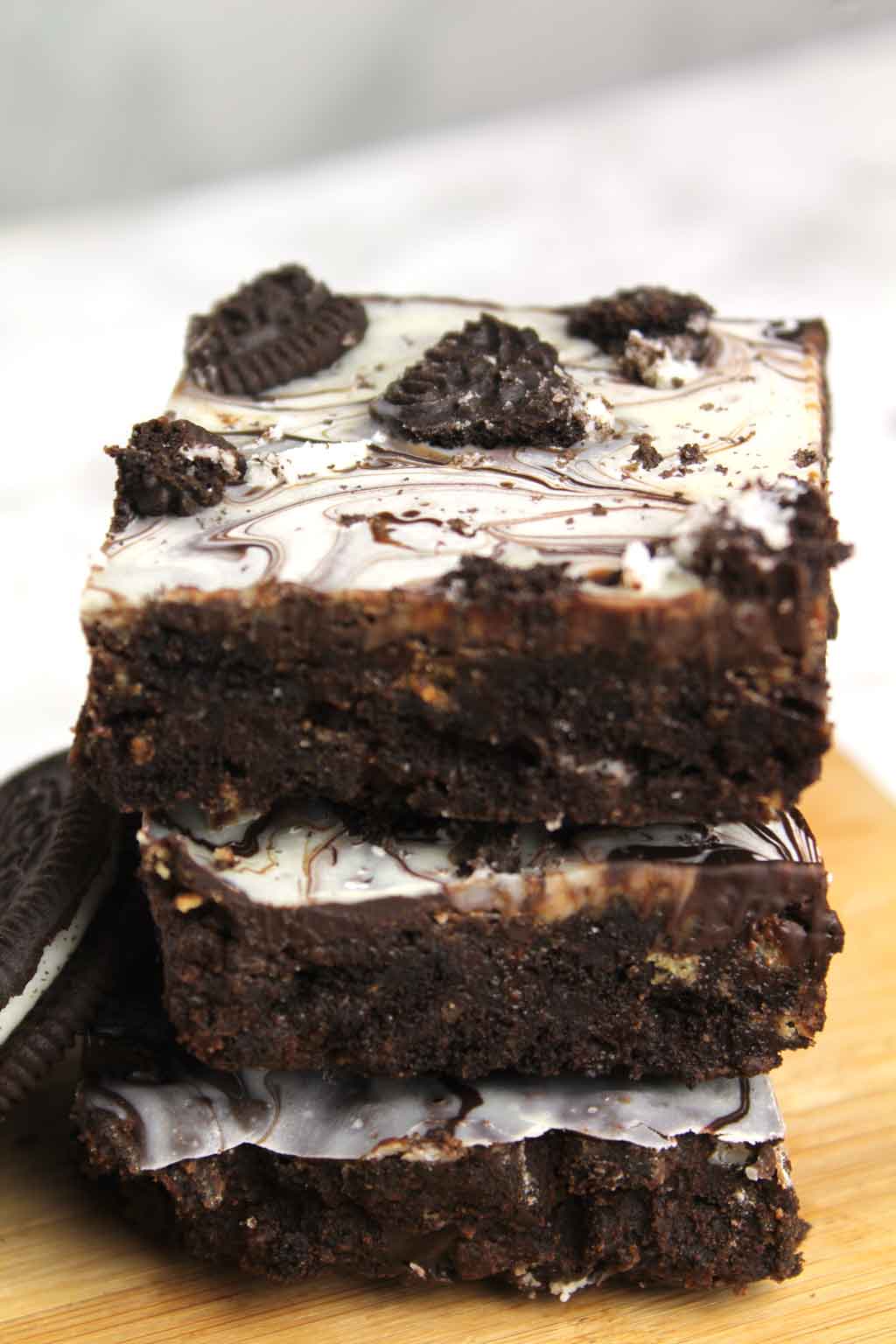 No bake desserts. They're up there with some of my favorite things to make.
There's very little mess left over, they usually require minimal ingredients and there's less chance of things going wrong!
Baking can sometimes be a tricky thing to master but with no-bake desserts, you just chuck everything in a bowl, whack it in the fridge for a few hours and you're done. Perfection.
This Oreo tiffin recipe is no different! It contains just 6-7 ingredients and aside from chilling time, it takes around 20 minutes, tops, to make!
The ingredients you'll need for this recipe are:
Oreos (of course)
Digestive biscuits (or if you can't find those where you live, you can use any other plain type of biscuit/cookie such as shortbread or Graham crackers)
Unsweetened cocoa powder
Agave nectar (this can be subbed for maple syrup or any other liquid sweetener that you like)
Vegan chocolate (I used a mix of white and dark chocolate because I liked the way it looks, but you can stick to just one type if you'd prefer!)
What is Oreo Tiffin?
Tiffin is a dessert that originated in Scotland, my home country! It's also known as fridge cake because you don't need an oven to make it- just a fridge!
Tiffin typically consists of crushed biscuits, chocolate, and some sort of fruit like raisins and/or cherries.
Basically, it's a bit like rocky road but without the marshmallows. I have a traditional Scottish tiffin recipe on the blog too!
Personally, I am not the biggest fan of fruit and chocolate together so I didn't include raisins or cherries. If you like them, of course, you can totally add them!
Technically, I should have named this recipe Oreo fridge cake because I didn't make it the traditional way with fruit. But to me, tiffin is tiffin so that's what I'm going with!
If you like, you could add some chunks of vegan white chocolate instead. It would give an extra bit of sweetness and texture without taking away from the chocolatey flavor!
Even without any chocolate chunks or fruit, this Oreo tiffin will still be amazing! As long as you've got the rest of the ingredients, it will taste delicious.
Want more no-bake vegan desserts? Try these: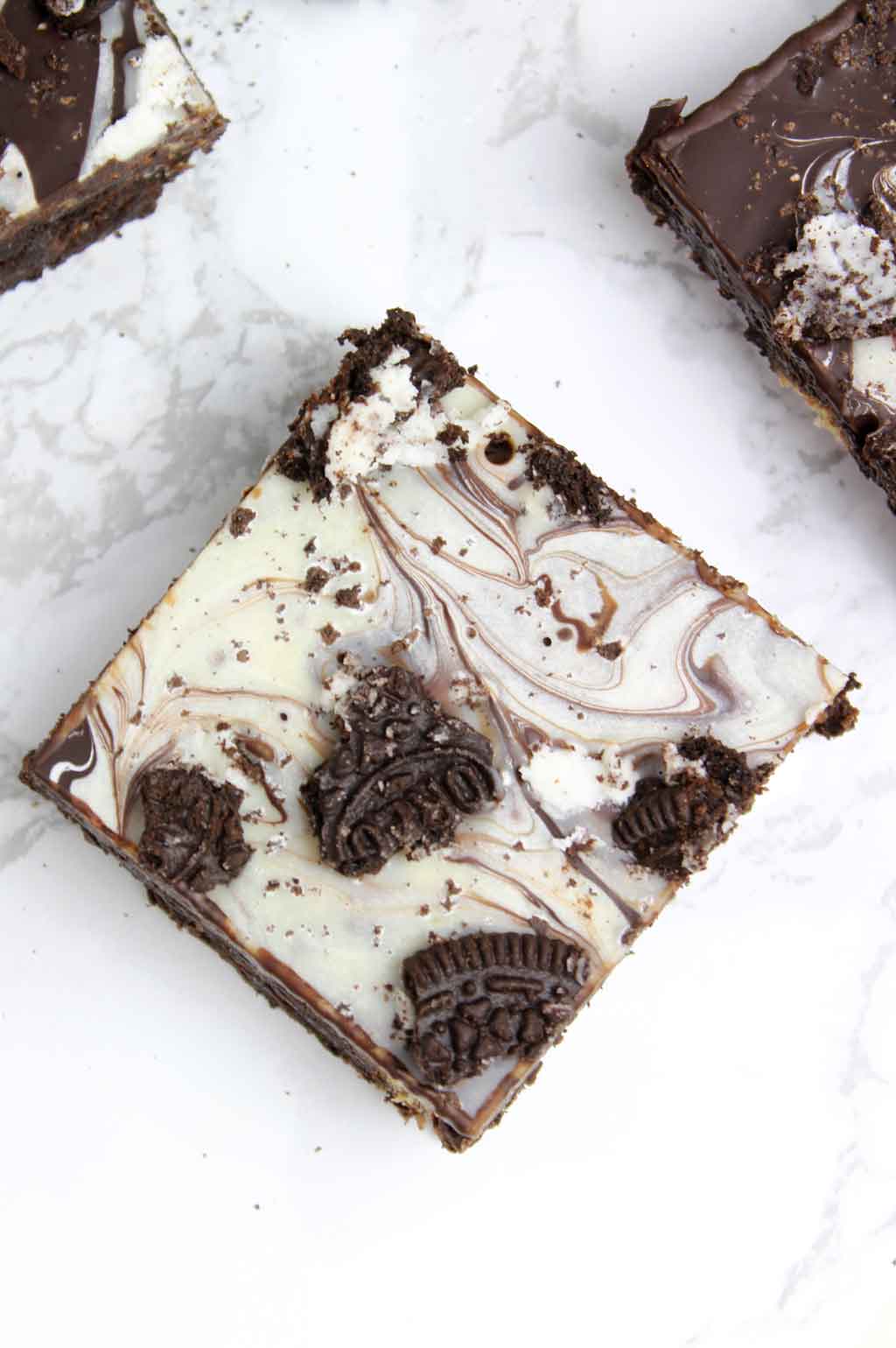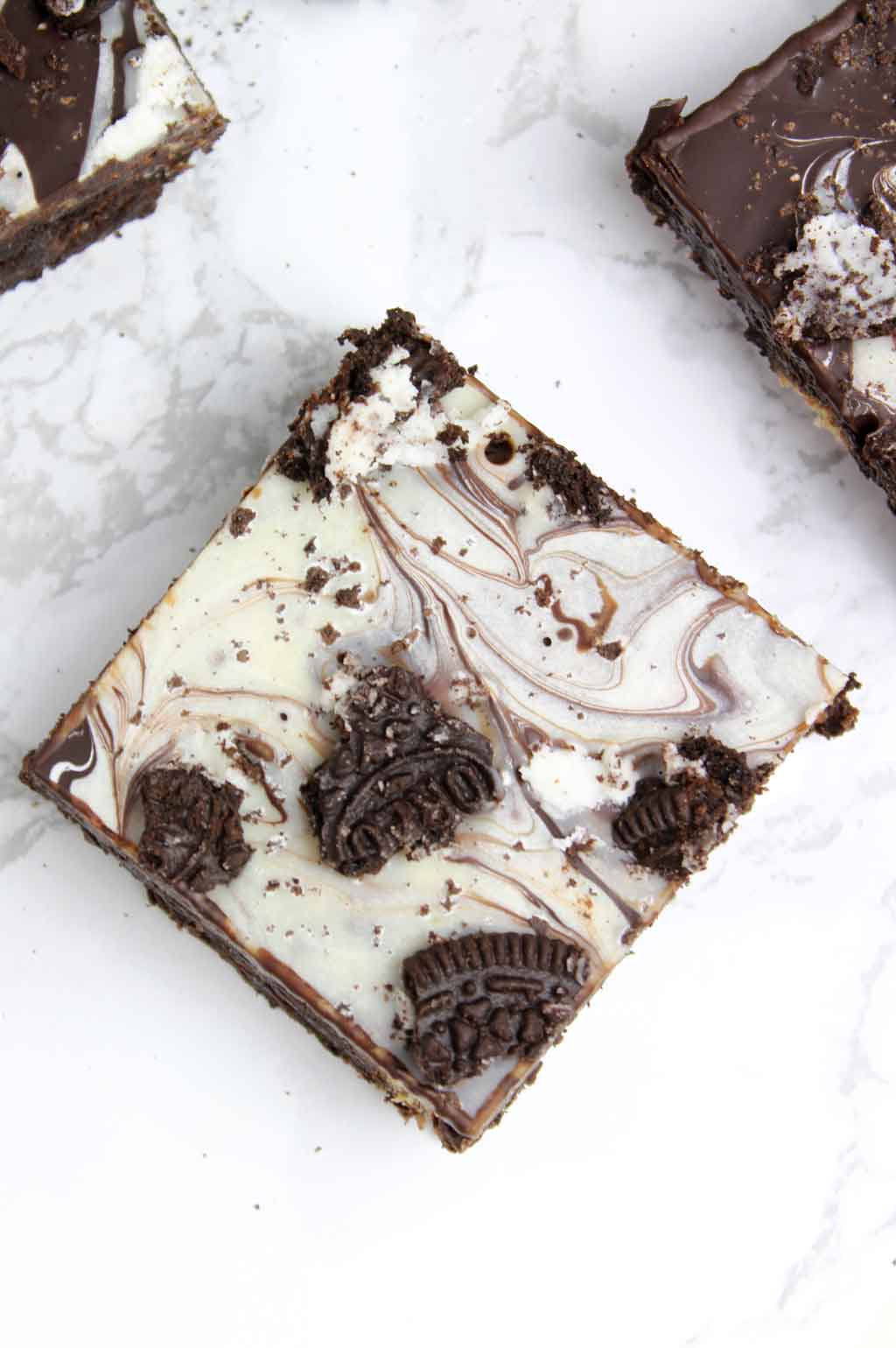 How to make Vegan Oreo Tiffin
Step 1:
The first step to making this tiffin is to line an 8×10-inch rectangular pan with baking paper.
You can use any square or rectangular pan you have handy but bear in mind this will change how thick/thin the tiffin is.
Step 2:
Two of the main ingredients in this recipe are crushed Oreos and crushed Digestives, so now is the best time to do this.
Place 2 packs (28 Oreos) into a large bowl along with 4 Digestive biscuits. I like to keep 2-3 Oreos aside for crushing on top but this is optional.
Use the end of a large rolling pin to crush the cookies into large chunks. You don't want them to be super fine.
Having a few crumbs and a few larger chunks will work best. See the image below for reference if you're not sure.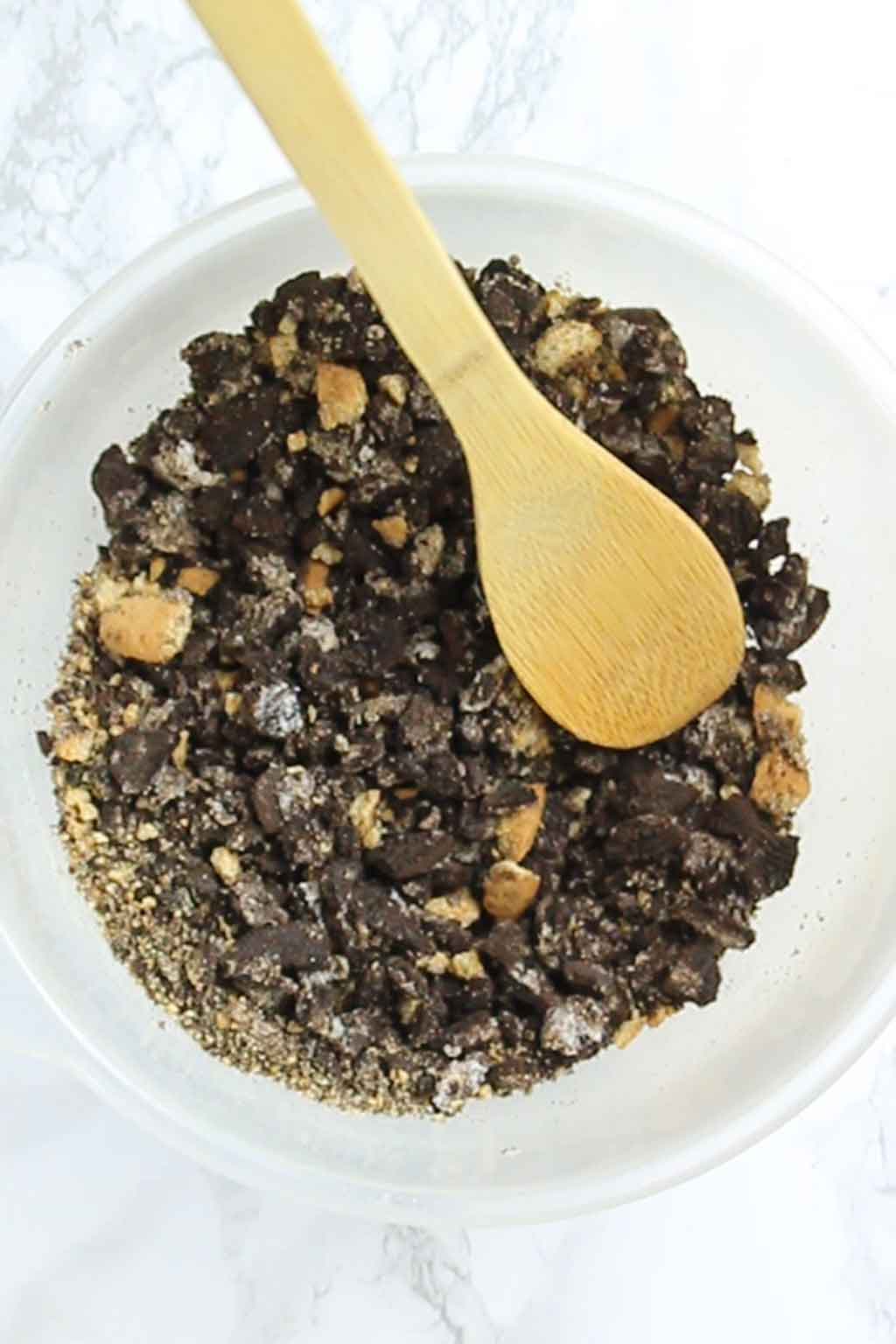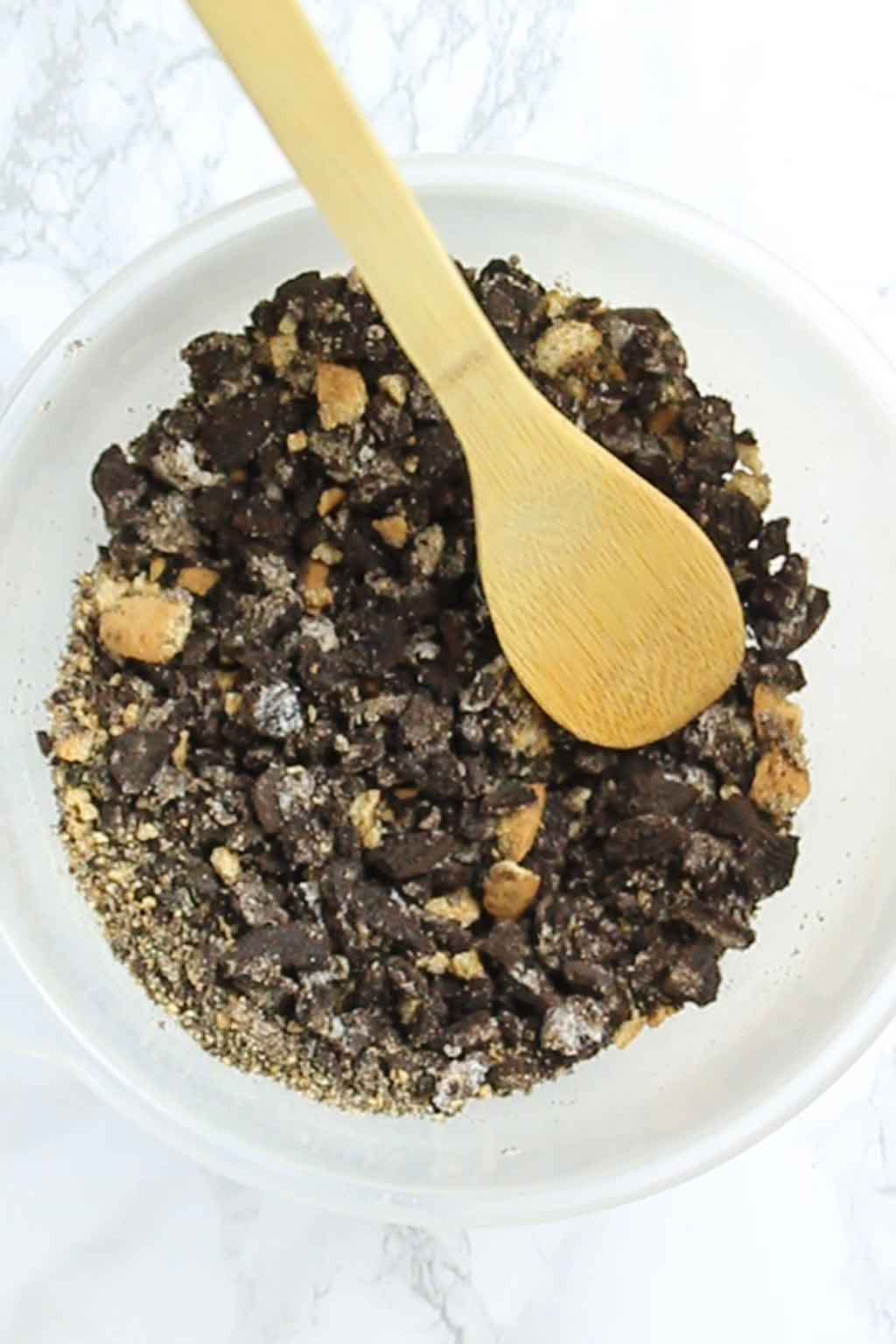 Note that if you don't have Digestive biscuits where you live, you can substitute them for any other plain biscuits or cookies such as shortbread, Graham crackers* or even just some more Oreos!
*Make sure the Graham crackers you use are vegan-friendly, such as the Nabisco brand.
Step 3:
Place 120g (1/2 cup) of vegan butter into a pot along with 2 tablespoons of unsweetened cocoa powder and 3 tablespoons of agave nectar or maple syrup.
Place the pot over medium-low heat and stir gently until the mixture is smooth.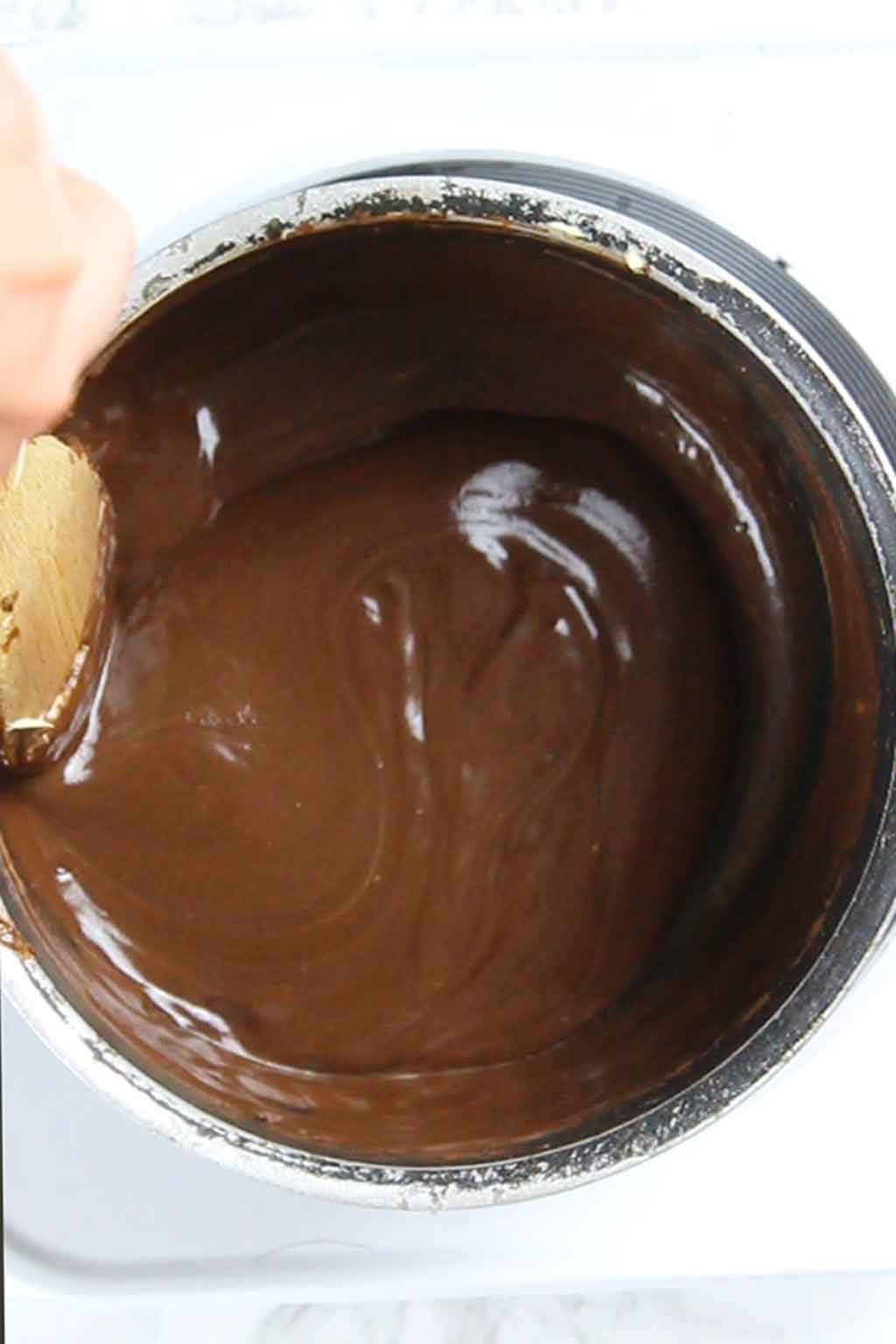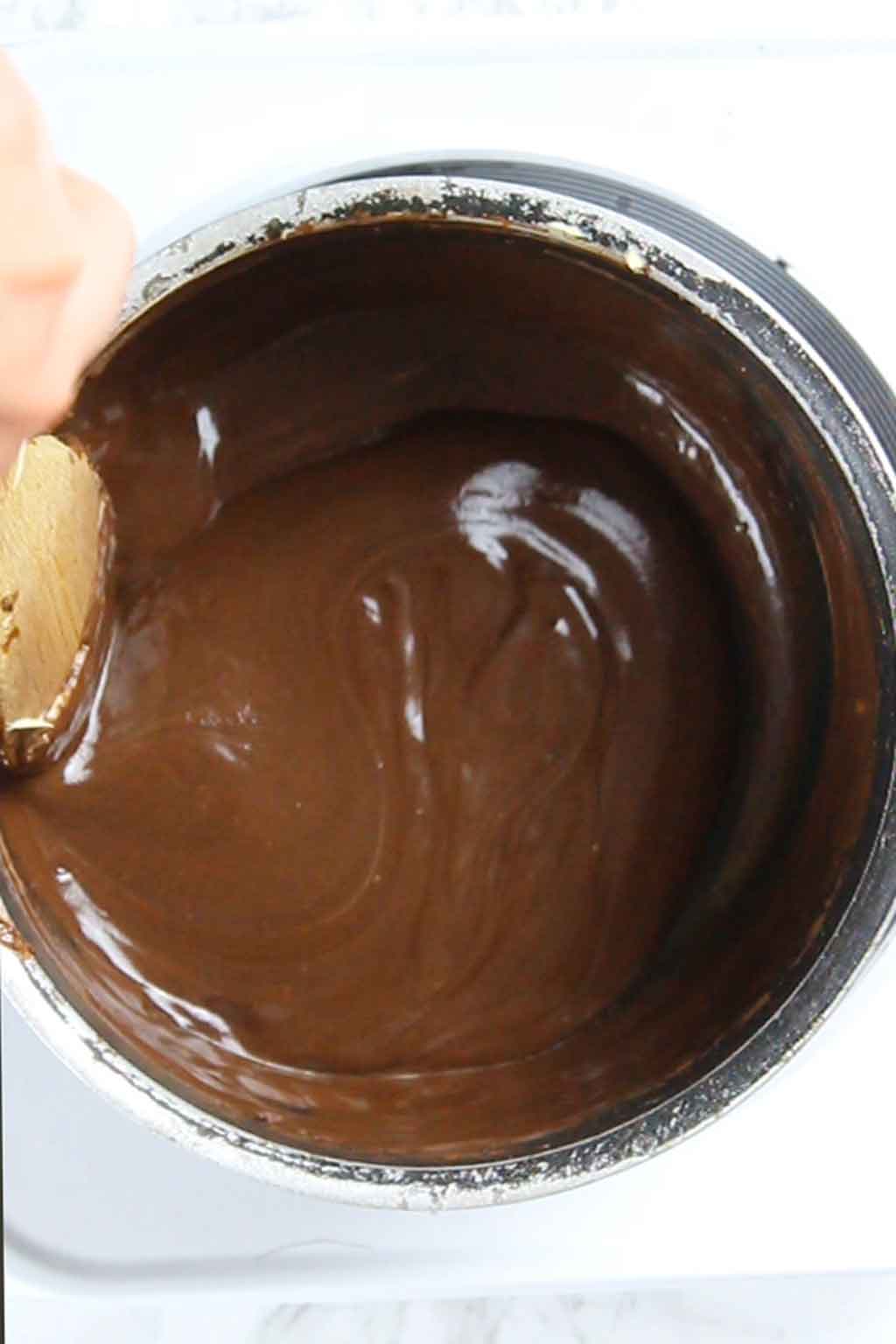 Step 4:
Now add 100g (3.5oz) of vegan chocolate to the pot and keep stirring gently until there are no lumps of chocolate left.
Remove the pot from the heat.
Step 5:
Pour the melted chocolate mixture into the bowl with the Oreo and Digestive chunks and give everything a good mix until everything is well coated.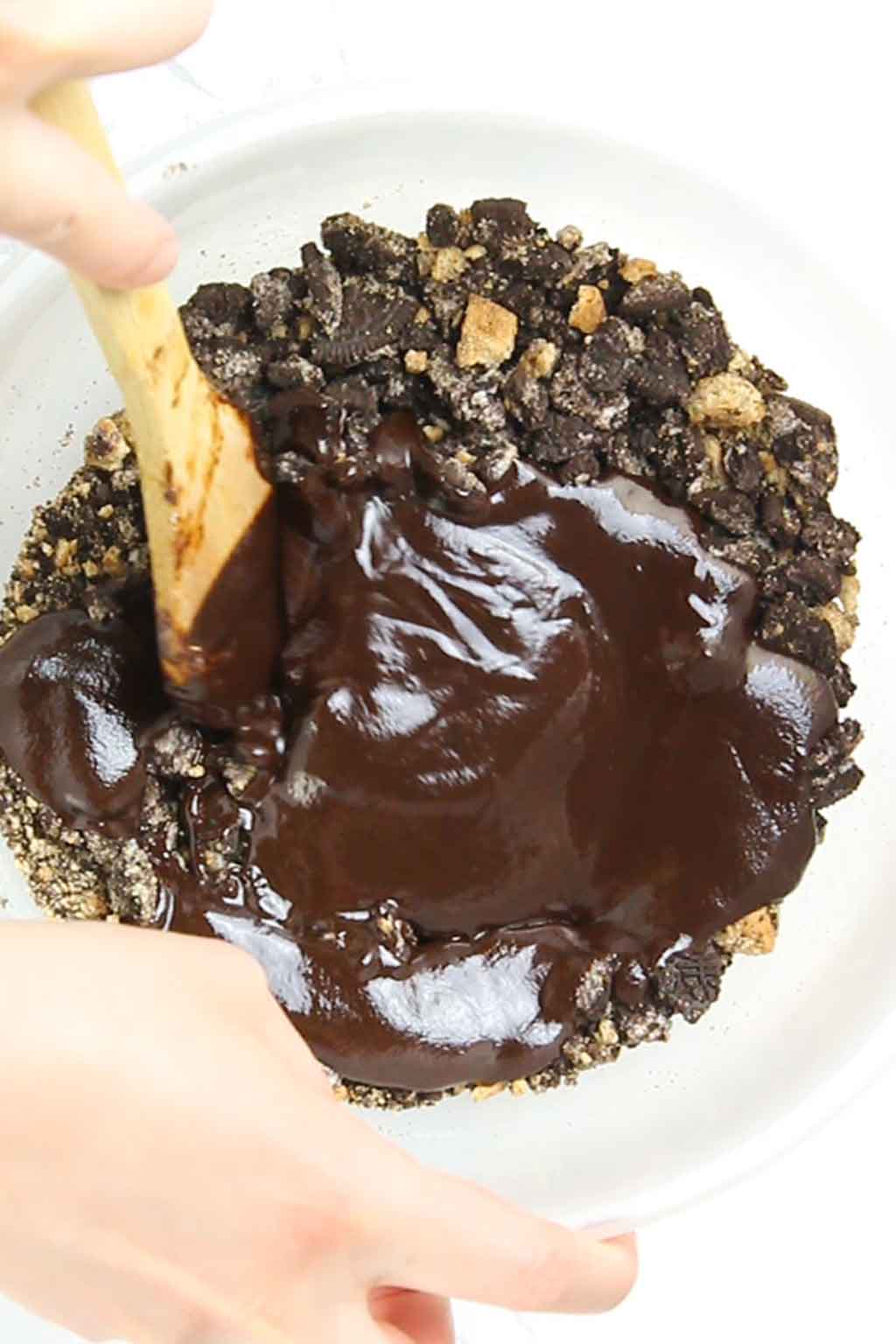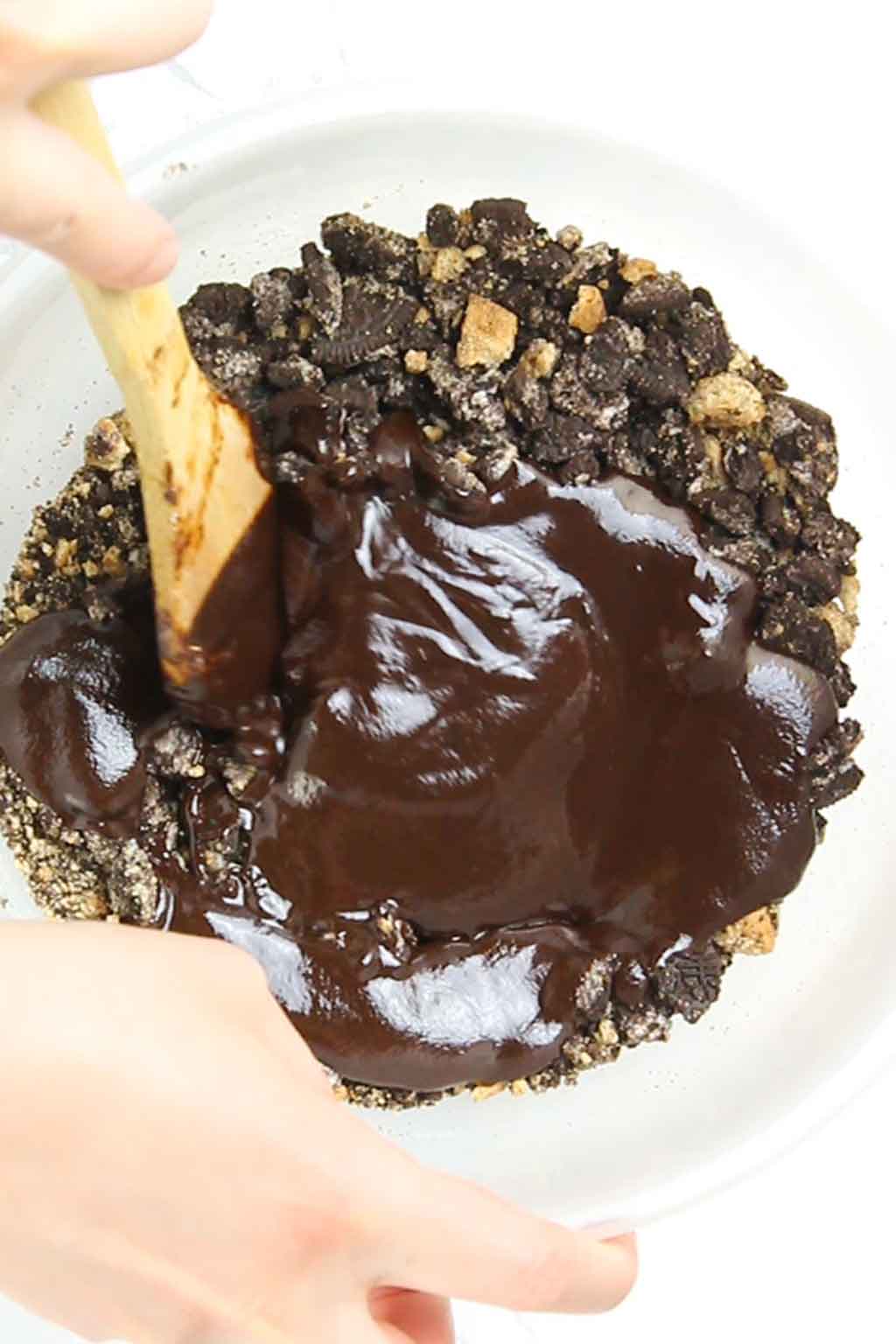 Step 6:
Spoon the mixture into your lined tin and use the back of a spoon to press it in firmly.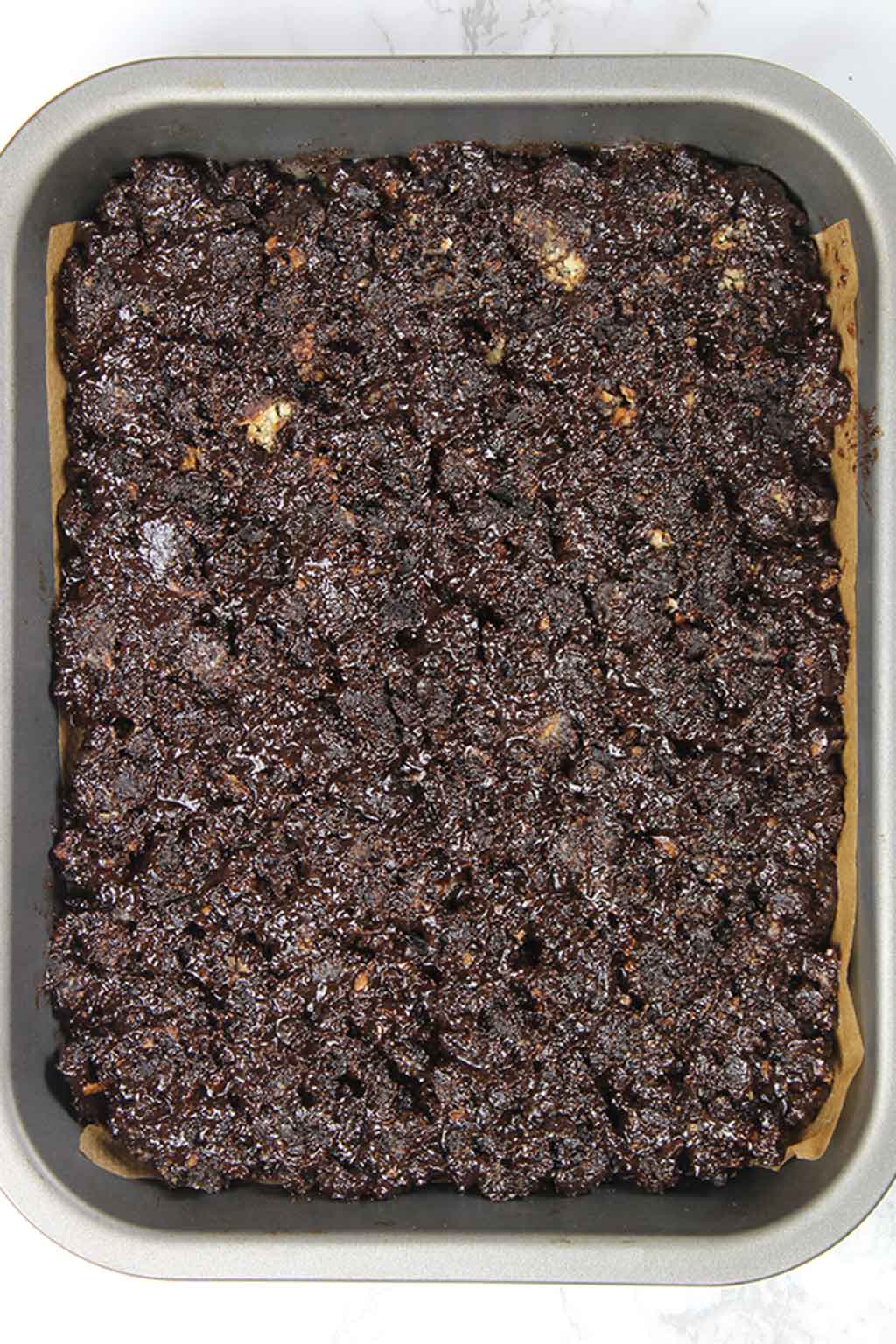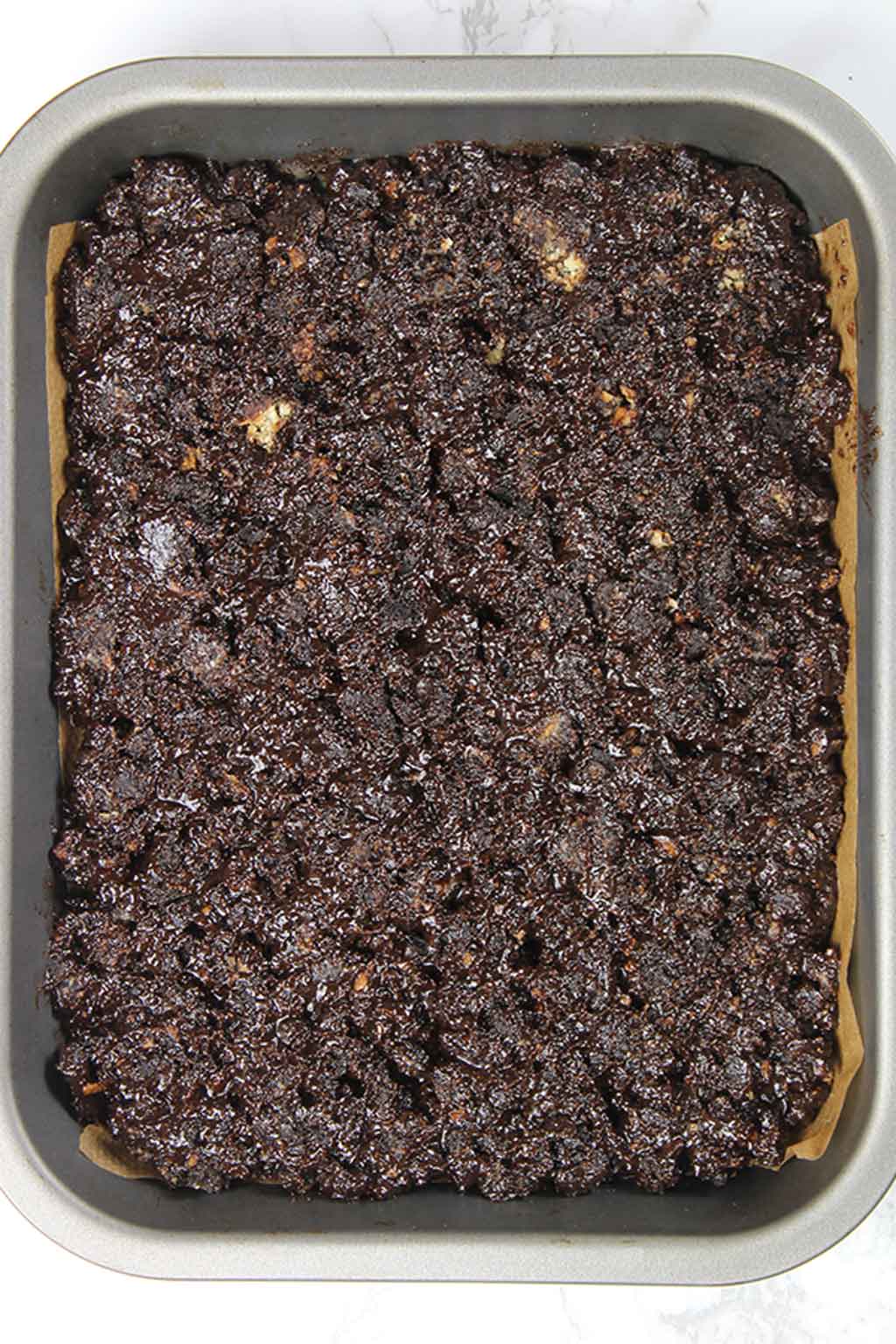 Place it in the fridge while you prepare the topping.
Step 7:
Melt 100g (7oz) of vegan dark or milk chocolate in a small pot over a low heat, and 100g (7oz) of vegan white chocolate in a separate pot. Stir gently until there are no lumps left.
Remove the biscuit base from the fridge and pour the milk/dark chocolate over it. Spread it out to the edges using the back of a spoon.
Now pour the white chocolate over in a drizzling motion, and tip the tin to allow it to spread out a little. Then use a fork or a toothpick to create a marbled effect.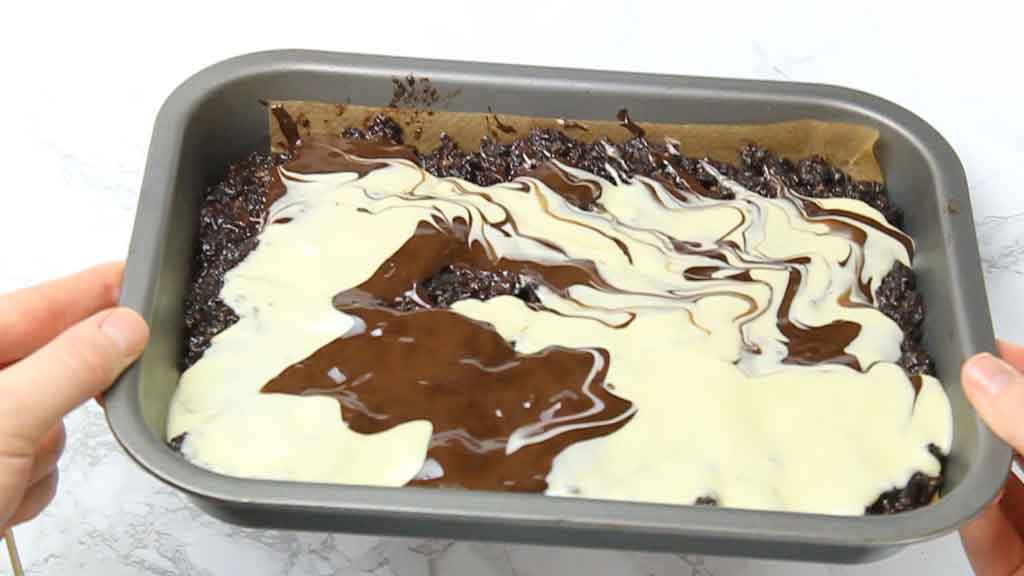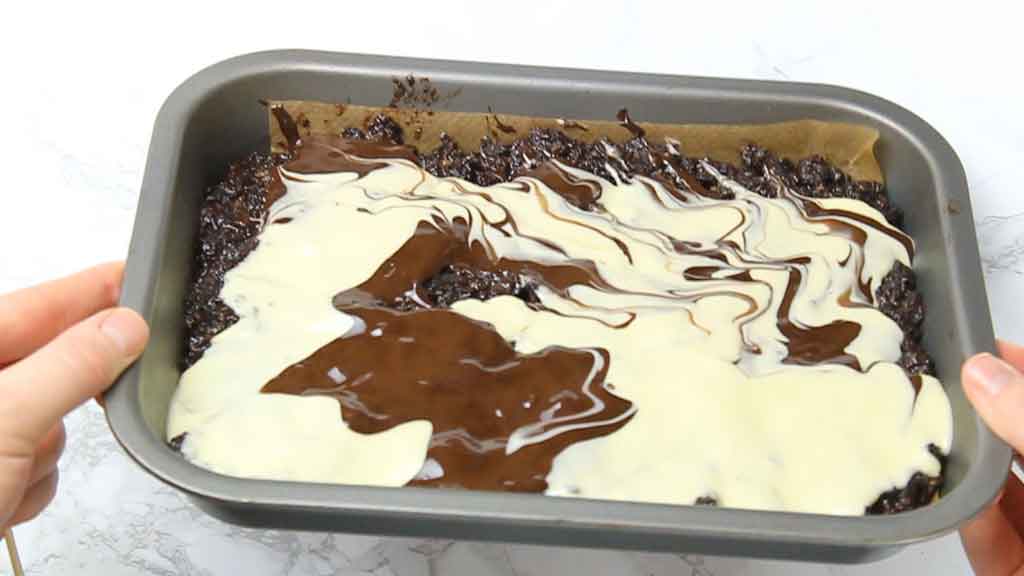 Step 8:
Crush the few remaining Oreos on top of the melted chocolate if you wish and place the tiffin into the fridge for 3 hours before cutting into squares!
How many people does this recipe serve?
This recipe is very rich so a little bit will go a long way! If you want large, chunky slices it will serve 12-16 people.
Personally, I think a 24-serving-sized piece is a perfect balance. It's not too sickly but not too little either.
If you prefer bite-sized chunks it can serve up to 48 people. It all just depends on your preference and how much of a sweet tooth you have.
How to cut tiffin
On my first attempt at making this recipe, I made a complete mess when trying to cut it into squares. The chocolate cracked and moved around and I ended up having to slide it back into place.
It wasn't pretty.
The next time I made it, I warmed my knife up to help melt the chocolate ever-so-slightly before cutting into it.
To do this, you just need dip a sharp knife into hot (boiling) water, very quickly dry it off with a towel then cut your squares.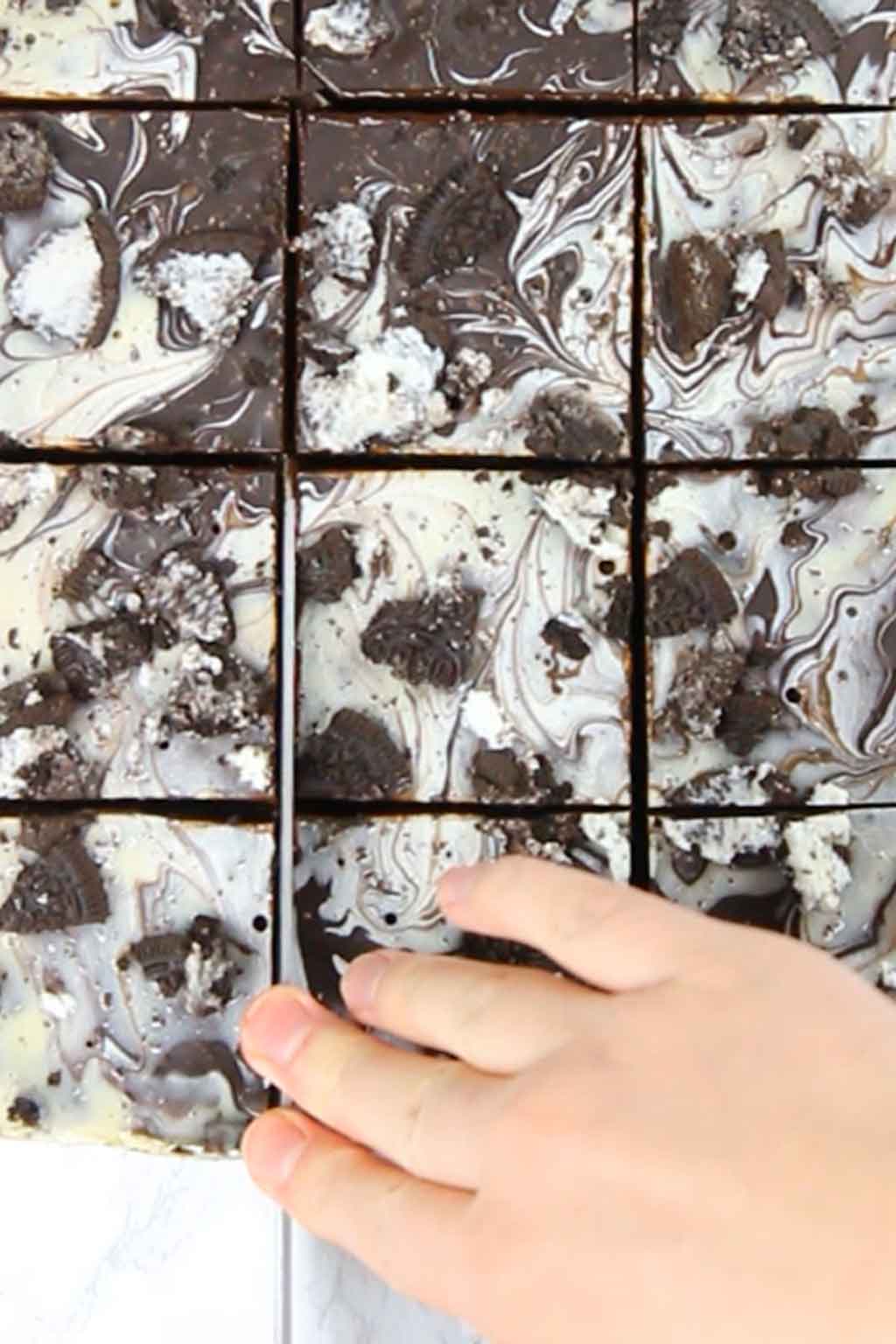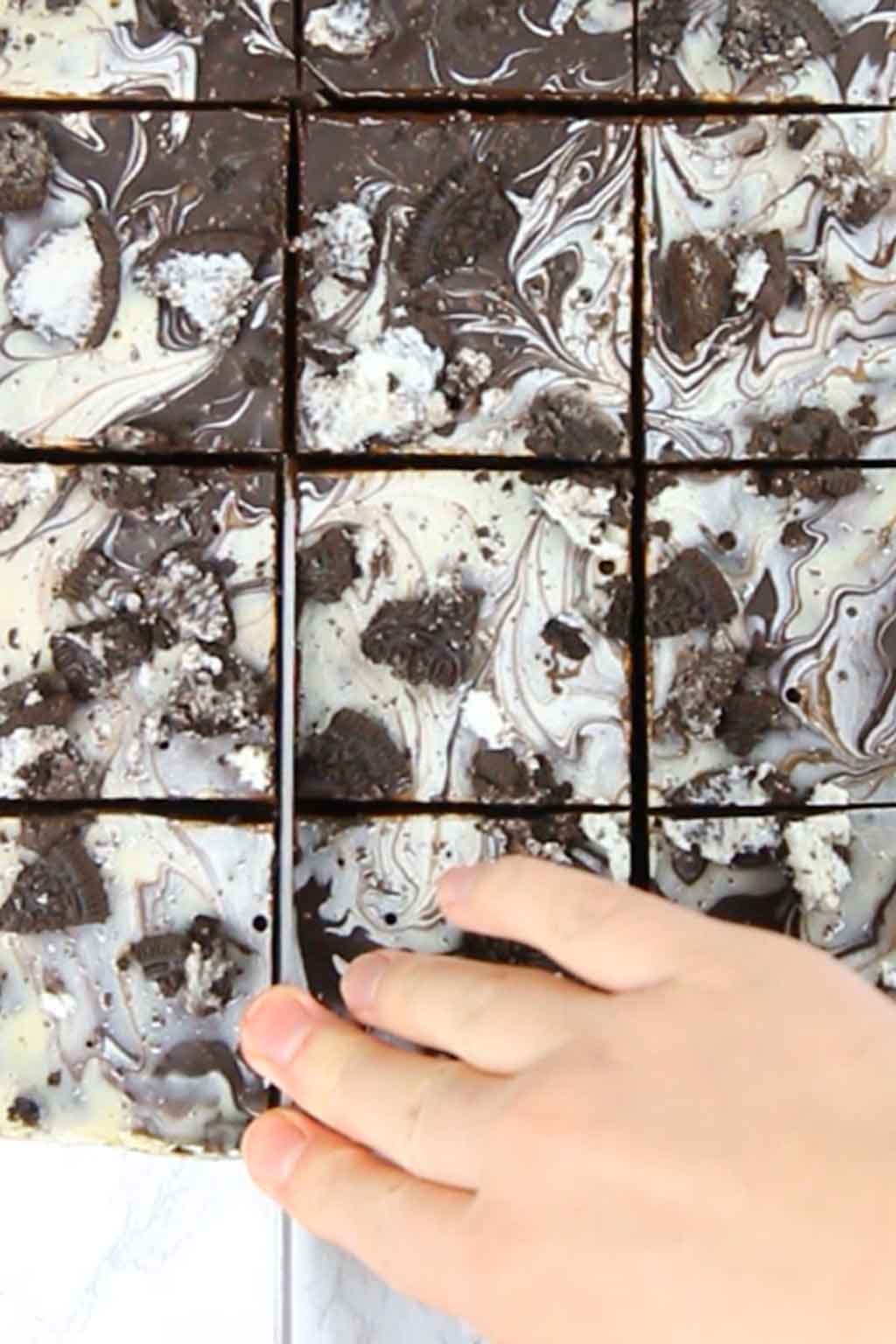 Make sure to wipe off any excess chocolate from the knife in between each slice.
You can pre-score lines into the tiffin beforehand to make it easier too.
How long will this Oreo fridge cake last?
The great thing about chocolate tiffin is that it lasts for ages! Kept in an airtight container in the fridge, this will stay delicious for at least a week, but probably longer!
It also freezes beautifully too so you can make it ahead of time if you'd like. If you want to freeze it, allow it to set then remove it from the tin. Wrap it up tightly in plastic wrap, place in an airtight container and freeze for up to 2 months.
You can freeze the whole thing or individual slices.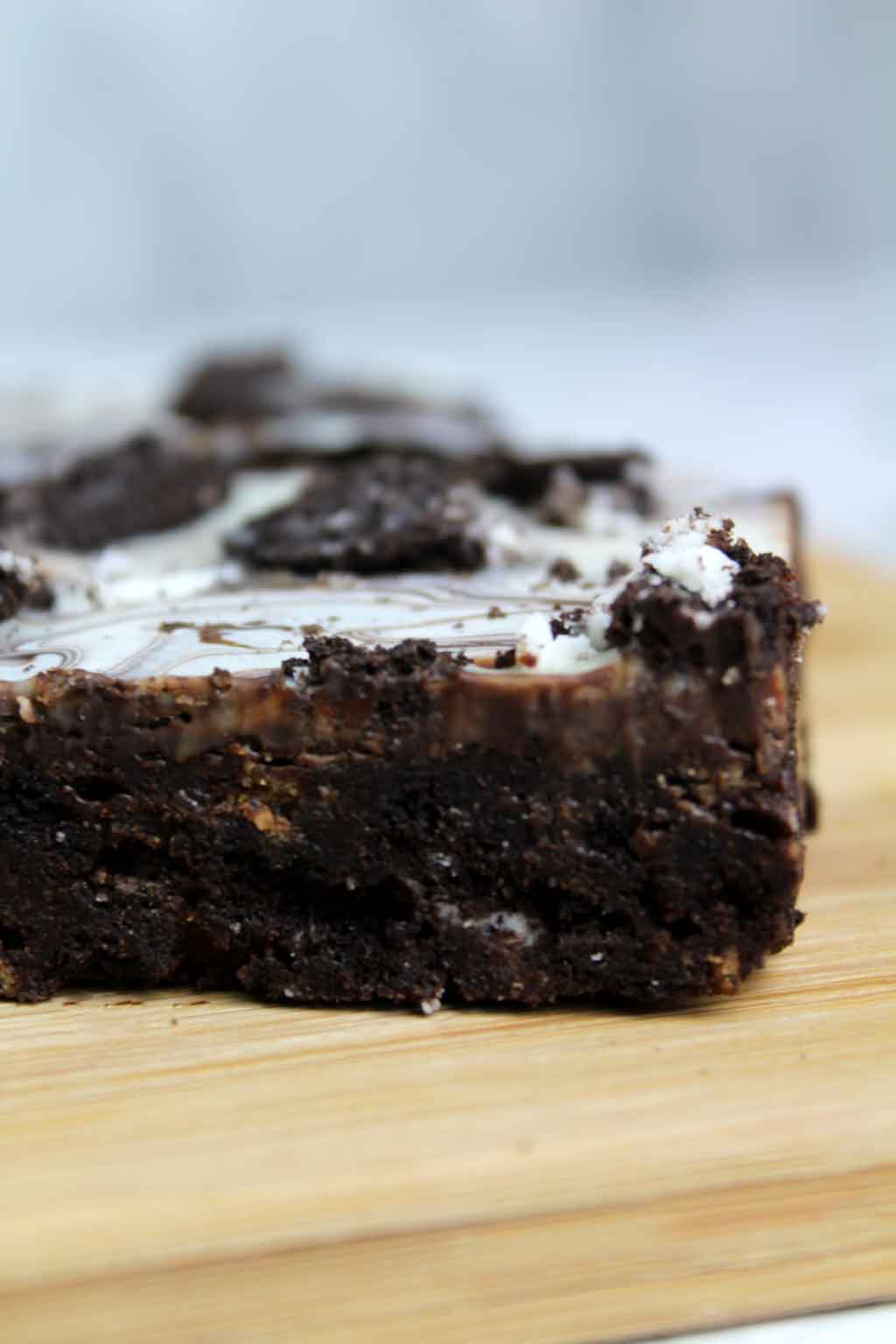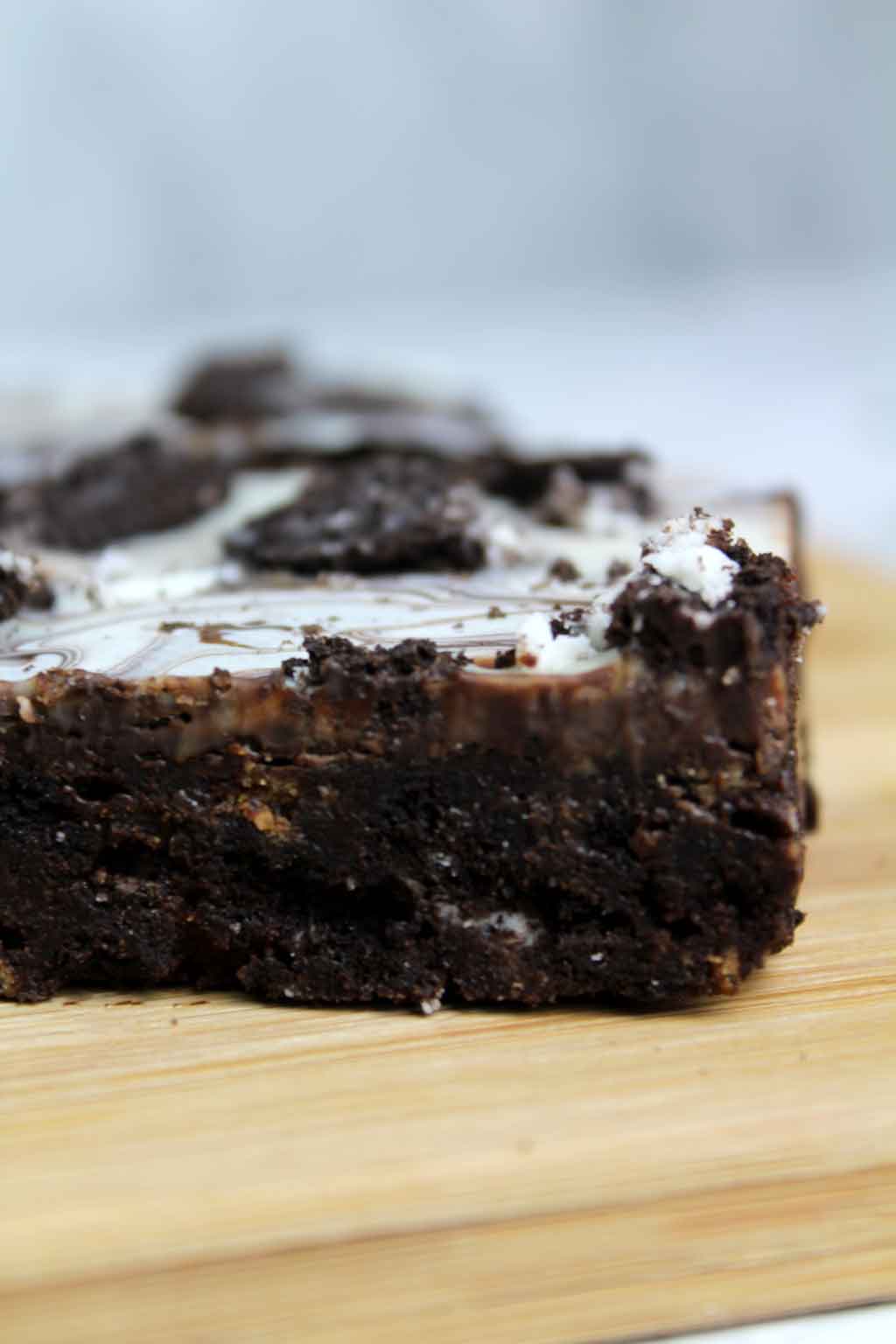 I hope you love this recipe! Please let me know what you think by leaving a rating and comment below! xo

Oreo Tiffin
A vegan twist on the classic Scottish fridge cake.
Ingredients
2 packs

Oreos

(28 cookies. Keep 2-3 aside for crushing on top)

4

Digestive biscuits

(or Graham crackers*)

120

g

Vegan butter

(½ cup)

2

Tablespoons

Unsweetened cocoa powder

3

Tablespoons

Agave nectar

(or maple syrup)

100

g

Vegan milk or dark chocolate

(3.5oz)
For the topping:
100

g

Vegan milk or dark chocolate

(3.5oz)

100

g

Vegan white chocolate

(3.5oz)
Instructions
Line an 8×10-inch rectangular dish or baking tin with parchment paper.

Place the Oreos and Digestive biscuits into a large bowl and use the end of a rolling pin to crush them up into rough chunks with a few crumbs. Set aside.

Place a pot over a medium-low heat on the stove and add the vegan butter, cocoa powder and agave nectar. Stir until smooth.

Add 100g of the milk or dark chocolate to the pot and stir gently until there are no lumps left. Remove from the heat.

Pour the chocolate mixture into the bowl with the Oreos and Digestives and mix well until everything is coated in chocolate.

Transfer the mixture to your lined tin and use the back of a spoon to press it down firmly into place.

Place the tiffin in the fridge while you prepare the topping.
For the topping:
Melt the other 100g of vegan milk/dark chocolate in one pot and the white chocolate in another. Use a low heat to prevent it from burning.

Remove the tiffin from the fridge and pour over the milk/dark chocolate.

Now drizzle over the melted white chocolate and tip the tin slightly to help the chocolate spread to the edges. Then use a fork or a toothpick to create a marbled effect.

Crush up the Oreos you set aside and sprinkle them on top of the melted chocolate.

Place the whole thing in the fridge for 3 hours until firm. Remove from the tray and cut into slices.
Recipe Notes
Stored in an airtight container in the fridge, this Oreo fridge cake will last for at least 1 week.
*Nabisco is a vegan-friendly brand of Graham crackers.
Nutrition Facts
Oreo Tiffin
Amount Per Serving
Calories 180
Calories from Fat 99
% Daily Value*
Fat 11g17%
Sodium 83mg4%
Carbohydrates 19g6%
Protein 2g4%
* All values are an estimate only and will vary depending on the food brands used.
BakedByClo is a participant in the Amazon Services LLC Associates Program, an affiliate advertising program designed to provide a means for sites to earn advertising fees by advertising and linking to Amazon.com. This site may contain some of these links to Amazon.com & other affiliate programs. If you make a purchase through one of those links, BakedByClo will receive a small commission from the purchase at no additional cost to you.