Vegan Gummy Bears
These vegan gummy bears are a great alternative to the traditional version, free from artificial sweeteners and colours. They're super easy to make with just 3 ingredients and they're perfect for children to help with.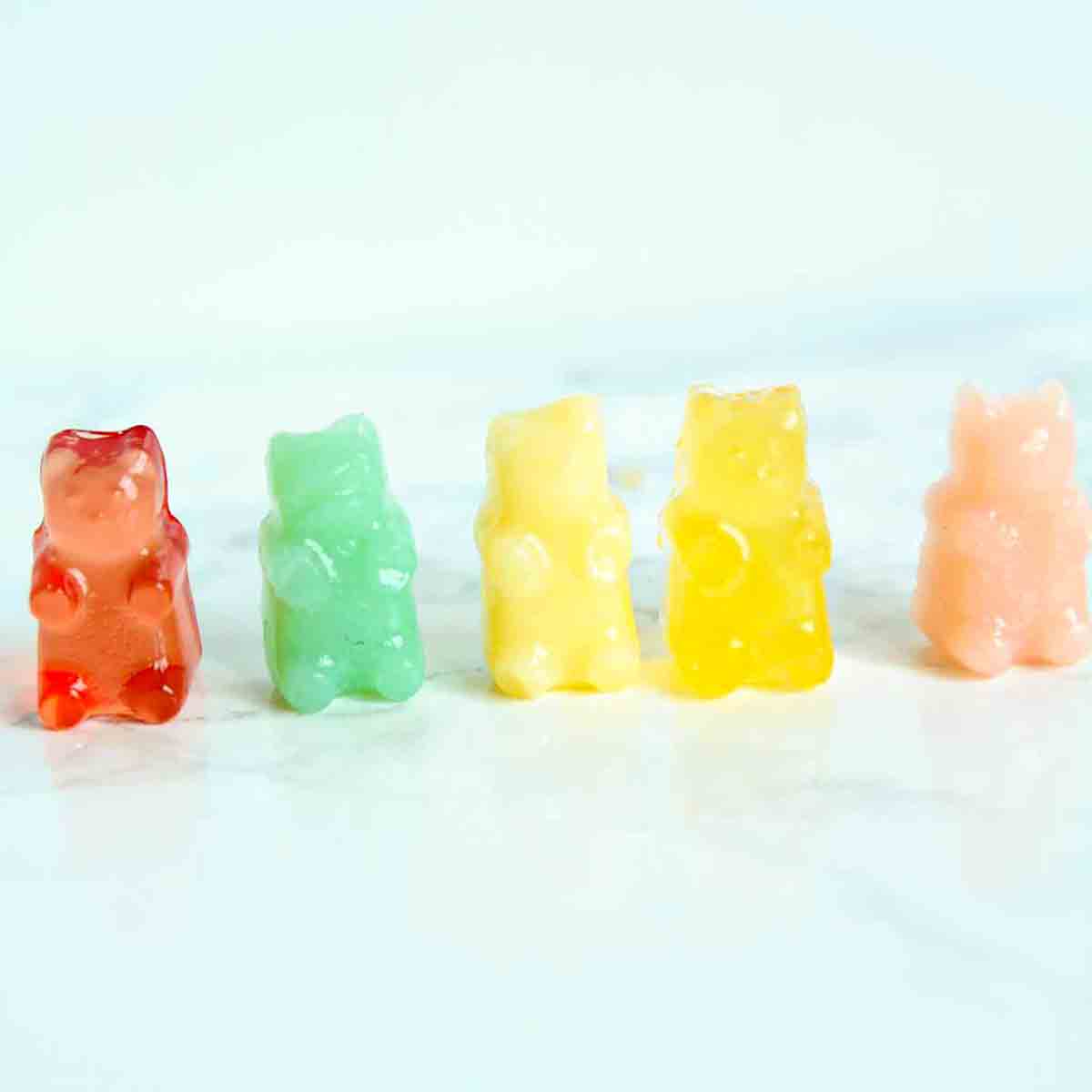 I am a HUGE foodie and will try anything at least once. And since going vegan, I've had so much fun trying plant-based versions of my old favourite foods. But there's one thing I haven't had since going vegan… Gummy bears.
Although I've always been more of a chocolate gal, gummy bears were a close second when it came to eating sweet treats. Especially Haribo, which for some reason always took me back to watching "Free Willy" in the cinema at the age of 5 with a bag full, every time I ate them… weird.
As you'll probably know, traditional gummy bears are made with gelatine and obviously, this ingredient is not suitable for a vegan diet. Plus, they contain lots of e-numbers which are sometimes not vegan-friendly either.
What to use instead of gelatine
So how exactly do you make vegan gummy bears if you don't use gelatine? By using agar-agar powder!
Agar-agar is a jelly-like substance derived from algae. It usually comes in flakes or in powder form and when boiled with liquid, it sets in a similar way to traditional gelatine.
I first discovered agar-agar powder whilst attempting to make a no-bake cheesecake with condensed coconut milk. Unfortunately, my filling didn't set properly (even after a whole day in the fridge!) so I began looking into ways to rescue it. I was told that adding Vege Gel or agar-agar powder might help the filling to set.
Unfortunately, using Vege Gel didn't work so I ended up having to dispose of the poor cheesecake. But it got me curious about agar-agar powder so I ordered some online. When it arrived, I decided to scrap the cheesecake and attempted to make some gummy bears instead.
I ordered the cutest little gummy bear mold from Amazon which will allow you to create 50 vegetarian gummy bears at a time.
But the great thing is, because the gummy bears set so quickly, you can pop them out and refill the mould to make as many batches as you like. Which means you only need one mould!
You can make these vegetarian gummy bears whichever flavours you like. Here are some of the flavours I tried…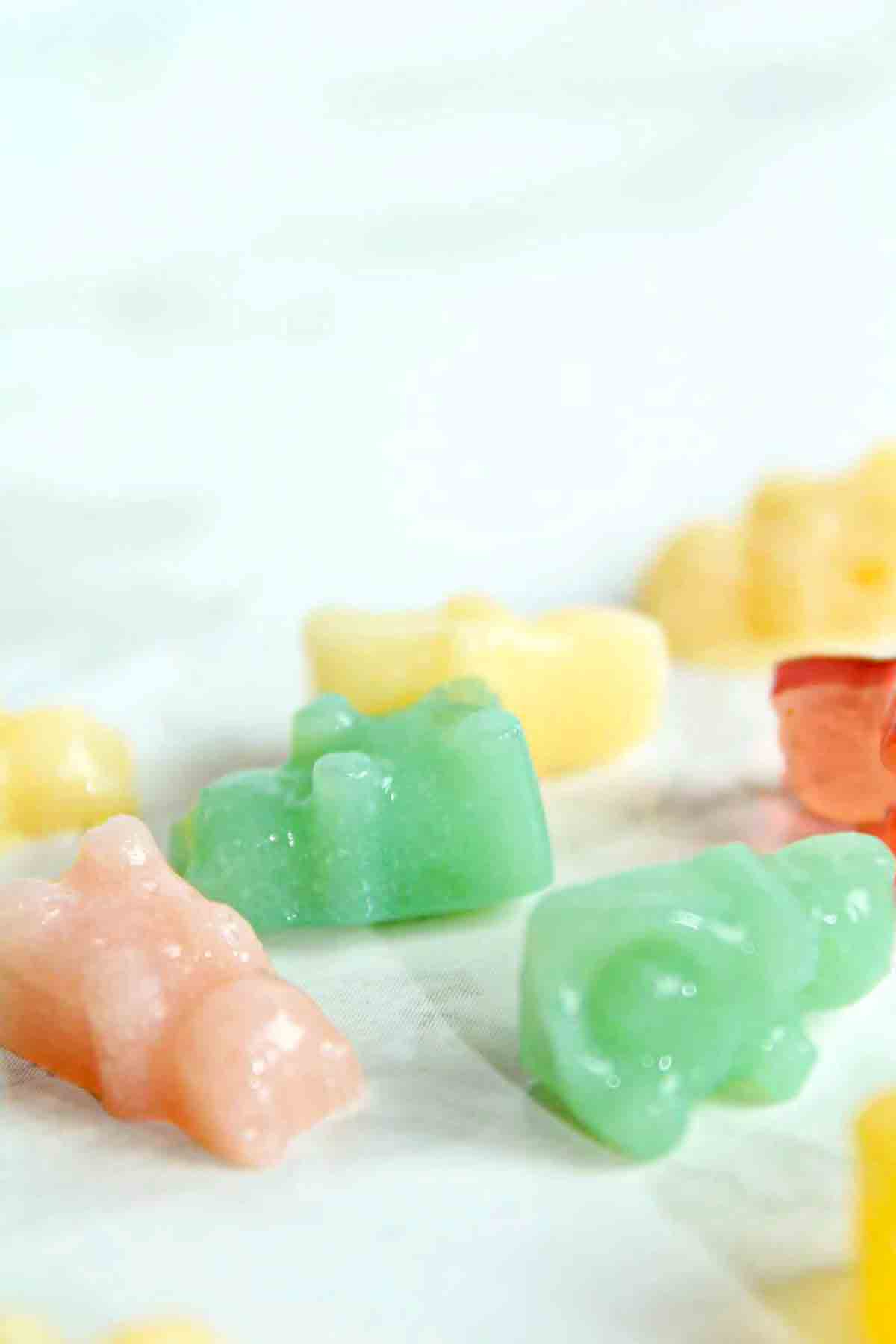 Gummy Bear Flavour Ideas
Blue Guava
I used Innocent's "Bolt From The Blue" juice which is a mix of different fruit juices and some blue spirulina for the colour. The main flavour I could taste was guava and I really liked these gummies!
For blue gummy bears without gelatine, you can either use this same Innocent juice or mix a small amount of blue spirulina with a super sweet juice such as guava.
I also made a second batch and replaced ½ of the juice with almond milk. I liked the way these turned out because the colour was much more vibrant thanks to the lightening effects the milk had.
Cherry
I LOVED the flavour of the cherry juice and I liked that it produced translucent, red vegetarian gummy bears! They looked just like the real deal.
I also tried a batch of cherry gummies with almond milk but feel that this took away from the flavour a little. Lovely colour though!
Mango
The mango ones were by far my favourite flavour. They were just the right amount of sweetness and the fruit flavour was so strong! I made an almond milk mango batch too and they tasted just as amazing. I HIGHLY recommend making mango gummy bears!!
It's important to note that the sweeter, richer juices like mango work best for these gummy bears because the taste of the agar-agar powder is quite strong.
How To Make Vegan Gummy Bears
Step 1:
The first step is to clean and dry your gummy bear mould to make sure it's free from any dirt or dust. If you don't have a gummy bear mould, you can purchase one from Amazon. I used the HENGSONG silicone gummy bear mould.
Alternatively, you can use whatever else you have to hand, such as an ice cube tray. If you're not using silicone, I would recommend sprinkling your mould/tray with cornstarch first. This will help to prevent the gummies from sticking when you try to pop them out.
Step 2:
Take 120ml fruit juice of choice and mix it with 2 tablespoons of agar-agar powder. I find this to be the perfect ratio to create 50 small gummy bears.
You'll also want to add a tablespoon or two of sweetener to help enhance the flavour, as it can be quite weak without. I recommend caster sugar for the best texture and flavour. It also helps the gummy bears to become more "chewy" once they're set. 1-2 tablespoons of sugar per 120ml of juice works great.
Step 3:
Give everything a good mix together in a small pot.
Place the pot over a very low heat and stir continuously until it begins to thicken. You need to make sure you allow it to heat up long enough to get thick otherwise the gummy bears won't set properly. It should be a syrupy consistency.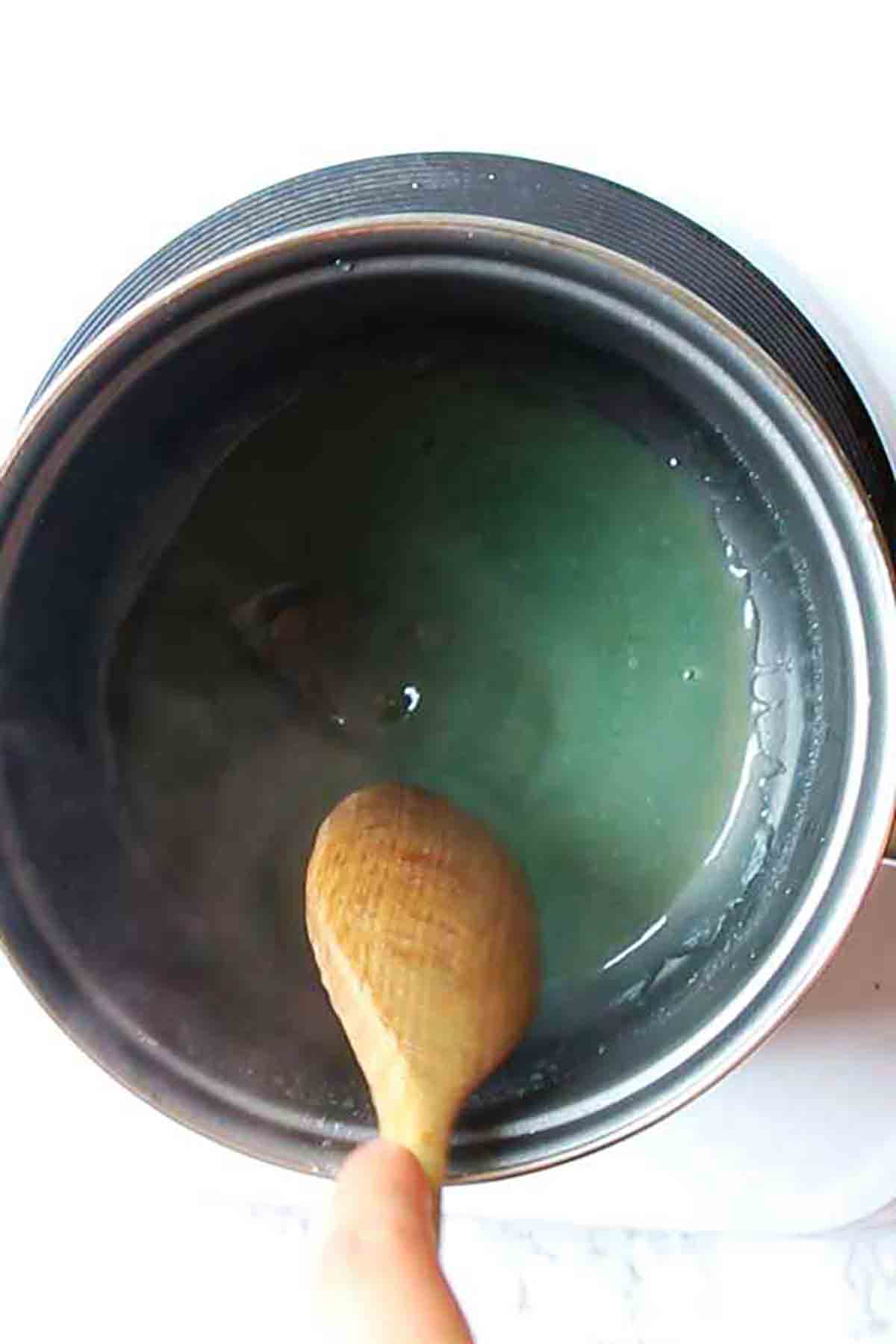 Be careful not to overdo it or the gummies won't set properly. 1-2 minutes on a medium-low heat should be just the right amount of time.
Step 4:
Using a small dropper, carefully transfer the mixture into each gummy bear hole. If you make a mess and the mould holes overflow, you can scrape any excess off using a tissue.
Once you've got your mould full, put them onto a plate so they don't bend, them pop it into the freezer for 5 minutes. When they've set, just pop your vegetarian gummy bears out and enjoy!
FAQ:
How should vegan gummy bears be stored?
These gummies can be stored in the fridge in an airtight container for up to one week. You can also keep them in the freezer if you'd prefer, and they'll last like this for up to 3 months.
Can I use agar flakes?
No, agar flakes will not work for this recipe. You'll need to use a lot more in order to help the gummies set properly but as I haven't tested this, I'm not sure exactly how much.
Can I add flavour extracts?
Yes, a few drops of flavour extract can be added if you wish to enhance the flavour of your gummies.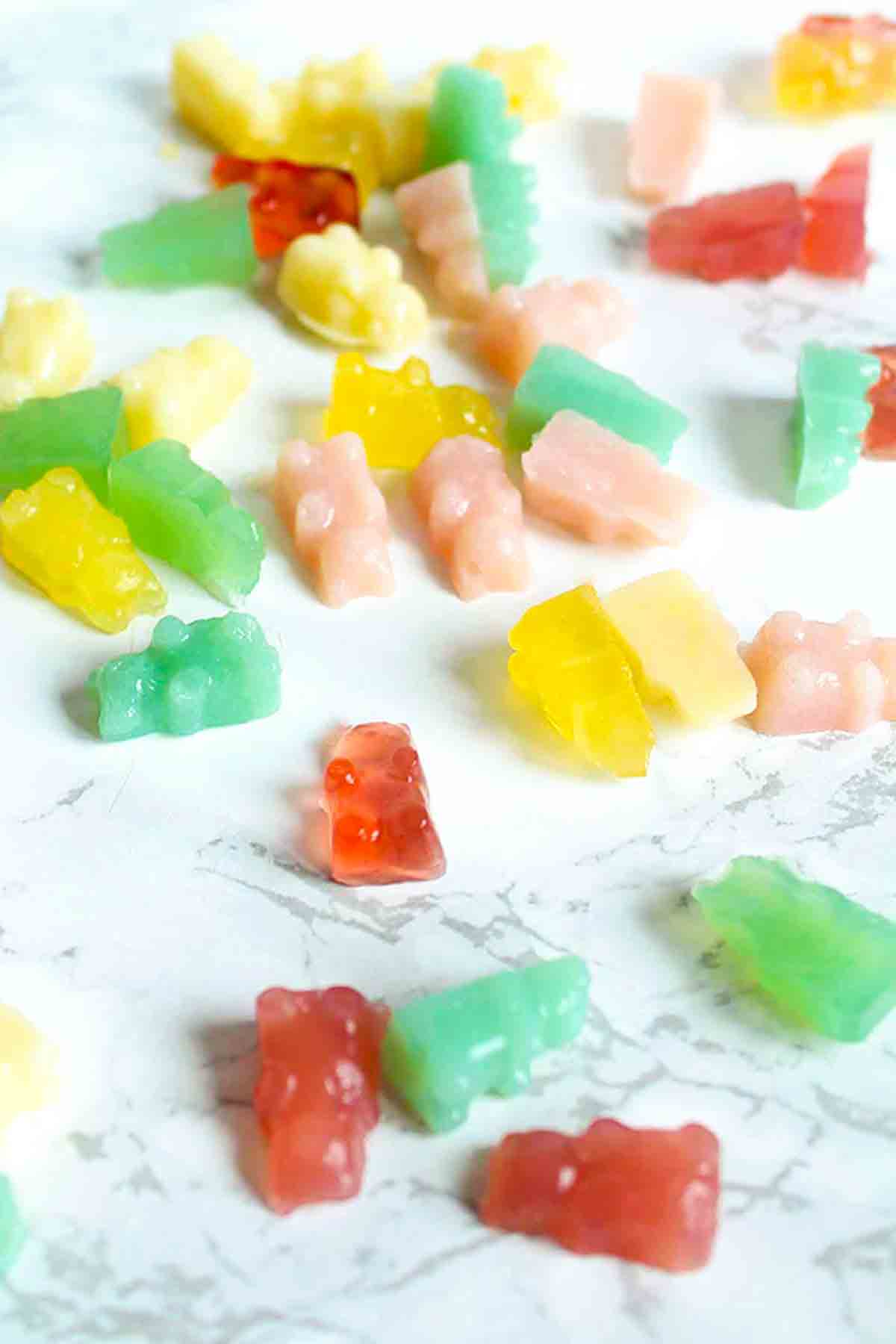 More vegan candy:
I hope you like these vegan gummy bears. If you make them at home, please let me know how you get on and which flavours you use. I would love to hear from you. Enjoy! xo

Vegan Gummy Bears (Agar Gummies)
A vegan-friendly alternative to gummy bears, made without gelatine.
Ingredients
120

ml

Fruit juice

(Acidic juices such as orange and apple do not work very well for this recipe. Mango produces the best flavour and texture.)

2

Tablespoons

Agar-agar powder

1-2

Tablespoons

Caster sugar
Instructions
You'll need a silicone gummy bear mould and dropper to make this recipe. I got mine from Amazon.

Mix all of the ingredients together in a small pot.

Put the pot over a medium-low heat and gently stir until the mixture begins to thicken and become syrupy, around 1-2 minutes.

Use the dropper to transfer the mixture into the gummy bear moulds, scraping off any excess from the edges.

Place the moulds onto a plate, then pop into the freezer for 5 minutes. Once the gummies have set, gently pop them out of the moulds and enjoy.
Recipe Notes
Store in the fridge in an airtight container for up to 1 week.
Calorie info shown is for mango flavour gummies.
Please note that these gummies are not as chewy as traditional gummy bears. They have a softer texture but still make a great alternative!
Nutrition Facts
Vegan Gummy Bears (Agar Gummies)
Amount Per Serving (5 Gummy bears)
Calories 21
% Daily Value*
Sodium 1mg0%
Carbohydrates 5g2%
* All values are an estimate only and will vary depending on the food brands used.
BakedByClo is a participant in the Amazon Services LLC Associates Program, an affiliate advertising program designed to provide a means for sites to earn advertising fees by advertising and linking to Amazon.com. This site may contain some of these links to Amazon.com & other affiliate programs. If you make a purchase through one of those links, BakedByClo will receive a small commission from the purchase at no additional cost to you.