Vegan Tablet
Vegan tablet is a hard, grainy type of Scottish sweet that melts in your mouth. It's made with 5 simple ingredients and there's no condensed milk needed!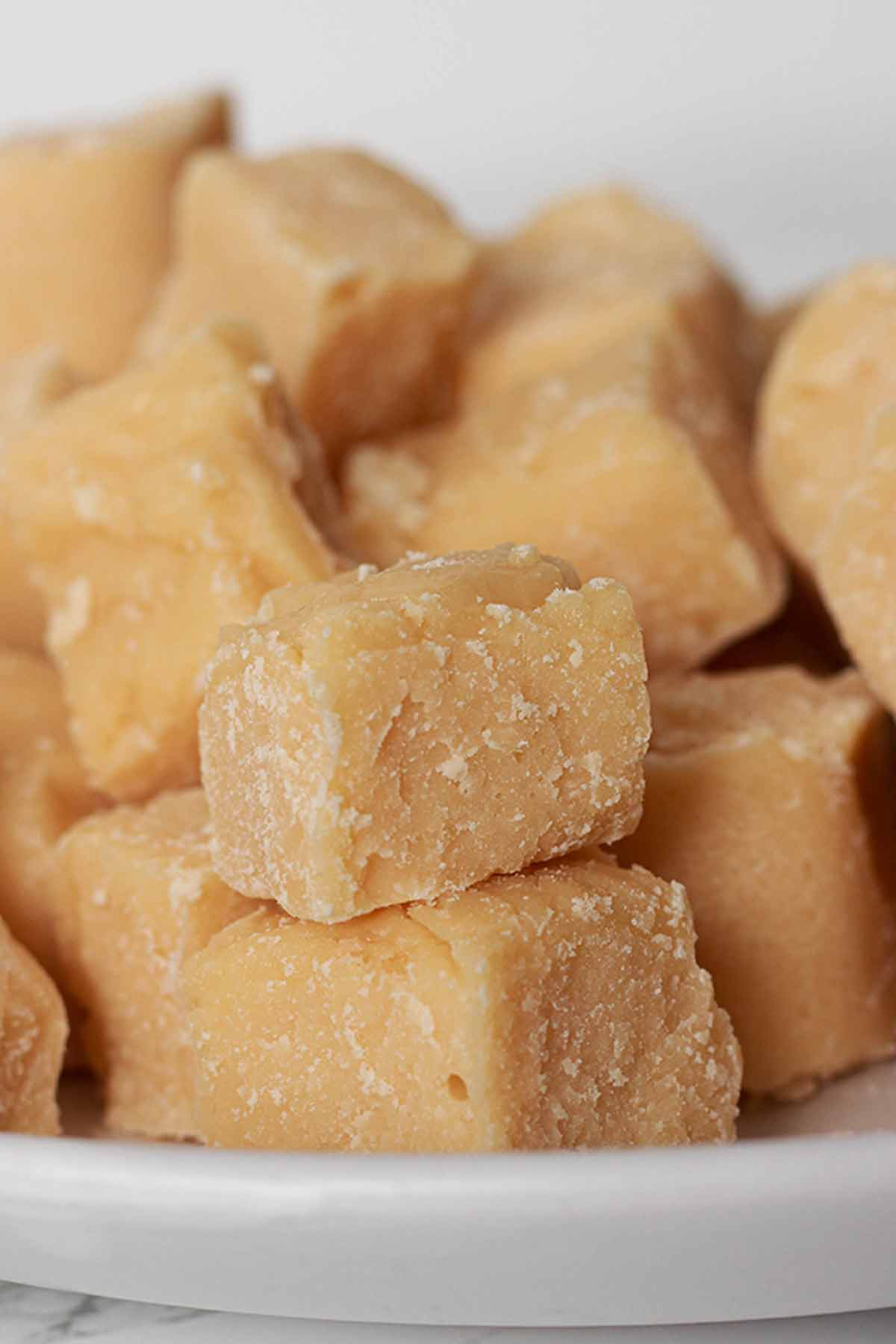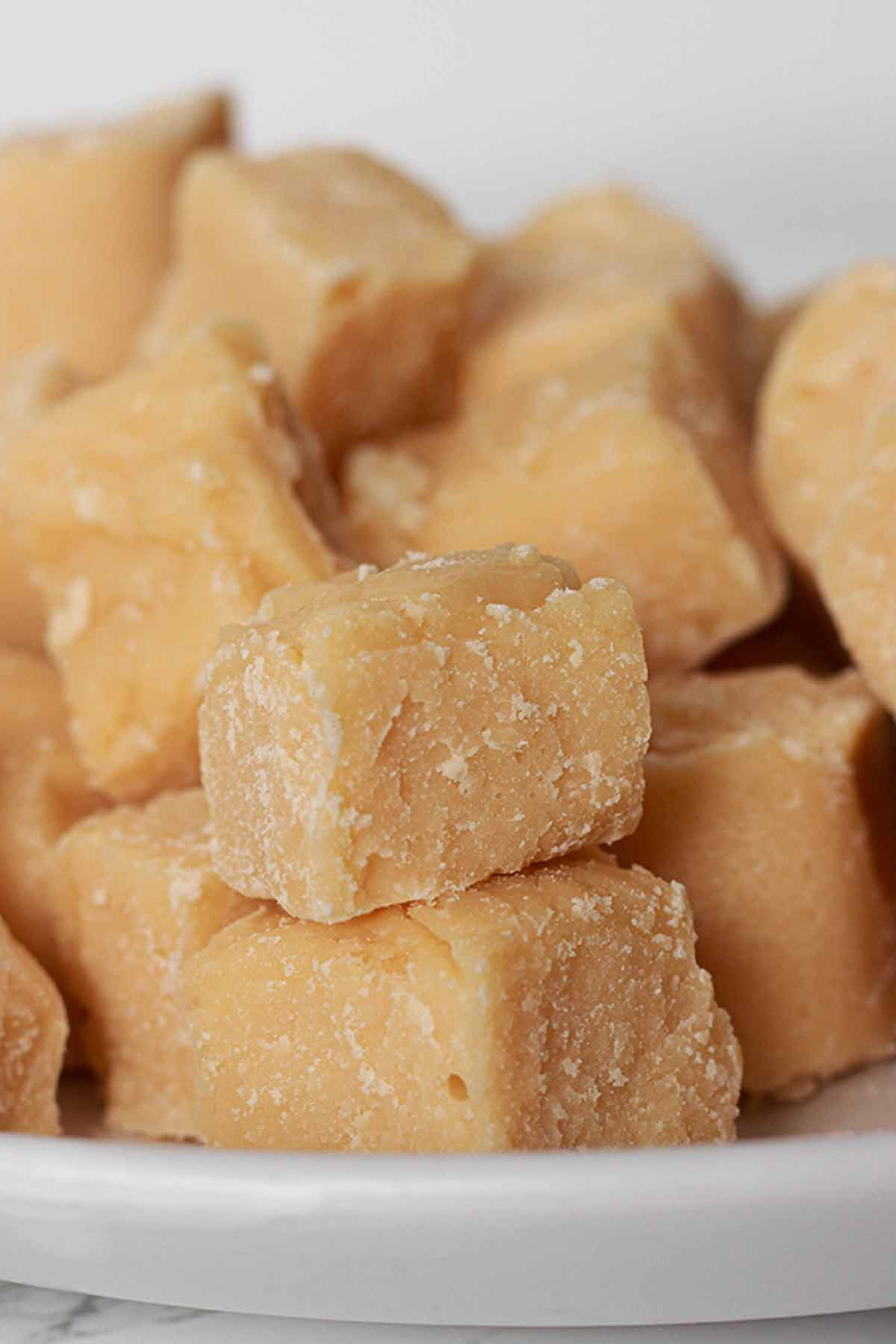 Growing up in Scotland, tablet was a staple sweet-treat. But since going vegan, I haven't been able to enjoy it as often because it contains dairy. There are a few places that sell dairy-free tablet and although they're delicious, they are pretty expensive compared to this homemade version. So I'm here to share this vegan recipe!
If you don't know what tablet is, it's similar to fudge but is a lot harder and grainier in texture. It's not chewy at all like fudge is; it crumbles when you bite into it and melts in your mouth. It's VERY sweet so you only need a small amount!
Made without condensed milk
Traditionally, tablet was made with cream and sugar and these days, it's usually made with condensed milk. So I guess this isn't a traditional Scottish tablet recipe when it comes to the ingredients but the taste is just the same!
Other vegan recipes I've seen online use dairy-free condensed milk but because it's still quite a hard-to-find ingredient in some locations, I wanted to make one without.
I remember seeing a traditional recipe in one of my gran's old cookbooks a long time ago but I couldn't find it when I went searching the other day. I had never made vegan tablet before so I wanted somewhat of a guide for measurements. Luckily, I came across this recipe and had great success veganizing it.
I made a small batch at first and it turned out great with just a few tiny tweaks needed; the main one being not to add too much vanilla extract. I added 1 teaspoon the first time and the flavour was too similar to fudge. Scottish tablet usually doesn't have a strong flavour so just a tiny amount is needed, or you can skip it all together for a truly authentic taste.
More Scottish vegan dessert recipes: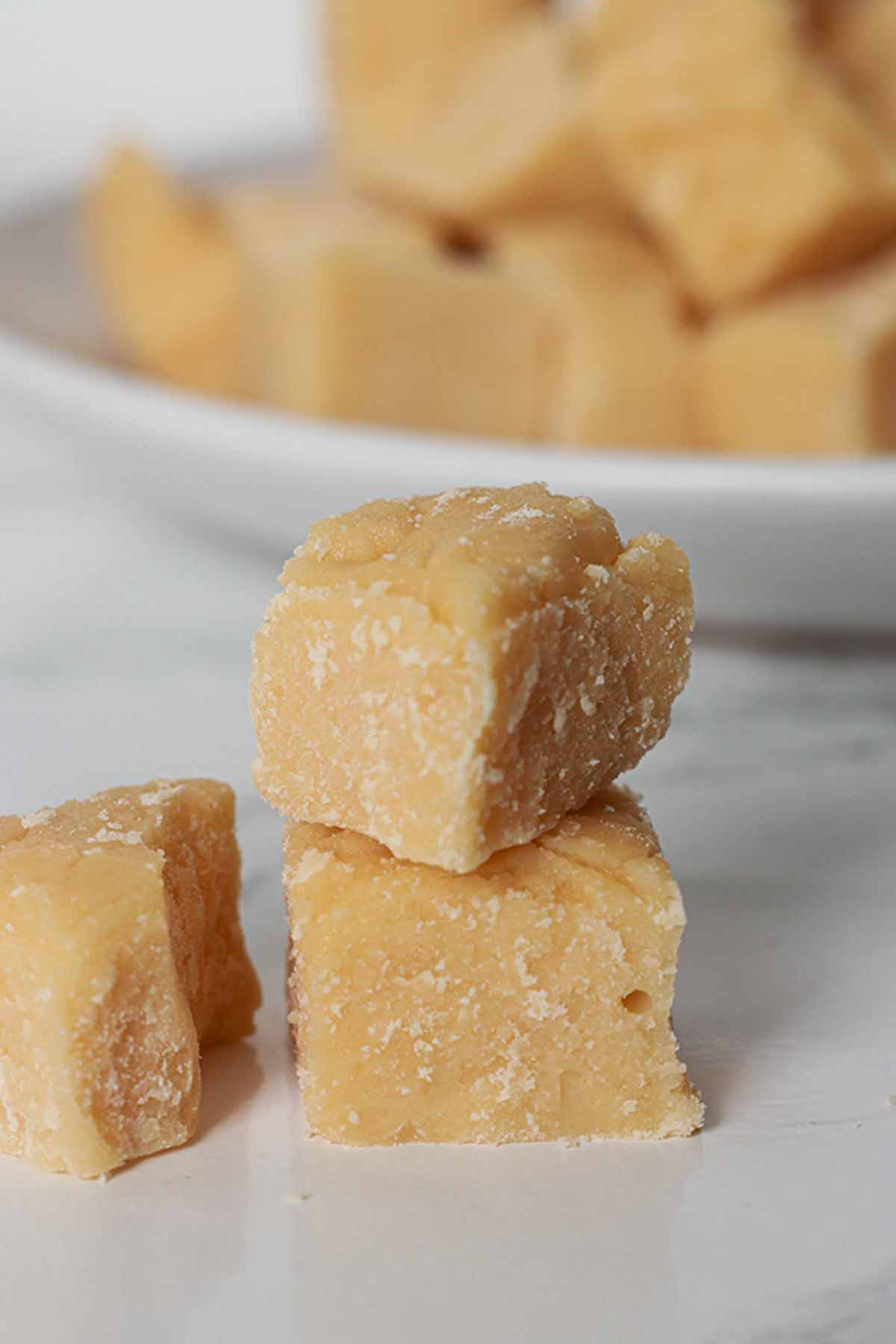 Ingredients and equipment you'll need
This recipe is super simple and there's only 4-5 ingredients needed.
Digital cooking thermometer. I used this Bramblestone thermometer. I recommend using one that has a pointed end like this one so that you get an accurate temperature reading. In the past, I have used the traditional jam thermometers (like this) but they only really work well if you have a massive pot of liquid. For this recipe, I recommend digital all the way!
Caster sugar. Tablet is made mostly from sugar so this ingredient is the star of the show. I recommend using caster sugar as it dissolves a lot quicker than granulated. Brown sugar or coconut sugar won't really work in this recipe if you're looking for a traditional Scottish tablet flavour.
Vegan butter. You'll need to use the blocky kind for dairy-free Scottish tablet. The spreadable, margarine type contains more water and may prevent it from setting properly. I used Stork baking block.
Golden syrup. I used the squeezy type but the one in the tin will work too.
Soy milk. Sweetened or unsweetened is fine. I haven't tried this recipe with any other type of dairy-free milk yet so I'm not sure if it'll work the same; soy milk is much higher in protein than most other milk alternatives. Do let me know if you try this recipe with any other plant-based milks.
Vanilla extract. Like I mentioned above, you only need a tiny amount of vanilla for tablet as it shouldn't have a strong vanilla flavour. I recommend 1/4 of a teaspoon but you can skip it altogether if you prefer.
How to make Scottish vegan tablet
Step 1:
Line a loaf tin with baking paper for pouring the tablet into once it's cooked. It doesn't really matter if it's a 1lb or 2lb loaf tin- both with do the job just fine.
Step 2:
Add all of your ingredients except the vanilla extract to a heavy-bottomed pot. Place the pot over low heat and stir occasionally until the butter has melted and the sugar has dissolved.
To check if the sugar has dissolved, use a tablespoon to take a small amount of the liquid out. You will be able to see if there are still grains of sugar in there or not.
Step 3:
Bring the mixture to a boil, then turn the heat down to gently simmer the mixture until it reaches 118°C (245°F) on a cooking thermometer.
Step 4:
When the mixture has reached the desired temperature, remove it from the heat and transfer it to a bowl. Stir in 1/4 teaspoon of vanilla extract.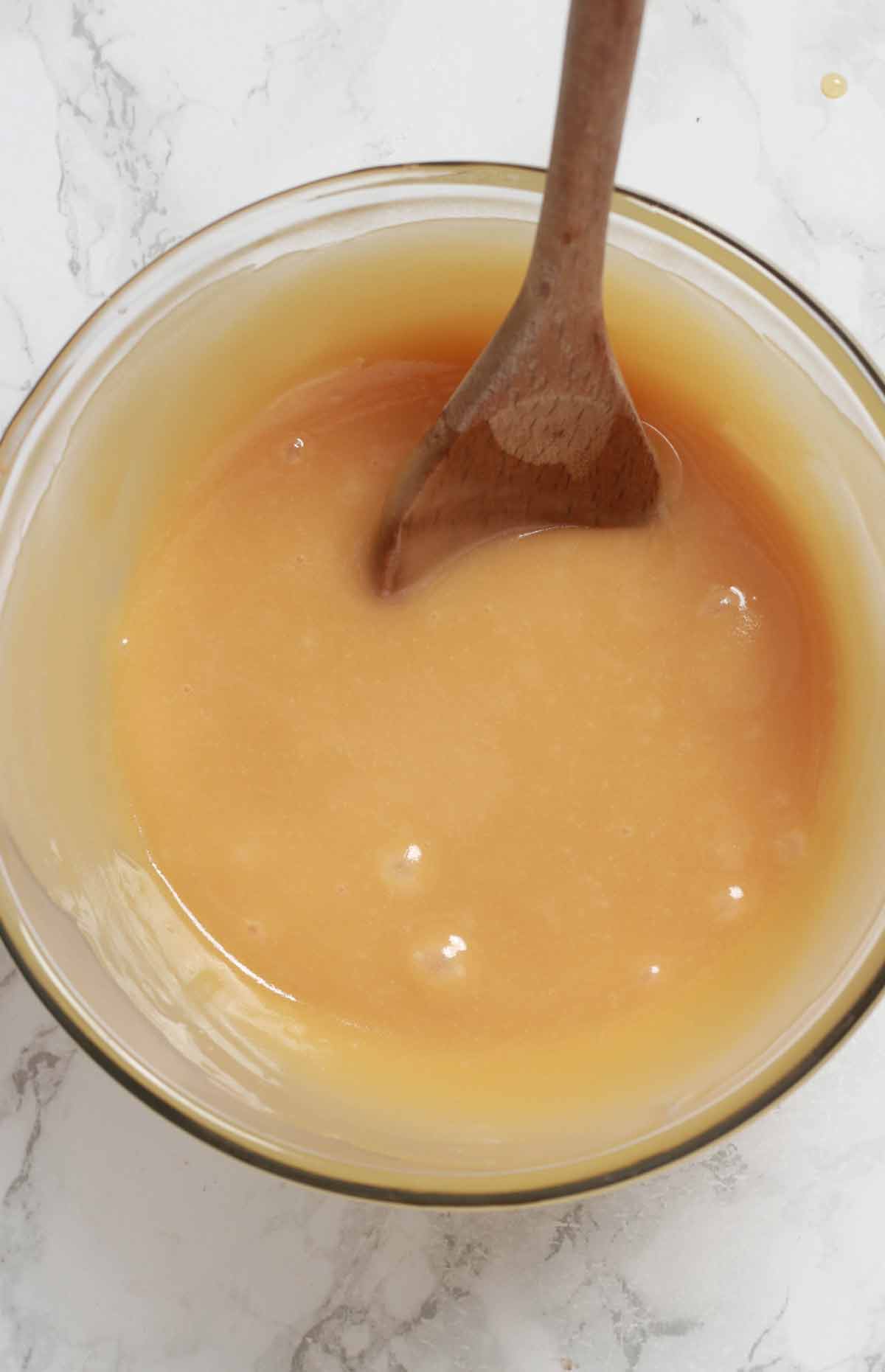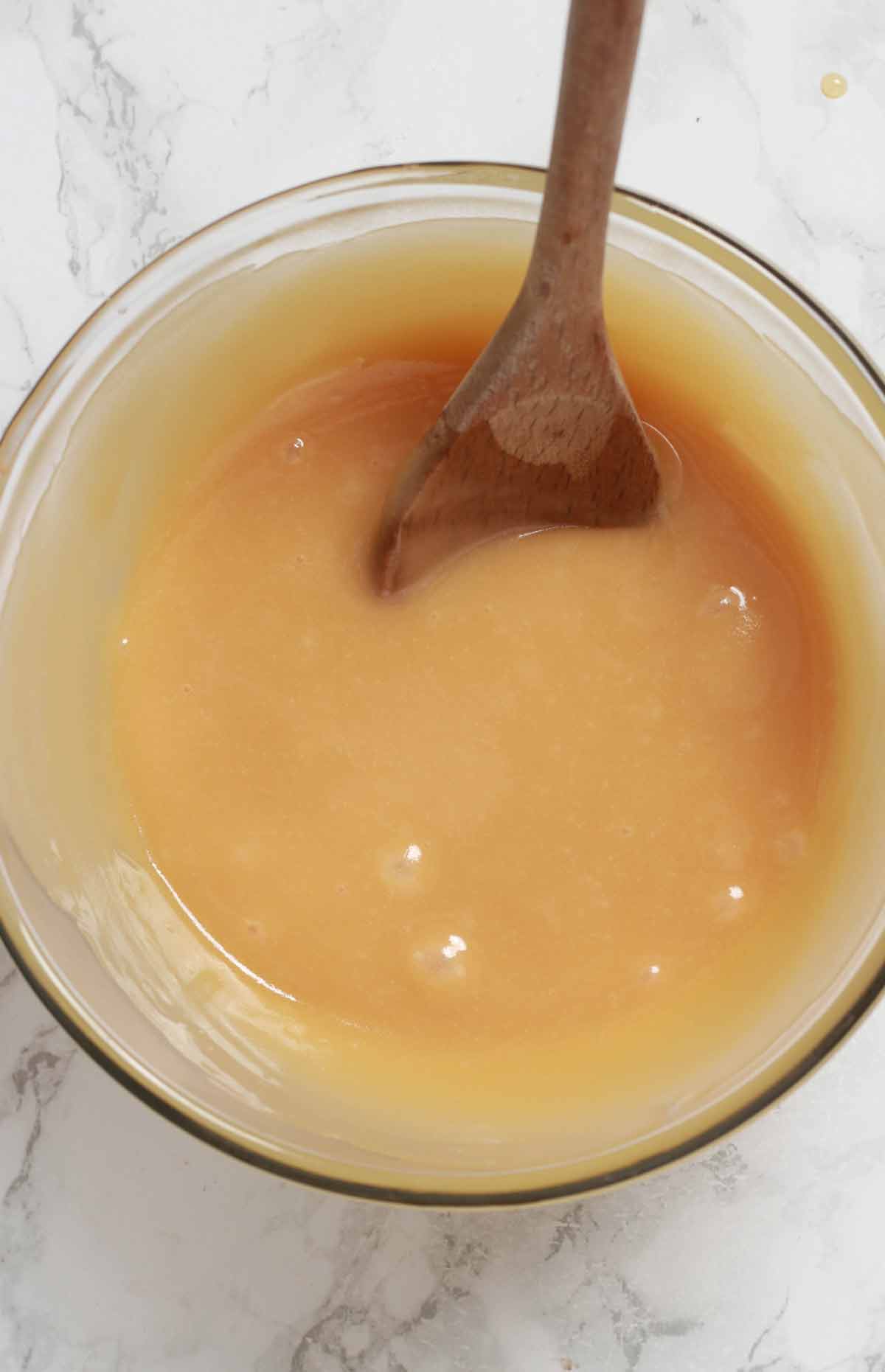 Use a wooden spoon to beat the mixture until it becomes thick and grainy. This may take a while but be patient and it'll eventually thicken.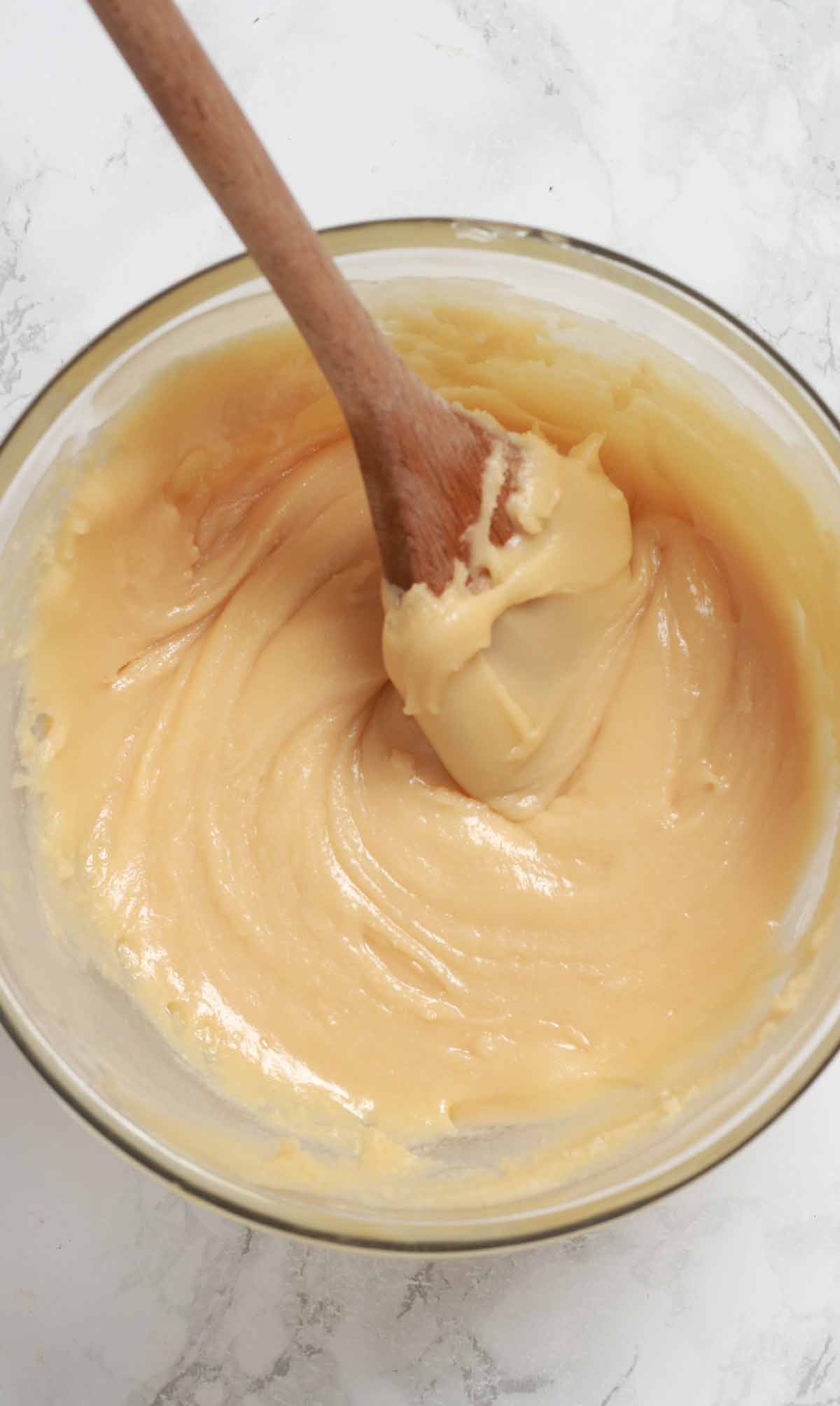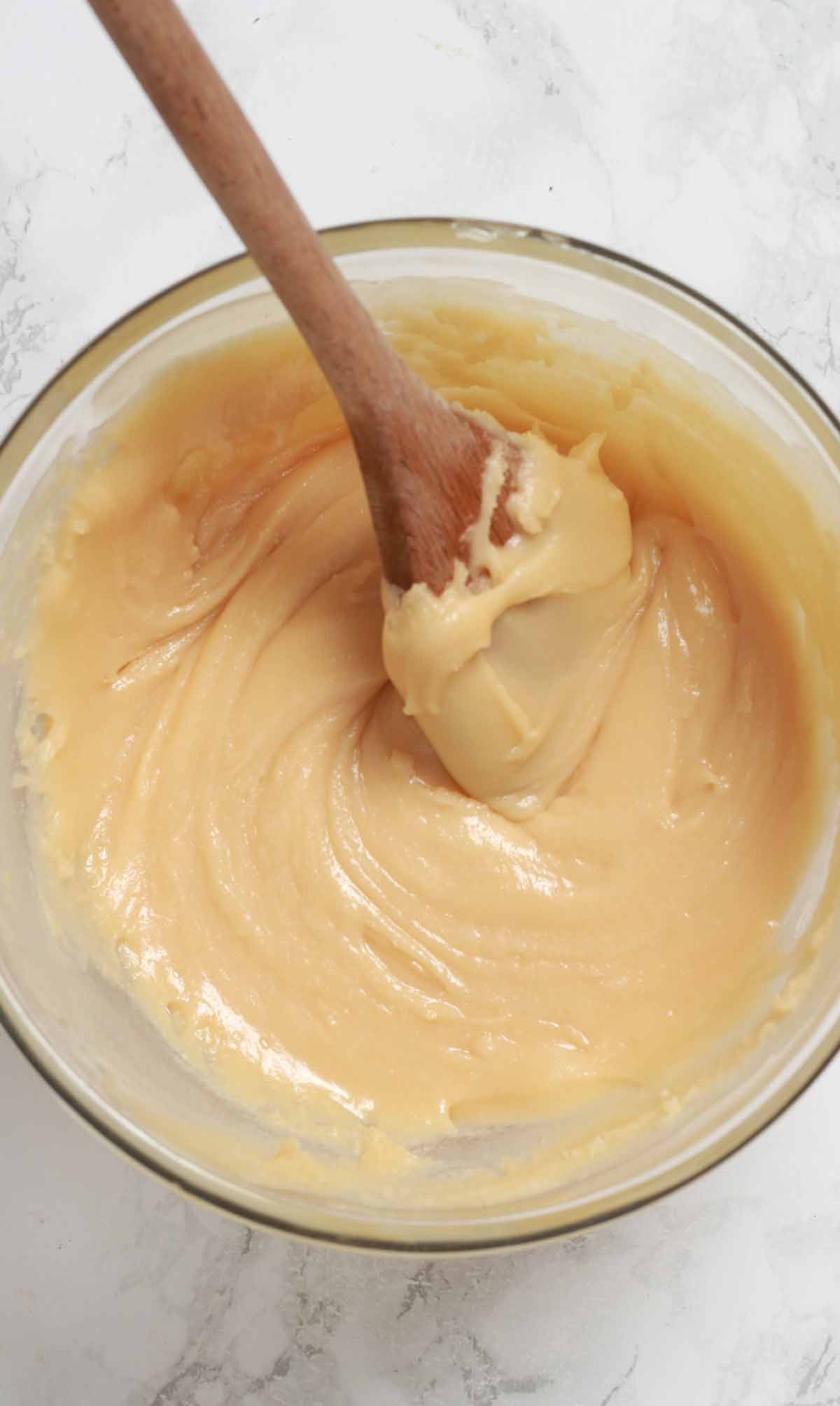 Step 5:
Once thick, transfer the mixture into your lined loaf tin and spread it out evenly to the corners.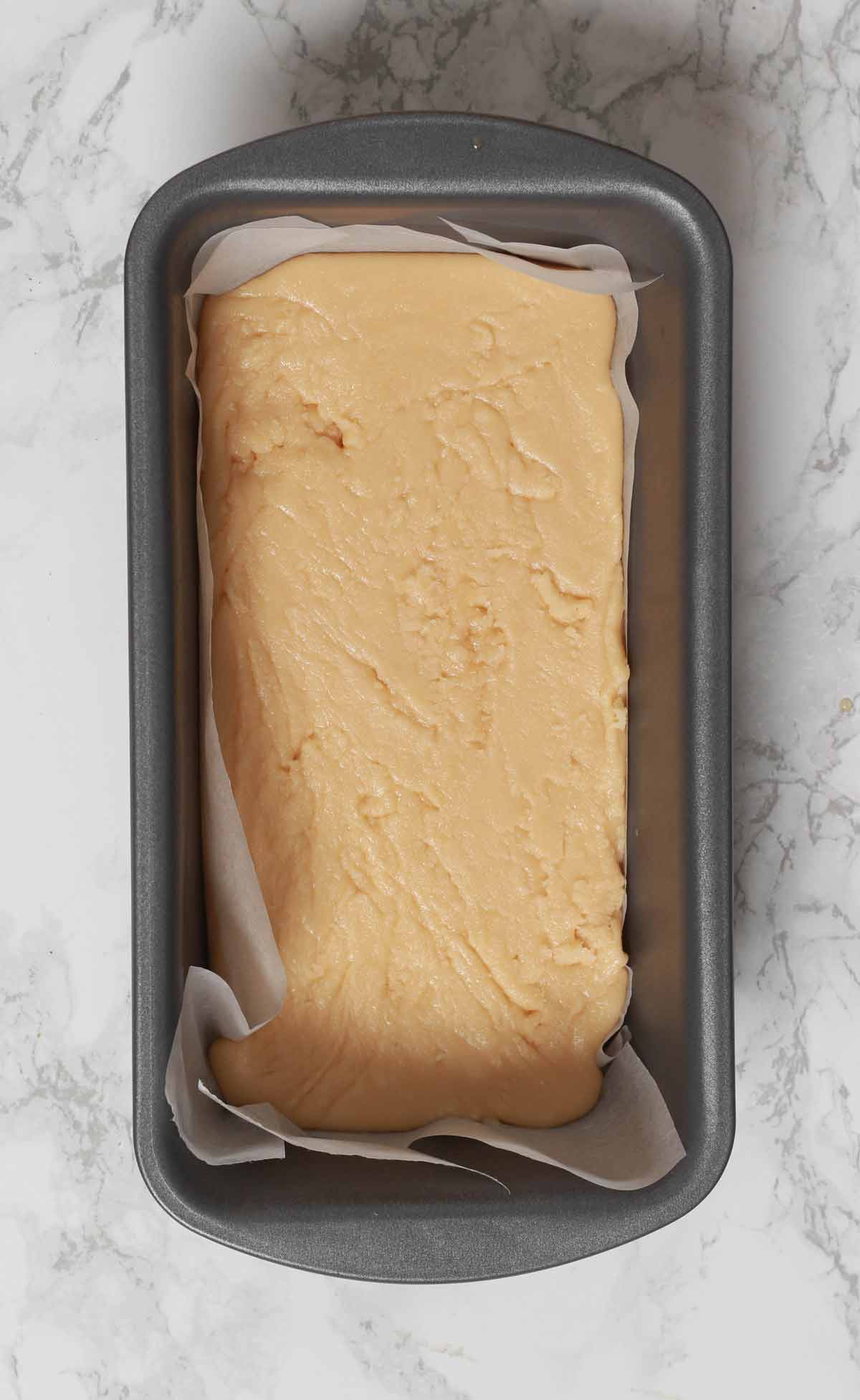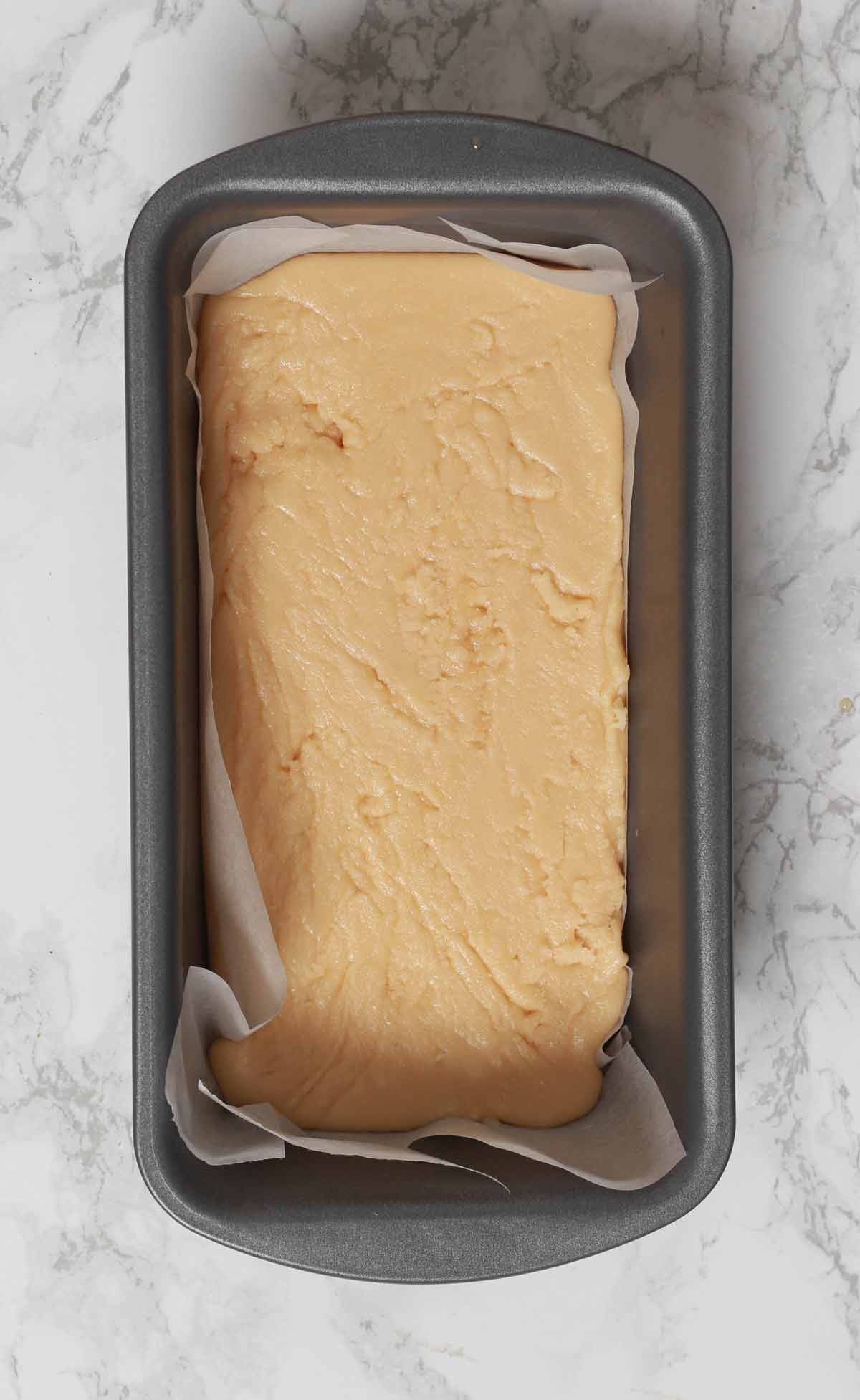 Let it sit at room temperature for around 20 minutes.
Step 6:
After 20 minutes have passed, use a knife to score the tablet where you plan to cut it. I recommend cutting it into small pieces as tablet is very sweet and rich. I cut around 36 pieces.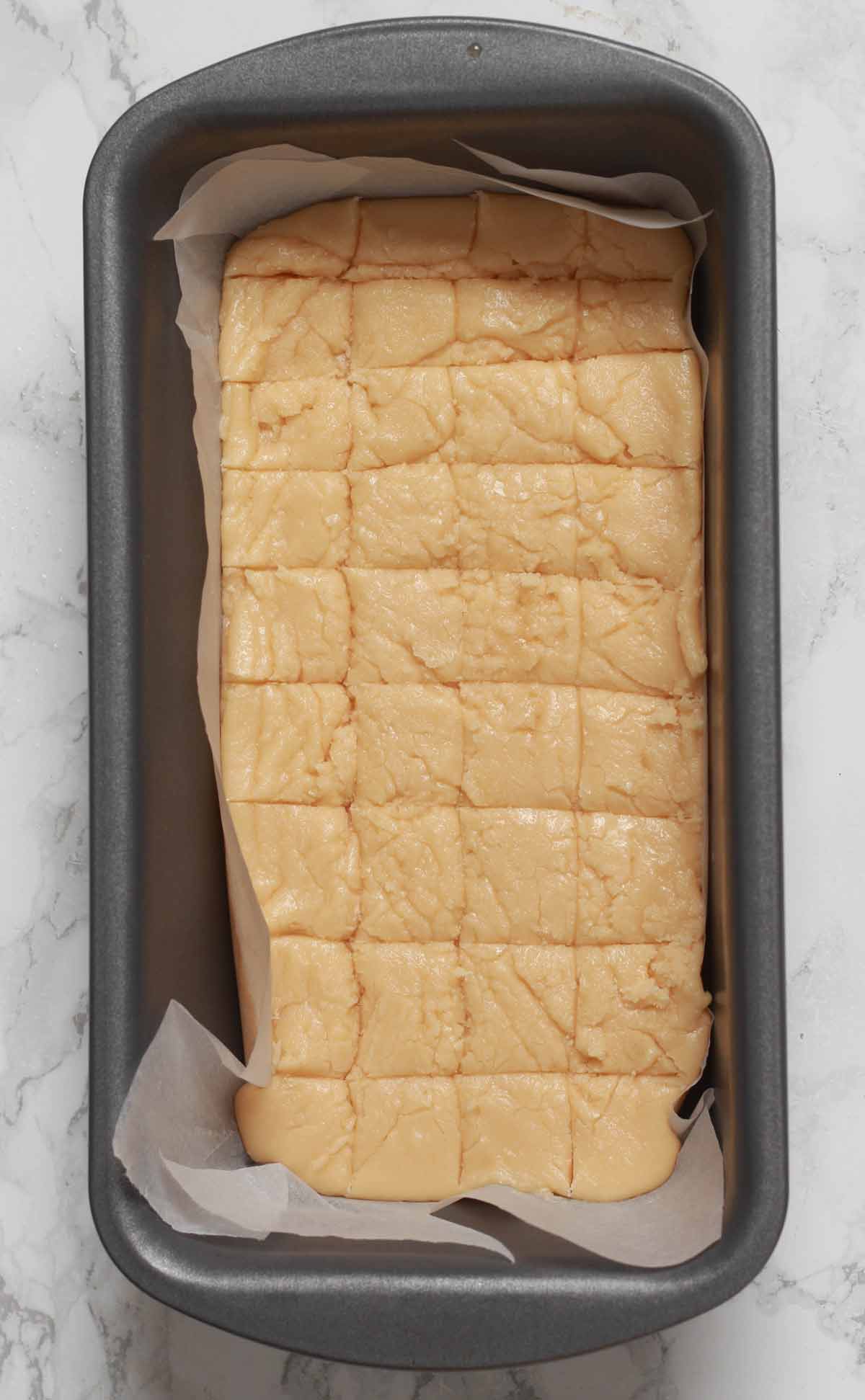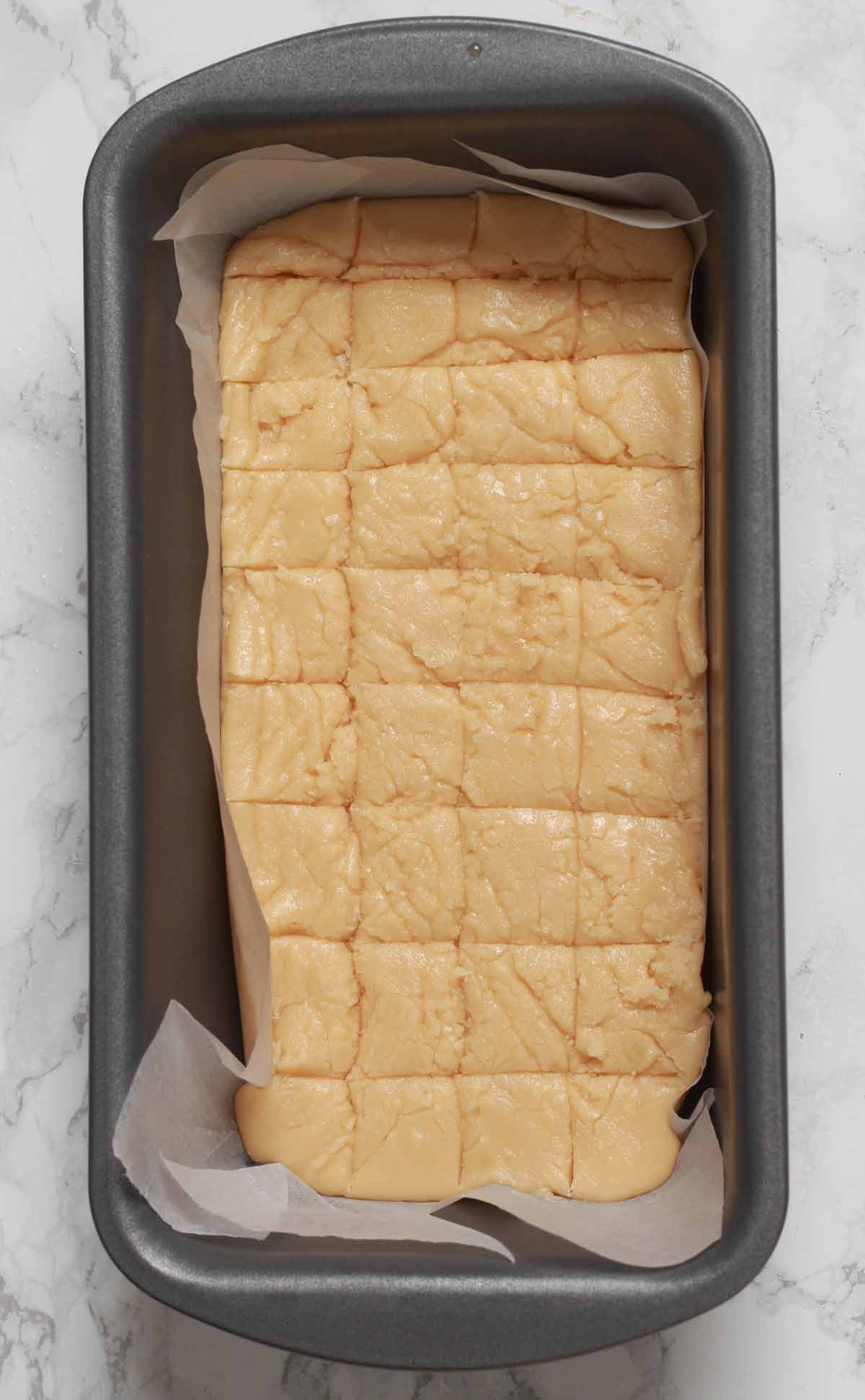 For a more rustic look, you can skip this step and cut it or break it apart after it's set.
Step 7:
Leave the tablet out at room temperature for a further 4 hours to let it set fully. Then cut it into pieces and enjoy!
FAQ
Why didn't my tablet set?
There are many reasons that your tablet may not have set. Usually it's either that the sugar wasn't dissolved properly before the mixture was boiled or that it wasn't at a high enough temperature when it was removed from the heat.

Another common problem is not beating the tablet enough before leaving it to set. It should be thick and grainy before you transfer it to your tin.

Lastly, it could also be that you used vegan margarine instead of vegan block butter. The spreadable, margarine type has less fat and more water so that will affect the end result.
Do I have to use a cooking thermometer?
I really recommend using one for best results. If you absolutely can't use a thermometer, try the cold water test instead.

Have an ice-cold bowl of water to hand as you're heating the mixture. Periodically, take a spoonful of the mixture and put it into the bowl. When you're able to use your fingers to form a soft ball with the cold mixture, you'll know it's ready.
How long will dairy-free tablet last for?
It will last for up to 1 week in an airtight container at room temperature or a little longer in the fridge.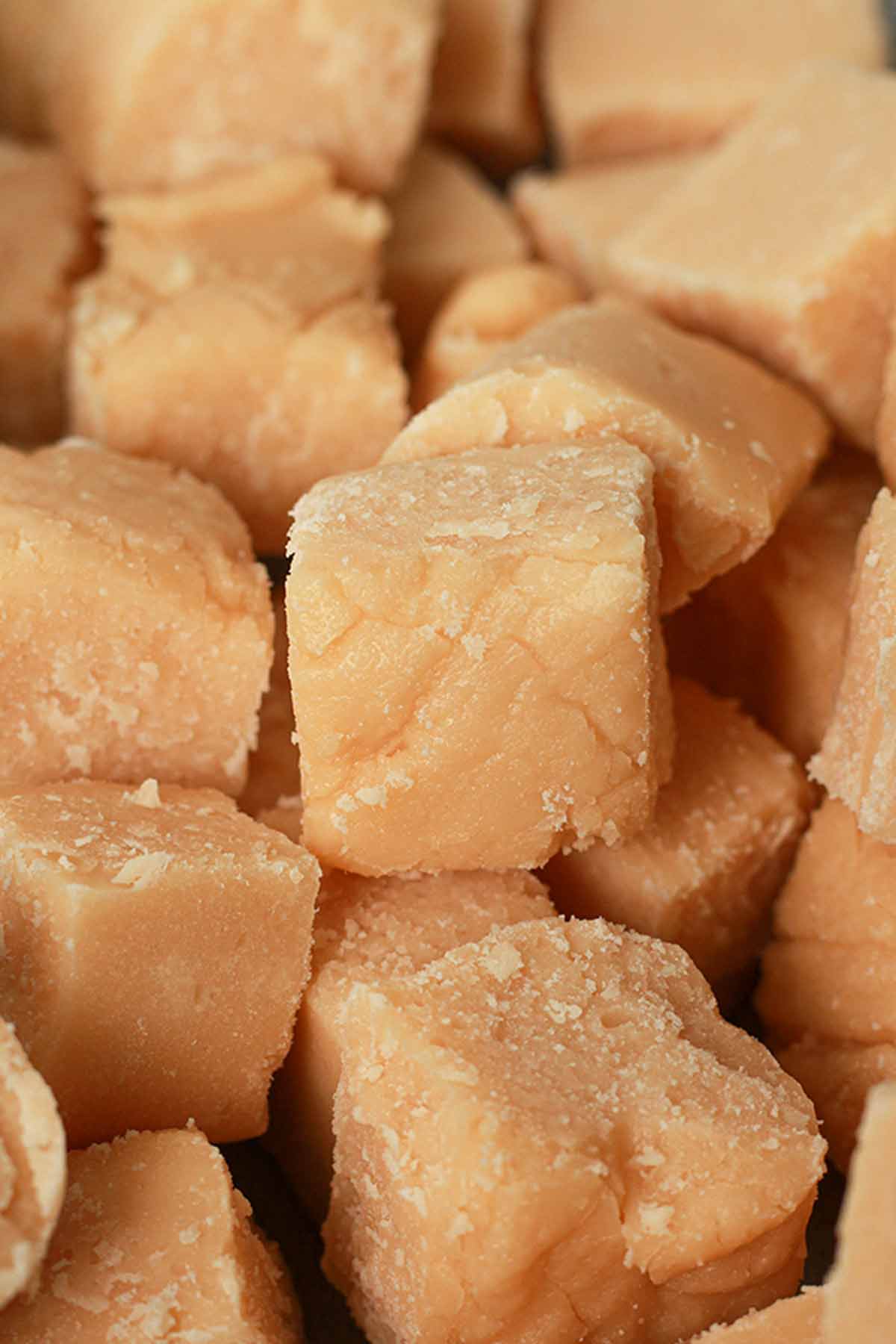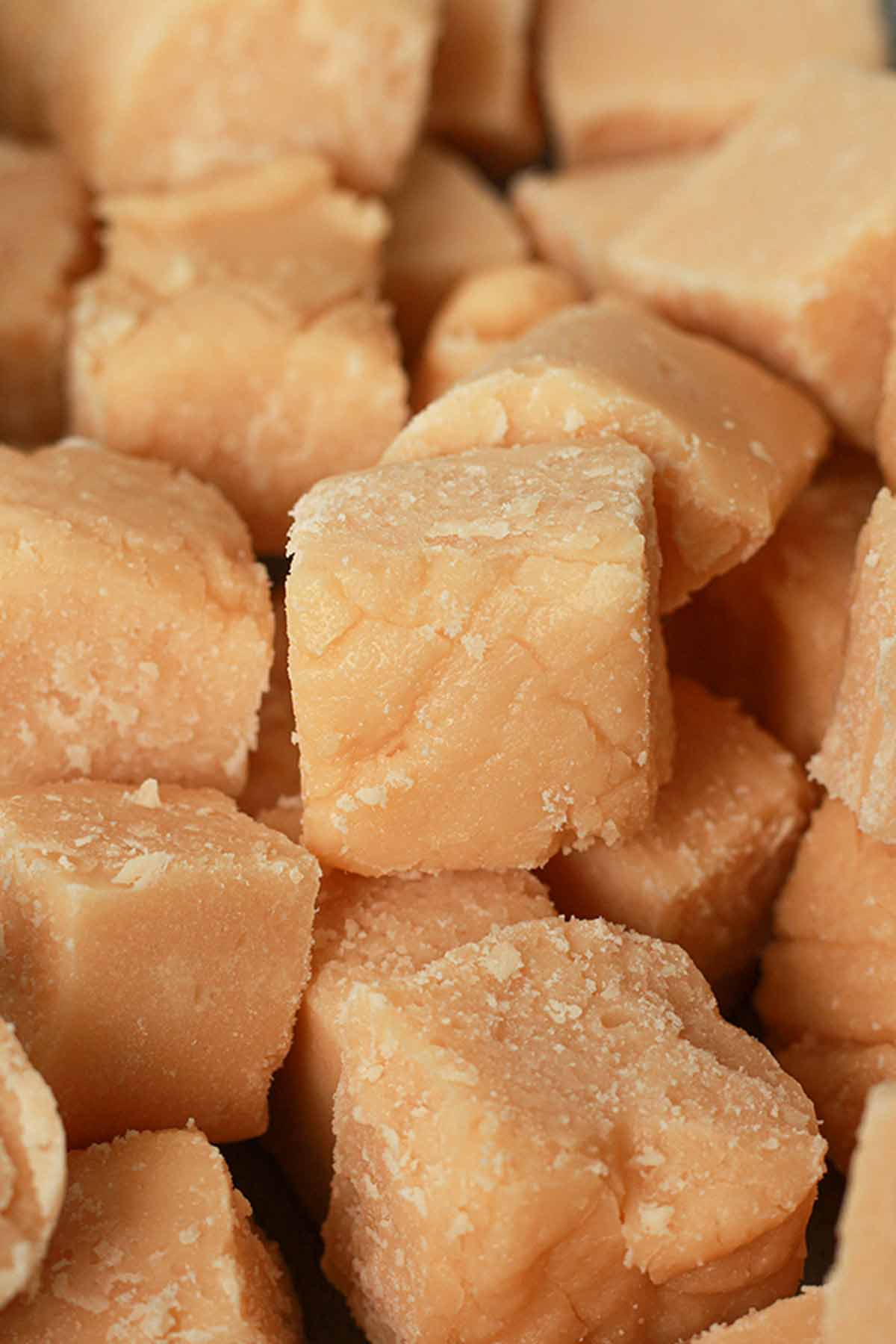 I hope you enjoy this vegan Scottish tablet recipe! If you make it yourself, please let me know how it goes by leaving a comment and rating below! xo

Vegan Tablet (No Condensed Milk)
Easy, 5-ingredient dairy-free Scottish tablet recipe.
Ingredients
400

g

Caster sugar

(2 cups)

1

Tablespoon

Golden syrup

50

g

Vegan block butter

such as Stork baking block (~3 tablespoons)

225

ml

Soy milk

see notes (1 tablespoon less than 1 cup)

¼

Teaspoon

Vanilla extract

(optional, can be omitted)
Instructions
Line a loaf tin with baking paper and set aside.

Add the sugar, golden syrup, vegan butter and soy milk to a heavy-bottomed pot.

Place the pot over a low heat and stir occasionally until the butter has melted and sugar is dissolved. It's important that the sugar has dissolved properly otherwise the tablet won't set. Dip a tablespoon into the mixture and if there are no grains of sugar on the spoon then this is a good sign it has dissolved fully.

Bring the mixture to a boil then reduce the heat slightly so it's gently simmering. Stir often until the mixture reaches 118°C (245°F) on a cooking thermometer.

Remove the pot from the heat and transfer the mixture to a heat-proof bowl. Stir in the vanilla.

Beat the mixture with a wooden spoon until it becomes thick and grainy and is starting to set at the edges. This may take a while so be patient and keep beating.

Once thick, quickly transfer it to your lined loaf tin and spread it out evenly.

Leave it to sit at room temperature for 20 minutes then use a knife to score where you plan to cut it.

Leave it to set for a further 4 hours at room temperature then cut into pieces and enjoy.
Recipe Notes
I used Bramblestone Digital thermometer for this recipe.
I have not tested this recipe with any plant-based milks other than soy. I cannot guarantee other types of milk will work.
Use a blocky vegan butter for this recipe, not the spreadable margarine.
Store in an airtight container for up to 1 week.
BakedByClo is a participant in the Amazon Services LLC Associates Program, an affiliate advertising program designed to provide a means for sites to earn advertising fees by advertising and linking to Amazon.com. This site may contain some of these links to Amazon.com & other affiliate programs. If you make a purchase through one of those links, BakedByClo will receive a small commission from the purchase at no additional cost to you.