Vegan Millionaire Shortbread
This vegan millionaire shortbread tastes great paired with an afternoon cup of tea. It's a crunchy, buttery shortbread base with a sweet, gooey caramel filling and a rich, chocolatey topping. The perfect treat!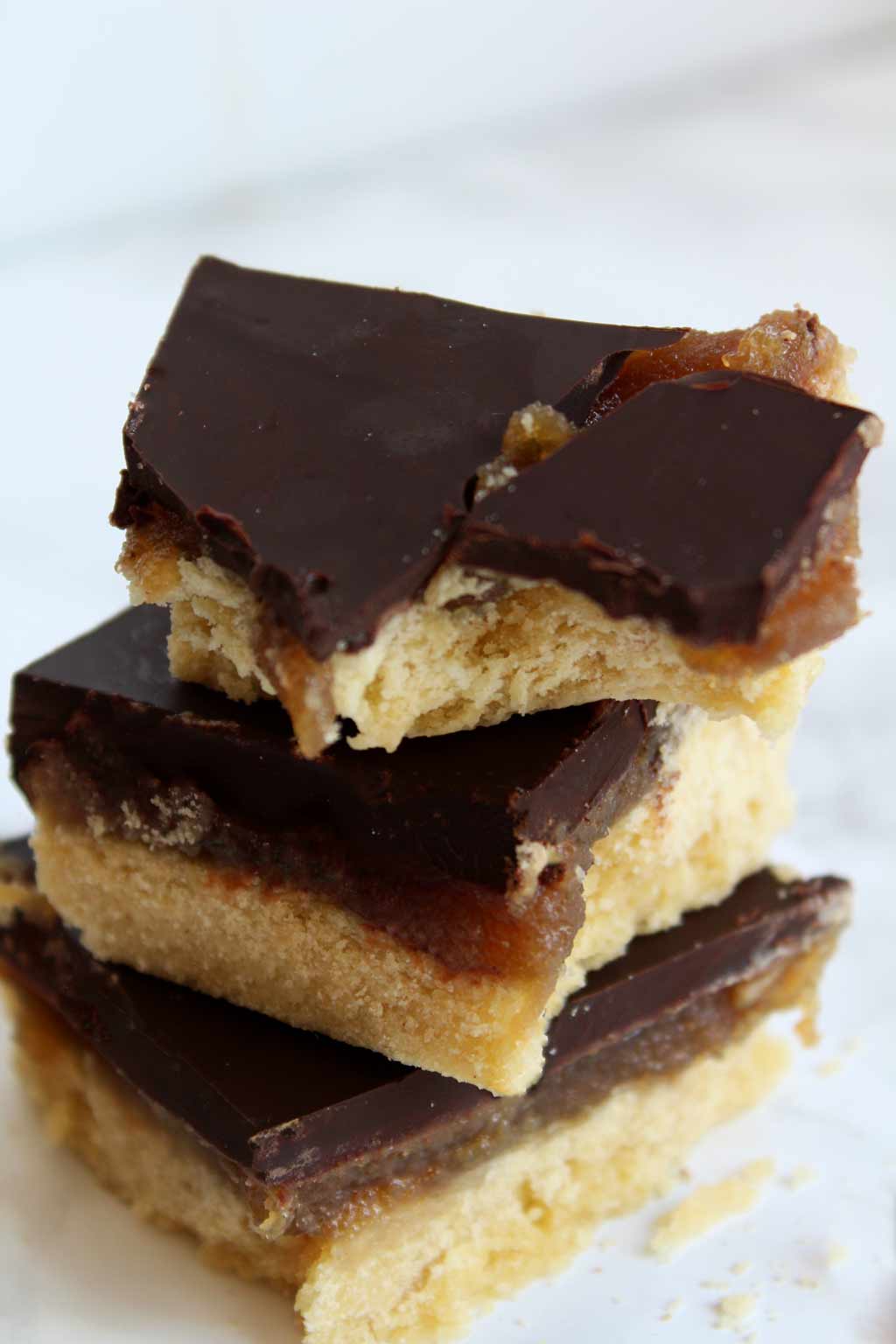 I know I say this in almost every post that I write, but this vegan millionaire shortbread is one of my favourites!
Just in case you don't know… Millionaire shortbread is traditionally a Scottish dessert that consists of a shortbread base, a caramel filling, and a solid chocolate topping.
It's also known as 'caramel shortbread' or 'caramel slice' but it's thought to have been given the name "millionaire's shortbread" because the ingredients are very rich.
Since going vegan, I haven't had a good slice of millionaire shortbread. There is one brand sold in the supermarkets here that I can think of. But when I tried it I found it to be too sickly sweet, in the same sort of way that diet Coke is.
So I decided it's high time that I make my own, but without any weird flavourings, artificial sweeteners or E-numbers.
Don't get me wrong- this definitely isn't a healthy dessert. But it's better for you than most of the store-bought vegan millionaire shortbread you'll find. That always tends to be the case when you make desserts from scratch.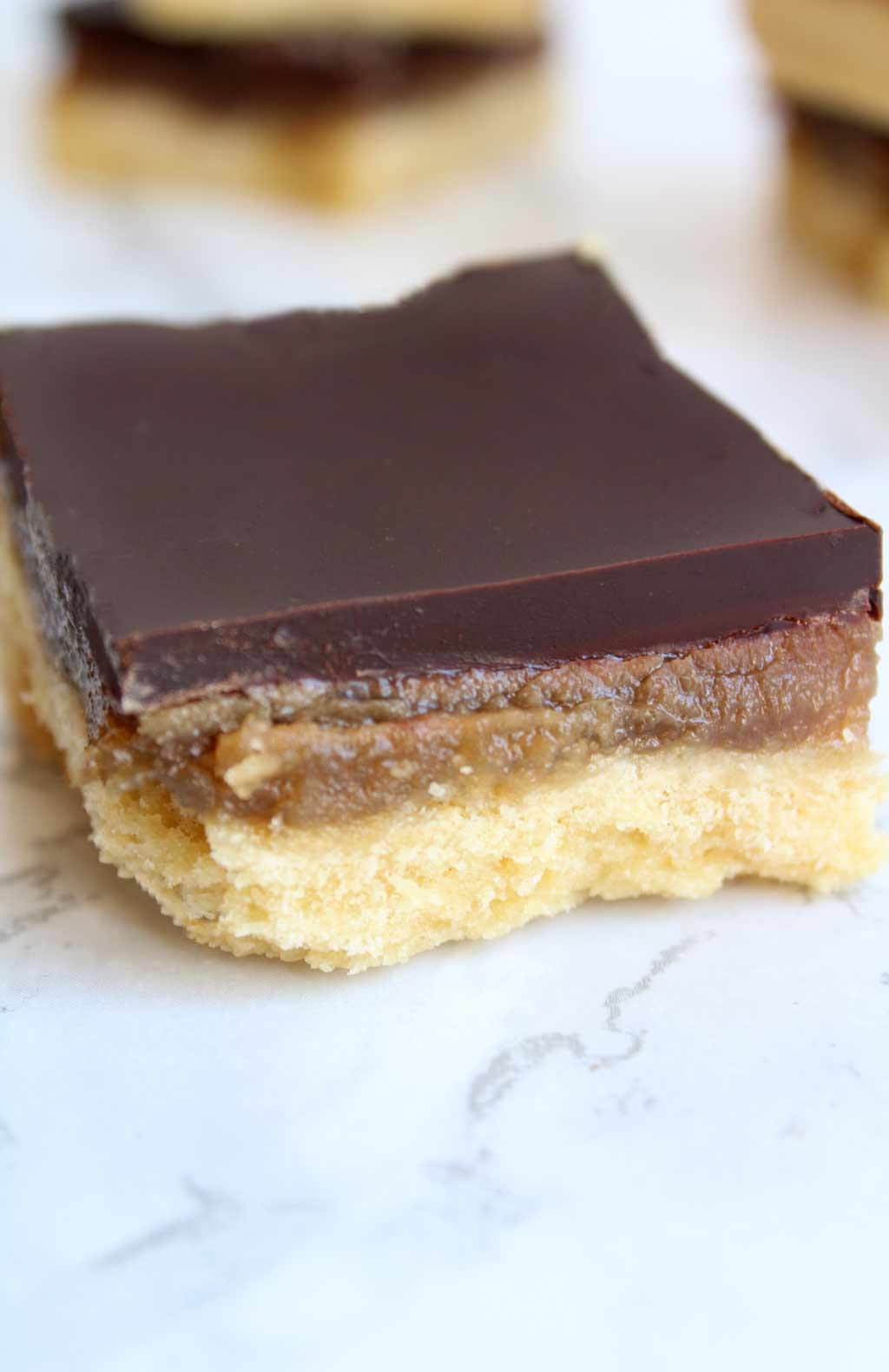 How To Make Vegan Millionaire Shortbread
Step 1:
First of all, you'll need to make the shortbread layer. You'll need three ingredients for this: plain flour, caster sugar, and vegan butter.
Preheat your oven to 180C and grease or line a 9 x 12 x 3-inch cake tin.
In a medium-sized bowl, add 255g of plain flour (see recipe card below for cup measurements). Add in 90g of caster sugar and mix the two ingredients together.
Add 180g of vegan butter or margarine to the bowl and rub it into the flour/sugar mixture. Use your hands and squash everything together to form a firm dough.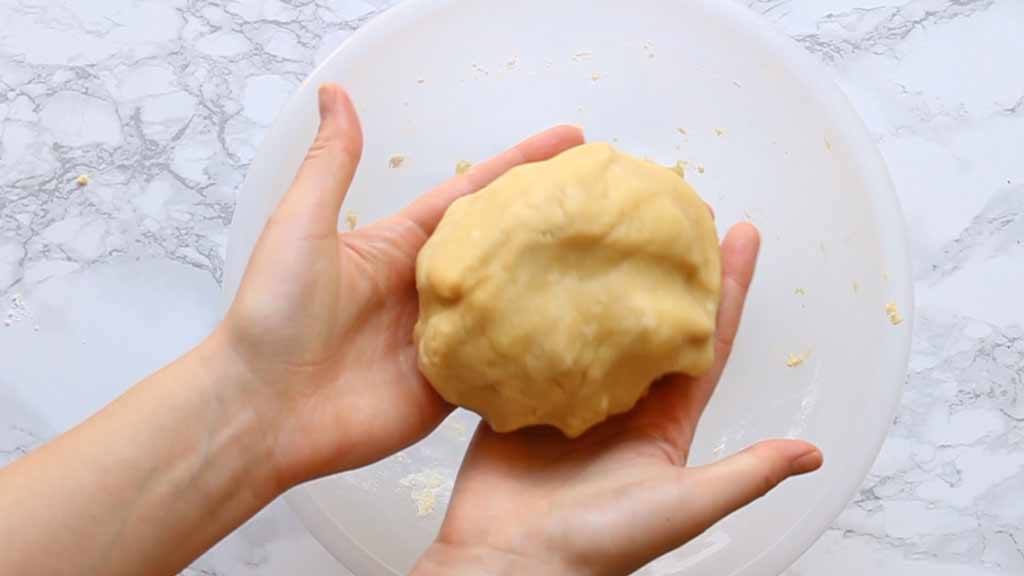 Step 2:
Use the back of a spoon or clean fingers to press the dough into your pan until evenly flat all over. You can also form a crust at the edges if you wish, but that's totally optional.
Dock the shortbread dough all over using a fork.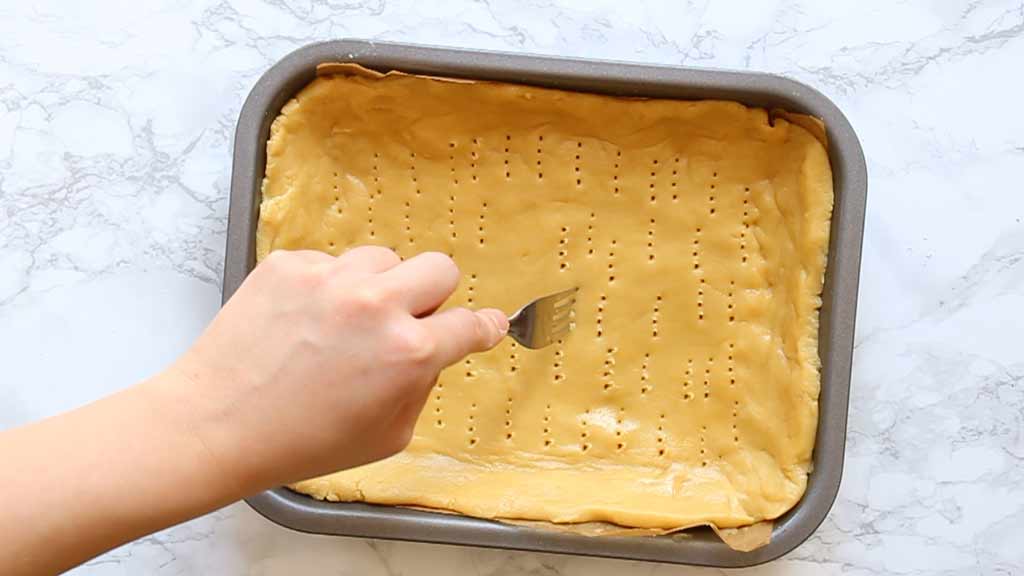 Bake for 30-40 minutes until it's firm all over and slightly golden brown at the edges.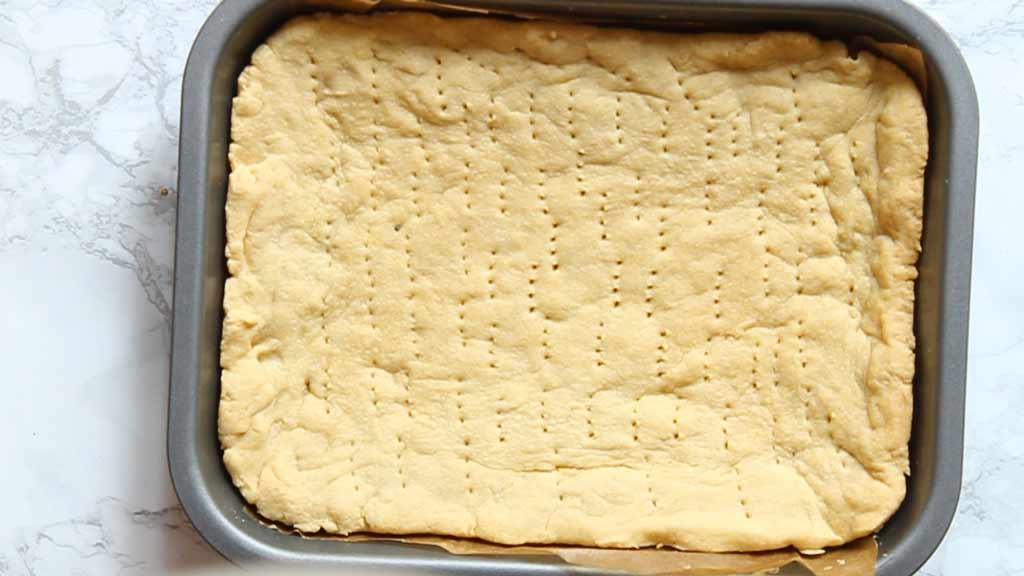 Allow it to cool completely.
How To Make Caramel Without Condensed Milk
Most recipes you'll find for vegan millionaire shortbread either call for a caramel made with coconut condensed milk or with dates. Personally, I'm not too keen on the taste of dates and I find coconut condensed milk to be quite expensive for a simple dessert.
So instead, I made a simple caramel using brown sugar, vanilla and plant-based milk.
Step 3:
Place 250g of soft brown sugar into a large pot and add 500ml of plant-based milk (I used soy milk). Add in two teaspoons of vanilla essence and place the pot on the hob.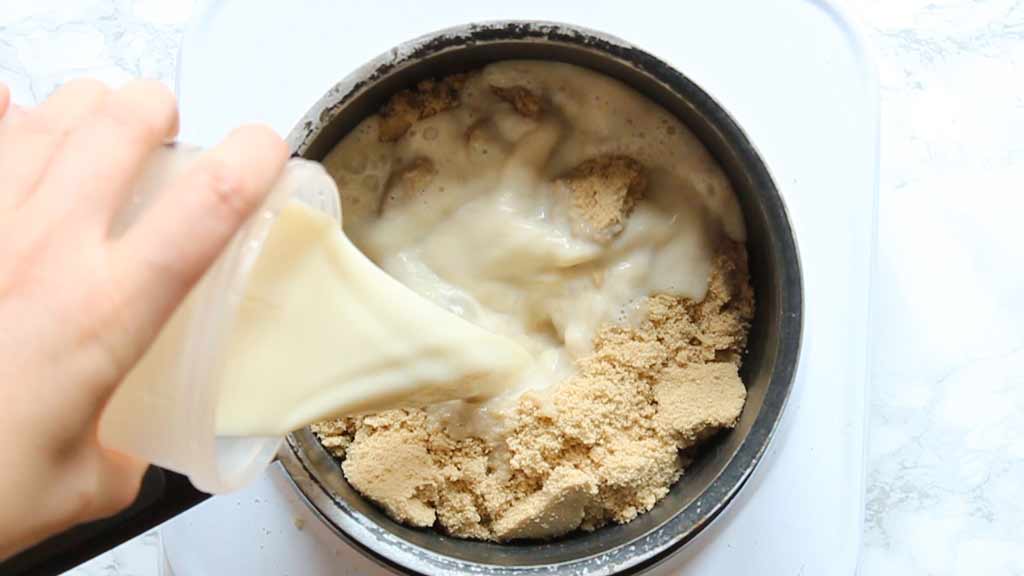 Turn the heat up high and once the mixture starts to boil, stir it continuously until it becomes thick like caramel (it's really important to use a large pot as the caramel will bubble up as it cooks). This took me around 15 minutes from start to finish- be patient here!
It's important to note that you should remove the caramel from the heat as soon as it starts thickening up (see image below). Otherwise, it will set too hard.
Step 4:
Pour the caramel onto your cooled shortbread base and leave it to set for around 30 minutes.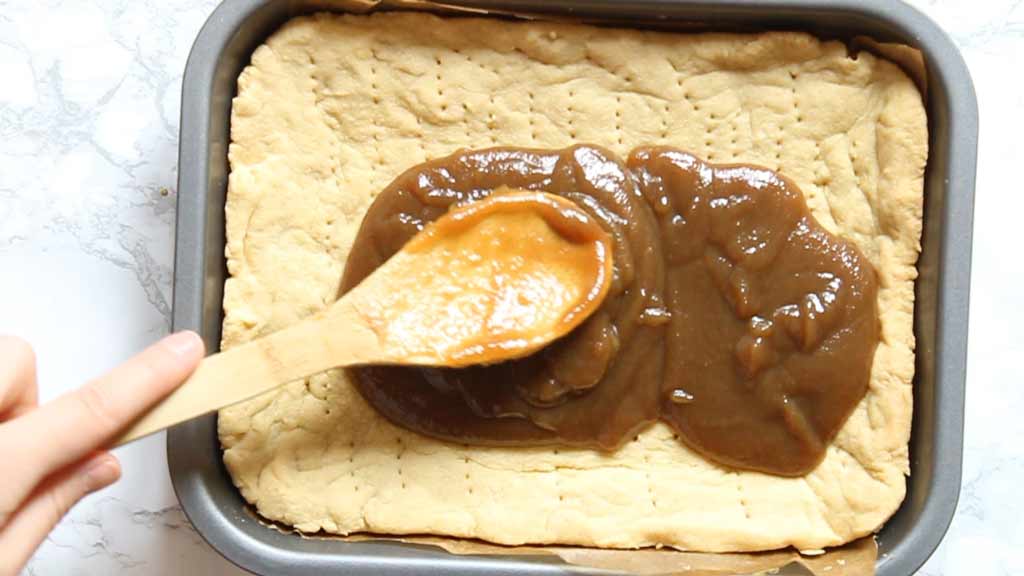 What Chocolate Is Best For Vegan Millionaire Shortbread?
You can use any kind of vegan chocolate that you like.
If you can find it where you live, I'd recommend using vegan "milk" or plain chocolate, as that is the traditional way. Otherwise, you can use a couple of bars of semi-sweet dark chocolate like I did.
I found the slight bitterness of the dark chocolate complimented the sweet caramel very well!
Step 5:
Melt 200g vegan chocolate of choice and pour it over the caramel shortbread. Spread it over gently using the back of a spoon.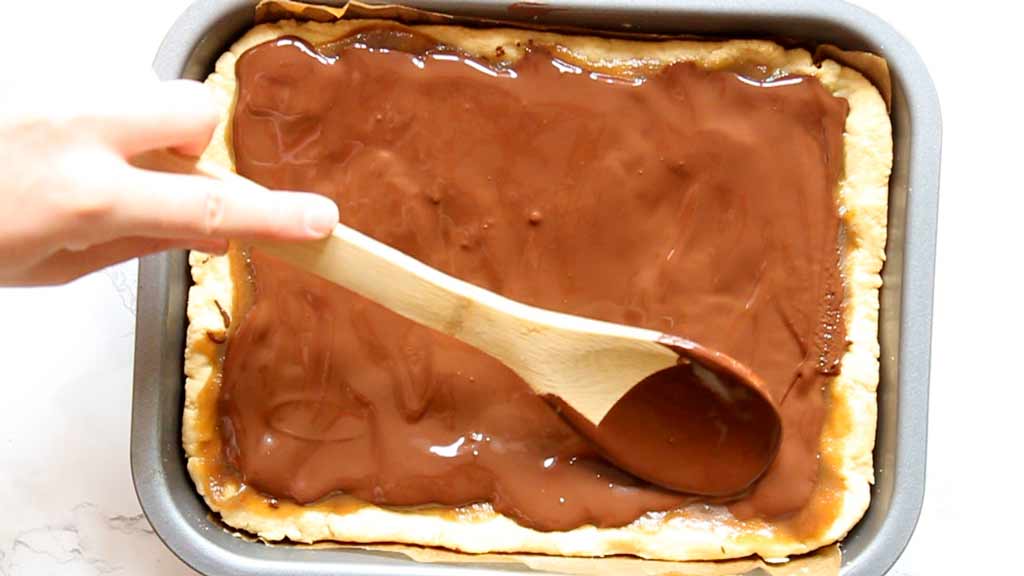 Pop the whole thing in the fridge for 1-2 hours until the chocolate has completely set. Cut it up into squares and enjoy!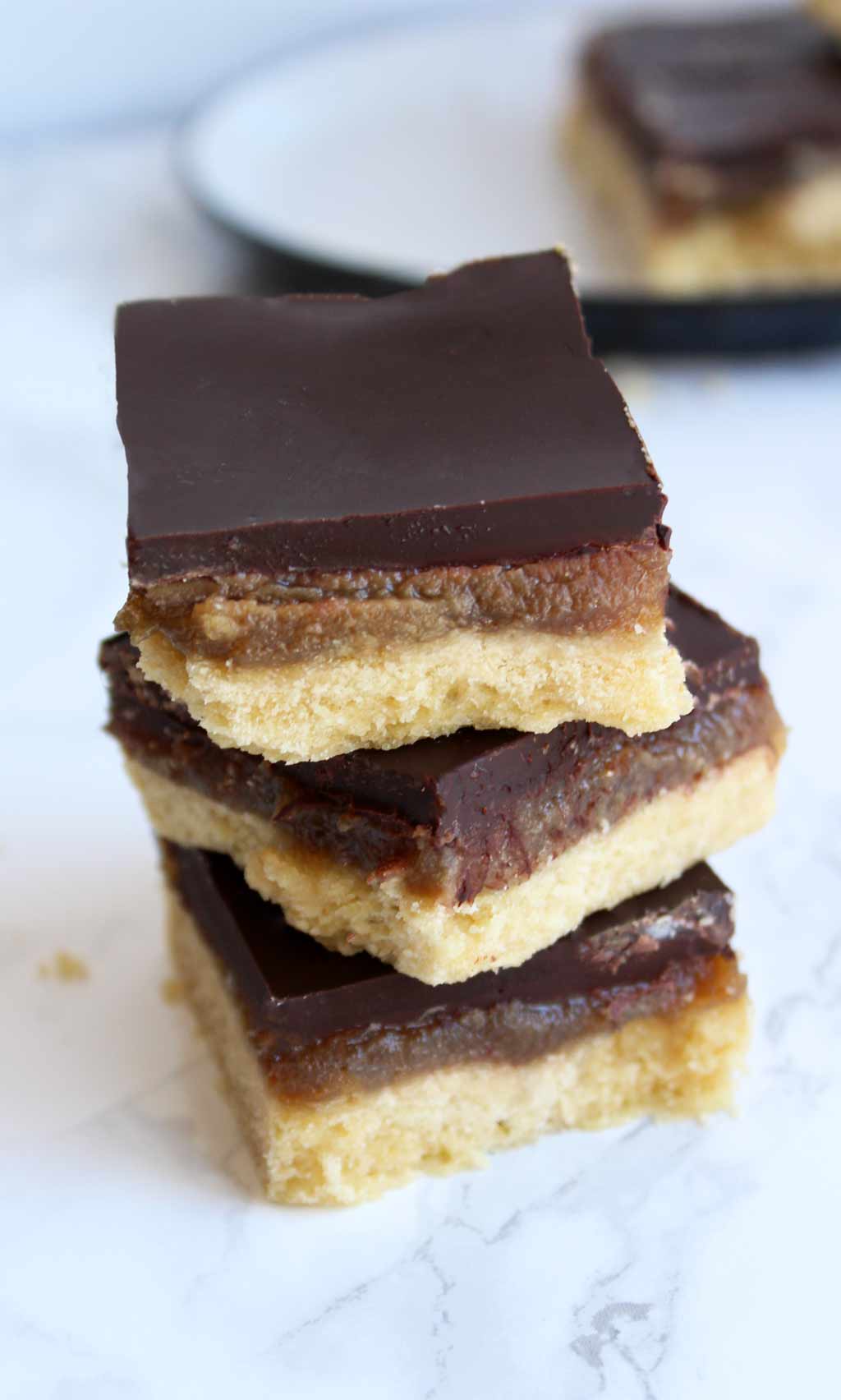 Can Vegan Millionaire Shortbread Be Frozen?
It sure can. You can either store the individual squares in ziplock freezer backs or you can wrap the whole tray super tightly in cling film. It will last for a good month or two in the freezer.
To defrost, just allow the millionaire shortbread to sit at room temperature for 2-3 hours until it's completely thawed.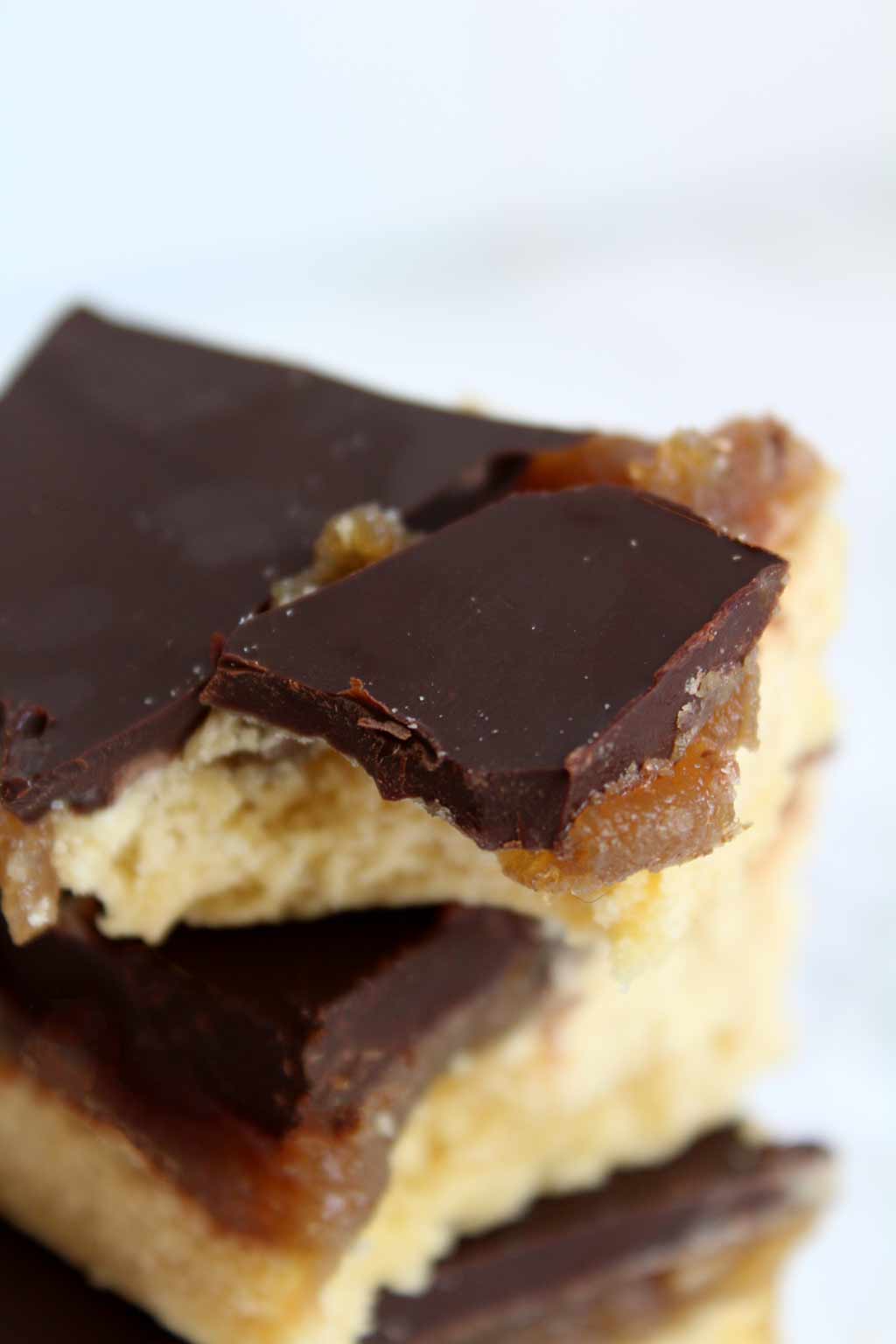 I hope you enjoy this recipe! Let me know what you think by leaving a rating or comment below.
Happy baking!
xo

Vegan Millionaire Shortbread
A dairy-free shortbread base, gooey caramel filling and firm chocolate topping.
Ingredients
For the shortbread layer:
2

Cups

Plain flour

(255g)

6

Tablespoons

Caster sugar

(90g)

¾

Cup

Vegan butter

(180g)
For the caramel layer:
1 + ¼

Cups

Soft brown sugar

(250g)

2

Cups

Plant-based milk (I used soy)

(500ml)
For the chocolate layer:
7

oz

Vegan chocolate of choice

(200g)
Instructions
For the shortbread layer:
Preheat oven to 180°C/350°F and line or grease a 12" cake tin.

Mix the flour and sugar together in a medium-sized bowl. Rub in the butter, then squash everything together in your hands to form a dough.

Press the dough out into your tin- you can form a crust at the edges if you wish. Dock the dough using a fork (as pictured in the post above).

Bake for 30-40 minutes, until the edges are golden brown and the shortbread is firm on top. Allow it to cool completely.
For the caramel layer:
Add the milk, brown sugar and vanilla into a large pot. Mix it together and place over a high heat.

When the mixture starts to bubble, stir continuously until it becomes thick like caramel. This should take around 10-15 minutes. It's important to take the caramel off of the heat as soon as it starts to thicken, so that it sets soft and not hard.

Pour the caramel over your cooled shortbread and allow 30 minutes for it to set.
For the chocolate layer:
Melt the chocolate either in a pot over a low heat, then pour it over your caramel shortbread.

Place it in the fridge for 1-2 hours until the chocolate layer has set, then cut into squares and enjoy.
Recipe Video
Nutrition Facts
Vegan Millionaire Shortbread
Amount Per Serving
Calories 290
Calories from Fat 108
% Daily Value*
Fat 12g18%
Sodium 7mg0%
Carbohydrates 40g13%
Protein 5g10%
* All values are an estimate only and will vary depending on the food brands used.
BakedByClo is a participant in the Amazon Services LLC Associates Program, an affiliate advertising program designed to provide a means for sites to earn advertising fees by advertising and linking to Amazon.com. This site may contain some of these links to Amazon.com & other affiliate programs. If you make a purchase through one of those links, BakedByClo will receive a small commission from the purchase at no additional cost to you.