Vegan Funfetti Cookies
These vegan funfetti cookies are soft in chewy in the middle and slightly crispy around the edges. Vanilla flavoured and with colourful sprinkles throughout, these would make a great treat for children's birthday parties or any other special occasion.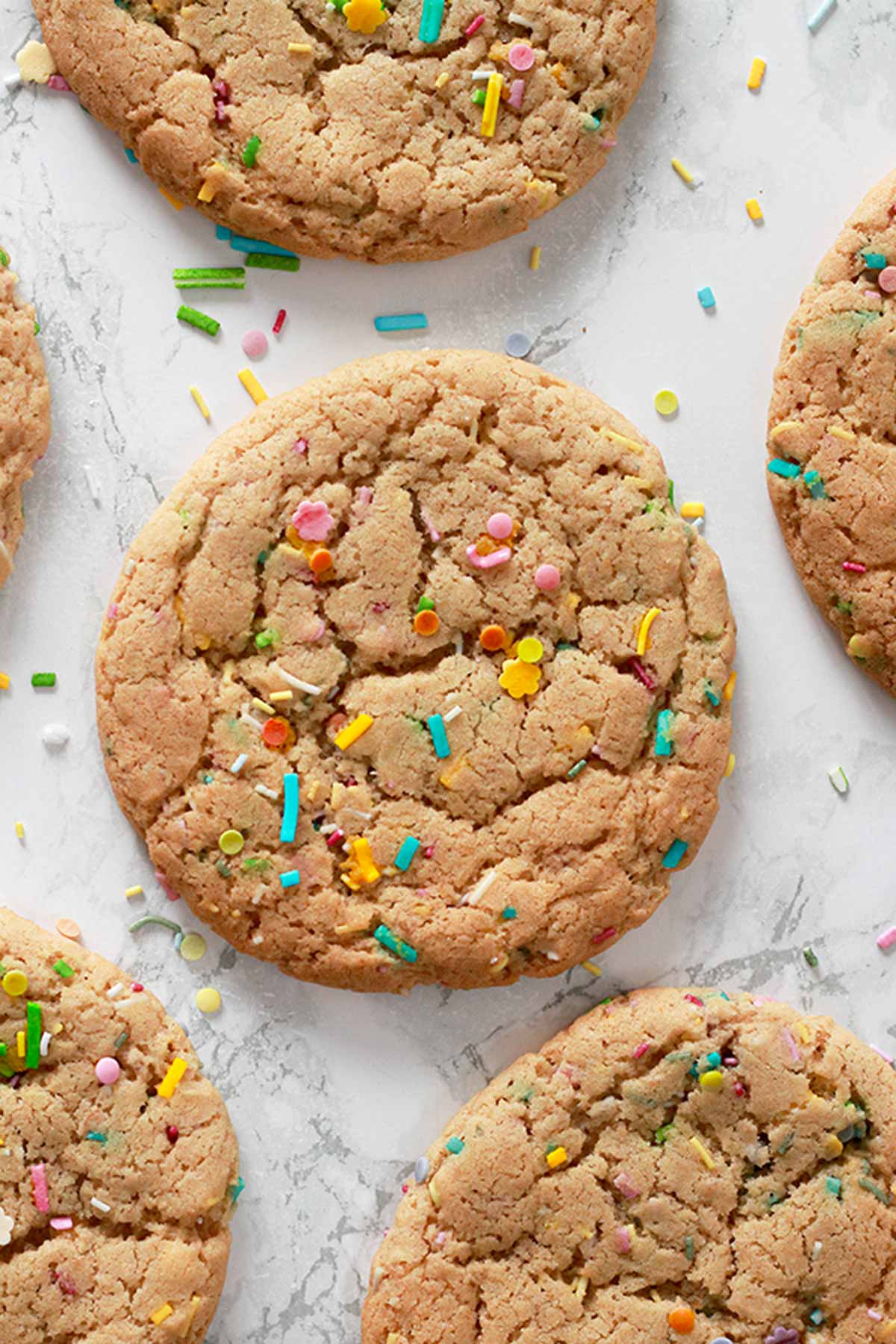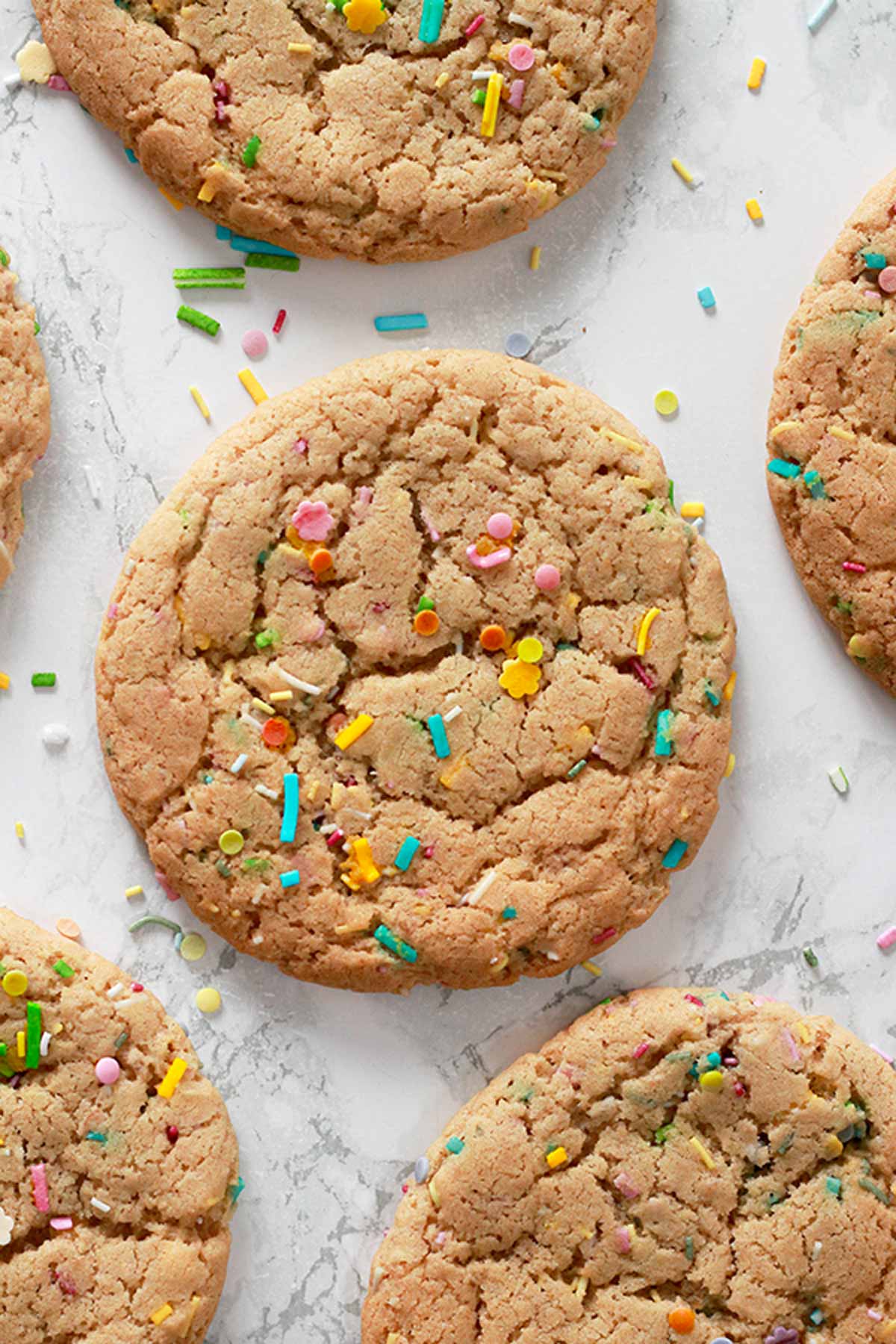 During my first trip to the USA in 2013, I discovered birthday cake cookies and cakes (also known as funfetti) for the first time. And I became obsessed.
I'm not exactly sure why, because funfetti flavour is essentially just vanilla with some added sprinkles. And vanilla desserts are not that exciting to me…Maybe it's my inner child who loves the sprinkles so much? Who knows?!
Anyway, even 8 years later, funfetti desserts are still not an extremely popular thing in the UK. Especially not when it comes to vegan desserts. So I'm making my own!
These vegan birthday cake cookies are super soft and chewy with a slightly crispy edge. In my opinion, they taste just like (if not better than) the cookies you buy from the bakery.
They're super easy to make with just a handful of ingredients and the dough is great for freezing if you want to make a batch ahead of time.
More birthday cake flavoured desserts:
The only slightly "weird" ingredient you'll need for this recipe is flax seeds. I use flax seeds in most of my cookie recipes because they work really well to bind them together without being noticeable. I promise you won't be able to detect them, even if you're not used to eating such things!
If you're allergic or intolerant to flax seeds, you can omit them and use a splash of plant-based milk to help the cookie dough stick together instead. Note that doing so will make the cookies slightly less soft and a little more on the crunchy side but it's a good alternative if you can't have seeds.
You will also need to place the cookies in the fridge for an hour or two (after they've cooled) before you remove them from the tray. Without the flax seeds, the cookies will rely on the vegan margarine to hold them together, which it won't do until it's completely cold.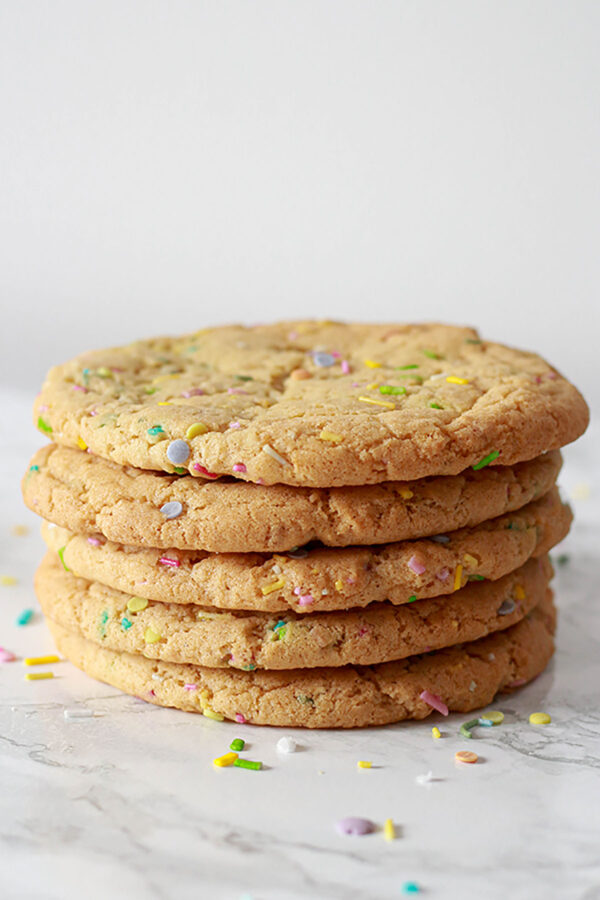 How to make vegan funfetti cookies
Step 1:
Preheat your oven to 200°C/400°F (or 180°C/350°F if you're using a fan or convection oven).
Make sure you have a large non-stick cookie tray (or 2) to hand, or one that's lined with baking paper if needed. This recipe makes very large cookies so I recommend either using 2 trays or baking them in batches.
Step 2:
First, we make our flax "egg". If you're not familiar with flax eggs, they're basically just a gelatinous, seedy mixture that acts as a binder in baking. So they'll prevent these cookies from falling apart!
Mix 1 tablespoon of ground flax seeds together with 1 tablespoon of cold water. After a few minutes, you'll notice the mixture will congeal and become sticky. Set it aside for now.
It's important that you use ground flax seeds in order for this to work correctly. I buy whole golden flax seeds from my local Tesco and grind them up myself at home using my blender.
Step 3:
In a large bowl, cream 200g of vegan margarine with 150g of caster sugar and 100g of soft brown sugar. Once that's combined, add 1 teaspoon of vanilla extract and mix it in.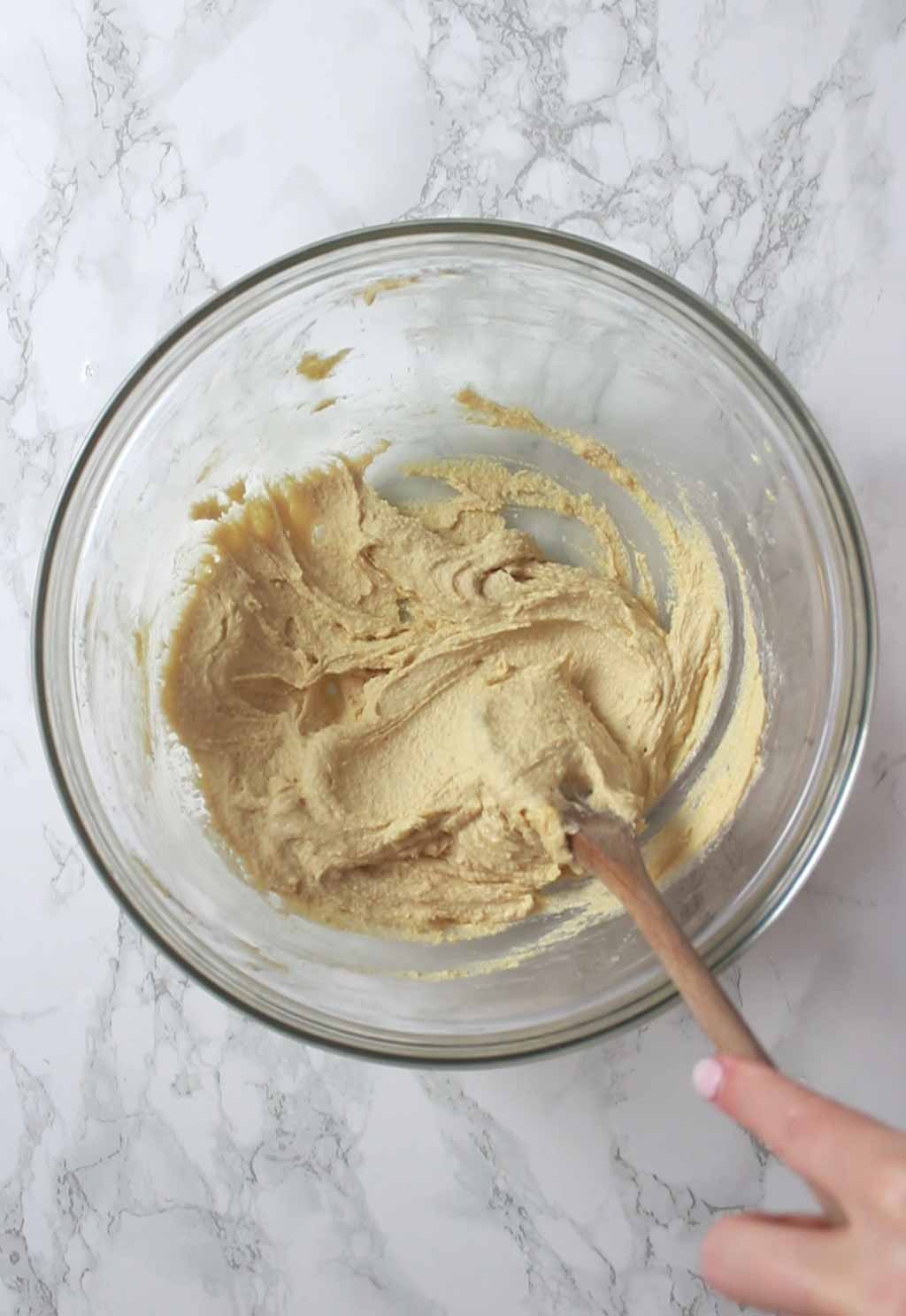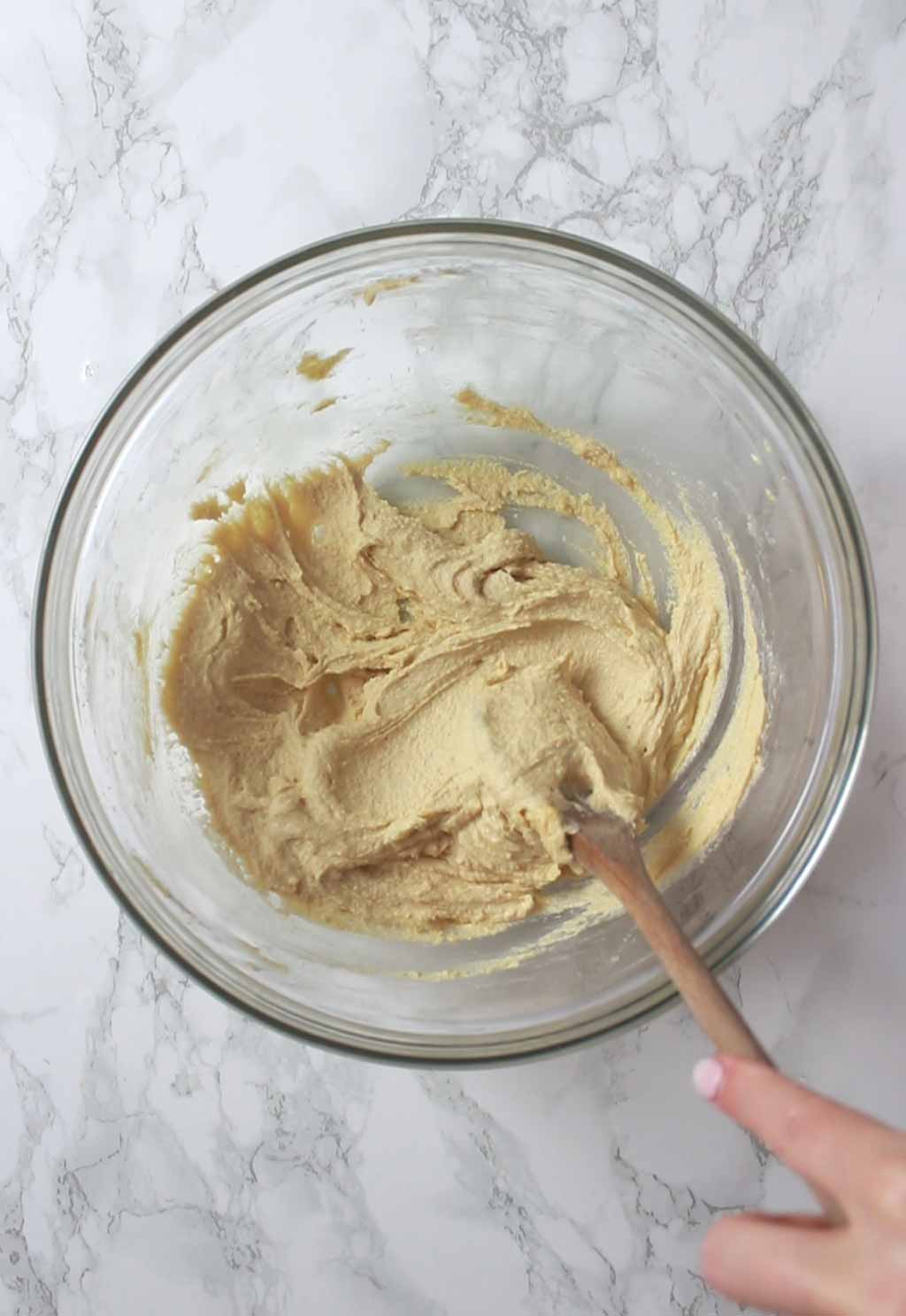 Step 4:
Now add 320g of self-raising flour and start mixing it in with a wooden spoon. When the mixture starts to stick together, use your (clean) hands to press it together into a dough.
The texture of the dough will depend on the brand that you use (I used Vitalite). If it's too wet, you can add more self-raising flour and if it's too dry, you can add some more margarine. I would advise against adding plant-based milk as it will make the cookies more crunchy rather than soft chewy.
Step 5:
Once you've got your ball of dough, add 6 tablespoons of your favourite funfetti sprinkles to it and gently knead them in with your hands. If you like, you can leave a small handful aside for sprinkling over the top just before baking.
I used Dr. Oetker unicorn confetti sprinkles for this recipe. These were the only vegan-friendly ones I could find locally but there are some other options online. Let Them Eat Cakes on Etsy has a great selection and there's a decent amount of choice on Amazon too.
Step 6:
Divide the cookie dough into 12 equal-sized pieces and roll each piece into a ball. I like to use a scale to do this so they're all the exact same size.
Flatten the balls of dough slightly, with your fingers, to around 1-1+1/2 inches thick. Place them onto your baking tray, leaving a few inches of space in between to allow for spreading while they bake.
If you've kept some sprinkles aside for extra decoration, gently press them into the dough now.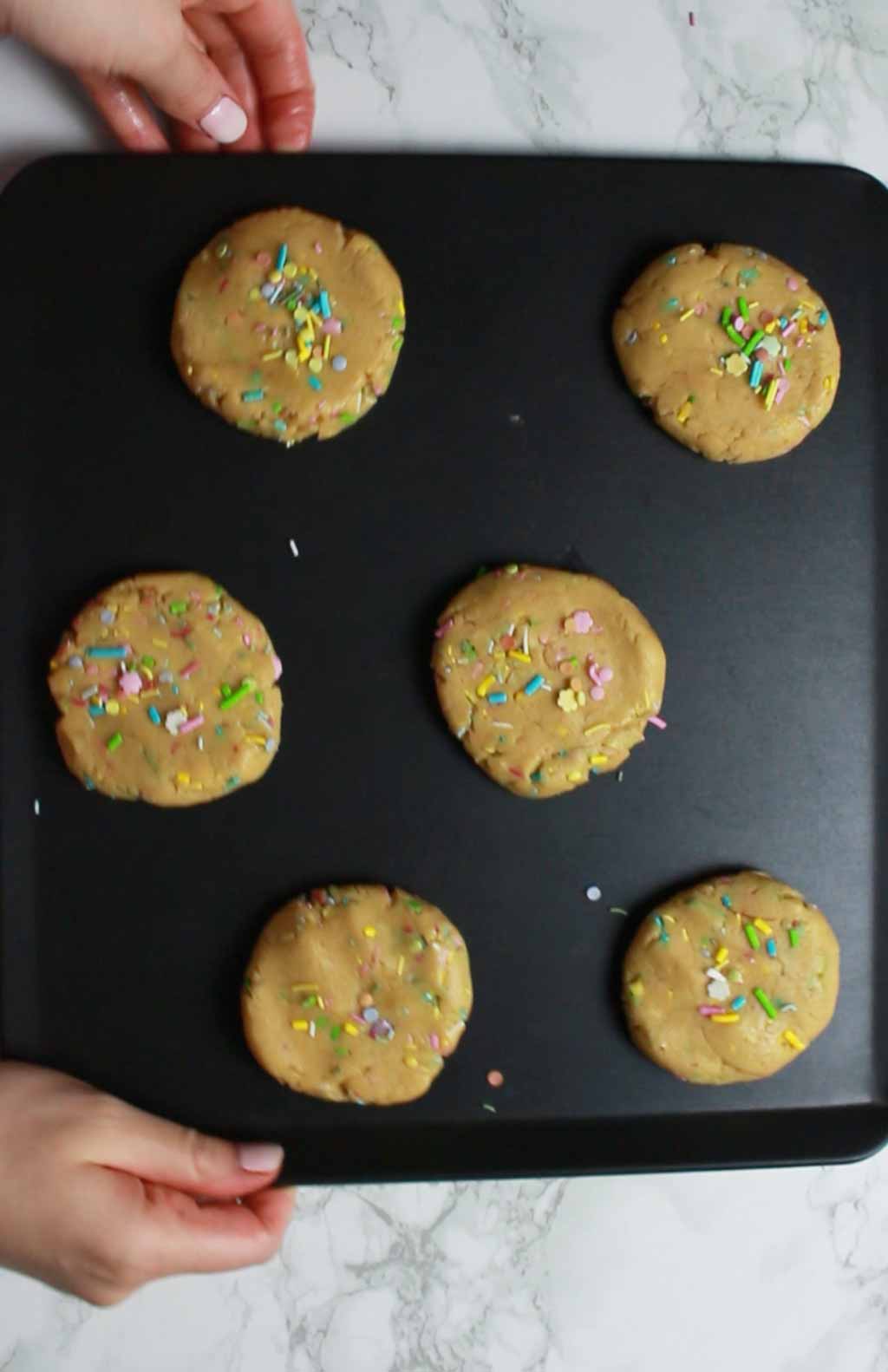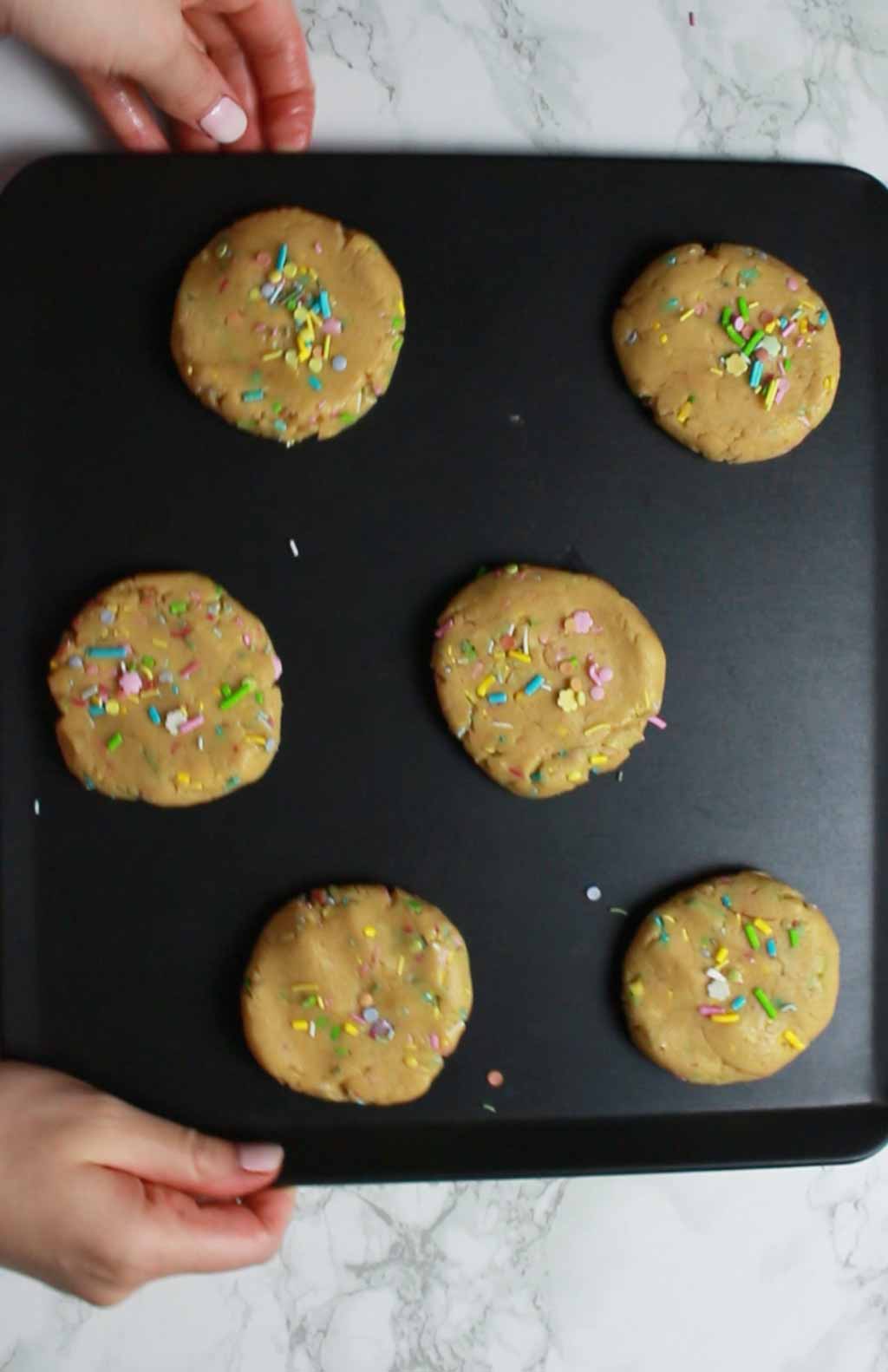 Step 7:
Bake for 12 minutes. Leave them on the tray until they're completely cool- they'll be quite tender when they first come out of the oven but will become firm and chewy as they cool.
FAQ:
What flavour are vegan funfetti cookies?
Although these cookies look super colourful, they're actually just plain ol' vanilla flavour! They're also known as birthday cake cookies, because these colourful sprinkles are typically used on cakes too.
How should I store them?
Keep them in an airtight container at room temperature. You can also keep them in the fridge if you'd like your cookies to be even chewier.
How long will they last?
If stored in an appropriate container, they'll taste their best for up to 5 days.
Can they be frozen?
Yes! I freeze all my cookies and they're great to have as a stand-by snack because they defrost quite quickly. You can freeze them in an airtight container or wrap them up tightly in tinfoil. They'll be good in the freezer for around 2 months.

When you're ready to eat them, just remove them from the container/tinfoil and transfer them to a plate or wire rack. Leave them out at room temperature for an hour or so until they're fully thawed. Then enjoy as usual!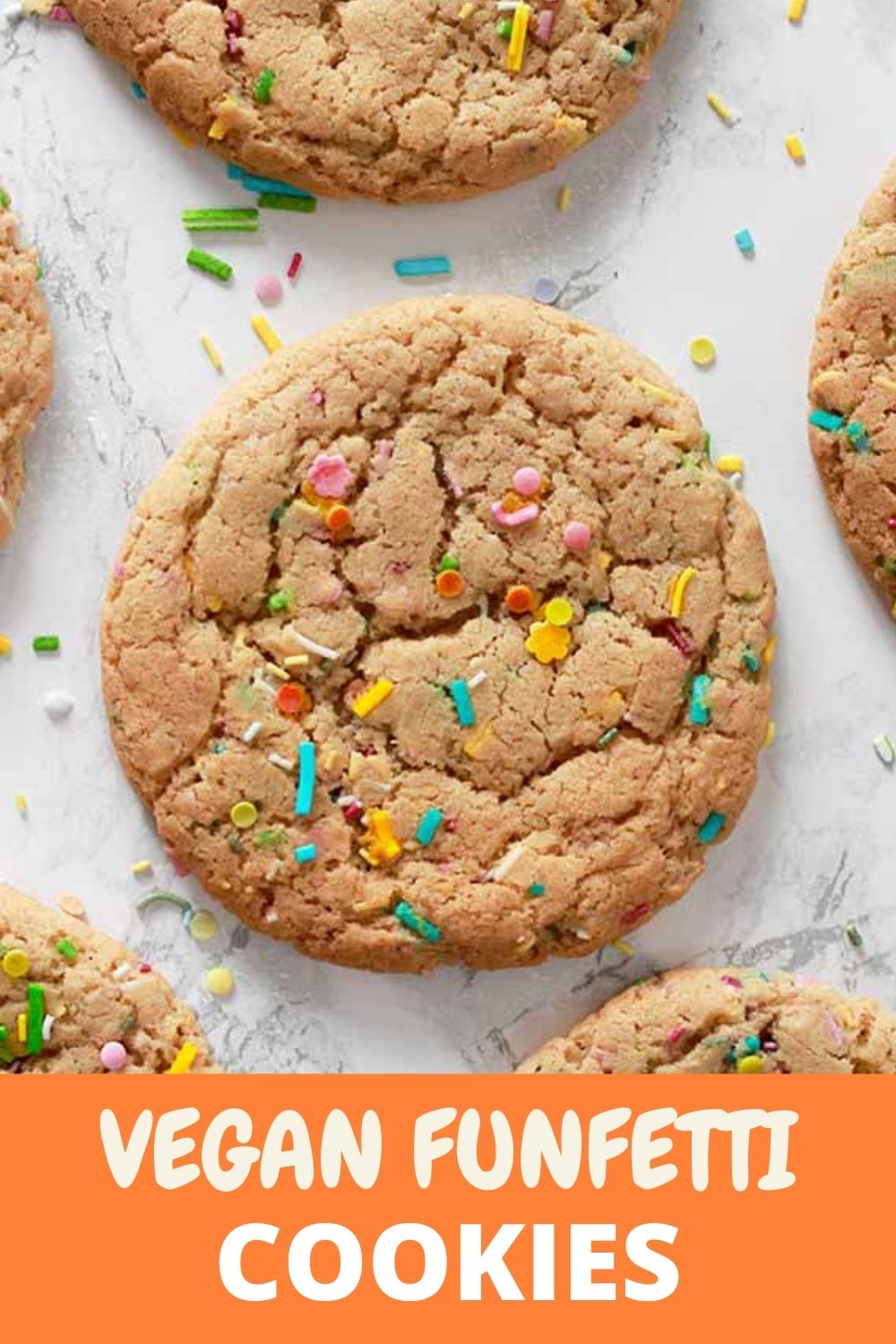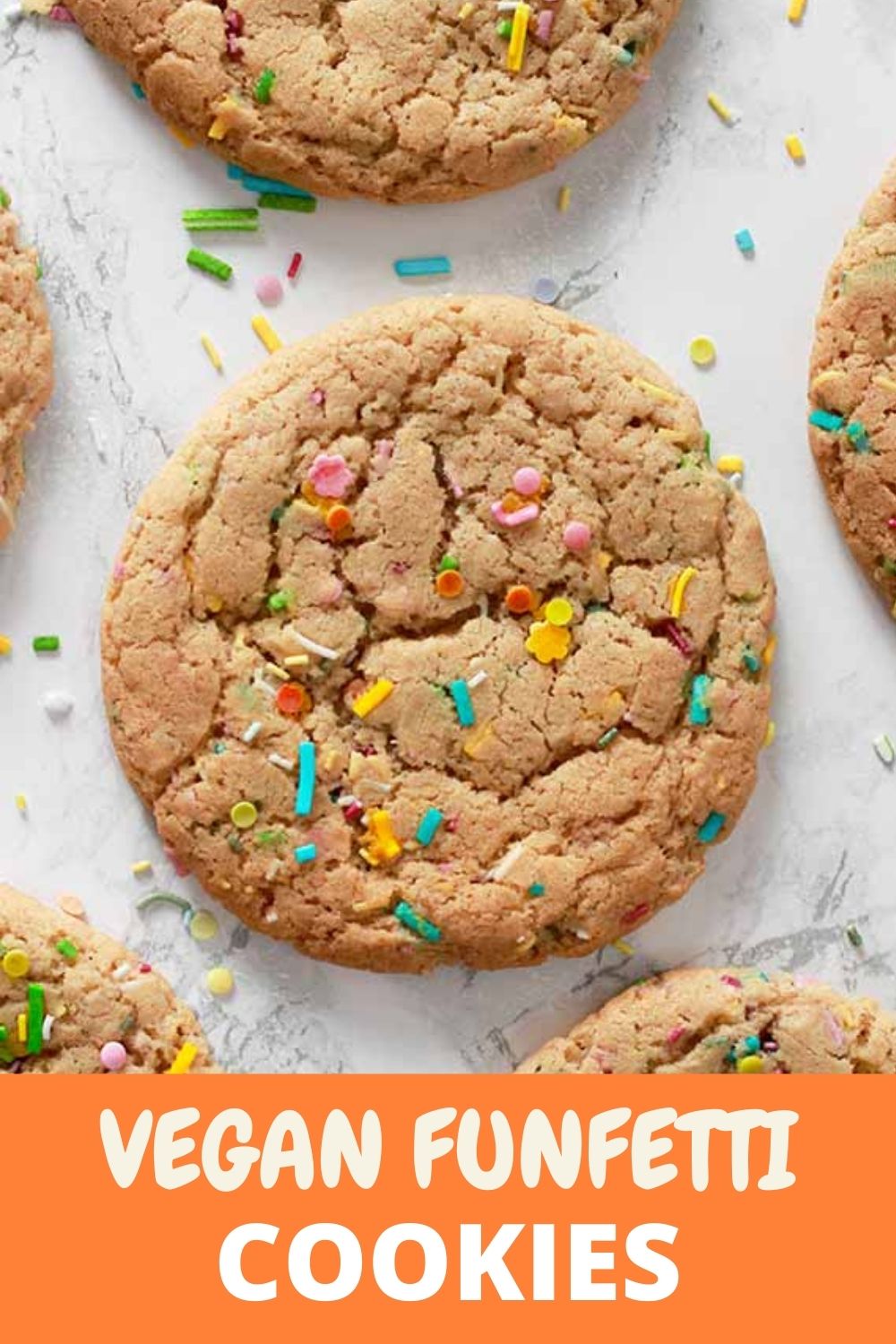 I hope you enjoy this recipe! If you like this, check out my best vegan cookie recipes.
If you make the cookies at home, please let me know how it goes and what you think by leaving a comment and/or rating below. Happy baking! xo

Vegan Funfetti Cookies
Chewy vanilla birthday cake cookies without eggs or dairy.
Ingredients
1

Tablespoon

Ground flax seeds

200

g

Vegan margarine

(¾ cup + 1 tablespoon)

150

g

Caster sugar

(¾ cup)

100

g

Soft brown sugar

(½ cup)

1

Teaspoon

Vanilla extract

320

g

Self-raising flour

(2+½ cups)

6

Tablespoons

Colourful vegan sprinkles

(I used Dr. Oetker's unicorn confetti)
Instructions
Preheat your oven to 200°C/400°F (or 180°C/350°F if you're using a fan or convection oven). Have 1 or 2 large baking trays to hand, lining them with baking paper if necessary.

Mix the flax seeds with 1 tablespoon of water and set aside. It will thicken and become gelatinous, and will act as your egg replacement.

In a large bowl, cream the margarine with the caster sugar and brown sugar until fluffy. Add the flax seed mixture to the bowl along with the vanilla extract and mix well.

Add the self-raising flour and mix with a wooden spoon until it starts to stick together. Then use your hands to press it together into a dough. If the dough is too wet, you can add more flour and if it's too dry, add more margarine.

Add the sprinkles to the dough, leaving 1 tablespoon aside, and use your hands to gently knead them in.

Divide the dough into 12 equal-sized pieces. Roll each piece into a ball and flatten slightly, to around 1-inch thick.

Place the pieces of dough onto your baking tray(s), leaving a few inches of space in between each one to allow for spreading.

Use the remaining sprinkles to decorate the tops of the cookies and gently press them in with your fingers.

Bake for 12 minutes. Let them cool completely before you remove them from the tray. They'll be a little wobbly at first but will firm up as they cool.
Recipe Notes
Store in an airtight container at room temperature for up to 5 days.
Nutrition Facts
Vegan Funfetti Cookies
Amount Per Serving (1 cookie)
Calories 311
Calories from Fat 90
% Daily Value*
Fat 10g15%
Sodium 96mg4%
Carbohydrates 51g17%
Protein 3g6%
* All values are an estimate only and will vary depending on the food brands used.
BakedByClo is a participant in the Amazon Services LLC Associates Program, an affiliate advertising program designed to provide a means for sites to earn advertising fees by advertising and linking to Amazon.com. This site may contain some of these links to Amazon.com & other affiliate programs. If you make a purchase through one of those links, BakedByClo will receive a small commission from the purchase at no additional cost to you.