Vegan Chocolate Fairy Cakes
These vegan chocolate fairy cakes are an old-school British classic! Light and fluffy chocolate sponge cakes topped with chocolate water icing and sprinkles. These are a super easy bake and make the perfect treat for children's birthday parties.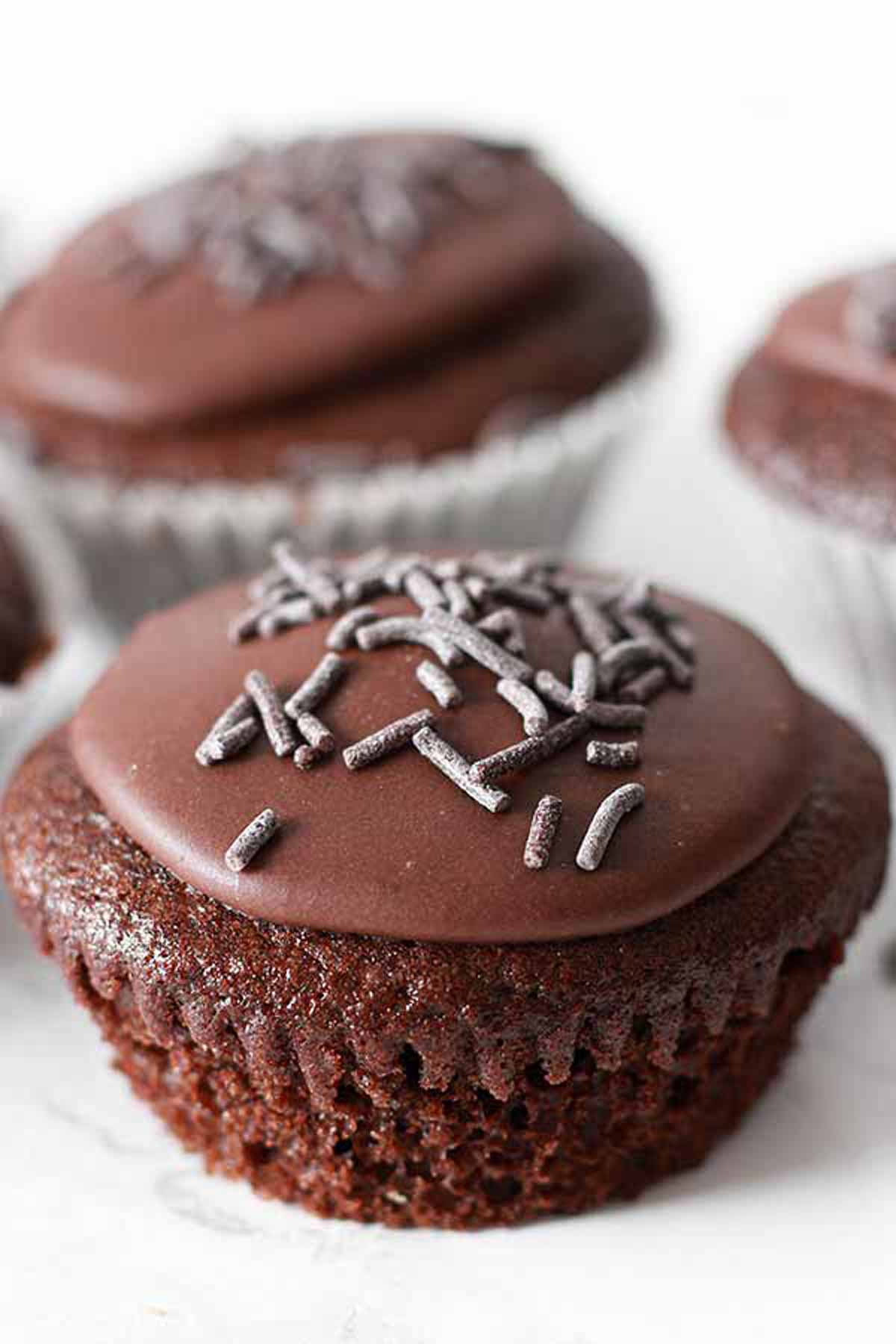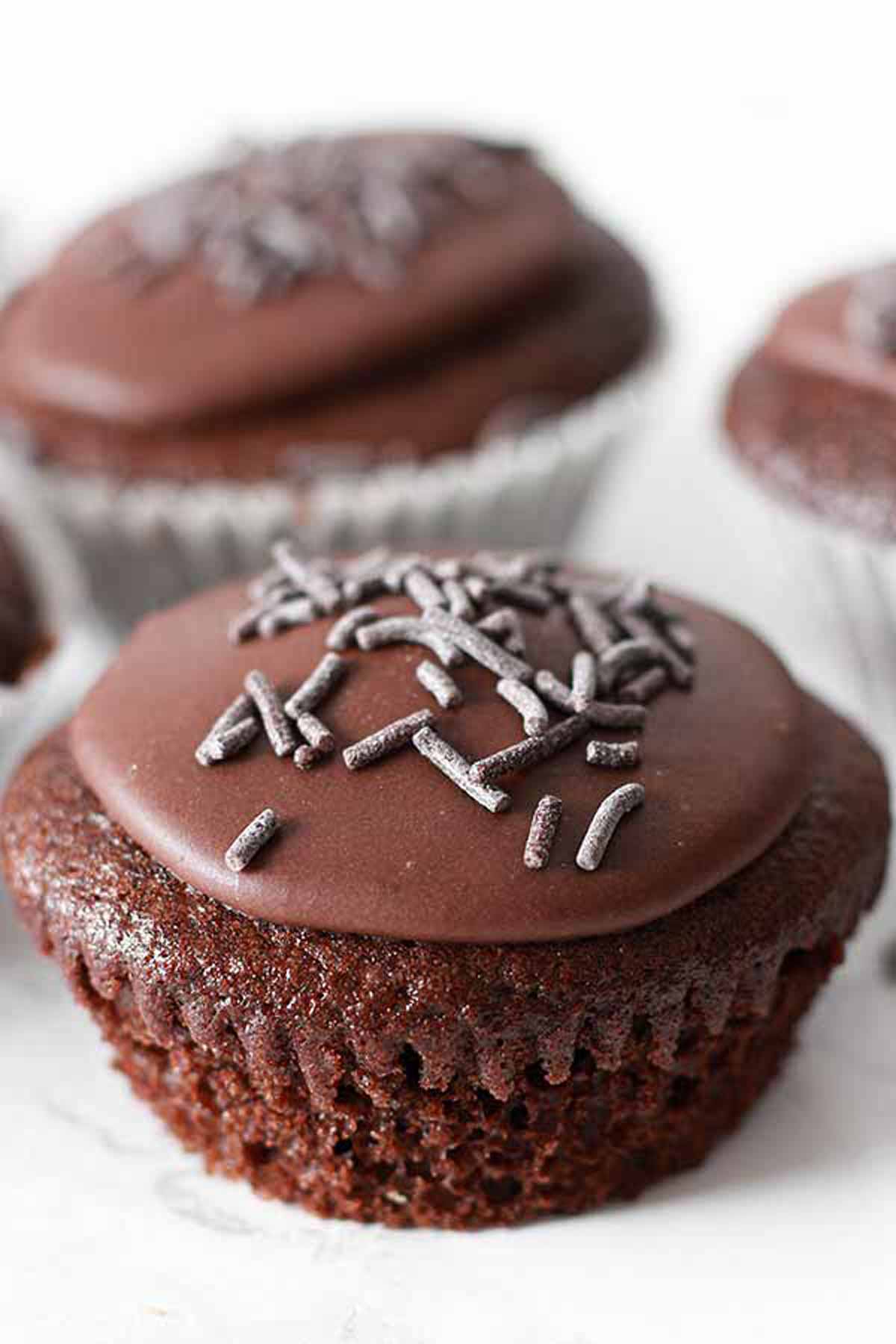 These cute, mini versions of cupcakes take me back to my childhood in the 90's. It was almost a guarantee that any kid's birthday party you went to, there would be some variation of the humble fairy cake. (Does anyone else remember those cute little butterfly cakes with the jam and cream on top?)
No matter what else was there, the fairy cakes would always be the first thing to be eaten!
I recently wrote up my vanilla fairy cakes recipe and I enjoyed them so much that I felt like I just HAD to make a chocolate version too! I love these old-school desserts because of how simple yet crowd-pleasing they are. And they're pretty easy to veganise too.
So here we are…
Fluffy chocolate fairy cakes without the need for any eggs or dairy. Yum!
Not only do these cakes look so cute and dainty, they are perfectly sized for the times that you're in the mood for a small treat without getting a crazy sugar overload. The recipe is also super simple and quick.
I hope the chocolate fairy cakes will bring back some childhood memories for you too, and if not, I hope you enjoy eating them anyway!
More vegan old school desserts: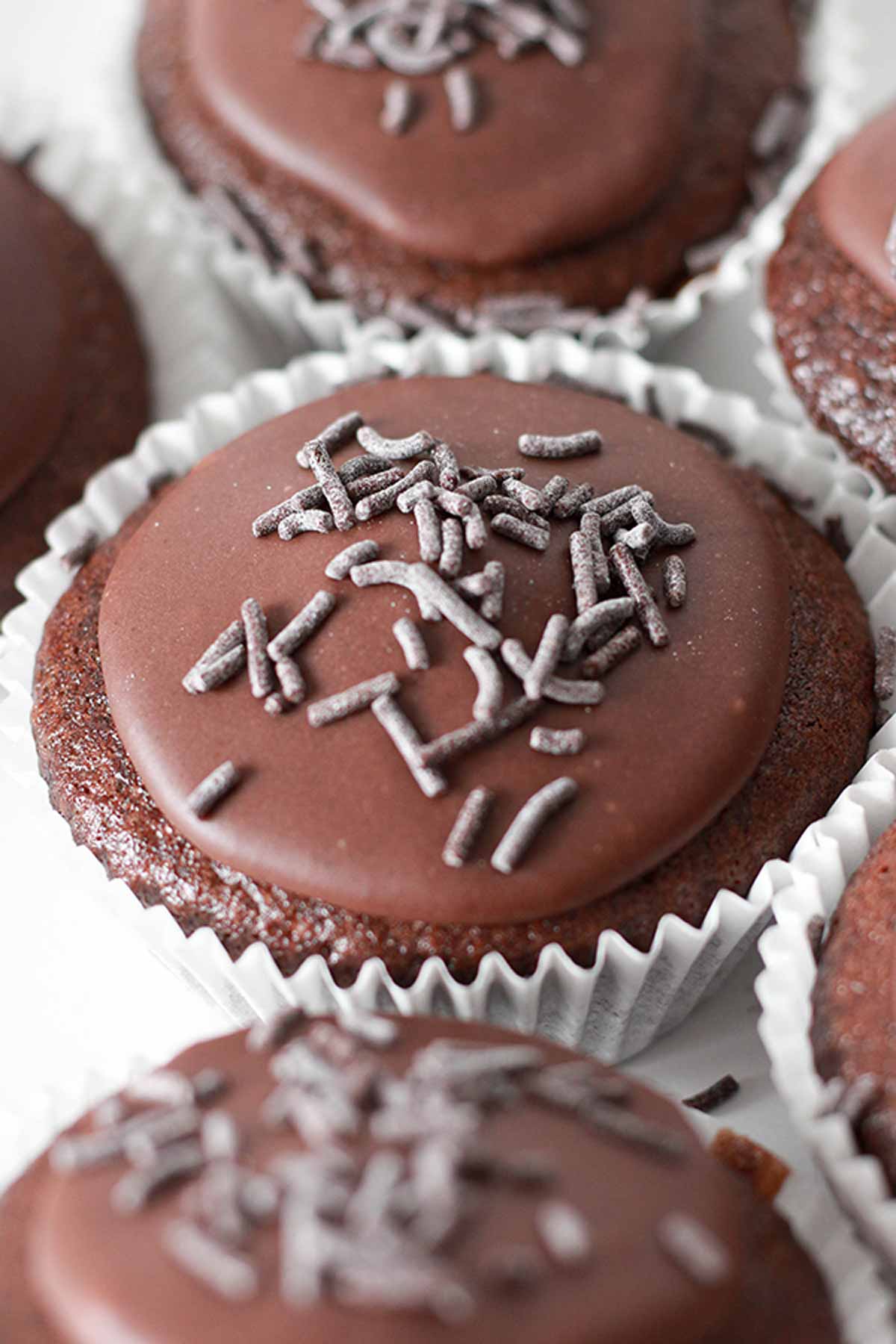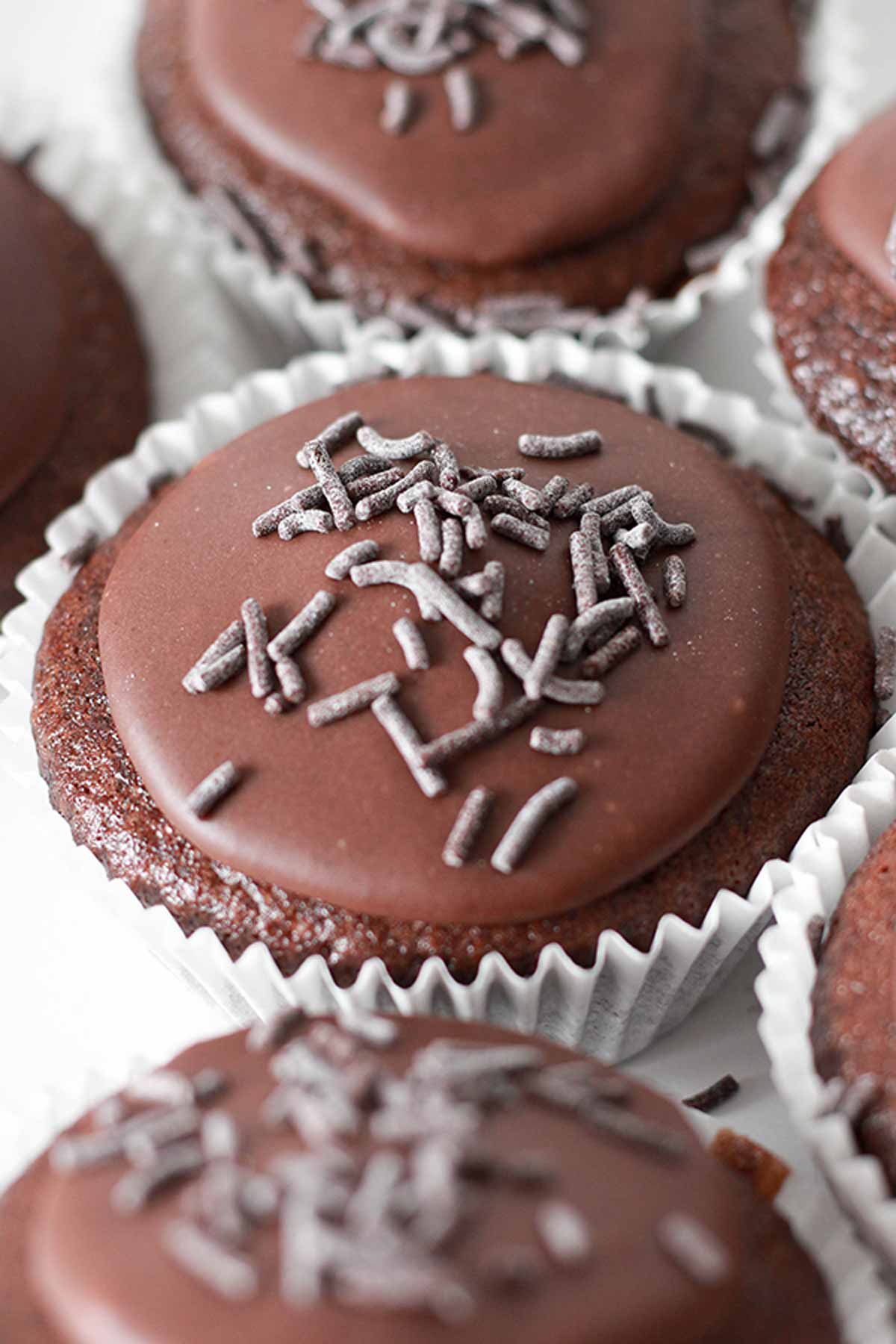 How to make vegan chocolate fairy cakes
Step 1:
As with any baking recipe you need to preheat the oven! Set it to 180°C or 350°F, or if you're using a fan or convection oven, it'll be 160°/325°F.
You'll also need to line a 12-hole cupcake tray with paper fairy cake liners. I used Dr. Oetker baking cases, which I purchased from Tesco, but they are pretty widely available in the UK.
Step 2:
Next, we make our vegan "buttermilk". This will help the cakes rise and become fluffy, while still ensuring that they're nice and moist on the inside.
To make your buttermilk, mix together 140ml of unsweetened soy milk and 1/2 a teaspoon of apple cider vinegar. Let it sit for around 5 minutes or so, during which time it will become slightly thick and curdled. Give it another quick mix afterward.
If you don't have apple cider vinegar to hand, you can use white vinegar or lemon juice instead. Note that the lemon juice won't make it curdle quite so much but it will work just as well.
Step 3:
In a medium-sized bowl, mix together 100g of self-raising flour, 1/4 of a teaspoon of baking soda, 2 tablespoons of unsweetened cocoa powder and 100g of caster sugar.
Step 4:
Next, add the vegan buttermilk into the bowl, along with 3 tablespoons of vegetable oil and 1 teaspoon of vanilla extract.
Give everything a really good mix until you have a smooth, chocolatey cake batter. Make sure to scrape the bottom and the edges of the bowl so that there's no dry mixture left behind!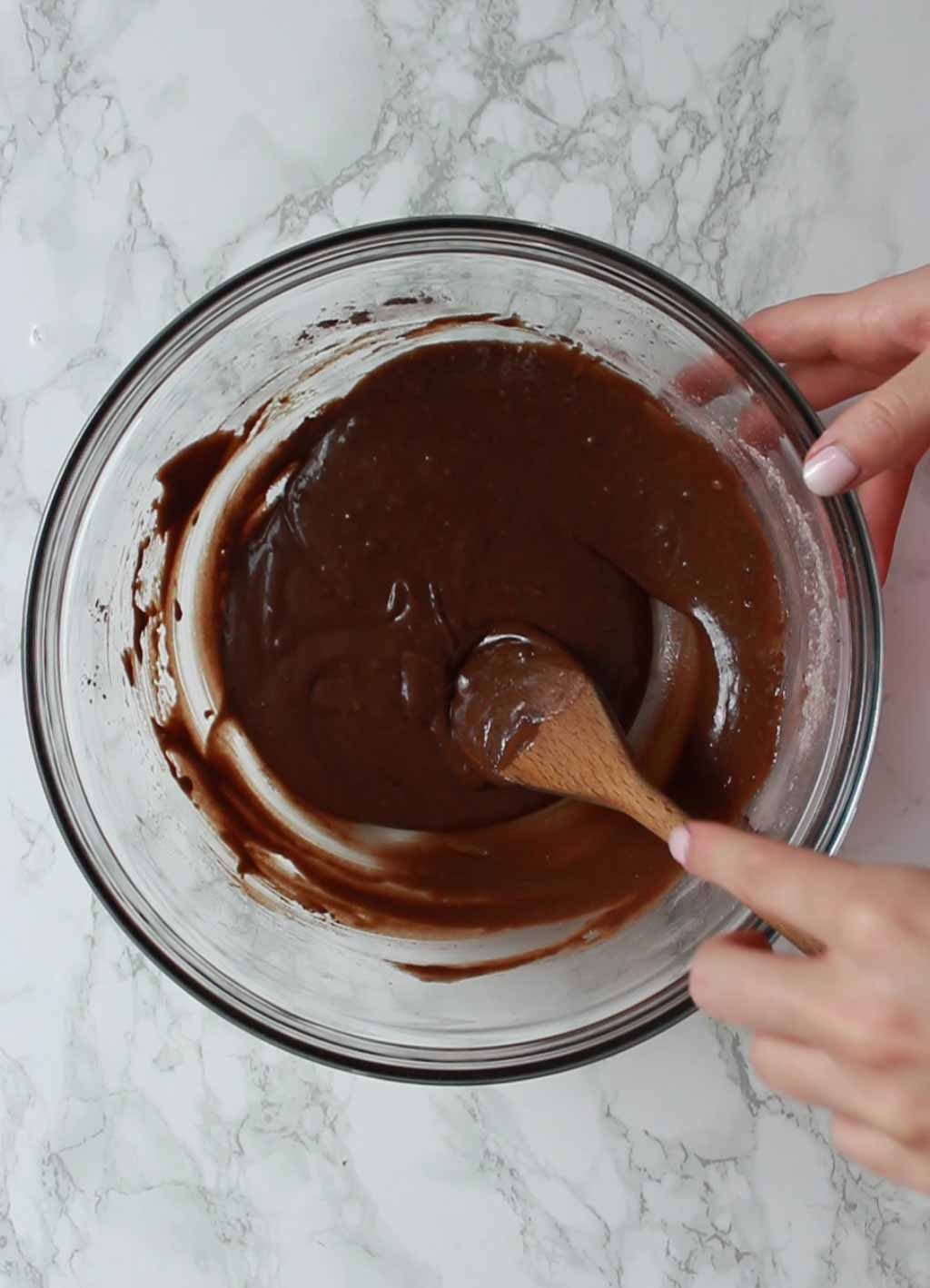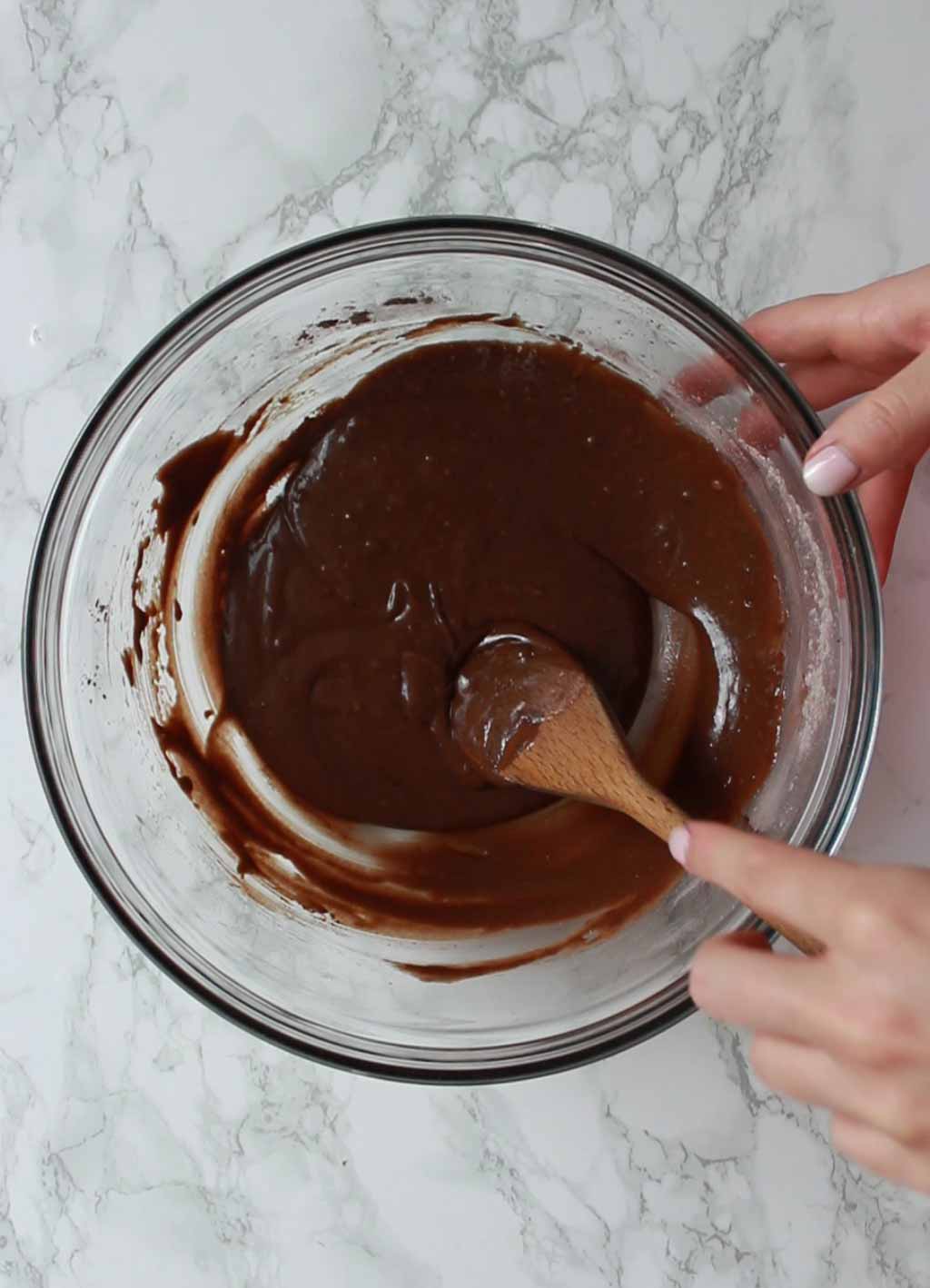 Step 5:
Divide your chocolate fairy cake batter equally between the 12 cases.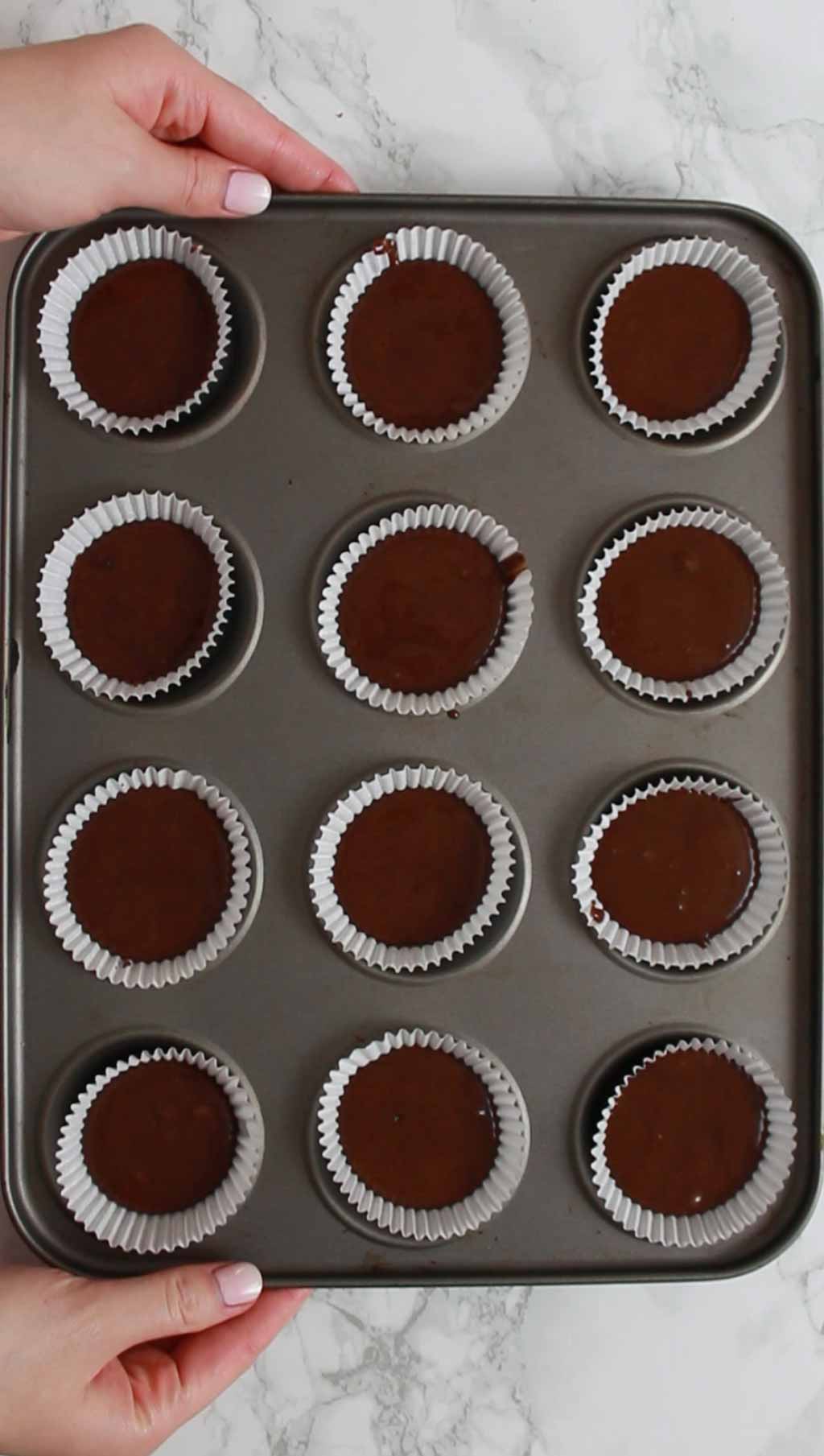 Bake the cakes for around 12 minutes, until a toothpick through the middle comes out clean. If there's still some wet cake batter on the toothpick after the time is up, bake them for a little longer, checking every 2 or 3 minutes.
Transfer the cakes to a wire rack after baking and leave them to cool completely.
Step 6:
Next, the fun part: the chocolate icing! Because this is an old-school bake, I kept it simple and classic with a chocolate water icing.
In a small bowl, mix together 130g of icing sugar and 1 tablespoon of cocoa powder. Then add 2 tablespoons of cold water and mix well. You should end up with a glossy, slightly thick icing.
Step 7:
Use a teaspoon to carefully spread a little bit of icing onto each cooled fairy cake. Top with some vegan-friendly chocolate sprinkles for the true fairy-cake experience!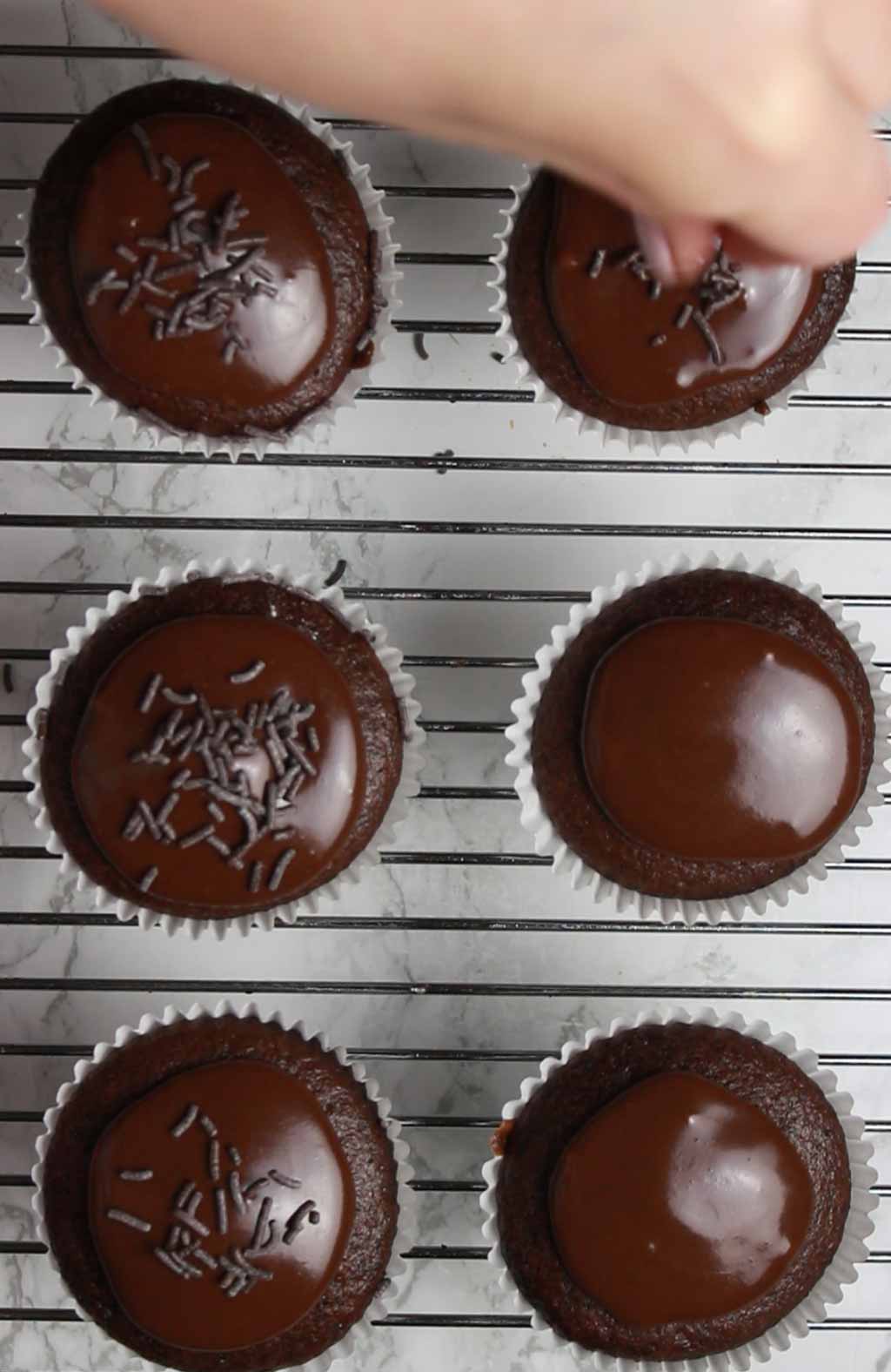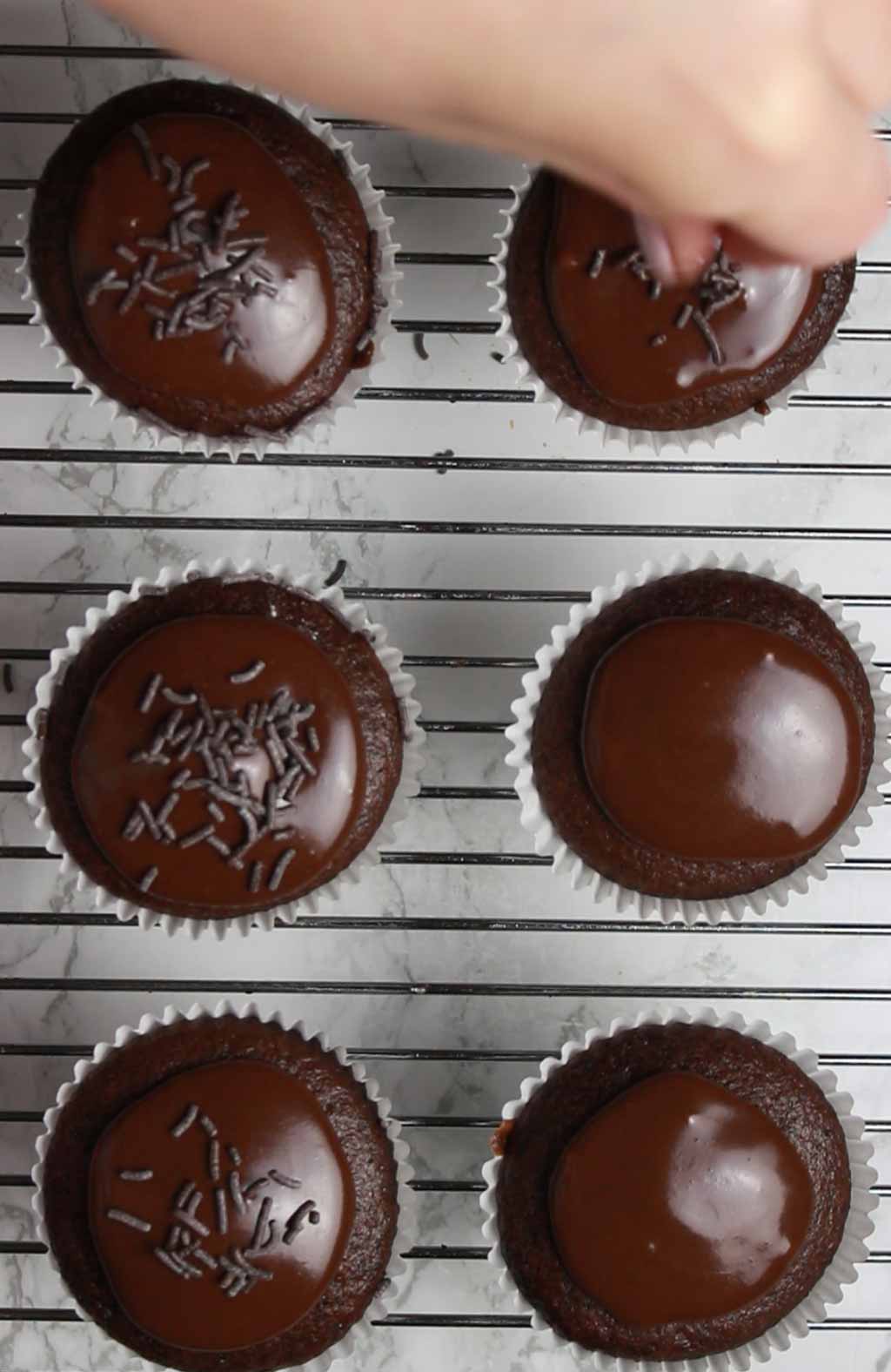 Let the cakes sit at room temperature for 60 minutes until the icing becomes firm. Then all that's left to do is tuck in an enjoy!
FAQ:
Where can I buy vegan-friendly chocolate sprinkles?
I used an old bottle of Asda's choco sprinkles that I had but when I went to link to them, I realised they have recently changed their recipe and the newer version is sadly no longer vegan. Some other alternatives are these chocolate vermicelli from Sainsbury's or chocolate strands from Baking Time Club.

When you're on the hunt for sprinkles, make sure to watch out for the sneaky non-vegan ingredients such as milk, gelatin, shellac, beeswax or honey.

If you can't find any vegan chocolate sprinkles where you live, you can just grate some of your favourite vegan chocolate over the top instead.
What are fairy cake cases?
Fairy cake cases are simply smaller versions of regular-sized cupcake cases. I use Dr. Oetker baking cases which are super cheap at £1.30 for 100, and they're available in most of the UK supermarkets. There are also PME fairy cake cases available on Amazon.

Although they're smaller, you can still use the fairy cake cases in a regular-sized cupcake or muffin tray.
How long will they last after baking?
If stored appropriately in an airtight container at room temperature, these chocolate fairy cakes will last for up to 5 days.
Can I freeze them?
Yes! These freeze very well in airtight containers. You can freeze them for up to 2 months. When you're ready to eat them, transfer them from the airtight container to a plate or wire rack and let them sit at room temperature until they've full thawed. This should only take around an hour or so.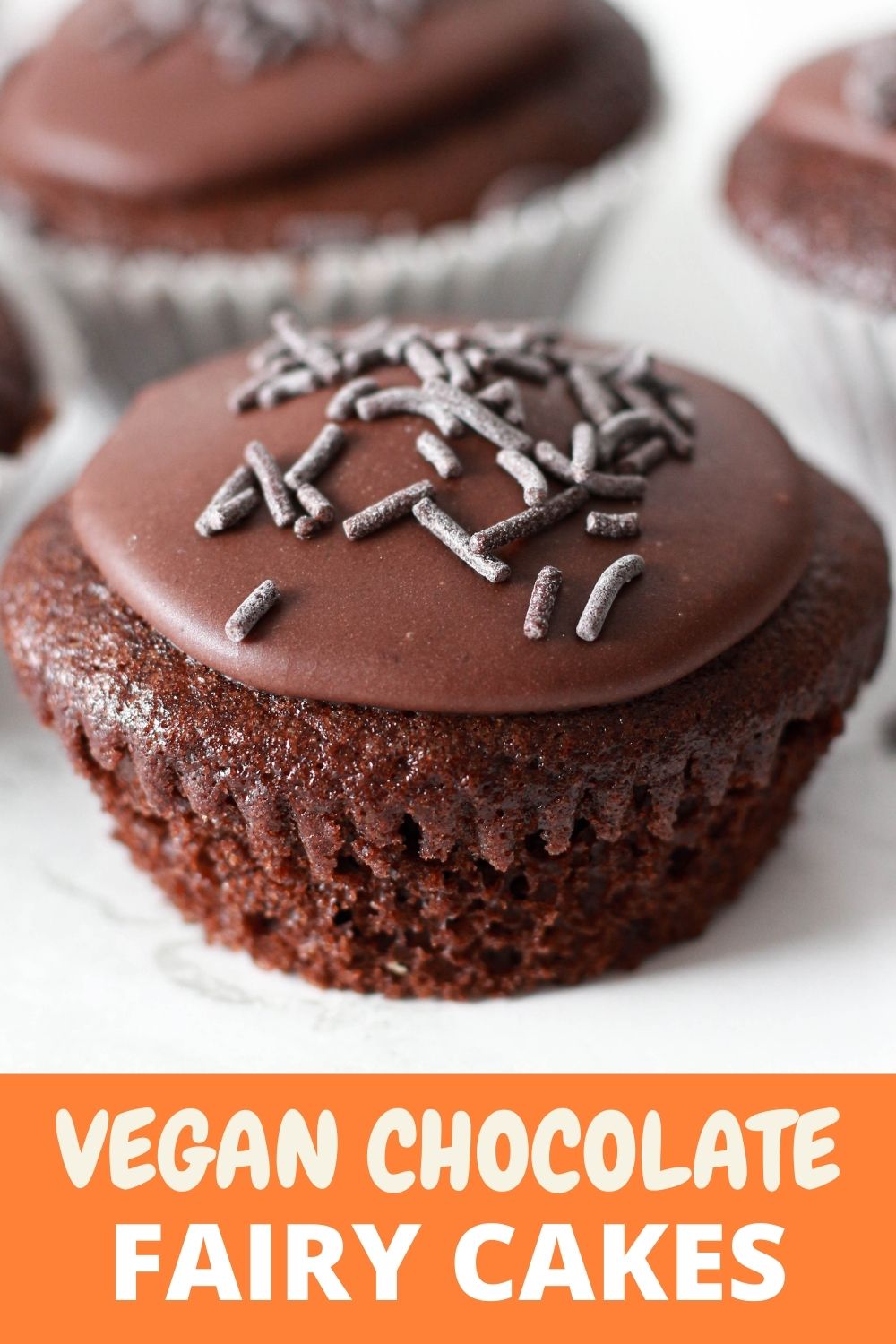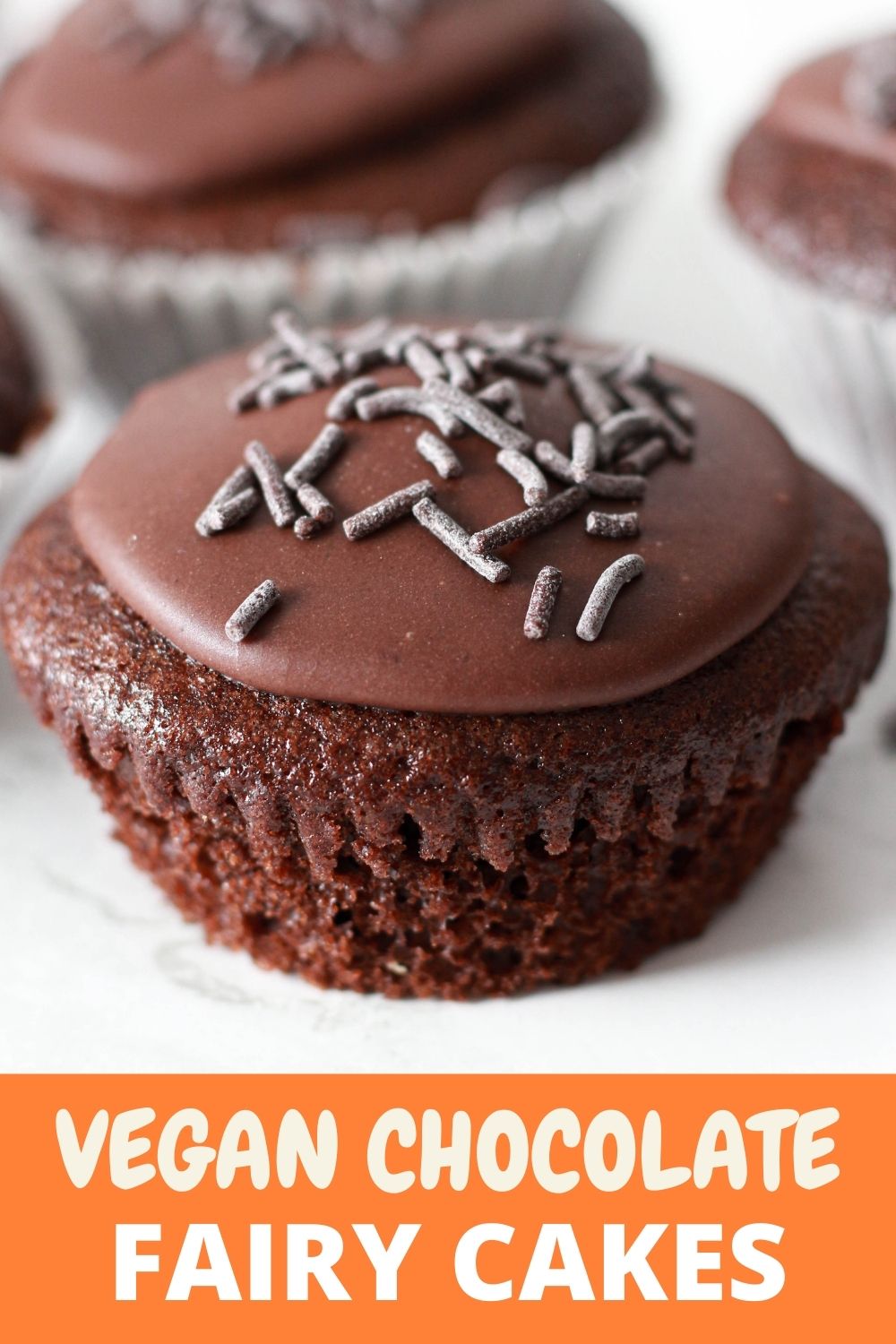 I hope you like the recipe! If you make it at home yourself, please let me know how it goes by leaving a rating and/or comment below. Check out my round-up of vegan chocolate cake recipes if you want more. Happy baking! xo

Vegan Chocolate Fairy Cakes
Old school fairy cakes with chocolate icing and sprinkles.
Ingredients
140

ml

Soy milk

(1/2 cup + 1 tablespoon)

½

Teaspoon

Apple cider vinegar

(sub for white vinegar)

100

g

Self-raising flour

(¾ cup)

¼

Teaspoon

Baking soda

2

Tablespoons

Unsweetened cocoa powder

100

g

Caster sugar

(½ cup)

1

Teaspoon

Vanilla extract

3

Tablespoons

Vegetable oil
For the icing:
130

g

Icing sugar

(1 cup)

1

Tablespoon

Cocoa powder

2

Tablespoons

Cold water
To top:
Vegan chocolate sprinkles of choice
Instructions
Preaheat your oven to 180°C/350°F (or 160°C/325°F if you're using a fan or convection oven). Line a cupcake tray with 12 fairy cake cases.

In a small bowl or mug, mix the apple cider vinegar into the soy milk. Let it sit for a few minutes to thicken. This will act as "buttermilk".

In a medium-sized bowl, mix together the flour, baking soda, cocoa powder and caster sugar.

Add the buttermilk, vanilla and oil. Mix well until you have a smooth chocolate cake batter. Make sure there's no dry mixture stuck at the bottom.

Divide the mixture equally between your 12 fairy cake cases and bake for 12-15 minutes, until a toothpick through the centre comes out clean.

Transfer the fairy cakes to a wire rack and leave them to cool completely.
For the icing:
Mix the icing sugar and cocoa powder together in a small bowl.

Add the water and mix it in until you have a thick chocolate icing. If you want it to be thicker, you can add more icing sugar and if you want it to be thinner, just add more water.

Spread a bit of the icing onto each cake using the back of a teaspoon. Top with chocolate sprinkles if using.

Let the cakes sit at room temperature until the icing sets, then enjoy!
Recipe Notes
Store in an airtight container at room temperature for up to 5 days.
Nutrition Facts
Vegan Chocolate Fairy Cakes
Amount Per Serving (1 cake)
Calories 153
Calories from Fat 36
% Daily Value*
Fat 4g6%
Sodium 23mg1%
Carbohydrates 26g9%
Protein 2g4%
* All values are an estimate only and will vary depending on the food brands used.
BakedByClo is a participant in the Amazon Services LLC Associates Program, an affiliate advertising program designed to provide a means for sites to earn advertising fees by advertising and linking to Amazon.com. This site may contain some of these links to Amazon.com & other affiliate programs. If you make a purchase through one of those links, BakedByClo will receive a small commission from the purchase at no additional cost to you.