Best Vegan Flapjacks
These vegan flapjacks are "buttery", sweet, soft and chewy, with a nice crunchy edge. They're super easy to make with just 4 dairy-free ingredients and can be put together in less than an hour.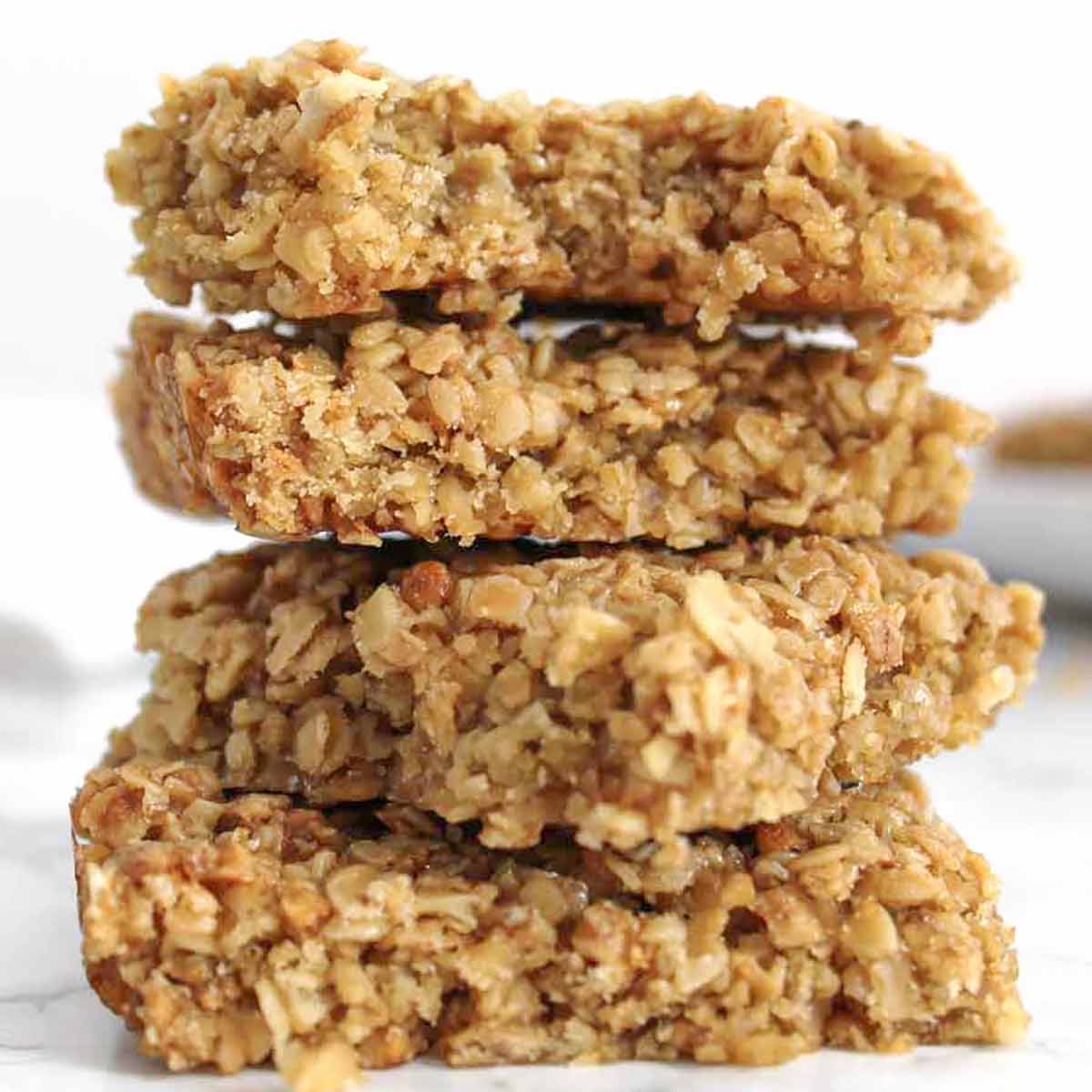 As a food blogger from Scotland (a.k.a in the UK), I've felt for quite a while that it was my duty to include a recipe for dairy-free flapjacks on my blog since they are so popular here.
Now, if you're from the USA, you might be very confused right now. Because I was too when I found out that your flapjacks are pancakes!
What is a British flapjack?
Despite being well known as a kind of pancake in the US, flapjacks in the UK are actually sweet oat bars made with lots of butter and golden syrup. They're gooey, soft and chewy, and really just such an indulgent delight to eat.
They're packed with sugar and fat normally, but they're quite common to have for breakfast, especially if you're eating on the go.
Although my recipe for flapjacks is not much healthier than the traditional version, it is free from dairy!
I did this by simply switching out dairy butter for vegan margarine… Wild concept, right?
But that's exactly what I love about this recipe! It's so easy and straight forward that you really can't go wrong. It can be made in one bowl and takes under 30 minutes to bake.
Perfection.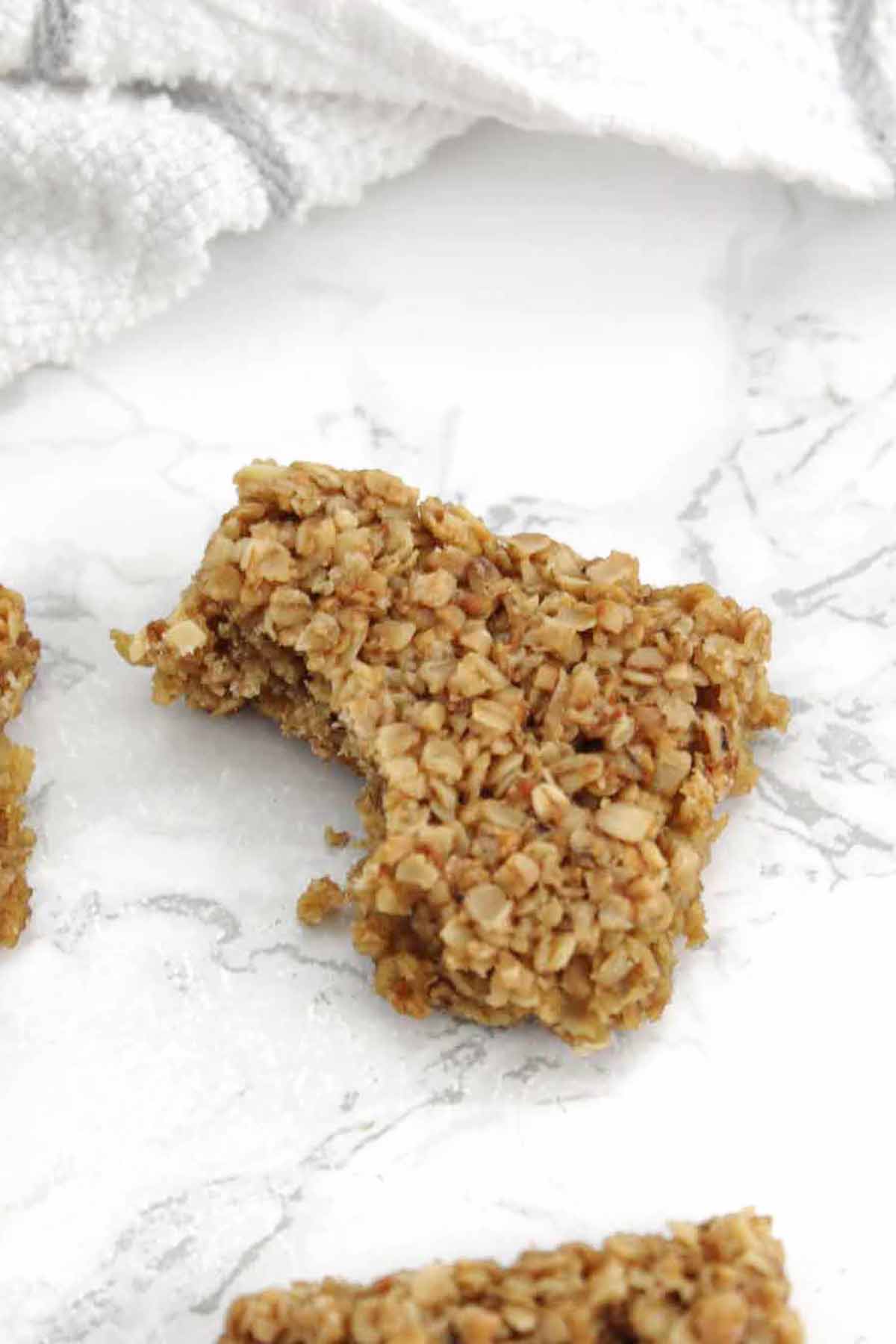 How to make vegan flapjacks
To make things easier for yourself, I'd recommend measuring out all of the ingredients before you start baking. It saves you from rushing around in the next steps.
You will need 265g of rolled oats (2+3/4 cups), 160g of vegan margarine (2/3 cup), 100g of soft brown sugar (1/2 packed cup), and 3 tablespoons of golden syrup (Lyle's is the one I always use).
You'll also need an 8 x 10-inch rectangular baking tin.
Preheat your oven and line your tin

Once you've got your ingredients ready to go, line your tin with baking paper. This part is important because you'll have a REALLY hard time getting the flapjacks out of the tin if you don't! I'd recommend leaving a little bit of baking paper hanging out of the edges, which will make it really easy to remove them.

This is also a good time to preheat your oven. You'll want to set it to 180°C or 350°F (160°C/325°F if using a fan or convection oven).

Melt the margarine

You can do this in a microwave or over a low heat on the stove. Melting the margarine before adding it to the rest of the ingredients is what's going to give it that soft, chewy texture that flapjacks are so well known for!

Add to a large bowl

Add the melted margarine to a large bowl along with the rest of your ingredients. Mix thoroughly until all of the oats are well coated.

Transfer into baking tin

Now transfer the oat mixture into your pre-lined baking tin and spread it out evenly. Press it in firmly using the bottom of a measuring cup or the back of your spoon.

The tighter you can get it, the better! If you were to skip this step, the flapjacks would turn out very crumbly.

Bake

Pop your dairy-free flapjacks into the oven for 20-30 minutes. Although 20-30 minutes is quite a broad range, I say that because it depends on how you like your flapjacks. Some like them super soft and some like them a bit crunchy.

I found my own personal sweet spot to be around 25 minutes. They are just ever-so-slightly crunchy on the edges but nice and soft in the middle. If you want them crunchier, just bake them for longer. But keep an eye on them to make sure they don't brown too much.

Score and leave to cool

Remove your vegan flapjacks from the oven. While they are still warm and in the tin, gently score lines in them (go about halfway down depth-wise) using a sharp knife.

You don't want to cut them completely but marking out where you'll cut them will make it so much easier and prevent them from falling apart later. I like to make 12 squares out of mine but you can make your slices bigger or smaller if you like. Totally up to you!

Leave the flapjacks in the tin until they are completely cool.

Cut into squares

Once they are cold, lift the flapjacks out of your tray using the edges of the baking paper.
Place them onto a flat surface and cut them into squares, using the score marks you made earlier as a guide.
FAQ:
How can I jazz up vegan flapjacks?
Although plain-ole buttery flapjacks are the most traditional type, it's also very common to see them with different flavorings and mix-ins too. Here are some ideas:

-Dried fruits such as raisins, apricots or apples
-Chopped nuts
-Chocolate chips
-Desiccated coconut
-A drizzle of peanut butter on top
-Thin layer of chocolate on top (add this before you cut them into squares)
How should I store them?
Dairy-free flapjacks can be stored in an airtight container for up to 5 days. I'd recommend storing them in a cool, dry place such as a cupboard.

You can also keep them in the fridge if you like but they will be quite a bit firmer than if you store them at room temperature.
Can I freeze them?
Yes! If you'd rather prepare these in advance and enjoy them at a later date, they're perfect for freezing!

Just wrap them up tightly (or put them in an airtight container) and pop them in the freezer for up to 2 months.

To defrost, just transfer the slices to a wire rack and let them sit at room temperature for an hour or two until fully thawed. You can also heat them up in the microwave if you're in a rush.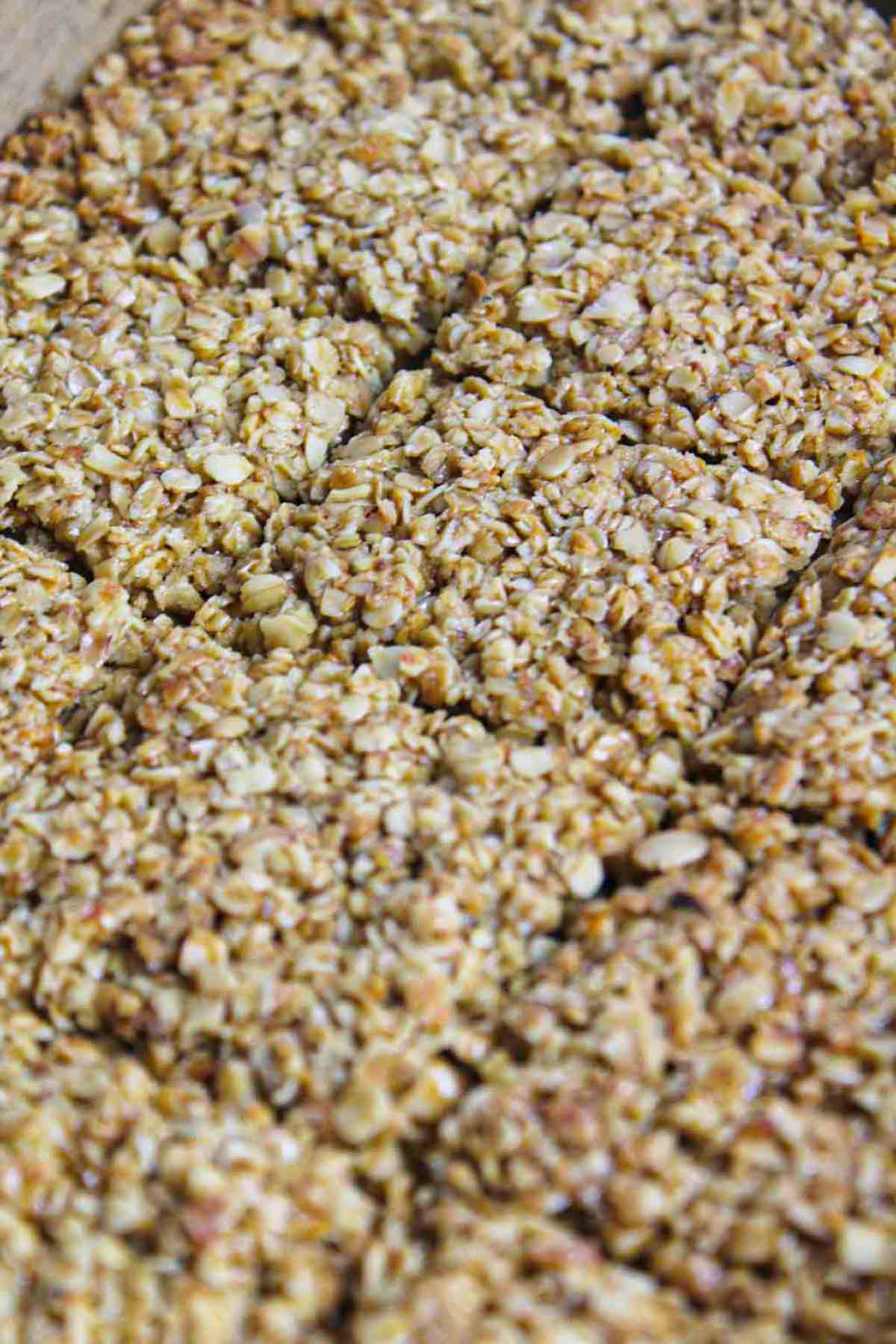 Top tips:
Leave some baking paper hanging over the edges of your baking tin to make it easier to lift the flapjacks out after baking.
Baking for longer will produce crunchy flapjacks, while less time in the oven will give you soft and chewy flapjacks.
Score the flapjacks when they are fresh out of the oven. This will make it easier for you to cut them without them crumbling when cooled.
Allow them to cool completely before handling them. They'll be very fragile while hot!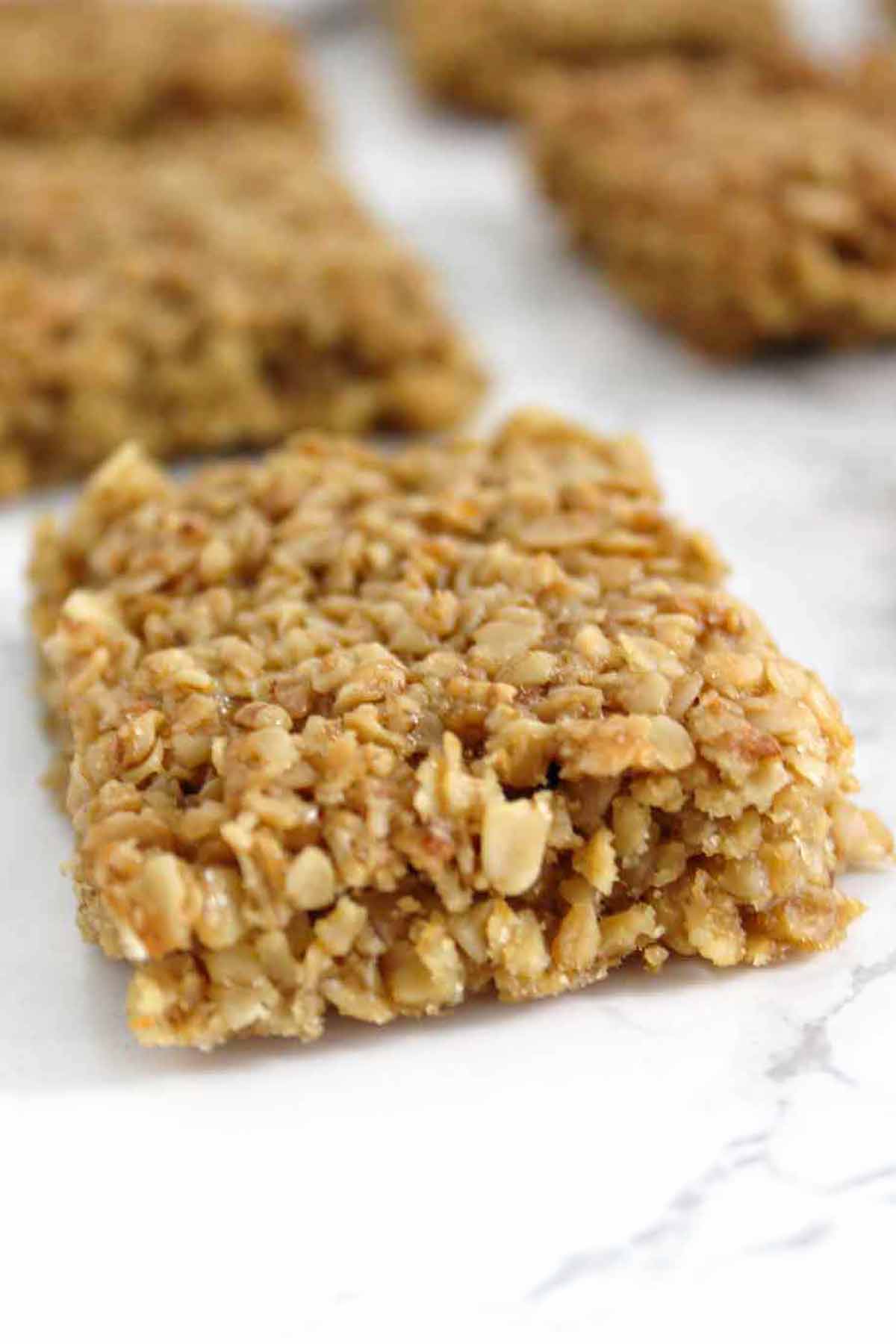 More flapjack recipes:
I hope you love these dairy-free flapjacks! If you make them at home, please let me know what you think by leaving a rating below. If you make any adaptions, I'd love to hear how they turned out for you! Happy baking! xo

Vegan Flapjacks (Dairy-Free)
Chewy, dairy-free flapjacks. A classic British dessert made with oats and golden syrup.
Ingredients
160

g

Vegan margarine

(⅔ cup)

265

g

Rolled oats

(2+¾ cups)

100

g

Soft brown sugar

(½ cup, packed)

3

Tablespoons

Golden syrup
Instructions
Preheat your oven to 180°C/350°F (160°C/325°F for fan or convection ovens).

Line an 8×10-inch tin with baking paper. I recommend leaving a little baking paper hanging out of the edges to make it easier to lift the flapjacks out after baking.

Melt the vegan margarine and let it cool for a few minutes.

Add the melted margarine to a large bowl then add the rest of the ingredients. Mix everything together thoroughly until the oats are well coated.

Transfer the mixture into your lined baking tin and press it down tightly in place. You can do this using the bottom of a measuring cup or the back of a spoon.

Bake the flapjacks for 25-30 minutes. If you like them soft and chewy, bake for 25 minutes and if you like them more on the crunchy side, bake for 30 minutes.

Once baked, remove the flapjacks from the oven. While they are still warm and in the tin, gently score where you plan to cut them. This will make it easier to cut them once cooled.

Leave the flapjacks in the tin to cool completely.

Once fully cooled, remove them from the tin using the edges of the baking paper and place onto a flat surface. Cut them into pieces using your score marks as a guide.
Recipe Notes
Store in an airtight container in a cool, dry place for up to 5 days.
Nutrition Facts
Vegan Flapjacks (Dairy-Free)
Amount Per Serving (1 flapjack)
Calories 158
Calories from Fat 72
% Daily Value*
Fat 8g12%
Sodium 94mg4%
Carbohydrates 19g6%
Protein 1g2%
* All values are an estimate only and will vary depending on the food brands used.
BakedByClo is a participant in the Amazon Services LLC Associates Program, an affiliate advertising program designed to provide a means for sites to earn advertising fees by advertising and linking to Amazon.com. This site may contain some of these links to Amazon.com & other affiliate programs. If you make a purchase through one of those links, BakedByClo will receive a small commission from the purchase at no additional cost to you.