Vegan Ginger Flapjacks
These vegan ginger flapjacks are chewy, sticky and perfectly spiced. They are super easy to make with just 5 ingredients and are great for meal prepping.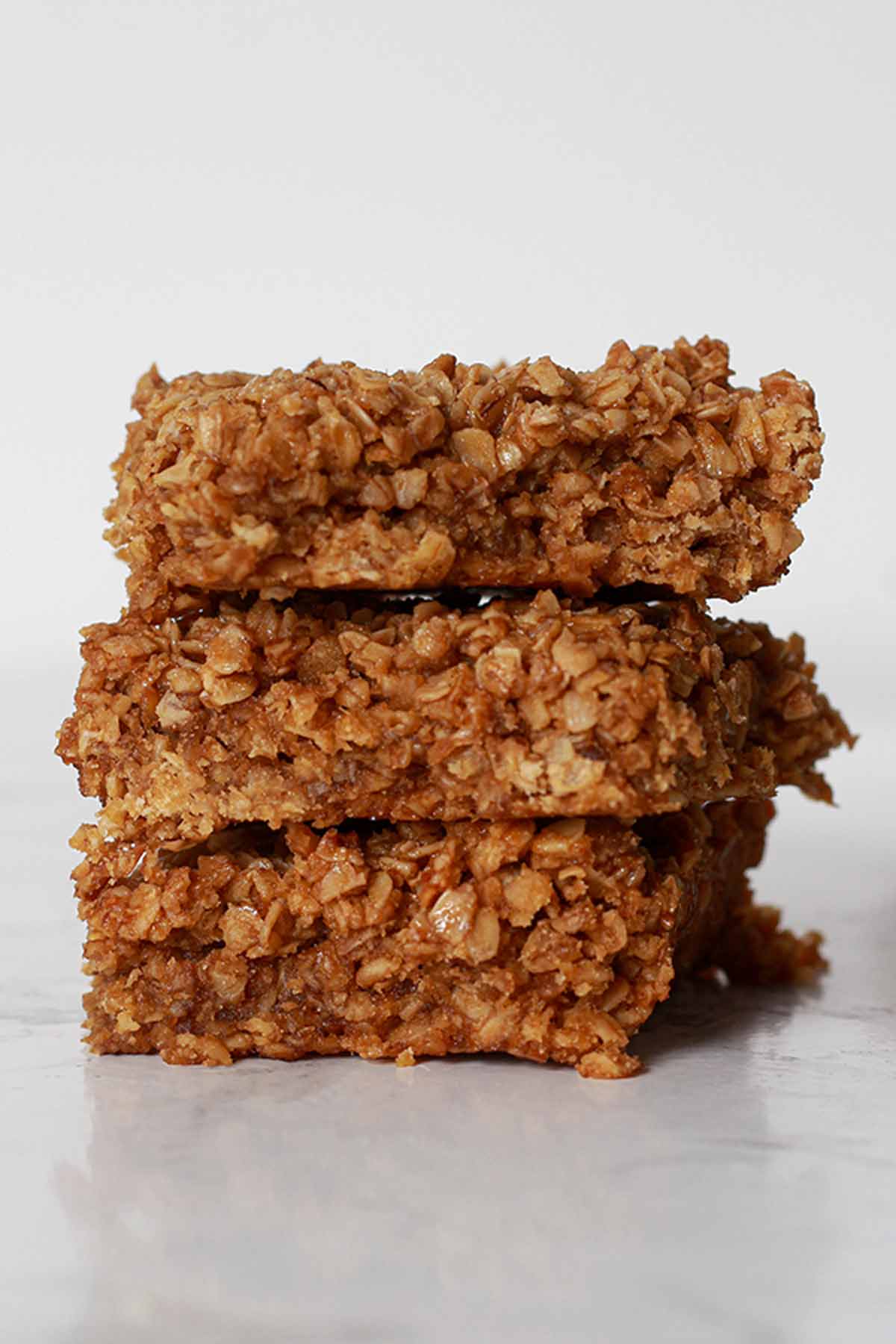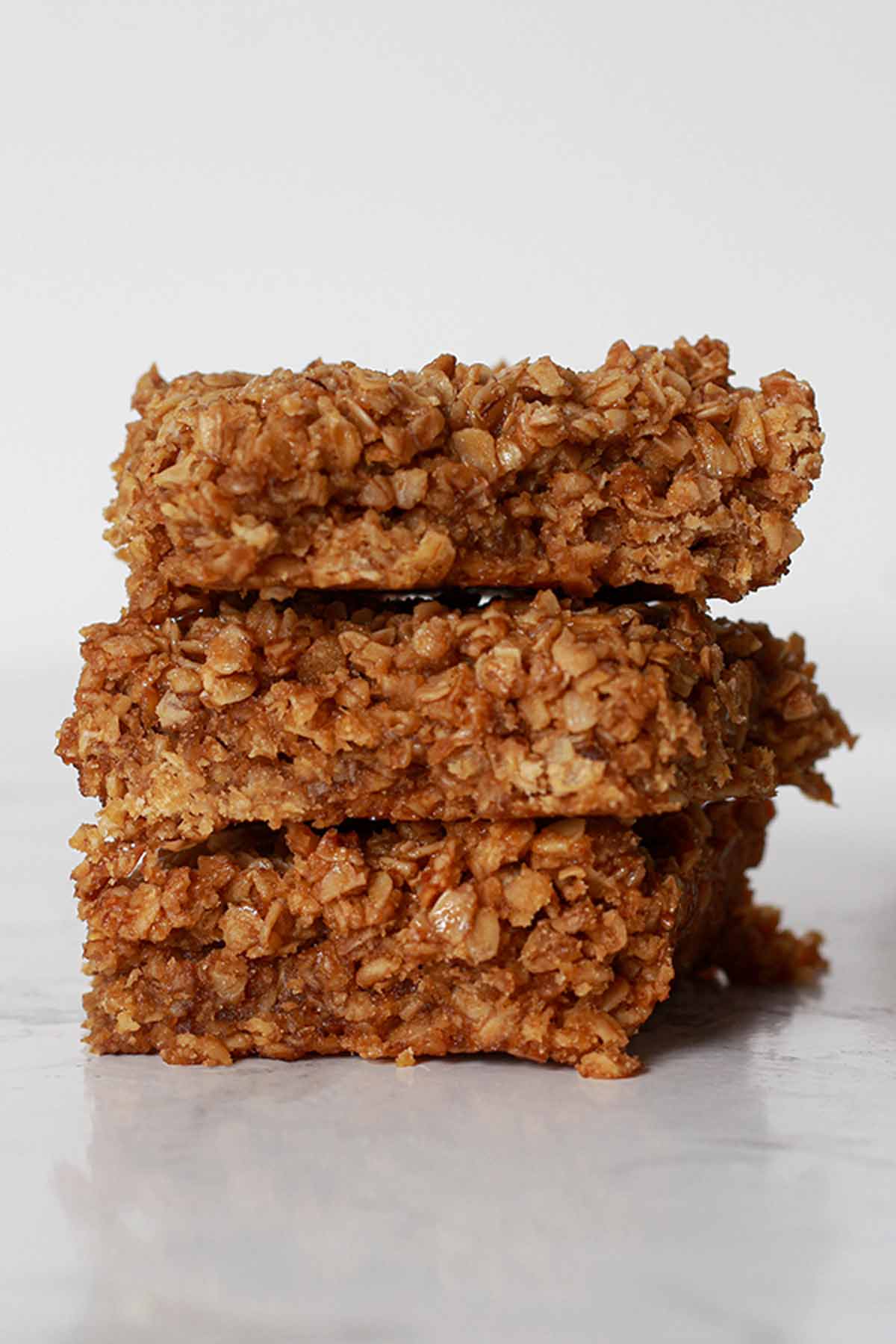 Following the success of my first golden syrup flapjack recipe, it only made sense to make another one! This time it's ginger flapjacks.
If you're not from the UK and are wondering what exactly a flapjack is, let me enlighten you. A British flapjack is an oaty snack bar made with oats, sugar, butter and golden syrup. Despite being very sugary, they are oddly often touted as a healthy breakfast food! I'd recommend having them for dessert instead.
They are almost naturally vegan with the exception of butter. But that was such a simple swap for dairy-free margarine. Everything else stays the same.
What type of ginger to use
For this recipe, I used ground ginger; the powdery type that comes in a jar. It gives the flapjacks a nice flavour without affecting the texture.
Most other recipes I've seen online use stem ginger but I personally don't enjoy the texture. If you like stem ginger, feel free to use it in this recipe. You could also add some candied ginger pieces into the mix instead.
Another option would be to add some grated fresh ginger to the flapjack. Make sure to grate it finely though as it can be overpowering otherwise.
More dairy-free flapjack recipes
Ingredients and equipment
8×10-inch baking tin. Using this tin will give you 12 medium-sized square bars. If you prefer them thicker, you can use a smaller tin. You may need to adjust the baking time slightly; you'll be able to tell they're ready when they're golden and slightly firm at the edges.
Vegan margarine. I recommend using the spreadable type here, not the blocky type. The margarine is 'wetter' and will help the flapjacks stick together better. I used Vitalite.
Rolled oats. Regular old porridge oats will work fine for this recipe.
Brown sugar. I recommend using soft brown sugar. You can use either light or dark brown sugar for this recipe but I personally prefer dark brown when paired with ginger.
Golden syrup. This is what makes the flapjacks gooey. If you want them to be extra sticky, add an extra tablespoon to the recipe.
Ginger powder. For the main flavour! Again, feel free to use chopped stem, candied or fresh ginger if you prefer.
How to make vegan ginger flapjacks
Step 1:
Preheat your oven to 180°C/350°F, or 160°C/325°F if you're using a fan or convection oven.
Line an 8×10-inch tin with baking paper. I recommend leaving a bit of baking paper hanging over each edge to make for easy removal later on.
Step 2:
Add 265g of rolled oats to a large bowl, along with 100g of dark brown sugar and 2 teaspoons of ginger powder. Mix well.
Step 3: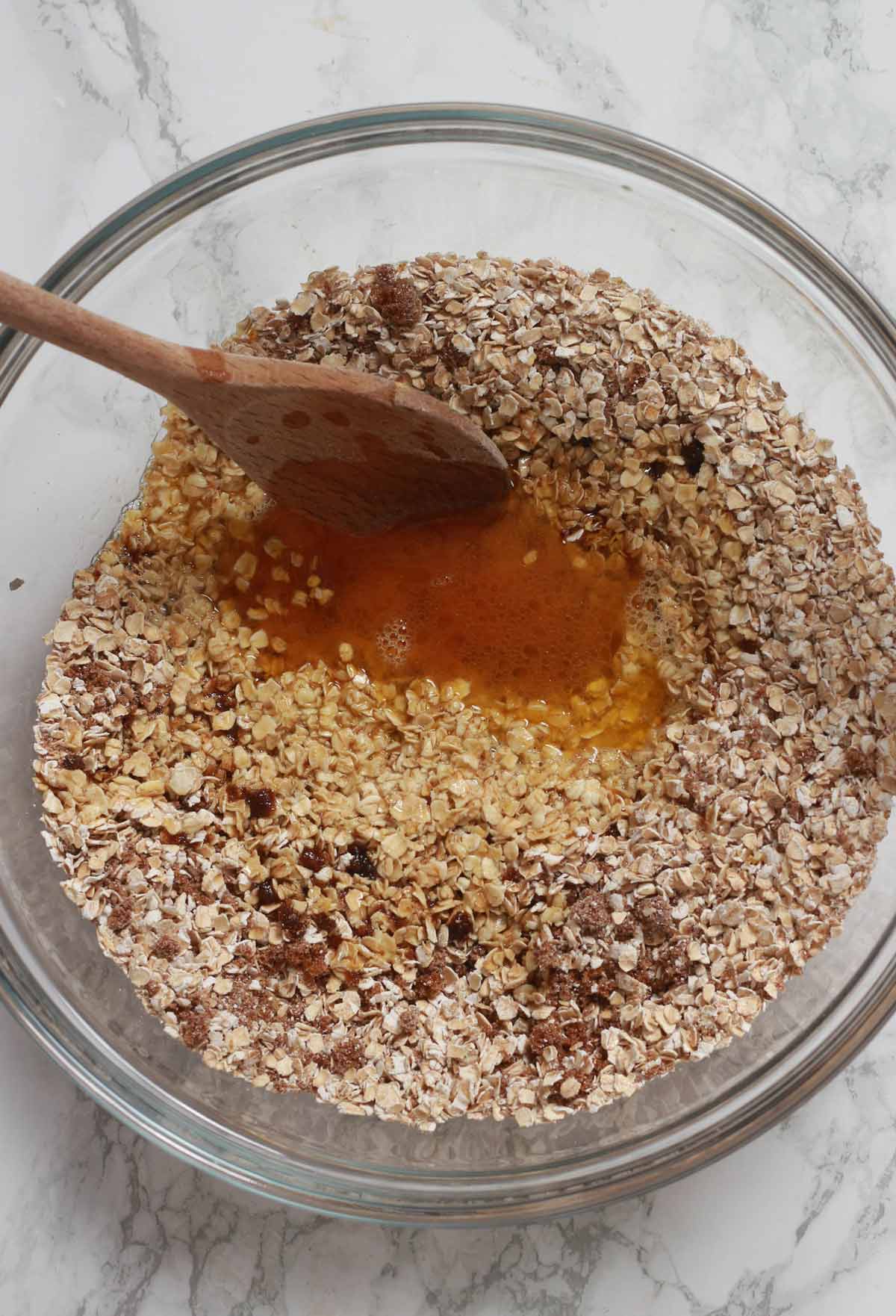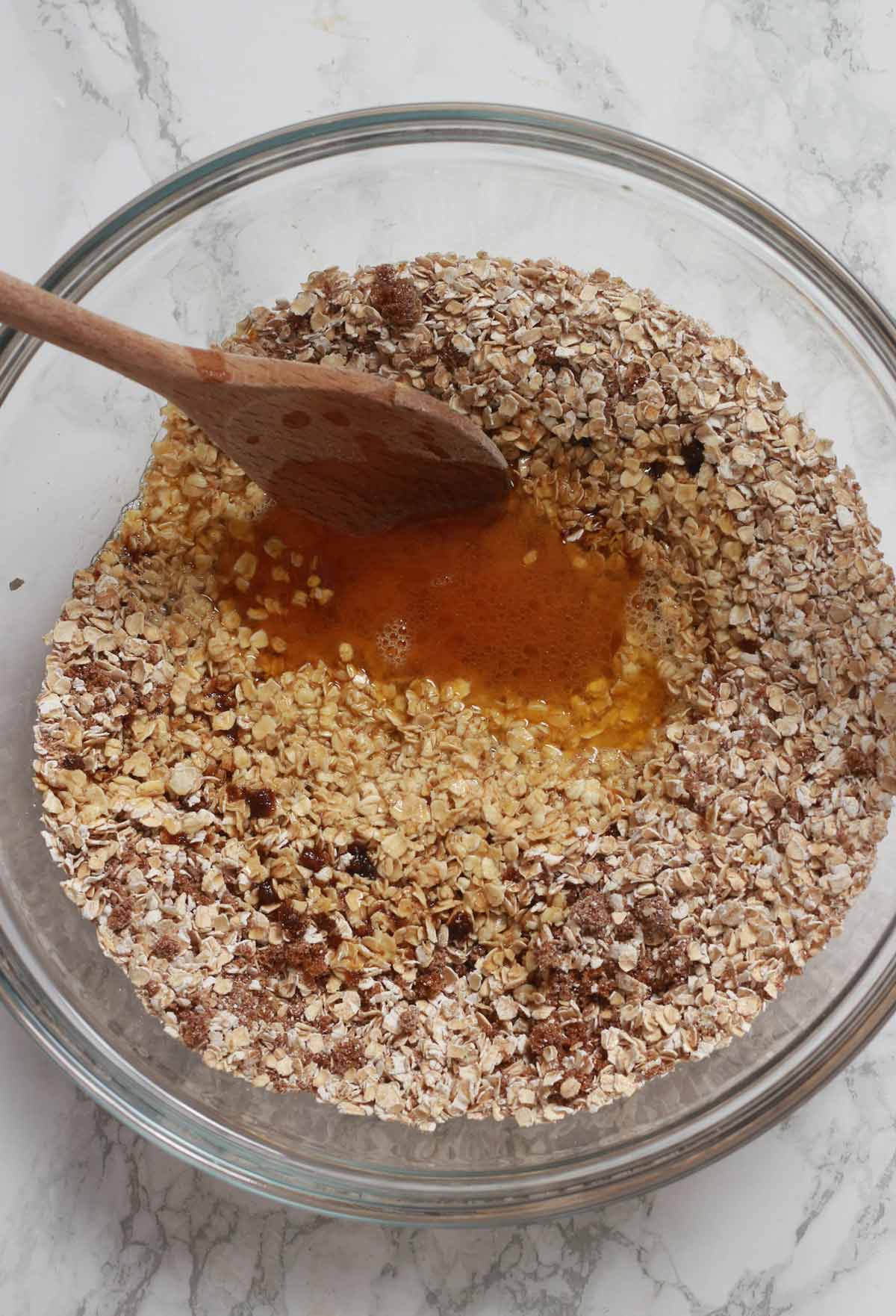 Melt 160g of vegan margarine and let it cool for a few minutes.
Add it to the bowl along with 3 tablespoons of golden syrup. Mix well until all of the oats are evenly coated.
Step 4:
Transfer the oat mixture to your lined tin and press into place. It's important to press them in firmly to prevent crumbling later on.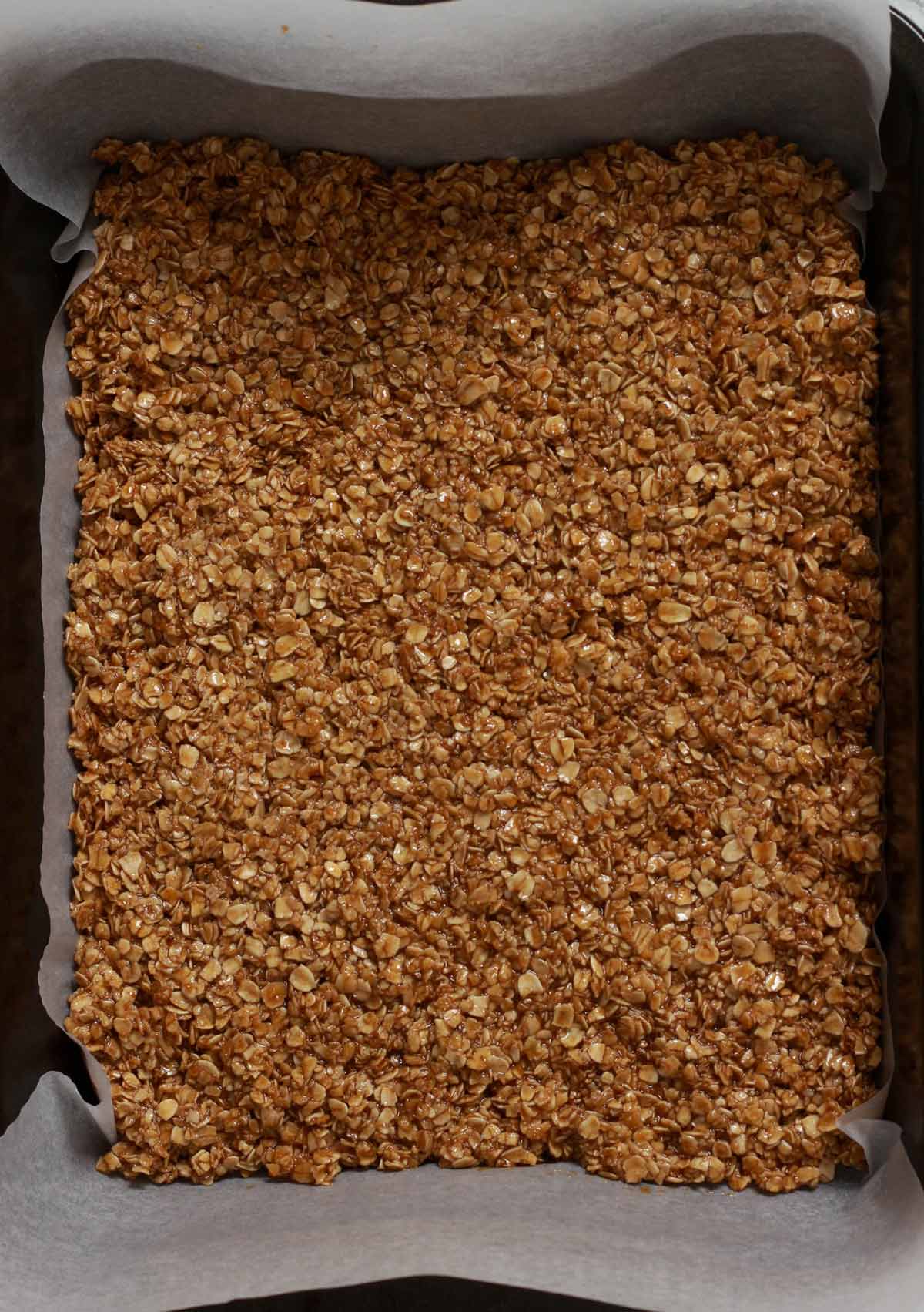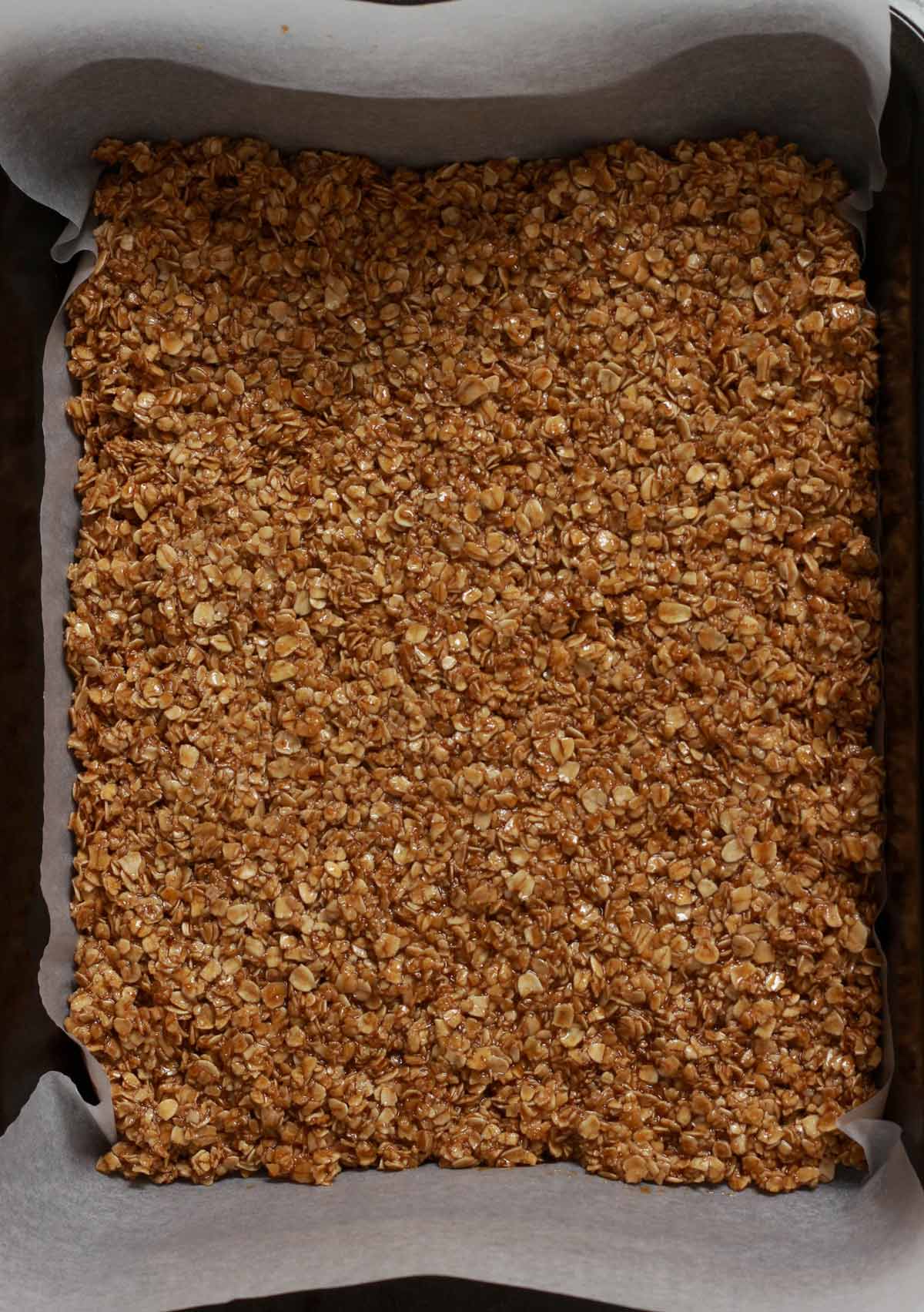 Step 5:
Bake the flapjacks for 25 minutes. They should be golden and firm at the edges.
Step 6:
Leave the flapjacks to cool for 5 minutes or so then use a knife to score lines where you plan to cut them. Let them cool completely in the tin.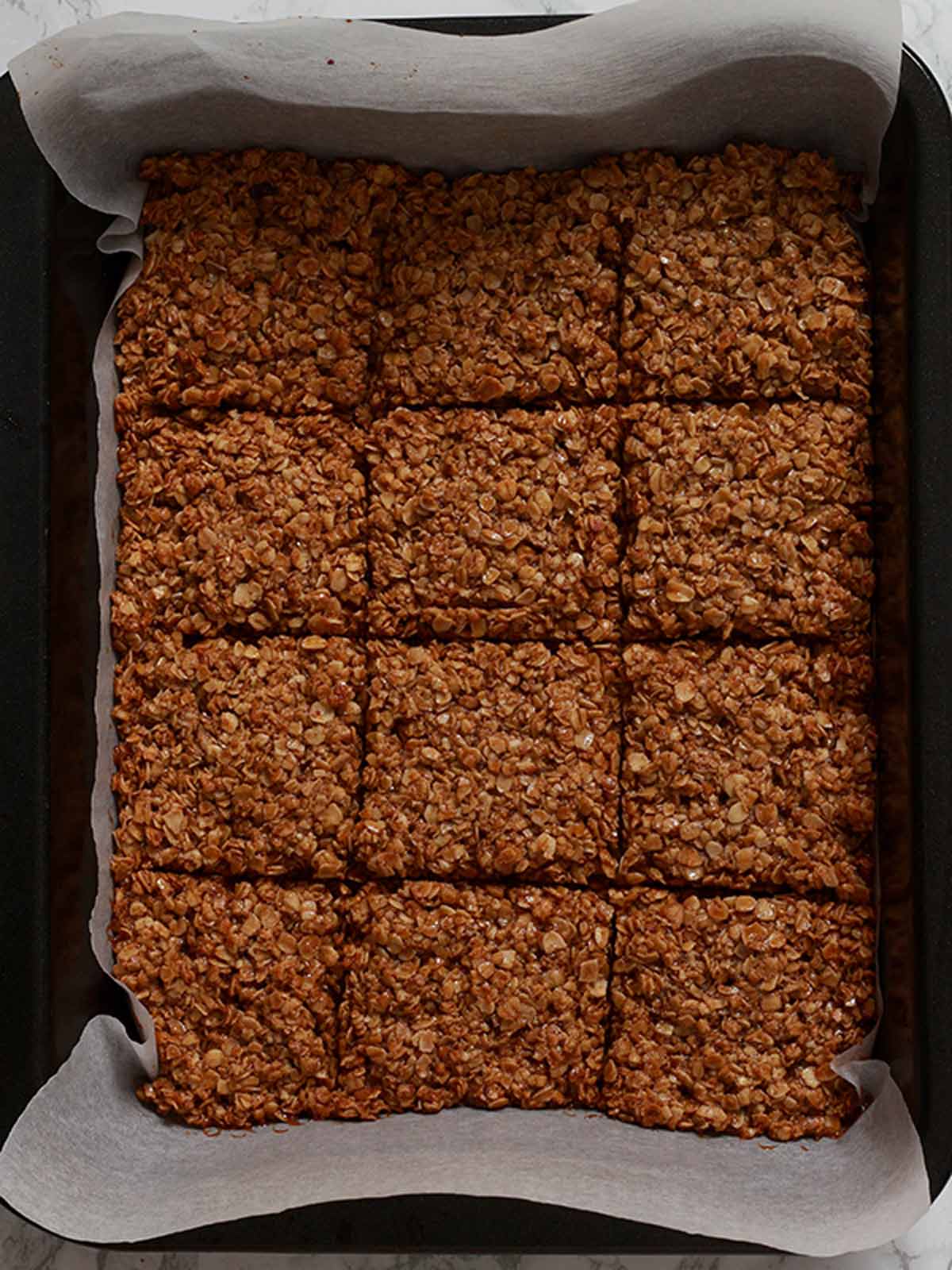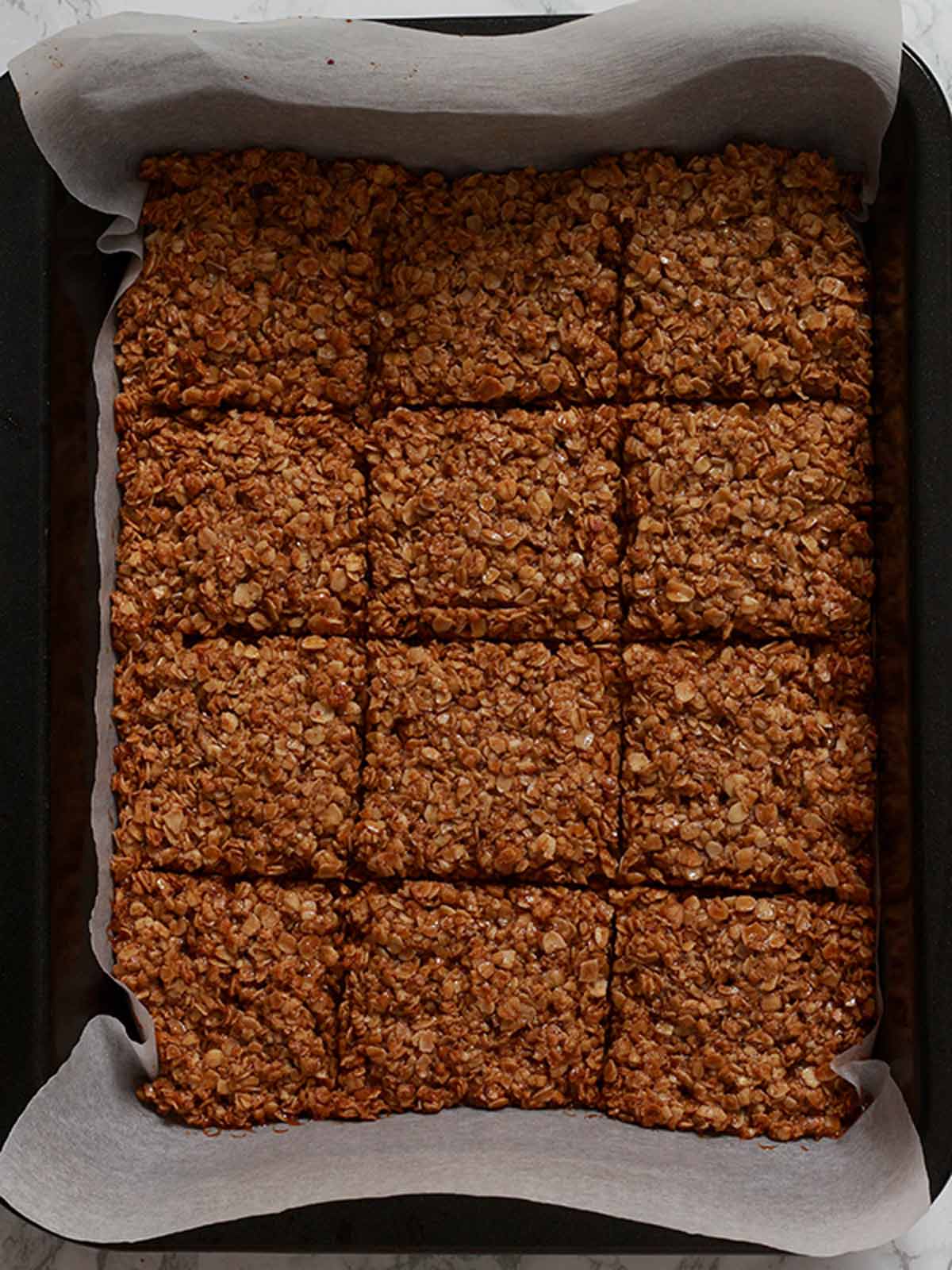 Step 7:
Once cooled, remove the flapjacks from the tin using the baking paper. Cut into slices using the lines you made earlier as a guide.
FAQ
Why are my flapjacks hard?
This is probably due to baking too long or an incorrect oven temperature. You'll know they're ready when they are golden and firm at the edges.
Why are the flapjacks falling apart?
This is usually down to either under-baking or cutting them while they're still warm. You can score them while they're still warm in the tin but don't try to remove them until they're completely cool. Another reason for flapjacks falling apart is not pressing them into the tin firmly enough before baking.
How long will vegan ginger flapjacks last for?
Keep them in an airtight container at room temperature and they'll last for around 5-7 days.
Can I freeze them?
Yep. Just pop them into an airtight container and freeze for up to 1 month. To defrost, transfer them to a wire rack or plate and leave them to sit at room temperature for an hour or two until fully thawed. Do not refreeze.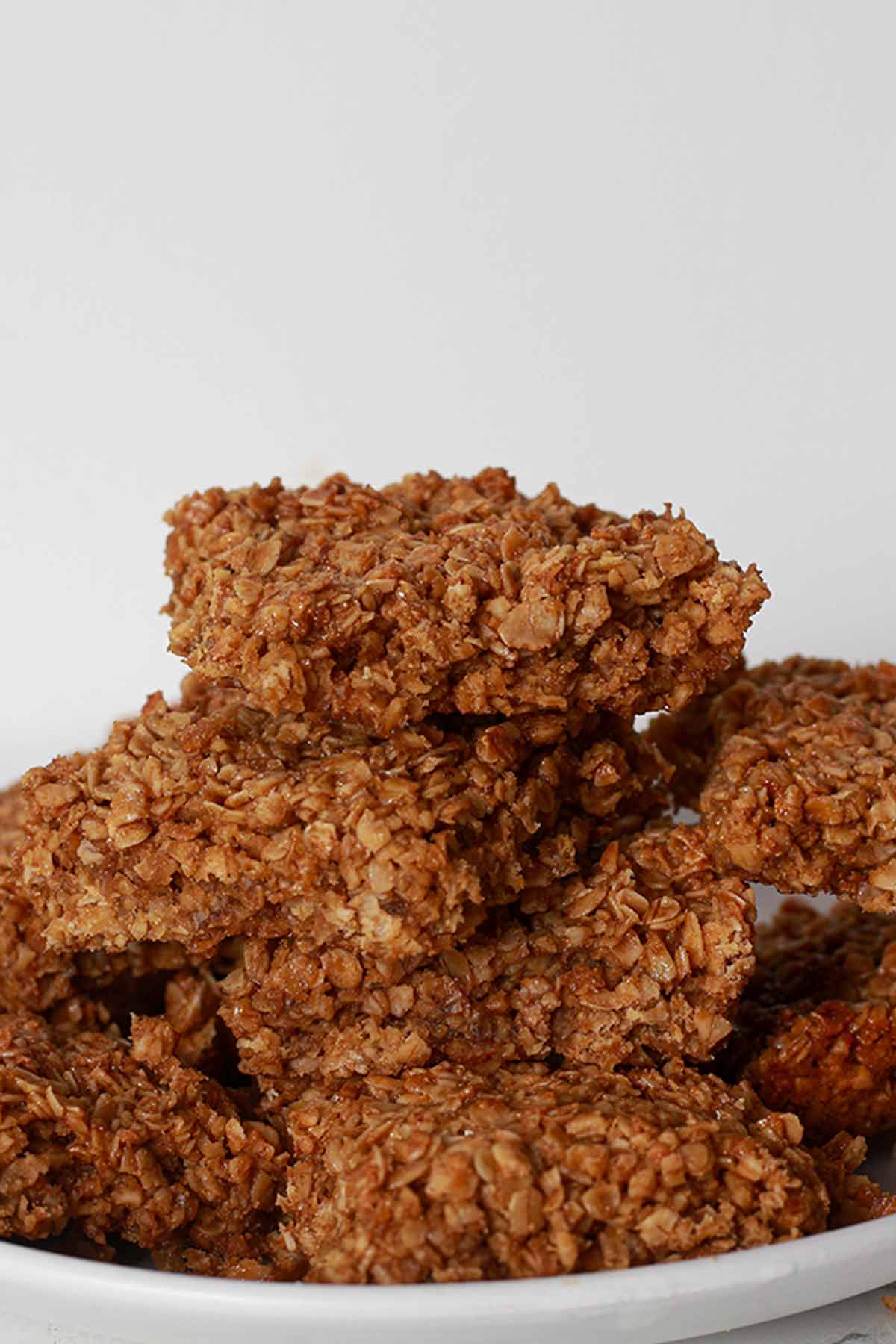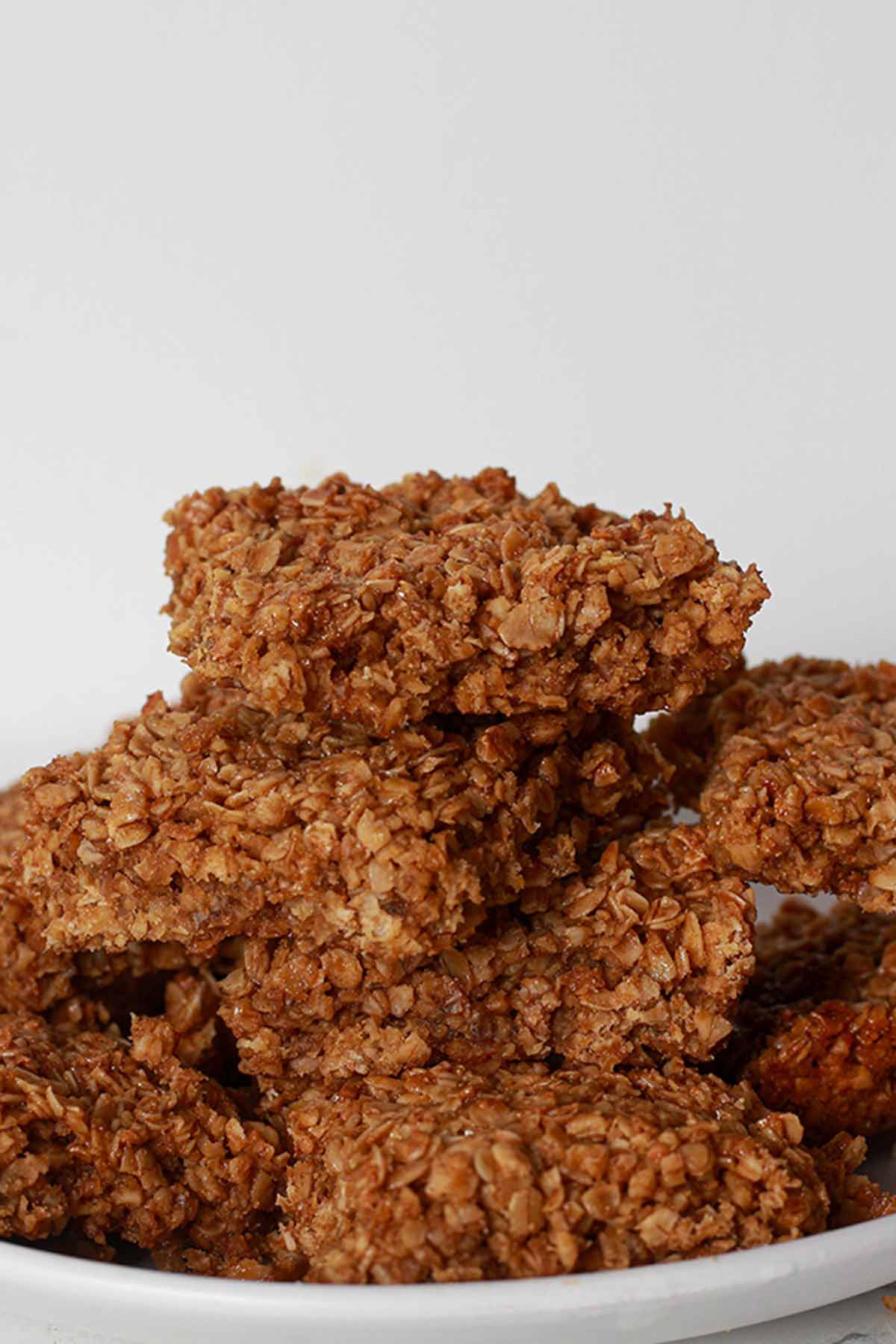 I hope you enjoy these dairy-free ginger flapjacks. If you make them at home, please let me know how it goes by leaving a rating or comment below. Happy baking! xo

Vegan Ginger Flapjacks
Easy, dairy-free ginger flapjacks with only 5 ingredients.
Ingredients
160

g

Vegan margarine

(⅔ cup)

265

g

Rolled oats

(2+¾ cups)

100

g

Dark brown sugar

(½ cup)

3

Tablespoons

Golden syrup

2

Teaspoons

Ground ginger

(this kind, see notes)
Instructions
Preheat your oven to 180°C/350°F (or 160°C/325°F for fan or convection ovens). Line an 8×10-inch tin with baking paper, leaving some hanging over the edges for easy removal later.

Melt the margarine then set it aside for a few minutes to cool slightly.

Mix together the oats, sugar and ginger in a large bowl. Add the melted margarine and golden syrup and mix well until the oats are evenly coated.

Transfer the mixture into the lined tin, pressing down firmly to prevent crumbling once baked.

Bake for ~25 minutes. You'll know they're ready when they are golden and firm at the edges.

While the flapjacks are still warm and in the tin, use a knife to score lines where you plan to cut. Let them cool completely.

Once cool, use the baking paper to remove the flapjacks from the tin. Cut into pieces using the score marks as a guide.
Recipe Notes
Use stem, candied or fresh ginger in place of dried ground ginger if you prefer.
Adjust the baking time if using a smaller tin.
Store in an airtight container for 5-7 days.
Nutrition Facts
Vegan Ginger Flapjacks
Amount Per Serving (1 ginger flapjack)
Calories 72
Calories from Fat 72
% Daily Value*
Fat 8g12%
Sodium 94mg4%
Carbohydrates 19g6%
Protein 1g2%
* All values are an estimate only and will vary depending on the food brands used.
BakedByClo is a participant in the Amazon Services LLC Associates Program, an affiliate advertising program designed to provide a means for sites to earn advertising fees by advertising and linking to Amazon.com. This site may contain some of these links to Amazon.com & other affiliate programs. If you make a purchase through one of those links, BakedByClo will receive a small commission from the purchase at no additional cost to you.