Vegan Empire Biscuits
This vegan Empire biscuits recipe is quick, easy and fuss-free. To make them, all you have to do is sandwich two shortbread rounds together with strawberry jam, top them with thick icing and add a colourful gummy decoration on top!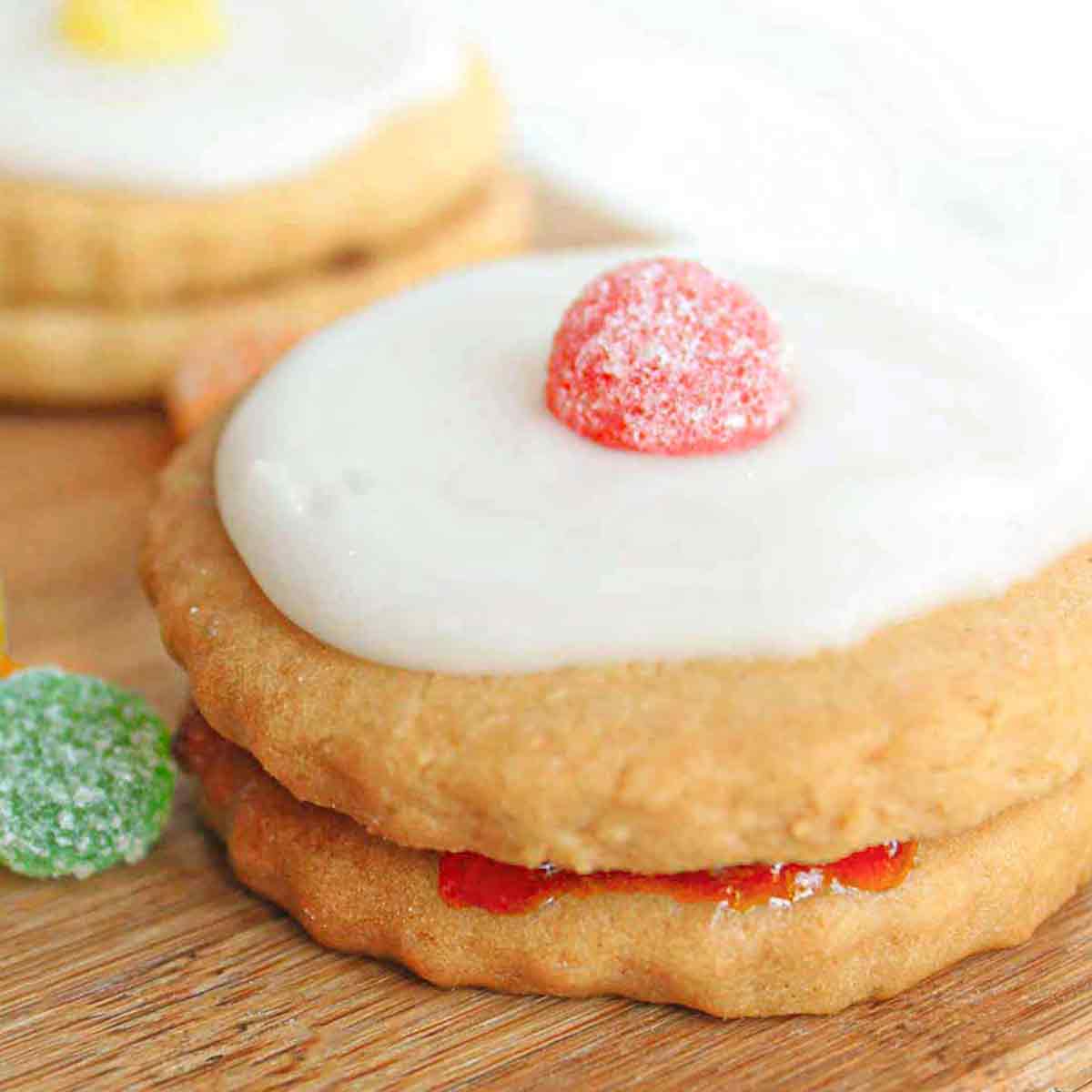 Ever since I was a young child, Empire biscuits have been a solid staple that my gran has always stocked in her cupboards. I'm pretty sure she still buys them to this day.
I couldn't find any accidentally vegan Empire biscuits in the supermarket so I decided to make my own!
I'm not 100% sure, so correct me if I'm wrong, but I think that Empire biscuits might be a Scottish thing. At least, that's what every Google search I made returned back to me.
They are super popular in bakeries here, they contain shortbread which is Scottish, and I've never actually seen them anywhere else in the world. So I'm going to take it upon myself to declare these as a Scottish dessert. If I'm wrong, I'm sorry…don't come for me.
Nevertheless, they are delicious and that's what matters.
If you don't know what Empire biscuits are, allow me to explain. They're basically two rounds of shortbread sandwiched together with strawberry jam and topped with icing.
They're also traditionally topped with a glace cherry but the ones my granny used to buy were always topped with Jelly Tot-type gummies, so that's what I used (they're vegan-friendly in case you didn't know!).
Plus, I really don't like the taste of glace cherries and I think the colourfulness of the Jelly Tots add a nice finishing touch.
The shortbread for the biscuits is also traditionally made with eggs but it's pretty easy to make it without. I adapted the recipe from my granny's old cookbook from the 1960s by simply replacing the egg with a little more margarine.
It worked perfectly! The shortbread has a nice crunch but still has that delicious, melt-in-your-mouth texture.
And by using dairy-free margarine, I made this recipe completely vegan-friendly. What's not to love!?
How To Make Vegan Empire Biscuits
Step 1:
In a medium-sized bowl, cream together 100g of caster sugar (see recipe card below for cup measurements) and 180g of vegan margarine.
If you're not vegan and/or don't want to use vegan margarine, I'd recommend using dairy margarine (soft and spreadable) over dairy butter (blocky) because it has the softer consistency you need for this recipe.
Mix the two ingredients together until smooth.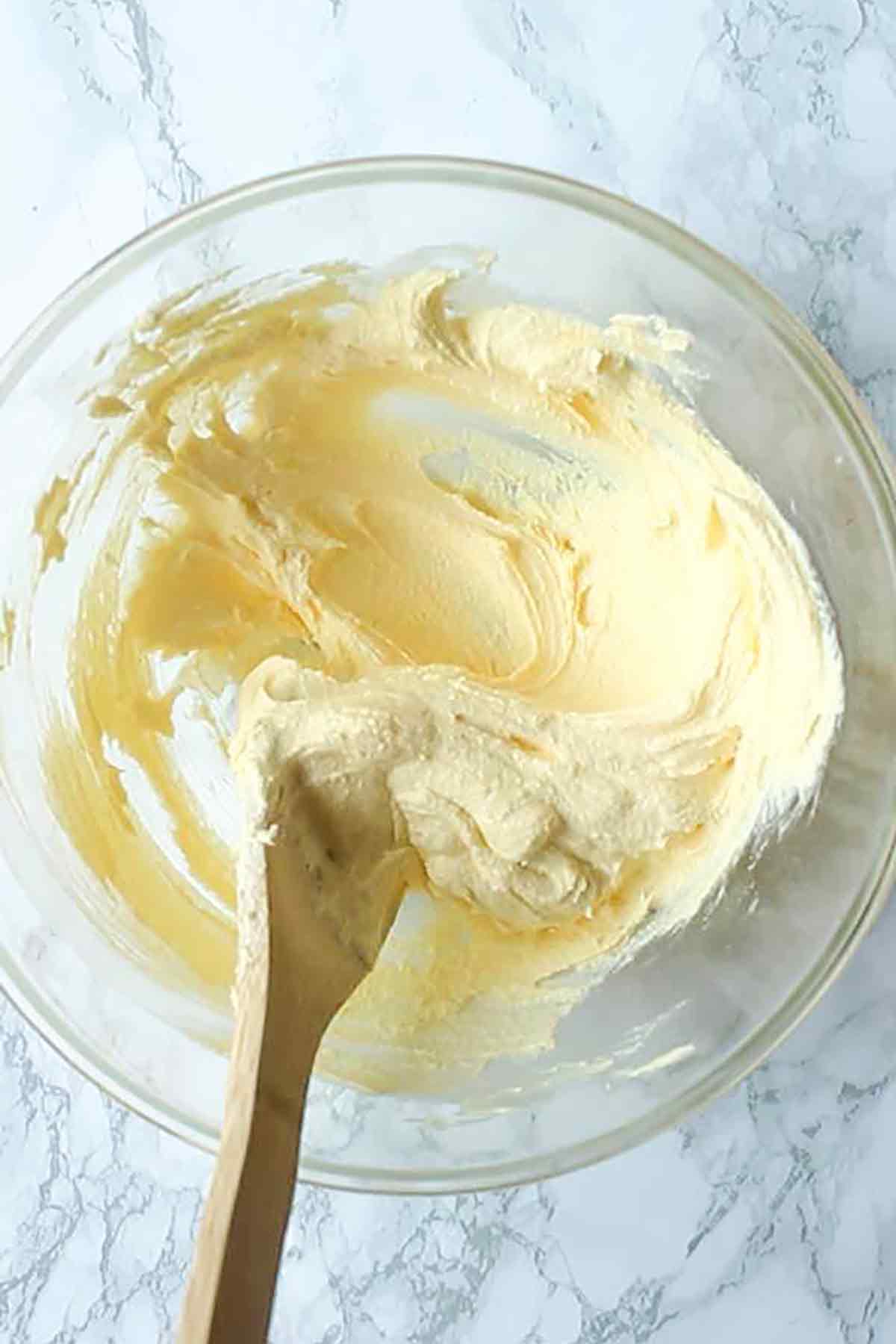 Step 2:
Next, add 300g of plain (all-purpose) flour to the bowl. Mix with a spoon until small pieces of the mixture start to clump together.
Now use your hands (making sure they are clean!) to squash the mixture together to form a dough.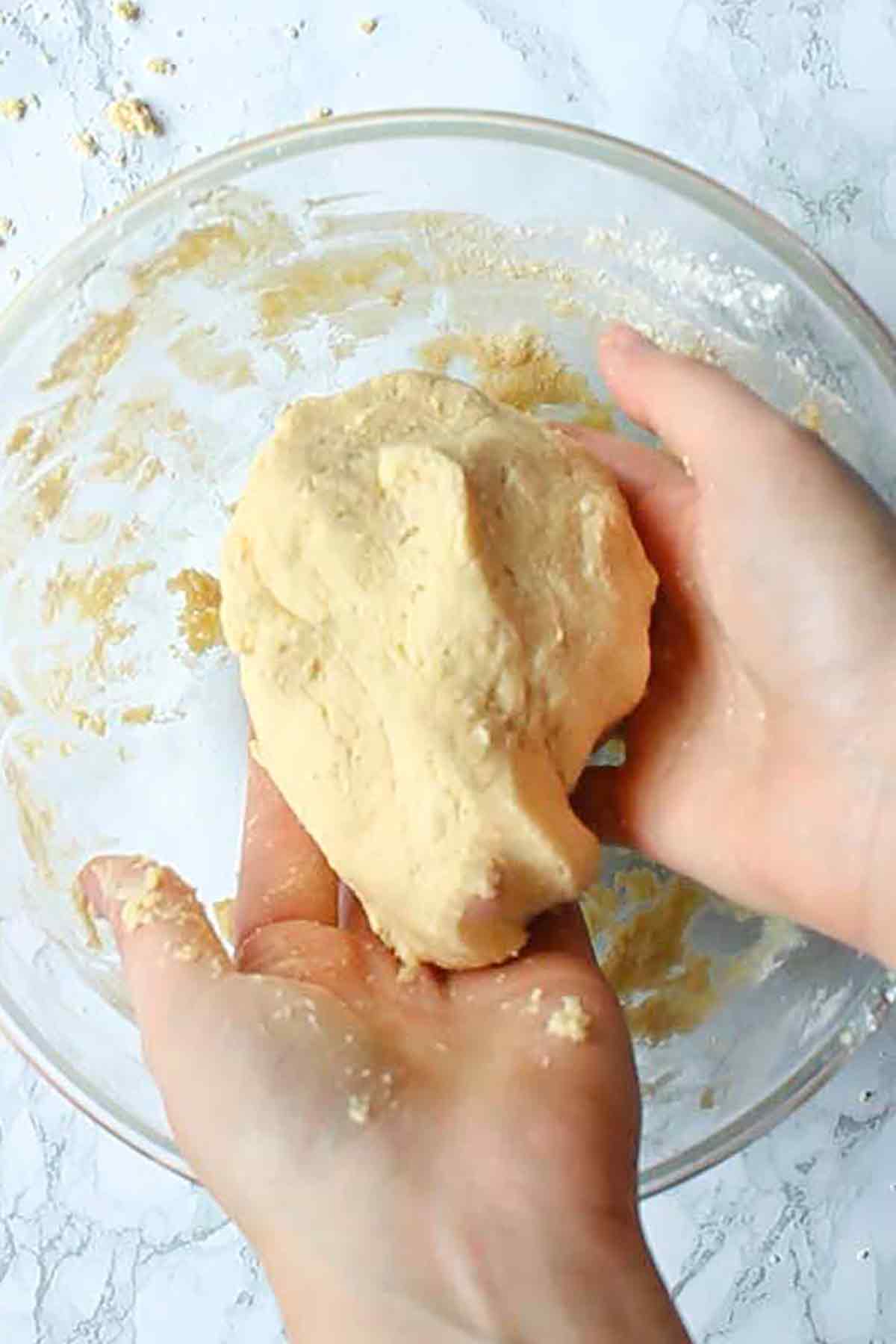 Place the dough into the fridge to chill for 30 minutes. This will help it to firm up a little and will also prevent the shortbread from losing shape while it's in the oven.
This is also a good time to preheat your oven to 180°C/350°F and line two large baking trays with parchment paper. If you're using a fan or convection oven, set your oven to 160°C/325°F instead.
Step 3:
Remove the dough from the fridge. At this point, it should be ever so slightly sticky but not wet. It shouldn't stick to your hands or work surfaces. Watch the video on this page for reference if you're not sure.
If it's too sticky, you may need to add a little more flour until it becomes manageable. This will depend on which brand of vegan margarine you use as some can be "wetter" than others.
I tested the recipe a few times and found 300g to be the perfect amount of flour.
Step 4:
Lightly flour your work surface and a rolling pin then roll your dough out to 1/2 an inch thick.
Cut out your biscuit shapes using a 3-inch cookie cutter and keep reusing and rerolling the leftover pieces of dough until it has all been used up.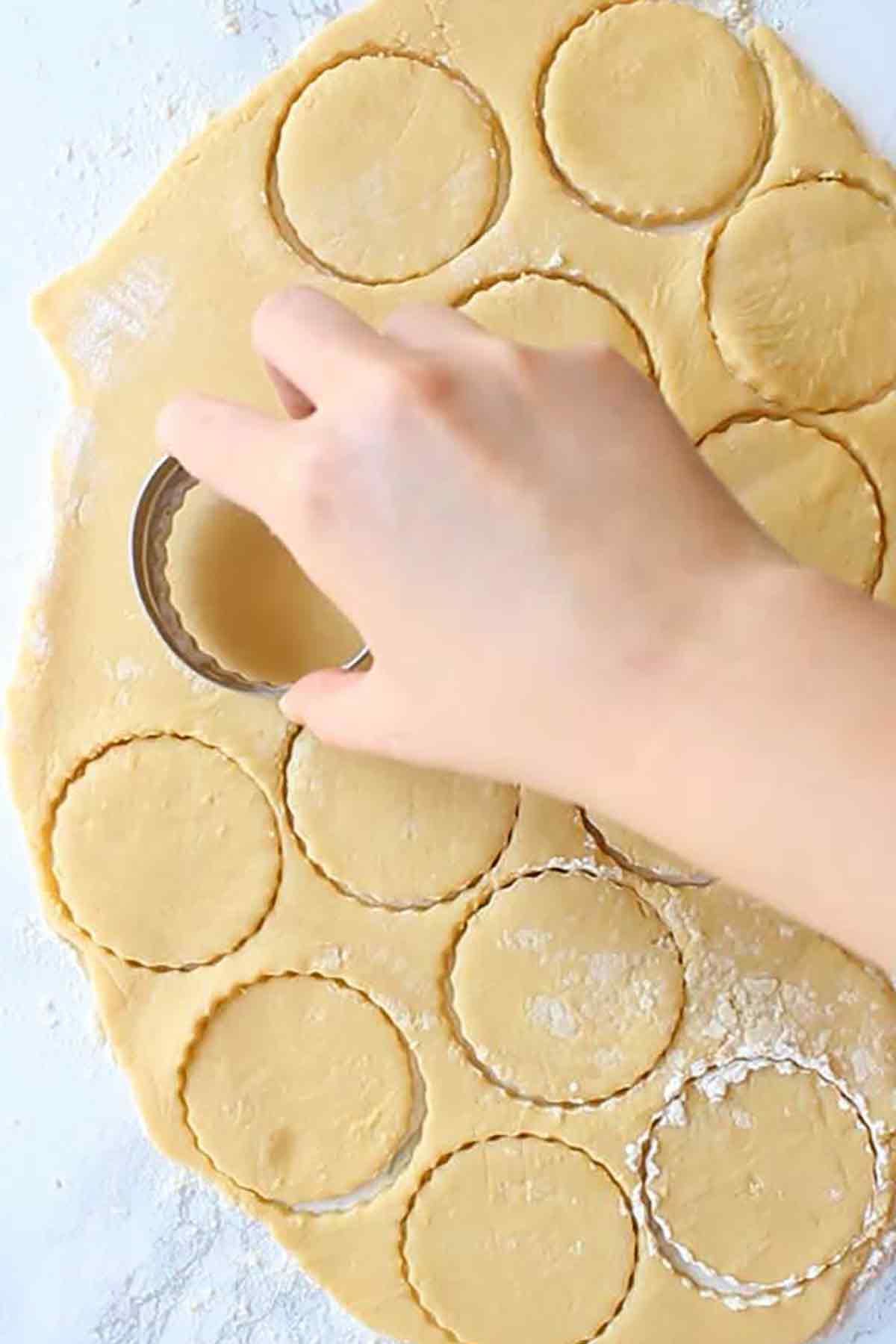 You should end up with around 24 shortbread biscuits, which will give you 12 sandwiched empire biscuits.
Step 5:
Bake the biscuits for ~18-20 minutes. They will still be soft but will firm up as they cool.
Transfer them to a wire rack and allow them to cool completely.
Step 6:
Sandwich the biscuits together in pairs using strawberry jam. I used around 1/2 a tablespoon of jam for each pair of biscuits.
Step 7:
Prepare your icing by mixing 200g of powdered sugar with 3 tablespoons of cold water until smooth.
Gently spread some on top of each sandwiched biscuit, using the back of a teaspoon to spread it out to the edges.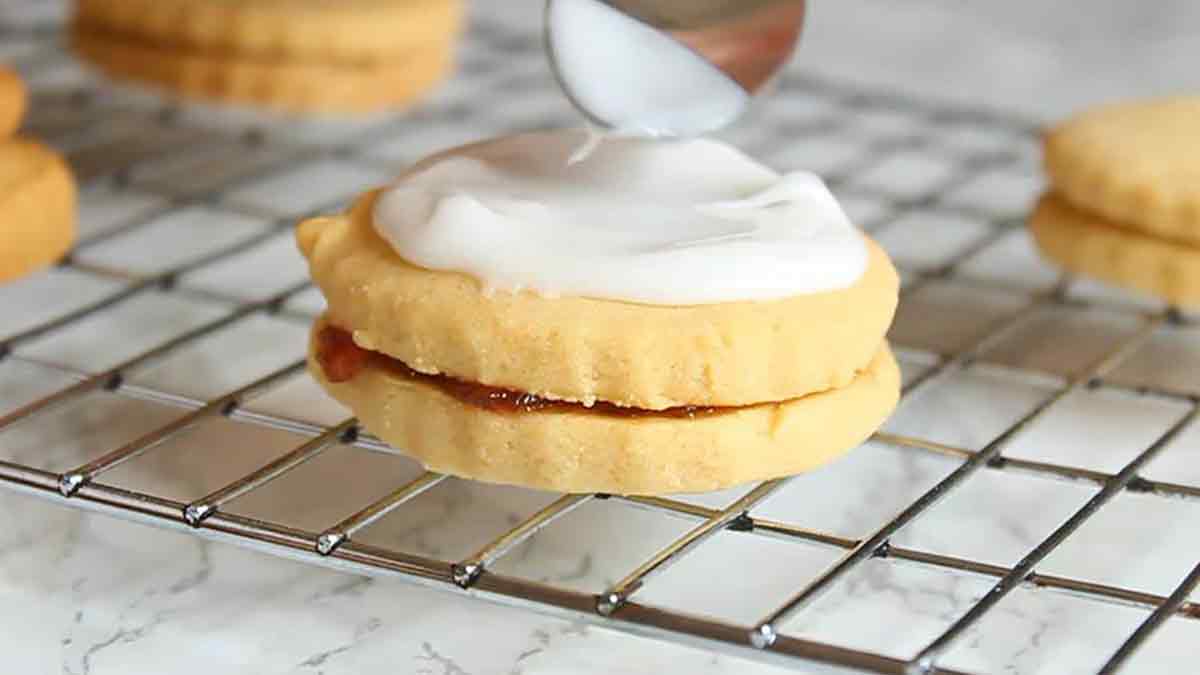 Step 8:
Top each empire biscuit with a Jelly Tot or half of a glace cherry while the icing is still wet.
Step 9:
Leave the biscuits to rest for 30 minutes to allow the icing to set and stiffen slightly.
Now you can eat them and enjoy your creation!
FAQ
How should Empire Biscuits be stored?
Keep them in an airtight container at room temperature, or in a cool, dry place like a kitchen cupboard. They will last for up to 4 days this way. You can stretch out their lifeline slightly longer if you need to but the shortbread will be starting to get a little soggy by this point.
Can they be frozen?
Yes! I froze some in airtight containers with the jam, icing and Jelly Tot on.

To defrost them, I just transferred them to a plate and allowed them to sit at room temperature for a few hours. They still tasted perfectly crunchy!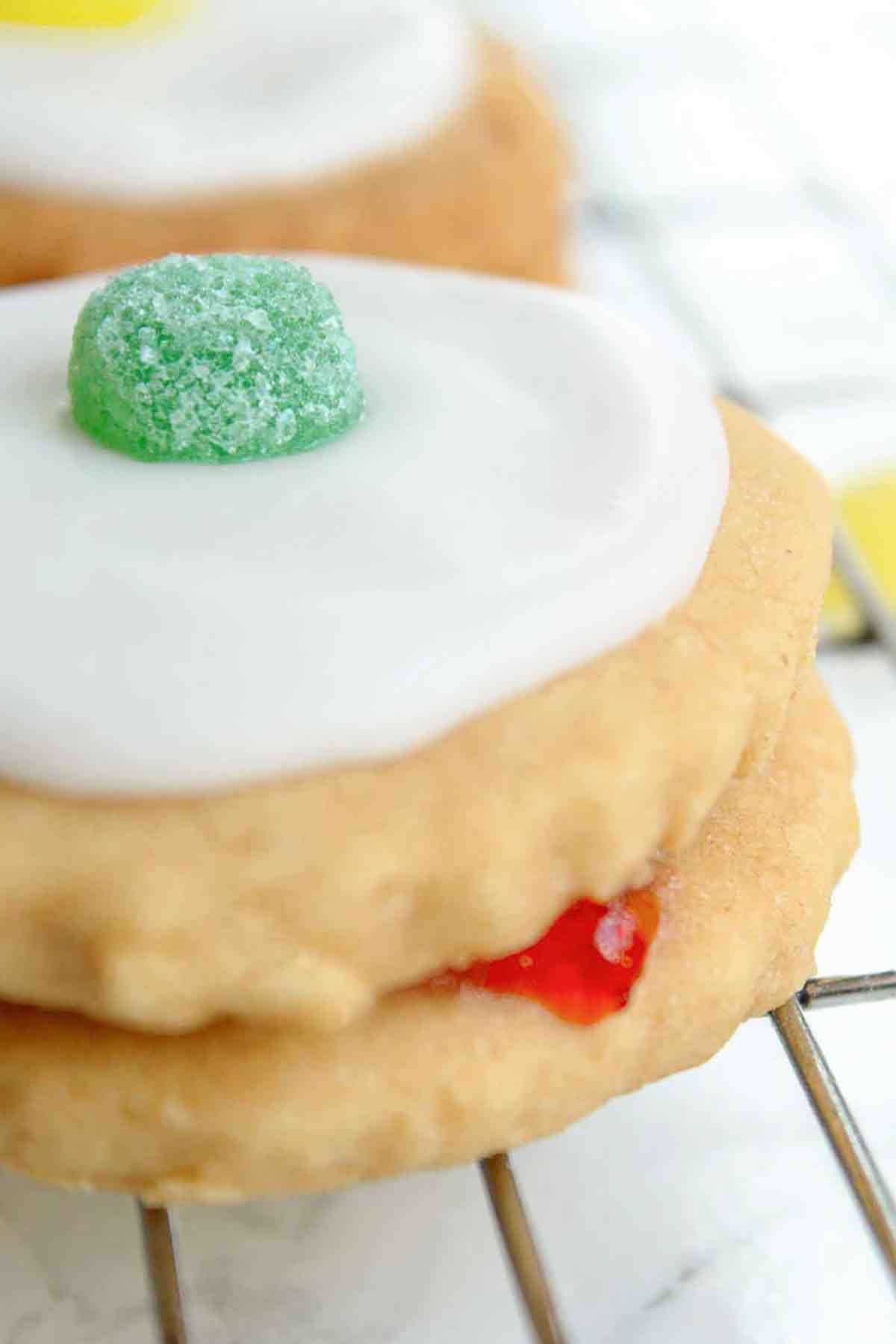 More vegan desserts
I hope you enjoy these vegan Empire biscuits and if you give them a go yourself, please leave a comment or rating below to let me know how it went. Or tag me on Instagram @bakedbyclo. Happy baking! xo

Vegan Empire Biscuits
Dairy-free crunchy shortbread rounds sandwiched together with strawberry jam and topped with icing and jelly sweets.
Servings
12
sandwiched biscuits
Ingredients
180

g

Vegan margarine

(3/4 cup)

100

g

Caster sugar

(½ cup)

300

g

Plain flour

(2 + ¼ cups)

6

Tablespoons

Strawberry jam

200

g

Icing sugar

(1 + ½ cups)

3

Tablespoons

Cold water

12

Gummy sweets (or 6 glace cherries) I used Jelly Tots
Instructions
In a medium-sized bowl, cream together the margarine and sugar until smooth.

Add in all of the flour and stir gently until the mixture starts to stick together. Then use your hands to press it together into a dough as best as you can. It might be crumbly but it will hold together better after refrigeration.

Place the dough in the fridge for 30 minutes.

Preheat your oven to 180°C/350°F (or 160°C/325°F if you're using a fan or convection oven) and line two large baking trays with parchment paper.

Remove your dough from the fridge and knead lightly on a lightly floured surface to warm it up and remove any cracks. Roll it out to around ½ an inch thick.

Cut out your biscuit shapes and place them onto your baking tray. Re-roll the leftover pieces of dough until it's all used. If you use a 3-inch cookie cutter, you should end up with around 24 biscuits.

Place your biscuits into the oven and bake for around 18-20 minutes. Smaller sized biscuits will need less time to bake. They will still be slightly soft but will firm up as they cool. Allow them to cool completely on a wire rack.

Once the biscuits are cool, use the jam to sandwich them together in pairs. You may want to give the jam a quick mix first as the biscuits may break if it's too stiff.

Mix the icing sugar and water together in a small bowl and use a teaspoon to gently spread some on top of each sandwiched biscuit.

While the icing is still wet, place 1 Jelly Tot on top of each biscuit. Alternatively, you can use ½ of a glace cherry.

Leave the biscuits for around 30 minutes to allow the icing to set, then enjoy!
Recipe Notes
These can be stored in an airtight container for up to 4 days.
Nutrition Facts
Vegan Empire Biscuits
Amount Per Serving (1 biscuit)
Calories 300
Calories from Fat 90
% Daily Value*
Fat 10g15%
Sodium 2mg0%
Carbohydrates 45g15%
Protein 3g6%
* All values are an estimate only and will vary depending on the food brands used.
BakedByClo is a participant in the Amazon Services LLC Associates Program, an affiliate advertising program designed to provide a means for sites to earn advertising fees by advertising and linking to Amazon.com. This site may contain some of these links to Amazon.com & other affiliate programs. If you make a purchase through one of those links, BakedByClo will receive a small commission from the purchase at no additional cost to you.