This vegan gluten-free shortbread recipe is not only crunchy and authentic, it's also refined sugar free, too! With only 5 ingredients, it's super easy and is perfect for novice bakers.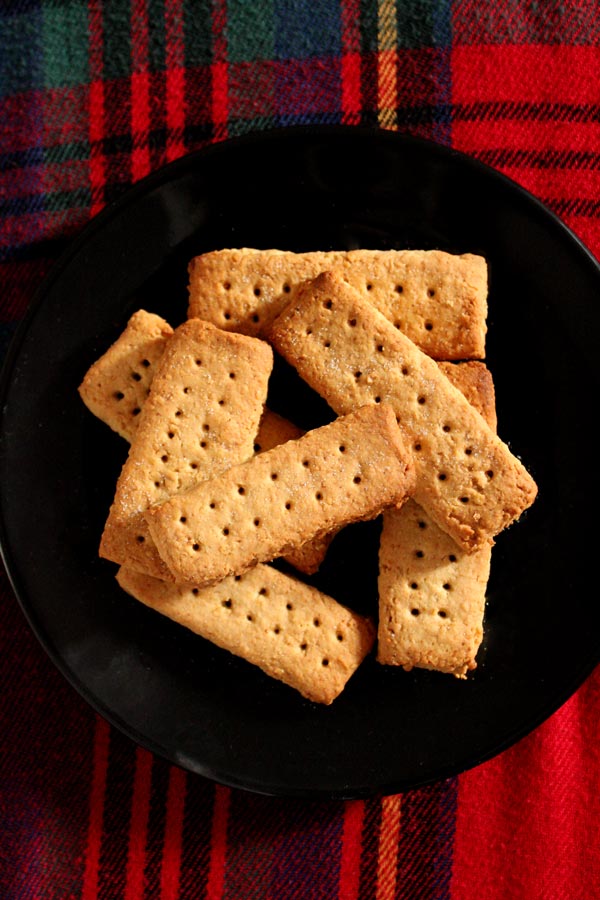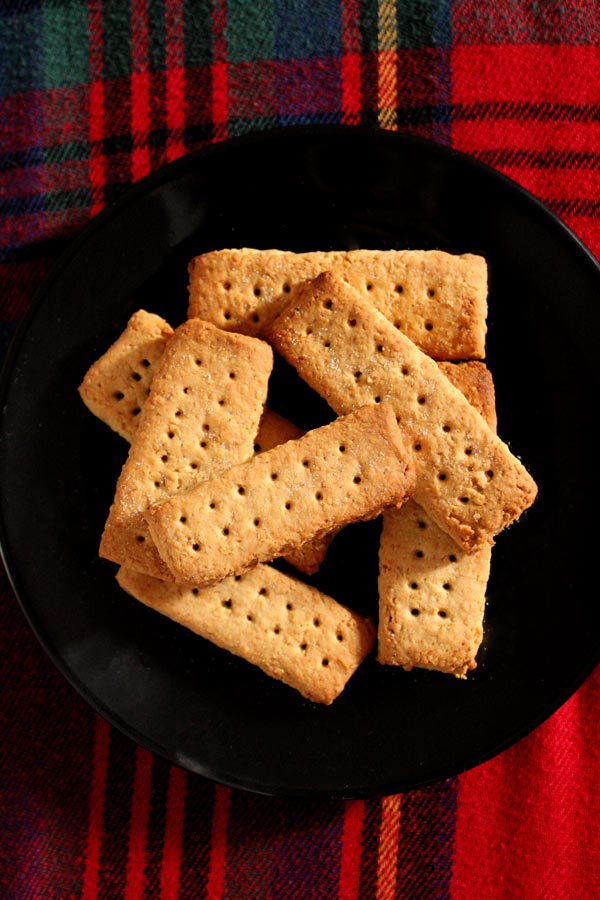 Shortbread. I love the stuff. Being Scottish, it's been a staple in our household for as long as I can remember. Particularly around Christmas time. My family and I used to give and receive boxes and boxes of the stuff each year. So I always feel festive every time I'm eating it, no matter what time of the year it is.
Shortbread is a Scottish biscuit/cookie that is traditionally made up of oat flour, sugar and lots of butter. But, thanks to the genius invention of vegan butter, it wasn't too hard to create this vegan gluten-free shortbread recipe. I did consider using coconut oil instead, but it lacks that buttery flavour that shortbread is so well known for.
This vegan gluten-free shortbread recipe is WAY healthier than traditional shortbread
I was going to say that this is the first time I've ever made shortbread. That is, until I remembered the time I found my gran's "microwave recipes" cookbook when I was 12. I attempted to make shortbread IN THE MICROWAVE and what a shocker, I failed miserably. It ended up completely burnt and glued to the dish. It burned so badly, that the dish also had to go in the bin. My cousin still likes to make fun of me for that and bring it up at every opportunity. 13 years later. Good times.
Luckily for you (and my kitchenware), this attempt was much more successful. I veganised a recipe I found in an old-school cookbook dated way back in 1960! The original recipe also called for golden syrup but I used maple syrup instead to make it a little healthier. The result? This vegan gluten-free shortbread has only 5 GRAMS OF SUGAR per serving! What a treat!
In addition to maple syrup, you'll only need 4 other ingredients for this vegan gluten-free shortbread recipe which is why I love it so much. Vegan butter, vanilla, oat flour, and gluten-free plain flour. That's it! Pretty amazing, right? If you want to make this recipe even healthier, you can try replacing the plain flour with almond flour. Although, I haven't tried this myself so I can't personally vouch for it.
Important note for making vegan gluten-free shortbread
Once you've made the dough, it's important to let it chill for 5 minutes or so. This allows it to firm up a bit which makes it much easier to roll. It might be a bit sticky, depending on the brand of vegan butter that you use, so you'll need to flour your surface and rolling pin. And if necessary, you can always add a little more flour to your dough too.
I went down the traditional route and cut the dough into fingers. I think it looks super authentic cut that way. But you can go all out an experiment with different cookie cutters. I've seen lots of pretty looking shortbread shapes out there, so go as crazy as you like!
I know you're going to LOVE this vegan gluten-free shortbread recipe. Be sure to tag me on Instagram @bakedbyclo and share your creations!
Happy baking!

VEGAN GLUTEN FREE SHORTBREAD RECIPE
A traditionally Scottish biscuit made with flour, butter and sugar. Except this recipe is vegan, gluten free and refined sugar free!
Course:
Breakfast, Dessert, Snack
Keyword:
vegan shortbread
Ingredients
3

Tbsp

Maple syrup or agave nectar

85

g

Vegan butter

(¼ cup + 1 tablespoon)

1

Tsp

Vanilla essence

90

g

Gluten-free plain flour

(¾ cup)

85

g

Oat flour

(¾ cup)

2

Tablespoons

Caster sugar, to dust

(optional)
Instructions
Preheat oven to 170°C/ 340°F and line a baking tray with parchment paper.

Cream together the maple syrup, butter and vanilla.

Add in the flour and oat flour and use your hands to form a slightly sticky dough. Refrigerate the dough for 30 minutes.

Knead the chilled dough to get any cracks out then gently roll it out to about 1 inch thick. Cut into rounds or fingers and carefully transfer onto your baking tray.

Dock the dough shapes using a fork and bake for 20-25 minutes until golden brown at the edges.

Allow the shortbread to cool completely before attempting to remove it from the tray. Sprinkle sugar on top if desired and enjoy!
Nutrition Facts
VEGAN GLUTEN FREE SHORTBREAD RECIPE
Amount Per Serving
Calories 160
* All values are an estimate only and will vary depending on the food brands used.