36 Vegan Christmas Desserts
Looking for some delicious vegan Christmas desserts to enjoy on the big day? Look no further! I've compiled a list of 36 of the best festive puds to help you out. On this page, you'll find recipes for Yule logs, aqua faba pavlova, macarons, cheesecake, cookies, cinnamon rolls and more!
When I first went vegan a few years ago, I really struggled to find a good post Christmas dinner dessert. I hadn't learned how to bake vegan yet, so I relied on ready-made options from the shops. At that time. my options were dairy-free soy ice cream and accidentally vegan biscuits. Doesn't sound very festive, does it?
Fortunately, vegan Christmas desserts have come a long way and there are many Christmas desserts to buy in supermarkets now. But there are also many other delicious dessert options that are only available homemade, which is why I made this post.
The best vegan Christmas desserts
This round-up contains all of my favourite eggless, dairy-free festive desserts, including things such as chocolate Yule log, aqua faba pavlova and macarons, Biscoff cinnamon rolls and no-bake banoffee pie. Simply use the table of contents menu below to jump to your desired dessert. Enjoy!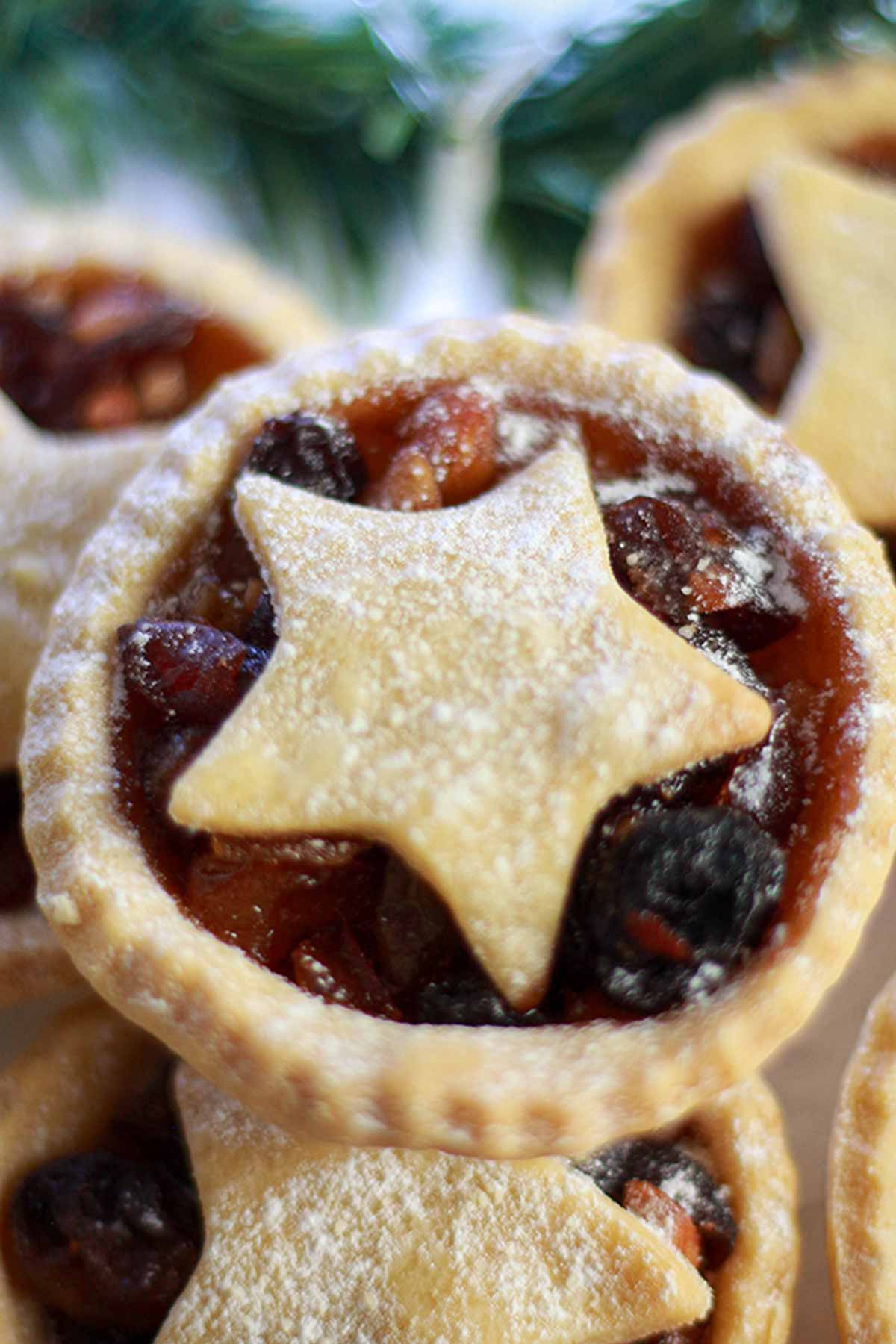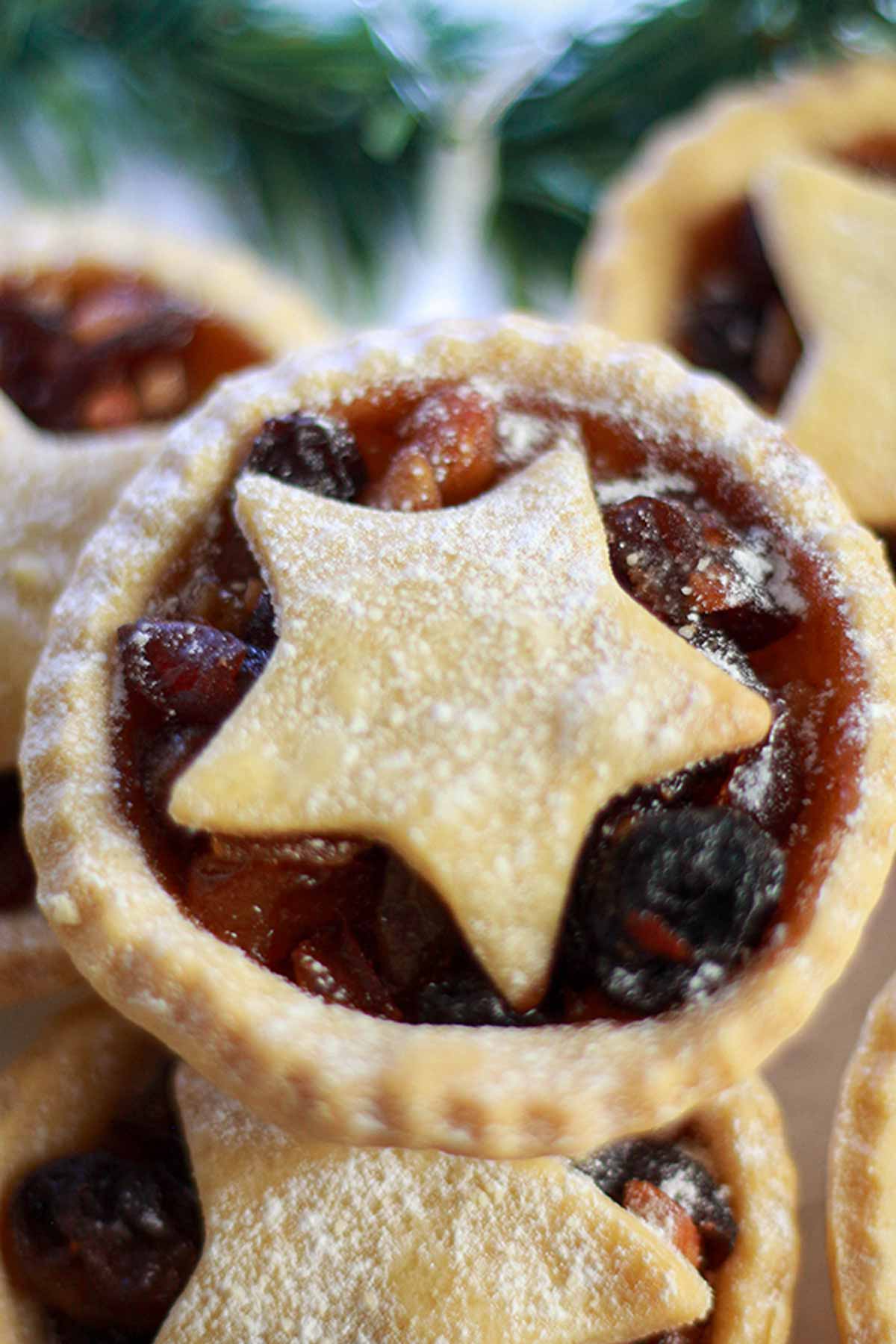 Crumbly shortcrust pastry filled with homemade boozy mincemeat. You can find the recipe for homemade mincemeat here.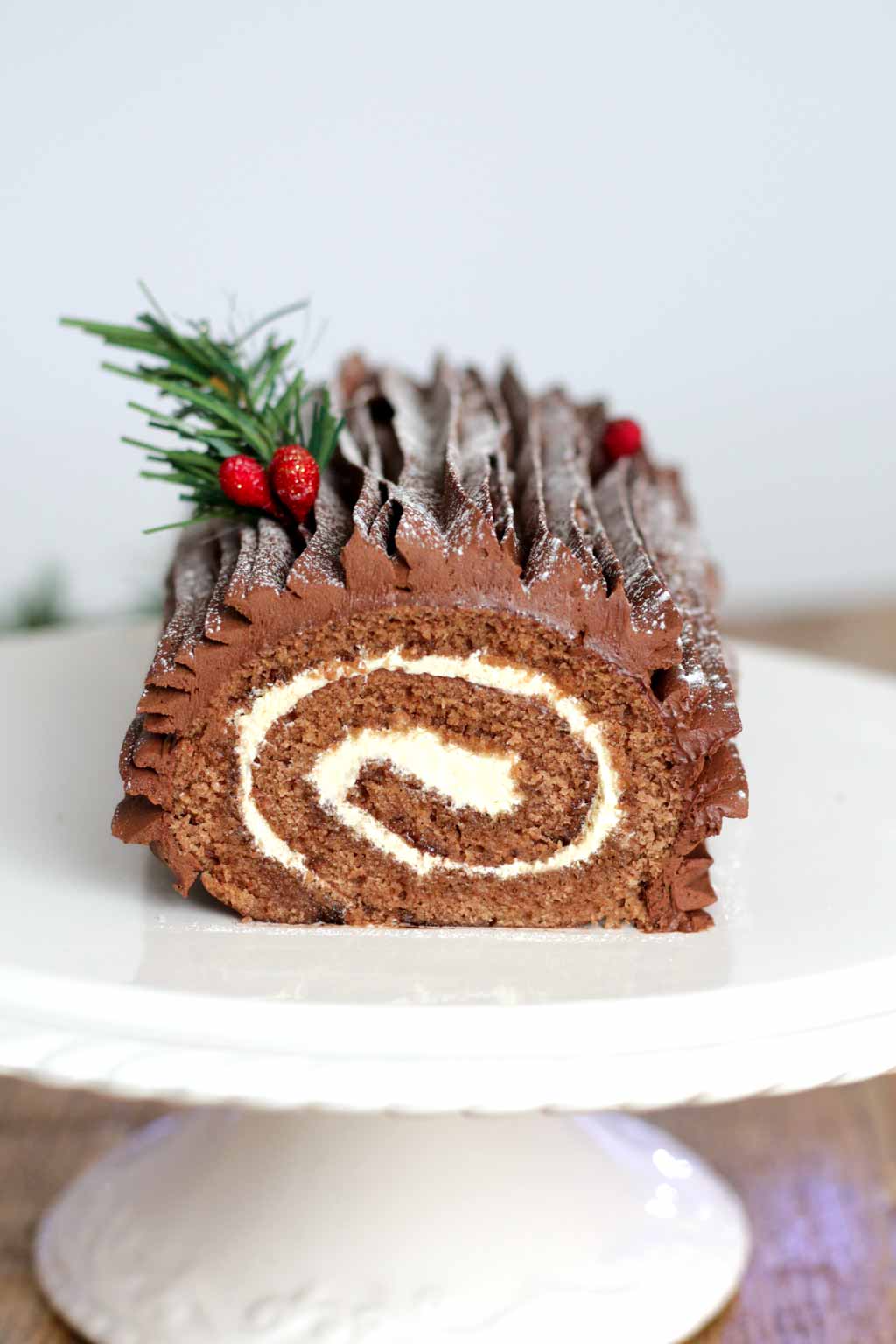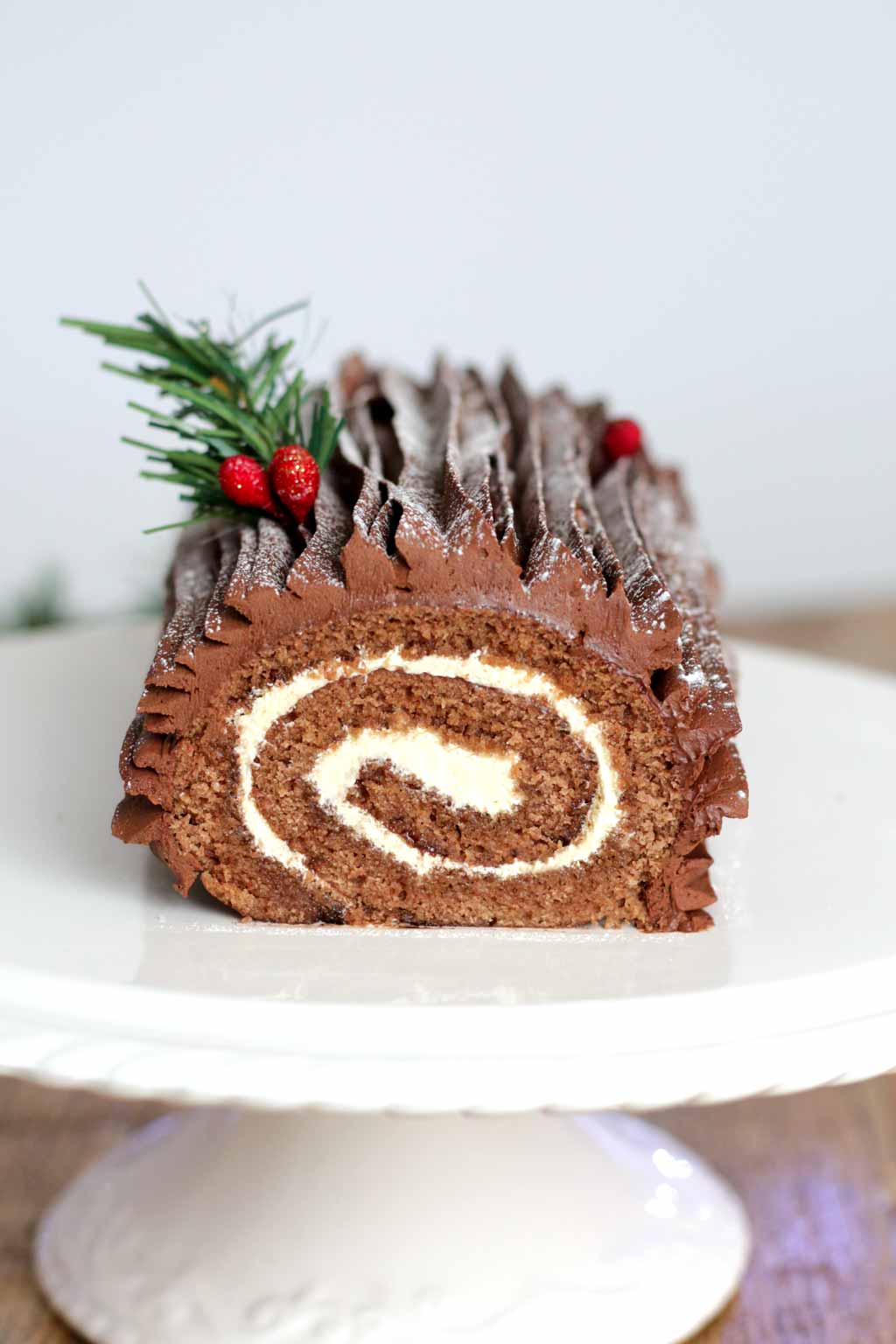 If you've never made a Yule log before, this one might take a little bit of practice. There's definitely some skill required to get a crack-free roll but any tears can be easily covered with the creamy ganache. It's a show-stopping dessert that makes a beautiful Christmas centrepiece.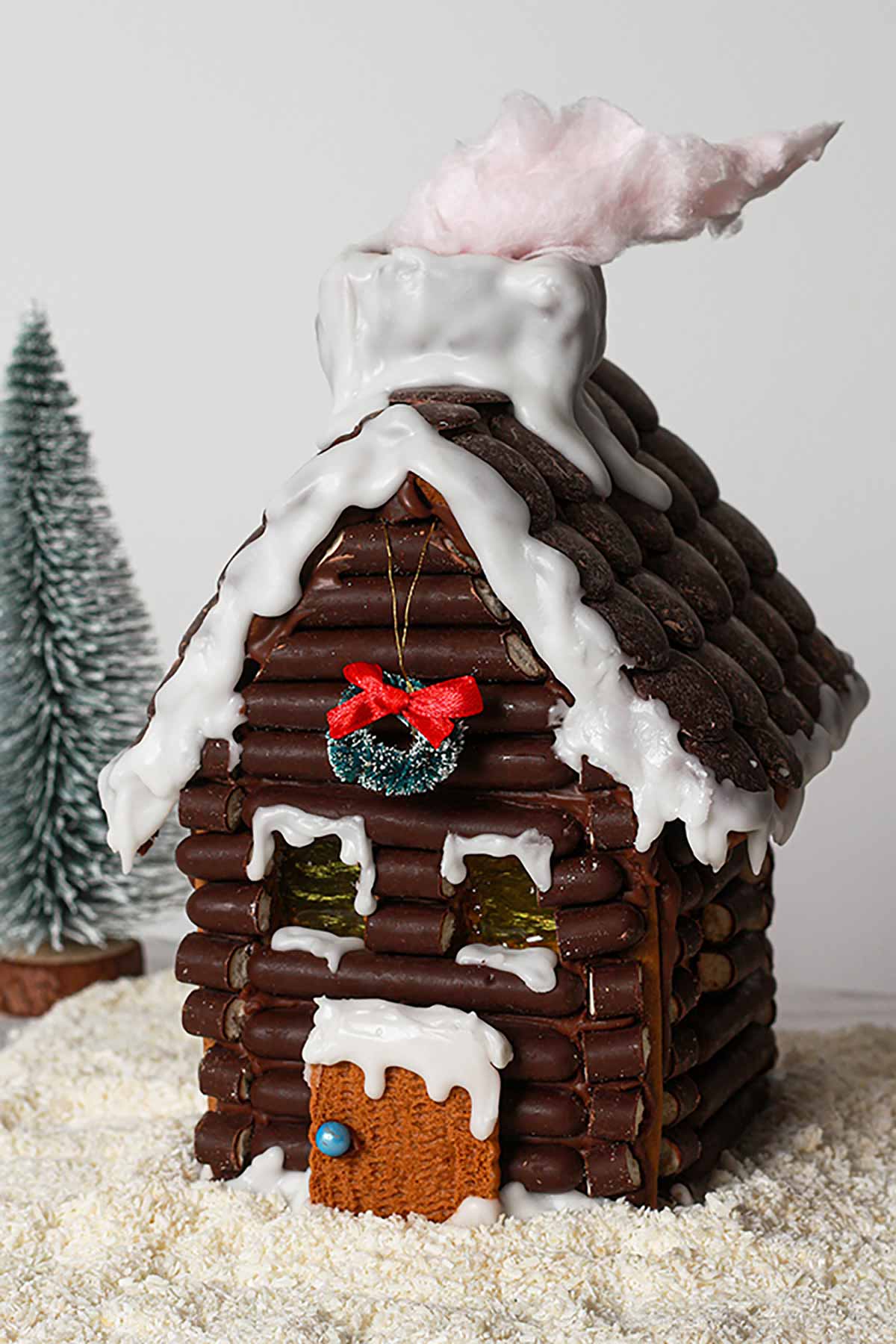 Decorated to look like a log cabin, this vegan gingerbread house is a great Christmas project if you fancy something a little more challenging. It even includes a Biscoff biscuit door.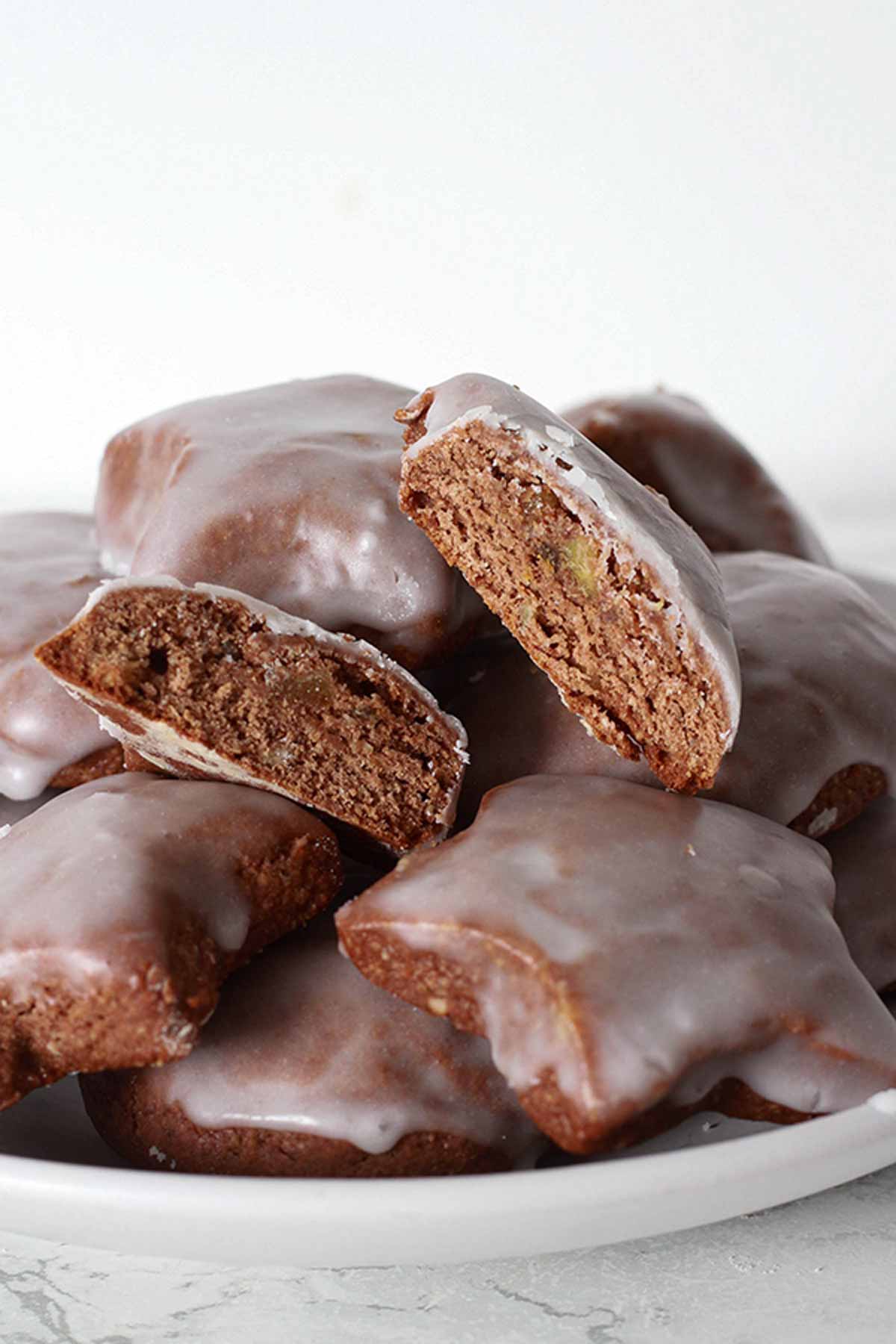 Classic German gingerbread cookies, these Lebkuchen are soft and cakey with a zesty lemon glaze. They're full of flavour and will make your whole house smell lovely!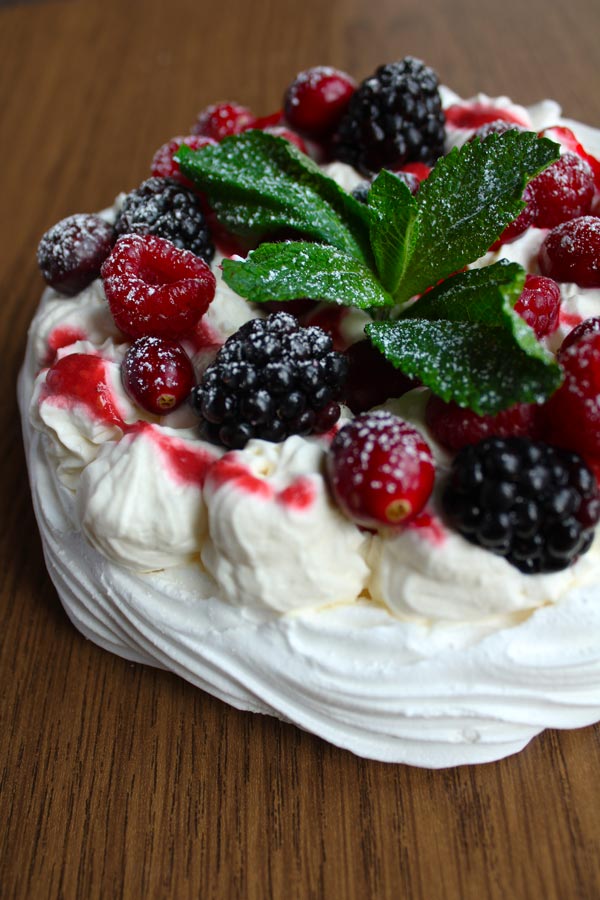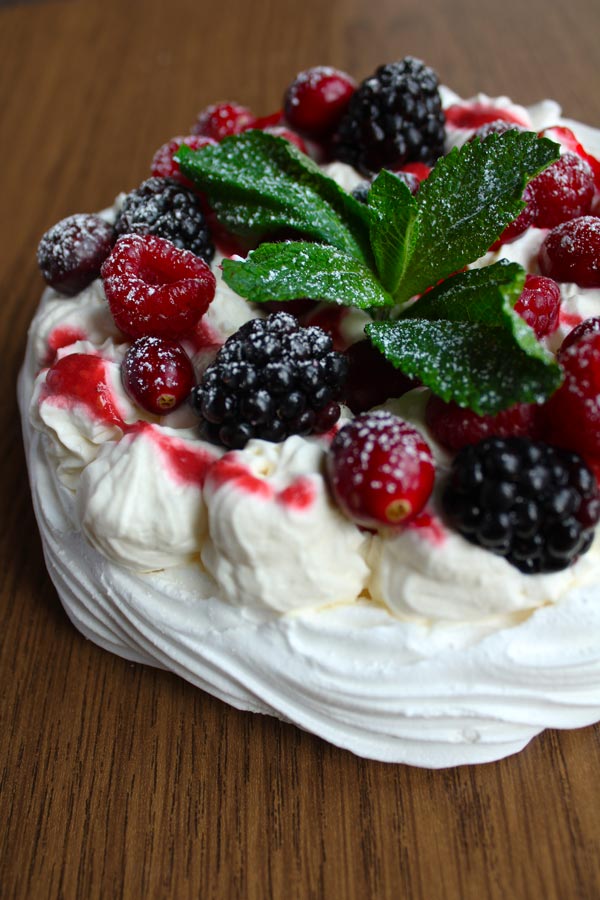 Yup, an eggless pavlova! Made with aqua faba (chickpea brine) instead of egg whites, this pavlova is a great alternative for vegans or anyone on an egg-free diet. Top it with dairy-free whipped cream and decorate with fresh fruit of your choice.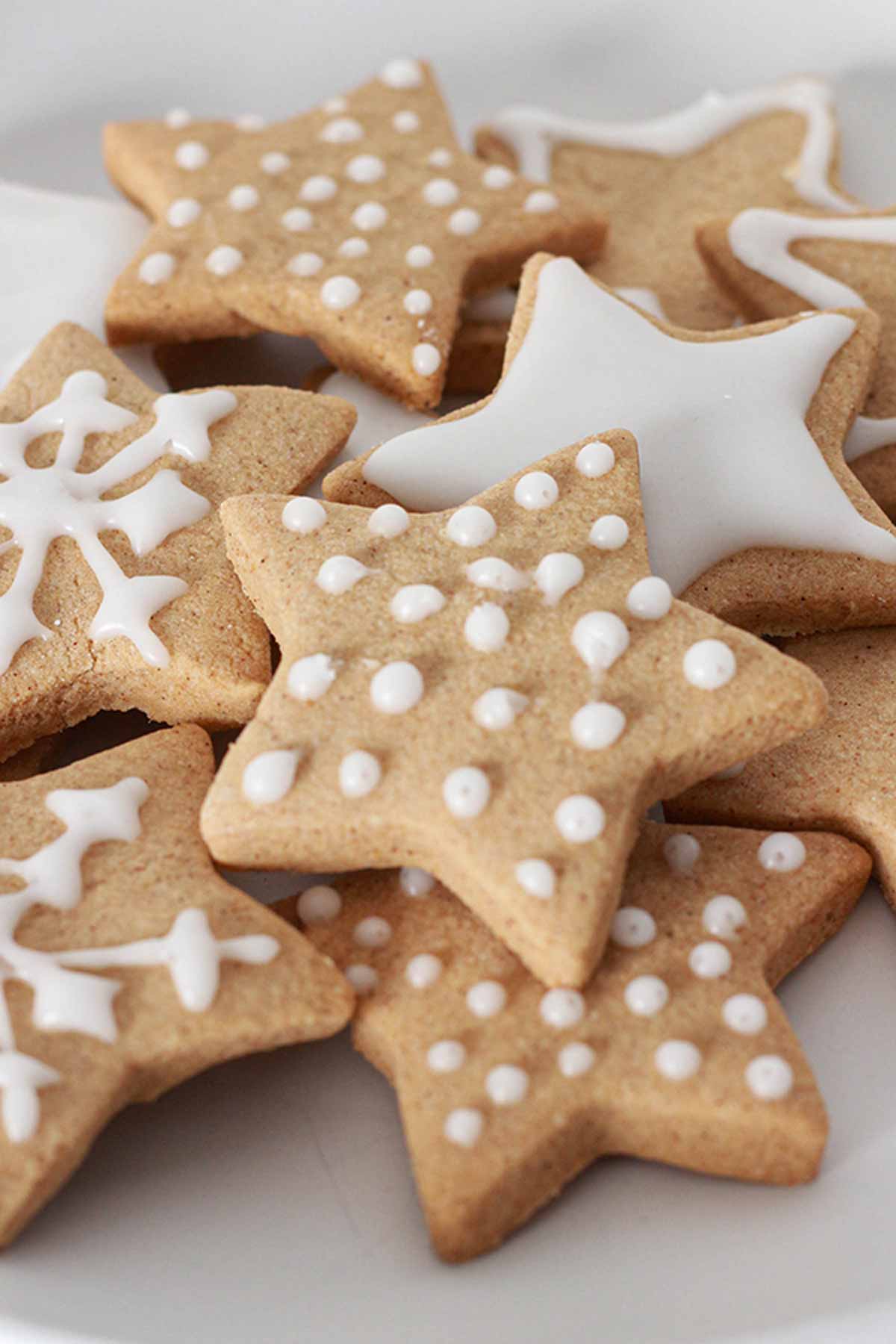 Easy gluten-free Christmas biscuits filled with warming spices and topped with glace icing.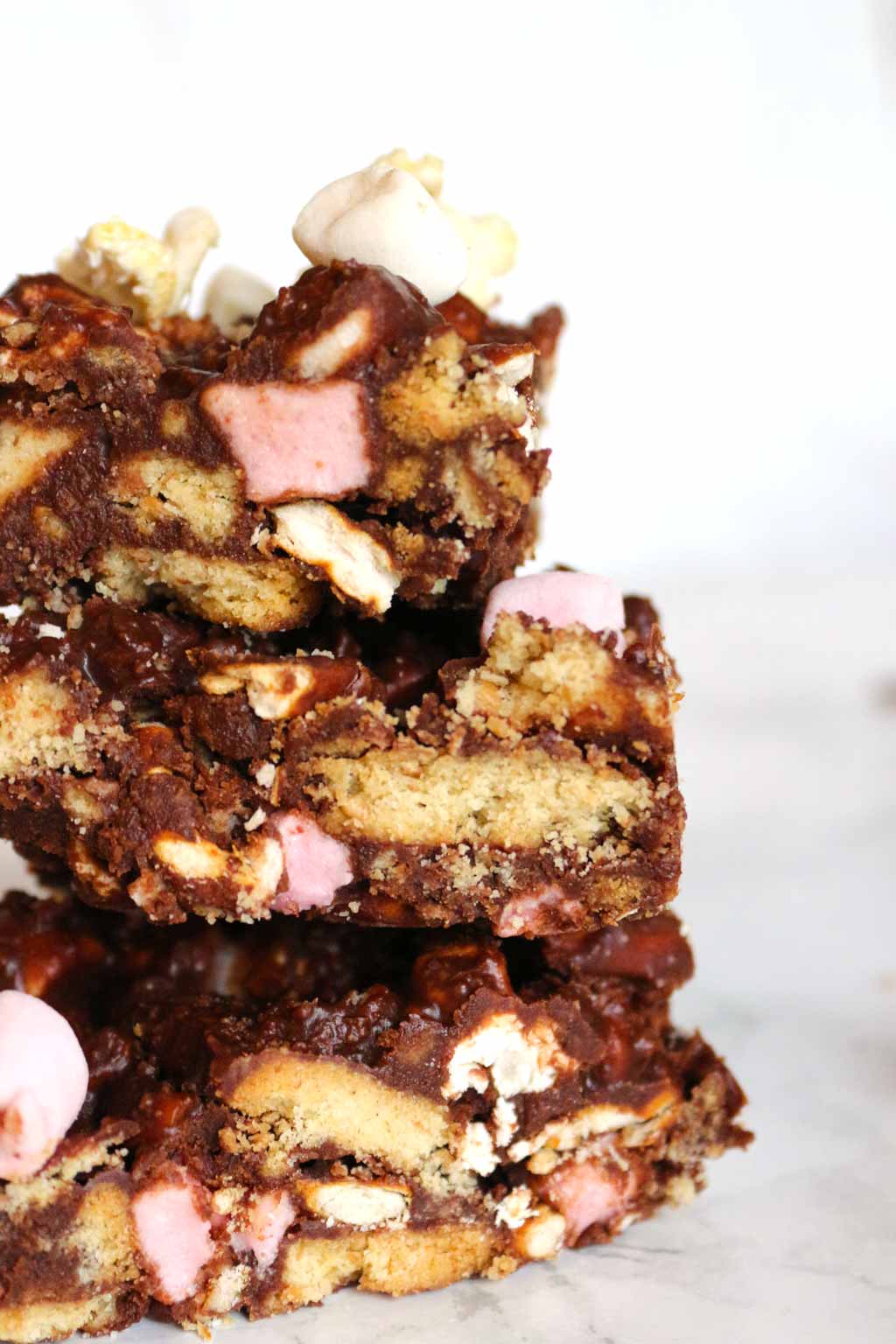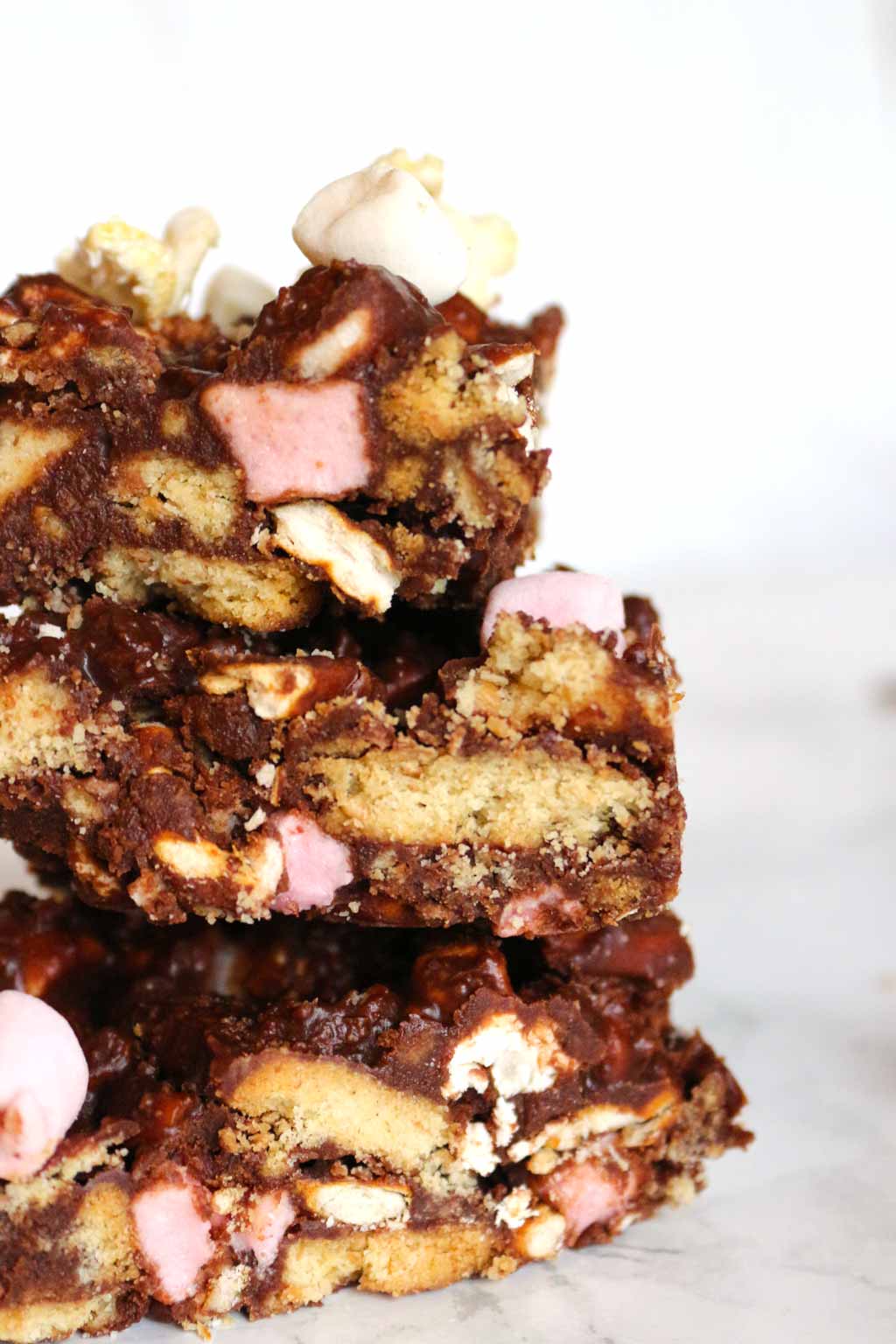 This is an easy, no-bake treat that's great for giving as an edible gift. Customise it to your liking by adding your favourite mix-ins.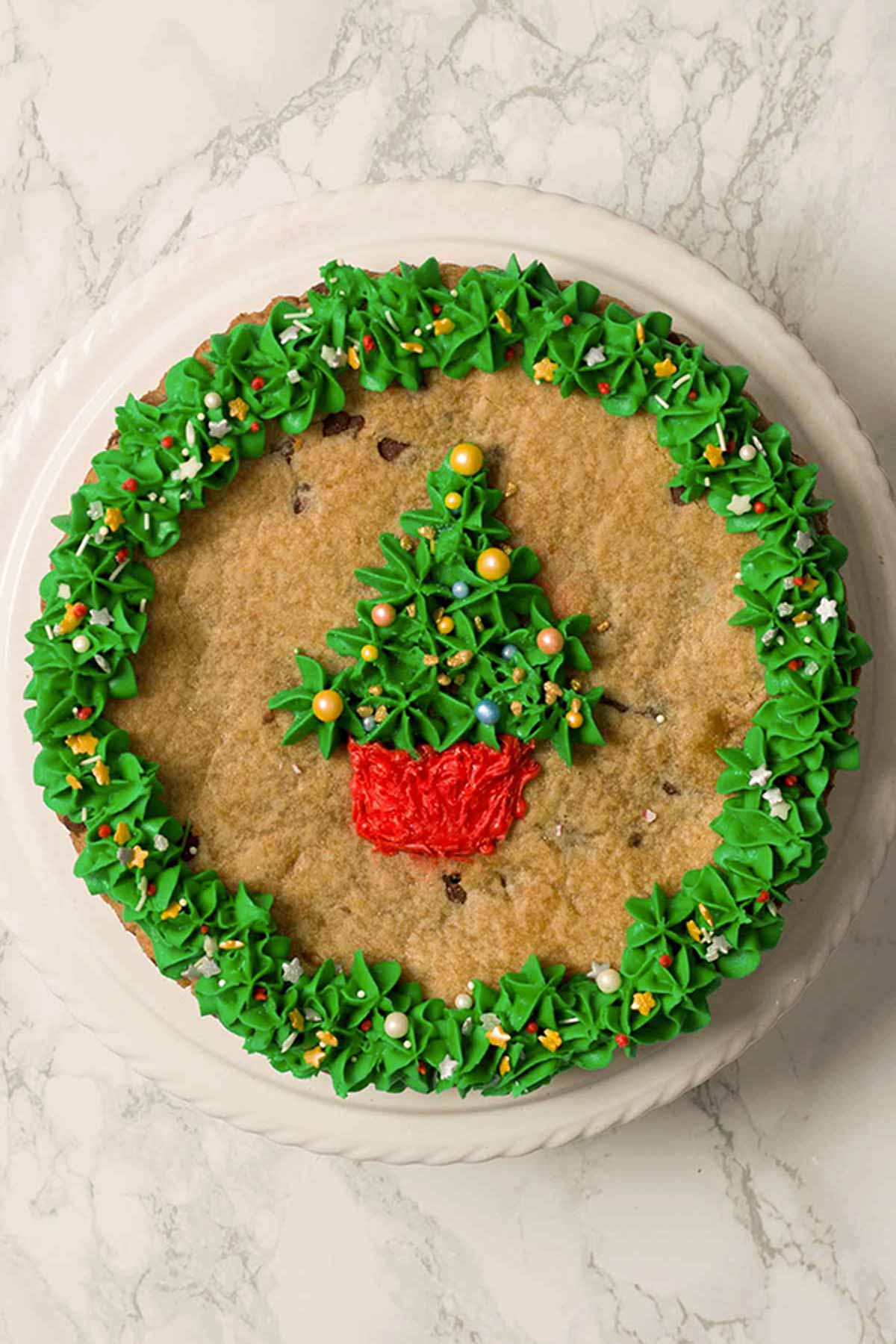 A giant vegan chocolate chip cookie decorated with buttercream icing and festive sprinkles.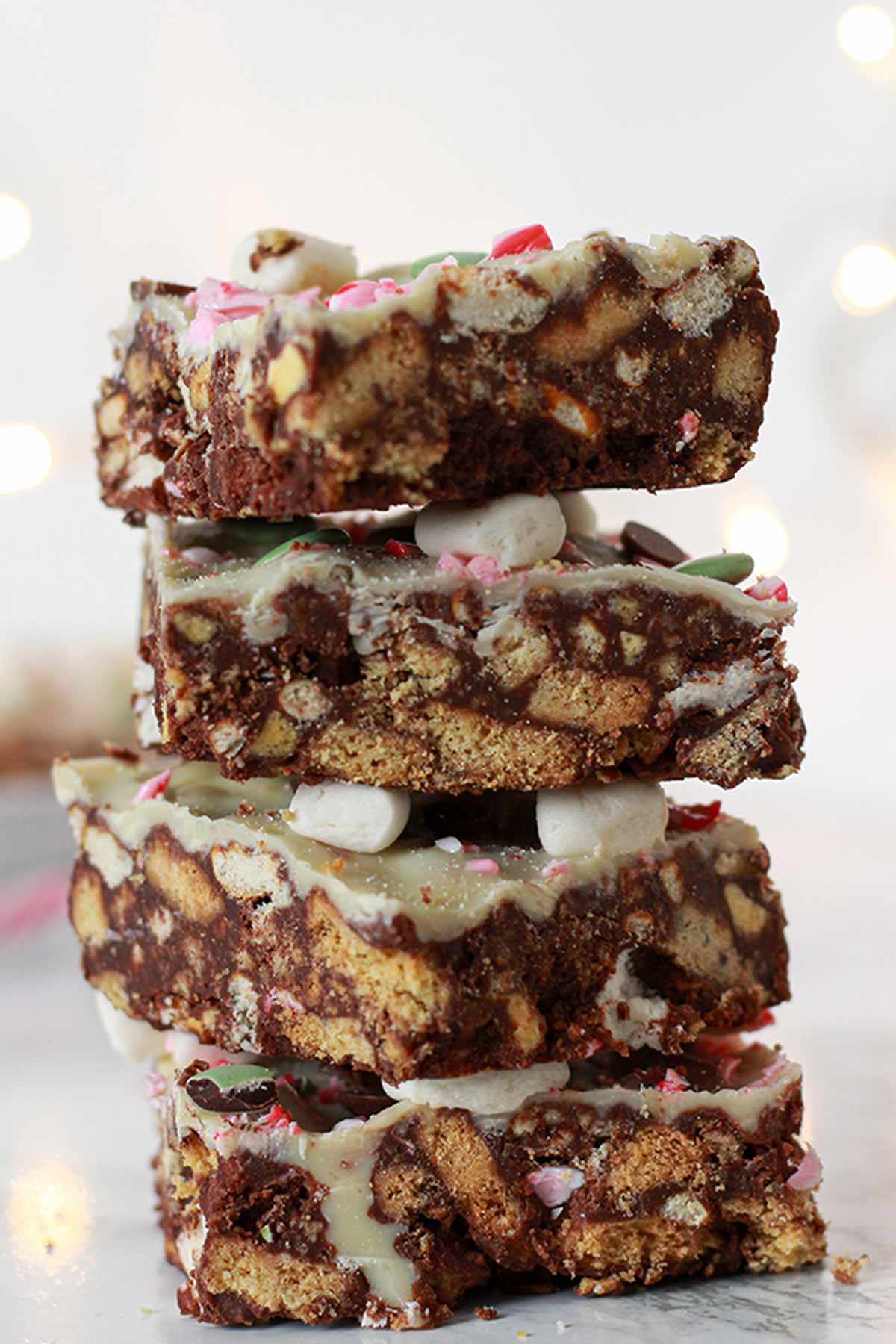 Take your rocky road to the next level and make it *festive*. This recipe is made with crushed candy canes, green candy-coated chocolates and dairy-free white chocolate.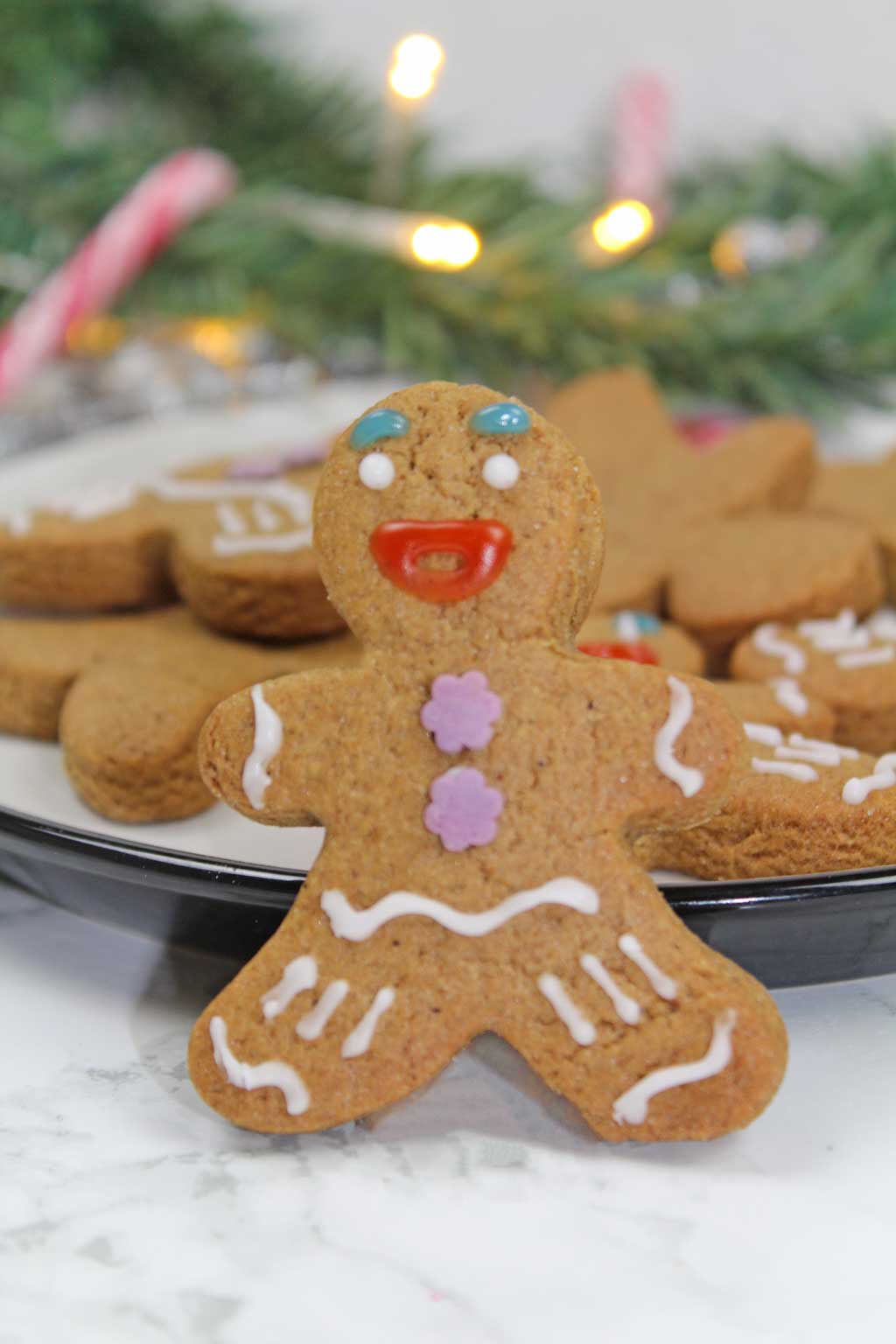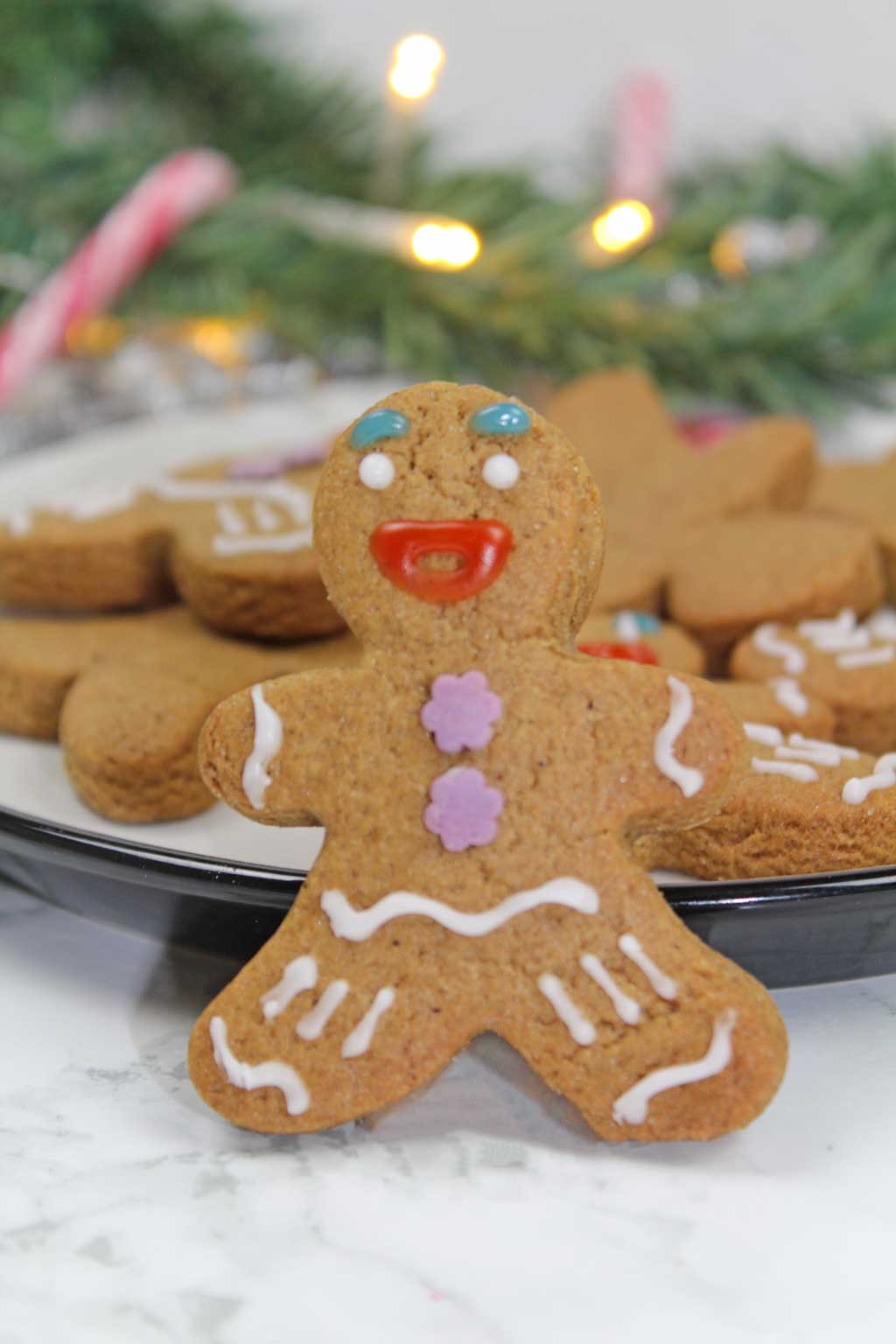 I decorated these cute gingerbread men to look like Gingy from Shrek! I think they'd be the perfect addition to any Christmas cookie exchange. They're soft and chewy gingerbread cookies but you can bake them a little longer if you prefer them crunchy.
This trifle is made with layers of homemade vanilla cake, dairy-free and egg-free custard, strawberry jam, fresh fruit and whipped cream. It makes the perfect centrepiece dessert and it's something that the whole family will love.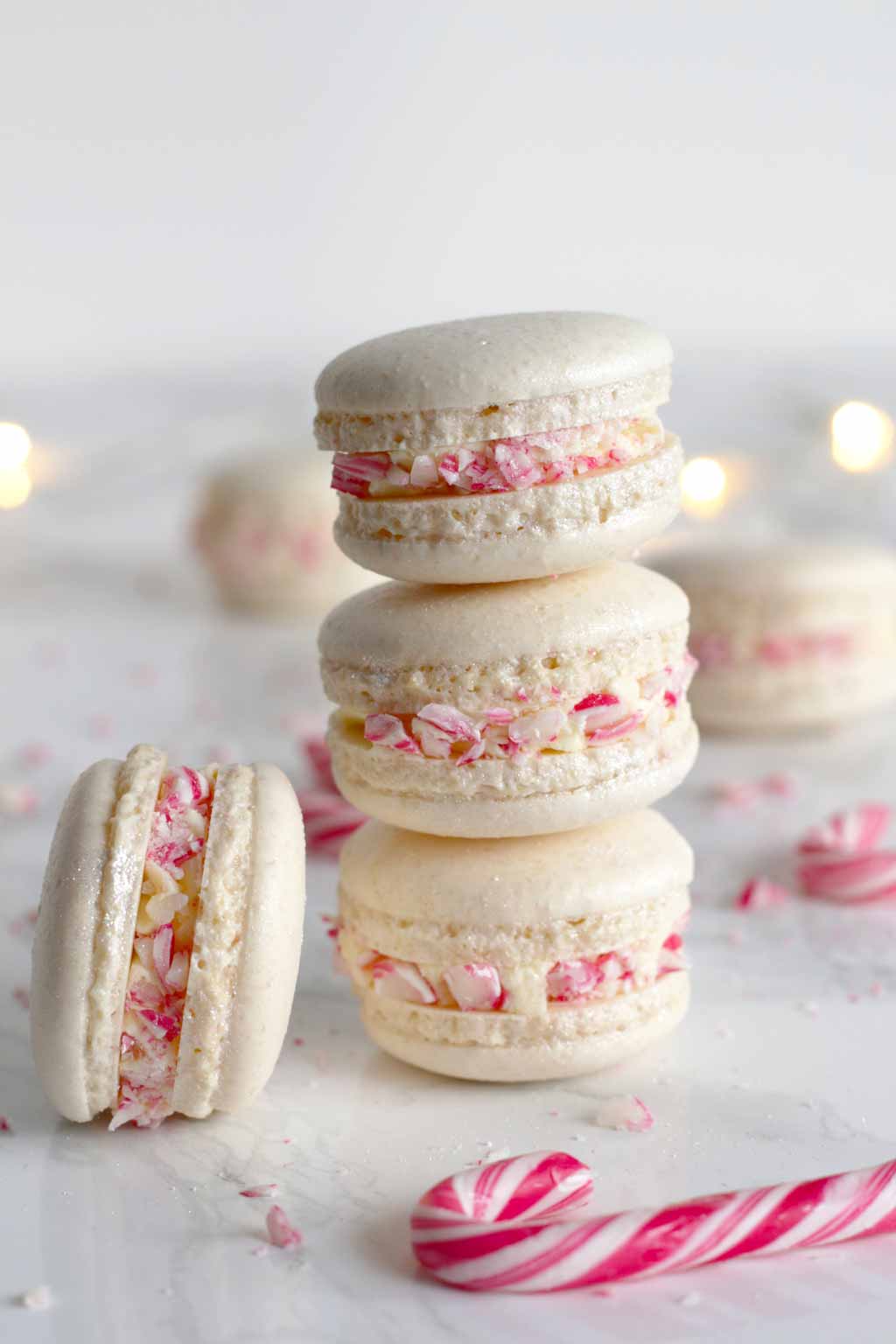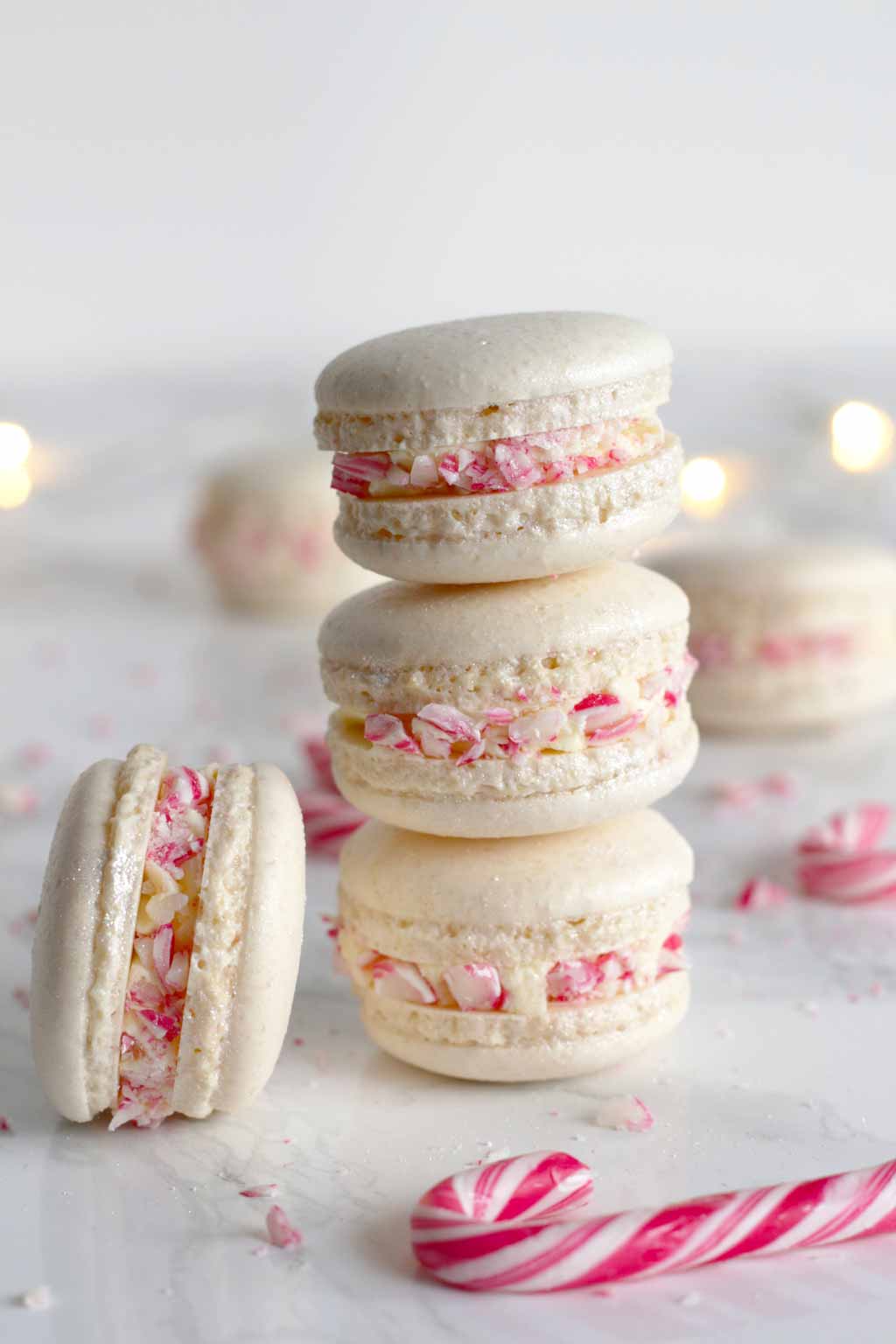 Another dessert made with aqua faba, these Christmas macarons taste just like the real deal. They're filled with dairy-free peppermint buttercream and rolled in crushed-up candy canes to make a fun, festive treat.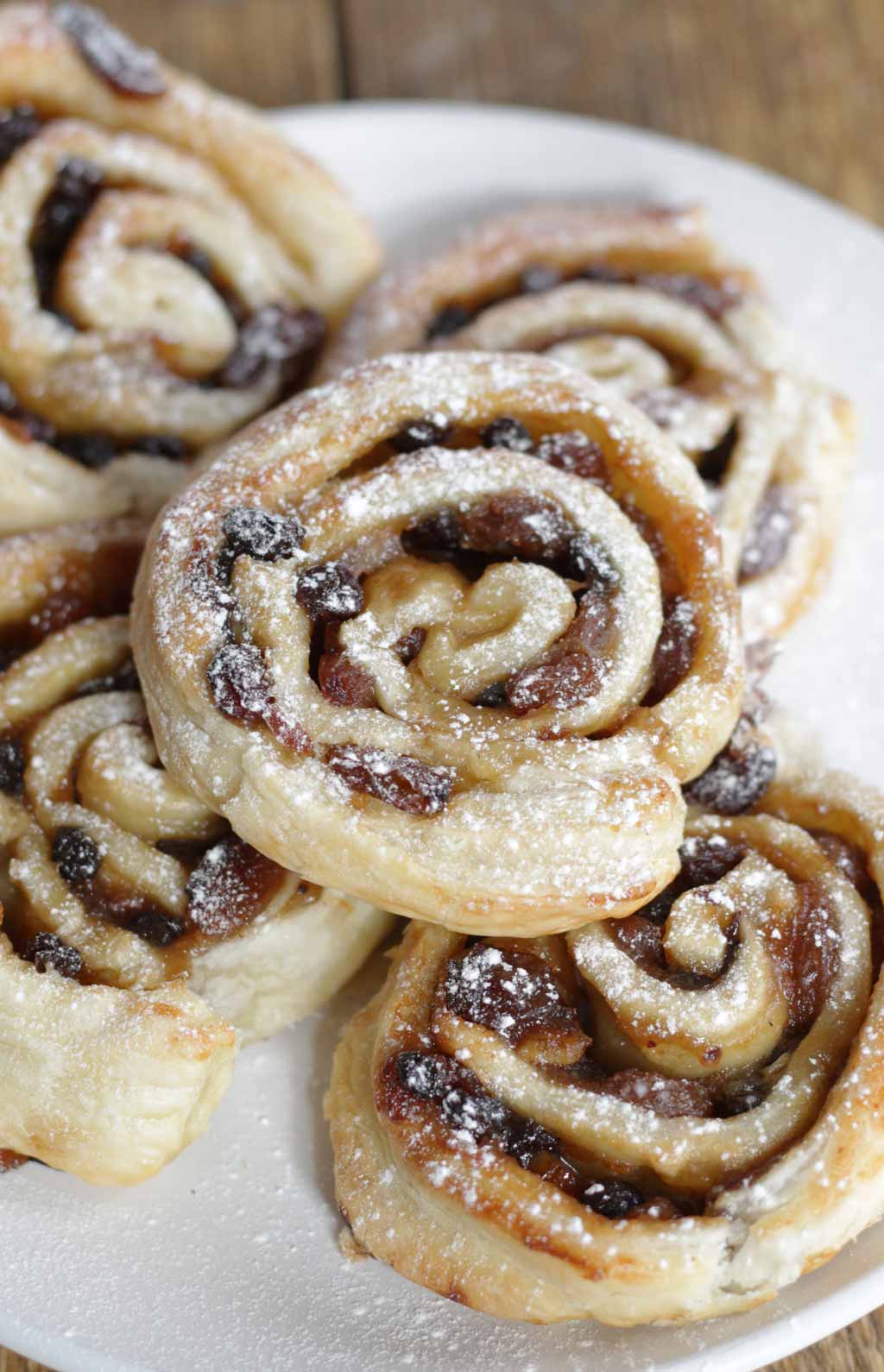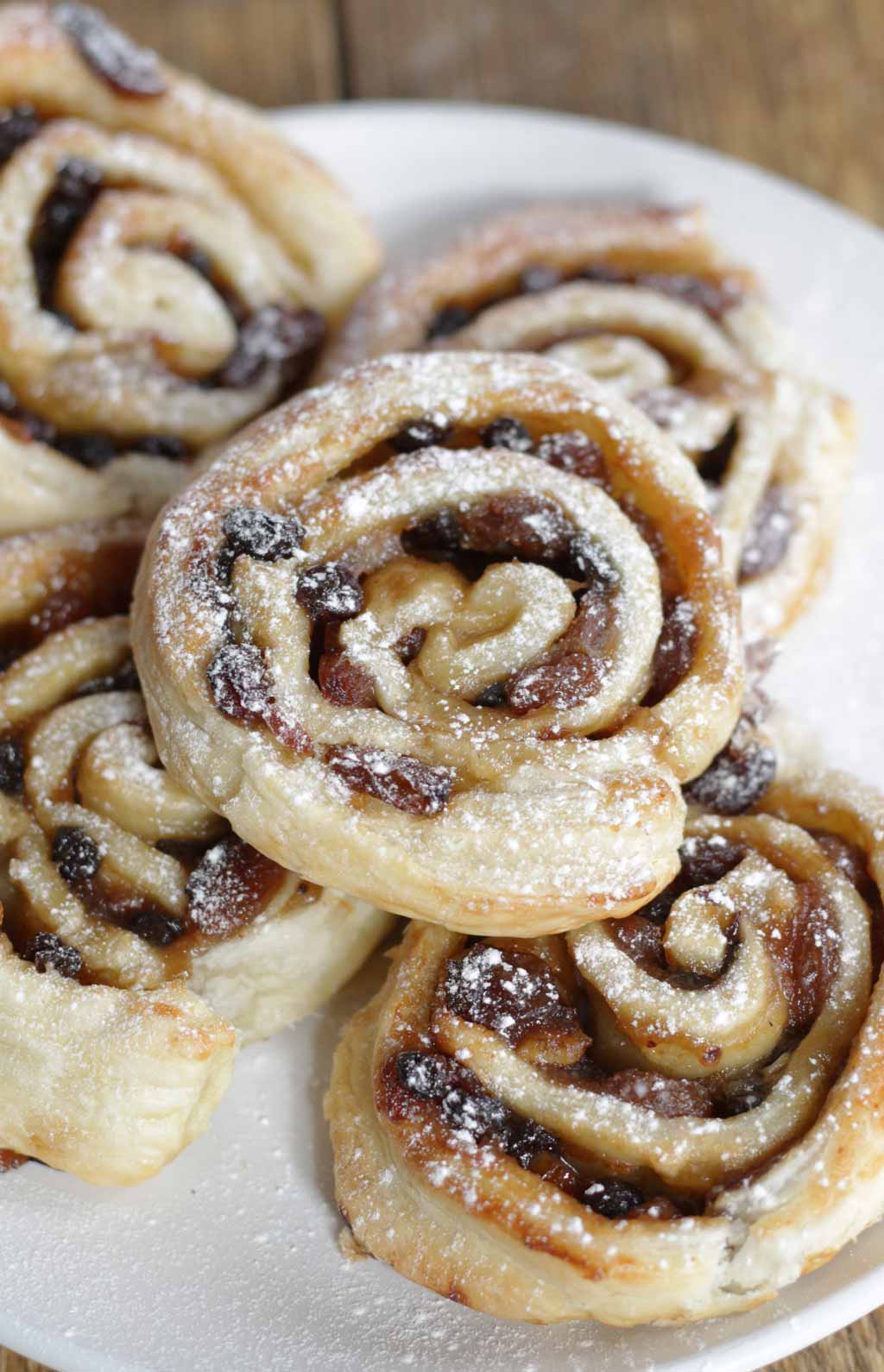 Use jarred or homemade mincemeat and some ready-to-roll vegan-friendly puff pastry and you've got yourself a quick, tasty alternative to mince pies! This one is perfect for making with children because there are only a few steps involved and the recipe is super easy!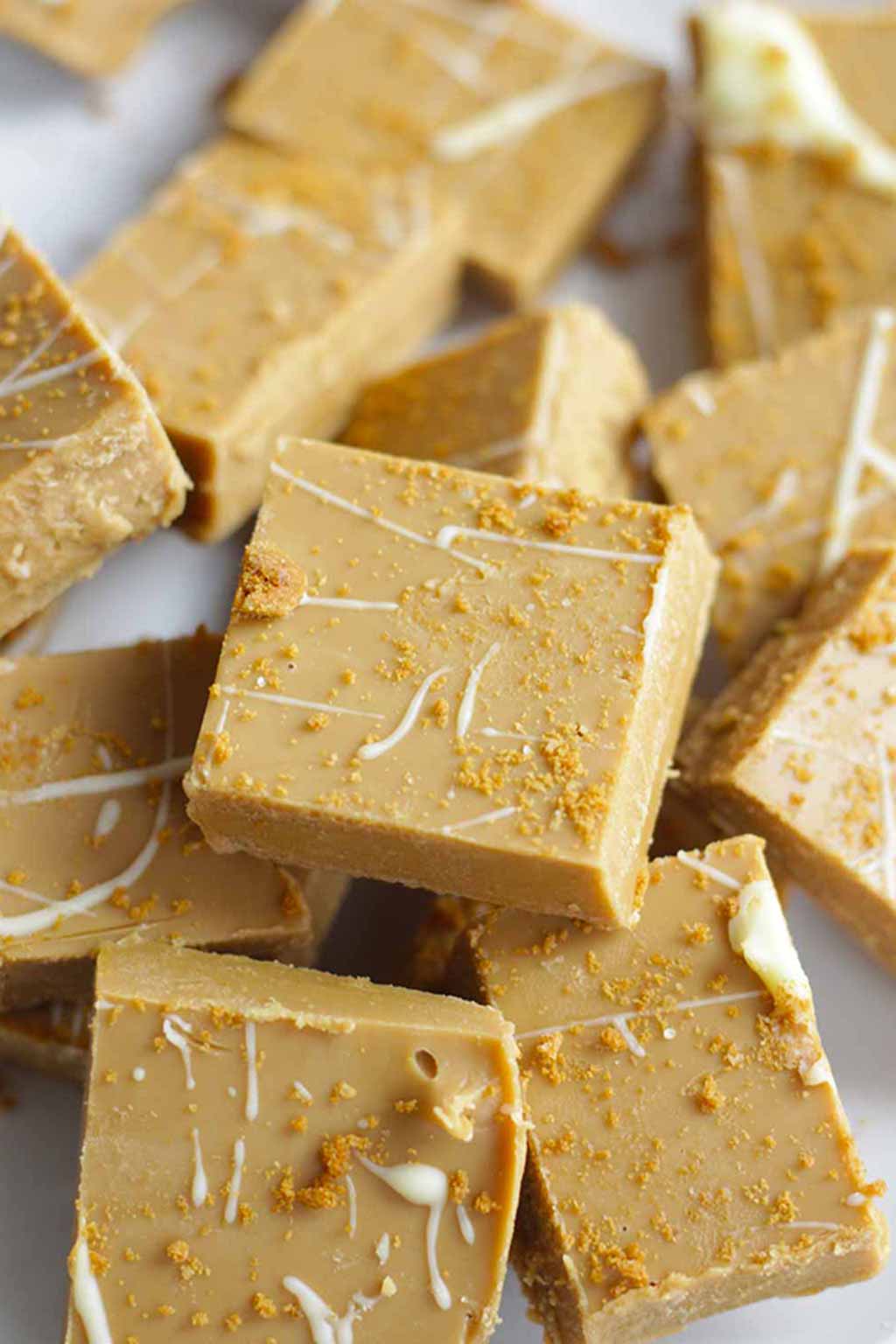 This recipe only contains 2-ingredients and condensed milk is not one of them! This is another Christmas dessert that would make a gorgeous edible gift, and there's no baking required.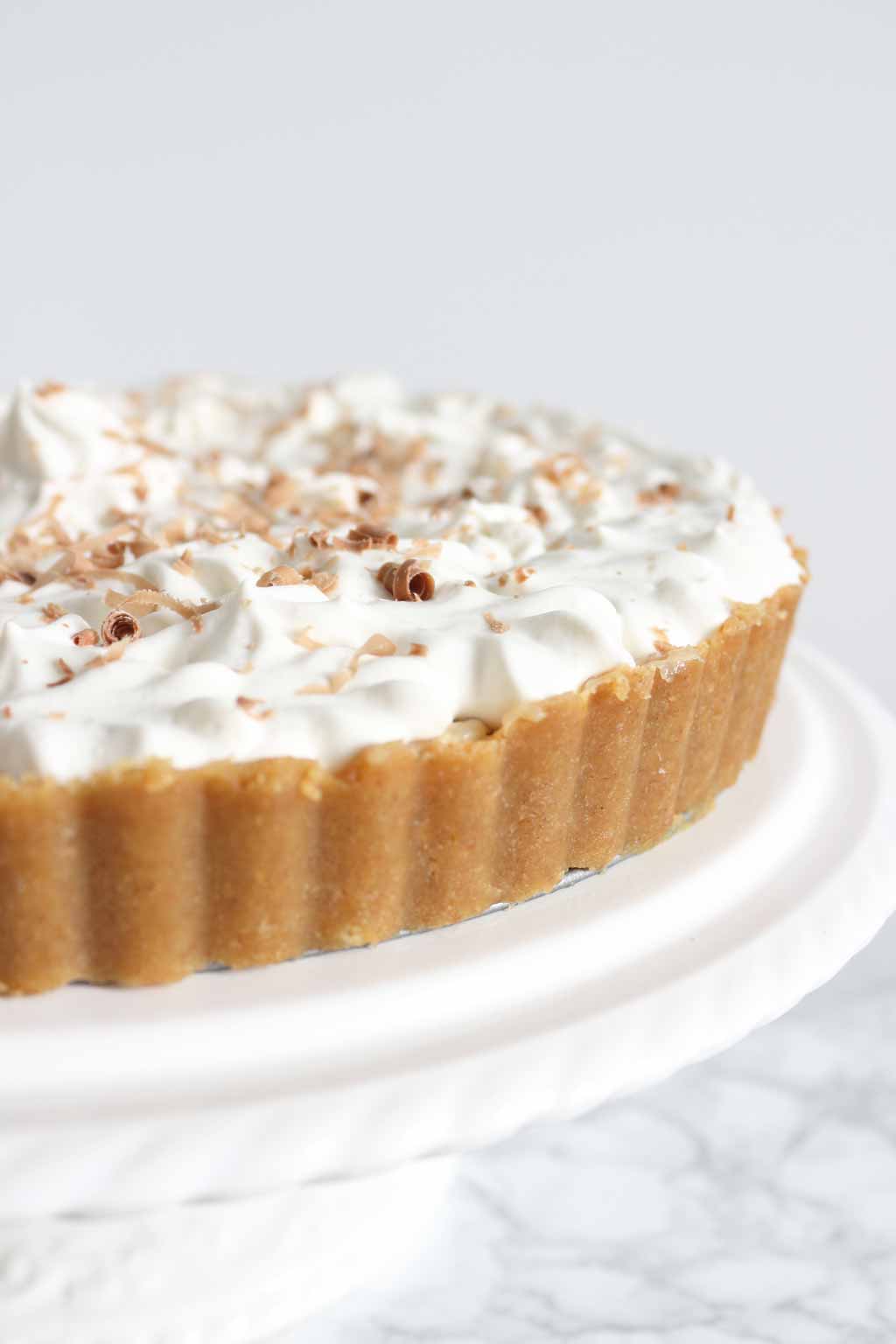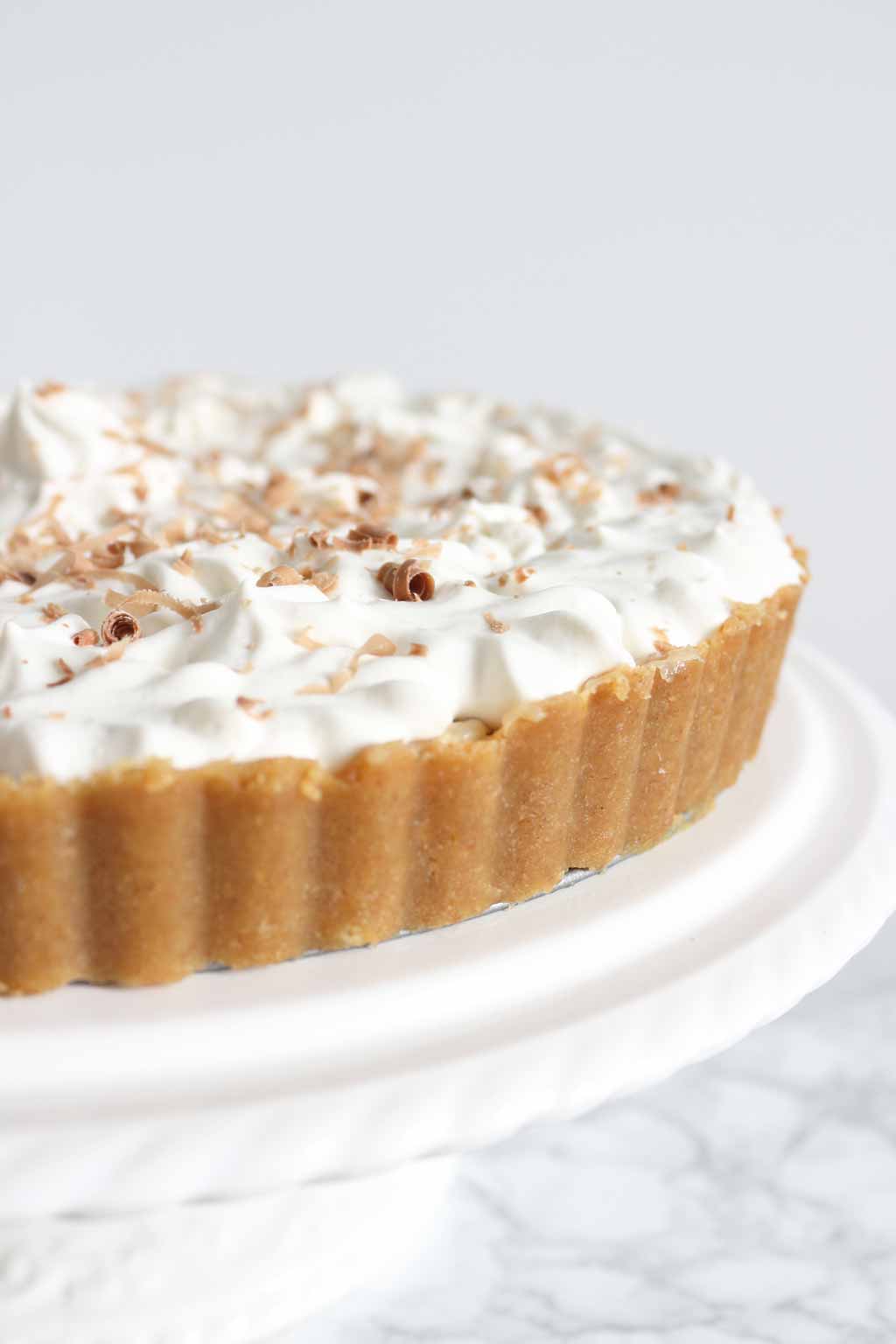 A crumbly Digestive biscuit base filled with thick caramel, banana slices and dairy-free whipped cream. A British classic dessert that's perfect for Christmas Day dessert!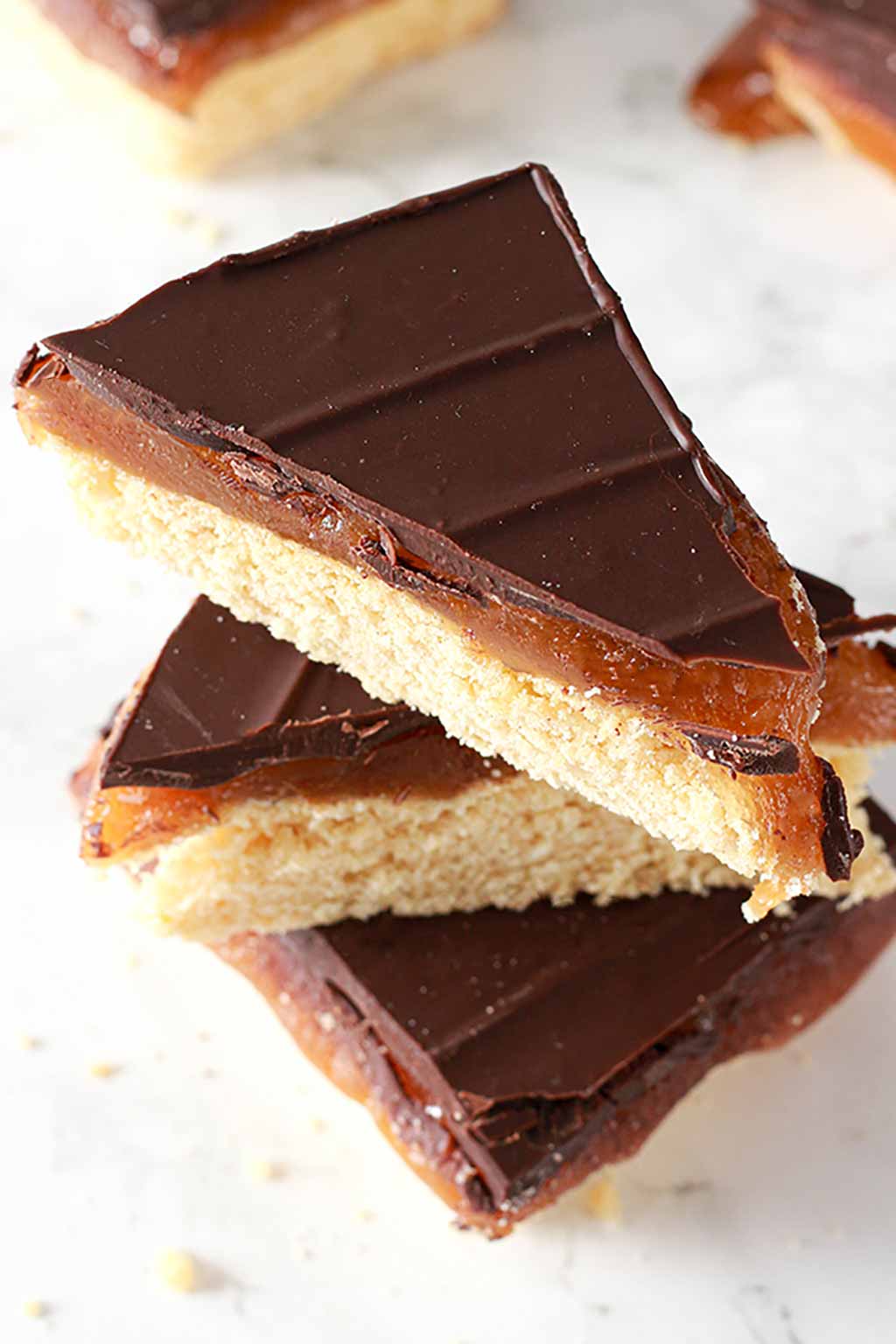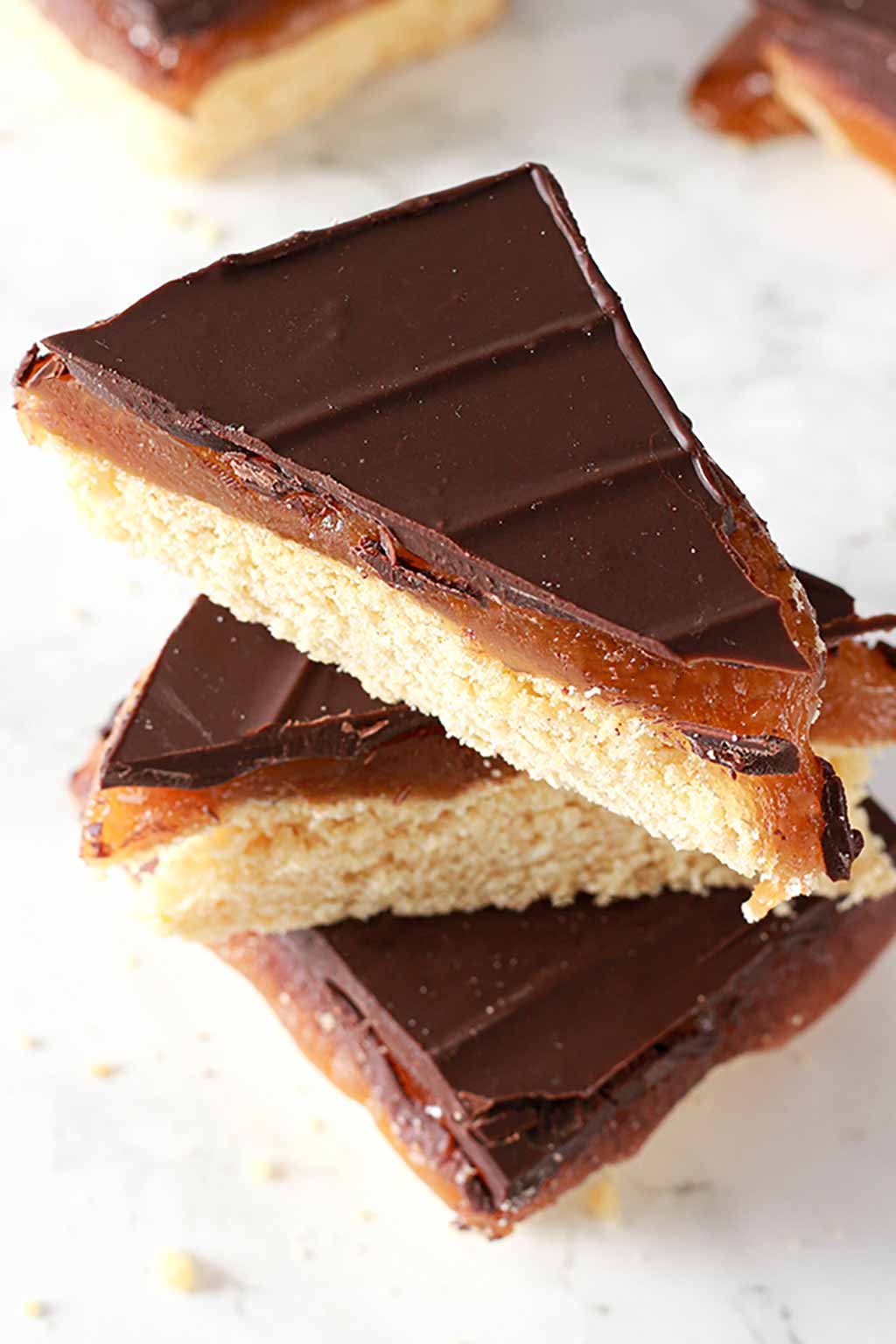 Another British classic, this millionaire's shortbread is easier to make than it looks. A shortbread base topped with (dairy-free) condensed milk caramel and chocolate!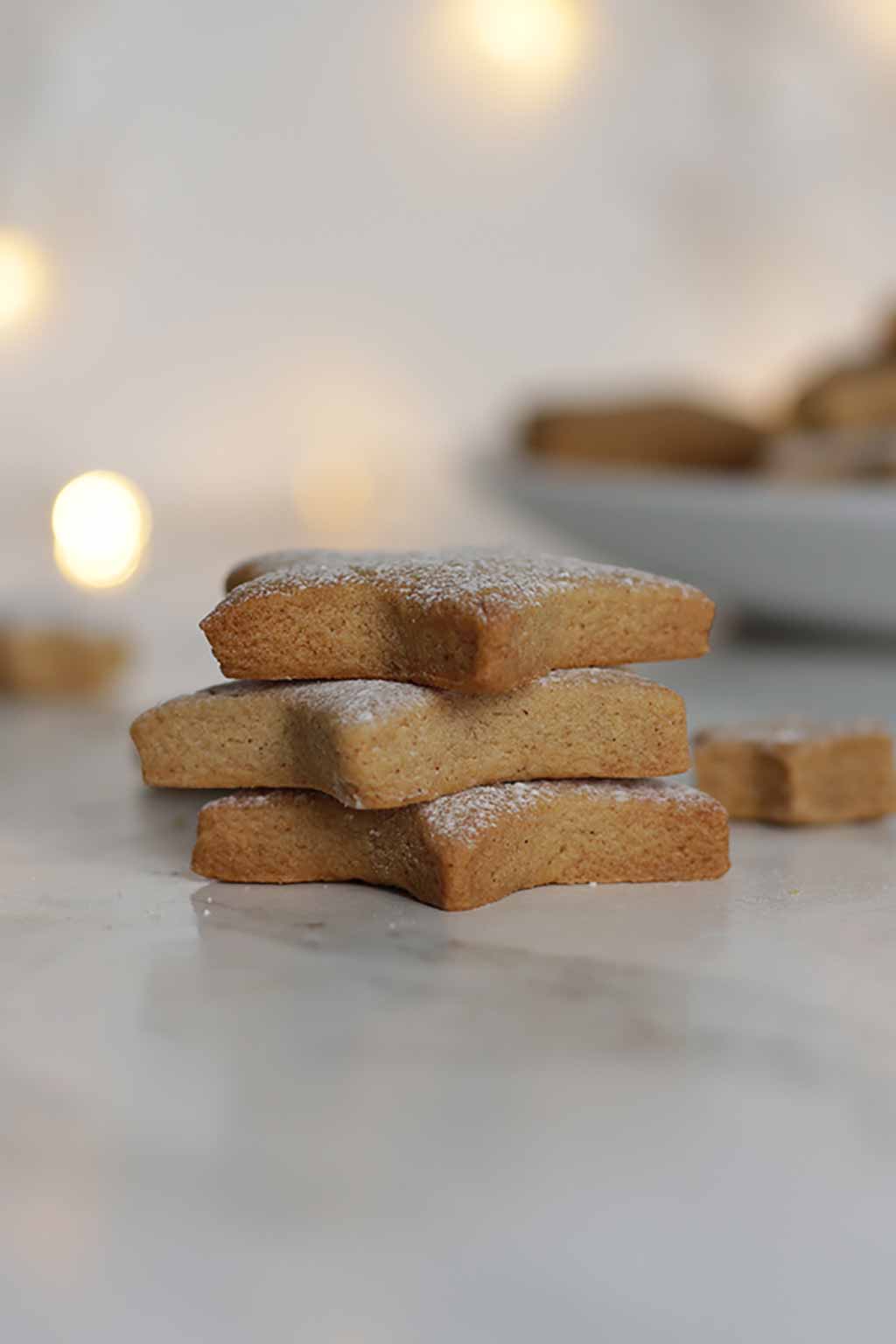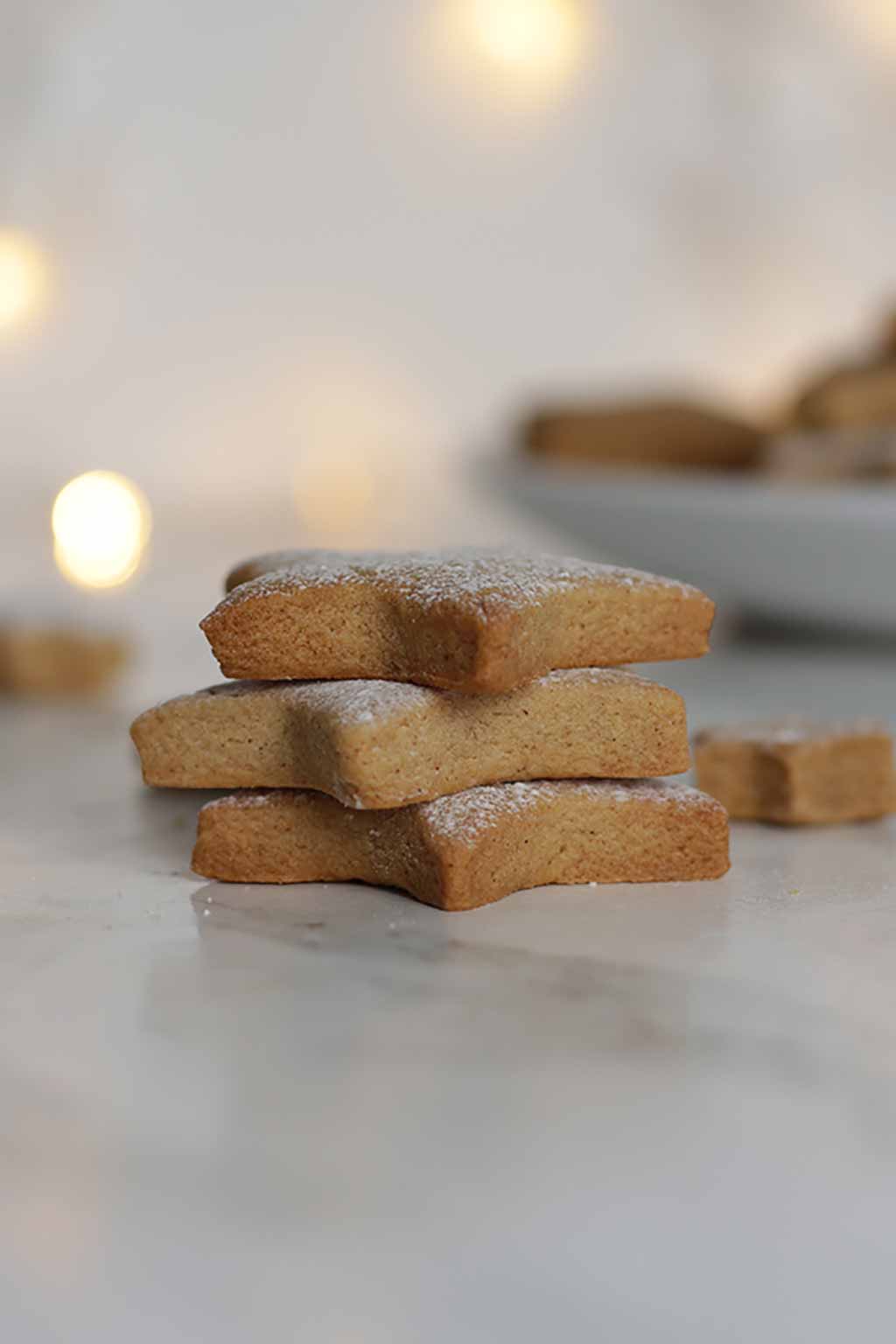 Super easy, crunchy cinnamon cookies that can be cut out to any shape you like. Enjoy them with icing or without!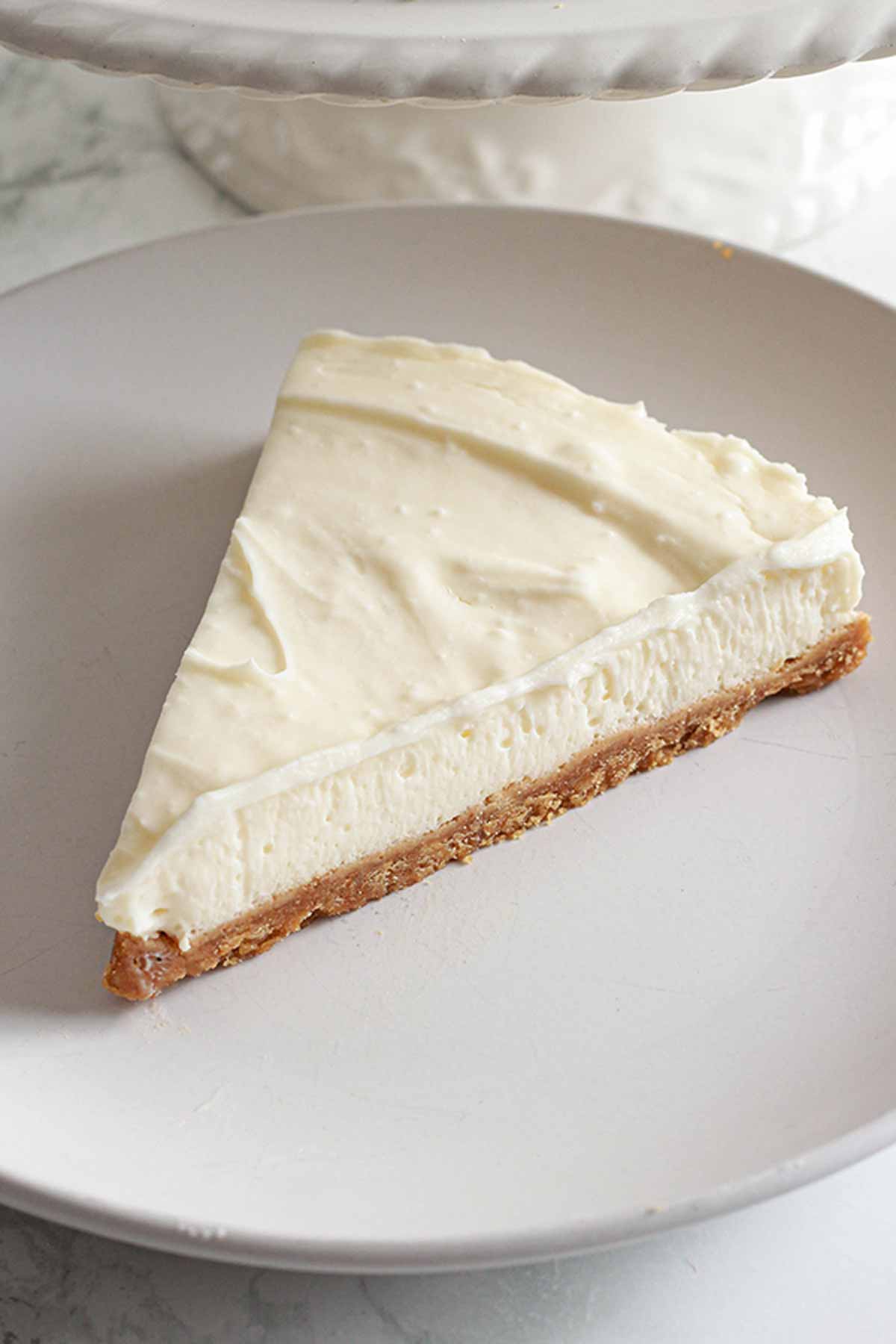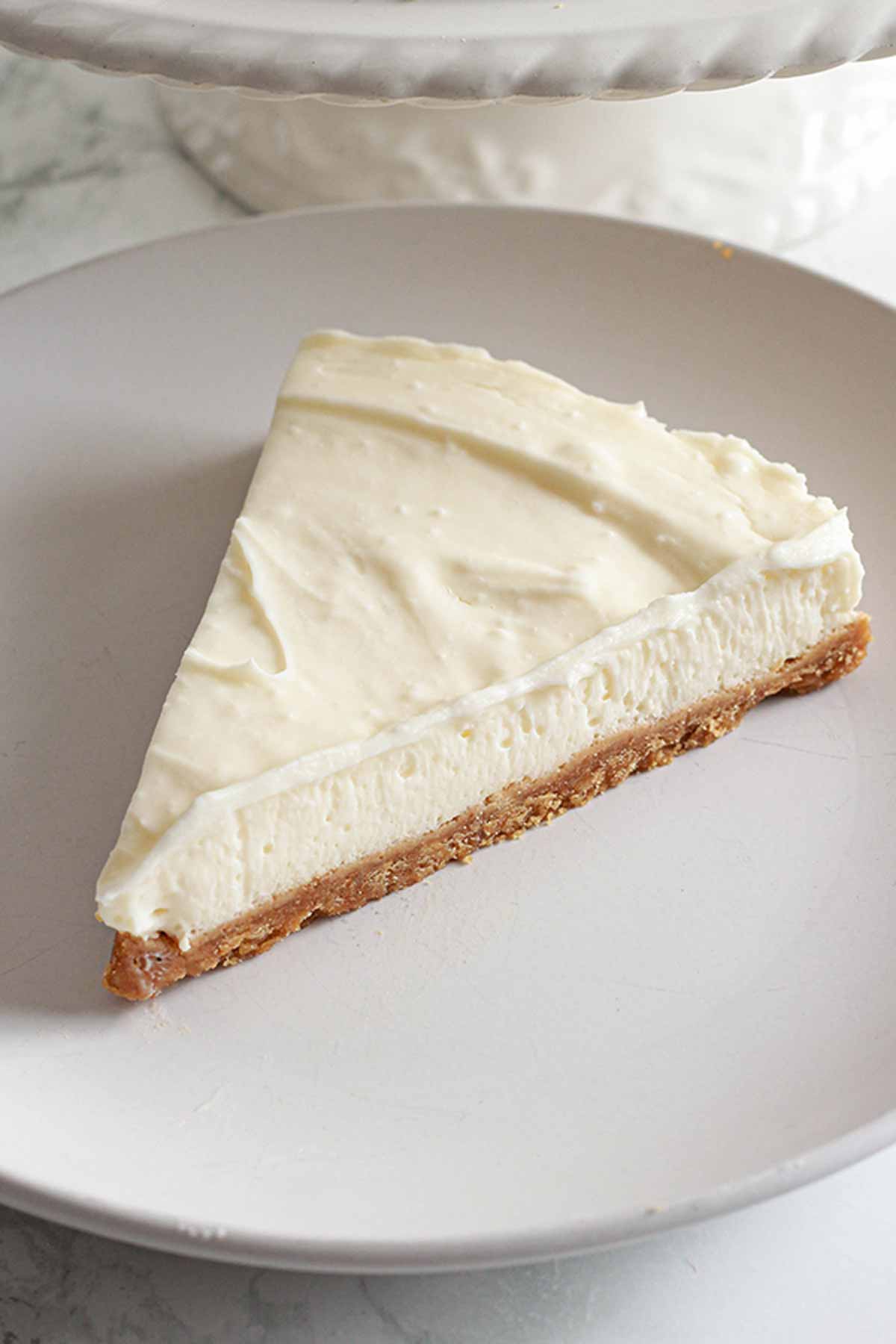 This cheesecake is a staple that can be customised with many different flavours according to your liking. It's a no-bake recipe and aside from the time in the fridge, it doesn't take long to make at all.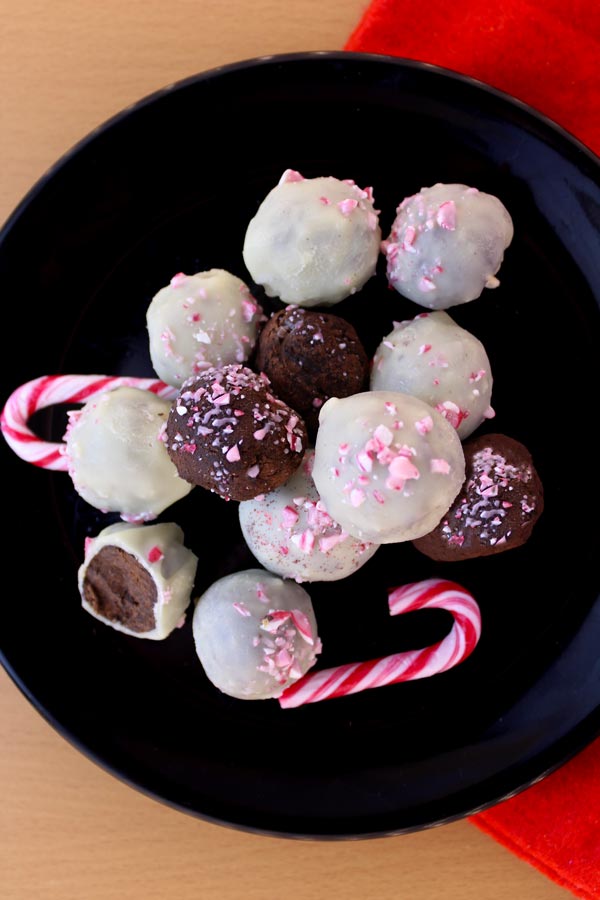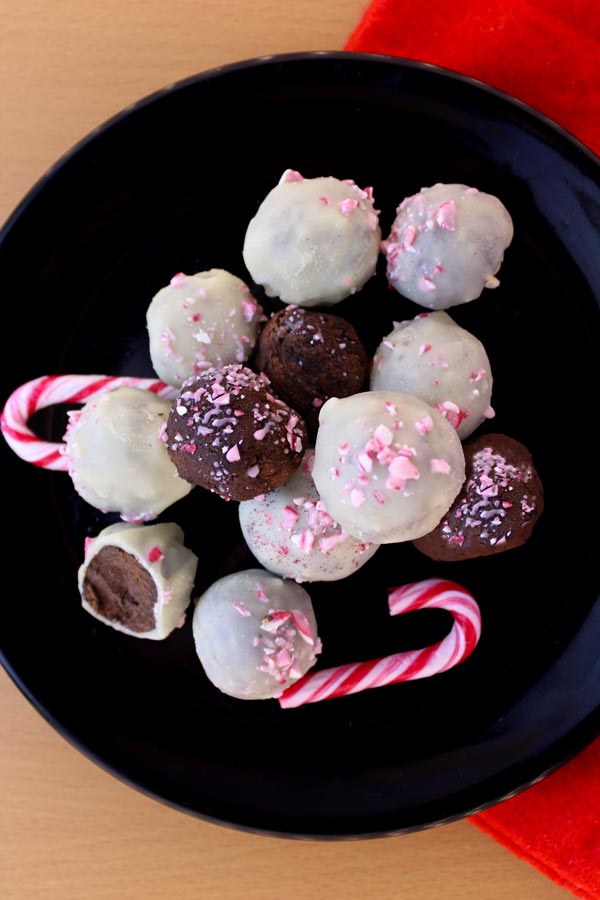 Coat these peppermint truffles with dairy-free white chocolate or simply roll them in some crushed up candy canes for a chocolatey Christmas treat.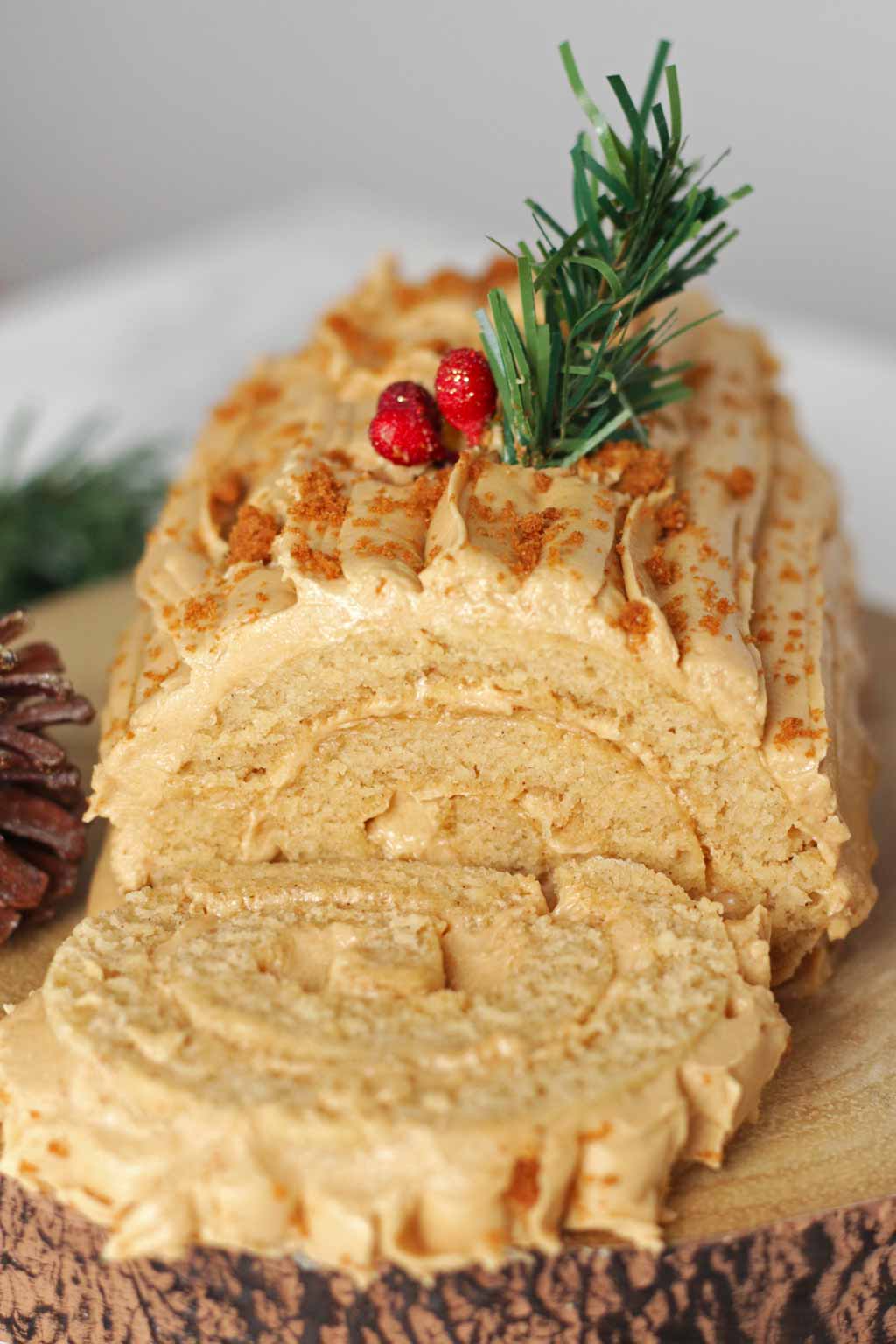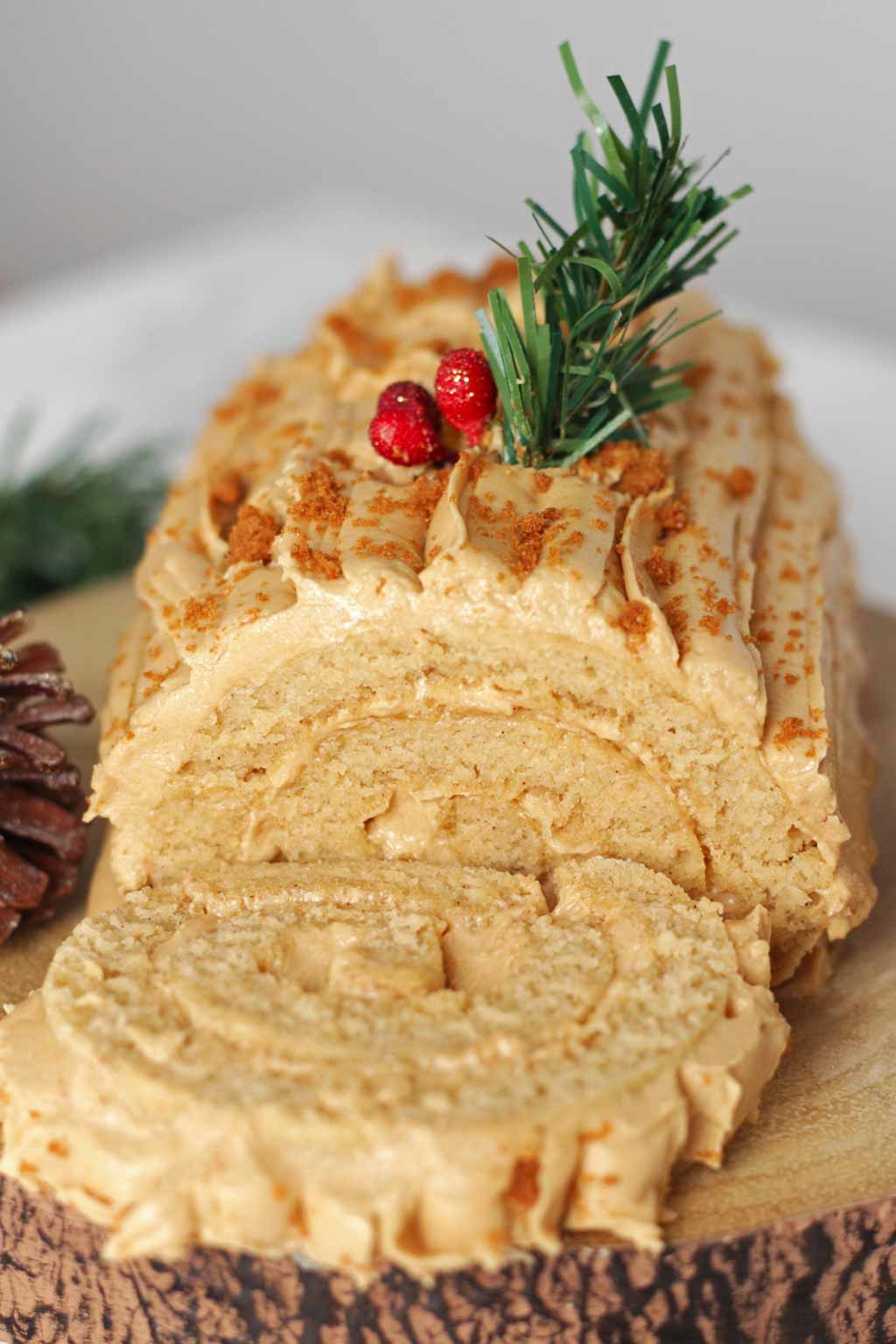 This one is similar to my chocolate Yule log recipe but it's flavoured with vanilla and Lotus Biscoff! It's the perfect alternative for those who don't like chocolate. This Yule log is also a little easier to roll than the chocolate one.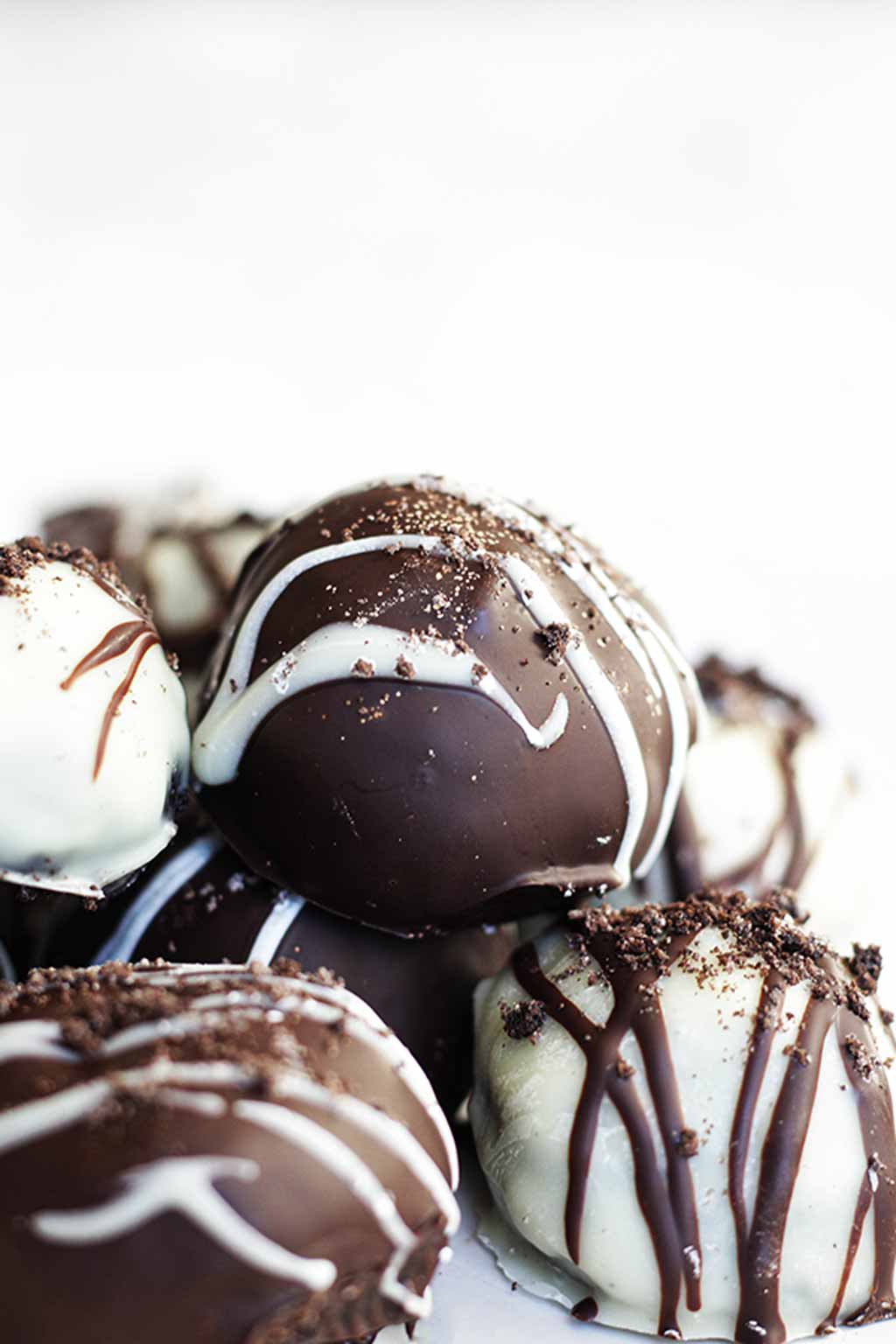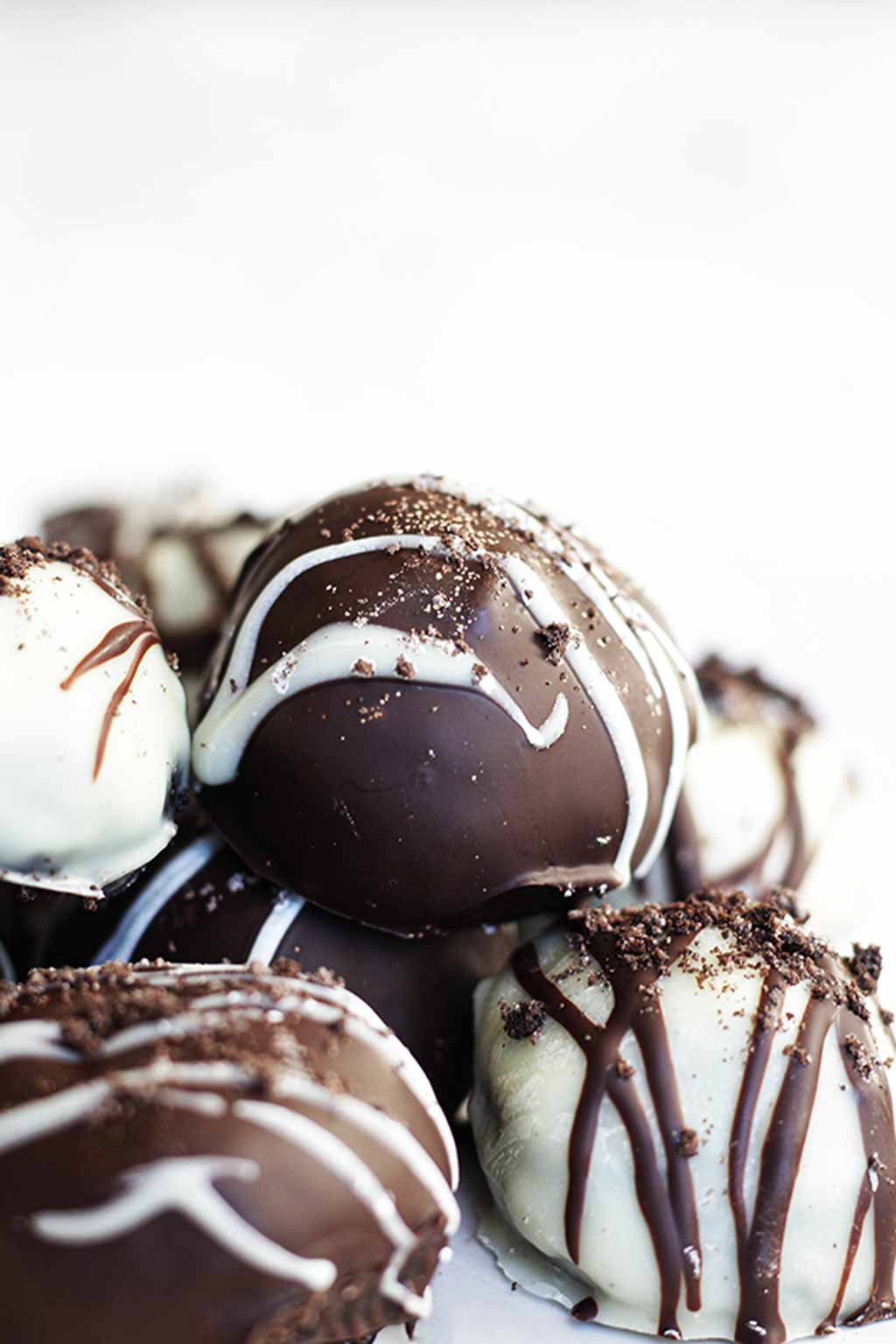 3-Ingredient Oreo cheesecake truffles coated in dairy-free milk and white chocolate. The perfect after-dinner treat during the Christmas season.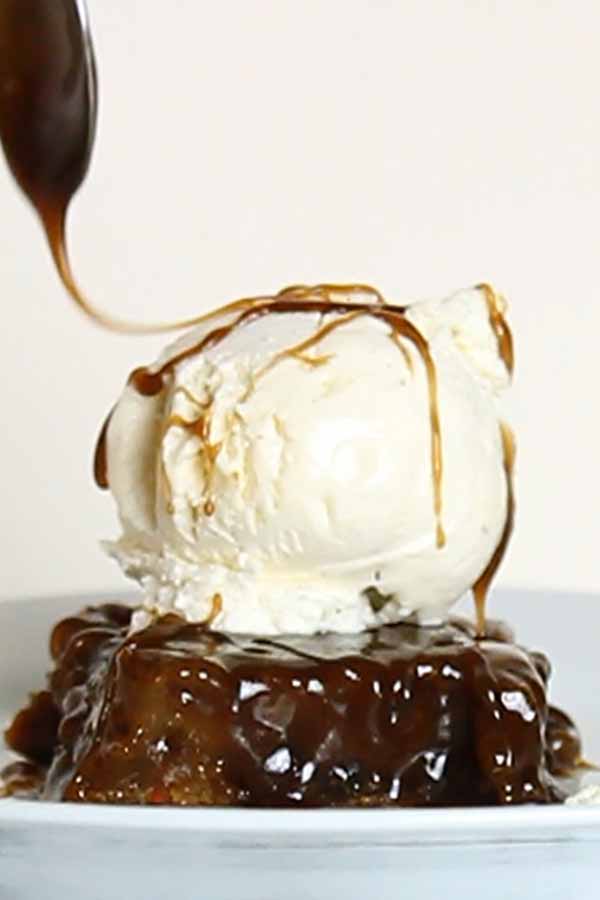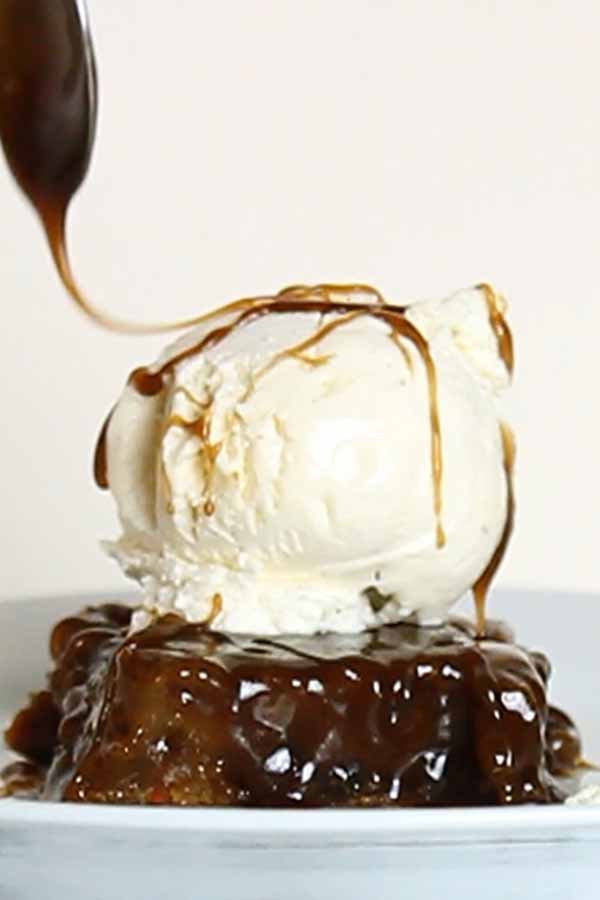 This pudding is made with dates and brown sugar, and topped with a homemade sticky toffee sauce. It's delicious served warm with vegan ice cream.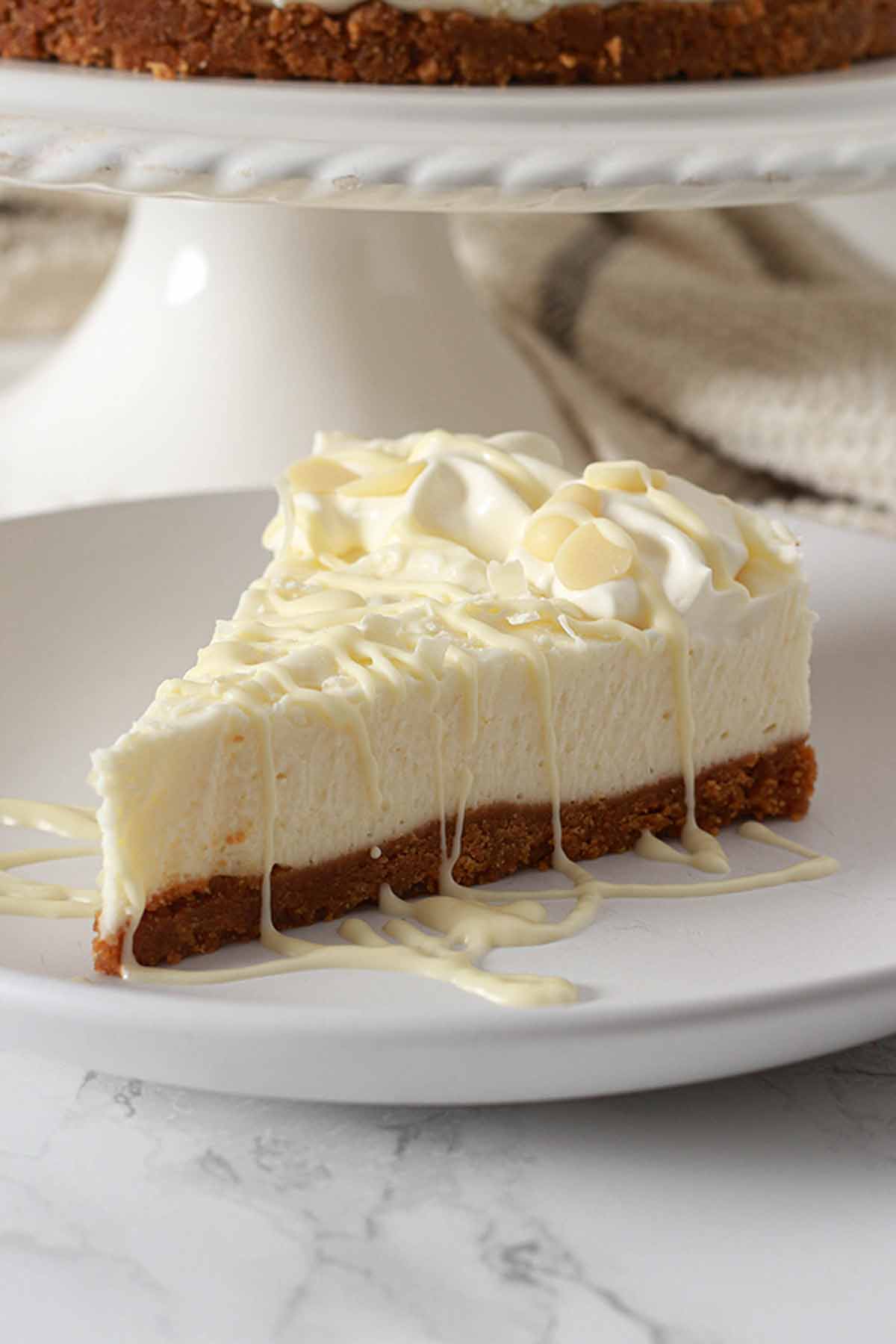 Creamy white chocolate cheesecake with a zingy gingernut crust. A super easy no-bake recipe.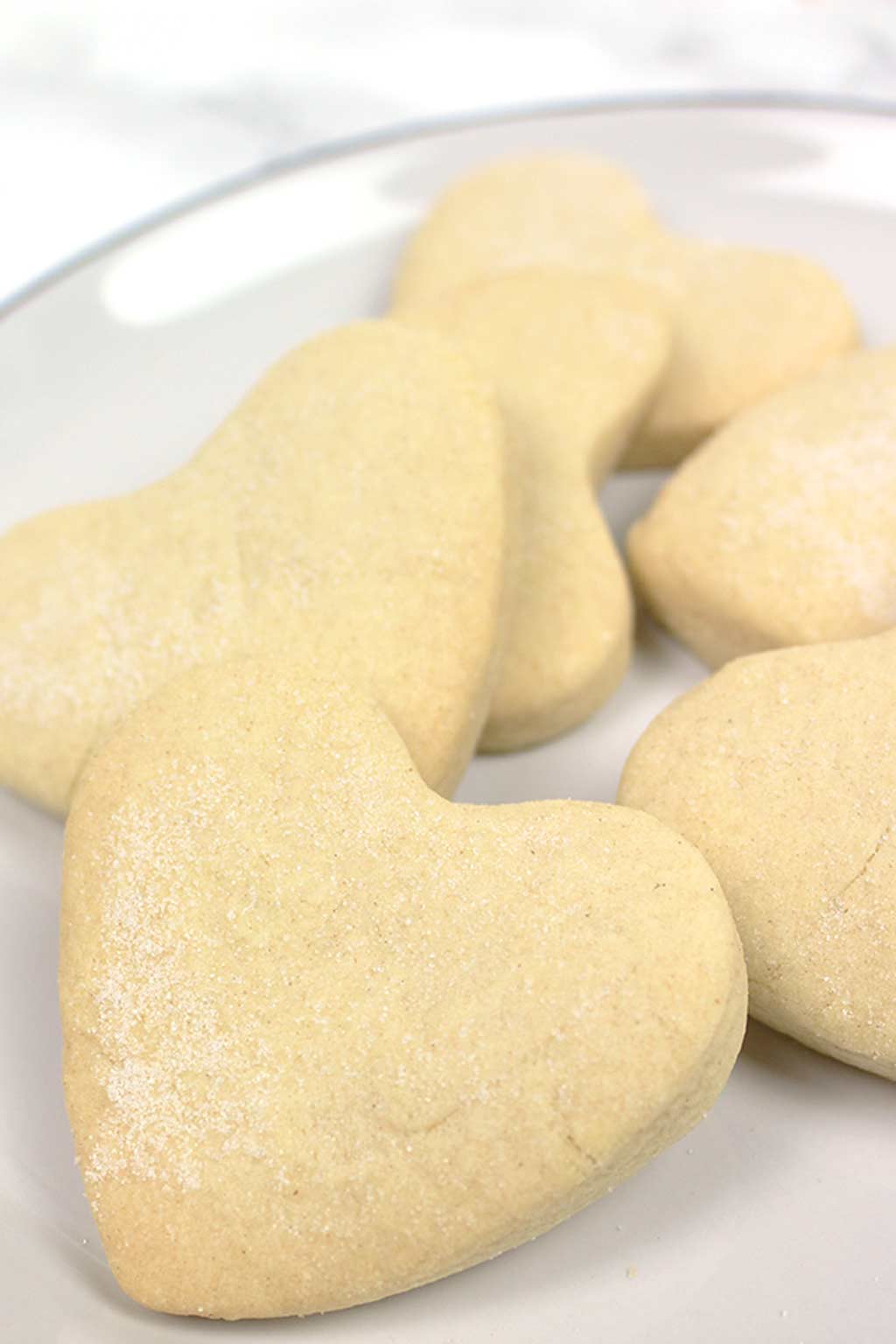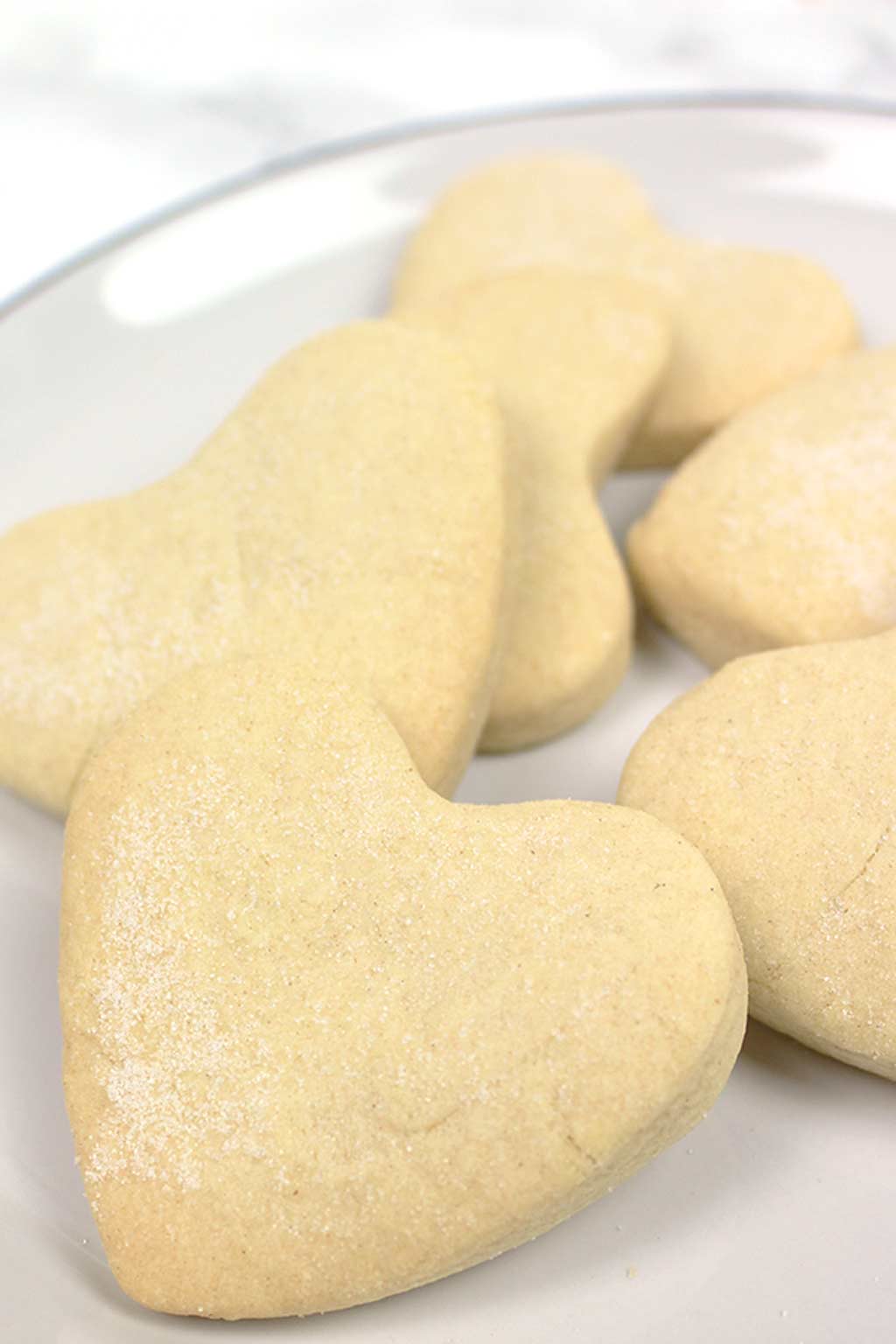 These shortbread cookies can be cut out into any shape you like, or cut into rectangular fingers for an authentic Scottish look. Crunchy, crumbly and perfectly sweet.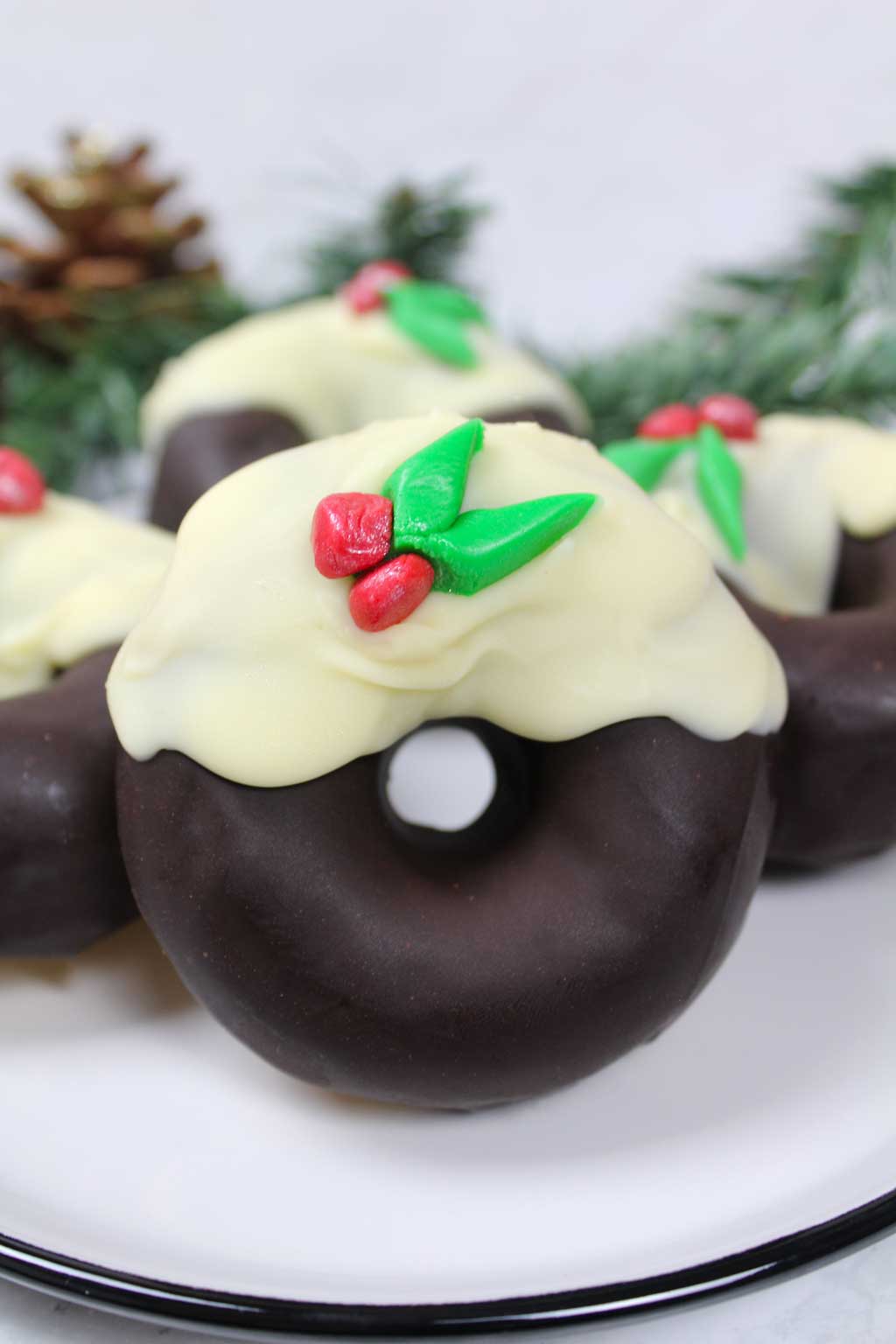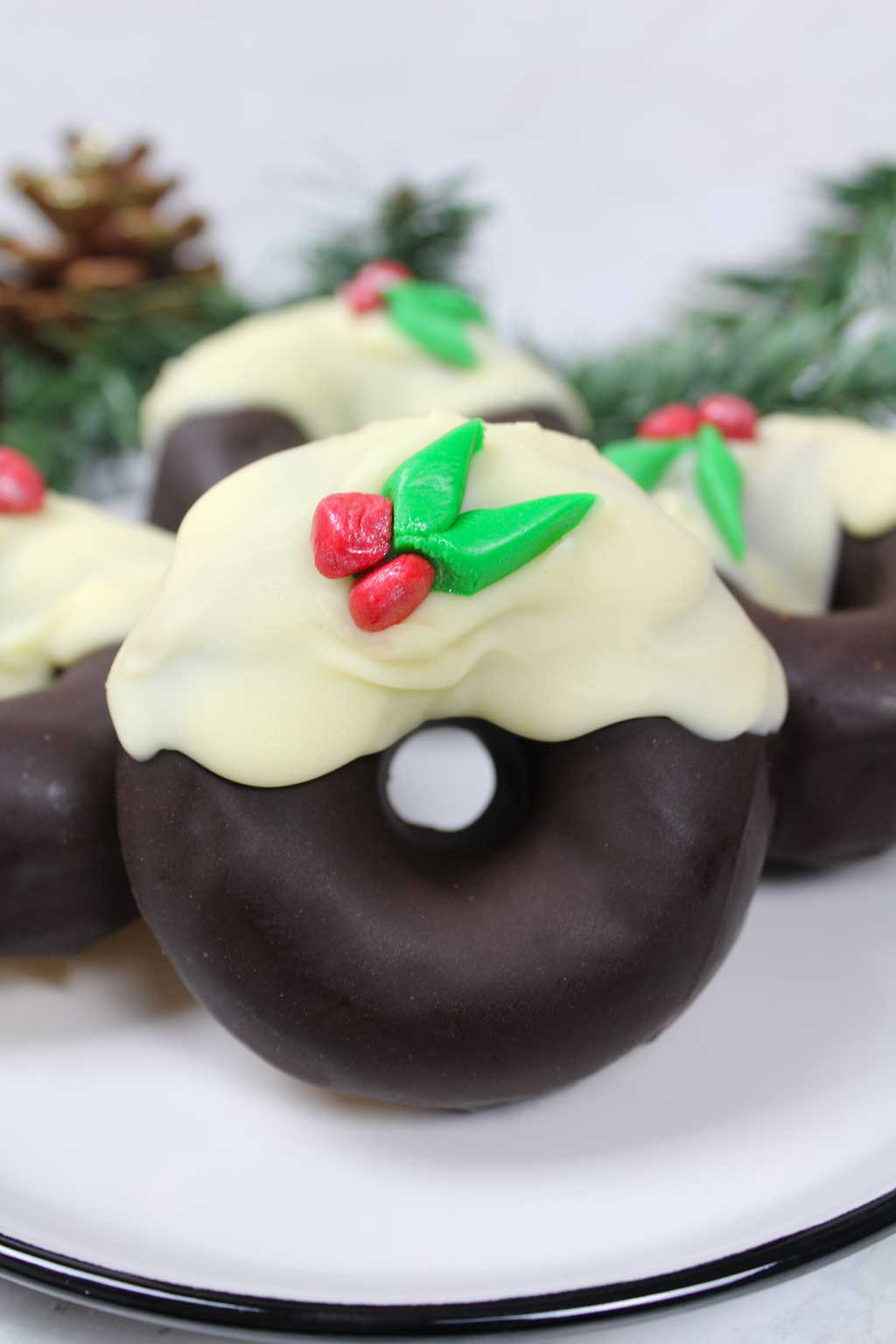 These donuts are perfect for making with children. They're simple, baked vanilla donuts that are decorated with dairy-free chocolate to look like Christmas puddings.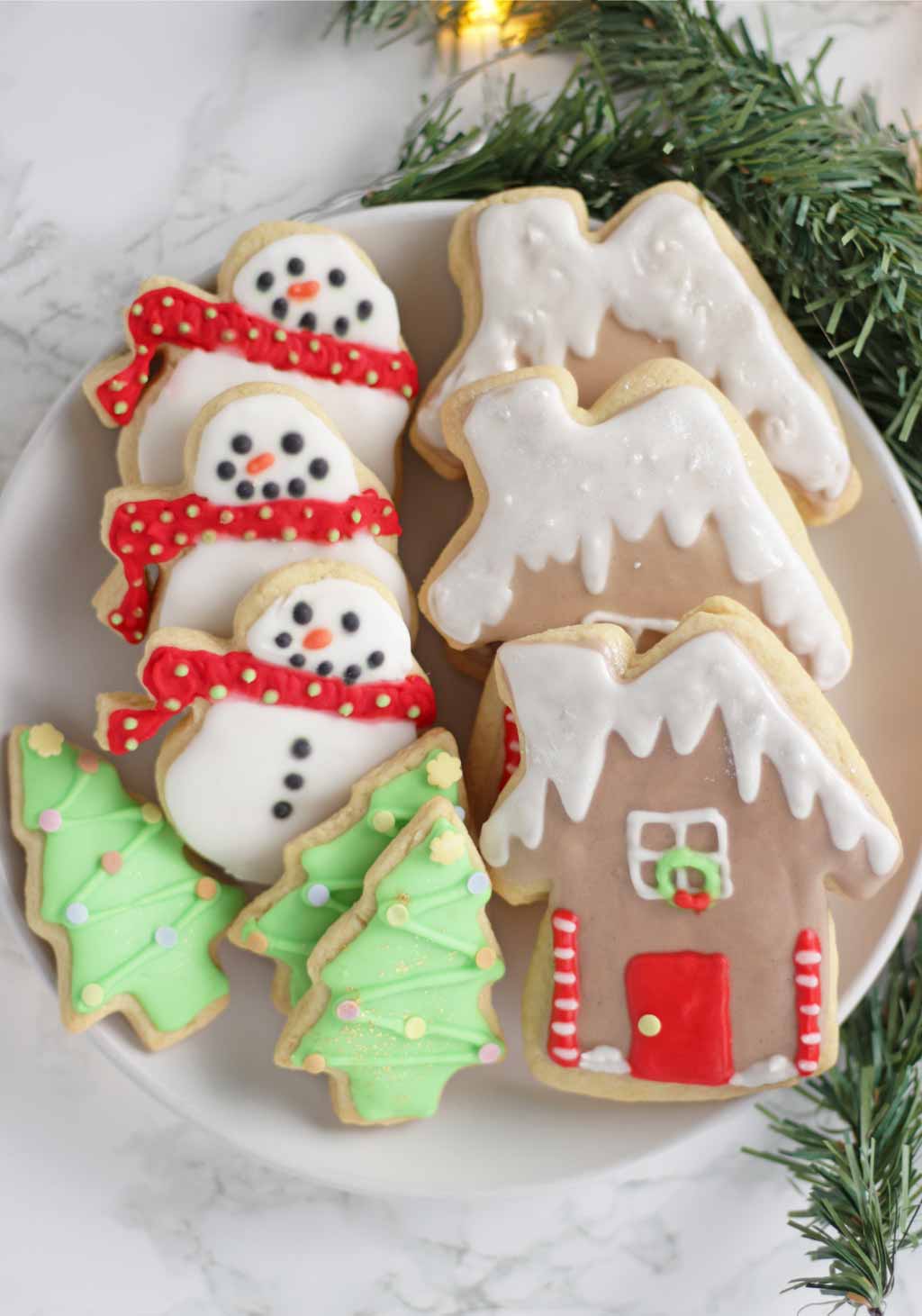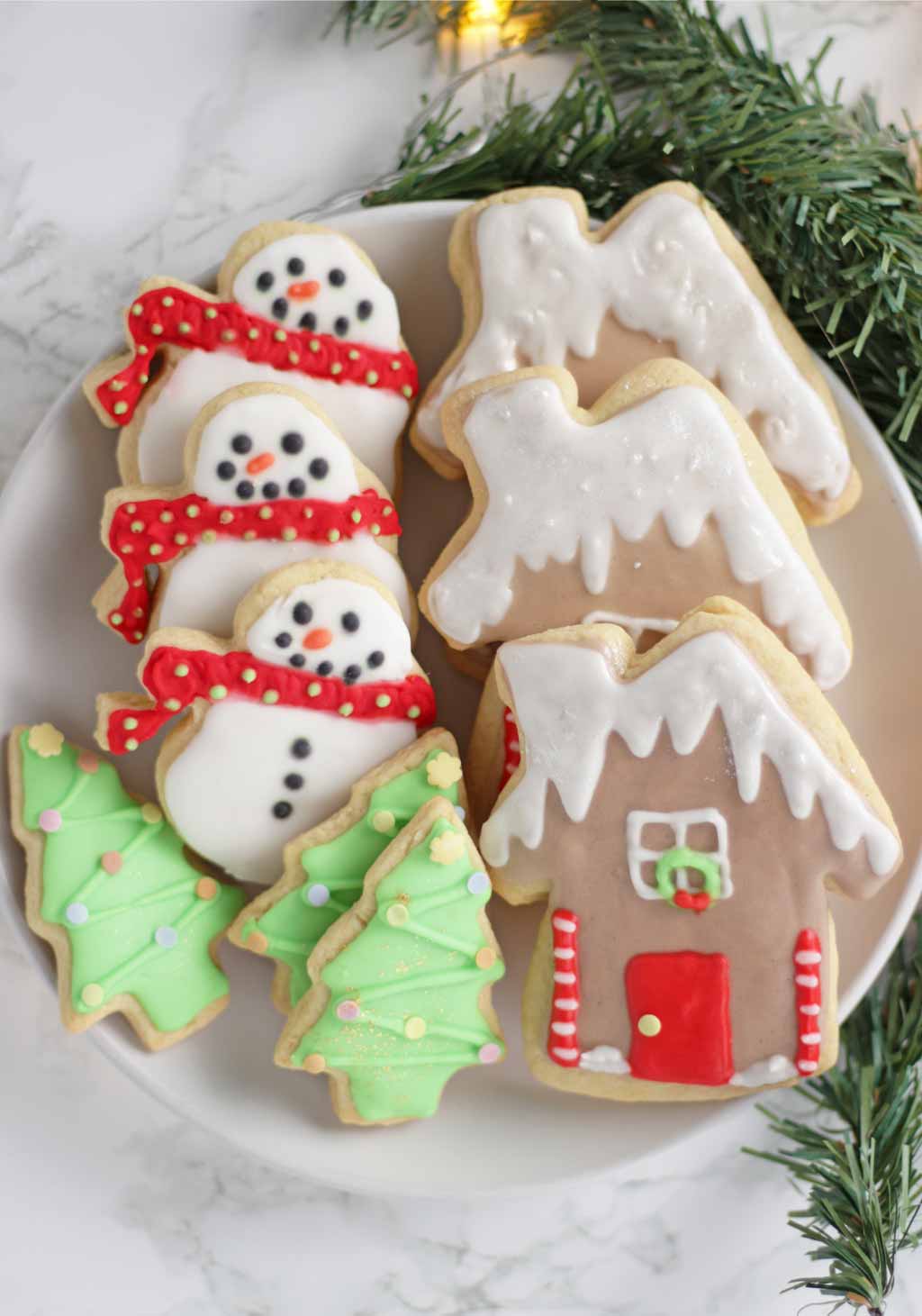 Classic sugar cookies but without the dairy, paired with vegan royal icing. They can be cut out and decorated however you like!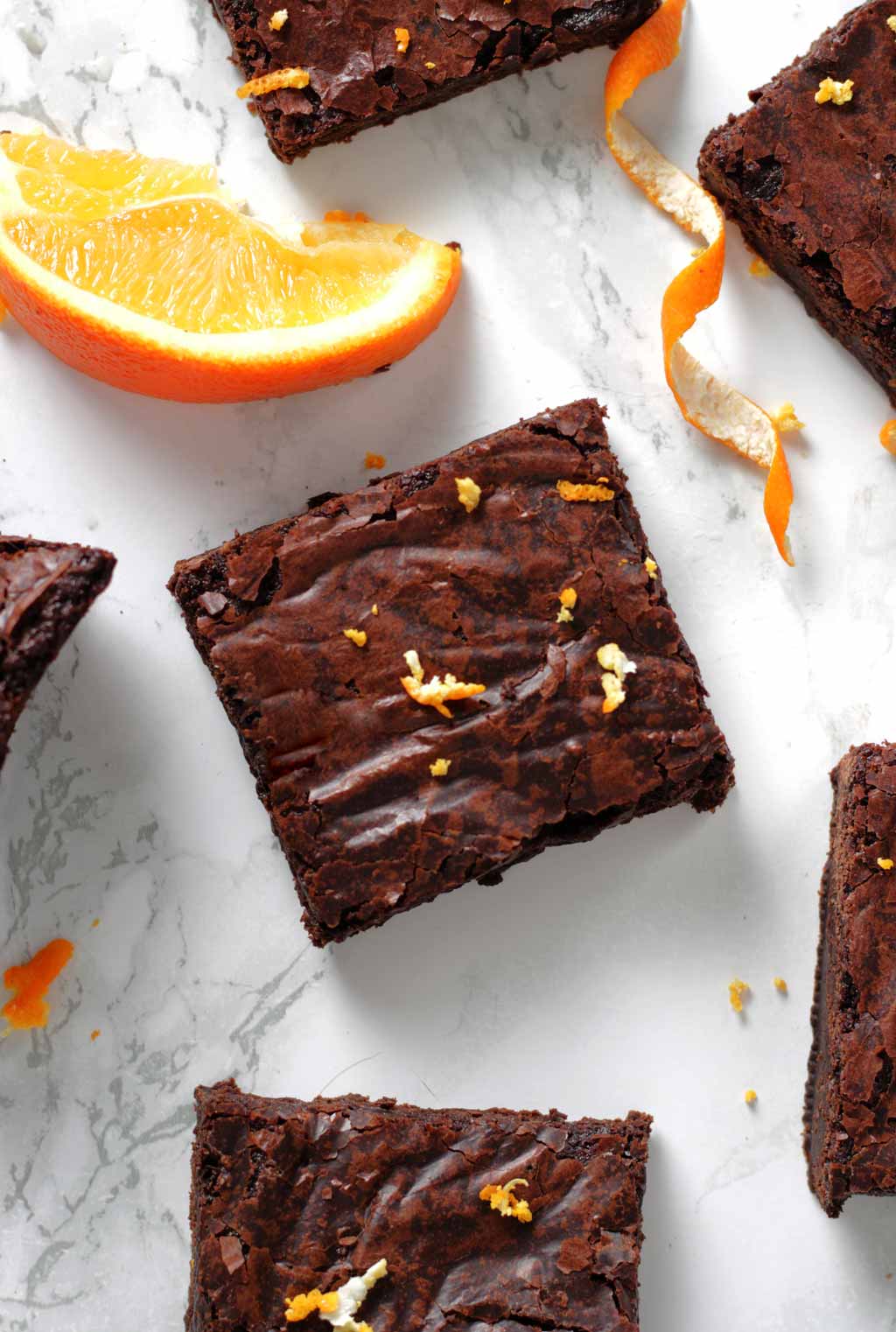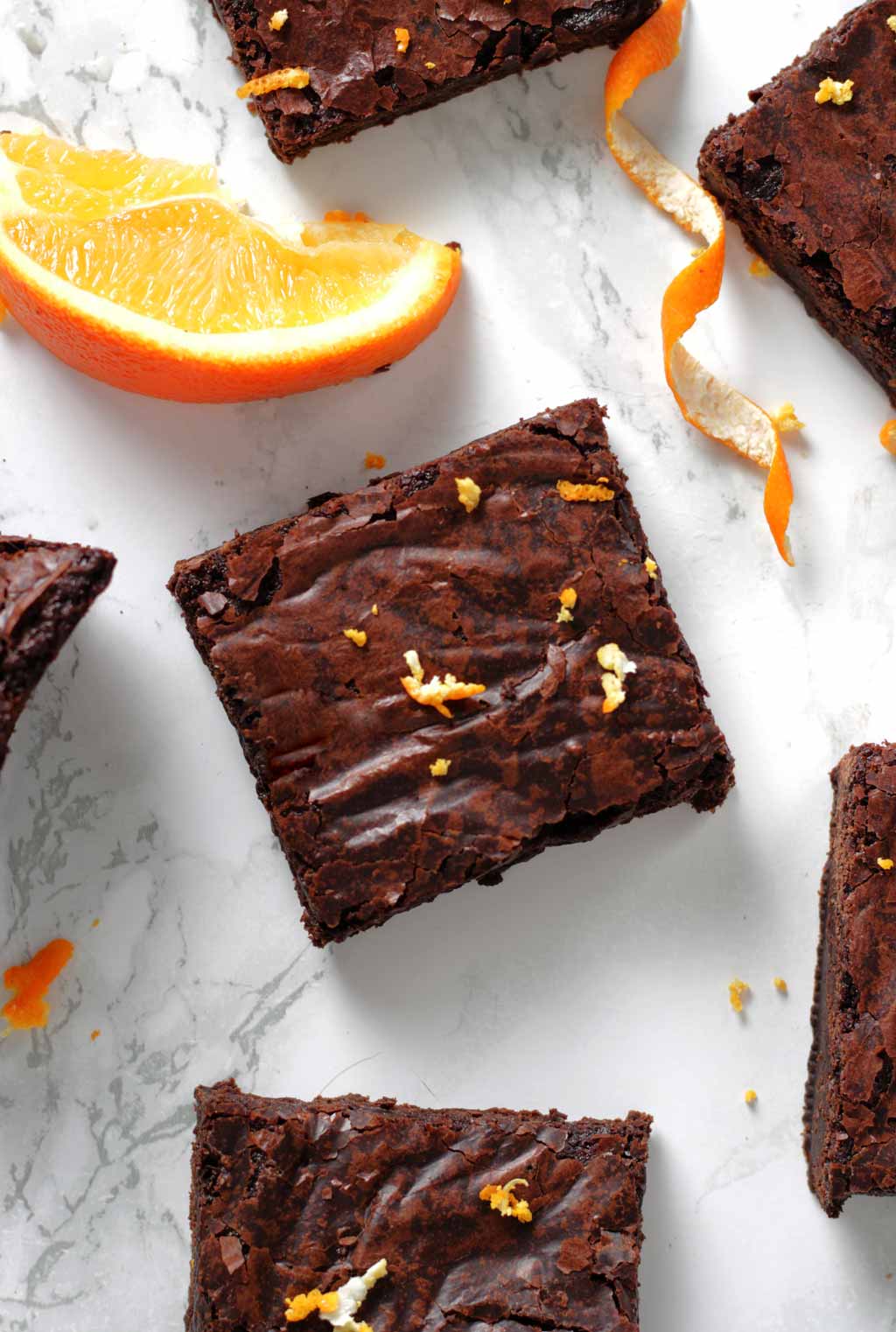 These brownies are gooey and fudgy on the inside and have that classic shiny, papery top! Flavoured with orange extract for an extra festive touch.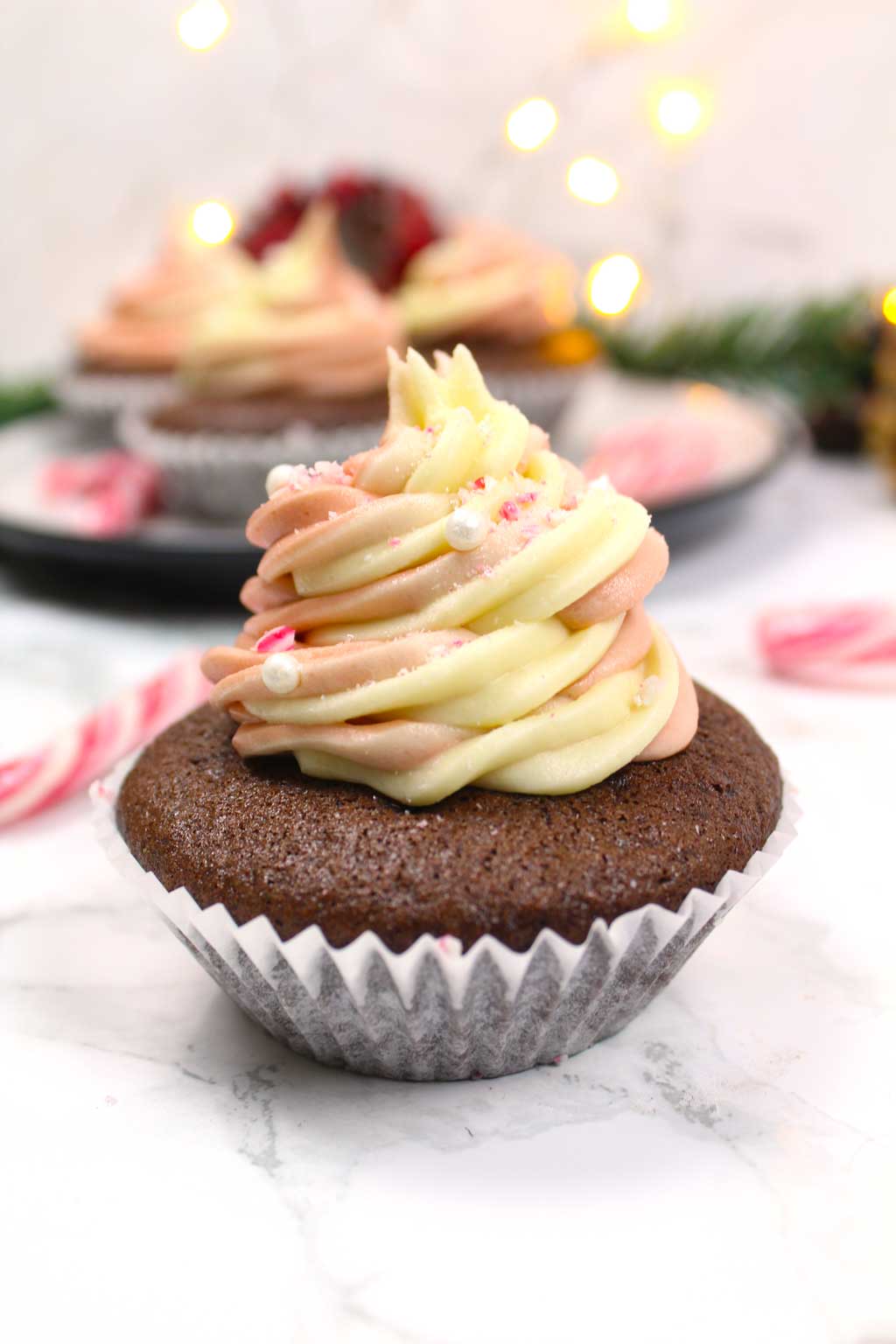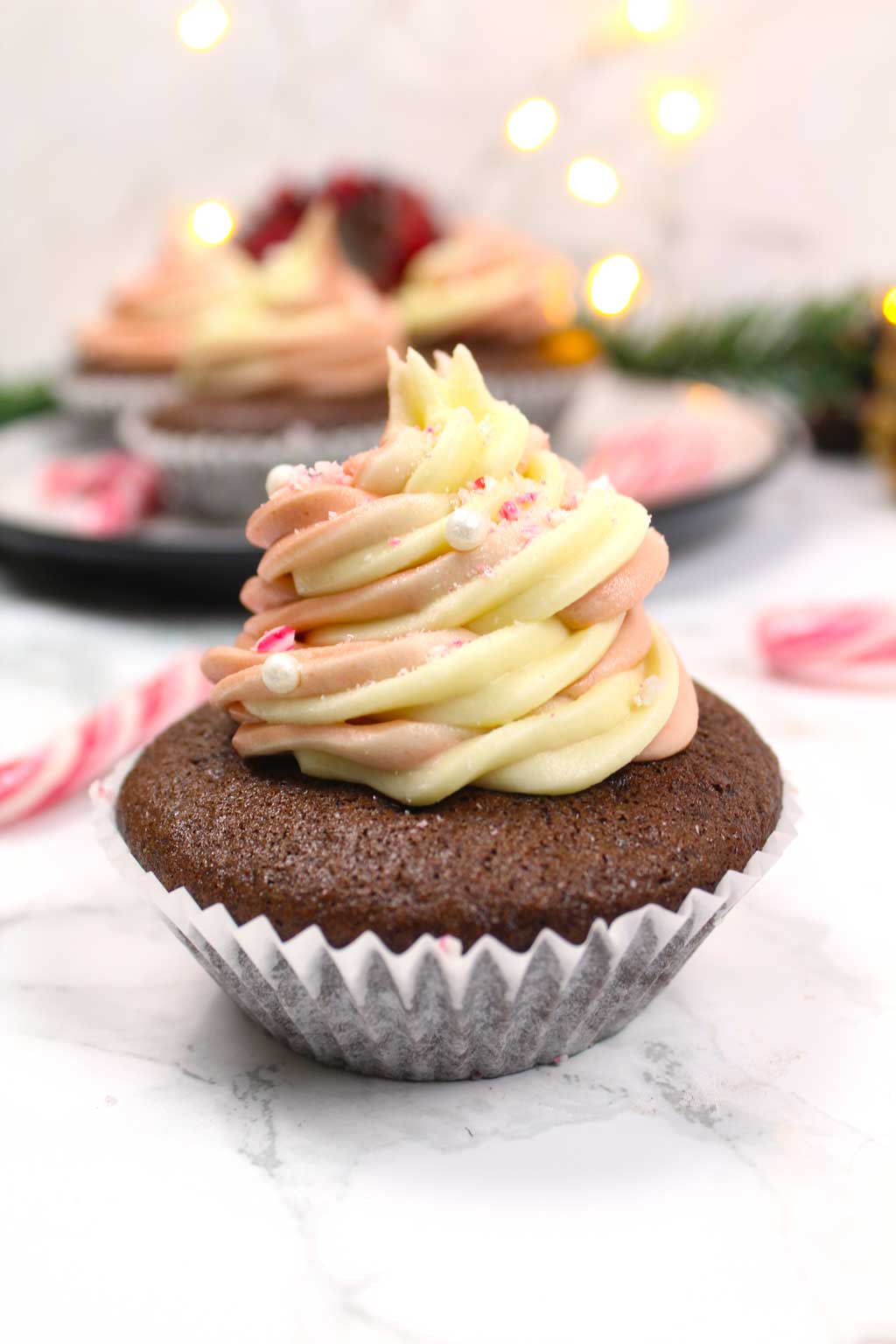 Chocolate cupcakes topped with dairy-free peppermint buttercream frosting. A must-try recipe for all mint chocolate lovers!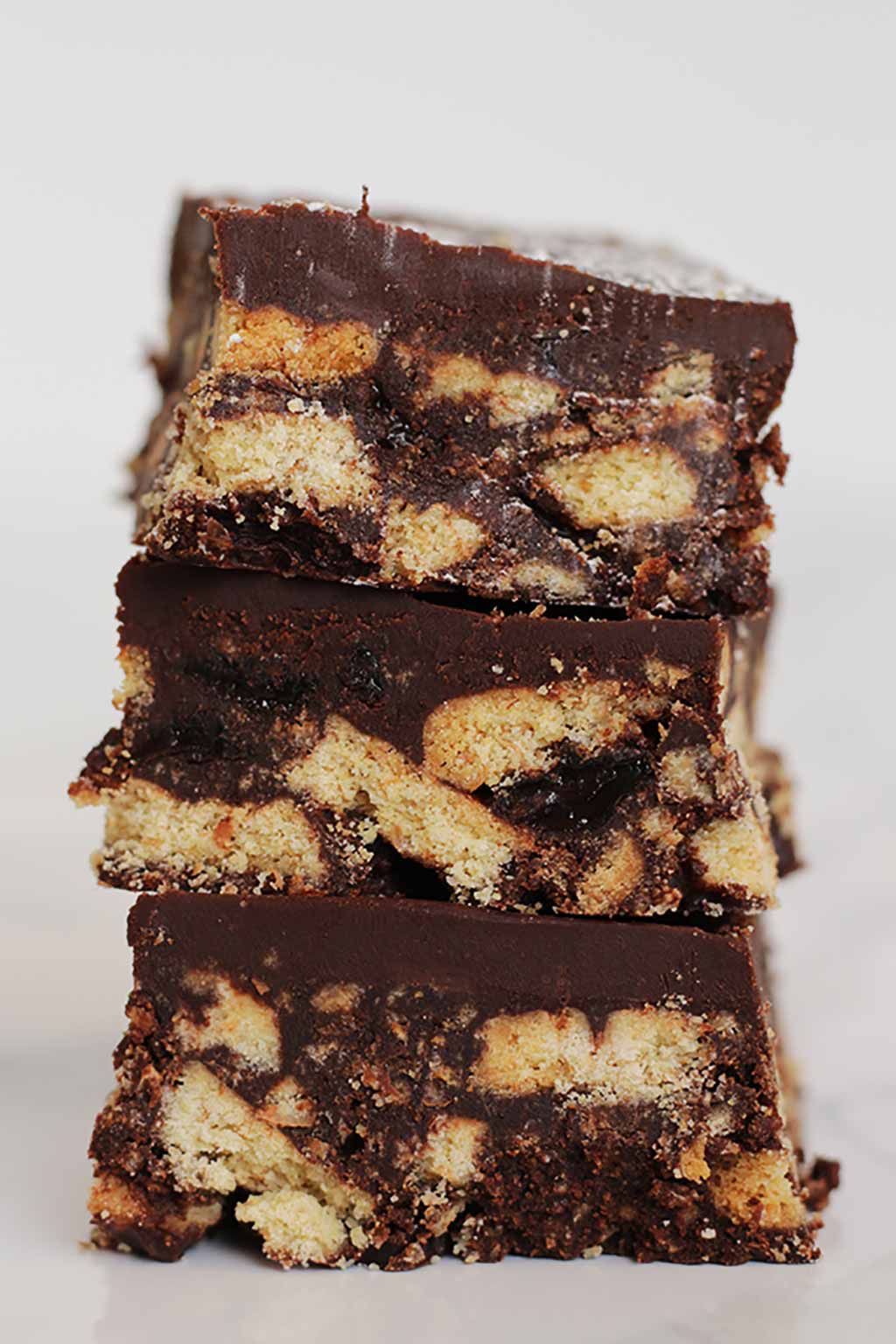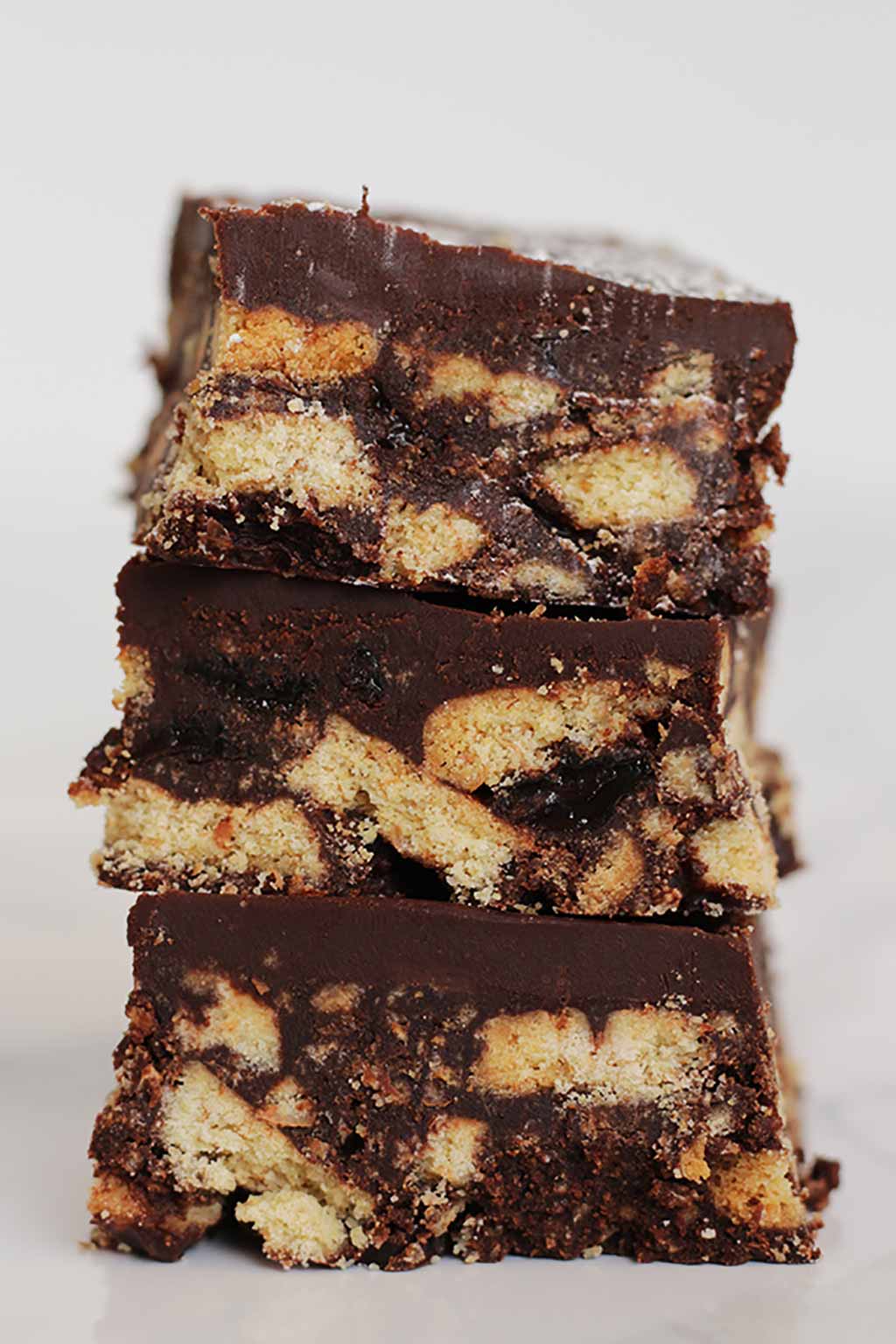 This chocolate fridge cake is packed with Digestive biscuits and raisins. No baking required and ready in just a few hours!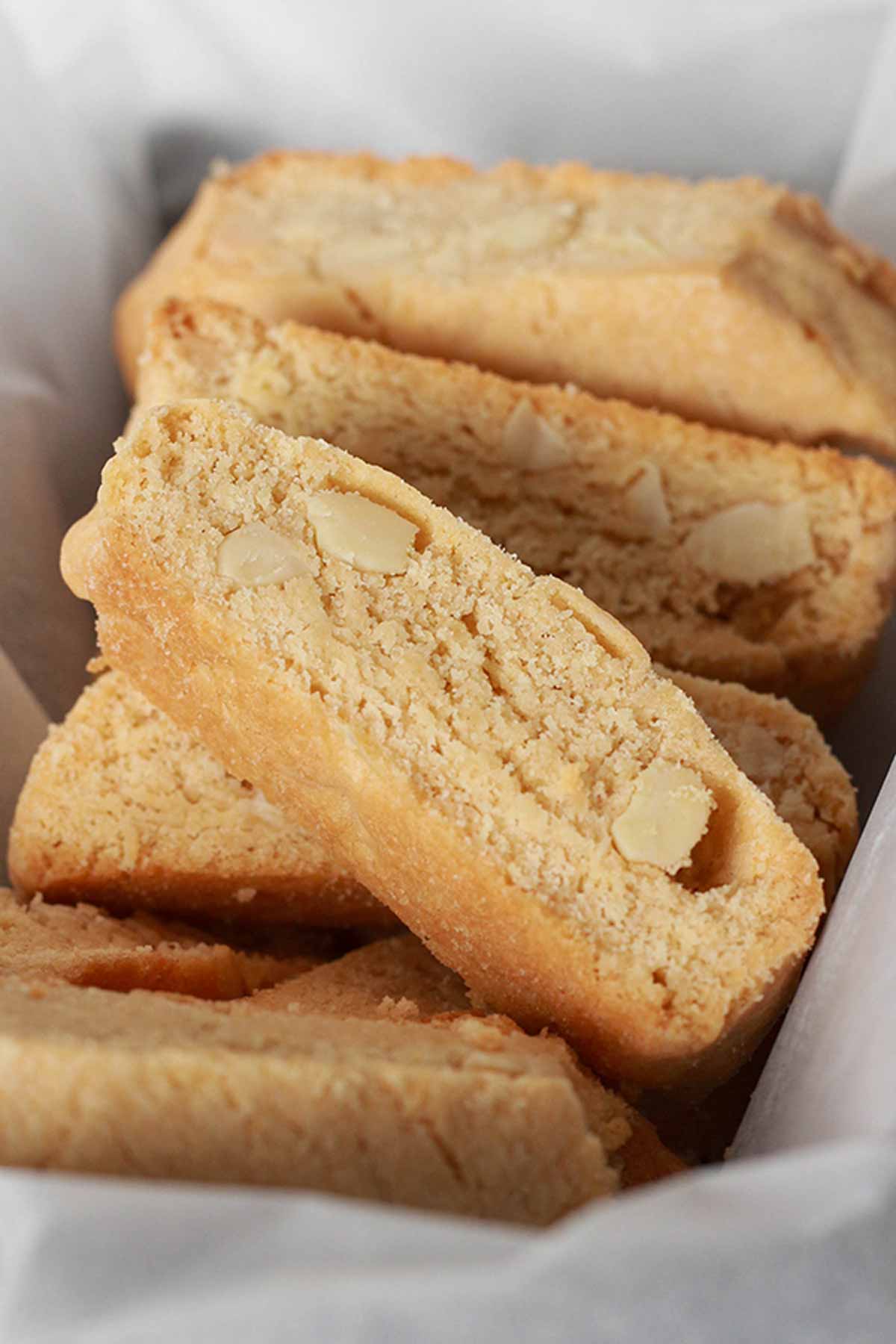 Crunchy Italian biscuits flavoured with almond extract and flaked almond. Great for dunking into a hot cup of coffee or cocoa.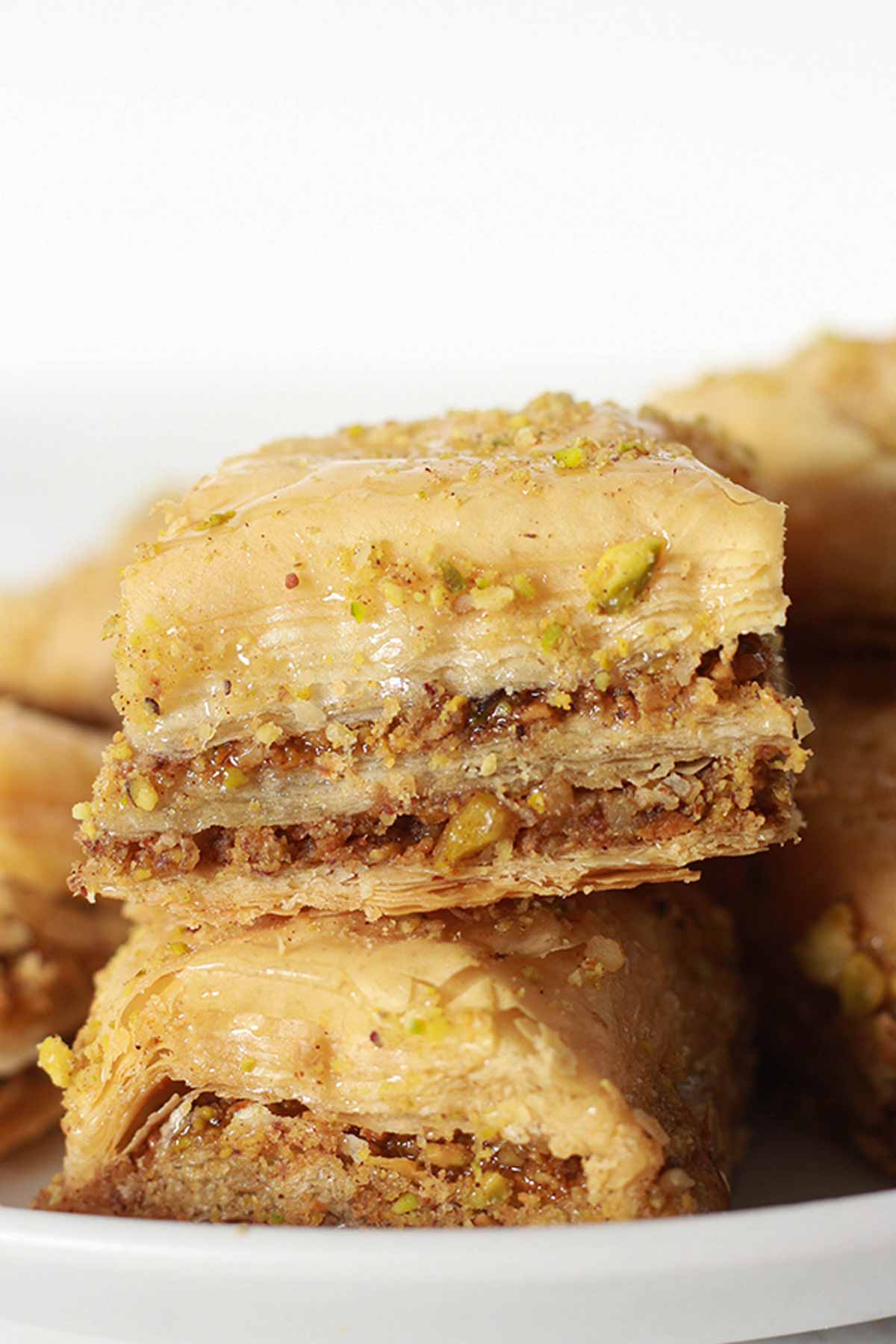 Crispy sheets of filo pastry filled with cinnamon, pistachio nuts and walnuts. No honey needed!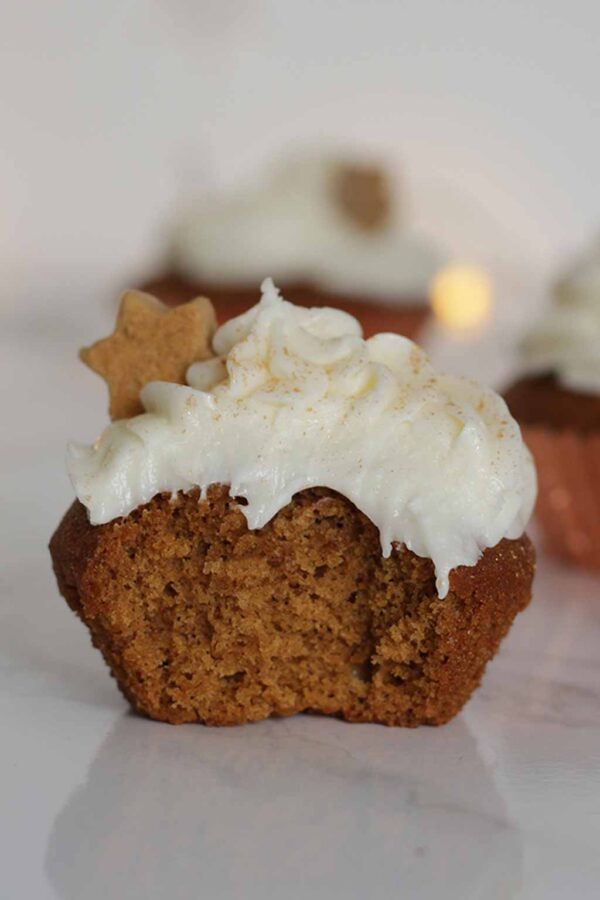 Rich gingerbread cupcakes topped with dairy-free cream cheese frosting.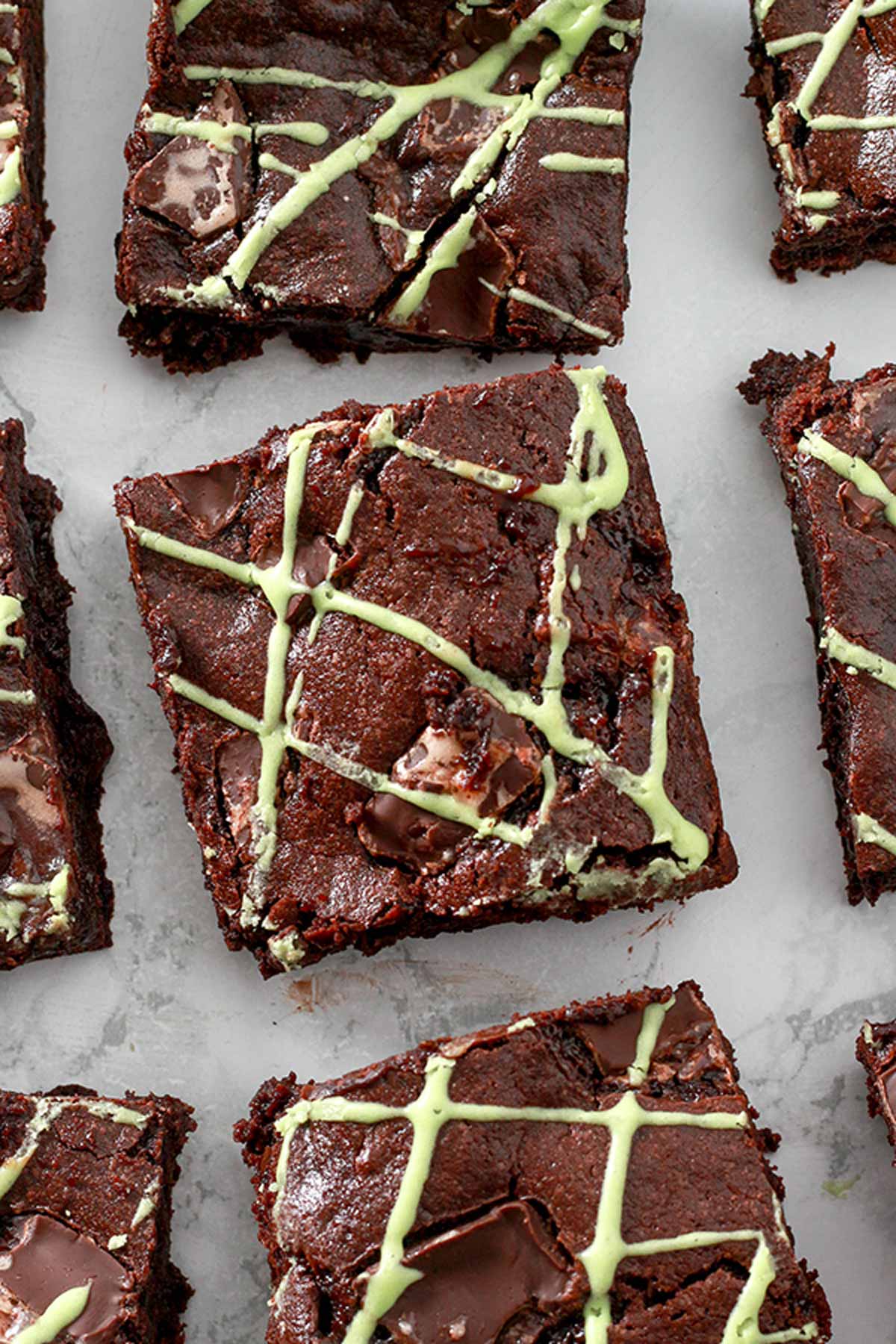 You can't beat a bit of mint chocolate at Christmas, can you? These peppermint brownies are fudgy, and gooey but you don't need any chocolate to make them!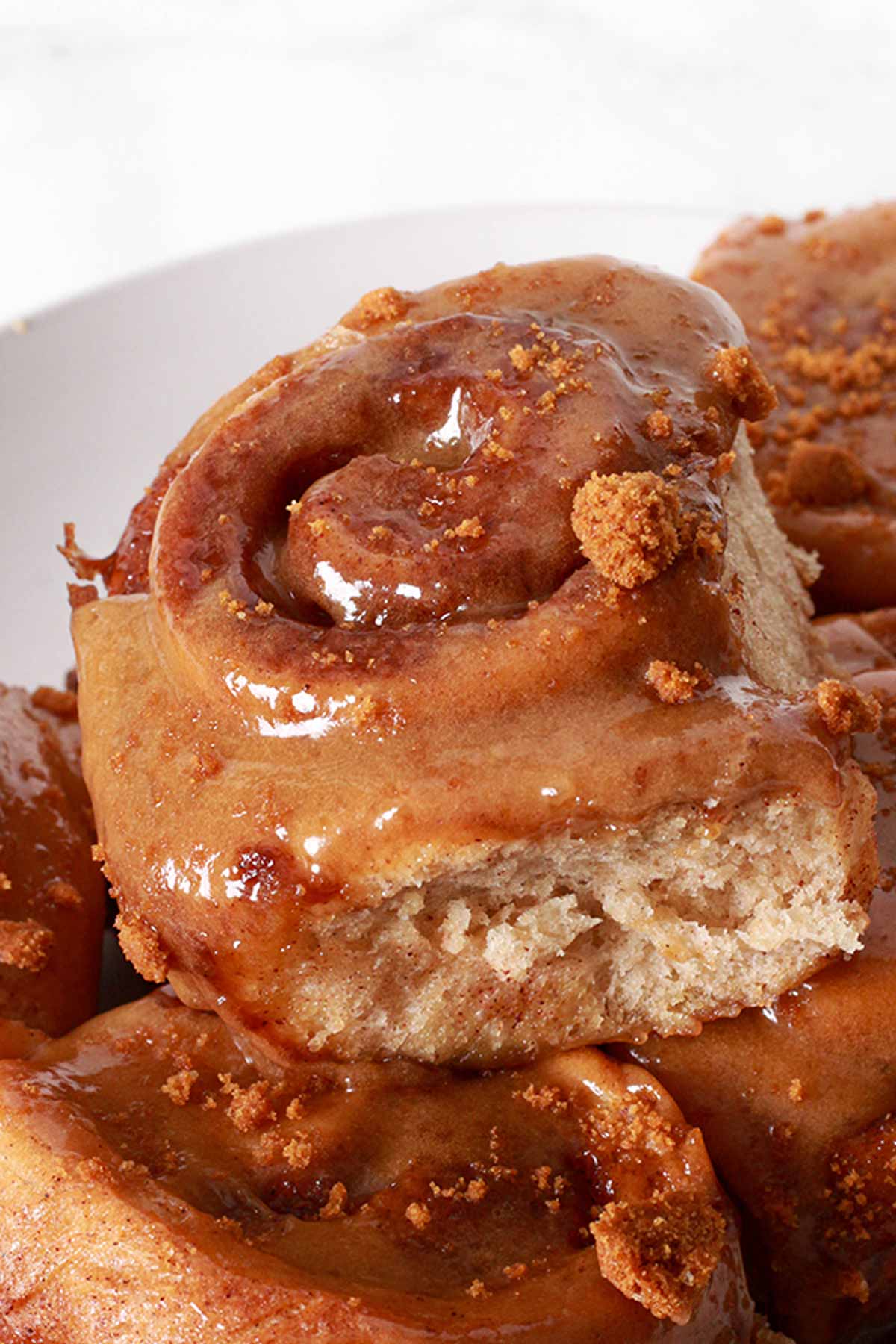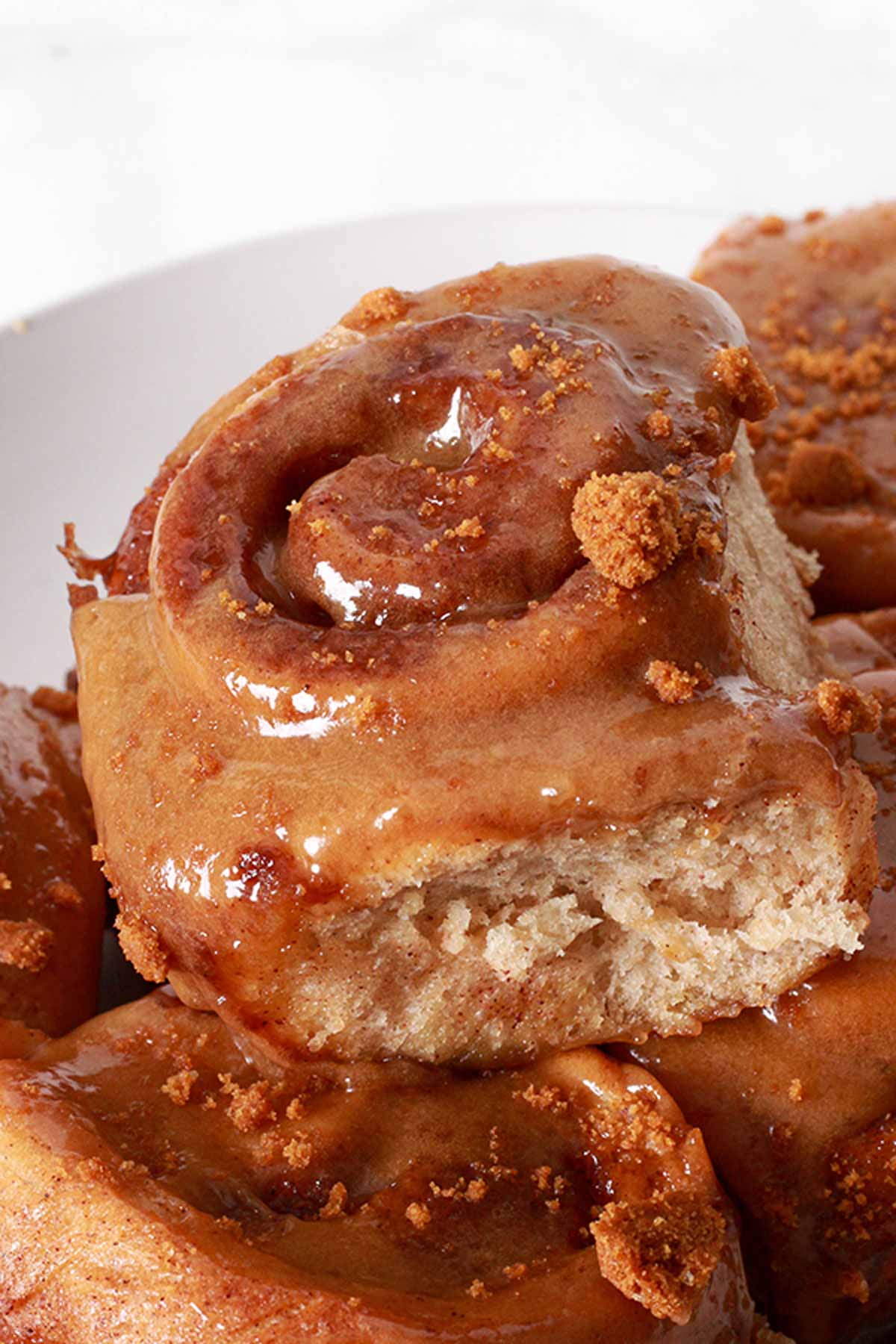 Pillowy soft cinnamon rolls filled and topped with Biscoff! You start with a basic cinnamon roll dough, fill it with Biscoff cinnamon filling, then top it all off with some vegan Biscoff cream cheese icing.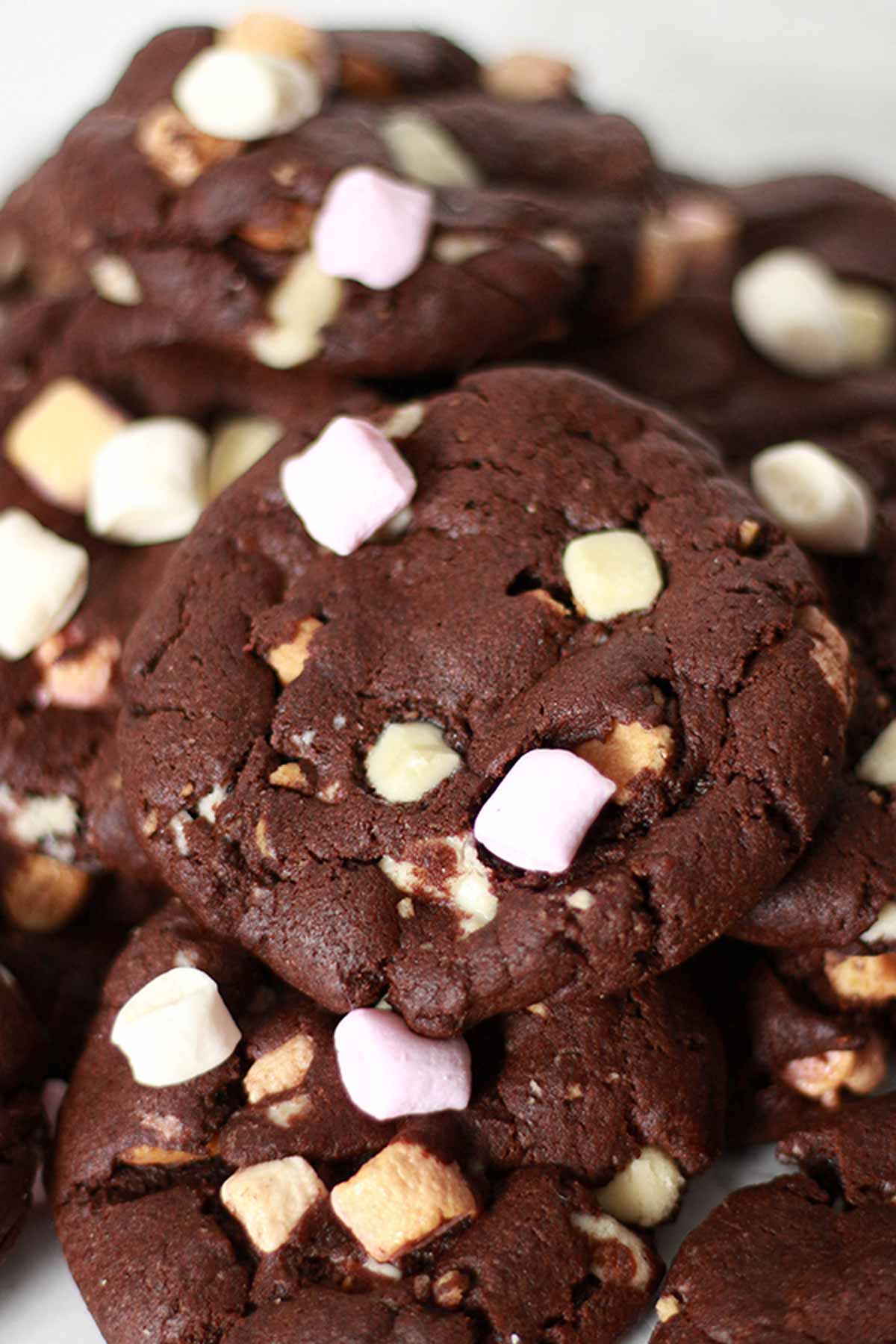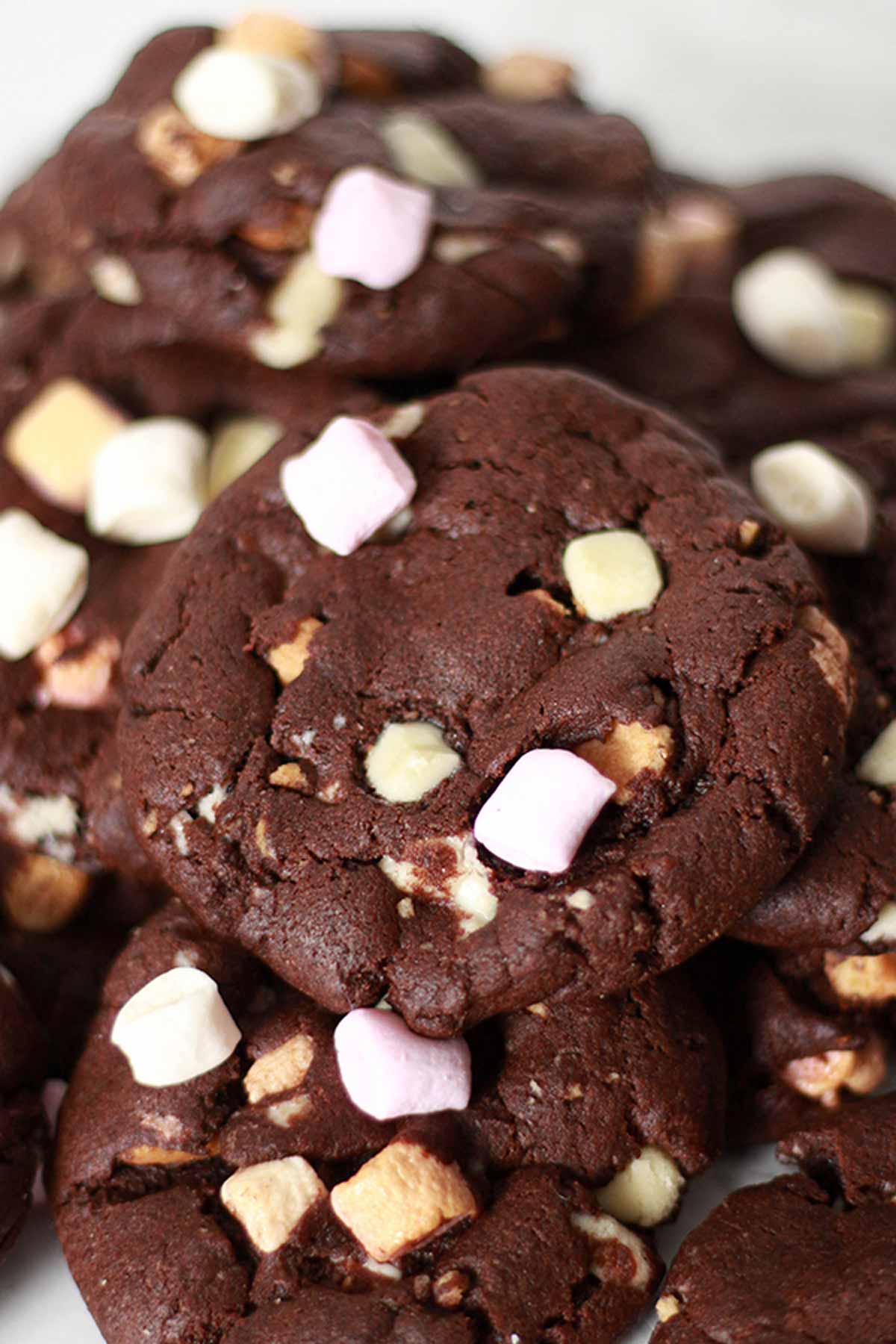 Rocky road but in cookie form! Chewy chocolate cookies filled with marshmallows and Digestive biscuits.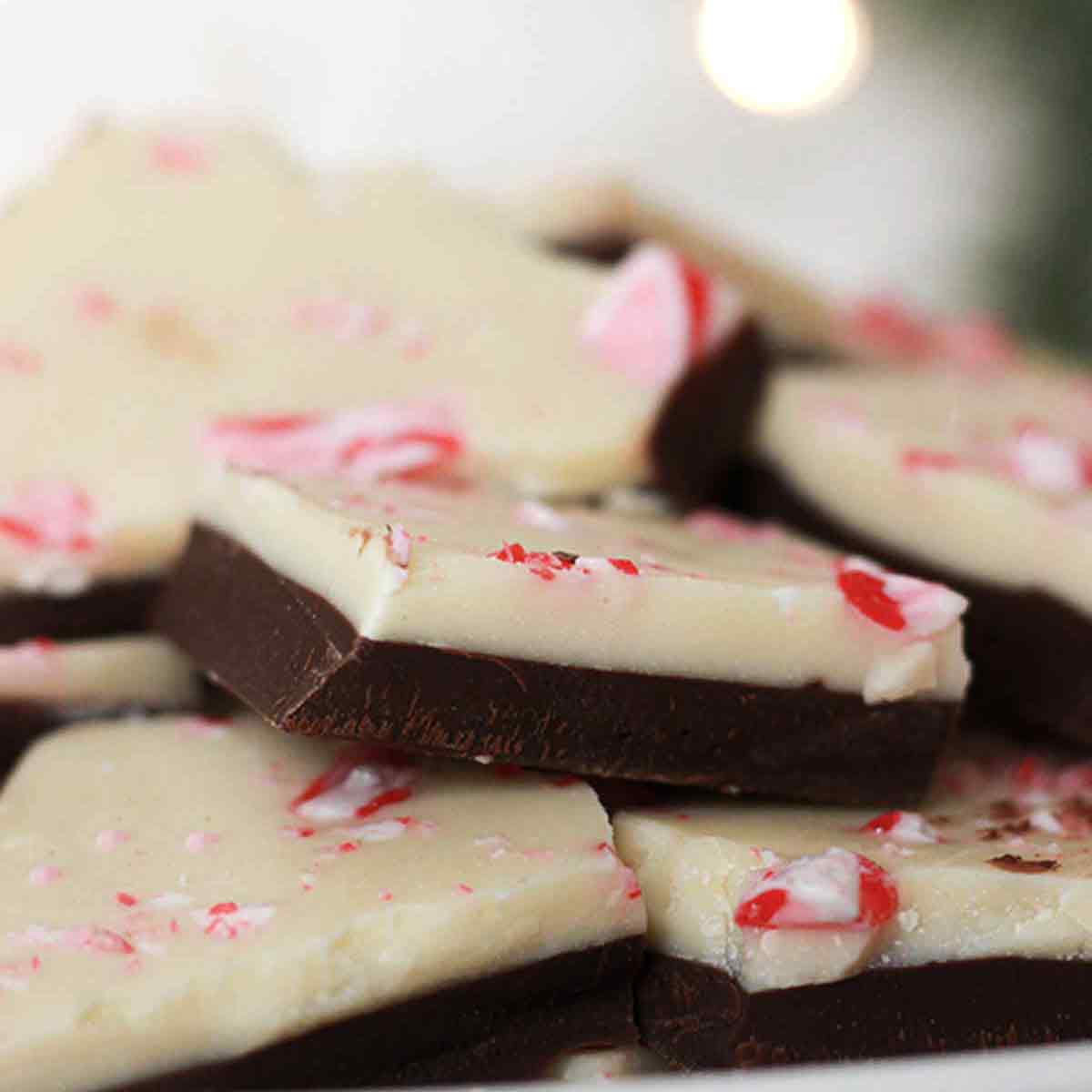 A simple snack that can be ready super fast. A mix of white chocolate, semi-sweet, candy canes and peppermint flavours.

36 Vegan Christmas Dessert Recipes
Vegan Christmas desserts including cinnamon rolls, cheesecakes, yule logs and truffles.
I hope you enjoy these vegan Christmas desserts. If you make any of them at home, please let me know how you get on by leaving a comment below. Happy baking! xo
BakedByClo is a participant in the Amazon Services LLC Associates Program, an affiliate advertising program designed to provide a means for sites to earn advertising fees by advertising and linking to Amazon.com. This site may contain some of these links to Amazon.com & other affiliate programs. If you make a purchase through one of those links, BakedByClo will receive a small commission from the purchase at no additional cost to you.