Vegan Cranberry Shortbread
Posted on - Last updated: This post may contain affiliate links
This vegan cranberry shortbread is a delicious, festive twist on the classic Scottish Christmas cookie. It's crunchy and crumbly, and filled with bursts of sweetness. It's a great sweet snack for dunking in hot drinks!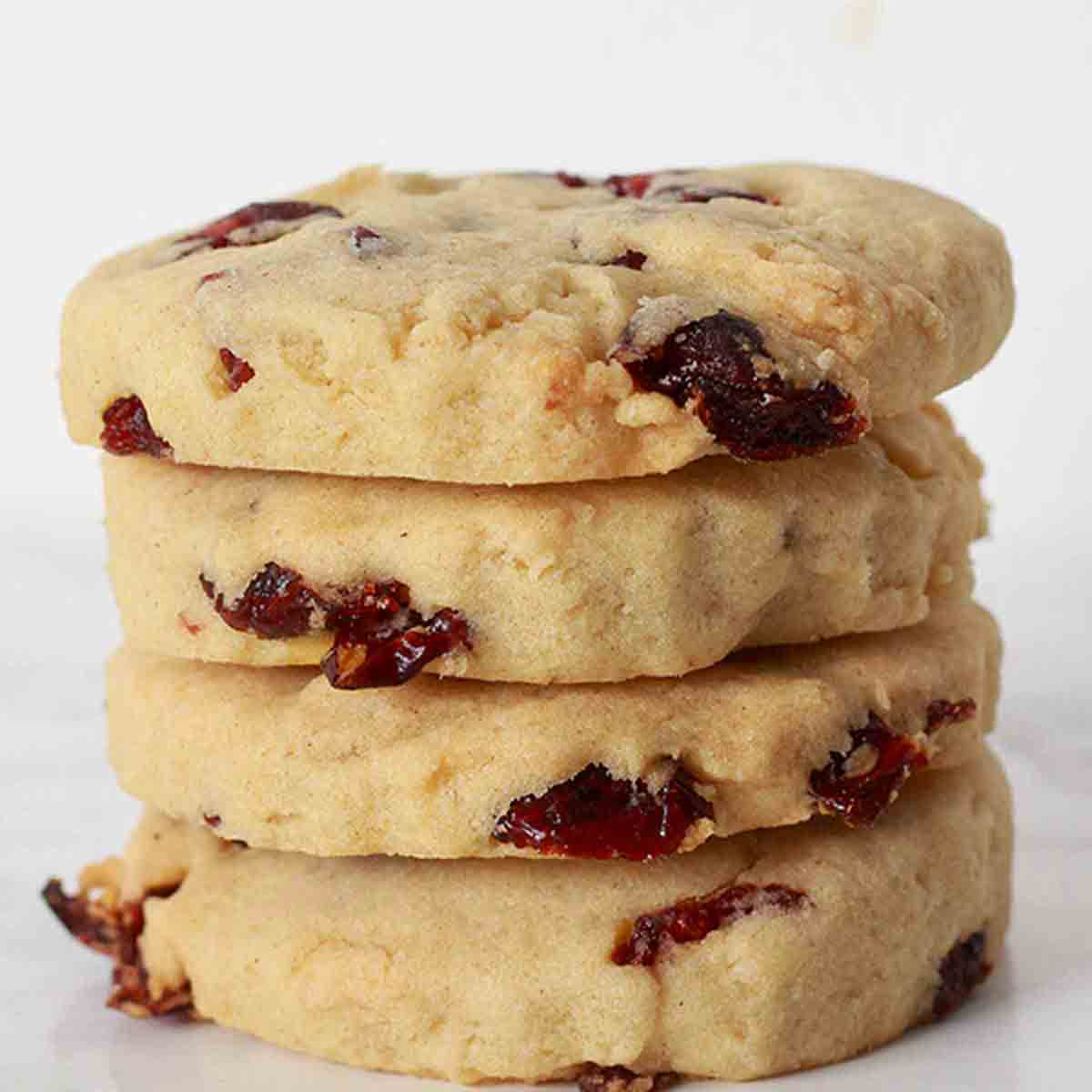 It's day 4 of my 12 days of vegan Christmas cookies series. I am just loving all of the festive baking- my house is full of cookies right now, ready to dish out to my family at the weekend!
Today I'm sharing a recipe for crunchy cranberry shortbread cookies. Shortbread is traditionally a Scottish cookie, or biscuit, as we say. It's enjoyed UK-wide all year but is especially popular at Christmas time. My granny always has some stashed in her cupboards for when the family visit!
Sadly, shortbread is traditionally made with dairy, meaning it's hard to find a vegan version in the shops. However, the swap for dairy butter to dairy-free butter could not be easier! Using the traditional 1:2:3 ratio (sugar, butter, flour), making this shortbread is a breeze.
I made my original Scottish shortbread cookies a while ago now, and they were really popular last Christmas so I decided to make a festive flavour for this year. And what's more festive than cranberries?!
I love shortbread because it's so easy and quick to make, and it's great for freezing too, which is perfect if you want to make them in advance! I hope you enjoy the recipe.
More dairy-free Christmas cookies:
Ingredients you'll need for this recipe:
This recipe is super easy as it only requires 6 simple ingredients.
Dairy-free butter. You can use the blocky type or the spreadable type for this recipe. I've tested both and they both work well and taste great. You may need to use a tiny bit more flour while rolling if you're using the spreadable style of vegan 'butter' because it contains more water. My favourite vegan block butter is Stork baking block and my favourite dairy-free margarine is Vitalite.
Caster sugar. You don't need a lot of sugar for this recipe as shortbread biscuits are not traditionally super sweet. However, I highly recommend sprinkling some extra sugar over the top after baking if you want a sweeter cookie.
Vanilla extract. The 'butter' is the main flavour in shortbread but adding a little vanilla makes it even tastier.
Plain flour. Provides structure and makes the shortbread crunchy. You need to use plain flour for this recipe so that the shortbread holds its shape while baking.
Cornflour. Also known as cornstarch in the US. This helps to give the shortbread an extra crumbly texture. If you don't have any to hand, you can just substitute it for an equal amount of plain flour.
Dried cranberries. Of course, there would be no cranberry shortbread without cranberries! For this recipe, you'll need to use sweet dried cranberries. Fresh cranberries are too tart, plus their water content will mess with the texture of the dough.
How to make vegan cranberry shortbread
Step 1:
In a large bowl, mix together 200g of dairy-free butter, 100g of caster sugar and 1 teaspoon of vanilla extract until smooth.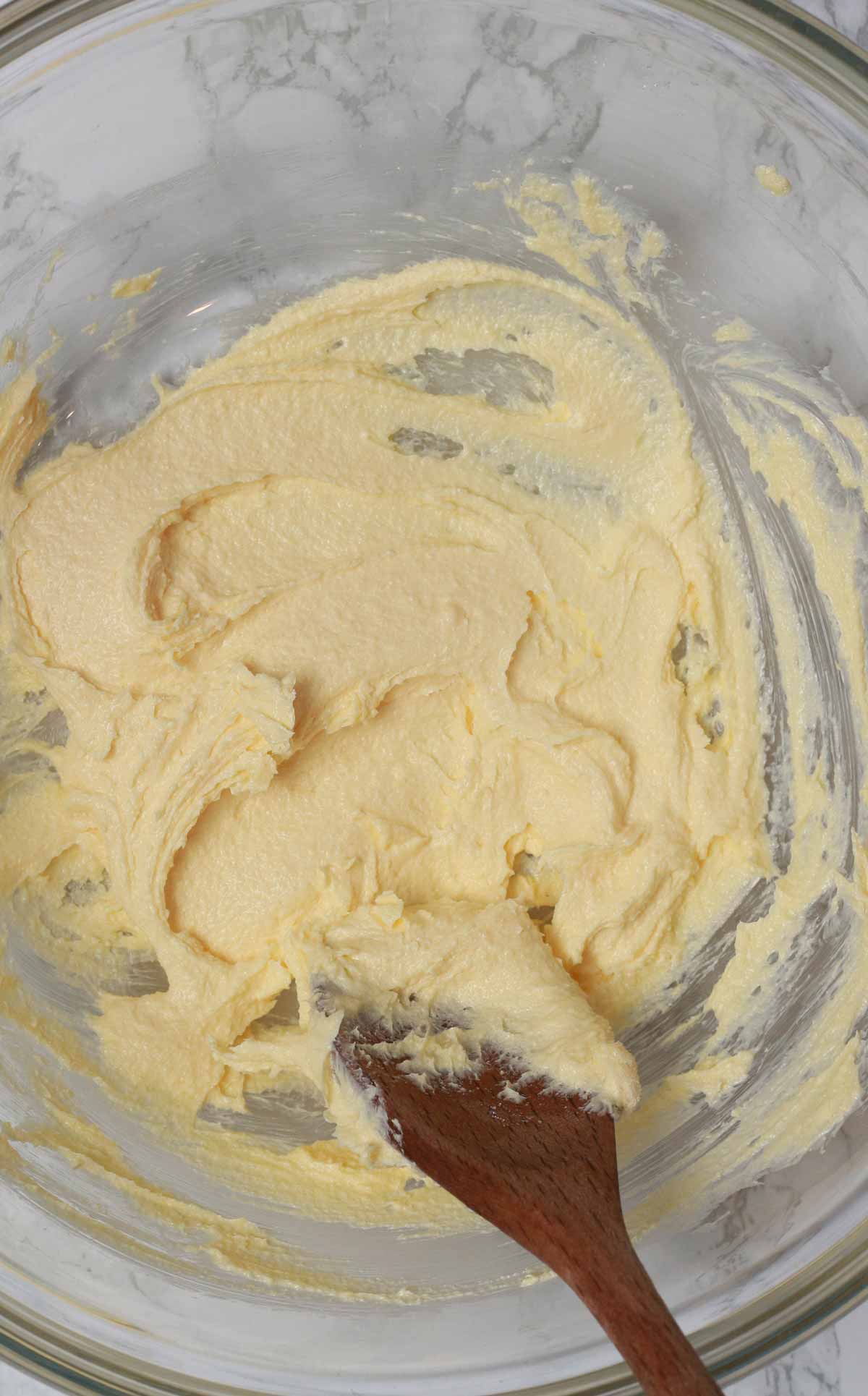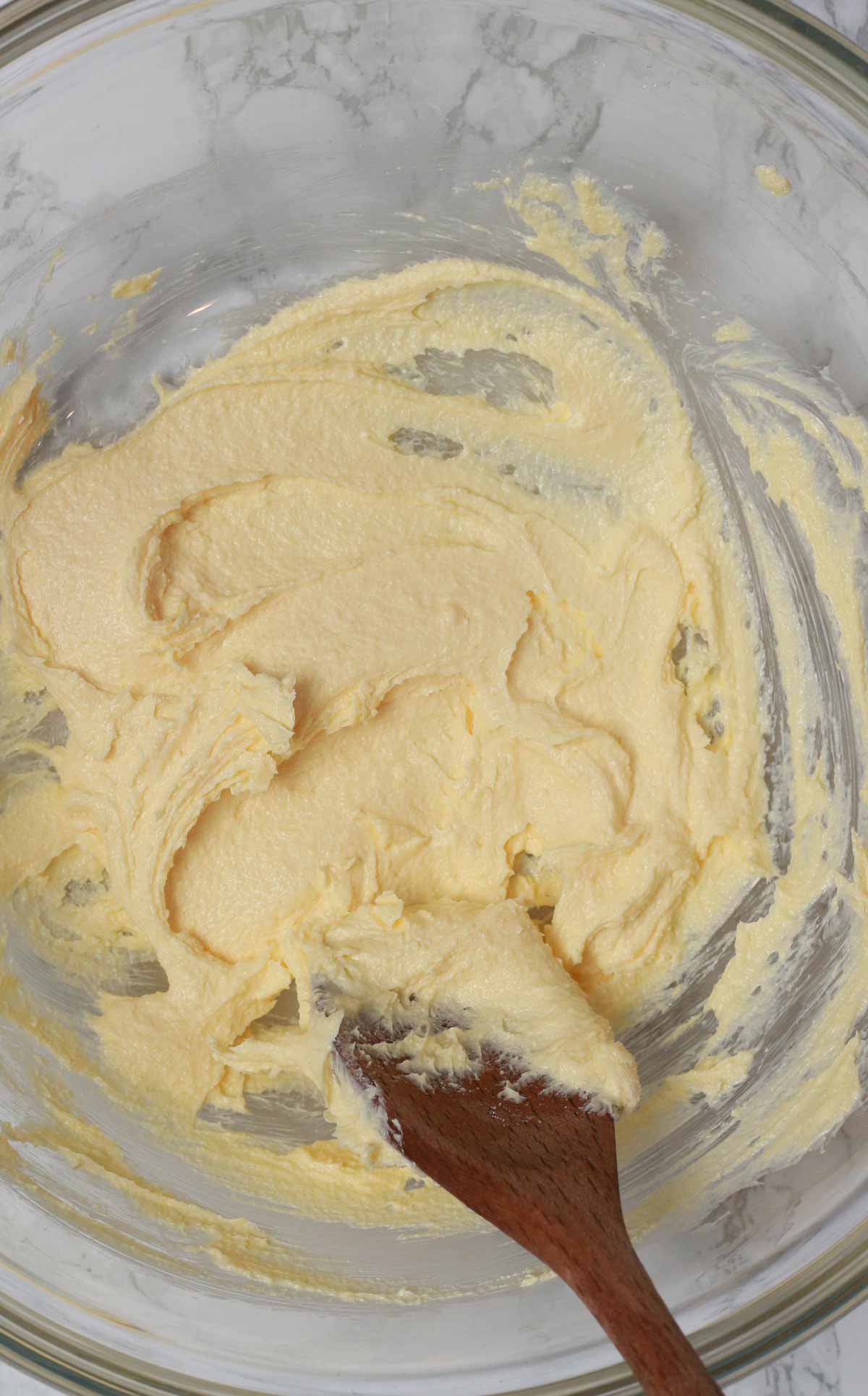 Step 2:
Next, add in 280g of plain flour and 2 tablespoons of cornflour. Stir it into the wet mixture until it starts to come together. Then use your hands to press it into a ball of firm dough. If it's too sticky, you can add more flour and if it's too dry, just add a small splash of plant-based milk until it comes together.
Step 3:
Add 100g of dried cranberries to the ball of dough and use your hands to gently press them in.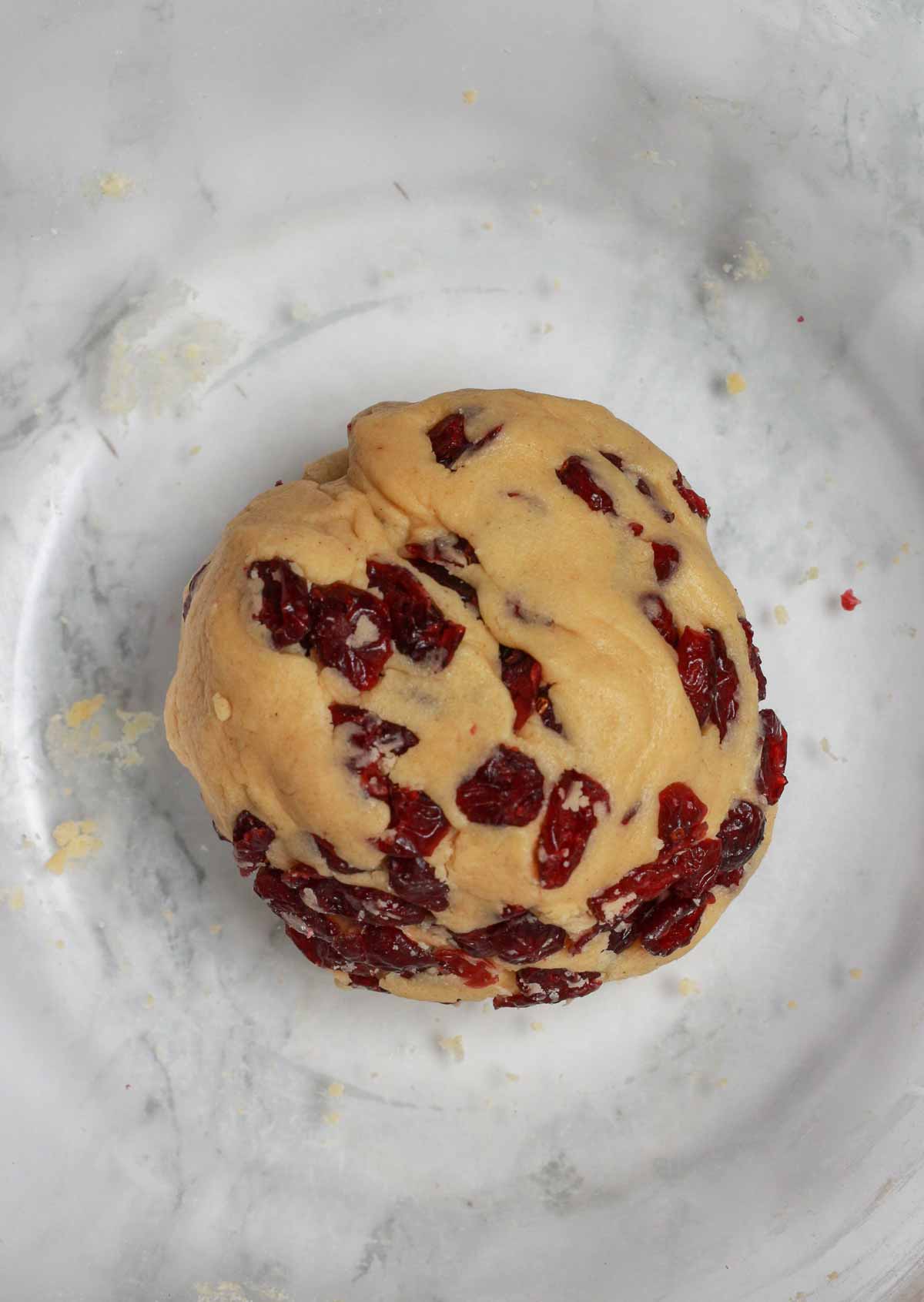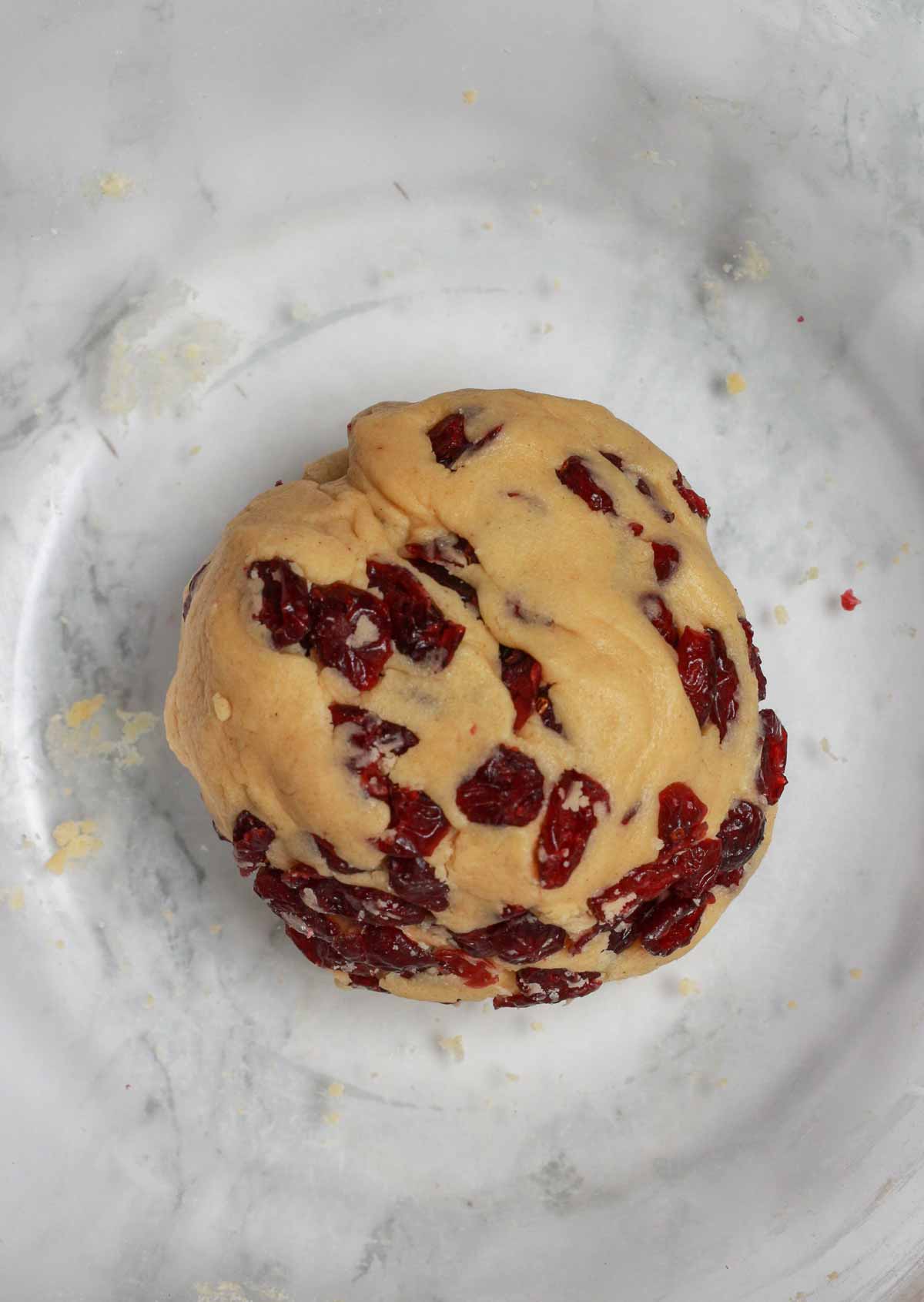 Step 4:
Refrigerate the dough for 30 minutes. This will help to prevent the shortbread from spreading in the oven, meaning it'll hold its shape better.
While the dough is chilling, preheat your oven to 180°C/350°F (or 160°C/325°F if you're using a fan or convection oven). Line a large tray with baking paper.
Step 5:
Once the 30 minutes are up, remove the dough from the fridge. On a lightly floured surface, roll your cranberry shortbread dough out to around 1/2 an inch thick. You don't want to roll shortbread dough out too thin!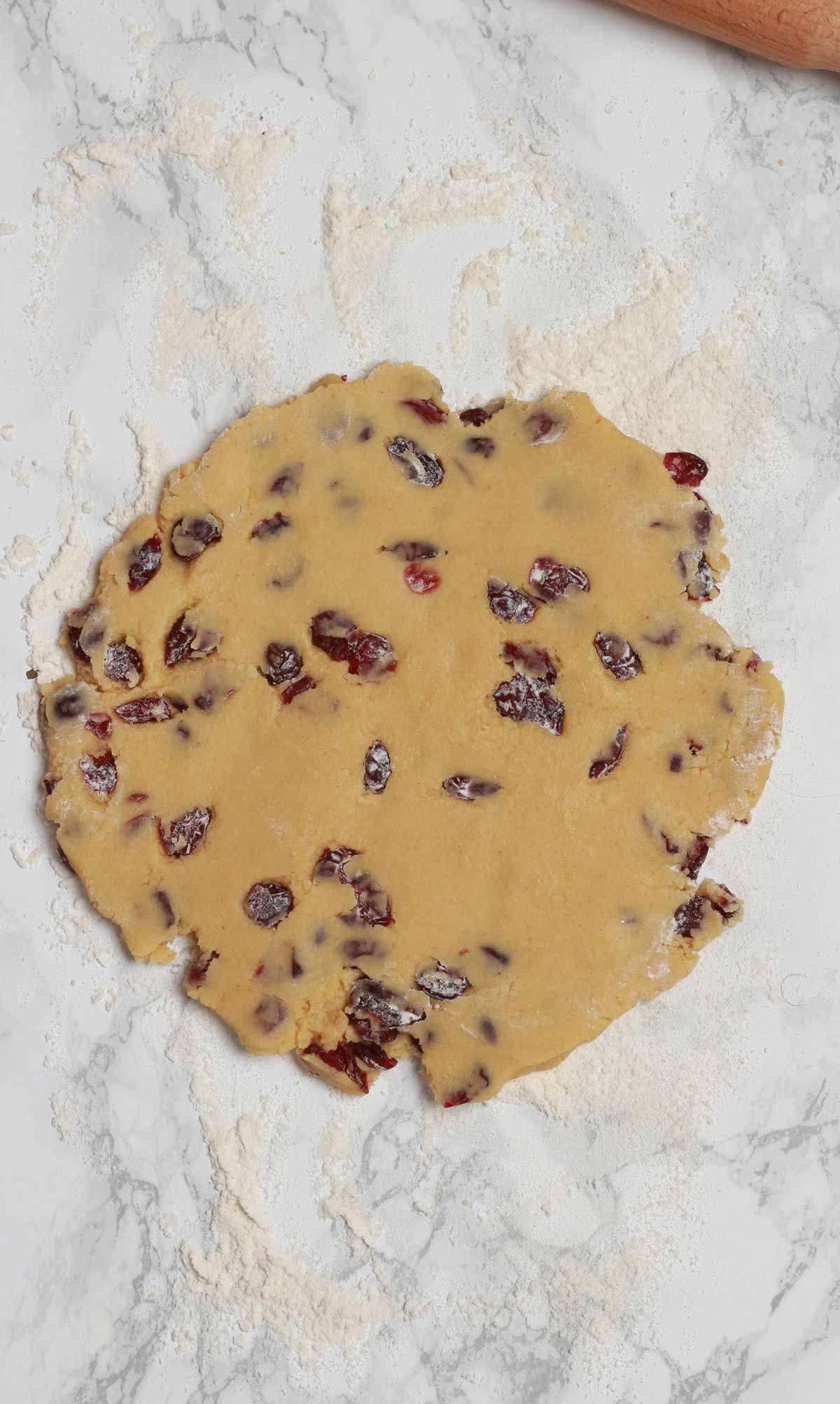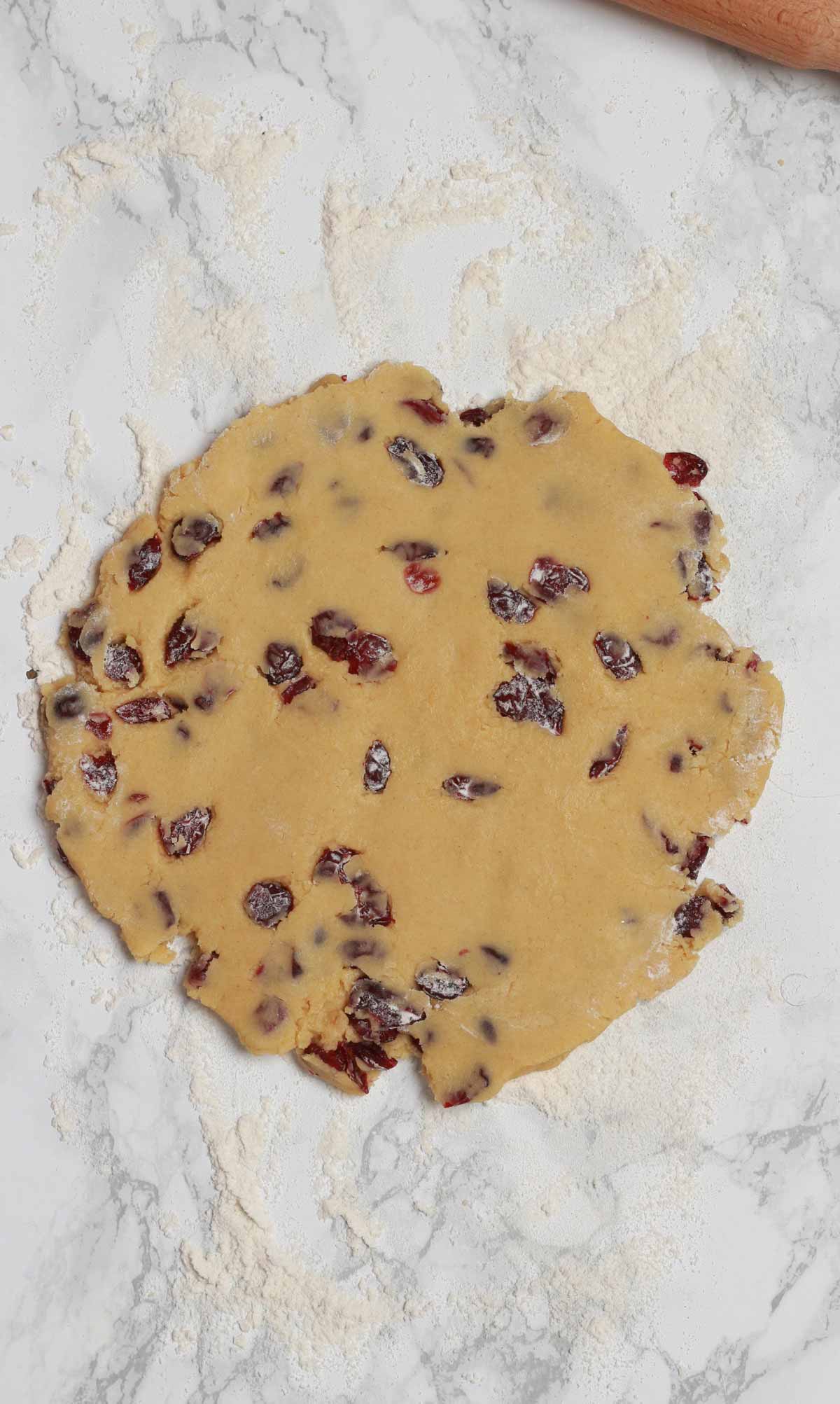 Step 6:
Use a 3-inch round cookie cutter to cut out your shortbread shapes. Place them onto your lined baking tray and bake for around 20 minutes.
If you're using a non-stick cookie sheet as opposed to a lined baking tray, they'll need a little less time in the oven as the heat will penetrate the tray quicker. You'll know the shortbread is done when they are pale in colour with very slightly golden brown edges. They'll be soft in the middle at first but will firm up as they cool.
Step 7:
Sprinkle the shortbread with some extra sugar while they are still warm. Then transfer them to a wire rack and leave them to cool completely before enjoying.
Top tips for vegan cranberry shortbread
If using block dairy-free butter, let it soften at room temperature first. This will make it easier to mix.
Don't skip chilling the dough! The shortbread will spread in the oven otherwise.
If using vegan margarine, you may need to use a bit more flour while rolling the dough out.
Take the shortbread out of the oven a few minutes earlier if you're using a non-stick cookie sheet as they'll bake faster.
You'll be able to tell they're ready when the edges are firm and very slightly golden brown. They should be pale everywhere else. They'll also be a bit soft in the middle at first but they'll become crunchier as they cool down.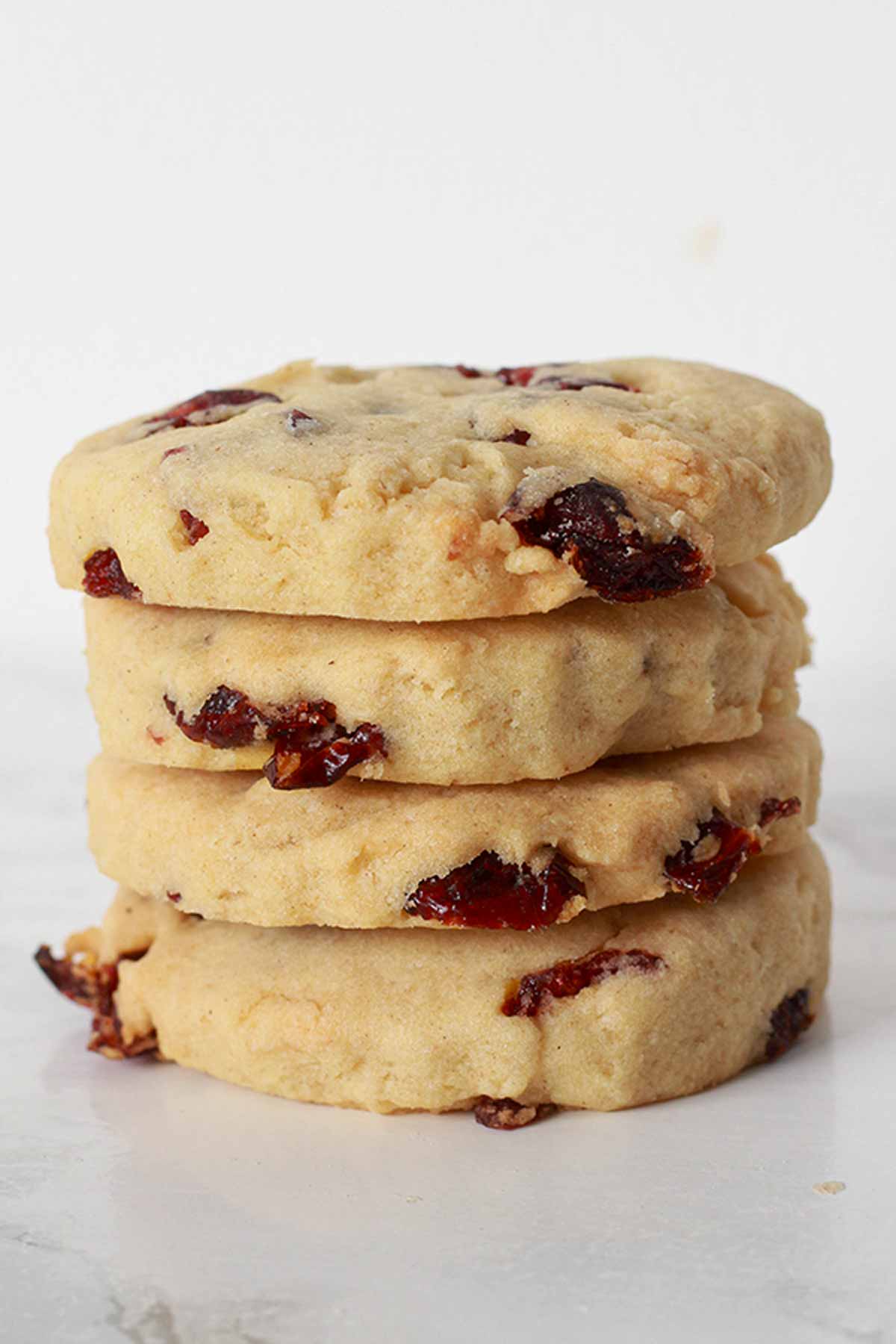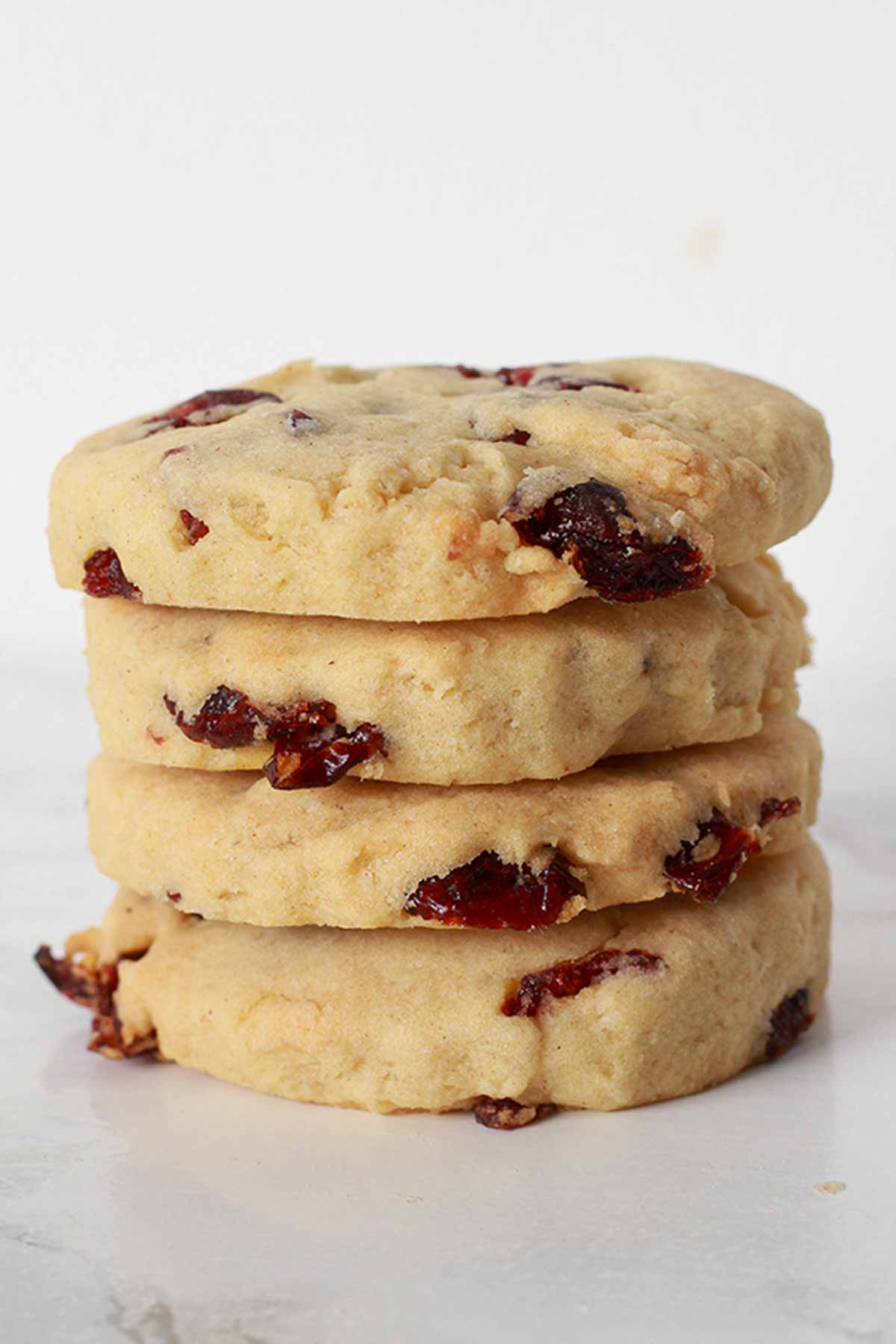 FAQ:
Can I use fresh cranberries?
I don't recommend it because fresh cranberries are so tart! Dried cranberries are a lot sweeter and more suitable for adding to shortbread. Plus, they are also free from water that may interfere with the texture of the dough.
How should vegan cranberry shortbread be stored?
Keep them in an airtight container and store them at room temperature. They'll stay crunchy for around 3 days this way.
Can I freeze them?
Yes, they freeze nicely! Pop them into an airtight container or wrap them up in tin foil and freeze for up to 3 months. When you're ready to eat them, transfer them to a wire rack or plate and thaw them at room temperature for an hour or two. Do not refreeze.

The dough can also be frozen. Let it defrost in the fridge before rolling it out and baking.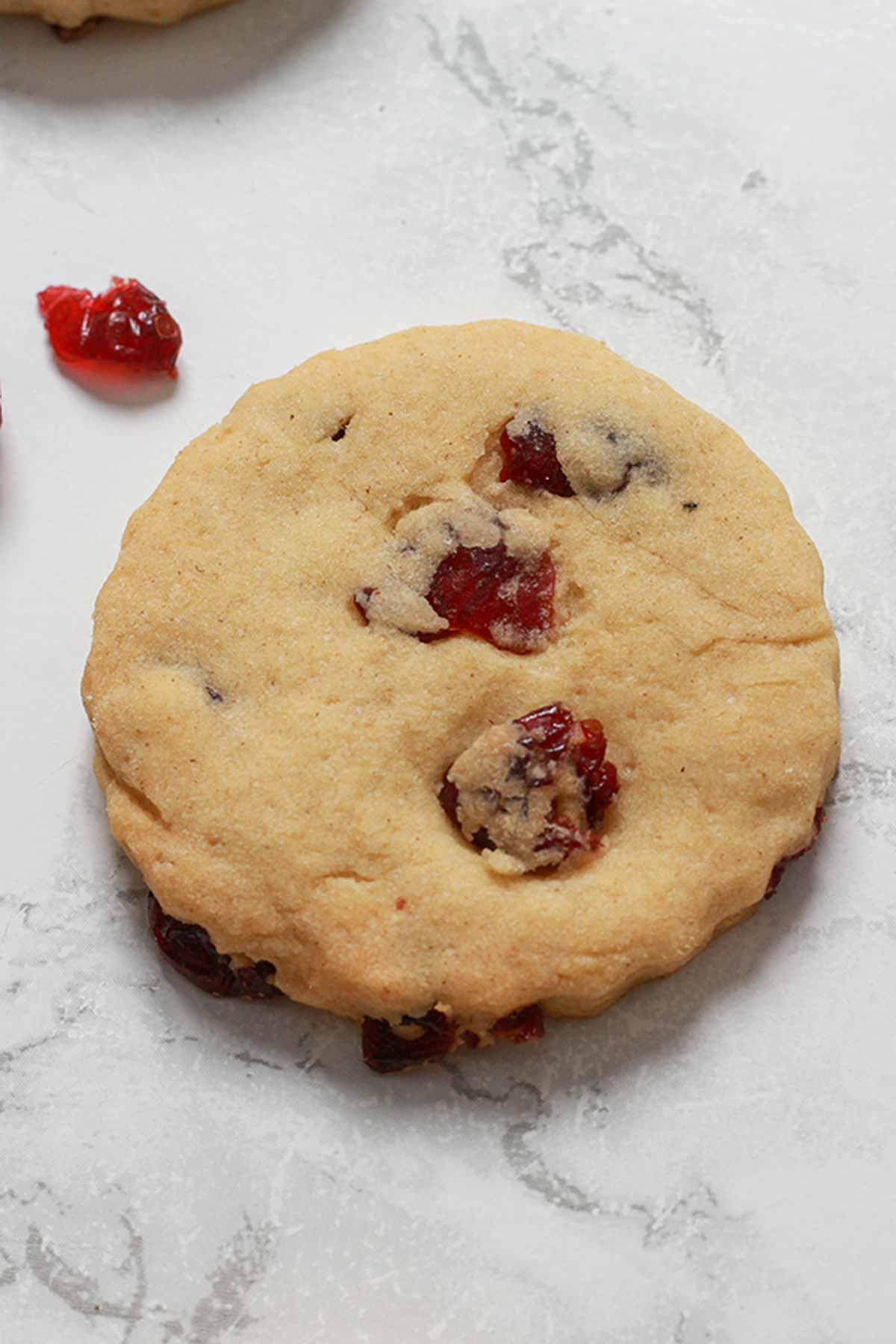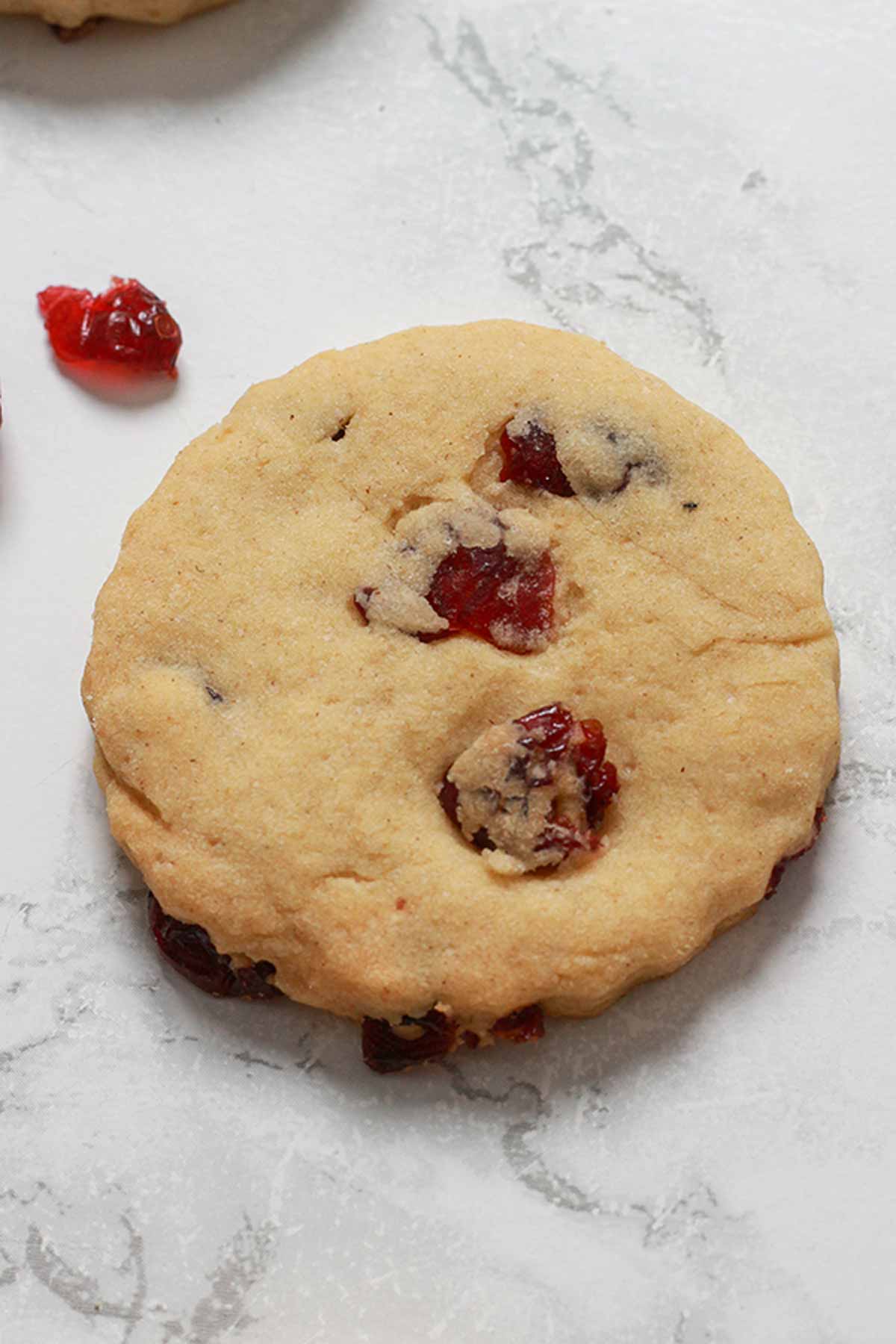 That's all for now! I hope you enjoy this festive cookie recipe. If you make vegan cranberry shortbread at home, please let me know how it goes by leaving a rating and/or comment below. Happy baking! xo

Vegan Cranberry Shortbread Cookies
Crunchy, crumbly shortbread with bursts of sweet cranberries.
Keyword
cranberry shortbread
Ingredients
100

g

Caster sugar

(½ cup) plus extra for sprinkling

200

g

Dairy-free butter

(¾ cup)

1

Teaspoon

Vanilla extract

280

g

Plain flour

(2 cups + 1 tablespoon)

2

Tablespoons

Cornflour

(cornstarch)

100

g

Sweetened dried cranberries

(⅔ cup)
Instructions
In a large bowl, cream together the sugar, butter and vanilla extract.

Add all of the flour and cornflour. Mix it in until it starts to stick together then use your hands to press it into a ball of dough.

Add the cranberries and press them into the dough with your hands.

Refrigerate the dough for 30 minutes. Meanwhile, preheat your oven to 180°C/350°F (or 160°C/325°F for fan or convection ovens), and line a large tray with baking paper.

Once the dough is finished chilling, roll it out on a floured surface until ½-inch thick. Use a 3-inch round cookie cutter to cut out circles, rerolling leftover pieces as needed.

Bake for ~20 minutes. The edges should be firm and very slightly golden brown. The centre will be soft at first but will firm up as the shortbread cools.

Sprinkle some extra sugar on top of the shortbread while they're still warm. Then transfer them to a wire rack and let them cool completely.
Recipe Notes
If using block butter, let it soften slightly at room temperature before using. If you're using the spreadable kind, you may need to add a little more flour to help the dough come together.
Store in an airtight container at room temperature for up to 3 days.
Nutrition Facts
Vegan Cranberry Shortbread Cookies
Amount Per Serving (1 cookie)
Calories 234
Calories from Fat 90
% Daily Value*
Fat 10g15%
Sodium 99mg4%
Carbohydrates 32g11%
Protein 2g4%
* All values are an estimate only and will vary depending on the food brands used.
BakedByClo is a participant in the Amazon Services LLC Associates Program, an affiliate advertising program designed to provide a means for sites to earn advertising fees by advertising and linking to Amazon.com. This site may contain some of these links to Amazon.com & other affiliate programs. If you make a purchase through one of those links, BakedByClo will receive a small commission from the purchase at no additional cost to you.