Vegan Cinnamon Cookies
These vegan cinnamon cookies are sweet, crunchy and easy to cut-out. They're an excellent bake for the festive season and taste delicious topped with icing.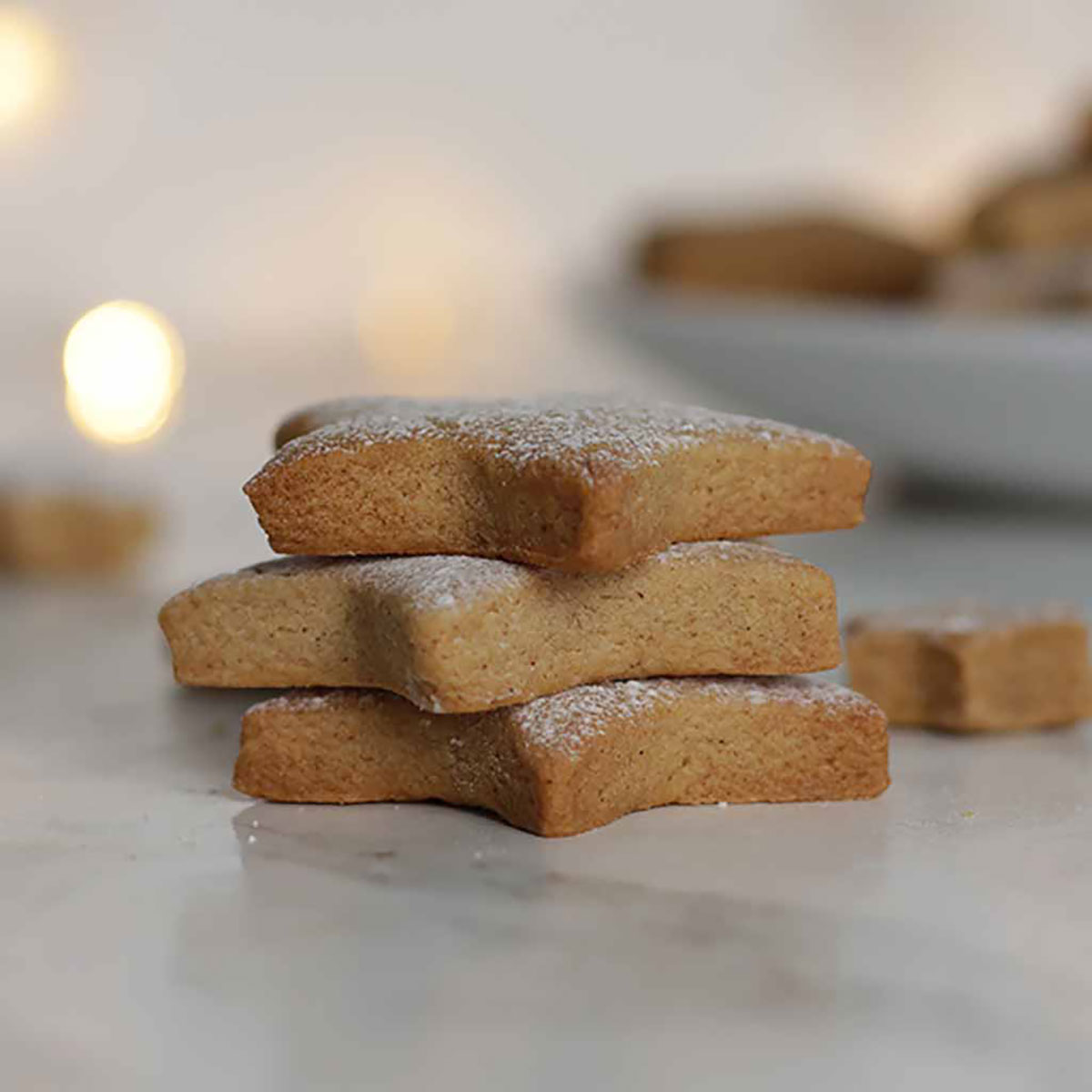 Who's excited for Christmas?! I most definitely am. I know we're still in mid-November but my Christmas baking is in full swing. After a hectic year, I think it's acceptable to start the festivities a little earlier, don't you agree?
Normally I'm not one to get excited for Christmas but I think because this year has been particularly challenging for most of us, I'm looking forward to the comfort Christmas brings. Particularly the food!
I haven't looked forward to the festive season this much since I was a child and I've never baked so much in such a short space of time.
This week I have particularly been loving making eggless cookies, especially ones with ginger and cinnamon in them.
My house has been filled with the smell of festive spices almost every day recently and I feel like I've been constantly eating or giving away one baked good or another.
Want more vegan Christmas desserts?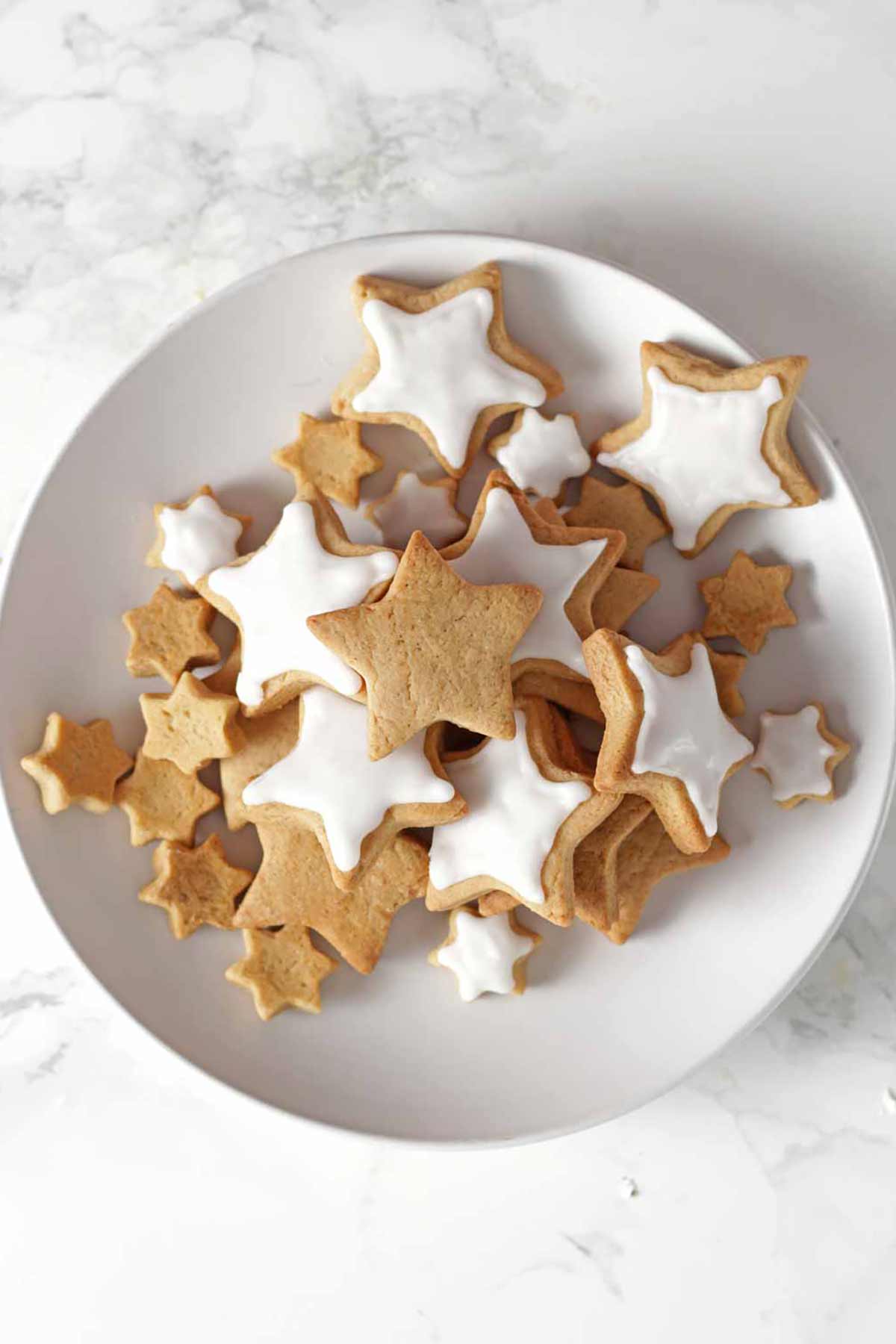 I had originally planned to make vegan cinnamon stars until I realised that they contain almond flour and I couldn't find any, so I settled for these eggless cinnamon biscuits/cookies instead.
They are crunchy cookies, not soft, so they're more like biscuits (UK biscuits that is). For softer cookies, you can bake them for slightly less time but if you want a super soft and chewy cookie, try using the base for my chocolate chip cookie recipe instead. See also: 19 best vegan cookies.
These cookies taste a bit similar to my Scottish shortbread cookies, except these have icing and are made with brown sugar and cinnamon instead of caster sugar.
How to make vegan cinnamon cookies
Step 1:
In a large bowl, mix together 60g of soft brown sugar (1/4 packed cup) and 100g of dairy-free margarine (1/4 cup + 2 tablespoons).
Mix it together until smooth and creamy. I recommend mixing the brown sugar on its own first to get out any lumps.
You can use light or dark brown sugar. Both will taste delicious but the dark brown sugar will give your cookies a darker colour.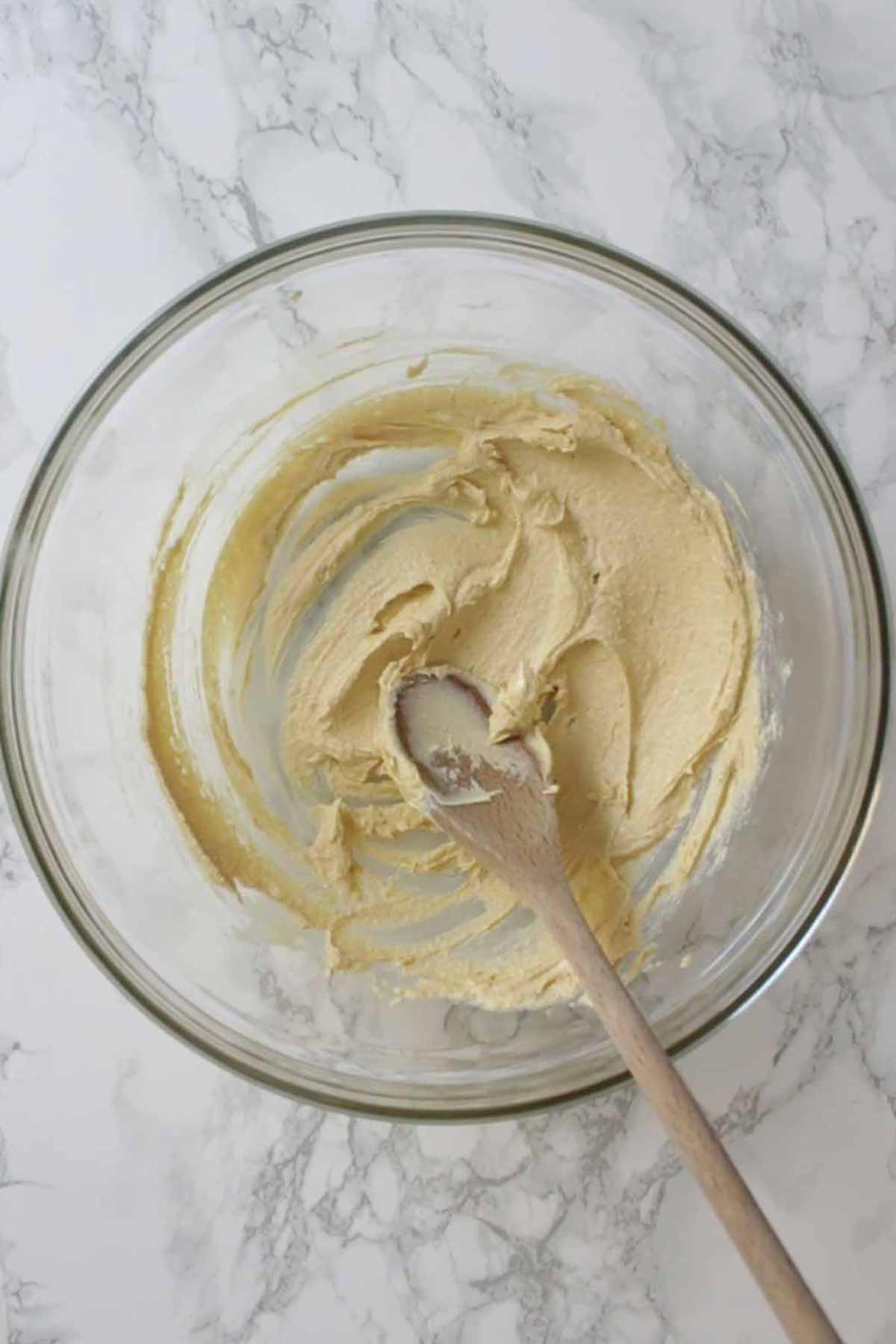 Step 2:
Add 1 teaspoon of vanilla and mix it into the margarine/sugar mixture.
Step 3:
In a small separate bowl, mix together 150g of all-purpose flour (1 cup + 2 tablespoons) and 2 teaspoons of ground cinnamon. If you don't want a strong cinnamon flavour, just use 1 teaspoon instead of 2.
Step 4:
Add the flour/cinnamon mixture to the bowl with the margarine mixture. Use a wooden spoon to mix it together and when it starts to stick, use your hands to form a dough.
Step 5:
Place the dough in the fridge to chill for 30 minutes.
Step 6:
Preheat your oven to 180°C/350°F and line a cookie tray with baking paper (if it's not non-stick).
Step 7:
Remove your eggless cookie dough from the fridge and gently knead it in your hands to get rid of any cracks.
Step 8:
Lightly flour your surface and rolling pin and roll the dough out until it's around 1/4 of an inch thick.
If it's too sticky, add a little more flour to the dough. If it's too dry, add a small splash of plant-based milk.
Step 9:
Cut out your shapes with a 2.5-inch cookie cutter. I purchased mine from Dobbies. If using a 2.5-inch cutter, you should get around 20 dairy-free cookies.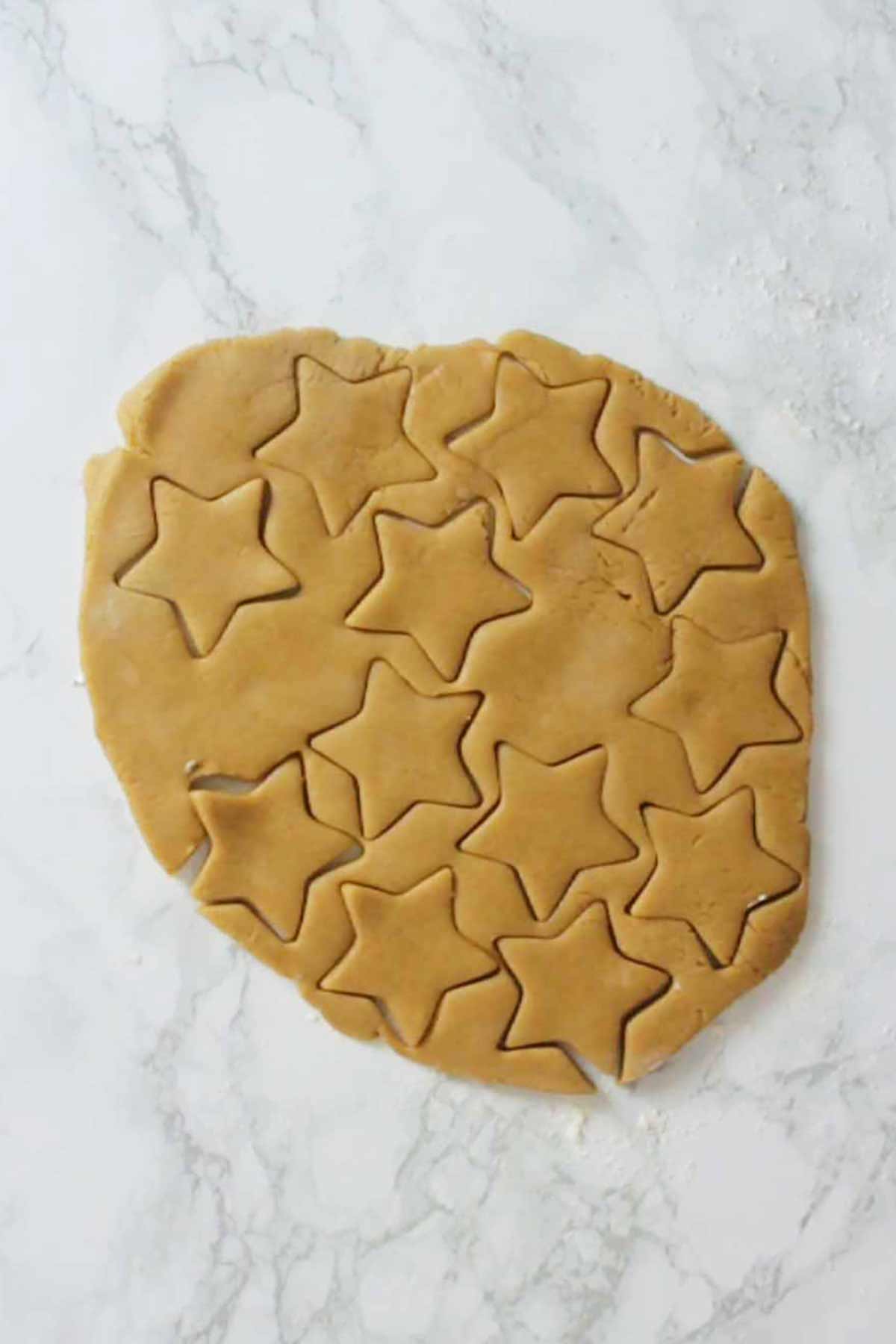 I used a 1-inch cutter (also from Dobbies) to make the mini star cookies.
If you use a larger cookie cutter please note that baking times and the number of cookies the recipe yields will vary.
Step 10:
Bake the cookies for 15 minutes then leave them on the tray until cool.
Note: I baked the tiny stars for 5 minutes.
For the icing
You can enjoy these cookies alone, top with a light dusting of icing sugar or you can add some icing.
I made sure my plate of cookies had a mix of all 3 as the combination looks really pretty!
In a small bowl, mix together 200g of icing sugar and 3 tablespoons of water. You can add a small splash of vanilla extract too if you like but this isn't essential.
Spread or pipe the icing onto your cookies and let them sit at room temperature until the icing hardens. This should take around 30 minutes.
Alternatively, you can decorate the cookies with vegan royal icing.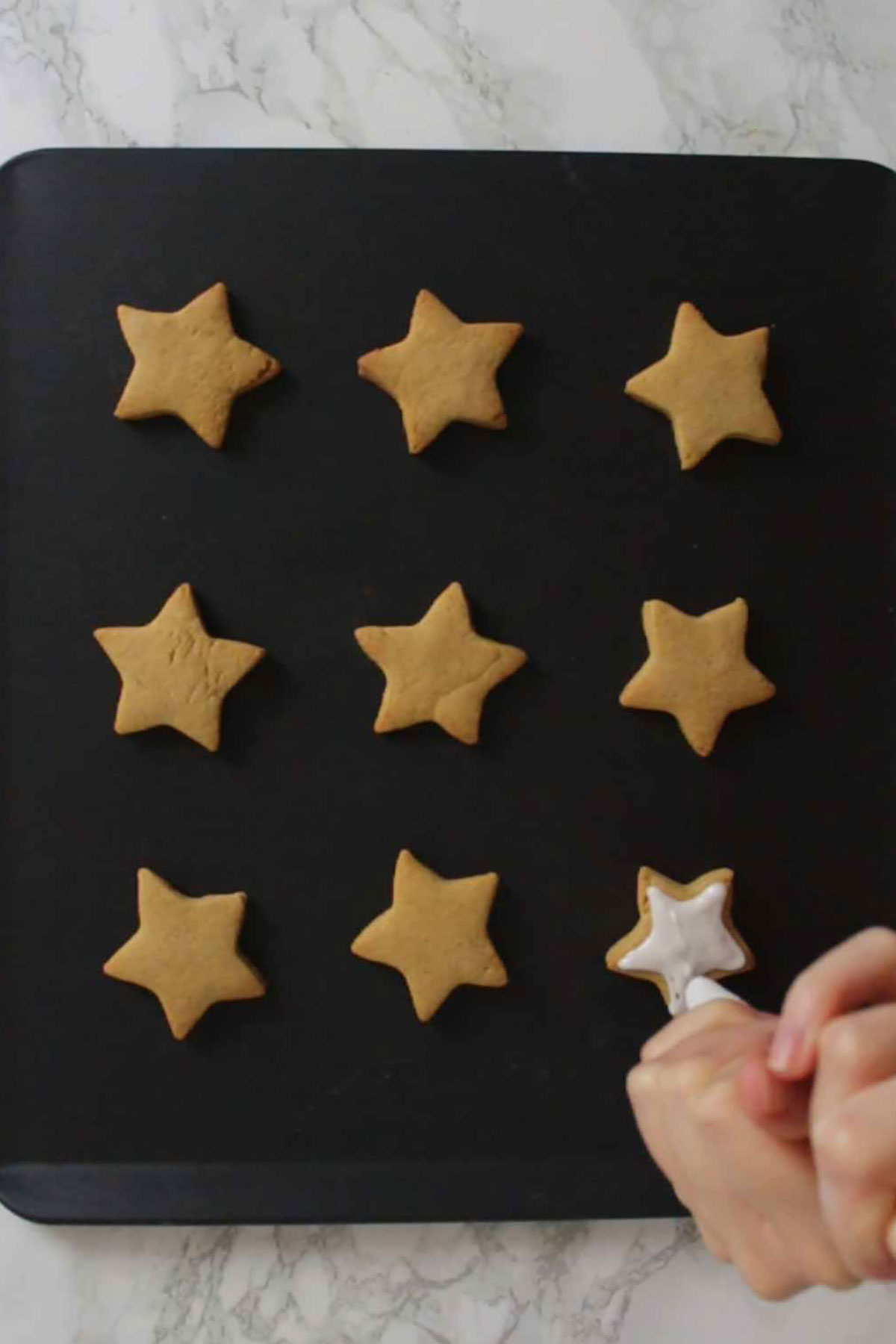 Top tips
Use 1 teaspoon of cinnamon instead of 2 if you don't want the flavour to be strong.
Bake for a few minutes less for slightly softer cookies.
Add food colouring to the icing for a fancier topping!
If you don't want to ice the cookies, you can simply dust them with icing sugar for a snowy effect or leave them completely plain
FAQ:
How should I store dairy-free cinnamon cookies?
You should store these cookies in an airtight container in a cool, dry place such as a kitchen cupboard. I wouldn't recommend storing them in the fridge as this might make them a bit soggy after a while.
How long will they last?
If stored correctly as above, they will last for at least 1 week. They may last longer but I've never been able to resist them any longer than that!
Can I freeze them?
Yes. To freeze, place the cookies in an airtight container and freeze for up to 2 months. You can freeze them with or without icing.

To defrost, transfer them to a wire rack or plate and let them sit at room temperature for a few hours until thawed.
Pin for later: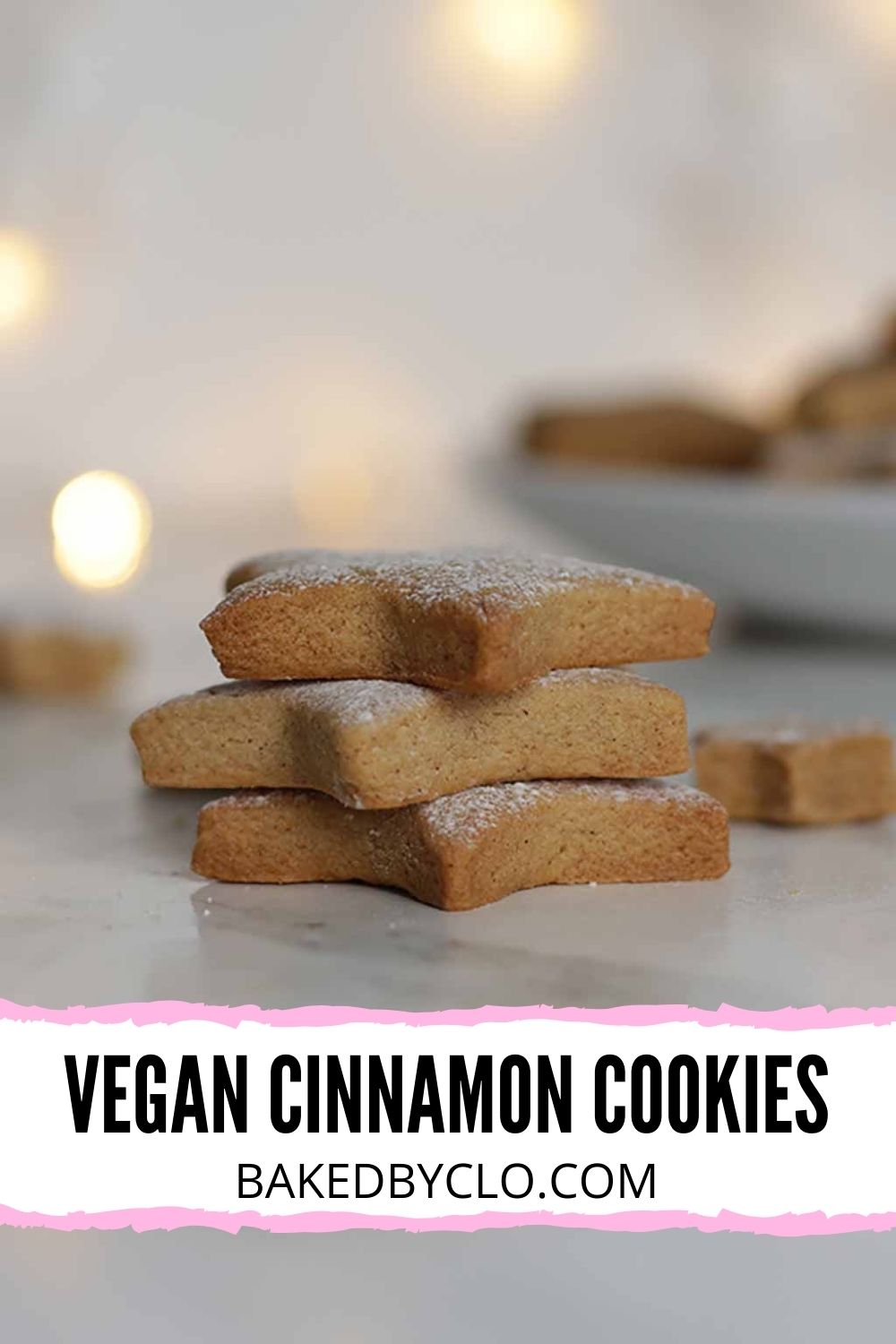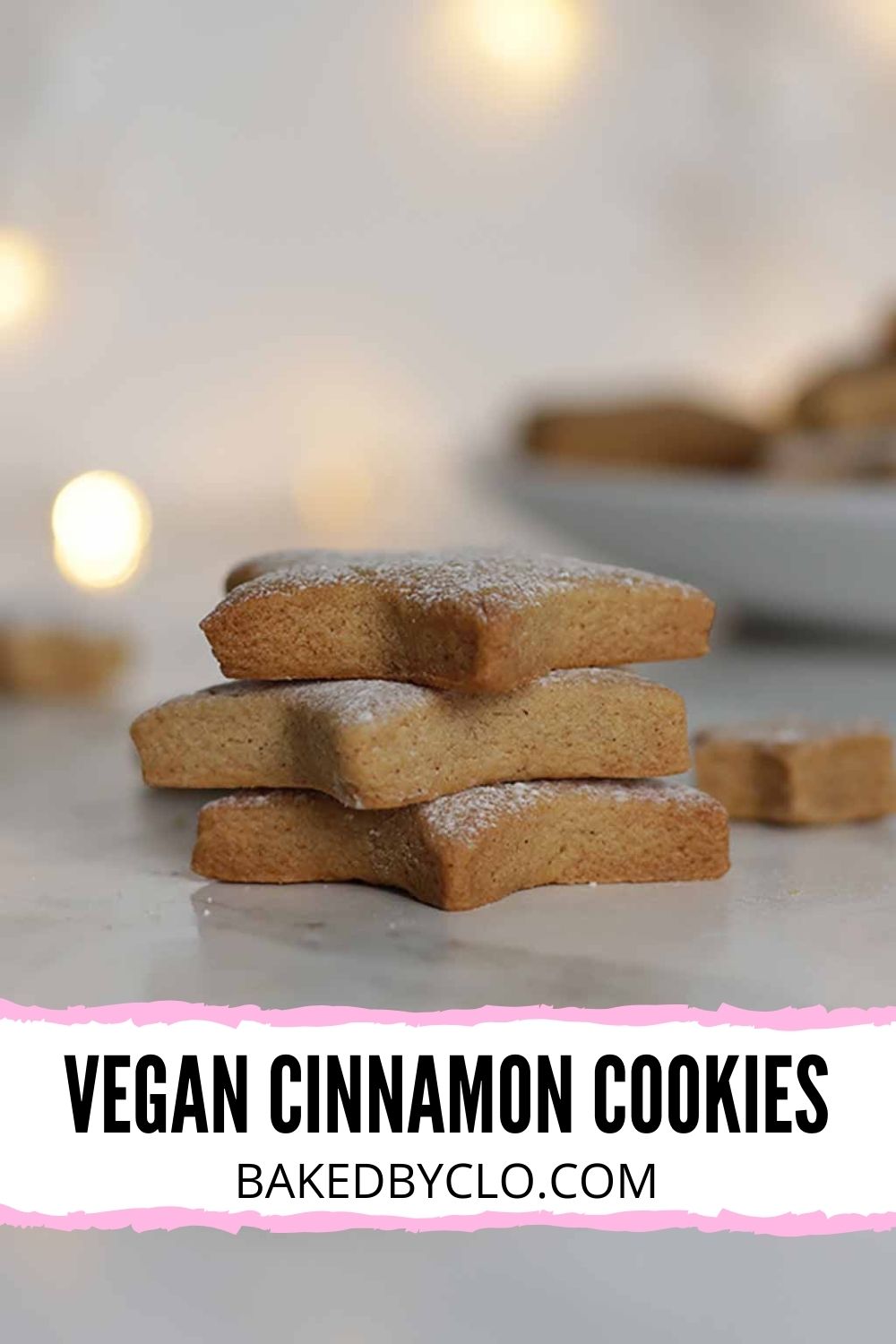 That's all for now. I hope you enjoy these dairy-free cinnamon cookies this festive season!
If you make this recipe yourself, please let me know how it goes by leaving a comment below or tagging me @bakedbyclo on Instagram. Happy baking! xo

Vegan cinnamon cookies
Crunchy, eggless cinnamon biscuits with icing on top.
Ingredients
60

g

Soft brown sugar

(¼ cup)

100

g

Vegan margarine

(¼ cup + 2 tablespoons)

1

Teaspoon

Vanilla extract

150

g

Plain flour

(1 cup + 2 tablespoons)

2

Teaspoons

Ground cinnamon

(use 1 teaspoon for a milder flavour)
For the icing (optional):
200

g

Icing sugar

(~1 + ½ cups)

3

Tablespoons

Cold water
Instructions
In a large bowl, mix together the sugar and margarine until smooth. Add in the vanilla and mix again.

In a separate bowl, mix the flour and cinnamon together. Then add it to the bowl with the margarine mixture.

Mix with a spoon until it starts to stick together, then use your hands to press it into a dough. Cover the dough and place it in the fridge for 30 minutes.

In the meantime, preheat your oven to 180°C/350°F (160°C/325°F if using a fan or convection oven). Line a baking sheet with baking paper or make sure you have a non-stick cookie sheet.

Once the dough has chilled, lightly knead it in your hands to soften it enough to roll. Add more flour to the dough if it sticks to your hands too much.

Lightly flour your surface and rolling pin then roll the dough out to around ¼ of an inch thick.

Use a 2.5-inch cookie cutter* to cut out the shapes, re-rolling the scraps of dough until it's all used up.

Transfer the shapes to your baking tray and bake for 15 minutes. Let them cool on the tray.
For the icing:
Mix the icing sugar and water together until smooth. Pipe or spoon it onto your cookies and leave them to set for around 30 minutes before enjoying.
Recipe Notes
*Baking time will vary if using a different sized cutter.
Store in an airtight container at room temperature for 1 week.
Nutrition Facts
Vegan cinnamon cookies
Amount Per Serving (1 cookie with icing)
Calories 102
Calories from Fat 27
% Daily Value*
Fat 3g5%
Sodium 29mg1%
Carbohydrates 18g6%
Protein 1g2%
* All values are an estimate only and will vary depending on the food brands used.
BakedByClo is a participant in the Amazon Services LLC Associates Program, an affiliate advertising program designed to provide a means for sites to earn advertising fees by advertising and linking to Amazon.com. This site may contain some of these links to Amazon.com & other affiliate programs. If you make a purchase through one of those links, BakedByClo will receive a small commission from the purchase at no additional cost to you.