Vegan Gingerbread Cupcakes
These vegan gingerbread cupcakes are moist, sticky and sweetly spiced. Top them with cream cheese frosting to make a delicious Christmassy treat!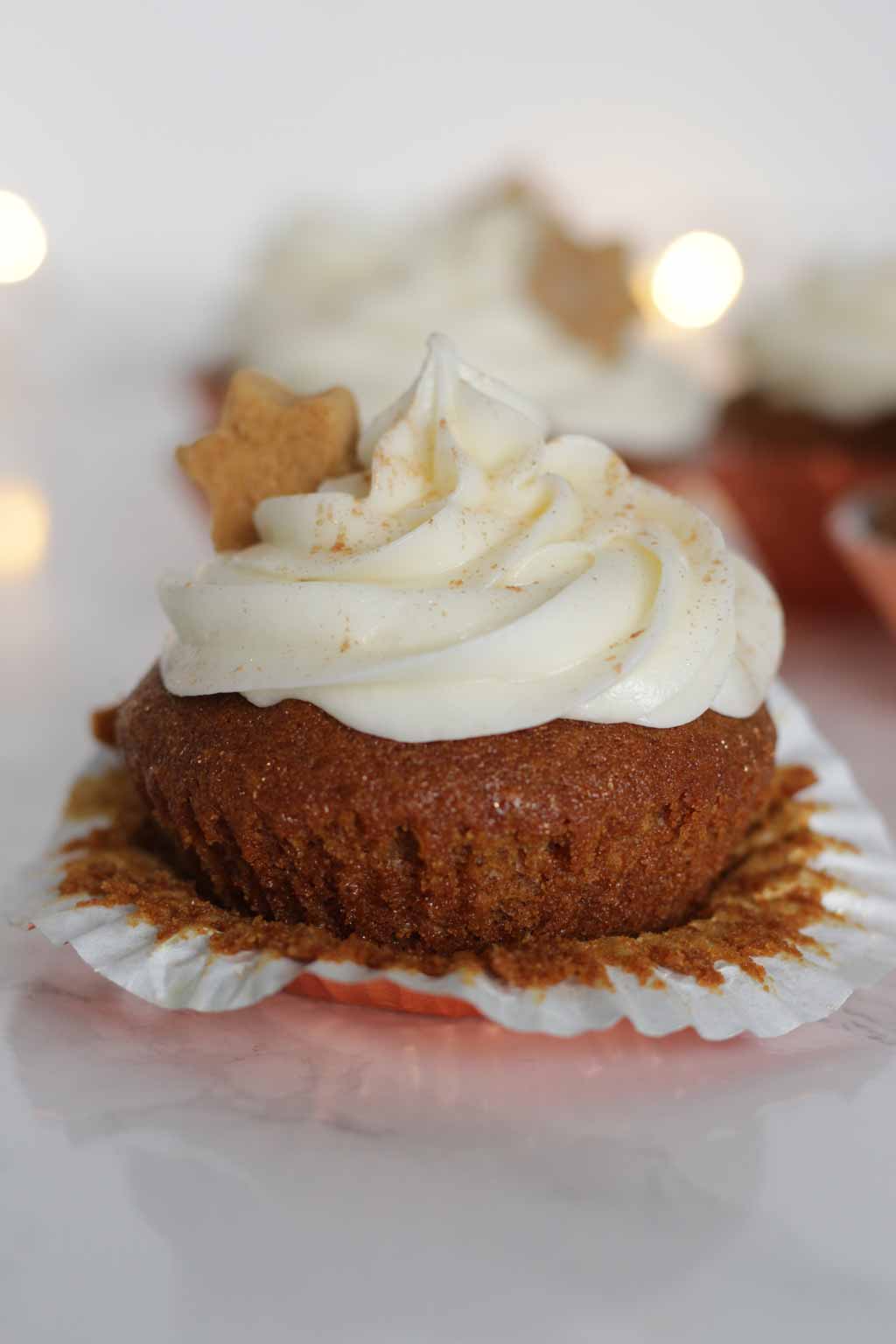 Christmas + desserts = gingerbread everything.
Am I right?!
I'm sure I'm not alone when I say that I absolutely love gingerbread and everything spiced. Especially around the festive period.
I first created these cupcakes in Christmas 2018, inspired by some gingerbread muffins I saw in a magazine. That was when I started Baked by Clo and I was still quite new to vegan baking.
I had been thinking for a while that the recipe needed revamping since I've upped my vegan baking game quite a lot in the last 2 years!
After making my vegan ginger cake a few weeks ago, I just KNEW that the recipe needed to be made into cupcakes.
So here we are.
Want more vegan Christmas desserts? Try these:
I made quite a few changes from my old gingerbread cupcakes recipe. The first is that I used dark brown sugar instead of caster sugar.
This gives it a rich, dark flavour and looks much more like gingerbread too!
Secondly, I added golden syrup for that sticky, moist texture that gingerbread typically has.
This makes them taste a bit more like gingerbread muffins than delicate cupcakes. I think it's a good mix between the two desserts!
And lastly, I switched the topping from buttercream to cream cheese frosting. It's a much better contrast in my opinion!
These cupcakes taste a bit similar to carrot cake with the frosting and the spices, but obviously there are no carrots in this recipe.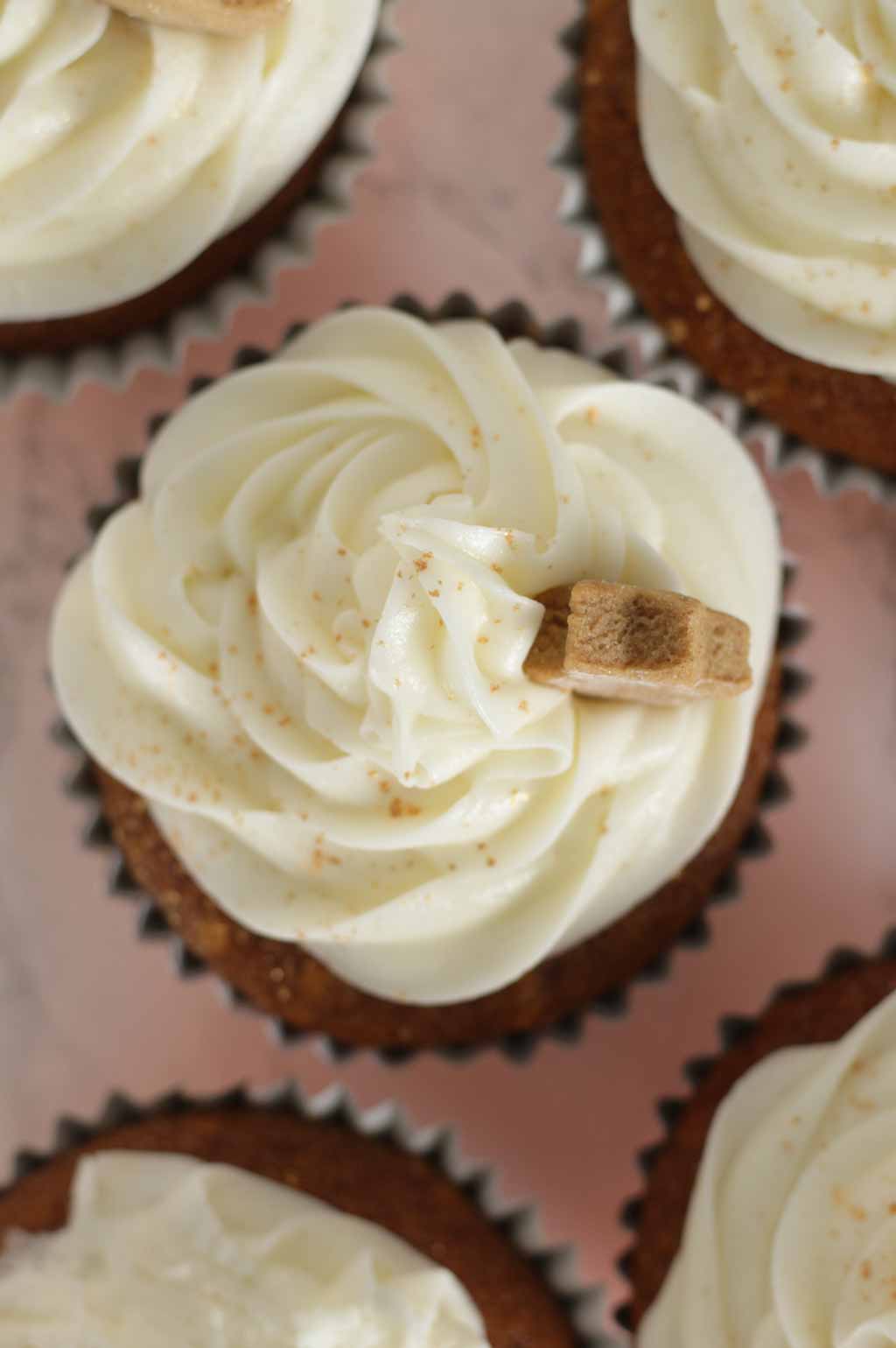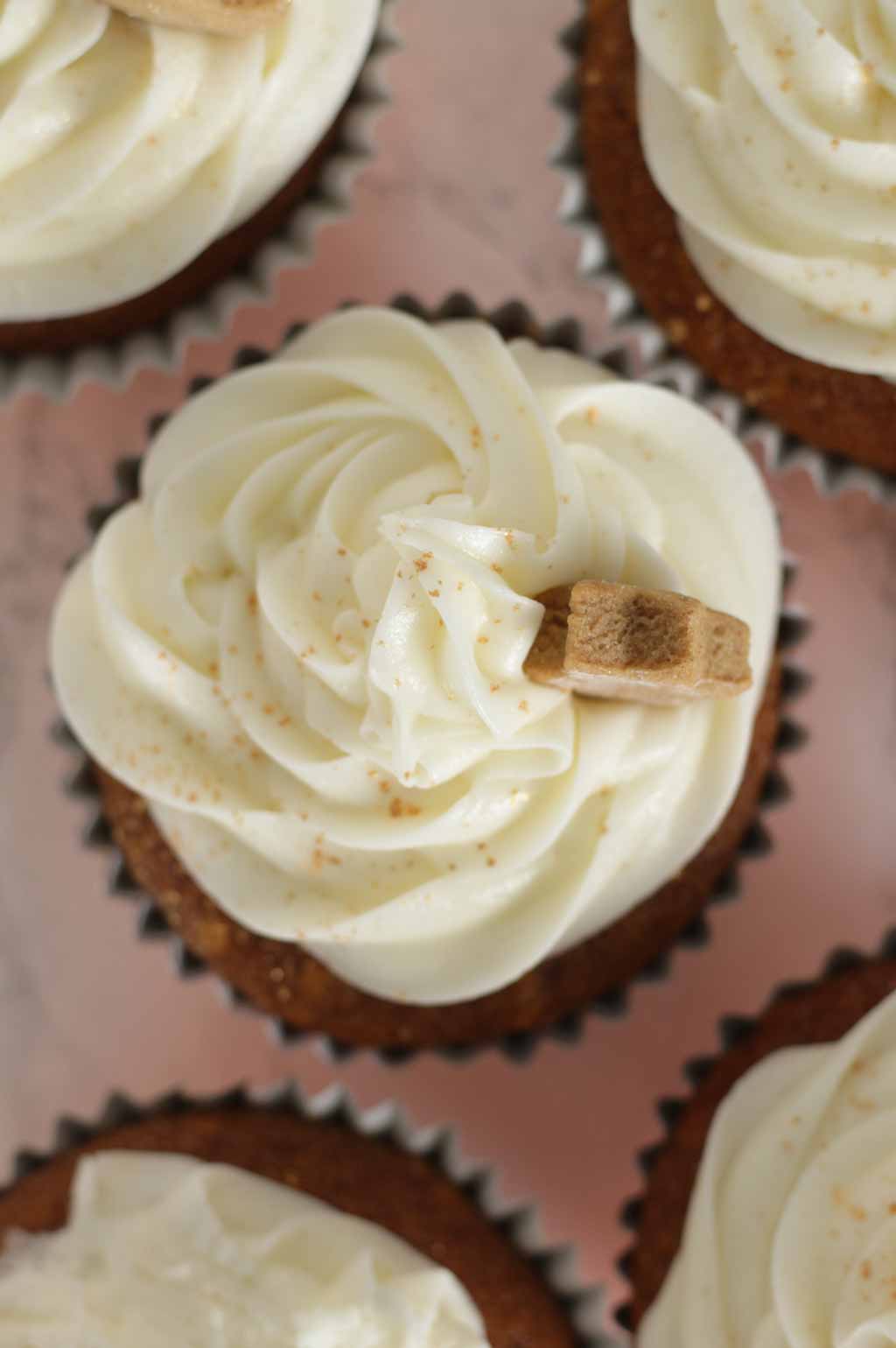 How to make vegan gingerbread cupcakes
Step 1:
Preheat your oven to 180°C or 350°F. If you're using a fan or convection oven then the temperature needs to be slightly lower at 160°C or 325°F. Prepare a 12-cupcake tin with liners. I used these rose gold foil cases from Hobbycraft.
See also: How to prevent greasy cupcake liners.
Step 2:
In a large bowl, mix together 280g of self-raising flour (2 + 1/8 cups), 1/2 teaspoon of baking soda, 2 teaspoons of ground dried ginger and 1/2 a teaspoon of cinnamon.
The cinnamon is optional but I recommend adding it as it balances out the ginger nicely!
Step 3:
Next, we will mix the wet ingredients together in a saucepan over low heat.
To the saucepan, add 150g of dark brown sugar (3/4 cup), 105g of vegan butter (1/2 cup minus 1 tablespoon), 190g of golden syrup (1/2 cup + 1 tablespoon) and 200ml of soy milk (3/4 cup + 1 tablespoon).
You can use light brown sugar instead of dark brown sugar if you prefer but the flavour won't be as rich.
You can also use any type of plant-based milk you like but I recommend soy as that is what I always bake with.
Step 4:
Place the saucepan on the stove over a low heat and stir gently until the butter melts completely. Avoid heating on high as you don't want the sugar to start boiling.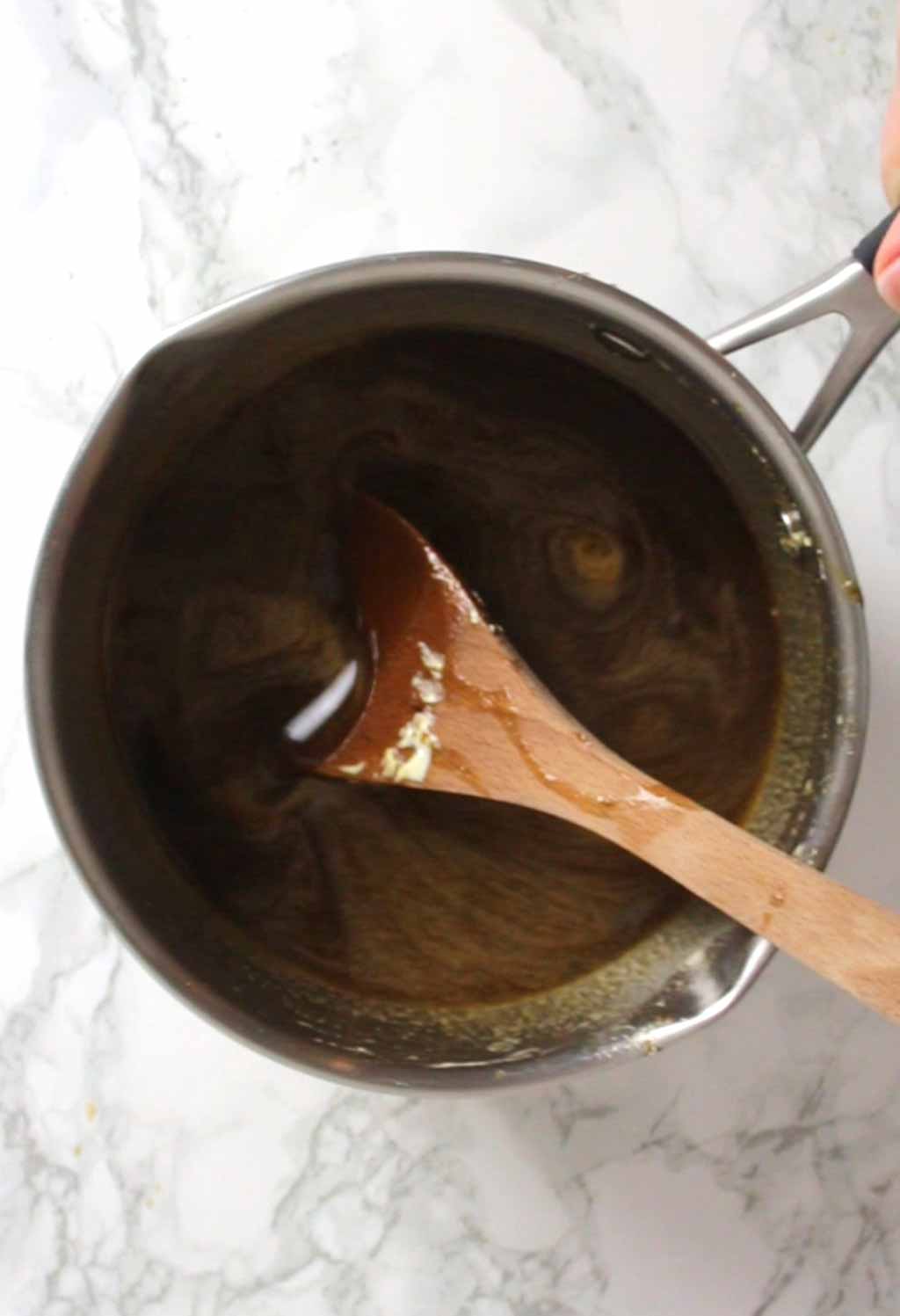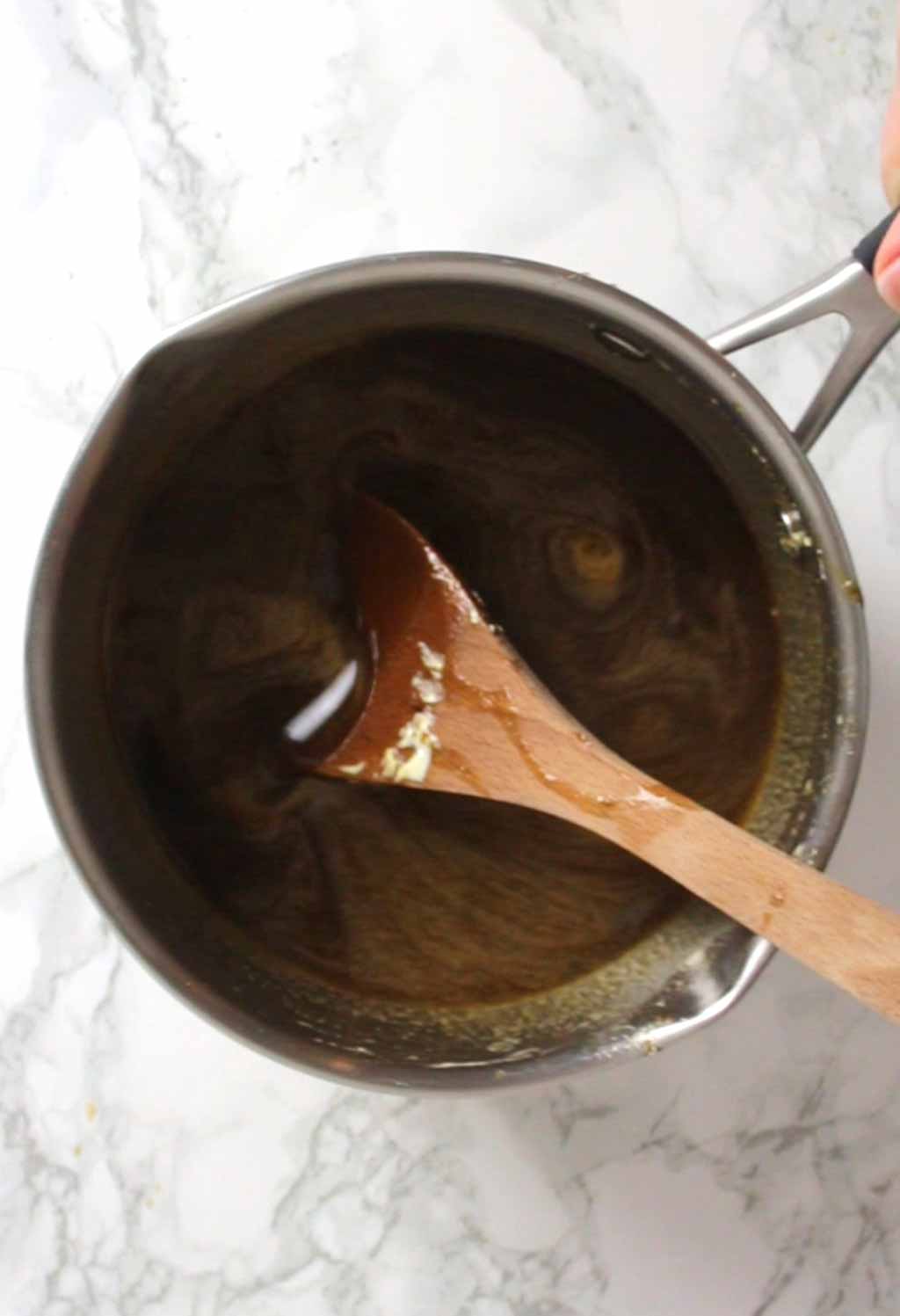 Step 5:
Allow the wet mixture to cool down for a few minutes then pour it into the bowl with the dry ingredients.
Give it a good thorough mix until you have a smooth cake batter. Make sure to scrape the bottom and sides of the bowl to get any flour that might be stuck there.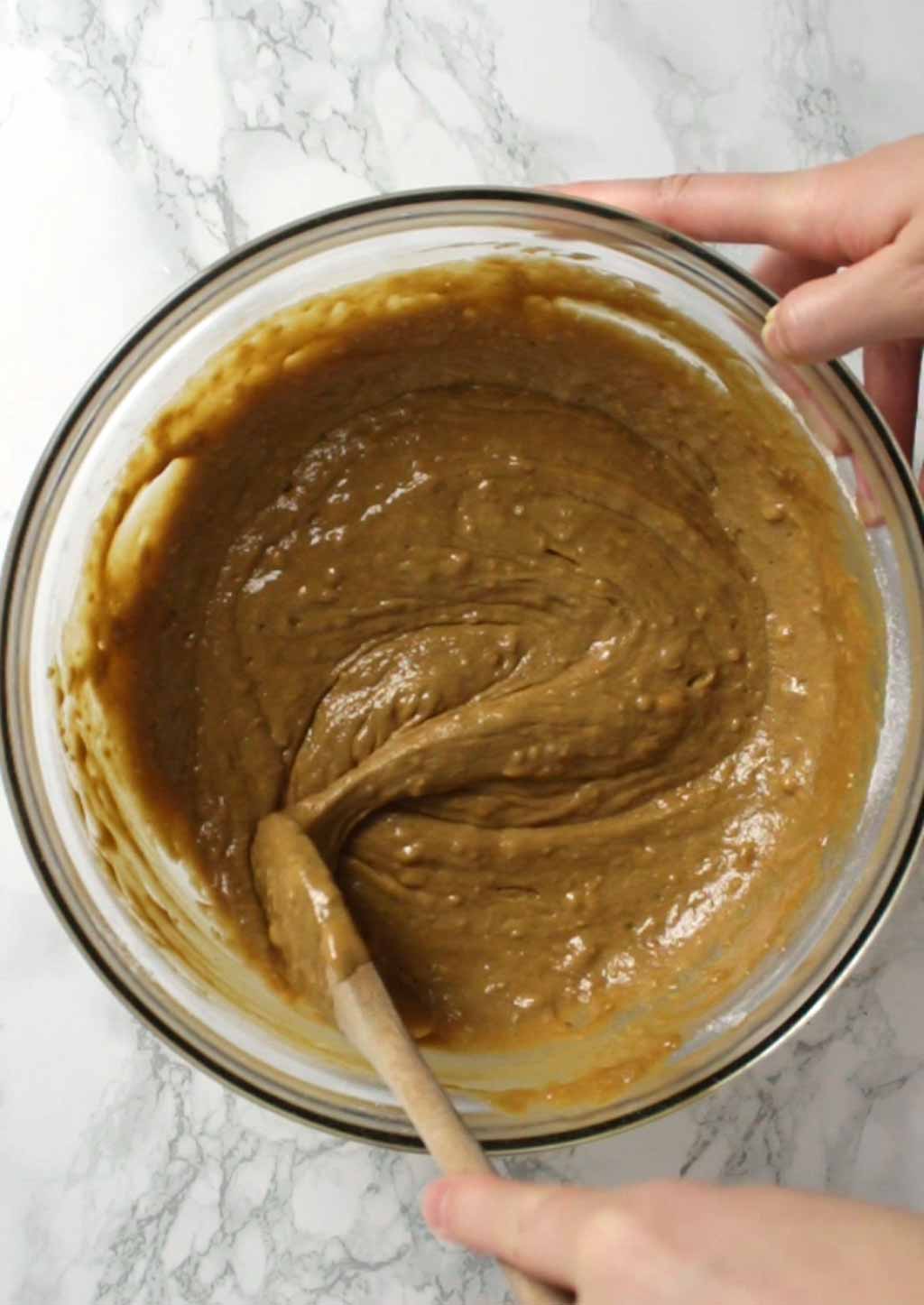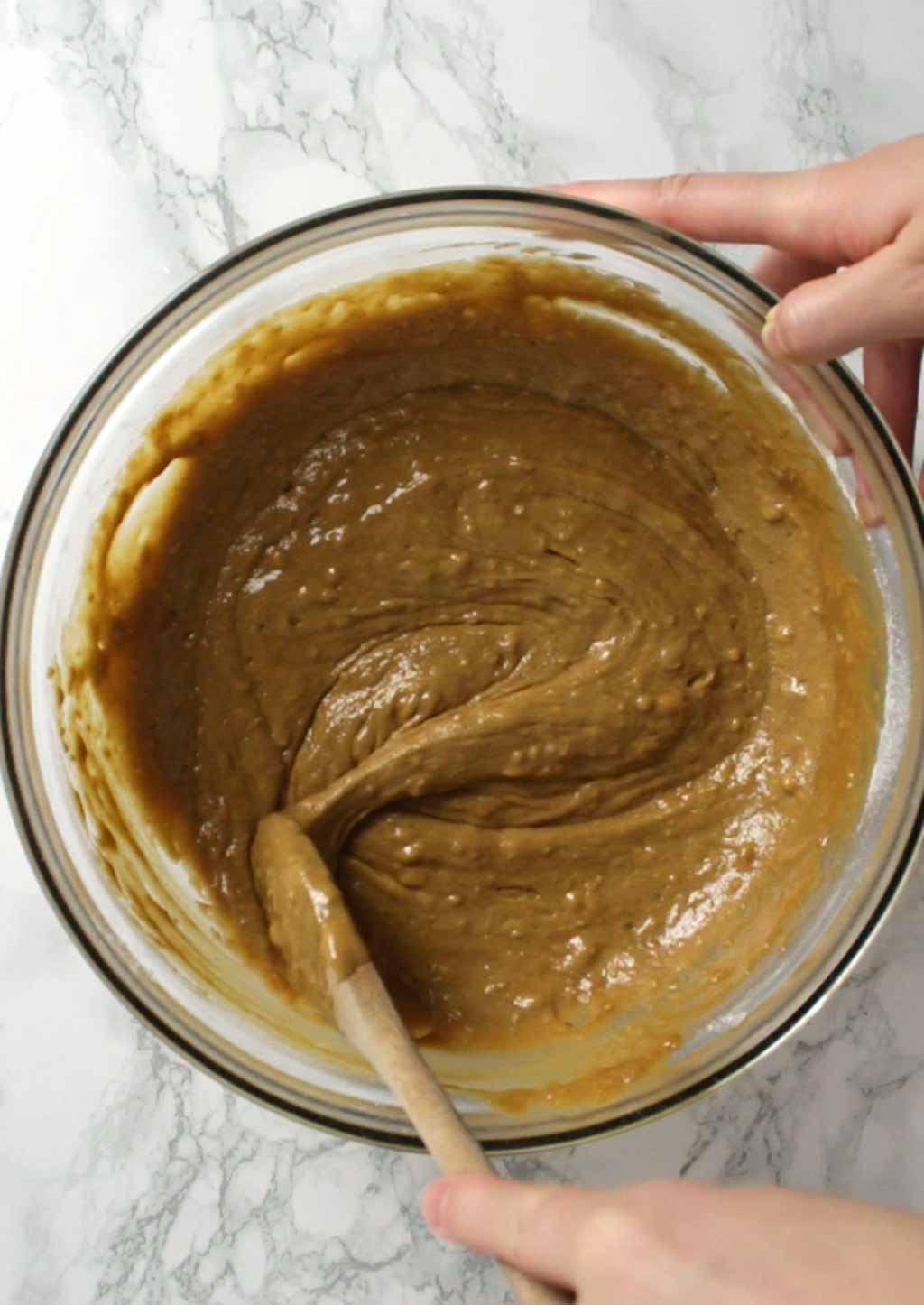 Step 6:
Divide the mixture equally between your cupcake cases and bake for 20 minutes.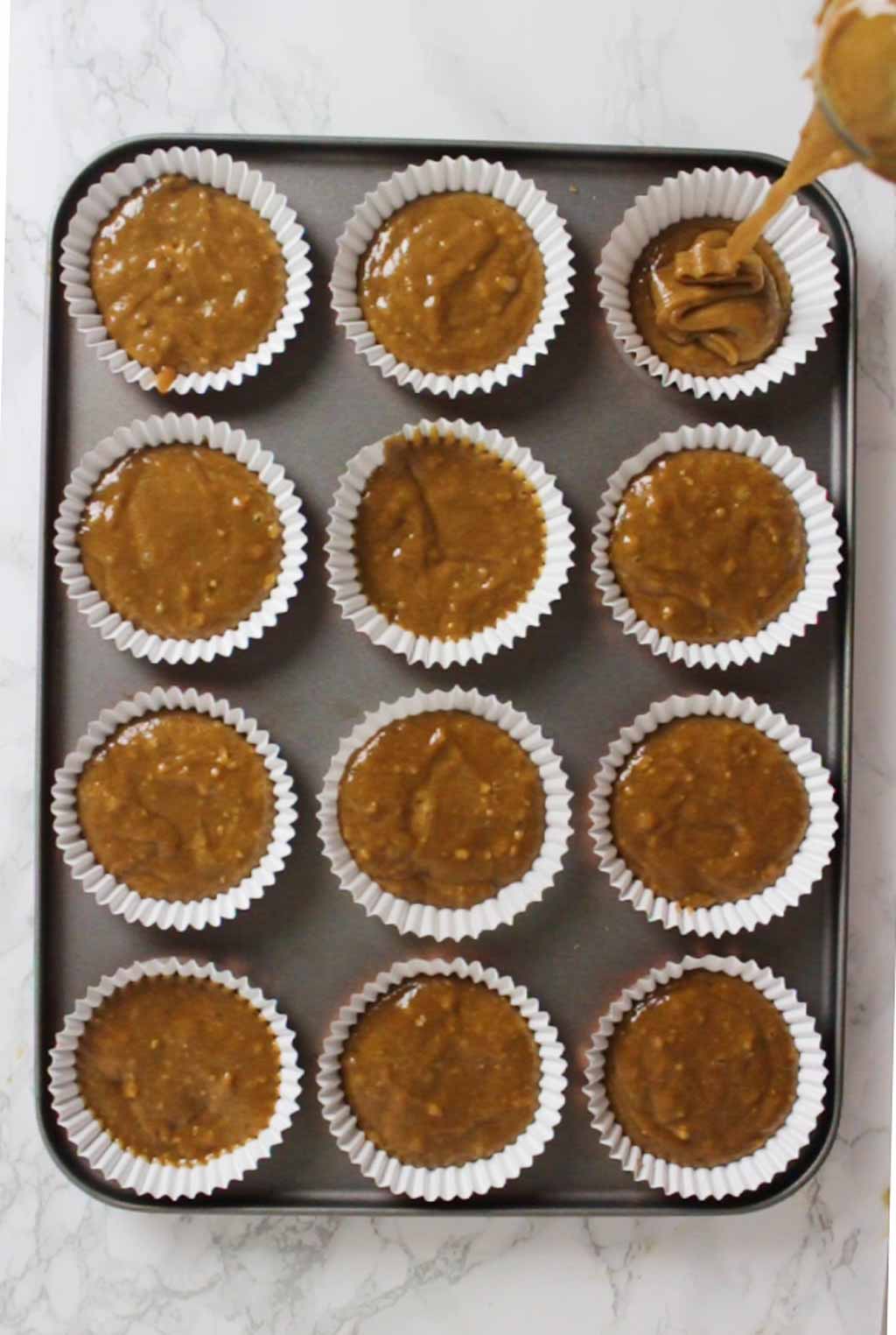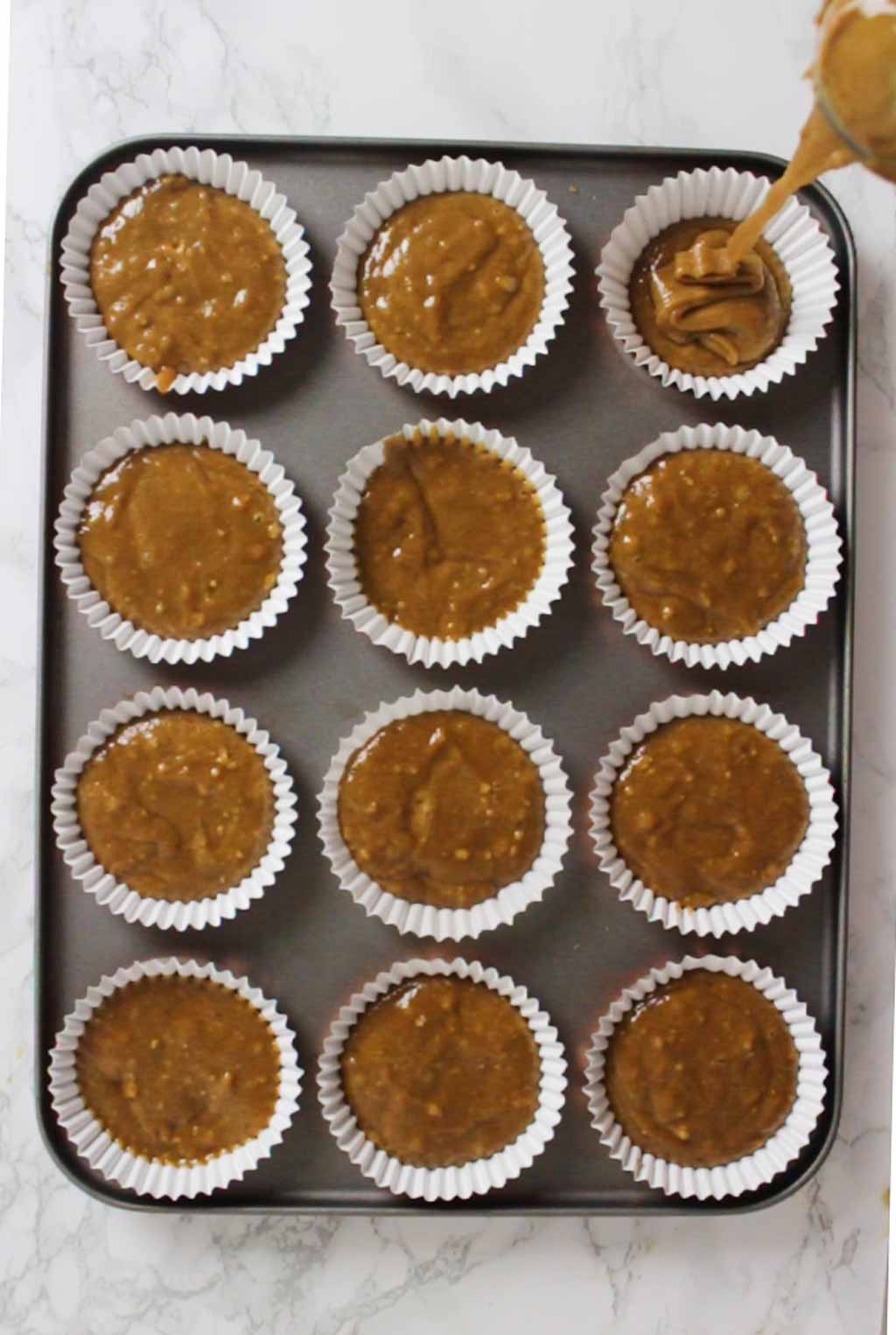 You can check that they're baked all the way through by inserting a toothpick through the centre of one. When the toothpick comes out clean, they're ready.
Let the cupcakes cool in the tin for a few minutes then transfer them to a wire rack and let them cool completely.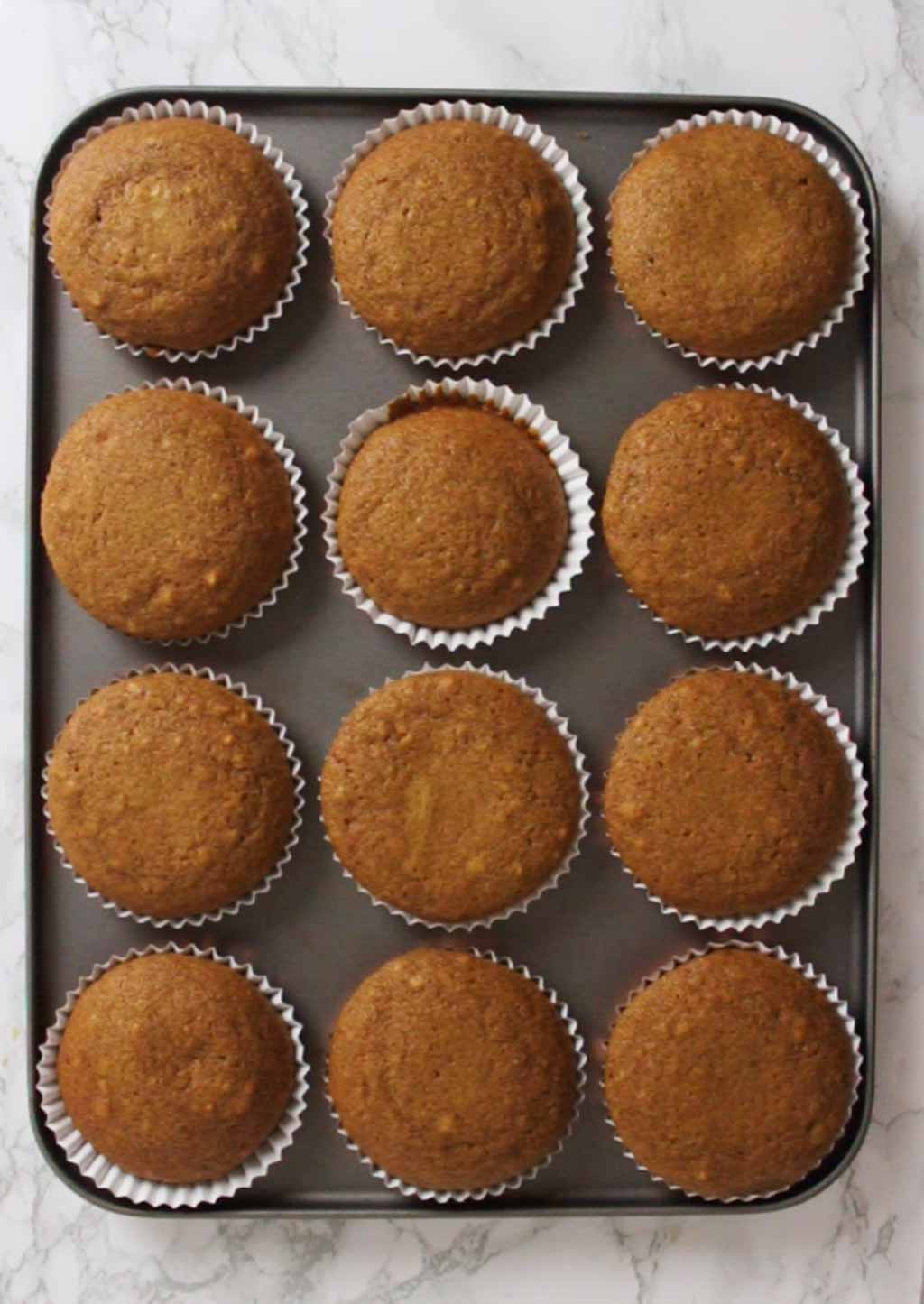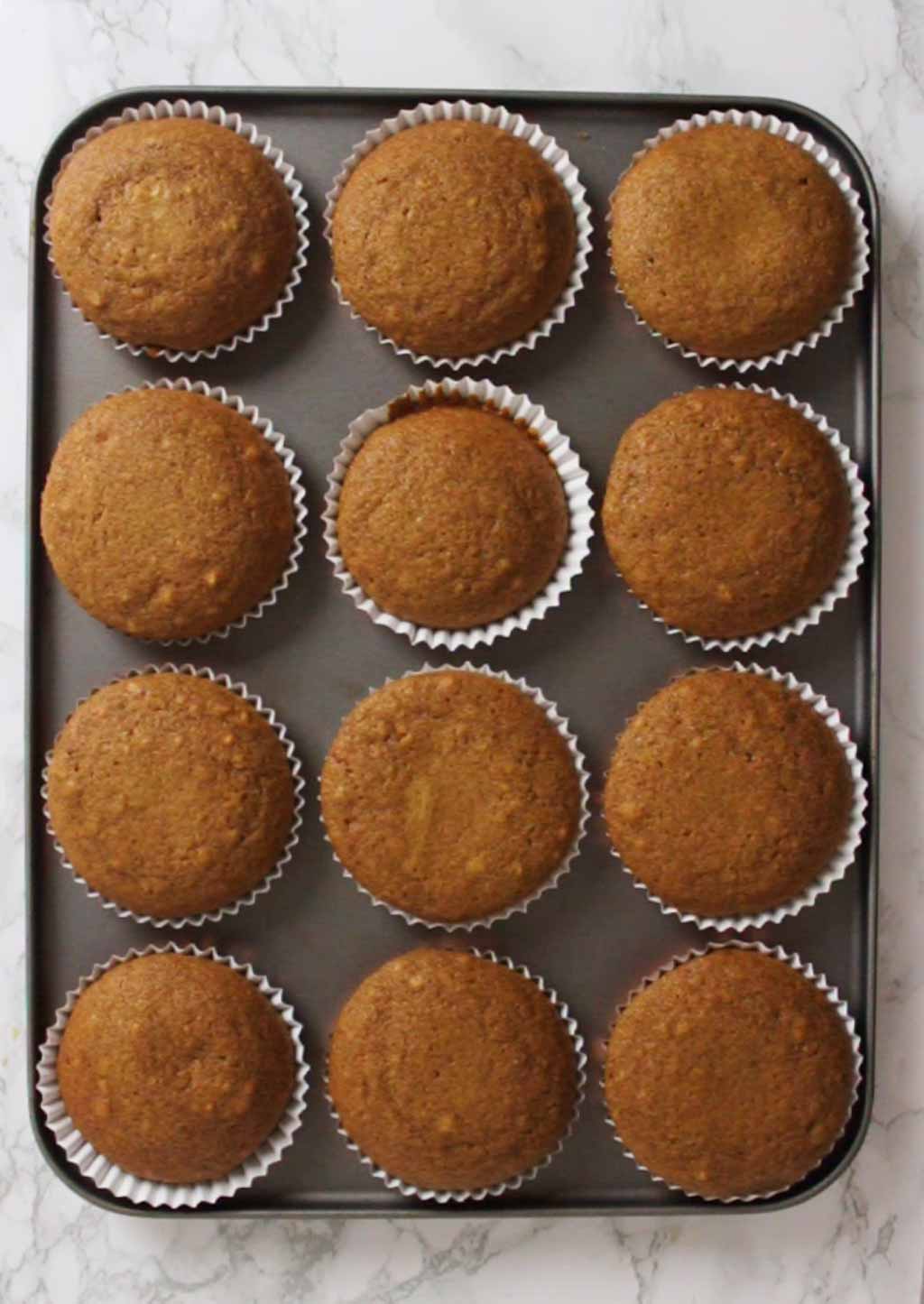 Step 7:
Prepare your frosting. I used cream cheese frosting but you can use whichever kind of topping you'd prefer.
Something like vanilla buttercream or a sticky glaze would taste delicious!
You can also use a cheat method, which I often do to save time, by using a ready-made frosting. Some are vegan-friendly but others are not, so make sure to always check the ingredients list for things like milk.
Betty Crocker's cream cheese icing is free-from animal ingredients but has a warning for potential milk cross-contamination. As long as you're not allergic to milk, this would be a suitable quick and easy alternative to making your own icing.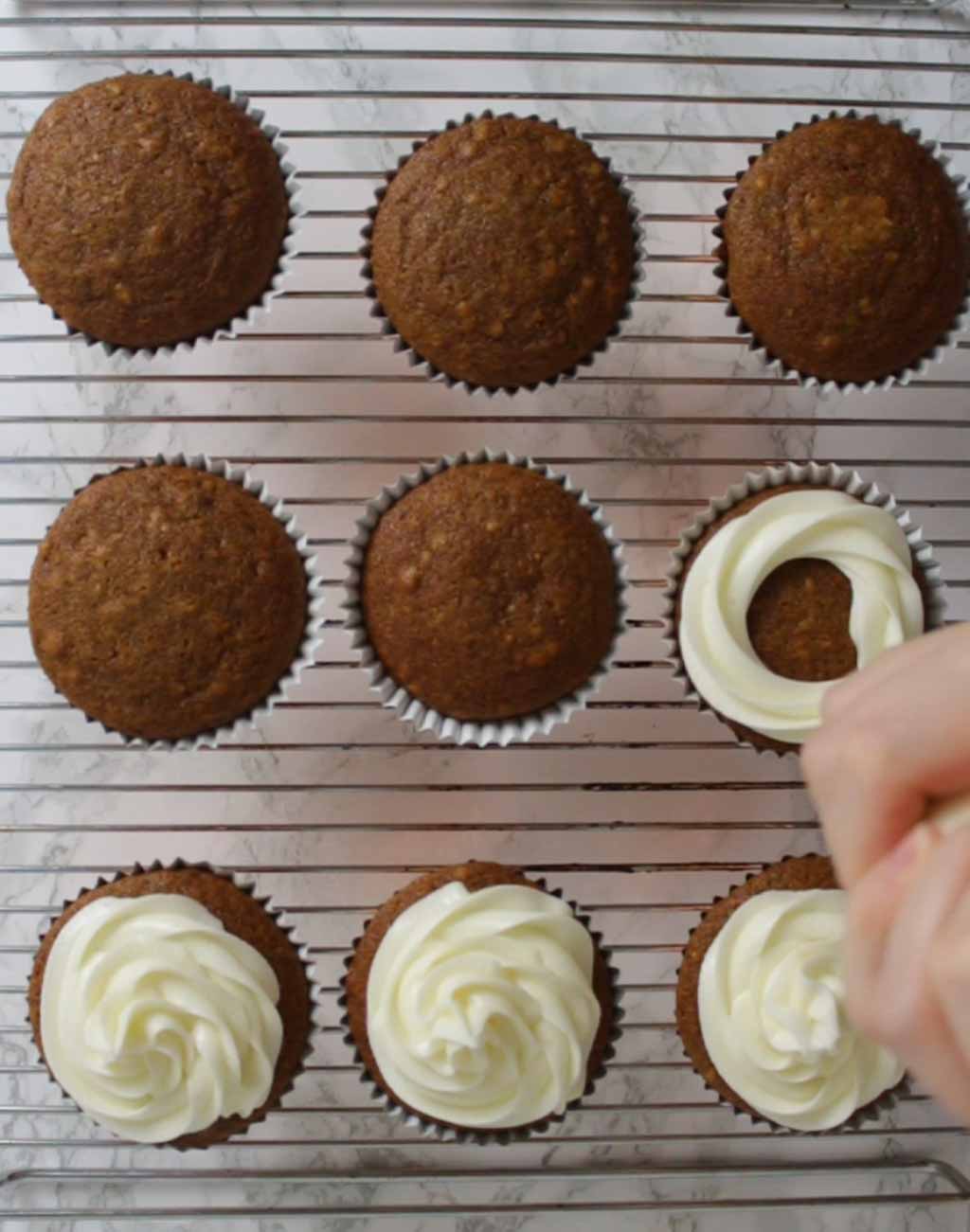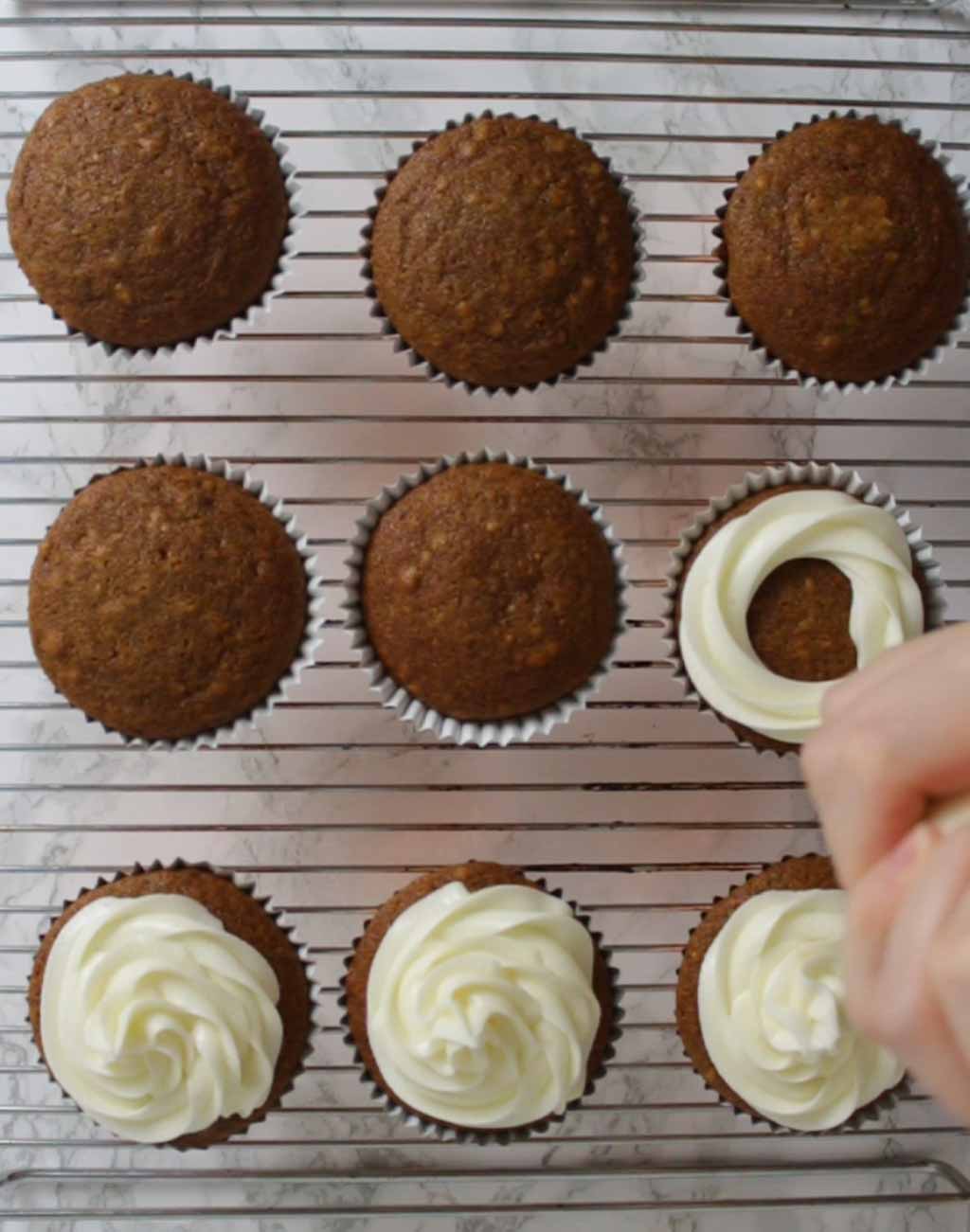 Top tips:
Use dark brown sugar instead of light brown sugar if possible. The extra molasses will make the cupcakes super rich and dark.
You can use any type of plant-based milk in this recipe but I recommend using soy for best results.
Cream cheese icing needs a bit of time to chill before piping onto cupcakes. If you're pinched for time, you can use a ready-made vegan icing such as Betty Crocker's.
Top the cupcakes with mini homemade gingerbread cookies or for a quicker, ready-made option, you can use McVitie's mini gingerbread men.
FAQ:
How should I store gingerbread cupcakes?
Store them in an airtight container in the fridge. If you don't put icing on them, you can store them at room temperature instead (again, in an airtight container).
How long will they last?
These cupcakes will taste their best for up to 5 days after baking.
What can I use instead of golden syrup?
I'd really recommend using golden syrup to get that moist and sticky texture but if you can't get a hold of it, just substitute it for agave nectar! The flavour is light enough to go unnoticed and will produce a similar result.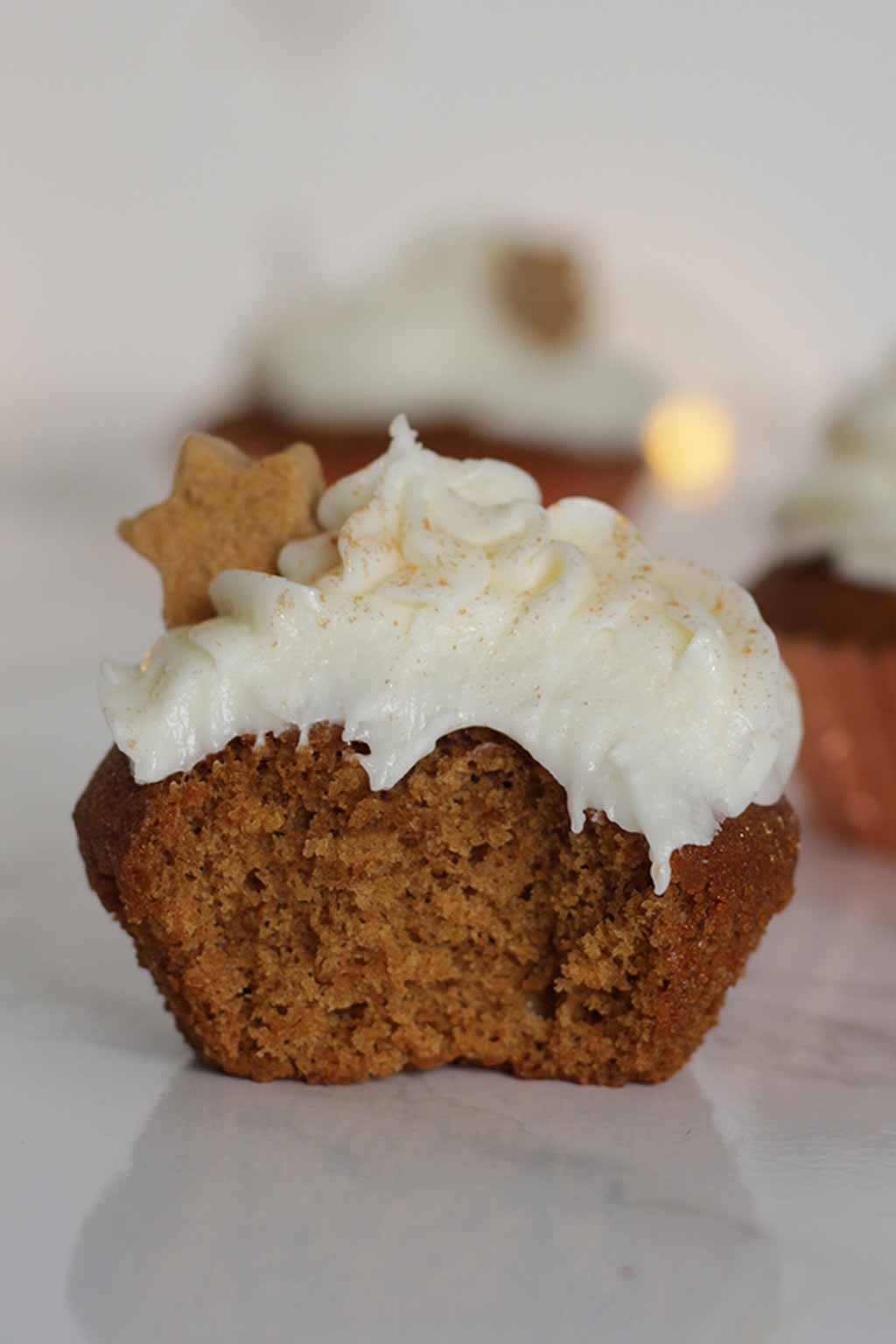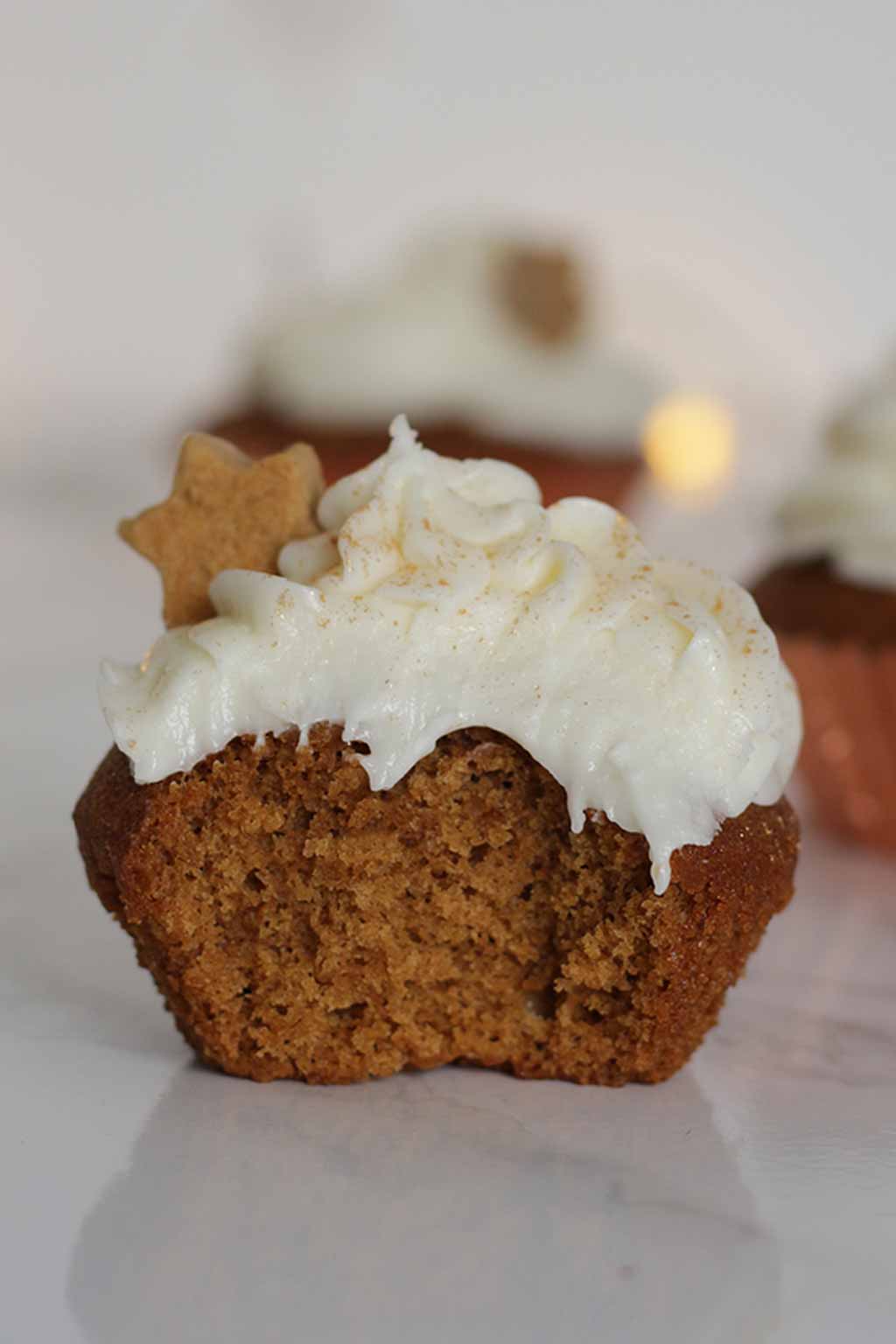 I hope you love this recipe. Let me know how you get on by leaving a comment and/or rating below or tagging me @bakedbyclo on Instagram!
Happy baking!
xo

Vegan Gingerbread Cupcakes
Sweetly spiced cupcakes made with dark brown sugar & topped with cream cheese frosting.
Ingredients
280

g

Self-raising flour

(2 +⅛ cups)

½

Teaspoon

Baking soda

2

Tablespoons

Ground dried ginger

½

Teaspoon

Cinnamon

(optional)

150

g

Dark brown sugar

(¾ cup)

105

g

Vegan butter

(1 tablespoon less than ½ cup)

190

g

Golden syrup

(½ cup + 1 tablespoon)

200

ml

Soy milk or other plant-based milk

(¾ cup + 1 tablespoon)
Instructions
Preheat oven to 180°C/ 350°F (160°C/325°F if using a fan or convection oven) . Line a cupcake tin with 12 cases.

Mix together the flour, baking soda, ginger and cinnamon in a large bowl. Set aside.

To a small saucepan, add the sugar, butter, golden syrup and soy milk. Place over a low heat, stirring occasionally until the butter has completely melted. Do not let the mixture boil.

Leave the mixture to cool for a few minutes, then pour it into the bowl with the flour. Mix well, scraping any dry mixture from the bottom of the bowl until you have a smooth cake batter.

Divide the mixture between your cupcake cases and bake for 20 minutes. Allow them to cool for 5 minutes then transfer them to a wire rack and let them cool completely.

Top with cream cheese frosting and serve.
Recipe Notes
*Store in an airtight container in the fridge for up to 5 days.
Nutrition Facts
Vegan Gingerbread Cupcakes
Amount Per Serving (1 cupcake with cream cheese frosting)
Calories 442
Calories from Fat 117
% Daily Value*
Fat 13g20%
Sodium 134mg6%
Carbohydrates 79g26%
Protein 3g6%
* All values are an estimate only and will vary depending on the food brands used.
BakedByClo is a participant in the Amazon Services LLC Associates Program, an affiliate advertising program designed to provide a means for sites to earn advertising fees by advertising and linking to Amazon.com. This site may contain some of these links to Amazon.com & other affiliate programs. If you make a purchase through one of those links, BakedByClo will receive a small commission from the purchase at no additional cost to you.