Vegan Gingerbread Men Biscuits
These Shrek-inspired Christmas vegan gingerbread men biscuits are soft, chewy and can be decorated however you like. They make beautiful edible gifts and are perfect for festive snacking! And best of all, they are eggless and dairy-free!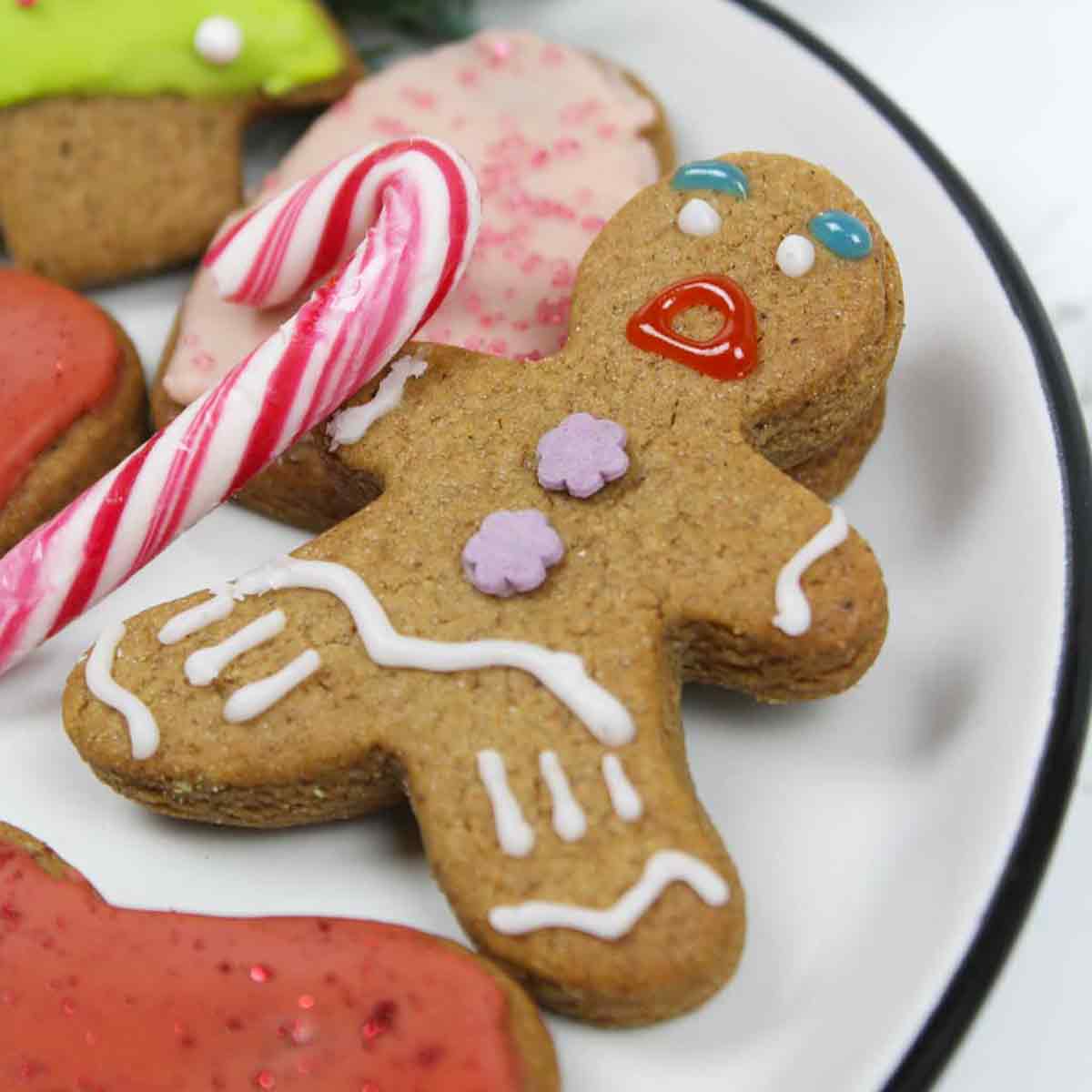 What's better than gingerbread men? Eggless gingerbread men! (or women)
If there's one thing that makes me feel festive, it has to be gingerbread. I've been making these vegan gingerbread biscuits pretty much every year since I stopped eating dairy and eggs.
The sweet, slightly spicy smell that fills the houses as they bake never fails to put me in the Christmas spirit. So delicious!
The best thing about these eggless gingerbread men is that you can decorate them however you like. It doesn't have to just be gingerbread men either- you can make Christmas trees, snowmen, hearts, or even just simple round vegan gingerbread biscuits. Or you can do a mix. Whatever takes your fancy! I used 3 different cookie cutters this time and made some gingerbread men, trees and love hearts.
I decorated my vegan gingerbread men to look like Gingy from Shrek and I think they would make a really cute edible gift or addition to a festive buffet table!
How To Make Vegan Gingerbread Men
I would recommend using a scale for this recipe for best results!
Step 1:
The first step is to preheat your oven to 180°C/350°F (or 160°C/325°F for fan or convection ovens) and line two large baking trays with parchment paper. You'll get up to 25 vegan gingerbread biscuits from this recipe depending on their size so keep that in mind!
Step 2:
As this is an eggless gingerbread men recipe, I used some extra liquid to help the mixture stick together.
In a large bowl, mix together 1 teaspoon of vanilla extract, 2 tablespoons of agave nectar (or maple syrup) and 1 tablespoon of molasses. You can substitute the molasses for black treacle if you need to.
Once you've mixed that together, add in 2 tablespoons of unsweetened soy milk and give it another good stir until everything is well incorporated.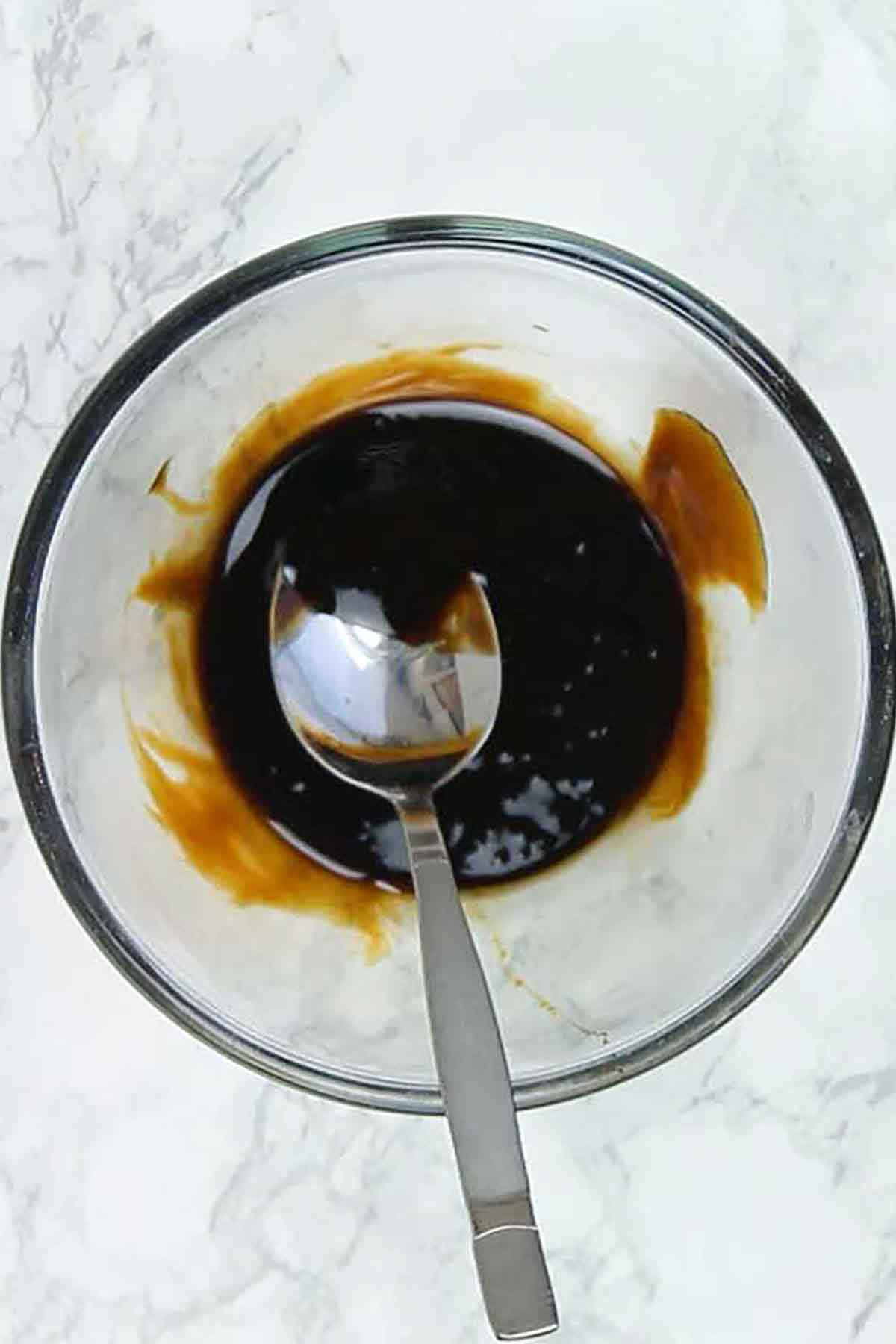 Step 3:
In a separate bowl, mix together 210g of all-purpose flour (around 1+ 2/3 cups), 1/2 a teaspoon of baking soda, 2 teaspoons of ginger and 1/2 a teaspoon of cinnamon.
Add 60 grams of dairy-free margarine (~4 tablespoons) to the bowl and rub it into the flour mixture until it resembles breadcrumbs. Now stir in 100 grams of caster sugar (1/2 cup).
Step 4:
Pour the wet ingredients into the dry ingredients and mix until everything starts to stick together. Then use your hands to press it together into a ball of dough.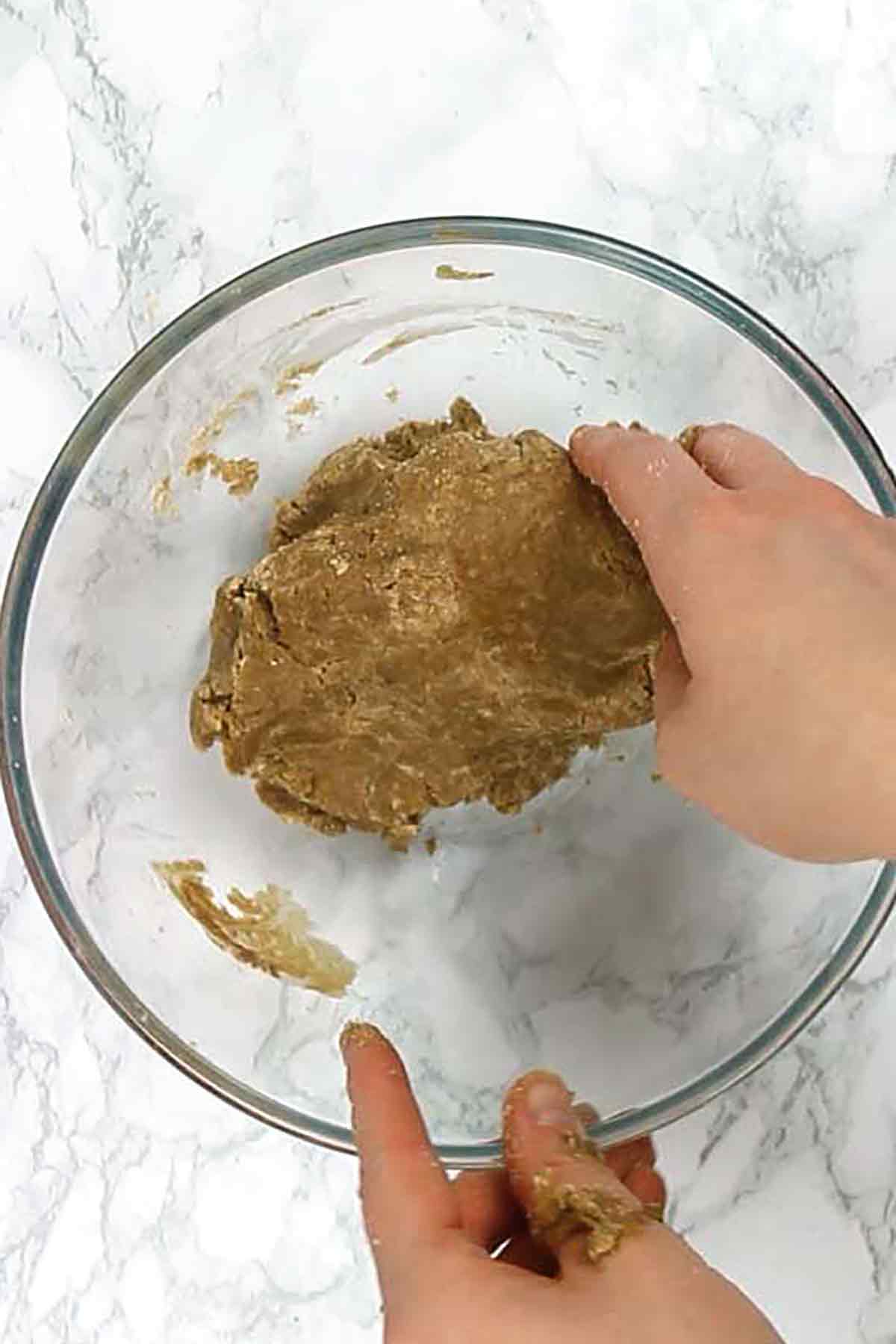 Because this recipe is eggless, the mixture will look crumbly at the beginning. But keep kneading and working it in your hands and it will eventually come together to make a perfect, rollable dough.
Step 5:
Roll out your dough to around 1/2 an inch thick and cut out your cookie shapes. Use a 2.5-inch gingerbread man cutter to make 25 gingerbread Christmas biscuits, re-rolling leftover pieces as needed.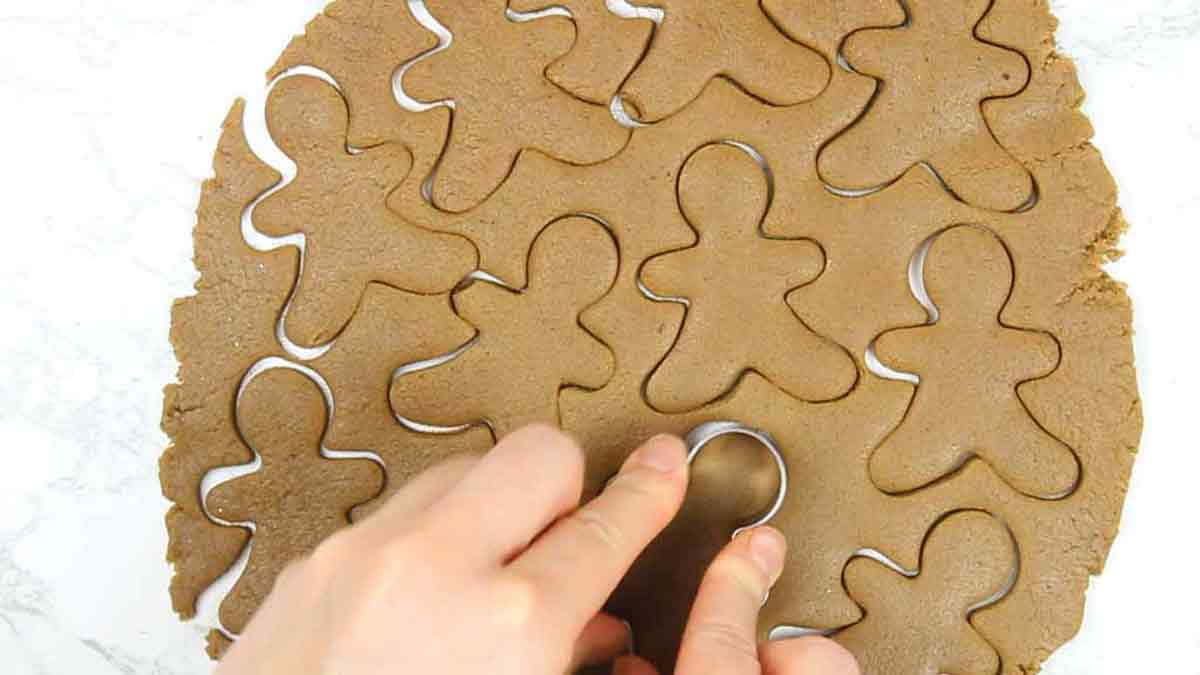 Step 6:
Lay the gingerbread men biscuits out on your lined baking tray and place the whole tray in the fridge for one hour. This will help the biscuits to hold their shape and stop them from puffing up as they bake.
If you're pinched for time, you can also place them in the freezer for 20 minutes instead.
Step 7:
Remove your gingerbread men from the fridge and bake for 12-15 minutes. 12 minutes will give a soft, chewy gingerbread and 15 minutes will produce a slightly crunchier biscuit.
Step 8:
Once they are cool, prepare your icing by mixing together 200g of icing sugar (1+1/2 cups) and 3 tablespoons of cold water. Alternatively, use vegan royal icing.
Add food colouring if desired. You'll need 3 colours for the Shrek gingerbread man- blue for the eyebrows, red for the mouth and white for the body detailing. I used writing icing tubes for extra precision but if you have some piping bags and an extra small nozzle, you can totally do it that way too! You'll also need some purple cake decorations or sweets like Jelly Tots to use as the 'gumdrop buttons.'
Leave the gingerbread biscuits at room temperature until the icing has set before enjoying.
FAQ:
Can vegan gingerbread men be frozen?
Yes! They can be frozen wrapped in tin foil or in an airtight container. You can also freeze the dough if you want to make it ahead. I've done this many times and the dough holds really well after defrosting. I let it thaw at room temperature before rolling it out with a little flour, cutting my shapes and baking as per instructions.
What can I use for Gingy's gumdrop buttons?
For the gumdrop buttons, I used the purple sprinkles from the Dr. Oetker unicorn confetti and stuck them on with a bit of white icing. Purple Jelly Tots will also work too.

If you don't have access to these sprinkles or sweets, substitute them with any other vegan sprinkles or some purple fondant icing rolled into small balls. Just double-check for eggs or dairy in the ingredients.
Which type of icing is best for eggless gingerbread men?
To top these biscuits, I used a simple mix of icing sugar, water and food colouring which settled nicely without dripping down the sides. Vegan royal icing works well too.
Will gluten-free flour work?
I haven't tested this recipe with gluten-free flour yet so I can't recommend it. If you'd like to try it, I'd use a ready-made blend that contains xanthan gum, which will help your gingerbread Christmas biscuits stick together better. You may also need to add a little more or less flour, depending on which brand you use.
Can I make these without molasses?
Molasses is a bit of a weird ingredient! It's a super dark, sticky byproduct of sugar production. As I mentioned earlier in the post, molasses can be substituted for black treacle if you're in the UK. They're very similar in taste and texture.

If you can't get your hands on treacle or molasses, you can simply substitute it for another tablespoon of agave or maple syrup. If you do this, I'd also recommend substituting the caster sugar for brown sugar. This way, you'll still get a nice chewy texture from the little bit of molasses that the brown sugar contains.
More Vegan Christmas Desserts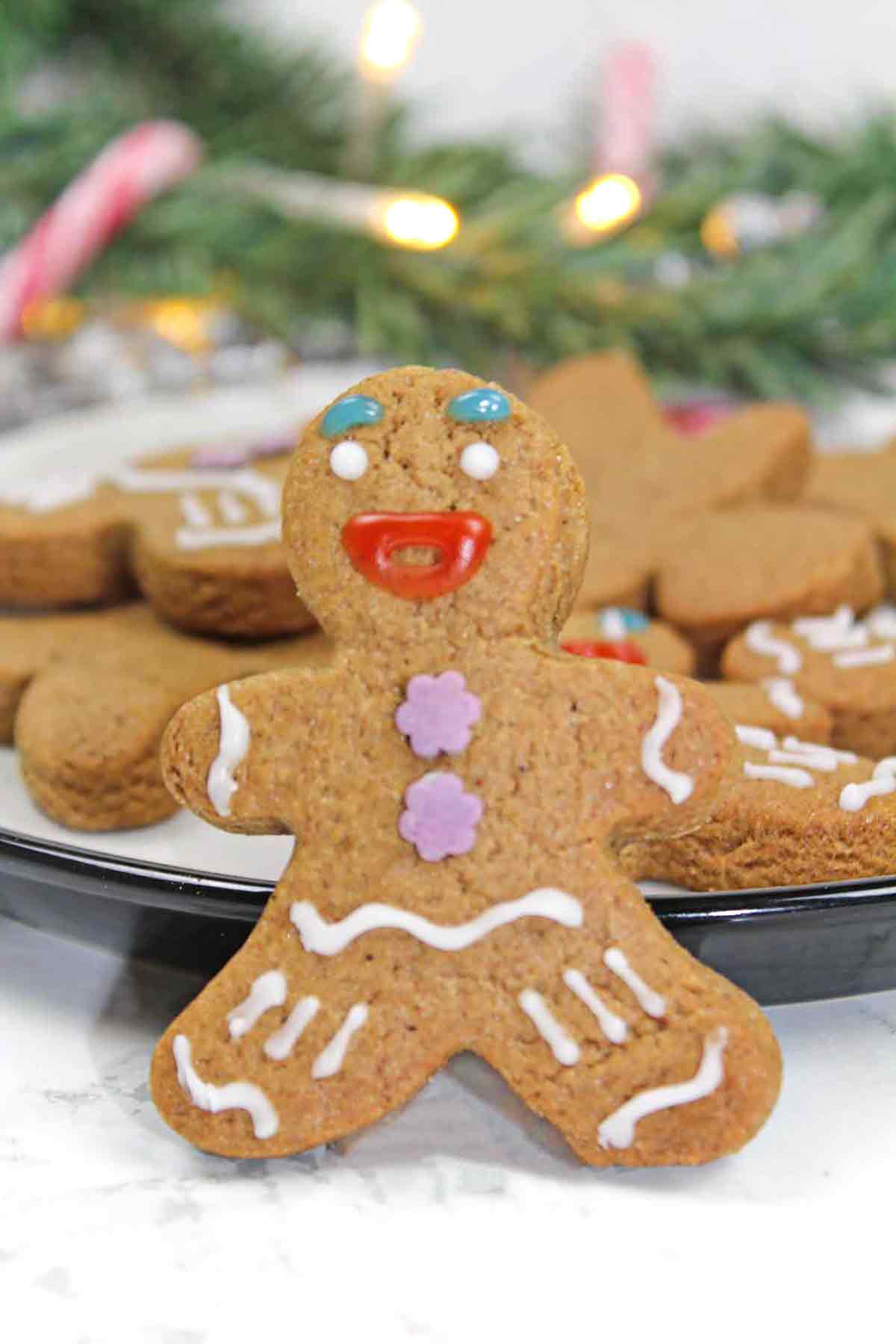 I hope that you love these vegan gingerbread biscuits. Make sure to share them with your friends and family to spread the Christmas cheer! Get creative with the decorating and let me know how it goes by leaving a rating or comment below! Happy baking!xo

Vegan Gingerbread Men (Eggless Gingerbread Biscuits)
Soft and chewy Shrek gingerbread men made without eggs or dairy.
Servings
25
2.5-inch biscuits
Ingredients
1

Teaspoon

Vanilla extract

2

Tablespoons

Agave nectar

(or maple syrup)

1

Tablespoon

Molasses

(or black treacle)

2

Tablespoons

Soy milk

210

g

Plain flour

(1+⅔ cups)

½

Teaspoon

Baking soda

(bicarbonate of soda)

2

Teaspoons

Ground, dried ginger

½

Teaspoon

Ground cinnamon

60

g

Dairy-free margarine

(4 tablespoons)

100

g

Caster sugar

(½ cup)
For the icing:
200

g

Icing sugar

(1+½ cups)

3

Tablespoons

Water

Blue and red vegan food colouring

50

Purple vegan round sprinkles

(for the buttons- I used the purple Unicorn sprinkles)
Instructions
Preheat your oven to 180°C/350°F (or 160°C/325°F if using fan or convection oven). Line two large baking trays with parchment paper.

Mix the vanilla, agave and molasses together in a small bowl. Add the soy milk and mix until smooth. Set aside.

In a separate, larger bowl, mix together the flour, baking soda, ginger and cinnamon. Rub in the margarine until the mixture resembles breadcrumbs, then stir in the caster sugar.

Add the wet mixture to the dry and mix everything until it starts to stick together. Use your hands to form it into a dough. Note that it will seem a bit dry at first but keep kneading and warming it in your hands and it'll soon come together.

Roll the dough out to around ½ an inch thick. Use a 2.5-inch gingerbread man cookie cutter to cut out 25 biscuits, re-rolling leftover pieces as needed.

Place the dough shapes onto your trays and place them in the fridge for 1 hour. If you're short for time, you can put them in the freezer for 20 minutes. This will help them hold their shape as they bake.

Remove from the fridge and bake for 12-15 minutes. (The longer you leave them in the oven, the crunchier they will be when they cool.)

Allow the biscuits to cool completely before removing them from the tray.
For the icing:
Mix together the icing sugar and water until you have a smooth, thick icing. Add a few tablespoons of icing into a bowl with the red food colouring, and a few tablespoons in another bowl with the blue food colouring. Keep the remaining icing white.

Use a piping bag with a writing nozzle fitted to pipe blue eyebrows onto each gingerbread man, then pipe on the mouths using the red icing. Use the white icing to pipe on the body detailing and the eyes.

Add two purple 'gumdrop buttons' to the body of each gingerbread man, using icing to stick them on.

Leave your gingerbread biscuits at room temperature for around 30 minutes to allow the icing to set before enjoying.
Recipe Notes
These gingerbread men are best stored in an airtight container at room temperature. They will last for up to 1 week.
Nutrition Facts
Vegan Gingerbread Men (Eggless Gingerbread Biscuits)
Amount Per Serving (1 gingerbread biscuit)
Calories 63
Calories from Fat 9
% Daily Value*
Fat 1g2%
Sodium 32mg1%
Carbohydrates 12g4%
Protein 1g2%
* All values are an estimate only and will vary depending on the food brands used.
BakedByClo is a participant in the Amazon Services LLC Associates Program, an affiliate advertising program designed to provide a means for sites to earn advertising fees by advertising and linking to Amazon.com. This site may contain some of these links to Amazon.com & other affiliate programs. If you make a purchase through one of those links, BakedByClo will receive a small commission from the purchase at no additional cost to you.