Vegan Chocolate Ginger Cookies
These vegan chocolate ginger cookies are super easy to make with just 6 simple ingredients. Perfect for those who want to enjoy a sweet treat without too much added sugar. Have them for dessert, as a festive sweet snack or give them as edible gifts!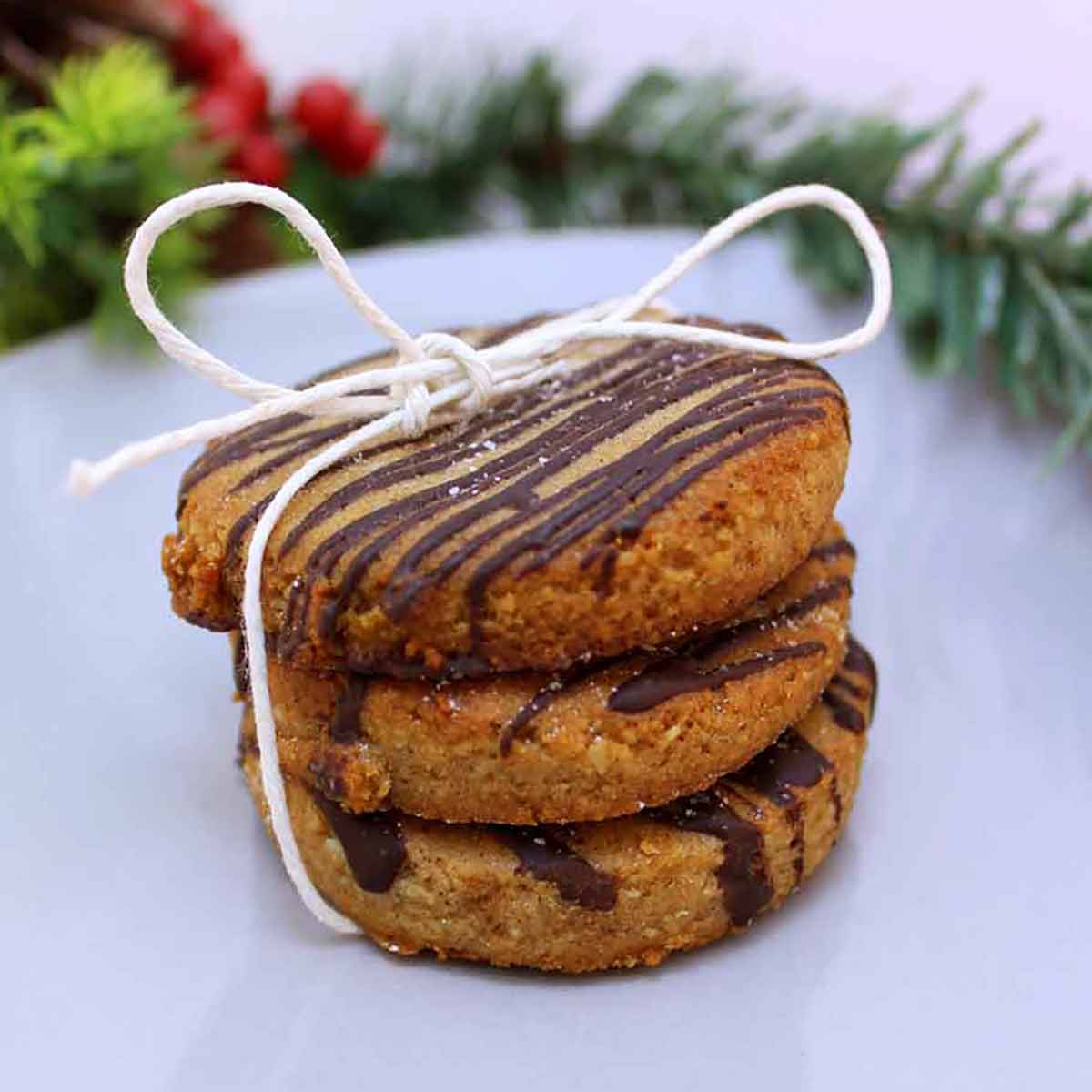 We are now nearing the end of November, which means we officially have permission to open the Christmassy floodgates! Who's with me?
If there's one thing I love about Christmas, it's the FOOD. Particularly, Christmas desserts. I have a huge sweet tooth and come December each year, you'll catch me baking up some kind of sweet treat almost daily. In this post, I'm sharing the recipe for my vegan chocolate ginger cookies.
I got my inspiration for these cookies from a Christmas market I visited last year where I bought some amazing Christmas-spiced nuts covered in chocolate. I just LOVE the combination of sweet Christmas spices and bitter dark chocolate. There's something so festive about warming spices and I can't get enough.
More vegan cookie recipes
I sweetened these cookies only with agave nectar which was a big challenge for me. I love to bake but I can't lie, baking with liquid sweeteners is not my forte- usually I just pour in the caster sugar like there's no tomorrow and hope for the best.
Do you know how many batches of squidgy cookie dough and spongy cookies I threw away this week before I got these vegan chocolate ginger cookies just right? Well, let me tell you… A lot. But it was worth it because I'm very pleased with the finished result and I know you will be too!
The final recipe is surprisingly easy and contains only 6 ingredients. The cookies are perfect paired with some hot tea or as an on-the-go snack and I even think they'd make an excellent edible gift. Or, you can do what I did and just eat them all in one night. Just kidding (not kidding).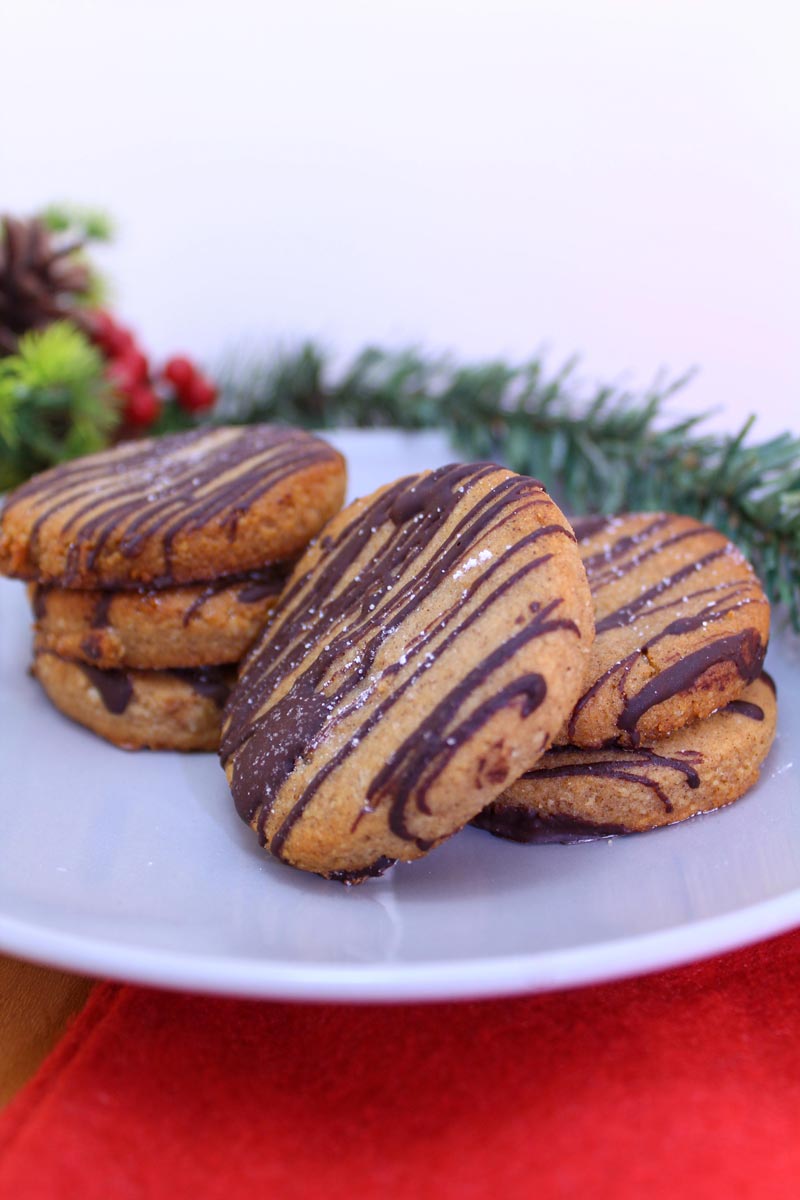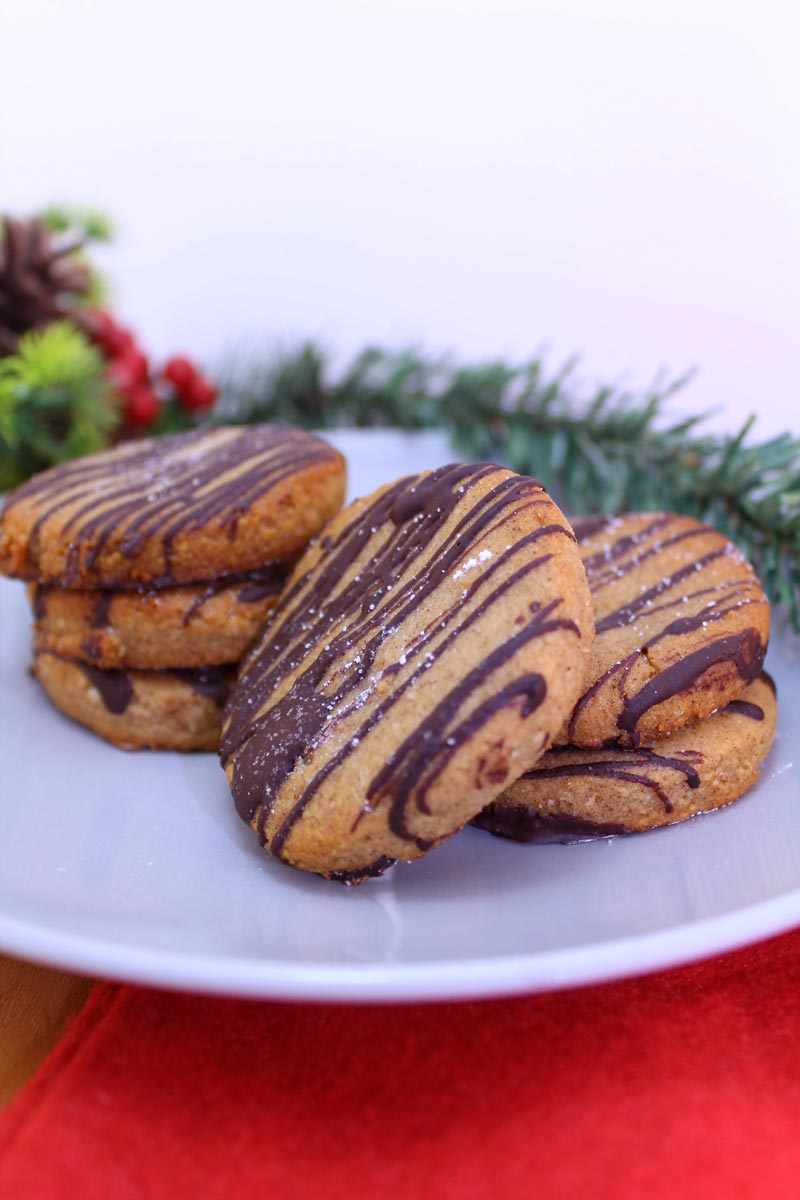 Ingredients you'll need
Almond flour. I took out half of the amount of flour I'd usually use for cookies and replaced it with almond flour. This not only adds some healthy fats but it also helps to create a soft, melt-in-your mouth texture.
Plain flour. Also known as all-purpose flour. This helps to give the cookie structure and works better than using just almond flour alone.
Agave nectar. I used this not only to help the dry ingredients stick together but it's a great low-glycemic alternative to caster sugar. You can switch it out for maple syrup if you like but I personally prefer the flavour of agave.
Vegan margarine. Use the soft, spreadable type of vegan butter, not the blocky type. You'll also need to melt it before adding it to the bowl. You could swap this out for melted extra virgin coconut oil but you will need to use less as it's more absorbent. Add it in a little bit at a time until your mixture sticks together. I personally prefer the cookie texture and taste with margarine.
Ginger. I used dried, ground ginger powder in my cookies. You can use chopped candied ginger or a small amount of fresh ginger if you prefer.
Vegan chocolate. I used dark chocolate because I love the contrast of bitter and sweet but you can use any dairy-free chocolate that you like.
How to make vegan chocolate ginger cookies
Step 1:
Preheat your oven to 180°C/350°F (or 160°C/325°F if you're using a fan or convection oven). Line a tray with baking paper.
Step 2:
To a large bowl, add 90g of almond flour, 65g of plain flour and 2 teaspoons of ginger powder. Mix it together well.
Step 3:
Next, add 3 tablespoons of melted vegan margarine and 3 tablespoons of agave nectar to the bowl. Mix everything together until it starts to stick then use your hands to press it into a ball of cookie dough.
If the dough is too wet, add more plain flour and if it's too dry, add a small splash of plant-based milk.
Step 4:
Roll the dough out on a floured surface until it's around 1/4 of an inch thick. Use a 3-inch cookie cutter to cut out your cookies, re-rolling leftover pieces of dough until it's all used up.
Step 5:
Place the cookies onto your baking tray and bake for 10-12 minutes, until golden brown on top. Let them cool completely before removing them from the tray.
Step 6:
Once the cookies have cooled, melt 50g of vegan chocolate and drizzle it over each one. Let the chocolate harden before enjoying!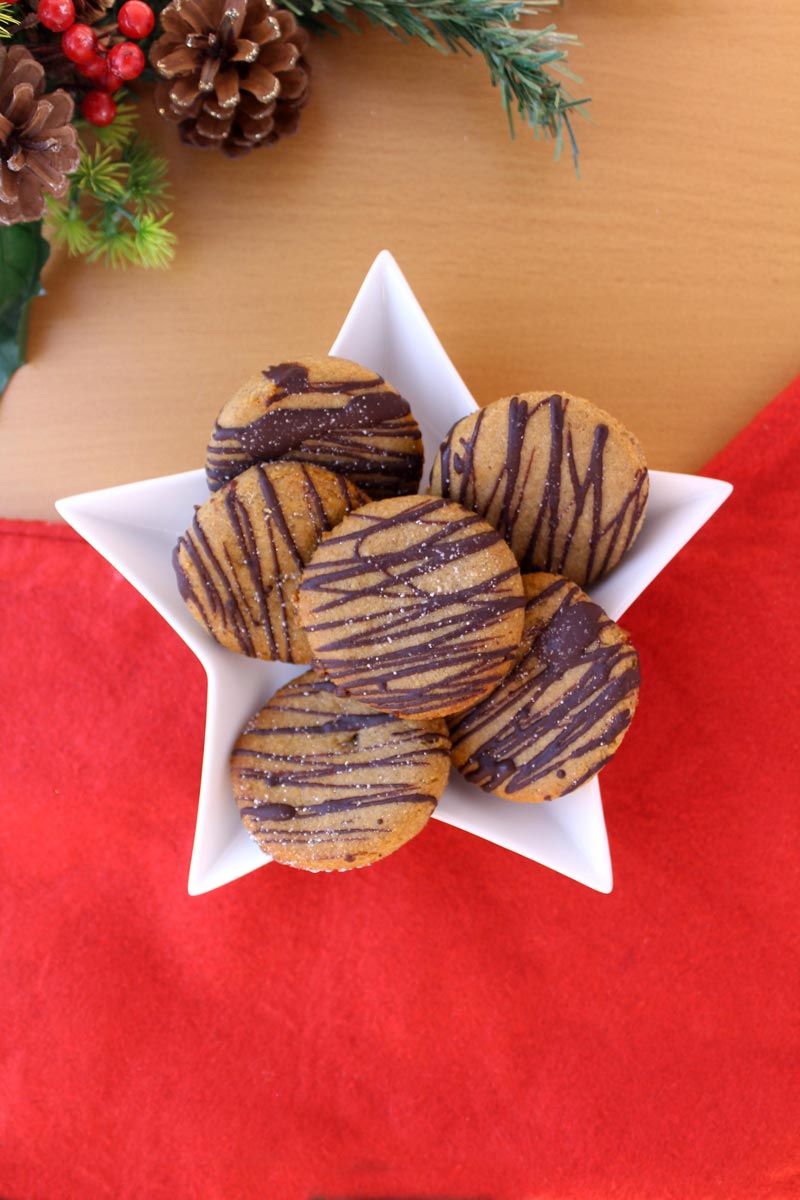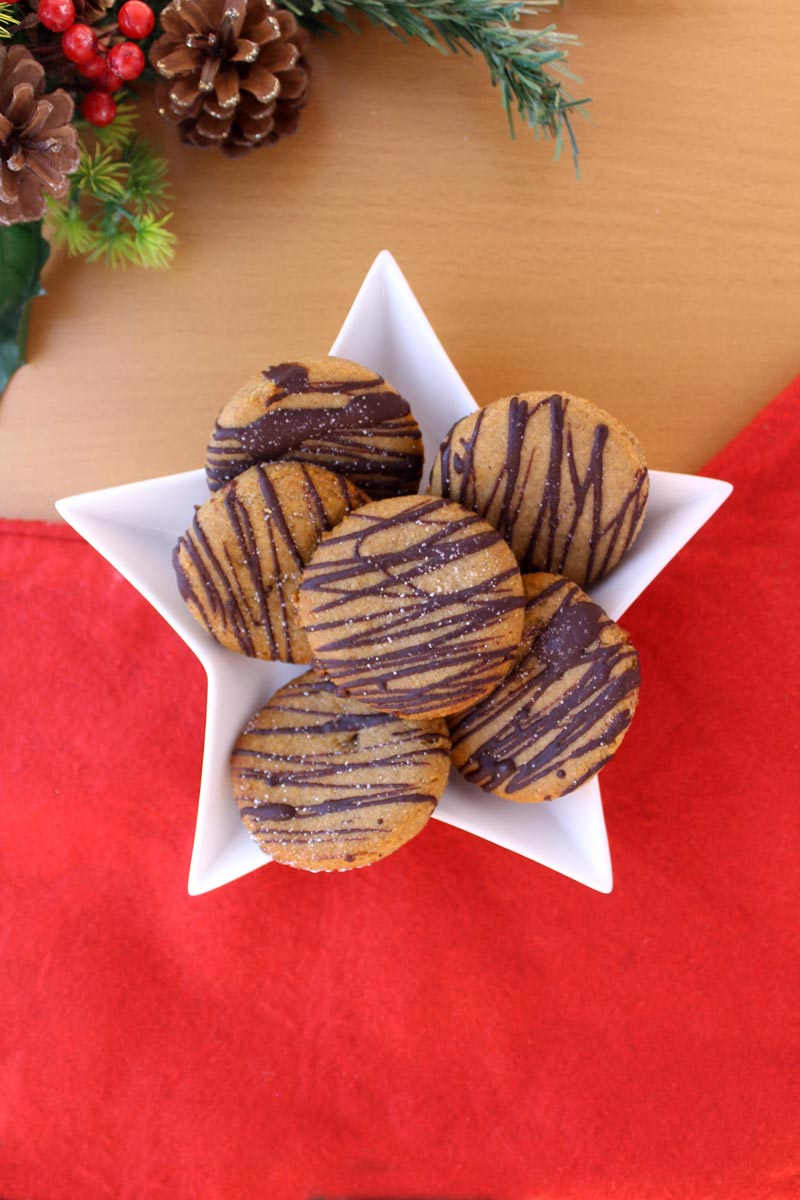 I hope you enjoy these dairy-free chocolate ginger cookies! If you make them at home, please let me know what you think by leaving a rating and comment below. Happy baking! xo

Vegan Chocolate Ginger Cookies
A healthier vegan Christmas cookie with chocolate and ginger.
Ingredients
90

g

Ground almonds

65

g

All-purpose flour

3

Tablespoons

Melted vegan margarine

3

Tablespoons

Agave nectar

1-2

Teaspoons

Ground dried ginger

(adjust to preference)

50

g

Vegan chocolate
Instructions
Preheat oven to 180°C (or 160°C if you're using a fan oven) and line a tray with baking paper.

Add all ingredients except the chocolate to a bowl and mix together to form a ball of dough. If the dough is too dry, add a splash of vegan milk and if it's too wet, add more plain flour.

Roll the dough onto a floured surface until it's around ¼-inch thick. Use a 3-inch cookie cutter to cut out your cookie shapes. Keep re-rolling until all the dough is used up.

Place cookies onto the tray and bake for 10-12 minutes, until golden brown.

Once they have cooled, melt the chocolate and drizzle it over the cookies,

Allow the chocolate to set before enjoying.
Recipe Notes
Store any leftovers in an airtight container for up to 5 days.
Nutrition Facts
Vegan Chocolate Ginger Cookies
Amount Per Serving (1 cookie)
Calories 245
Calories from Fat 162
% Daily Value*
Fat 18g28%
Sodium 104mg5%
Carbohydrates 15g5%
Protein 4g8%
* All values are an estimate only and will vary depending on the food brands used.
BakedByClo is a participant in the Amazon Services LLC Associates Program, an affiliate advertising program designed to provide a means for sites to earn advertising fees by advertising and linking to Amazon.com. This site may contain some of these links to Amazon.com & other affiliate programs. If you make a purchase through one of those links, BakedByClo will receive a small commission from the purchase at no additional cost to you.