Vegan Oreo Brownies
These vegan Oreo brownies are easy to make with simple ingredients, and no chocolate is required for the base! They're gooey and fudgy with a slightly cakey edge. Perfect for sharing.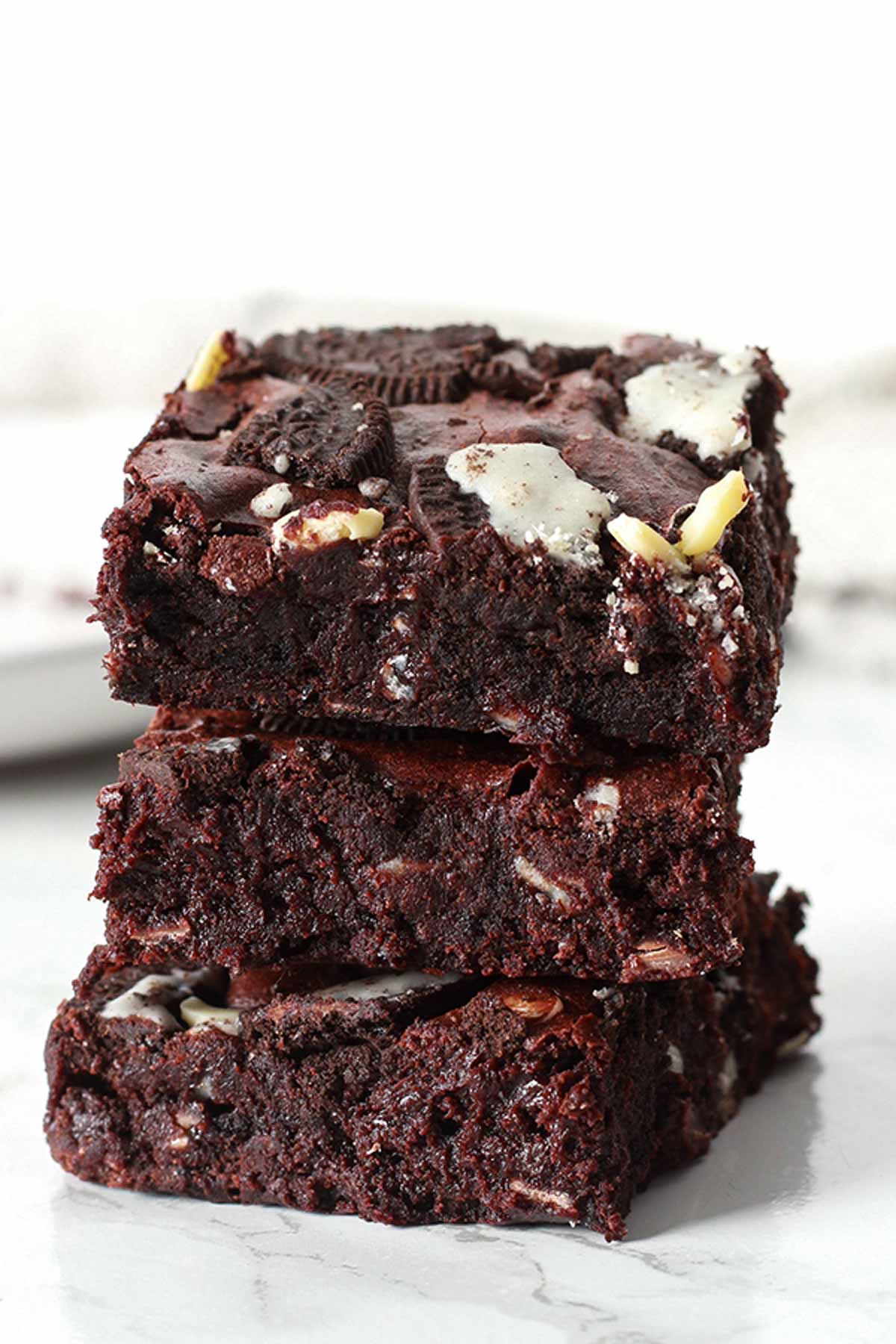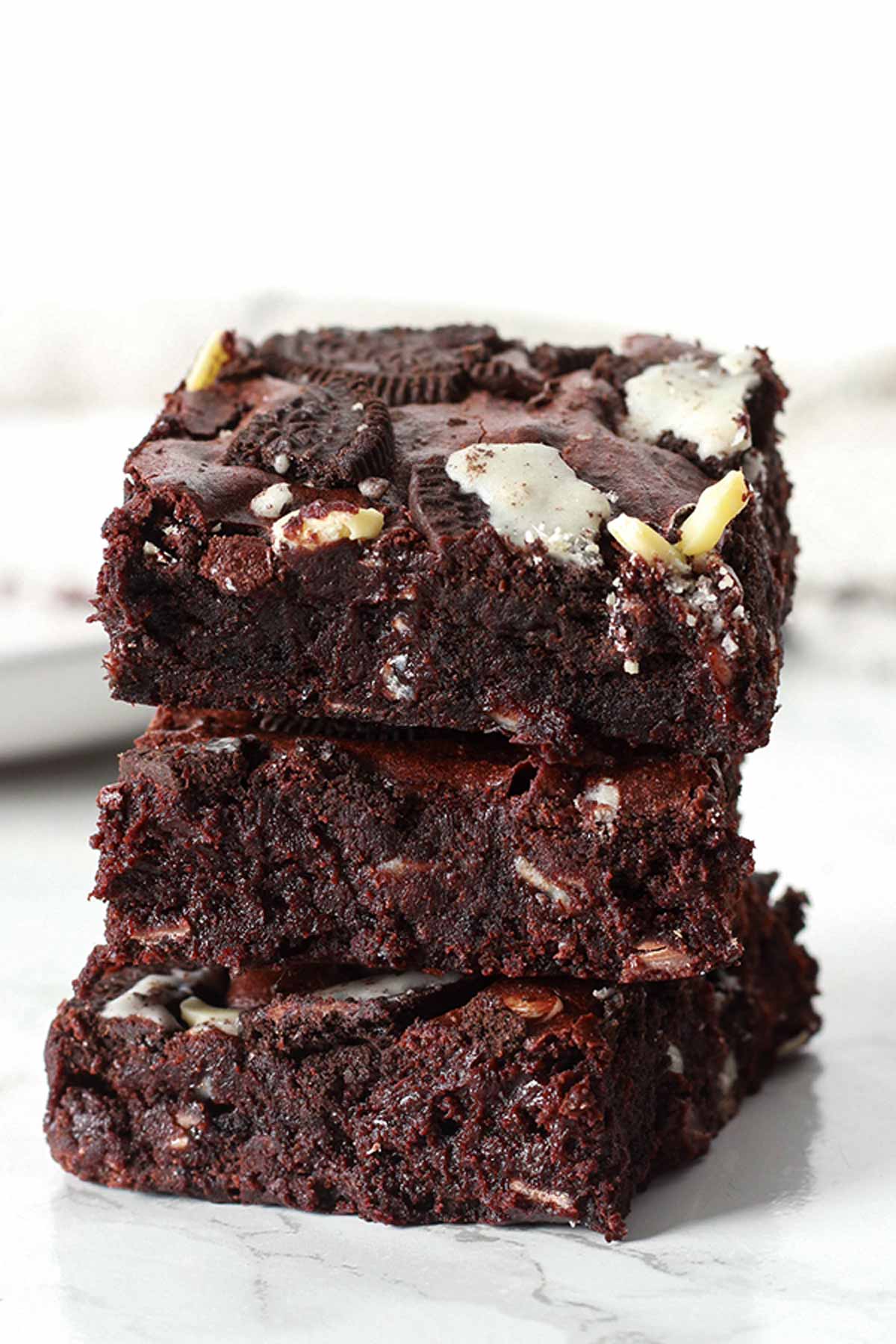 I'm on a brownie-making roll right now and next up are these gooey, eggless Oreo brownies. These look fabulous and taste even better!
After many failed attempts last month at making brownies without chocolate (as in, without actual chocolate bars), I finally nailed my cocoa powder brownies and have made a few variations since then. I plan to keep making more different brownie flavours because this recipe is just so easy and works perfectly every time!
More vegan brownie recipes:
Every time I've shared an Oreo dessert recipe from my blog, it's been really well-received both on and off-line. Since brownies are such a staple dessert, I figured it was about time I made some eggless Oreo brownies. Let me show you how it's done!
Ingredients you'll need for this recipe:
Cocoa powder. This is the main ingredient and gives that chocolate flavour without needing to use chocolate bars, which can be costly and give varying success.
Caster sugar. You need quite a lot of sugar to make brownies due to the bitter nature of the cocoa powder. I recommend using caster (or superfine) sugar because it dissolves easier and won't give a grainy texture.
Plain flour. Provides structure to the brownie. I used as little flour as I could for this recipe without making the brownies greasy, because I like them to be super fudgy in the middle.
Baking powder. This gives a slight lift, which prevents the brownies from being too dense.
Melted dairy-free margarine. This is the main fat in the recipe and keeps the brownies gooey and fudgy.
Soy milk. Unsweetened soy milk is perfect for this eggless recipe because it provides protein and acts as a great egg replacement for brownies.
Vanilla extract. This isn't required but I thought I'd match the vanilla and chocolate Oreo flavours in the batter. It adds a nice bit of extra flavour.
Dairy-free chocolate chips. Again, these are not an essential ingredient but I highly recommend using them. The brownies will be tasty without them but I think they make the brownies taste and look fabulous.
Oreos. Of course, you can't have Oreo brownies without Oreos! I crush them up roughly in my hands before adding them to the batter. Chunky pieces are best- you don't want them to be too fine.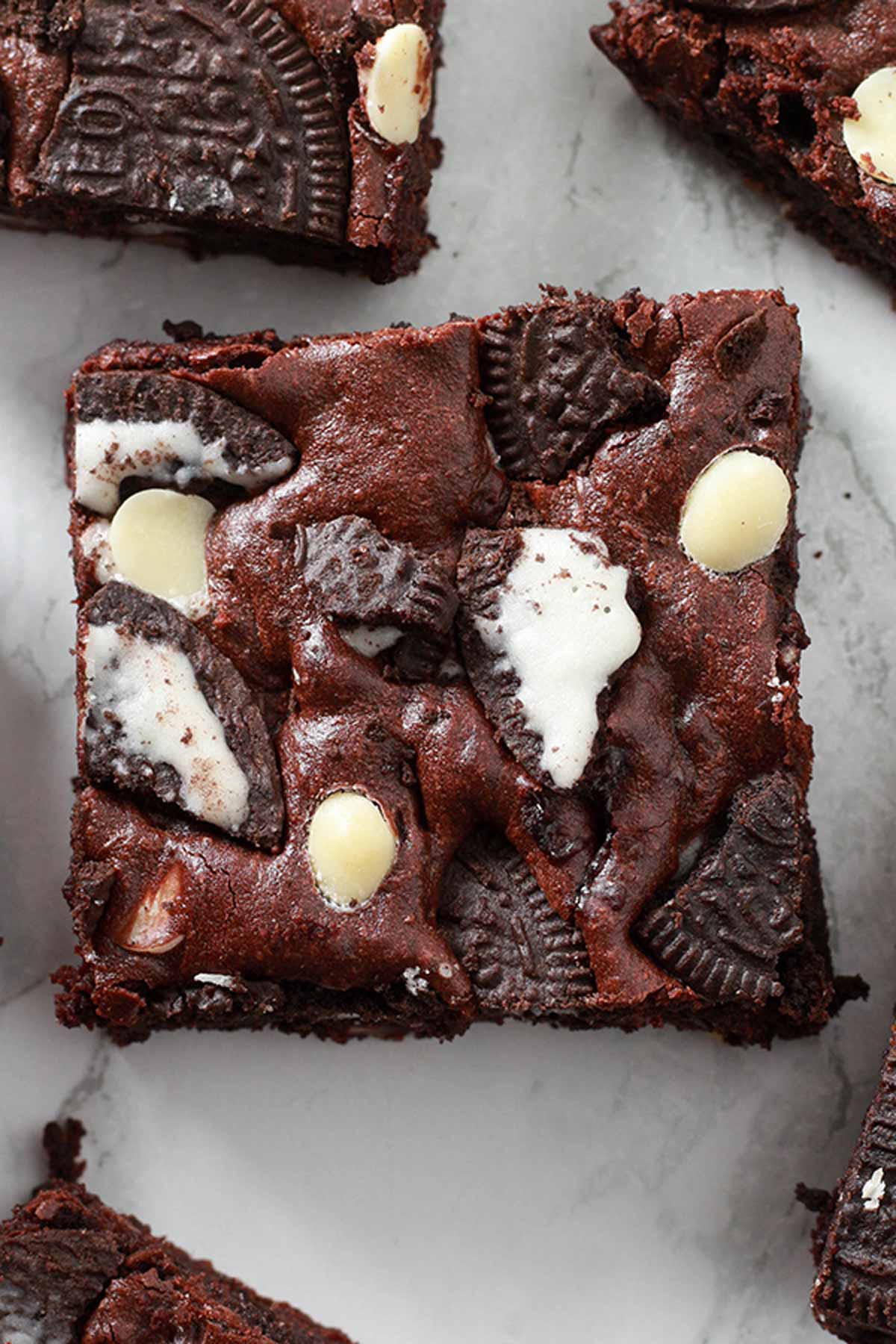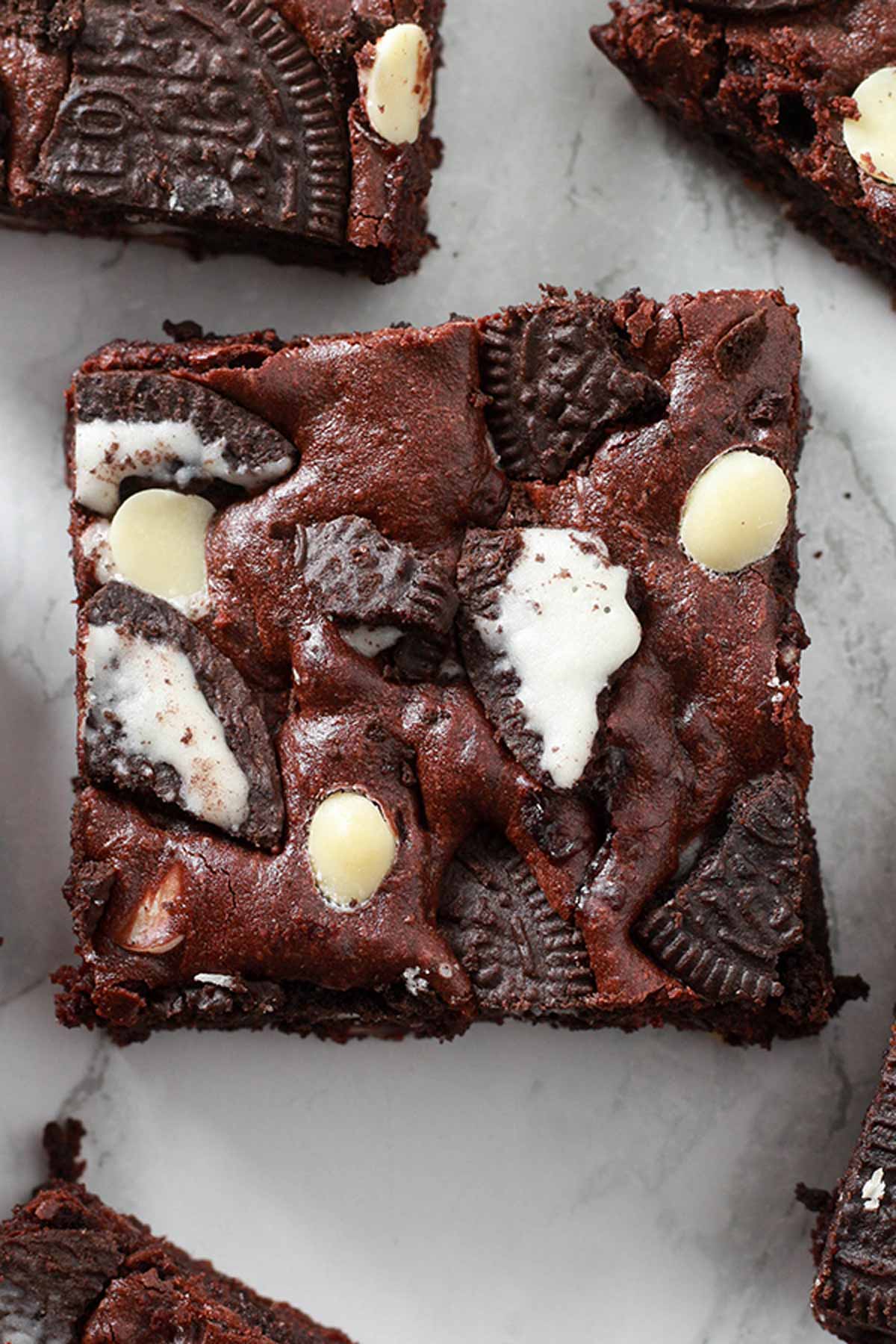 How to make vegan Oreo brownies
Step 1:
Preheat your oven to 180°C/350°F (or 160°C/325°F if you're using a fan or convection oven). Line an 8×10 inch tin with baking paper. I recommend leaving a little baking paper hanging over the edges so that the brownies are easier to remove once they've been baked and cooled.
Please note that if you use a different size of tin the baking time for this recipe will vary. I have only tested this in an 8×10-inch tin. When you stick a toothpick through the middle to test for doneness, you don't want it to come out clean- this means the brownies are over-baked.
There should be a small amount of moist batter stuck to the toothpick, but it shouldn't be completely covered with wet batter. This is how you'll know they're ready if you're using a different sized tin.
Step 2:
In a large bowl, mix together 160g of plain flour, 1 teaspoon of baking powder, 80g of cocoa powder and 250g of caster sugar.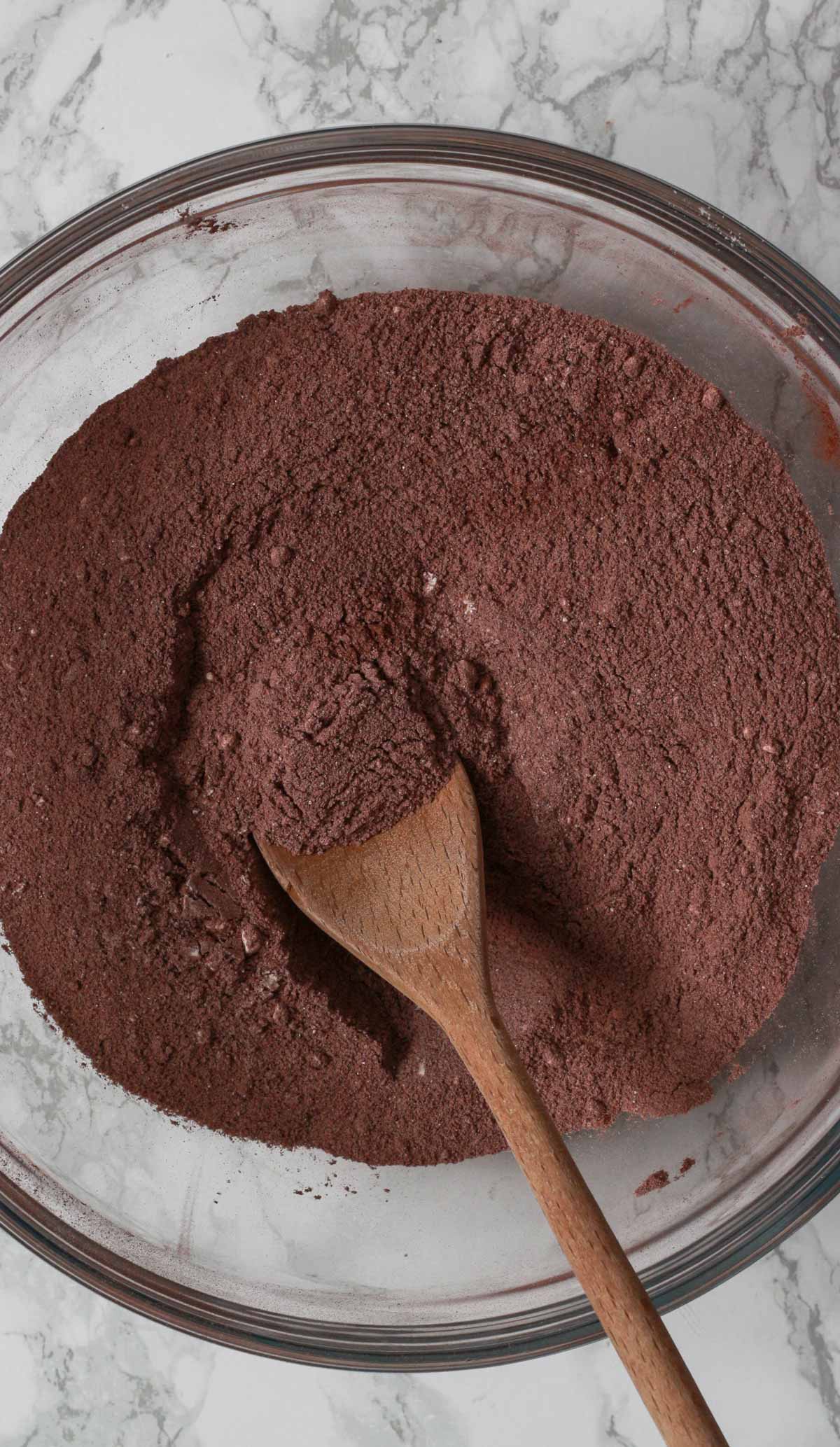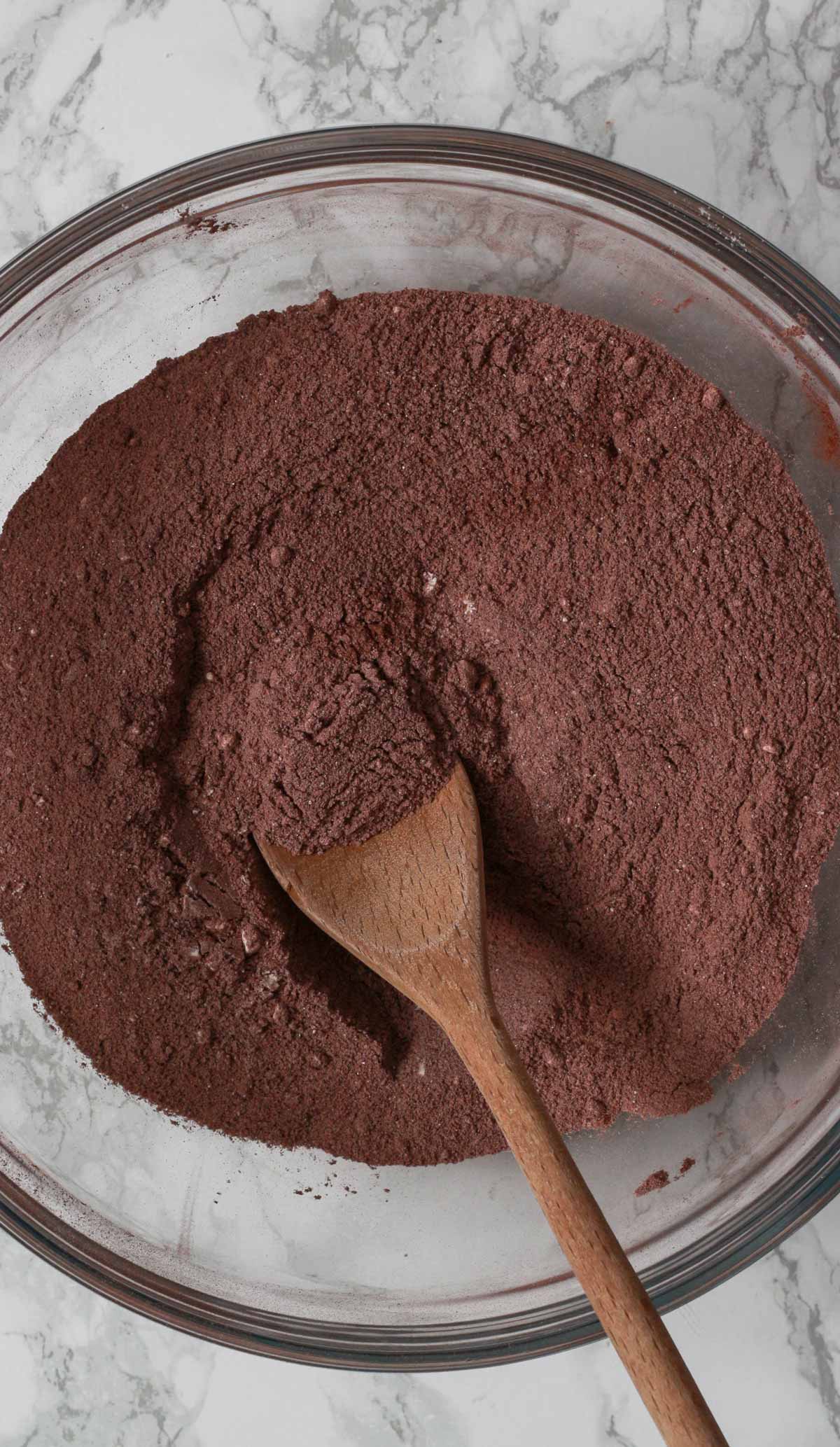 Step 3:
Next, melt 120g of dairy-free margarine. Once melted, add it to the bowl of dry ingredients, along with 1 teaspoon of vanilla extract and 160ml of soy milk. Mix well until you have a smooth, thick batter.
I recommend using the spreadable type of dairy-free margarine and not a blocky vegan "butter". I also recommend using unsweetened (organic, if possible) soy milk for best results. Other dairy-free milks, except coconut, will probably work if you're in a pinch.
Step 4:
Add 100g of dairy-free chocolate chips to the batter and stir them in. I used 50g of Moo-Free "milk" chocolate baking drops and 50g of the white version. This part is optional but adds an extra bit of flavour and texture to the brownies.
Step 5:
Take one pack of Oreos and set 4 of them aside (for topping the brownies with). Crush the rest of the Oreos roughly in your hands and add them to the brownie batter. Mix well until they're all coated.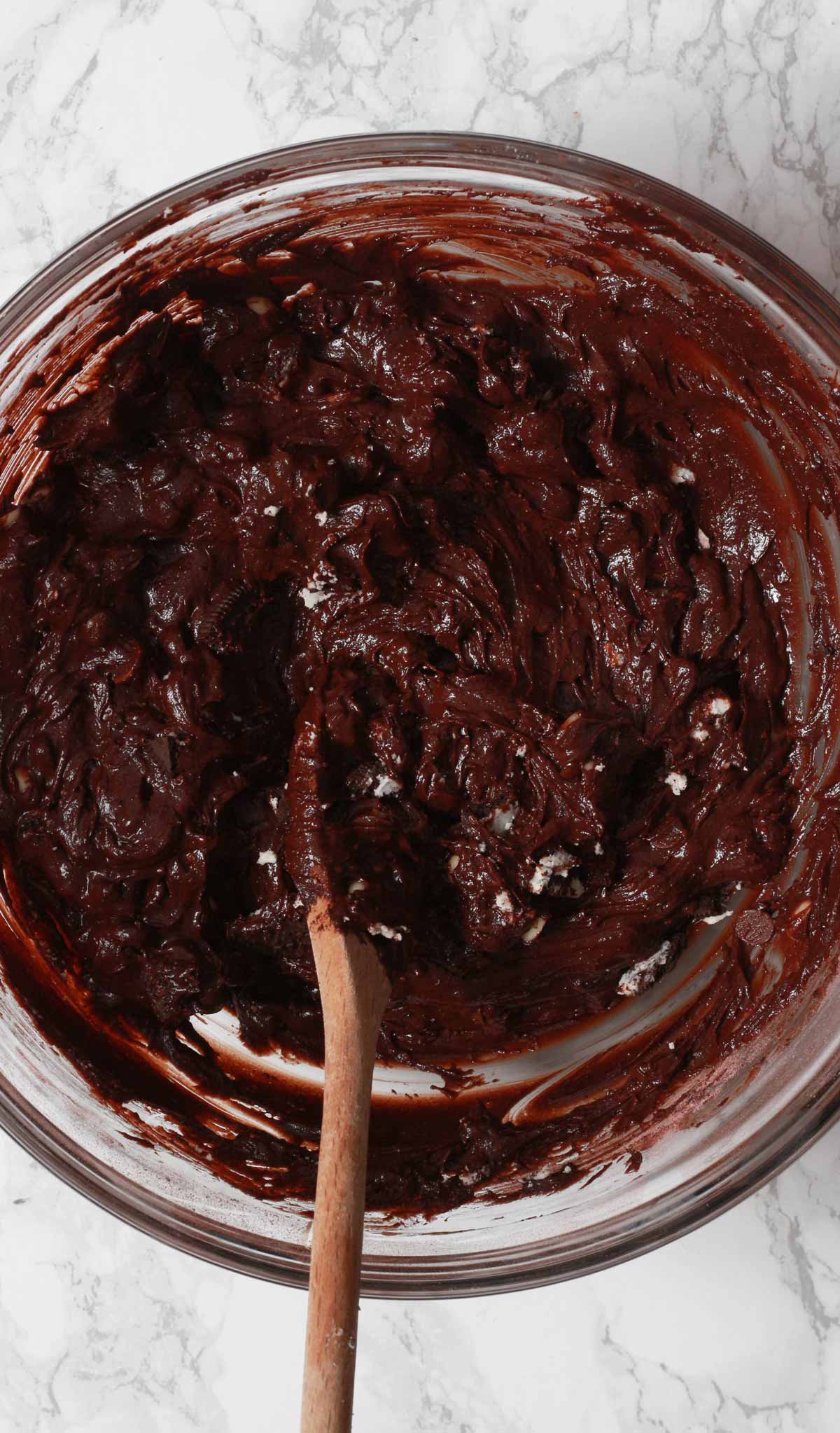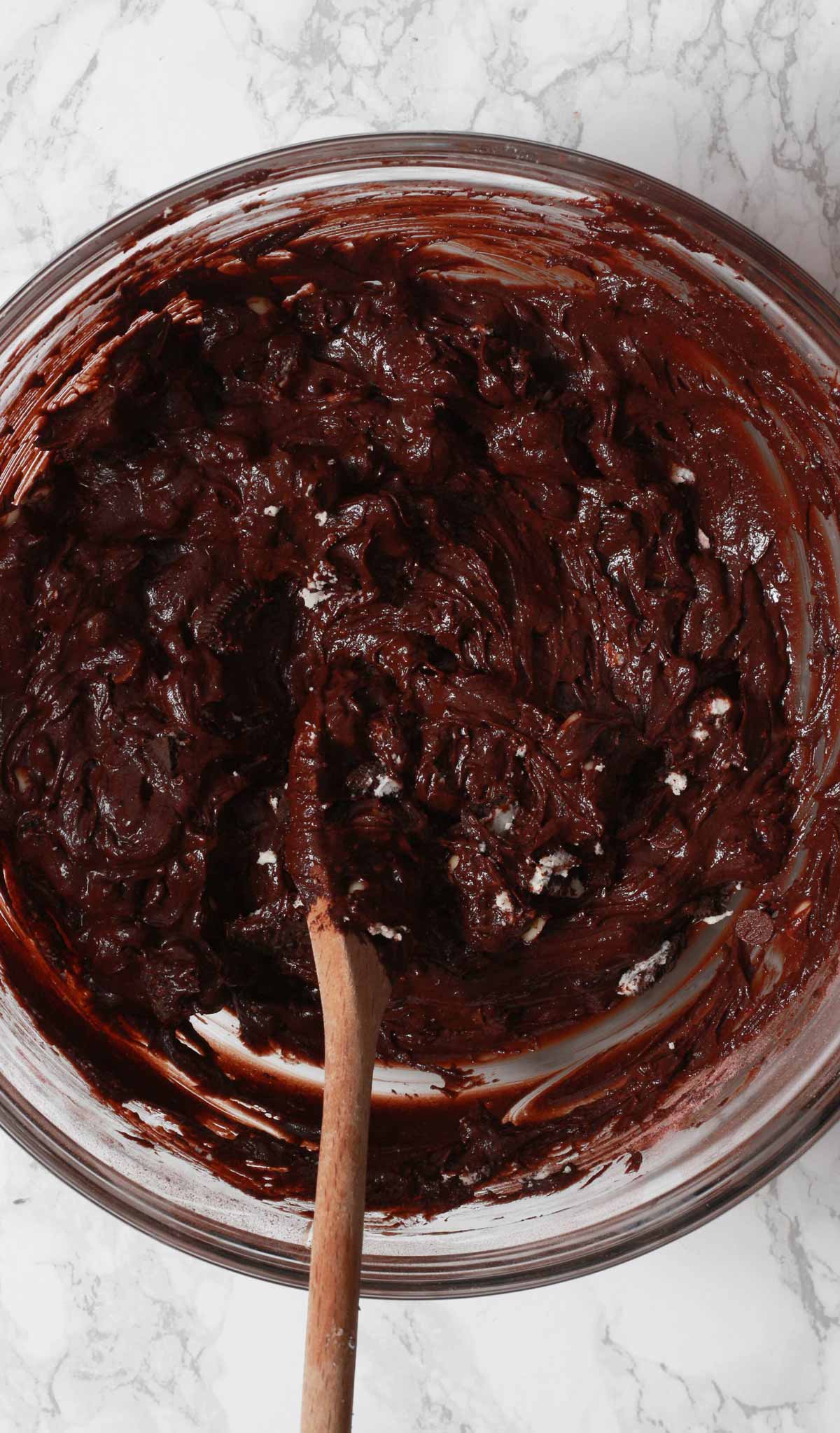 Step 6:
Spoon the batter into your lined tin. The batter will be quite thick so try to spread it out as evenly as you can.
Crush up the remaining Oreos and place them on top of the batter for decoration. You can also add some extra chocolate chips like I did.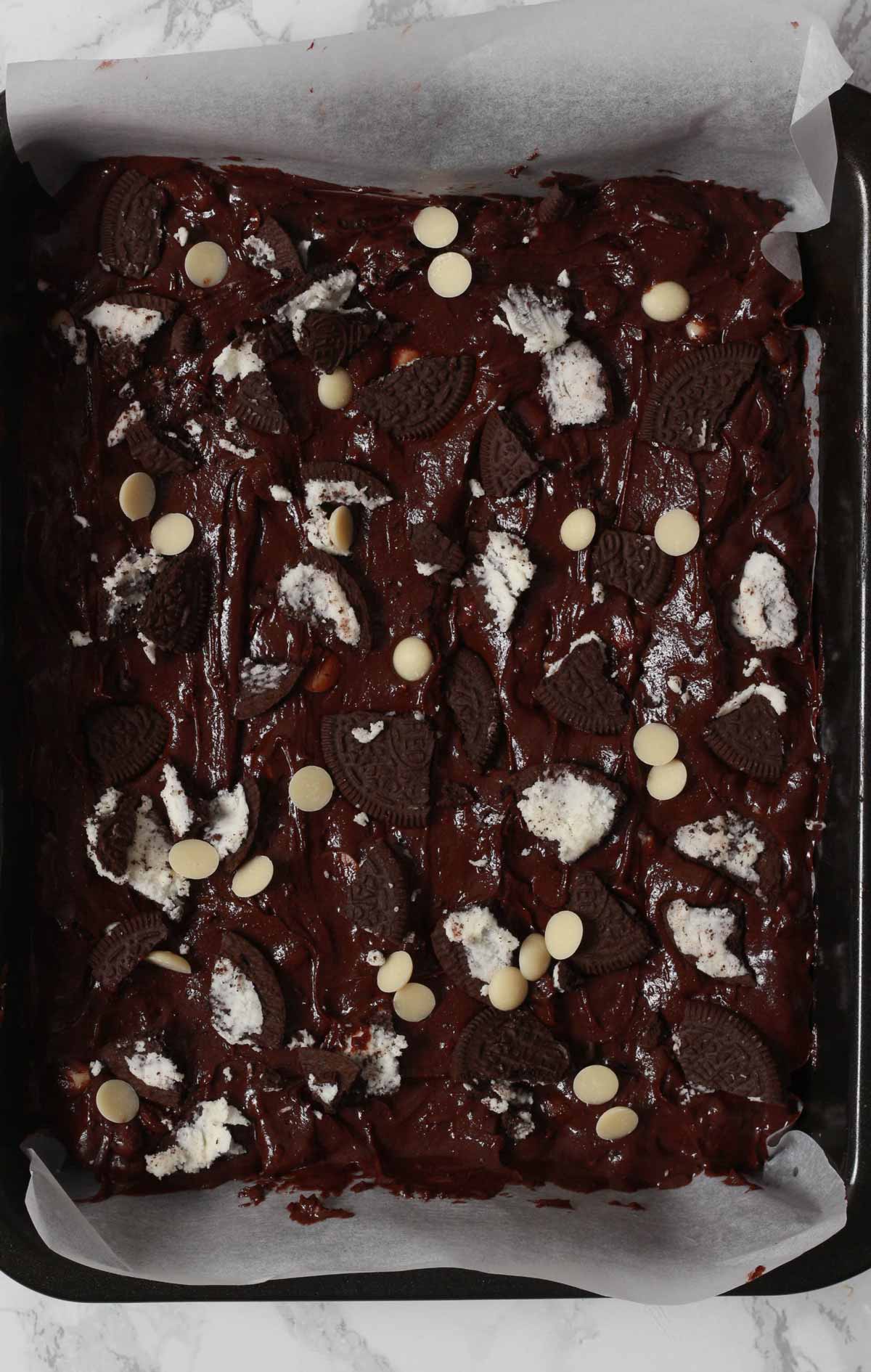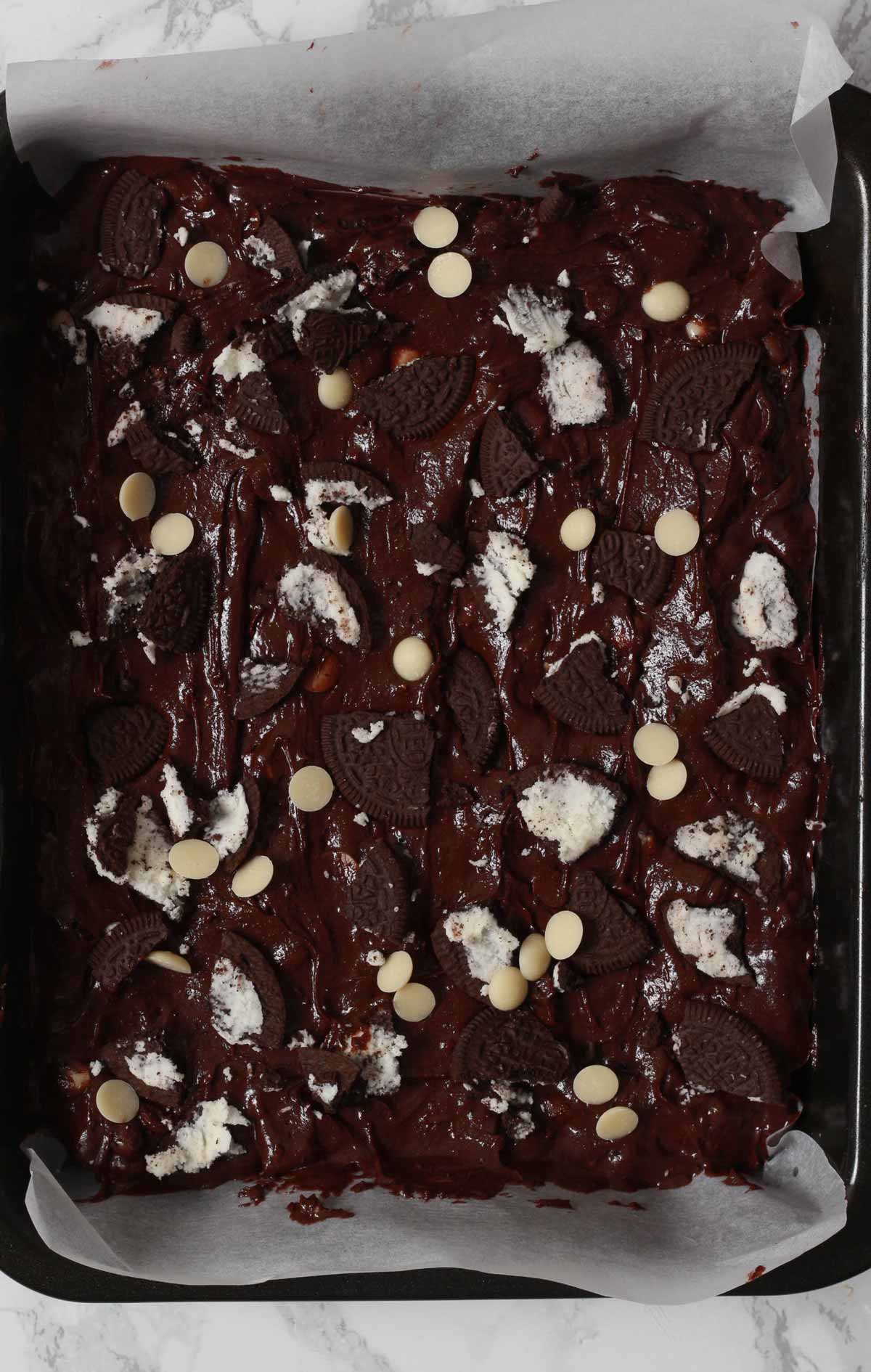 Step 7:
Bake the Oreo brownies for 22 minutes.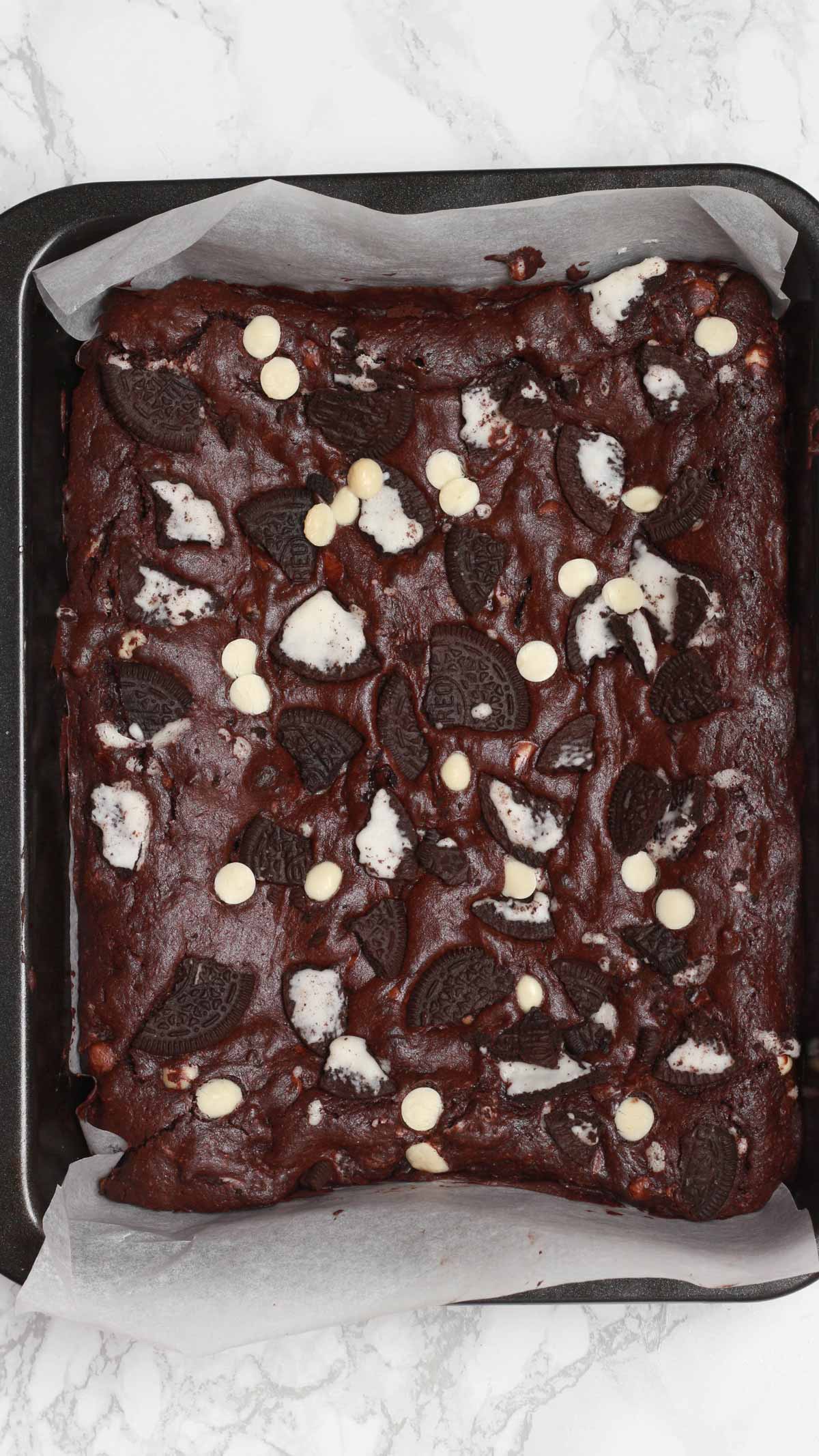 Let them cool in the tin for around 30 minutes at room temperature, then put them in the fridge for 2 hours. This will give them time to fully set and firm up.
Step 8:
After they've been in the fridge for 2 hours, remove the brownies from the tin. Cut into 12 square slices and enjoy!
FAQ:
Are Oreos vegan?
Most flavours of Oreos in the UK are made with vegan-friendly ingredients but there is a risk of milk cross-contamination so they're not suitable for those with a milk allergy. Bone char is not used in the processing of sugar in the UK. There are a few Oreo flavours that actually contain milk, such as the peanut butter Oreos, so make sure to double check before you buy. The same goes for the supermarket own-brand 'Oreos'.
How should eggless Oreo brownies be stored?
Keep the brownies in an airtight container in the fridge for up to 1 week. Storing them in the fridge will keep them nice and fudgy in the middle.
Can I freeze them?
Yes! To freeze the brownies, pop them into an airtight container and freeze for up to 2 months. I recommend placing sheets of baking paper in between layers if you're stacking them.

Alternatively, you can freeze them on a baking tray for a couple of hours then place them into a zip-lock bag. This will stop them from sticking together in the freezer. To defrost, transfer them to the fridge the night before you want to eat them.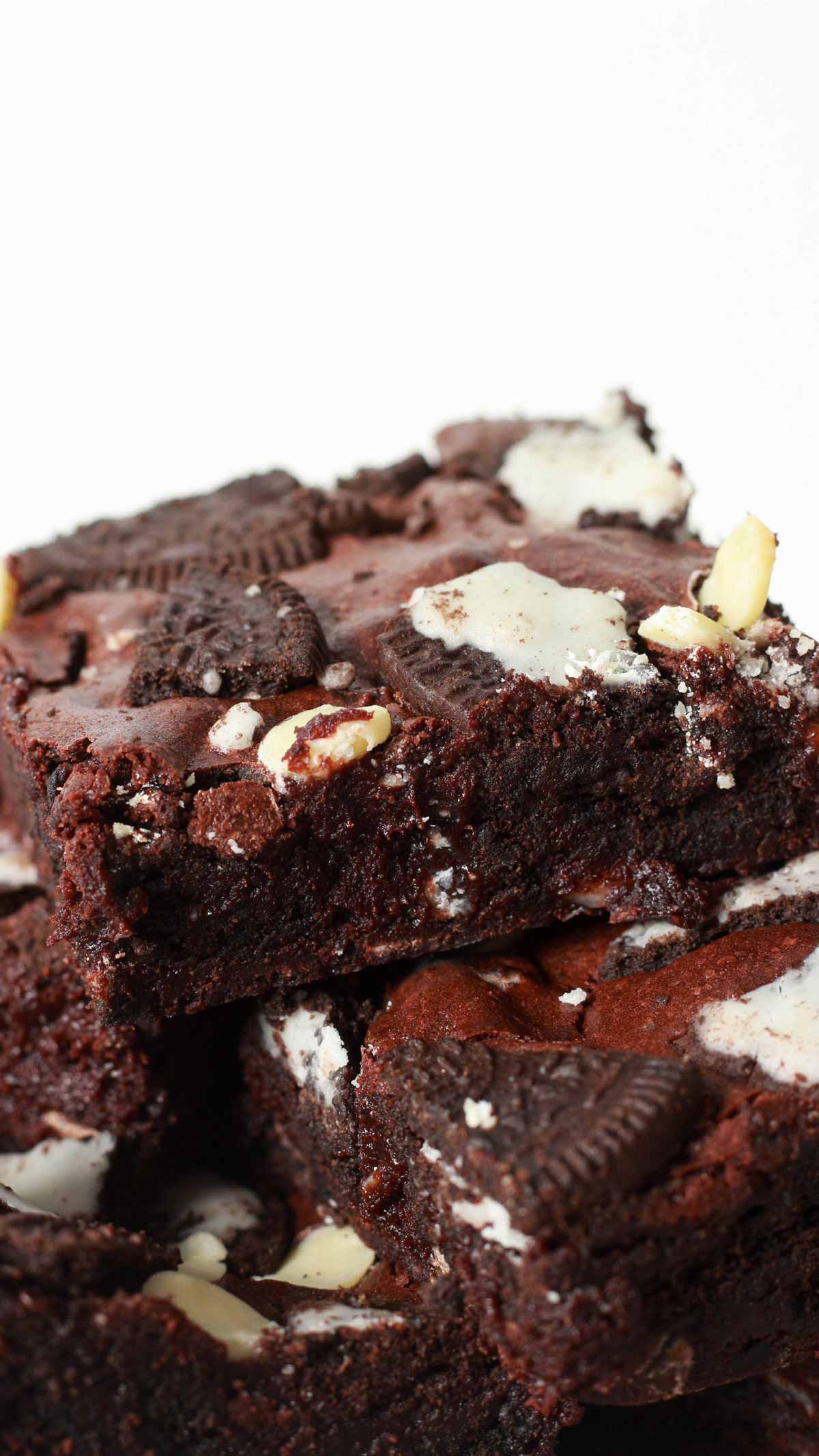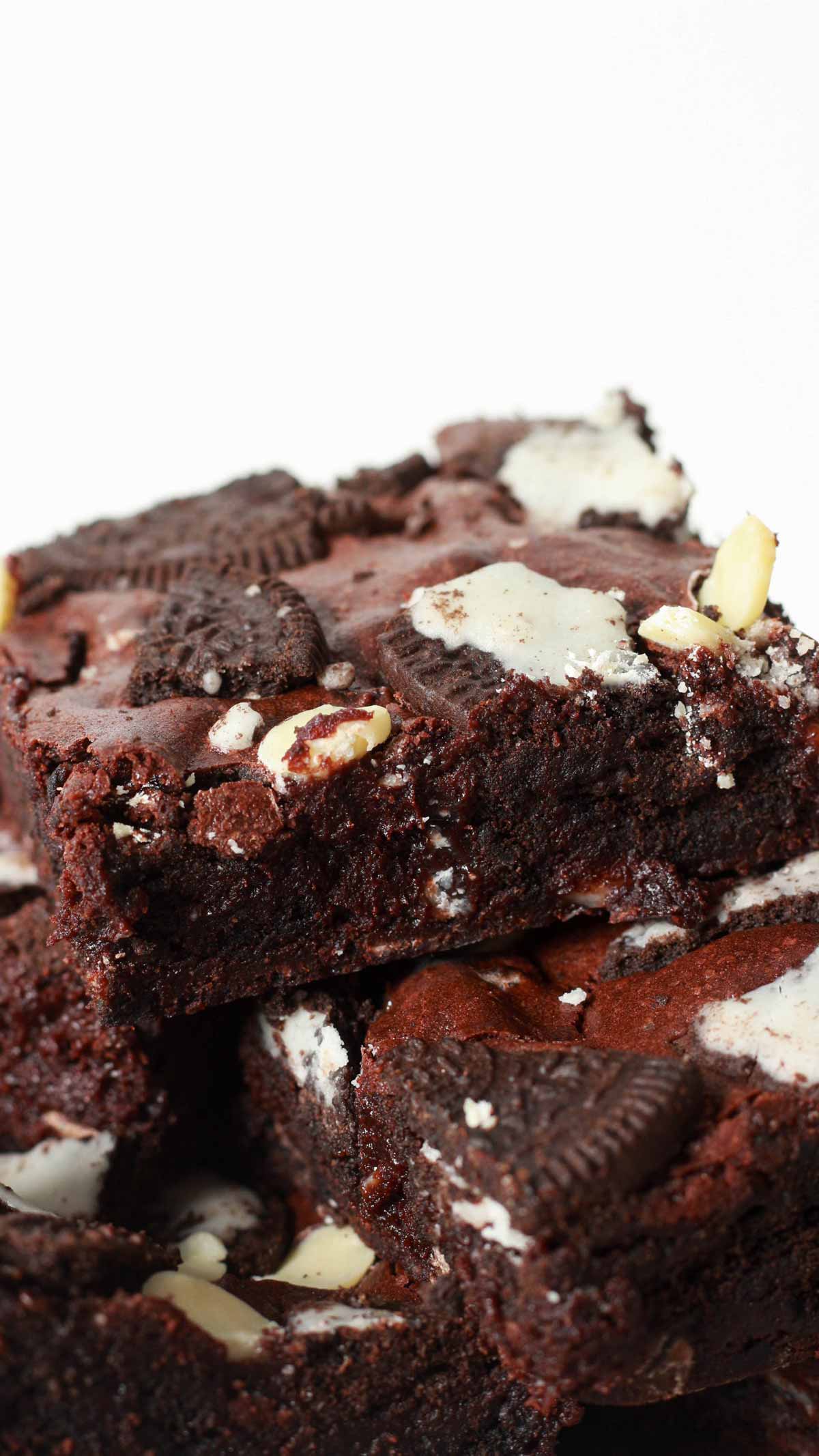 I hope you love this recipe! If you make these vegan Oreo brownies at home yourself, please let me know how you get on by leaving a comment and/or rating below. Happy baking! xo

Vegan Oreo Brownies
Gooey, fudgy, dairy-free brownies with Oreo pieces.
Ingredients
160

g

Plain flour

(1 cup+2 tablespoons)

1

Teaspoon

Baking powder

80

g

Cocoa powder

(⅔ cup)

250

g

Caster sugar

(1+¼ cups)

120

g

Vegan margarine, melted

(½ cup)

160

ml

Unsweetened soy milk

(⅔ cup)

1

Teaspoon

Vanilla extract

100

g

Dairy-free chocolate chips

(around ⅔ cup)

14

Oreos, roughly crushed

(One 154g/5.4oz pack)
Instructions
Preheat your oven to 180°C/350°F (or 160°C/325°F for fan or convection ovens). Line an 8×10-inch tin with baking paper.

Mix the flour, baking powder, cocoa powder and sugar together in a large bowl.

Add the melted margarine, soy milk and vanilla extract. Mix well until you have a smooth, thick brownie batter.

Stir in the chocolate chips, then stir in the Oreo pieces, saving a few for the top.

Spoon the thick batter into your tin and spread it out as evenly as you can. Top with the remaining Oreo pieces and extra chocolate chips if desired.

Bake for 22 minutes. Let them cool in the tin for 30 minutes at room temperature then transfer them to the fridge for 2 hours to set.

After the 2 hours are up, remove the brownies from the tin and cut into 12 square slices.
Recipe Notes
Store in an airtight container in the fridge for up to 1 week.
Nutrition Facts
Vegan Oreo Brownies
Amount Per Serving (1 brownie)
Calories 321
Calories from Fat 117
% Daily Value*
Fat 13g20%
Sodium 117mg5%
Carbohydrates 46g15%
Protein 4g8%
* All values are an estimate only and will vary depending on the food brands used.
BakedByClo is a participant in the Amazon Services LLC Associates Program, an affiliate advertising program designed to provide a means for sites to earn advertising fees by advertising and linking to Amazon.com. This site may contain some of these links to Amazon.com & other affiliate programs. If you make a purchase through one of those links, BakedByClo will receive a small commission from the purchase at no additional cost to you.