First published: 8th August 2018 – Last updated: 24th February 2020
If you like them rich and fudgy, these are the BEST vegan brownies you will ever try! They are dense and chewy on the inside with a crispy, papery crust on the outside. You'll never know they're made without eggs or dairy!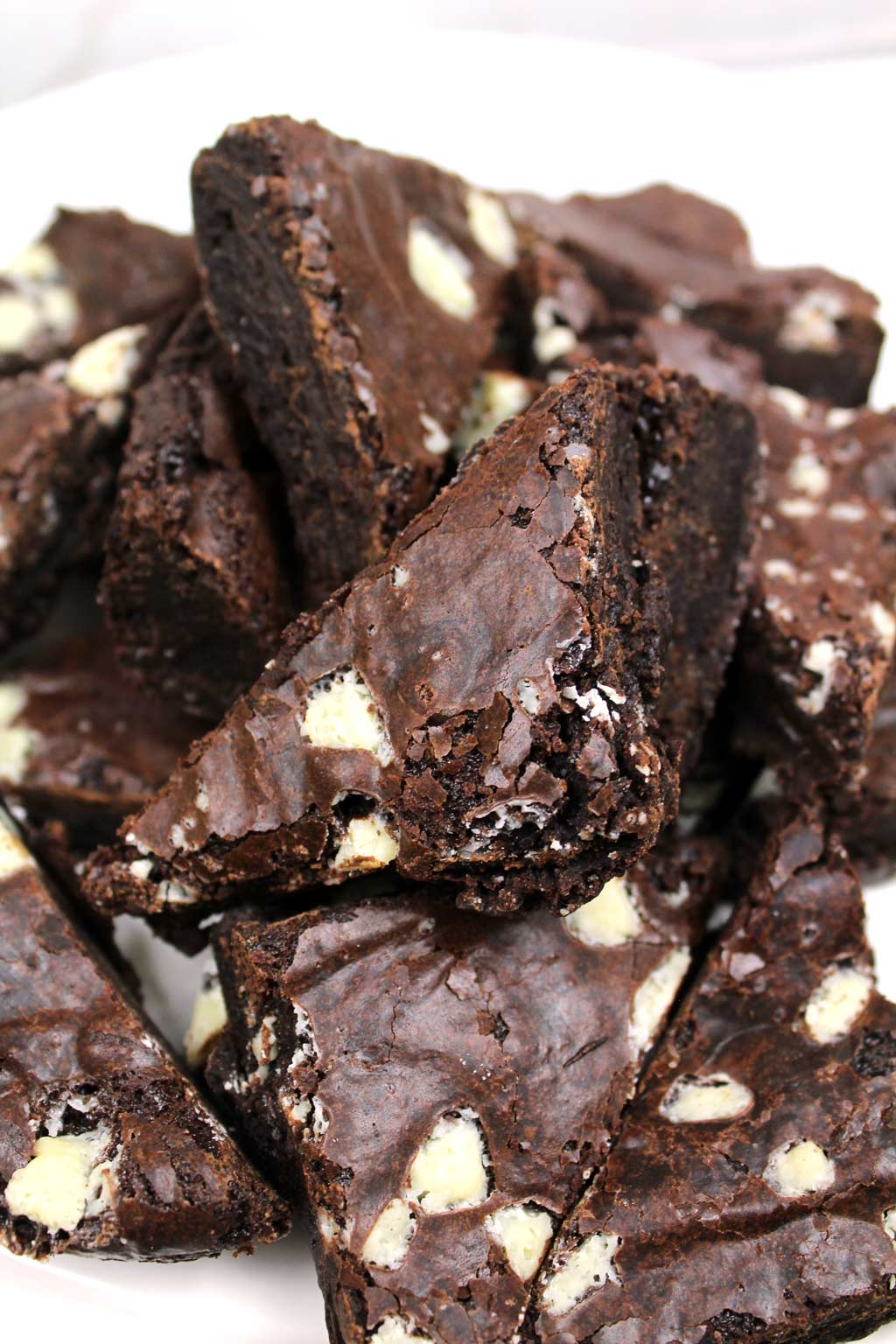 Oh my gosh, I am SO excited to share this recipe with you all! I actually think it might be the best one yet!
If you know me, you'll know that chocolate desserts are my absolute favorite. It doesn't matter what it is… if it contains cocoa, I'm there.
More than anything else in the whole world, I love me a good brownie.
I used to bake them for every occasion and they were always well received. I made them for my now-boyfriend on our second date and I'm convinced that the bribery brownies are what made him fall so madly in love with me.
But since I went vegan 2 years ago, I found it difficult to achieve the same texture without using animal products. This recipe by Orlando Murrin was my go-to non vegan recipe but it obviously contains dairy and eggs so I had to get creative.
Switching the butter and chocolate out for vegan replacements was easy enough, but making brownies without eggs turned out to be a bit more tricky than I first thought.
I originally just replaced the eggs for aqua faba and followed the same method. The result was OK but the brownies turned out oddly too fudgy and too crumbly all at the same time. They were super moist and dense but also fell apart when I picked them up. Weird.
Vegan Brownies Without Flax or Chia Seeds
Next on my list was using a mix of chia and flax seeds. This worked fine too but it didn't give me the chewy texture I was after, and I wasn't a fan of the tackiness that the seeds caused. If you've ever had chia seeds stuck to your teeth, you'll know what I mean *shudders*.
This week, I finally perfected the recipe. And no, that's not an exaggeration.
These taste almost identical to my beloved non-vegan recipe. When it comes to vegan brownie recipes, this is one of the best. Promise.
This time around, I used a mix of Orlando's recipe and my chocolate cake recipe. This involved using a little more fat, a little less cocoa powder and the addition of the miracle that is buttermilk (dairy-free of course).
I also changed the method which just so happened to make the whole thing a lot quicker and easier. It can all be done in one pan if you so wish!
The result?
Chewy, fudge-like vegan brownies with a thin, crispy, papery crust and heavenly chunks of chocolate.
All without any eggs, aqua faba or chia seeds in sight. AMAZING.
Looking for more vegan desserts? Try these: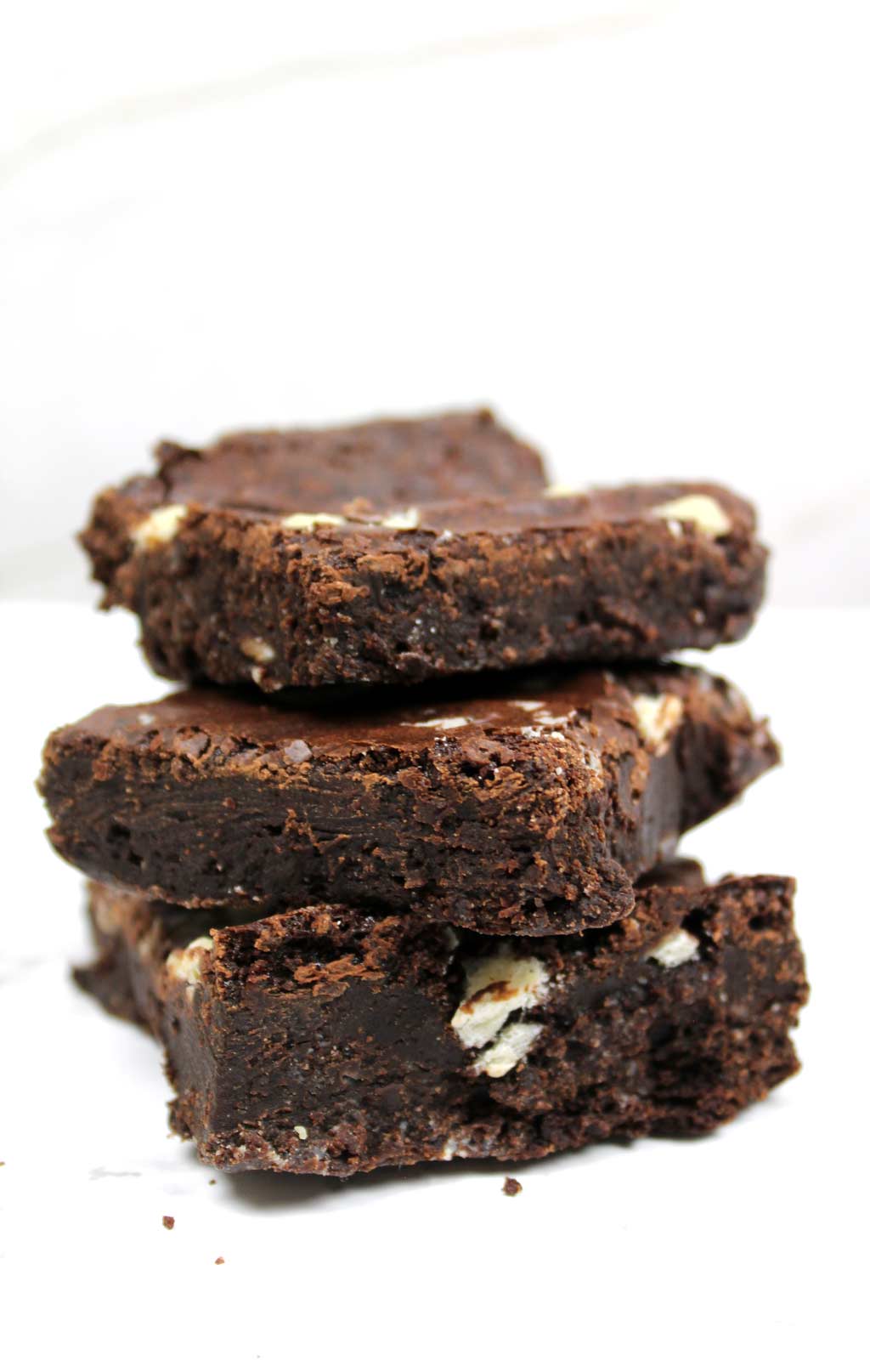 Use Dark Chocolate In Your Brownie Batter For Best Results
I'm of the opinion that brownies MUST contain real chocolate and not just cocoa powder. Otherwise, they simply just aren't worth the time or effort.
I'm kidding.
But seriously…using a good quality, high cocoa dark chocolate in your brownies is going to take them to the next level.
Personally, I think that using melted dark chocolate is what marks the difference between a chocolate cake and a brownie. It adds so much richness and gives a solid bite rather than a crumby, cakey texture.
My favorite type of chocolate to use is anything that has 60% or more cocoa content. It's fine to use the more bitter kind because there's plenty of sugar in the recipe to balance it out but generally, I find around 60-75% yields the best results.
My favorite dark chocolate to use for making brownies:
I've tried using the super-cheap (low quality) chocolate and it just didn't work the same. It created an oily mess at the bottom of the pan which I can only describe as chocolate lava, and the brownies tasted too sickly sweet.
So if you can, go for the one of the brands I mentioned above or try to get something similar.
Why Vegan Butter and Not Oil?
In my experience, I've found that using vegan butter helped to make my desserts a little more "sturdy" because of the added stabilizers.
When I've made cakes using oil in the past, they've fallen apart quite easily which isn't ideal. I don't notice much of a difference in terms of how moist my bakes are when I use vegan butter over oil.
I also really love the "buttery" flavor that you get. When using coconut oil or vegetable oil, I find the taste to be either too bland or too overpowering. So vegan butter it is!
How To Make Vegan Brownies
Step 1:
The first thing you need to do is preheat your oven to 350°F / 180°C and line an 8 x 12 inch rectangular pan with baking paper.
Step 2:
Mix together 160 ml (2/3 cups) of soy milk with 1 tablespoon of apple cider vinegar in a small bowl using a fork and set it aside.
After a few minutes, it will start to curdle and become thick and smooth. This will be your buttermilk.
If you don't have apple cider vinegar, you can use lemon juice or white vinegar instead. Other plant-based milks will work too but I've found soy gives the best results as it's a little creamier.
Step 3:
Add 200g (7/8 cup) of vegan butter, 200g (7 oz) of dark chocolate and 300g (1 + 1/2 cups) of caster/superfine sugar into a medium-sized pot.
Place the pot on the stove over a low heat. Stir often until everything has melted together and there are no lumps of chocolate left.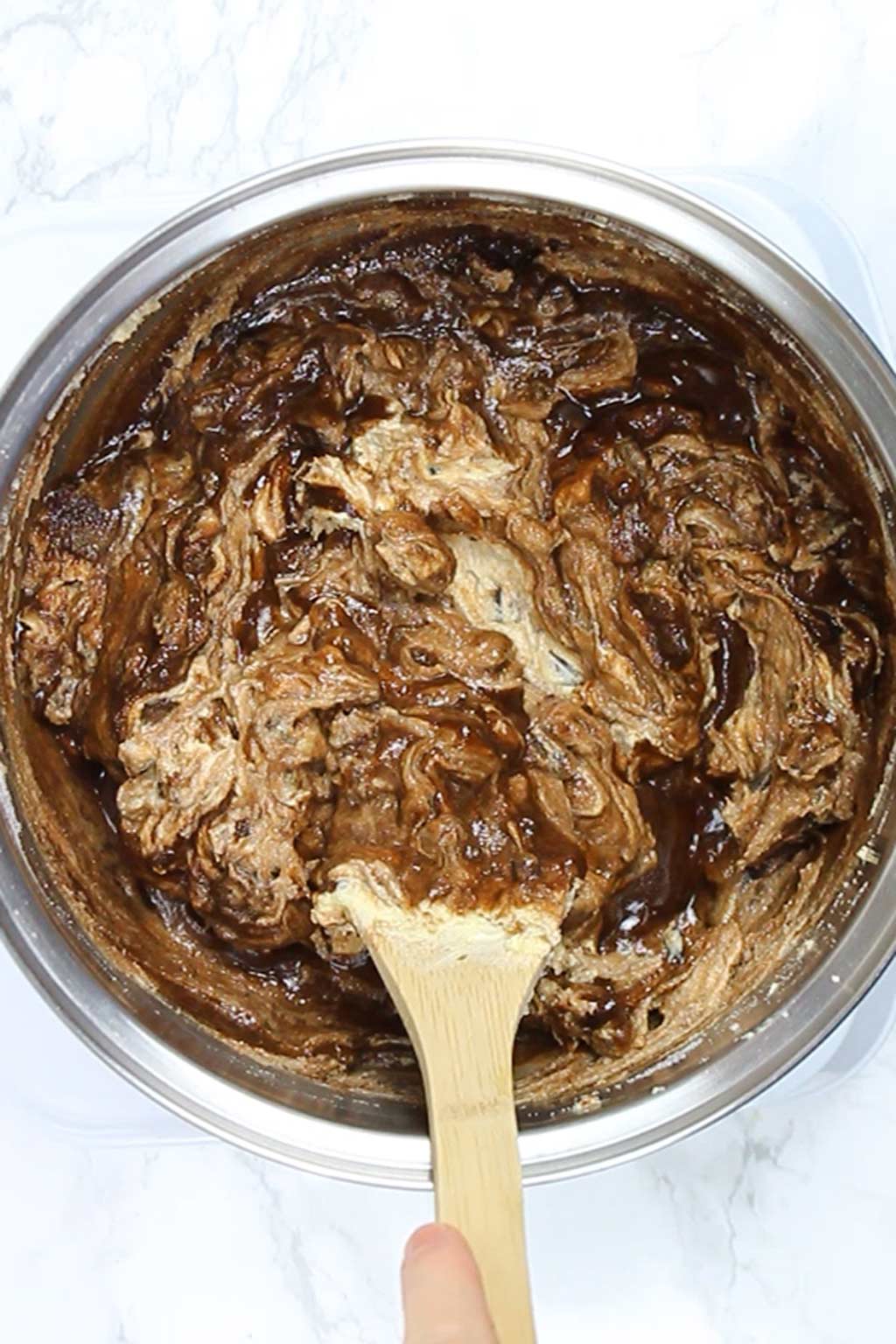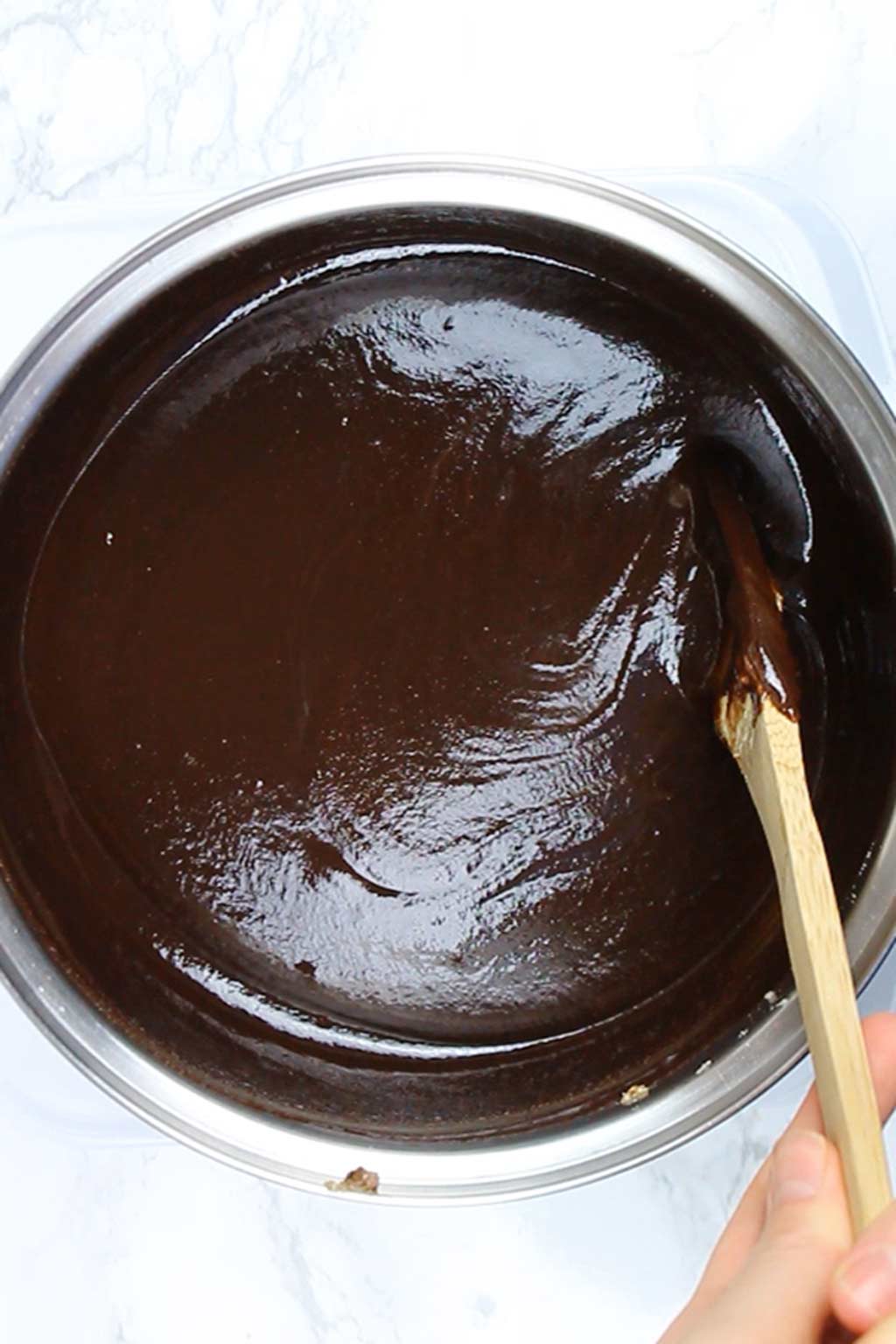 Remove the pot from the heat and set it aside to cool.
Step 4:
In a large bowl, mix together 80g (2/3 cup) of all-purpose flour, 65g (2/3 cup) of unsweetened cocoa powder and 1 teaspoon of baking powder. Make sure there are no lumps left in there.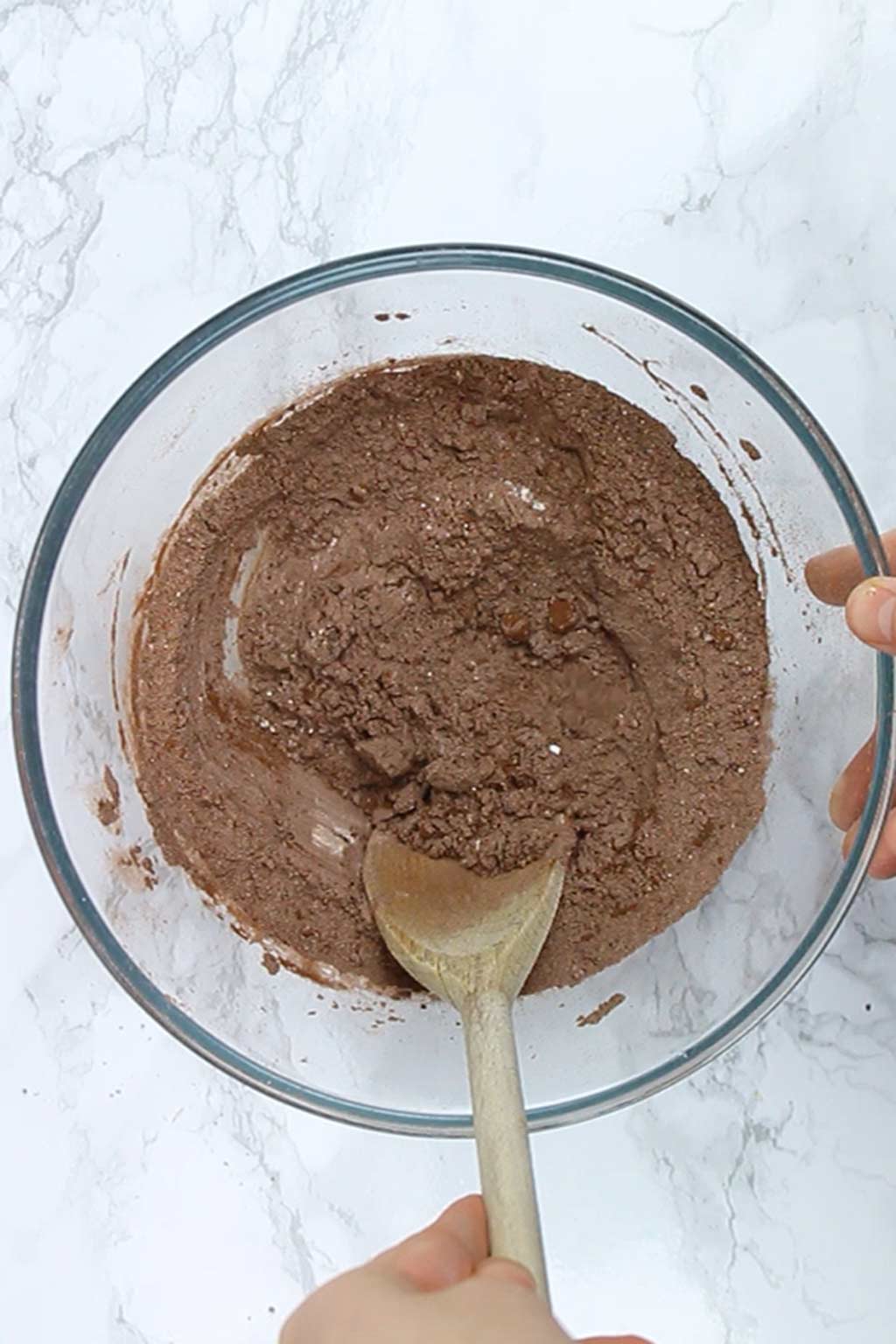 Because the amount of flour here is so little, I would imagine you can use gluten-free flour if you wanted to. I haven't tested it myself so I can't say for certain, but I'm pretty sure it would work!
Step 5:
Pour in the cooled melted chocolate mix and the buttermilk from earlier into the bowl. Use a wooden spoon to combine it until the batter is nice and smooth.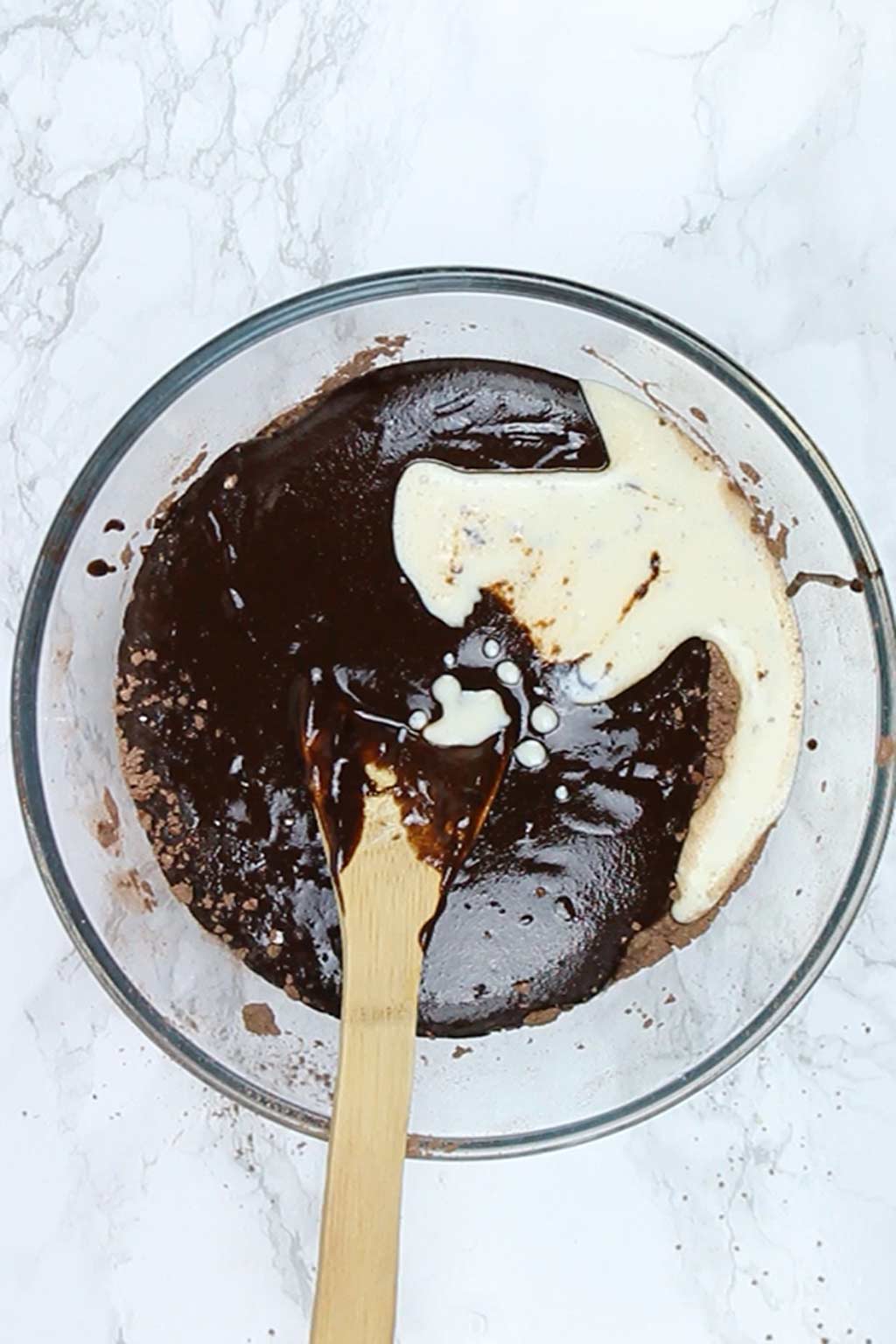 Step 6:
Add in 100g (1/2 heaped cup) of vegan white chocolate chocolate chunks and mix them into the batter.
My go-to white chocolate is The Free From Kitchen Co. and if you're in the US, a friend told me that Dee Best white chocolate chips are good for baking. But if you're unable to get vegan white chocolate, you can use any other type of vegan chocolate chips or chunks in its place.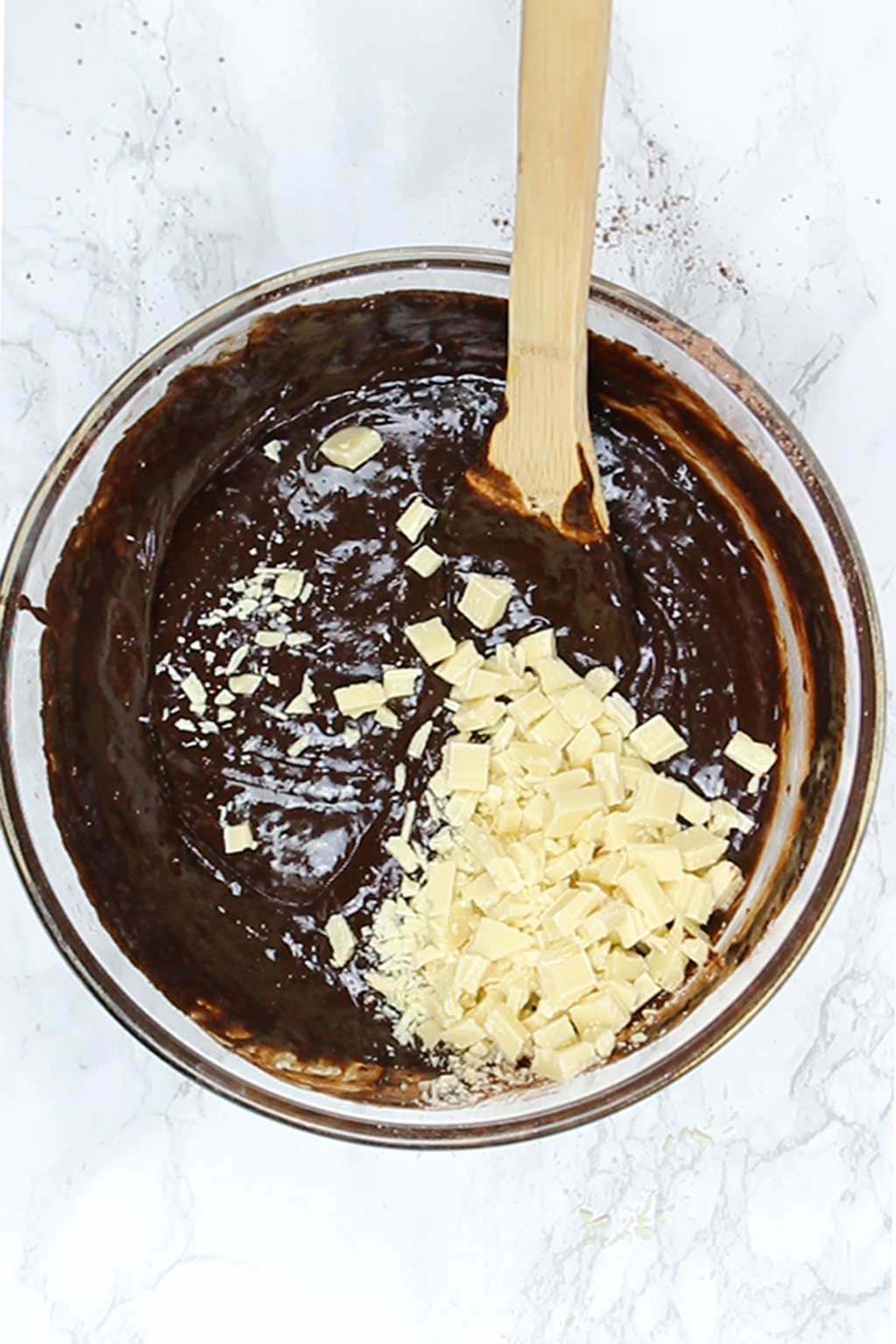 Step 7:
Transfer the brownie batter into your prepared pan and spread it out evenly using the back of your spoon.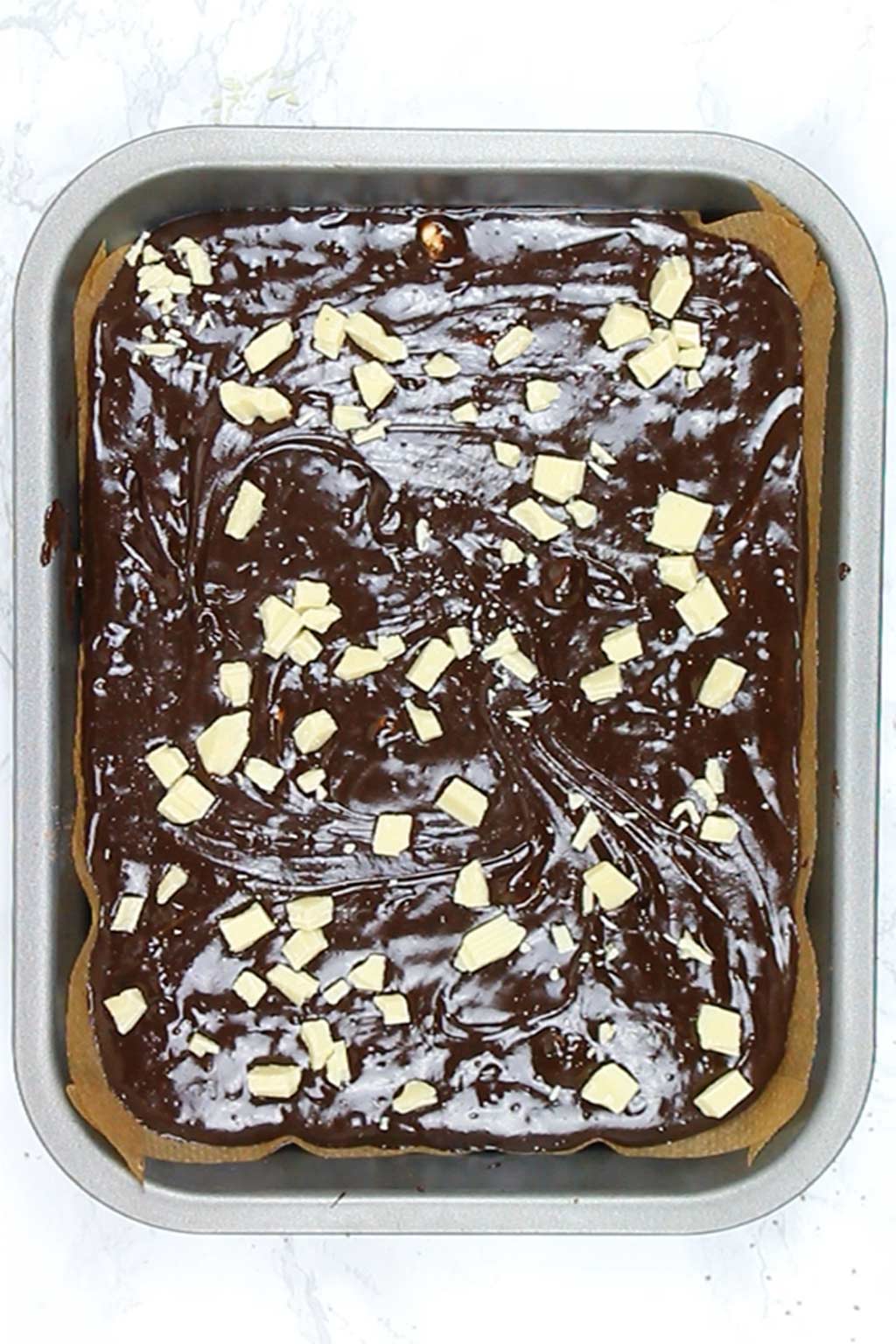 Step 8:
Place them in the oven to bake for 25 minutes.
When you remove the tray from the oven, the brownies may still be ever so slightly wobbly in the center but that's OK as they'll firm up once they cool.
If they're pulling away at the edges and have a shiny, papery crust on top, they're ready. Resist the urge to over-bake otherwise you'll end up with dry brownies.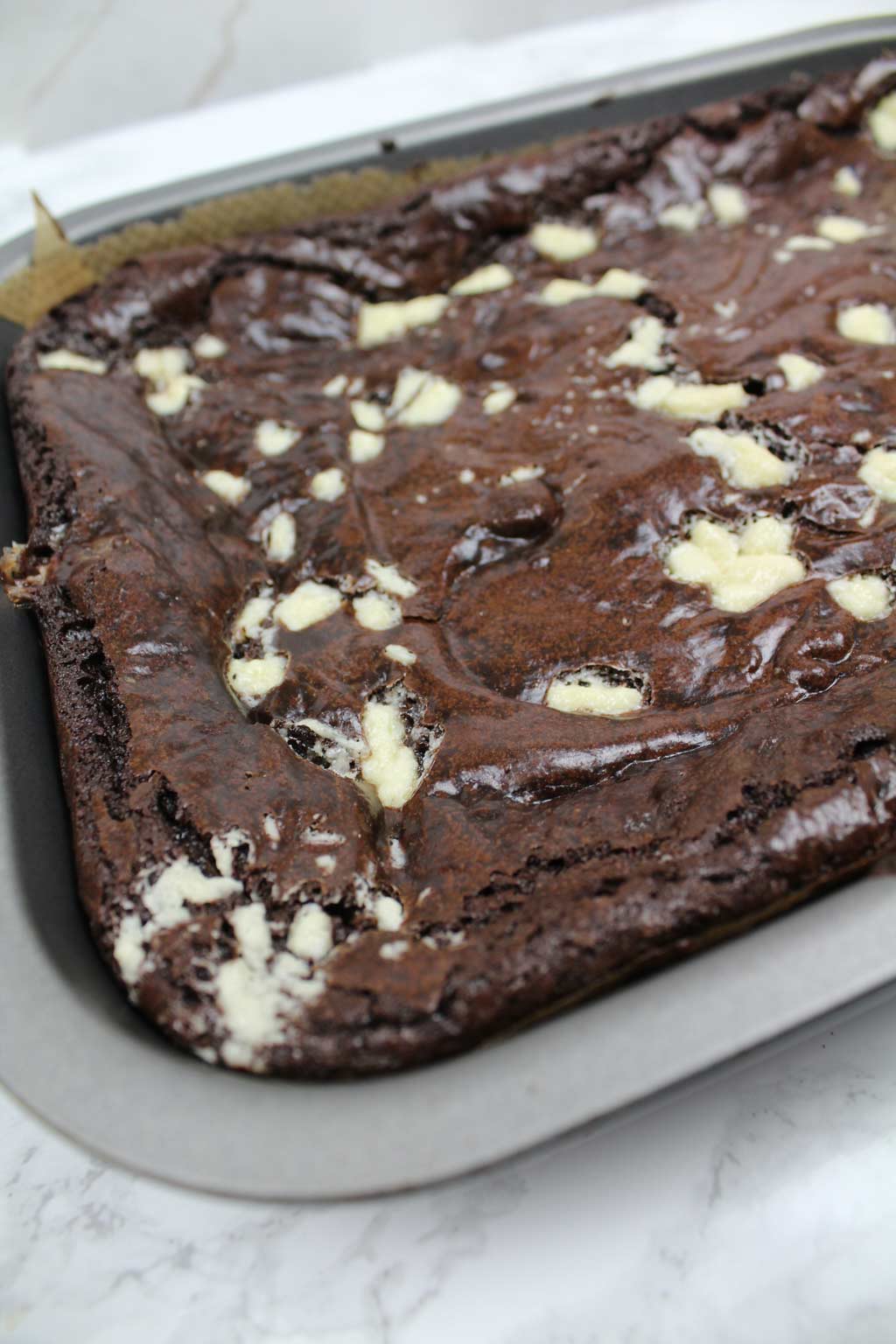 Step 9:
Allow the brownies to cool completely then place the whole tray in the fridge for 2 hours to set.
Step 10:
Once they've set, cut them into squares or triangles and enjoy!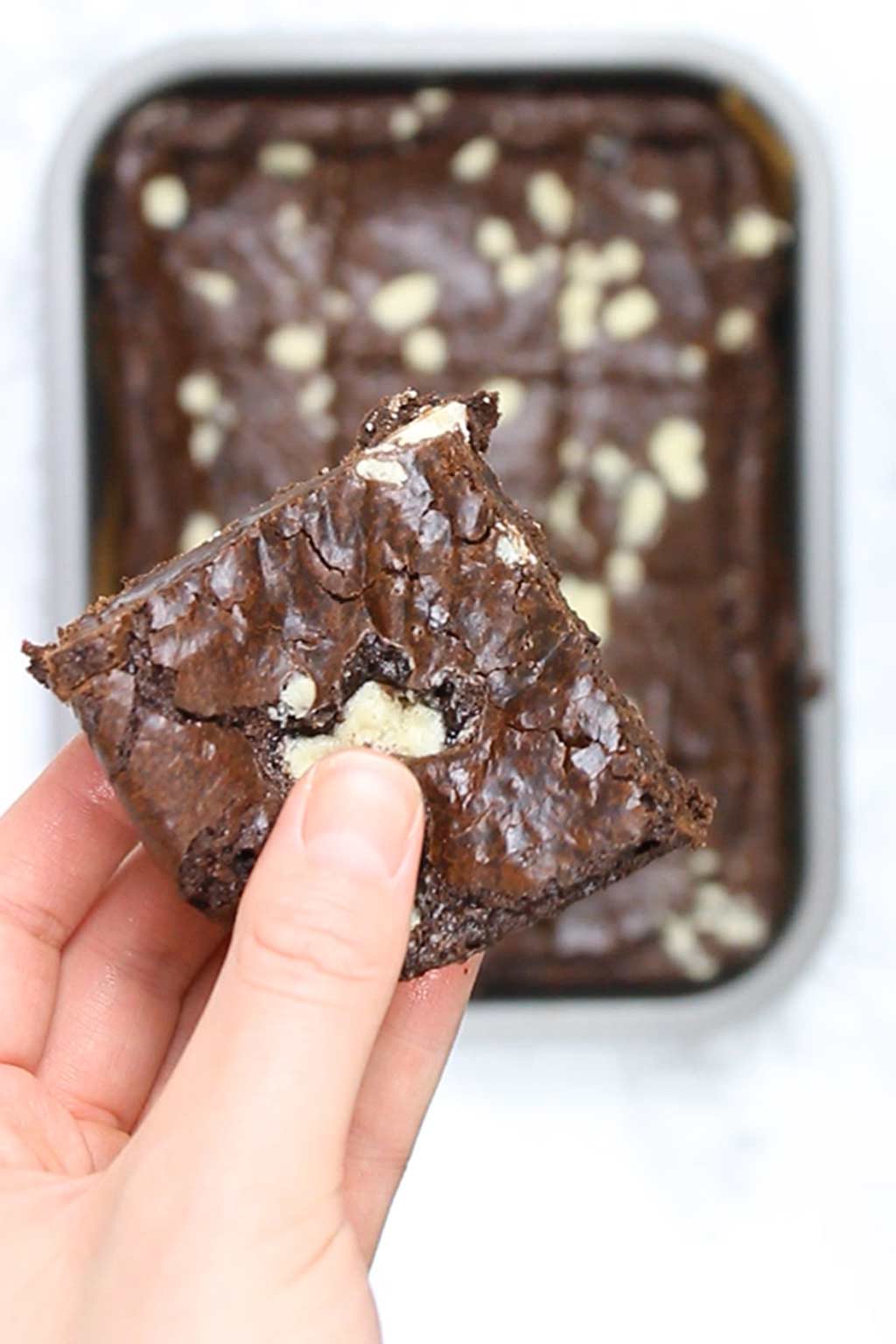 Store in the fridge in an airtight container for up to 5 days.
Can you freeze vegan brownies?
These chocolate brownies are great for freezing. They freeze beautifully which is perfect if you want to bake a batch ahead of time.
Simply place the brownies into an airtight container and freeze for up to 3 months. When you're ready to defrost, let them sit at room temperature for 2 hours then transfer them to the fridge for a further 1 hour to firm up again.
Top tips for making vegan brownies
Use a high quality chocolate with 60%+ cocoa content
As I said earlier, the low quality, low cocoa % chocolate doesn't work well for brownies. It makes them oily and too sweet in my experience.
You don't have to spend a lot to get good quality chocolate- the 74% bars I used are only £1 each. Just look for chocolate that contains 60% cocoa or above and you're good to go.
Soy milk is best for this recipe
Any other plant-based milk will work just fine in this recipe but may slightly alter the texture of the finished result.
Because soy milk is slightly thicker, it creates a creamier "buttermilk" which makes for a good, thick brownie batter. If you absolutely can't do soy, I'd recommend using oat milk instead.
Don't omit the chocolate chunks!
Not only do they add to the taste and texture of the brownies, the chocolate chunks are what's going to help give the brownie that classic, "papery" crust on top.
I'd highly recommend NOT skipping the chocolate chunks but if you're not too fussed about having a papery crust (the brownies will still taste amazing), you can replace the chunks with something like nuts, dried fruit or chopped pretzels.
The brownie batter should be slightly under-baked
The classic "bake until a toothpick comes out clean" trick that's often used in baking works well for sponge cakes but not so much for brownies.
These vegan brownies are supposed to be chewy and dense, so they will seem slightly under-baked when you take them out of the oven. Once they've cooled and set in the fridge, they will firm up nicely.
If you bake them for too long, they will lose their fudgy texture and turn out more crumbly and dry.
Let them cool completely
Make sure you've had to brownies in the fridge for the recommended time before you attempt to remove them from the pan or cut them. Resist the urge to cut them while they are still warm! While warm brownies still taste delicious, they will fall apart and be very gooey.
Store them in the fridge
When stored at room temperature, the brownies become a little softer and lack chewiness.
Once you've let them set and cut them into squares or triangles, place them in an airtight container and keep them in the fridge. They'll last about 5 days like this. (Or if you love brownies as much as me, they'll last ~12 hours).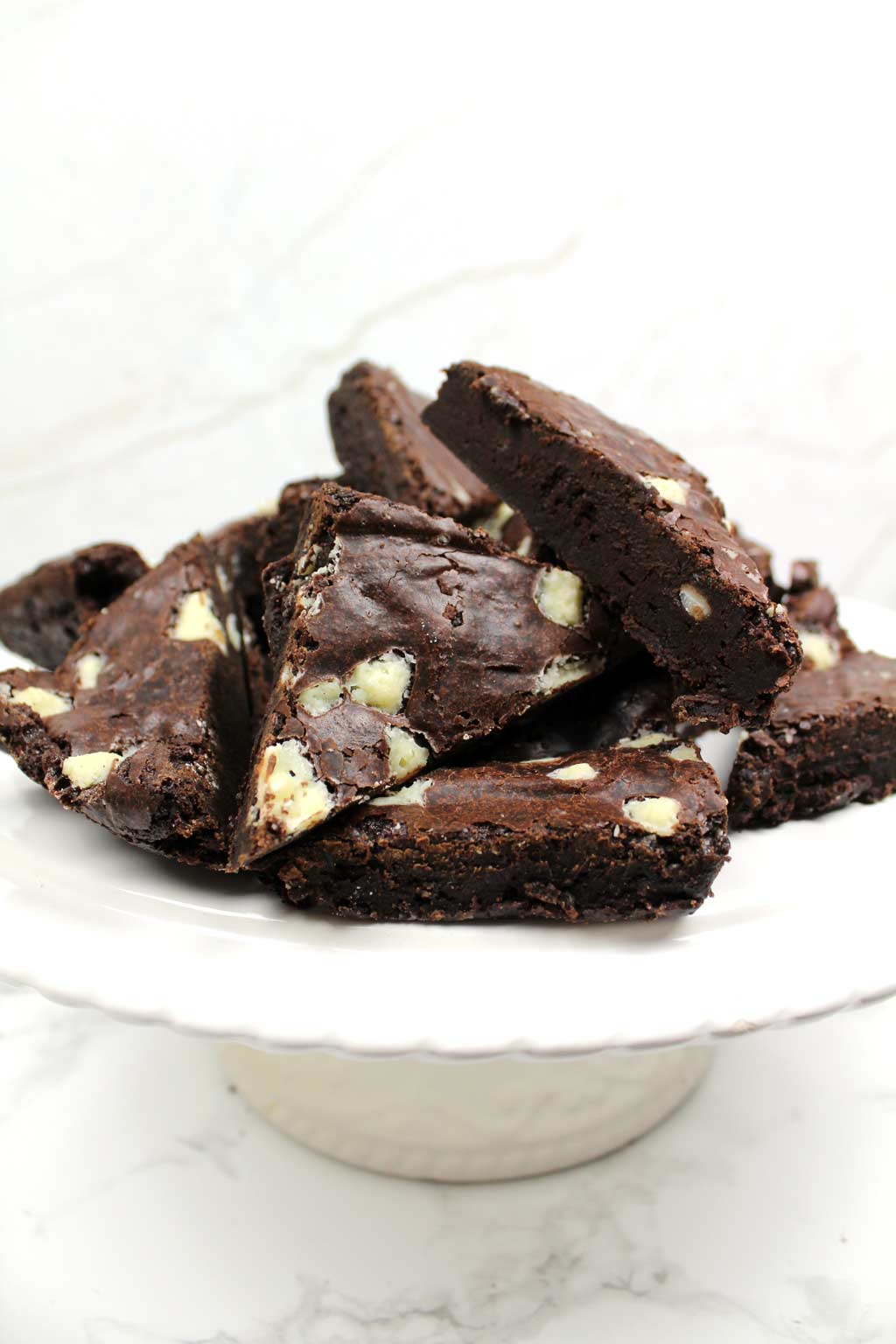 Happy baking!
xo

Chewy Vegan Brownies
An eggless brownie that is dense and chewy with a shiny, papery crust.
Ingredients
⅔

Cup

Unsweetened soy milk*

(160ml)

1

Tablespoon

Apple cider vinegar

(or lemon juice)

7

oz

60%+ Dark chocolate

(200g)

7/8

Cup

Vegan butter

(200g)

1+½

Cups

Superfine/caster sugar

(300g)

⅔

Cup

Plain flour

(80g)

⅔

Cup

Unsweetened cocoa powder

(60g)

1

Teaspoon

Baking powder

½

Heaped cup

Vegan white chocolate* chunks or chips

(100g)
Instructions
Preheat your oven to 350°F/ 180°C and line a 8 x 12 x 3 inch deep tin with baking paper.

Mix together the soy milk and the apple cider vinegar using a fork and set aside. This will turn into vegan buttermilk, becoming slightly thick and "curdled".

Over a very low heat, melt the chocolate, vegan butter and sugar in a pot. Stir it often to prevent burning.

When there's no lumps of chocolate left in the mixture, take the pot off of the heat and set aside to cool for a few minutes.

In a large bowl, mix together the flour, cocoa powder and baking powder until there are no lumps left.

Pour the melted chocolate mixture into the bowl along with the vegan buttermilk. Stir until everything is well incorporated, making sure there are no powdery bits left at the bottom of the bowl.

Add the white chocolate chunks / chips to the mixture and stir well. I like to save a few to sprinkle over the batter once it's in the tin.

Transfer your brownie batter into the pre-lined baking tin and use the back of your spoon to spread it out evenly.

Bake for 25 minutes then remove the tray from the oven. The brownies may look a little under-baked but they will firm up as they cool. Resist the urge to keep baking or they will end up dry. If they have a shiny, paper-like top and are pulling away at the edges, they're ready.

Allow the brownies to cool in the pan for around 30 minutes then transfer them to the fridge to set for another 2 hours.

Remove the brownies from the pan and cut into 12 squares. You can leave them like this or cut the squares in half to make 24 triangles. Store in an airtight container in the fridge for up to 5 days.
Recipe Notes
Soy milk works best but can be subbed for any other plant-based milk
If you cannot find vegan white chocolate where you live, it can be subbed for any other type of dairy-free chocolate that you like.
Nutrition Facts
Chewy Vegan Brownies
Amount Per Serving
Calories 180
Calories from Fat 90
% Daily Value*
Fat 10g15%
Sodium 70mg3%
Carbohydrates 20g7%
Protein 2g4%
* All values are an estimate only and will vary depending on the food brands used.