10 BEST Vegan Brownie Recipes
Looking for the best vegan brownie recipes? This post has got you covered. Whether you like them simple, with flavour extracts or with lots of fancy toppings, you are sure to find a recipe you'll love on this page! Includes delicious flavours such as Biscoff, Oreo and vegan 'After Eight'!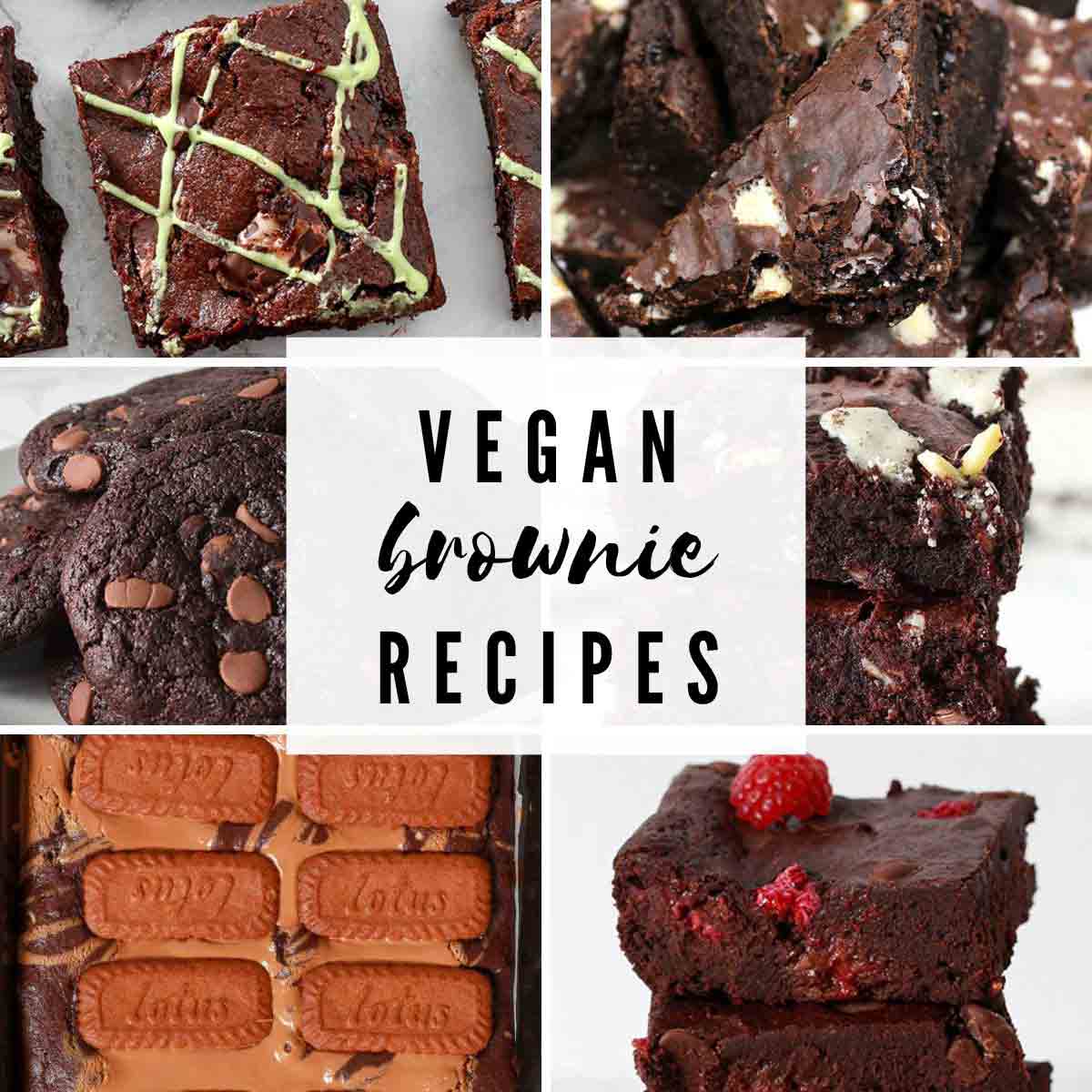 If you were to ask me what my favourite type of vegan dessert was, it would be a close call between cookies and brownies. I am not much of a cake eater, despite being a huge lover of cake baking. I much prefer rich, chewy, dense desserts.
Since I've already made a roundup post of my favourite vegan cookie recipes, I thought I should do the same for brownies too!
Brownies are definitely my go-to dessert when I'm craving something chocolatey, and I actually much prefer my vegan brownies compared to the ones I used to make with eggs many years ago. Baking without eggs is so much easier and more foolproof, in my opinion!
The whole reason I made this blog was to show that vegan desserts can be just as decadent and delicious as 'regular' desserts, and I think my brownie recipes showcase that perfectly. You'll see from the recipes below that you don't have to skimp on flavour or texture just because you're vegan now!
Brownie making tips
Before we get into the recipes, I wanted to share some of my best vegan brownie tips. I hope these will help you get the perfect brownies, especially if you're a beginner baker.
Most of my brownie recipes call for an 8×10-inch baking tin. This is crucial if you want the chewy, fudgy texture. If the tin is too small, your brownies will probably end up underbaked (raw) in the middle, and if it's too big, you'll end up with dry or burnt brownies.
The type of fat you use is key! There are two types of vegan 'butter'. One is soft and spreadable, like margarine, and the other is stiff and comes in a block, like butter. Both are technically margarine because they're made with vegetable oils, but for these brownie recipes you want to use the soft, spreadable type. My favourites are Vitalite and Pure sunflower spread.
If the recipe calls for chocolate, use 70-85% cocoa chocolate. 85% works best in my experience. Anything higher than 85% cocoa will make bitter brownies, and anything lower than 70% cocoa usually won't work (you'll end up with an oily mess).
Use unsweetened soy milk to prevent extra added sugar that may interfere with the recipe.
When it comes to vegan chocolate chips, my favourites are Moo-Free baking drops. They come in milk and white varieties.
The best vegan brownie recipes
Now that you've got all the tips, let's get started with the recipes, shall we?! I am still slowly building up my collection of vegan brownie recipes but here are 10 of my favourites right now. Feel free to Pin them for later!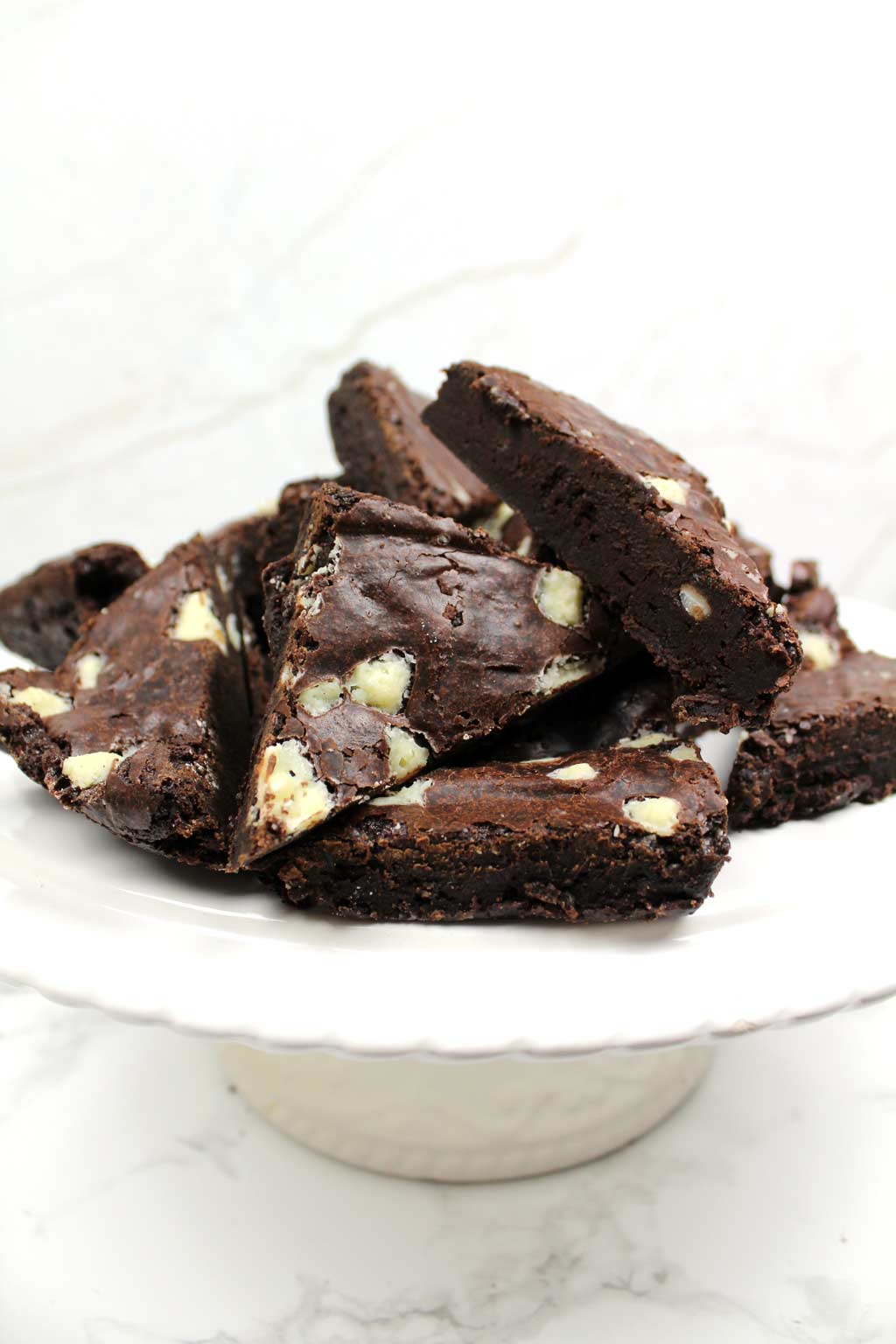 The best vegan brownies you will ever try! These are dense, fudgy and chewy, packed with dairy-free white chocolate chunks and the classic papery crust. These are the most similar to non-vegan brownies that I have tried so far. My friends and family love them!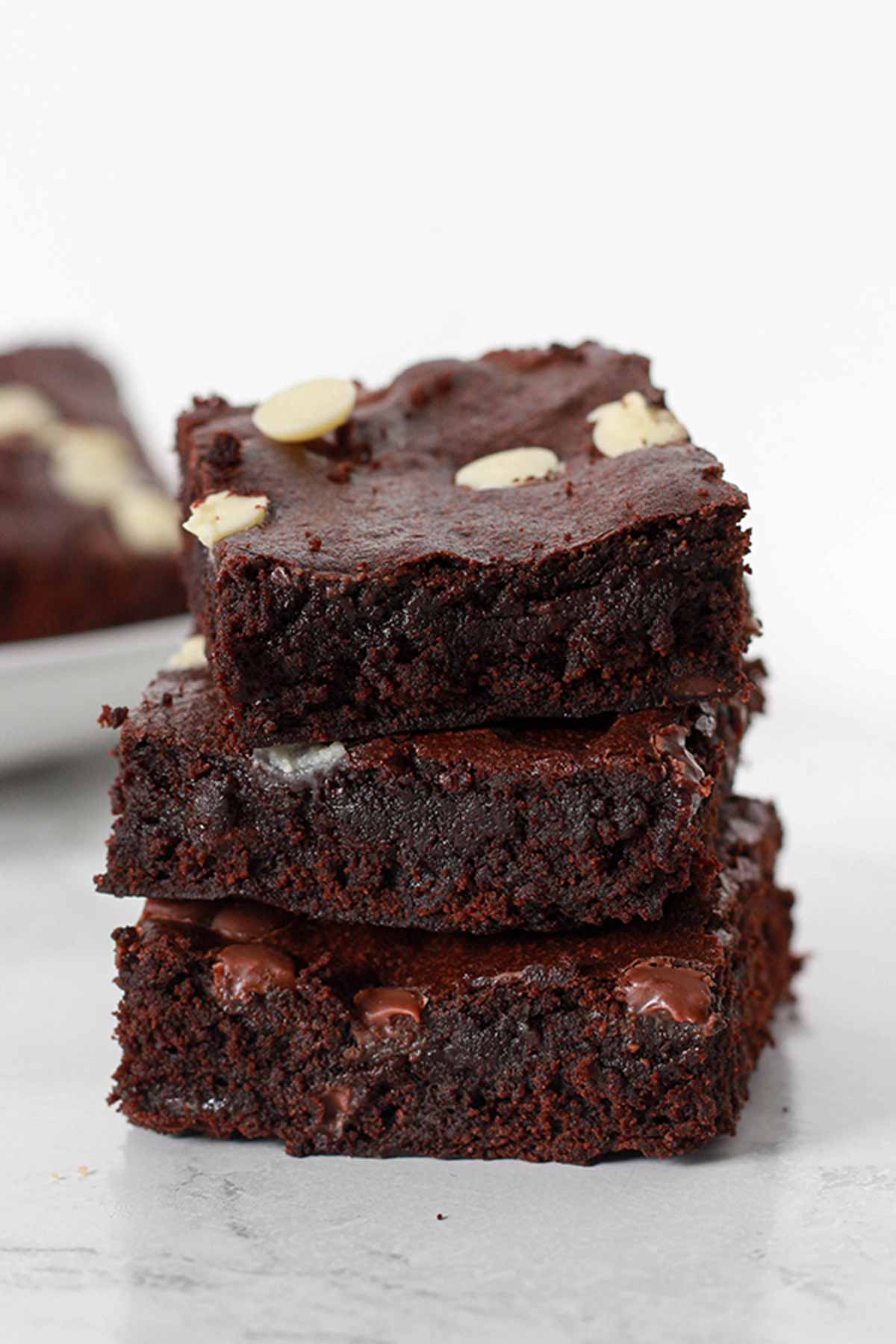 These brownies are flavoured only with cocoa powder, you don't need any chocolate bars to make them! These are a great, easy alternative for those new to vegan baking, or those who may not be able to get a hold of the correct type of chocolate.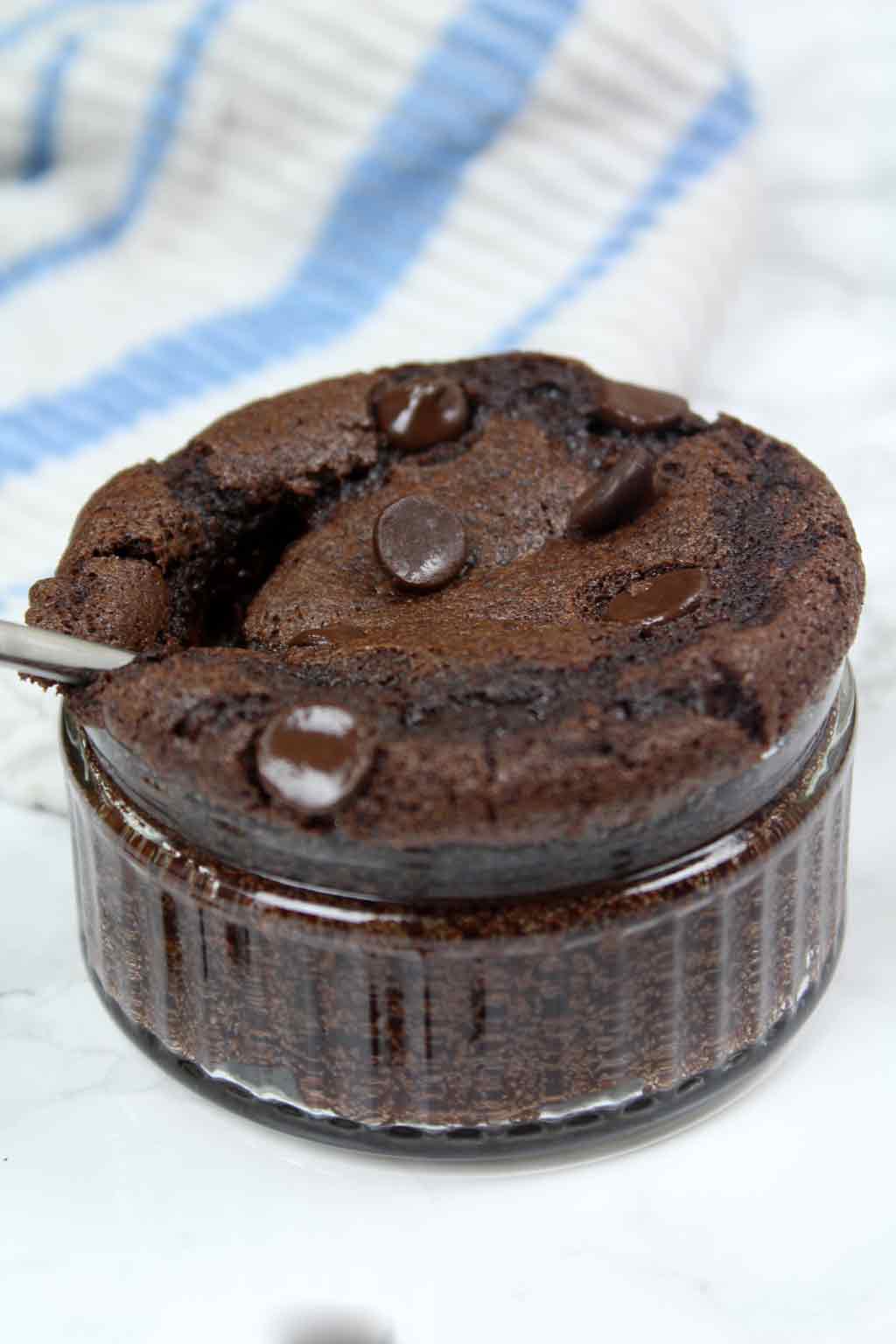 If you prefer single-serving desserts, this mug brownie is the one for you. It contains just a few ingredients and is ready to eat in less than 5 minutes. Another great thing about this recipe is that there's barely any clean up afterwards, which is always a bonus!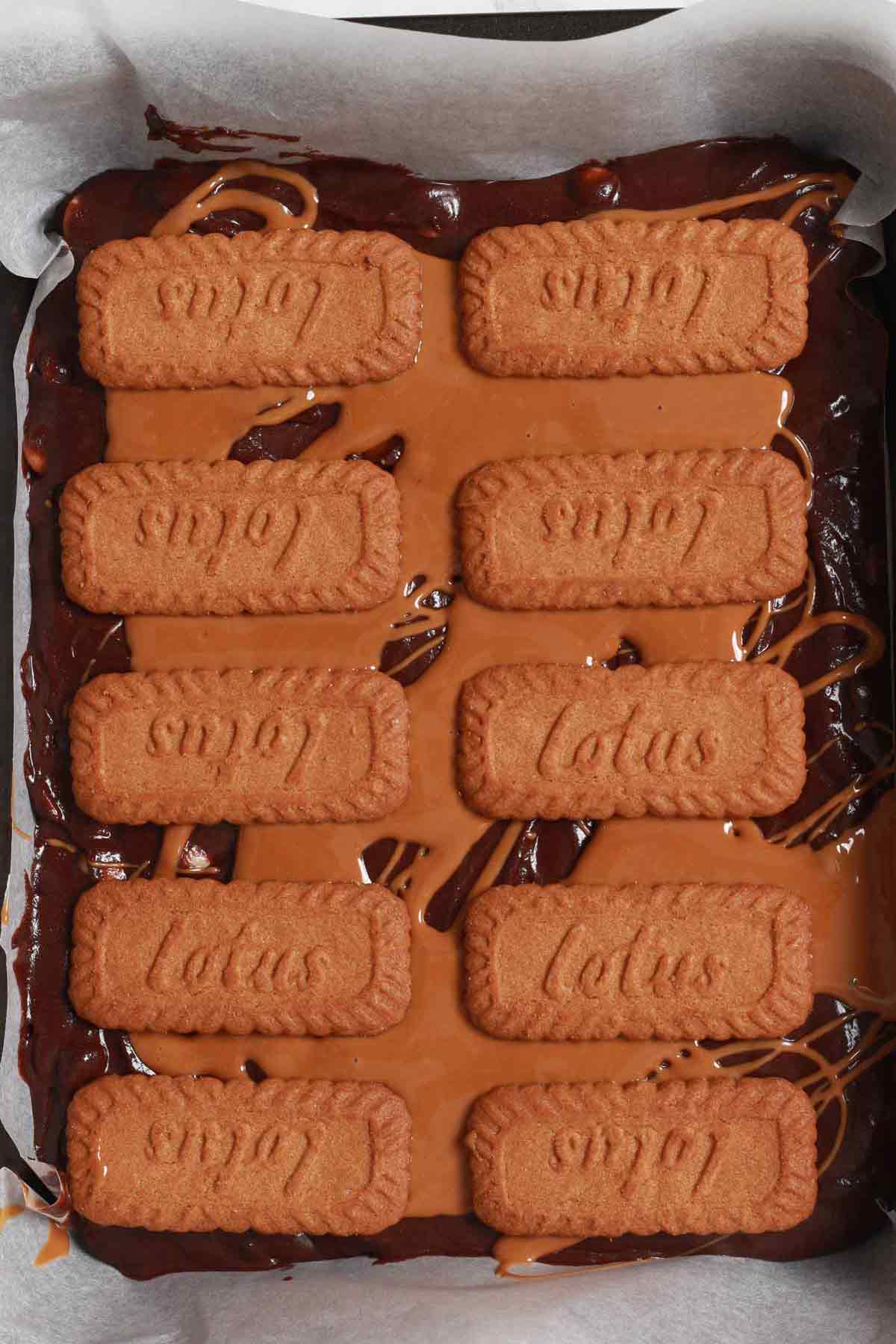 Biscoff desserts always seem to be very popular on my blog so I couldn't make a vegan brownies roundup post without including these babies! Chocolate brownies topped with smooth Biscoff spread and Biscoff biscuits. Chocolate and speculoos flavours go so well together!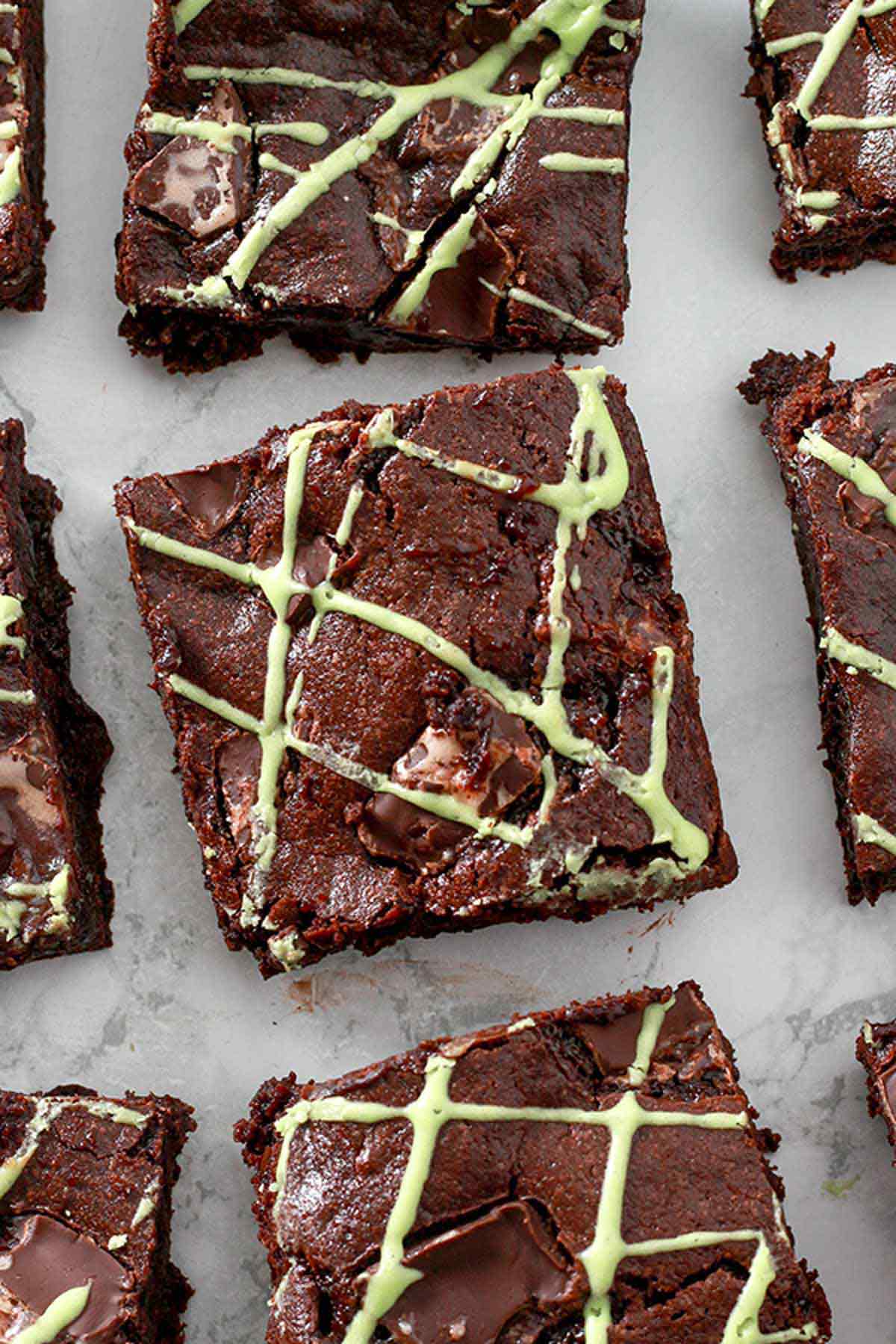 If you loved After Eights in your pre-vegan days, you will LOVE these mint brownies. These chocolate brownies are topped with gooey vegan mint thins- all of the goodness but none of the dairy. These are full of nostalgic flavour and are super easy to make.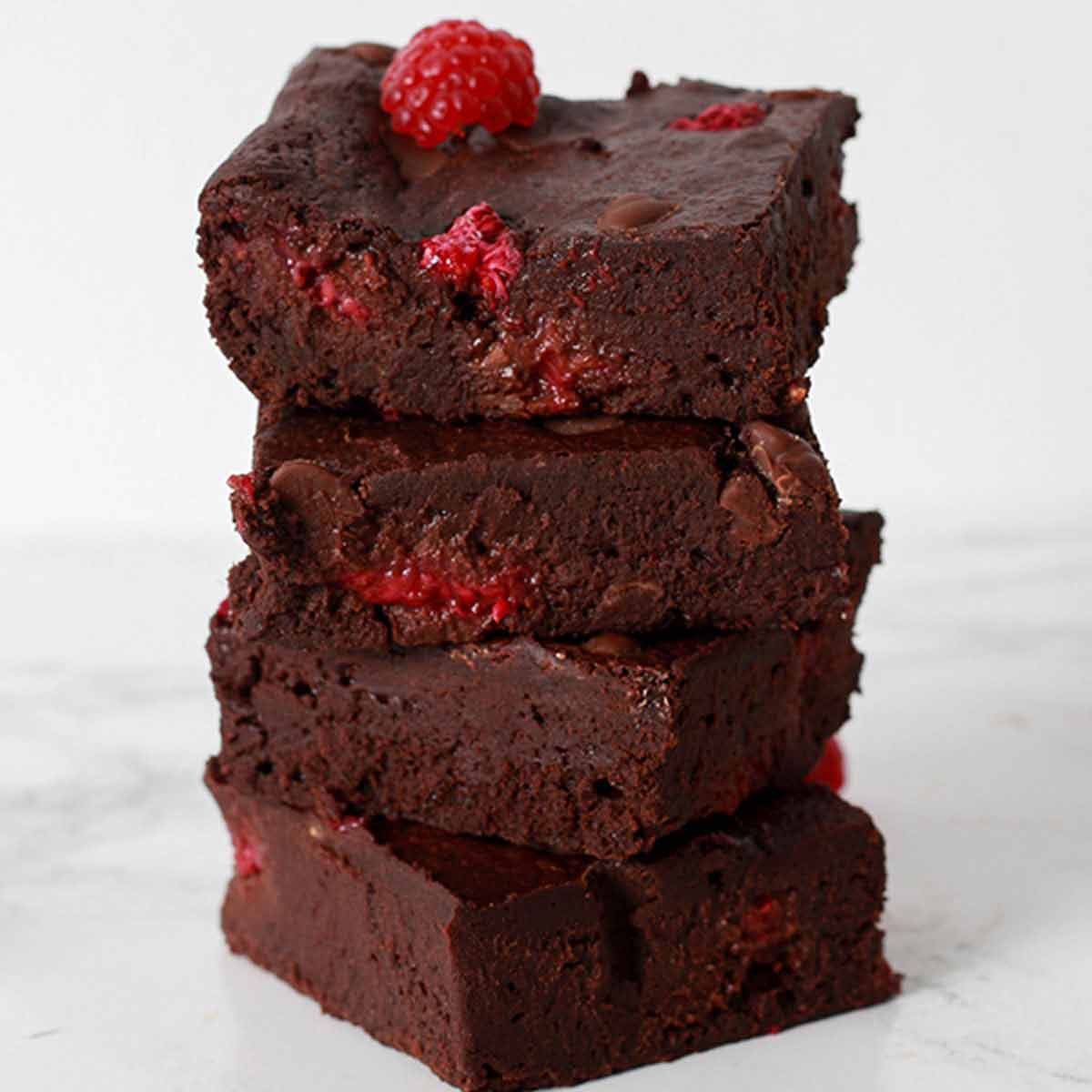 Fresh raspberries are the star of the show in these brownies. Their tart flavour pairs perfectly with the sweet, fudgy brownies. If you like 'fresh' tasting desserts, these brownies are a good idea!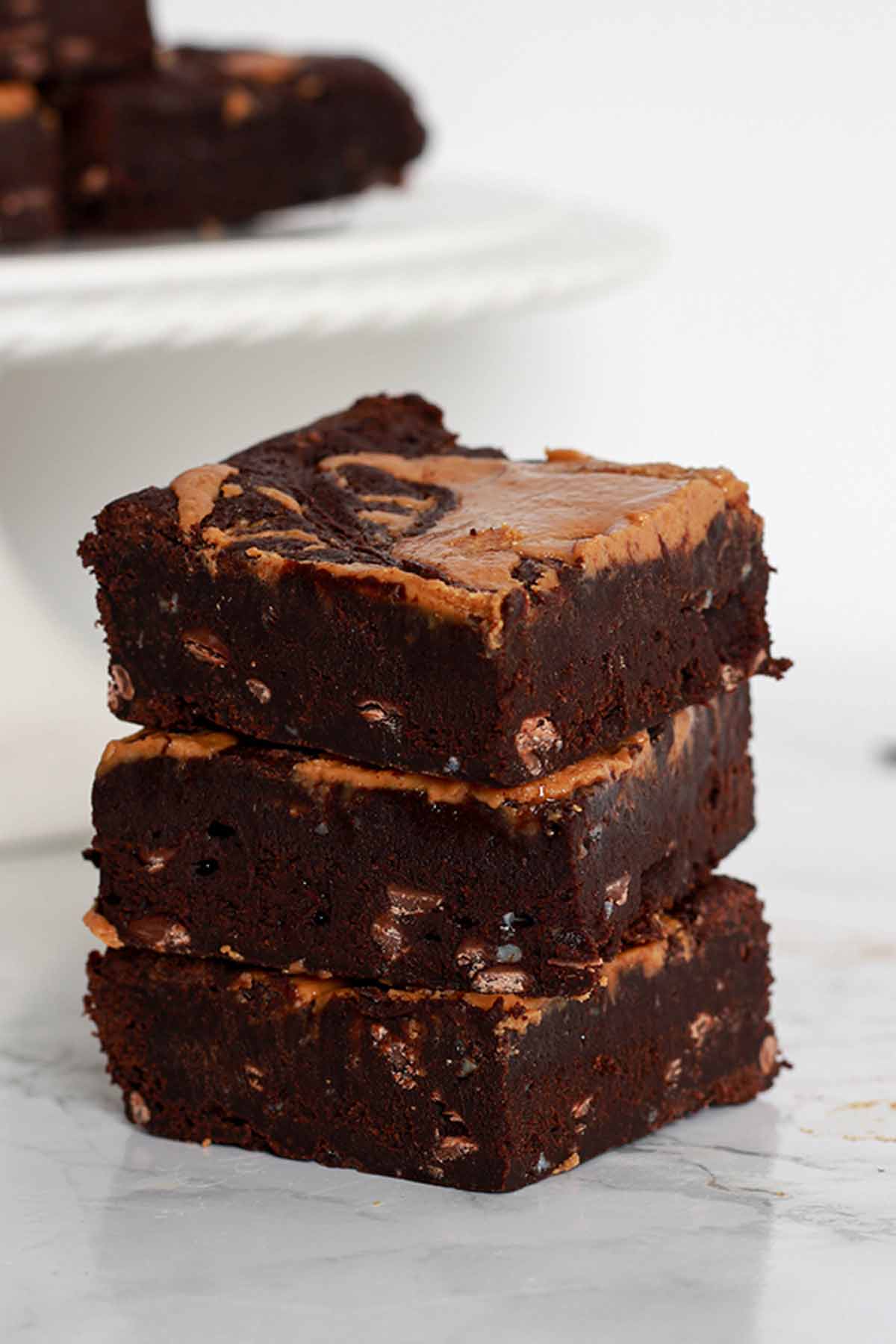 Classic chocolate brownies with a swirl of smooth peanut butter on top. They share similar flavours to Reece's peanut butter cups so if you love peanut butter, you have to try these! They're super decadent and always a crowd-pleaser.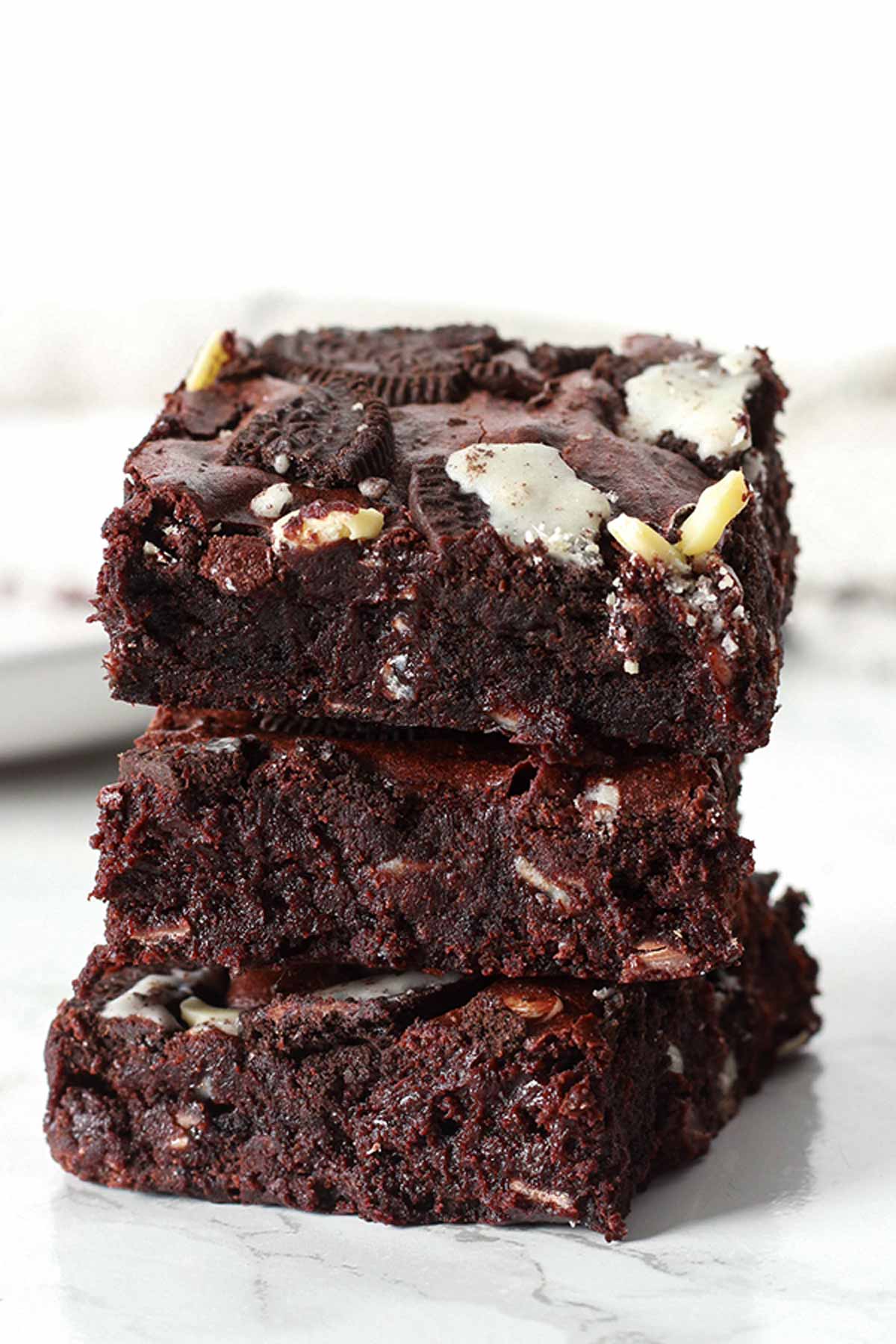 Packed with chocolate chips and crush Oreo pieces, these brownies are super rich and gooey. You can make them with less than 10 ingredients and they'll be ready to eat in just a few hours.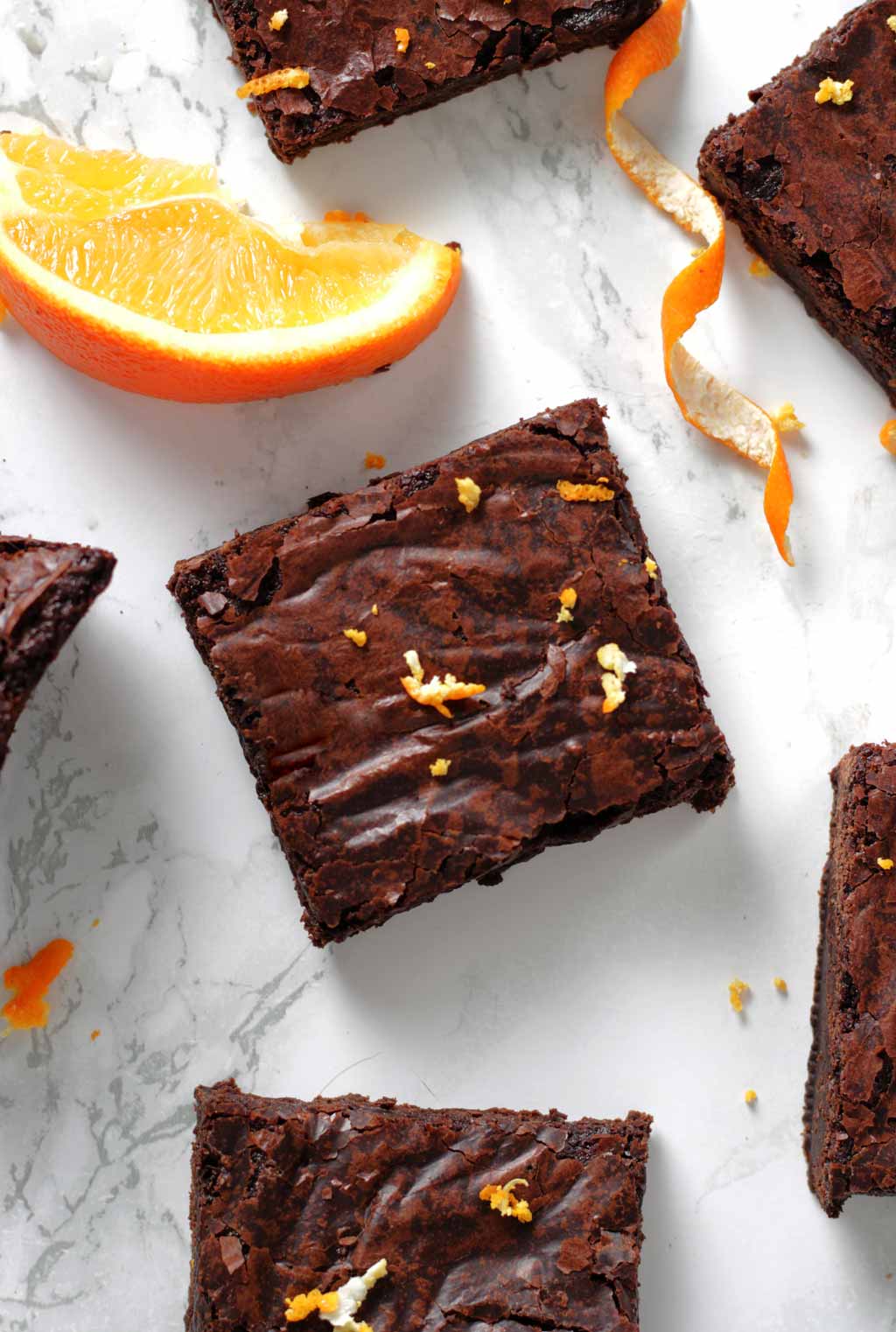 My most-loved brownie recipe but this time with orange added to it. These brownies share the same thin, papery crust as my classic brownies, but the orange extract and orange zest give these brownies a festive flavour. They taste similar to Terry's Chocolate orange and are one of my favourite recipes for baking in the colder months.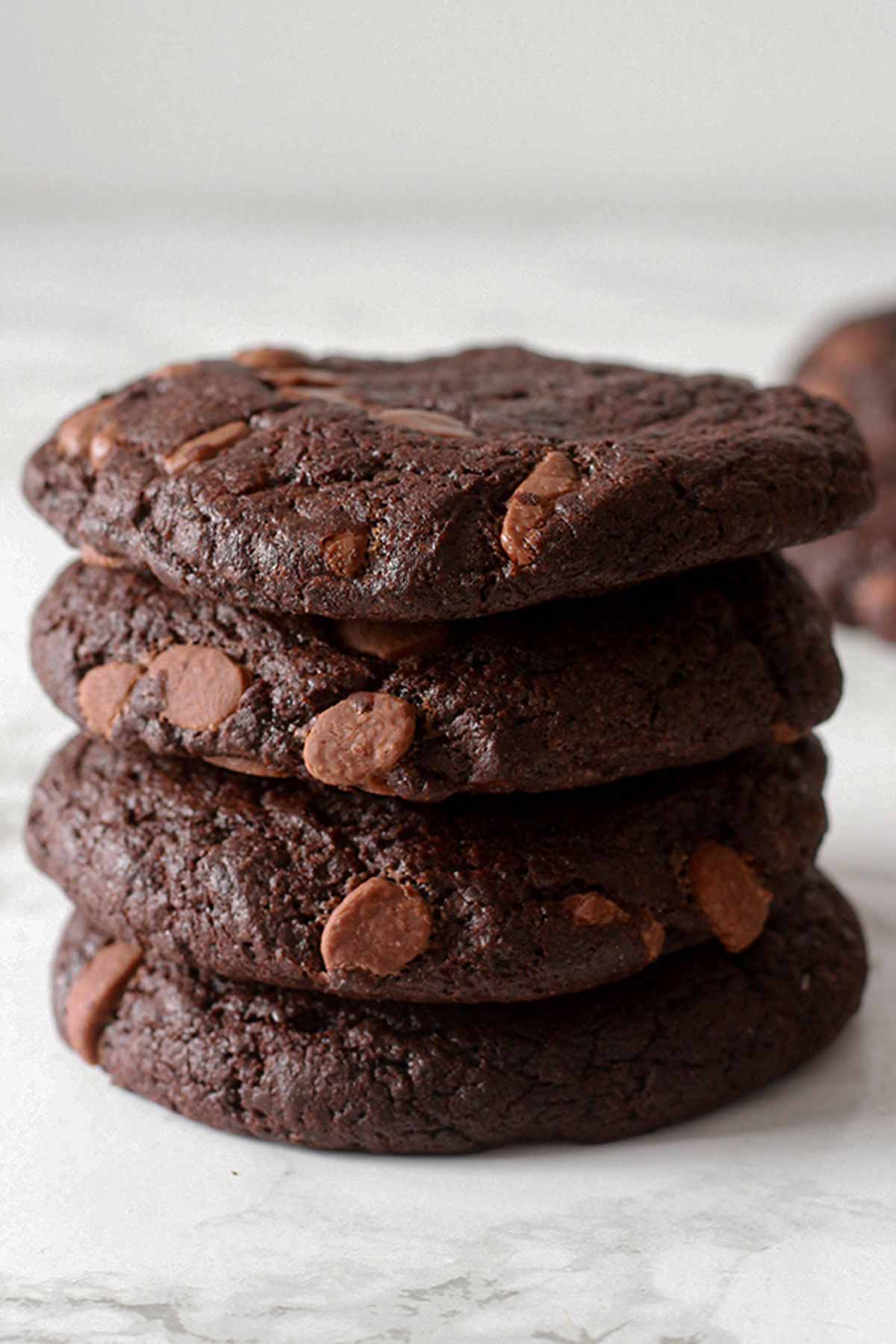 These brownies in cookie form make a handy on-the-go snack with minimal mess. If you don't have the correct size of brownie tin to hand, try making these cookies instead. All of the flavour and texture of a good brownie but a much easier method!
More 'best of' posts:

10 BEST Vegan Brownie Recipes
Easy brownies without eggs or dairy.
I hope you enjoy these vegan brownie recipes! If you make any of the recipes at home, please let me know how you get on by leaving a rating and/or comment below. Happy baking! xo
BakedByClo is a participant in the Amazon Services LLC Associates Program, an affiliate advertising program designed to provide a means for sites to earn advertising fees by advertising and linking to Amazon.com. This site may contain some of these links to Amazon.com & other affiliate programs. If you make a purchase through one of those links, BakedByClo will receive a small commission from the purchase at no additional cost to you.