60+ Accidentally Vegan Sweets (UK)
The best accidentally vegan sweets in the UK. This post includes the UK's most popular brands and supermarket own-brand items. So if you'd like to check if your favourite sweet treats are vegan or not, keep on reading!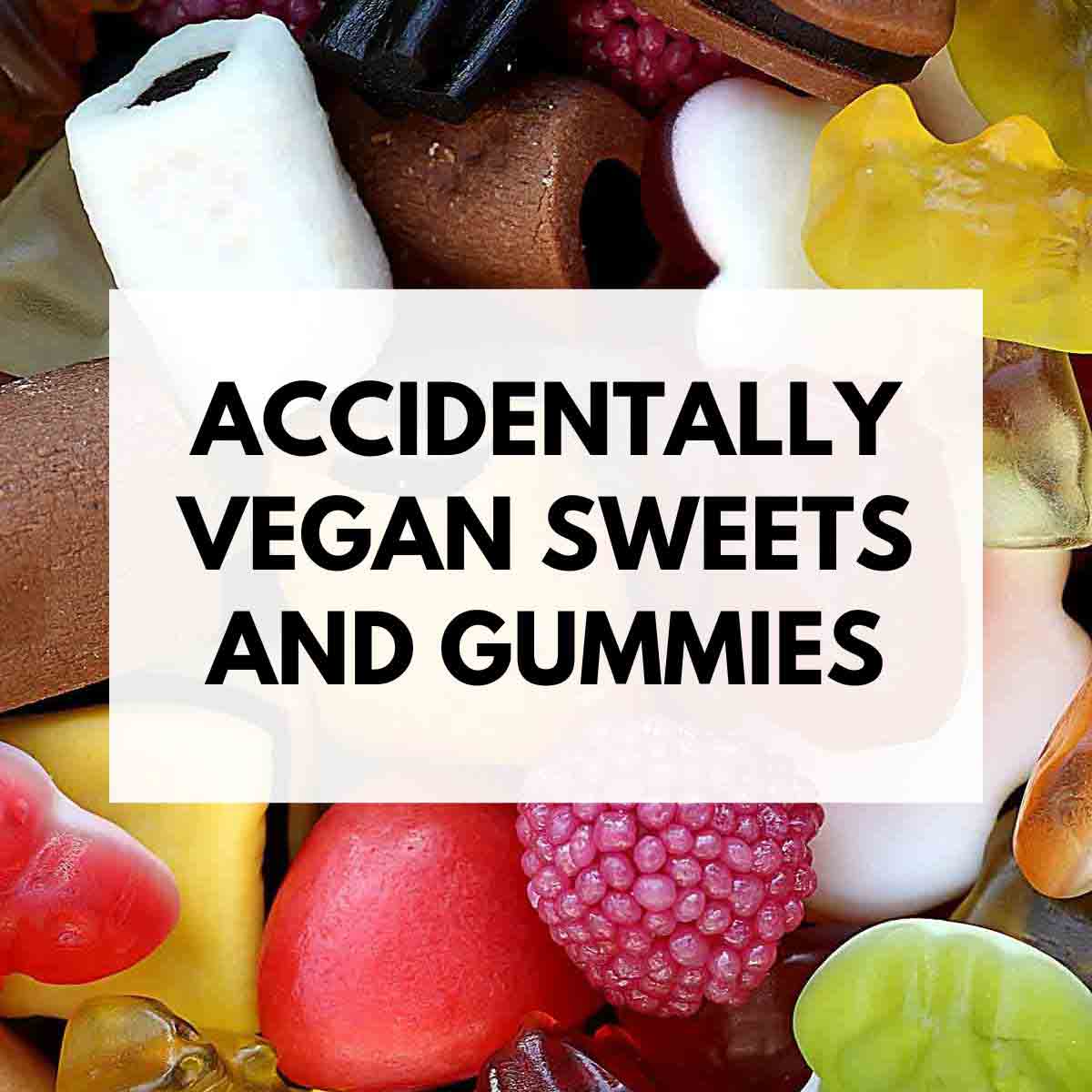 If you're a new vegan, you've probably tried some of the free-from chocolates, cakes and other sweet snacks already. But did you know that many 'regular' treats on the supermarket shelf are accidentally vegan?
This term means that a product is suitable for vegans even though it's usually not marked as such. The plus side to buying accidentally vegan sweets is that they are much cheaper than the sweets that are specifically made for vegans!
It's important to note that if you have food allergies, these products may not be suitable for you due to cross-contamination risk. As always, remember to check the labels!
Companies can often change their recipes too (like when Bournville added milk to their chocolate), so while this list is correct at the time of writing, I would encourage you to double check the label before buying or consuming any of the sweets listed.
So without further ado, here are 60+ of the UK's best accidentally vegan sweets. This list includes jelly and gummy sweets, chewy sweets, hard boiled sweets and more. Make sure to check out my accidentally vegan biscuits post too!
Accidentally vegan jelly sweets and chewy sweets
Most varieties of Skittles are accidentally vegan, including classic, giant, sour and chewy. The exception is the squishy cloudz Skittles, which are not vegan-friendly because they contain gelatine.
Jelly Tots have always been vegan, as they use starch and syrup instead of gelatine to make their jelly sweets. Their Tropical Tots are also vegan-friendly.
All varieties of Fruit Pastilles are vegan-friendly now, including Dessert Pastilles, the strawberry and blackcurrant bag, and the classic version.
Rowntree's fruit gums are suitable for vegans. You can buy them on their own, or in the same bag as Jelly Tots and Fruit Pastilles if you buy the Pick & Mix Sweets sharing bag.
Many of their sweets are made with gelatine but Haribo Rainbow Strips are accidentally vegan.
Please note that the original (mixed) Sour Patch Kids are not usually vegan-friendly in the UK as they contain gelatine. The exception to this would be if they have been imported from the US, in which case they will be packaged in a box rather than a bag. The US original version may be vegan but in the UK, only the watermelon ones are.
Fruittella
Fruittella's Sour Snakes, Gummy Koalas and Sour Hippos are all made to a gelatine-free recipe and do not contain any other animal byproducts.
UK Starburst are vegan, including the original flavour, minis and the strawberry pouch bag.
All of the classics in one box- Wham bars, Black Jacks and Fruit Salads. All vegan! Other Barratt's accidentally vegan sweets include Dip Dabs, Sherbet fountain.
There are many accidentally vegan Swizzels sweets and they have now marked them as such on their website. Favourites include Drumstick lollies, Refreshers choos, Parma Violets, Rainbow Drops and Love Hearts.
Classic, chewy sweets in a variety of flavours. All of the Millions varieties are vegan-friendly, including bubblegum, strawberry and Vimto.
Warheads
A few varieties of their gummy sweets are accidentally vegan! As far as I can tell, they are only sold online or in Morrison's so I assume they are imported from the US. Options include Ooze Chews and Lil Worms.
Panda's original and raspberry liquorice are both vegan, as are their liquorice torpedos.
Jelly Belly
All of Jelly Belly's new chewy sweets are vegan-friendly. Their jelly beans are not because they're glazed with beeswax.
I'm not sure this fits exactly into the chewy or gummy sweets category but you get the idea! Strawberry and Blackcurrant fruit winders are both vegan.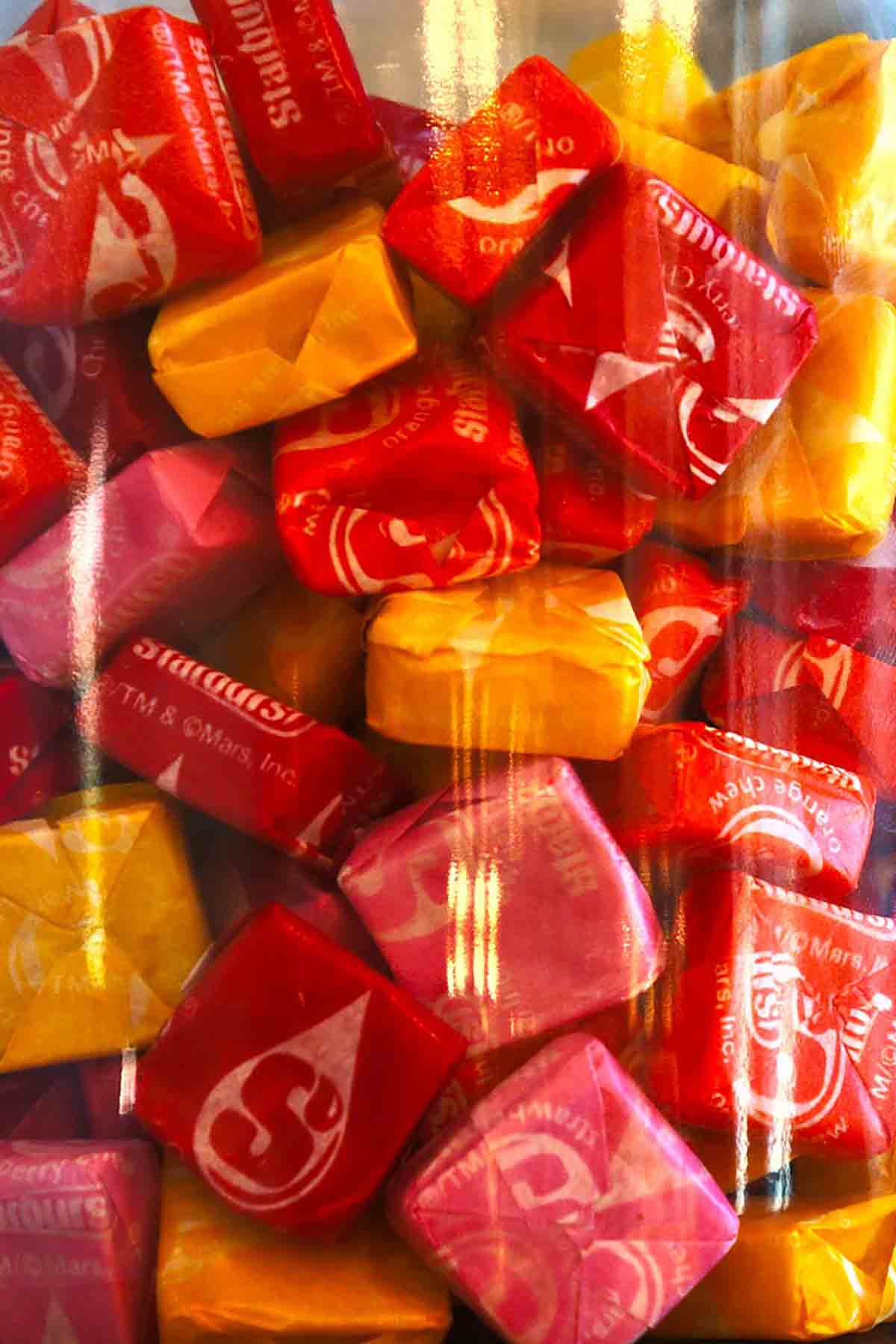 Are there any vegan Dolly Mixtures?
Sadly, no. I searched high and low but could not find any vegan Dolly Mixtures. I mention this because there does seem to be a large number of vegans out there missing their favourite childhood sweet treat! I do hope one of the sweetie companies take note and make some gelatine-free Dolly Mixtures one day.
Accidentally vegan sweets at UK supermarkets
I've split up this part so you can take a quick glance at the options in your local store. I stuck with the 5 most popular supermarkets because they seemed to have the most options.
Tesco
Asda
Morrison's
Sainsbury's
Waitrose
Ocado/M&S
Ingredients to watch out for
I've included as many sweets as I could find in this post but if there are any other sweet treats you're unsure of, here are some non-vegan ingredients to keep an eye out for:
That's all for now. I hope my accidentally vegan sweets post was helpful. Let me know in the comments if you know of any other and I'll add them to the list!
BakedByClo is a participant in the Amazon Services LLC Associates Program, an affiliate advertising program designed to provide a means for sites to earn advertising fees by advertising and linking to Amazon.com. This site may contain some of these links to Amazon.com & other affiliate programs. If you make a purchase through one of those links, BakedByClo will receive a small commission from the purchase at no additional cost to you.