Is Bournville Vegan? (2023)
Bournville chocolate is Cadbury's version of dark chocolate, with a semi-sweet, rich flavour. The range includes 3 flavours of dark chocolate bars, dark chocolate buttons and dark chocolate fingers. But is Bournville vegan? Keep reading to find out.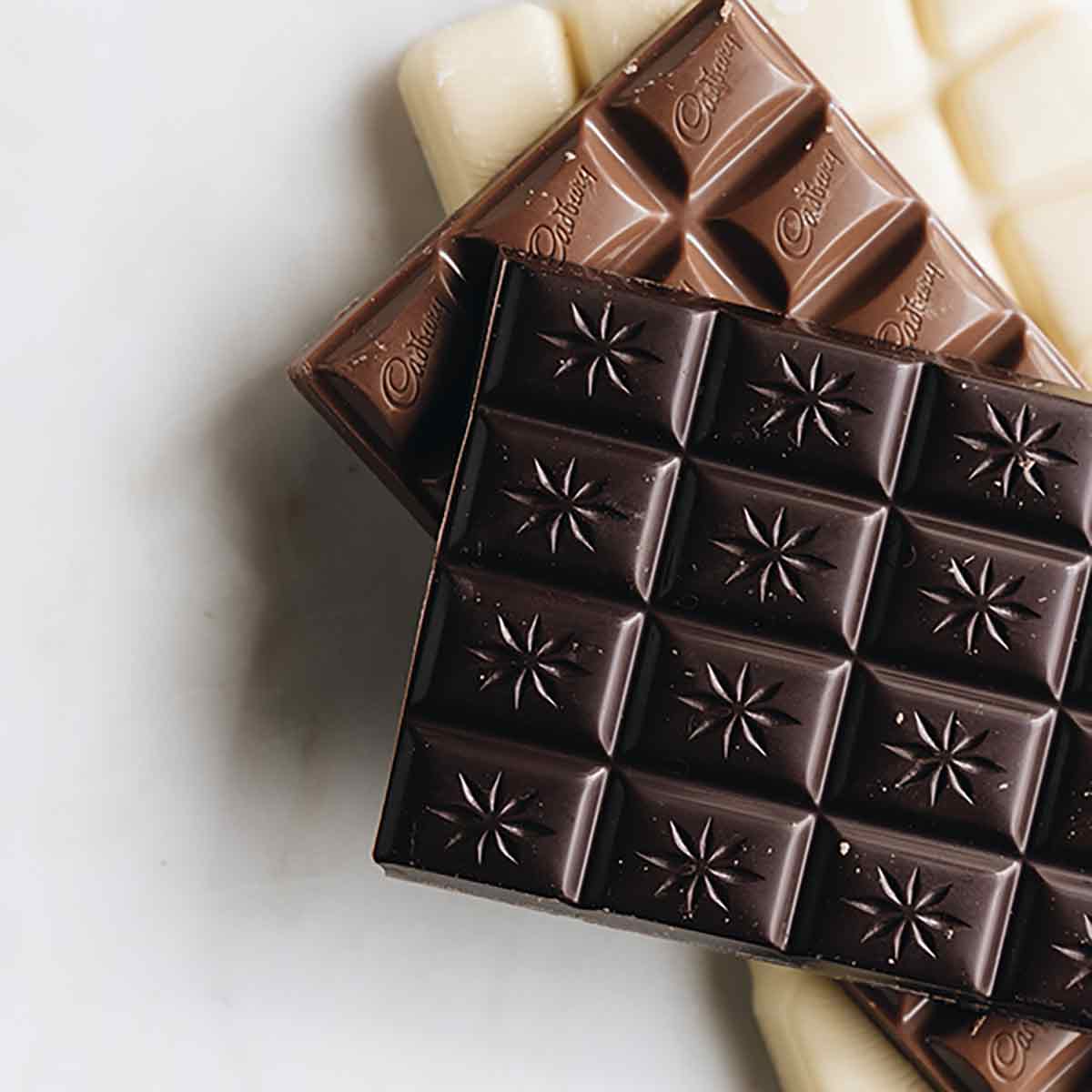 If you've lived in the UK for any length of time, you've almost certainly heard about Bournville. The dark chocolate gets it name from the garden village Bournville, in Birmingham, England. It was launched in 1908 and has become the UK's most loved dark chocolate ever since.
It comes in a few different variations, including orange dark chocolate, Old Jamaica rum and raisin chocolate, the classic dark chocolate bar, and dark chocolate buttons. And you can't forget the chocolate fingers!
When I first went vegan in 2017, I could NOT get enough of Bournville chocolate. I made so many dessert recipes with it and always had some handy for snacking on. Sadly, I no longer use Bournville, since the recipe change in 2021.
Is Bournville vegan?
No, Bournville is not vegan in 2023.
In summer 2021, Cadbury made a change to their Bournville packaging and listed 'milk powder' as an ingredient. They have removed and added 'milk' to the packaging ingredients list a few times over the years but as it stands, milk powder is currently listed as an ingredient. Cadbury Bournville chocolate buttons and chocolate fingers are no longer vegan either.
Even after all of the initial outrage online about Bournville chocolate containing milk powder, I continued using their chocolate for a few more months because there were still products in my local stores that did not have it listed on the ingredients. I assume this was simply the last of their old stock because now all of their products and packaging list milk powder as an ingredient.
Currently, the ingredients are listed as:
Sugar, cocoa butter, cocoa mass, palm oil, soya lecithins, E476, and skimmed milk powder. Let's break that down.
Sugar. It may not be the case in every country, but sugar is always vegan in the UK. Since Bournville is produced in England, this ingredient is vegan.
Cocoa butter. This is the fat extracted from cocoa beans and is vegan.
Cocoa mass. Cocoa mass is the first liquid stage of processing the cocoa bean. This ingredient is vegan-friendly.
Palm oil. This can be a controversial ingredient because although it is technically vegan, unsustainable practices can cause damage to animal habitats. Modelez (who owns Cadbury) confirmed that they are committed to sourcing 100% sustainable palm oil.
Soya lecithins. This is a food additive derived from soy beans. It's used as an emulsifier and is vegan-friendly.
E476. Also known as Polyglycerol Polyricinoleate, this is another emulsifier that is made from glycerol and fatty acids. This e-number is vegan.
Skimmed milk powder. This is made by removing the moisture from cow's milk. 🙁 As you can see from everything written above, this would be a vegan-friendly chocolate bar without the milk powder.
Cross contamination
When I could no longer find the 'milk free' version in local stores, I emailed Bournville and got the same reply that many other people did. Apparently, the recipe did not change and does not *actually* contain milk powder, but there is a risk of cross contamination so they added it to the ingredients list.
I thought this was strange because most other companies just write 'may contain milk' underneath the ingredients (just like the 'may contain nuts' warning on Bournville). I would advise avoiding Bournville just to be on the safe side though. My motto is if you're not sure if something is vegan or not, just avoid it all together.
There are plenty of other dairy-free chocolate bars out there that taste just as good. Check out my vegan chocolate post for more information.
Is Bournville orange dark chocolate vegan?
No. Their orange dark chocolate bar is not vegan in 2023. The ingredients are:
Sugar, cocoa butter, cocoa mass, orange juice, palm oil, apple puree, soya lecithins, E476, pineapple fibres, citric acid, E401, E341, natural flavouring, skimmed milk powder, and paprika extract.
As you can see, Bournville orange chocolate also contains skimmed milk powder. It's not dairy-free and it is not vegan.
Is Old Jamaica dark chocolate vegan?
Sadly, Bournville Old Jamaica dark chocolate with rum and raisin is not vegan either. The ingredients listed on the Cadbury website are as follows:
Sugar, cocoa butter, raisins, cocoa mass, palm oil, soya lecithins, E476, flavouring and skimmed milk powder.
The chocolate is 36% cocoa solids, and contains vegetable fats and cocoa butter. The ingredients are quite similar to the orange dark chocolate bar, with a few less e-numbers. But again, that pesky milk powder is in there, so the Old Jamaica bar is not vegan.
Is Bournville cocoa powder vegan?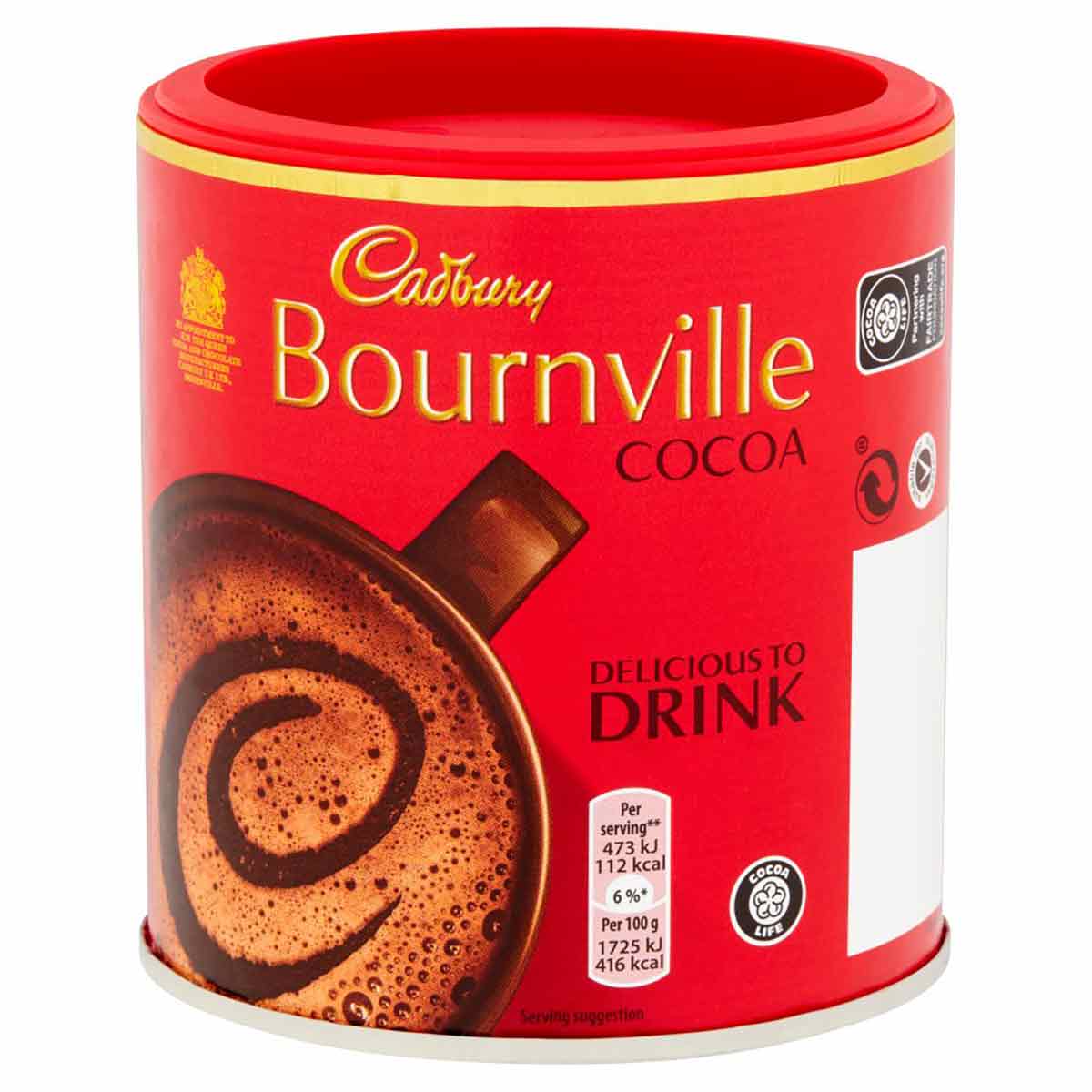 Yes, Bournville unsweetened cocoa powder is vegan and made without dairy. At least, it is at the time of updating this, in January 2023. According to Cadbury's website, the only ingredients are unsweetened cocoa powder and acidity regulator (sodium carbonate), both of which are vegan-friendly. Again, there is risk of cross contamination so those with a milk allergy may wish to avoid it.
Cadbury hot chocolate powder is also accidentally vegan and you can prepare the drink with a dairy-free milk alternative such as soy milk. Cadbury instant hot chocolate cocoa powder are highlights hot chocolate powder are NOT dairy-free so be sure to check you have the correct one!
Is Bournville chocolate gluten-free?
The chocolate is made with only non-gluten ingredients but there may be a risk of cross-contamination.
On Cadbury's website, it says their 45g Bournville bar may contain wheat, due to cross contamination. On their 180g bar, wheat is not mentioned or listed as a potential allergen, only nuts. I would guess this is maybe because the two bars are produced in different factories, or in separate sections. If you have allergies, definitely check the packaging of each individual bar before purchasing.
Best dairy-free alternatives to Bournville
Since we now know that Bournville chocolate is not vegan, what can we use instead? I've written some of my favourite chocolate bars below for you to try. All of the bars are either accidentally vegan or certified vegan-friendly. As Cadbury has proven, recipe ingredients and allergens can change often so make sure to always check the labels. Just because something is vegan right now, doesn't mean it will always be.
Ms. Lovett's. I often recommend this in my recipes as a good dairy-free alternative to Bournville. Bournville chocolate is 36% cocoa and Ms. Lovett's is 44%, meaning they can be used similarly in baking recipes without the outcome changing too much. Ms. Lovett's dark chocolate is super cheap at just 33p and can be purchased from Sainsbury's stores. You can use it in vegan dessert recipes like chocolate ganache, rocky road and chocolate tart.
Nomo. This one contains 55% cocoa solids but is a great semi-sweet dairy-free alternative to Bournville. It's also great for baking with! It's one of my favourite chocolate bars although it is a bit more expensive than some other vegan chocolates.
Asda Extra Special orange. If you're looking for a dairy-free alternative to Bournville orange dark chocolate, this Asda version does the job!
Cocoa's rum and raisin chocolate. I haven't tried this one yet but it looks like it could be a good alternative for the Bournville Old Jamaica chocolate bar since it's made with Caribbean rum! It's clearly marked as dairy-free and vegan.
Summary
So, is Bournville dark chocolate vegan? No. In 2021, Cadbury added milk powder to the ingredients list of their Bournville buttons, chocolate bars and chocolate fingers. It is not currently suitable for vegans in 2023.
BakedByClo is a participant in the Amazon Services LLC Associates Program, an affiliate advertising program designed to provide a means for sites to earn advertising fees by advertising and linking to Amazon.com. This site may contain some of these links to Amazon.com & other affiliate programs. If you make a purchase through one of those links, BakedByClo will receive a small commission from the purchase at no additional cost to you.