Vegan Rocky Road
This vegan rocky road is so simple to make! It's sweet, salty and crunchy and can be made according to your preference with your choice of mix-ins.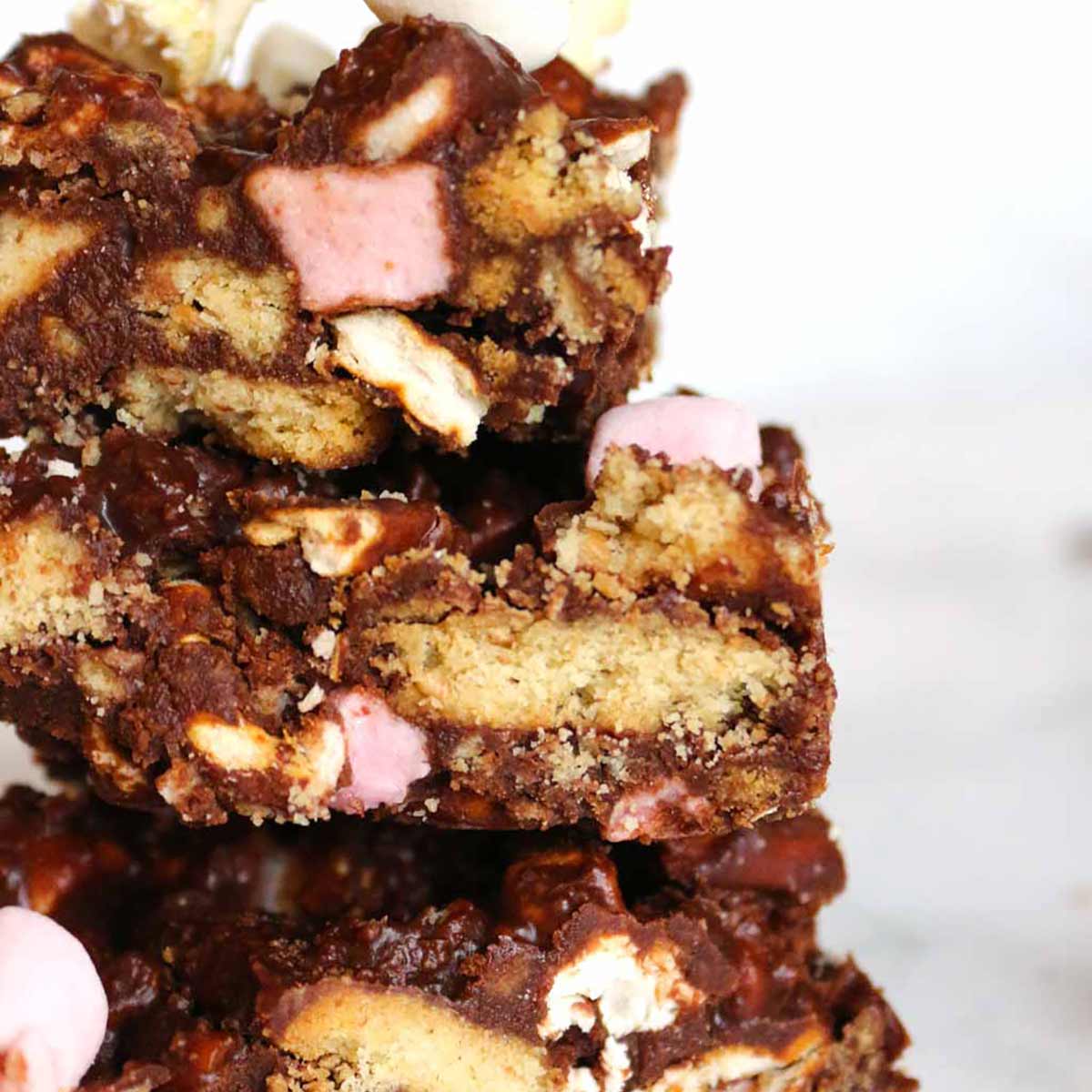 If you love all things chocolate, you're going to love this recipe!
I was inspired to make this vegan rocky road when I had some at a lovely afternoon tea recently.
I thought everybody deserved to have some dairy-free rocky road in their life so I decided to create my own recipe!
To make this, I loosely followed my Tiffin recipe and just added some more delicious mix-ins like marshmallows and popcorn.
It worked out perfectly first time and I cannot. stop. eating it.
So good.
It's the perfect mixture of sweet and salty and is sure to be a crowd-pleaser whatever the occasion.
My mum said it came a close second to my vegan brownies, which is a huuuge compliment because she loves them so much!
How to make vegan rocky road
This is a pretty simple recipe but I wanted to write step-by-step instructions for anyone who's never made a vegan dessert before! And if you like this, be sure to check out my rocky road cookies too!
Step 1:
The first step is to measure out your wet ingredients (you'll melt them all together!).
You'll need 250g of vegan dark chocolate (~9oz), 120g of dairy-free margarine (1/2 cup) and 3 tablespoons of golden syrup*.
I recommend using semi-sweet chocolate for best results, especially if you're using salty mix-ins such as pretzels. I used to use Bournville but unfortunately it's not vegan anymore. Lovett's is a good option and I've listed more vegan chocolate options in my UK vegan chocolate guide.
*If you don't have golden syrup, you can substitute it for agave nectar instead. I wouldn't recommend using maple syrup in its place though as the flavour is too overpowering for this recipe.
Step 2:
Break up the chocolate and place it in a heatproof bowl with the margarine and golden syrup. Gently melt it, mixing often, until there are no lumps of chocolate left.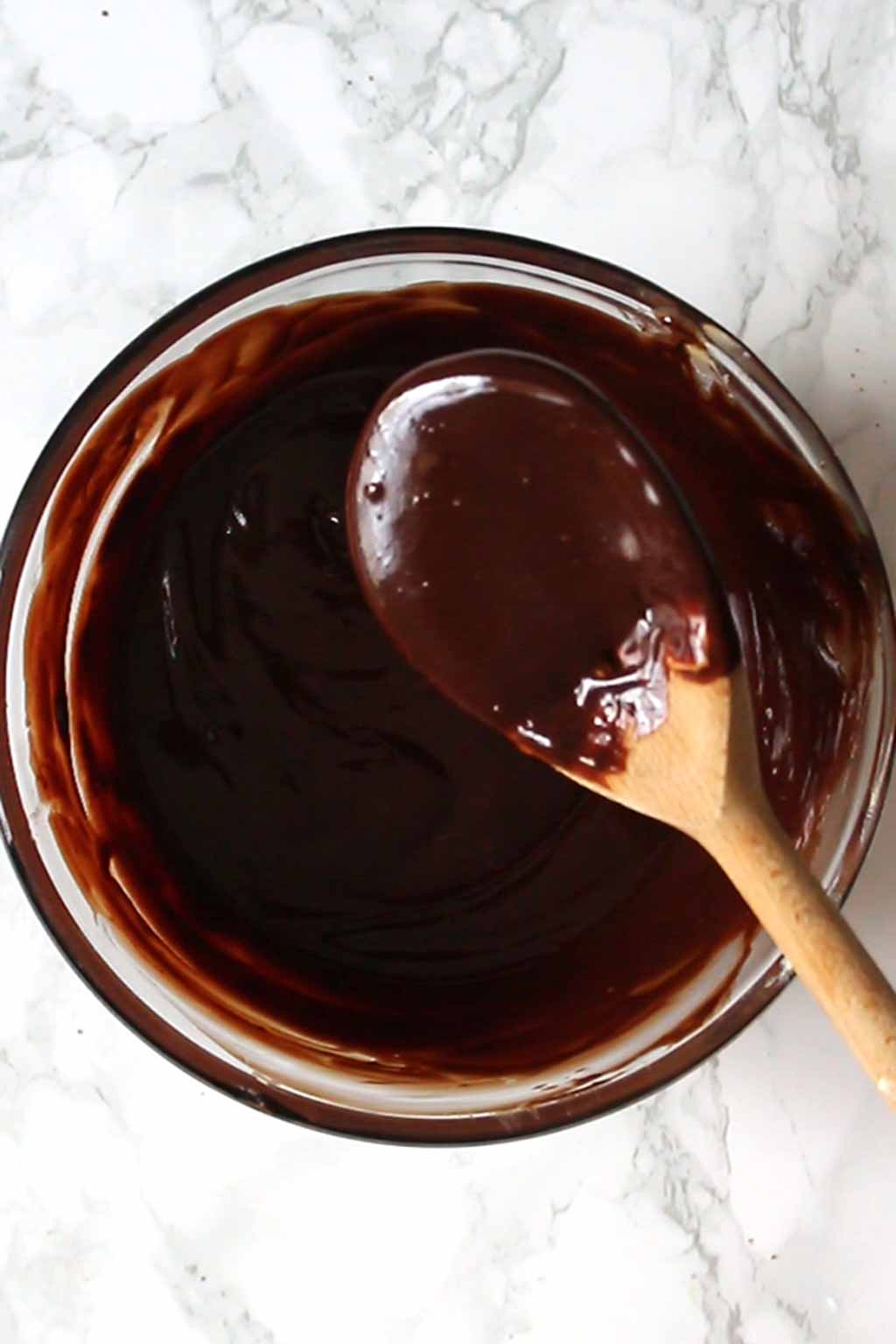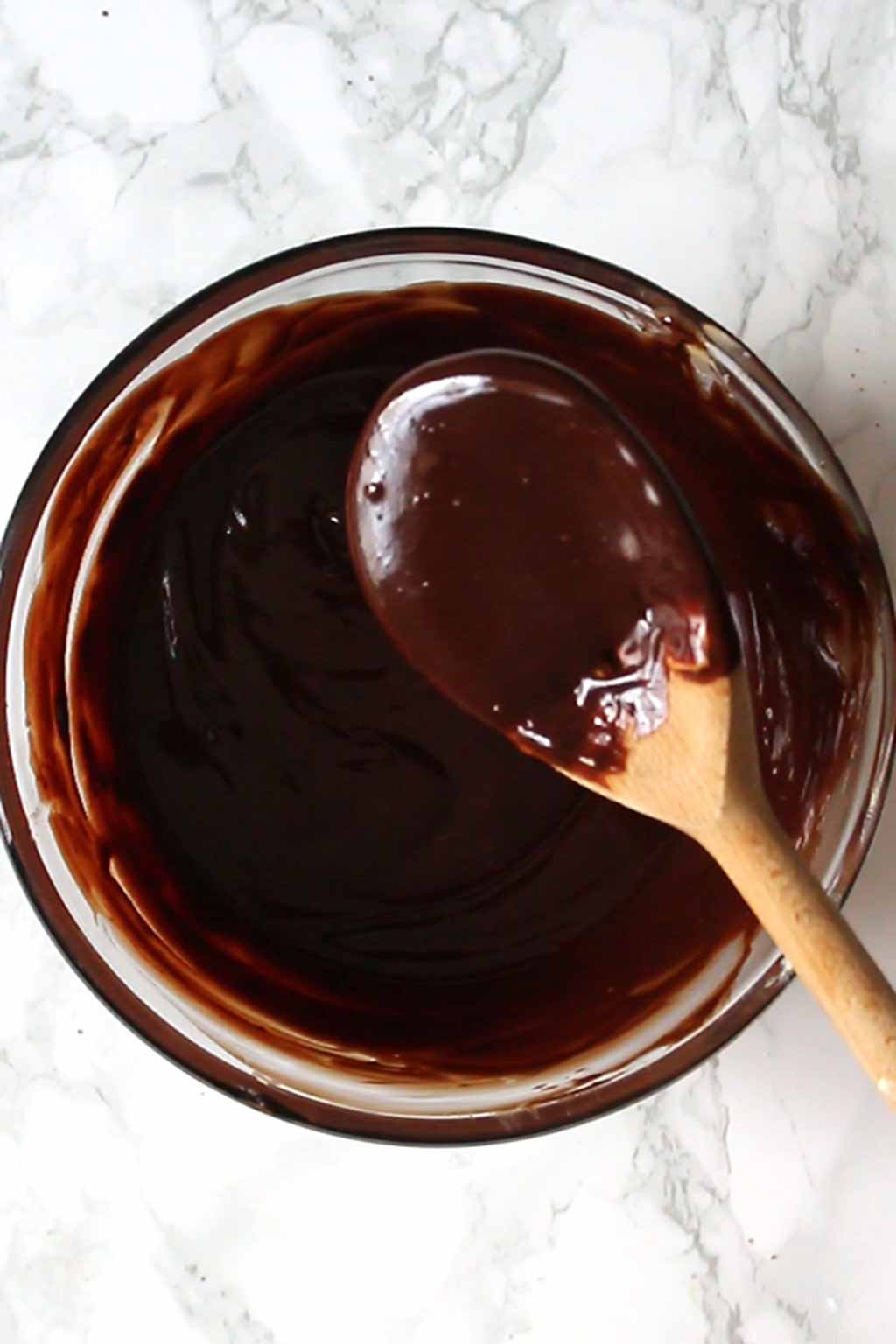 Set the bowl aside for a few minutes to cool slightly.
Step 3:
In a large bowl, roughly crush 250g of Digestive biscuits (9oz, about 14 biscuits) and 65g of salted pretzels (1 cup).
You want the pieces to be quite chunky with a few smaller crumbs in there. Make sure not to crush them too finely.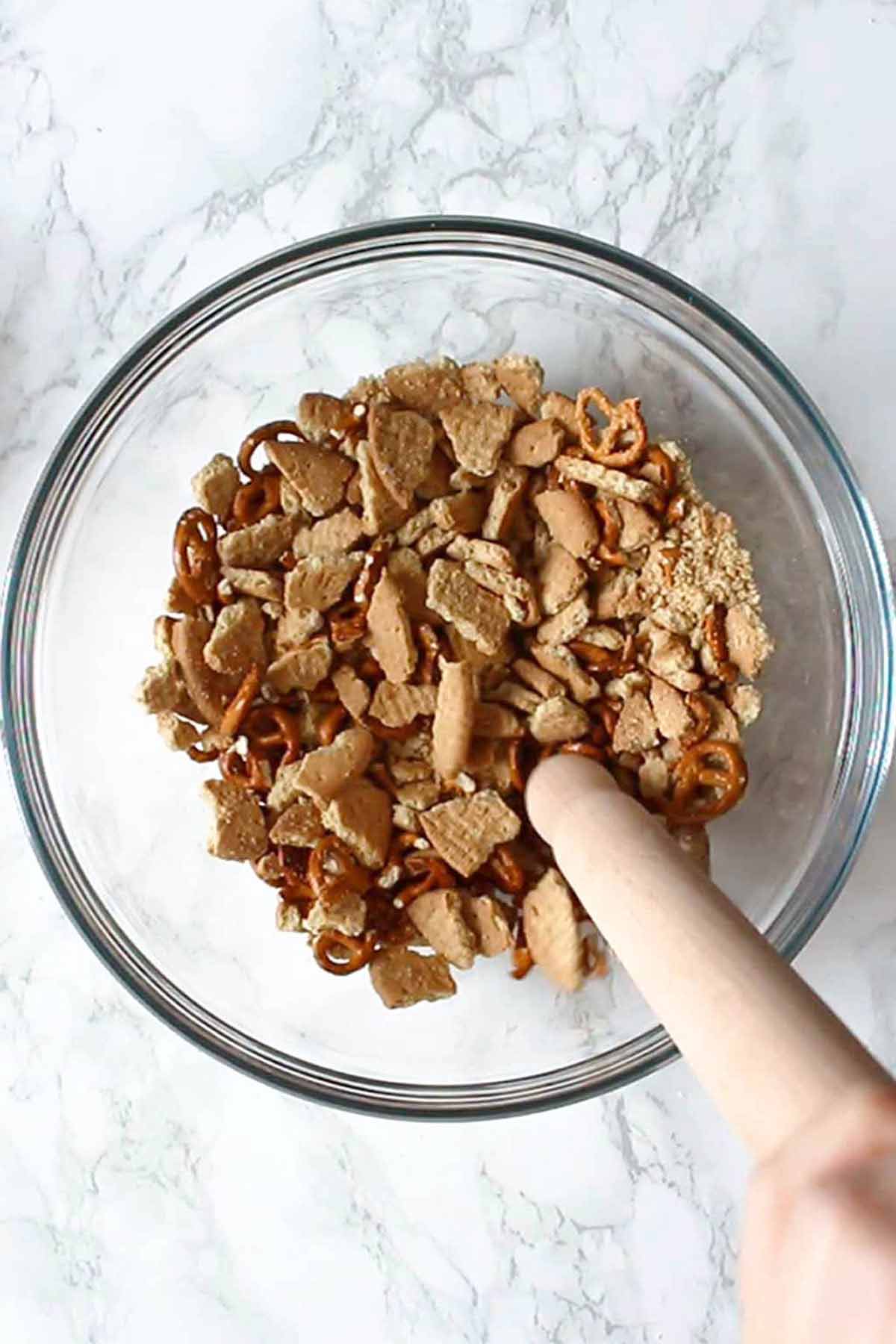 Step 4:
Pour the cooled chocolate mixture into the bowl. Add your additional extras. I used 60g of mini vegan marshmallows (1 cup), 20g of sweet and salty popcorn (1 heaped cup) and 35g of vegan white chocolate chunks (1/3 cup).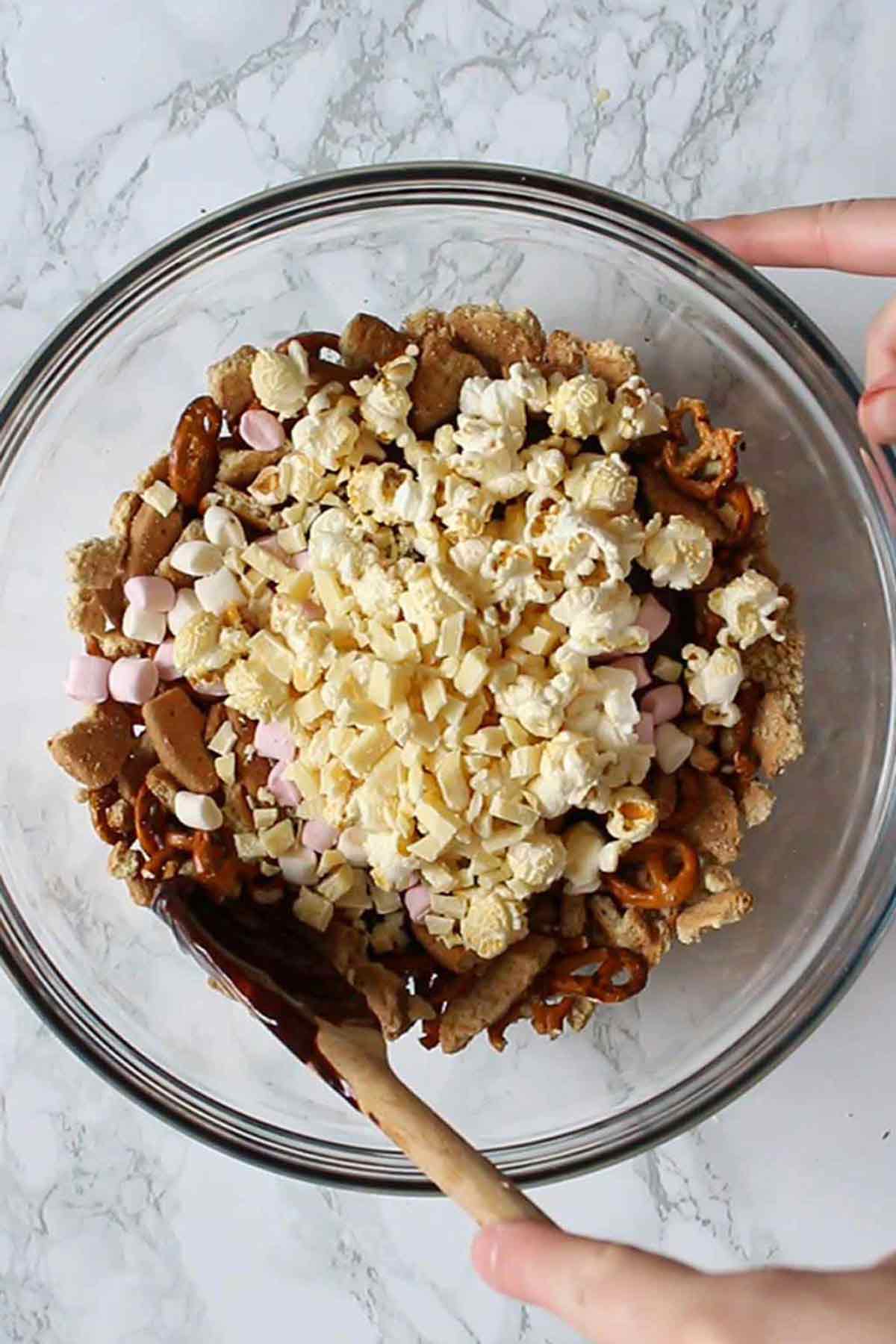 Mix it all together really well until everything is coated in the chocolate mixture.
Step 5:
Transfer the mixture into an 8 x 10-inch rectangular pan lined with baking paper and spread it out evenly.
Use the back of a wooden spoon or the bottom of a cup to press it tightly into place.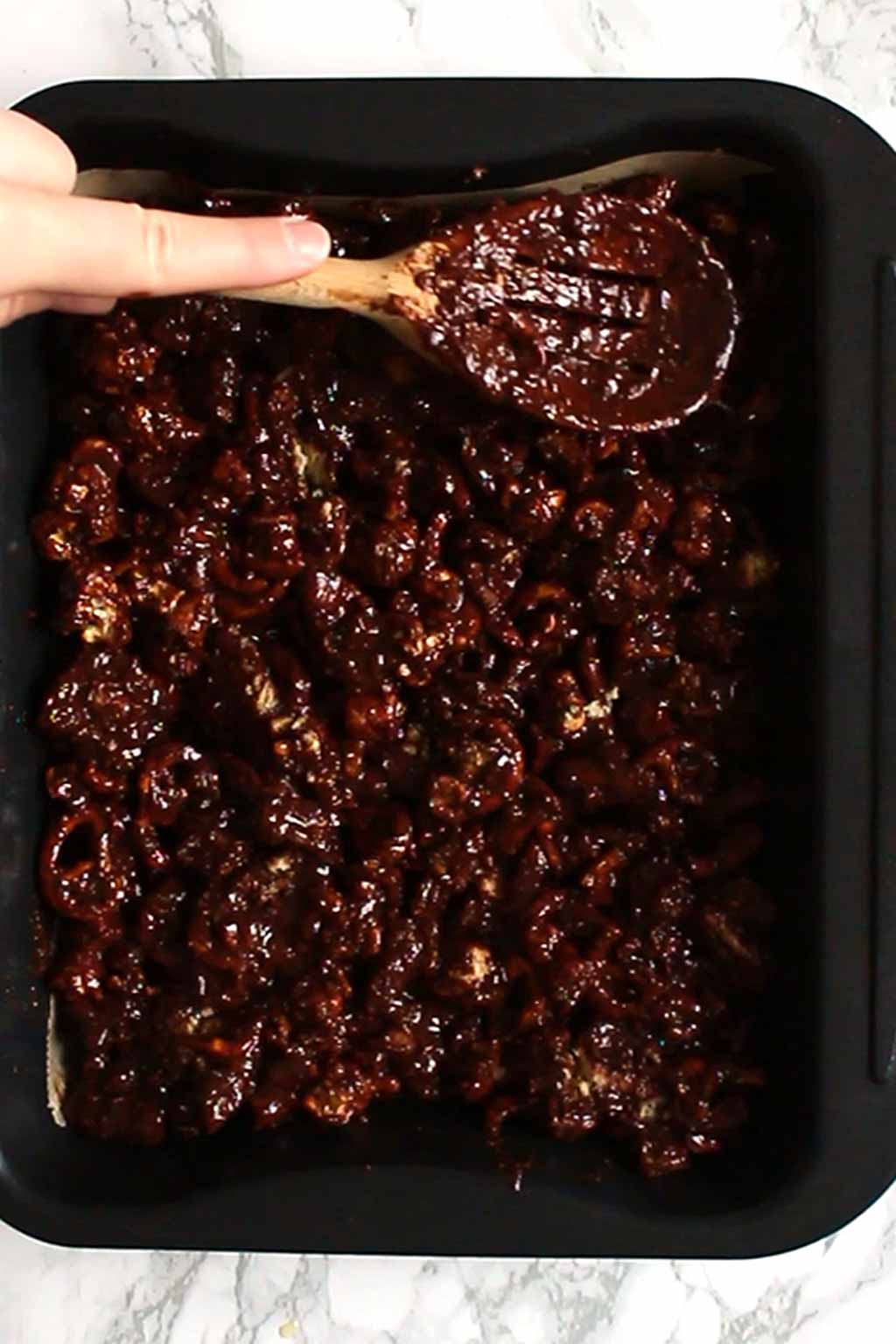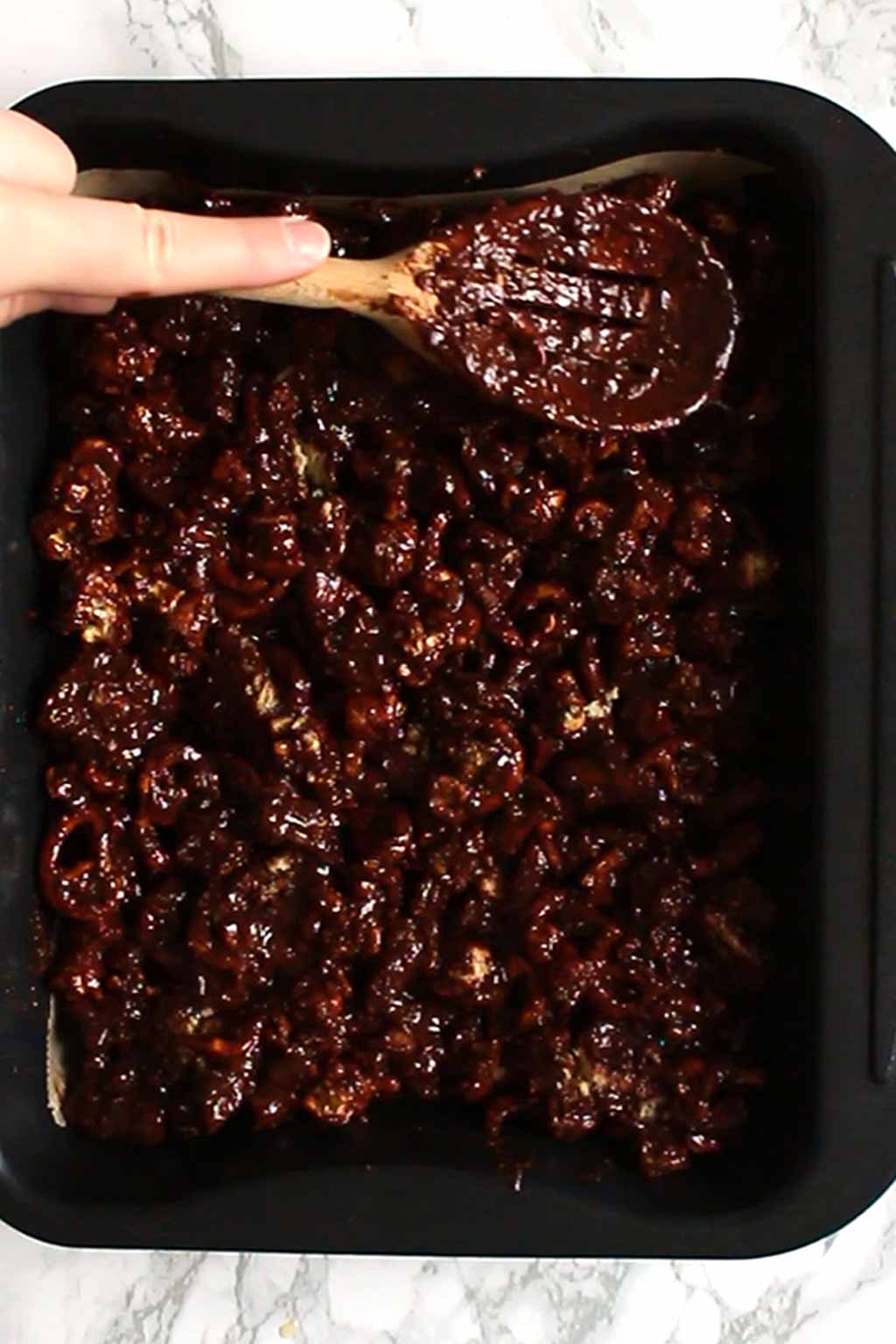 Step 6:
Place it in the fridge for 3 hours until firm.
Remove it from the tin using the baking paper and cut into 12 square pieces.
Mix-in ideas
I wanted to make something a little different when I first decided to make dairy-free rocky road. Every kind I've had in the past has had raisins in it which I am NOT a fan of.
I always end up picking them out so I made one without! The great thing about this recipe is that you can basically just chop up any of your favourite treats, throw them in the mixture and it'll taste amazing!
I've never had a vegetarian rocky road with popcorn or pretzels in it before but I absolutely love the way the saltiness contrasts with the sweetness so they are definitely going to be my go-to mix-ins from now on.
Some other ideas you can try are:
Contrary to its name, honeycomb doesn't actually contain honey! It would make a tasty addition to this recipe.
However, in the supermarkets, it can be quite tricky to find any that isn't coated in milk chocolate.
I do know that some Asda stores stock the Fabulous Freefrom Factory Crunchee bites which are so delicious! I wanted to include them in my rocky road but sadly all my local stores were out of stock! Whenever I find them again, I'm definitely keeping them for future baking.
If you like raisins, I won't judge you (much). Feel free to add as many as you like! Some other dried fruit options are apricots, dates or figs.
I didn't think of this idea until after I'd started making it but peanut butter cup rocky road sounds like HEAVEN! Make your own by following my easy peanut butter cup recipe.
I am absolutely adding some chopped up turkish delight the next time I make this recipe!
Most types of Turkish delight are vegan but make sure to double-check that it doesn't contain gelatin.
Peanuts, almonds, cashews… whatever takes your fancy!
If you like the sound of adding fudge, the Fabulous Freefrom Factory also make dairy-free fudge! Just chop it into pieces and chuck it in!
Or if you have a bit more time and patience, you could have a try at making your own (such as my peanut butter fudge).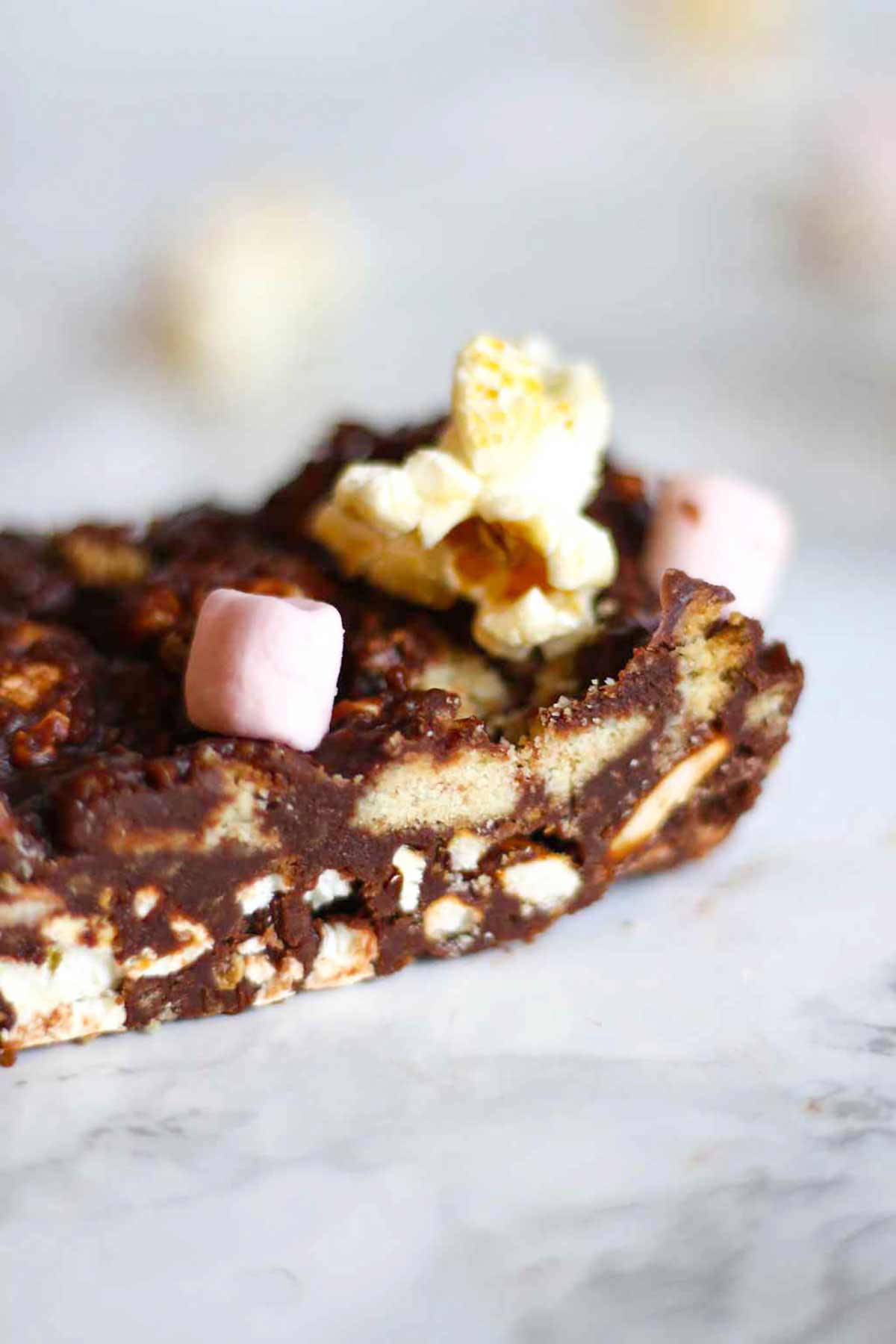 FAQ:
How should I store dairy-free rocky road?
Keep it in an airtight container. It tastes best when it's stored in the fridge. It will also do fine in a cool kitchen cupboard but won't last quite as long.
How long will it last?
If stored in the fridge, it'll last at least for at least 2 weeks.
Can vegan rocky road be frozen?
Yes! This recipe is so great for freezing. Just wrap it up tightly in some foil or place the slices in an airtight container. When you're ready to eat it, just unwrap/unbox it and leave it on a plate in the fridge until it's fully defrosted.
Where can I find vegetarian mini marshmallows?
I purchased mine from my local health food store (Holland & Barrett). They are made by a brand called Freedom Mallows and are also stocked at Sainsbury's and Morrisons.

If you're anywhere else in the world, you can purchase some on Amazon.

You can also use any regular-sized vegan marshmallows and chop them up into small pieces. It'll do the same job!
Do I have to use Digestive biscuits?
Digestive biscuits are a staple for British people when it comes to making rocky road. They aren't always vegan-friendly so be sure to check, but most brands are!

If you don't want to use them or can't find them, you can use any other type of cookie or biscuit you like. Graham crackers, Oreos, Biscoff… Anything your heart desires. There are no rules!
More no-bake vegan desserts:
I hope you enjoy this dairy-free rocky road! Leave a comment and let me know what you add to yours! xo

Vegan Rocky Road (Dairy-Free)
A dairy-free & vegetarian version of a crunchy, chocolatey no-bake treat!
Ingredients
250

g / 9oz

Vegan semi-sweet chocolate

(around 40-50% works best)

120

g

Vegan margarine

(½ cup)

3

Tablespoons

Golden syrup

250

g

Digestive biscuits

(14 biscuits)

65

g

Salted pretzels

(1 cup)

60

g

Mini vegan marshmallows

(1 cup)

20

g

Sweet and salty popcorn

(1 heaped cup)

35

g

Vegan white chocolate chips or chunks

(⅓ cup)
Instructions
Line an 8×10-inch rectangular tin with baking paper.

Break the chocolate into pieces and place it into a heatproof bowl with the margarine and golden syrup. Melt it over a pot on the stove or in the microwave, stirring often, until there are no lumps left.

In a large bowl, crush the Digestive biscuits and pretzels with a rolling pin. The pieces should be quite chunky with a few crumbs.

Pour the chocolate mixture into the bowl with the crushed biscuits and pretzels.

Add the marshmallows, popcorn and chocolate chips. Mix well until everything is well coated in the chocolate.

Transfer the mixture into your lined tin and use the back of a spoon to pack it in very firmly.

Refrigerate for 3 hours then cut into 12 squares and enjoy!
Recipe Notes
Store in an airtight container in the fridge for 2 weeks.
Sweeter dark chocolate works best to contrast with the saltiness of the pretzels.
Nutrition Facts
Vegan Rocky Road (Dairy-Free)
Amount Per Serving (1 g)
Calories 304
Calories from Fat 135
% Daily Value*
Fat 15g23%
Sodium 80mg3%
Carbohydrates 36g12%
Protein 3g6%
* All values are an estimate only and will vary depending on the food brands used.
BakedByClo is a participant in the Amazon Services LLC Associates Program, an affiliate advertising program designed to provide a means for sites to earn advertising fees by advertising and linking to Amazon.com. This site may contain some of these links to Amazon.com & other affiliate programs. If you make a purchase through one of those links, BakedByClo will receive a small commission from the purchase at no additional cost to you.