Scottish Macaroon
These Scottish macaroon bars are a great traditional treat! A soft, fondant centre covered in dark chocolate and coated with desiccated coconut, with no baking required!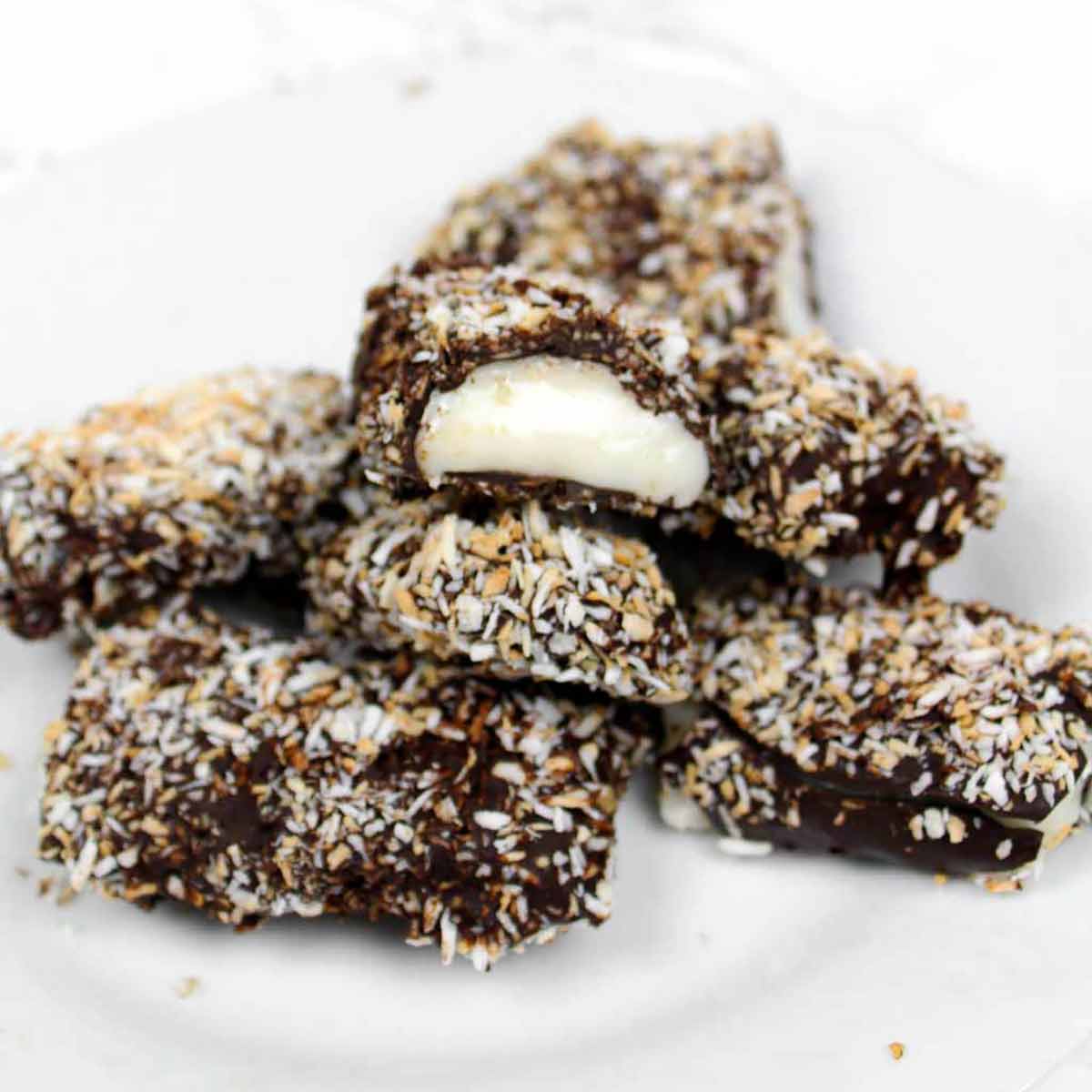 You won't believe me when I tell you what the main ingredient for this recipe is! Are you ready…?
It's mashed potato! Weird, right?
A lot of the time, Scottish macaroon tends to get confused with Italian macaroons and/or French macarons. But I can assure you that they are 3 very different things- they just have very similar names. So confusing!
Related post: Are Macarons Vegan?
According to the Lees of Scotland website, John Justice Lees invented the macaroon bar in 1931. It was actually an accidental invention but one that continues to be enjoyed today.
The potato makes a perfect texture for the fondant in the centre but the flavour is so subtle that you can't taste it.
I had originally planned to make these bars in time for Burns Night (which was on the 25th January) to include in a "vegan Scottish desserts" post. But classic me- I didn't get them done in time!
Obviously though, you can enjoy these delicious Scottish macaroons on any day of the year, not just on Burns Night. I've been snacking on macaroon bars for the last 3 days. They are seriously so good!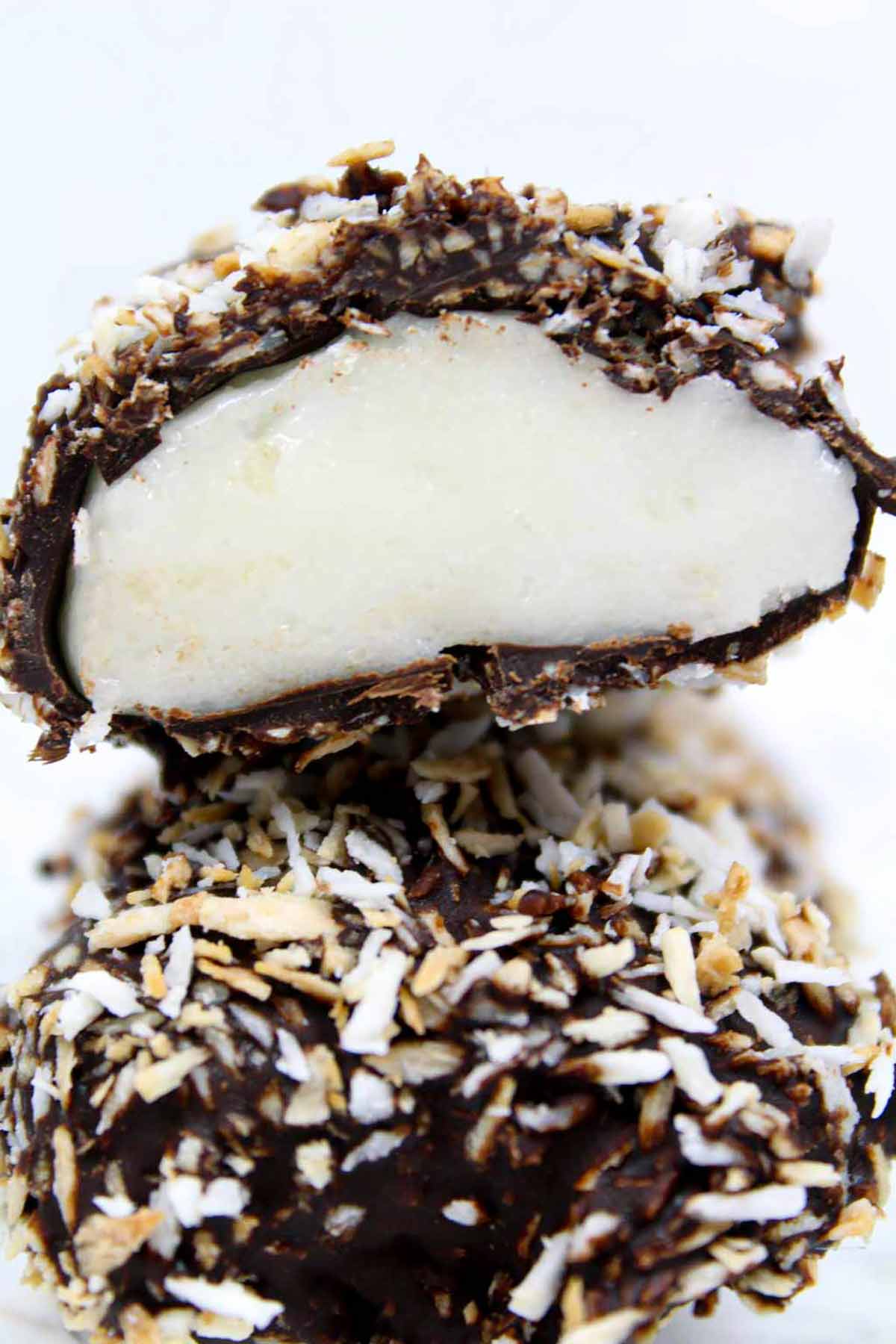 Suitable for all diets
The great thing about macaroon bars is that they're naturally gluten-free and SO easy to veganise. By using dark chocolate (or any other kind of dairy-free chocolate), these become completely vegan!
This is great because it can be frustrating to see "milk" listed on the ingredients list of every single pre-packaged macaroon bar if you're trying to avoid dairy.
I brought some for my colleagues to taste and they said that the dark chocolate was actually a great contrast to the super sweet centre.
I did originally shape mine into large bars, but they ended up being way too bulky and sweet, so I cut them up into bite-sized pieces after they were completely set. It works much better this way and saves you from eating too much at once! Plus, they look super cute in smaller portions!
How to make Scottish macaroon bars
There are just 4 main ingredients for Scottish macaroons: potatoes, icing sugar, chocolate and desiccated coconut. You can also add a little vanilla if you're feeling fancy!
Step 1:
First, you'll need some white potato (or potatoes, depending on the size of them). I had small potatoes, so I used 2. I weighed them at 140g before washing or peeling.
Now give the potatoes a good wash and boil them with the skin on (in unsalted water) until they are soft and tender. Drain and rinse them and leave them to cool.
Step 2:
Peel the potatoes once they have cooled down. You should be able to just use your fingers if you like because the skin will come off super easily.
Mash the potatoes well until there are little to no lumps left. I used a fork for this step but you can also use a food processor if you want to make sure they're extra smooth.
Note that my potatoes weren't completely lump free but this didn't affect the taste or texture of the finished product. Just try to get them as smooth as you possibly can but don't stress about micro lumps.
Step 3:
Measure out 480g of icing sugar. Add around ¼ of it into the potato mixture and give it a good stir. At this point, the mixture will become soft and runny.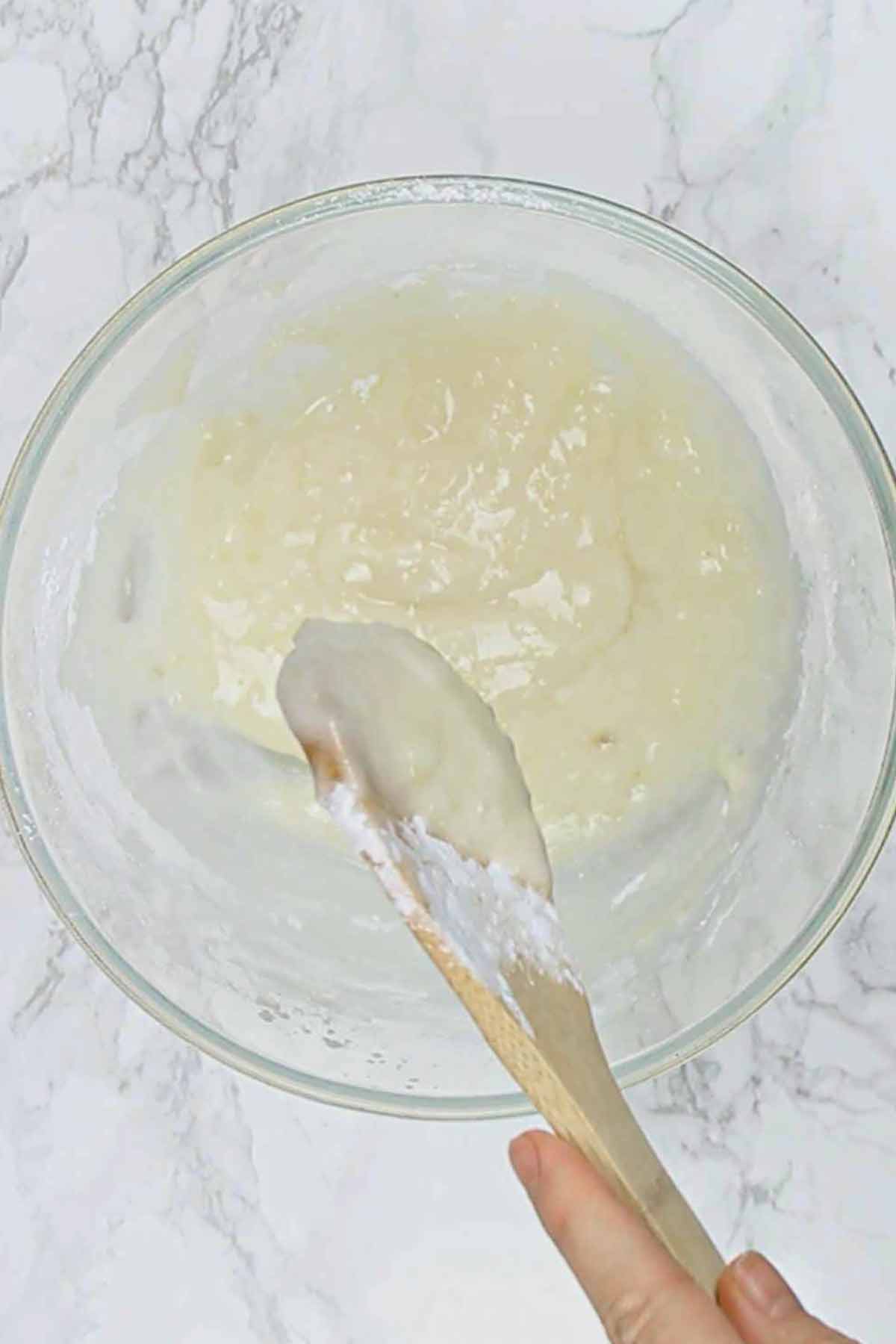 Step 4:
Add 1 teaspoon of vanilla extract and mix in well. Now add the rest of the icing sugar, a quarter at a time and continue to stir. Once all the icing sugar is added, the mixture should go from runny to super stiff.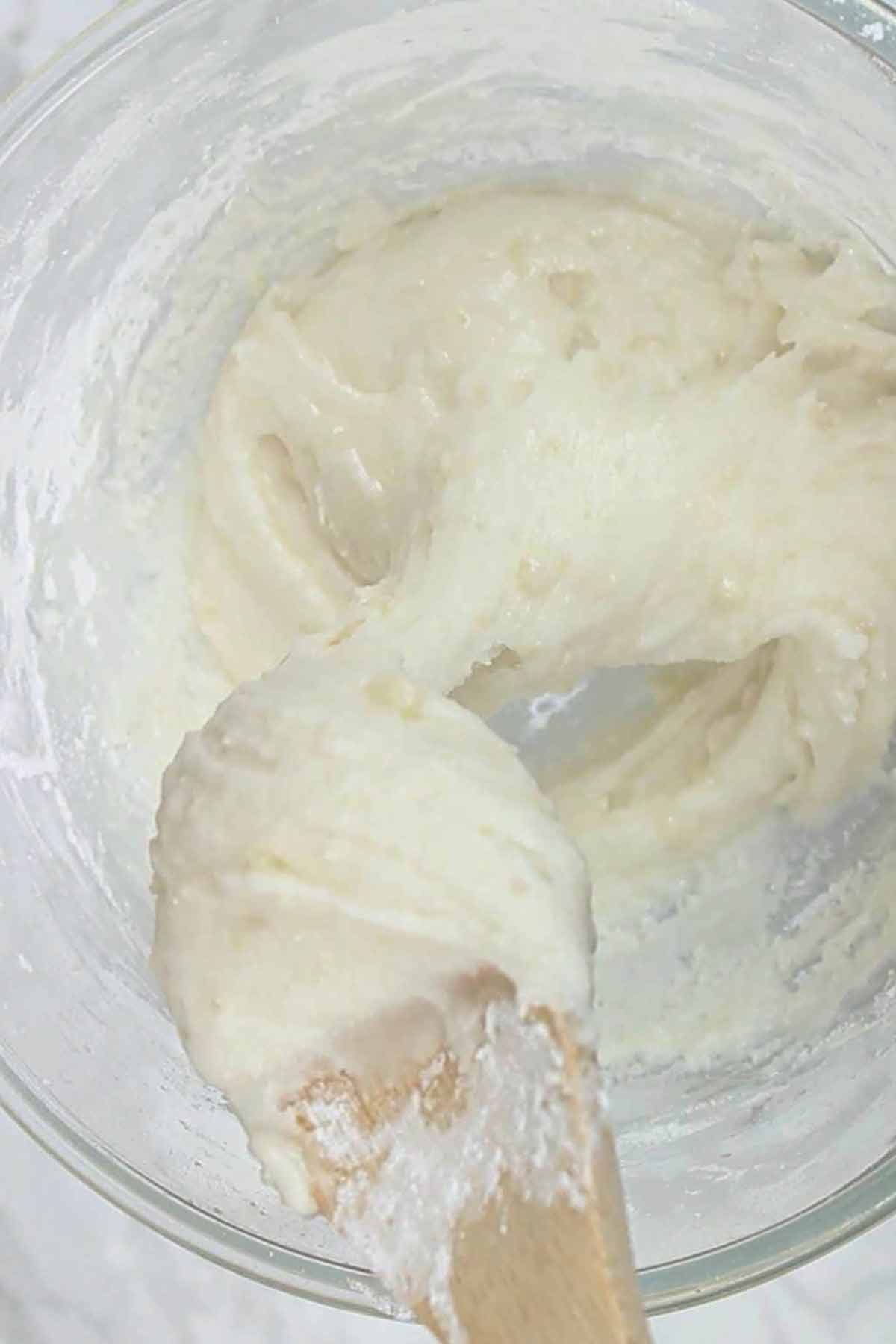 Step 5:
Transfer the stiff fondant mixture into a freezer-proof dish lined with baking paper and spread it out evenly as best as you can. Place in the freezer for 2 hours.
Step 6:
Remove the fondant from the freezer and from the dish, peeling off the baking paper gently.
Cut it into small bite-sized squares or shape bars using your hands. Alternatively, you can shape them into small balls. You should get around 20 bite-sized bars out of the mixture.
Place your Scottish macaroon bars onto a lined baking tray, spread them out evenly and freeze for another 1 hour. Note that the fondant will still be a bit sticky so try to work as quickly as you can.
Step 7:
In the meantime, measure out 180g of unsweetened desiccated coconut. Place half of it into a dry frying pan over a medium-high heat and stir continuously until it turns golden brown. It's important that you keep stirring otherwise the coconut will burn.
You can also place it on a lined baking tray and bake it in the oven at 160°C. This will take around 12 minutes and you'll need to stir it a few times in between to keep it evenly brown. Mix the toasted coconut together with the untoasted coconut and set aside for now.
Step 8:
After the hour is up, melt 250g of chocolate. You can do this in the microwave like I did or over the stove top- whatever you prefer.
I like to use a 60% or above dark chocolate because I find it's much easier to work with and lasts longer before it starts setting again. Of course if you're avoiding dairy, make sure the chocolate is vegan too. There are so many delicious options out there now!
Step 9:
When the chocolate is melted, remove the bars or balls from the freezer. Dip each one into the chocolate then roll it in the coconut. This part gets quite messy so you'll probably need to wash your hands in between each one.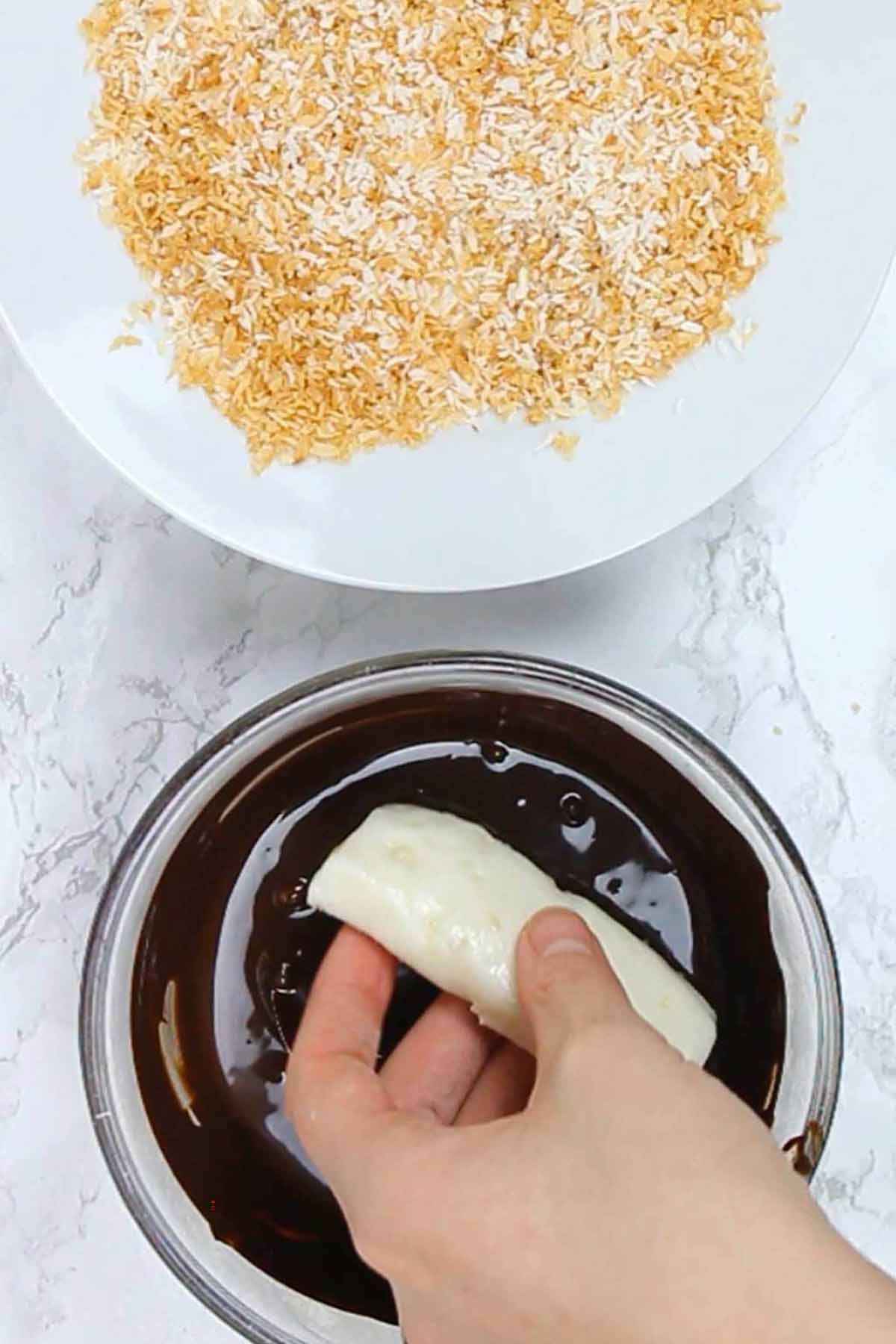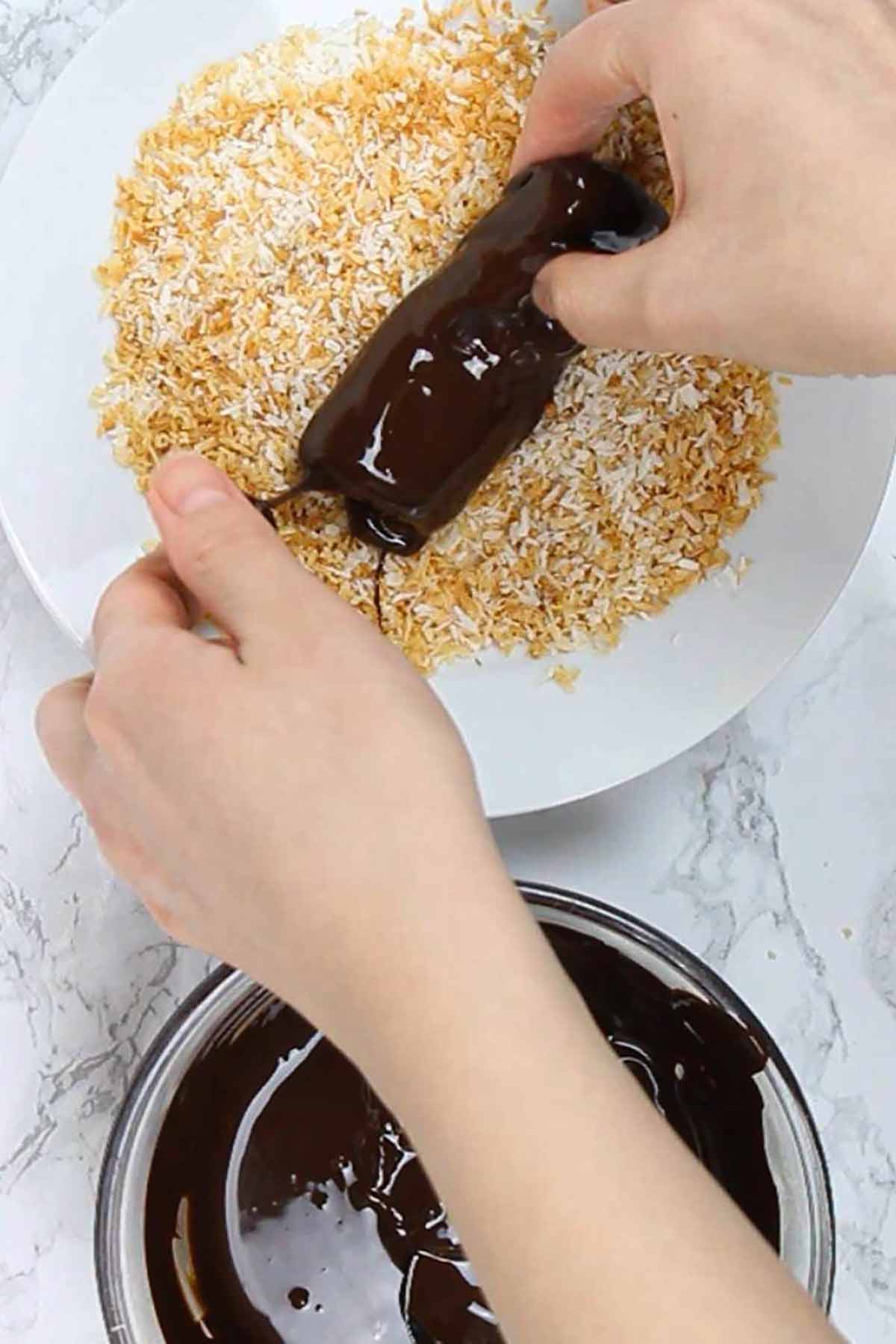 Step 10:
Place the coated bars onto a cooling rack with a lined baking tray underneath (to catch the excess chocolate) and put them in the fridge for 1-2 hours, or until until the chocolate is completely hard.
Note that macaroon becomes softer at room temperature, so it's best to store them in the fridge in an airtight container. They'll last for at least 1 week this way.
More Scottish desserts: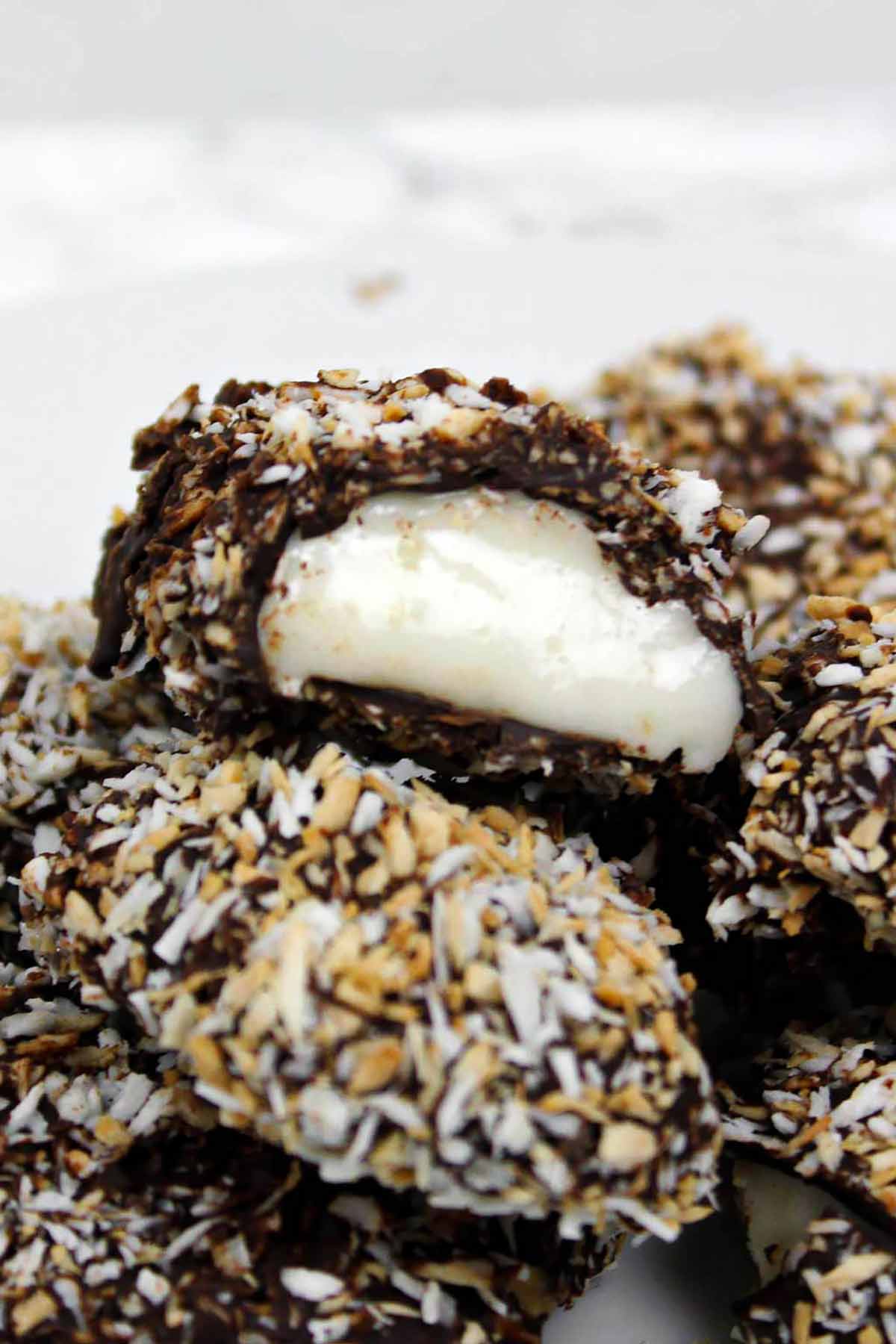 I hope you enjoy these Scottish macaroons! What do you think about using mashed potatoes in a dessert? Make sure to leave a comment and/or review if you make them yourself- I'd love to hear from you!

Scottish Macaroon
A traditional Scottish chocolate bar made with mashed potatoes!
Total Time
4
hours
30
minutes
Servings
20
macaroon bars
Ingredients
140

g

White potatoes

480

g

Icing sugar

1

Teaspoon

Vanilla extract

250

g

Chocolate of choice

180

g

Desiccated coconut
Instructions
Wash the potato and boil (unpeeled) until it's soft enough to cut through with a fork. Drain and leave to cool completely.

Peel the potato and mash it in a large bowl until there are little to no lumps left.

Add around ¼ of the icing sugar and mix well. At this point, you should have a soft and runny mixture. If you're using vanilla, add it in now and stir.

Continue adding in the icing sugar, mixing a little at a time, until it's all used up. The mixture should go from runny to stiff.

Transfer the mixture into a freezer-proof dish lined with baking paper and smooth it out to the sides. Freeze for 2 hours.

After 2 hours is up, remove the mixture from the dish and peel off the baking paper. It may still be a little sticky but will be firm enough to shape.

Cut the mixture into small bars or shape rectangles. This mixture will be enough for around 20 bite-sized bars. (I did originally make larger bars but found them to be sickly as they are super sweet.)

Place the bars onto a lined baking tray and return them to the freezer for 1 more hour.

In the meantime, place half of the desiccated coconut into a dry frying pan over a medium-high heat. Stir continuously until it becomes golden brown. Mix the toasted coconut with the remaining (untoasted) coconut.

Just before the bars are ready to come out of the freezer, melt the chocolate in a bowl.

Dip each of the bars into the melted chocolate and immediately roll it in the coconut. Place it to set on a wire rack with a lined baking tray underneath, which will help to catch any mess.

Once all the bars are coated, put them in the fridge for 1-2 hours or until the chocolate is completely hard.
Recipe Notes
Store in the fridge in an airtight container for 1 week.
Nutrition Facts
Scottish Macaroon
Amount Per Serving (1 Scottish macaroon)
Calories 200
Calories from Fat 63
% Daily Value*
Fat 7g11%
Sodium 8mg0%
Carbohydrates 25g8%
Protein 2g4%
* All values are an estimate only and will vary depending on the food brands used.
BakedByClo is a participant in the Amazon Services LLC Associates Program, an affiliate advertising program designed to provide a means for sites to earn advertising fees by advertising and linking to Amazon.com. This site may contain some of these links to Amazon.com & other affiliate programs. If you make a purchase through one of those links, BakedByClo will receive a small commission from the purchase at no additional cost to you.